Ohayo Mama San at 313 Somerset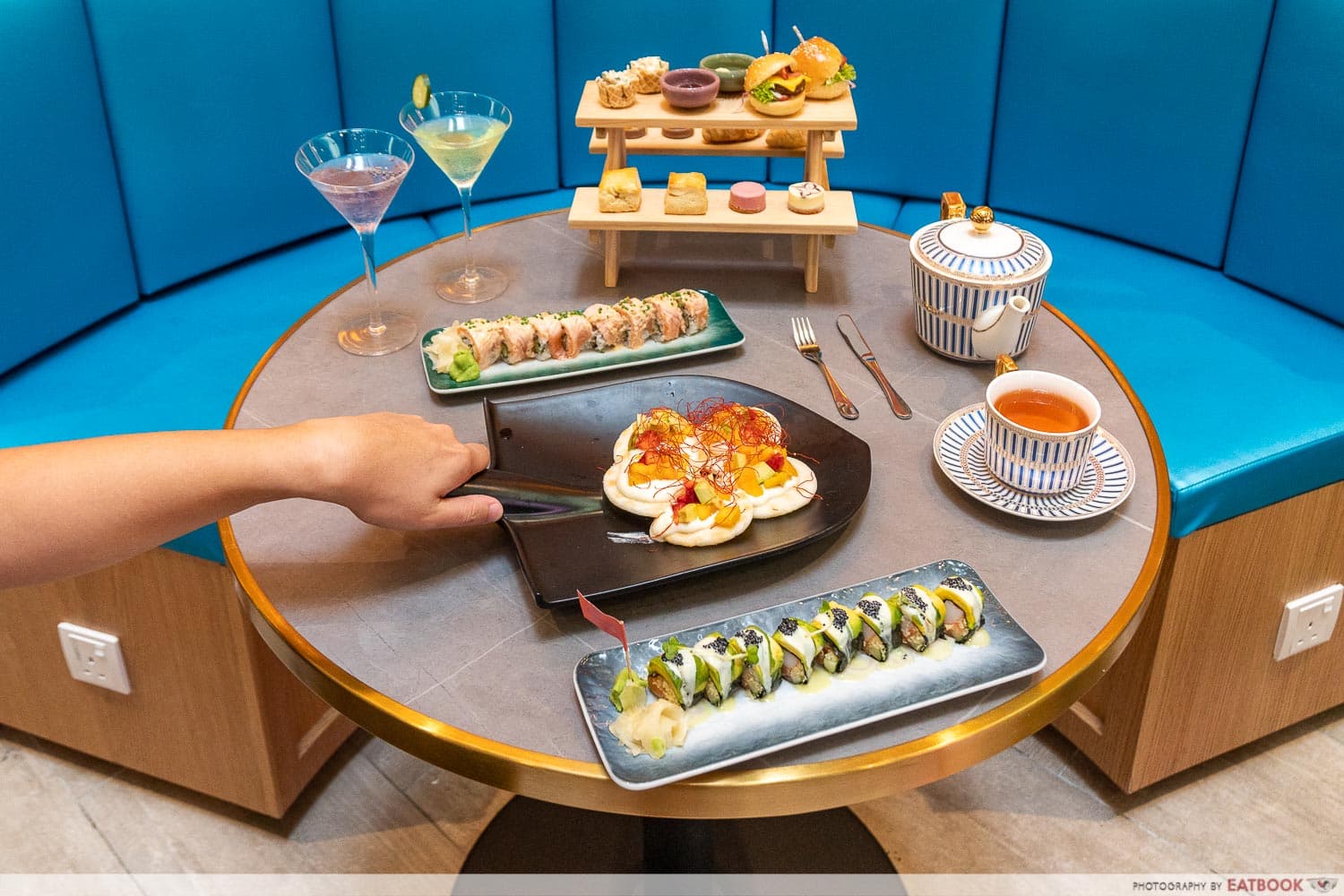 I rarely visit town nowadays so I didn't even realise that NY Night Market at 313 Somerset had closed. In its place now stands a new Japanese fusion restaurant—Ohayo Mama San—which serves up Singaporean-Japanese cocktails and food.
The all-day brunch and bar-restaurant is led by the same people behind sushi restaurant Takeshi-San in Holland Village, so you can expect the same high standards here as well. 
Food at Ohayo Mama San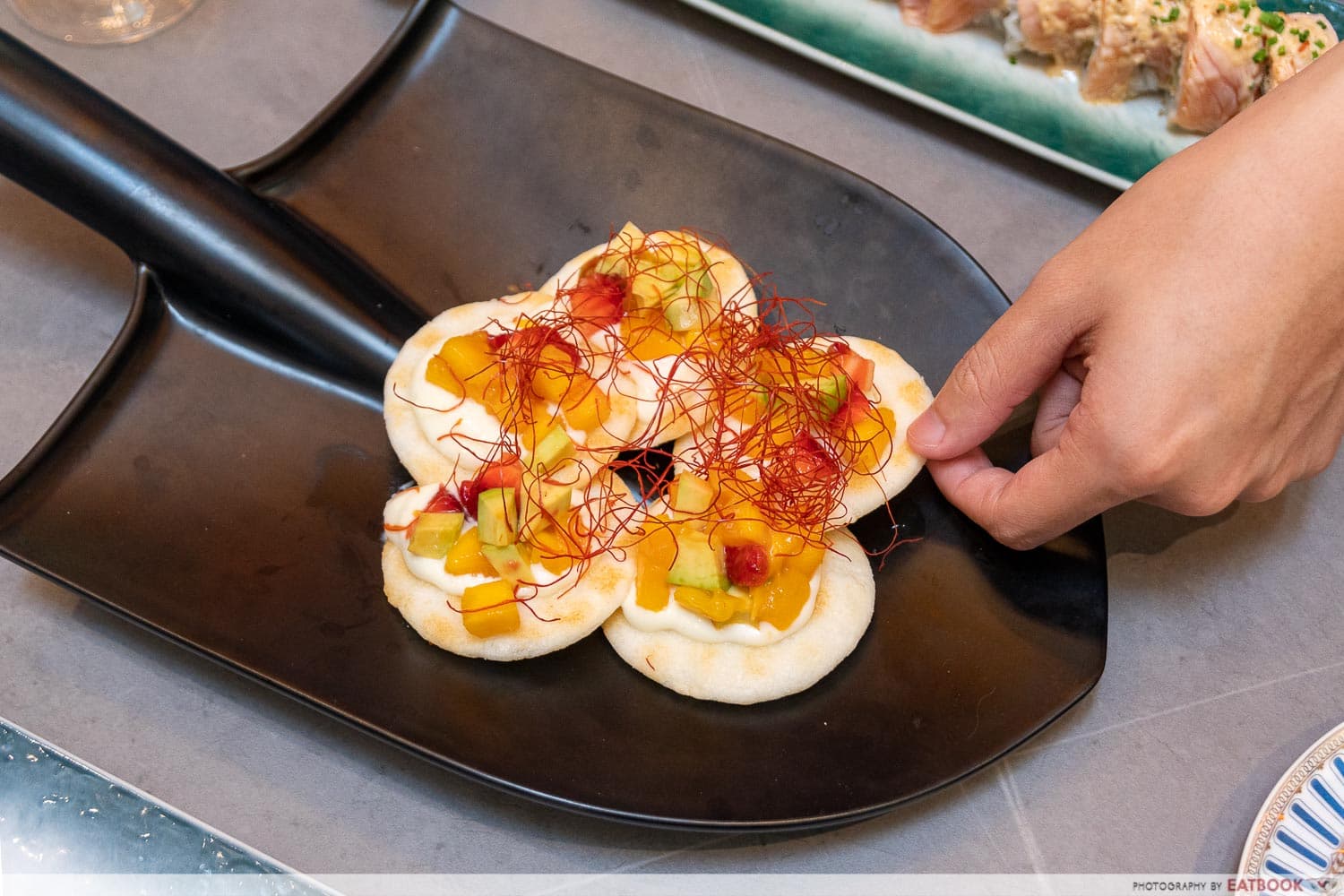 You're guaranteed to be dizzy with choice here at Ohayo Mama San, with seemingly endless appetisers, main courses, platters, and drinks to choose from. Start your meal with The Dancing Salsa ($18++) like we did.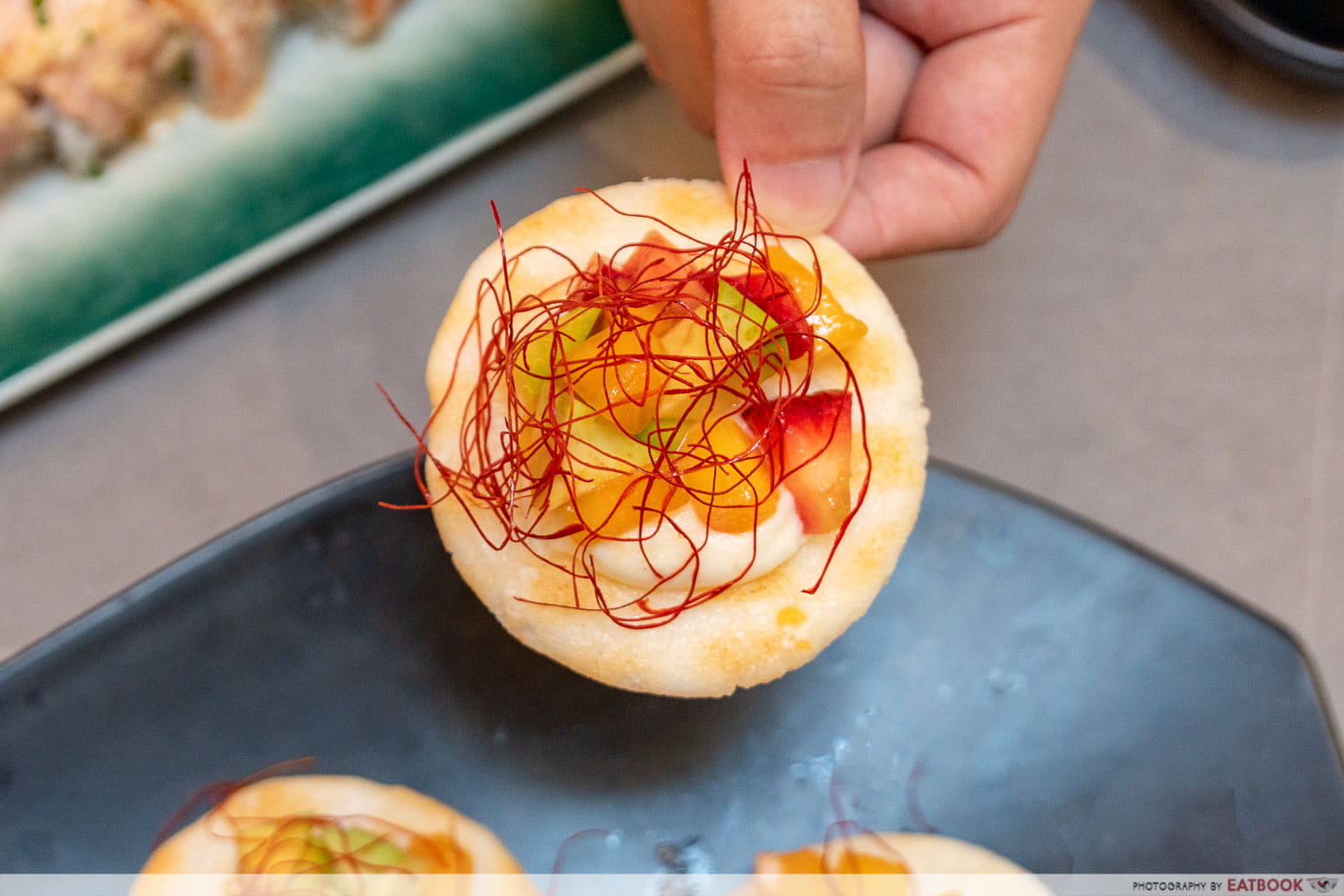 Served in five portions on a shovel-shaped plate, The Dancing Salsa is a rice cracker canape topped with avocado, strawberry, and peach on a bed of cream. I personally found the avocado to be less ripe than desired, but I still appreciated the sweet-savoury balance that the dish had.
It also helped that the dish was extremely aesthetically pleasing, thanks to the bright colours of the fruits and chilli threads.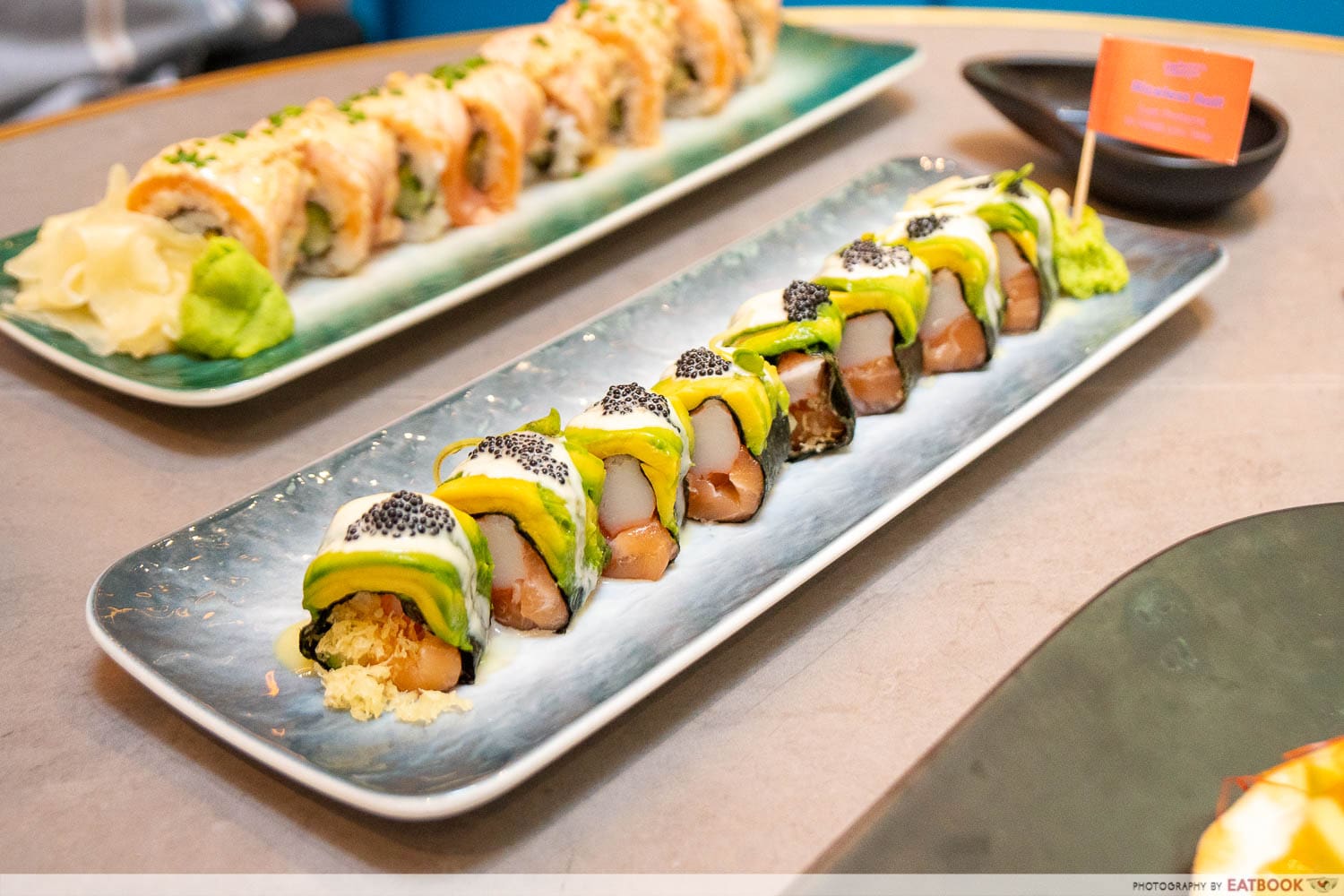 If you want something more satisfying but aren't ready to commit to a main yet, order some of Ohayo Mama San's signature sushi rolls.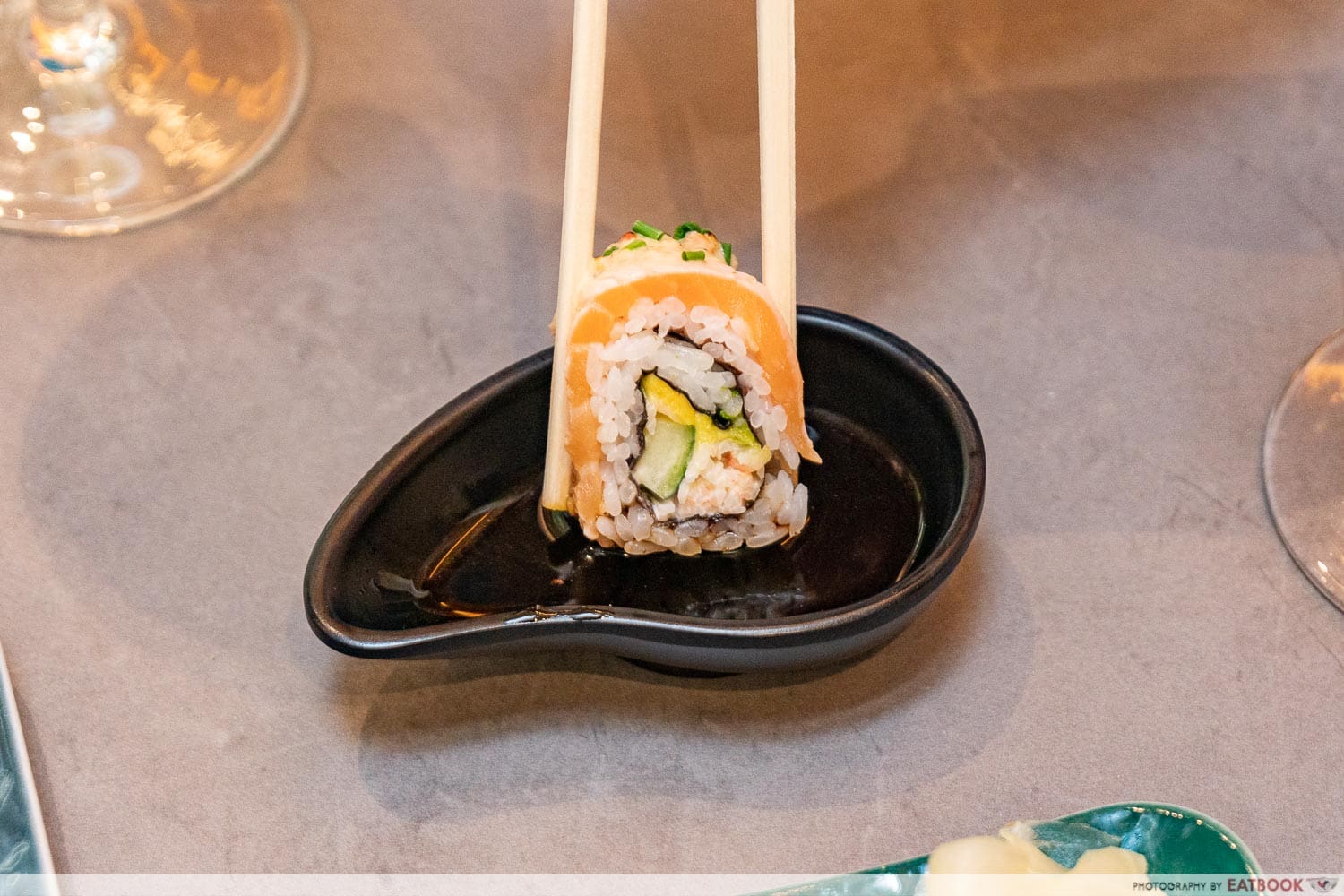 Go for the Fantasy Roll ($20++), which is an aburi salmon maki, with crab salad, cucumber and avocado. The rice roll is then topped with monkfish liver sauce, which imbued a creaminess while still being light on the palate. I would have preferred if the salmon were torched a tad more, but this could also have been a conscious decision to avoid overcooking the fish.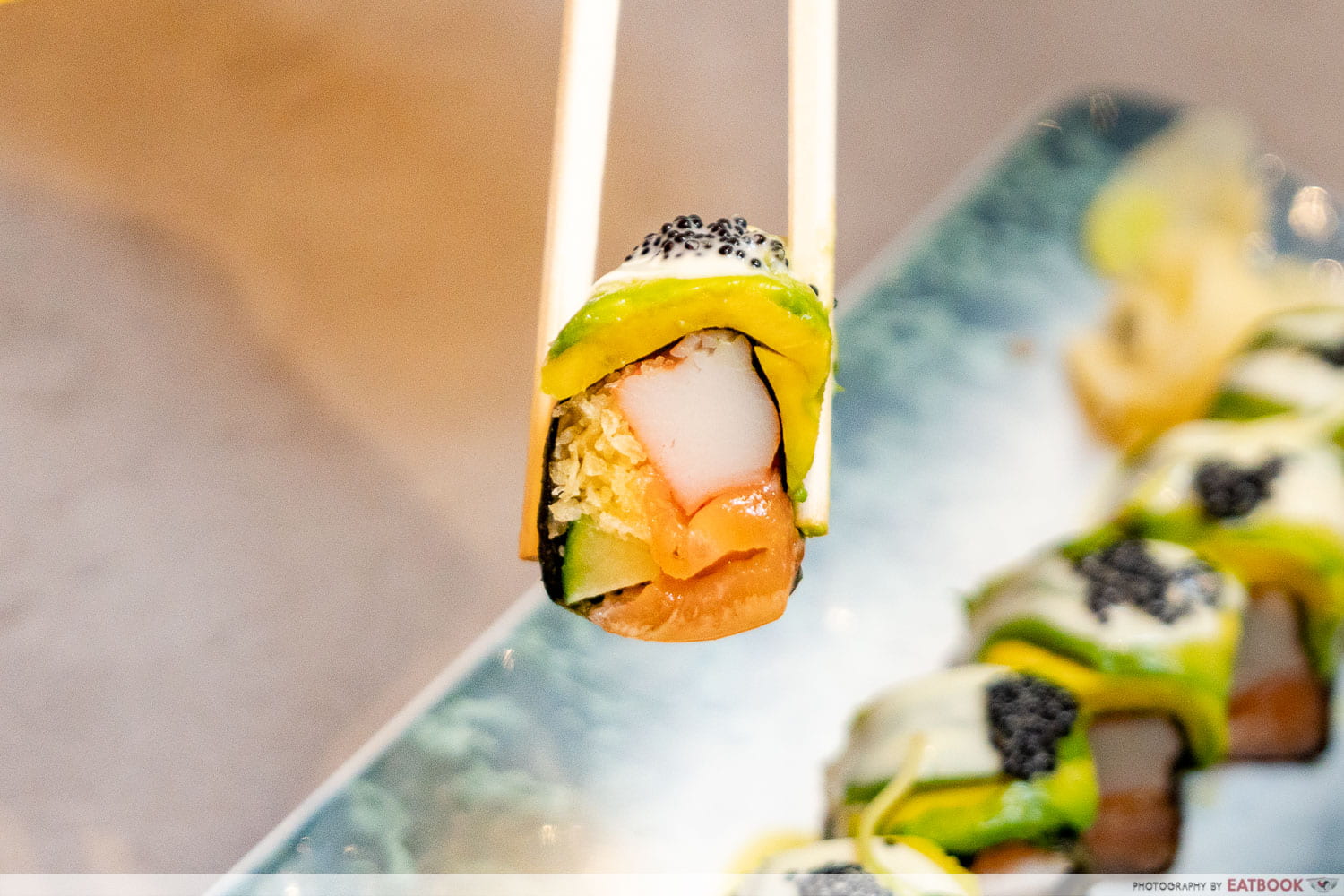 For the carb-conscious, Ohayo Mama San also has sushi rolls, sans rice. Of the four Riceless Sushi Rolls ($24++), we tasted the Forbidden Love, which saw the shortgrain rice replaced with crispy tempura bits, cucumber and crabstick. 
The maki is enveloped by a slice of avocado before it's finished with a dollop of black tobiko on top. Wasabi mayo is also drizzled over the rice-free roll, which gave the Forbidden Love a slight punch.
This was one of my favourite items I tasted during my visit, and I now understand the appeal of riceless maki rolls, no matter how unorthodox that sounds.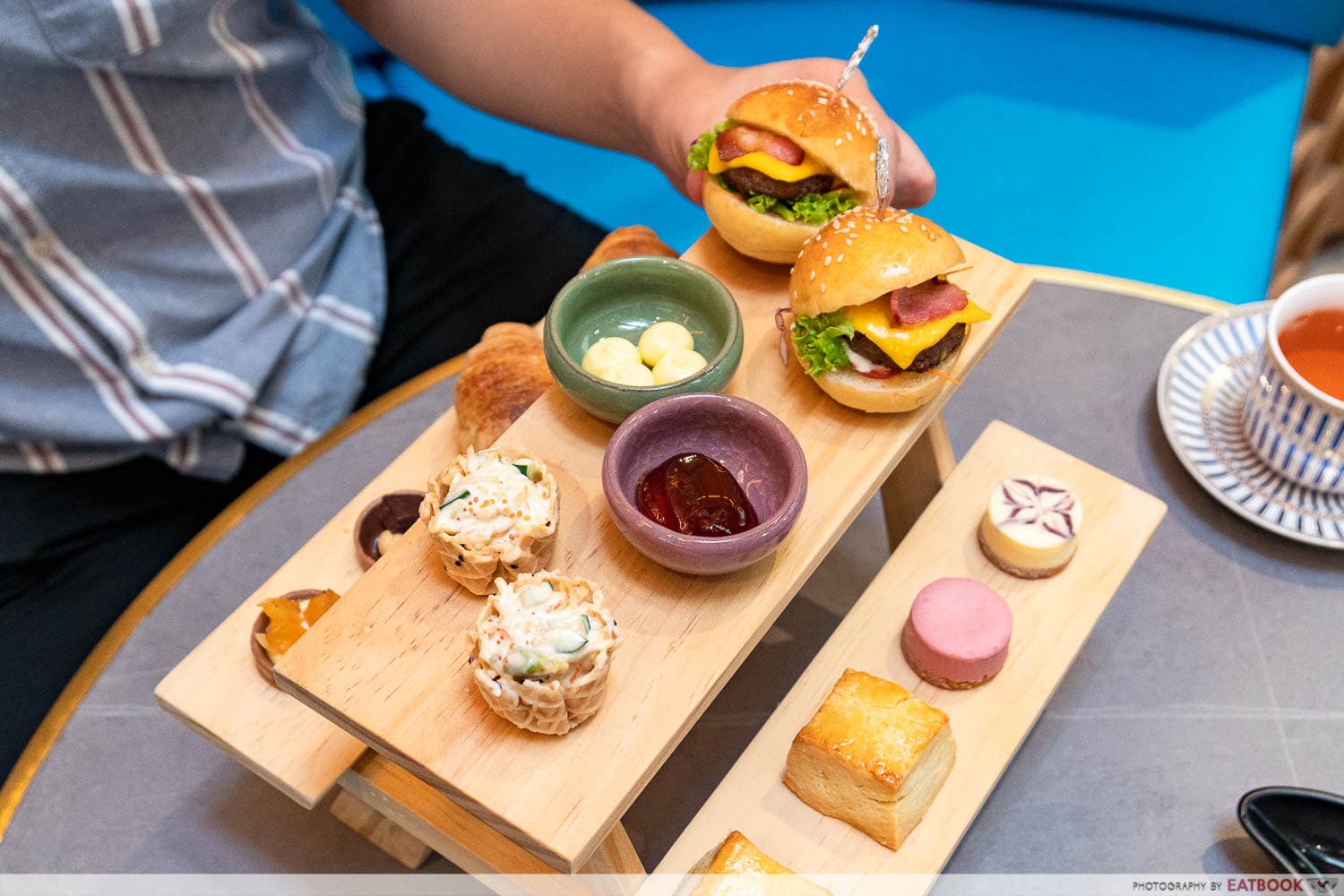 As a midday respite after a day of shopping, you can also pop by Ohayo Mama San for their affordable high tea sets. You have two options here, a largely savoury high tea set named Mixed Messages Tea Party, and a dessert-centric Sweet Time Tea Party.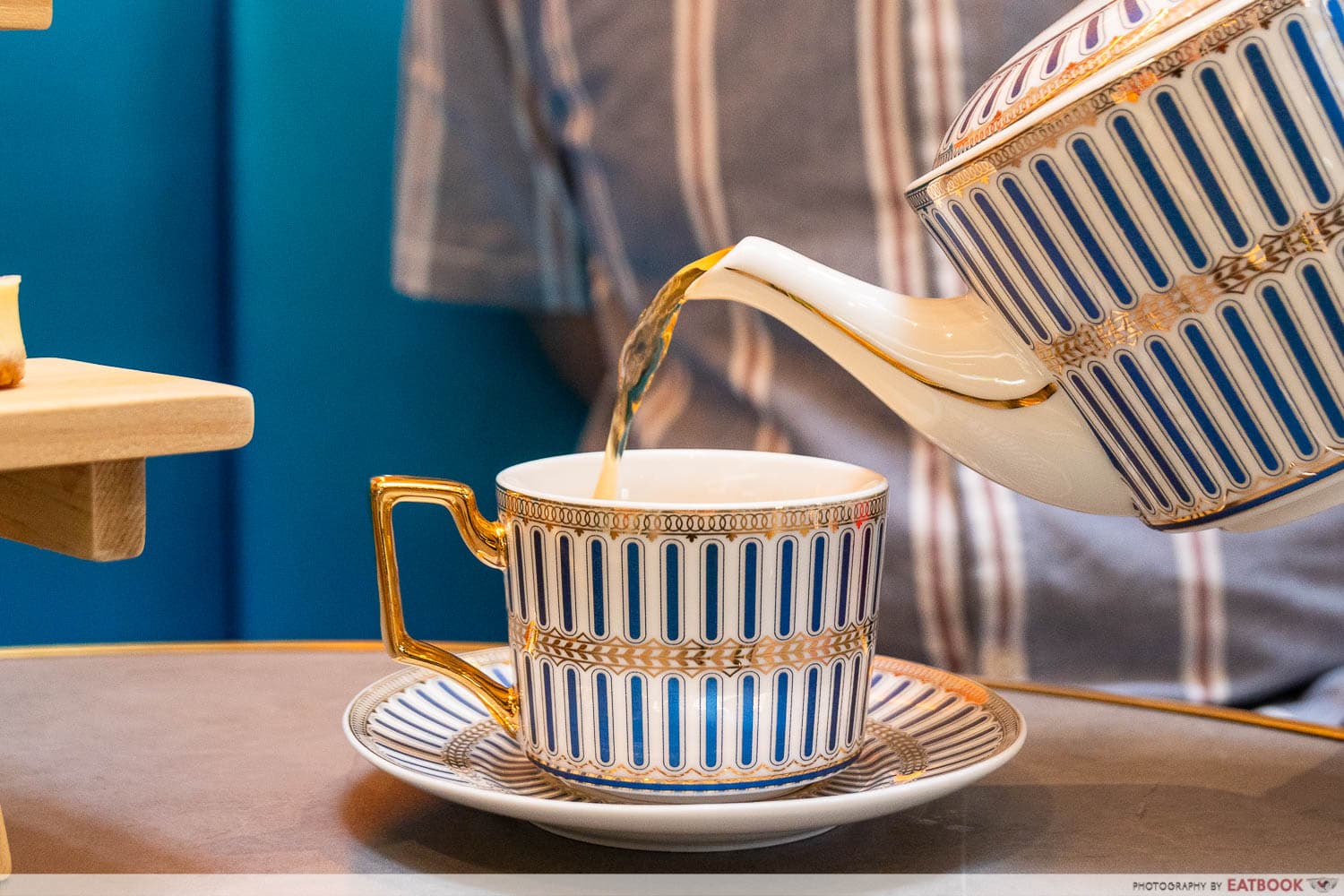 Both are served with a pot of TWG tea for $38++, but you can also request for alcoholic beverages at an additional charge. The set feeds two, so it works out to just $19++ per person!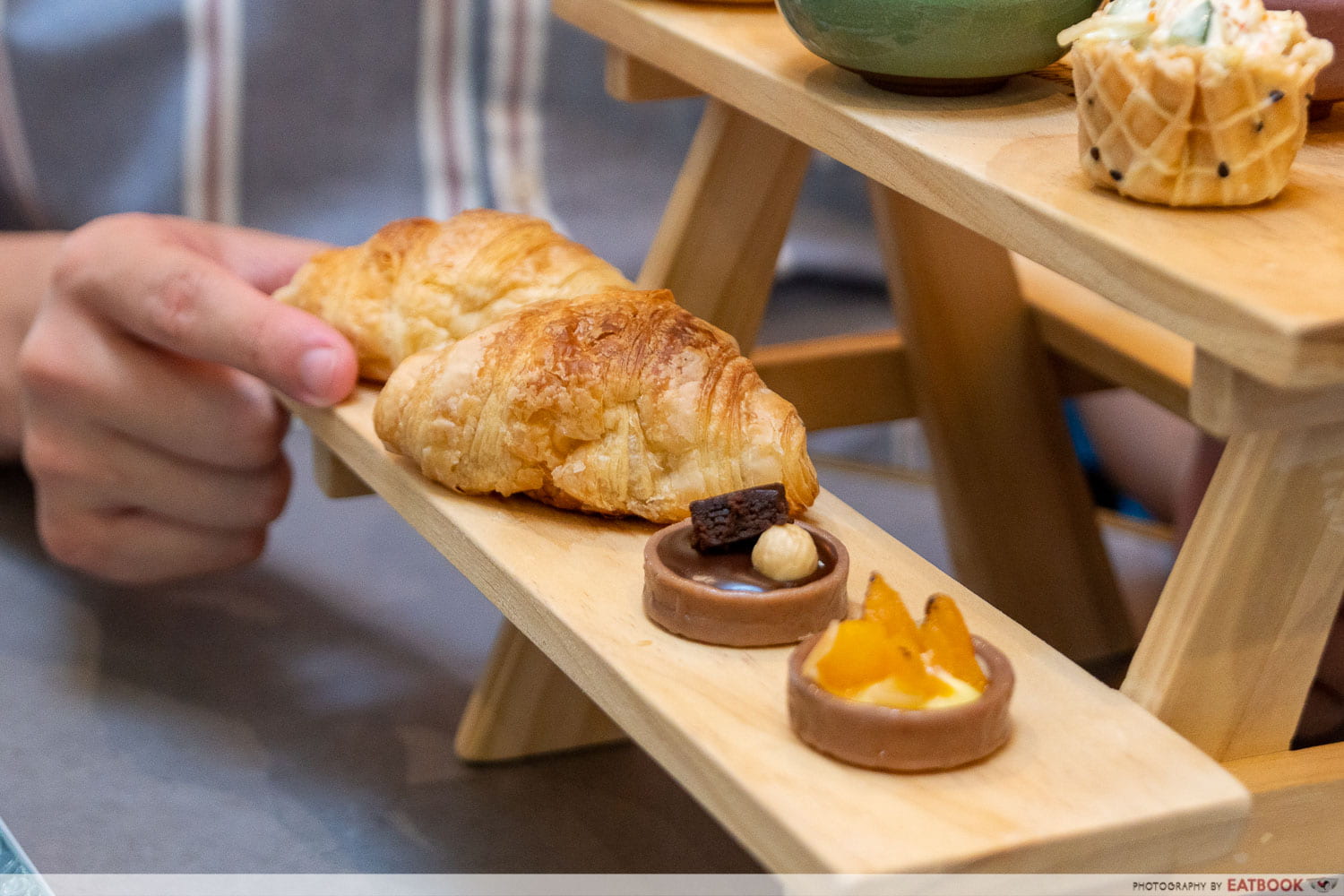 Although the specific items are on a rotational selection, you can still expect an assortment of tartlets, cakes, and other baked goods.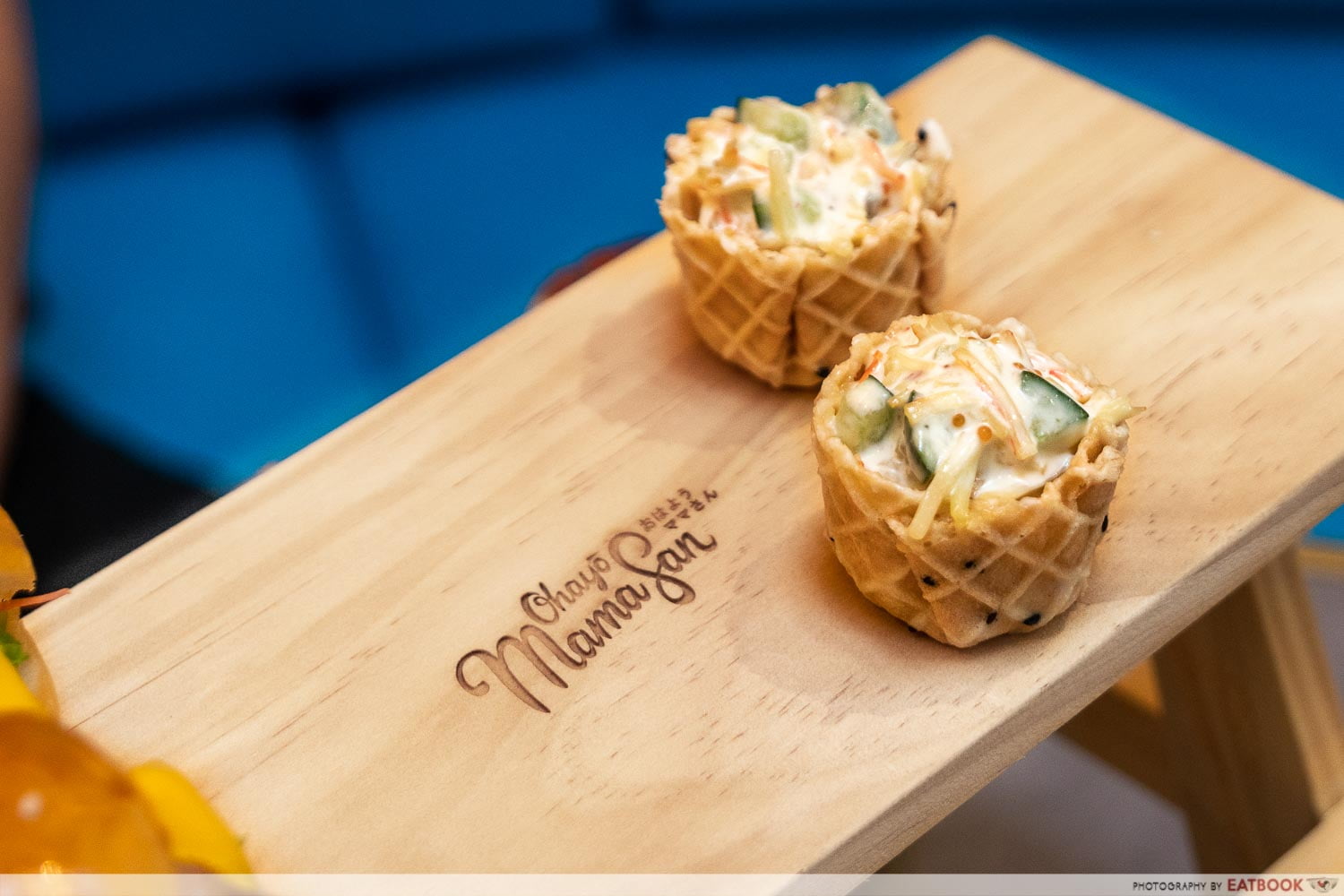 Despite the Sweet Time Tea Party being a sweets-themed set, I was actually more impressed by the savoury options it had. The kani salad shells we had were crunchy and crispy, and I enjoyed the sweetness of the crab meat.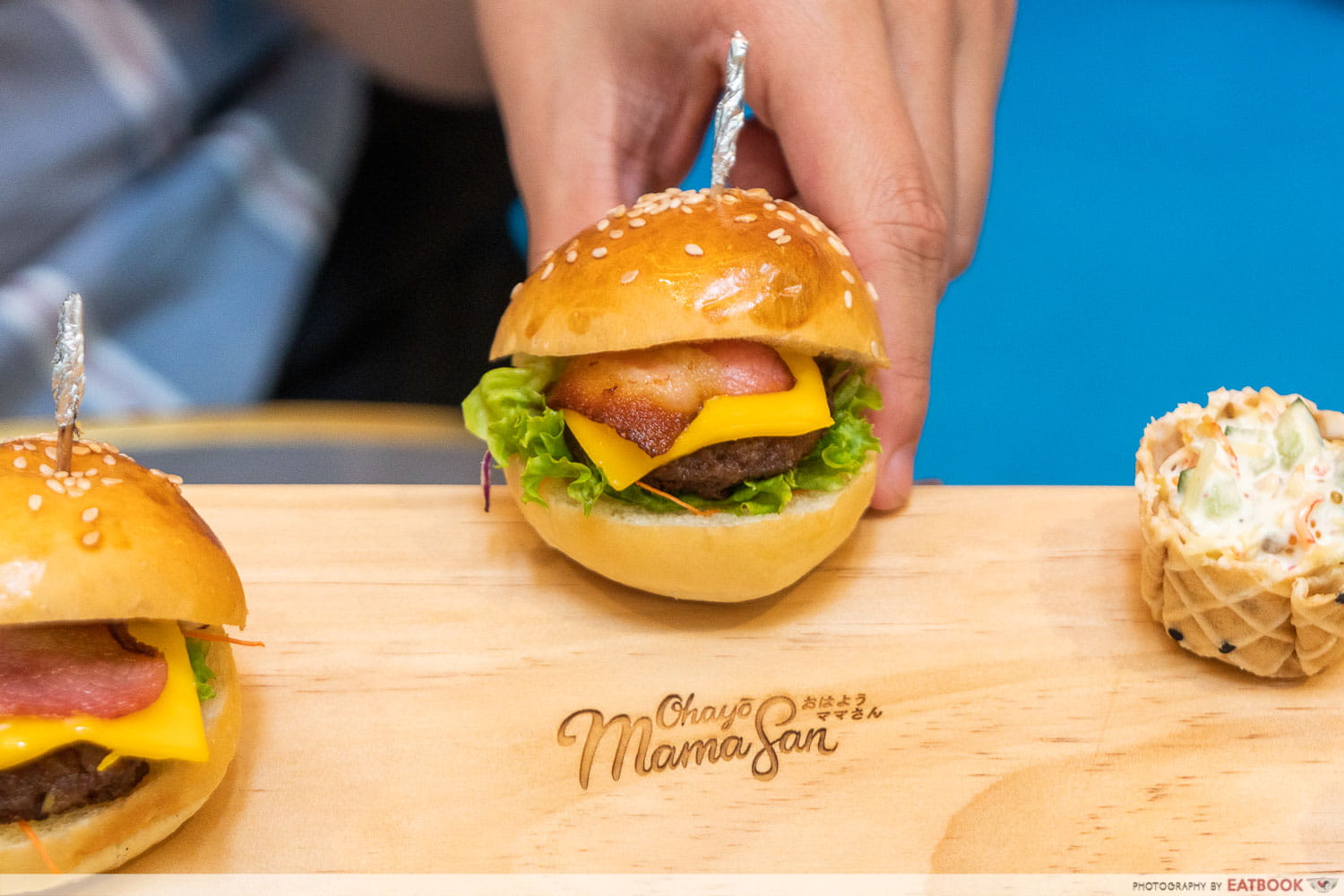 Similarly, the sliders were also delicious, with the saltiness of the bacon enhancing the juicy beef patty.
If you want to live out your Bridgerton fantasies and have tea in the proper fashion, go straight for the scones. With that said, the scones were less buttery than I had hoped for, and the jam also did not have much of a fruity flavour to it.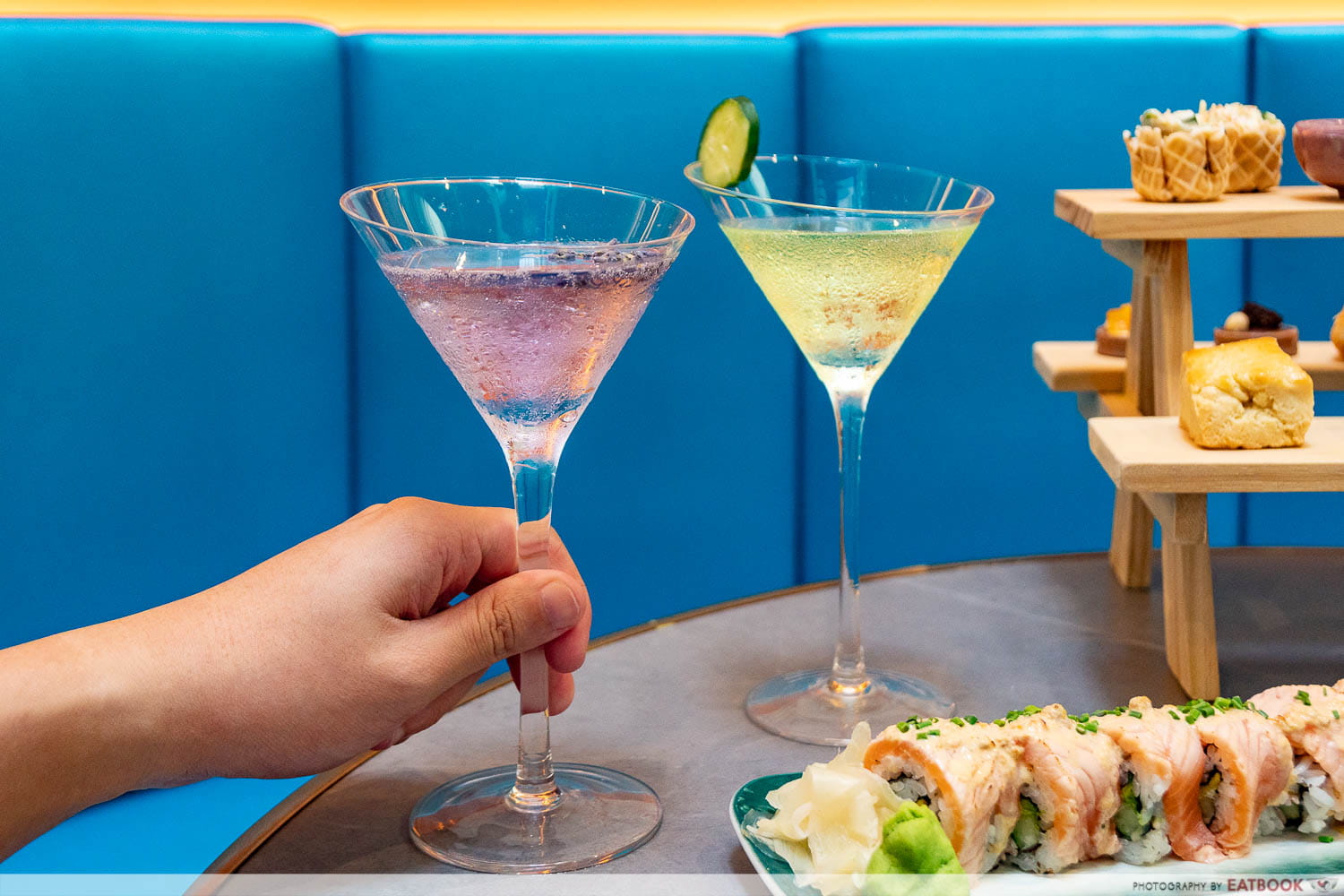 A trip to the bar is not complete without a cocktail, so don't miss out on Ohayo Mama San's collection of saketinis. The Cucumber Saketini ($16++) is surprisingly reminiscent of a melon drink, while the Lavender Saketini ($16++) presents strong floral notes on the nose.
Ambience at Ohayo Mama San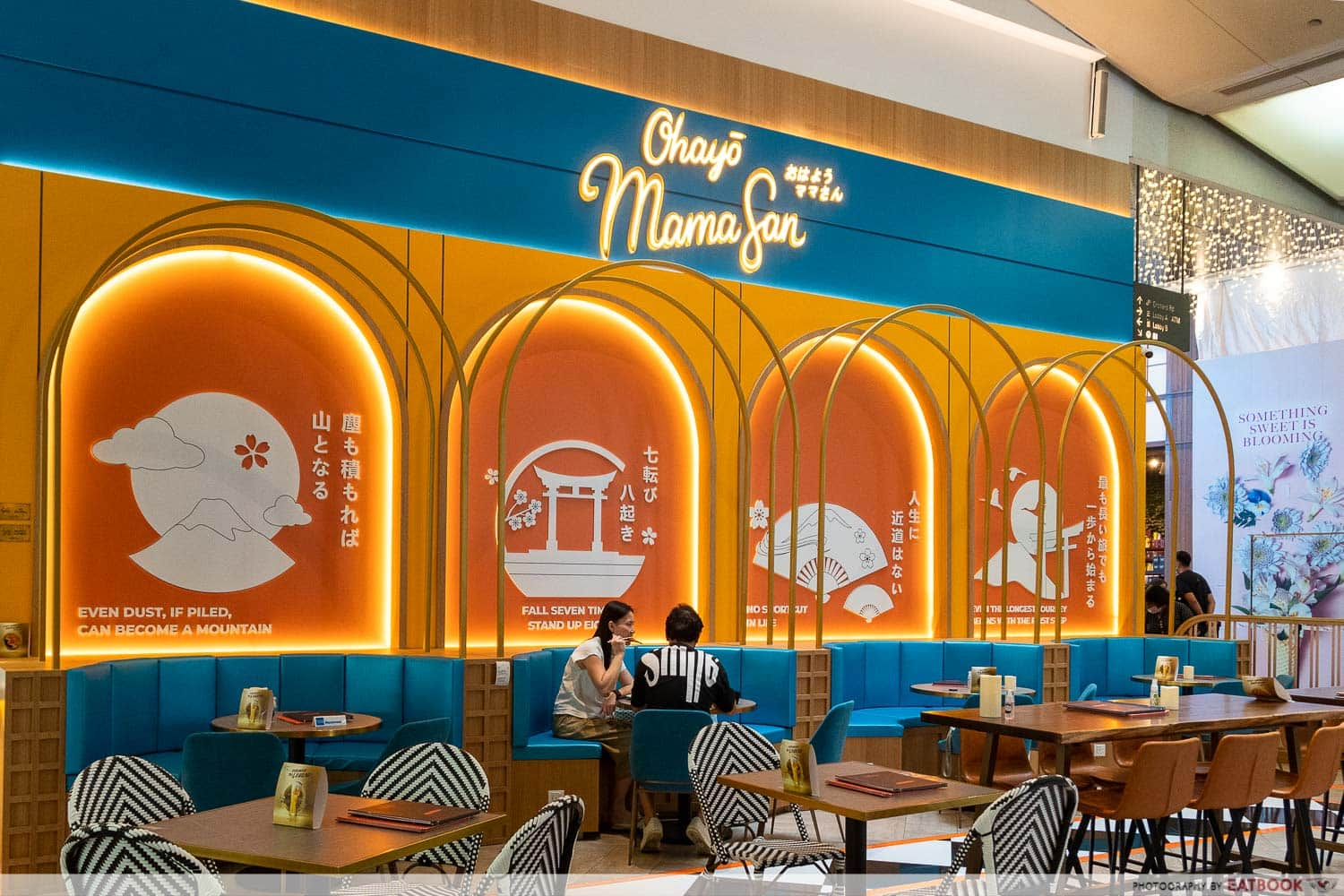 Decked in regal blue and orange tones, Ohayo Mama San has a range of counter seats, booths, and tables appropriate for all occasions. It's also right above Somerset MRT Station, which makes for an extremely convenient location.
The restaurant touts its space as being perfect to people-watch from, but on the contrary, I was the one that felt gawked at by the Somerset shopping crowd.
The verdict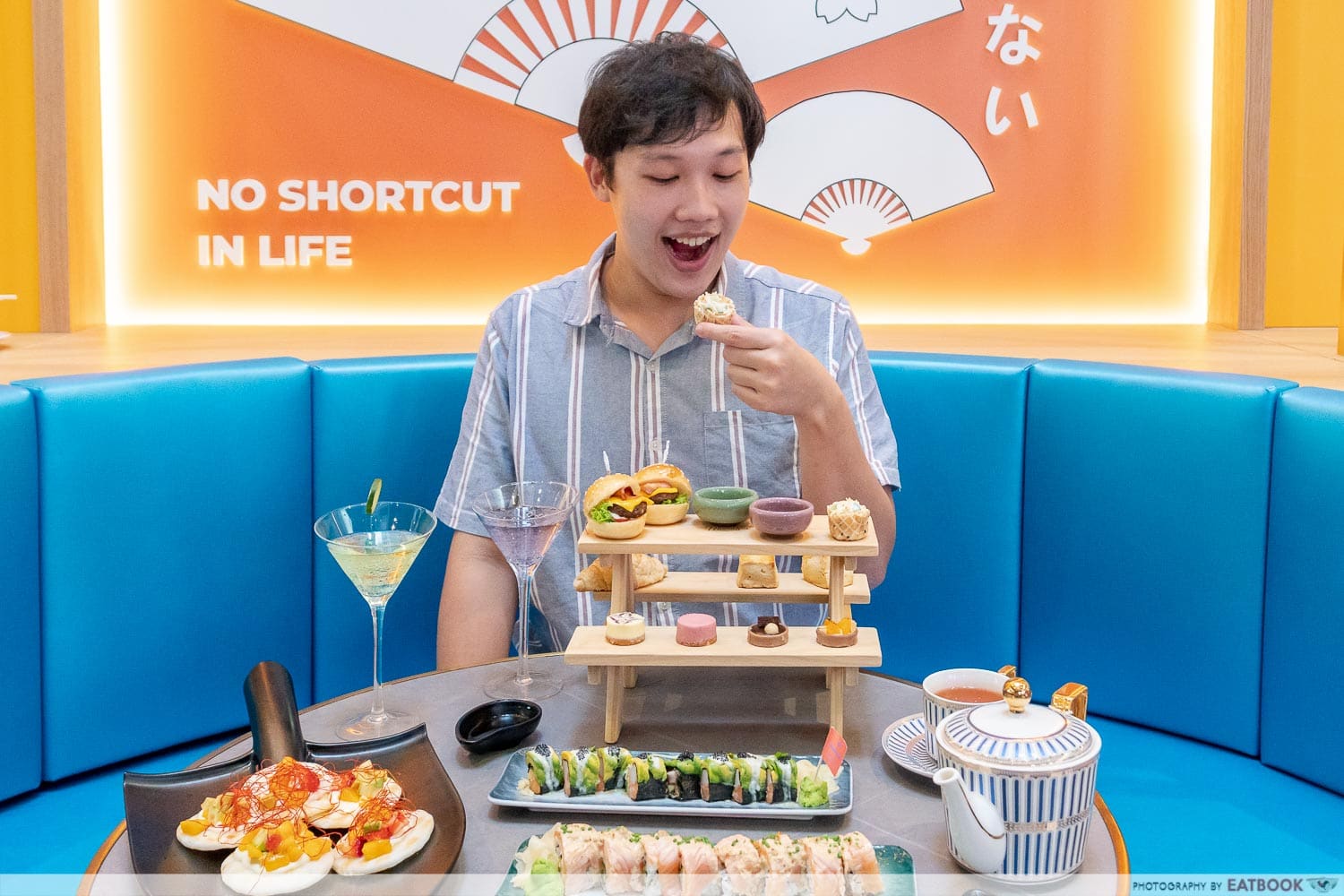 I've never really pegged myself as a high tea kind of person, because I don't quite appreciate dainty portions. However, the price point of Ohayo Mama San's high tea sets definitely do make them more appealing, considering the exorbitant prices that you'd be forking out elsewhere along the Orchard belt.
Come for their Riceless Sushi Rolls, and beautiful saketinis. That's where you'll get the best taste and the most value, in my honest opinion.
Other than Ohayo Mama San, 313 Somerset also has many other choices of food. Check out our 313 Somerset food guide for ideas on what to eat! 
Don't miss out on Muttons in the Morning's new Japanese eatery Itchy Bun for their $10 Unagi Don and frog leg karaage!
Address: 313 Orchard Road, #01-29, 313 Somerset, Singapore 238895
Opening hours: Daily 11am to 10:30pm
Tel: 8875 2777
Website
Ohayo Mama San is not a halal-certified eatery.
Itchy Bun Review: DJ Duo Muttons Open New Japanese Eatery With $10.90 Unagi Don
Photos taken by Tanya Tham.
This was a media tasting at Ohayo Mama San.
Ohayo Mama San Review: Japanese Canapes, Sake Martinis And More At This New Somerset Restaurant
Ohayo Mama San Review: Japanese Canapes, Sake Martinis And More At This New Somerset Restaurant -

7.5/10
Summary
Pros
– High tea set for two at only $38++
– Forbidden Love was delicious
Cons
– Dessert items in the Sweet Time Tea Party were quite ordinary
– The Dancing Salsa was quite expensive
Recommended dishes: Forbidden Love ($24++), Sweet Time Tea party ($38++)
Opening hours: Daily 11am to 10:30pm
Address: 313 Orchard Road, #01-29, 313 Somerset, Singapore 238895