Itchy Bun at Prinsep Street
Following the raving success of their first foray into F&B—Fook Kin, Class 95 DJ duo Justin and Vernon are back with a new eatery concept. Together with partner Bernie, the trio opened Itchy Bun in February 2022. As with Fook Kin, the name of the new restaurant is a pun—a homonym of the Japanese "ichiban", or "number one".
Though I was excited to try Itchy Bun when I first heard of its opening, I didn't fancy myself getting caught in the throngs of the Muttons' fans whom I figured would swarm the restaurant. Instead, I patiently waited until I felt that the initial hype had died down, before I went to review the famed buns.
Billion Bowls Review: $6.90 Japanese Rice Bowls By Ex-Mikuni Chef
Food at Itchy Bun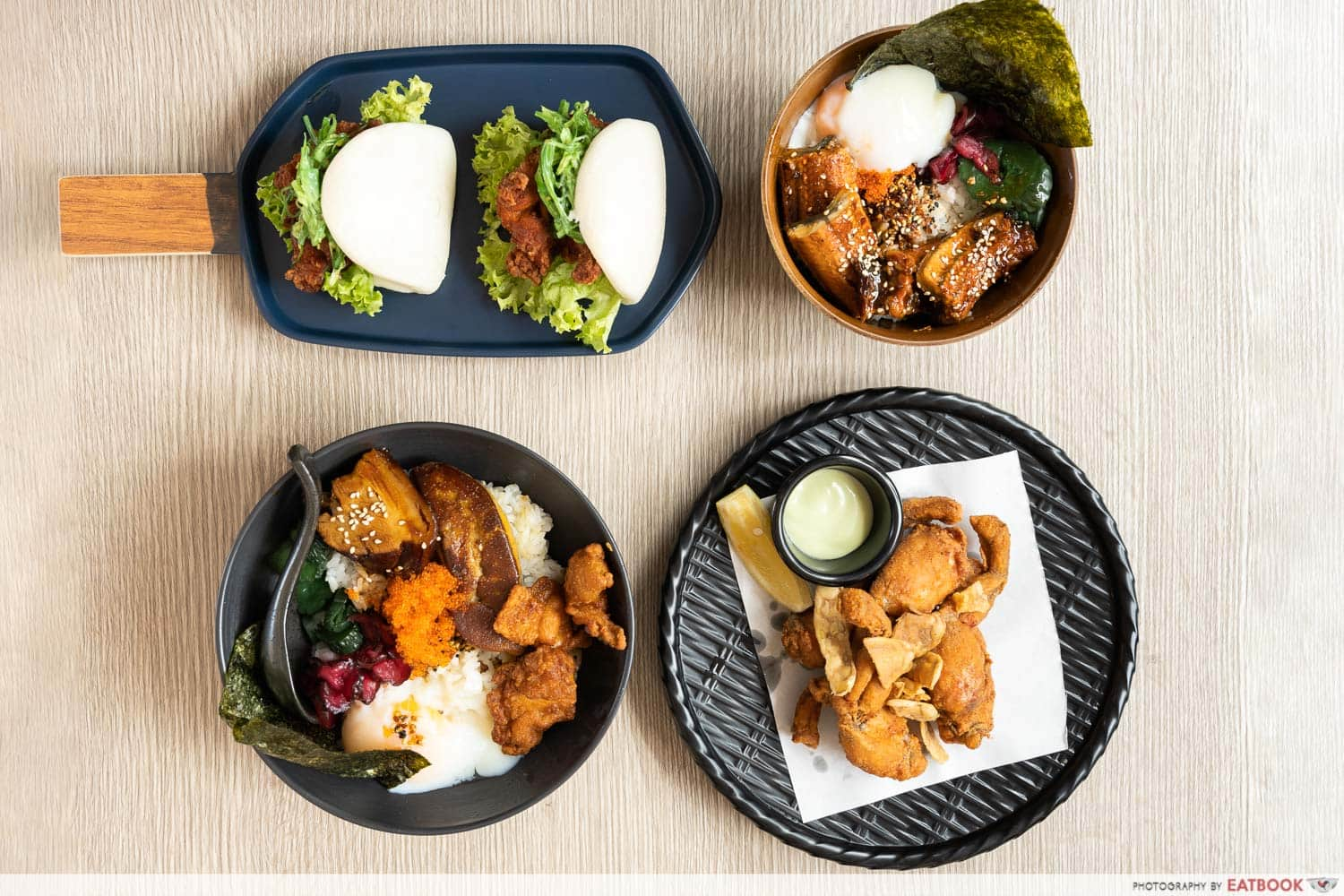 There's quite a range of food available at Itchy Bun—rice bowls, deep-fried appetisers, and of course, the eponymous Itchy Buns. Scanning the menu, I spied an interesting appetiser that I've not tasted elsewhere before, and so I decided to start our meal with the Kaeru Noashi Karaage ($13.80)—AKA Frog Leg Karaage.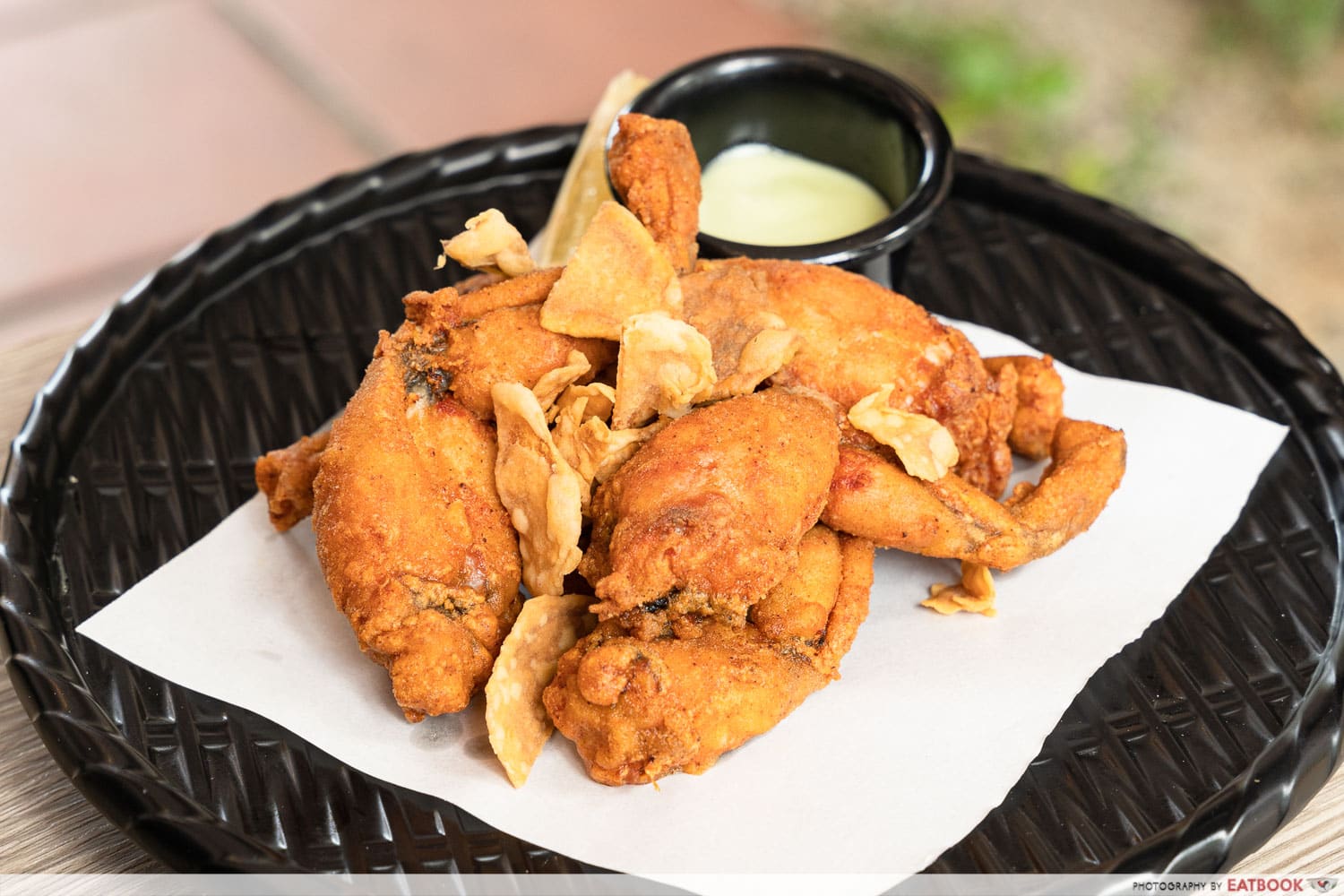 Served in a plate of six, at first glance, these might have been mistaken as skinny chicken wings. A wasabi mayonnaise dip and fried ginger chips accompanied the frog legs on the side. For those that have not tried frog meat before, it's quite similar to the flavour of chicken thigh, while the texture resembles that of firm fish flesh.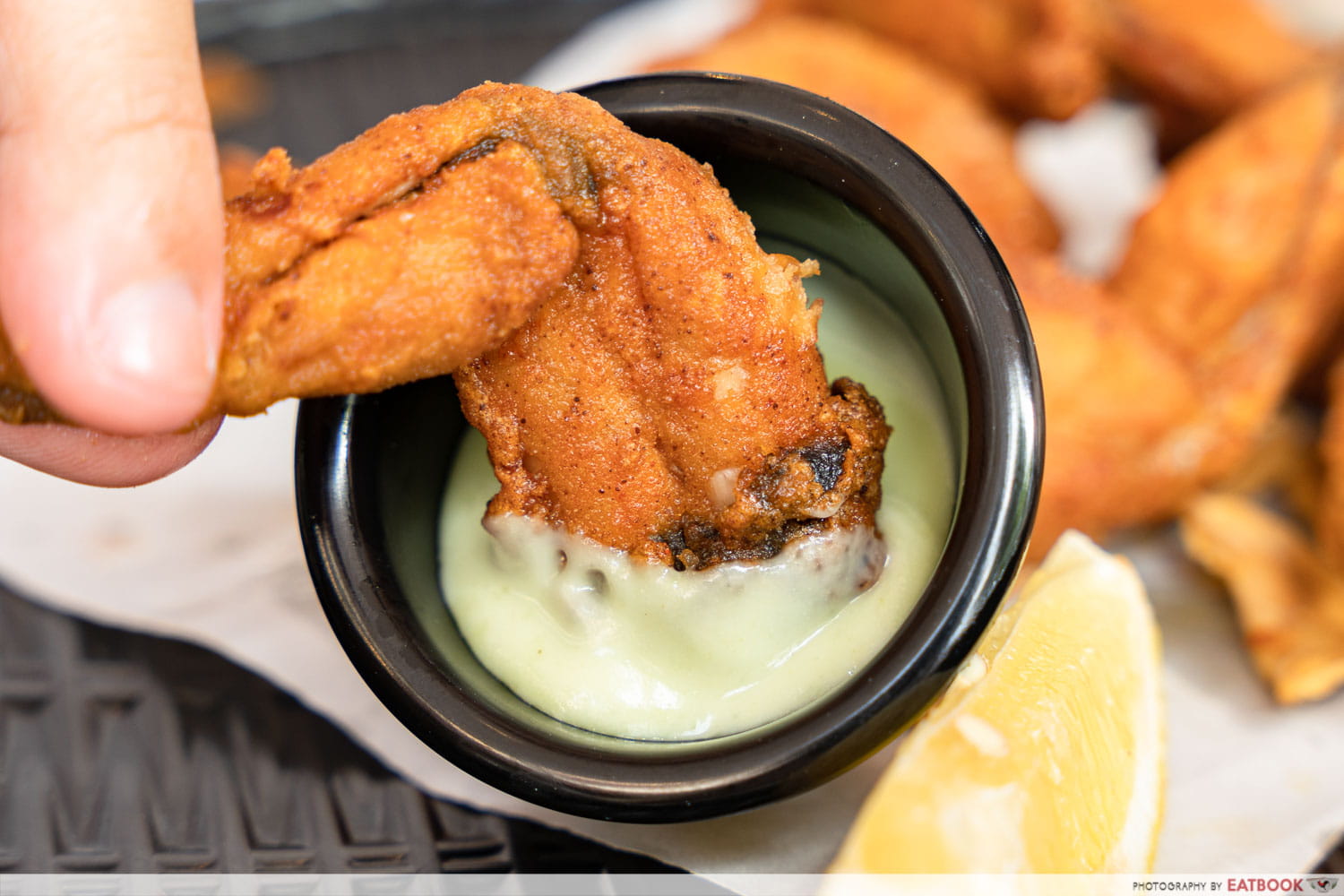 The frog legs were coated in a thin layer of flour, and were lightly seasoned with salt and pepper. The sharpness of the wasabi mayo dip wasn't to my liking, and I preferred to have the Kaeru Noashi Karaage on its own. The thinly-sliced ginger chips were however, in my opinion, a pleasant touch to the dish, as they gave it an intoxicating fragrance.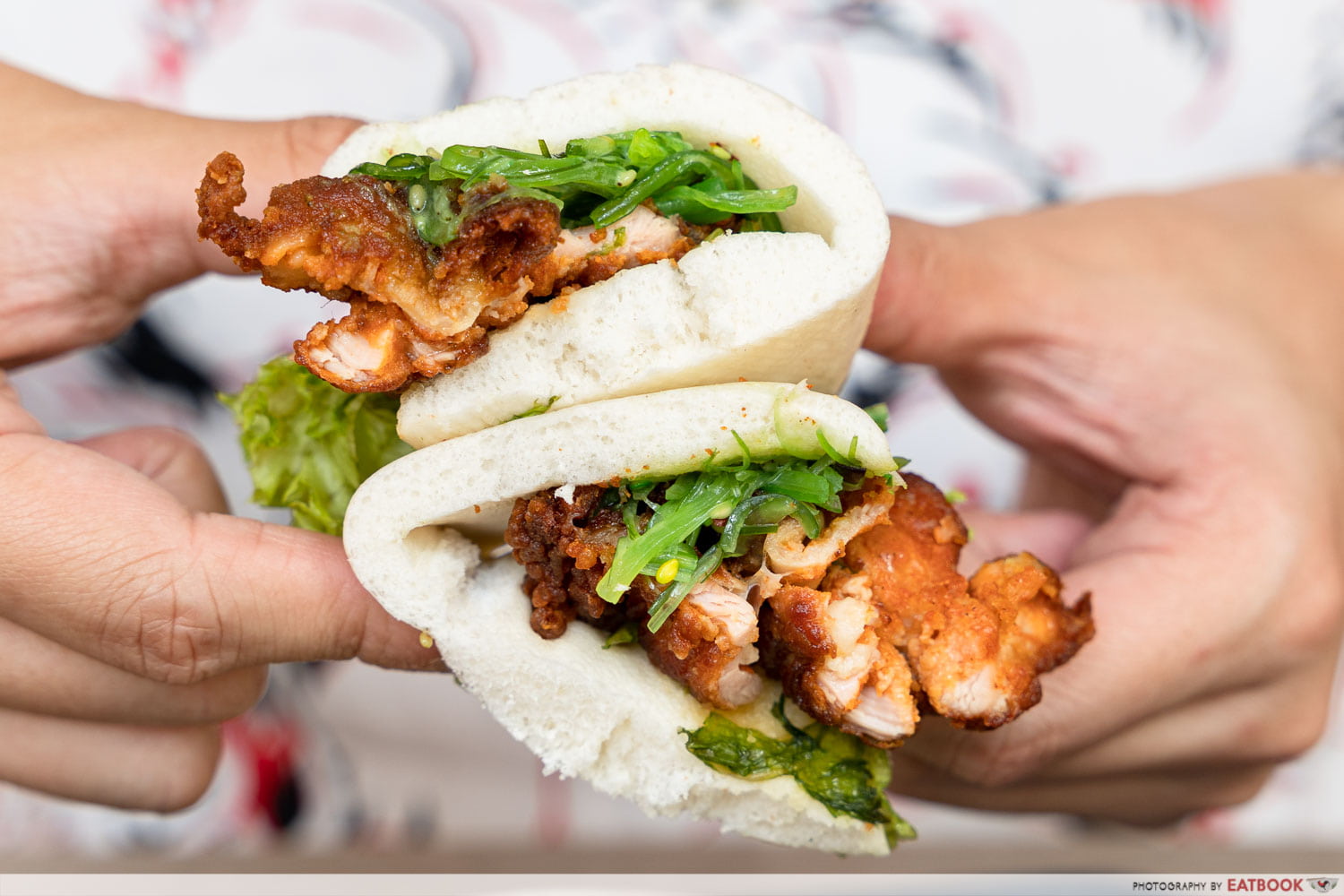 I went with the Spicy Karaage Bun ($5.80) next, which I felt was quite value-for-money, as I got two buns with meaty pieces of chicken karaage. The spiciness from the Spicy Karaage Bun largely came from the chilli powder the chicken was seasoned with, but there was a tinge of wasabi from the wakame as well. 
Overall, I enjoyed the symphony of textures from the crispy chicken to the chewy seaweed, but I felt that the bun could have been softer—though I would have to caveat that this could have been due to us leaving the bun out.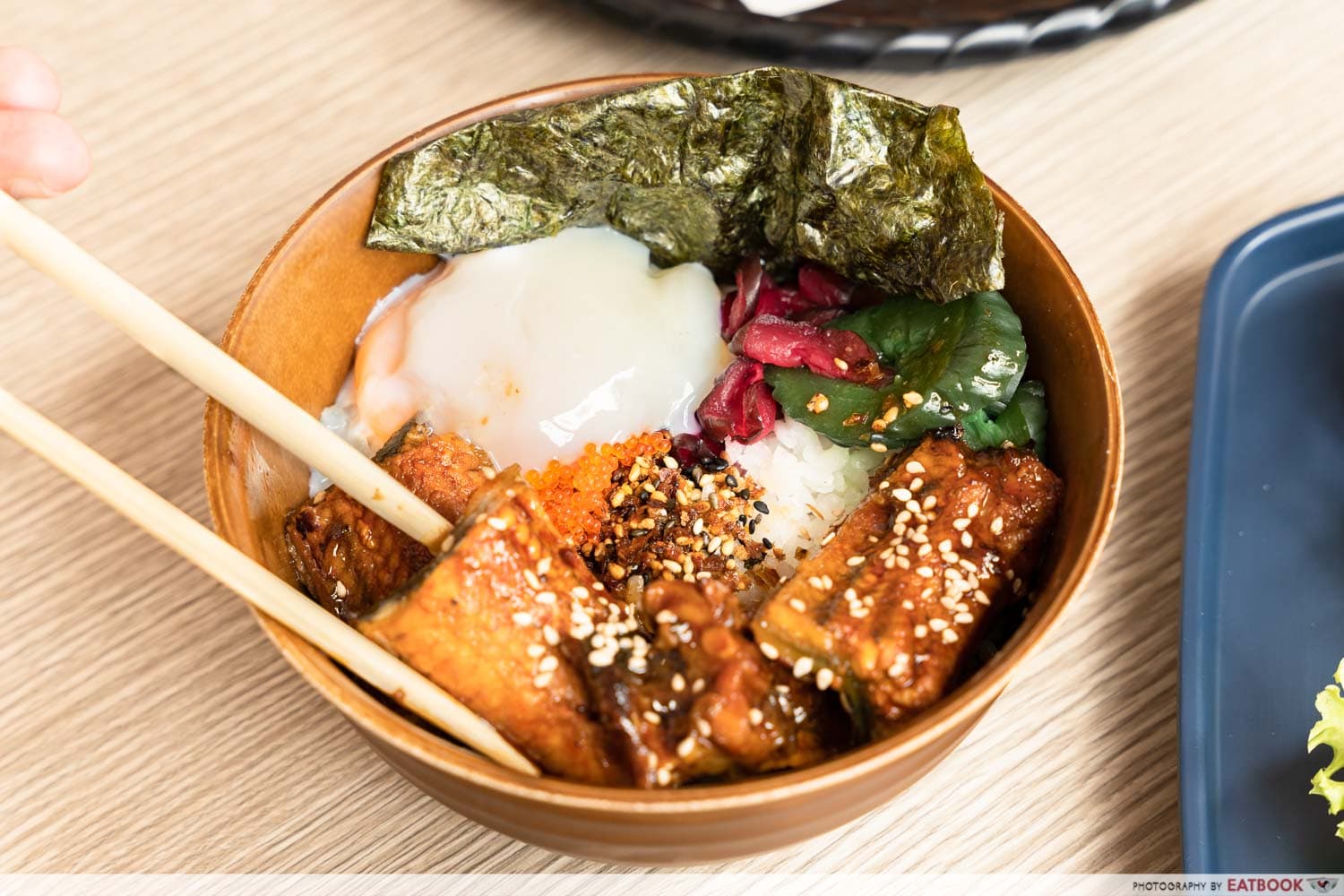 Moving on to the mains next, my colleague went with the Unagi Don ($10.80) while I opted for the Subarashii Don ($19.80). Although the Unagi Don was presented in a small and shallow bowl, the unagi itself was anything but. There were four thick pieces of unagi, which came glazed in a sweet tare.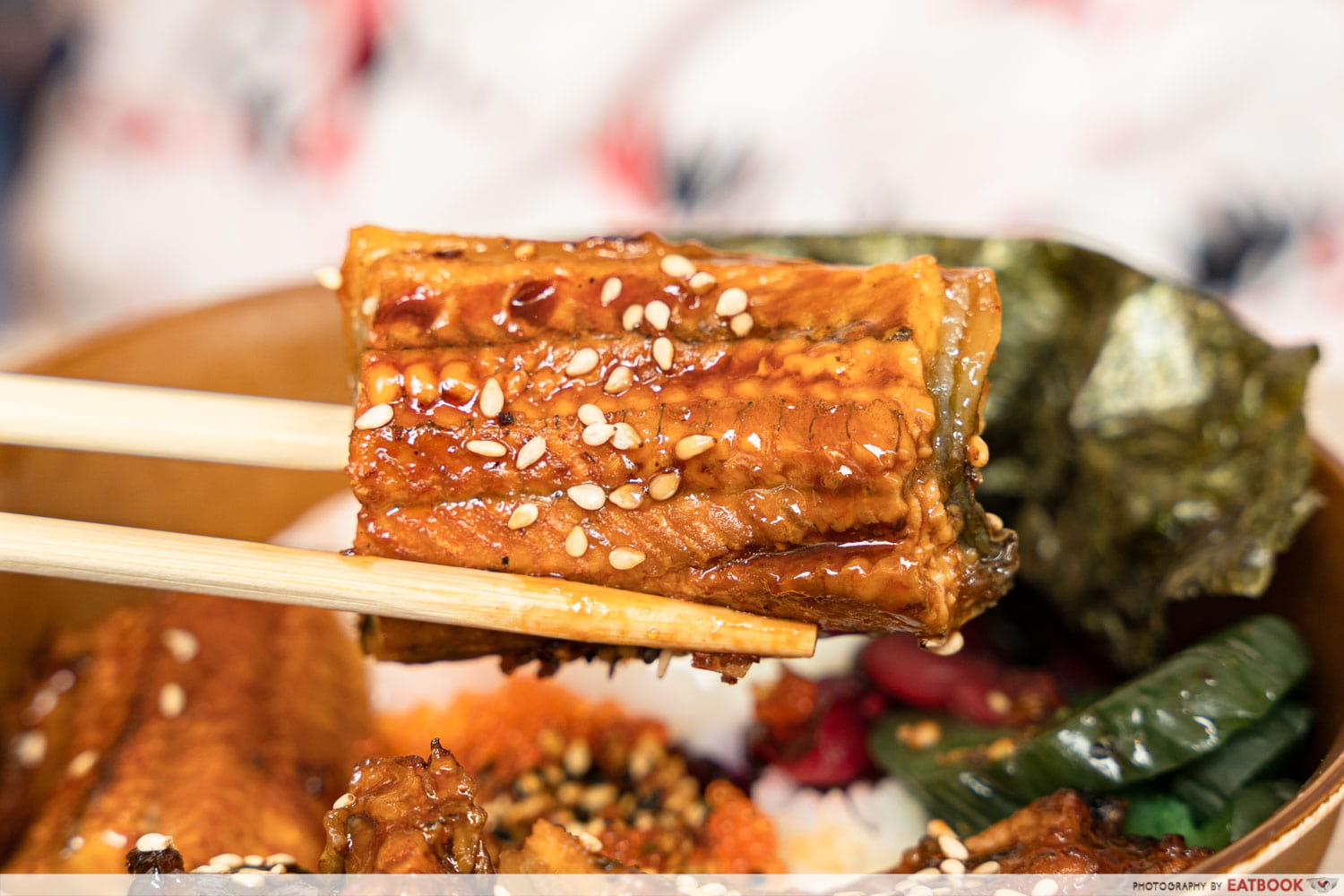 I liked the thick cut as it gave the unagi more bite, but I would have preferred it if they were a tad softer.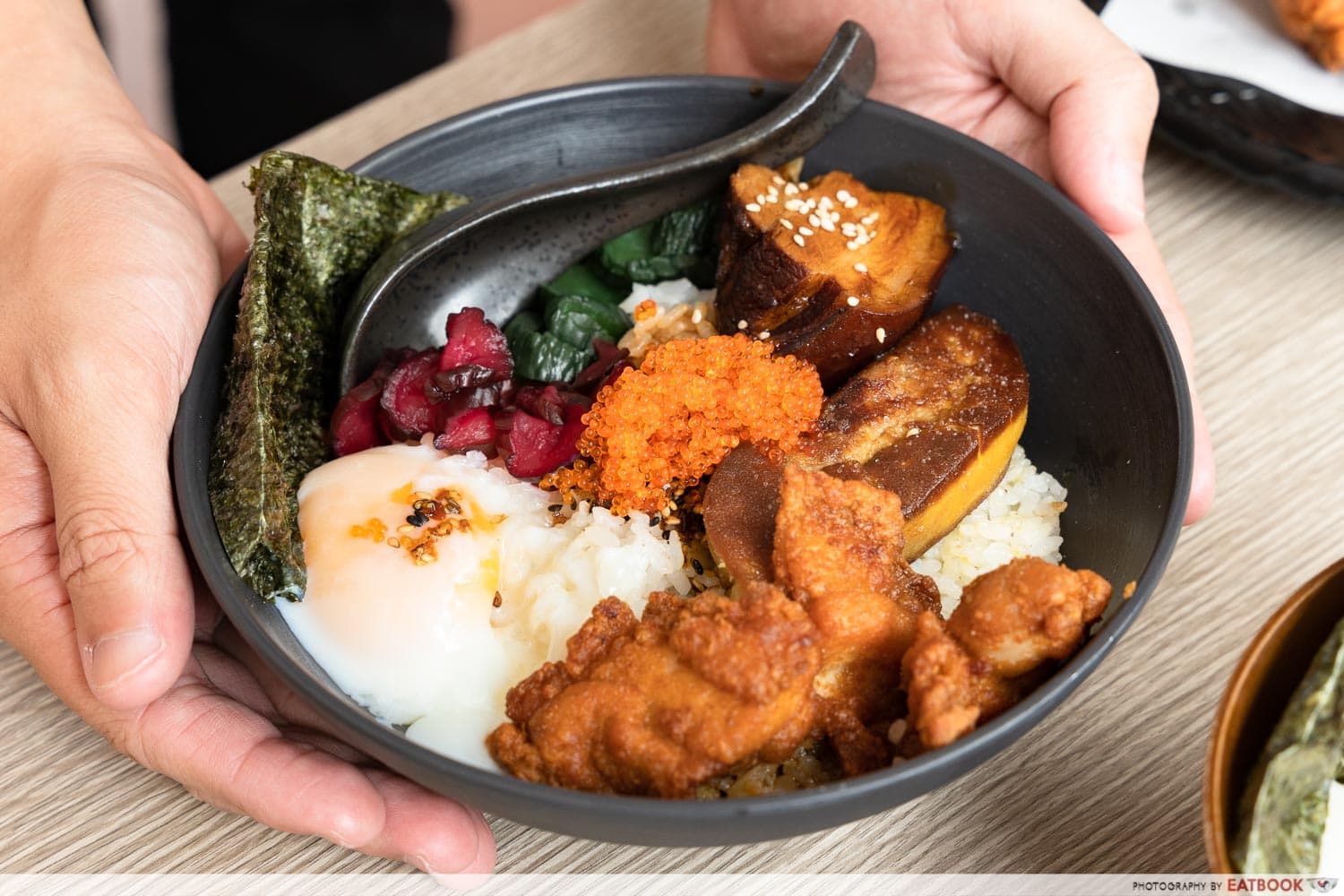 Next to the Unagi Don, the Subarashii Don looked like a monster. For only $19.80, you get a huge slab of foie gras—more on that later—a piece of kakuni, AKA braised pork belly, three pieces of chicken karaage, and a generous heap of tobiko. 
As if having three different types of meat was not enough, Itchy Bun tops it off with a drizzle of truffle oil for good measure. This should be your order if you want to try the various protein options available.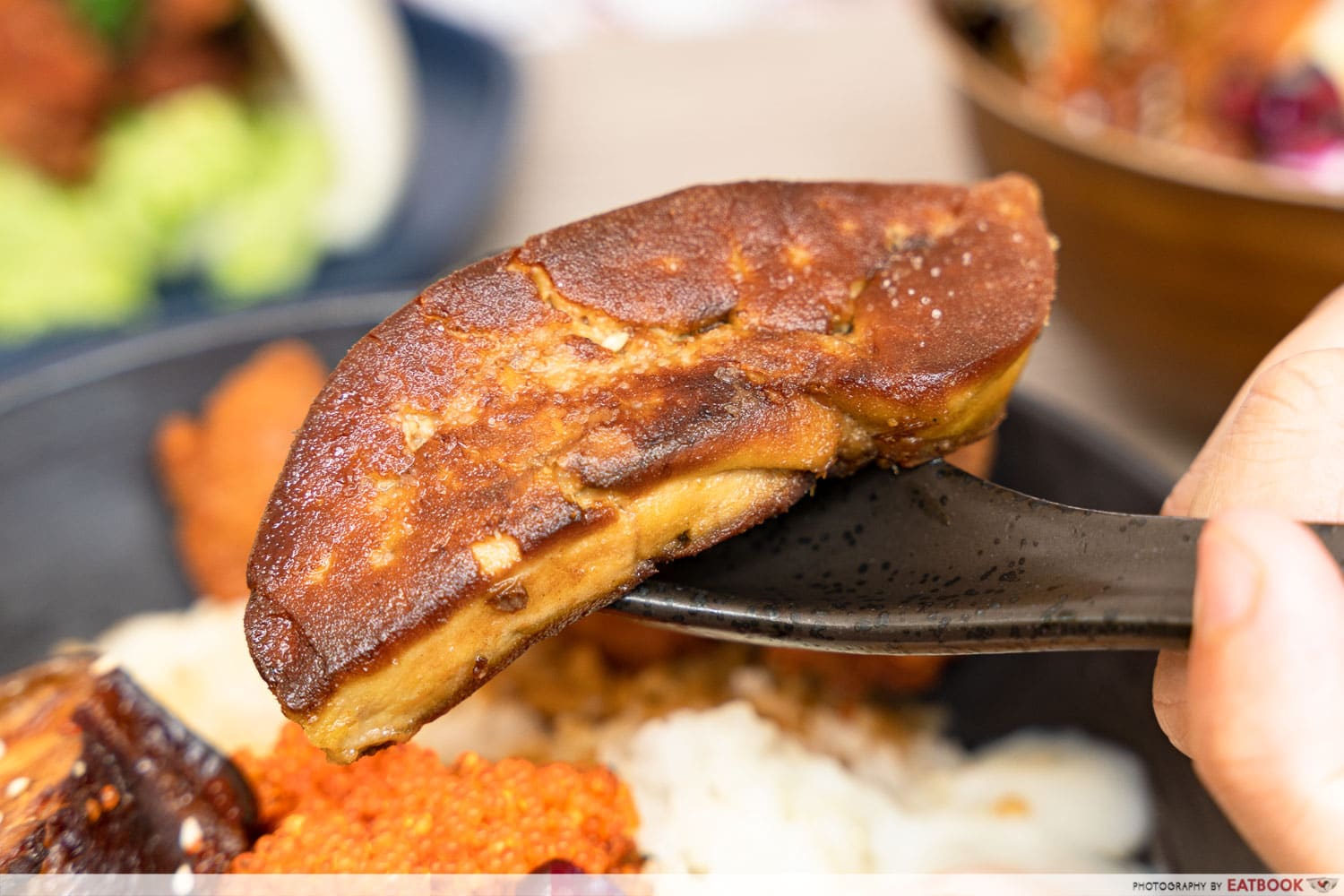 The foie gras was nicely seared on both sides, and I loved how rich and creamy it was. That said, I do think that it's too big a portion for someone to have on their own, simply because of how jelak it can get.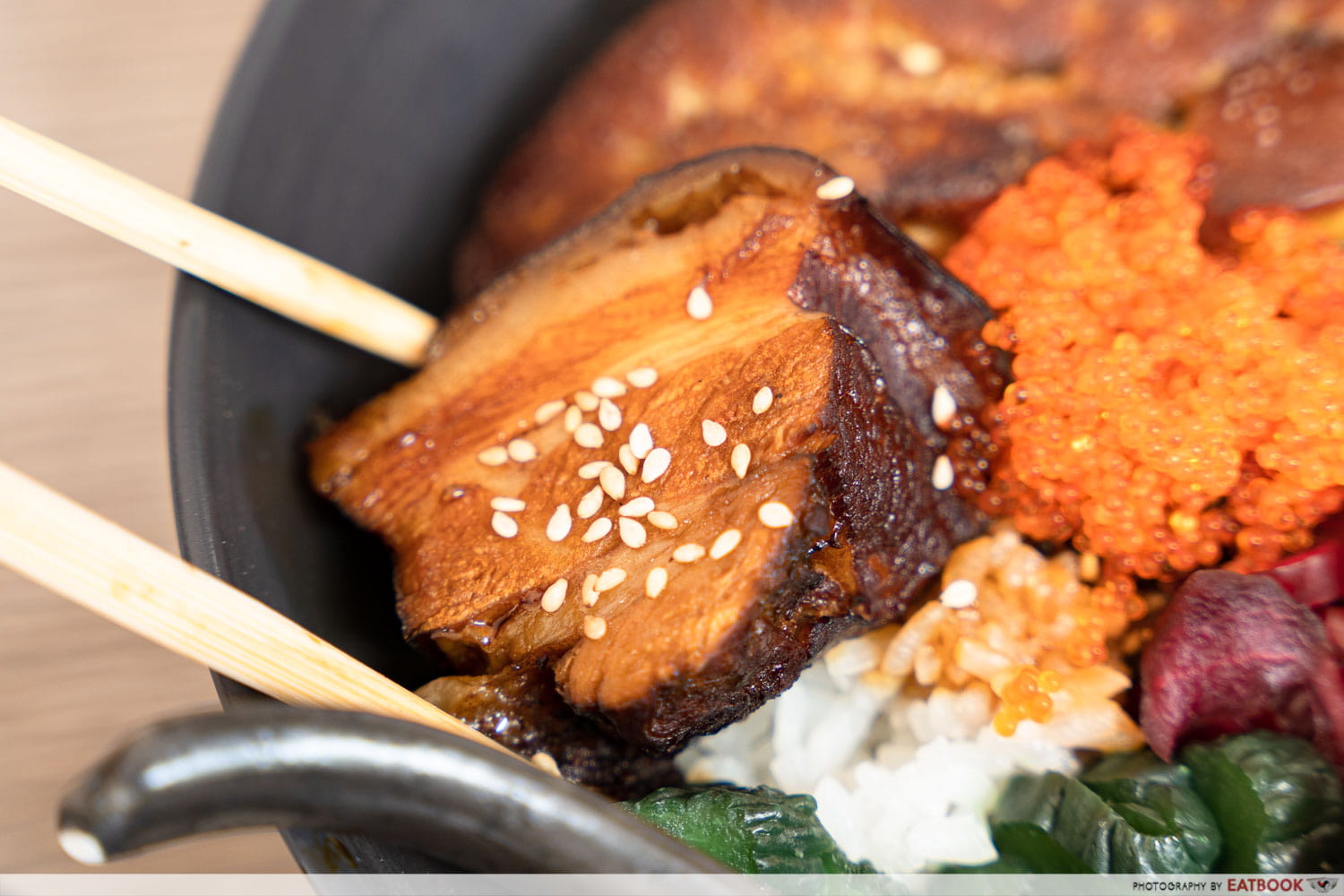 On the other hand, I thought that the slab of kakuni was not fatty enough. It was well-marinated in its shoyu braise, but I did wish that the pork had been more tender and melted in my mouth.
I'm not quite a fan of restaurants using truffle oil indiscriminately as I feel that the strong scent can sometimes overpower the subtle flavours of other ingredients. This was not the case at Itchy Bun, although I did still find its presence unnecessary. All in all, while I don't think that the Subarashii Don lived up to its name as being excellent, it was still a decent rice bowl.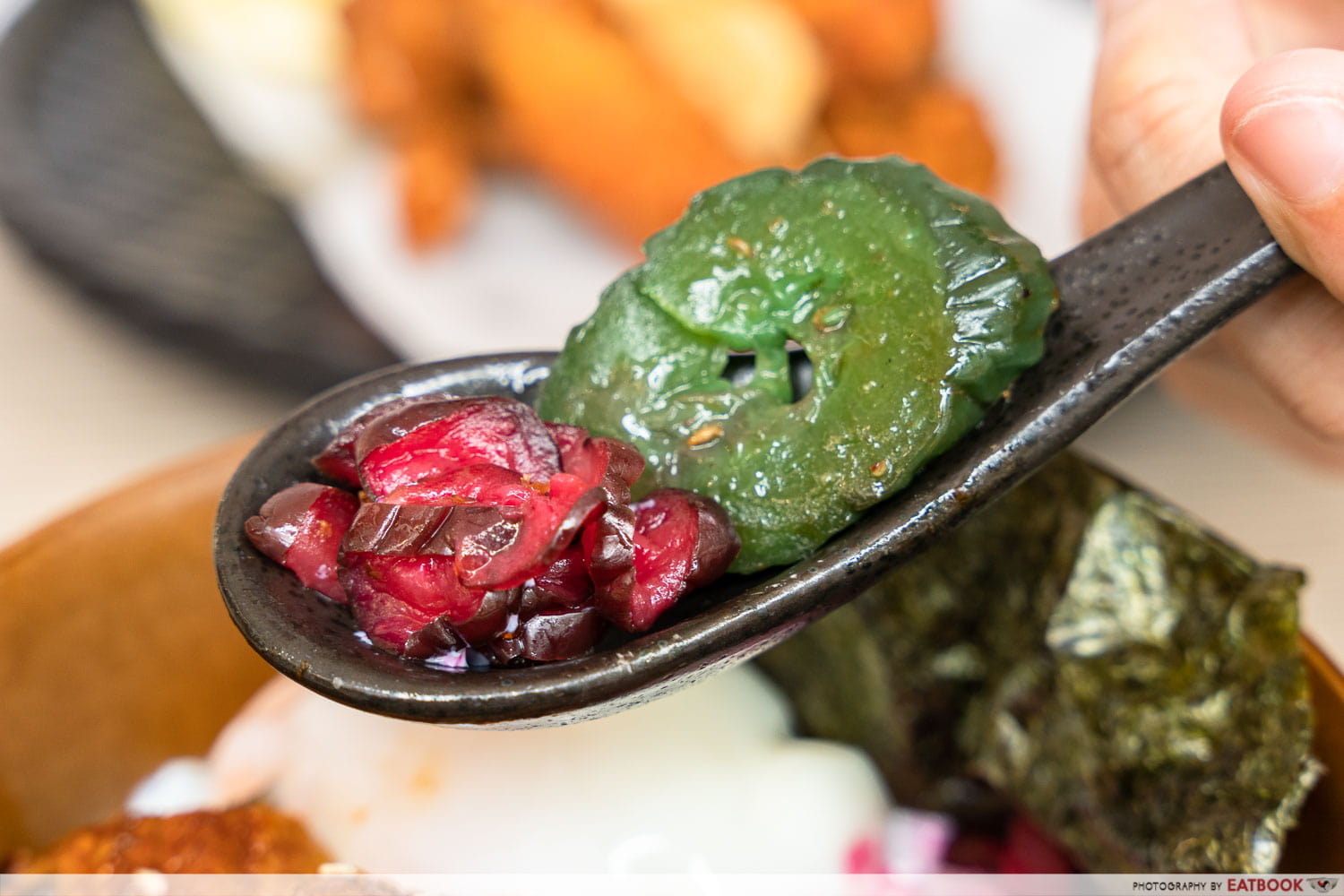 Both don came with an onsen egg, a dollop each of tobiko and furikake, a sheet of seaweed, and two types of tsukemono. Even though I had expected the pickles to introduce some acidity to the rice bowls, both the green kyurizuke and purple shibazuke were saltier than they were sour. 
The rice was also mushier than I would have liked, which made the bowls quite filling. 
Jin Ho Review: Mentaiko Chicken Katsu And Affordable Asari Clams By Hougang Hawkers
Ambience at Itchy Bun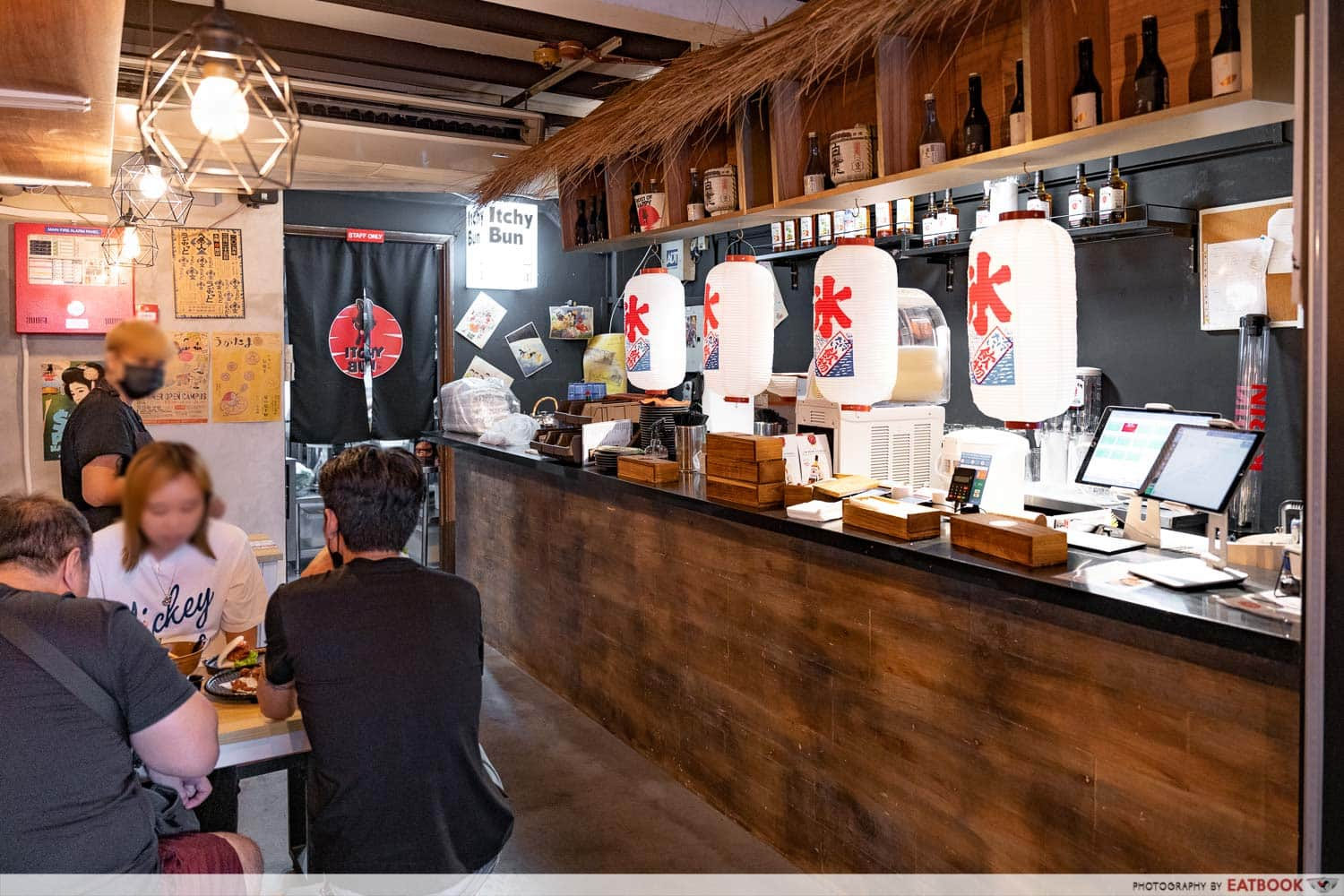 Located at Prinsep Street, Itchy Bun's decor of Japanese art and anime posters fits right in with the rest of the bars along the street. Whether you're coming from Bencoolen, Bras Basah, or Dhoby Ghaut MRT Station, it shouldn't take you longer than 10 minutes to walk there.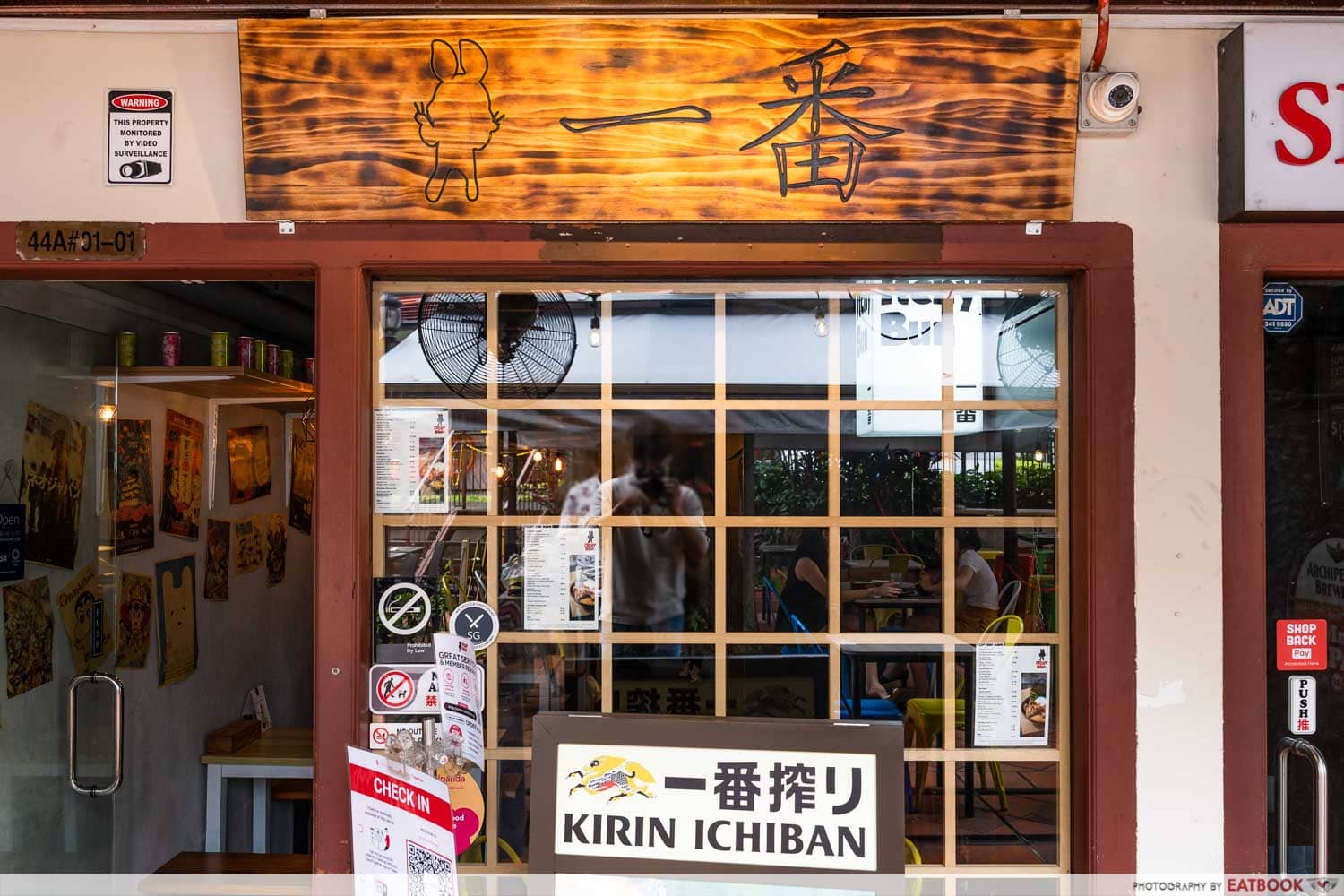 Although we visited Itchy Bun at lunchtime, the restaurant was still relatively empty. The indoor seating area for about 10 people was full, but my colleague and I were the only diners outdoors, save for another duo. Our food arrived about 15 minutes after we placed our orders, so you probably don't have to worry about being late to return to the office.
Keep your eyes peeled for their tongue-in-cheek instructions on how to use the bathroom.
The verdict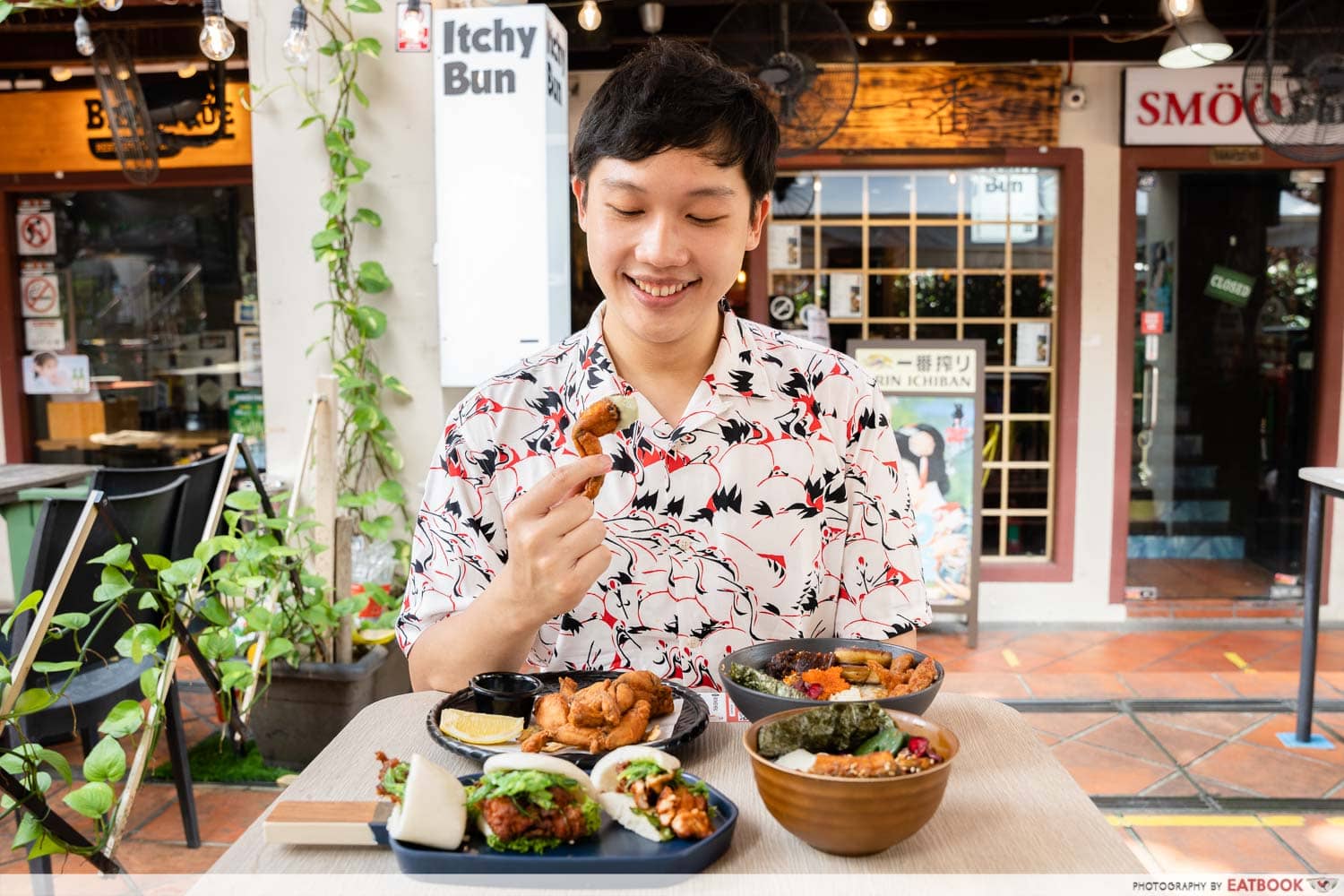 Fans of Muttons in the Morning should visit Itchy Bun, as Justin and Vernon have been known to pop down on occasion to the restaurant. Given its convenient location and $10.90 Unagi Don, Itchy Bun makes for a reasonable choice for lunch. If you're visiting in the evening, the vibes are likely to be decent as well. Otherwise, $10 Kirin pints all day should make up for any dissatisfaction that you might have.
Located a few doors aways is Mama Diam, a hidden speakeasy with local-inspired cocktails! If you're visiting GR.ID Mall, check out our list of eight places to dine at!
Address: 44A Prinsep Street, Singapore 188674
Opening hours: Daily 12pm to 3pm, 5pm to 9pm
Website
Itchy Bun is not a halal-certified eatery.
8 GR.ID Food Places To Try In The Former PoMo Mall, Including A Rooftop Tapas Bar And Sweet Potato Mille Crepe
Photos taken by Melvin Mak.
This was an independent review by Eatbook.sg
Itchy Bun Review: DJ Duo Muttons Open New Japanese Eatery With $10.90 Unagi Don
Itchy Bun Review: DJ Duo Muttons Open New Japanese Eatery With $10.90 Unagi Don -

7.5/10
Summary
Pros
– Nett prices
– Restaurant was not crowded even during lunch 
Cons
– Karaage were lightly seasoned
– Rice was too mushy
Recommended dishes: Unagi Don ($10.80), Kaeru Noashi Karaage ($13.80)
Opening hours: Daily 12pm to 3pm, 5pm to 9pm
Address: 44A Prinsep Street, Singapore 188674