Mama Diam at Prinsep Street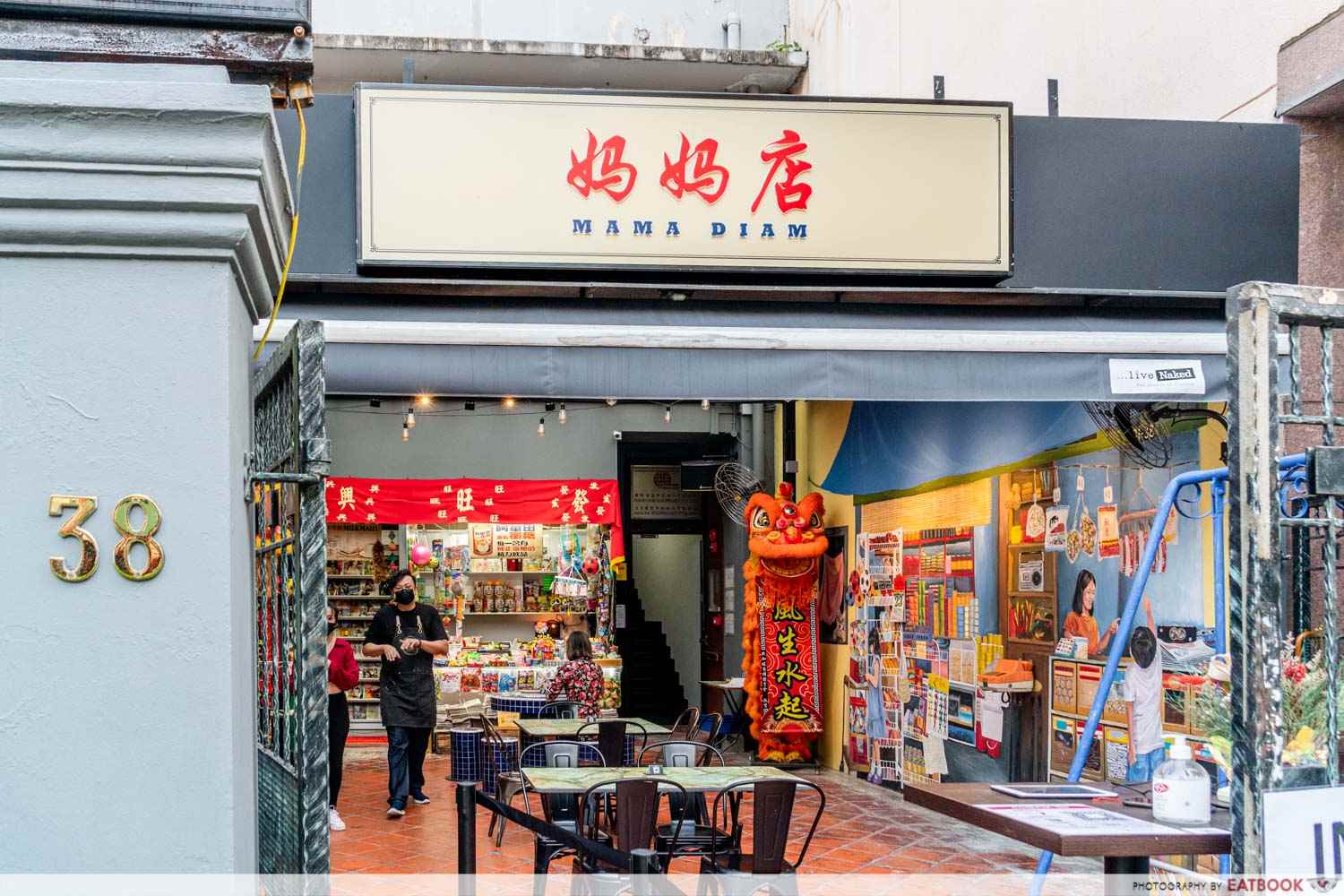 Hands up if you remember what a mama shop, or mamak store, looks like. An important element of Singapore's rich cultural heritage, a mama store refers to a small, often family-run provision store commonly found under HDB blocks back in the 1980s to early 2000s. Newly opened this month is Mama Diam, a speakeasy that aims to recreate that iconic setting. I've had many fond memories of exploring neighbourhood mama stores when growing up, so I was super excited about this launch.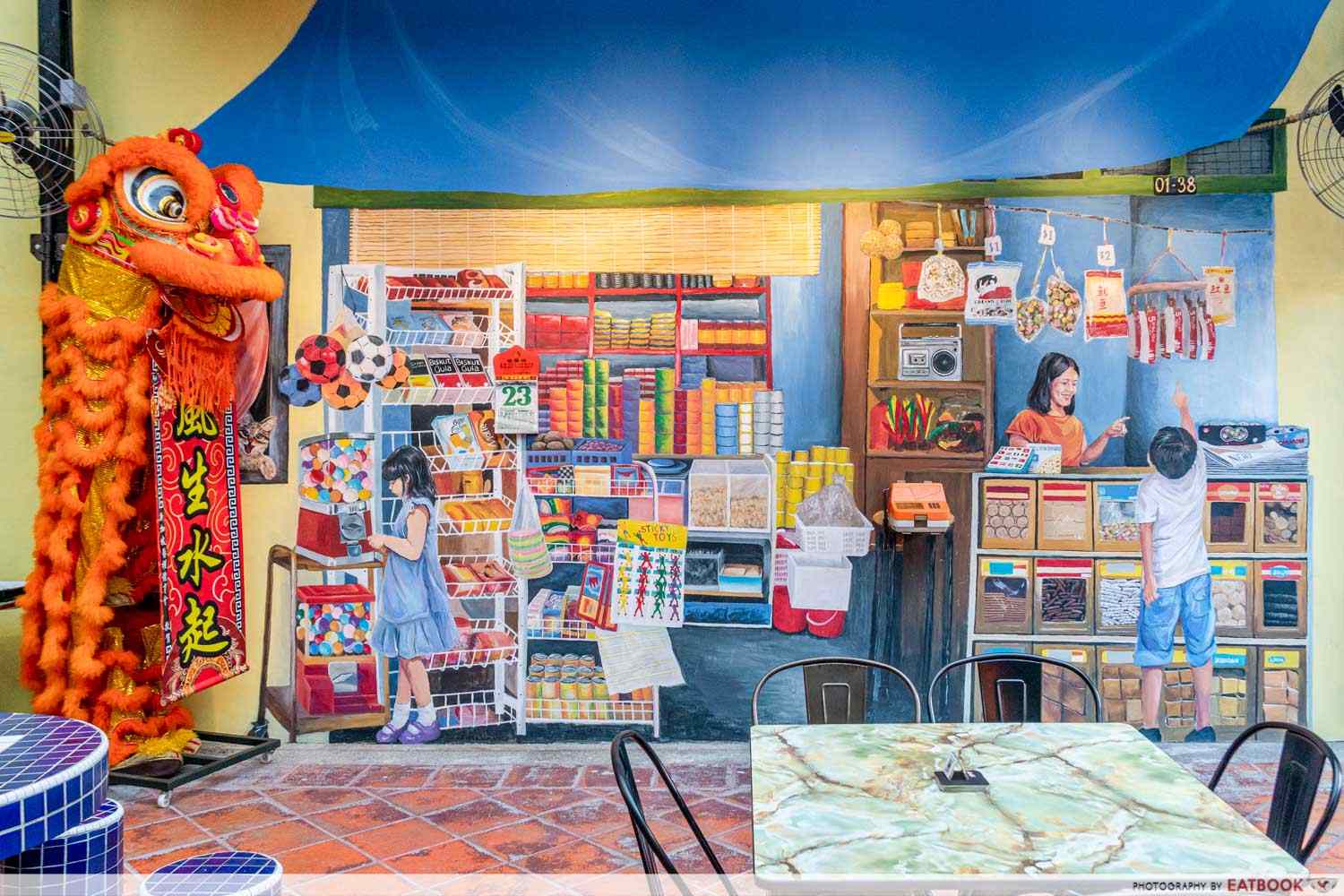 It's hard to miss the entrance at Mama Diam. Upon stepping in, my attention was immediately drawn to an actual mama storefront right smack in the centre, with some of my favourite childhood snacks lined up exactly how I remembered. Vibrant colours are splashed across the wall in the form of a mural painted by visual artist Jaxton Su, depicting a throwback memory of a typical mama store back in the good ol' days.
Props to the team behind the design and concept, which is headed by owner Sebastian Ang, as they've really gone all out with the setup. There's even a blue-and-white table and stool set paying homage to old-school void deck seatings of the yesteryears. According to Sebastian, this specially custom-made set came with a hefty price tag as they had to replicate it from scratch. I'm not surprised, considering how identical it looks to the actual thing.
Food at Mama Diam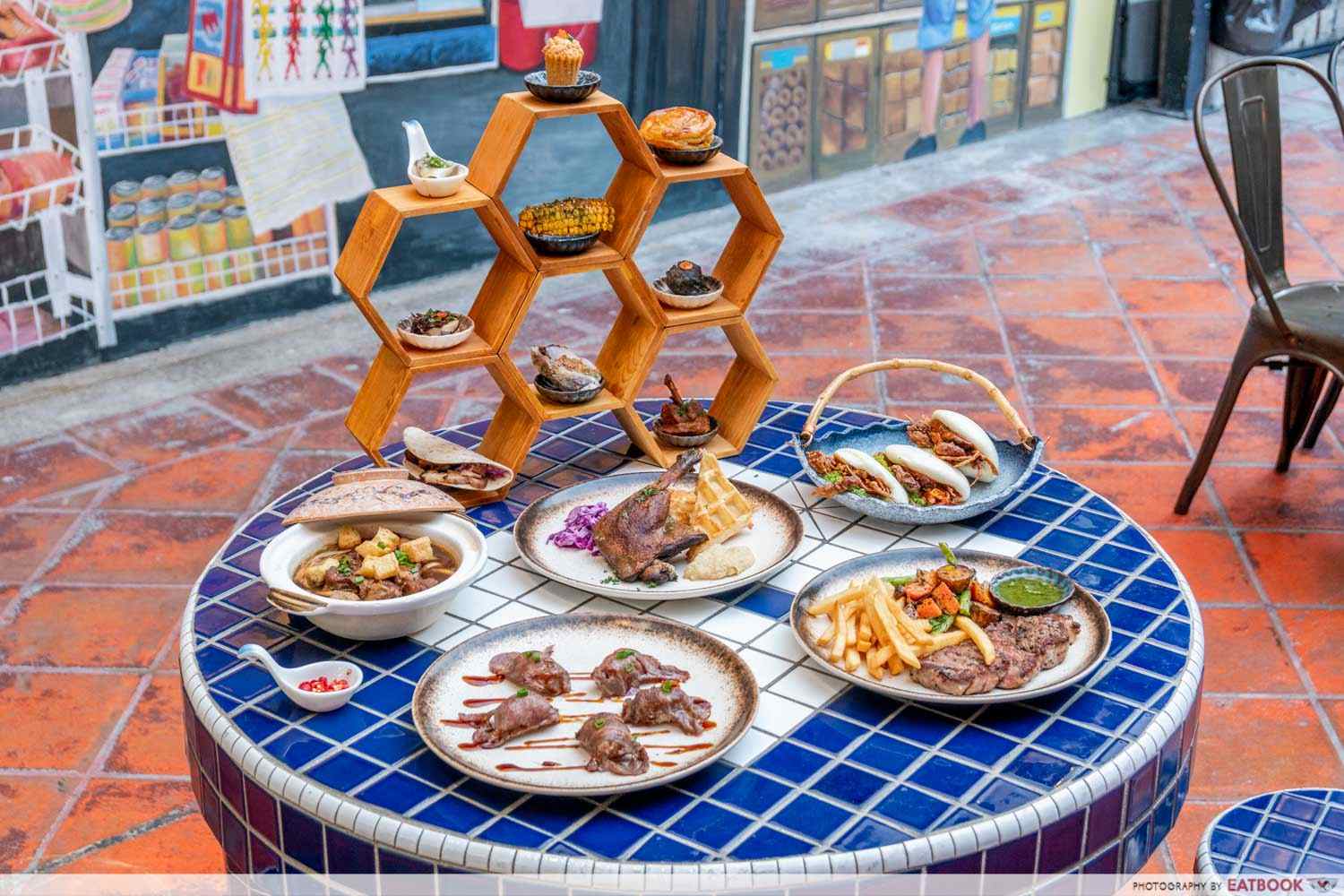 Mama Diam offers familiar flavours inspired by local dishes, with a contemporary twist. There are a few signature items on the menu, which refreshes every three months. To get a taste of what you're getting here, go for the 9 Bites of Wonder ($38+). Nine bite-sized snack pieces sit on a majestic-looking stand, making it a photo-worthy display.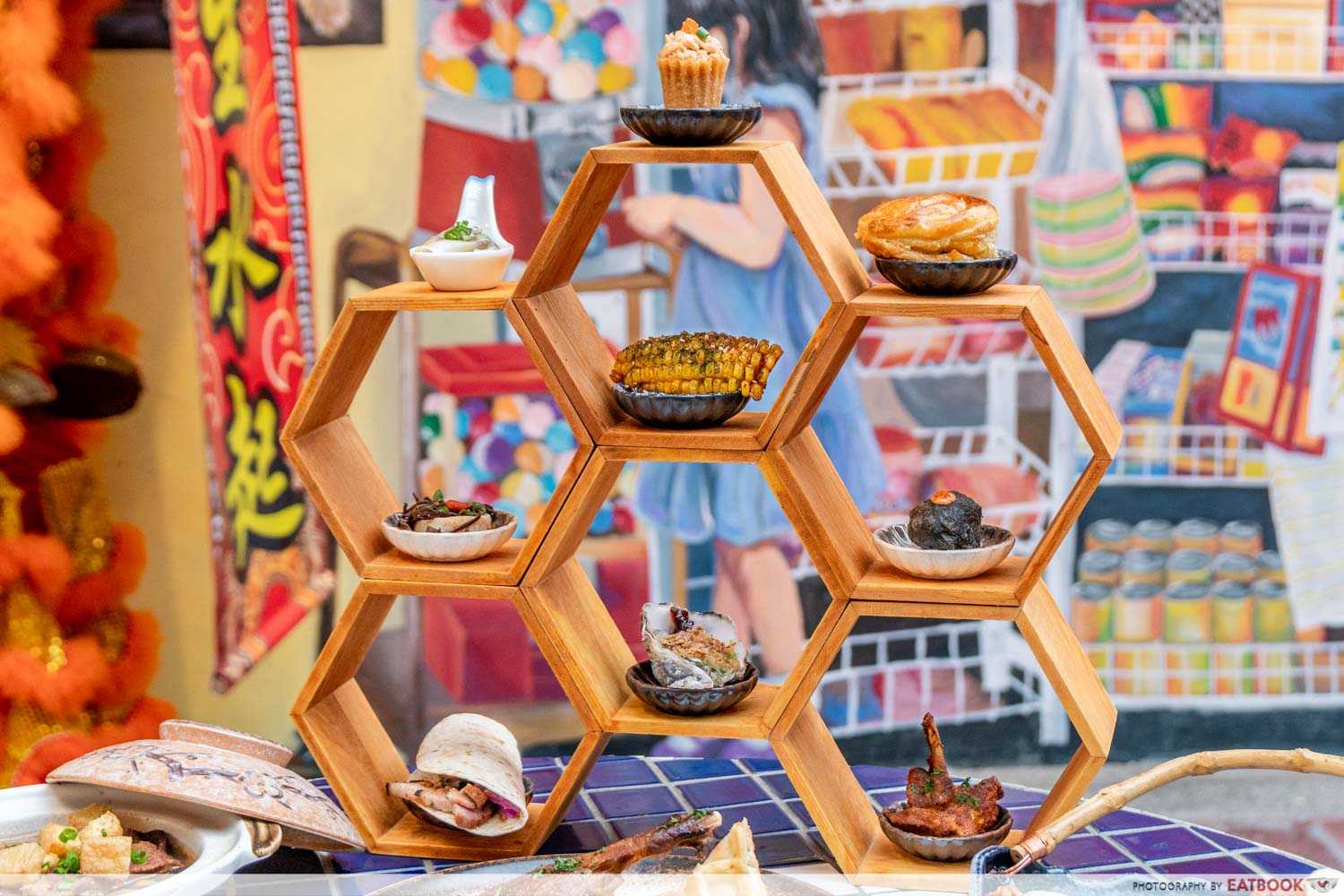 These bites can be found under the Small Plates section, so if it's your first time here, you can note down which items you liked and order them on your next visit. Not everything was memorable, but there were a couple of standouts, including the Crab Kueh Pie Tee—a satisfying combination of crab meat, diced green apple, minced shallots, cucumber, Japanese mayo, citrus, gochujang—and the Pork Belly Char Siew Taco, which retained its yummy pork juices despite our extended photoshoot.
Only 15 sets are available daily, so it's best to drop by early before the crowd streams in.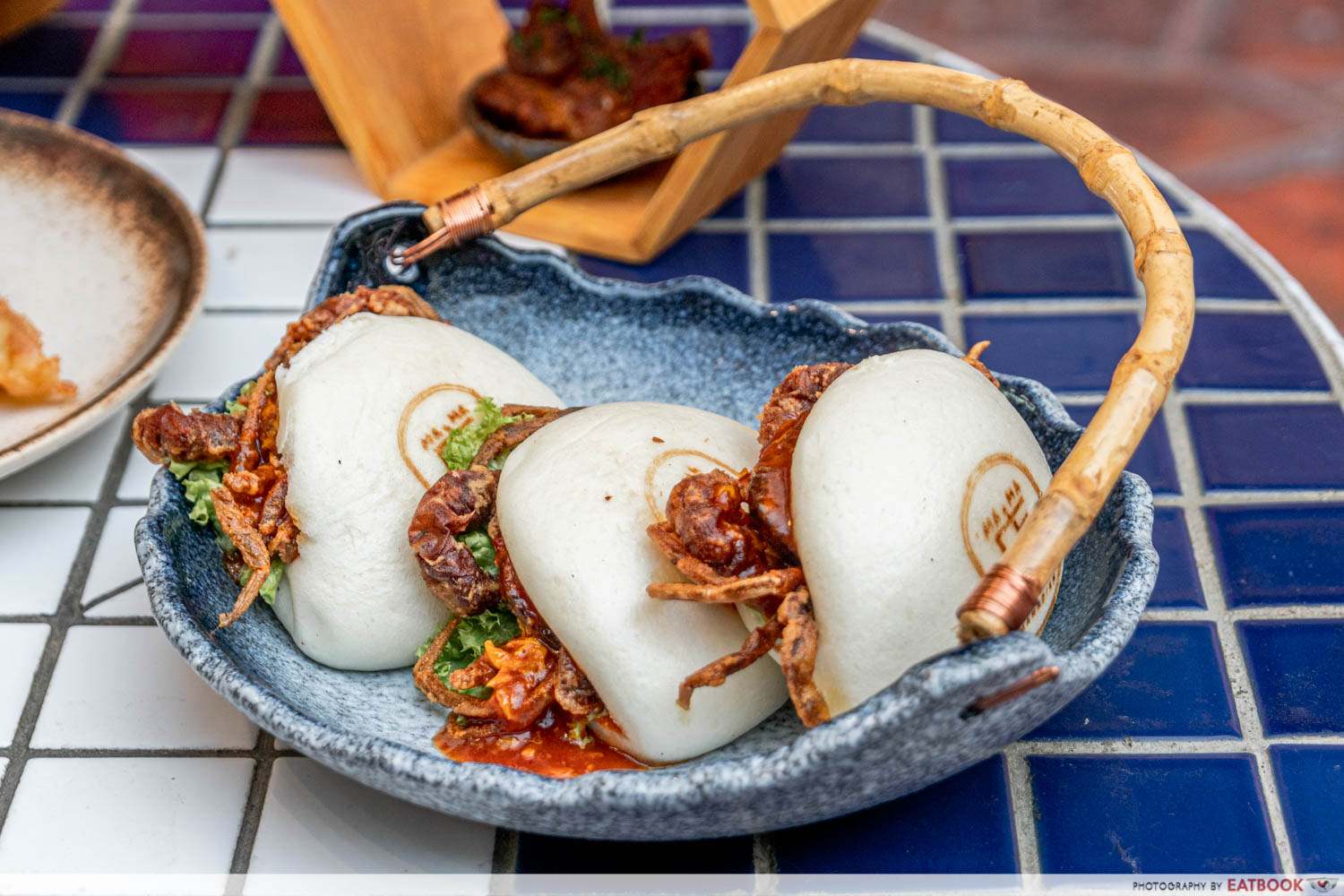 An unexpected favourite from the Small Plates menu was the Soft Shell Crab Bao ($15+ for three); think pillowy mantou stuffed with a whole soft shell crab that's deep-fried to perfection, and then doused in a house-made chilli crab sauce that, thankfully, wasn't too sweet.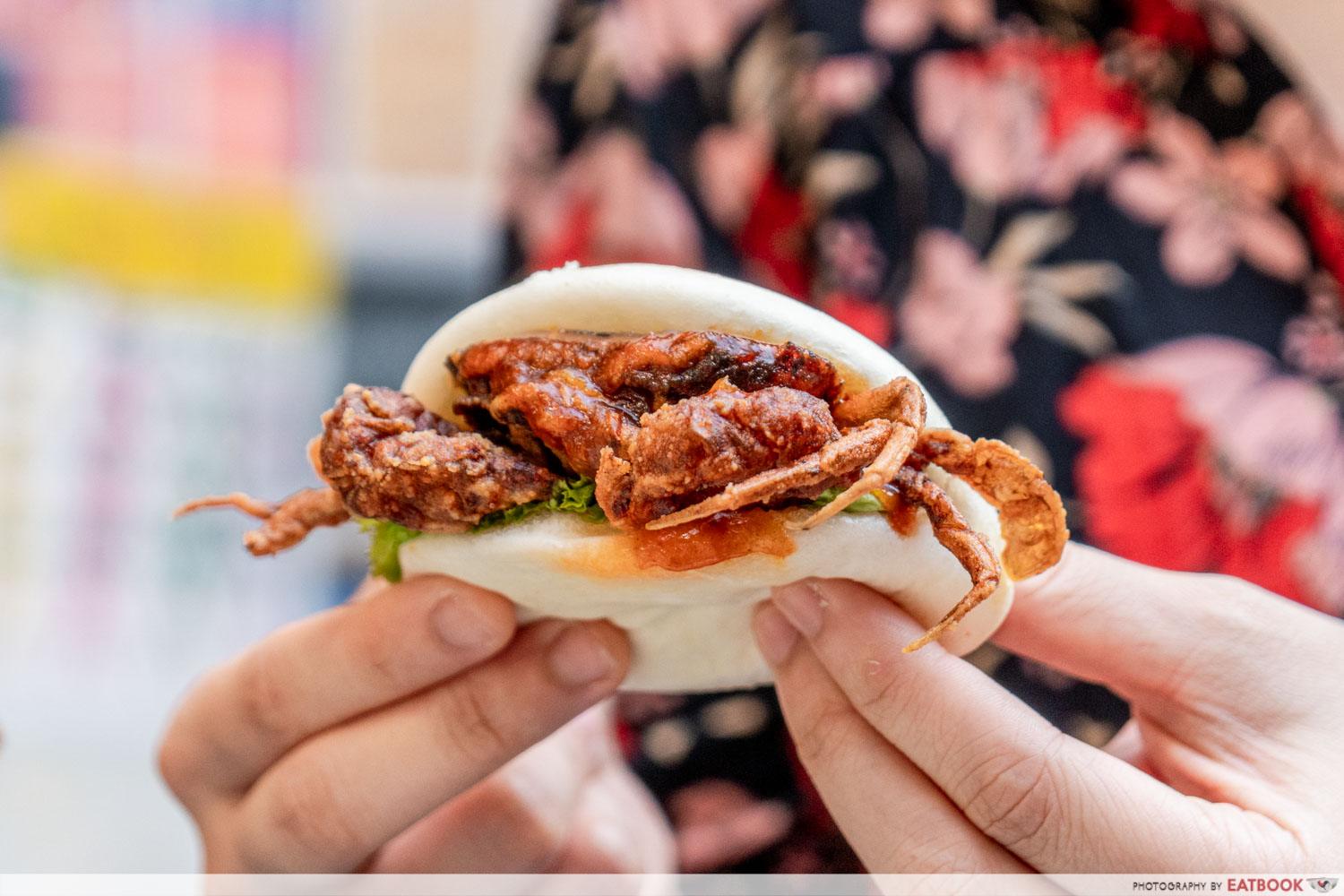 Offset against a lettuce leaf, each bite was a sweet and savoury delight. Considering how hefty and filling the bun was, I think you're getting bang for your buck at $5 a pop.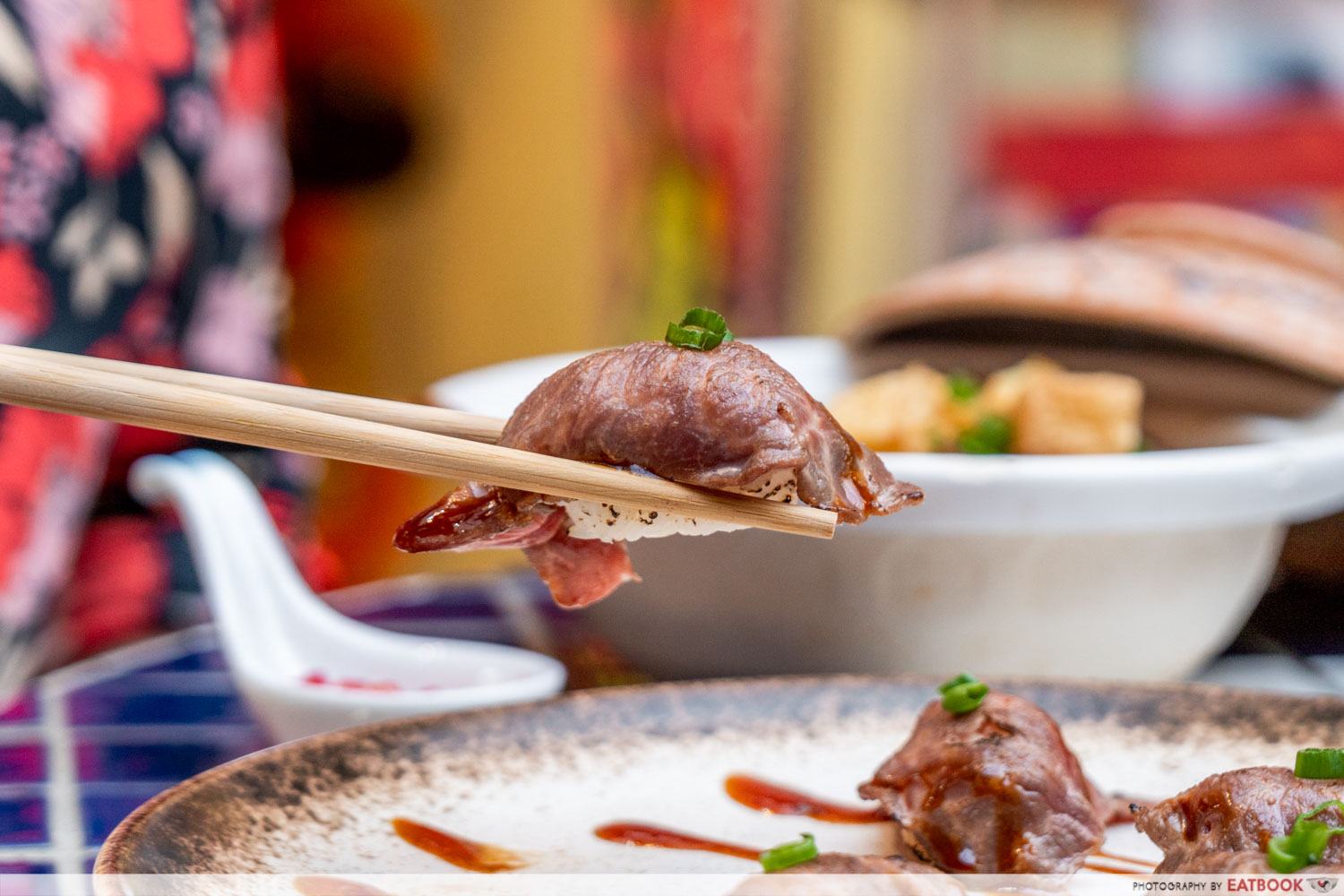 Those who love their meats can try the A4 Wagyu Aburi Beef Nigiri ($19+ for five pieces). While I applaud their incorporation of house-made Gong Bao sauce in this dish, the beef was, unfortunately, lacking in flavour. It wasn't as tender as I'd liked it to be, but if you're not as picky as I am, you can choose to let it slide.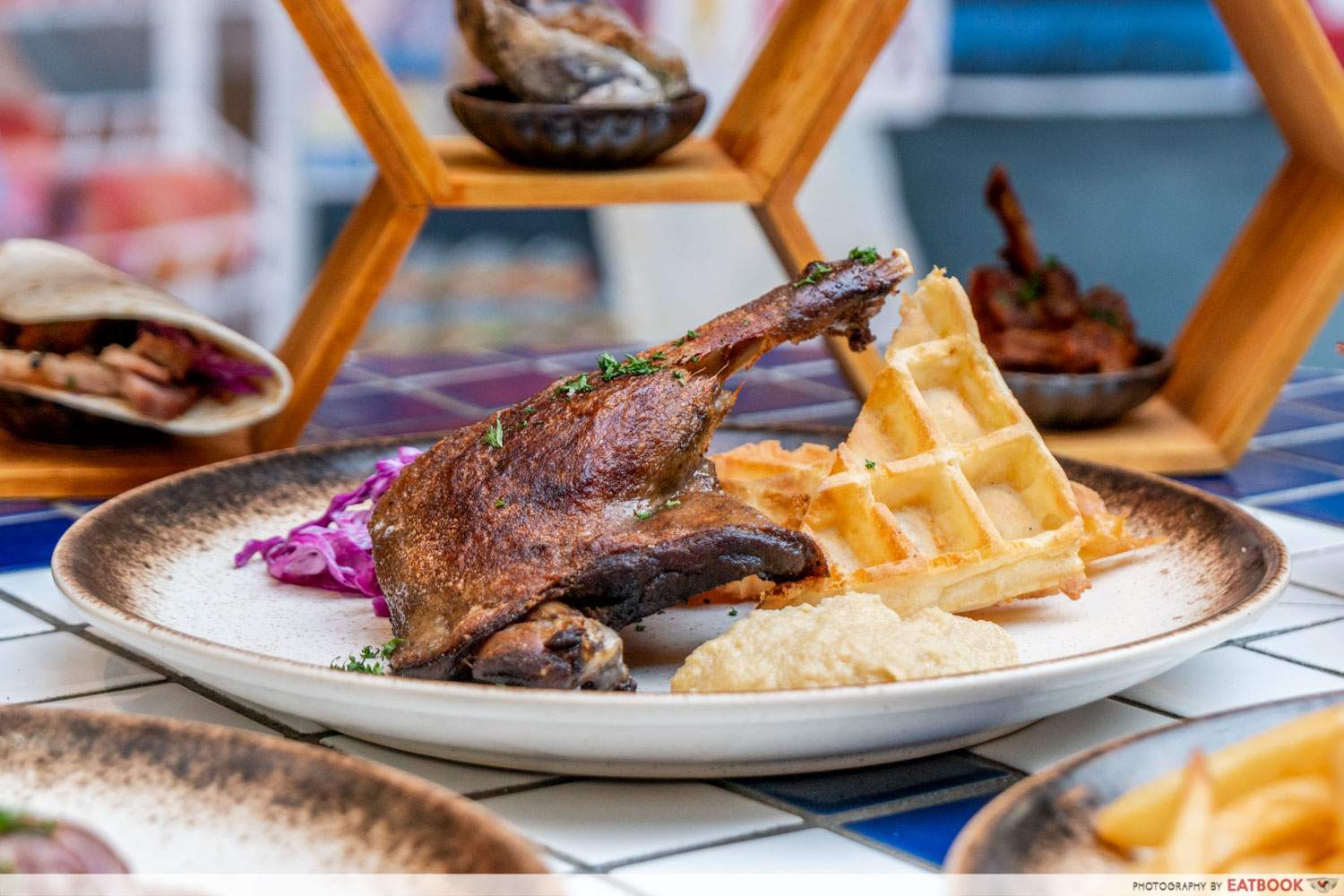 I'd personally recommend diving straight into the Duck Confit ($20+) from the Large Plates instead. Well-seasoned and fork-tender with a delicately crispy exterior, the duck leg tasted exquisite. While the waffle wasn't the best I've had, it went amazingly well with the duck meat, and a smear of apple jam for a slightly sweet finish.
Another noteworthy mention is the Beef Striploin ($24+), which happens to be the priciest main on the menu. Complete with toasted sesame chimichurri, sautéed buttered veggies, and fries, the Australian striploin was juicy and flavourful despite its medium doneness.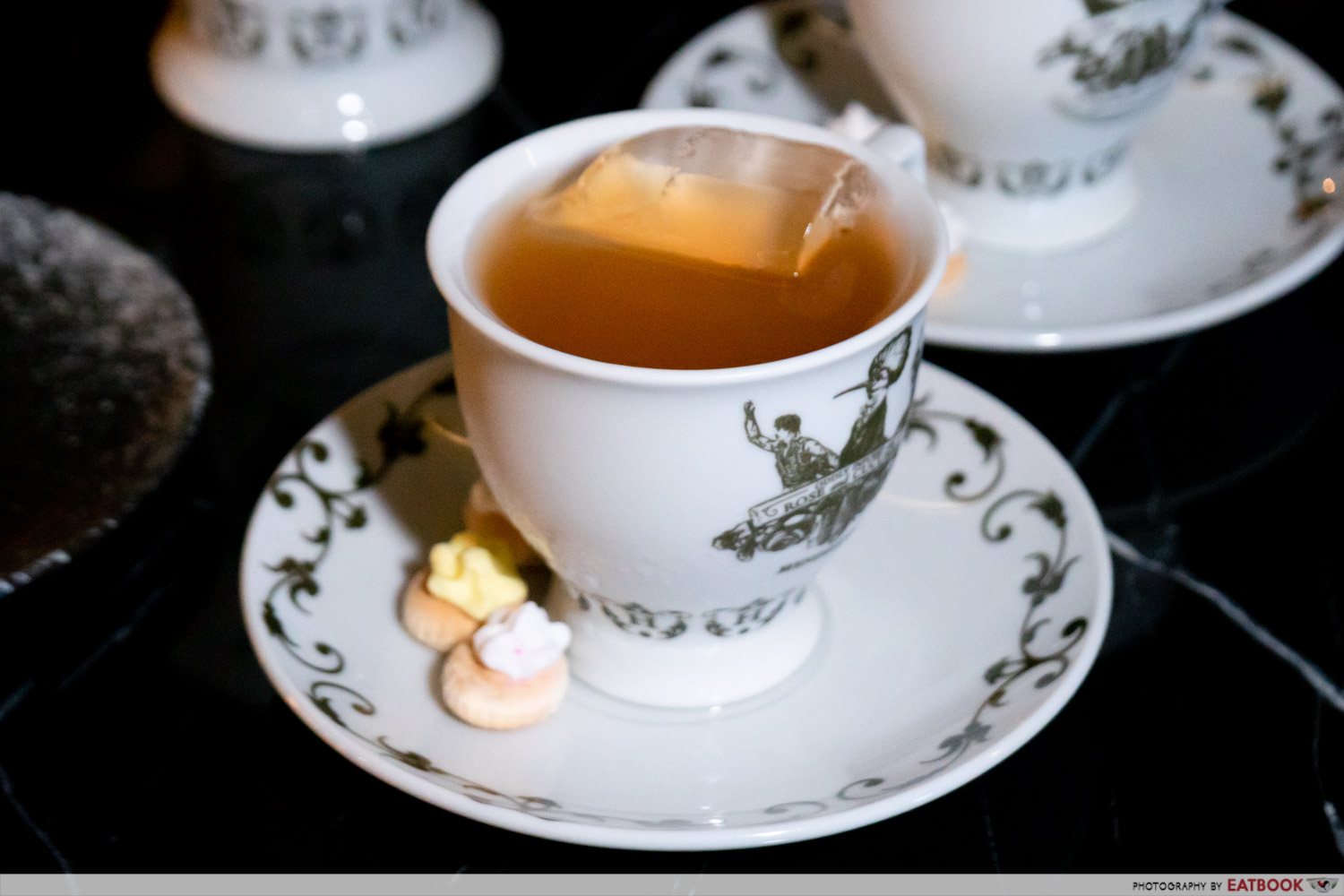 We then headed indoors for some evening drinks, starting with the aptly named Is It Tea You're Looking For? ($28+). Good for a party of four to five, this tea-infused cocktail is served in an IG-worthy pot and teacups. You get to choose from lychee or oolong tea; we went for the latter, which combines oolong tea-infused Hendricks Gin, with notes of citrus and white chocolate. Smooth and easy to drink, this tipple was one of the highlights of my night.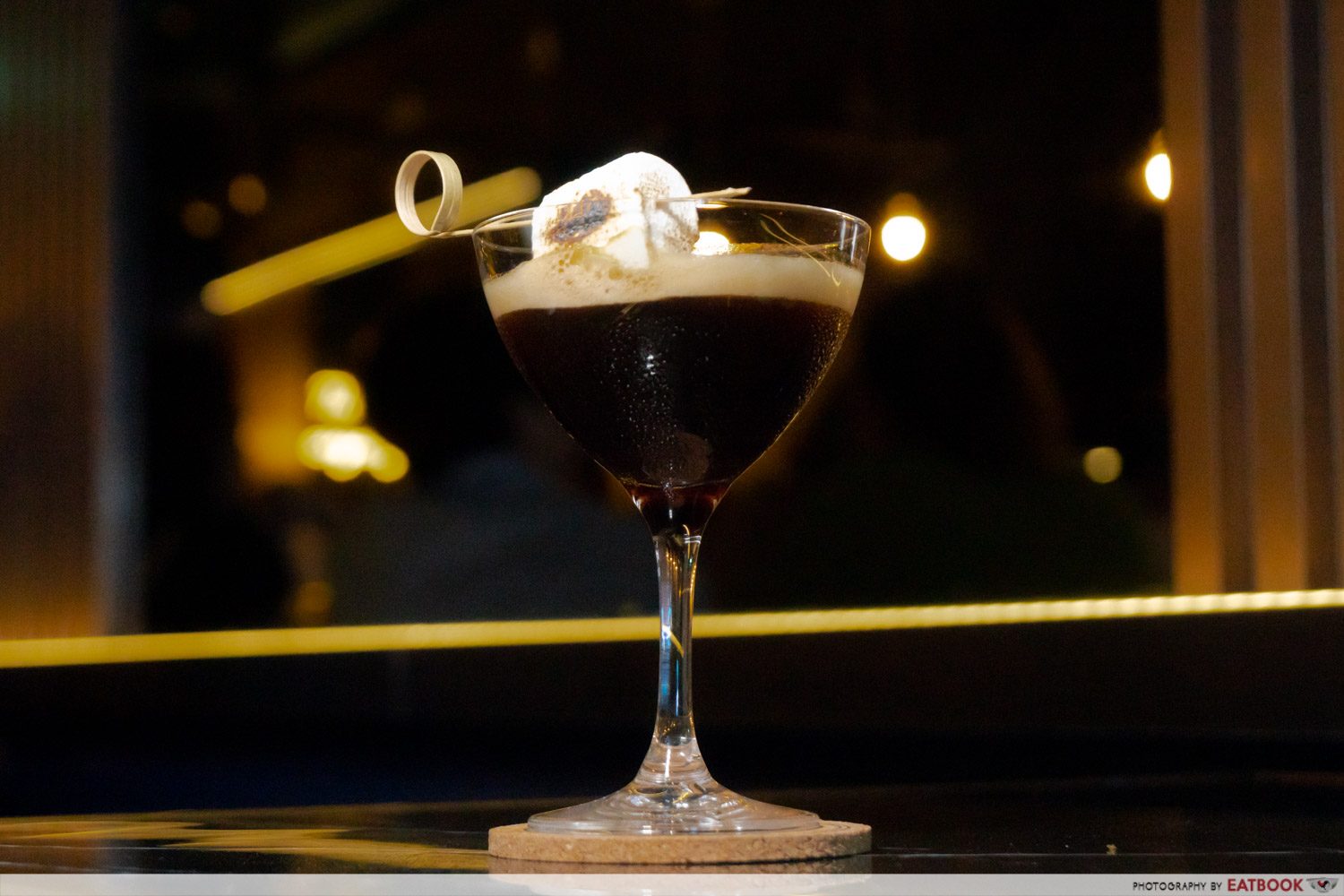 Kopi lovers will enjoy Mama's Kopi ($16+) as a pick-me-up. This punchy number is Mama Diam's rendition of an espresso martini, featuring Sailor Jerry Rum, Smokey Monkey Whisky, and fresh espresso, sweetened with honey, and topped with a torched mashmallow. A few sips were enough to give me a much-needed caffeine kick, so go slow and easy if you're not used to strong coffee!
We also tried the Pandan Sour ($16+), which turned out rather lacklustre and one-dimensional despite its pretty presentation. But if you're a huge fan of pandan-flavoured concoctions, this might be up your alley!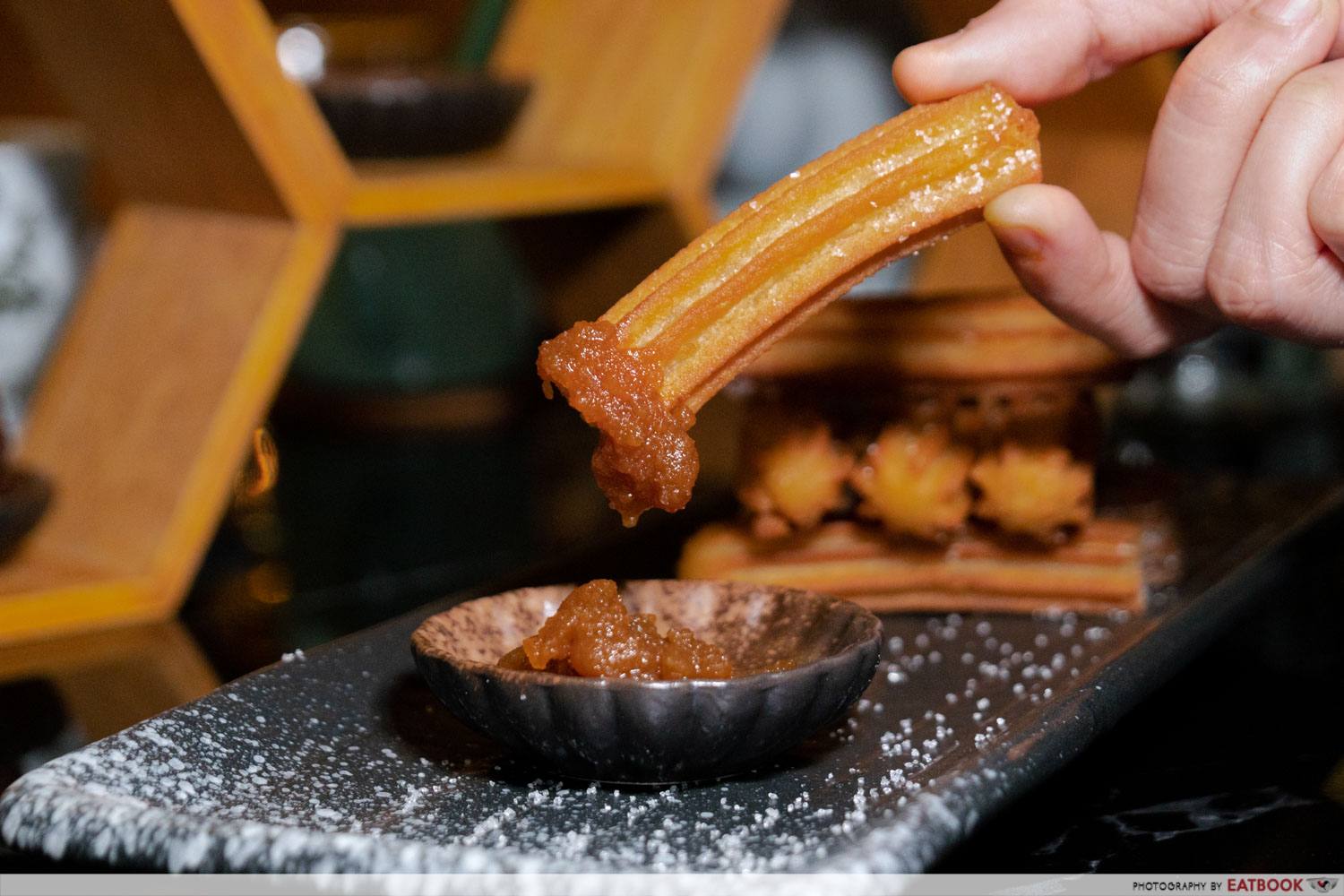 Rounding up the night was a side of Homemade Churros ($12+), which came highly recommended by Sebastian—for good reason. Served warm with a house-made caramel kaya dip, these churros were surprisingly good. Light and crisp on the outside, the dough had just the right amount of bite. It wasn't too dense or cakey like many other variants I've tried, and didn't have that greasy mouthfeel commonly associated with churros, either. This one's a winner!
Ambience at Mama Diam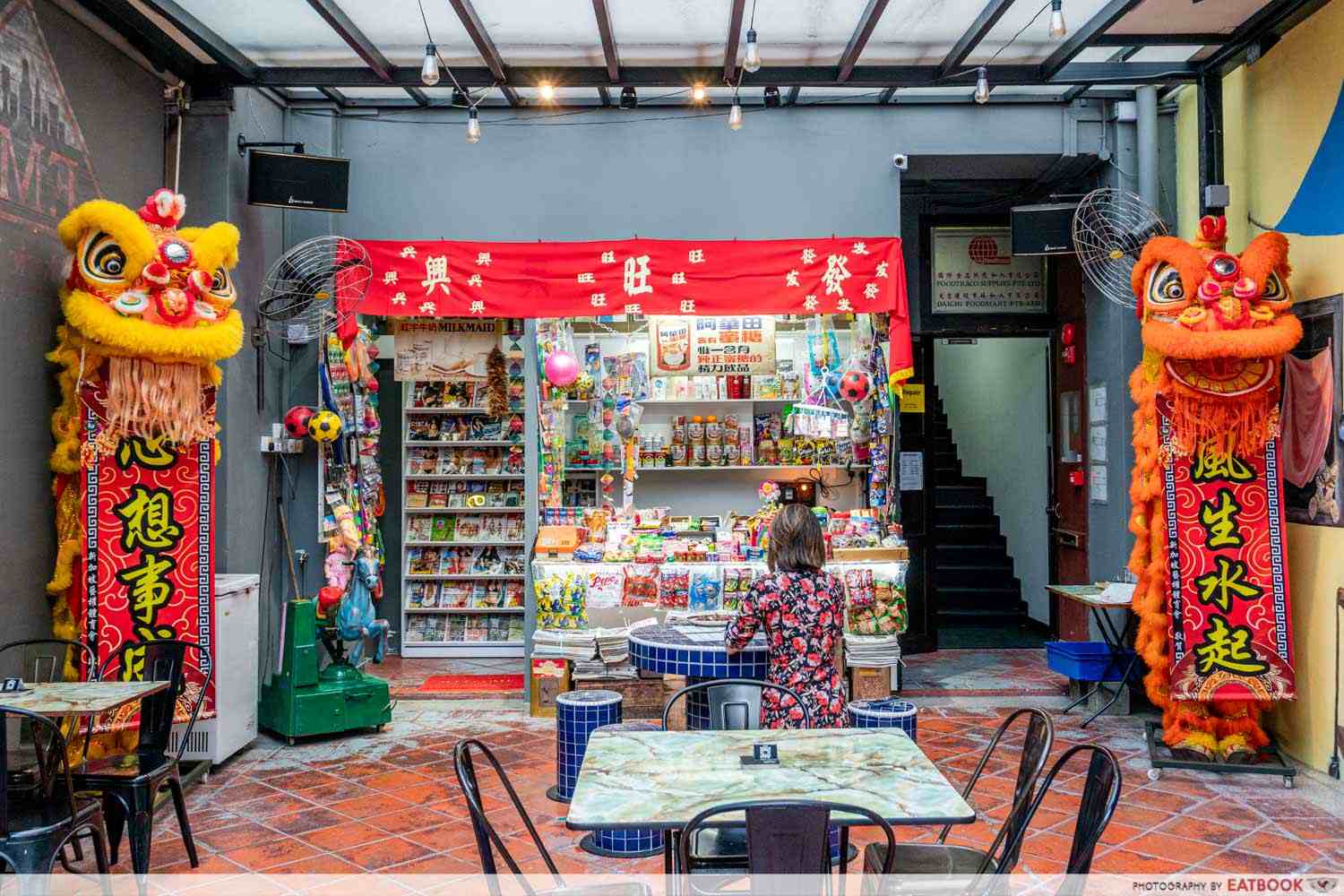 Sit outside if the weather permits, so you get the best lighting for the 'gram. But if the sun is unrelenting, retreat indoors for air-conditioned comfort. The magazine shelf on the left doubles up as a secret sliding door, leading to the real entrance of the speakeasy. Walk past it, and you'll be surprised by the stark contrast between both spaces. It's like you're stepping into a different world!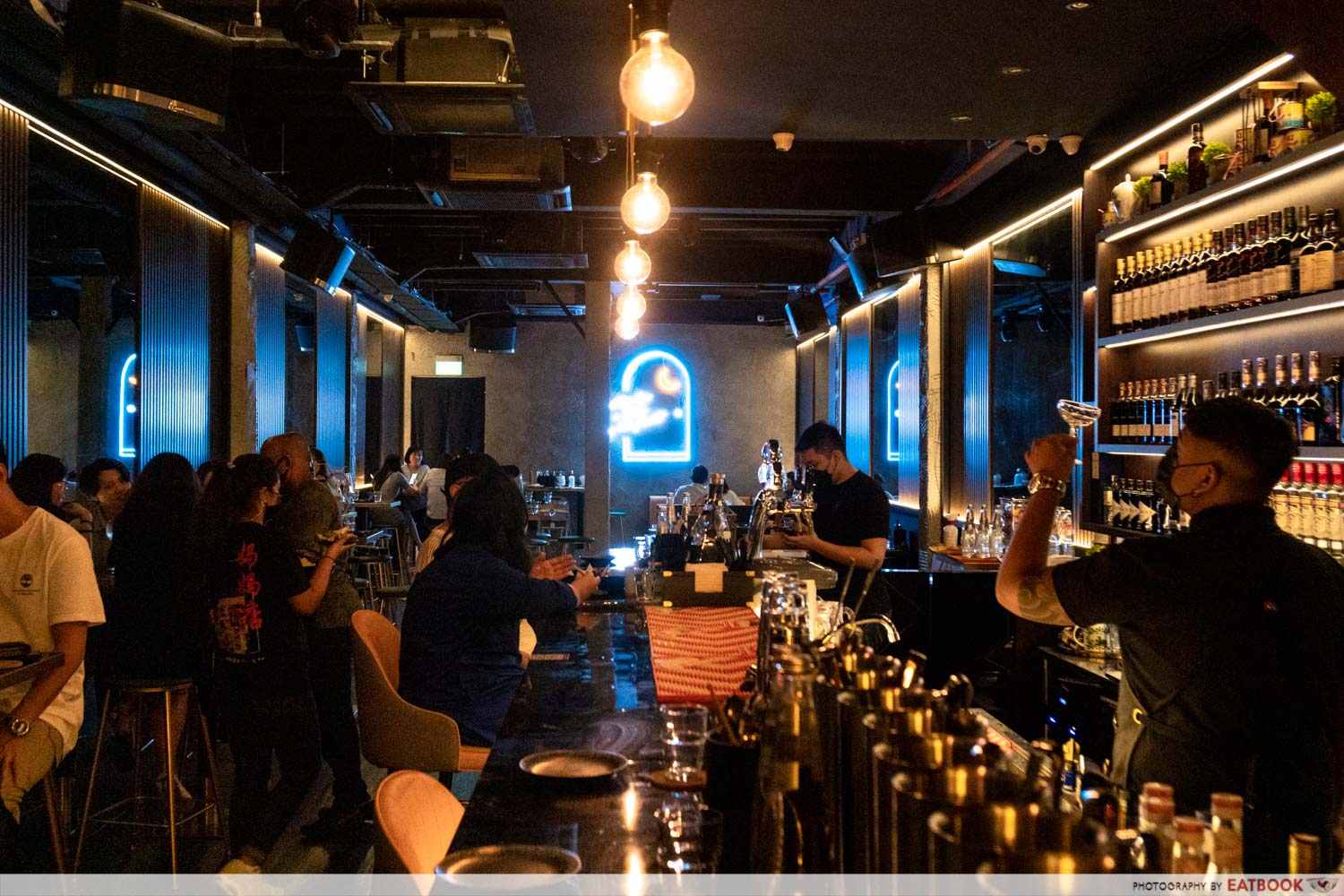 The bar within is dark and sexy, with ample, spacious seatings. With the passing of each hour, the bar got busier as tables were gradually filled up with reservations. The neon-lit signs add a modern touch to the space, while bartenders worked their magic behind the counter.
Mama Diam is located along Prinsep Street, which is a three-minute walk from Bencoolen MRT Station, or a six-minute walk from Dhoby Ghaut MRT Station.
The verdict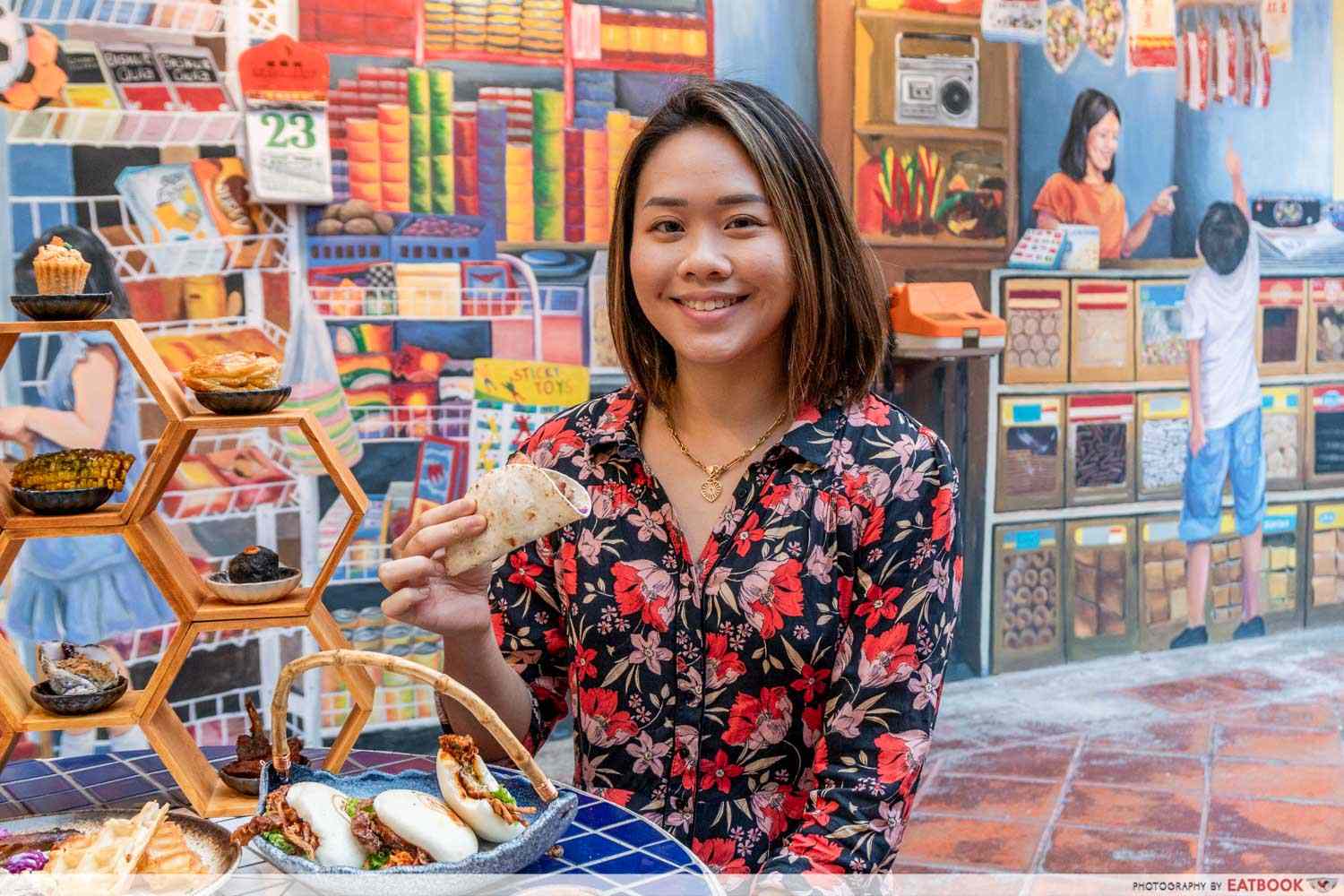 It's not every day where you'll come across a themed bar that's done up as well as Mama Diam. The attention to detail, especially relating to the throwback decor, makes this spot a worthwhile visit for people across all ages. Soak in the nostalgic vibes, and gather your friends, parents, and family for a fun time out!
For more food around the area, check out Korean bistro bar Pocha in a Forest, or visit Sourbombe Artisanal Bakery at Park Mall.
Pocha In A Forest: Korean Street Food Tent Bistro In Dhoby Ghaut To Fulfill Your K-Drama Dreams
Address: 38 Prinsep Street, Singapore 188665
Opening hours: Daily 4pm to 10:30pm
Tel: 8533 0792
Website
Mama Diam is not a halal-certified eatery.
Photos taken by Gladys Lim.
This was a media tasting at Mama Diam.
Mama Diam Review: Speakeasy Bar With Secret Entrance Behind Retro Mama Shop
Mama Diam Review: Speakeasy Bar With Hidden Entrance Behind Retro Mama Shop -

7.5/10
Summary
Pros
– Unique dining experience
– Central location
– Relatively affordable food and drinks
Cons 
– Some items were a hit or miss
– It can get hot outside
Recommended dishes: Soft Shell Crab Bao ($15+), Duck Confit ($20+), Homemade Churros ($12+)
Opening hours: Daily 4pm to 10:30pm
Address: 38 Prinsep Street, Singapore 188665