---
Nostalgic primary school snacks in Singapore
---
90s kids will remember scrambling to the canteen during recess and spending our pocket money on old school snacks such as Panda Seasoned Seaweed, Want Want Xian Bei Rice crackers and more. These days, shelves may be filled with more ostentatious goodies but these 20 nostalgic primary school snacks will always have a place in our hearts—and mouths.
---
1. Wheel Crackers
---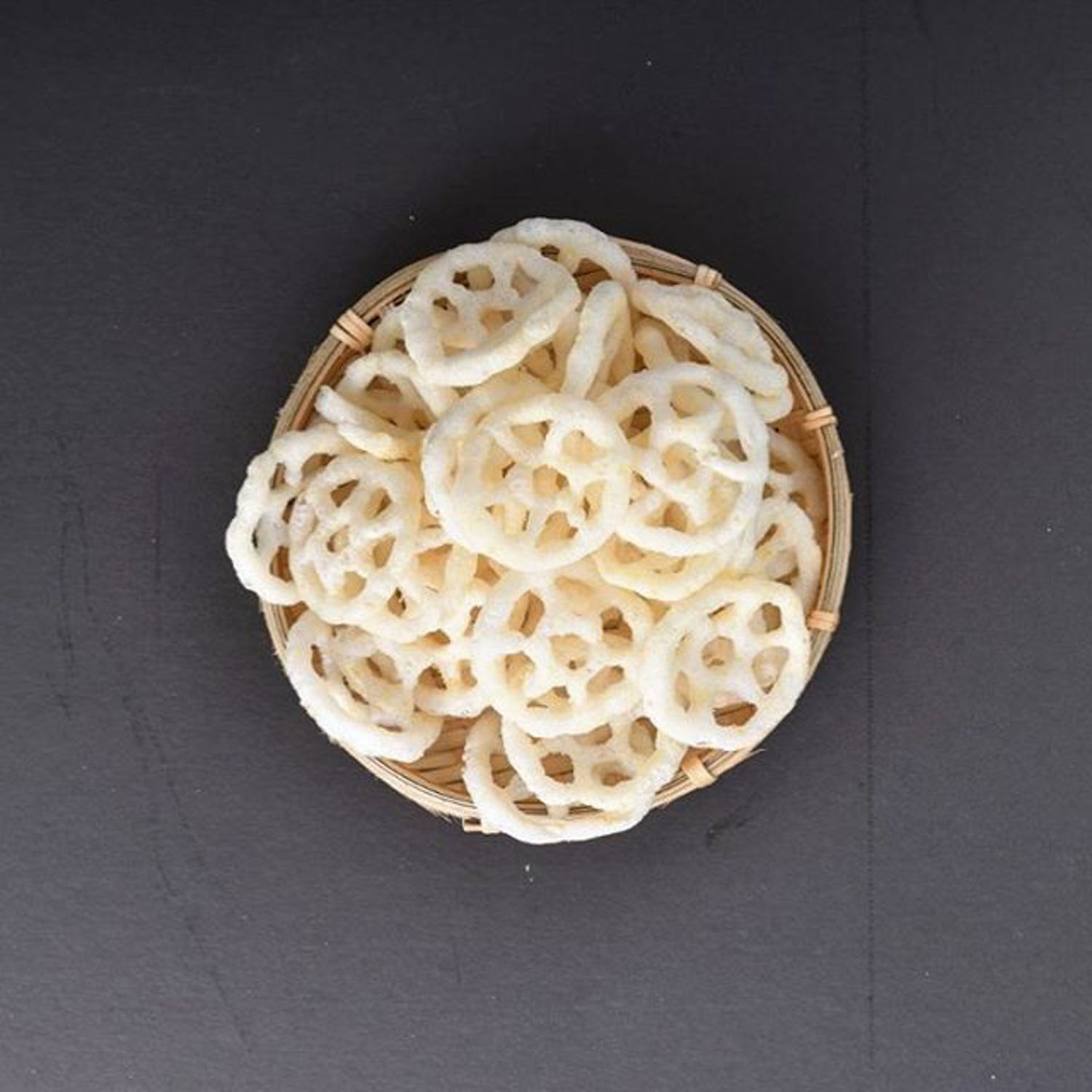 Image credit: @the_kacang_putih_stall
The lighter cousin of potato chips, wheel crackers are well-loved for their fluffy yet crunchy texture. Lightly seasoned with chicken flavouring, these crackers are highly addictive, and it's hardly surprising for them to run out within mere minutes.
---
2. Panda Seasoned Seaweed
---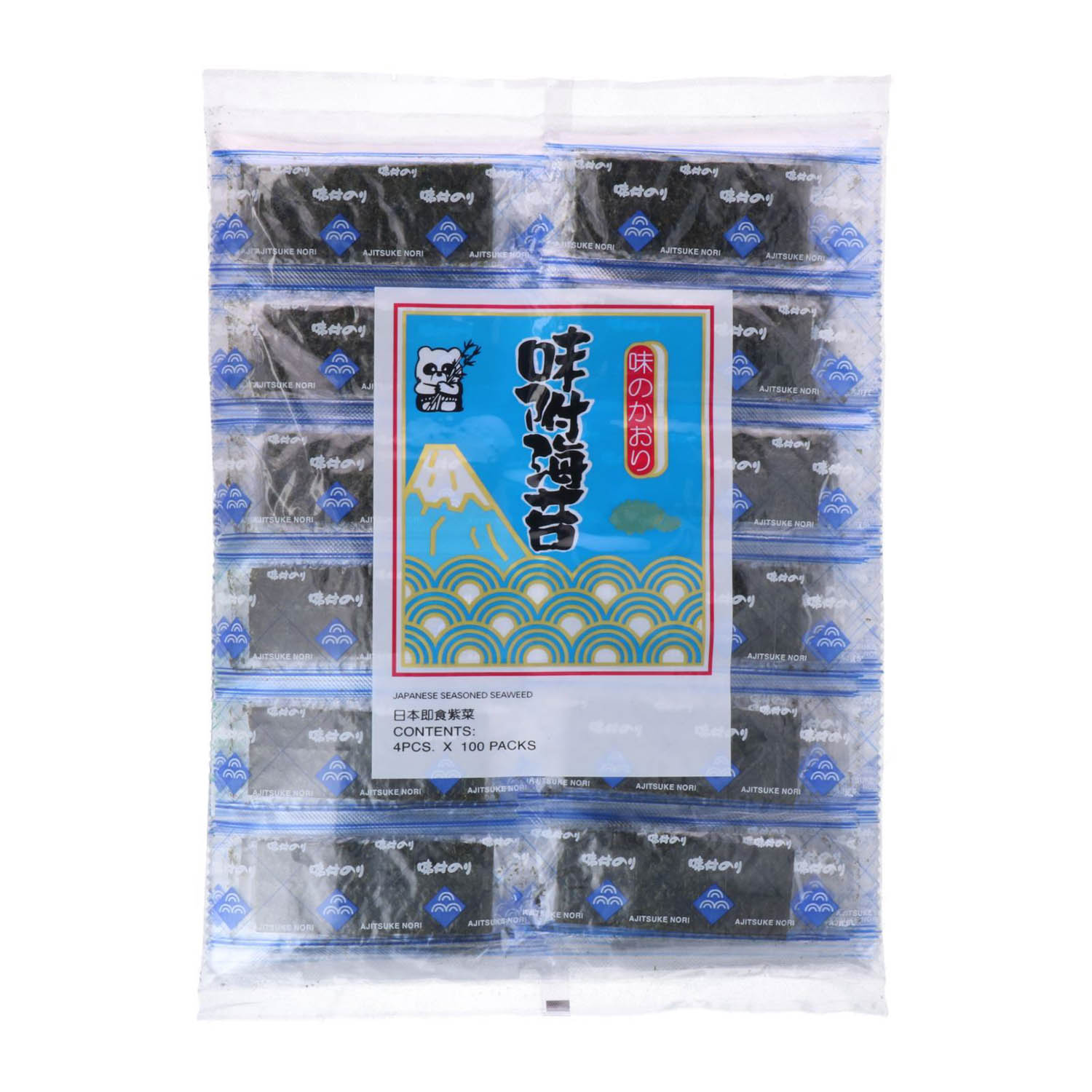 Image credit: Lazada
Before Tao Kae Noi took over the market, Panda Seasoned Seaweed was our seaweed snack of choice. Coming in convenient little packs of two or three strips, these lightly salted seaweed snacks are easy to eat on the go.
---
3. Want Want Rice Crackers
---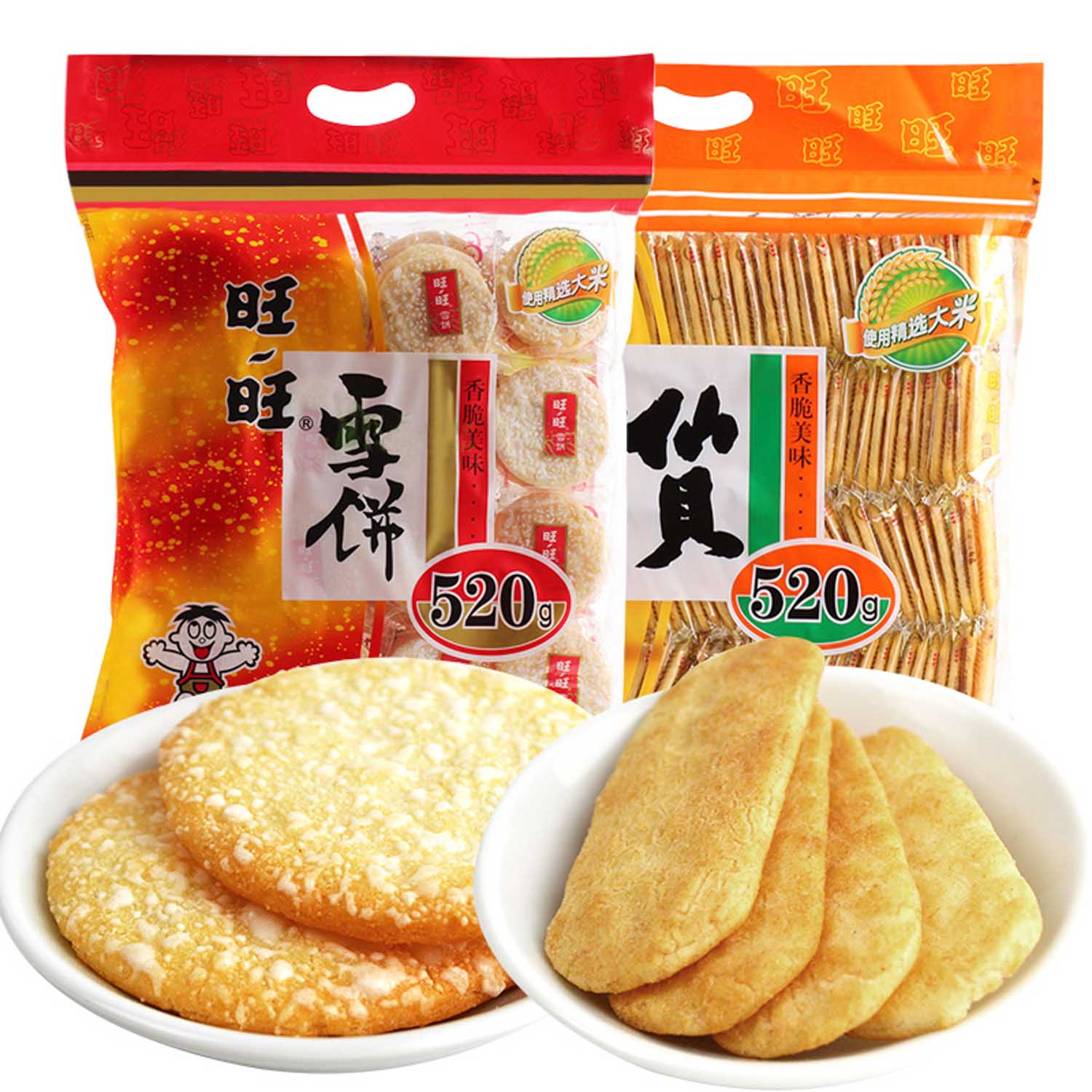 Image credit: eBuy7
Although they sell snacks and milk drinks targeted at kids, Want Want is best known for their sweet rice crackers that come in two forms: Xue Bing, disc-shaped biscuits coated in frosted sugar, and Xian Bei, bite-sized crackers doused in a sweet and salty powder.
---
4. Iced Gem Biscuits
---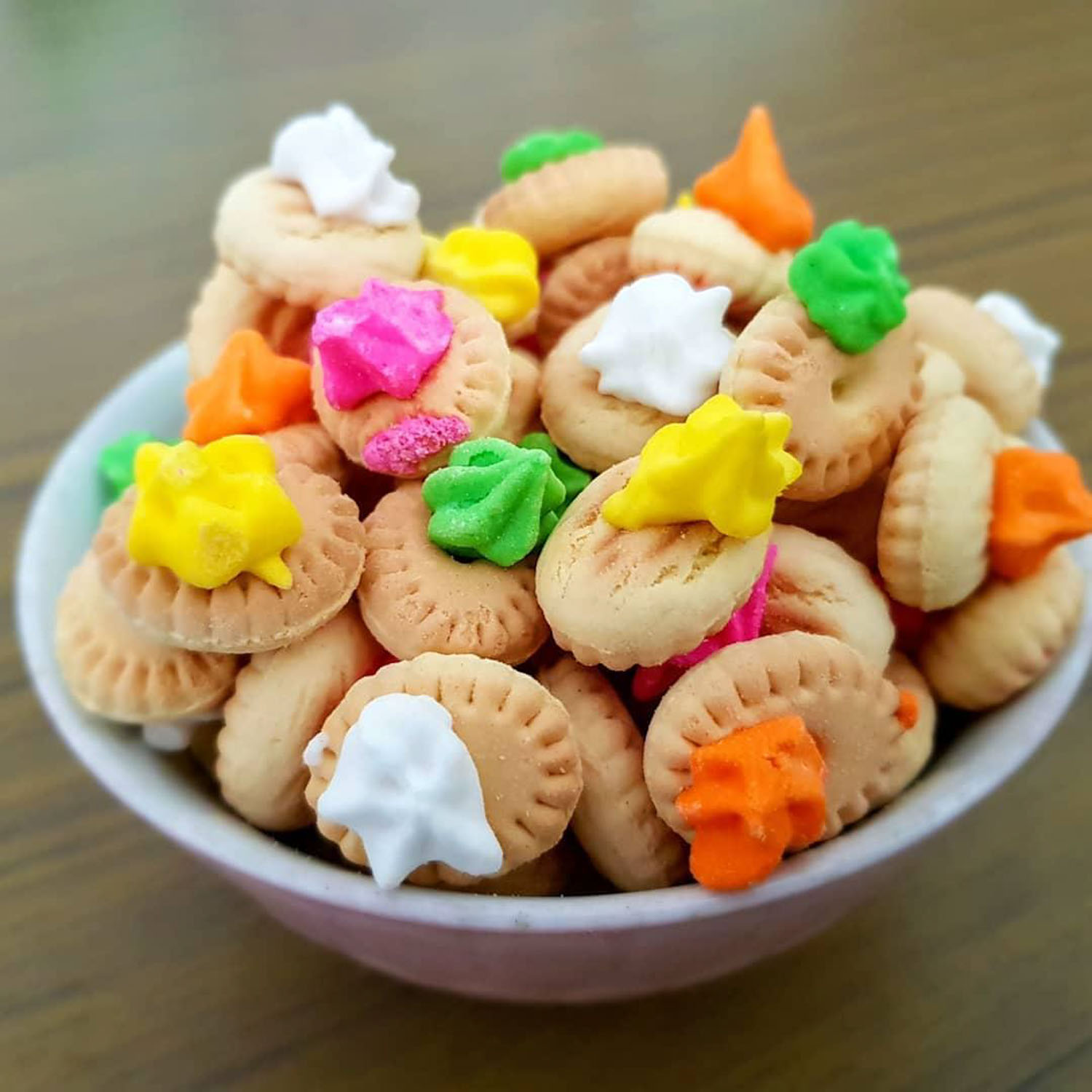 Image credit: @2last4ever
No list of childhood snacks in Singapore is complete without iced gem biscuits. These morsels are topped with a dollop of brightly-coloured icing. Though there's no surefire way of eating these, I like to pluck the icing off and let it dissolve in my mouth before munching on the delicious biscuits.
---
5. Fruit-tella
---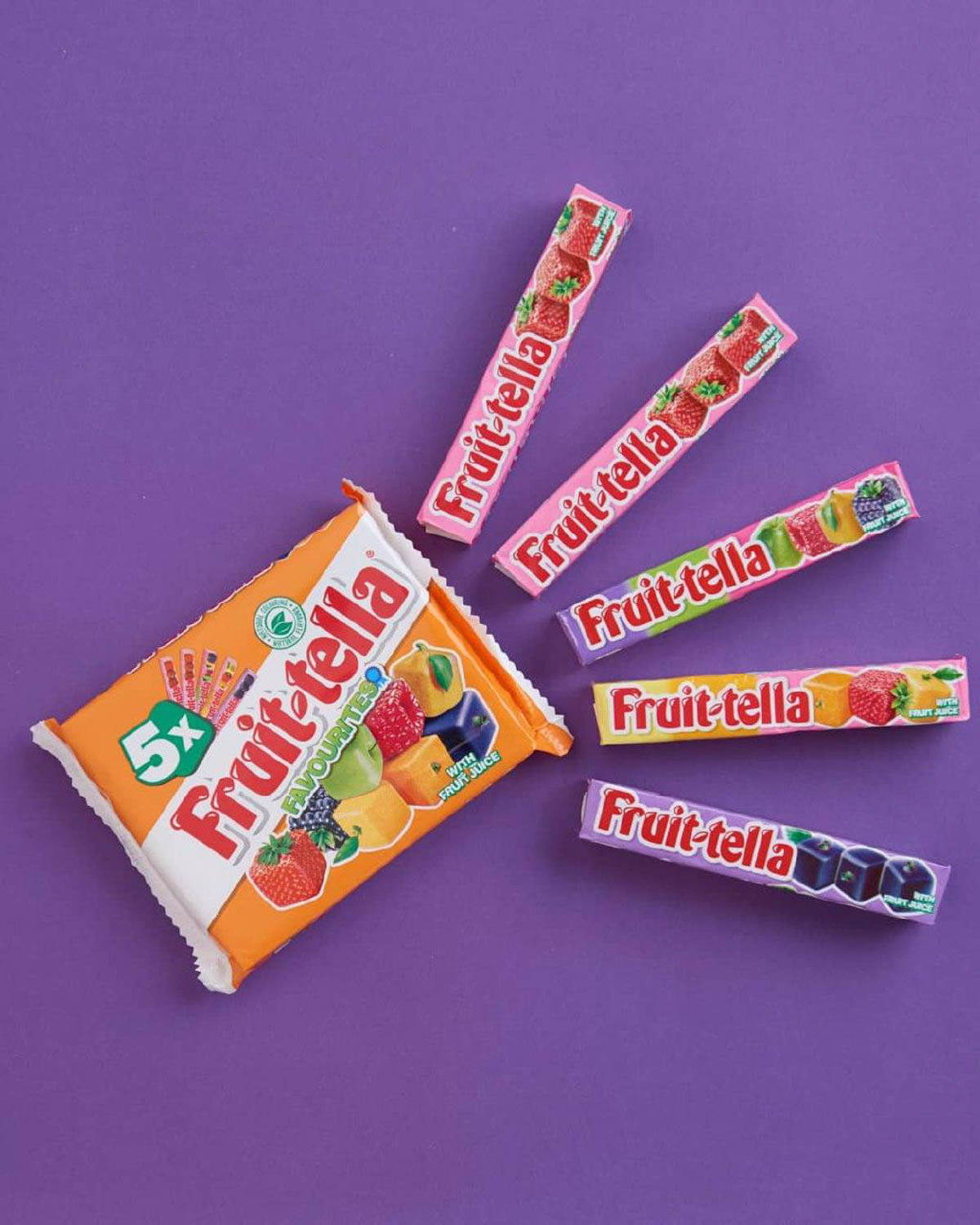 Image credit: @fruittellauk
The ancestor of Fruit Plus, Fruit-tella was well known for its individually-wrapped squares of chewy sweets made with real fruit juice. You could choose from flavours such as strawberry, orange, and grape—all of which taste close to the real thing. Advertisements for these sweets used to run on TV too, featuring a colourful hot-air balloon and the iconic Fruit-tella jingle.
---
6. Ice Cream Sandwiches
---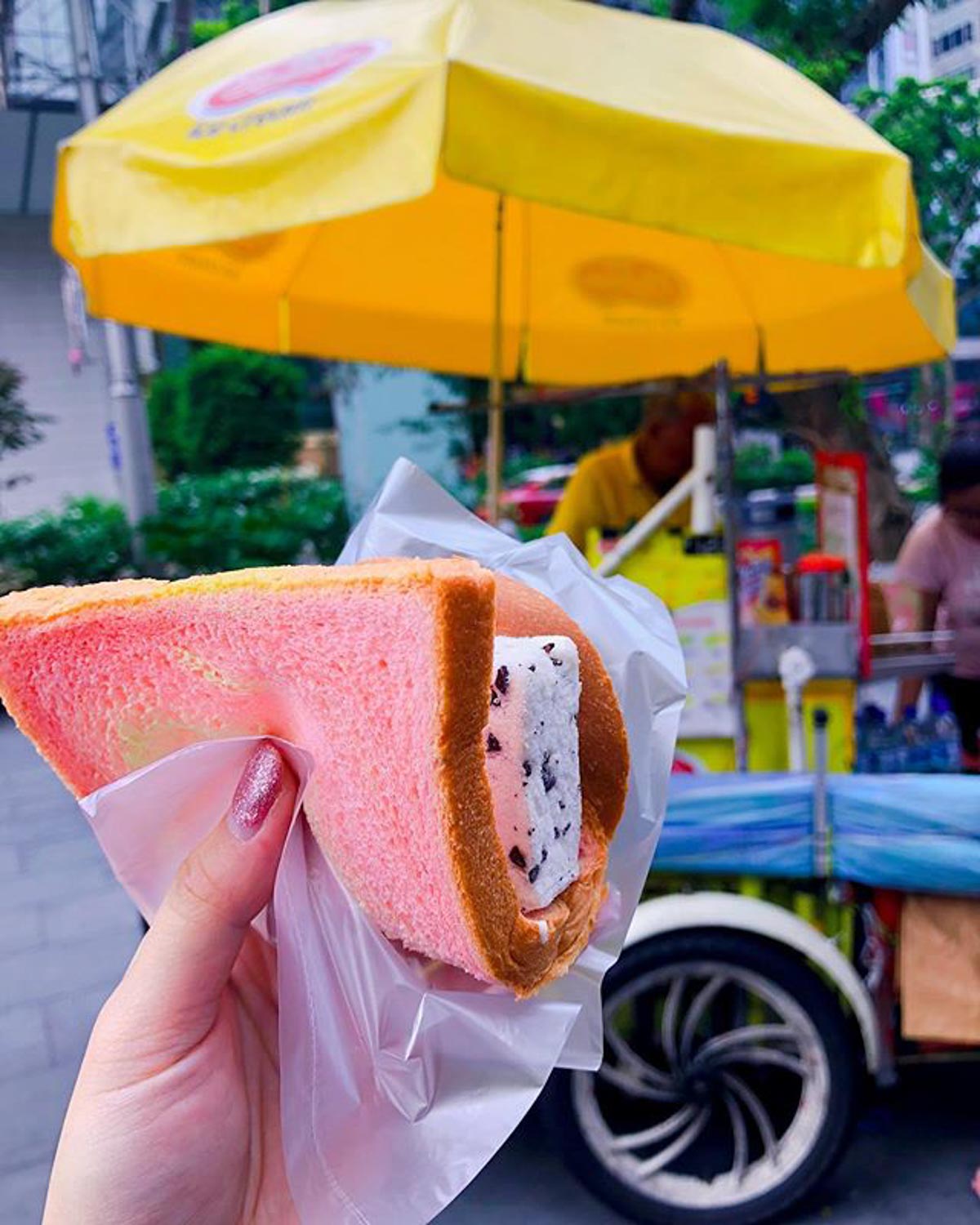 Image credit: @annyeh14
The ice cream cart uncle is a familiar sight throughout Singapore, peddling his selection of ice cream slabs. The most popular option in this treasure trove is the ice cream sandwich that comprises a block of ice cream nestled between a slice of soft bread. Common flavours you can find include choco mint, vanilla, and sweet corn. However, avant-garde options such as salted caramel and cotton candy are slowly on the rise. If you aren't a fan of bread, you opt to have your ice cream between wafers or in a cup.
---
7. Haw Flakes
---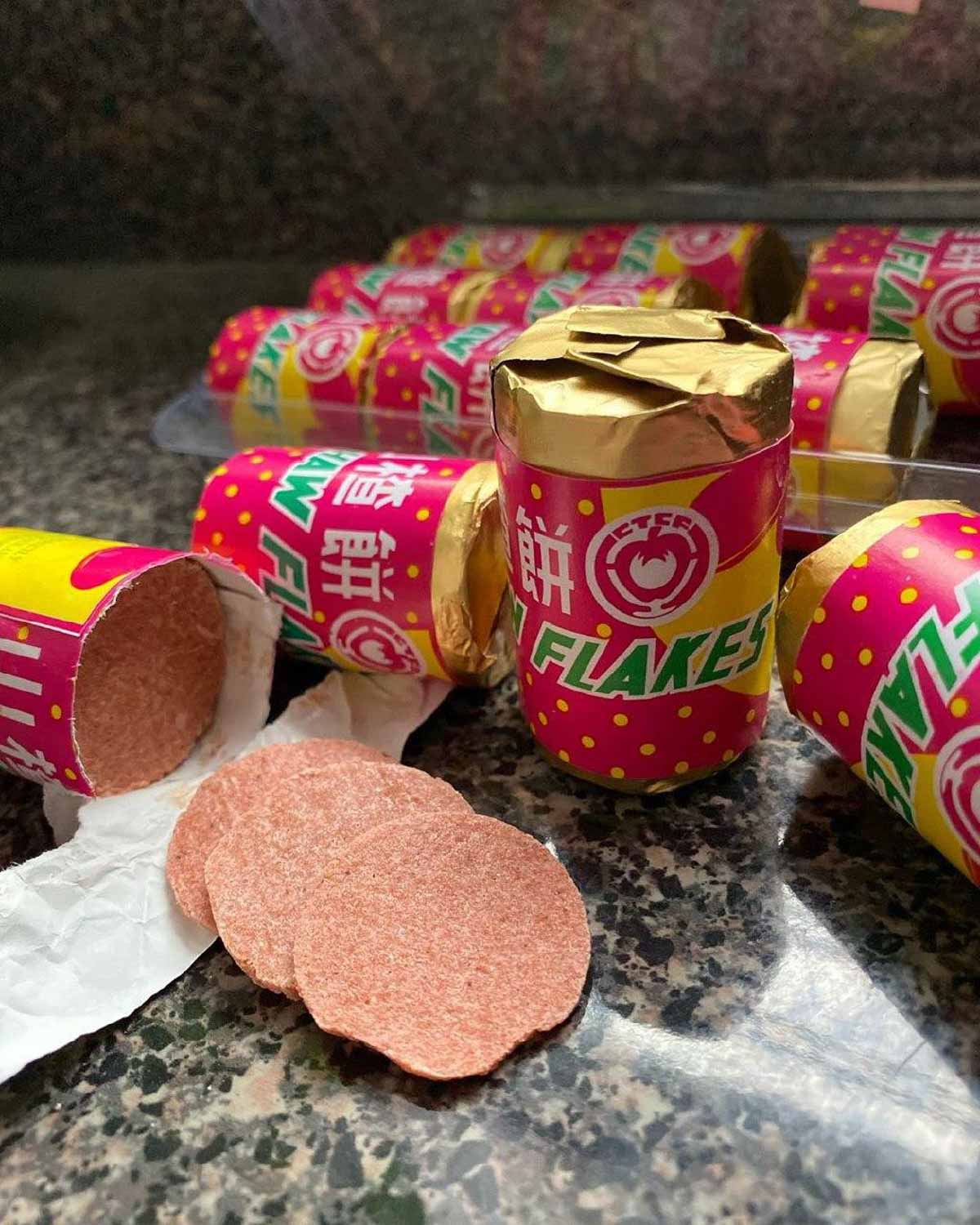 Image credit: @imeechan
Made from hawthorn berries, the sweet and sour Haw Flakes are a divisive bunch—with some kids enjoying the coins, and others being put off by their tartness. No matter your feelings on them, there's no denying their lasting popularity. Some cafes have incorporated the snack into their dishes to create the likes of haw flake cheesecakes and ice cream.
---
8. White Rabbit Candy
---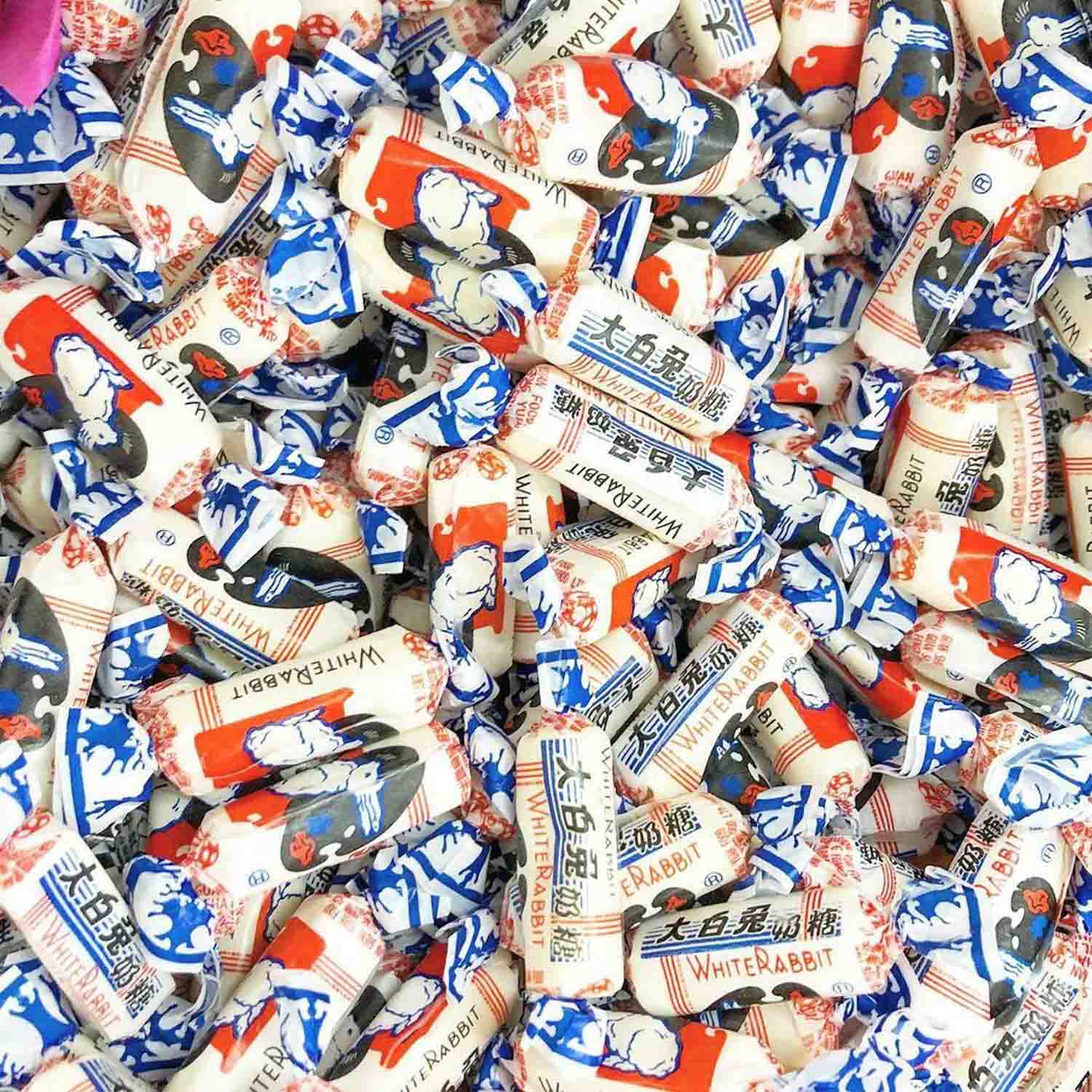 Image credit: @morning.mercies
White Rabbit Candy is another treat that's had a renaissance in recent years, with shops clamouring to add it to bubble tea and ice cream. Besides its addictive creaminess, the candy is popular for being wrapped in edible rice paper, resulting in a unique mouthfeel.
---
9. Dahfa Dried Fish Fillet
---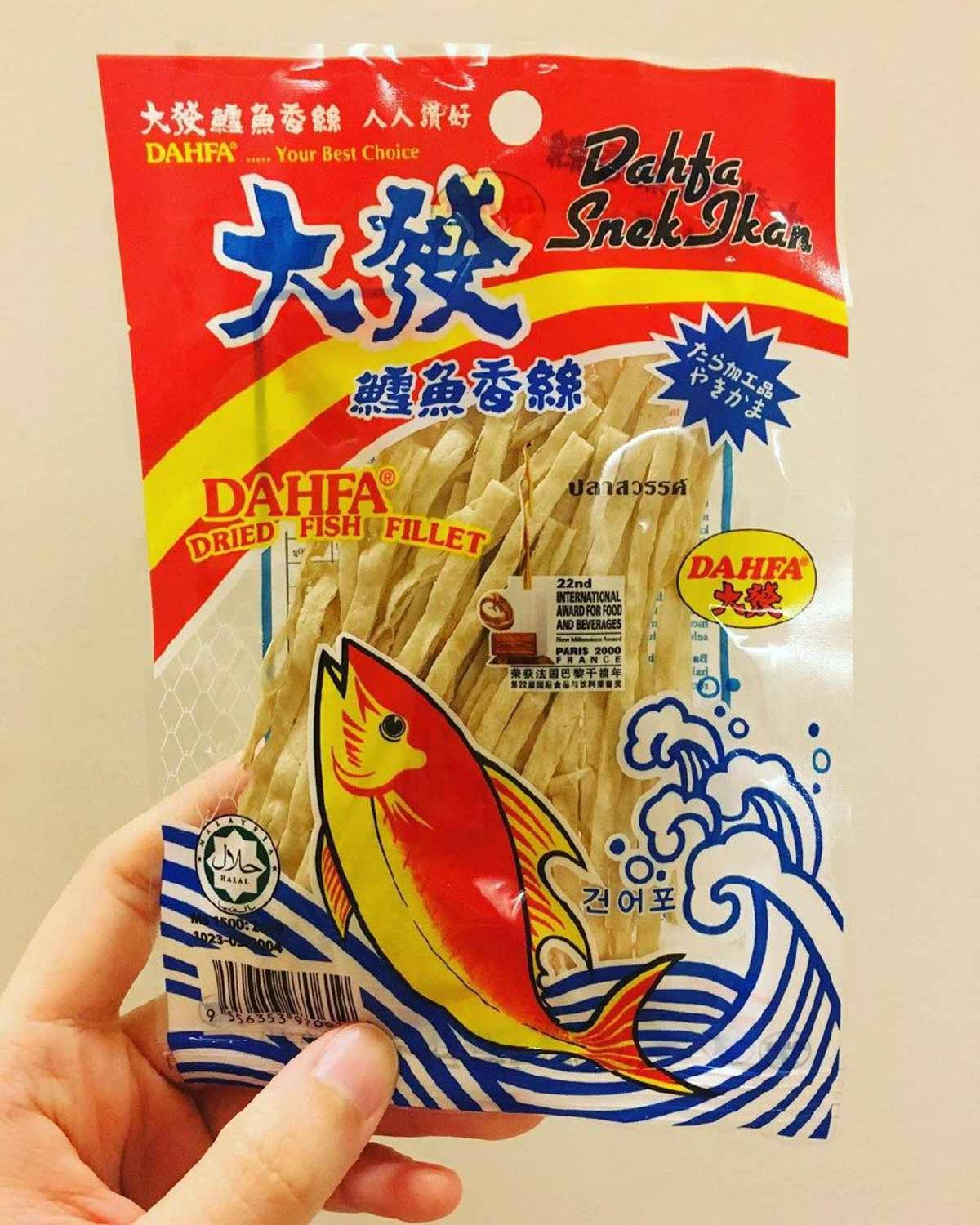 Image credit: @yunyuneat
Dahfa Dried Fish Fillets are lightly-salted fish snacks, cut into papery strips so that you can eat them without making a mess. Though they aren't the easiest to chew, their flavour and texture are extremely addictive. Surprisingly, the snacks are pretty high in calcium and protein—making them great post-workout bites.
---
10. Ice Pops
---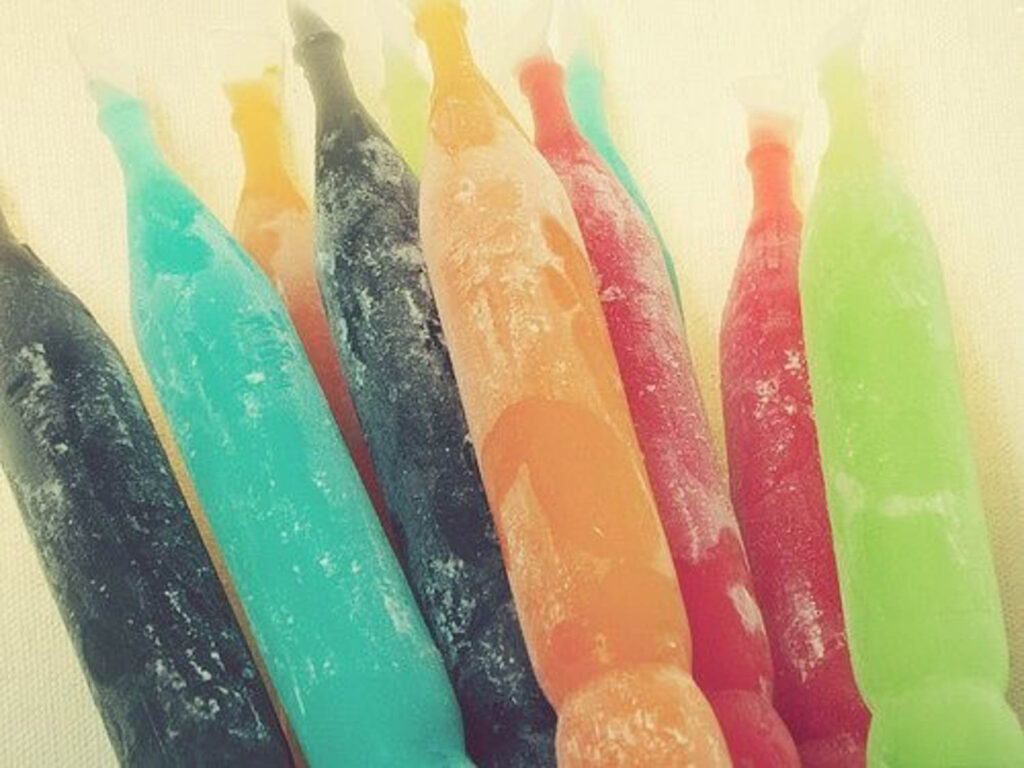 Image credit: Gov.sg
Back when we didn't have the money to go ham at ice-cream cafes, ice pops were our refuge against the sweltering heat. These multicoloured munchies usually came in a huge packet of assorted flavours such as orange, lime, and blackcurrant—so everyone could grab more sticks for themselves.
---
11. Popo Muruku Ikan
---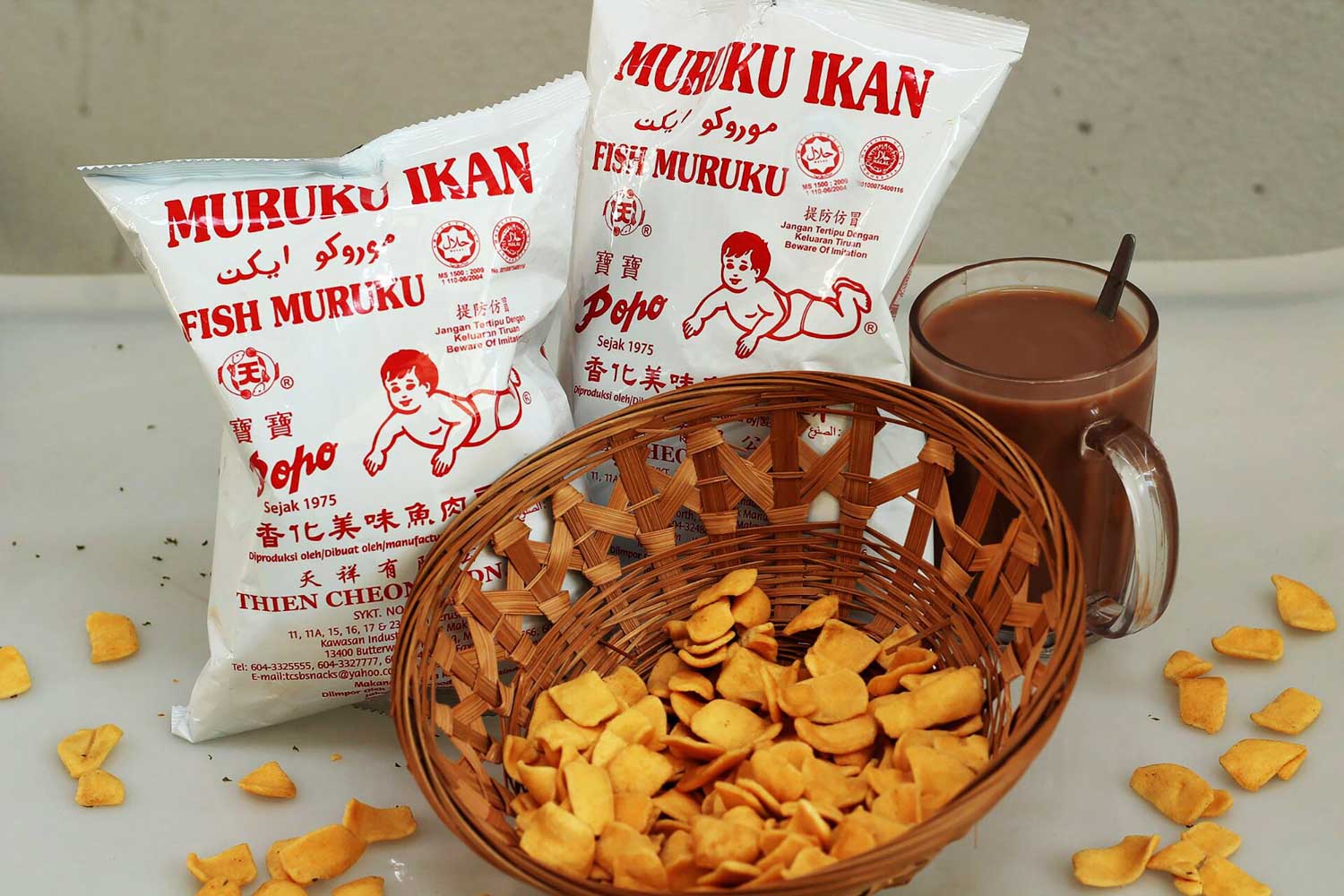 Image credit: Creativeworks
Made with fish sauce and boasting a satisfying crunch, Popo Muruku Ikan crackers were a hot favourite when we were growing up. Since then, other variants of this classic fish snack have been released such as the Spicy Chicken, Sweet & Spicy, and Seaweed flavours.
---
12. Pola Snacks
---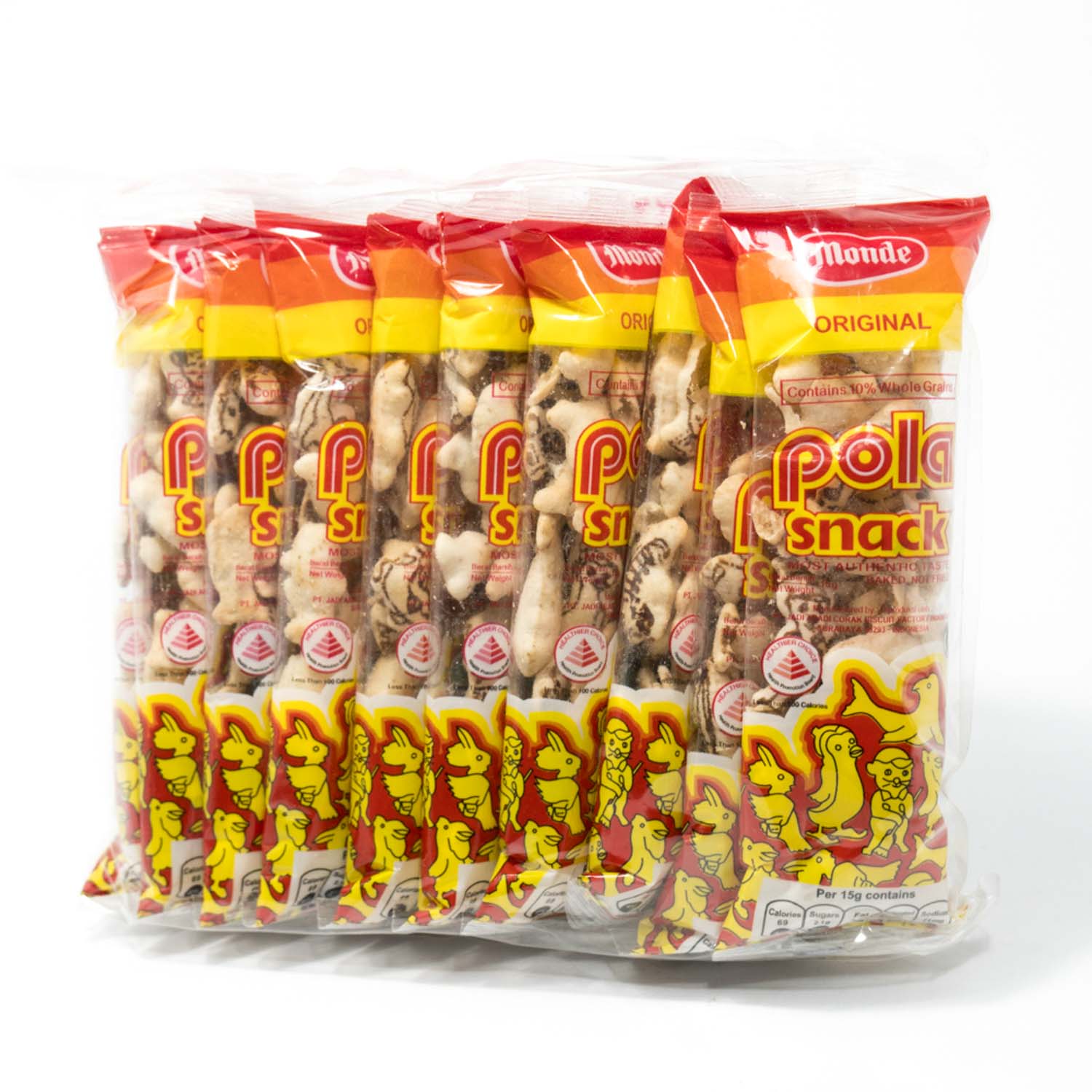 Image credit: Guan Chun Ding
Coming in animal shapes and prints, Pola Snacks are crispy crackers that are lightly salted. Get past their initial saltiness, and you'll be treated to the crackers' sweet flavour; it is this sweet and salty combination that makes the snacks simply irresistible.
---
13. Fascini Sour Power
---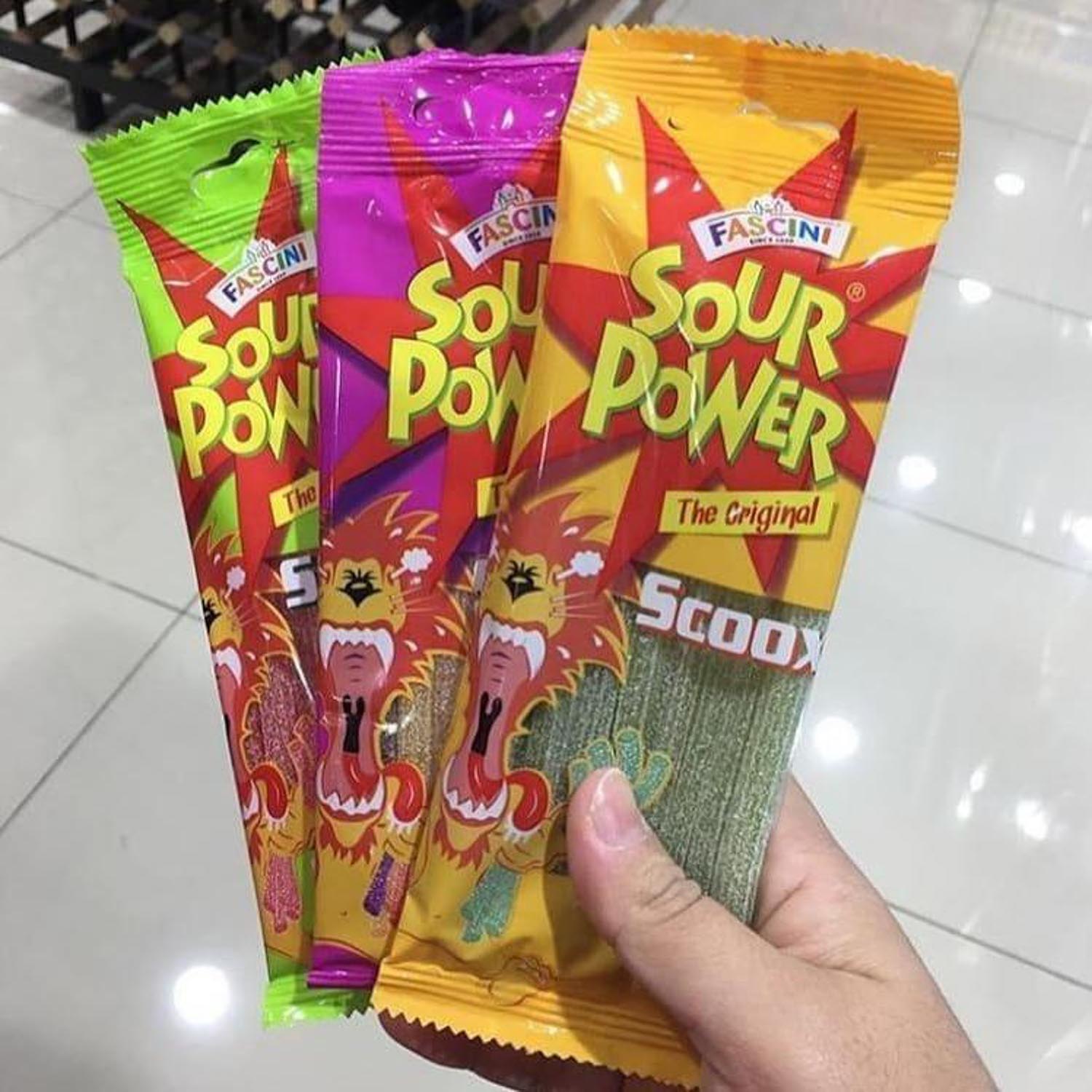 Image credit: @yenxia.jastip
In an era when sweet candies dominated shelves, Fascini Sour Power was one of the few that stood out with their sugar-coated sour gummies. These dual-flavoured ribbons pack a real tangy punch each time you pull off sections from the gummy strips, and are available in strawberry and apple flavours.
---
14. Warheads
---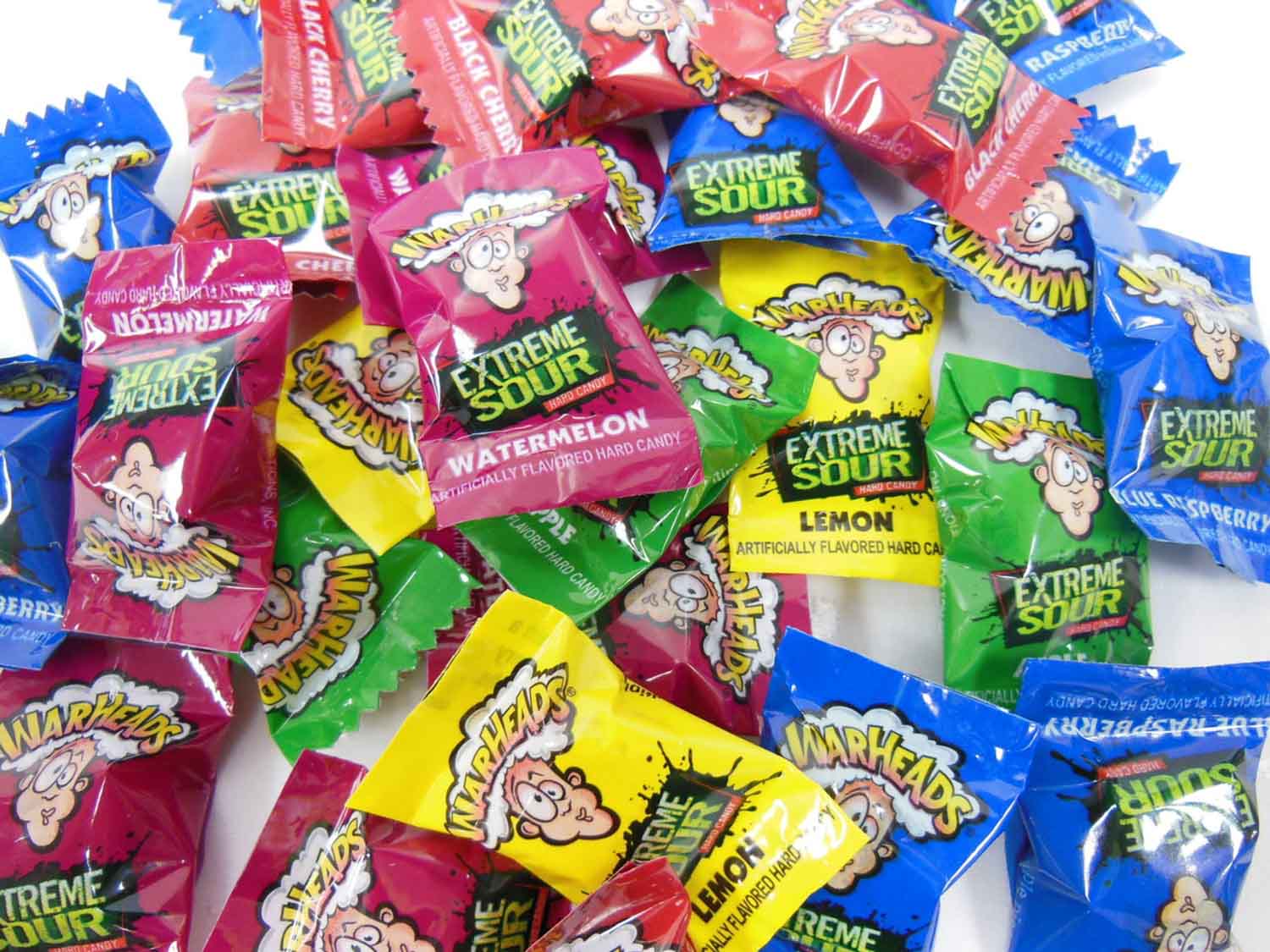 Image credit: Boyd's Retro Candy
You don't know the meaning of sour until you've tried a Warhead. The candies are loaded with malic acid, giving them their signature tartness. Whether your favourite flavour was watermelon, lemon or black cherry, everyone agrees that the right way to eat them with friends is pop 'em in your mouths and see who can last the longest.
---
15. PEZ Candy
---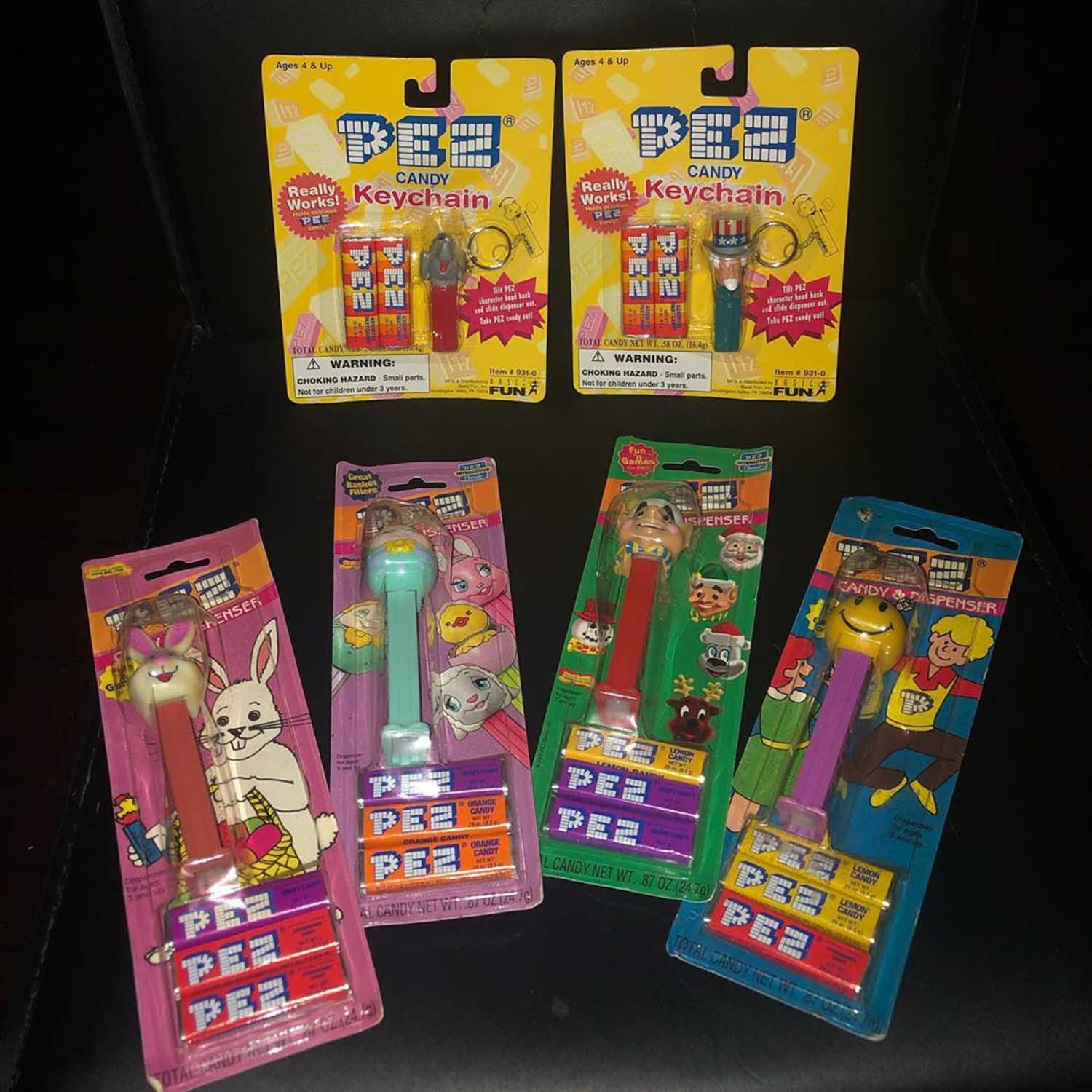 Image credit: @patima_blush
Before the days of Funko Pops, PEZ Candies were the cheapest way broke kids could get merch of their favourite cartoon characters. Each set usually came with three packets of candy pellets, which you can then load into a quirky dispenser bearing the face of characters such as Garfield, Spongebob Squarepants, and Winnie the Pooh.
---
16. Kinder Surprise
---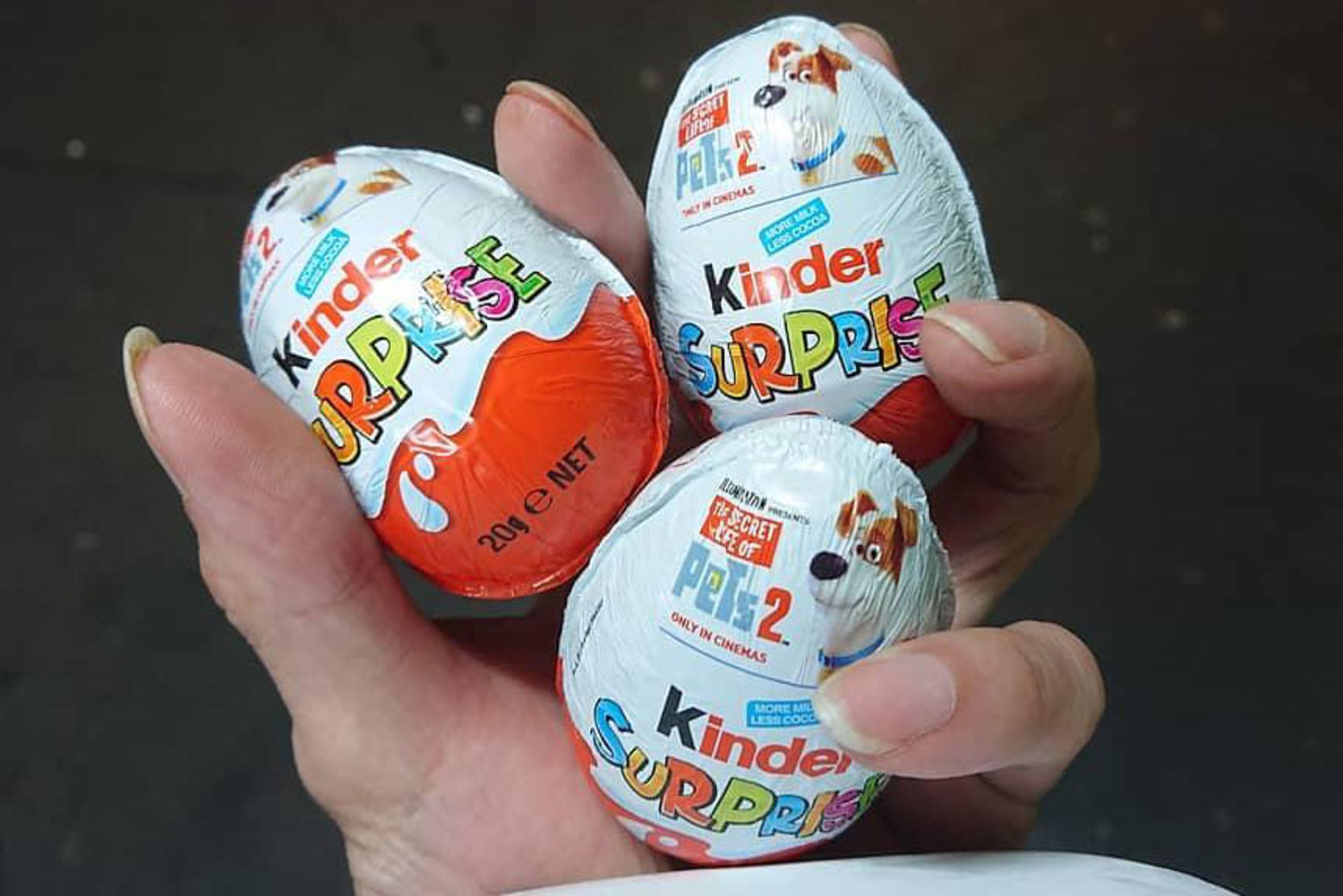 Image credit: @veblenho
Before Kinder Joy rose to prominence, Kinder Surprise eggs were all the rage with kids. The shell was made with milk chocolate while its inside was lined with cream. As you bite into the sweet and milky confection, you'll uncover a mystery toy. Due to the potential choking hazard posed by the snack, they are rarely sold in supermarkets now—though you can still get 'em at Lazada, Cold Storage and Mustafa.
---
17. Ring Pop
---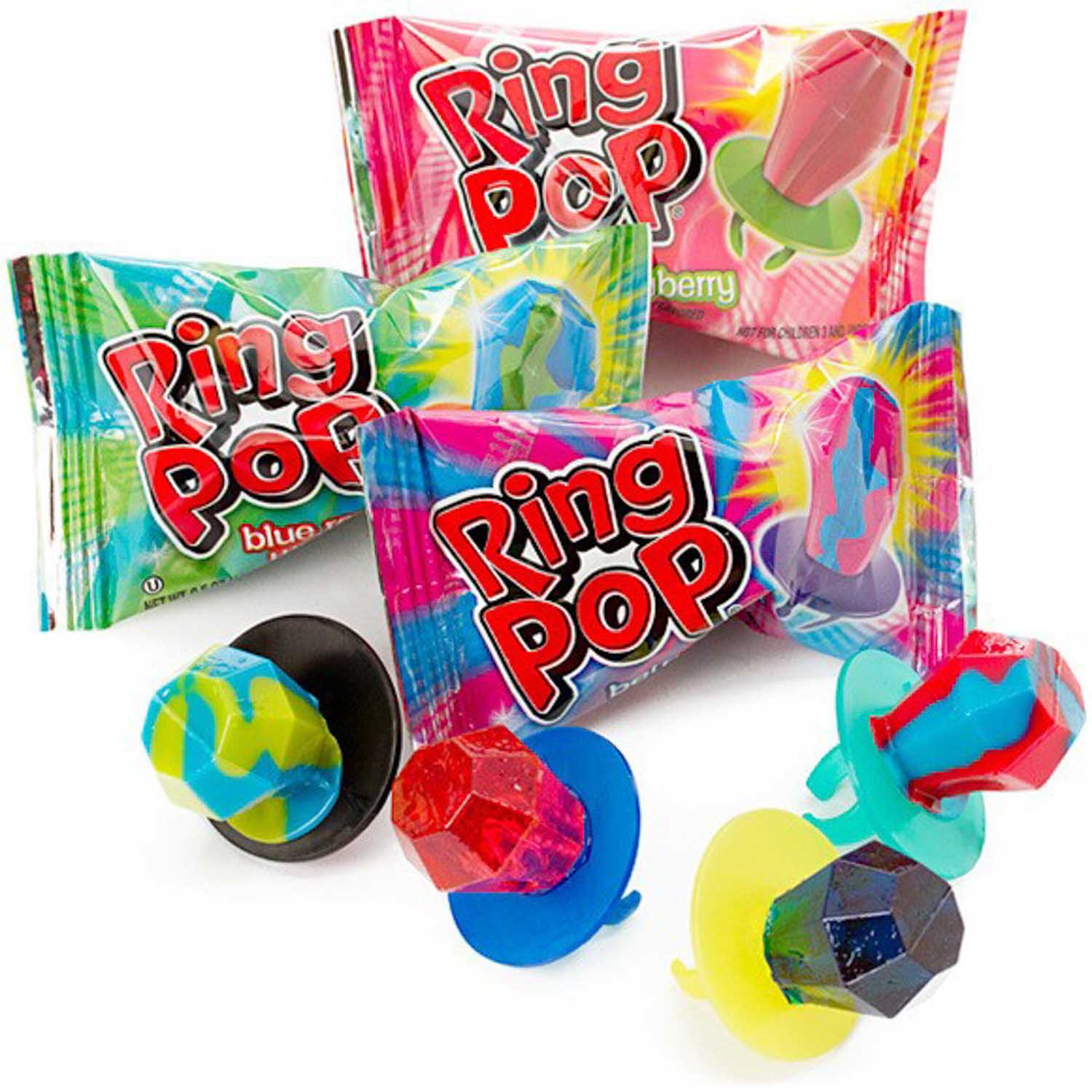 Image credit: Legacy Toys
Who needs diamond rings when you've got Ring Pops? Perched atop these plastic rings are huge diamond-shaped candies. No matter which flavour you bought, from blue raspberry to lemonade or green apple, you're guaranteed to end up with a stained tongue. Plus, you could finesse your way into roleplaying as a married couple with your crush, thanks to these rings.
---
18. MomMom Eyeglass Candy
---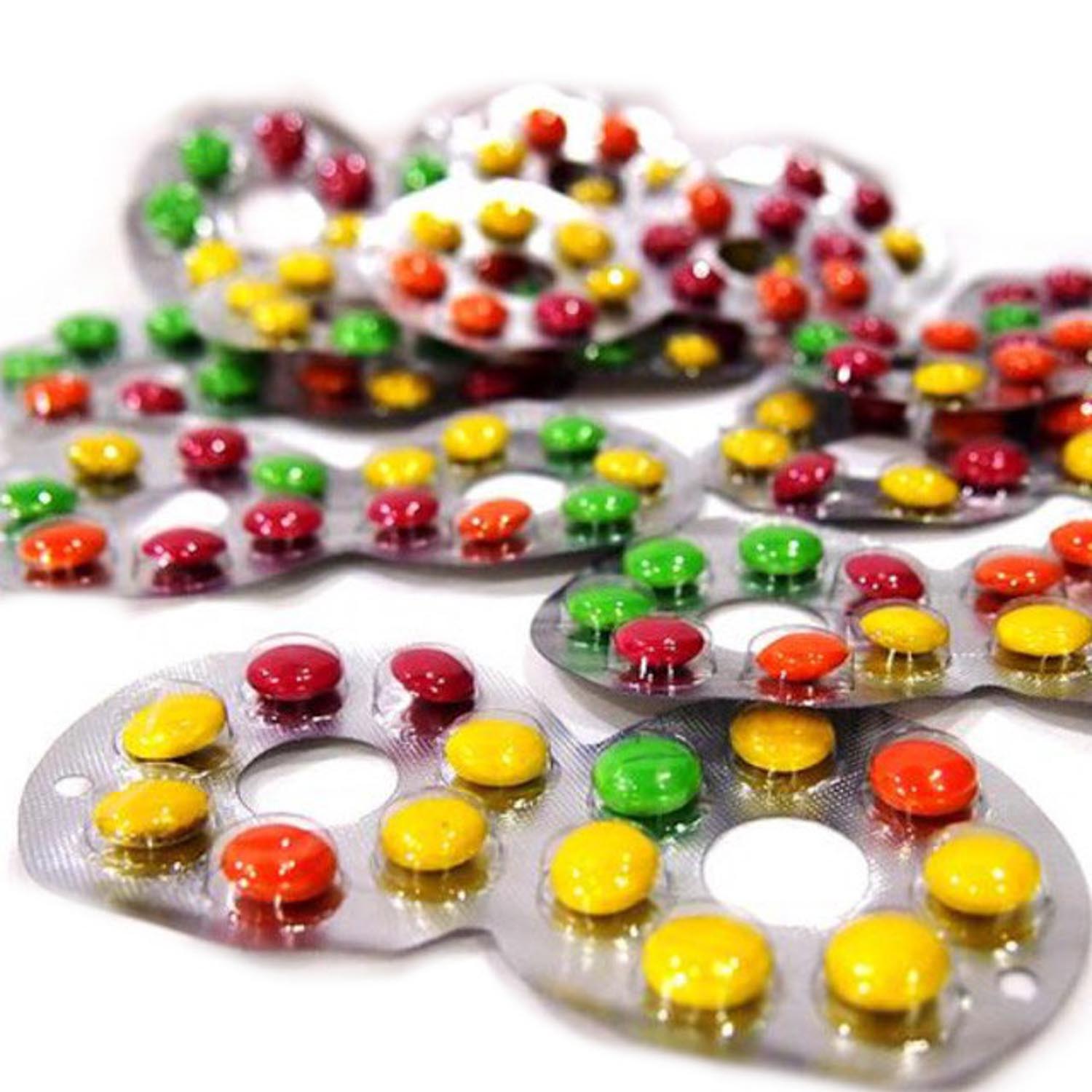 Image credit: 90s Candy Society
MomMom Eyeglass Candies are basically milk chocolate arranged in a figure eight. At less than $1 a pack, the treats are a cheaper alternative to M&M's. Most of us would have pretended to use 'em as spectacles while Ultraman fans would pretend they were a transformation item due to the similar shape.
---
19. Cup Jellies
---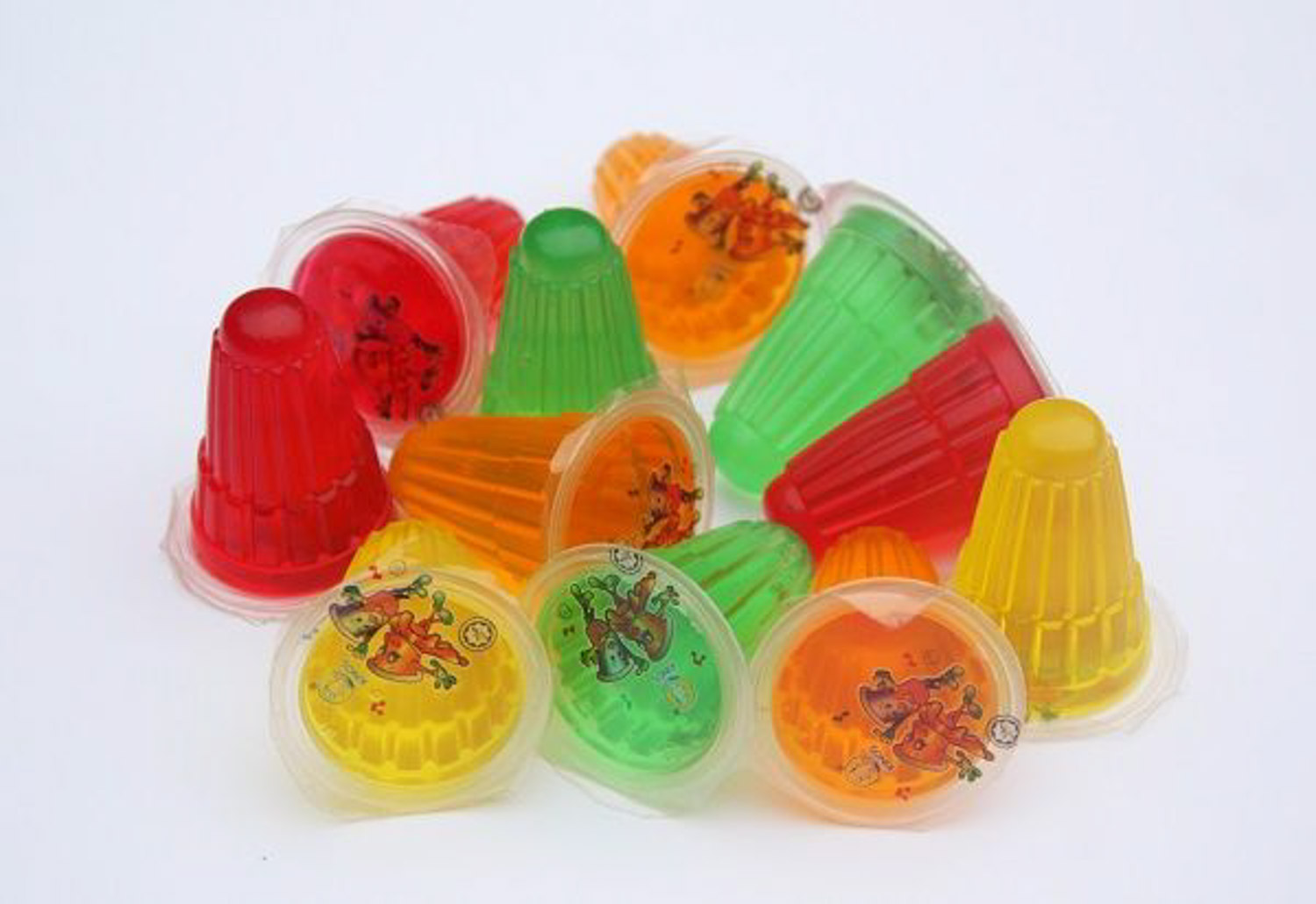 Image credit: Crispy Mee Siput
Costing less than $2 for a packet of 10, cup jellies usually come in teeming mounds during kindergarten parties. Despite their cheap price, the jellies are extremely addictive with loads of flavours to choose from including pineapple, strawberry, and grape. 
---
20. Apollo Chocolate Stick Wafers
---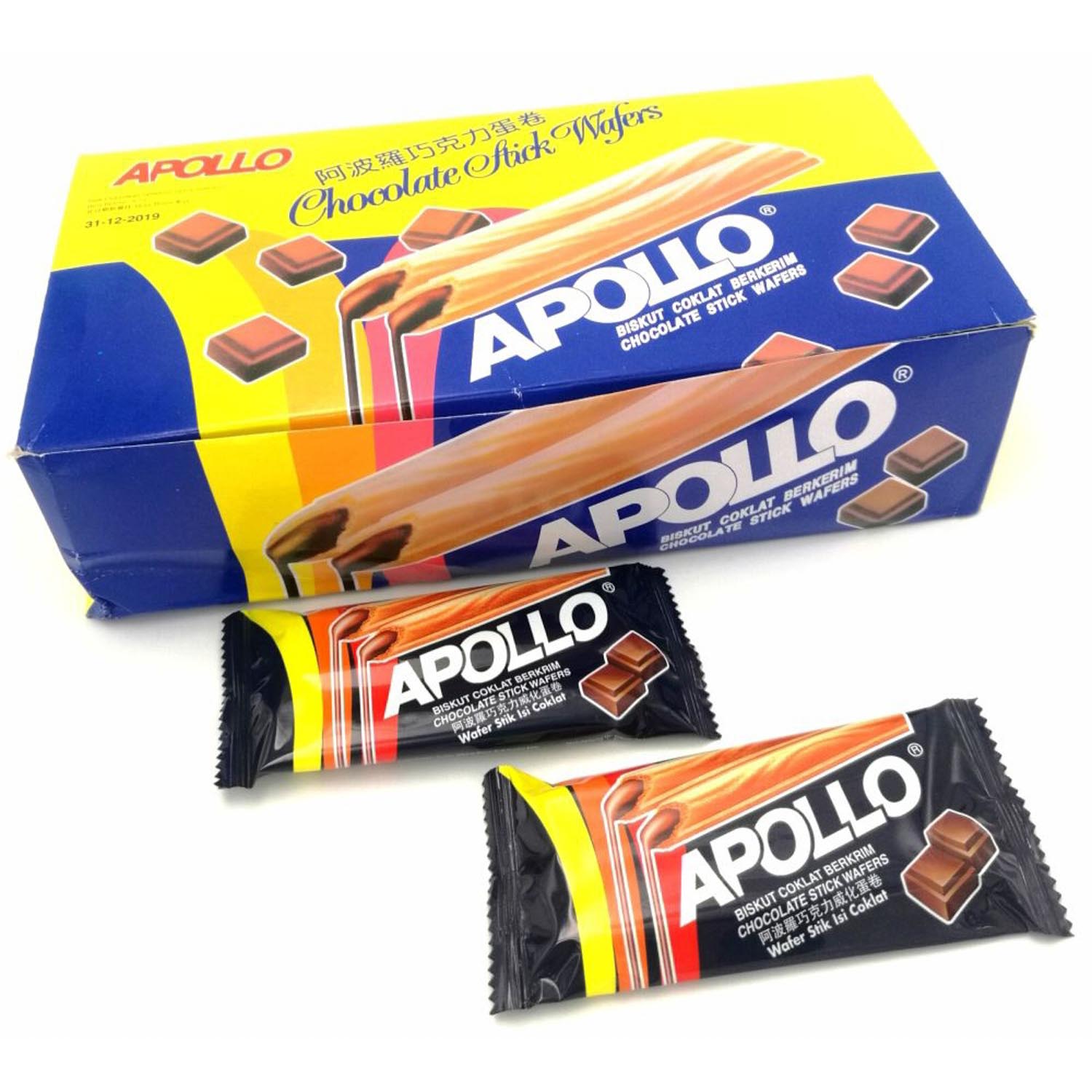 Image credit: Shopee
For those who can't afford Kinder Bueno, Apollo's Chocolate Stick Wafers are the next best thing. Filled with a sweet chocolate sauce, the wafers come in a set of four, and were an affordable means of satisfying our chocolate cravings as kids. Other variants include wafers filled with pandan and strawberry.
---
Primary school snacks we love
---
While our time as primary school kids has long passed, our memories of those halcyon days are not gone. Our primary school snacks will always have a special place in our hearts, bringing us back to the happy times we spent as children. 
If you walk on the spicy side of life, check out these fiery mala snacks for peppercorn-tinged fish skin, luncheon meat and more. 
Featured image adapted from @2last4ever, Legacy Toys, 90s Candy Society, and Crispy Mee Siput.