---
Snacks to get at 24/7 Mustafa Centre
---
Agree to disagree, but Mustafa Centre is the God of all supermarkets in Singapore. Located at Little India, this 24/7 supermarket is the go-to spot for late-night shopping, jewellery, gold, cheap goods, and unique snacks. The mall even offers some of the best rates at their money changer! If you're still hungry after visiting one of the many Indian restaurants in the area, head to their snack aisle and discover a treasure trove of traditional Indian snacks, old-school favourites as well as the latest treats from the rest of the world. Here are eight unique snacks from Mustafa Centre!
---
1. Kurkure
---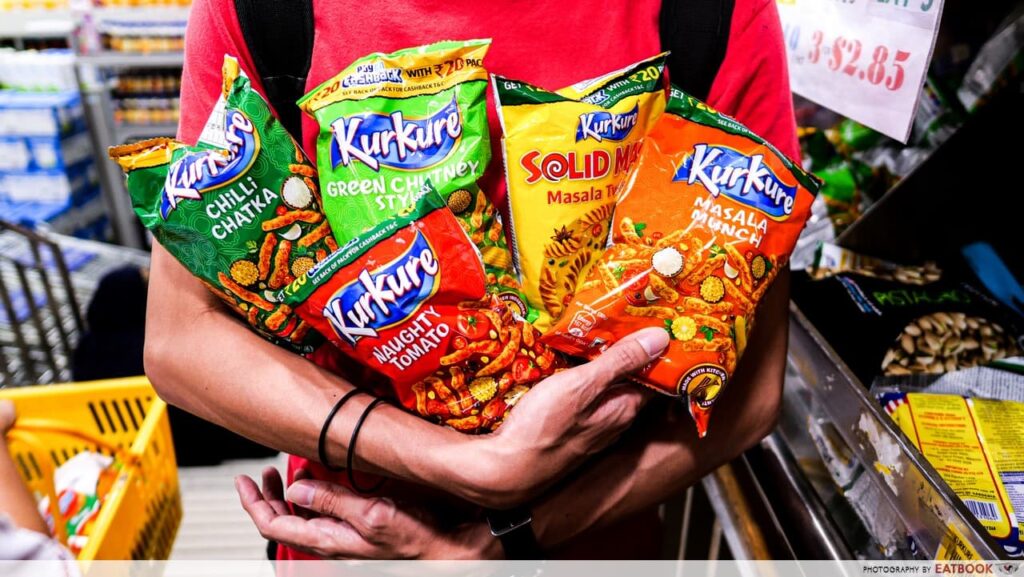 Kurkure ($2.85 for three packets) is the Hindi word for "crunchy" and that's pretty much what makes Kurkure's range of snacks such a hit. What keeps us coming back is the seemingly endless list of flavours, all revolving around the explosive Indian dishes that are recreated into these bite-sized puffs. If you're a fan of spice, you'll adore the Masala; imagine Flamin' Hot Cheetos with no holds barred. It's also 100% vegetarian, so everyone can dig in. 
---
2. Whistle Roasted Amaranth Puffs
---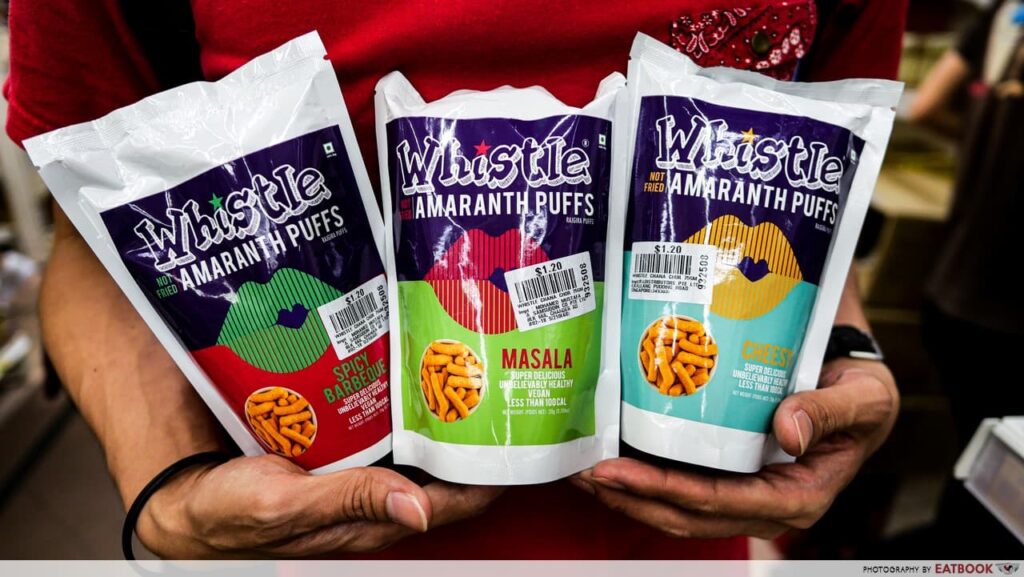 Skip your usual granola bars and get your health kick with these crunchy Amaranth Puffs ($1.20). Known as a superfood, amaranth is teeming with protein, iron, calcium, and fibre. These puffs are not only a great alternative to boring healthy snacks but total to less than 100 calories a pack. Pro tip: Mix the Cheese and Masala flavours for a delicious mouthful.
---
3. Saffola Masala Oats
---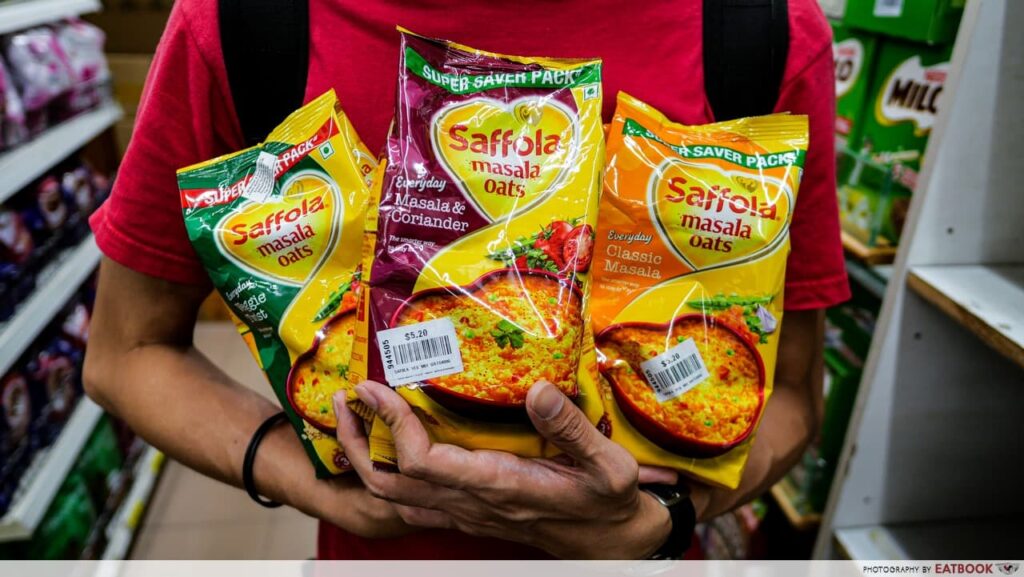 Shake up your breakfast by replacing your plain rolled oats with Saffola Masala Oats ($5.20). It provides a scrumptious blend of savoury and spicy in an otherwise boring bowl of oats. There are multiple flavours available, but our pick is the Veggie Twist. Expect aromatic Indian spices matched with carrots, peas, and french beans. It's almost like digging into a homely curry dish! 
---
4. Kozhikoden Banana Snacks
---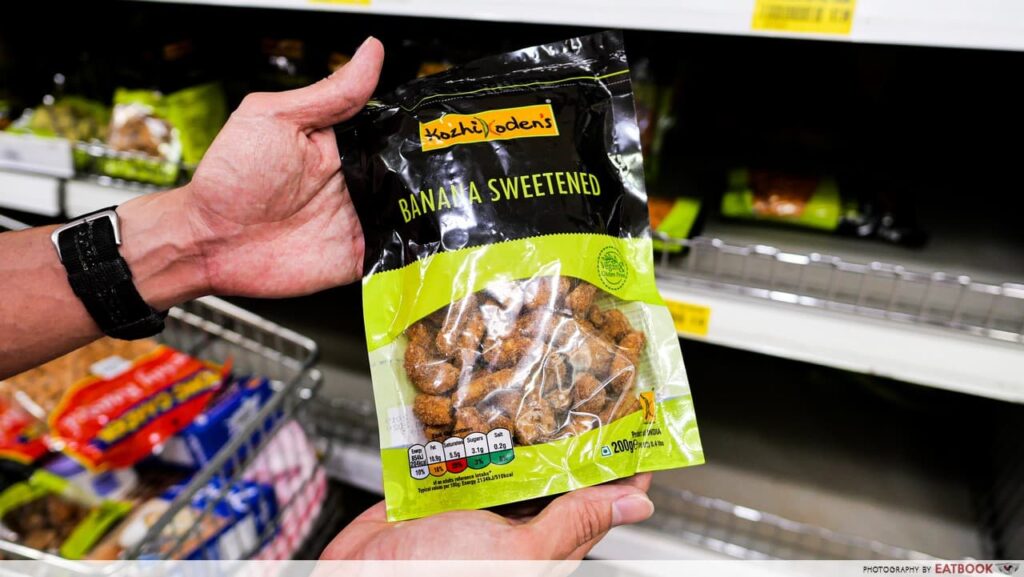 Kozhikoden ($1.50) satisfies those craving a sweet yet fiery snack with their range of fried banana chips, which come in chilli and black pepper flavours. There's also the Banana Sweetened for those with a sweet tooth. Rather than thin, crisp banana chips, it's presented as crumbly chunks sweetened with the molasses-like flavour of jaggery.
---
5. Kinder Surprise
---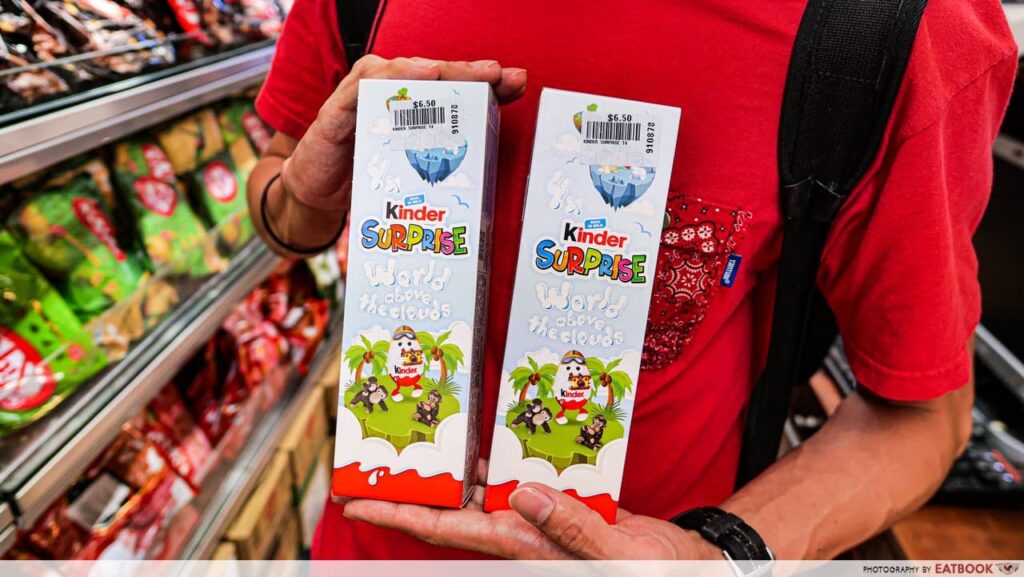 Millennials in Singapore were disappointed the day Kinder Surprise ($6.50)—the all-time favourite chocolate eggs hiding a collectable toy—was replaced by Kinder Joy. Mustafa Centre is one of the few places in Singapore that still have this chocolate egg! This is because Mustafa brings in the range that is manufactured outside the U.S.A where the ban came from. Not only do they taste great, but they're also tons of fun!
If you are planning a cute gift, you can open the shells and switch up the toys with a gift, before sticking the chocolate egg back with a warm knife! Definitely a proposal idea you might want to KIV. 
---
6. Gery
---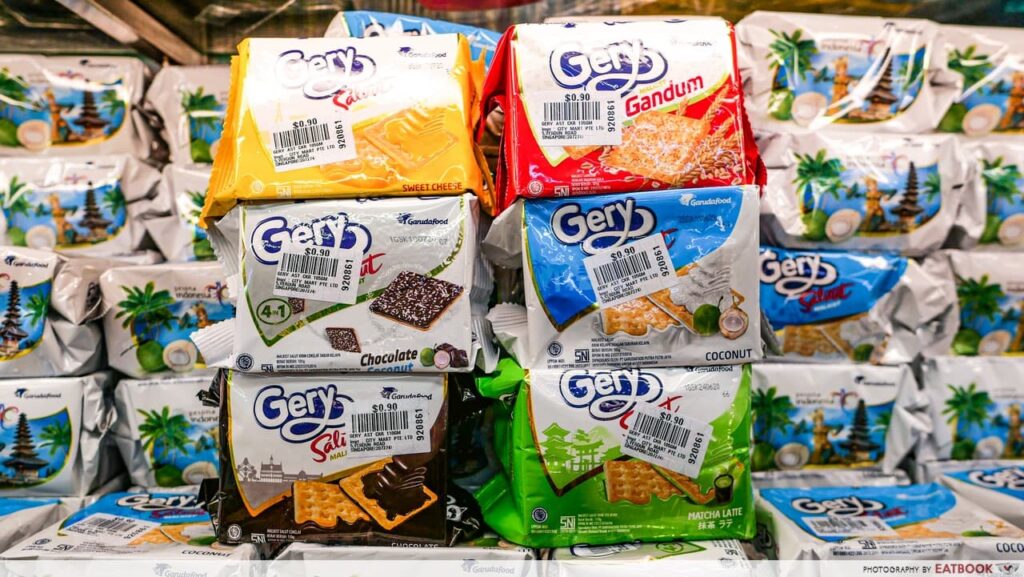 It's almost impossible to spend a day in Indonesia without catching a whiff of Gery ($0.90). Skip the graham crackers and up your smores games with this unique snack. Here, buttery biscuits are loaded up with a thick layer of toppings, such as the Nutella-like chocolate showered with coconut shavings, matcha and—a perennial local favourite— sweet cheese. 
---
7. Chiko Kokonata
---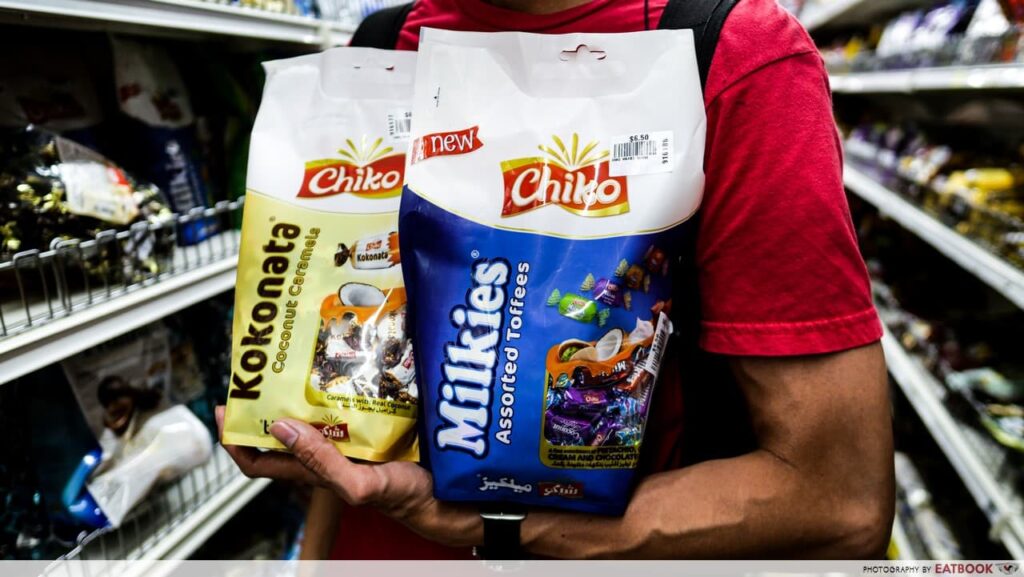 Our usual gummies can barely hold a candle to Chiko Kokonata ($6.50), decadent morsels of chewy coconut caramel in assorted flavours. The addictive milky flavour we love coconuts for is complemented with the toasty yet sweet notes of caramel, making this our go-to snack for a mid-day treat. For variety, throw in the equally impressive Chiko Milkies that includes their pistachio and cream toffees into your candy stash.
---
7. Bebeto
---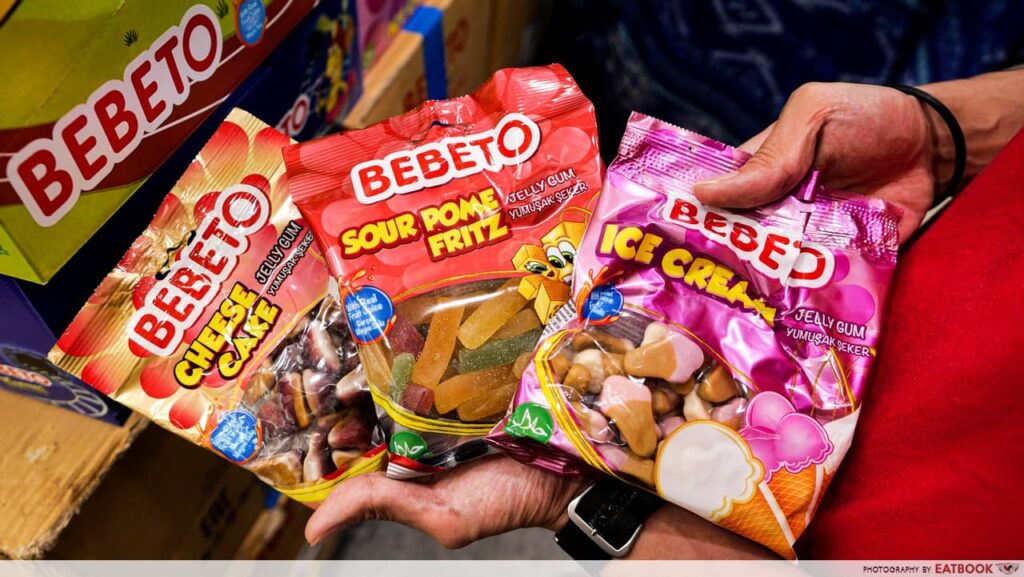 Tastewise, Bebeto's ($1) series of gummies from Turkey may seem just like your usual supermarket sweet offerings. However, they stand out with their adorable shapes. There's the "bowl of bolognese" spaghetti of thin strawberry flavoured strings, forest mushrooms, cheesecakes, and ice cream cones. They are also Halal-certified, so you won't need to worry about finding any pig gelatin here.
---
Things to buy at Mustafa Centre
---
Mustafa Centre is a playground for cheap and interesting items, and these snacks prove just that. The next time you're visiting this mega mall at Little India, do be sure to grab the snacks to try!
Address: 145 Syed Alwi Road, Singapore 207704
Opening hours: Daily 24 hours
Tel: 6295 5855
Website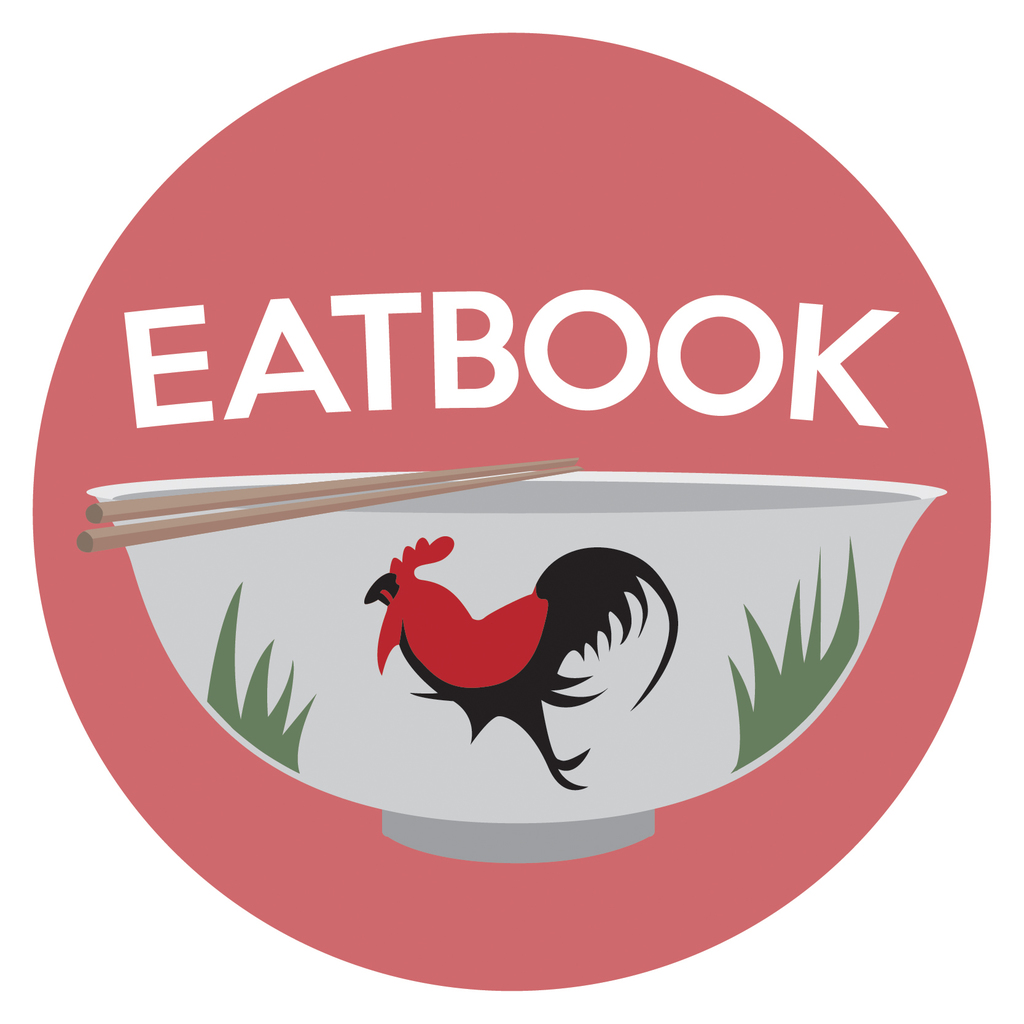 Drop us your email so you won't miss the latest news.