---
Indian Restaurants In Singapore
---
Curries, prata and fragrant spices are the landmarks of Indian cuisine to Singaporeans, but that's not all this varied and delectable cuisine has to offer. In fact, there are plenty of distinct differences between Northern and Southern Indian food, and what we think is Indian food in Singapore is a whole new world entirely. We've compiled a list of some authentic Indian restaurants in Singapore so you can school yourself on Indian food this Deepavali!
---
1.Jaggi's Northern Indian Cuisine
---

Image credit: @sheiwah
For those unfamiliar with Indian cuisine, Northern Indian food is characterised by their heavy use of dairy products in cooking. Yogurt, milk, and tomatoes are prevalent in the cuisine, and roti is a staple in place of rice.
Originally a hawker stall in near the ports of Singapore back in the old days, Jaggi's Northern Indian Cuisine has achieved a huge following that it now has its own restaurant. Try the chicken and mutton Kebabs ($5), or the smoky and spicy Tandoori Chicken ($5). Don't miss out on what has to my favourite dish – the Butter Chicken ($6.50).
Address: 37 Chander Road, Singapore 219541
Opening Hours: Mon-Sat 11:20am to 3pm, 6pm to 10:30am, Sun 10:30am to 10pm
Tel: 6296 6141
---
2. Samy's Curry
---

Image credit: @inadsliem
Restaurants today can hardly stay open for two years, let alone over 50 years, like Samy's Curry! Their status in Singapore is legendary and they were actually one of the first restaurants in Dempsey hill.
South Indian food is characterised by the use of tamarind, coconut milk, and rice which is much more prevalent in the South. You'll want to try the Fish Head Curry (from $22++), Masala Chicken ($5.50++) and Mysore Mutton ($10.50++), which is a dried curry dish.
Address: 25 Dempsey Road
Opening Hours: Wed-Mon 11am to 3pm, 6pm to 10pm
Contact: 6472 2080

---
3. Kebabs & Curries
---

Image credit: @elsie.travelling
One of the biggest surprises in Little India, Kebabs & Curries is housed on the top floor of Mustafa Shopping Centre. It's hardly the first choice when you think about scenic restaurants, but the roof is shaped as a giant glass dome offering a pretty unique dining experience.
Try the Lucknowi Chicken Biryani ($12.90++) which is quite the hit with its tender, juicy chicken and fragrant rice. Other recommended dishes include Rosemary Lamb ($16.90++) and Butter Chicken ($13.50++).
Address: 171 Syed Alwi Road, #07-00 Mustafa Centre, Singapore 207704
Opening Hours: Daily: 11am – 1245am
Contact: 6419 0749
---
4. Karu's Indian Banana Leaf Restaurant
---

Image credit: @thehungrypang
Karu's Indian Banana Leaf Restaurant is a quaint and inexpensive restaurant along Bukit Timah. It may not be the first place in mind for Indian grub, but Karu's has reputedly been one of the best places you can get Fish Head Curry (from $24++). If you're in for something a little unique, try the Crab Masala (Seasonal Price), a sweet and spicy dish guaranteed to please!
Address: 896 Dunearn Road, #05-01 Sime Darby Centre, Singapore 589472
Opening Hours:Tues-Sun 10:30am to 10pm
Contact: 6762 7284
---
5. Song of India
---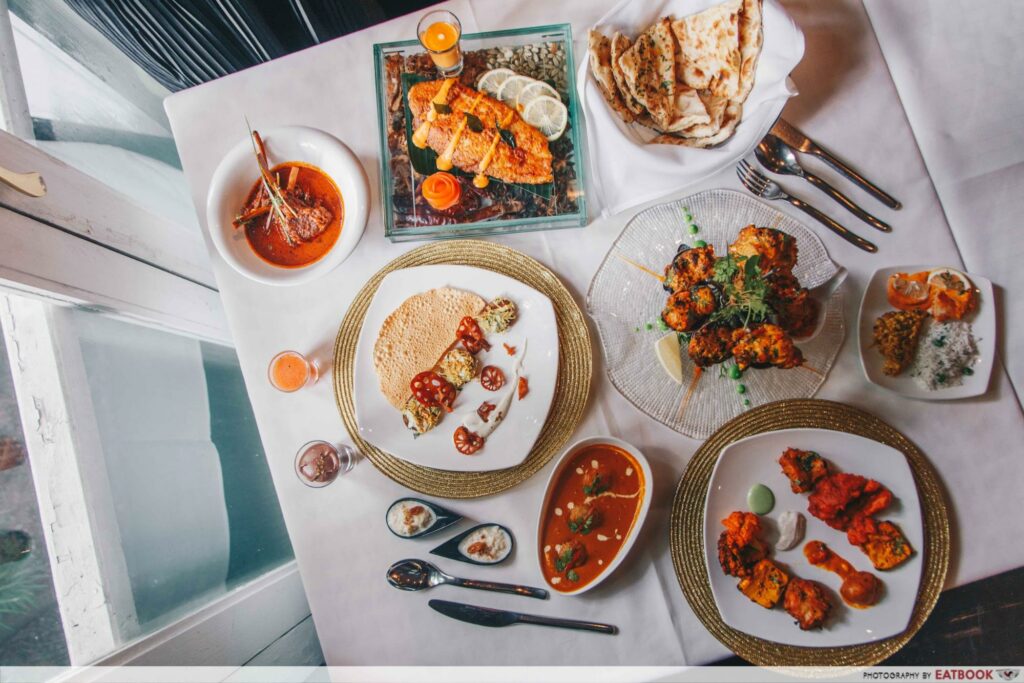 If you're looking for a good Indian buffet restaurant, this is it! The Michelin-starred restaurant has an affordable Lunch Weekday Buffet ($36.90++), with nearly 30 dishes from every corner of India. Their butter chicken, in particular, was divine. Its tenderness combined with the thick, creamy sauce made for the perfect companion to crispy naan.
Address: 33 Scotts Road, Singapore 228226
Buffet hours: Mon-Fri 12pm to 3pm
Tel: 6836 0055
Website
---
6. Annalakshimi
---

Image credit: @an_gielinnn
Your aunties and cheapo friends will love Annalakshimi. This vegetarian restaurant is perhaps the only place that has a pay what you want policy. The restaurant is run by volunteers dishing out amazing vegetarian fare everyday. The food quality tends to fluctuate due to whoever's in the kitchen, but the value is unprecedented. Don't miss out the nanns and Cauliflower curry while you're there!
Address: 20 Havelock Road, #01-04, Central Square, Singapore 059765
Opening Hours: Mon 11am to 2:30pm, Tues-Sun: 11am to 2:30pm, 6:30pm to 9:30pm
Contact: 6339 9993
---
7. Gayatri Restaurant
---

Image credit: @jcbellyneverfull
A few doors down from the fame Muthu's Curry is Gayatri Restaurant. Here, the portions are big and the food is tasty. Start off your meal with the Tandoori Platter ($32.50++) to share, which comes with charcoal grill chicken tikka, tandoori prawn, seekh kebab, fish tikka and tangri kebab. A dish that I really like is the Kadai Prawns ($10++), where prawns are cooked in a creamy masala sauce redolent with indian herbs.
Address: 122 Race Course Road, #01-01, Singapore 218583
Opening Hours: Daily 11am to 10:30pm
Contact: 6291 1011

---
8. Shahi Maharani North Indian Restaurant
---

Image credit: @astro198327

It's yet another age-worn Indian restaurant, yet Shahi Maharani North Indian Restaurant is definitely one of the most popular options in town. The cuisine is born from the ancient kitchens of the maharajas and is food fit for kings.  If you're on a budget but have a big appetite, come for their weekend lunch buffet at $35++ per person. There you will find dishes such as Mutton Vindaloo ($21++) and the Rogan Josh ($21++). The latter is a dish for timid eaters wary of spice. The chilis used here aren't as strong and the dish focuses more on the aromatics to bring about mind blowing flavour.
Address: 252 North Bridge Road, #03-21B, Raffles City Shopping Centre, Singapore 179103,
Opening Hours: Daily 12pm to 2:30pm, 6:30pm to 10:30pm
Contact: 6235 8840
---
About Indian Restaurants in Singapore
---
There you have it! We hope the list inspires you to check out some great Indian restaurants this Deepavali! If you have any other suggestions, leave them in the comments below!