---
Best Indian restaurants in Singapore
---
Curries, prata and fragrant spices are the landmarks of Indian food to most Singaporeans, but that's not all this varied and delectable cuisine has to offer. In fact, there are plenty of distinct differences between Northern and Southern Indian food, and there are plenty of nuances in between. Let us expand your culinary horizons by  introducing you to some of the best Indian restaurants in Singapore.You know where to head to if the cravings ever kick in. 
---
1. Jaggi's Northern Indian Cuisine
---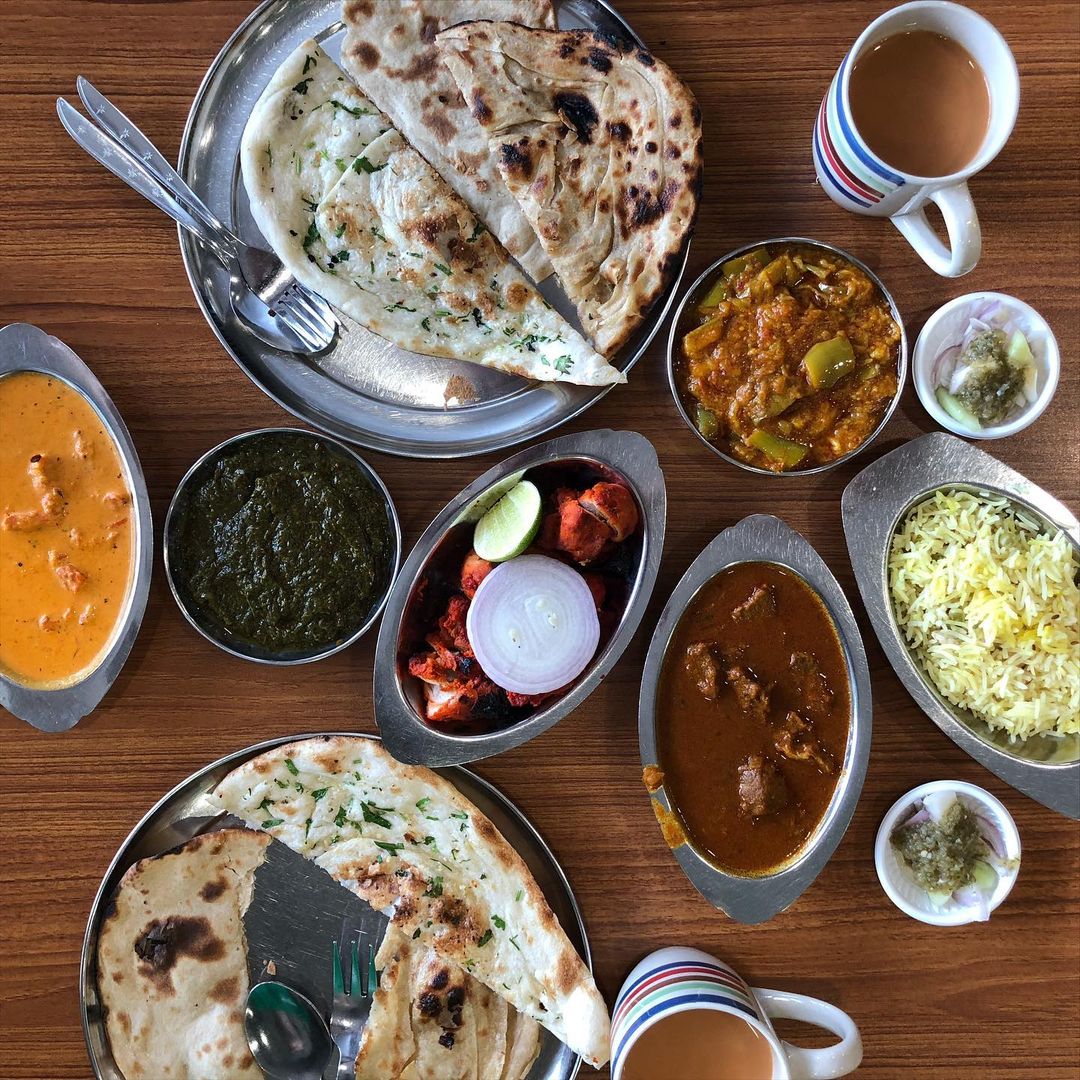 Image credit: @gastronomich_
For those unfamiliar with Northern Indian cuisine, it is characterised by their heavy use of dairy products in cooking. Yoghurt, milk and tomatoes are prevalent in the cuisine, and roti is a staple in place of rice.
One place that serves delicious North Indian food is Jaggi's Northern Indian Cuisine. Formerly a hawker stall near the ports of Singapore back in the old days, this eatery has achieved such a huge following that it now has its own restaurant. Try the chicken and mutton Seekh Kebabs ($7+), or the smoky and spicy Tandoori Chicken (Quarter) ($5.50+). Alternatively, don't miss out on the all-time favourite Jaggi's Butter Chicken ($8.50+) too!
Address: 37 Chander Road, Singapore 219541
Opening hours: Mon-Sun 11am to 10:30pm
Tel: 6296 6141
Jaggi's Northern Indian Cuisine is not a halal-certified eatery.
---
2. Samy's Curry
---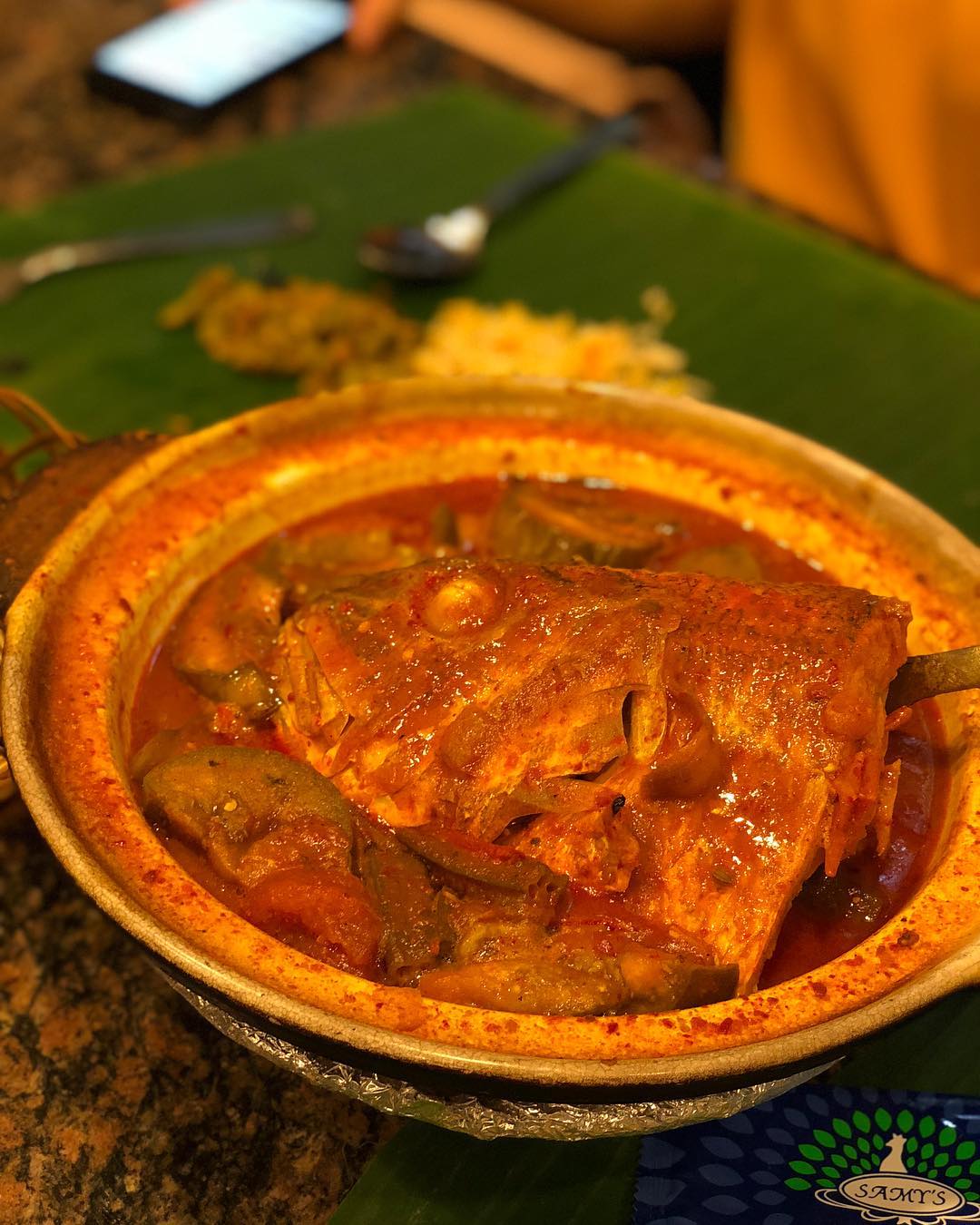 Image credit: @coolheart
Next on the list is Samy's Curry, a longstanding and famous Indian restaurant in Singapore. They've been around for more than 60 years, and were one of the first few restaurants in Dempsey Hill. They specialise in South Indian cuisine, which is characterised by the use of tamarind, coconut milk, and rice.
Their Signature Fish Head Curry ($20), Masala Flower Crab ($12 per piece), and Mysore Mutton ($16) comes highly recommended for their robust, spicy, and rich flavours. 
Address: 25 Dempsey Road, Singapore 249670
Opening hours: Mon, Wed-Sun 11am to 3pm, 6pm to 10pm
Tel: 6472 2080
Website
Samy's Curry is not a halal-certified eatery
---
3. Karu's Indian Banana Leaf Restaurant
---

Image credit: @thatglutton
On the subject of fish head curry, check out Karu's Indian Banana Leaf Restaurant too! This quaint restaurant draws long queues each day and has a reputation for being one of the best places to get fish head curry. Their Fish Head Deluxe ($27++) is their best-selling dish, followed by the Crab Masala, a sweet and spicy dish guaranteed to please anyone. Do note that the price of the latter varies, so diners are required to enquire with the staff if they'd like to order it. 
Alternatively, their set meals are great if you'd like something more filling. Go for their Fish Biryani Meal ($10.30++) or their Veg Biryani Meal ($6.80++) for a vegetarian-friendly option. 
Address: Block 808/810 Upper Bukit Timah Road, Singapore 678144
Opening hours: Tue-Sun 10:30am to 10pm
Tel: 6762 7284
Website
Karu's Indian Banana Leaf Restaurant is not a halal-certified eatery
Little India Food Guide: 10 Indian Food Places For Banana Leaf Rice, Prawn Briyani And More
---
4. Annalakshimi
---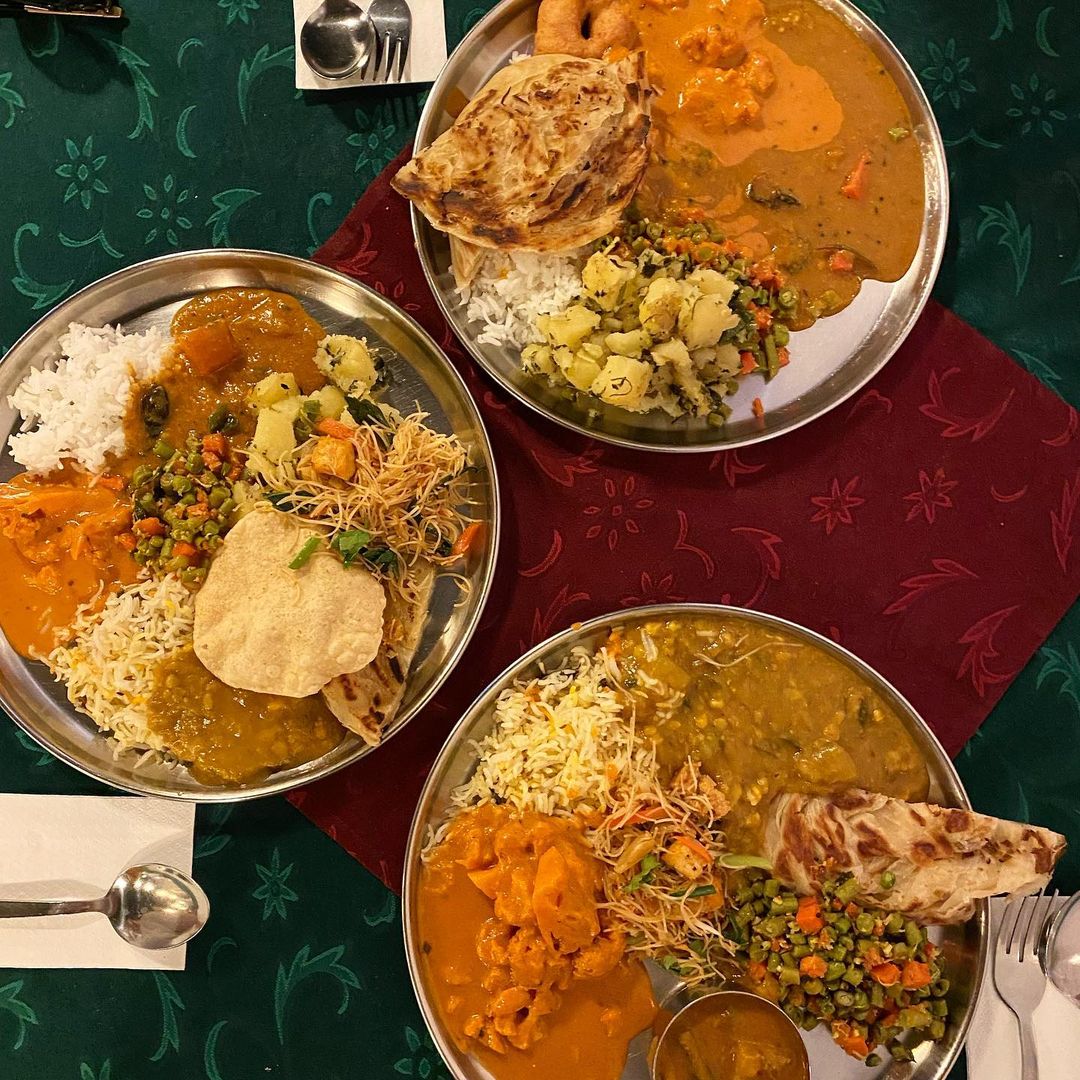 Image credit: @luna.al.sol
Annalakshimi is a vegetarian restaurant that operates on a pay-as-you-want policy. This is because the restaurant believes in serving their guests with generosity, with all of their earnings being distributed towards social causes in India. 
Run by a team of volunteers and full-time professionals, Annalakshimi dishes out amazing vegetarian fare each day. The menu varies depending on the day and time you visit, but some popular options include the Masala Dosa, Chapatti Set and Mixed Rice Set—an all-in-one dish comprising spiced rice, vegetable side dishes, pickles, and papadam. Do note that its sister outlet, Annalakshimi Cafe, does not operate on a pay-as-you-want policy and instead has fixed prices for their menu. 
Address: 6 Shenton Way, #03-26, OUE Downtown 2, Downtown Gallery, Singapore 068809
Opening hours: Tue-Sun 11am to 5pm, Sun 11am to 5pm
Tel: 6339 9993
Website
Annalakshimi is not a halal-certified eatery
---
5. Gayatri Restaurant
---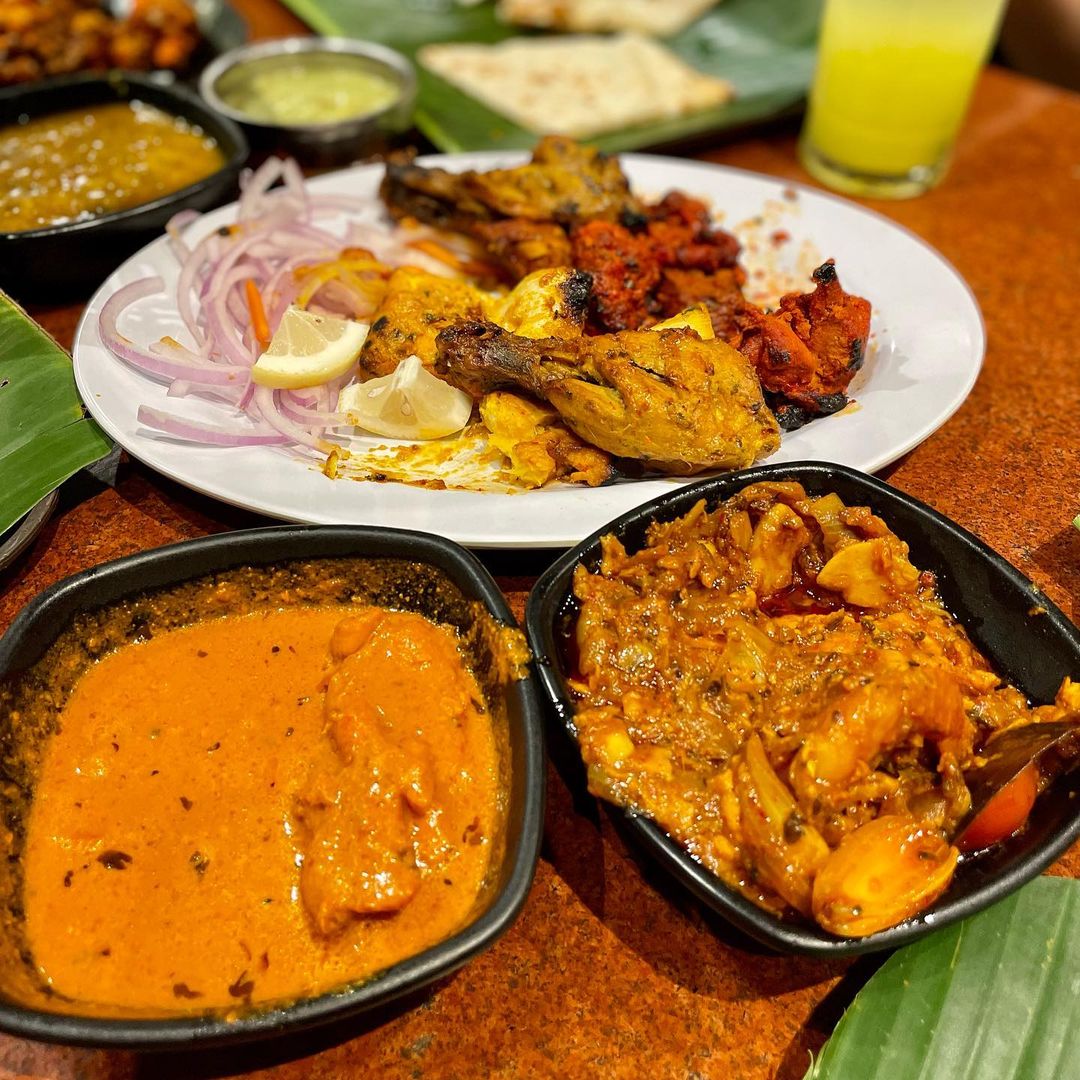 Image credit: @miss_foodbaby 
A few doors down from the famed Muthu's Curry is Gayatri Restaurant. The food here comes in generous portions and is said to be incredibly flavourful and delicious. Start your meal with the Tandoori Platter ($32.50++), a great sharing dish that consists of charcoal-grilled chicken, prawns, fish, seekh kebab and tangri kebab. The Khadai Prawns ($14++) are also a dish to order, featuring prawns cooked in a creamy masala sauce redolent of Indian herbs. Pair those dishes with some Butter and Garlic Naan ($6++) and Mixed Veg Kurma ($6++) for a complete and satisfying meal.
Read our full review of Muthu's Curry!
Address: 122 Race Course Road, #01-01, Singapore 218583
Opening hours: Daily 11am to 10:30pm
Tel: 6291 1011
Website
Gayatri Restaurant is not a halal-certified eatery
17 Best Prata Places in Singapore Worth Sacrificing Your Diet For
---
6. Shahi Maharani North Indian Restaurant
---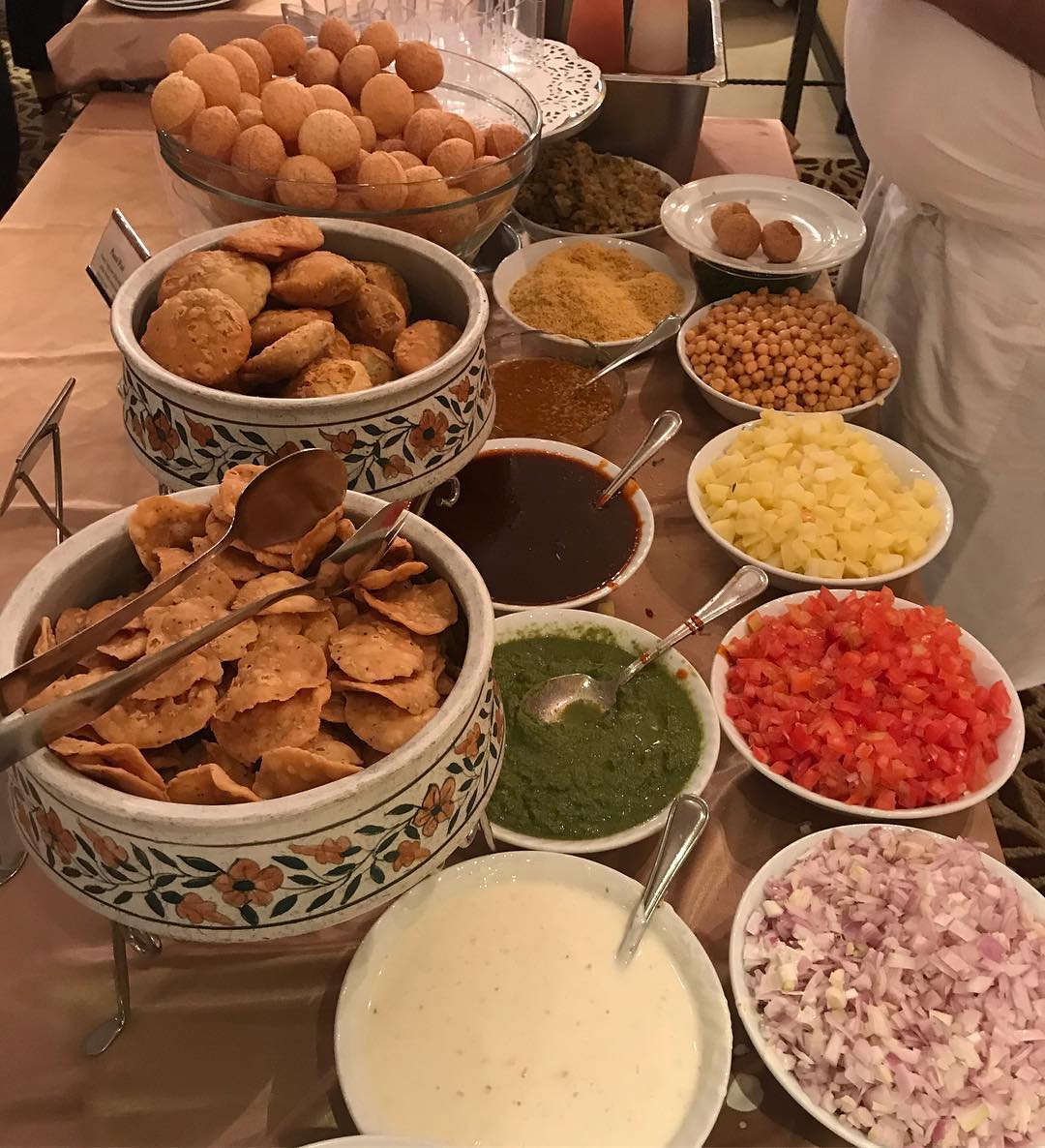 Image credit: @kcl9118
If you're around town, here's an Indian restaurant to check out: Shahi Maharani North Indian Restaurant in Raffles City. Decked in royal Indian decor, this restaurant offers a spread of traditional Indian dishes that were said to be enjoyed by the maharajas back in ancient times. Feast like a king and come for the Free Flow Weekday Lunch Buffet, setting you back $38++ per person. There, you'll find dishes such as Mutton Vindaloo ($34++) and the Rogan Josh ($34++), a dish starring tender mutton cubes in a spicy and aromatic gravy. 
Address: 252 North Bridge Road, #03-21B, Raffles City Singapore, Singapore 179103
Opening hours: Daily 12pm to 2:30pm, 6:30pm to 10:30pm
Tel: 6235 8840
Website
Shahi Maharani North Indian Restaurant is not a halal-certified eatery
---
7. Greenleaf Cafe 
---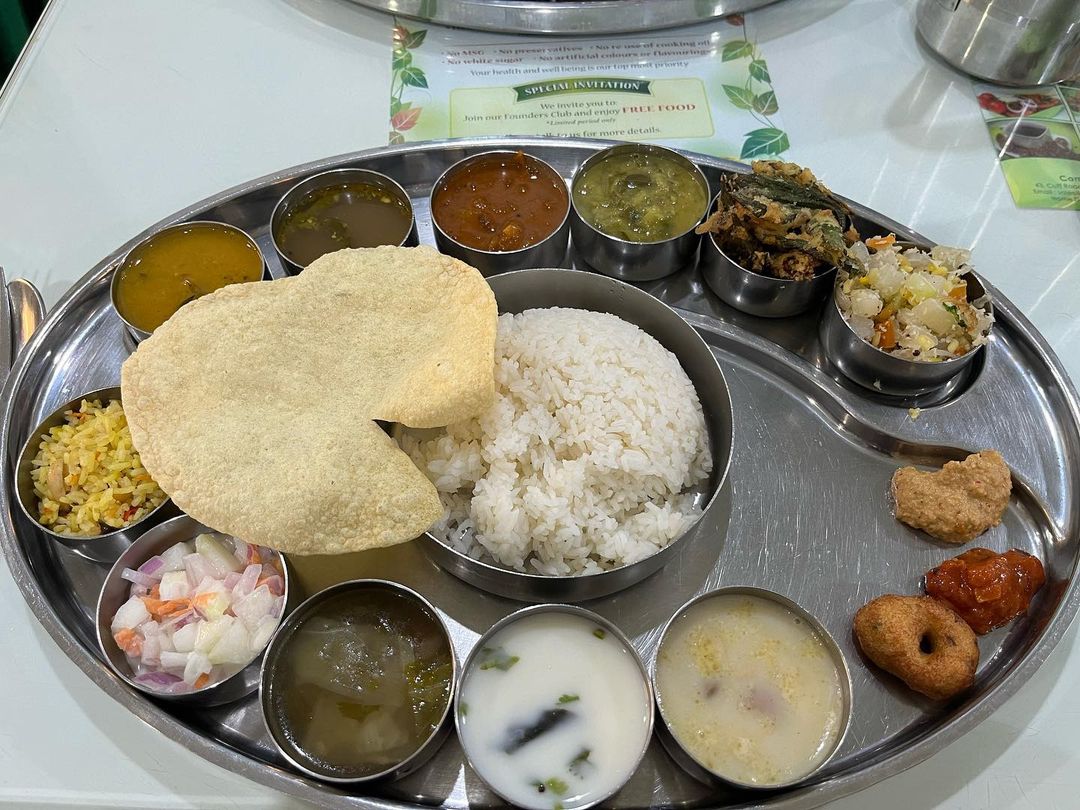 Image credit: @kyo_twsg
For some affordable and nutritious vegetarian fare, head down to Greenleaf Cafe, located a stone's throw away from Jalan Besar MRT Station. Fans of this hidden gem frequent the place for its hearty South Indian Thali Meals ($12), which is essentially a food platter comprising a variety of South Indian dishes. 
In each platter, you'll score yourself a mix of different lentils, chutney, vegetables, grains, and raita AKA yoghurt. All their food is also said to not contain any MSG, white sugar, preservatives, colouring, or reused cooking oil. Another popular pick is the Chappati Meal ($5.50) for those who prefer something light. 
Address: 43 Cuff Road, Singapore 209753
Opening hours: Mon, Wed-Sun 11am to 10:30pm
Tel: 9783 7476
Website
Greenleaf Cafe is not a halal-certified eatery
---
8. Komala Vilas
---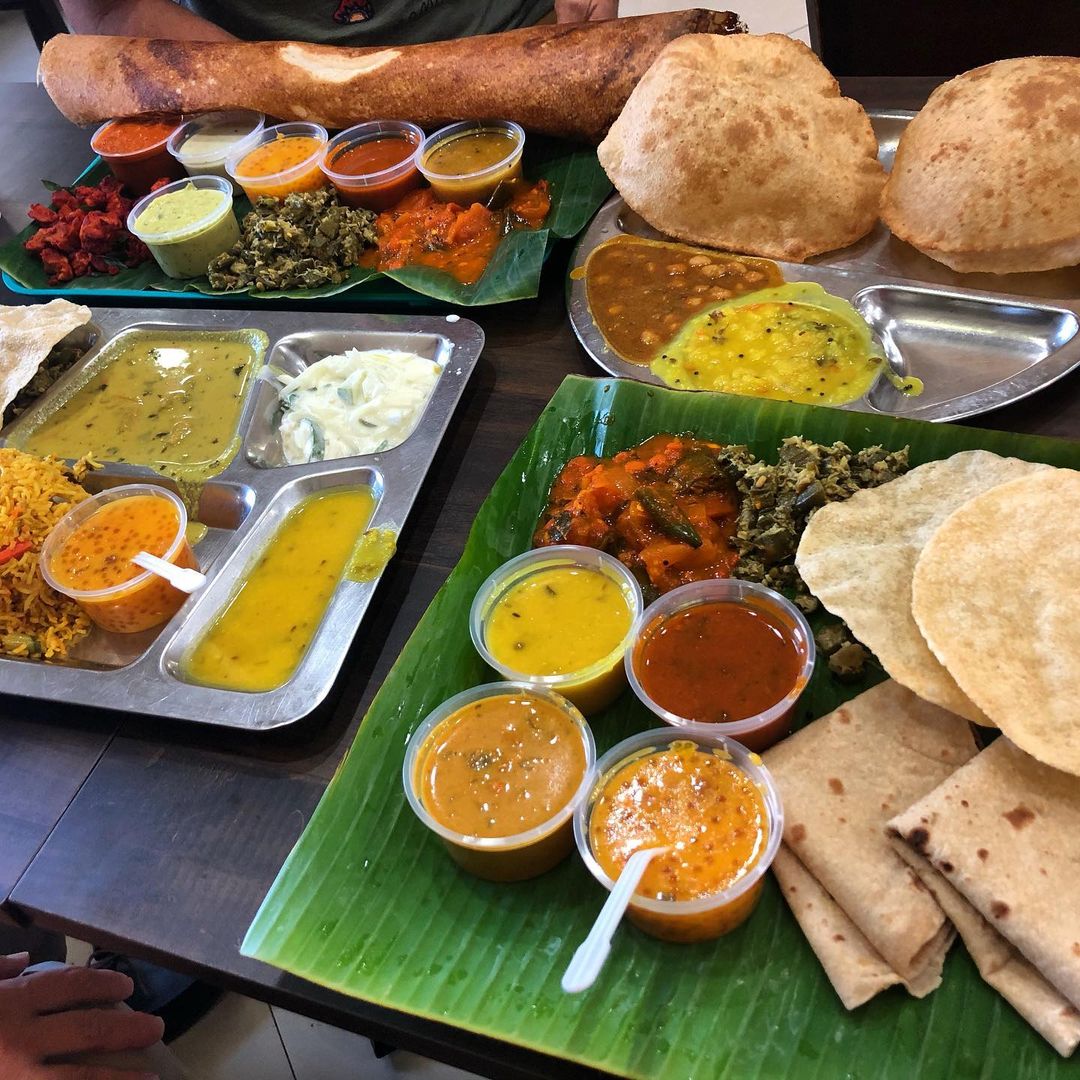 Image credit: @vegan.victoria1
Komala Vilas is no secret to those who love Indian food. They're one of Singapore's oldest Indian restaurants, having been around since 1947. To honour the restaurant's long-standing legacy, India's prime minister, Mr Narendra Modi, and Singapore's prime minister Mr Lee Hsien Loong even shared a meal together here on 23 November 2015. 
Most diners come here for brunch, with the Bhattura ($6.20) and Dosai Meal ($10) being perennial favourites. To cleanse the palette, indulge in their sweet and creamy drinks including Mango Lassi ($4.60), Badham Milk ($3) AKA almond milk, Rose Milk ($3) and more. 
Address: 76-78 Serangoon Road, Singapore 217981
Opening hours: Daily 7am to 10:30pm
Tel: 6293 6980
Website
Komala Vilas is not a halal-certified eatery
---
9. Amaravati Restaurant
---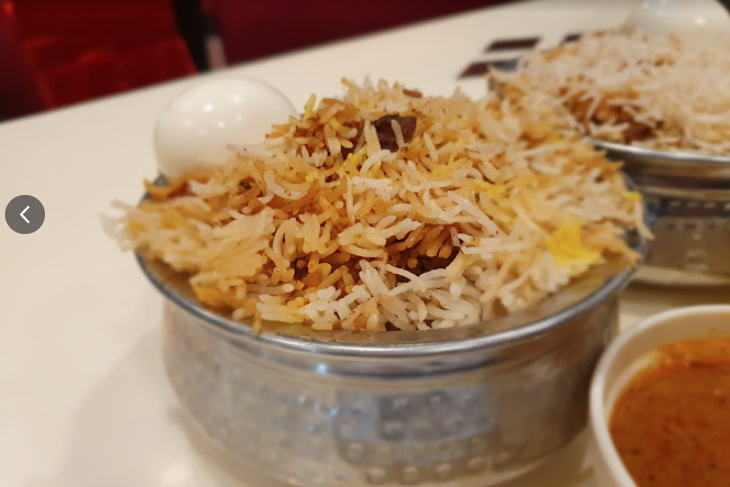 Image credit: Vijayalakshmi Thenmugilan
If you've never tried Andhra cuisine, head down to Amaravati Restaurant for some legit Andhra-style briyani. Located just seven minutes away from Little India MRT Station, this family-run restaurant is easily recognisable from its bright and colourful exterior. Andhra cuisine is defined by its heavy use of spices and there's one dish here that embodies that: the Hyderabadi Mutton Biryani (Boneless) ($14.90). Each serving sees a generous amount of boneless mutton chunks and cardamom-perfumed basmati rice in a mini briyani pot. It also comes with a side of thick curry and yoghurt. 
Address: 41 Kerbau Road, Singapore 219170
Opening hours: Mon-Fri 11am to 11pm, Sat-Sun 11am to 12am
Tel: 8280 3061
Website
Amaravati Restaurant is not a halal-certified eatery
20 Briyani In Singapore To Try, Including XXL Platters And Michelin-Approved Stalls
---
10. Zam Zam Restaurant 
---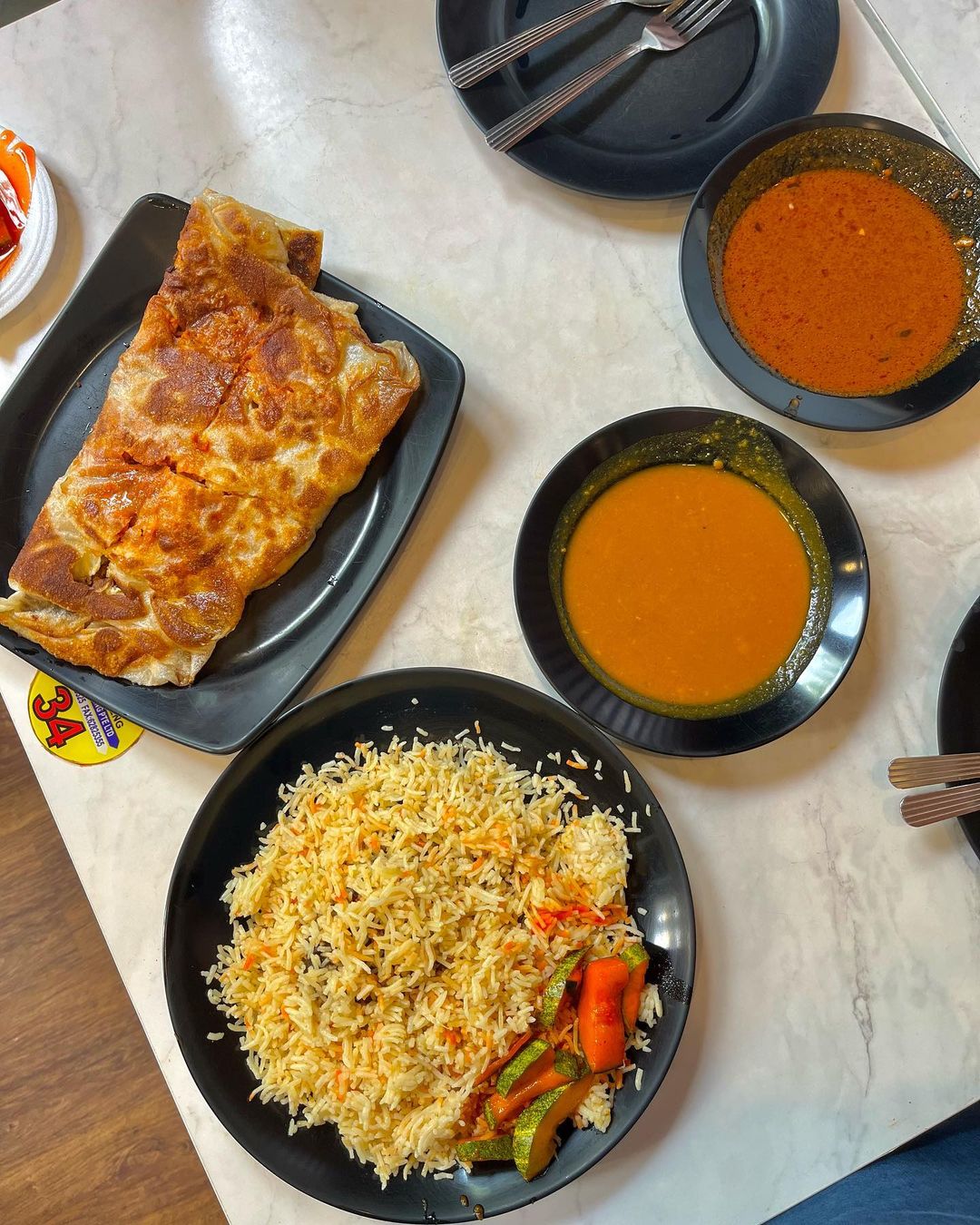 Image credit: @sglife_875
There are plenty of Indian-Muslim restaurants in Singapore, but one restaurant that serves exceptionally delicious food, in my opinion, is Zam Zam Restaurant. They're no stranger to fans of murtabak, but they're also famous for their briyani. They've been around for more than 100 years, and are said to be one of the oldest Indian Muslim restaurants in Singapore. Come for the Mutton Murtabak ($7) or Chicken Murtabak ($6) and pair it with some dalcha for added kick. 
Their Beef Briyani ($8) on the other hand, comes with a generous amount of tender beef mixed with aromatic briyani rice. Other briyani varieties include Deer ($12), Tuna ($9), and Lamb Shank ($20) for an indulgent briyani experience. If briyani isn't your thing, you can also come for their Goreng Varieties, namely the Mee Goreng ($6), Nasi Goreng ($6) and more.
Address: 697-699 North Bridge Road, Singapore 198675
Opening hours: Daily 7am to 11pm
Tel: 6298 6320
Website
Zam Zam Restaurant is a halal-certified eatery
This Malaysia Hawker Serves Cheese-Loaded Murtabak Named After Singapore
---
11. MTR Singapore 
---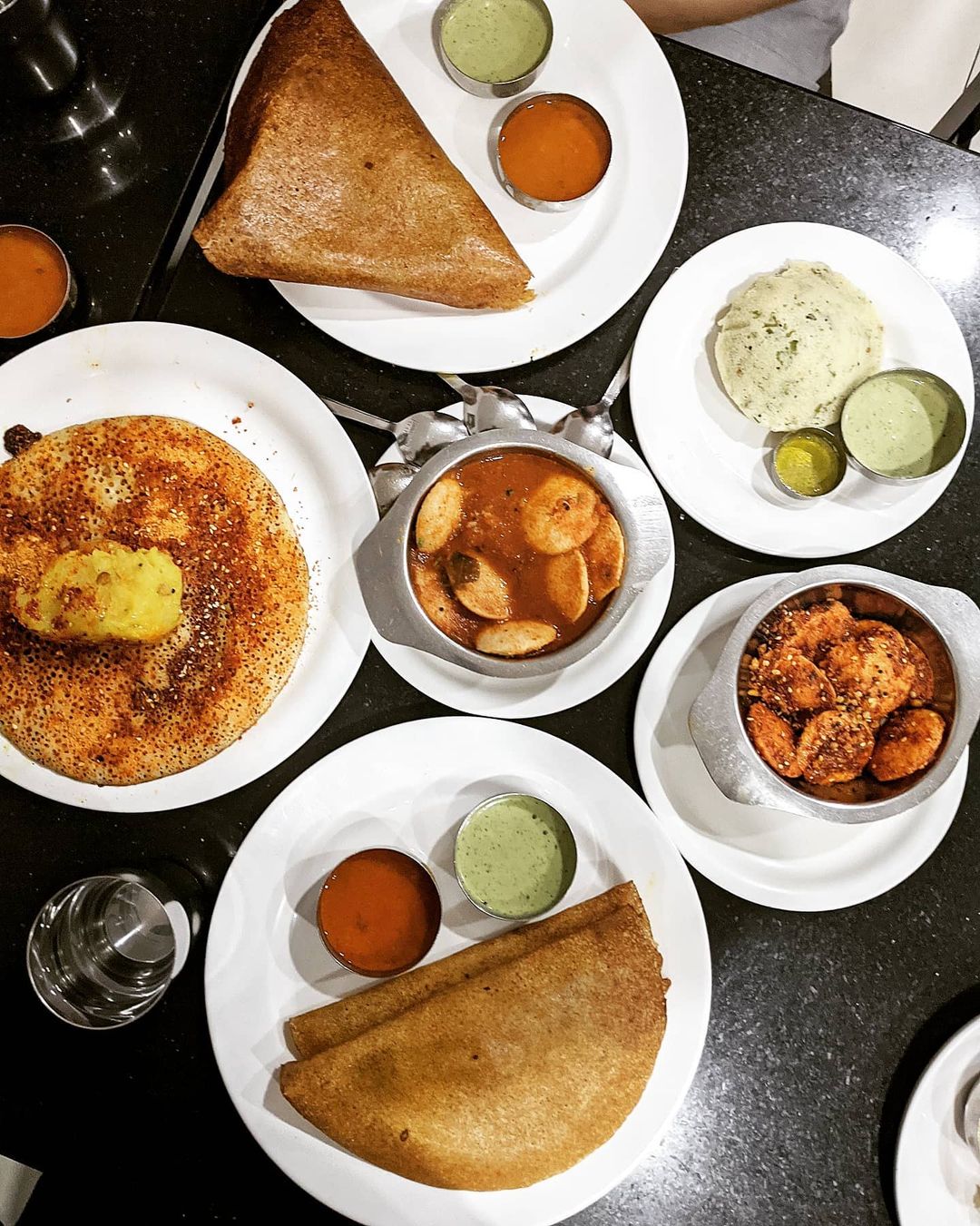 Image credit: @hellozizilovepanda
Another long-standing Indian restaurant is MTR Singapore, which is rated as one of the best places to get legit South Indian grub in the city. With over three thousand Google reviews, it's no surprise as to why they're so popular—their food is affordable with a distinct, homely taste. Regulars swear by their Pudi Masala Dosa ($7), which is essentially a fluffy rice and lentil pancake smeared with spicy chutney powder and ghee. It is then finished with a dollop of mashed potatoes.
For an equally delicious yet milder option, the Masala Dosa ($7) is worth a shot. For dessert, the Kesari Bhath ($4) comes highly recommended—it's made up of a sweet and thick saffron-infused porridge topped with cashew nuts and raisins. 
Address: 440 Serangoon Road, Singapore 218314 
Opening hours: Tues-Fri 8:30am to 3pm, 5:30pm to 9:30pm, Sat-Sun 8:30am to 3:30pm, 5:30pm to 10:30pm
Tel: 6296 5800
Website
MTR Singapore is not a halal-certified eatery.
---
12. Masalaa Bar
---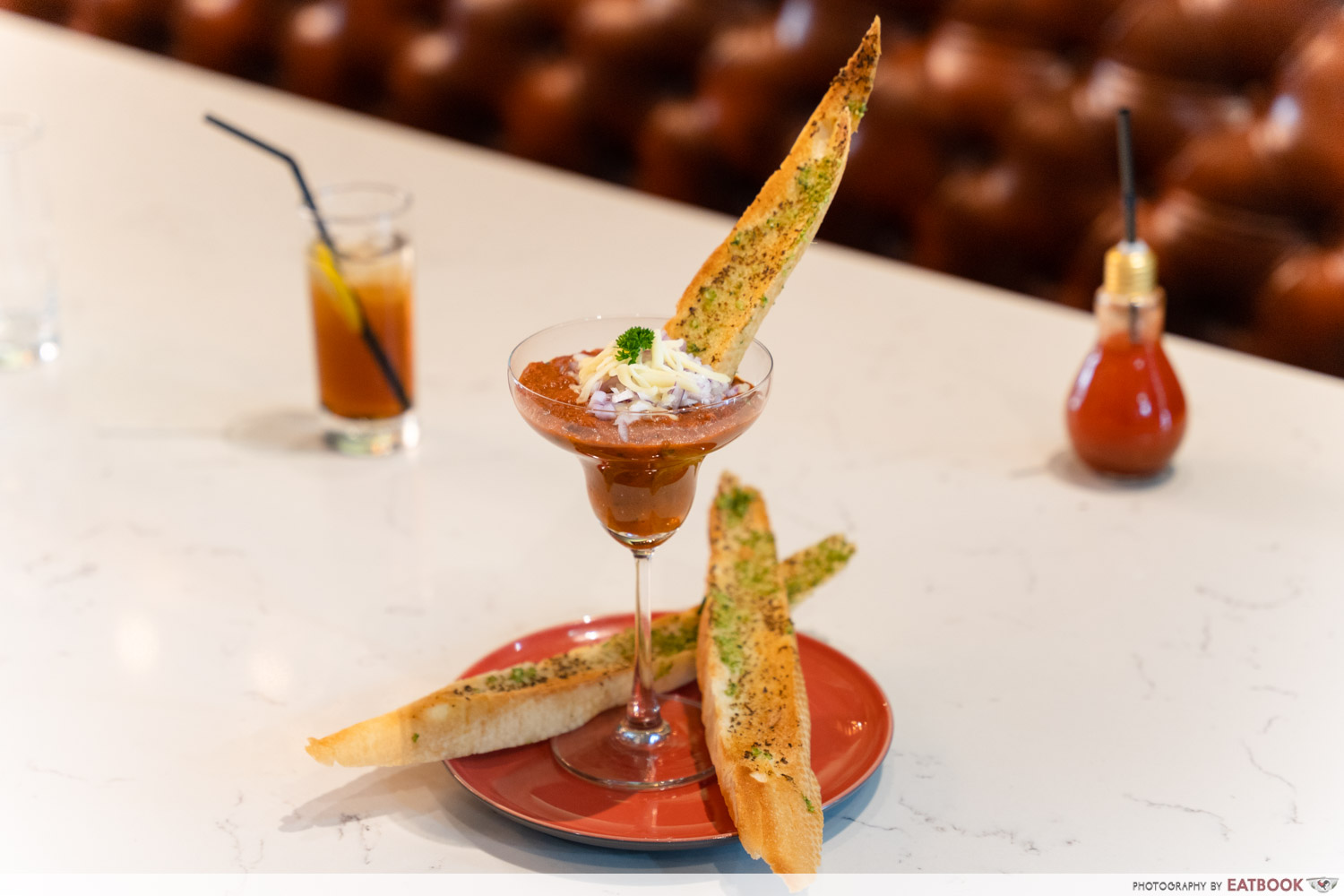 Last on the list is Masalaa Bar, an Indian restaurant-cum-bar that stands out for its unconventional fusion concept of merging Indian food with cocktails. This restaurant is helmed by the acclaimed celebrity chef Milli Sovani, who worked for several years at Asia's first Michelin-starred Indian restaurant: The Song Of India. 
Notable creations at the Masalaa Bar include the Pani Puri Shots (from $9++) and Martini Pao Bhaji ($12++). The former comprises crispy and hollow puffs stuffed with spiced potatoes on top of a minty alcohol shot. Diners also get to choose a non-alcoholic version if they'd like. The latter, meanwhile, features a creamy and spicy vegetable curry served in a martini glass with some toasted garlic crostini. 
Address: 723 East Coast Road, Singapore 459071
Opening hours: Daily 11:30am to 10:30pm
Website
Masalaa Bar is not a halal-certified eatery
10 Tekka Centre Food Including Thai Food And Prawn Mee For Your Next Trip To Mustafa
---
Best Indian food in Singapore
---
With plenty of delicious food in store, be sure to check out these Indian restaurants the next time you can't decide on what or where to eat. For more dining options, our guide to the best Korean restaurants in Singapore will introduce you to tteokbokki buffets, K-BBQ spots and more! Alternatively, read our guide to the latest restaurant openings in January. 
10 New Restaurants In Singapore This January 2023—Deep-Fried Mala Xiang Guo, Cheap Unagi And More
Feature image adapted from @mkasman69 @vegan.victoria1 @kyo_twsg @miss_foodbaby  @gastronomich_ @thatglutton
This post was originally written on 2 November 2018.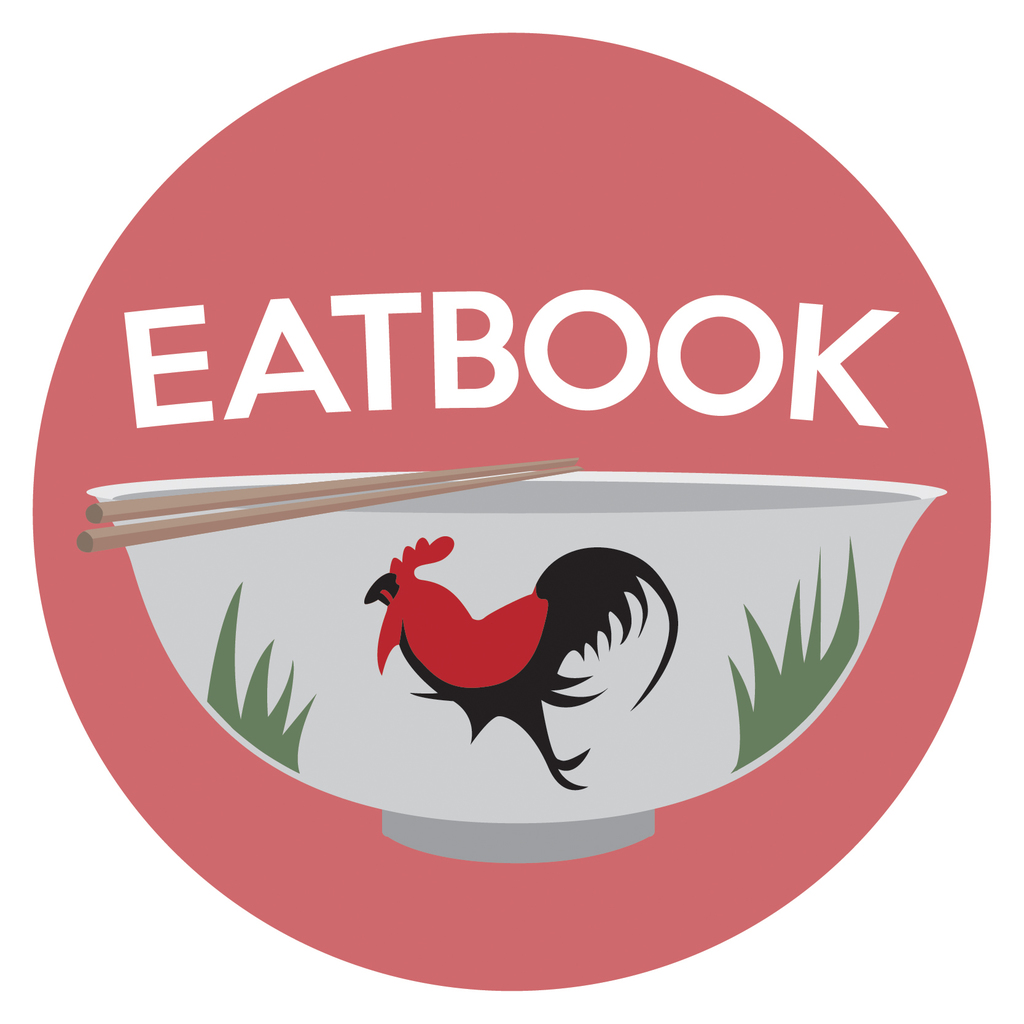 Drop us your email so you won't miss the latest news.