---
Tekka Centre has plenty of food to offer
---
When I think of Little India, what first comes to mind is the vast array of mouthwatering Indian food everywhere. It was only recently that I realised Little India's popular food centre, Tekka Centre, is also home to numerous other food stalls offering various cuisines. So Indian food fan or not, if you're in the vicinity looking to have a good meal, Tekka Centre's got you covered!
---
1. 545 Whampoa Prawn Noodles
---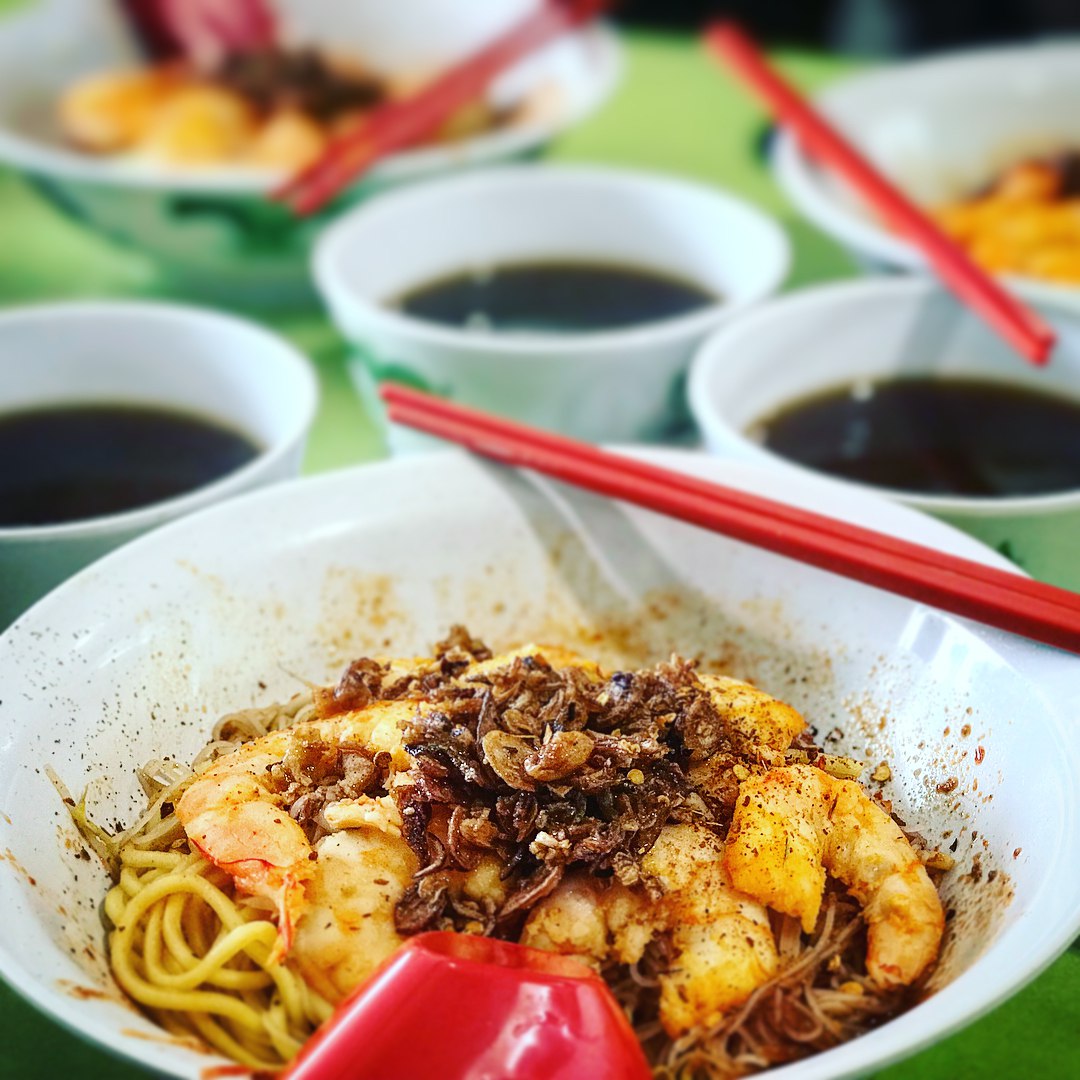 Image credit: @tigerkiller
545 Whampoa Prawn Noodles is run by a finance graduate turned third-generation hawker, Li Ruifang. Her recipe for prawn noodles was passed down to her from her grandfather. Prices here vary between $3 to $4. A bowl of the old-school hae mee contains an even mixture of yellow noodles and bee hoon tossed in a fiery yet flavourful sambal gravy, and topped with peeled prawns. Finally, the noodles are garnished with dried shallots and served with a bowl of soup.
Unit number: #01-326
Opening hours: Sun-Tue 6:30am to 2:30pm, Thur-Fri 6:30am to 2:30pm
Website
---
2. Imaroy Thai Food
---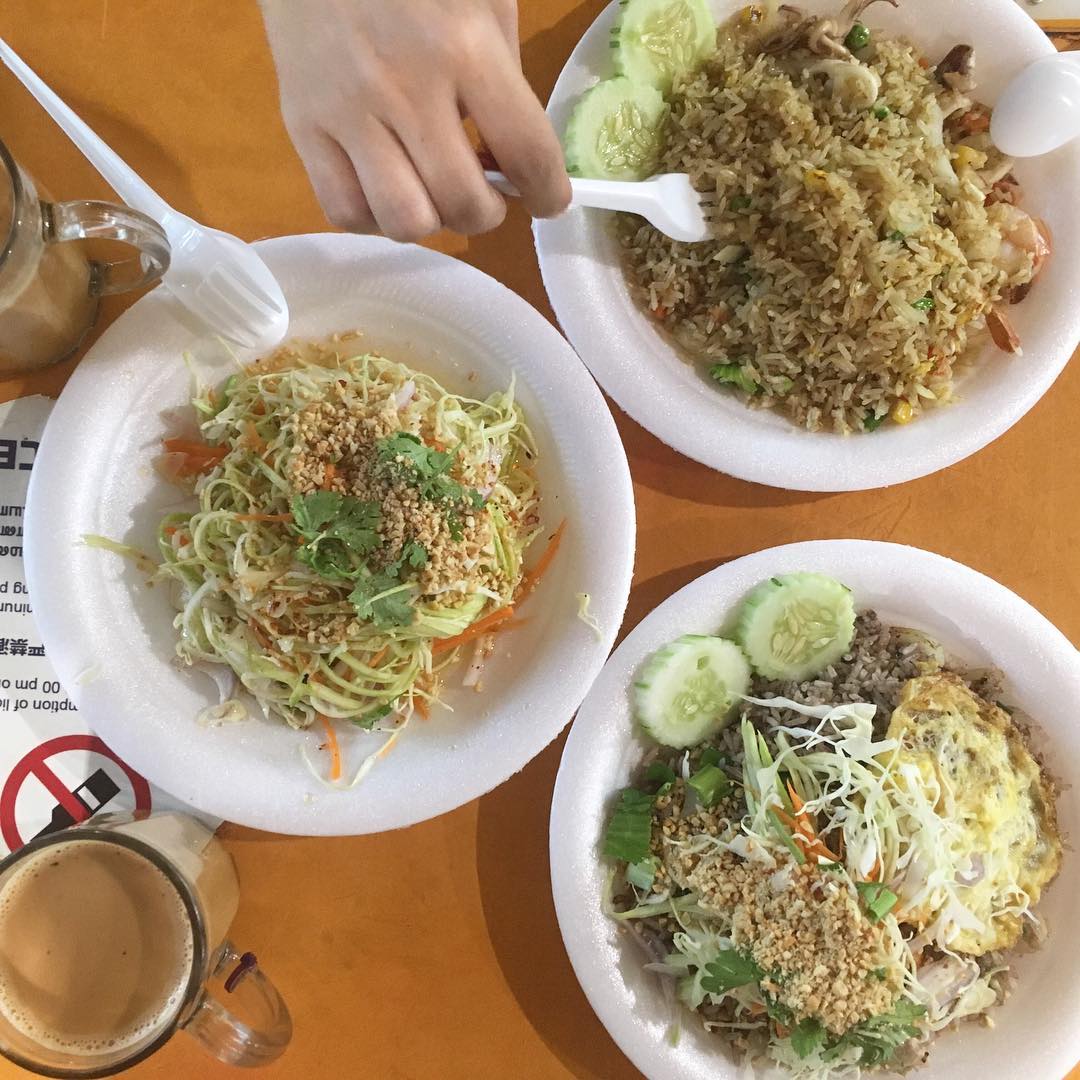 Image credit: @onekueh_at_atime
Amidst the rows of hawker stalls in Tekka Centre lies Imaroy Thai Food. This is a great place to visit for your fill of cheap and savoury Thai cuisine. I recommend the Mango Salad ($3) to whet your appetite before digging into the following main dishes: Olive Fried Rice ($4), Seafood Fried Rice ($3.50) and Phad Thai ($3.50).
Unit number: #01-277
Opening hours: Daily 11am to 9pm
---
3. Grandma Mee Siam
---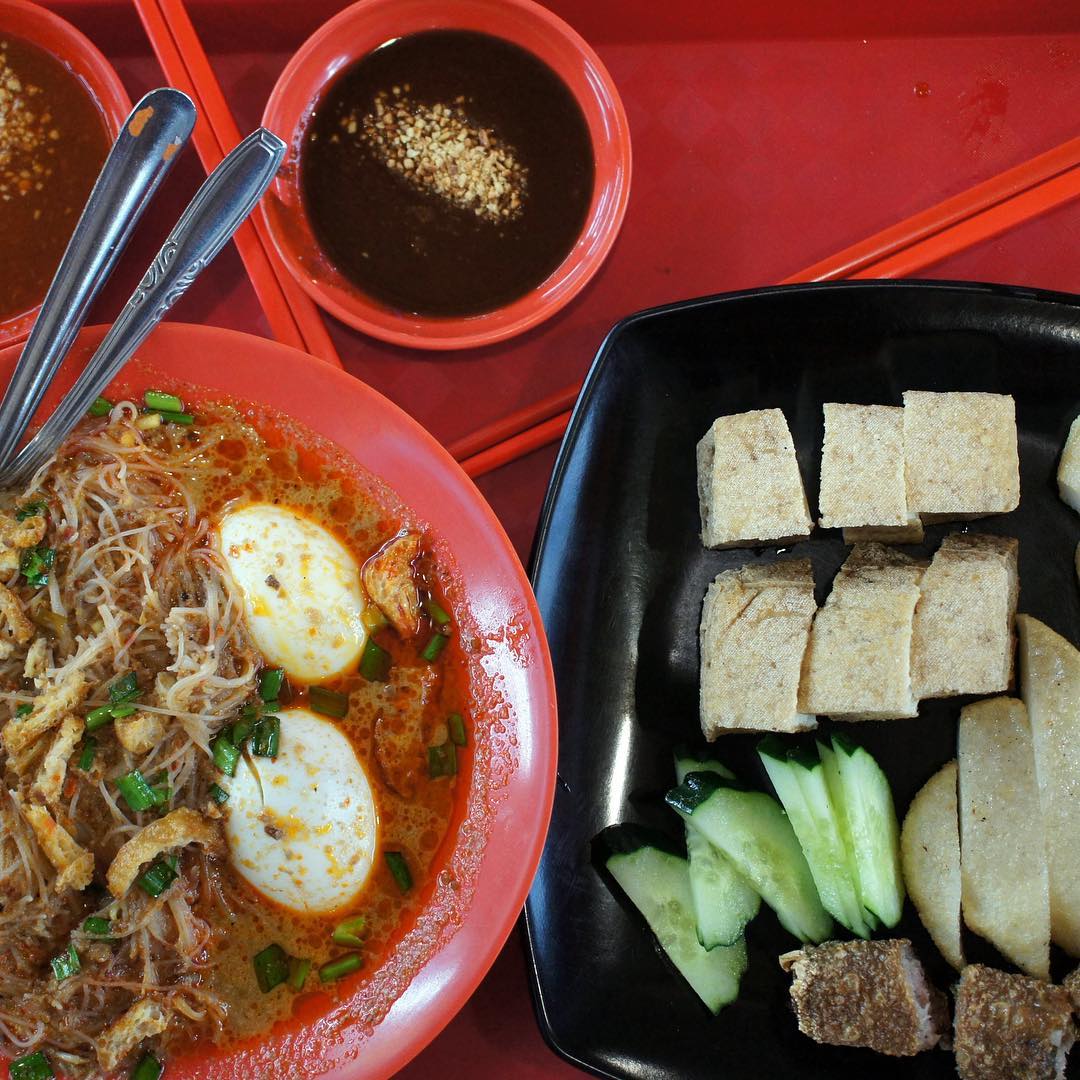 Image credit: @grayishungry
What draws the crowd to Grandma Mee Siam is obvious enough. A plate of Mee Siam here sells for only $2.50, while their Ngoh Hiang costs $1 per roll! You can pass on the mee siam if you aren't feeling up for it, but I'd persuade you to give the ngoh hiang a try. Its meat filling is super juicy and complements the crisp, paper-thin skin really well – definitely value-for-money!
Unit number: #01-311
Opening hours: Daily 8am to 3pm
Tel: 9634 1228
Website
---
4. Temasek Indian Rojak
---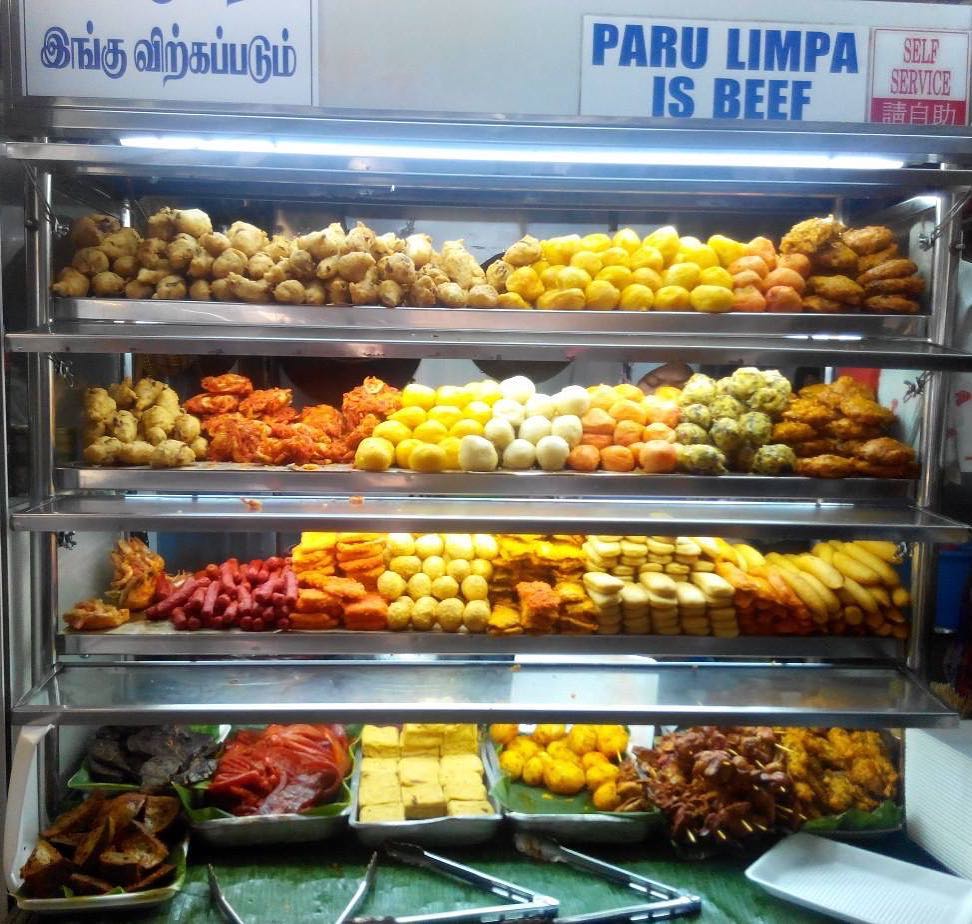 Image credit: @nick_rosenblum
There's no way I'd leave Little India without indulging in some good ol' Indian rojak! Ask around in Tekka Centre and most would likely point you in the direction of Temasek Indian Rojak. Prices range from $0.70 to $2 per ingredient. Everything is well-prepared and tasty, from the generous buffet-like spread of crispy, battered rojak ingredients to the sweet and piquant dipping sauce. They even have three different types of crunchy prawn fritters to offer!
Unit number: #01-254
Opening hours: Daily 10am to 7pm, closed on alternate Mondays
Tel: 9335 0957
---
5. Weng Kee Cooked Food
---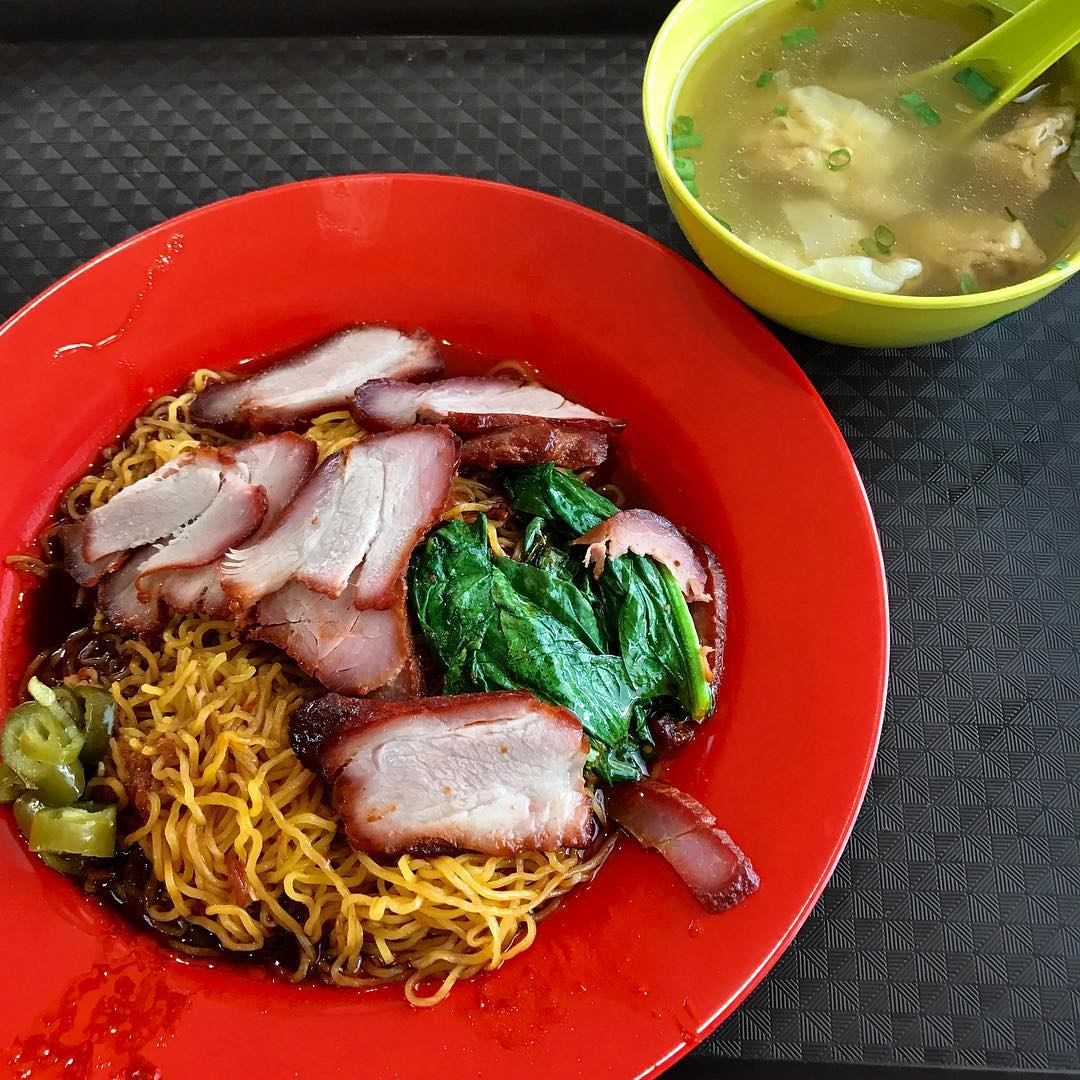 Image credit: @vwinstonn
If you walked past Weng Kee Cooked Food at Tekka Centre, you probably wouldn't have given its plain white signboard a second glance. As inconspicuous as Weng Kee Cooked Food might appear, it offers cheap and good dishes such as chicken rice and wonton mee. If you were merely passing by, I'd advise you to retrace your steps and give their Wonton Mee ($3) a try. The springy yellow noodles in this dish are drenched in a tangy tomato-based sauce and topped with succulent slices of char siew. Of course, not forgetting the wonton itself, the dumplings which come in the accompanying bowl of soup provide the meal with juicy bursts of meaty flavour.
Unit number: #01-285
Opening hours: Daily 10am to 8pm
---
6. Ar-Rahman Cafe
---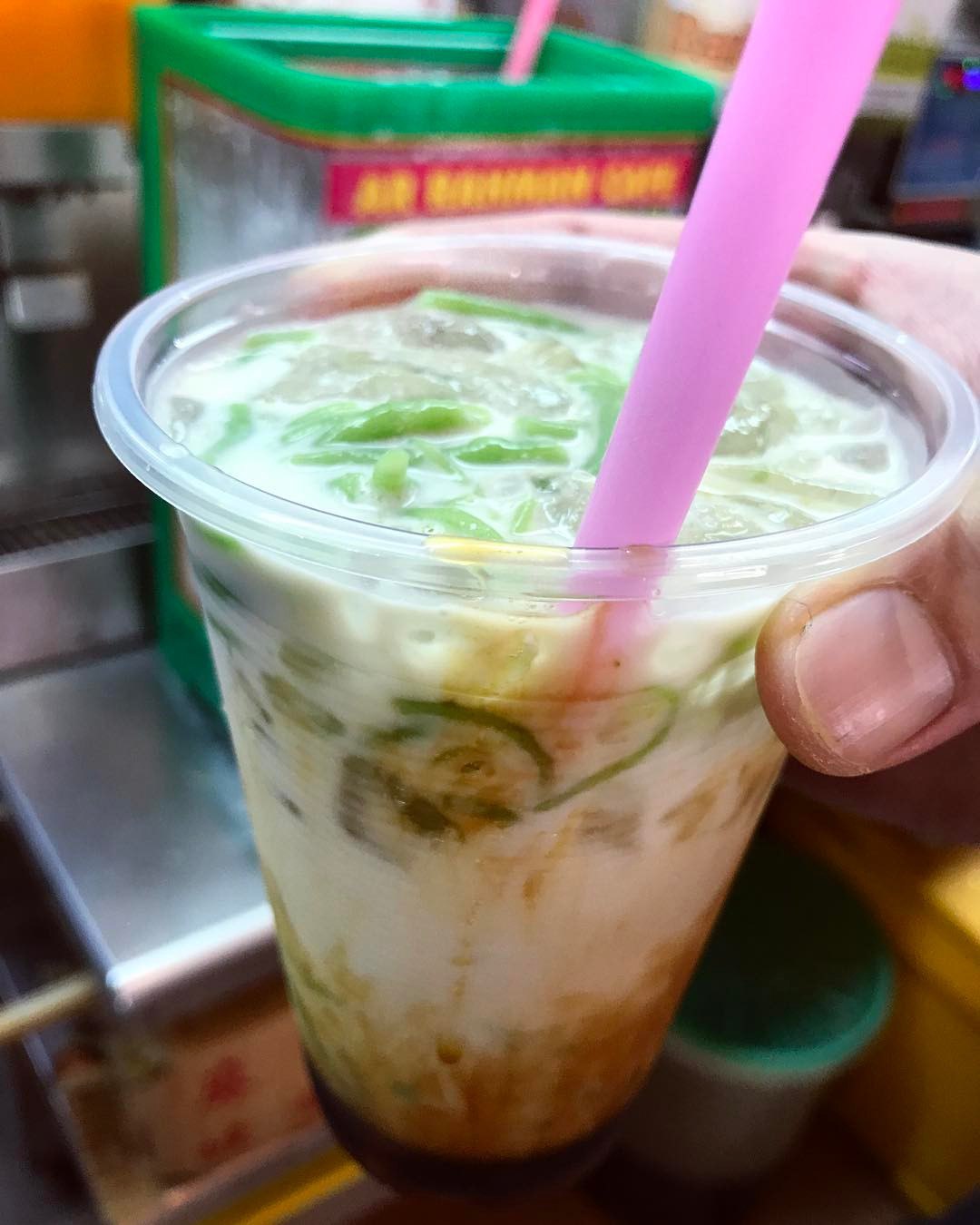 Image credit: @joewee72
Drinks stall Ar-Rahman Cafe prides itself as a 'ginger tea and chendol specialist', although it's mostly their chendol that I can't resist. The chendol comes in two sizes, Small Chendol ($1.30) and Big Chendol ($1.80). If you'd like to spice your dessert up a notch, opt for their Durian Chendol ($2), or their Power Chendol ($2.20), which includes red bean and attap seeds. The stall uses gula melaka in their chendol and allows you to select your desired sugar level out of five levels.
Unit number: #01-247
Opening hours: Tue-Sun 7am to 10pm
Tel: 9189 9420  
---
7. Sri Tiffin Stall
---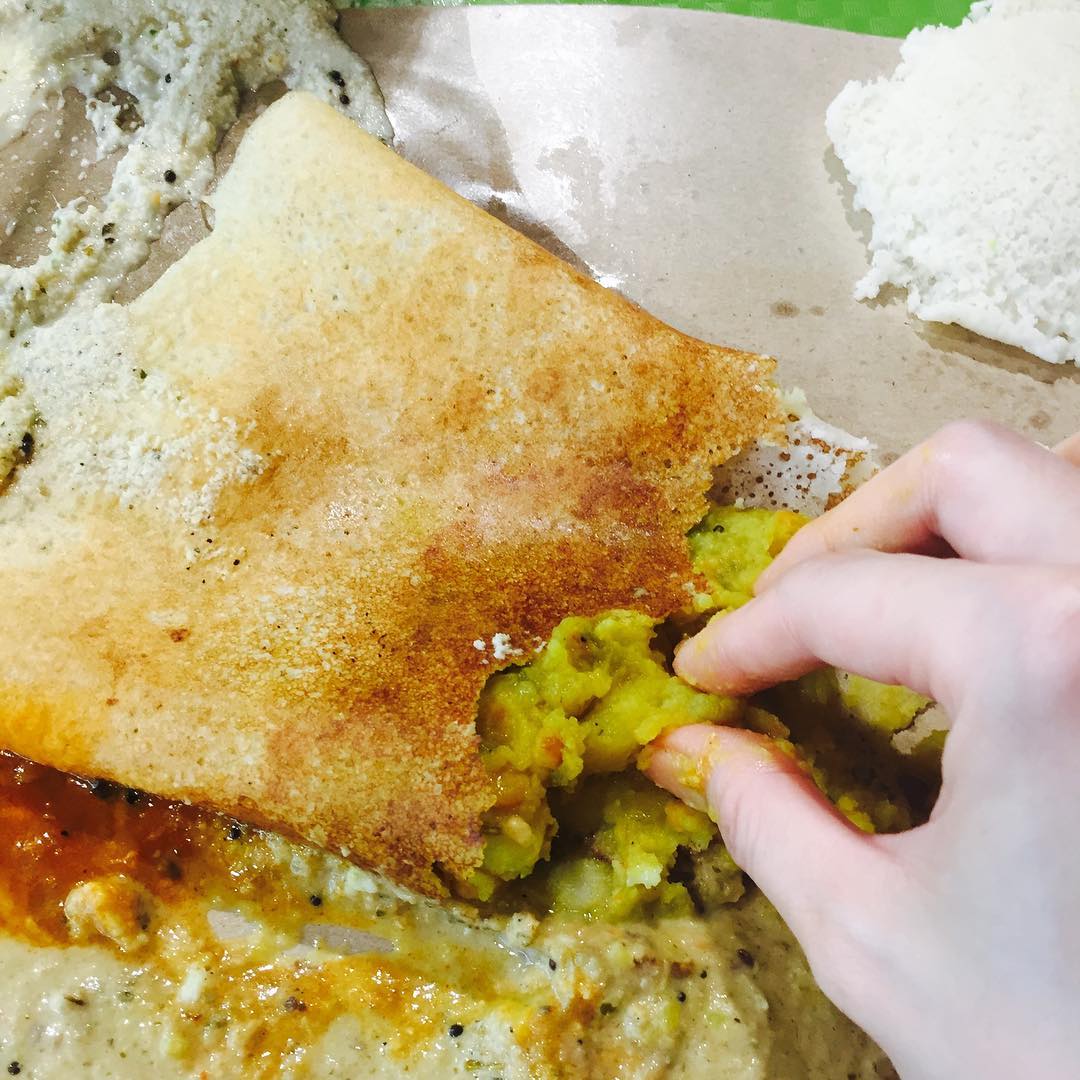 Image credit: @happykhim
If you're craving cheap Indian food, head to Sri Tiffin Stall for their Masala Dosa. At $1.50, it's going to be a real challenge to find another well-cooked thosai cheaper than the one at Sri Tiffin's. Tear out a chunk of the crisp thin pancake stuffed with mashed potato filling, dunk it into a generous serving of fiery tomato chutney and prepare to be left in a state of wonder. Sri Tiffin sells two vadai for $1, but if you're already full from the thosai, dabao them back home to snack on later.
Unit number: #01-224
Opening hours: Daily 6am to 11pm
---
8. Allauddin's Briyani Pte Ltd
---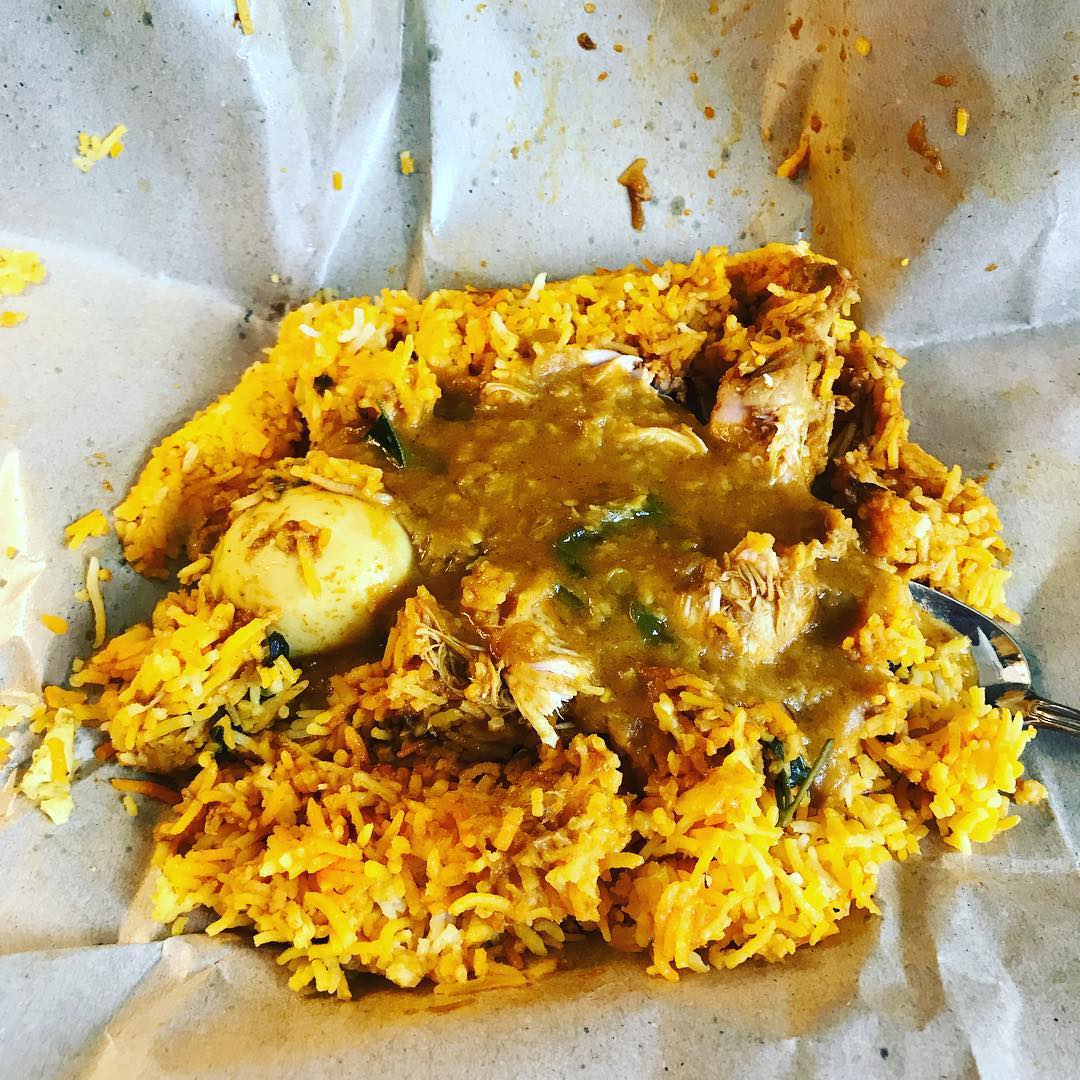 Image credit: @maxiejohanna
Allaudin's Briyani Pte Ltd calls themselves a 'briyani specialist' and, true to their name, long snaking queues form outside their stall for their Nasi Briyani ($5). Without a doubt, it is the quality basmati rice flavoured with Indian herbs and spices, and crunchy cashew nuts, which make the dish so delectable. You can also choose to have your briyani with either fish, mutton or chicken. Personally, I recommend the mutton for its rich taste and chewy texture. Allauddin's Briyani Pte Ltd has received so much recognition that it was mentioned in the Michelin Guide 2017, so you definitely shouldn't miss this!
Unit number: #01-229
Opening hours: Daily 10:30am to 7pm
Tel: 6296 6786
---
9.  Street Food at Tekka Centre
---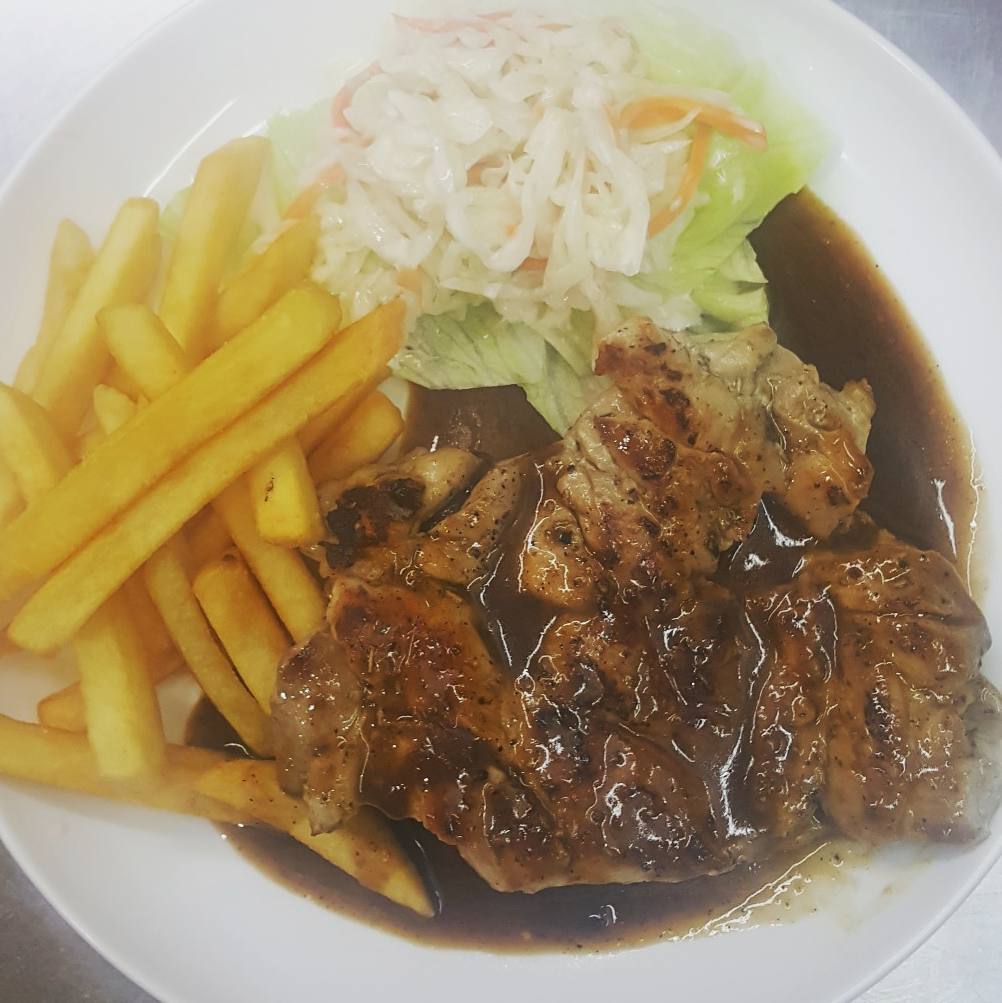 Image credit: @streetfoodtekka
Of course, you can also find cheap and tasty Western food from Street Food at Tekka Centre. Try their Chicken Cutlet ($6.50), which comes with a huge serving of tender, deep-fried chicken and a side of salad and fries. Alternatively, you could opt for their Fish and Chips ($5.50) if you prefer to chew on something a little more tender. No preservatives or MSG are used in their food – the flavours are all 100% natural. It's little wonder why the stall goes by the slogan, 'We provide good food, not fast food.'  
Address: 665 Buffalo Road, #01-302, Tekka Food Centre, Singapore 210665
Opening hours: Daily 11am to 8pm
Tel: 8504 7379
Website
---
10. Heng Gi Goose and Duck Rice
---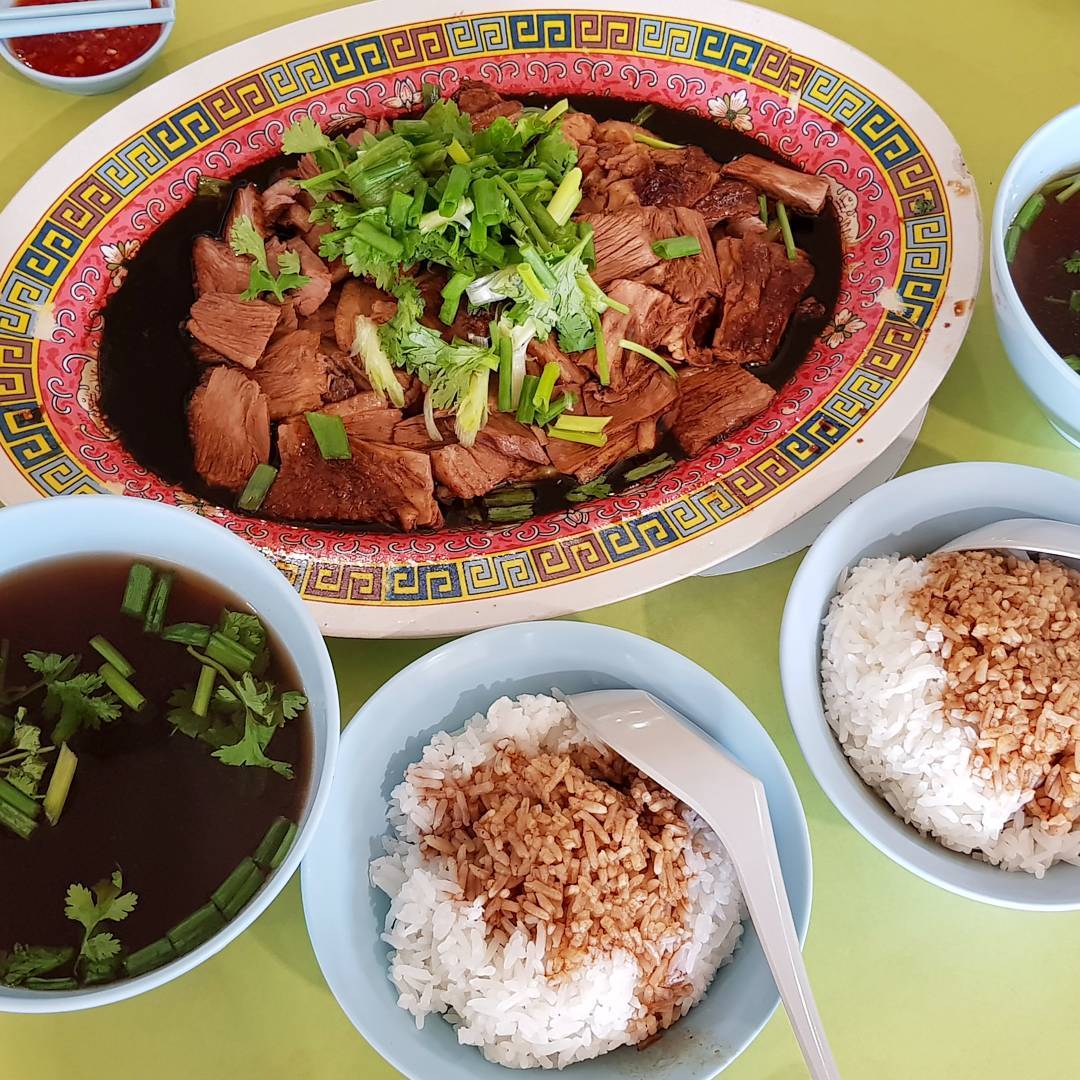 Image credit: @emoticongirl 
You may find Heng Gi Goose and Duck Rice's signboard a little misleading, as it no longer sells goose due to restrictions by the AVA. Apparently, this has not affected business as customers love their traditional braised duck rice. A plate of Duck Rice for one costs $3.50, and you can add on sides such as duck liver, tofu and braised egg. The duck rice is also accompanied by a bowl of rich herbal soup. Heng Gi Goose and Duck Rice was mentioned in the Michelin Guide 2017 as well!
Check out more must-try braised duck rice around Singapore!
Unit number: #01-335
Opening hours: Tue-Sun 8:30am to 2:30pm
Tel: 6396 0969
---
Tekka Centre is a food paradise worth your visit
---
Although Tekka Centre might not be your typical clean, air-conditioned food court, it's full of good eats you might not be able to taste anywhere else. It's a place I'd definitely make the time to travel down for.
For more good eats in Little India, check out Non Entree Desserts or Enchanted Cafe!
---
Featured image adapted from Instagram user @tigerkiller's post.