---
New ice-cream cafes in Singapore
---
There's never a bad time for ice-cream. It's the magic elixir that cheers us up when we're sad, the cool refuge from the sun on a blazing hot day, and the sweet end to a romantic date. That universal appeal is reflected in the flurry of ice-cream parlours and kiosks that have sprung up on our shores in recent years. This means that ice-cream is no longer a dessert you can only buy from supermarkets or convenience stores. Artisanal ice-creams are available in malls and neighbourhood cafes, bringing unique flavours and freshly made scoops to the masses. With the constant influx of new joints serving up housemade ice-cream, this list of new ice-cream cafes in Singapore will help you keep up to date.
---
1. Obsessive Chocolat Desire Cafe
---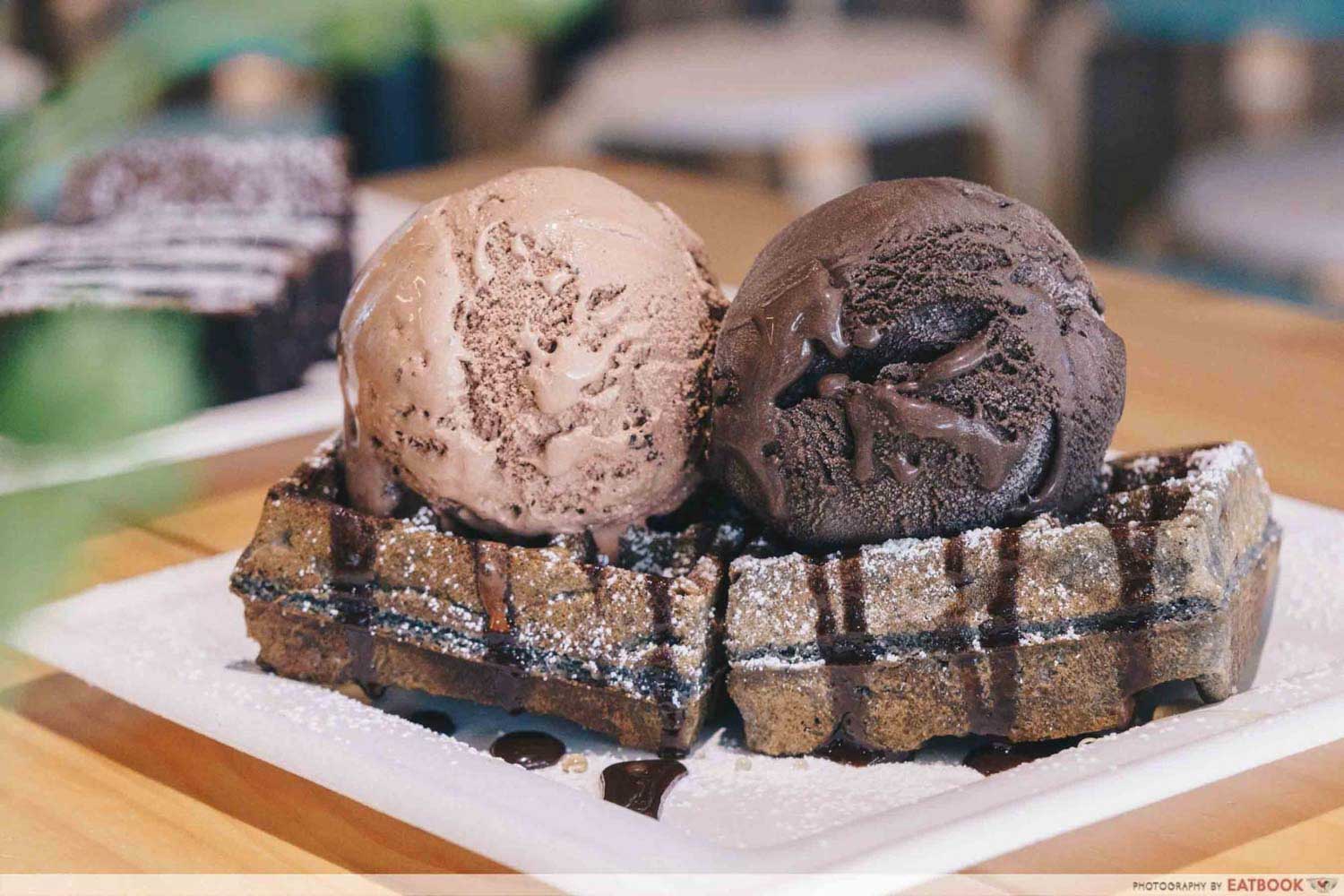 Neighbourhood ice-cream cafes are on the rise, with joints like Creamier paving the way for a barrage of new openings in the vicinity of HDB blocks. Obsessive Chocolat Desire is a recent entrant to that category, and arguably serves the most aesthetic desserts we've seen this year. The Ang Mo Kio cafe is a chocolate haven—dishing out a stable of drool-worthy cocoa creations, with their ice-cream ($3.60 per scoop) at the forefront.
Most ice-cream parlours have just one chocolate ice-cream, but these chocolate fanatics flaunt five, each crafted with a different chocolate variant. Africa 85% Dark is the one for bona fide cocoa lovers. Powerful cacao notes and a wave of fruity sweetness match the intensely dark flavour of each scoop, a far cry from cloying supermarket tubs. Contrast that with the considerably paler Madagascar 30% Milk for some creamy sweetness, along with honey and floral notes.
Check out our full review of Obsessive Chocolat Desire Cafe!
Obsessive Chocolat Desire Cafe: New Chocolate Cafe That Opens Until 1am At Ang Mo Kio
Address: 529 Ang Mo Kio Avenue 10, #01-2353, Singapore 560529
Opening hours: Mon-Thur 12pm to 10pm, Fri-Sat 12pm to 1am, Sun 2pm to 10pm
Website
---
2. Kind Kones
---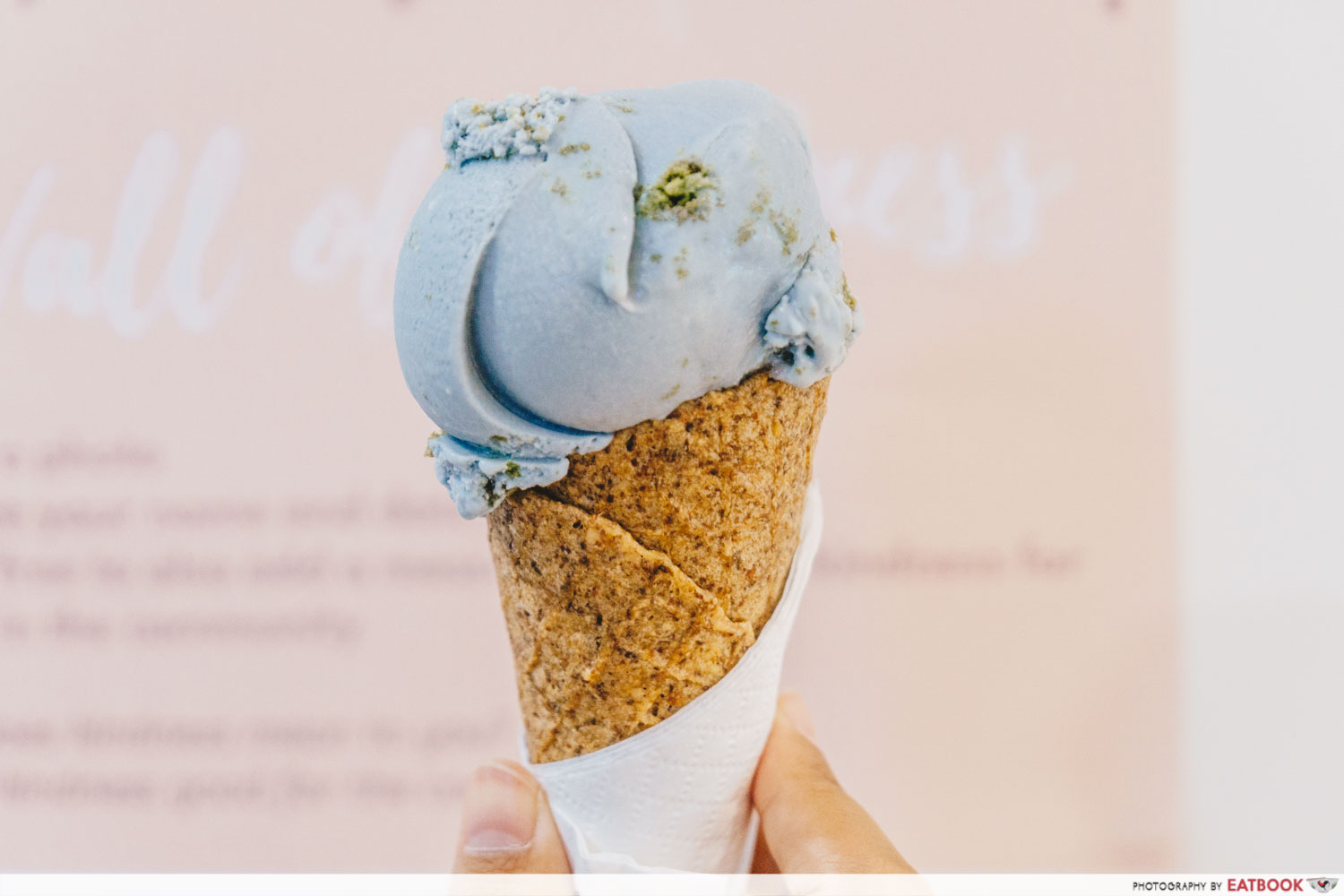 In recent years, the demand for vegan options in Singapore has gone through the roof. Non-dairy alternatives, such as nut and soy milk, have become especially popular. Kind Kones is an ice-cream cafe that blends such dairy substitutes with ingredients like flax seeds to craft their vegan ice-creams (from $4.90).
This Malaysian chain does an impressive job in bringing out rich flavours and creaminess sans dairy, and you'd be hard-pressed to tell that their icy treats don't contain good ol' cow milk. They get creative with their flavours too—churning out eye-catching concoctions like the matcha cake-laced Blue Planet and the invigorating Dragonfruit Banana Sorbet. Support those scoops with a Flourless Gluten-Free Cone ($1), which carries a gentle nuttiness from almond flour.
Address: 583 Orchard Road, #B1-27, Forum The Shopping Mall, Singapore 238884
Opening hours: Daily 10am to 10pm
Tel: 9687 8413
Website
---
3. Good Food Coffee & Bakery
---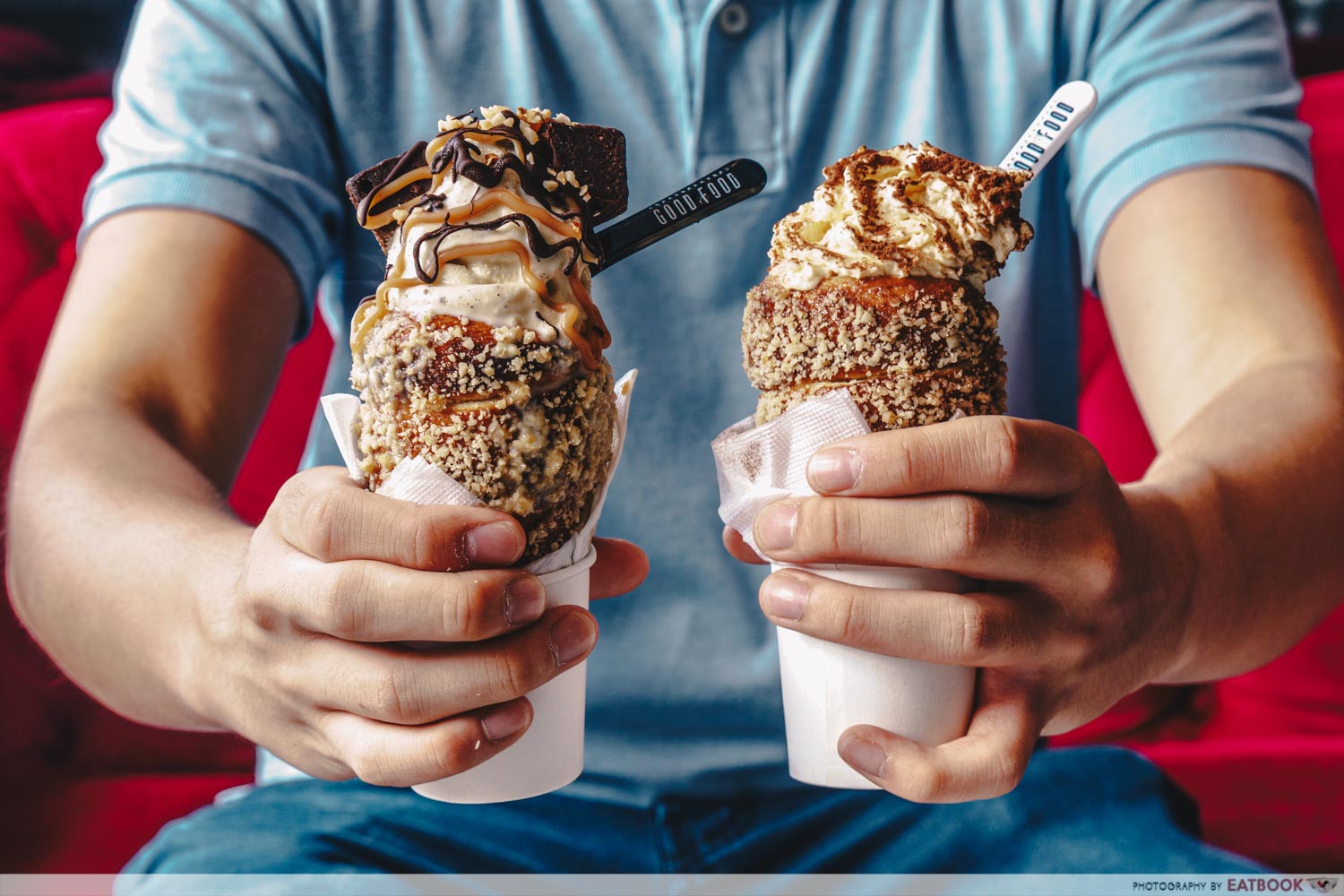 Chimney cakes are primed to become Singapore's next big food trend. These pretty doughnut cones have popped up here and there before, but the godfather of this Hungarian pastry has finally landed in the form of Good Food Cafe And Bakery. These Prague ice-cream cafenatives take quality seriously, importing ingredients from all over the globe and altering their recipe to suit local preferences.
The famous bakery makes their own soft-serve and chimney cones in-house every day, and the Ice Cream ($4.50 for small, $5.50 for medium) has been so popular that they've started selling it without the doughnut cones. If you can only order just one item though, make it their Signature Chimney King ($7.90). This majestic dessert stars their OG walnut cone, topped with luscious vanilla soft-serve and a whole host of sweet toppings to form a decadent midday treat.
Check out our review of Good Food Coffee And Bakery!
Good Food Coffee And Bakery: Famous Soft Serve And Chimney Cake Store From Prague Opens In VivoCity
Address: 1 Harbourfront Walk, #02-135/136, VivoCity, Singapore 098585
Opening hours: Daily 11am to 10pm
Website
Good Food Coffee And Bakery is in the process of obtaining halal certification.
---
4. Denzy Gelato
---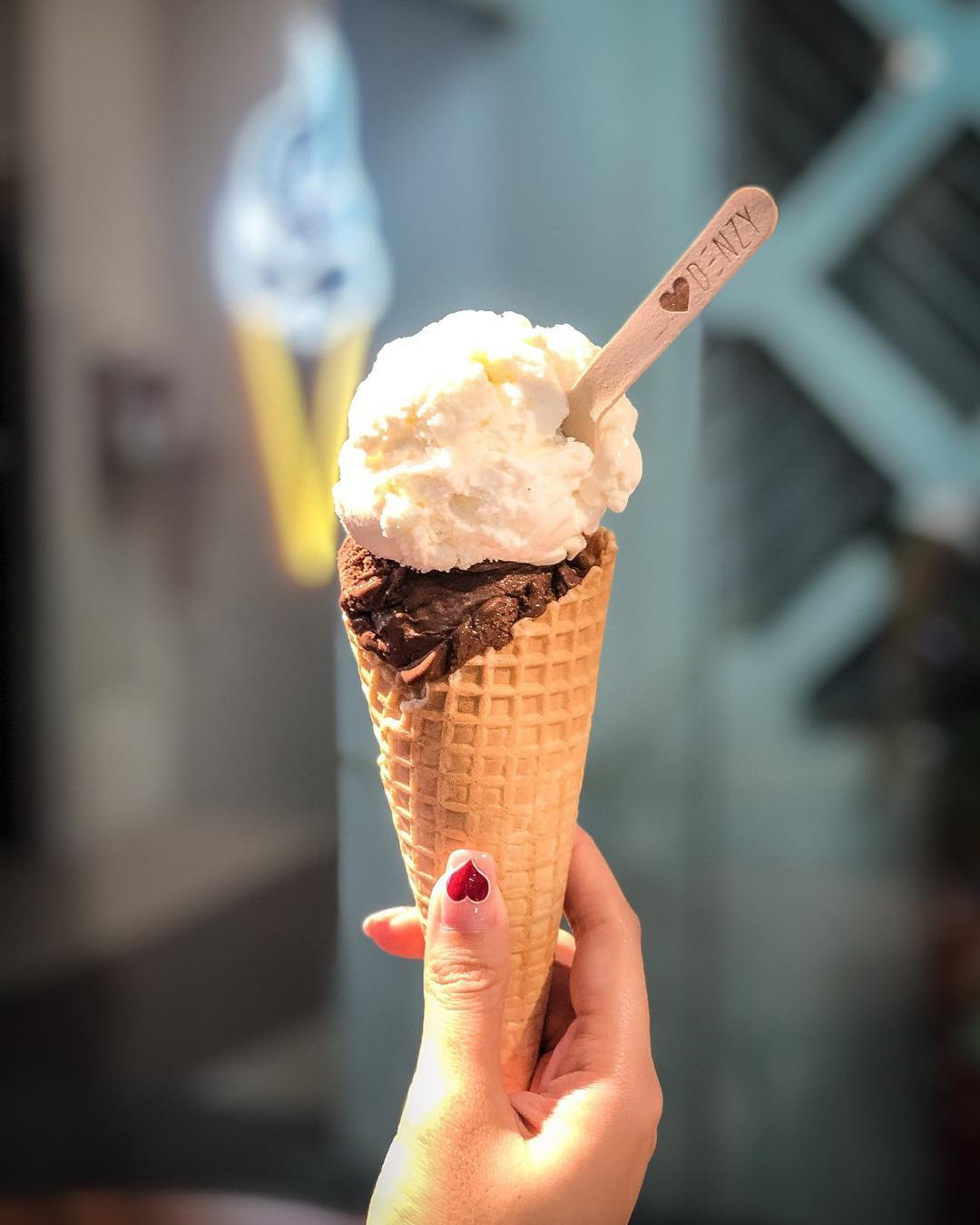 Image credit: @denzygelato
The food at bus interchanges are known more for convenience than quality, but Bishan Interchange is home to a hidden gem of a gelateria. Denzy Gelato has no frills, but its quality speaks for itself. It isn't often you find an HDB ice-cream parlour stone-grinding their own nut paste.
They boast an admirably large assortment of flavours, complementing the classics with creative scoops such as the almond and saffron-infused Persian Prince, which has become a fan favourite. Blondie Beach, flavoured by a potent mix of white chocolate, lime and salt, is another popular blend, but no matter the flavour, every scoop of Gelato (from $3.60) is luxuriously creamy.
Address: 506 Bishan Street 11, #01-404, Singapore 570506
Opening hours: Daily 11:30am to 10:30pm
Website
---
5. Camaca
---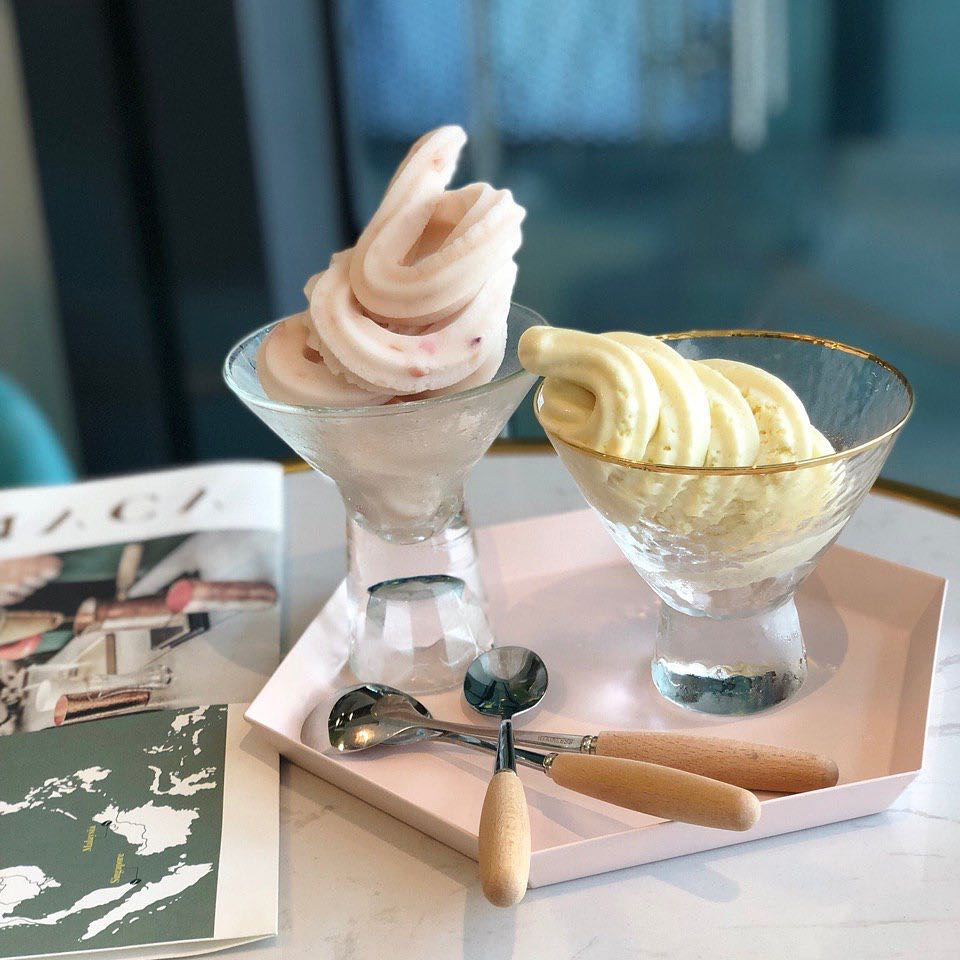 Image credit: @2019food 
Hailing from Taiwan, Camaca is one of the new eateries in the revitalised King Albert Park mall. This expansive, two-storey cafe has a host of outlets across Asia, and are known for their macaron-shaped, sugar-free gelato capsules. Upon order, a machine removes the confectionery-shaped casing, leaving a swirl of gelato in each cup.
The lack of sugar results in a texture that's somewhere between traditional gelato and soft-serve, but also prevents multiple scoops from becoming sickeningly sweet. As a result, each ingredient makes their presence felt⁠—none more so than the Musang King Durian ($7.20++), which bursts with pungent durian funk. Flavours such as Pomelo Tea ($5.80++) and Lychee Rose ($5.80++) are likely less divisive, but are still unique and display fruity flair.
Address: 9 King Albert Park, #01-11/12, KAP Mall, Singapore 598332
Opening hours: Mon-Fri 11am to 10pm, Sat-Sun 9am to 10pm
Tel: 6904 3811
Website
---
6. Emack & Bolio's
---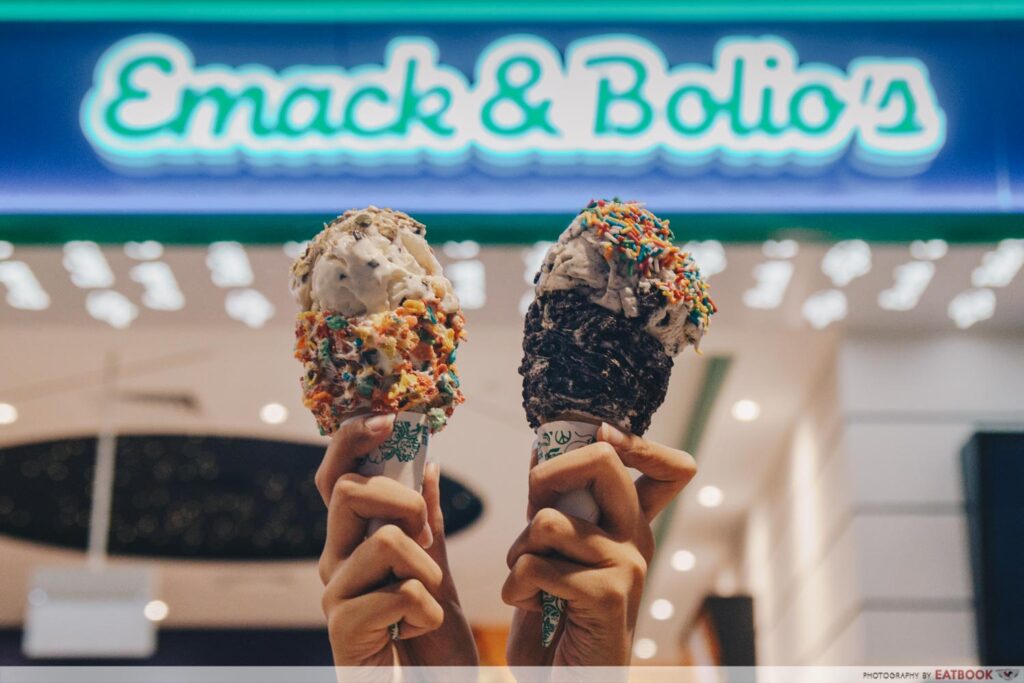 Emack & Bolio's is the ice-cream we all dreamed off as a kid—outrageous cones with a rainbow of colours and showers of toppings. The Bostonian chain was one of the many overseas giants who settled at Jewel Changi Airport, seducing travellers-to-be with their sugary cones.
Birthday cakes scream joy, so it's understandable that Space Cake ($8) is an international favourite. Shortbread cookies and red velvet cake fill this indulgent scoop, which can be paired with crazy cones like Marshmallow, Fruity Pebbles and Crushed Oreos ($2.50). It's a little more expensive than other ice-creams around, but that's arguably a small price to pay for these special, IG-worthy treats.
34 Jewel Changi Airport Food Places That Open 24/7 Serving Creme Brulee Ice-Cream And Dim Sum
Address: 78 Airport Boulevard, #B2-234, Jewel Changi Airport, Singapore 819666
Opening hours: Daily 10am to 12am
Website
---
7. Wishes Cafe
---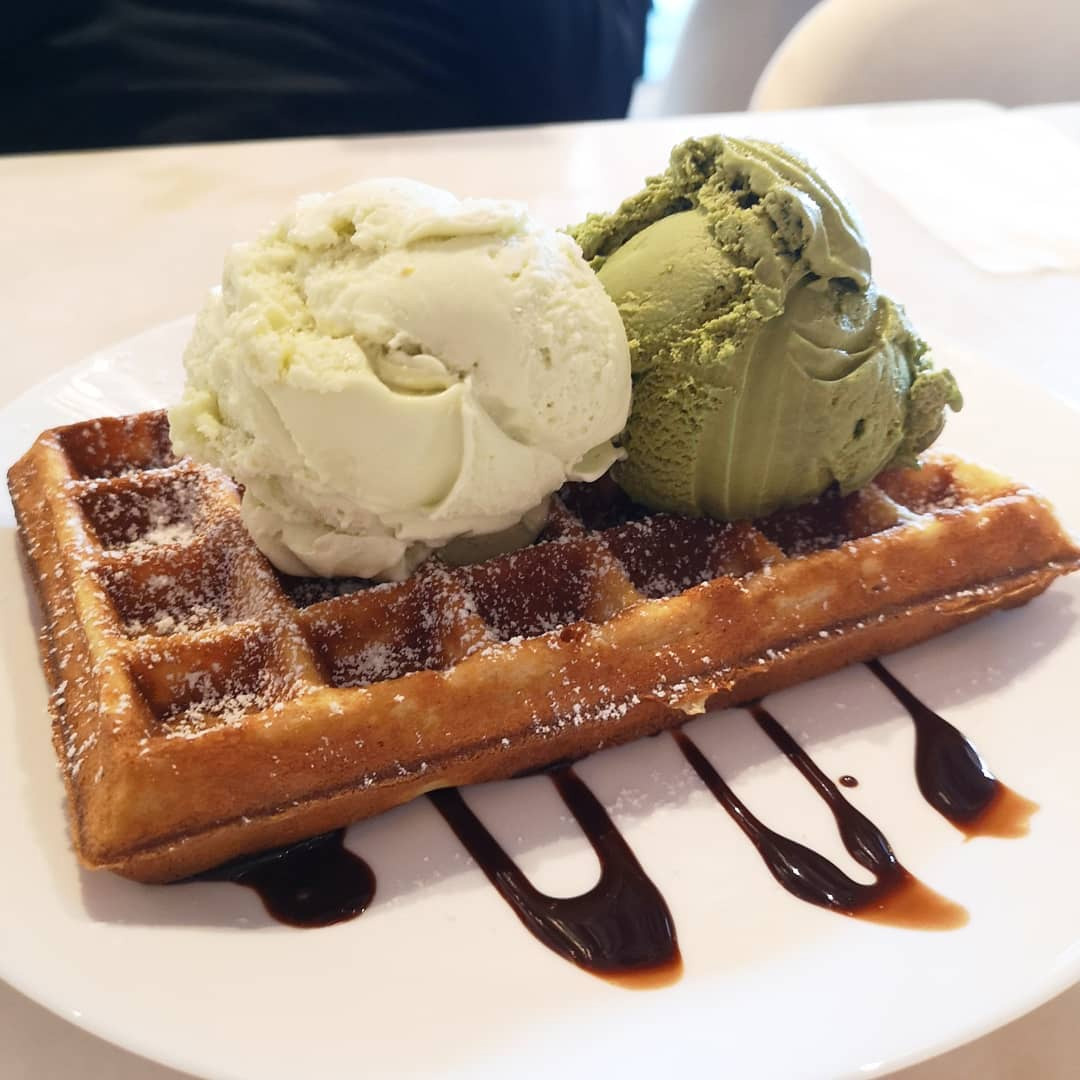 Image credit: @littlemissgreedy
Even for an HDB ice-cream parlour, Wishes Cafe is unassuming. Nestled in a quiet MacPherson neighbourhood, this cafe injects a predominantly residential area with an unexpected pop of sweetness. A forest of sakura blossoms hangs from the ceiling, imbuing the entire space with a whimsical, light-hearted feel. While ice-cream is the main focus, there are other attractions too, such as a mix of Western coffee (from $3) and local kopi ($1.50), as well as Ma La Baked Mid Wings ($5.80).
This quaint neighbourhood joint offers up 12 gelato flavours ($3.50 for a single scoop, $6 for two scoops) at a time, all crafted in-house. For the most part, they keep it classic, with flavours like Matcha and Cookies & Cream. If you want a more outlandish option, the toothsome Japanese Sweet Potato and zesty Kumquat Sorbet are popular choices. Whichever the flavour, these scoops are no slouches, with a luxuriously rich mouthfeel that can compete with any established joint.
Address: 36 Circuit Road, #01-414, Singapore 370036
Opening hours: Tue-Fri 11am to 10pm, Sat-Sun 11am to 11pm
Website
---
8. The Affogato Lounge
---
Cluny Court dessert purveyor The Affogato Bar has gone upmarket, opening a sleek new offshoot in the form of The Affogato Lounge. As the name suggests, affogatos are still the headline act, but they've souped up the usual vanilla ice-cream and espresso combo. The Trilogy ($16++) is a fine example, as intense 70% dark chocolate sorbet amplifies the deep flavours and fruity notes of a double espresso shot.
If it's too late for a dose of coffee, look for savoury options like the Blue Swimmer Crab Quiche ($13++), or simply opt for plain scoops of ice-cream, such as the Lemon, Basil and Thyme Sorbet ($4.70++).
Address: 55 Keong Saik Road, #01-02, Singapore 089158
Opening hours: Tue-Sun 8am to 11pm
Tel: 9889 7005
Website
---
9. Asian Rad Afters
---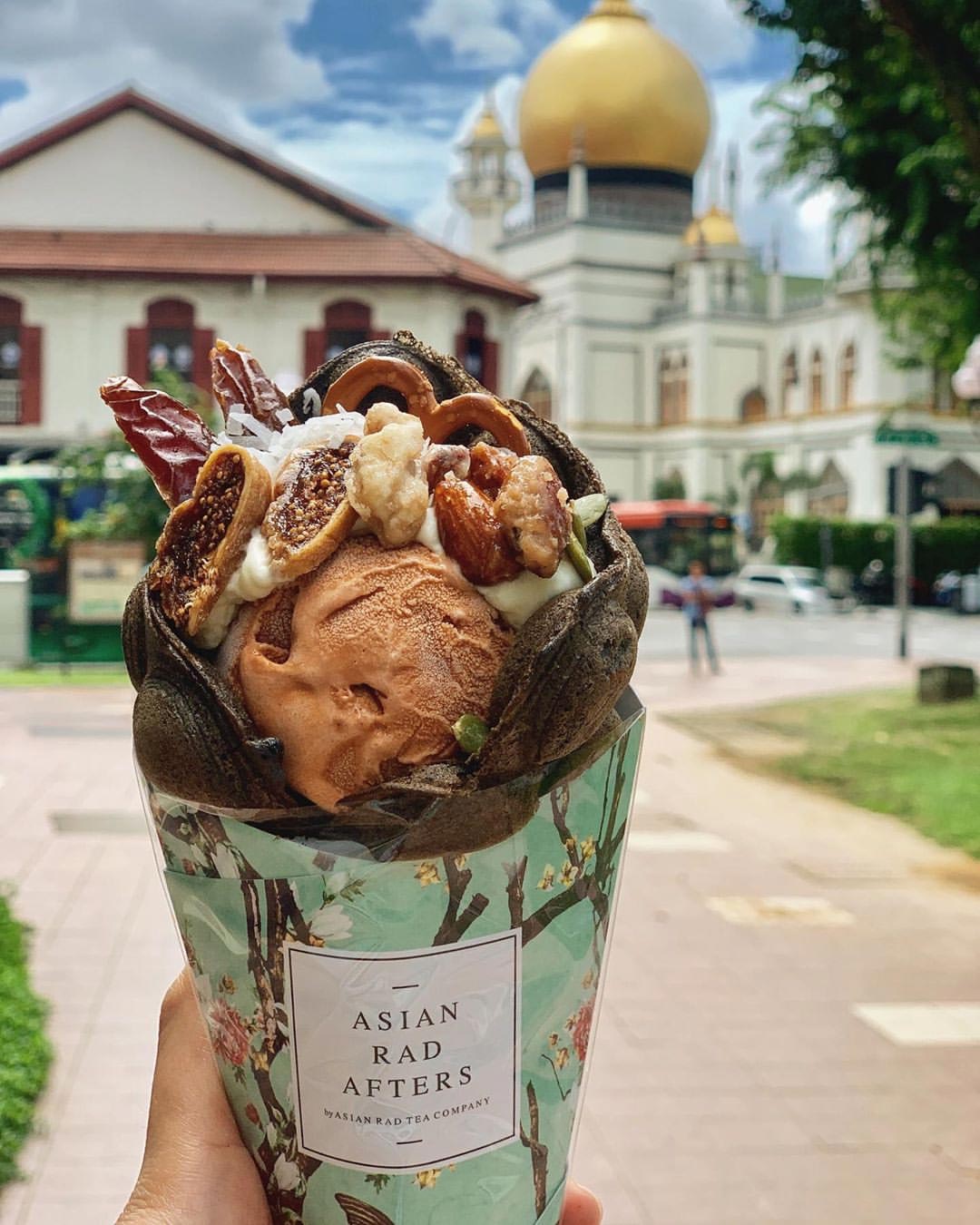 Image credit: @asianradafters.singapore
Osaka native waffle maker Asian Rad Afters has expanded its horizons, opening its first overseas outlet in Singapore. This cafe is instantly recognisable, occupying an entire shophouse that looks like it has been drowned in turquoise paint from head to toe. Equally attention-grabbing are their photogenic desserts, which consist of ice-cream filled bubble waffles, reminiscent of egglet waffles from Hong Kong.
Peranakan Road ($12.50) is a flavour you won't find in Osaka, featuring coconut ice-cream, sweet potato cream, kaya, mint, mango and dragonfruit, all wrapped by their signature waffle. If you have been to their Japanese outlets, Japanese Garden ($12) may jog your holiday memories; accompanying matcha ice-cream are ingredients such as mochi balls and brown sugar syrup. Think anmitsu, but in waffles and ice-cream form.
Address: 33 Bali Lane, Singapore 189869
Opening hours: Wed-Sun 11:30am to 7pm
Website
Asian Rad Afters is in the process of obtaining halal-certification.
---
10. Lobsters & Ice Cream V2.0
---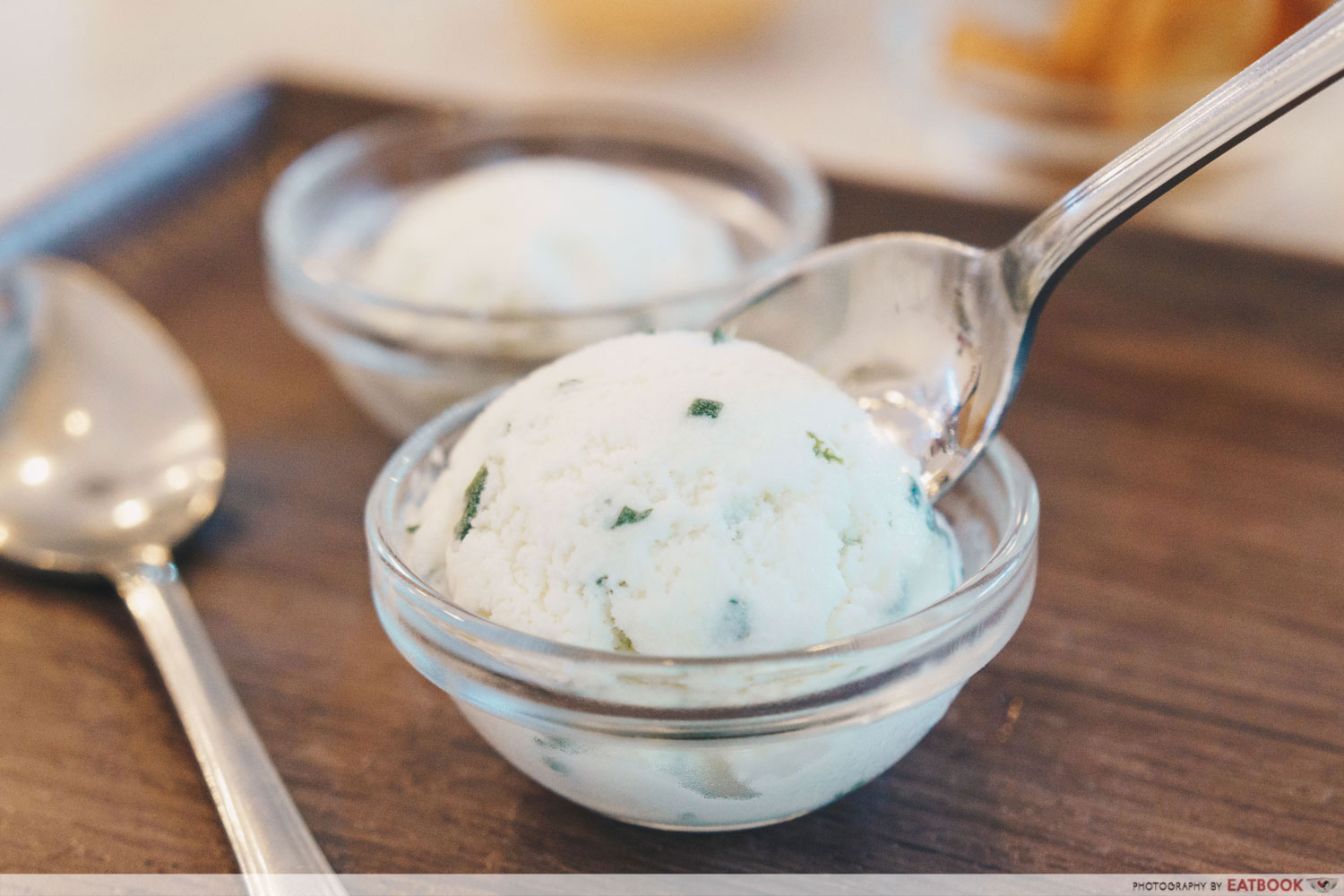 Lobsters & Ice Cream V2.0 is an Eatbook favourite, whipping up some of the best Lobster Rolls ($18+) Singapore has to offer at surprisingly affordable prices. While their array of seafood rolls are what snatches the attention, their other eponymous dish—ice-cream ($5+ per scoop, $4+ for every additional scoop)—is equally formidable.
Lime, Mint and Tarragon is a flavour you won't find on any other menu. It had an endlessly intriguing blend of refreshing tartness and exotic herbaceousness, acting more like a palate-cleansing starter than a dessert. Flavours like Houjicha and Coconut Coffee are significantly more conventional choices that don't skimp on quality, with each ingredient shining through in full voice without being masked by cloying sweetness.
Check out our full review of Lobsters & Ice Cream V2.0!
Address: Block 7 Tanjong Pagar Plaza, #02-101, Singapore 081007
Opening hours: Sun-Thu 11am to 10:45pm, Fri-Sat 11am to 11:45pm
Website
---
Bonus: Sir Stamford Waffles
---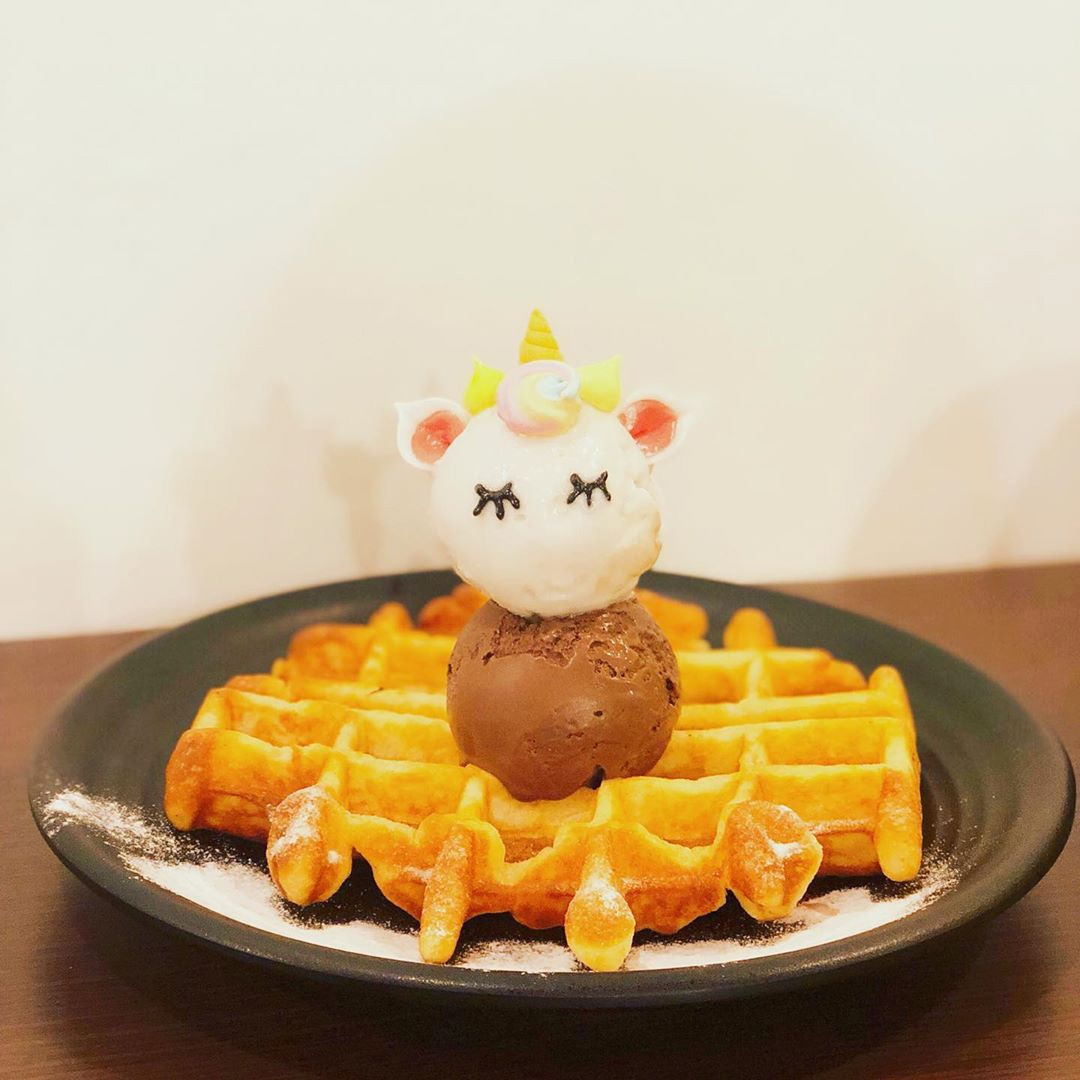 Image credit: @epengyong
Sir Stamford Waffles isn't exactly new. A few months after closing its original Bedok North branch, this quirky themed cafe has reopened its doors in Ang Mo Kio. As its name suggests, the cafe incorporates elements of local history into its decor, with cute Merlion and Sang Nila Utama posters bedecking the walls.
Helmed by the minds behind popular Alice in Wonderland-inspired cafe Hatter Street Bakehouse, this revamped cafe brings over the Kovan stalwart's famous Unicorn Whoaffle ($14++). However, if you've got your fill of horned mythical creatures, pick up a scoop of their ice-cream (from $4++). Novel flavours such as tofu sesame and kaya roti often appear in the flavour rotation, exploring uncharted flavour territory just as Sir Stamford Raffles did.
Address: Block 727 Ang Mo Kio Avenue 6, #01-4264, Singapore 560727
Opening hours: Daily 12pm to 10am
Tel: 9380 6563
Website
---
These ice-creams are worth your calories
---
Eating clean and watching your diet is always important, but sometimes, you just need to let loose and indulge with a scoop of ice-cream. Whether you need to beat the heat or drown your sorrows, these new ice-cream cafes could do the trick for you.
Want a sugar rush without the brain freeze? Check out our reviews of KURA and Lee's Confectionery for amazing pastries that won't hurt your wallet.
Share your favourite spots for ice-cream with us in the comments below!