KURA is high on quality and low on price
Update: Kura has relocated to 79 South Bridge Road, #01-00, Singapore 058709.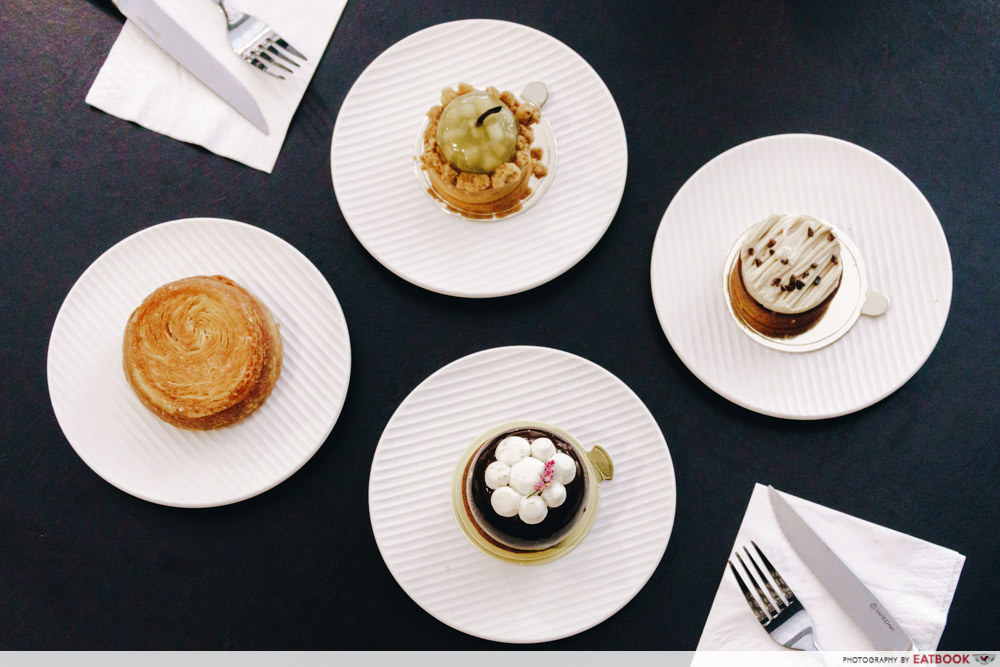 In Japanese, KURA means "warehouse", specifically a place to store treasured goods. It's also a portmanteau of Koo Jee and Rachel, the two keepers of this specific warehouse. Armed with experience from Tiong Bahru Bakery and five-star hotel kitchens respectively, the duo's treasures come in the form of pretty pastries.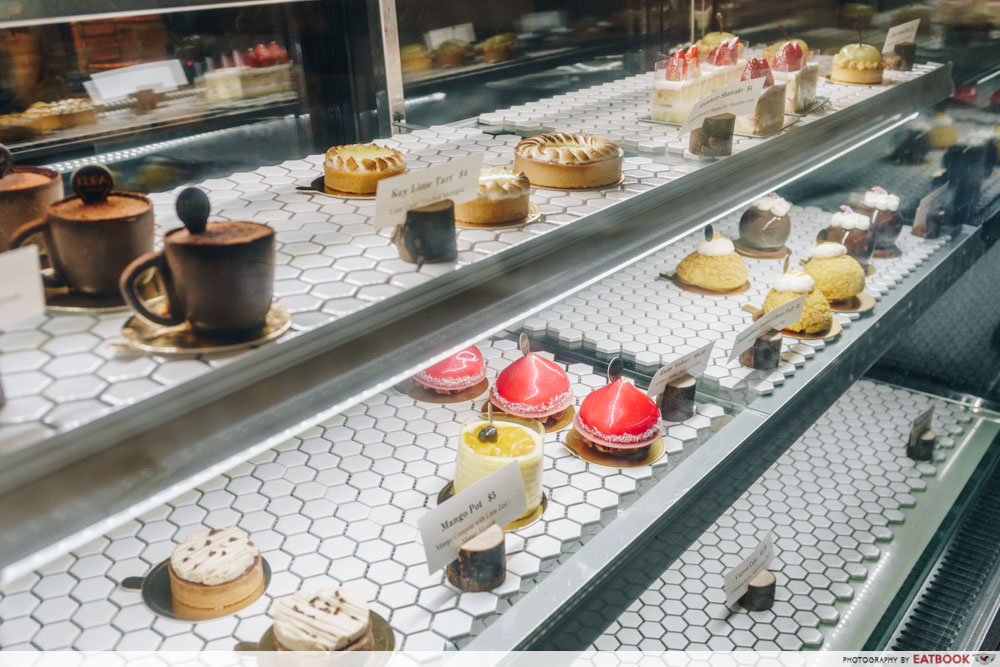 Discovering this little patisserie is like uncovering a treasure in itself. That's because it takes a good amount of effort to find it. It's tucked within the former Nan Chiau High School that's now mostly an office complex. There's also something almost contradictory about the patisserie—it's not often you find a place serving beautiful pastries and Chinese-style coffee and tea, let alone in an office complex.
The diminutive joint isn't alone either, sharing room with fellow newcomer In Bad Co to create Mercato, which means "market" in Italian. The whole space is run by Crane, a co-working space and social club located just next door. From late June, they'll join forces for a dinner service, with KURA supplying plated desserts.
But before that happens, we headed down to get a taste of some of their pretty pastries.
Food at KURA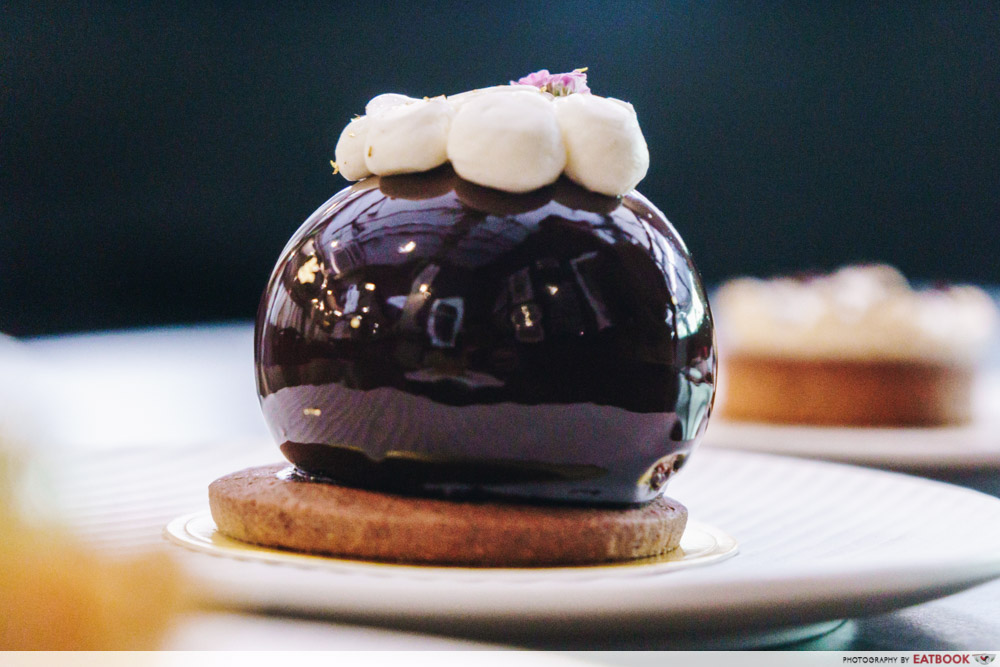 We kicked things off with Black Forest ($8.50), a glistening spherical recreation of the classic cake. Dark chocolate mousse makes up most of this dessert, wrapping a dollop of cherry compote and a layer of chocolate sponge, before being finished with a flower of cream and elegant touches of gold leaf.
At $8.50, it's a bargain. To be fair, this isn't as affordable as hawker centre ice kachang, but it's common to find similar-sized desserts being sold at close to $10 at more established patisseries. Rachel told us she probably could have charged more for her pastries. Instead, she based her prices on how much she would want to pay as a consumer. Our wallets had no complaints.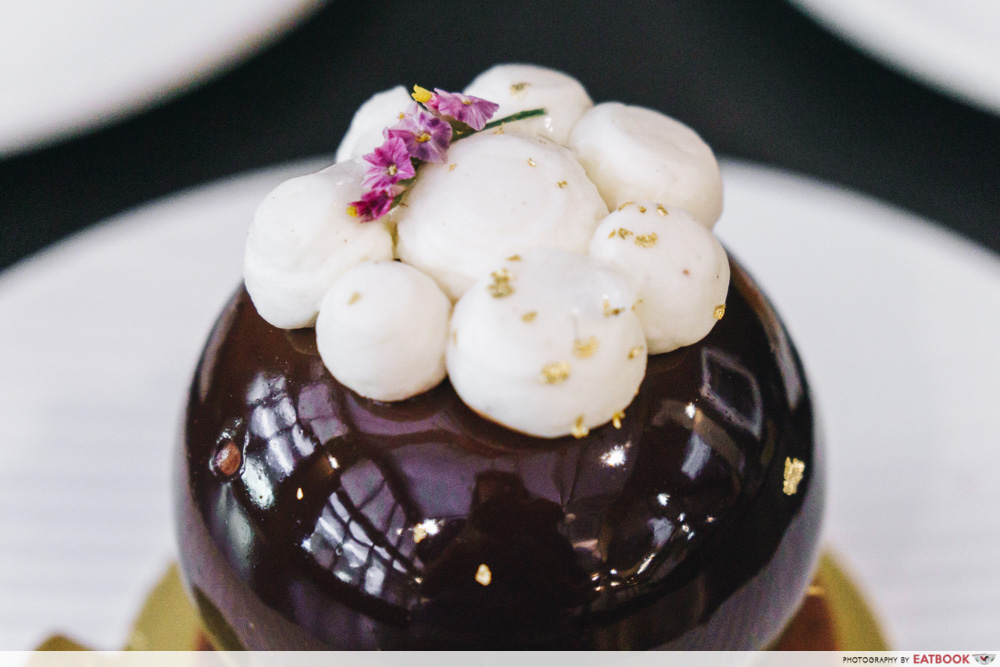 When there are ingredients like chocolate and cream in a dish, overwhelmingly rich flavours are always a risk. That's why using dark chocolate is a smart choice—its stronger cocoa notes prevent the shiny globe from getting uncomfortably sweet.
Also helpful was the airy consistency of the mousse, which blessed it with a good balance of lightness and creaminess. This contrasted beautifully with the chocolate sponge, which had a denser, cakey crumb.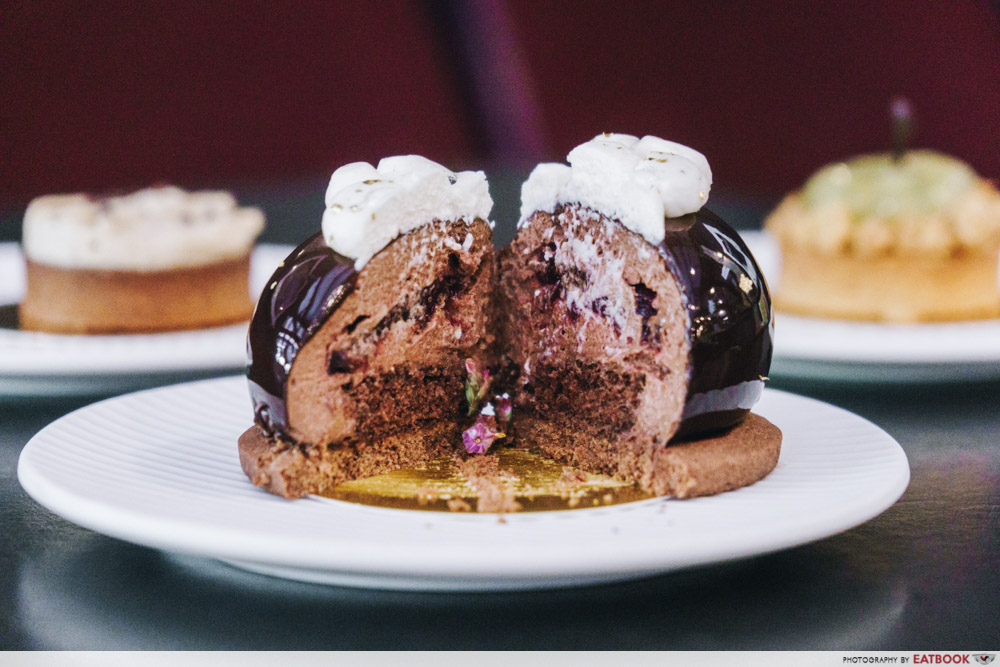 Chocolate and cherries are a classic combo, with the crimson fruit's sweetness and tart finish countering the rich tendencies of chocolate. That's why we would've liked slightly more cherry compote in our dish. It was definitely present, but a stronger burst of fruity flavour would've provided even greater contrast to the other components' deep, chocolatey notes.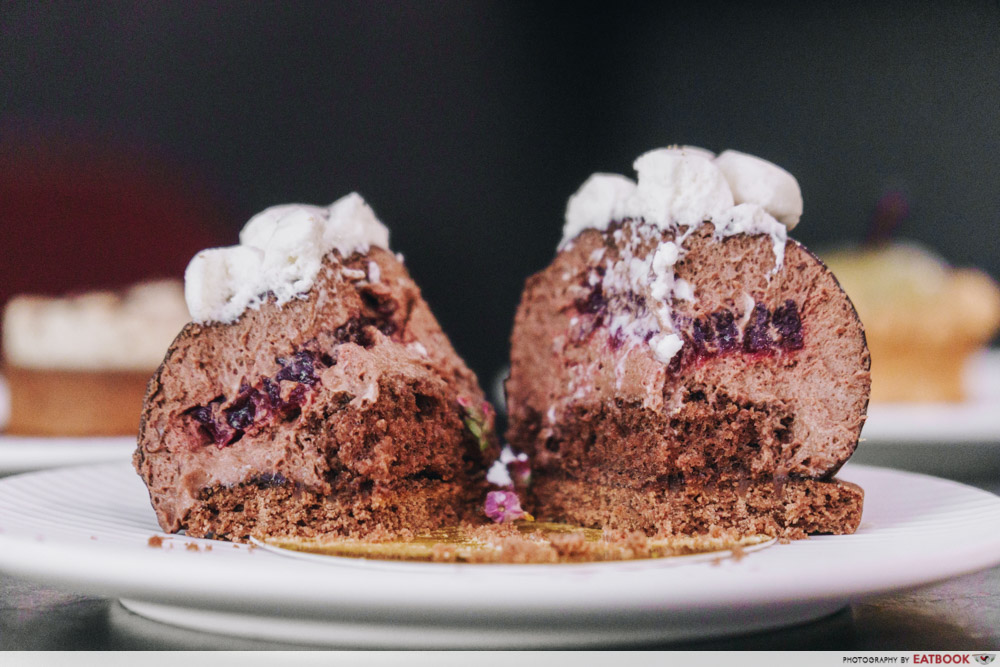 My personal favourite part of this dish was the unassuming disc of chocolate that formed its foundation. It's a chocolate sable, a French shortbread cookie that's denser and less sweet than its familiar chocolate chip cookie cousin. The sable was intensely chocolatey, granting the pastry yet another level of chocolate flavour. Texturally, it was absolutely spot on too, breaking cleanly by fork and crumbling effortlessly in our mouths.
Modest components and details like these are what sets apart chefs who've had years of formal training and experience. While you may not notice them at first glance, they simply add a little extra oomph to a dish, elevating it from "good" to "great".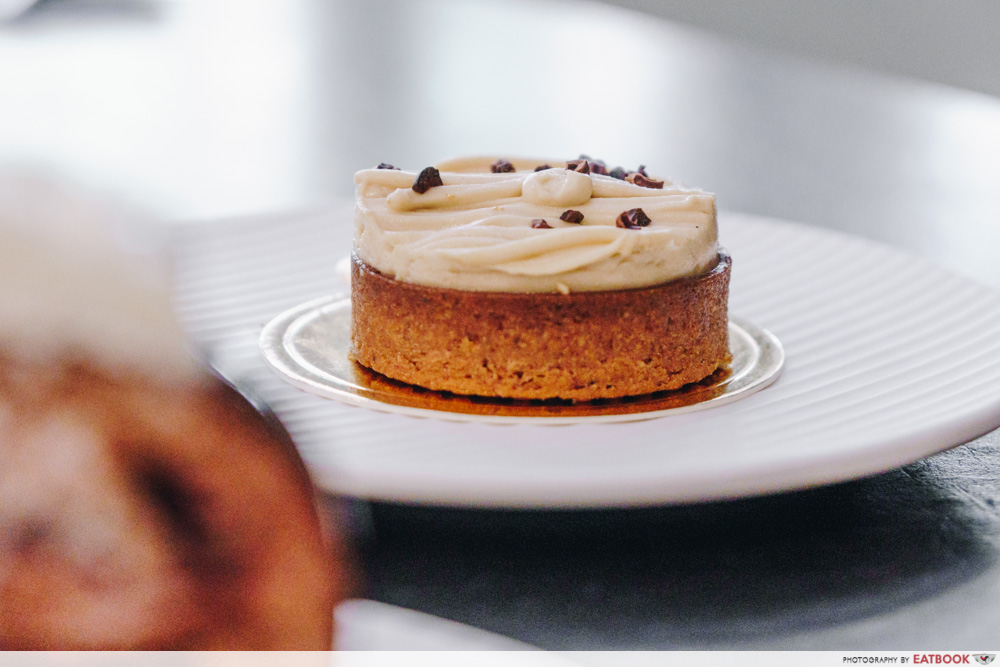 The Earl Grey Tart ($8) is Rachel's personal favourite. After operating KURA for almost a month, she's eaten one of these tarts every day. I can't even eat the same thing for lunch three days in a row.
Despite its small size, a whole host of ingredients is crammed into this tart. Almond cream, chocolate ganache and chopped cashews sit inside the tart shell, while an Earl Grey whip and cocoa nibs rest on top of it.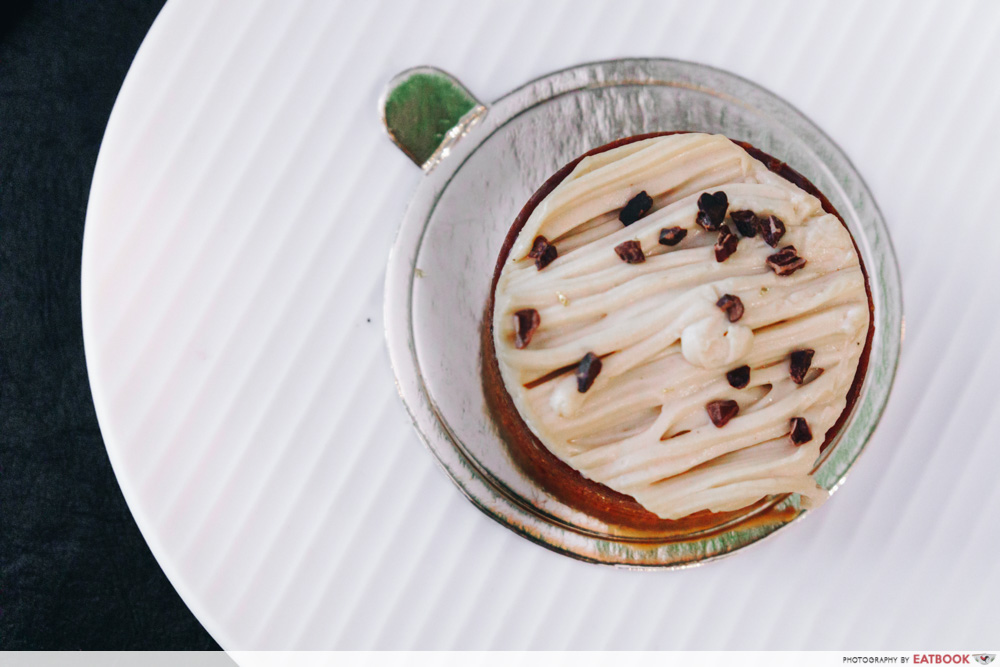 What struck us immediately was the tart's spiced flavour. While the bergamot tones of Earl Grey sang their distinctive tune, they were accompanied by warm, chai-esque notes, possibly from clove.
That spicy, citrusy tea flavour was joined by sweetness from the almond cream and chocolate ganache, along with subtle nuttiness from the cashews and cacao nibs. It was exceptionally balanced and cohesive, each flavour propping up—rather than overpowering—the others.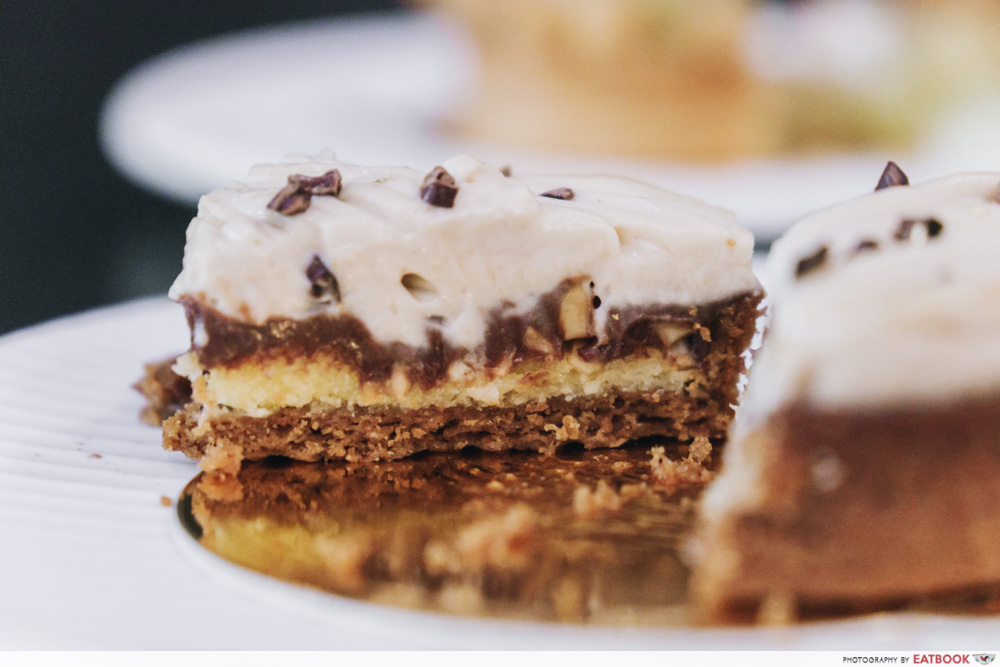 Equally well-balanced was the tart's texture. The ganache and almond cream duo was silky smooth, while the Earl Grey whip was fluffy. That creaminess was punctuated by crunch from the cacao nibs and chopped cashews, while the crust crumbled appeasingly on first bite without falling apart completely.
I could see myself having one of these every day too.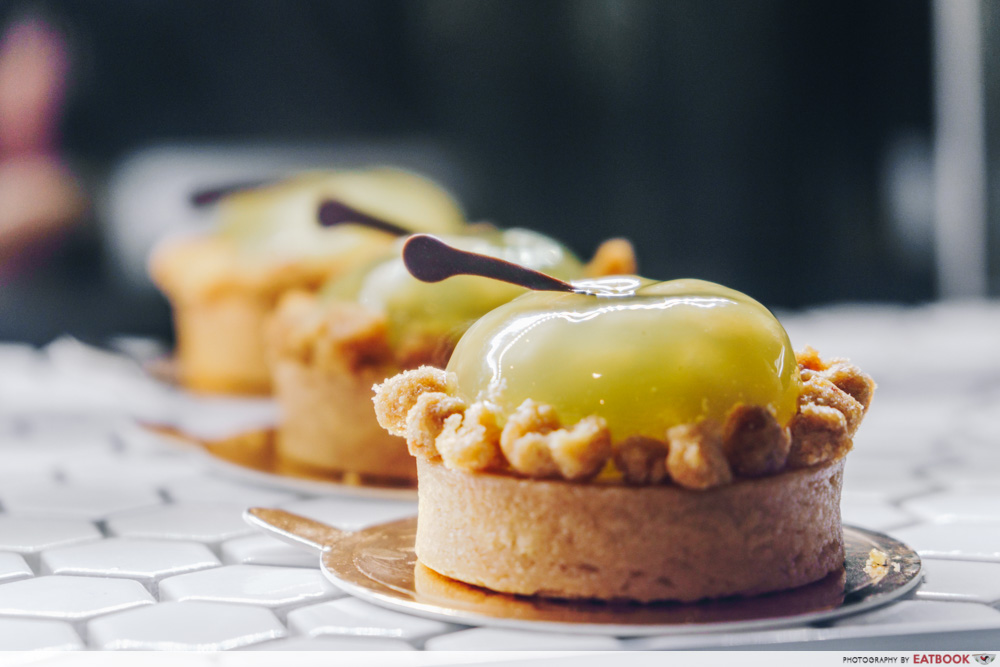 If you're looking for an aesthetic dessert to be the darling of your IG feed, look no further than the Apple Almond Tart ($9). Beneath its translucent apple jelly dome, cubes of green apple reside atop a cloud of almond namelaka, a type of soft French cream. Tart base aside, this cute little pastry looks like it belongs in an orchard rather than on a plate.
Koo Jee and Rachel form this apple shape by putting their compote into moulds and chilling it till it sets, resulting in a soft jelly. That appearance is a pretty realistic reflection of its taste too. Green apple flavour spearheads everything, thanks to both the apple compote and chunks of fresh apple.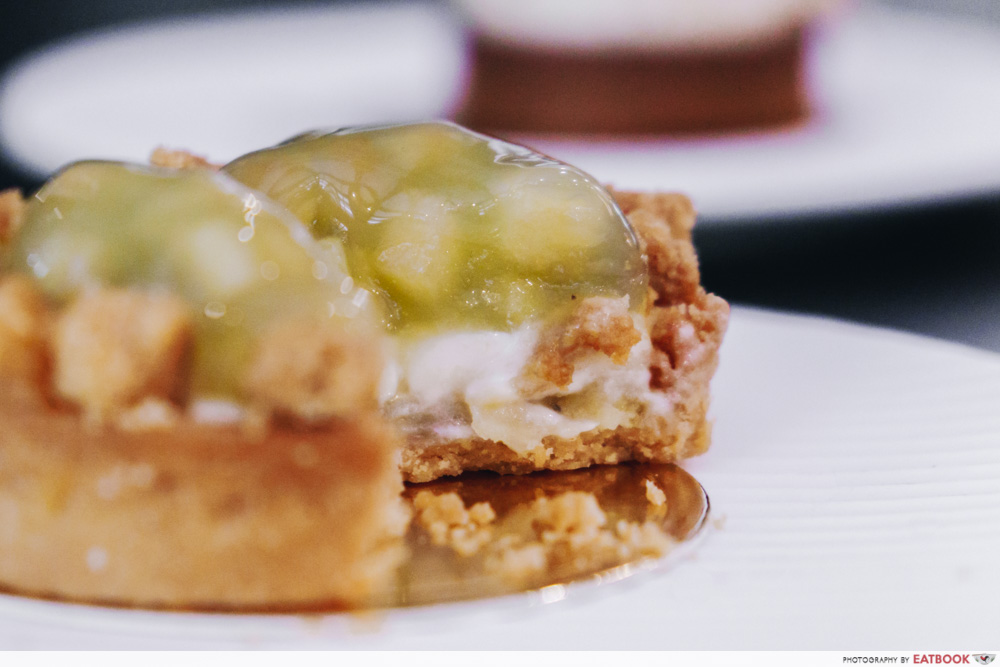 The latter is the unexpected star of this plate. Green apple has the tendency to be dry and overly tart, but these cubes were shockingly juicy, bursting with a good balance of sweet and sour flavours. That unlikely juiciness provided a fresh aspect to the pastry, contrasting well with the luscious almond cream.
That said, we wished the almond cream had a stronger nutty flavour. The apple's potency meant that our cream was largely drowned out, relegating it to a backseat textural role rather than imparting almond flavour.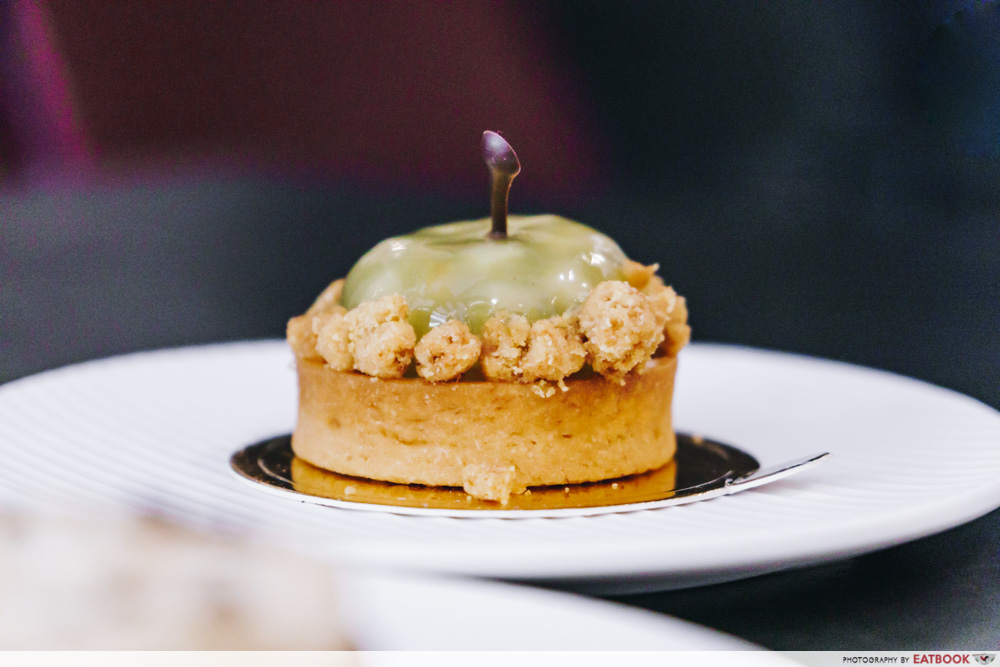 This tart employed the same buttery base as its tea-based counterpart, but comes topped with bits of crumble. Those rough, sugary spheres are commonly found in apple pie, making this pastry reminiscent of the classic American dessert, but in a pretty tart form. That nostalgic, homely flavour profile is almost contradictory to this pastry's avant-garde appearance—somehow making it all the more appealing.
[Update: The Kouign Aman is no longer available at KURA.]
A range of affordable bakes, including croissants, scones and even kaya toast, is also available for the early morning perusal of the office crowd. What really caught our eye was their Kouign Aman ($3), a buttery French cousin of the croissant.
It has the same maze of layers as its more famous relative, but piles on even more butter and sugar to create a heavier, sweeter crumb. This rendition was one of the best I've had, with thorough caramelisation on the exterior to create a beautiful, sugary crust.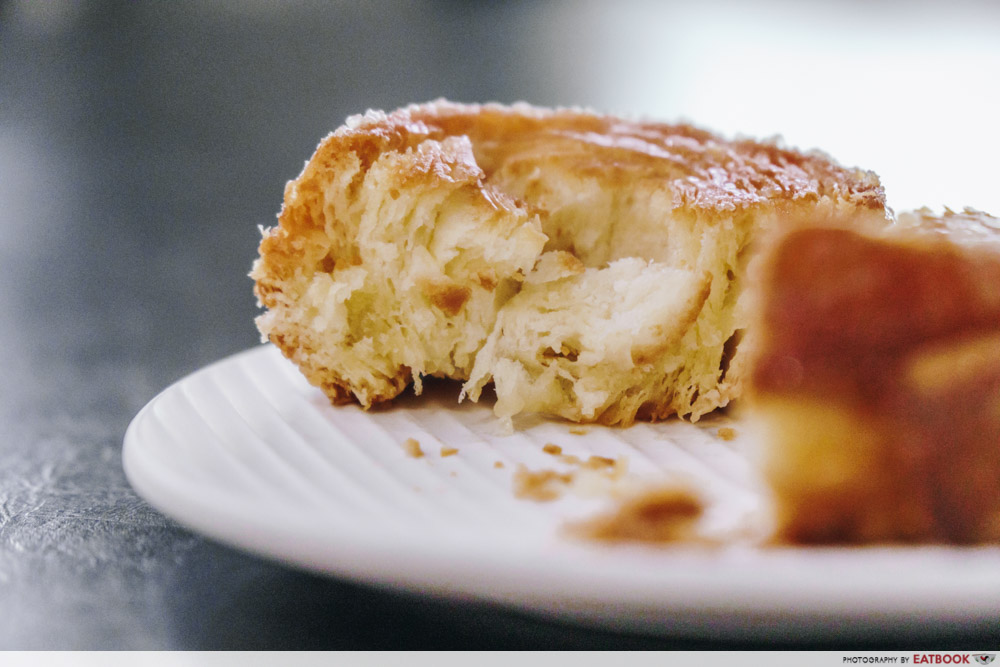 Once you break in, the interior is a complete 180 degree shift. It's flaky, dense and satisfying, with a texture that's somewhere between cake and bread. This juxtaposition between luxurious interior and crunchy exterior is what makes kouign-amann so addictive, and the balance here hits the bullseye.
Closer inspection also reveals a myriad of fine layers, which often results in a dry and unpleasant crumb, almost like stale bread. Thankfully, that's not the case here. That's because each layer of pastry is well lubricated with a generous dose of butter, which transforms dry dough into delightfully moist goodness.
This stalwart of French baking is one of the most difficult pastries to get right, and for Rachel and Koo Jee to produce such a stellar version speaks to their skill.
Ambience at KURA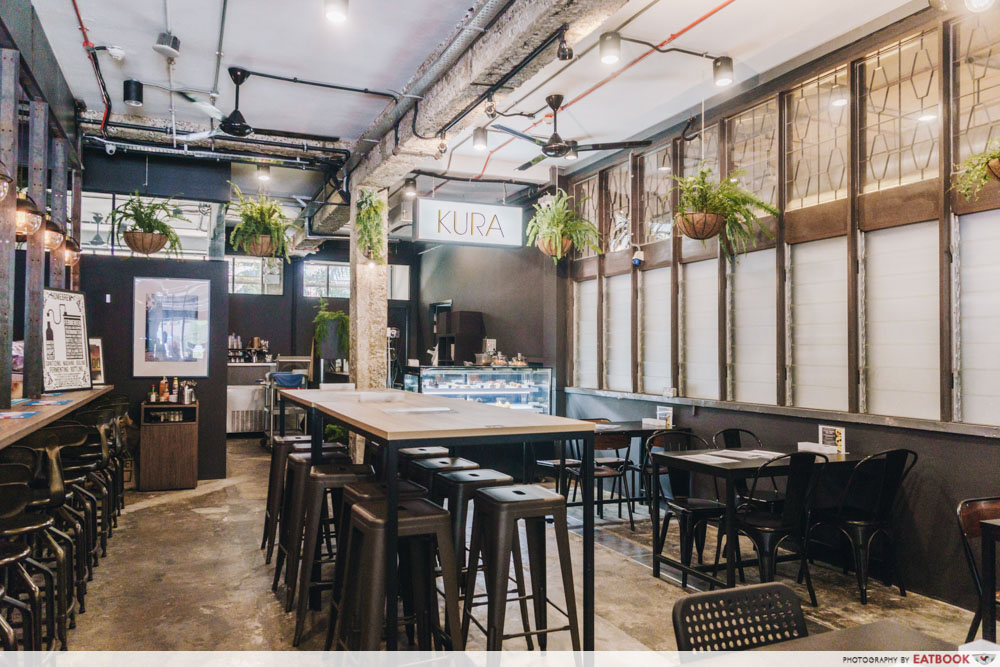 River Valley is pretty central, but this patisserie's slightly hidden location—up a small slope, at the edge of an office complex—gives it an "in town but not in town" vibe, as Rachel described it. While it may take a bit of effort to find this little gem, it's a welcome respite from the hustle and bustle from the surrounding city.
Sharing its space with a bar, KURA naturally takes on an eclectic mix of decor. Industrial is the prevailing theme, with swatches of dark grey, brown and black creating a cosy bar feel. Meanwhile, hanging potted plants brighten up the space for a cheerier look, backed up by the cafe's brightly lit sign.
That's all pleasant and comfortable, but what really had us enamoured was a small row of chairs attached to the wall near the entrance. These burgundy pieces are artifacts of the old Capitol Theatre, and that history incited some wistful nostalgia as I sat in them, even for someone who has never been in the old Capitol.
The verdict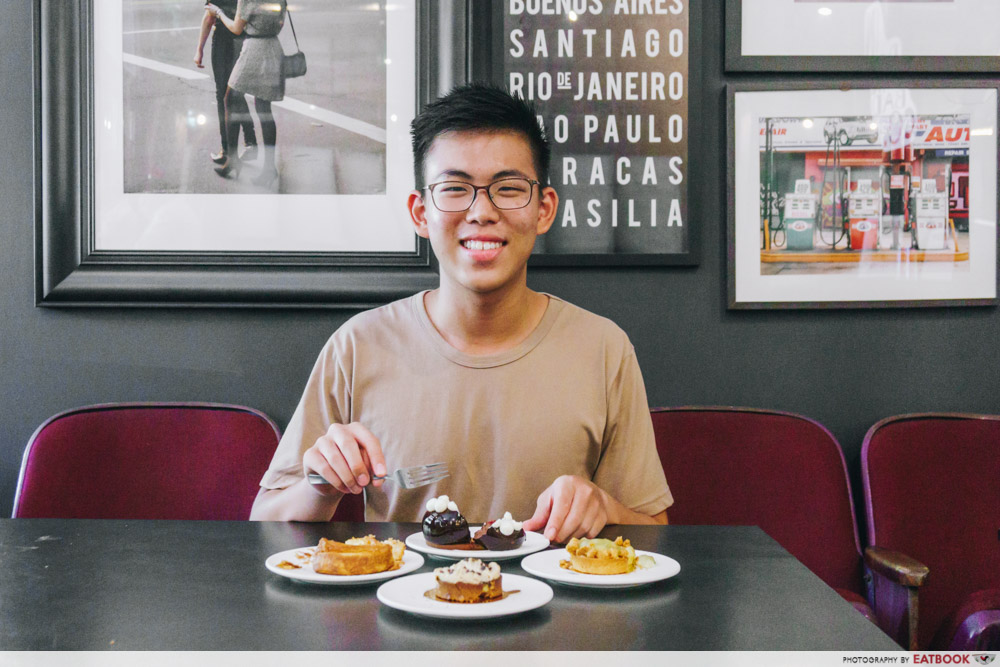 KURA is what happens when French pastry nous is unshackled from the confines of an upscale hotel or established bakery and allowed to run wild. Their mastery of baking technique is undeniably impressive, as is their wide array of pastries and breakfast items after less than a month of operation.
That know-how is admirable, but it's infused with personal and local touches too, as seen through their selection of Chinese-style drinks and flavours like chai in the Earl Grey tart.
All these make this comfy patisserie worth a visit in spite of its semi-hidden location, and we're excited to try out their plated dessert offerings once Mercato opens for dinner.
If your pastry cravings still aren't satisfied, check out our reviews of Lee's Confectionery and A Summer In Paris, as well as our list of the 10 best dessert places of 2018.
Lee's Confectionery Review: Minimalist Jurong Cafe With Beautiful Desserts That Can Rival Janice Wong's
Let us know your favourite spots for scrumptious pastries in the comments below!
Address: 79 South Bridge Road, #01-00, Singapore 058709
Opening hours: Sun-Thurs 11am to 7 pm, Fri-Sat 11am to 9pm
Website
Photos taken by Sharlene Lau.
This is an independent review by Eatbook.
KURA Review: Affordable And Pretty Pastries By Ex-Tiong Bahru Bakery And Hotel Chefs
KURA Review: Affordable And Pretty Pastries By Ex-Tiong Bahru Bakery And Hotel Chefs -

8/10
Summary
Pros
– Affordable
– Wonderfully balanced textures
– Aesthetic appearance
Cons
– Slightly difficult to find
Recommended dishes: Earl Grey Tart ($8), Kouign Amann ($3)
Opening hours: Sun-Thurs 11am to 7 pm, Fri-Sat 11am to 9pm
Address: 79 South Bridge Road, #01-00, Singapore 058709