A Summer In Paris at VivoCity
Update: A Summer In Paris has permanently closed.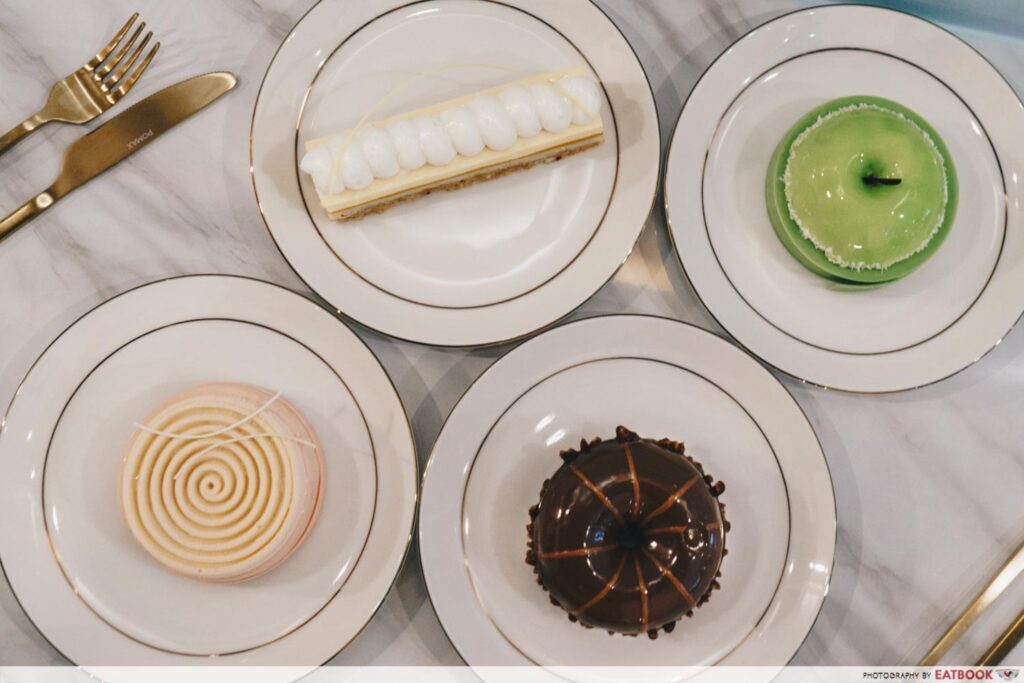 While news of Michelin-starred chefs get us excited, we have to admit they are a dime in a dozen. And if you follow France's gastronomic scene closely, you would know of a more prestigious award known as Meilleurs Ouvriers de France.
A highly regarded craftsmen competition that's held every four years in France, this award covers a slew of skills, including pastry making, butchery, and cooking. To receive this lifelong title is not easy, as you not only need to create a masterpiece, but also attain perfection. It's the highest award a pastry chef can get in France, and the patissier behind the cakes at A Summer In Paris is none other than Yann Brys, who earned this distinguished title in 2011.
Cakes at A Summer In Paris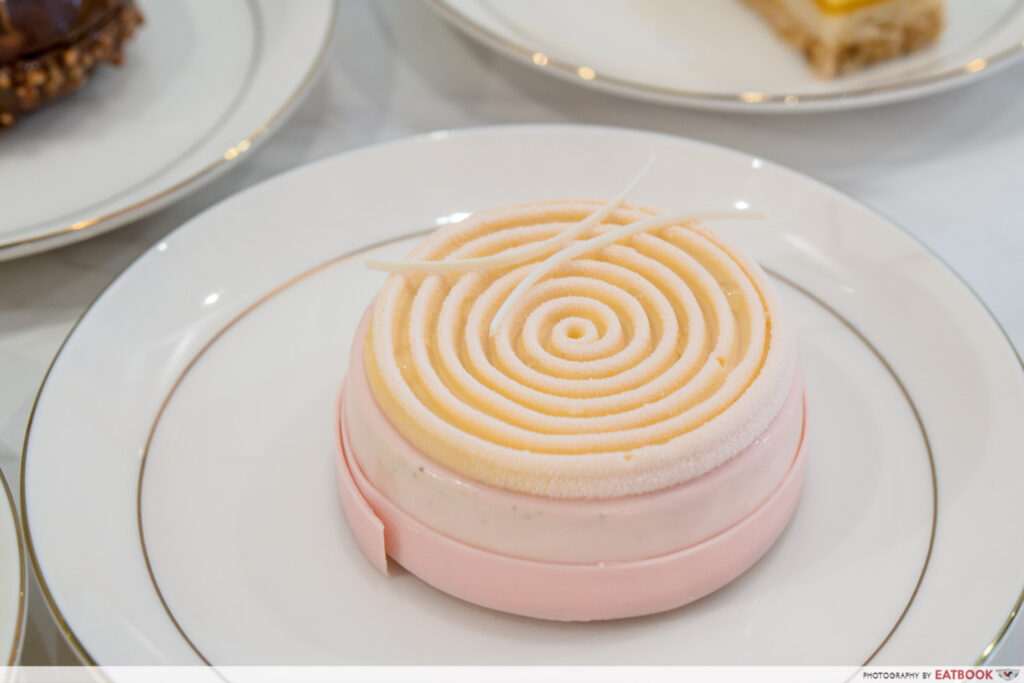 Overwhelmed by the choices of beautiful cakes on display, I decided to ask for recommendations and was pointed to the Tourbillon Fruit'Thé ($9.30).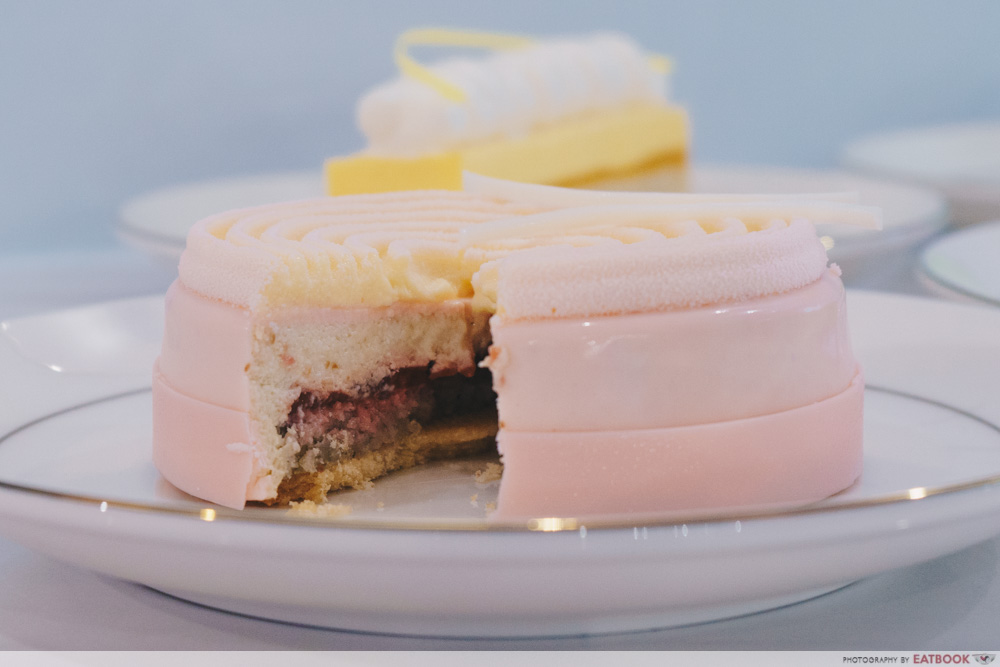 Highly favoured among diners, the pastel pink treat features an outer layer of white chocolate with jasmine tea mousse and lychee crémeux. This opens to reveal a composite of raspberry and grapefruit compote, nestled between citrus shortbread and jasmine tea sponge.
The elegant appearance of the cake matches its delicate taste profile, with a mellow fruity note that shone against the white chocolate and jasmine tea mousse. Of all the cakes we tried, this was the lightest and would def' be the best to have after a heavy dinner.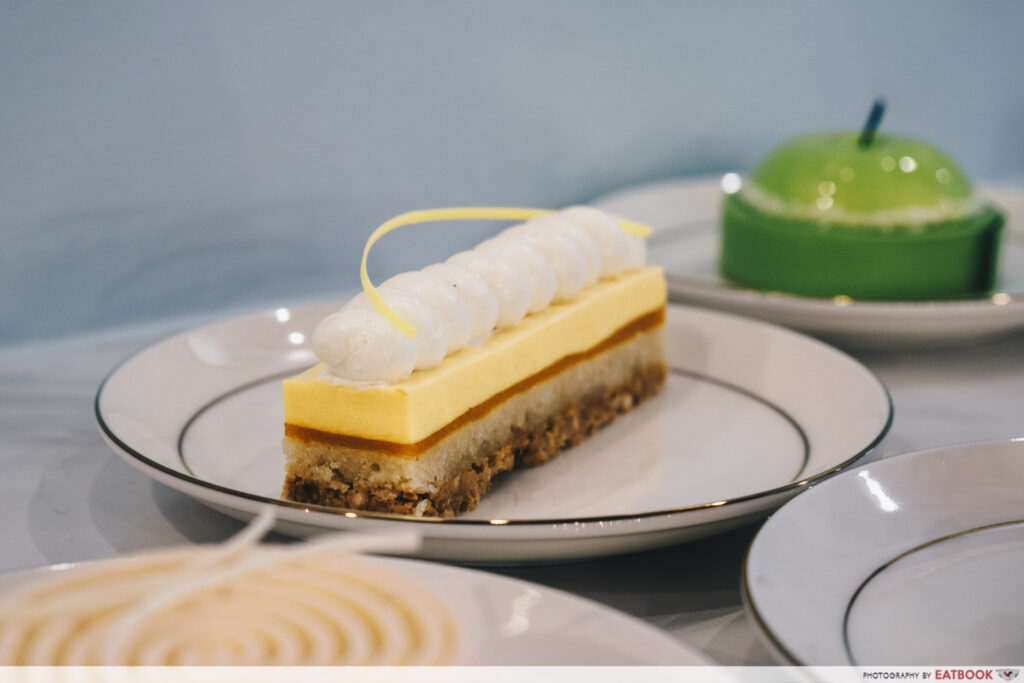 Standing out amongst all the circular desserts was the Exotique ($9.30). Bright in colour and taste, this zesty block features a brittle base made from cornflakes, which comes stacked with vanilla tea sponge and a fruity layer of compote and cream.
A nod towards tropical fruits, the compote and cream had sharp notes of passionfruit and mango. My dining companion doesn't fancy fruit cakes in general, but was madly in love with this concoction.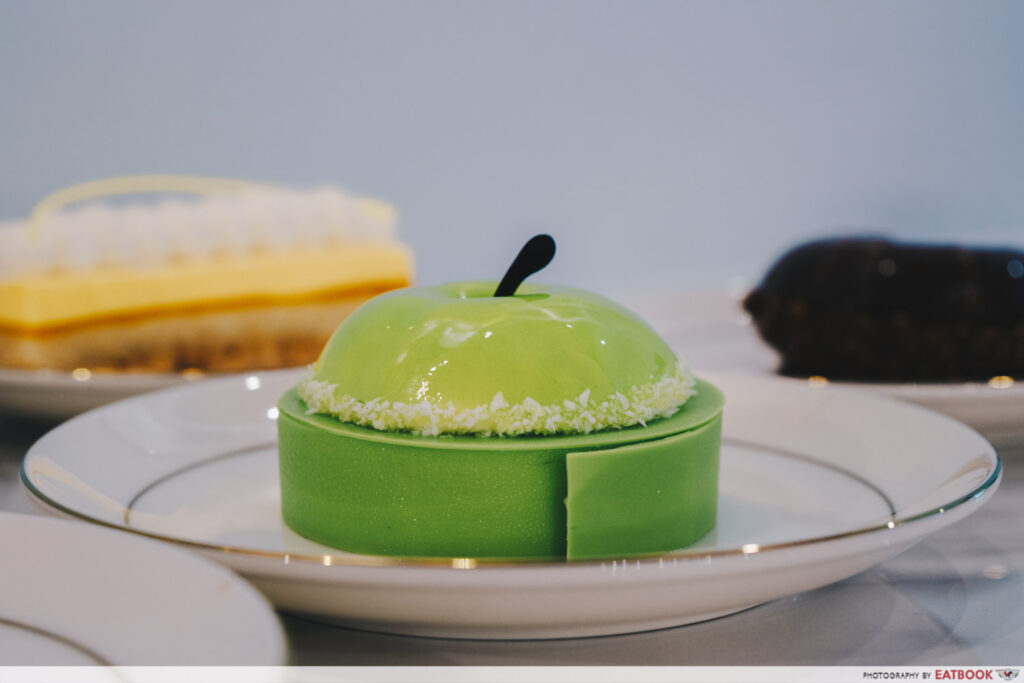 Of course we had to get the Pompom ($9.30), which sold out on their opening day. The prettiest dessert of the lot, the halved apple is actually made from green apple cream. The cream was sour yet not tart, making it easy to devour.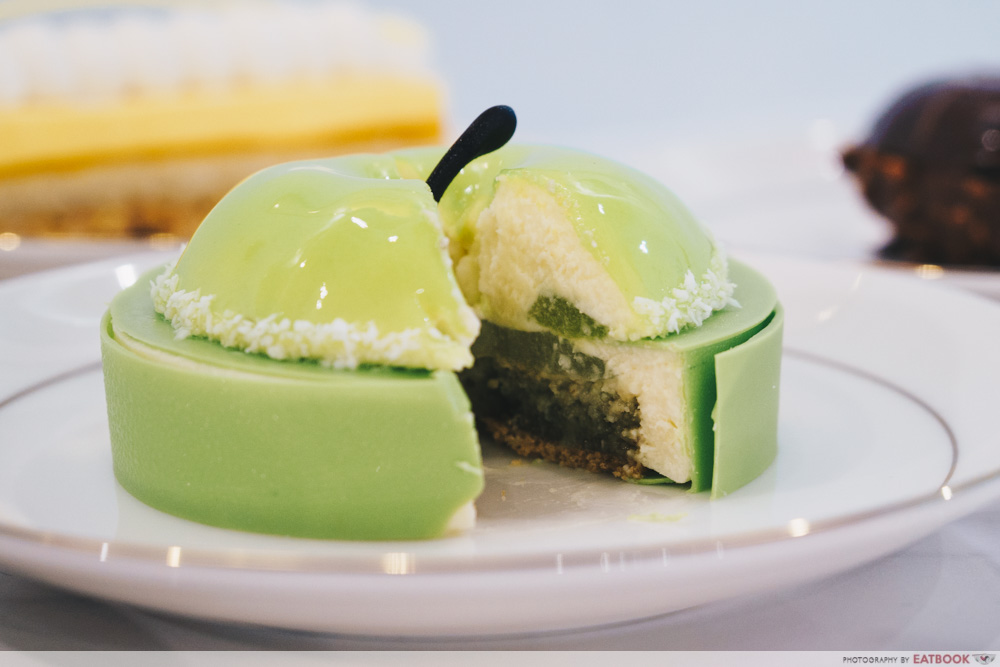 Beneath was a pistachio tea cake with a citrus shortbread base and green apple jelly filling. The crunchy base and chewy jelly gave textural contrast to the velvety cream, making it more palatable.
A Summer In Paris predominantly serves fruity creations, but they do have chocolate desserts too for chocoholics.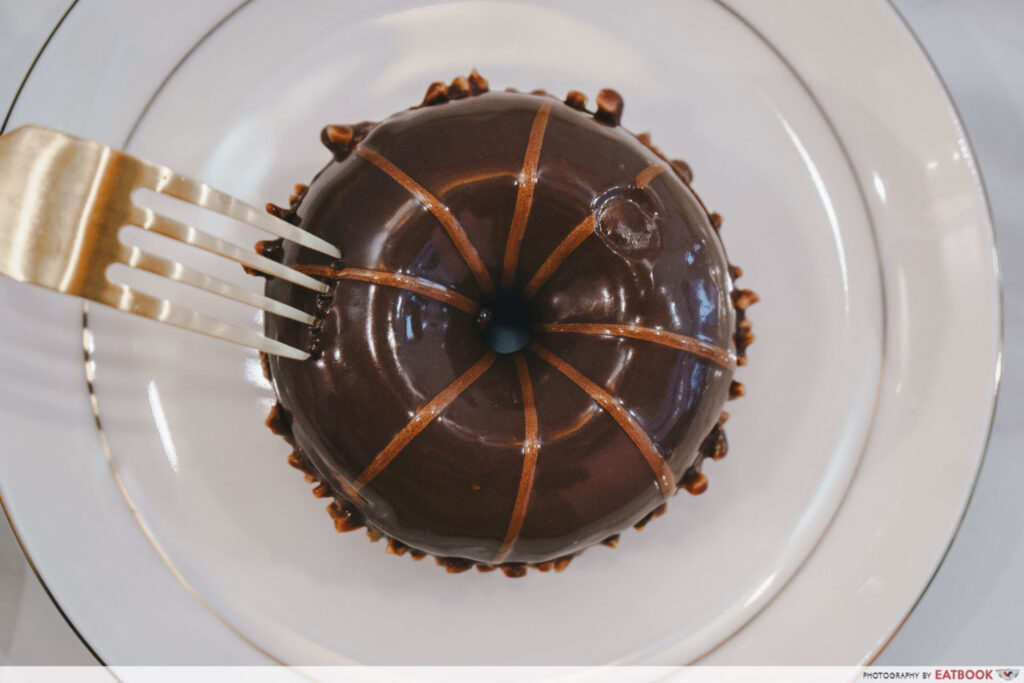 The Choco'dough ($8.80) lured me in, with its crunchy chocolate-coated almond base  juxtaposed against milk chocolate mousse.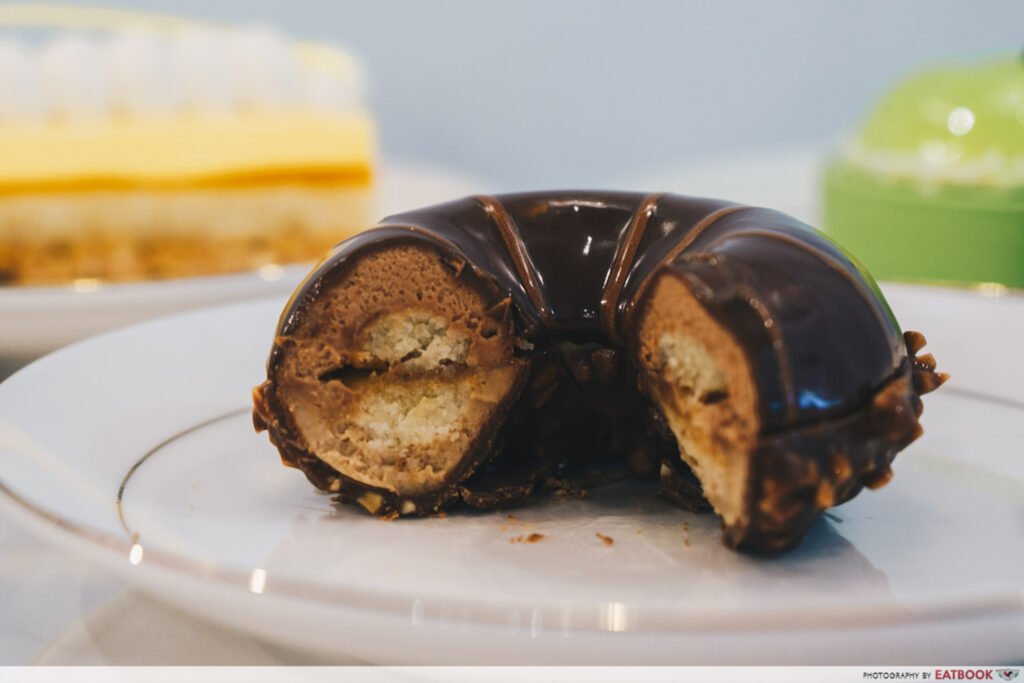 The milk chocolate was not sweet at all, and did not overshadow the fluffy almond sponge and orange and mandarin marmalade within. This dessert is a sure winner and will please any cake fan.
Ambience at A Summer In Paris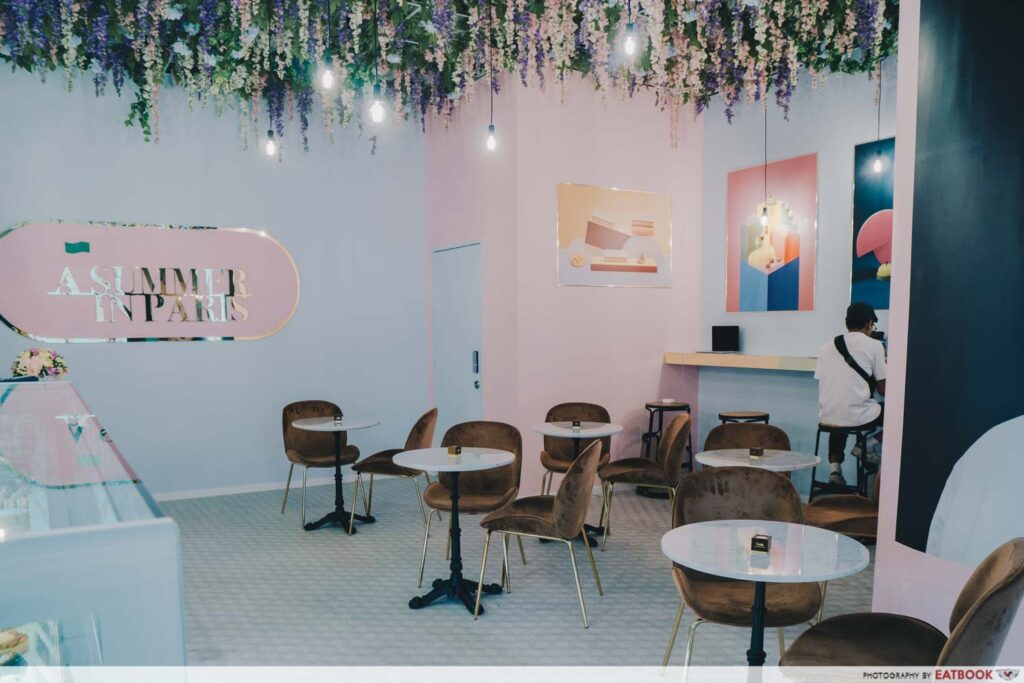 Located near the main entrance of VivoCity on the first floor, A Summer In Paris is feminine chic, with pastel walls and pretty blooms hanging off the ceiling. The best part of the experience is the friendly service staff, who are eager to share their input on what cakes to get. In fact, many curious customers streamed in while I was there, and I watched the staff patiently explain each cake and their flavour profile to those who asked.
The verdict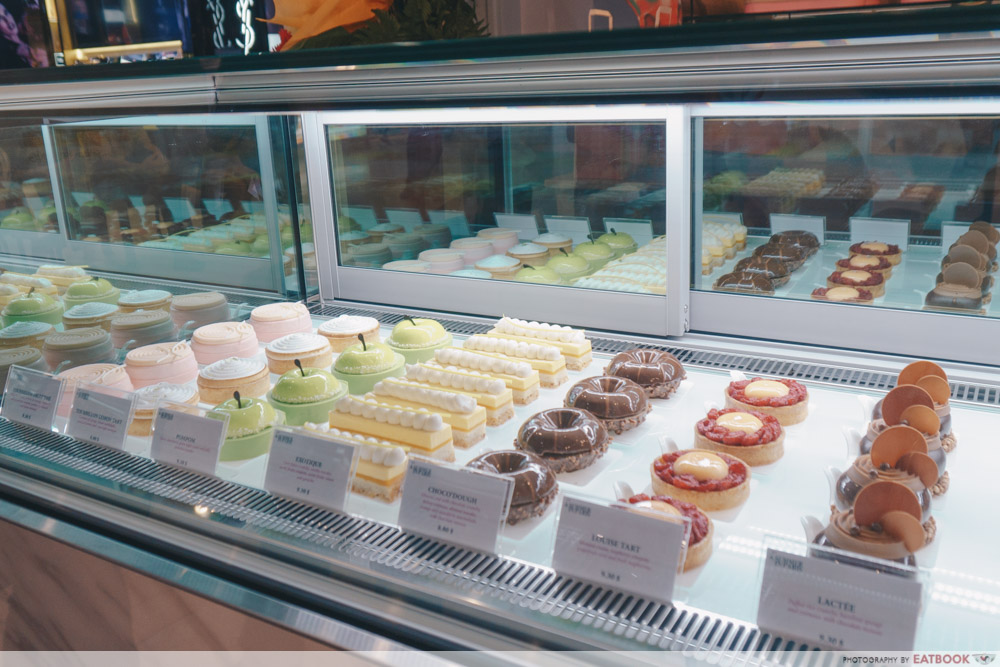 The cakes at A Summer In Paris may be more expensive than your hawker lunch, but I promise you won't regret splurging all your cash on them. They are exquisitely done, and none of the four I tried disappoint. A die-die must try haunt if you love toothsome treats!
Address: 1 Harbourfront Walk, #01-13, VivoCity, Singapore 098585
Opening hours: Daily 10am to 10pm
Tel: 9381 2312
Website
A Summer In Paris is not a halal-certified cafe.
Photos taken by Katie Boon.
This is an independent review by Eatbook.
Summary
Pros
– Exquisite desserts
– Flavours are well-balanced
– Friendly staff
– Gorgeous interior
Cons
– Expensive
Recommended dishes: Tourbillon Fruit'Thé ($9.30), Exotique ($9.30), Choco'dough ($8.80)
Opening hours: Daily 10am to 10pm
Address: 1 Harbourfront Walk, #01-13, VivoCity, Singapore 098585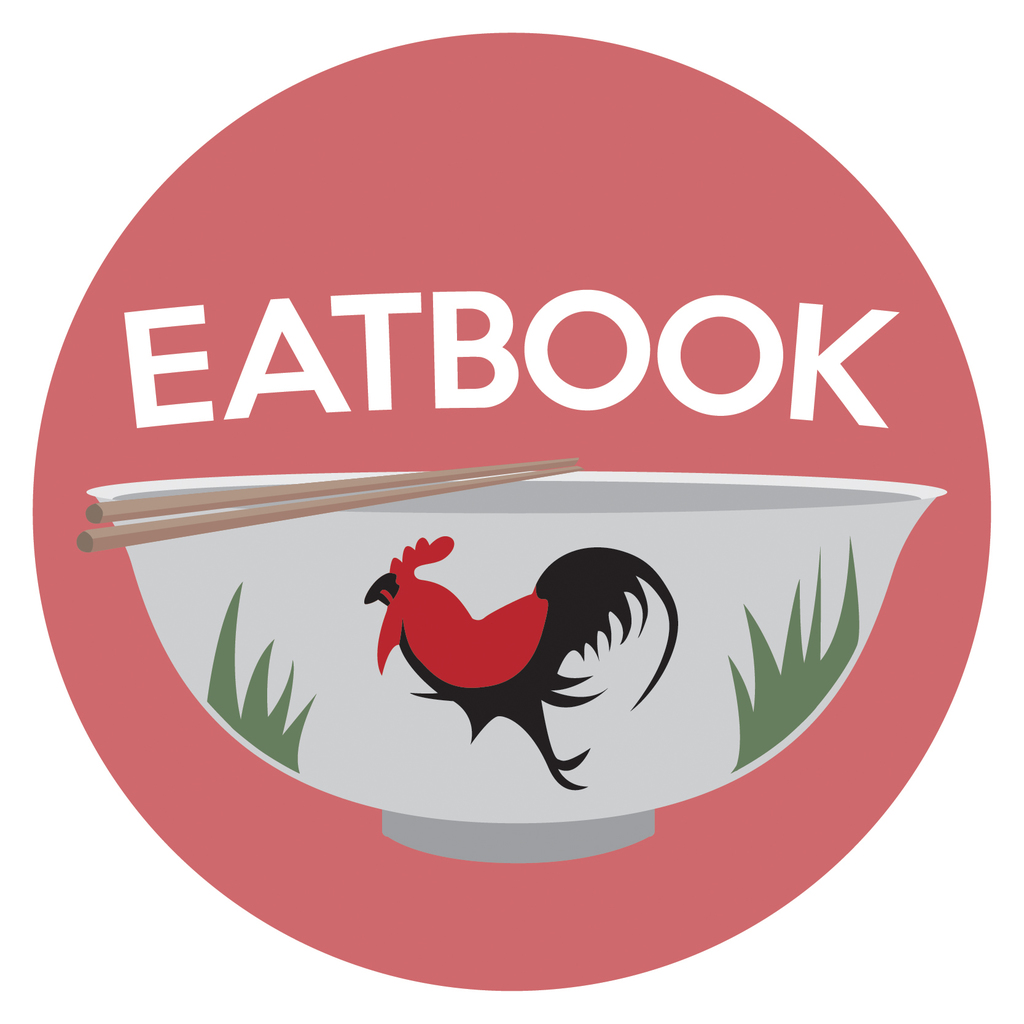 Drop us your email so you won't miss the latest news.