---
Best dessert places of 2018
---
Back in the day, eating an entire pint of Häagen-Dazs while watching How I Met Your Mother in bed used to be a monthly routine – #bless my teenage metabolism. While I now exercise way more self-control when eating ice-cream at home, I still find it hard to say no to desserts outside. If you feel the same, check out these best dessert places that we've sourced for, as part of our inaugural Eatbook Top 50 Awards!
---
For those on a budget (<$5)
---
1. Nasty Cookie
---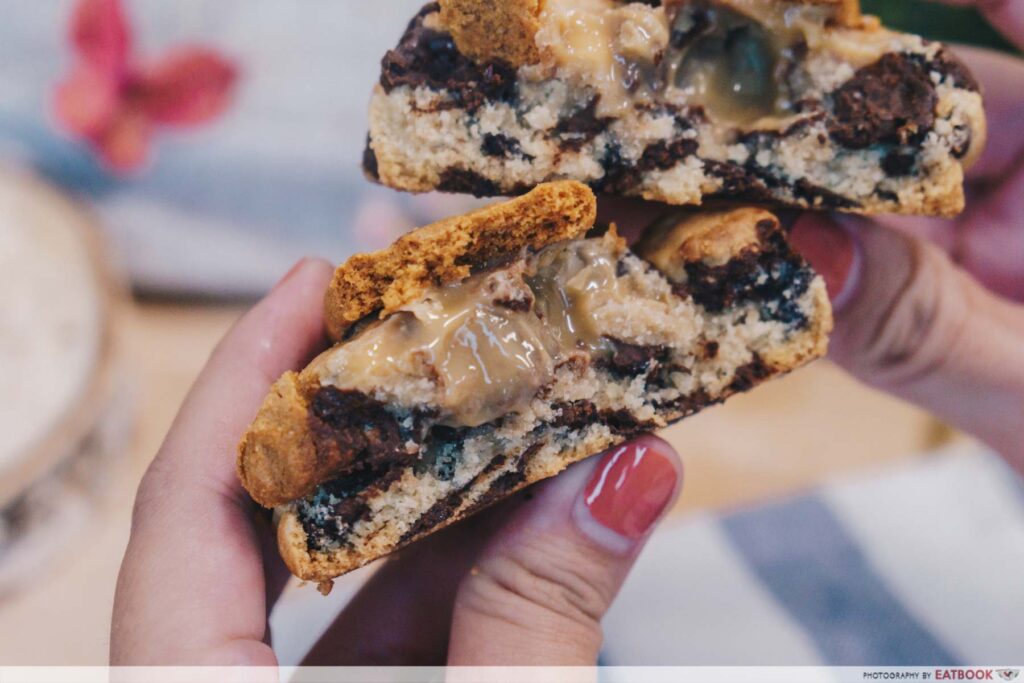 We've all seen that picture of monster cookies oozing with chocolatey goodness on Instagram. To actually hold them in our hands, however, is a whole new experience. Get in on it by feasting on these babies from online shop Nasty Cookie.
With prices starting at $3.40, the cookies come in flavours such as Reeses Cup and Lets Pretzel. Customise each giant cookie by filling it with Nutella, marshmallow or dulce de leche. Some of our favourite combinations are Dark Choc Chip with Nutella ($4.20), Peanut Butter Chips with Nutella ($4.90) and Biscoff Cookie with Dulce de leche ($4.90). There is a minimum order of four cookies and a delivery fee of $5, so pull your clique together and do a mass order for your next gathering!
Check out our full review of Nasty Cookie!
Nasty Cookie Review: Soft Monster Cookies With Nutella, Marshmallow, And Oreo Fillings
---
2. Brotherbird Milk & Croissants
---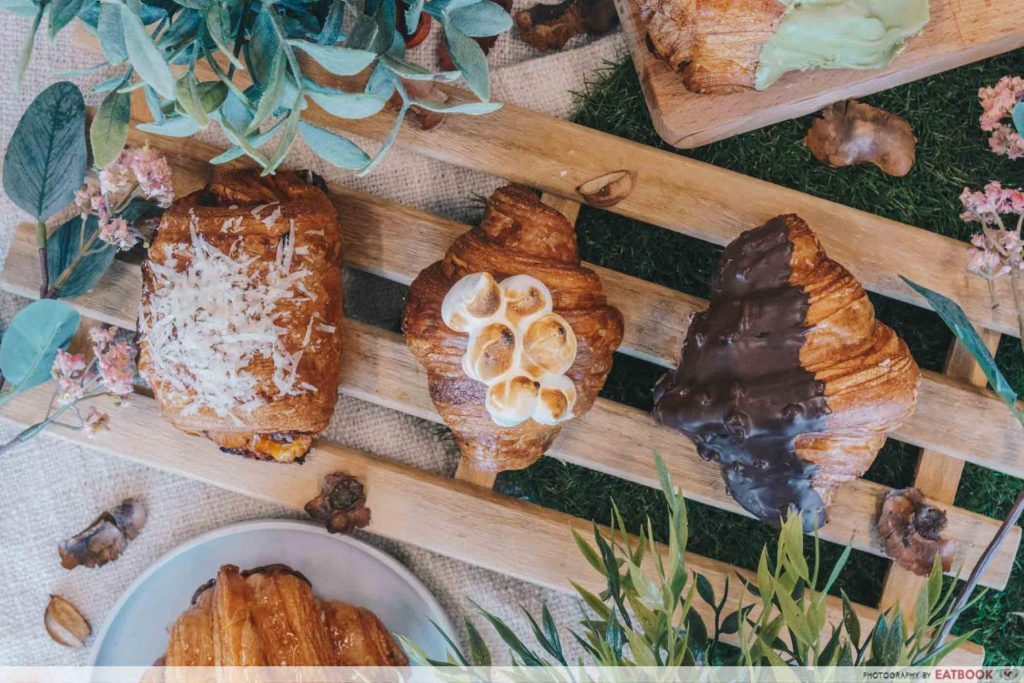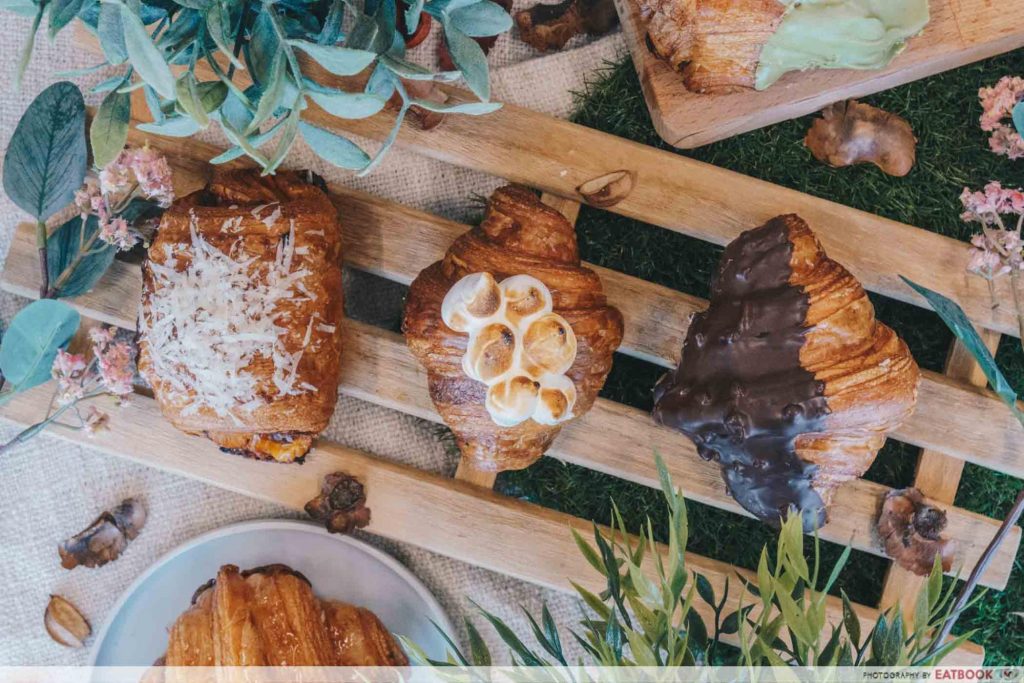 For a midday snack, pop by Brotherbird Milk & Croissants. As the first in Singapore to specialise in mochi croissants, the bakery offers a range of the chewy yet flaky pastry. You'll love the original Mochi Croissant ($3) for its crispy crust and buttery layers. For something sweeter, a Lemon Meringue Mochi Croissant ($4) or Matcha Kit-Kat Mochi Croissant ($4) will do the trick. If you're lucky, you might also find savoury options on display.
They're always offering new flavours, so don't be surprised to find choices such as Thai milk tea or Kinder Bueno too. Drop them a call to find out what's on the menu and remember to head down early because these tasty gems sell like hotcakes.
Check out our full review of Brotherbird Milk & Croissants!
Brotherbird Milk & Croissants Review: Unique Mochi Croissants With Matcha Kit-Kat, Hazelnut Fillings And More
Address: 114 Lavender Street, #01-05, CT Hub 2, Singapore 338729
Opening hours: Wed-Mon 12pm to 5pm or until everything is sold out
Tel: 9296 4997
Website
---
For casual after-meal treats (<$10)
---
3. Aqua S
---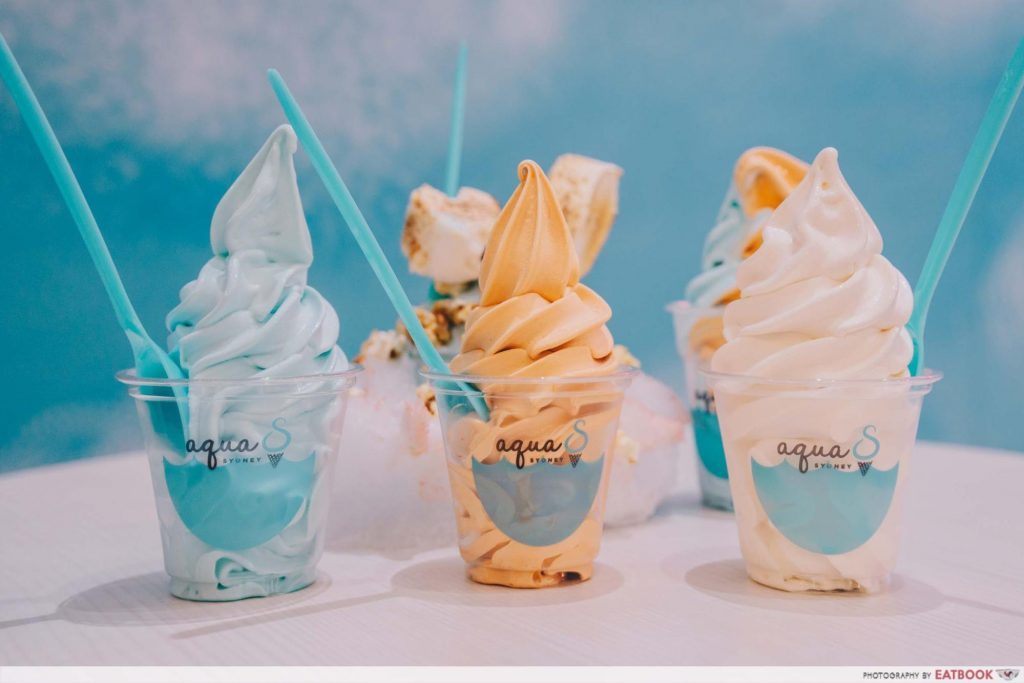 While the ice-cream at Aqua S looks just like any other soft serve out there, it offers a world of difference in terms of taste. A must-try is their Sea-Salt flavour, which melts into subtle umami notes that you wouldn't find in regular ice-cream. They also offer seasonal flavours that rotate every fortnightly, and some flavours they've offered include pistachio and honey lavender. A regular cup goes at $5.40, while a large cup or black waffle cone costs $6.40.
Make it an Insta-worthy dessert by adding toppings at $0.80 each. Options include popping candy, popcorn, torched marshmallow, and fairy floss, which is basically a rim of cotton candy.
Check out our full review of Aqua S!
Aqua S Review: Sea Salt And Thai Milk Tea Soft Serve With Fairy Floss From Sydney
Address: 437 Orchard Road, #B1-01, Orchard Xchange, Singapore 238878
Opening hours: Daily 10am to 10pm
Website
---
4. C Plus
---

C Plus stands out by offering desserts from home-bakers. Some of the bakers are Insta-famous, which means you've probably seen their creations in pictures before. Cakes to try here include the Kopi & Kaya Toast Cake ($7.50+) from Our First Bake and Ondeh Ondeh Cake ($7.50+) from Beeli Bakes.
If you're into pies, definitely check out the Nutella Pie ($7+) by ELIJAH Pies. A surprisingly good choice is their Wheat Buttermilk Waffle ($7.50+), which is crispy on the first bite and oh-so-fluffy inside. Add $2.50+ for a scoop of ice-cream on top.
Check out our full review of C Plus!
C Plus Review: Cakes By Famous Home Bakers Including Masterchef Finalist Gen
Address: 217 Rangoon Road, Singapore 218457
Opening hours: Wed-Sun 10am to 10pm
Website
---
5. A Summer in Paris
---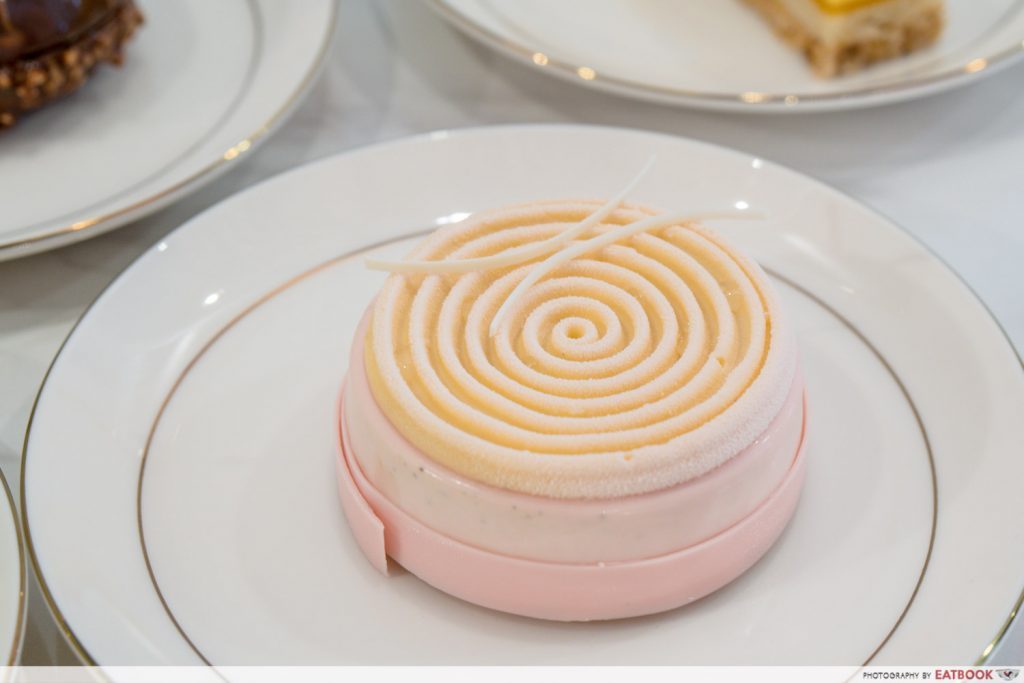 A new addition to VivoCity, A Summer in Paris is the ideal date night location. The cosy cake cafe is painted in pastel hues, and you'll find pretty blooms dangling from the ceiling. Decor aside, their cakes are equally gorgeous. They are created by pastry chef Yann Brys, who won the prestigious Meilleurs Ouvriers de France award in 2011.
Sink your teeth into the pastel pink Tourbillon Fruit'Thé ($9.30). This jasmine tea cake comes with a layer of white chocolate and lychee cremeux, and within it hides zesty raspberry and grapefruit compote. Choco'dough ($8.80) is also worth a try, thanks to well-balanced flavours from milk chocolate, almond sponge, and marmalade.
Check out our full review of A Summer in Paris!
A Summer In Paris Review: Award-Winning Pastry Chef From France Opens His First Shop At VivoCity
Address: 1 Harbourfront Walk, #01-13, VivoCity, Singapore 098585
Opening hours: Daily 10am to 10pm
Tel: 9381 2312
Website
---
For fancy first dates (<$15)
---
6. Tarte by Cheryl Koh
---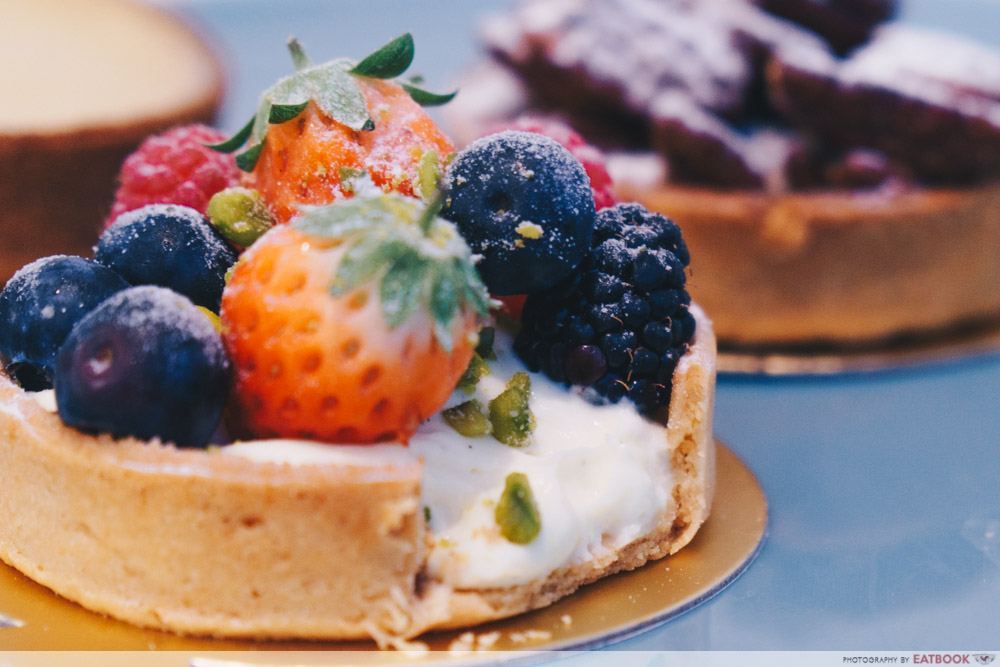 Tarte by Cheryl Koh has been around for a while, but they've revamped earlier this year to include a bigger space and more items on their menu. You'll find a variety of palm-sized tarts on display at this bright and classy cafe.
While fruit tarts can be unbearably sour, the Mixed Berries ($10) tart here is anything but. The fresh berries used are sweet and bursting with juices, pairing wonderfully well with the light vanilla cream base. Ginger Spice ($10) and Pecan Tart ($10) are also clear winners despite being new to the menu.
Check out our full review of Tarte by Cheryl Koh!
Tarte by Cheryl Koh Review: Comforting Pecan And Ginger Spiced Tarts For Christmas
Address: 1 Scotts Road, #02-12, Shaw Centre, Singapore 228208
Opening hours: Daily 10am to 10pm
Tel: 6235 3225
Website
---
7. D9 Cakery
---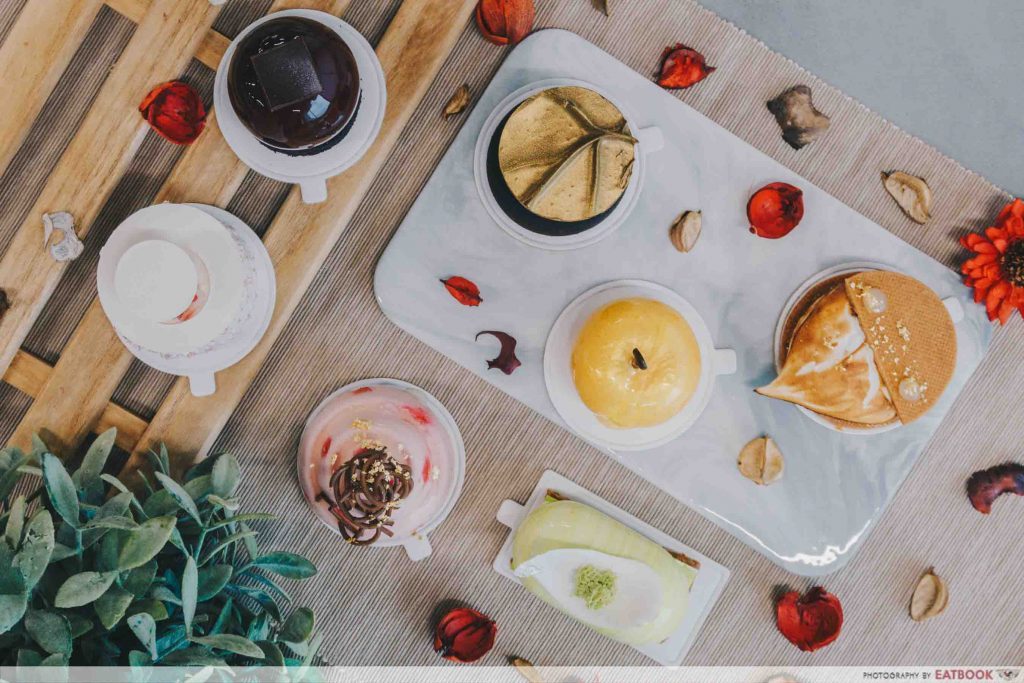 Nestled within Hilton Singapore, D9 Cakery offers delectable cakes that look like gems. These beautiful treasures are small but pack complex flavours within each bite. Looking regal is The Royal Hazel ($10), a hazelnut-chocolate cake that comes with a golden crown. Bite into it for a mouthful of creamy Valrhona chocolate mousse and gianduja mixed with crispy feuilletine.
Those who prefer fruity flavours can go for The Citron ($10), a unique lemon tart made of torched meringue wrapped around zesty lemon curd. The combination is then sandwiched between two buttery discs of crust pastry.
Check out our full review of D9 Cakery!
D9 Cakery: IG-Worthy Cakes From Hilton Singapore That Are Worth The Money
Address: 581 Orchard Road, Lobby, Hilton Singapore, Singapore 238883
Opening hours: Daily 9:30am to 9:30pm
Tel: 6730 3392
Website
---
8. FATCAT Ice Cream Bar
---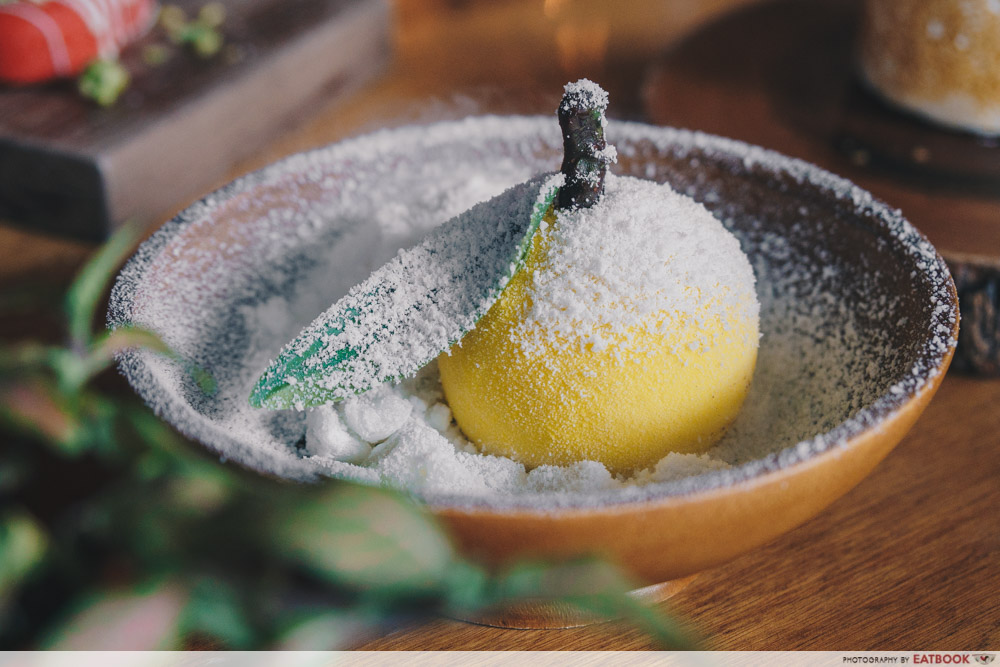 FATCAT Ice Cream Bar is not new to the scene, but their ever-changing menu always brings something novel to our senses. Those who enjoy tart desserts will like Yuzu ($12), an edible art piece that looks just like the Japanese fruit. It comprises yuzu juice and freeze-dried passion fruit, and the "snow" atop is Calpis-flavoured powder.
Coffee lovers can order an Affogato ($12) instead. The decadent treat combines espresso ice-cream with 70% Valrhona Guanaja chocolate mousse, and it's served with a shot of espresso on the side.
Check out our full review of FATCAT Ice Cream Bar!
FATCAT Ice Cream Bar Review: IG-Worthy Desserts In Bedok That Taste As Good As They Look
Address: Block 416 Bedok North Avenue 2, #01-25, Singapore 460416
Opening hours: Mon 1pm to 10pm, Wed-Thur 1pm to 10pm, Fri 1pm to 11pm, Sat 12pm to 11pm, Sun 12pm to 10pm
Website | Menu
---
9. Caffe Fernet
---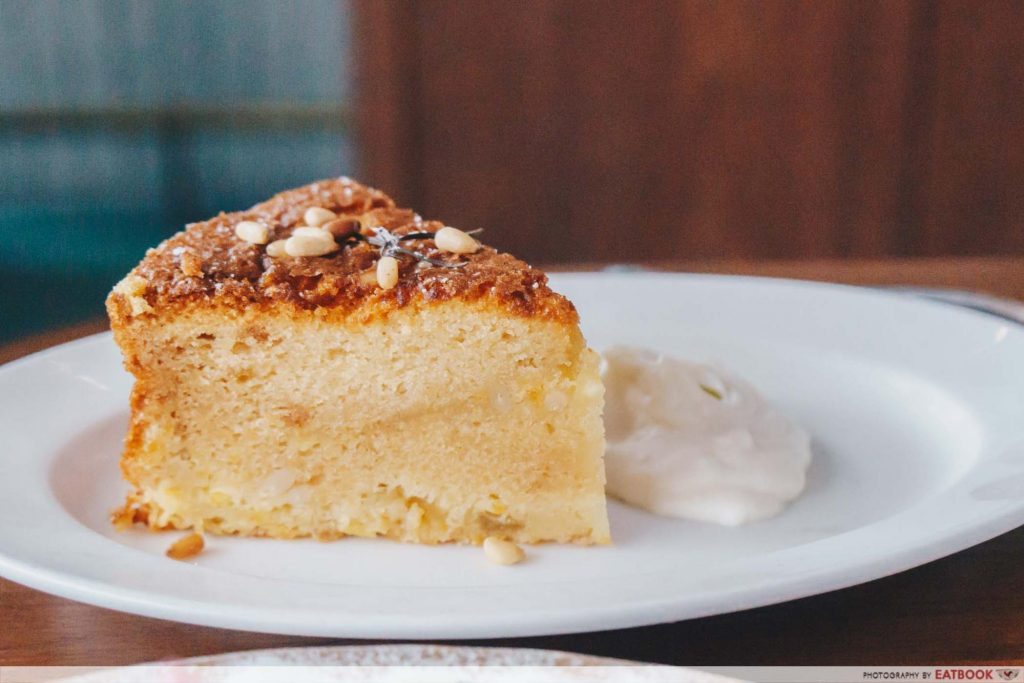 Started by the duo behind Jigger & Pony, Caffe Fernet is one to KIV for payday. Dining at this Italian restaurant may not be easy on the pocket, with pasta dishes priced at an average of $27++, but the quality you get here is legit. We're here to talk about desserts though, and the star of the show is their Olive Oil Cake ($14++).
While an olive oil cake doesn't sound the most appetising, its taste is definitely in a league of its own. The dense and moist slice is topped with citrus peel to bring out the floral notes of olive oil. Eat it with the mascarpone at the side for a smooth mix of sweetness and bitter flavours from the oil.
Check out our full review of Caffe Fernet!
Caffe Fernet Review: Unique Olive Oil Cake And Italian Food At This Insta-Worthy Restaurant
Address: 70 Collyer Quay, #01-05, Customs House, Singapore 049323
Opening hours: Mon-Thur 12pm to 12am, Fri-Sat 12pm to 2am, Sun 11am to 5pm
Tel: 9178 1105
Website
---
10. House of MU  
---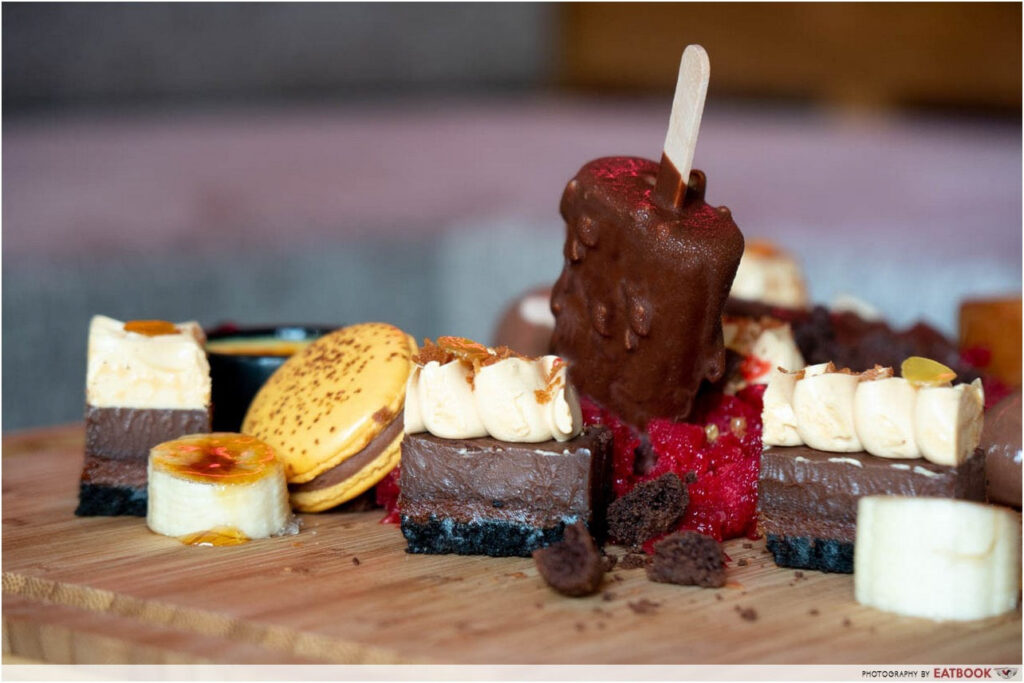 The most eye-catching of the lot is this Dessert Platter ($48++) from House of MU. Enough to feed four, the sweet feast is painstakingly crafted by Chef Song from the now-defunct Fat Lulu's. The board of desserts comprises cakes, macarons, caramelised banana, and two chocolate-coated ice-cream bars.
Every component is good on its own, with the ice-cream bar being the highlight. Hidden beneath the hard coat of chocolate is peanut butter ice-cream, which complements the tart raspberry granita it's served on. The fudgy Oreo cake and bites of caramelised banana are worth fighting for too.
Check out our full review of House of MU!
Address: 11 Mohamed Sultan Road, Singapore 239010
Opening hours: Tue-Thur & Sun 12pm to 10:30pm, Fri-Sat 12pm to 12am
Tel: 6732 1011
Website
---
Check out these best dessert cafes
---
You know what they say, there's always space for dessert no matter how full you are. Make your post-meal indulgence worth it with these stellar dessert places that offer sweet standouts. Check out more Eatbook Top 50 Awards 2018 winners to find out where to head to for your next meal!
50 Best Food Places In Singapore For All Budgets – Eatbook Top 50 Awards 2018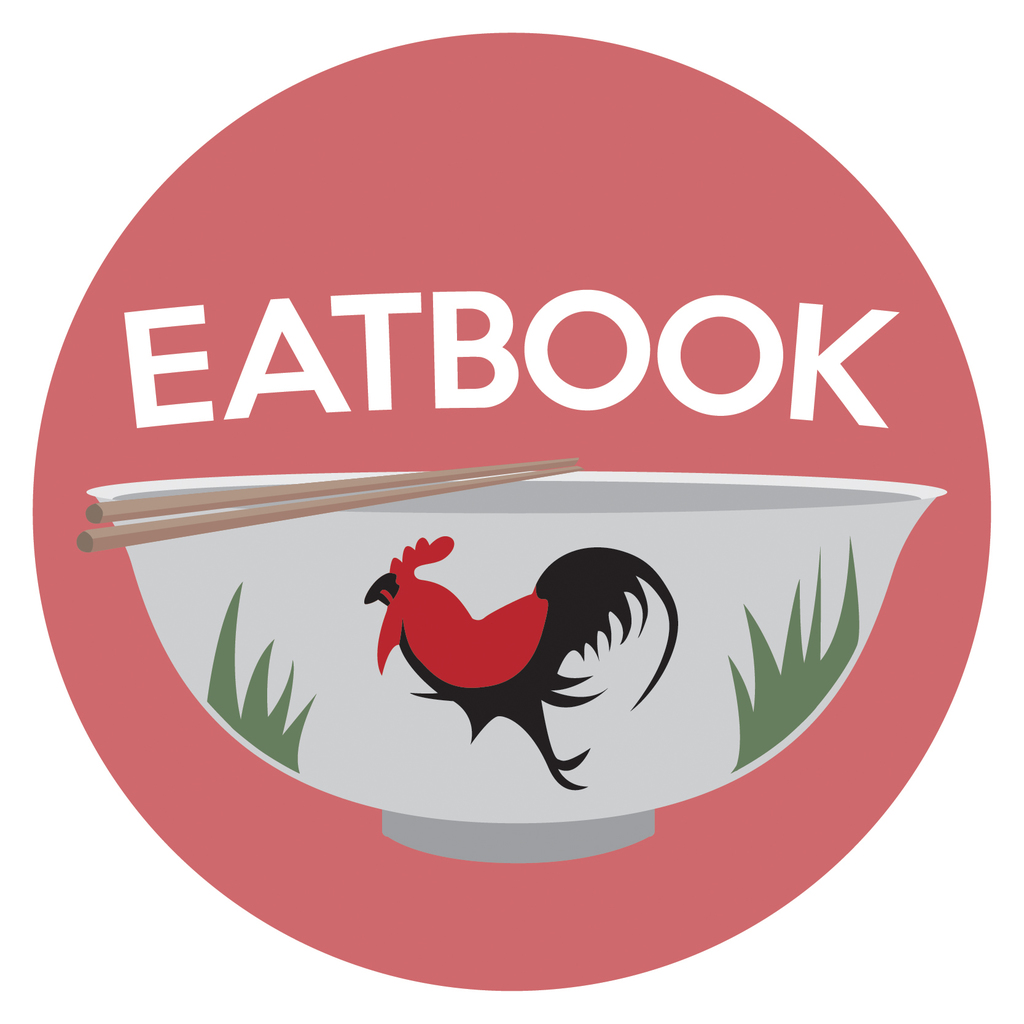 Drop us your email so you won't miss the latest news.