D9 Cakery at Hilton Singapore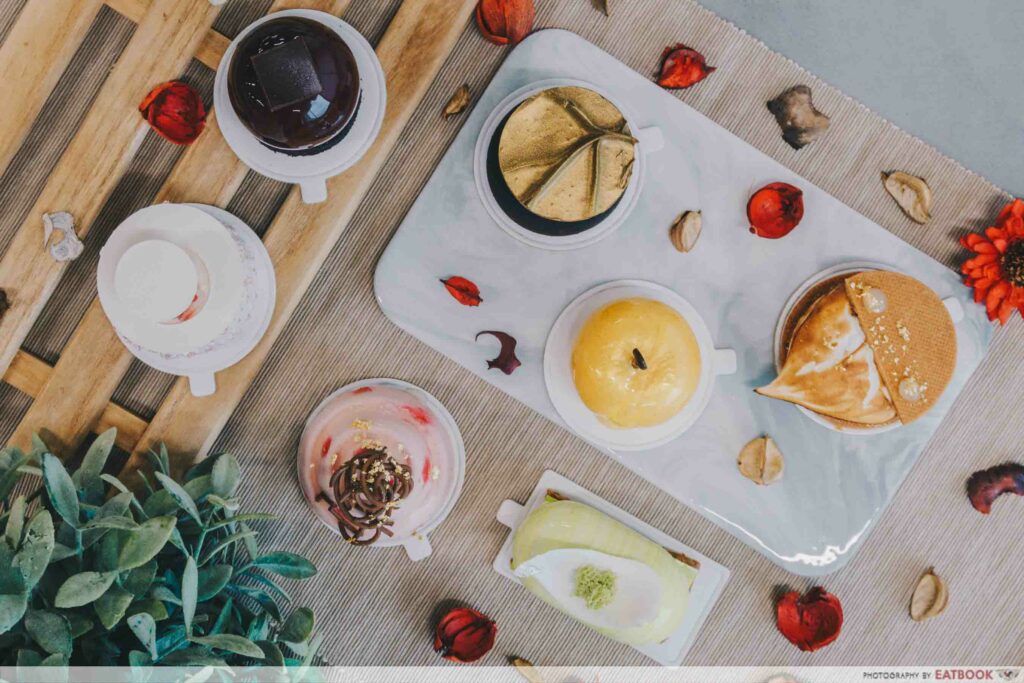 There are three types of cakes in the world: atas cakes, shopping mall cakes, and neighbourhood cakes. The cakes at Hilton Singapore's D9 Cakery belong to the very first category. They exist not to satisfy your everyday cake craving, but to be shared on special days with special people.
In August this year, their Executive Pastry Chef Cindy Khoo came up with a new dessert collection that's inspired by Tokyo and Paris. As the crazy cake lady that I am, I tried seven of the cakes offered at one shot.
Cakes at D9 Cakery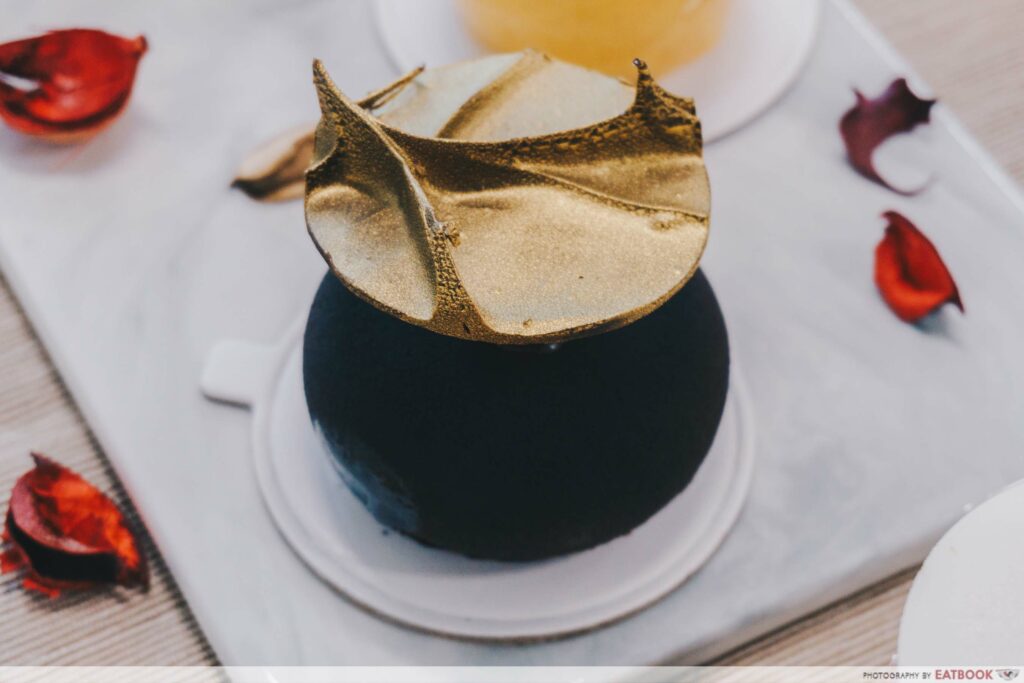 Out of the seven I had, three stood out. First up is The Royal Hazel ($10), which comprises gianduja, Valrhona chocolate mousse, and feuilletine. The cake is completed with a golden dark chocolate hat.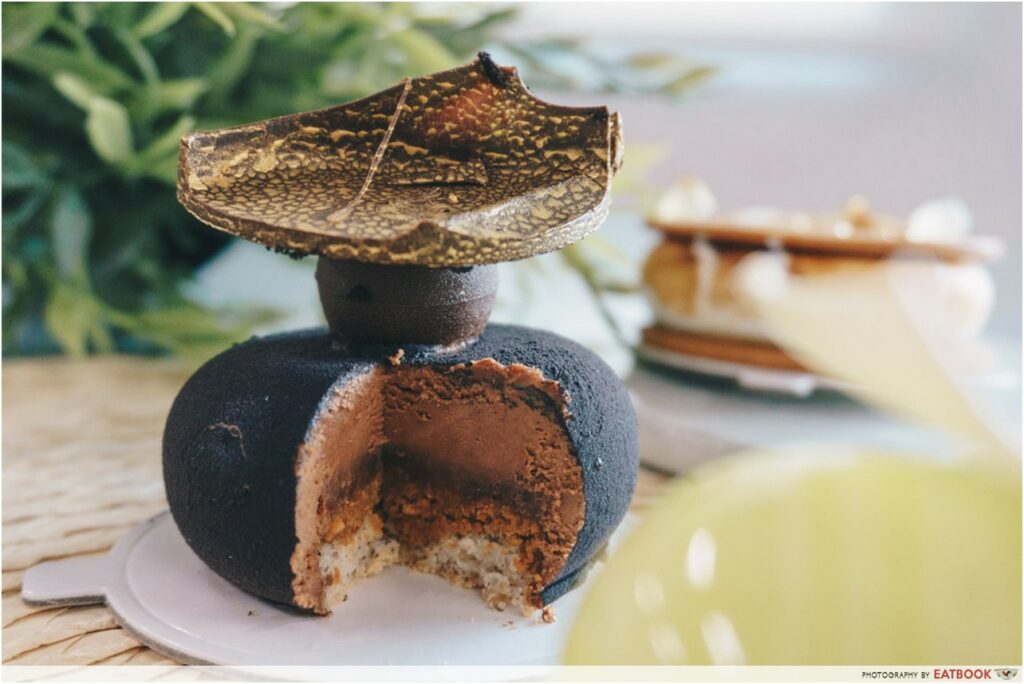 Gianduja is a term for hazelnut-chocolate spreads, and the gianduja in this cake was richer and more fragrant than your usual Nutella. The feuilletine made the creamy dessert more interesting by offering little crispy bits in each mouthful.
I liked how the cake wasn't cloyingly sweet, with the slightly bitter chocolate taking centrestage. Packed with flavour yet light in texture, this is the kind of dessert that you can finish in five minutes, without feeling jelak afterwards.
9 Best Chocolate Cakes In Singapore That Are Classically Fudgy And Dense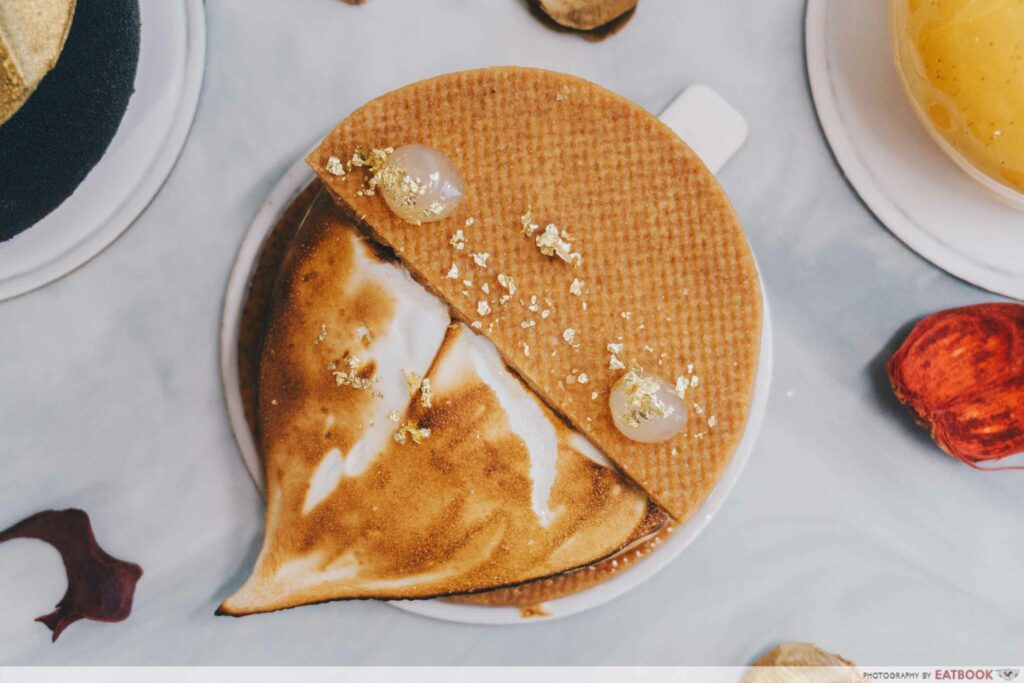 Lemon tarts have always been my go-to, so I naturally had to try The Citron ($10). The highlight here is the torched meringue that's wrapped around zesty lemon curd and sandwiched between buttery crust pastry.
I had a taste of the meringue after it got onto my hand by accident, and was struck by how light it was. Its sweetness complemented the tart lemon curd wonderfully, and the combination instantly dissolved and dispersed across my taste buds.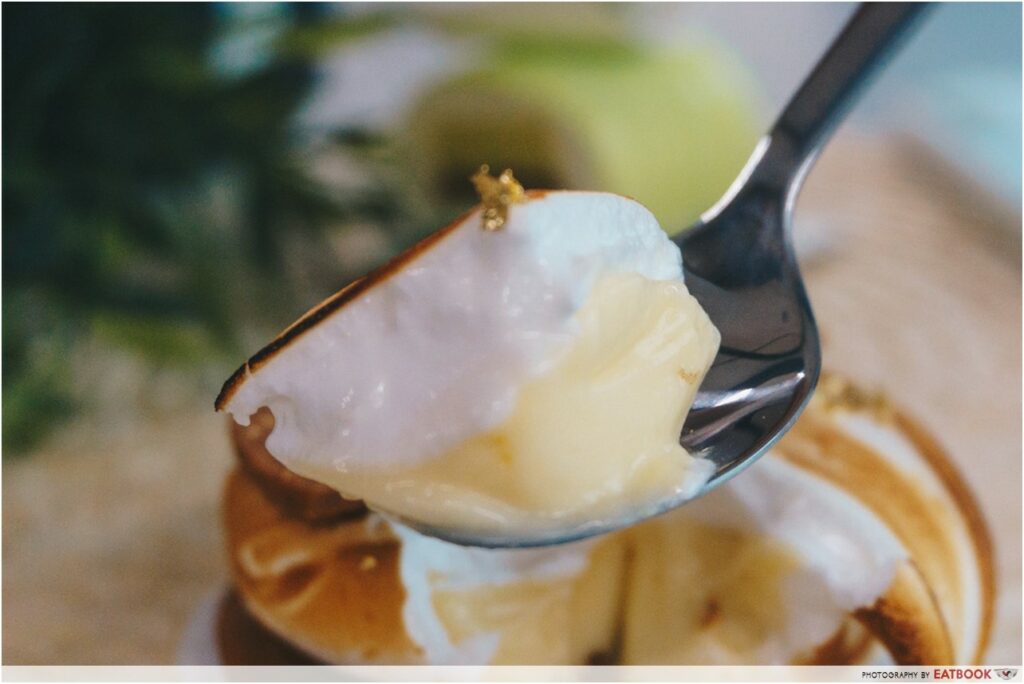 While this lemon tart looked gorgeous, eating it was anything but. It was impossible to get hold of the crust on top without flattening the lemon curd and making a mess on the table.
When I finally managed to have a bite of everything together, I thoroughly enjoyed the mix of textures in my mouth. Unlike the lemon tarts from some cafes, the crust didn't overwhelm the filling at all. Instead, everything came together like a dream, with all the components supporting each other in both flavours and texture.
The last cake that got my attention was Belle ($10). Inside the hard green shell lies smooth coconut cream and bergamot cremeux, as well as a thin layer of crispy roasted pistachio streusel. At the bottom is a layer of chocolate as well as pastry crust.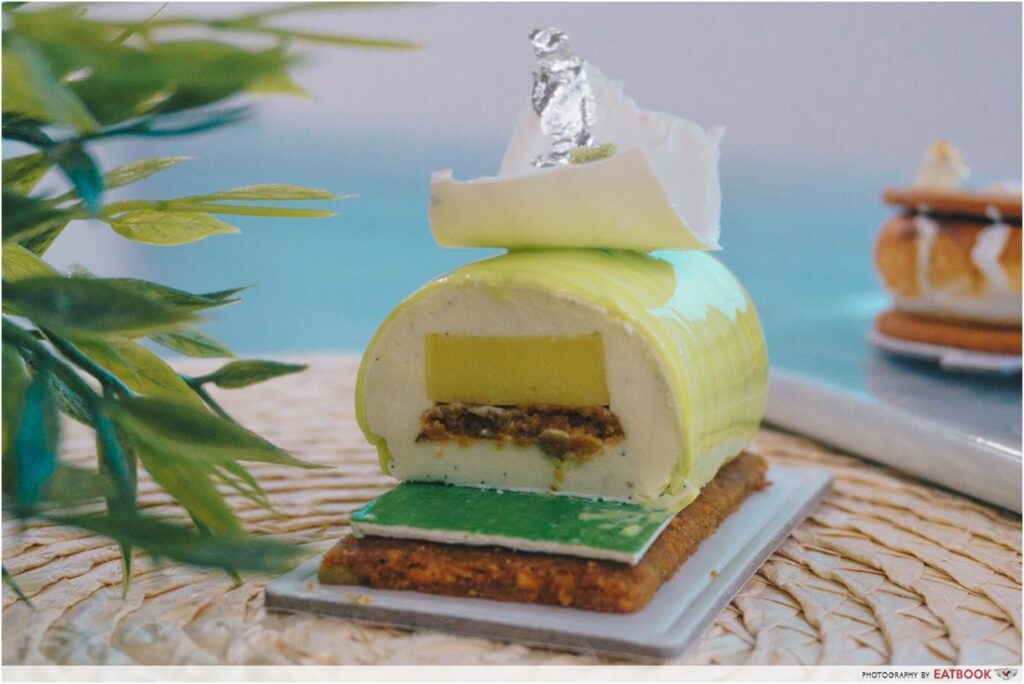 Rarely seen in Singapore, bergamot is a type of orange with either green or yellow skin. The bergamot cremeux – or pudding – was very citrusy, reminding me of yuzu. Pair it with the coconut cream and pistachio streusel for a harmonious mix of tart, nutty and subtly sweet notes.
I didn't see the point of the chocolate and pastry crust at the bottom. They were very hard, and my weak arms had to channel some Hulk-like strength to break into them. Just the beautiful green cake alone had satisfied my taste buds.
Ambience at D9 Cakery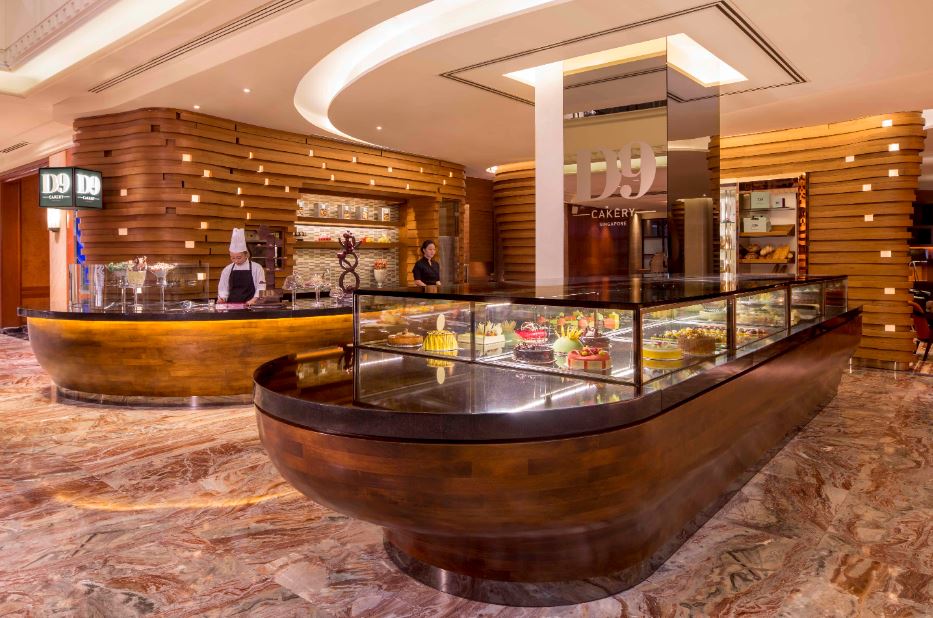 Found at the lobby of Hilton Singapore, D9 Cakery is a seriously luxe-looking cake shop. There's a six-metre-long glass display showcasing all their cakes and pastries – dessert lovers will have fun trying to decide what to get. You can call in advance to reserve their cakes, or just pop by and see what's good that day.
The verdict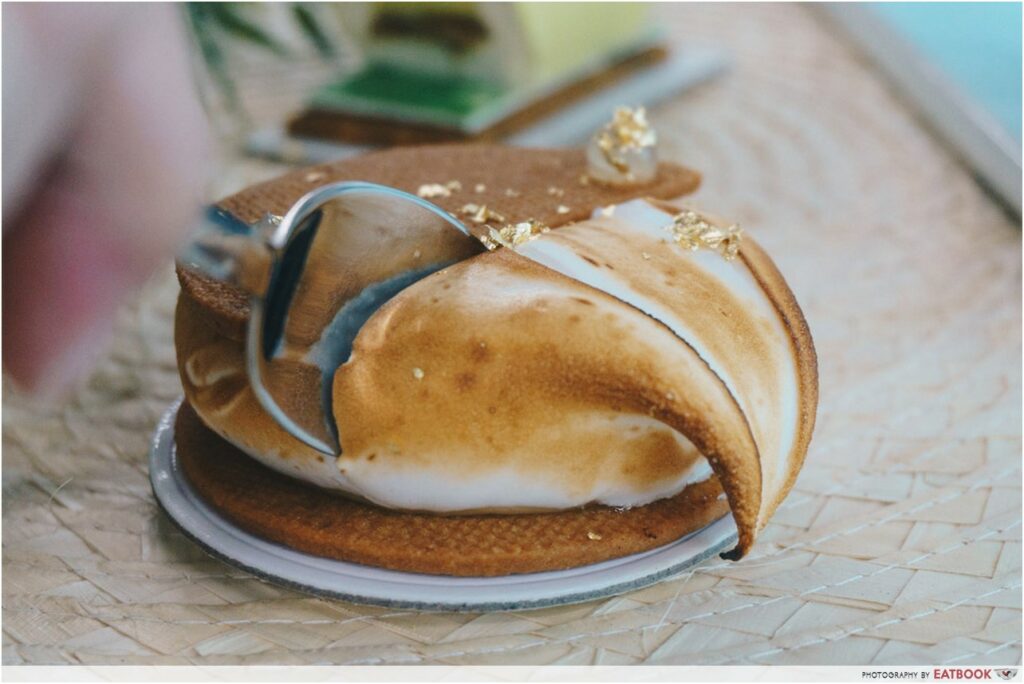 At 27 years-old, Chef Cindy already has seven years of experience in making pastries, and that really showed in the cakes we tried. I usually go for dense, fudgy cakes, but I still found myself falling in love with these. The pastries were so light without compromising on the rich flavour of each key ingredient used.
While I wouldn't splurge on these palm-sized cakes often, I would love to share them with my friends or family at celebrations. They're gems that are meant to be savoured slowly; if you devour them like wolves, you'd find these the most bo hua (not value-for-money) desserts ever because of their small size. So don't be put off by the price tags; give the sweet treats a shot and you'll find yourself pleasantly surprised.
If these cakes are out of your budget, check out these fudgy chocolate cakes or batik roll cakes instead!
Address: 581 Orchard Road, Lobby, Hilton Singapore, Singapore 238883
Opening hours: Daily 9:30am to 9:30pm
Tel: 6730 3392
Website
Photos taken by Lim An and Katie Boon.
This is an independent review by Eatbook.
Get These Batik Roll Cakes With Nutella Buttercream From An Online Bakery In Singapore
Summary
Pros
– Quality cakes
– Wide range of pastries
– Convenient location
Cons
– Expensive
Recommended dishes: The Royal Hazel ($10), The Citron ($10), Belle ($10)
Opening hours:
Daily 9:30am to 9:30pm
Address:  581 Orchard Road, Lobby, Hilton Singapore, Singapore 238883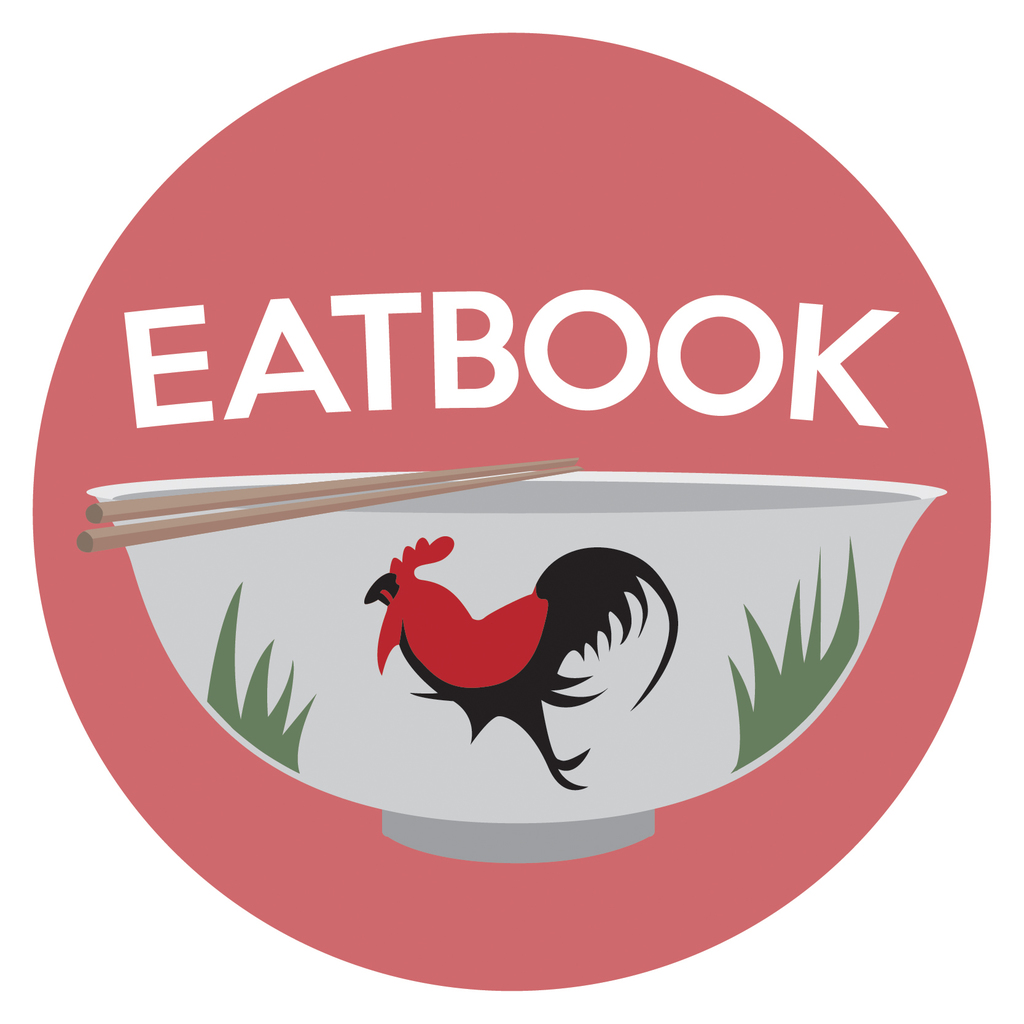 Drop us your email so you won't miss the latest news.