---
Best chocolate cakes for any occasion
---
As a kid, I've had my fair share of chocolate cakes. I love chocolate so much, I decided to work for a chocolate dessert cafe. So here are my picks of the best chocolate cakes in Singapore if you're in need of a cake for someone like me.
These cakes are ultra-classic, fudgy and dense, eschewing fancy toppings and frills in favour of a good ol' chocolate overdose.
---
1. The Durian Bakery
---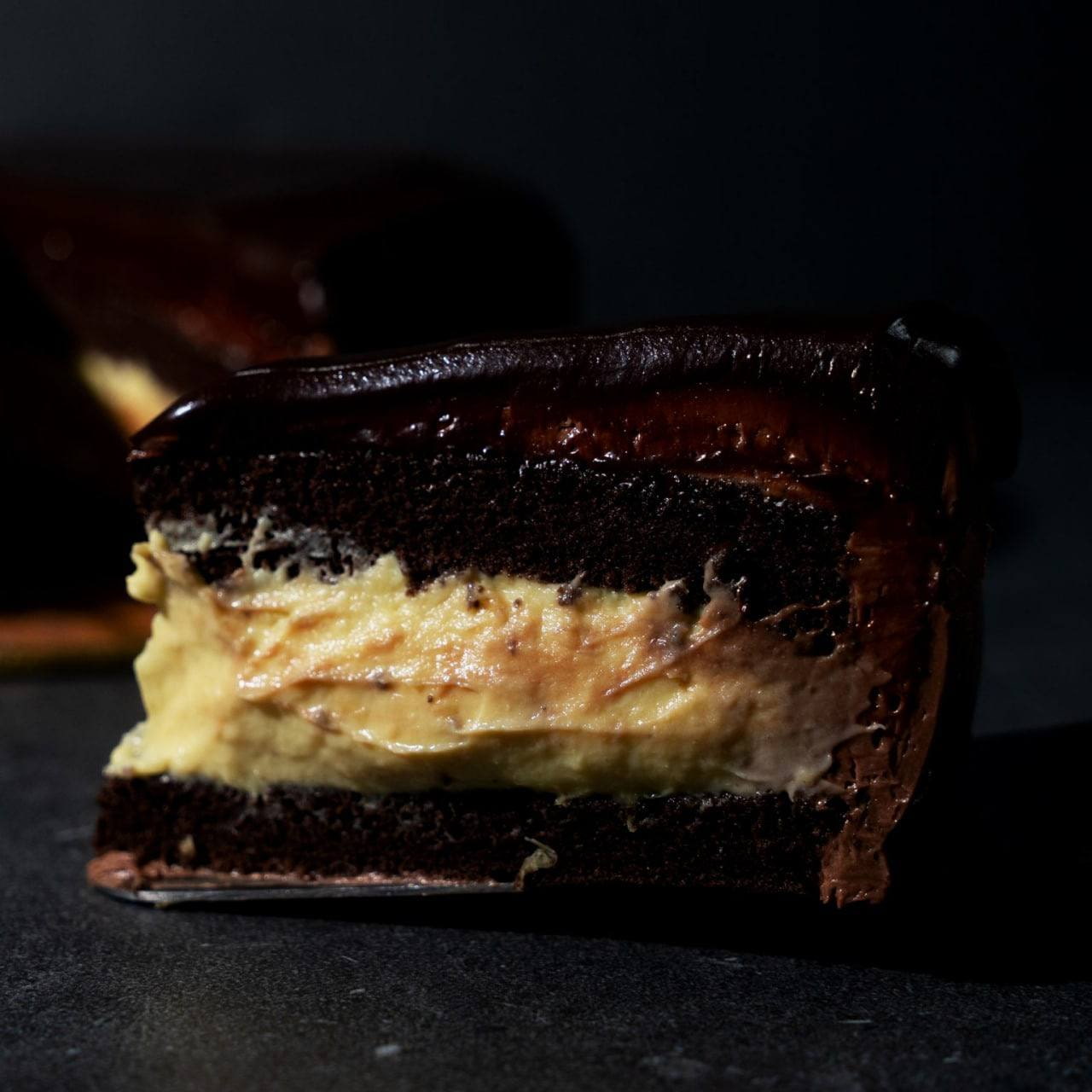 Image credit: The Durian Bakery
The Durian Bakery offers a unique experience for durian and chocolate lovers alike. Glazed in a thick layer of 100% dark chocolate ganache, the six-inch Dark Chocolate Fudge Drip Cake with Mao Shan Wang Core ($78) is handmade with the bakery's classic MSW SilkyGold Durian Puree, and is good for eight people. 
The durian puree is creamy and has a bittersweet aftertaste which complements the decadent chocolate fudge. No preservatives are added, and The Durian Bakery only uses premium ingredients such as Grade A Mao Shan Wang to ensure the quality of every cake.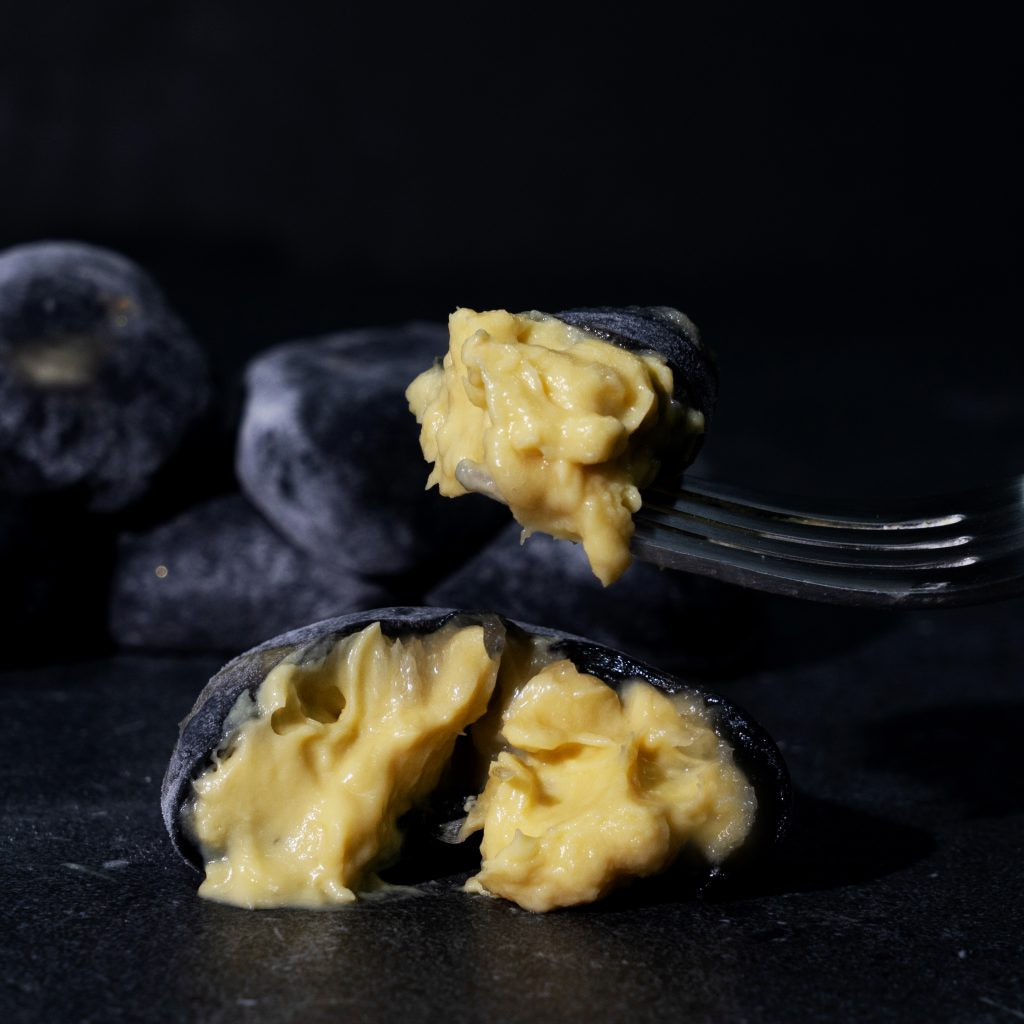 Image credit: The Durian Bakery
If you like black forest cakes, opt for the Black Forest Dark Cherry with Mao Shang Wang Core ($78). Made in small batches daily, black cherries are incorporated into the chiffon sponge to balance the richness of the durian. 
Complimentary same-day islandwide delivery is available for purchases over $90, or for $10 otherwise. Quote 'EATBOOK' at checkout for a free box of Black Gold Musang King Durian Mochi ($19.90) with a minimum spend of $50. Don't wait any longer as this promotion is only available until 31 March 2022!
Address: 1-26 Irving Place, #02-26, The Commerze @ Irving, Singapore 369546
Opening hours: Daily 9am to 6pm
Tel: 8875 1069
Website
---
2. Bob The Baker Boy
---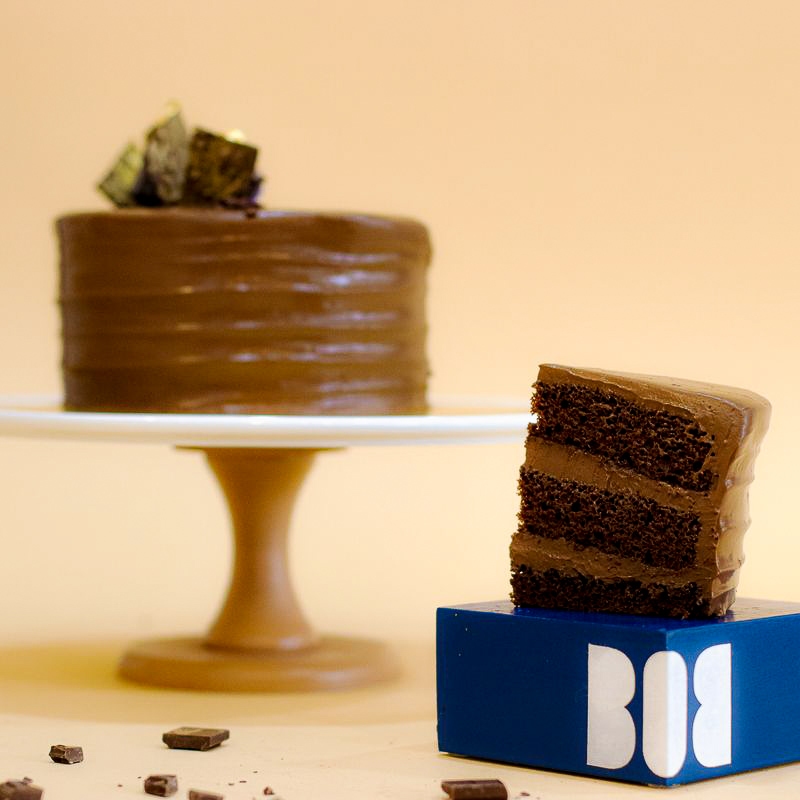 Image credit: Bob The Baker Boy
If your personal definition of the best chocolate cake is one that is not too sweet, head on over and order Bob The Baker Boy's Signature 55% Belgian Chocolate Cake (from $59.90). Made with 55% Belgian chocolate couverture, as its name suggests, this cake is a rich, moist, and bittersweet confection dressed in luscious chocolate cream. It is also 50% lower in sugar than most chocolate cakes on the market, letting the natural flavour and profile of the cocoa stand out. Its low sugar content also makes it great for young kids and toddlers to enjoy!
This chocolate cake is prepared daily, to order, and is available as a base flavour for customised cakes as well. Three sizes are available, depending on your needs: six-inch, eight-inch, and 10-inch. 
Flexible delivery options are available from $9.90, or you can spend $150 or more to enjoy free delivery. Order the Signature 55% Belgian Chocolate Cake.
Address: 369 Sembawang Road, #01-03, Singapore 758382
Opening hours: Daily 10am to 5pm
Tel: 9499 4015
Website
---
3. Whyzee
---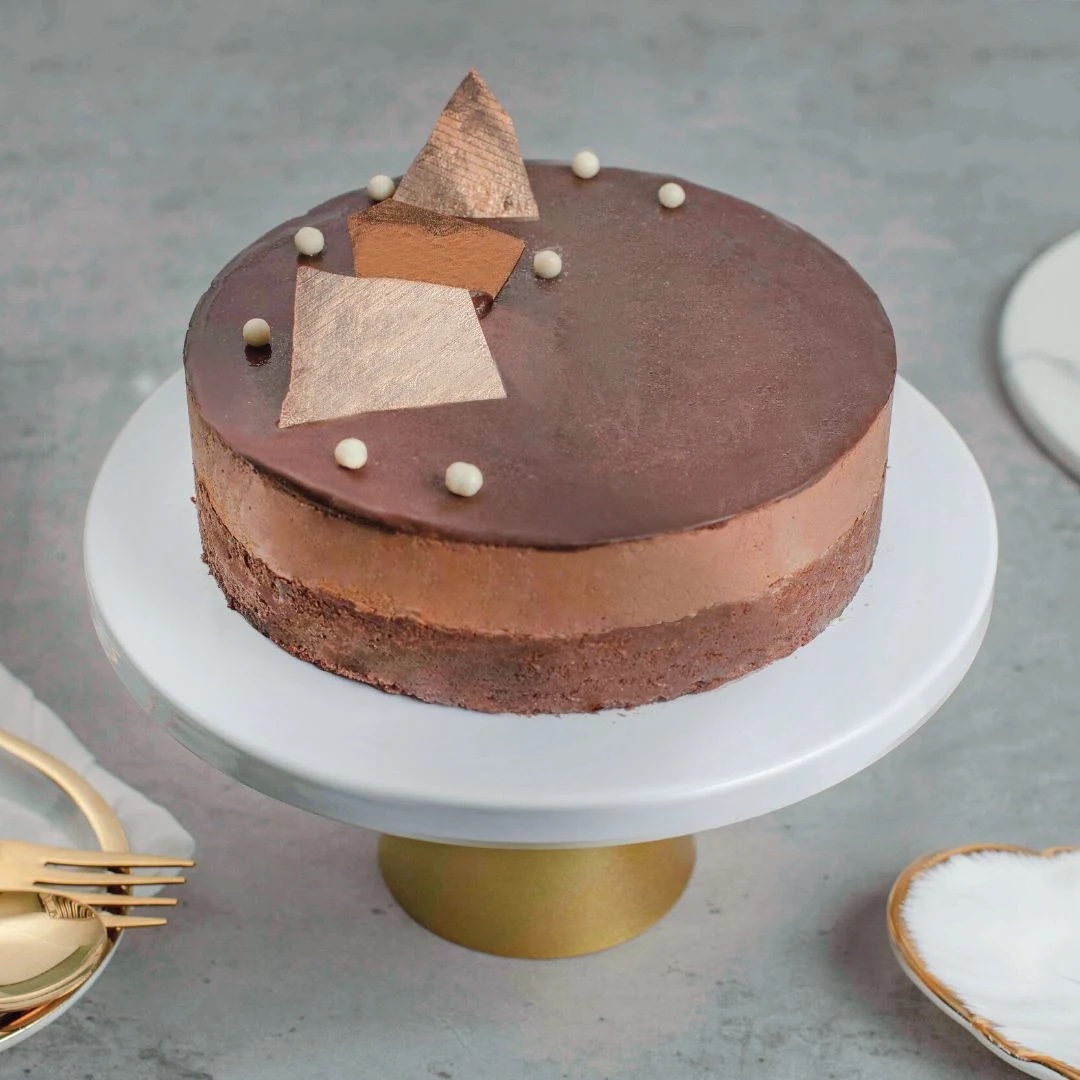 Image credit: Whyzee
Nuts and chocolate are a combination that's hard to beat, especially when it's praline. We love how the nutty confectionery just adds so much depth to chocolate cake, and if you're on the same team, then it's time you give Whyzee's Chocolate Praline Cake (from $53.90) a try. 
This layered beauty alternates chocolate sponge and creamy chocolate mousse with crunchy hazelnut wafer. The cake is then finished with a shiny chocolate glaze. On the flavour front, this is everything you love about Ferrero Rocher chocolates but made more intense. You can order this as a dessert for a get-together, special occasion, or a birthday party! Whyzee also has same-day express deliveries, where you get your order in an hour, should you need the cake in a pinch. Order this cake, and over 100 other options, via the link below.
---
4. Dig in Cakes
---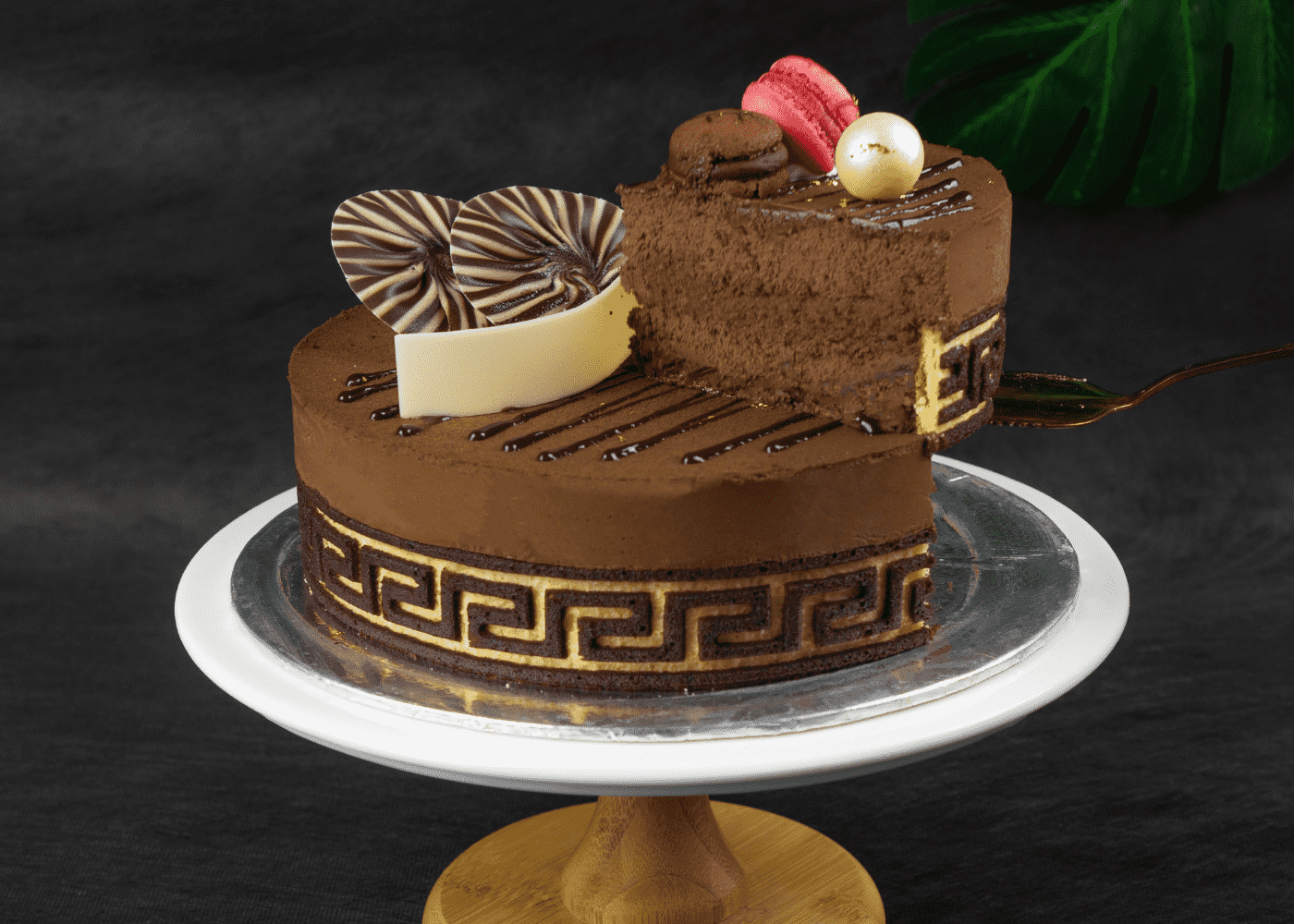 Image credit: Dig In Cakes
Being spoiled for choice is definitely better than having to settle for anything. Get a classic chocolate layered cake or a chocolate mousse dome from Dig In Cakes, which specialises in intricately decorated cakes at wallet-friendly prices, all baked fresh with free same-day island-wide cake delivery for orders above $100.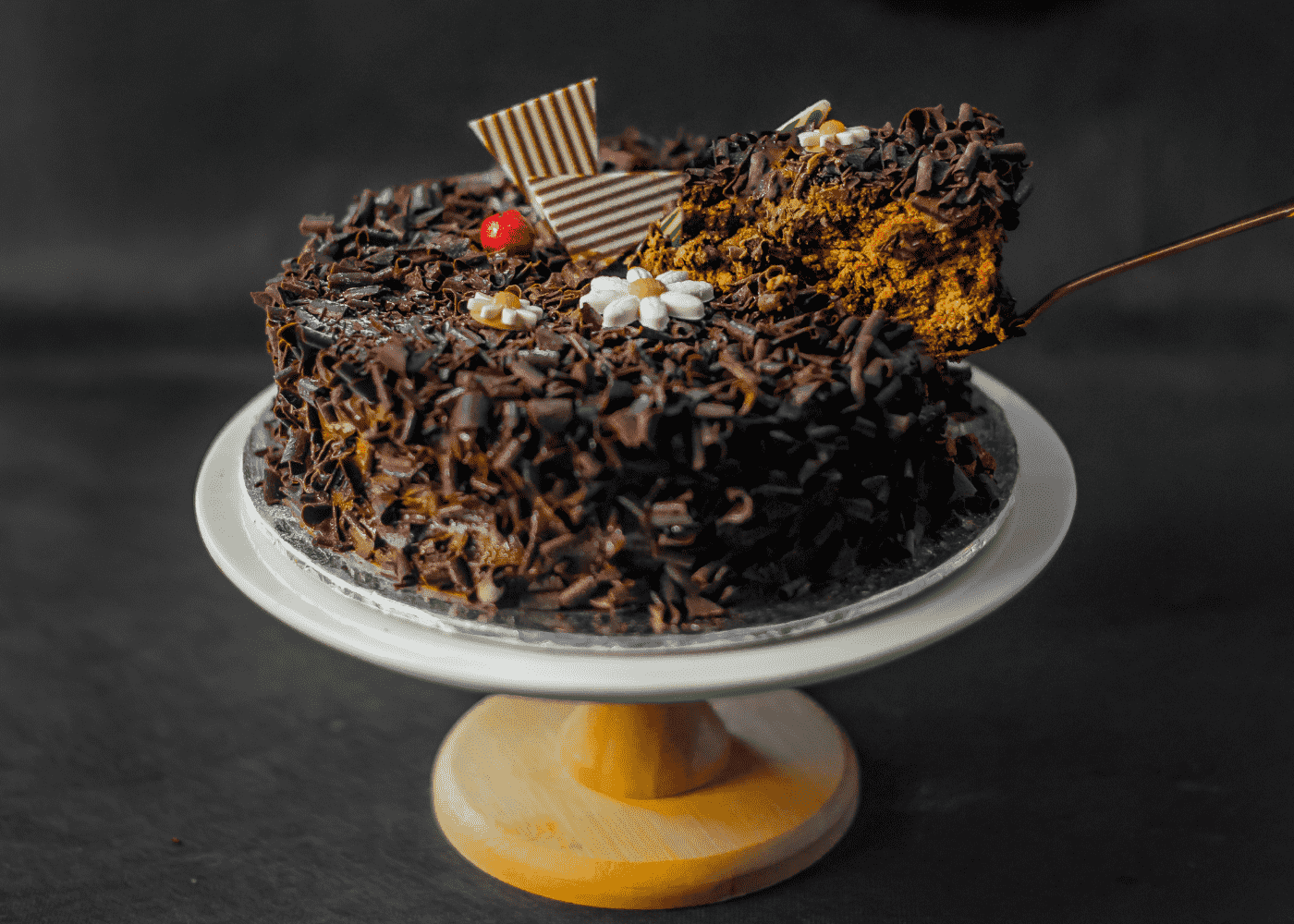 Image credit: Dig In Cakes
These chocolate-covered indulgences come in many different varieties, so you'd be able to choose the right kind for any party vibe. Dense with chocolate layers on the inside, and coated in smooth truffle frosting and chocolate shavings on the outside is their 6″ Chocolate Truffle Cake ($48). Otherwise, their 6″ Crunchy Hazelnut Feuilletine Gâteaux Cake ($51) is a great in-between for chocolate lovers who love their chocolate cake a little more on the sweet side.
Tel: 8940 8349
Website
---
5. Vicky's Cake
---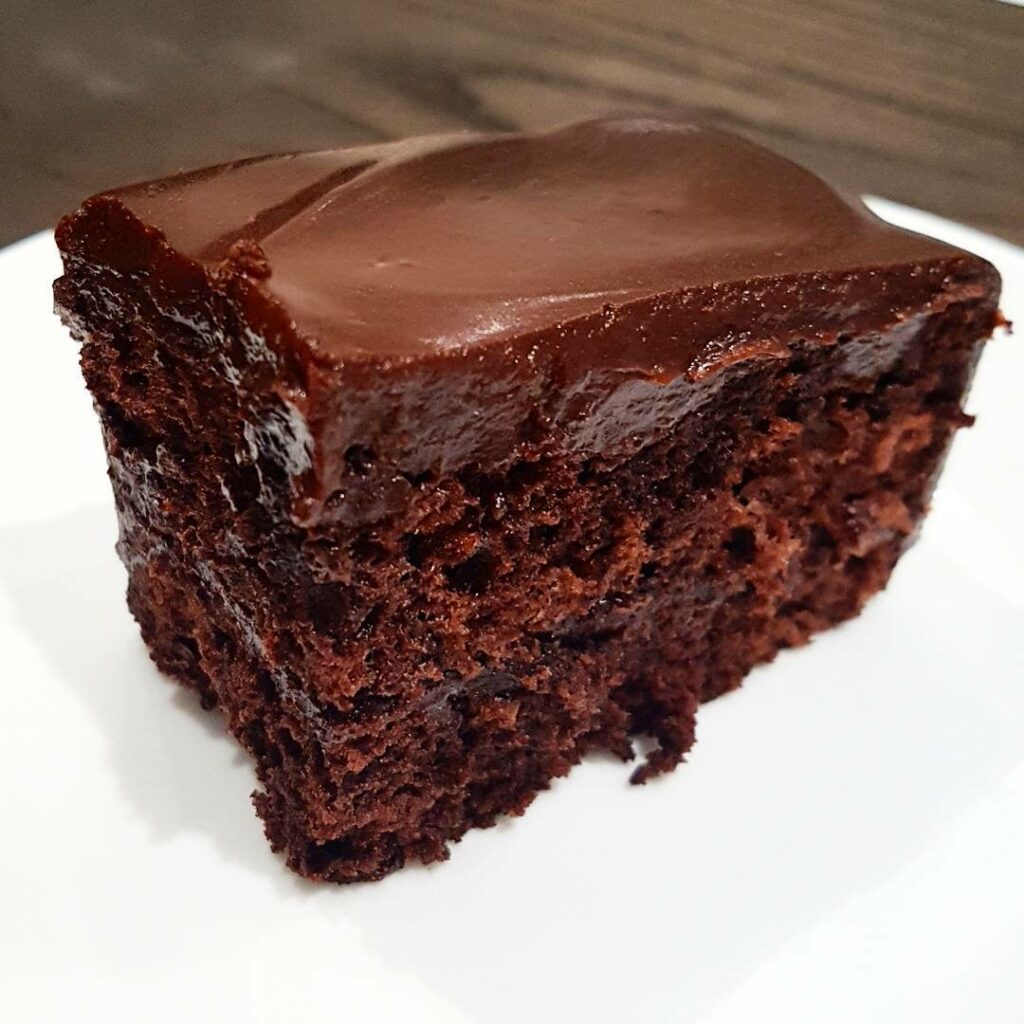 Image credit: @gabbyell3
Offering a retro-style chocolate fudge cake, Vicky's Cakes is known for their Signature Fudge Cake (from $44 for 800g) and their friendly service. Their cakes are pudding-like, but not too thick, and are accompanied by a slight bitterness from the dark chocolate that lingers at the back of your throat. This slab of chocolate goodness simply melts in your mouth and is super addictive for a chocolate lover like myself.
Address: 1 Jalan Anak Bukit, #02-K47, Bukit Timah Plaza, Singapore 588996
Opening hours: Mon-Sat 9:30am to 6pm
Tel: 6466 4000
Website
---
6. Jane's Cake Station
---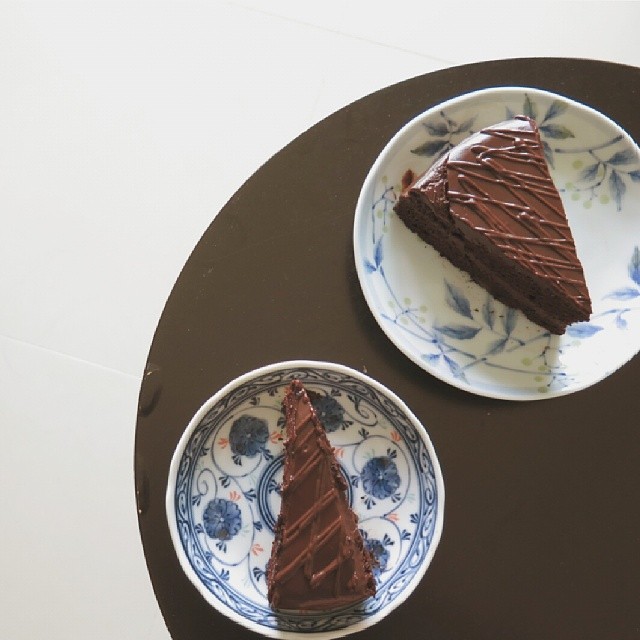 Image credit: @dypenhuin
Specialising in durian cake and chocolate cake, Jane's Cake Station Chocolate Fudge Cake (from $40 for eight-inch) is a no-frills choco cake that's absolutely delicious. Many swear by this affordable cake, as it is light and not too sweet. Plus, in comparison to the many fancy chocolate fudge cakes out there, this simple cake really brings a slice of comfort with its homey taste.
If you're a durian lover, the bakery also does a creamy Durian Cake, priced from $54 for eight inches.
Address: 265 Jalan Kayu, Singapore 799493
Opening hours: Thurs-Sat, Mon-Tue 12pm to 6pm, Sun 12pm to 4pm
Tel: 6481 1322
Website
---
7. Choc.a.Bloc
---

Image credit: @thehungry_soldiers
Compared to its counterparts, Choc.a.Bloc is an underrated bakery hidden behind Bedok 85, underneath a HDB block. Their Mom's Choco Fudge Cake (from $45 for 1kg) is bittersweet, with thick layers of decadent chocolate sponge cake sandwiching the velvety dark brown fudge. The premium chocolate they use is sourced from Italy, Belgium, and Germany. 
Address: 86 Bedok North Street 4, #01-179, Singapore 460086
Opening hours: Mon-Sat 11am to 9pm, Sun 11am to 8pm
Tel: 6446 6096
Website
---
8. Ugly Cake Shop
---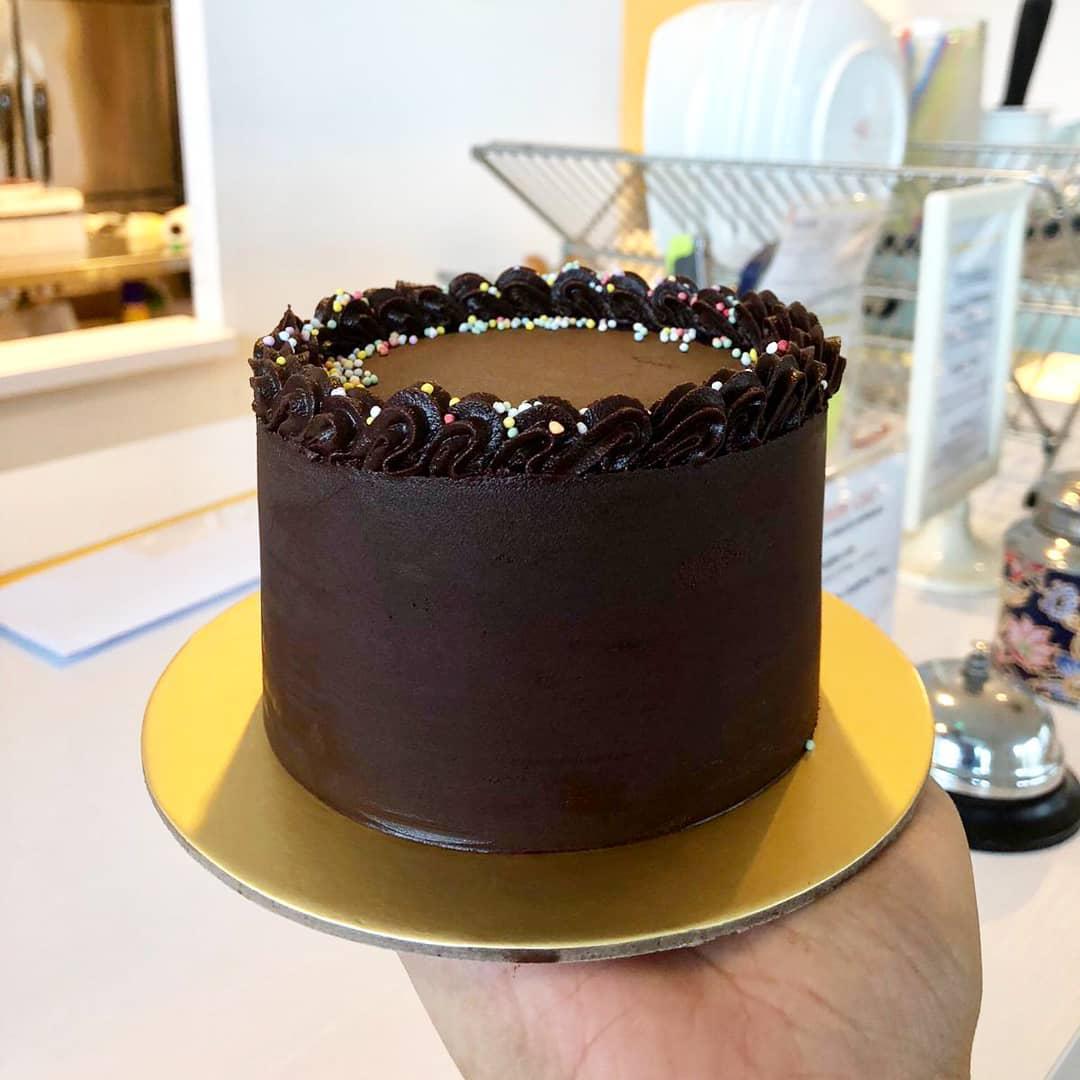 Image credit: @uglycakeshop
Ugly Cake Shop manages to create tasty and beautiful cakes using only natural ingredients. Their bestseller, Big Daddy (from $30 for four inches), claims to be the "Big Daddy of all chocolate cakes"—a bold statement many loyal customers stand by.
Though it may look rather plain, the pillowy-soft cake combines bittersweet dark chocolate with Nutella for extra chocolatey goodness. The icing on the cake for patronising Ugly Cake Shop is that part of their profits goes towards buying much-needed protein sources for the kids in Shallom School, a school in Timor Leste.
Address: 535 Kallang Bahru, #01-06, GB Point, Singapore 339351
Opening hours: Mon, Wed-Sat 10am to 6pm
Tel: 8228 8300
Website
---
9. The Patissier
---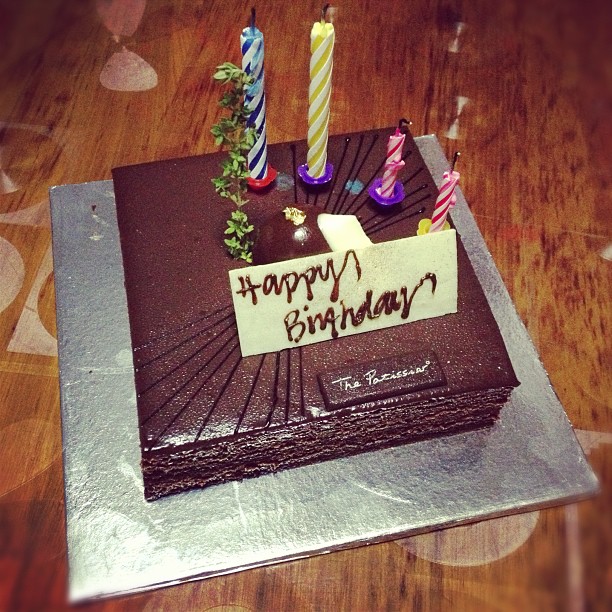 Image credit: @patricktch
The Patissier's Chocolate Fudge Cake (from $55 for 500g) got me hooked at first bite. Its initial tinge of sweetness was quickly overtaken by a rich, floral taste that's not heavy on the palate. For someone who loves dark chocolate, this has become one of my favourite chocolate cakes, as it has this bittersweet aftertaste I'm so fond of.
Address: 4 Mohamed Sultan Road, Singapore 238955
Opening hours: Mon-Fri 10am to 5pm, Sat-Sun 10am to 4:30pm
Tel: 6737 3369
Website
---
10. Laurent Bernard Chocolatier
---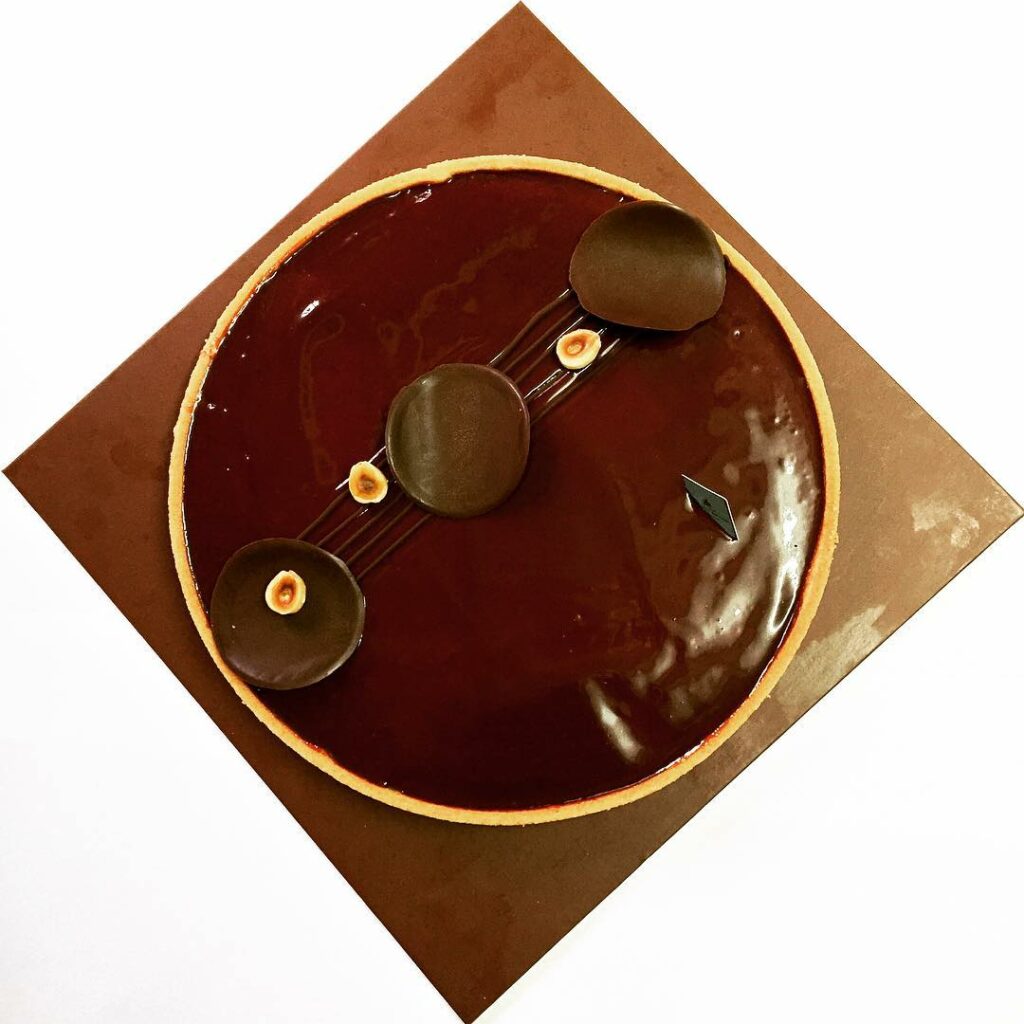 Image credit: @leting23
Blessing us with their 3 Chocolate Cake (from $71 for 500g) is Laurent Bernard Chocolatier. Silky white, milk, and dark chocolate mousse are used in creating this chocolate delight. The combination of the three different kinds of chocolate results in a very balanced flavour. As a chocolatier, the brand also has a wide range of other chocolate cakes, such as their Lola Cake (from $72 for 500g), made of dark chocolate sponge, and their Pure Chocolate Cake (from $73 for 500g), a flourless creation made with premium South American cacao. 
---
11. Chocolate Origin

---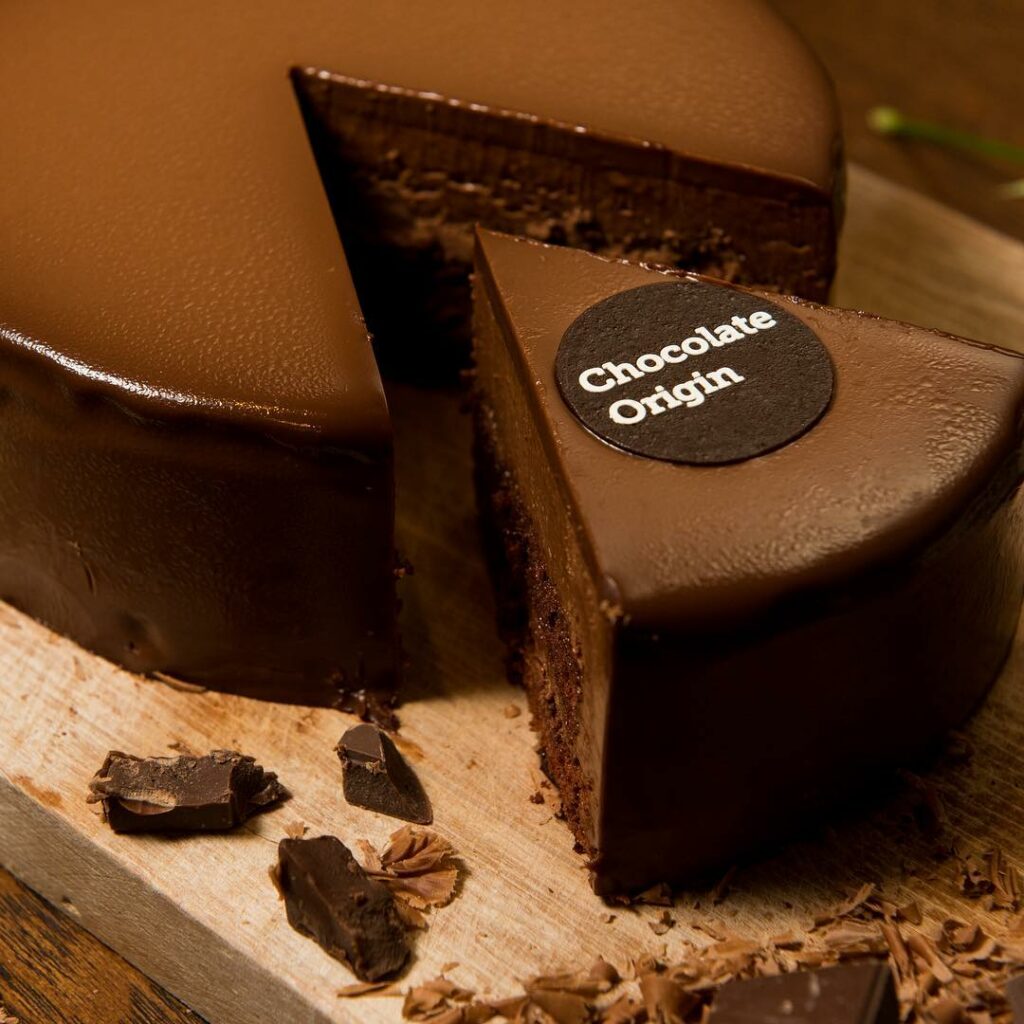 Image credit: @chocolateorigin.bn
Before it closed down, Boo Boo Cake from New York Dessert Cafe (NYDC) was my go-to dessert for any occasion. I couldn't find anything that matched up to the cake—that is until I had Chocolate Origin. With a layer of chocolate ganache between two layers of soft chocolate sponge cake, their Original Chocolate Cake (from $39.80 for six-inch) is a crowd favourite. Glazed with dark chocolate, this cake looks simple and classy too—perfect for a birthday.
---
12. LANA CAKES
---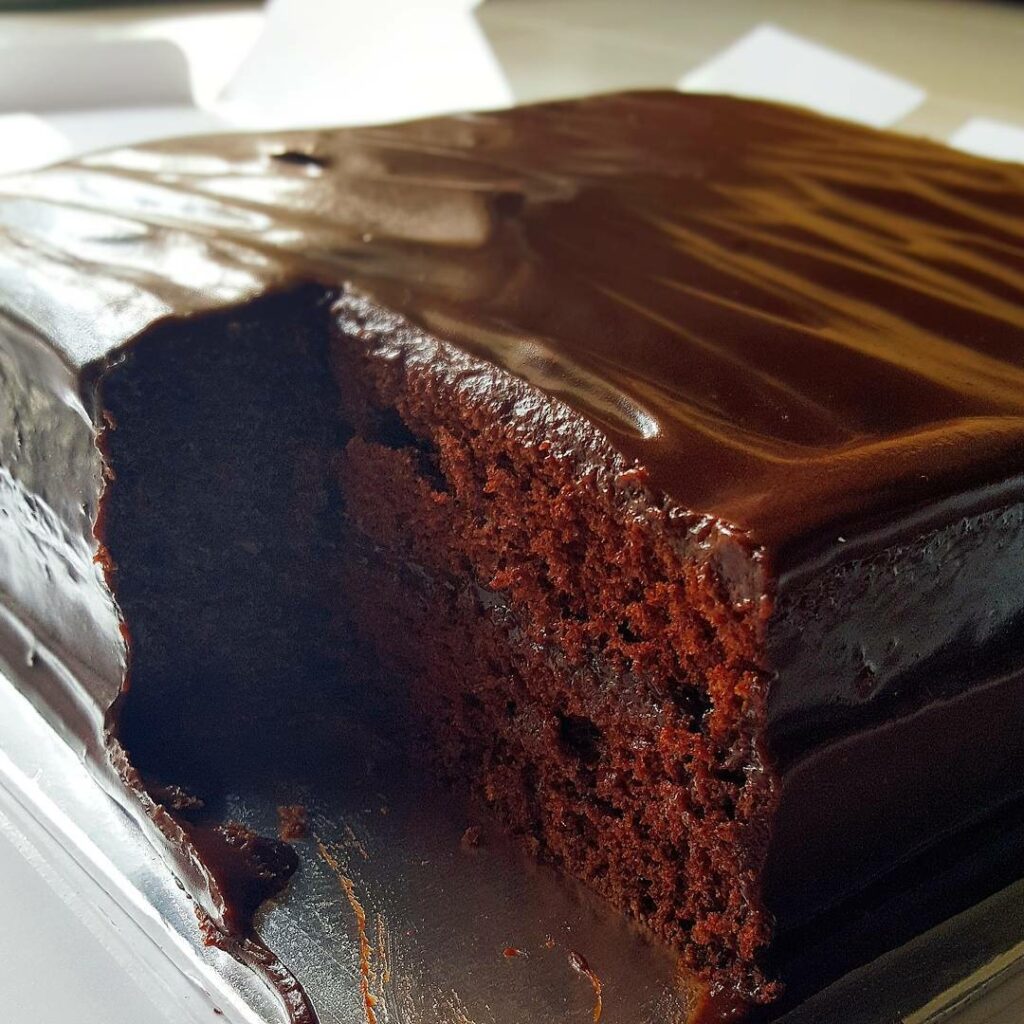 Image credit: @themochareview
LANA CAKES is another popular household name. The 58-year-old shop still dishes out the classic chocolate cake that Mrs Violet Kwan first sold in 1964, famous for being moist, smooth, and not overpowering. Beloved for its homely, old-school taste, their Lana's Chocolate Cake ($55 for 1.2kg) is the kind of cake your mother would make. It consists of jelly-like fudge and rich, pillowy chocolate cake, which comes together really well.
Address: 36 Greenwood Ave, Singapore 289239
Opening hours: Tue-Fri 10am to 6pm, Sat 10am to 5pm
Tel: 6466 5315
Website
---
13. Awfully Chocolate

---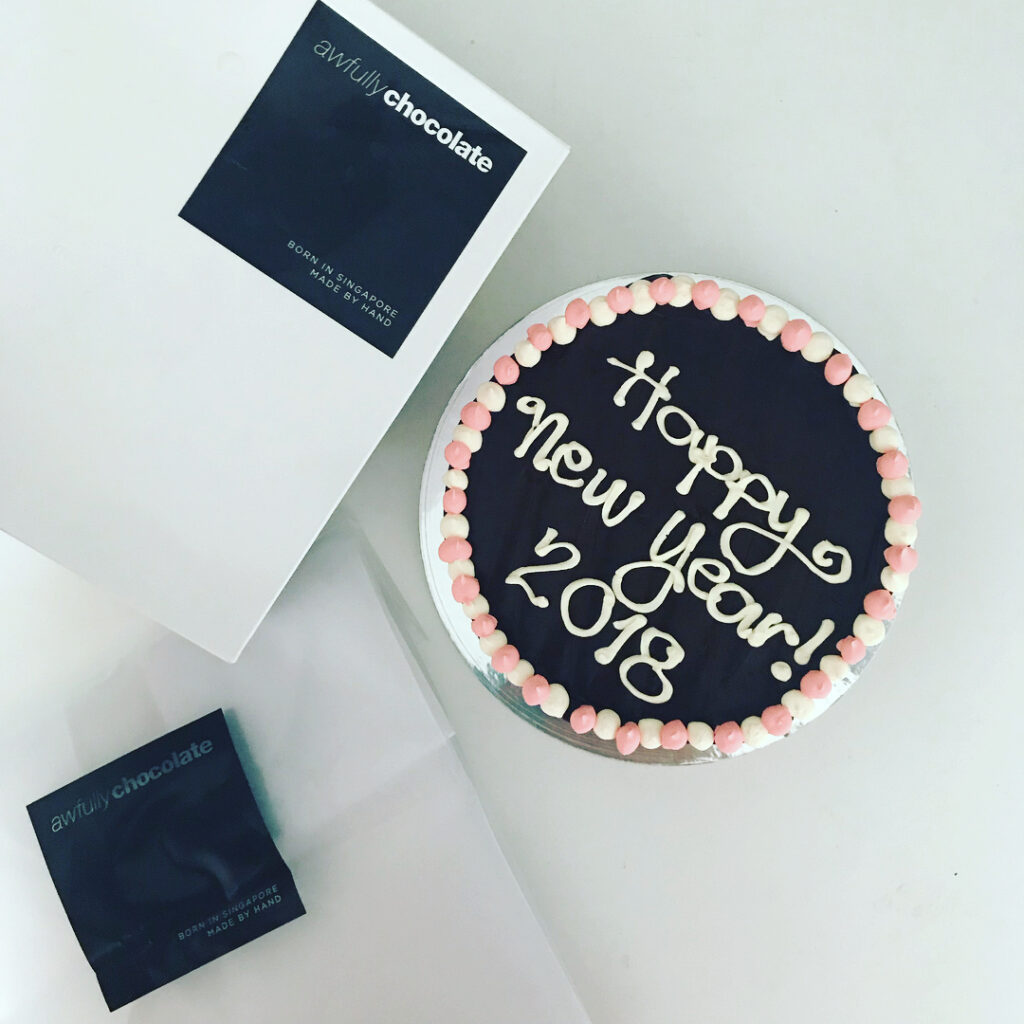 Image credit: @meow_._world
This homegrown brand is definitely not new to chocolate lovers. Awfully Chocolate's All Chocolate Cake (from $40 for six-inch) has two layers of soft and moist chocolate sponge accompanied by a layer of chocolate fudge. Plus, the fudge is made using the store's very own chocolate, which has a dark roasted flavour!
They also have a Chocolate Banana Cake (from $42 for six-inch), as well as my personal favourite, Chocolate Rum and Cherry Cake (from $45 for six-inch). Remember to call in advance to make sure they have the cake you want!
---
14. LUNA Cakes
---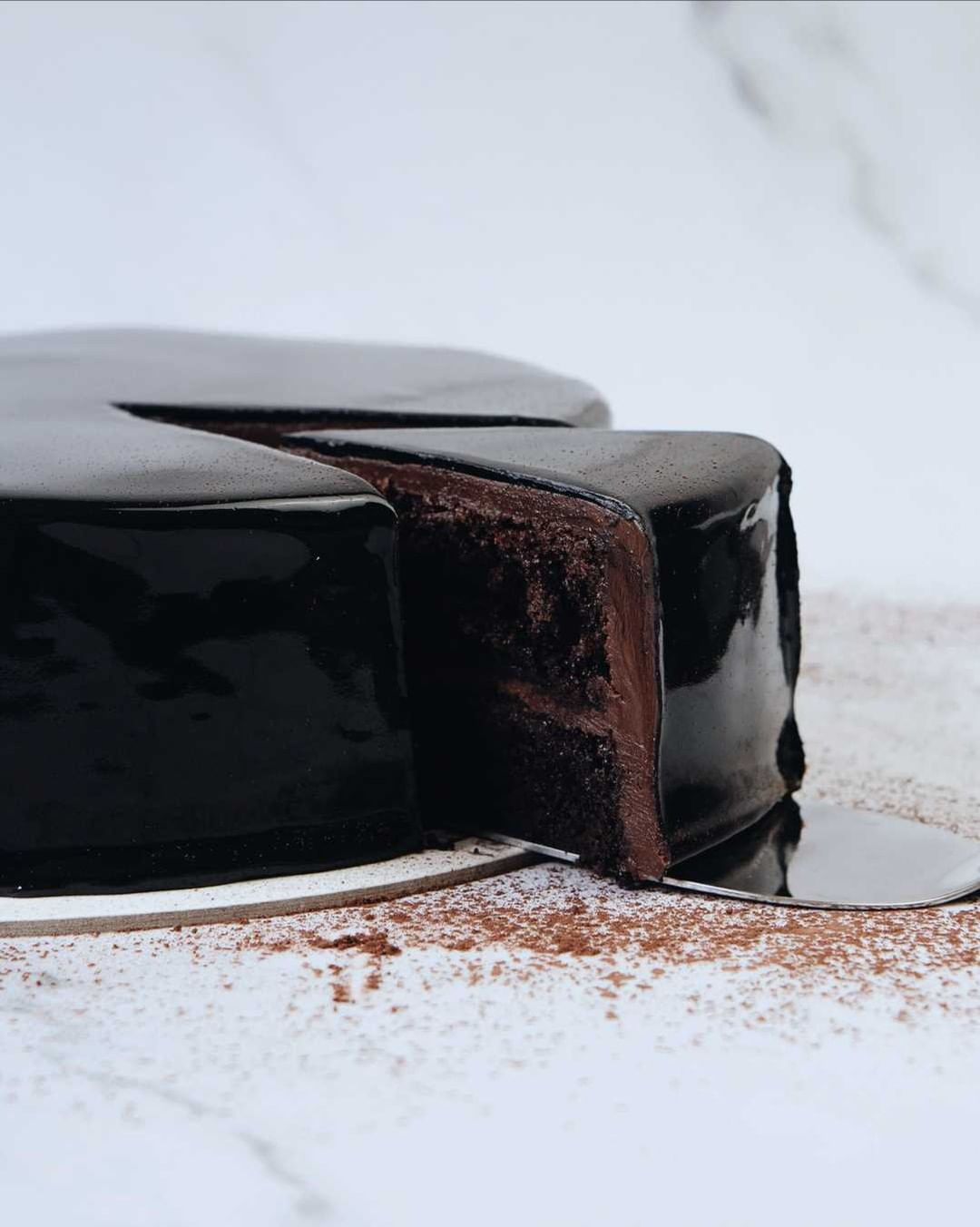 Image credit: @luna.singapore
LUNA may be best known for their Orh Nee Cake (from $8 a slice), but truer to the name of their bakery is the LUNA 2.0 ($9 for a mini cake, $90 for a whole cake), a rich and intense chocolate mousse cake. The Valrhona Guanaja 70% chocolate mousse is the star, and this richness is accented by hazelnut and dark chocolate sponge. Expect deep, intense chocolate in every spoonful with a touch of hazelnuts for texture.
Read our LUNA review.
Address: 53 Amoy Street, Singapore 069879
Opening hours: Sun-Thurs 12pm to 6:30pm, Fri-Sat 12pm to 9pm
Website
LUNA Review: New Cafe At Amoy Street Selling Orh Nee And Dark Chocolate Cakes Under $10
---
15. PS.Cafe
---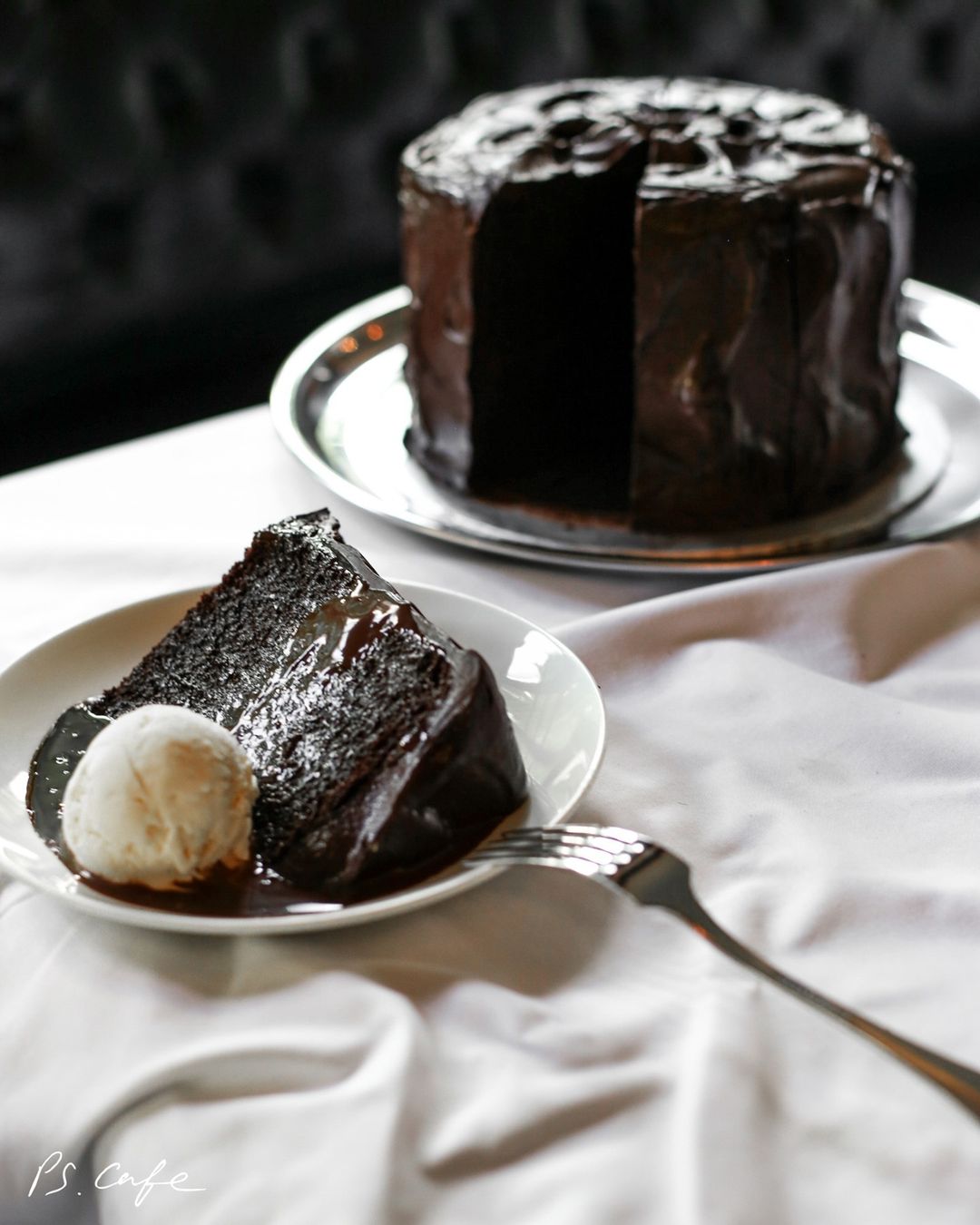 Image credit: @pscafe
A must-have dessert for many at PS.Cafe is their Double Chocolate Blackout Cake, a truly sinful, stacked tower of moist chocolate cake and dark chocolate ganache. Order it in the cafe for $16 and you get it served with a hot fudge sauce, as well as a scoop of vanilla ice cream. Otherwise, take home a whole cake, priced from $58, to share for special occasions.
Website
Full list of locations
---
16. All Things Delicious
---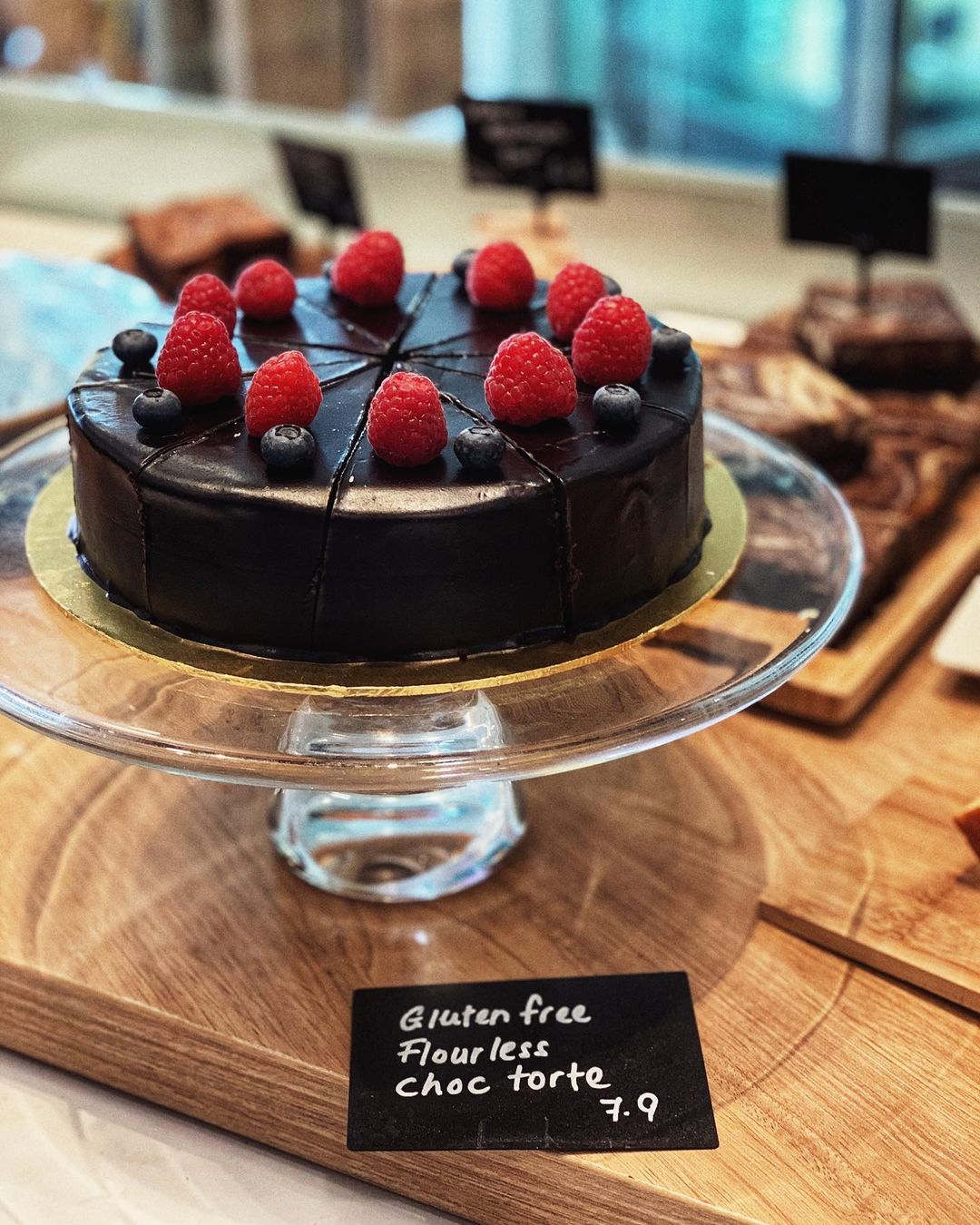 Image credit: @allthingsdelicioussg
All Things Delicious is a halal bakery and cafe based on Arab Street. They specialise in all kinds of cakes, with their chocolate options being one of the most classic. The Dark Chocolate Torte ($77 for eight inches) is dubbed as a "chocolate pudding in disguise", with a crumb that is softer and denser than your average chocolate cake. Made with no flour, this is great for gluten-intolerant diners too.
---
17. The Dark Gallery
---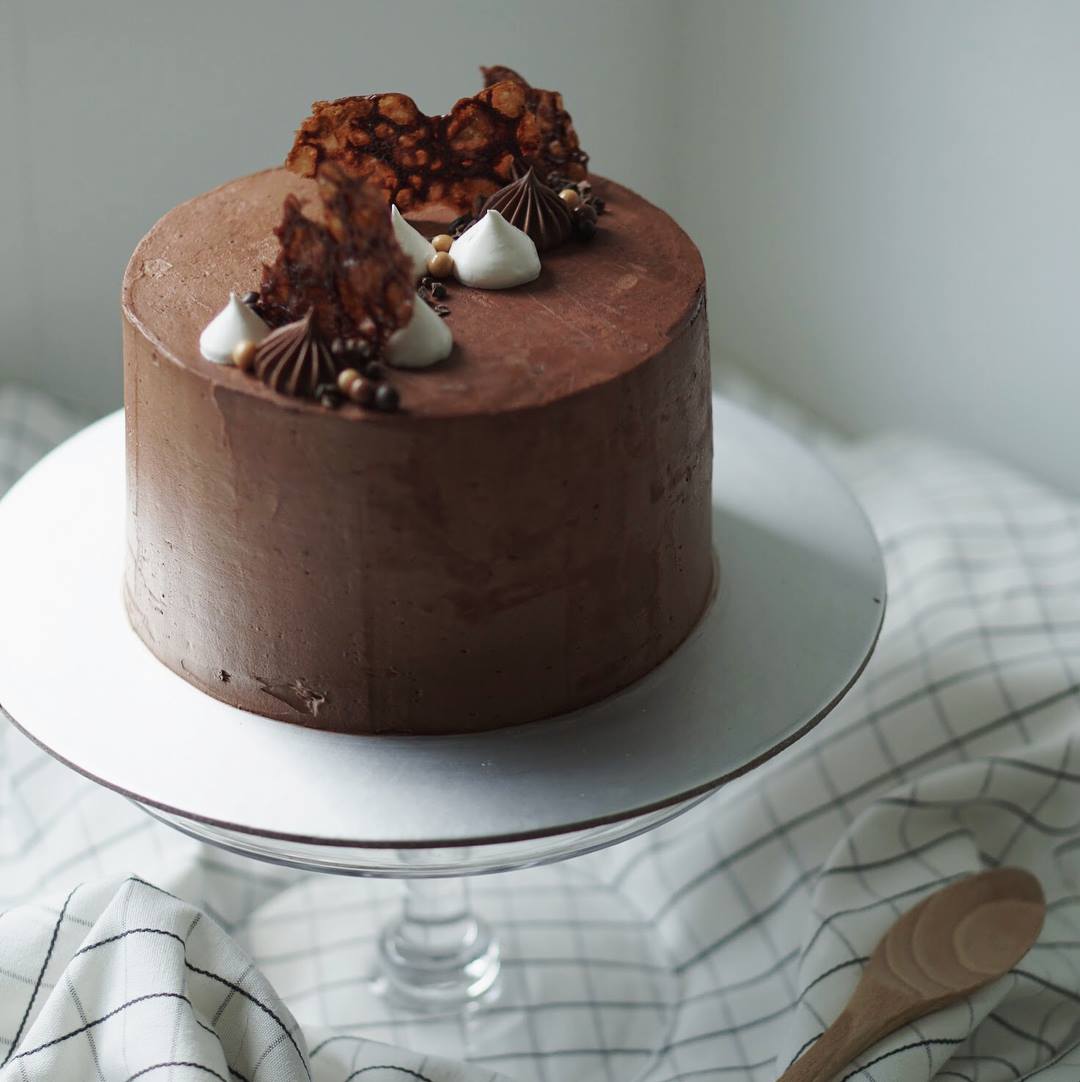 Image credit: The Dark Gallery
The Dark Gallery is home to all things chocolate, including whole cakes galore. The Signature Dark Chocolate Cake (from $55 for six inches) is a real treat for fans of intense chocolate mousse cakes, as it is made with 65% dark chocolate, elevated with a cloud-like sponge. Every cake is handmade daily too.
---
18. Patisserie Cle
---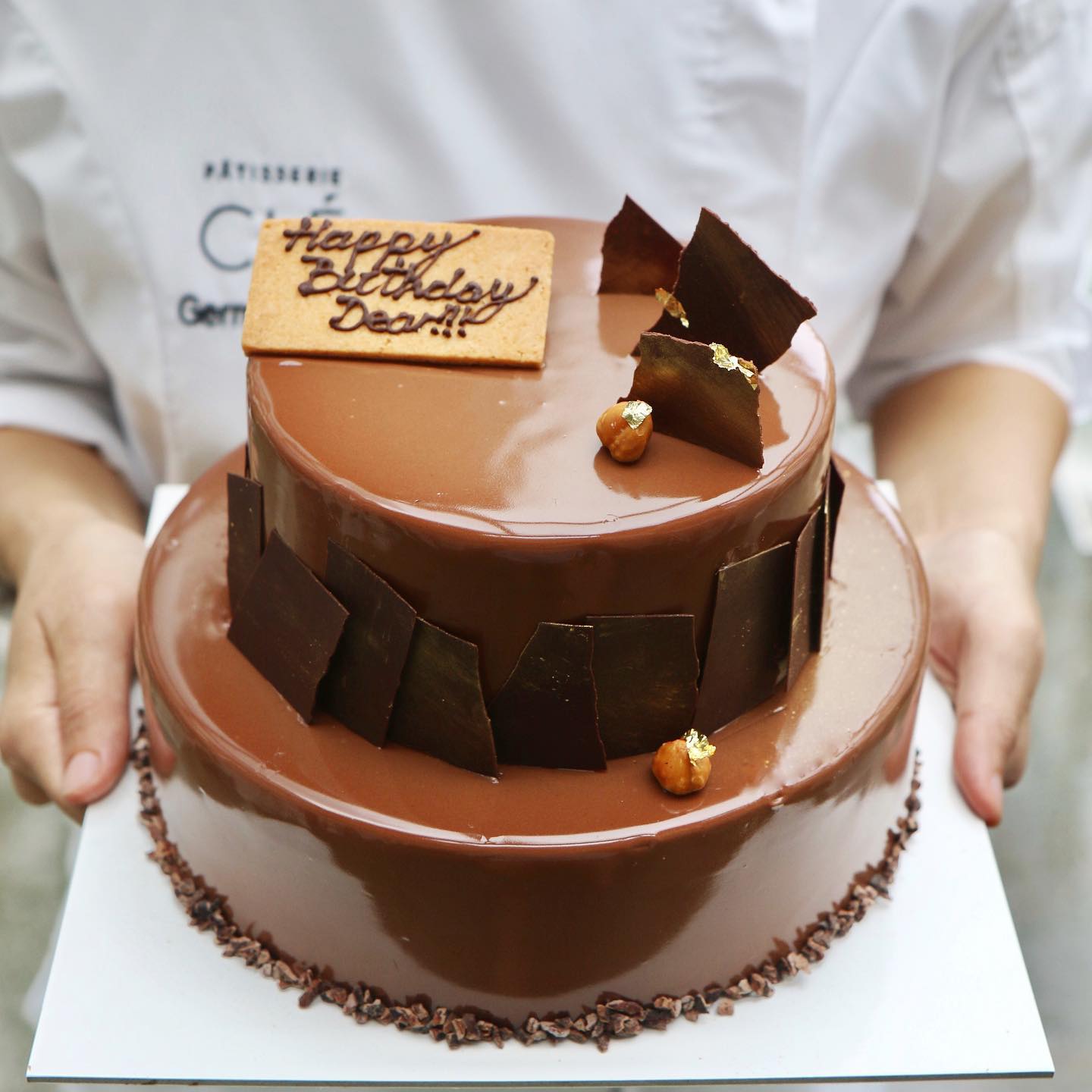 Image credit: Patisserie Cle
Homegrown patisserie, Patisserie Cle, is run by two local pastry chefs trained at the internationally acclaimed Ferrandi pastry school in Paris. Get your hands on their Noisette (from $60), where all types of chocolate and hazelnut combine to create a dreamy cake. There is mousse and ganache made from 64% dark chocolate, a dark chocolate sponge, and a milk chocolate hazelnut layer for crunch.
Read our Patisserie Cle review.
Website
Full list of locations
Patisserie Cle Review: New Patisserie Selling IG-Worthy Tarts With Orh Nee And Cognac At Paya Lebar
---
Best chocolate cakes for all you chocoholics!
---
Life is too short to waste your calories on bad chocolate cakes! For more cake options, check out our guide to birthday cakes in Singapore, and our guide for where to get basque burnt cheesecake.
33 Birthday Cakes In Singapore Including Custom Cakes And Chocolate Cake
This post is brought to you by The Durian Bakery and Bob The Baker Boy.
This article was originally published on 28 September 2021.
Feature image adapted from @pscafe, The Dark Gallery, and @luna.singapore.