LUNA sells beautiful artisanal cakes and pastries
Update: The Dark Chocolate Speculoos cake is no longer available.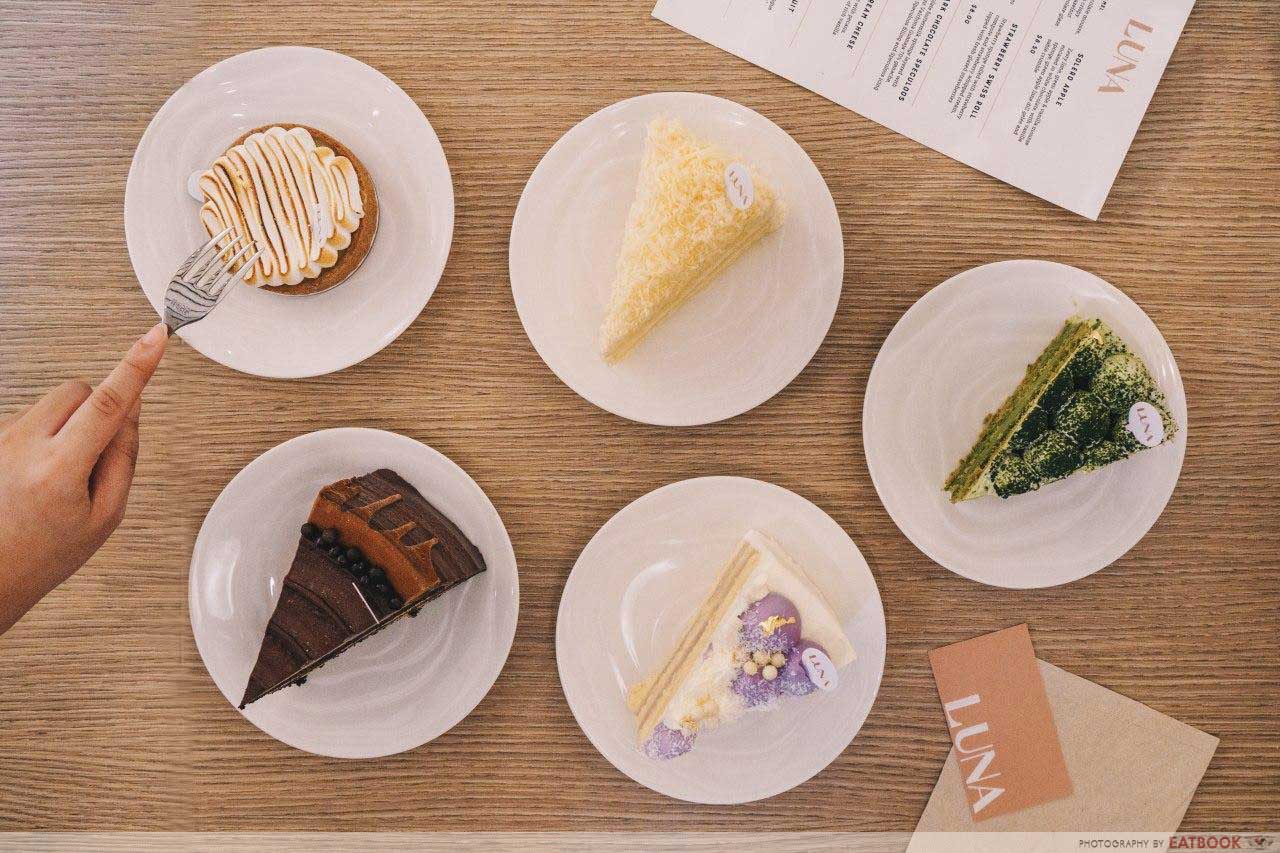 Situated in the heart of CBD, Amoy Street is a hotspot for hipster bars, fancy brunch cafes, and quiet coffee hangouts. With its zen ambience and unique mix of elaborate cakes, LUNA is a patisserie that fits right into Amoy Street's cosy cafe scene.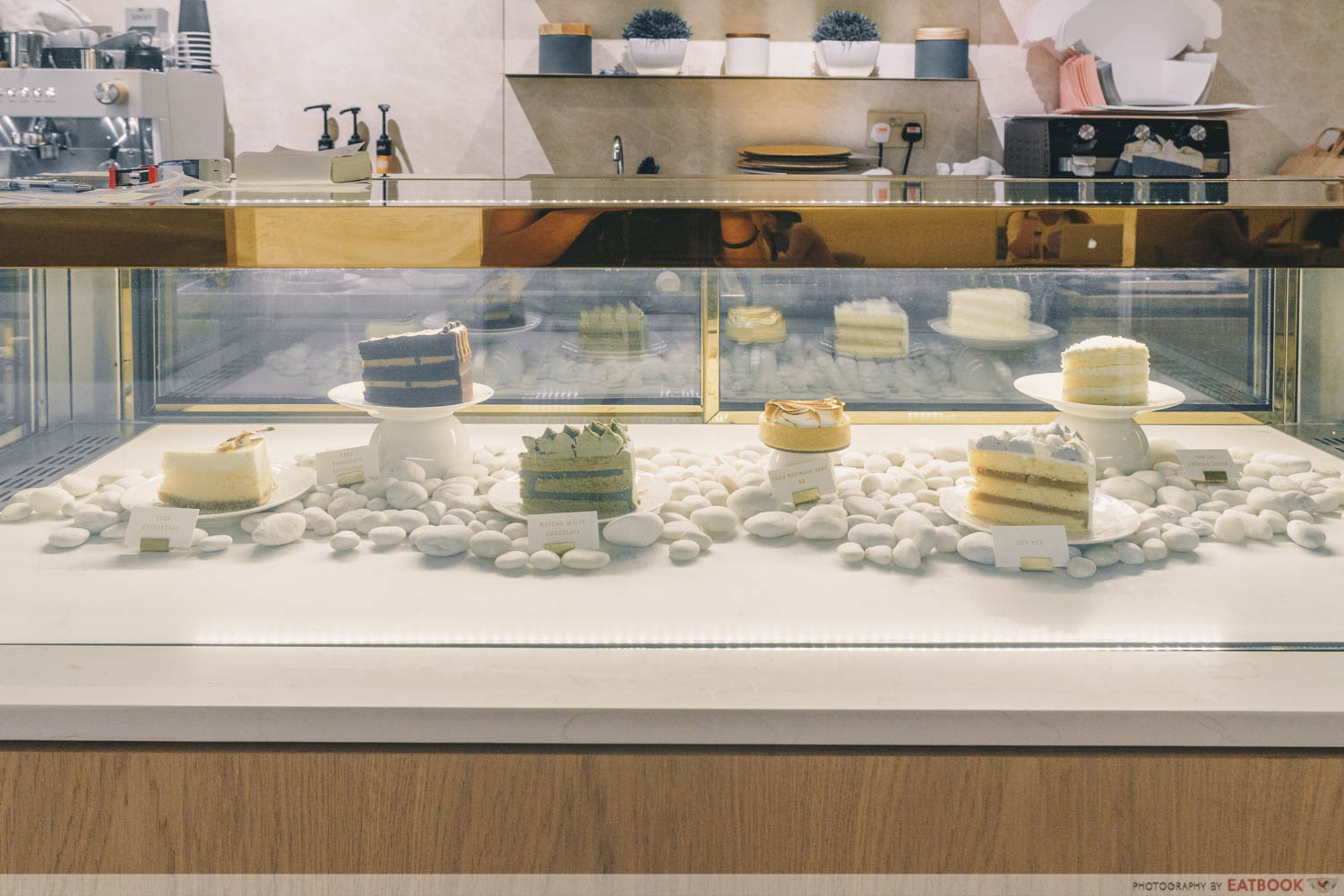 I caught my first glimpse of LUNA's polished pastries on Instagram. Not only did their picture-perfect cakes look like the immaculate work of a seasoned pastry chef, but their flavour combinations were also quite attention-grabbing. 
From a yam and coconut-flavoured orh nee cake, to a green tea-infused matcha white chocolate slice, the selection of artisanal cakes that were laid out on display were already winning us over just by their presentation.
Food at LUNA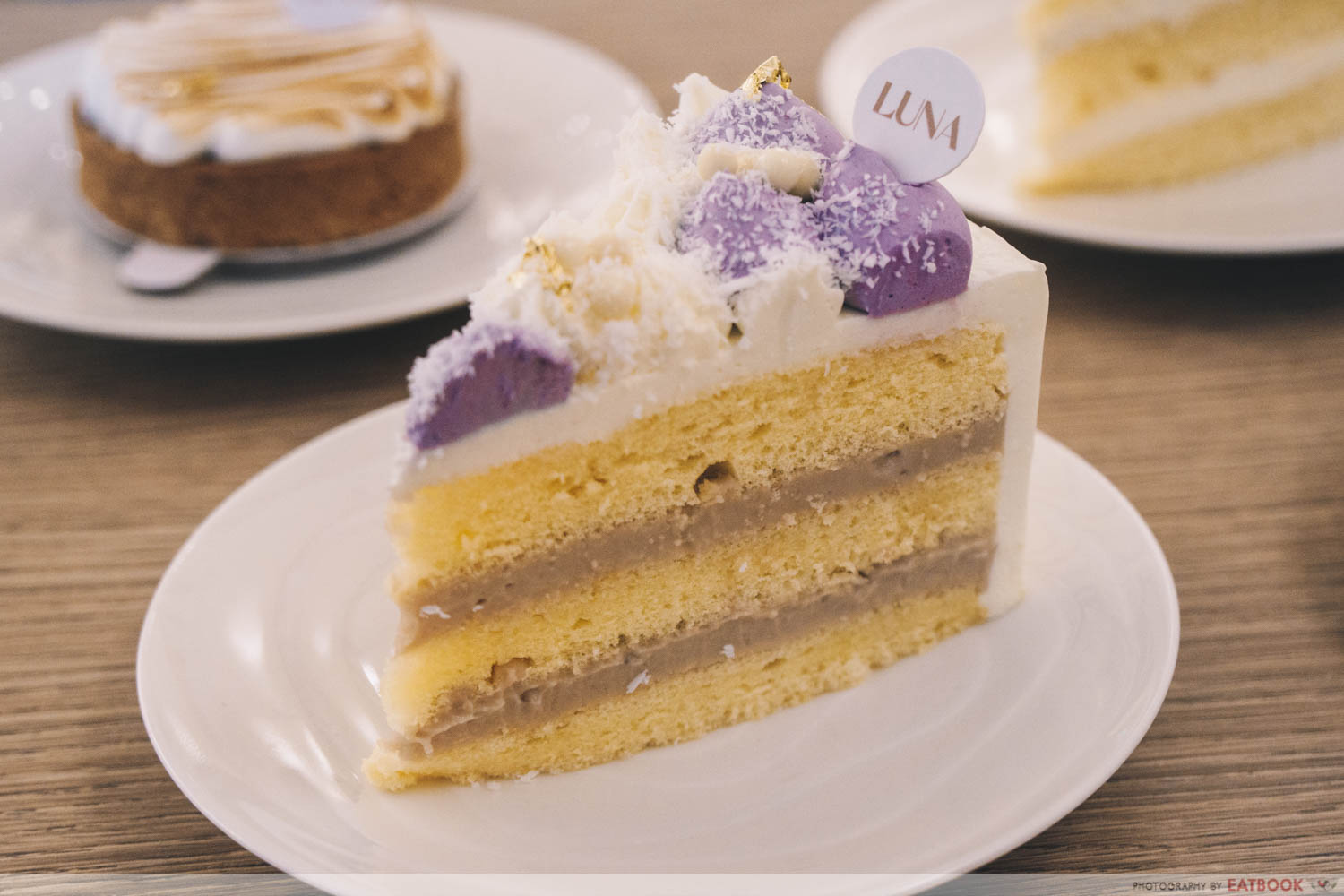 We kicked things off with the most popular cake on their menu. Their Orh Nee ($8) cake adapts elements of the traditional Teochew dessert into an artisanal creation. Its vanilla sponge is layered with a yam and gingko paste, while the coconut-infused cream is topped with an additional sprinkle of desiccated coconut.
What also impressed us were attention to the most miniscule of details, such as the precise touch of gold leaf speckling the top and the crisp edges of the Chantilly cream.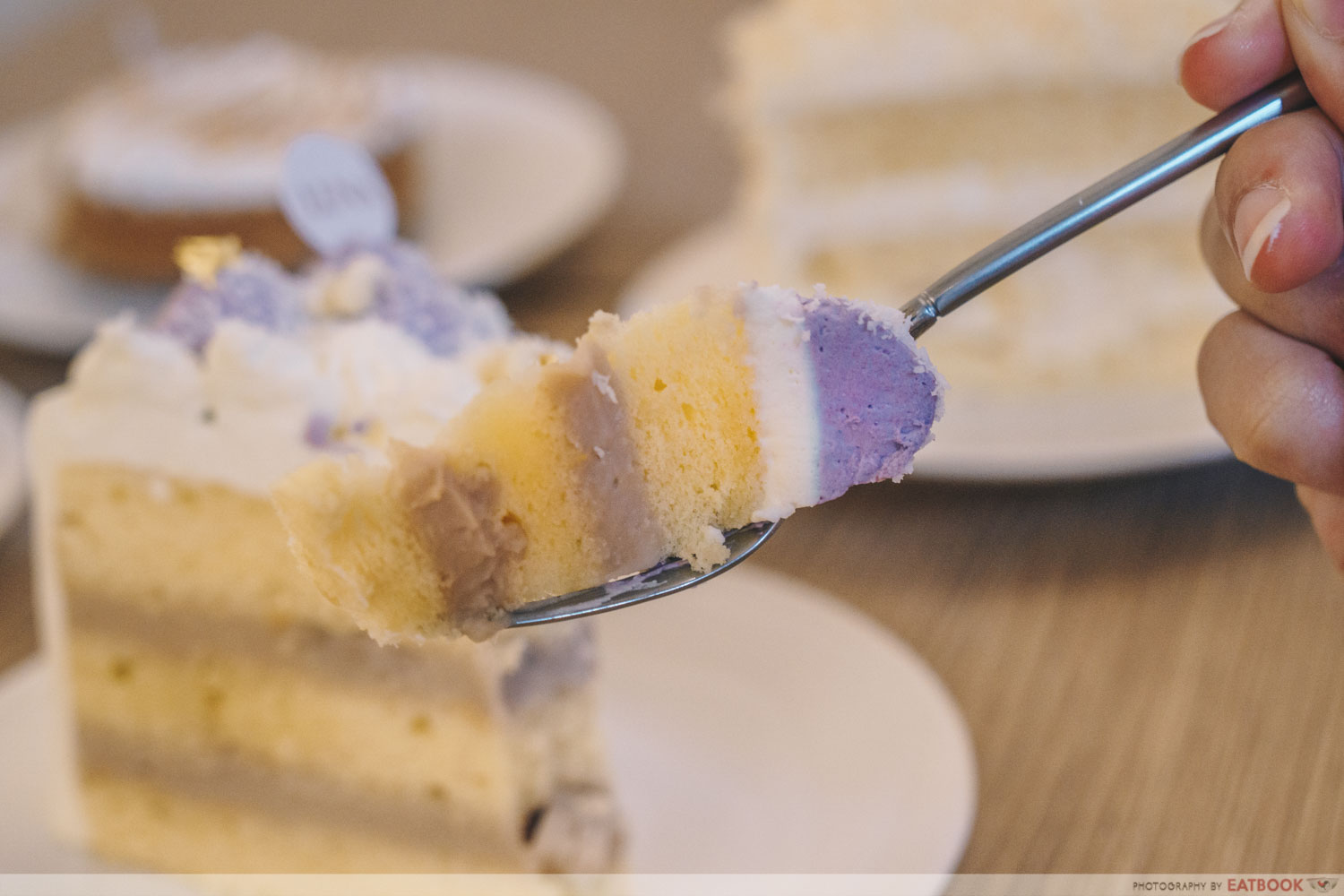 It was immediately clear why this layered creation is their best-selling item. Set apart from the jelak dessert it was modelled after, this cake was extremely light and not too sweet. The lusciously smooth yam and gingko paste was embedded with chunks of yam, lending each bite some textural variation, as well as pops of earthy flavour. The Chantilly cream had just a kiss of fresh coconut infused into it, giving the whipped topping a mellow, nutty fragrance.
LUNA Patisserie Has A New Black Sesame Roll Cake And Hojicha Tiramisu
From the moist vanilla sponge, to the velvety yam paste and airy coconut cream, they aced the ratio of these elements to create an incredibly balanced slice, in terms of texture and flavour.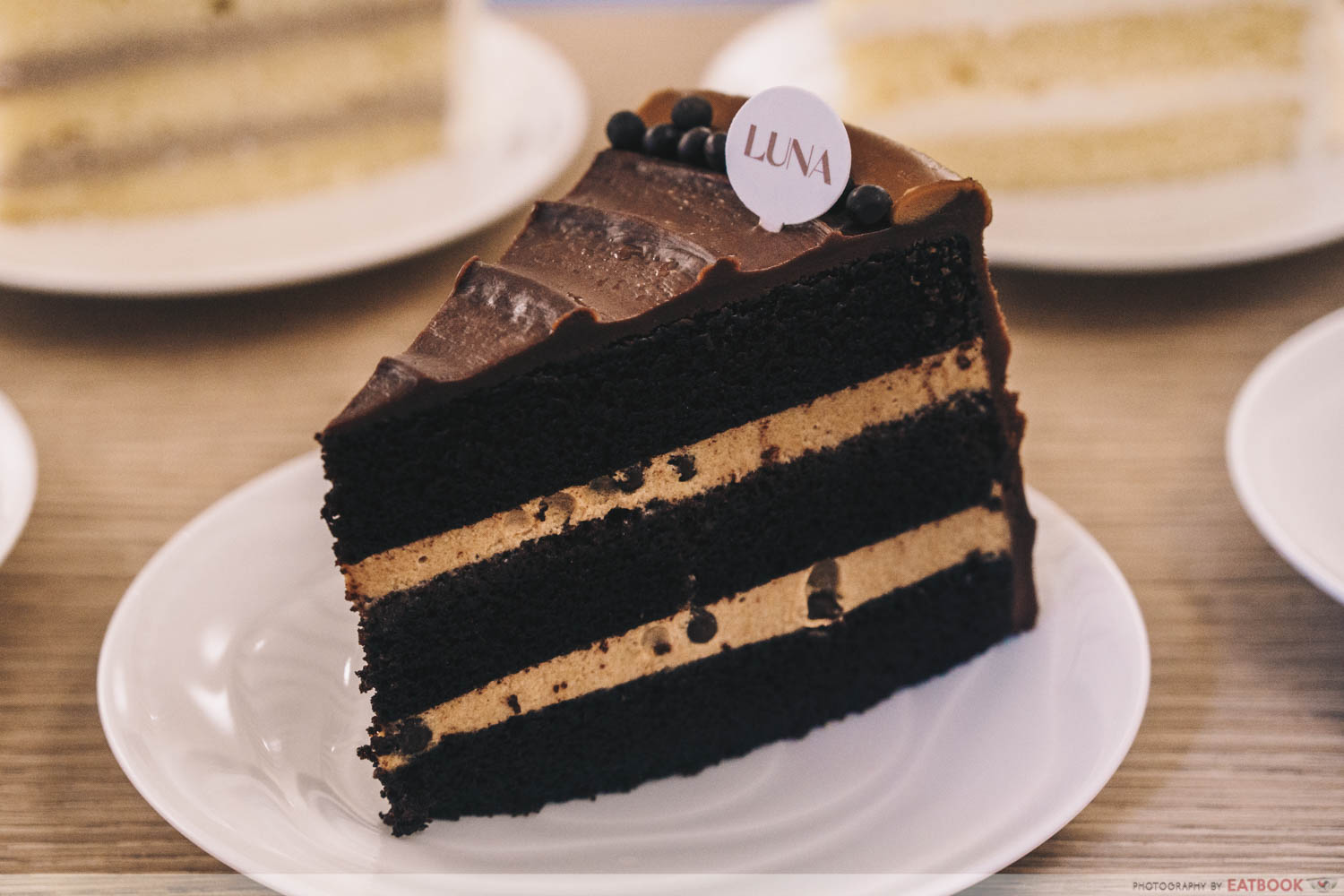 Now that we had an idea of LUNA's gentle touch when it came to delicate flavours, we wanted to see if their more decadent cakes would fare as well. The Dark Chocolate Speculoos ($8+) had a unique chocolate buttermilk sponge, layered with a Valrhona Guanaja 70% chocolate ganache, and a crunchy speculoos cream.
As expected, the cake's construction was impeccable. The top of the cake was smoothed over with a dark ganache and embellished with dainty ripples and shiny chocolate pearls. A thick caramel ran along the upper edge of the cake and drizzled down the sides in an artistic flourish.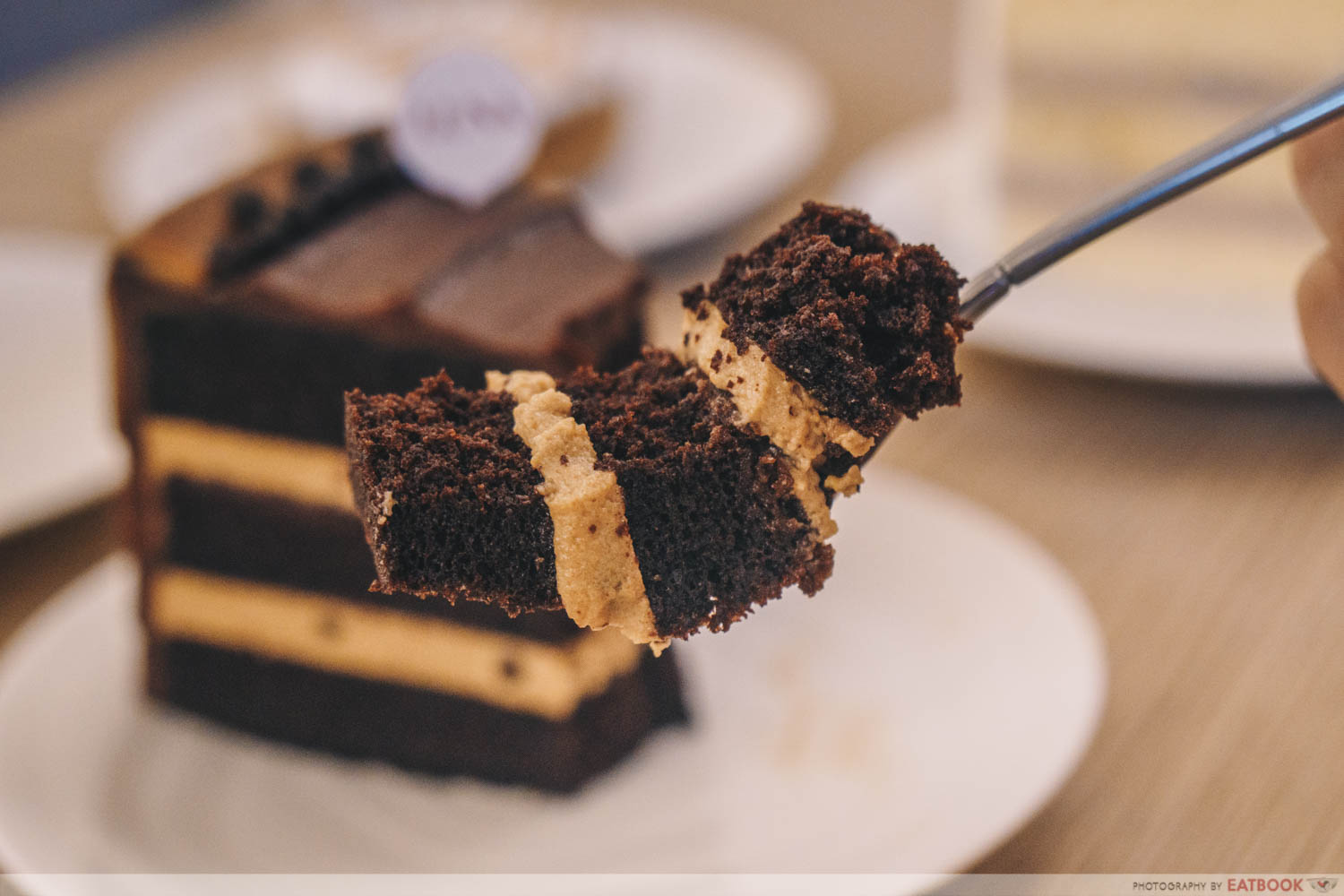 The chocolate sponge was denser and cakier compared to their vanilla variant, but still remained exceptionally moist. The rich bittersweet notes of dark chocolate mostly came from the thick ganache, while the cocoa in the sponge was not nearly as detectable. Instead, there was a rather bizarre and bitter aftertaste, much like what you get when too much baking soda was used.
This might be an effect of the buttermilk, which is infamous for tasting a bit funky and acidic on its own. Perhaps if they had a slightly sweeter speculoos cream or gave the caramel on the side a bigger role to play, the bitterness of the sponge could have been levelled out.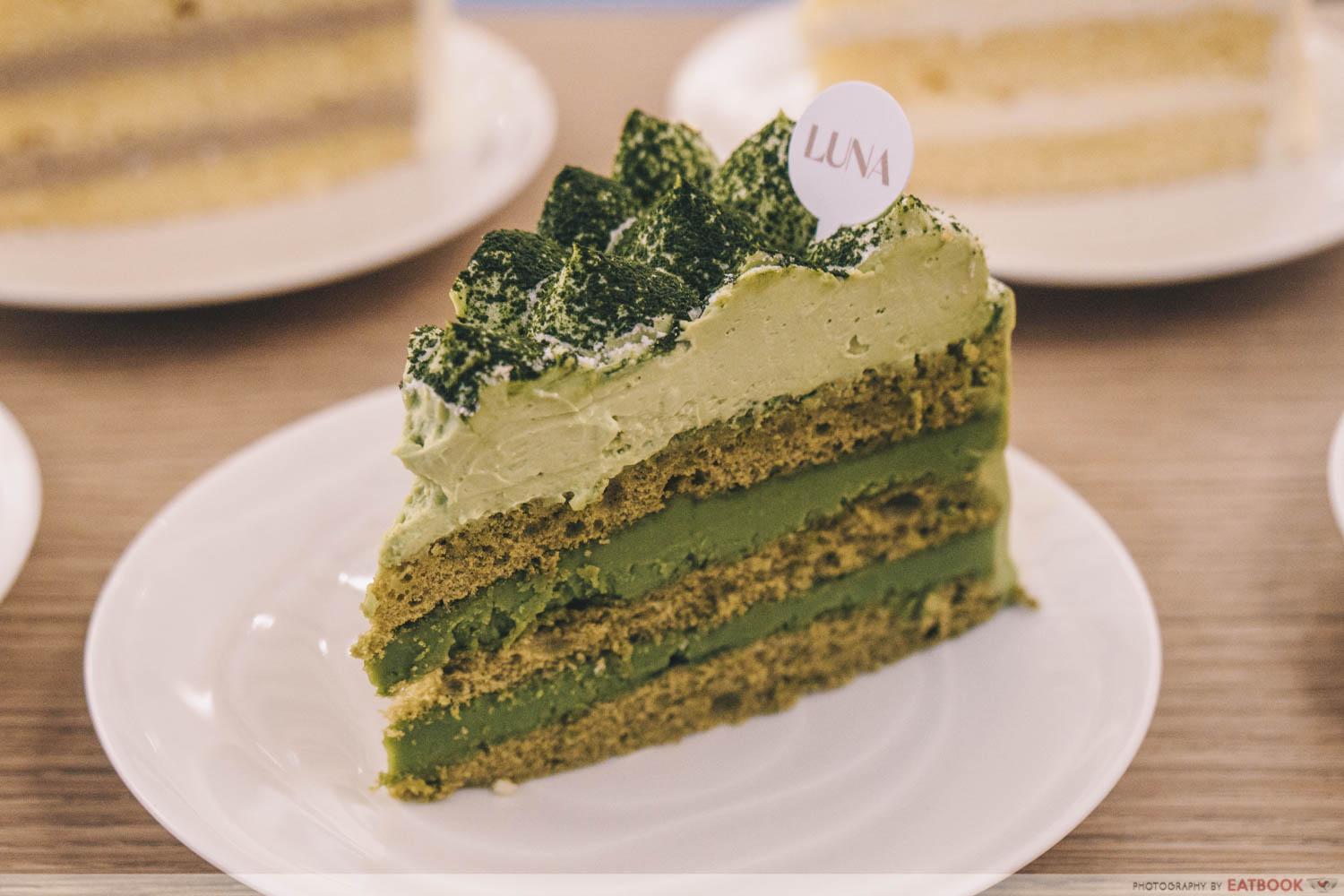 As a huge sucker for green tea desserts, I was definitely pumped to give their Matcha White Chocolate ($8+) cake a try. This earthy green slice features a matcha chiffon sponge layered with a matcha Valrhona Ivoire white chocolate ganache, topped with a tall layer of piped green tea cream. Dusted with a deep green matcha powder on top, this cake had a simple but elegant look.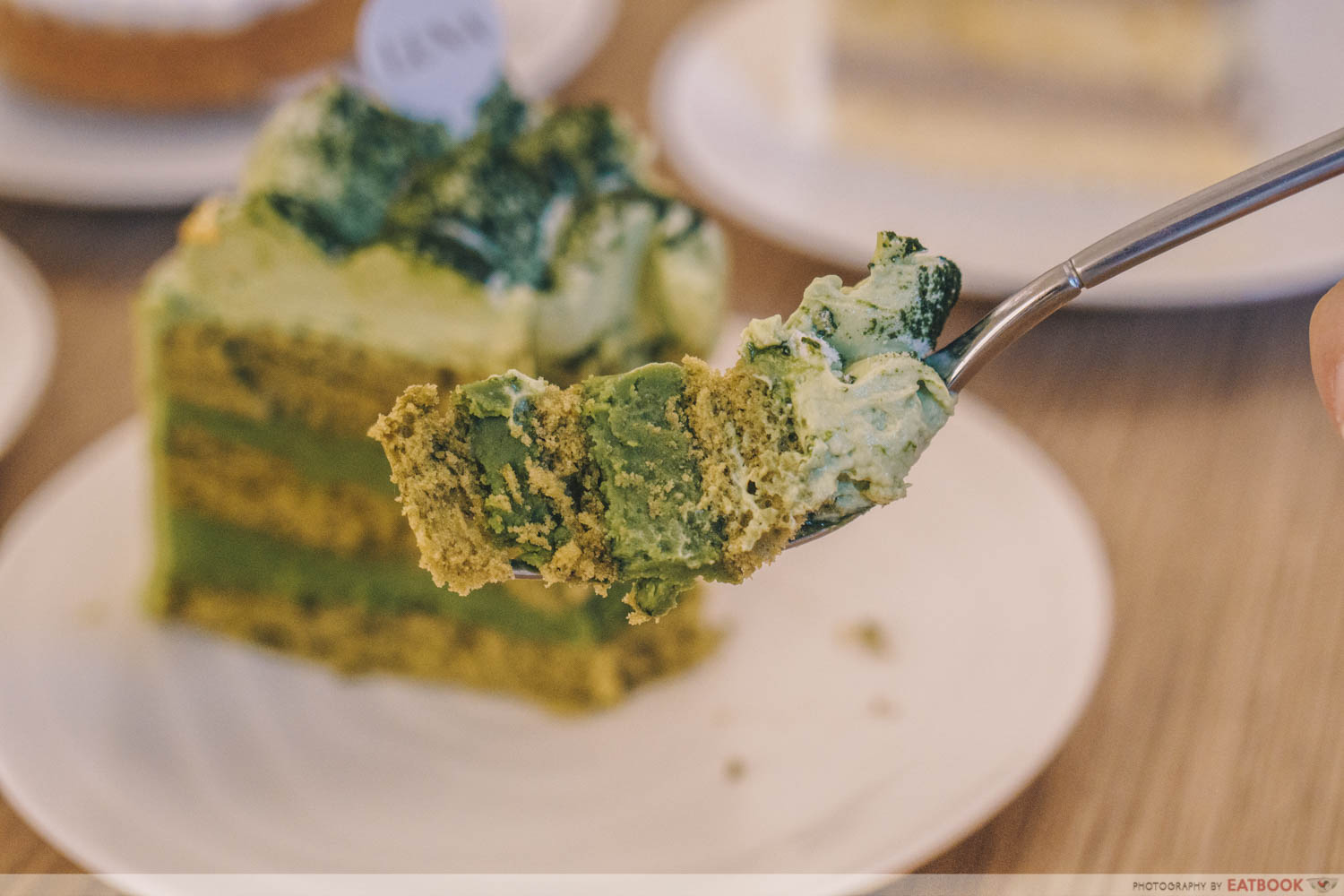 Matcha took the spotlight in every component of this slice. The airy Chantilly cream had light notes of fragrant tea, while in the sponge and ganache, the punch of aromatic matcha was more prominent. The choice of the chiffon sponge was extremely apt too. Its fluffier texture kept the cake from being too heavy, even when layered with the dense ganache filling.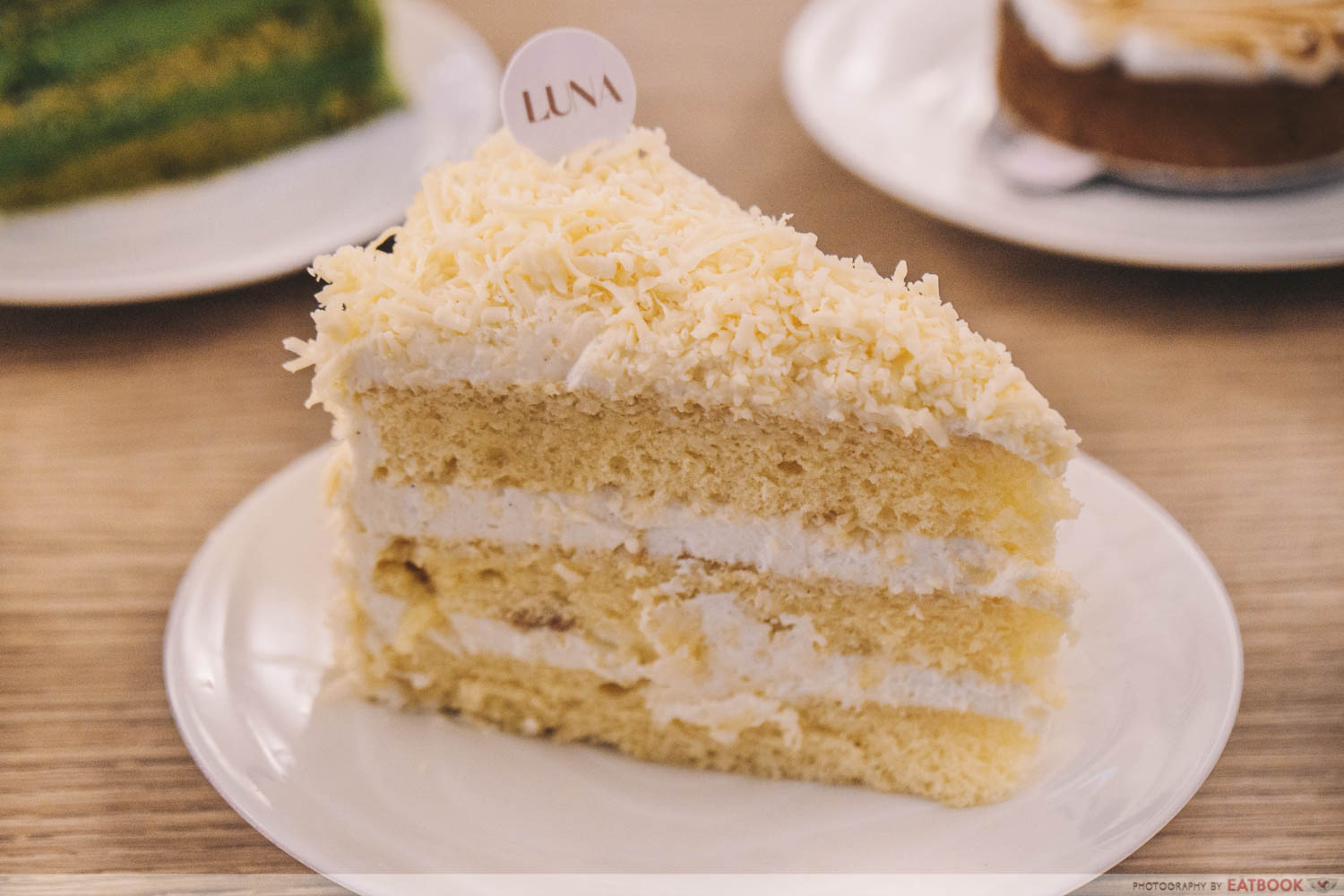 This Vanilla Cheddar Cheese ($7.50) was significantly less lavish compared to their other cakes. Flakes of cheese were incorporated within alternating layers of pale yellow sponge and white vanilla cream. They were also generously showered all over the cake.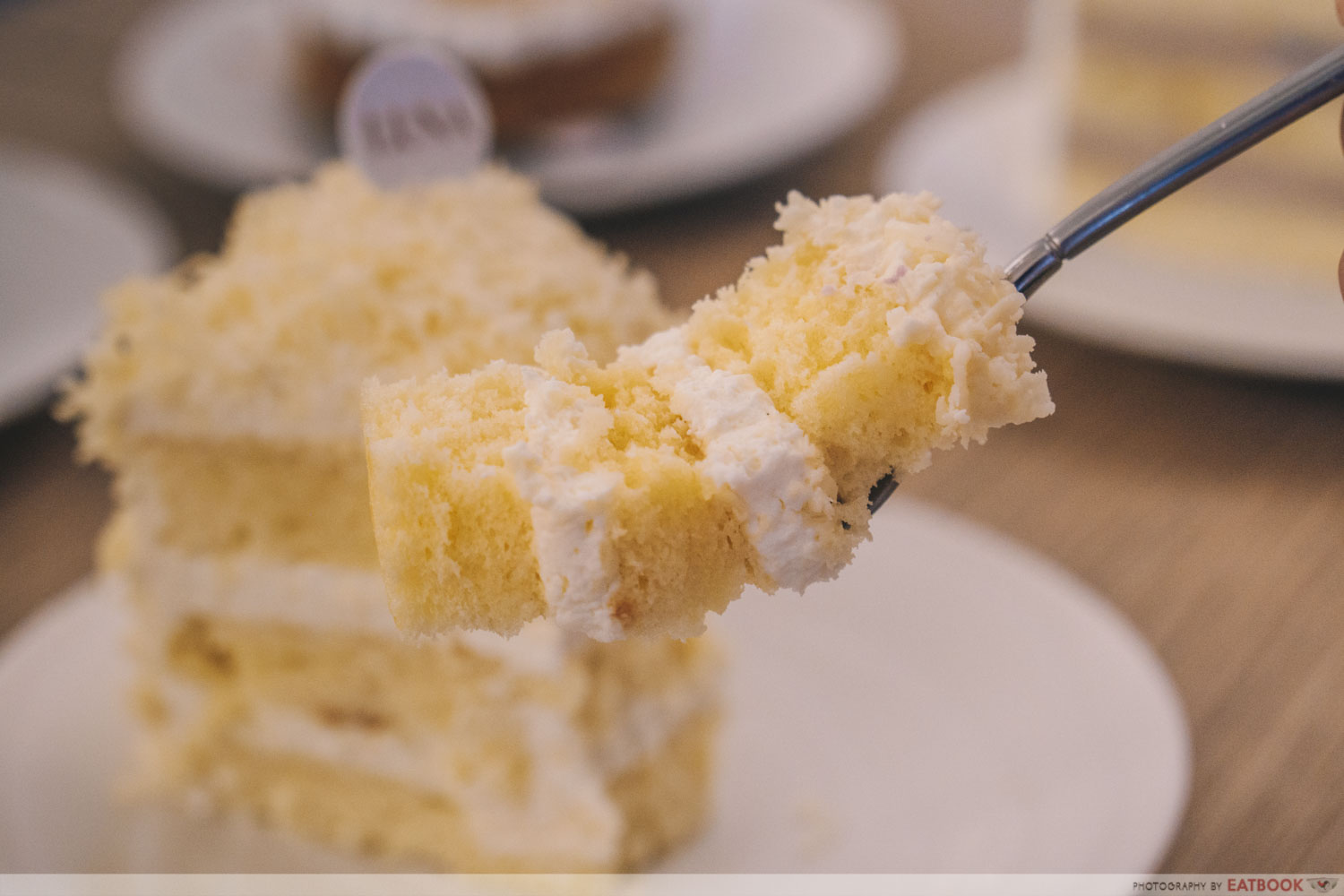 Considering the sweet vanilla sponge, fatty cream, and cheese, I was expecting this cake to be on the heavier side. But this cake surprised me every step of the way. The sponge and whipped cream layers were pleasantly light, in terms of mouthfeel and flavour. It was not cloyingly sweet and I could even taste the subtle floral notes of vanilla.
The grated mild cheddar on the top was the unexpected star of the slice. The thin flakes had a melt-in-the-mouth texture, while its salty flavour combined beautifully with the sweetness of the cake.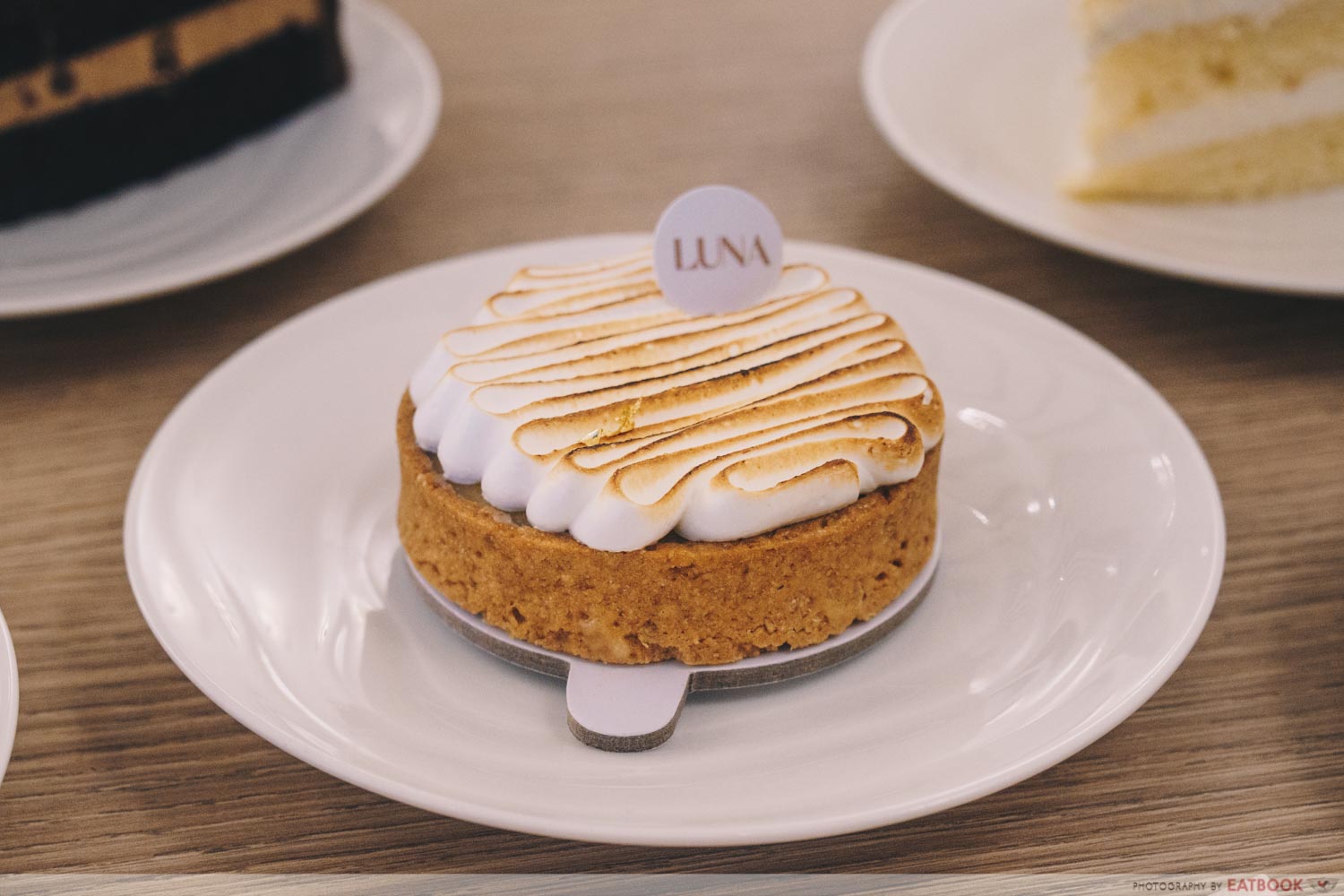 Lastly, we moved on to a different form of dessert. This Yuzu Meringue Tart ($6) is a seasonal item in their pastry selection. Once again, their presentation did not disappoint. Its filling was hidden by a piped meringue top, which was gently torched to grant it that deep brown, caramelised shade.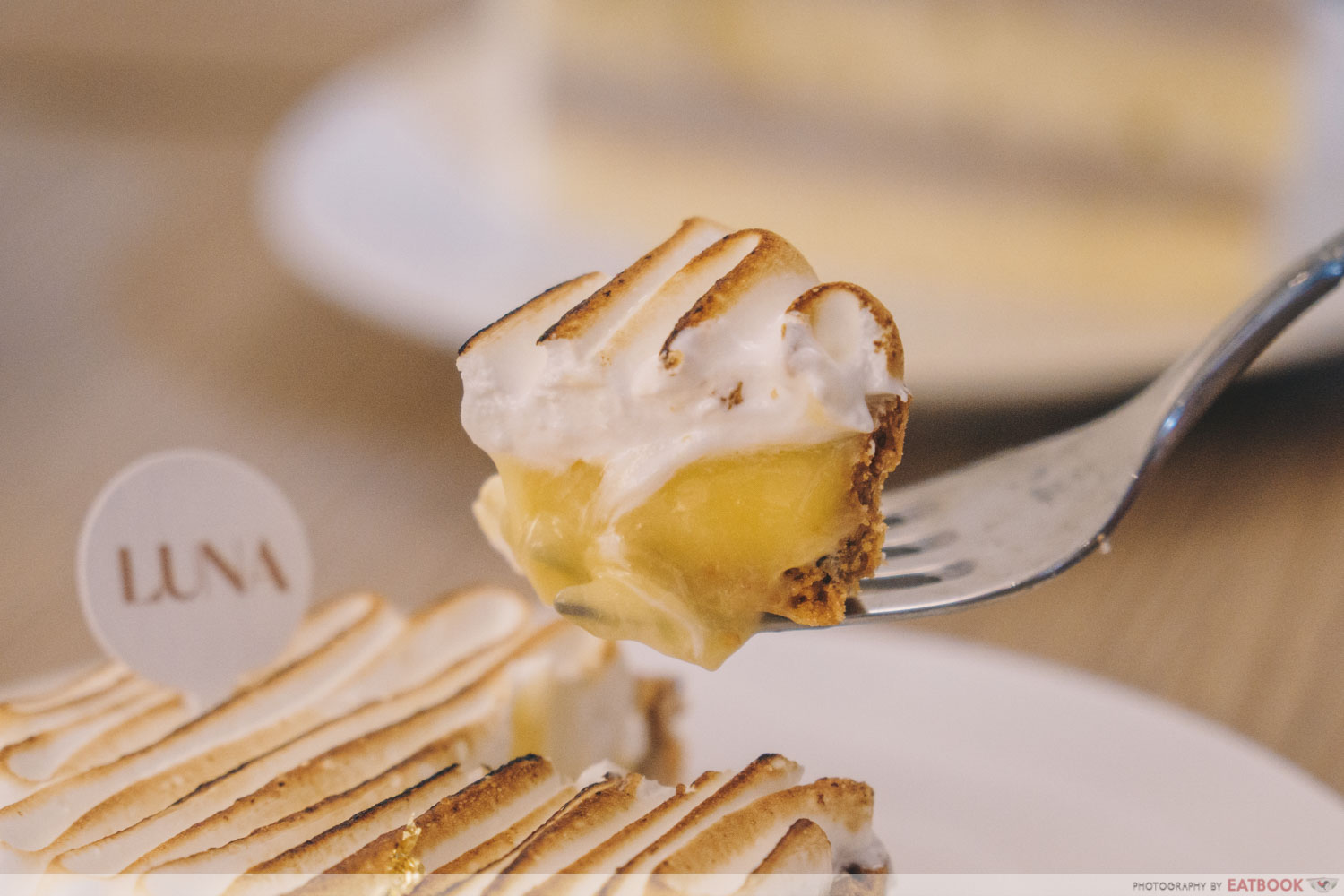 I sliced a bite-sized piece with my fork and the bright yellow yuzu filling oozed out, almost like an appetising onsen egg yolk. With the first few bites, the bright citrus flavour of yuzu was the only thing my tastebuds registered. If I had to nitpick, the sweet, concentrated filling was a tad too overpowering. The meringue top could also do with a bit more torching for a firmer texture, since it practically dissolved into sugar the moment it landed on my tongue.
The tart base is usually my favourite part of the tart, but in this case, the biscuit base lacked that buttery flavour that I was looking for, and it was overwhelmed by the yuzu as well.
Ambience at LUNA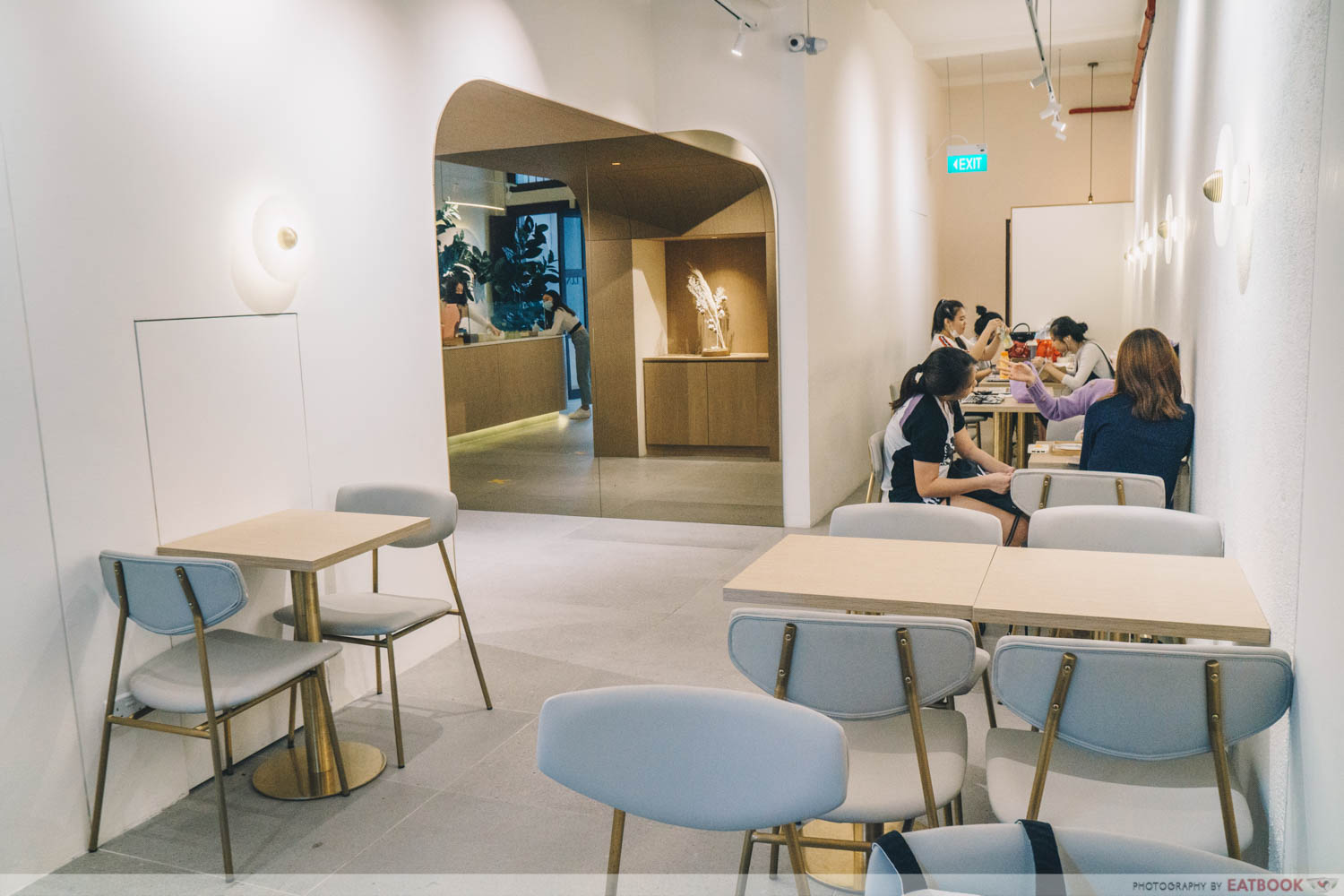 Located just six minutes away from Telok Ayer MRT Station, LUNA is a serene escape from the bustle of Amoy Street. The patisserie carries off a polished and minimalist feel without being too cold or austere. With its palette of soft colours, coupled with the touches of greenery and warm lighting, the cafe possesses a welcoming atmosphere. If you're planning on dining in, try to do so during non-peak hours since sitting space may be limited!
The verdict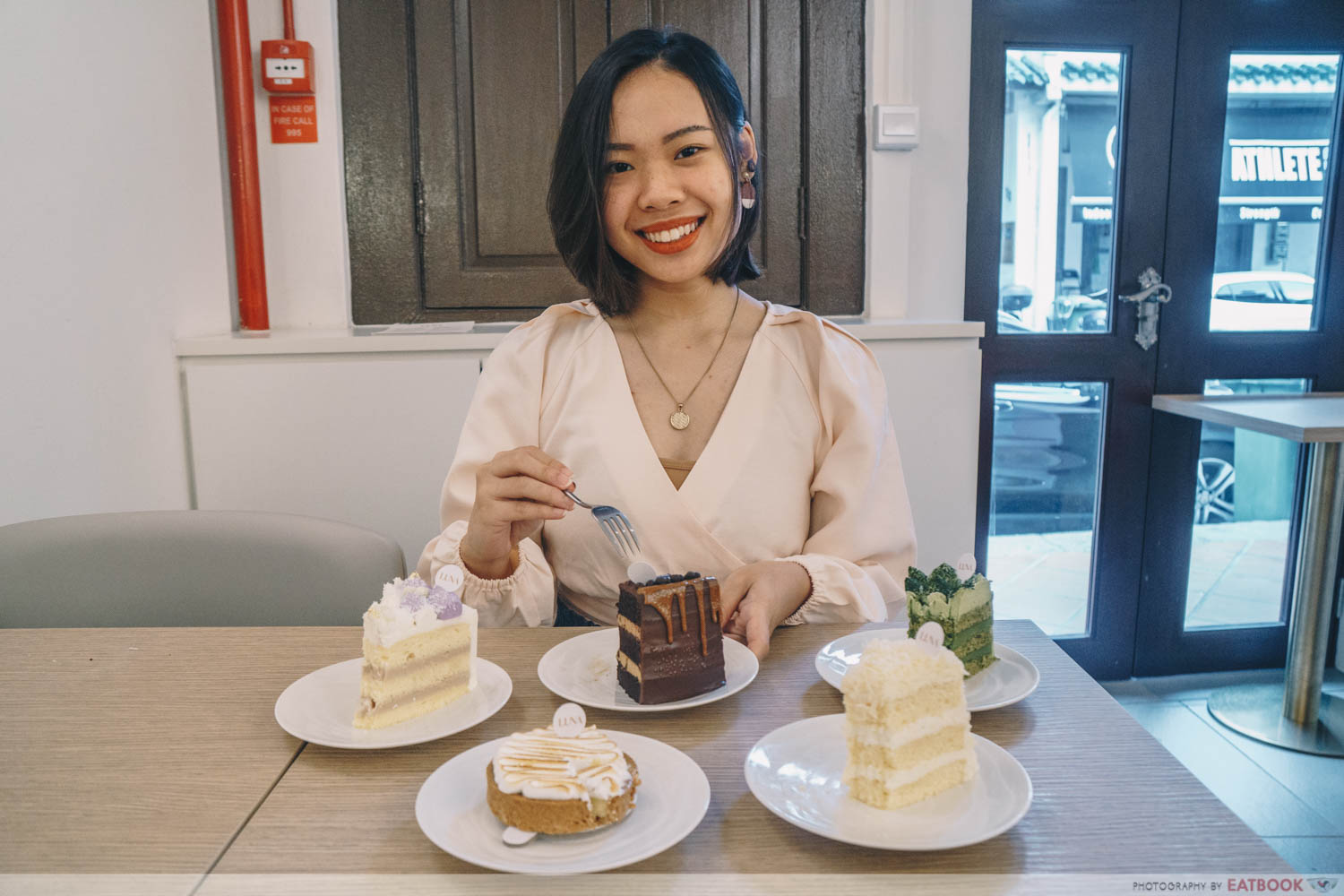 Compared to many of its neighbouring cafes, LUNA's bakes are undoubtedly worth its price tag. Every slice of cake they sell is stacked tall and adorned with intricate embellishments that complement the character of the cake. It's clear they don't skimp on quality here. On top of that, their flavours are often well thought out, balanced, and harmonious. I definitely see myself returning to the cafe soon for a warm cup of latte and more of their exquisite cakes.
The patisserie is currently working with third-party delivery drivers to offer islandwide delivery. You can order whole cakes or individual slices off their order form, but note that orders below $45 will incur a flat delivery fee of $7.
10 Amoy Street Food Centre Stalls To Visit When You're In The CBD
Check out our list of Amoy Street Food Centre stalls for more food gems in the area. If you're looking for more aesthetic cafes to spend a quiet afternoon, check out our review of Kamome Bakery!
Kamome Bakery Review: Japanese Cafe With Red Bean Butter Buns, Mentaiko Baguettes And More
Address: 53 Amoy Street, Singapore 069879
Opening hours: Mon-Fri 12pm to 6:30pm, Sat-Sun 12pm to 4pm
Website
Photos taken by Chng Jia Yan.
This is an independent review by Eatbook.sg.
Summary
Pros
– Large cake slices
– Unique flavours
– Beautifully constructed cakes
– Calming ambience
Cons
– Some pastries were a bit lacking in flavour
Recommended buns: Matcha White Chocolate ($8+), Vanilla Cheddar Cheese ($7.50+)
Opening hours: Mon-Fri 12pm to 6:30pm, Sat-Sun 12pm to 4pm
Address: 53 Amoy Street, Singapore 069879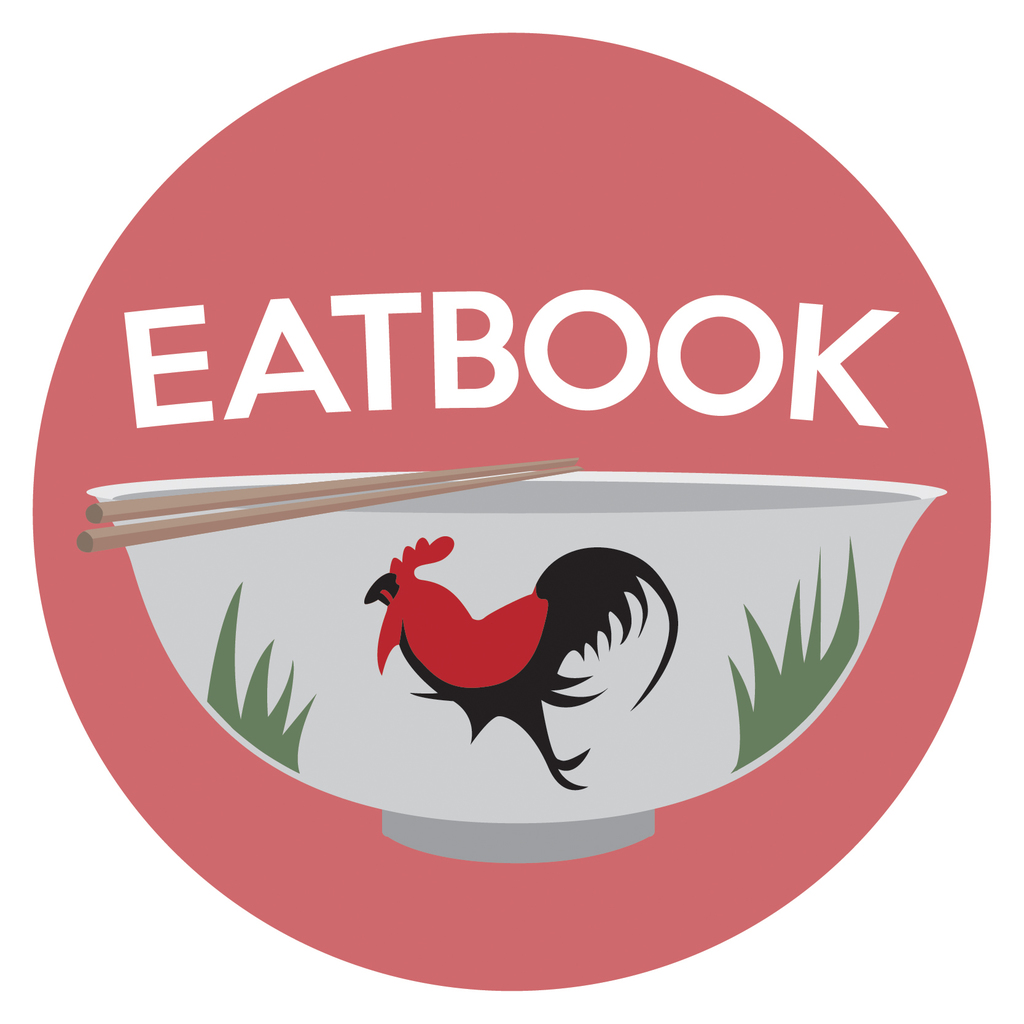 Drop us your email so you won't miss the latest news.