---
Birthday cakes in Singapore
---
Celebrating birthdays with cakes has been a tradition since the early ages. With the large variety of bakeries in Singapore, including plenty of Instagram bakers, there is a wide selection of birthday cakes to choose from—be it eggless vegan options or multi-tiered ones. If you're looking to celebrate at home, this list of birthday cakes in Singapore all come with takeaway or delivery options!
Note: Corine & Cake is temporarily closed.
---
1. Whyzee
---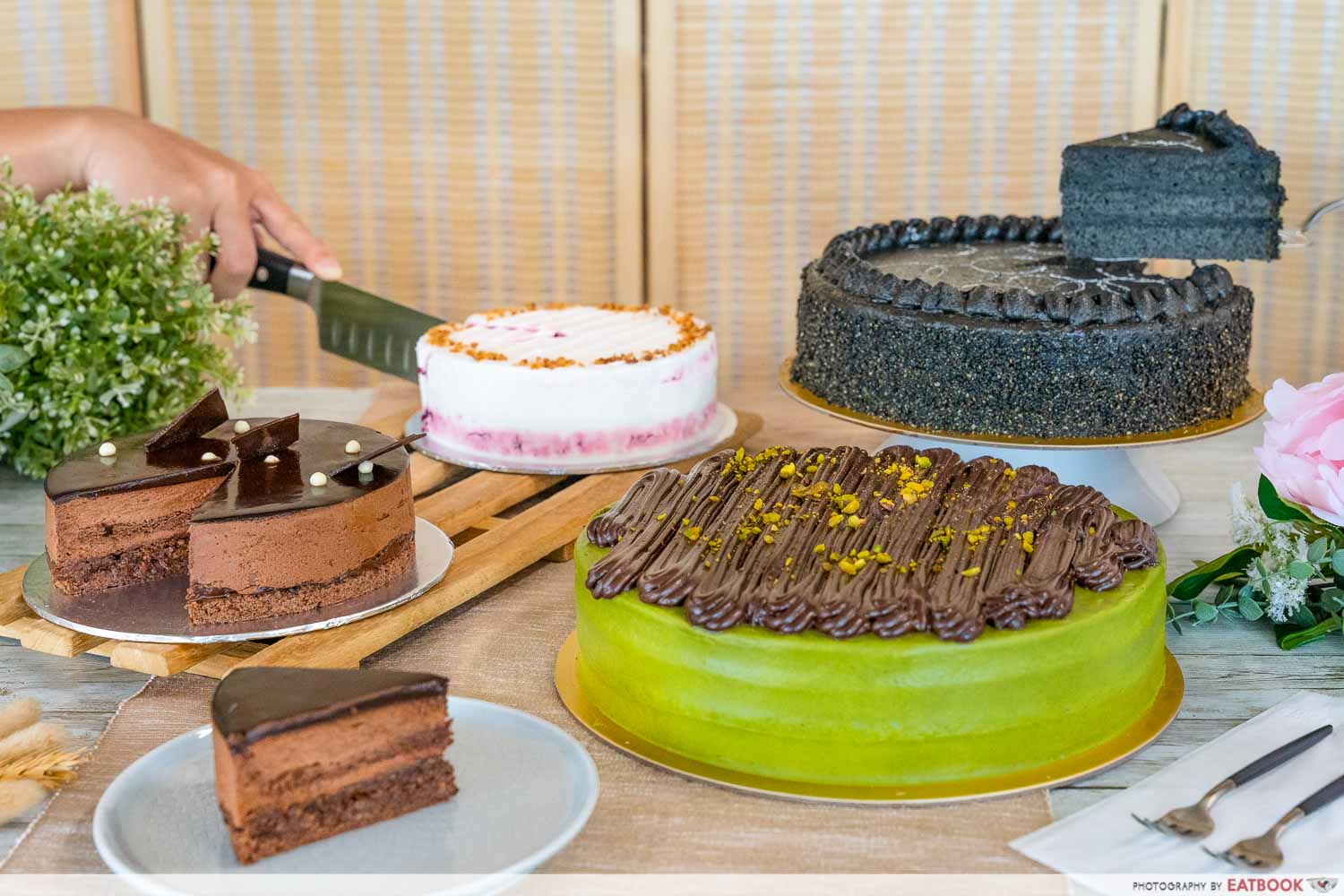 If you're one to leave things to the last minute, Whyzee is a one-stop solution to keep your procrastinated worries at bay. Armed with a plethora of cakes, brownies, cupcakes, muffins, and lava cakes, Whyzee also offers options for one-hour express, same-day, or even midnight cake deliveries. 
Made without preservatives, these birthday cakes are priced from $29.90. There are common flavours such as their layered Chocolate Praline Cake ($52.90), to more unique ones such as the fragrant Black Sesame Cake ($88.90) and addictive Pistachio Chocolate Cake ($88.90). Don't forget to jazz your timely cakes up with fresh flower bouquets, customisable balloons, Jellycat plushies and more.
Address: 11 Sin Ming Road, #01-30, Thomson V Two, Singapore 575629
Opening hours: Daily 10am to 6pm
Tel: 9773 2434 (WhatsApp only)
Website
---
2. Zee & Elle
---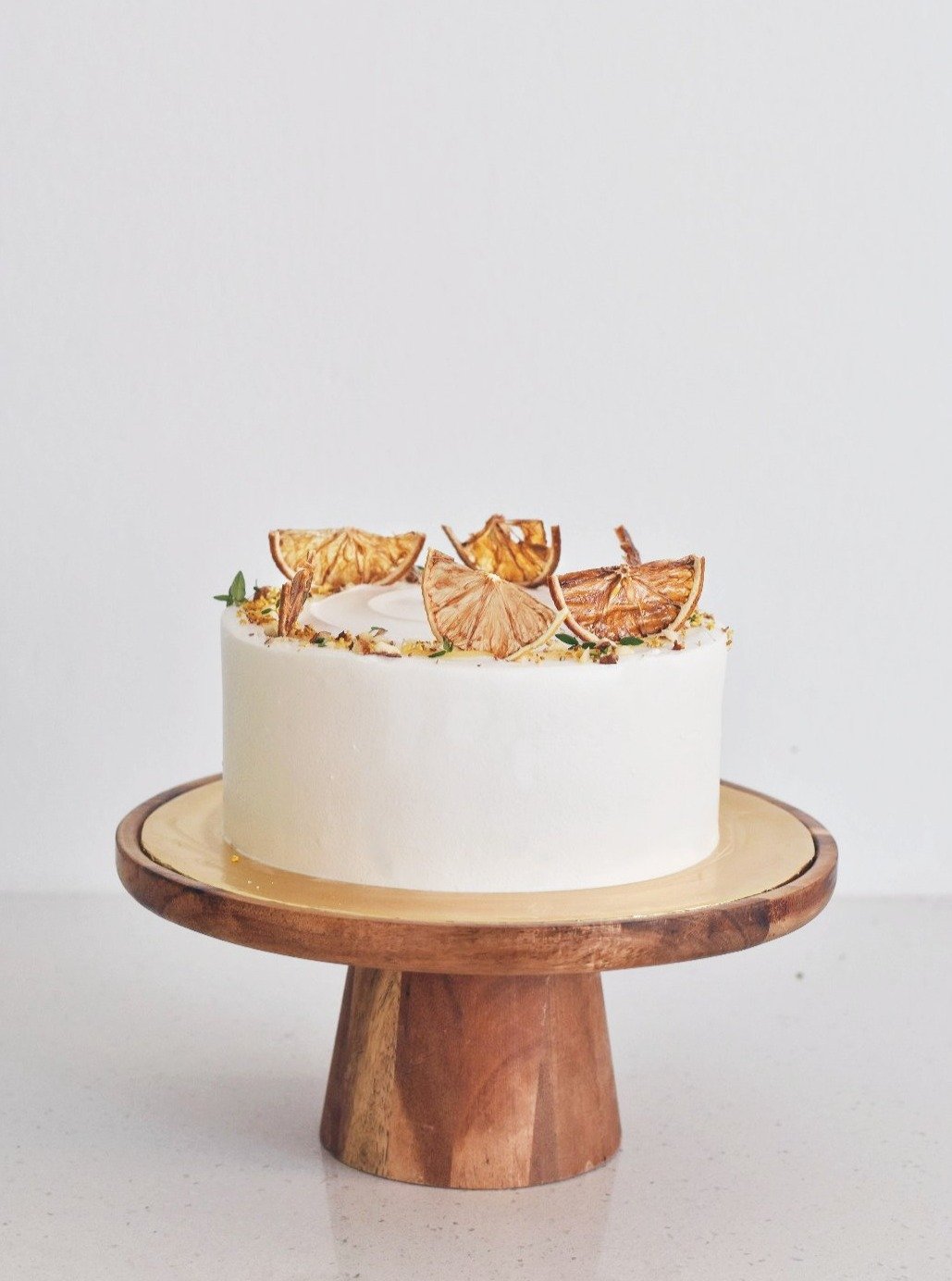 Image credit: Zee & Elle
Homegrown brand Zee & Elle prides themselves on making cakes with quality, pure ingredients, 100% fruits, and no preservatives. Each cake is made to order, and options include signatures such as the Honey Yuzu (from $58), and Guava Lychee (from $55). The former sees tiers of yuzu sponge alternating with house-made yuzu curd, and Manuka honey-infused cream, while the latter features an uncommonly seen guava sponge, layered with guava-infused fresh cream, and lychee bits.
Outside of their standard bakes, Zee & Elle's nature-inspired bakes can be customised to order, easily available through their website. Pick your order up from their studio in Macpherson, or get your cakes delivered at a flat rate of $10 between Tuesdays and Thursdays. If you're getting your order delivered between Friday to Sunday, delivery is chargeable at $18.
Address: 524 Macpherson Road, Singapore 368215
Opening hours: Tue-Fri 11:30am to 7pm, Sat 10am to 5pm, Sun 10am to 2pm 
Tel: 6741 4514 
Website
---
3. Dig In Cakes
---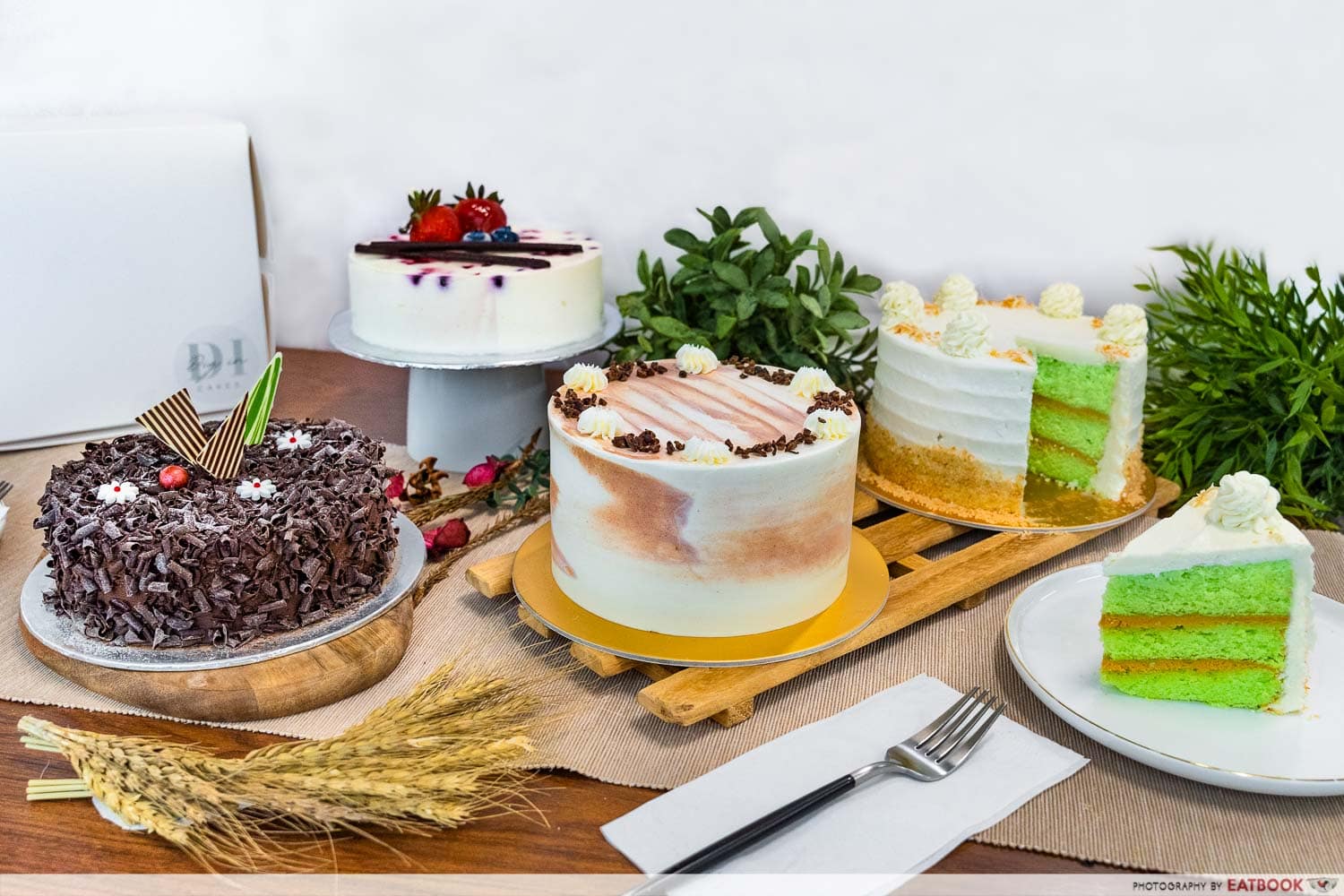 From locally-inspired flavours, to classic fruit cakes, Dig In Cakes has something for everyone. Check out their 6'' Royal Charlotte Cake ($38, U.P. $48) and the 6'' Chocolate Truffle Cake ($38, U.P. $48) for something simple, yet classy. The former is adapted from the classic jam-filled Swiss roll, and thus sees swirls of blueberry and raspberry jam, infused into a velvety cream. Alternatively, consider their selection of cakes that are inspired by local flavours, made with no preservatives. This includes the 6'' Pandan Kaya Cake ($54, U.P. $79), 6'' Okinawa Milk Tea with Brown Sugar Jelly Cake ($58, U.P. $87) and many others.  
What's more, Dig In Cakes is available 24/7, and you can get bouquets and helium balloons with your cake order too! That means you won't have to worry about searching high and low for a last-minute gift solution, as they can deliver within an hour's notice ($20), and even during the night ($30). Standard delivery is also available at a fixed rate of $10. 
Tel: 8940 8349
Website
---
4. The Durian Bakery
---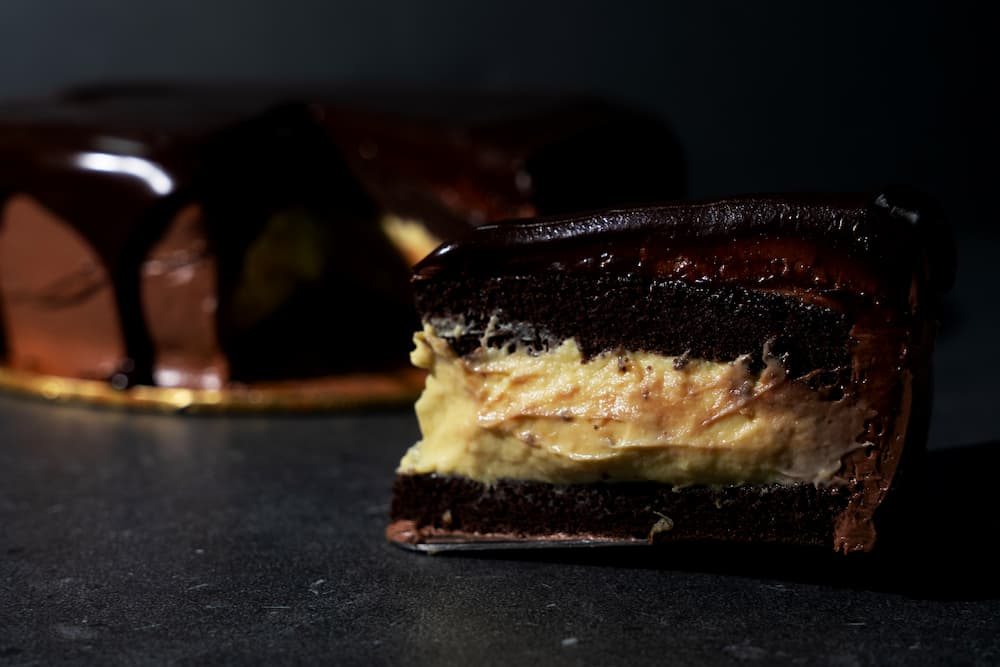 Image credit: The Durian Bakery
Treat the durian lover in your life to a good time with The Durian Bakery's selection of delicious, premium durian cakes and pastries. Each item in their selection is made with healthy, high quality ingredients, including a zero-calorie sweetener, so each bite is kinder on the calories. All durians are sourced from a private plantation, and the flesh is transformed into their proprietary SilkyGold puree, which is later incorporated into their bakes.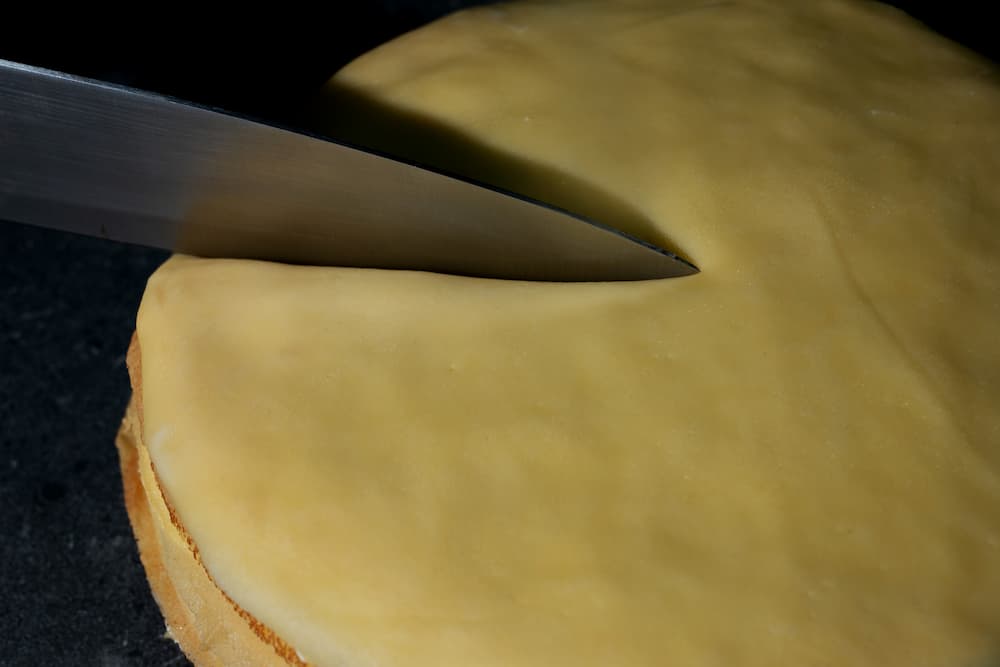 Image credit: The Durian Bakery
Their ooey-gooey Dark Chocolate Fudge Drip Cake with Mao Shan Wang 6" Core ($78) is a must-try for fans of chocolate cake and the King of Fruits. It features borderline molten fudge, dense chocolate sponge, and a thick middle layer of pure MSW durian. For something lighter, yet no less delicious, try the Mao Shan Wang Durian Mille Crepe Cake 8" ($88), or go all out and get their Signature Pastries Taster Bundle ($51.90) for an unconventional take on birthday cake. This comes with all of the bakery's best-selling pastries, including their D24 Snowy Mochi, Durian Choux Puff, and Dark Choco MSW Mousse. Same-day delivery is available too!
---
5. Honeypeachsg Bakery
---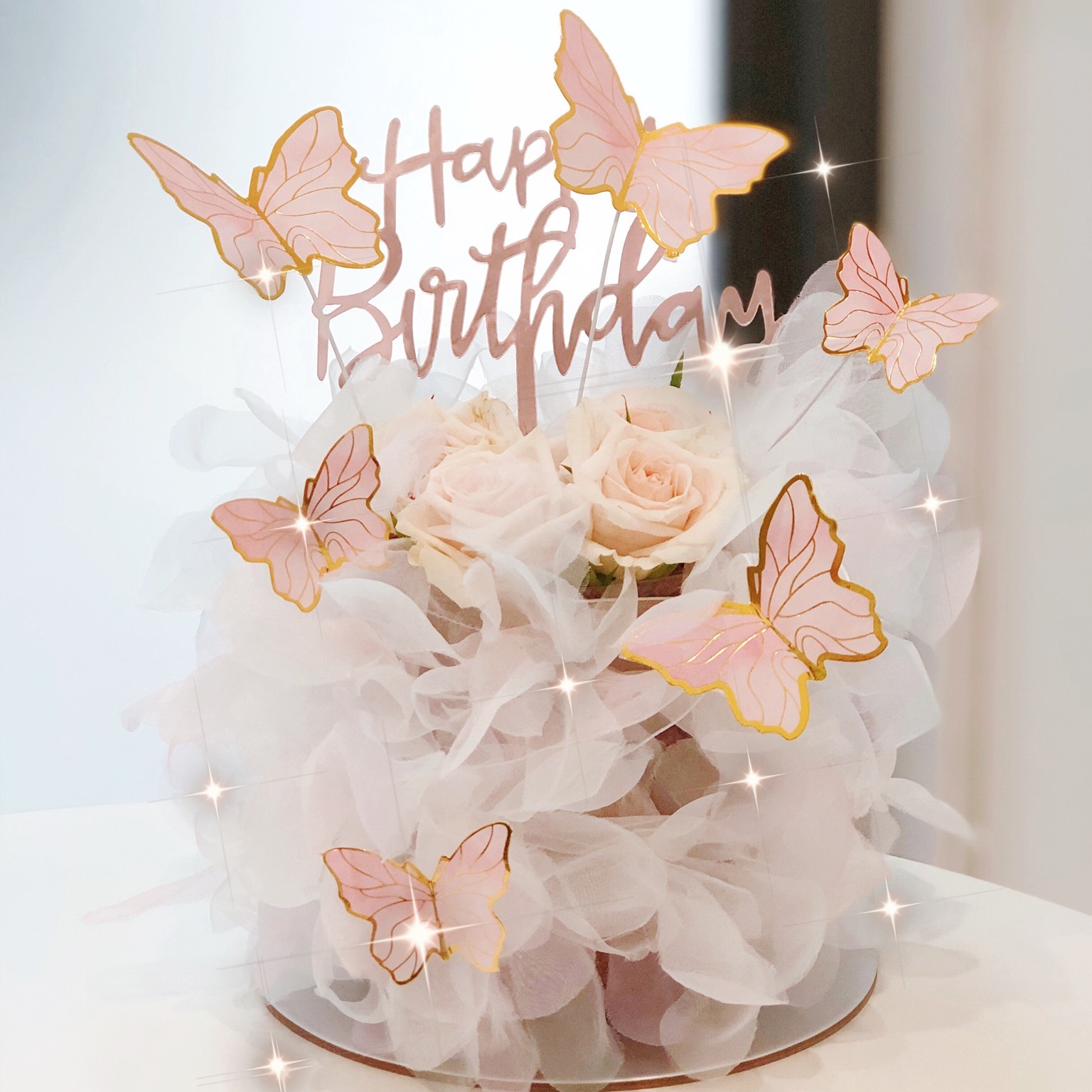 Image credit: Honeypeachsg Bakery
If you are planning a birthday for someone with a penchant for ethereal-looking cakes, then look to Honeypeachsg Bakery. This raved-about online bakery specialises in customisable birthday cakes, with designs that span floral, pastel, galaxy, butterfly, and even mermaid. The cakes start at $29.90 for mini versions, and from $50 for their regular six- and eight-inch cakes. Choose from eight flavours, including Double Chocolate, Sea Salt Chocolate Caramel, Hojicha White Chocolate, and Cookie Butter. All of these feature a moist, fluffy crumb, and are made with top-quality ingredients.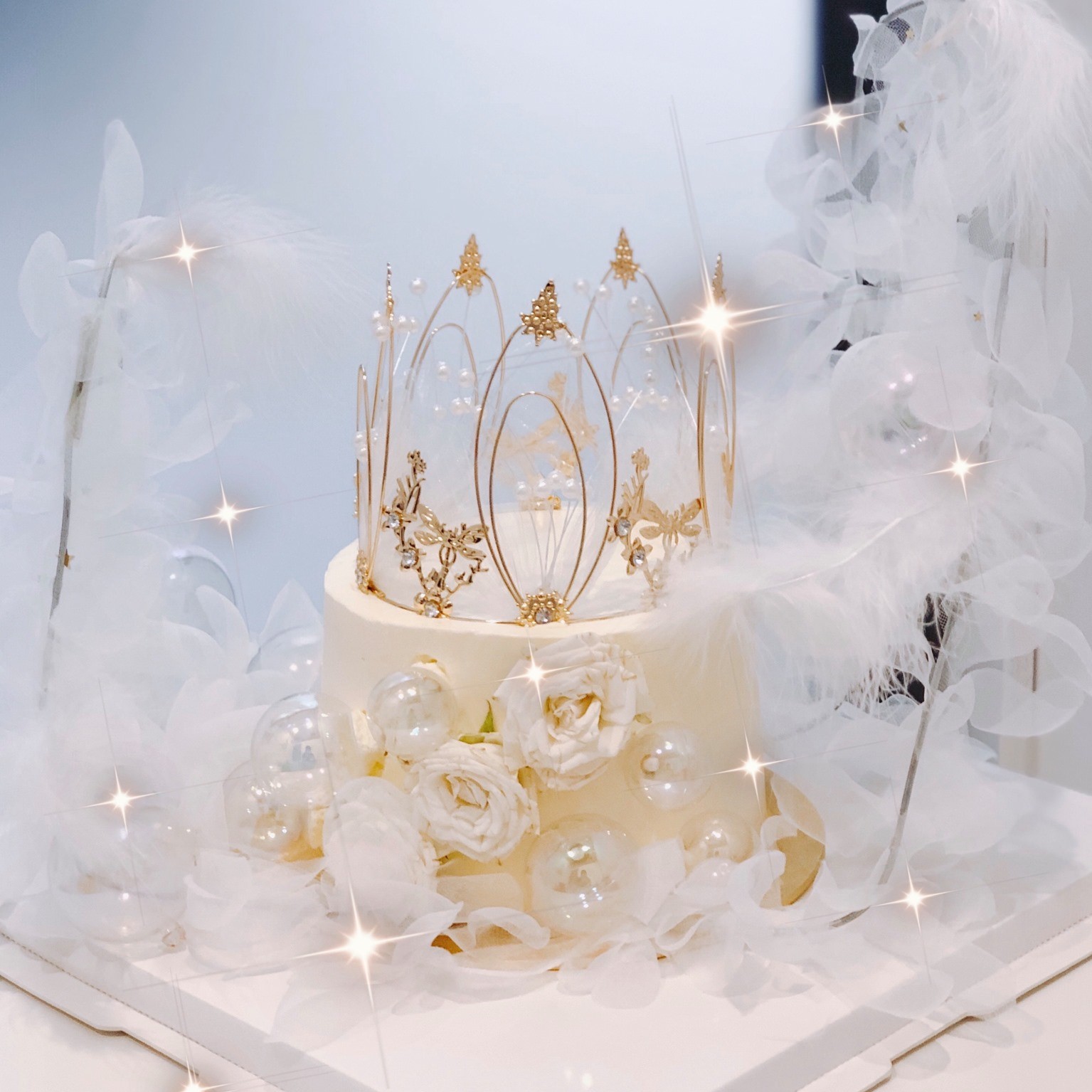 Image credit: Honeypeachsg Bakery
Apart from their IG-worthy delicate cake designs, Honeypeachsg Bakery also has a range of bolder cakes for men, longevity cakes with mahjong fondant, and even gender reveal cakes! Delivery is free as well. Be sure to check out their promotions page for cakes on sale, so you can save up to $35 on your order.
---
6. Bob The Baker Boy
---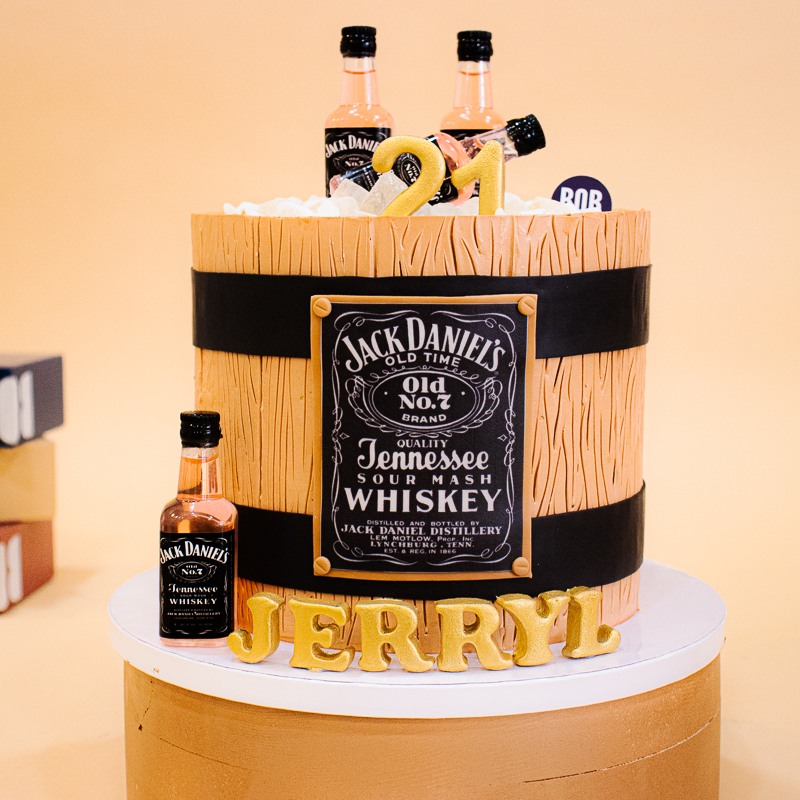 Image credit: Bob The Baker Boy
Those looking for a birthday cake with a truly personalised twist can opt to order a custom cake from Bob The Baker Boy. This highly-rated homegrown bakery has a long legacy of creating customised cakes in Singapore for notable and leading brands, as well as customers. Bob The Baker Boy's artisans have years of experience, evinced by their creative designs, and equally delicious flavours that are also 50% lower in sugar than your average birthday cake.
If you're looking to go down the custom birthday cake route, choose from a library of themes available on their website, with designs that range from dinosaurs to the galaxy, mahjong to mermaids. Else, you can also choose to have their artisans design you a cake from reference photos, with their 'Design Your Own Cake' option. Prices start at $128.
Turnaround times for orders and queries are very quick too. You can expect a response within the hour, from 8am to 12am daily, which is great if you need your cake in a jiffy.
Order their birthday cakes here!
---
7. CAKEBAR
---
Head over to CAKEBAR's newest outlet at Orchard Road and celebrate your loved one with their whole birthday cakes. The bakery uses imported ingredients from France and Japan, resulting in the pillowy softness that their bakes are known for. The bakery's signature is the 6-inch Kori Lemon Cake ($33), a fan favourite that sees an ice cream-like lemon curd sitting on a white chocolate almond crumble base. Available as a 6-inch Cake ($33) or as a tart ($8.50), this delectable dessert is best enjoyed frozen to ensure the curd retains its firmness.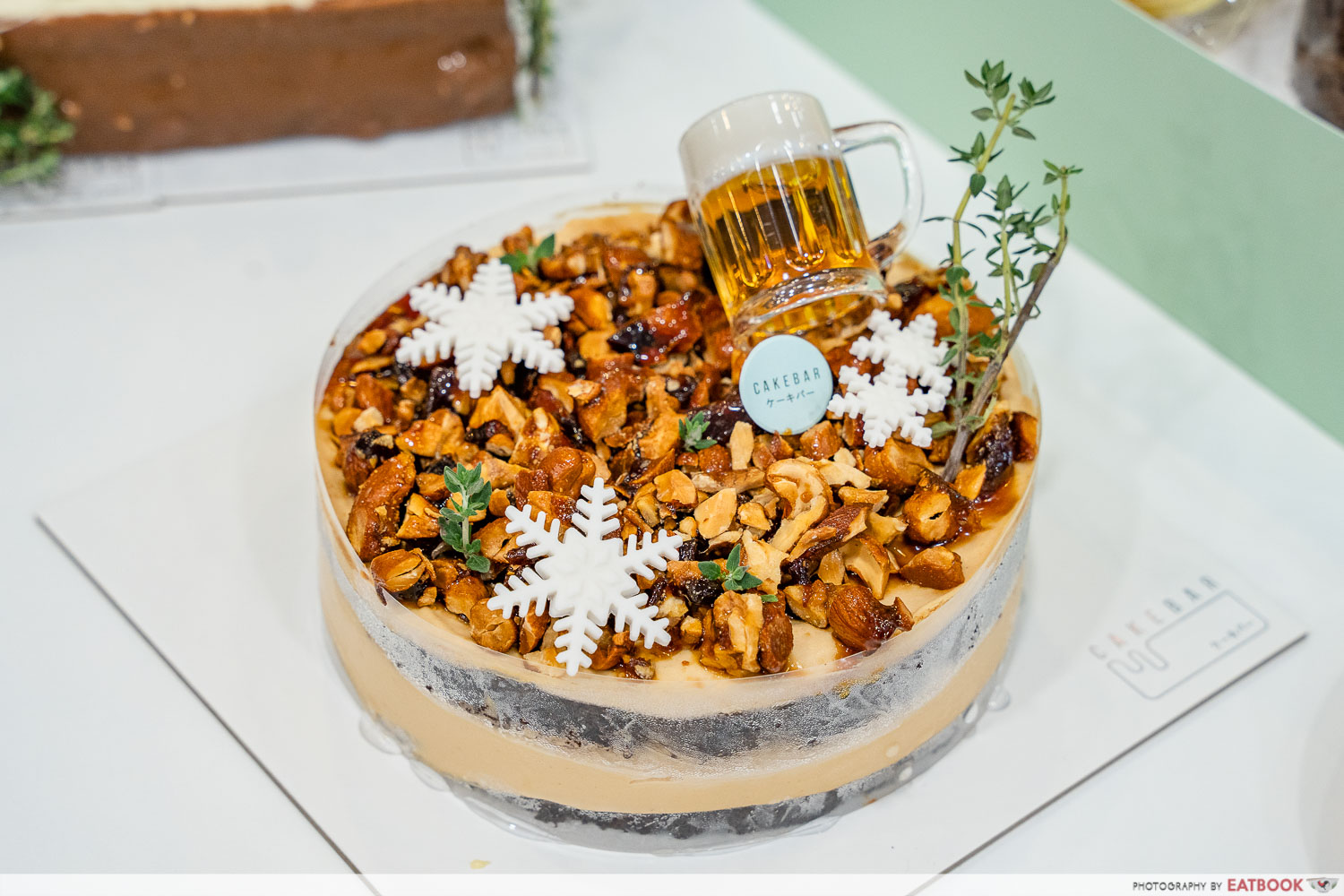 Your beer-loving pal will appreciate the Caramel Mix Nuts Beer Cake ($42)—moist, Guinness beer-spiked chocolate sponge with salted caramel mousse layers. Enough to feed a party of up to six people, the cake is topped with almonds, pistachios, and cashew nuts for a mix of sweet and salty flavours.
Order birthday cakes via the CAKEBAR website.
Address: Palais Renaissance #01-07A, 390 Orchard Road, Singapore 238871
Opening hours: Daily 10am to 9pm
Website
CAKEBAR is not a halal-certified eatery.
---
8. Rainbowly
---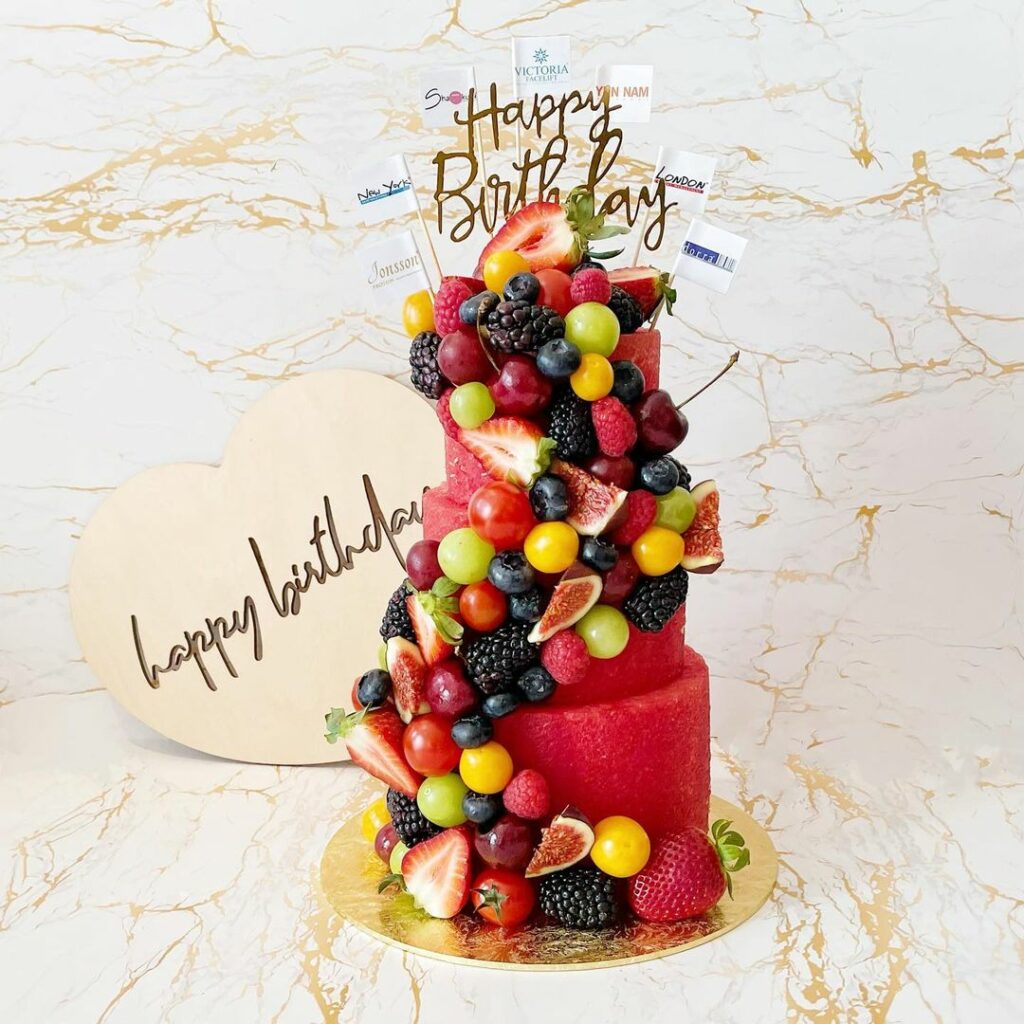 Image credit: @rainbowlysg
If you're bored of regular birthday cakes, order something a little different for your next celebration. Rainbowly, known for their unique fresh fruit arrangements, has a Watermelon Cake (from $139) that'll impress everyone—even those who claim to dislike fruits. The vegan-friendly, guilt-free cake is made fresh daily, with premium seasonal fruits such as berries and grapes, all lined up beautifully on actual watermelon rounds.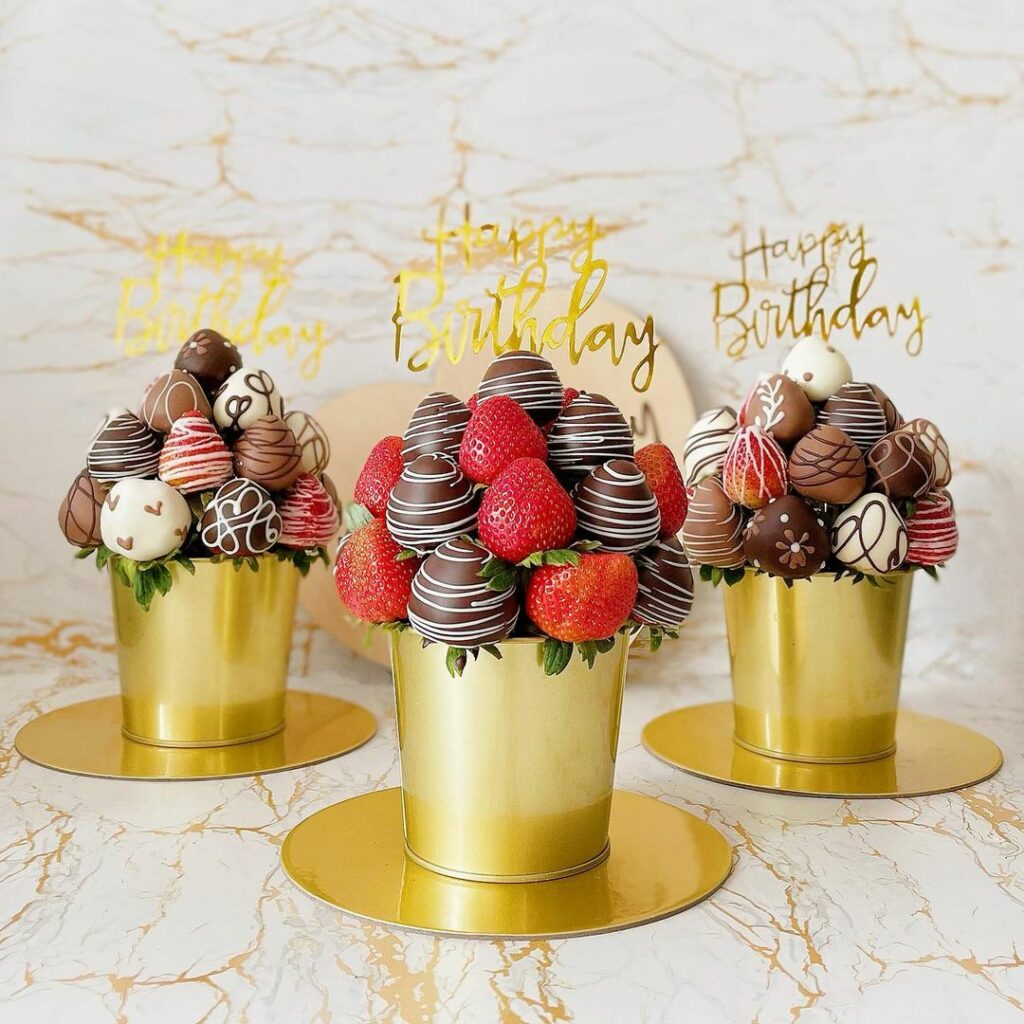 Image credit: @rainbowlysg
Alternatively, the All About You Fruit Hamper Bouquet Arrangement (from $119) is an unconventional "cake" for those who aren't big on traditional layered cakes. This best-selling showstopper sees plump and juicy strawberries coated in a combination of dark, milk, and white chocolate, propped up on a reusable gold pot. 
Delivery costs $20 and there's an additional charge of $10 for addresses in Jurong Island, Sentosa Island, and Tuas. 
---
9. FNP
---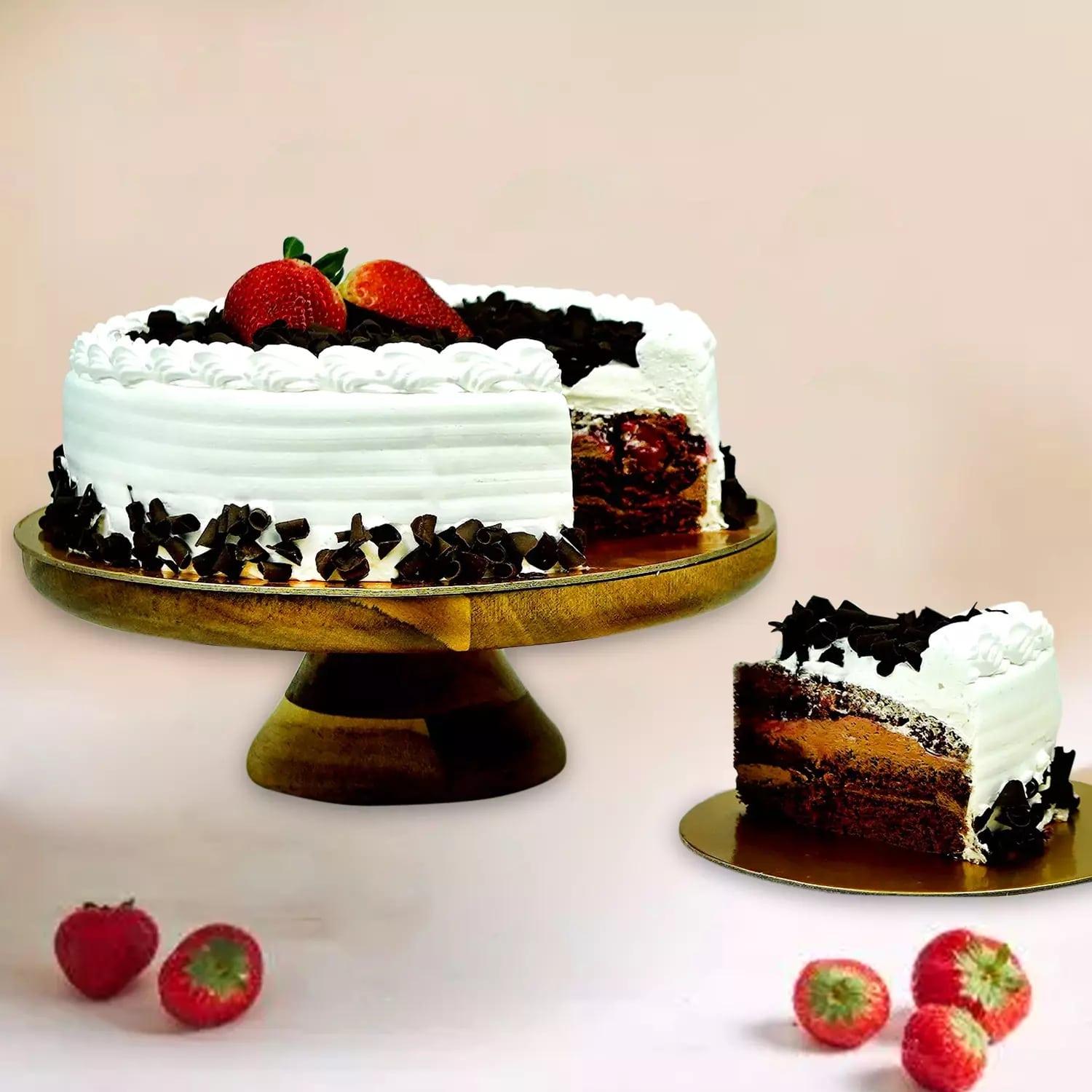 Image credit: FNP
Scrambling for a last-minute cake is never fun, especially not when it's after hours or your friend tells you nobody will be home till late. Enter FNP, a cake delivery service in Singapore that offers one-hour islandwide delivery all day, up to midnight!
To complete the gifting experience, you can even bundle your choice of cake with flowers, balloons, and even chocolate and wine. Go for evergreens such as the Yummy Chocolate Cake ($65), or the Chantilly Fruit Cake ($59); get the best of both when you order the Black Forest Cake ($65).
Standard courier delivery between 9am and 9pm is free with all orders, but do note there's an additional charge of $10 if you prefer to specify a time window for delivery. Should you opt for one-hour or midnight deliveries, there will be a $15 top-up.
Address: 444 Tagore Industrial Avenue, Singapore 787817
Opening hours: Daily 7am to 9pm
Tel: 9727 9363
Website
---
10. Corine & Cake
---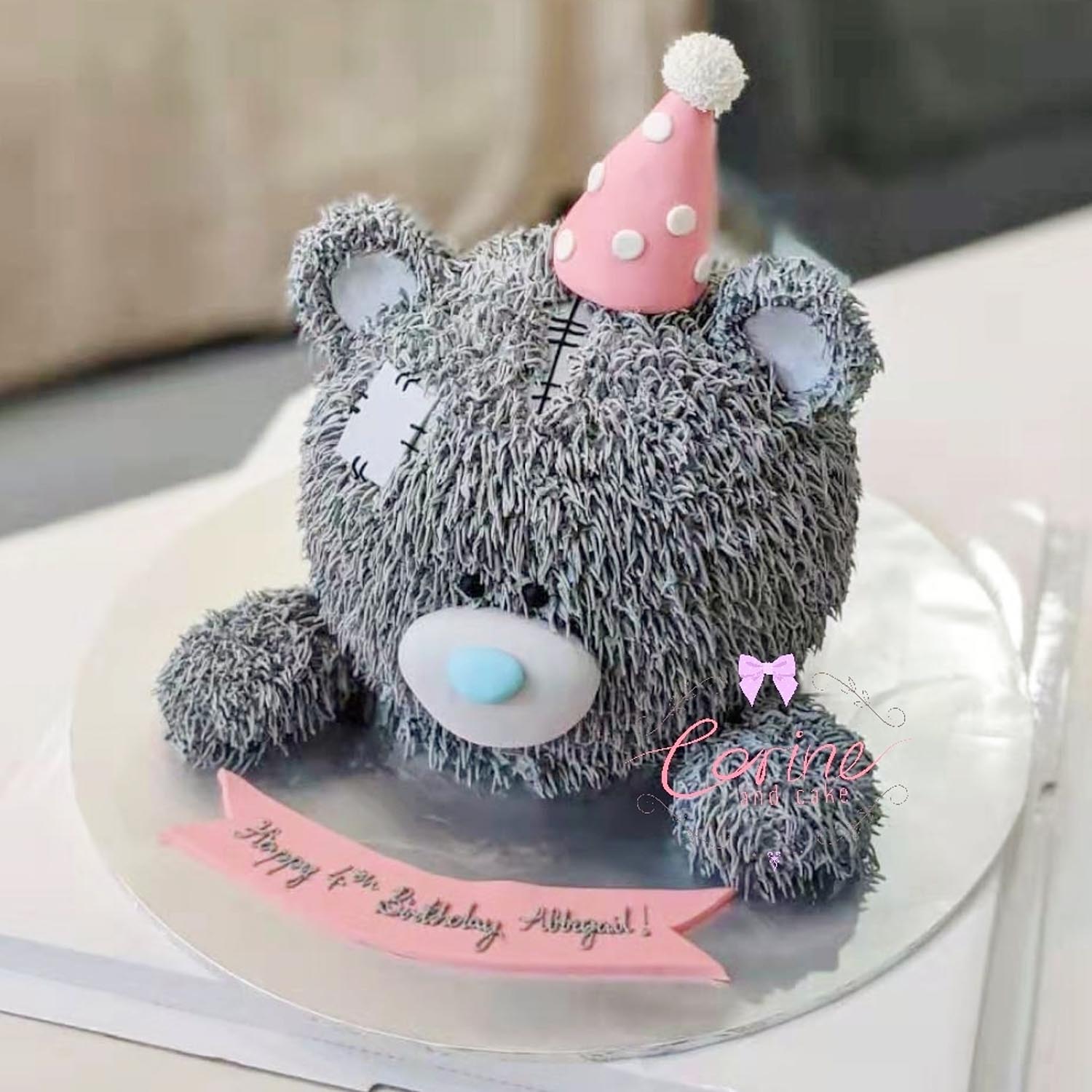 Image credit: @corineandcake
Corine & Cake pride themselves on baking their cakes from scratch, using only fresh and natural dairy ingredients. Their customised cakes cover a wide array of designs, including adorable animal cakes, and gorgeous tiered cakes. If you'd like to keep things simple, consider their Gourmet Cakes (from $68), with flavours such as Coconut Passionfruit Cake and Ondeh Ondeh Cake to choose from.
Delivery services are available at $30, with an extra charge of $10 for locations in Sentosa and Jurong Island. Otherwise, you can opt for self-collection at their bakery in Tai Seng.
Address: 1 Irving Place, #02-22, Singapore 369546
Opening hours: Wed-Mon 10am to 6:30pm
Tel: 8693 4449
Website
---
11. Le Petit Empire Designer Cakes
---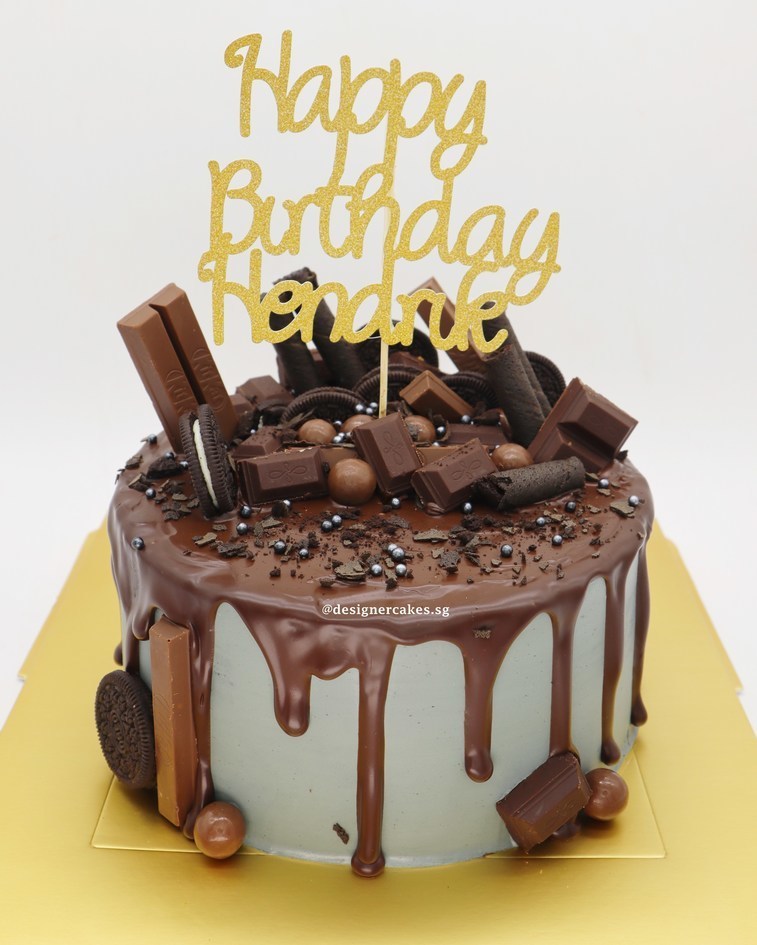 Image credit: @designercakes.sg
The Money Pulling Cake Collection (from $128) by Le Petit Empire Designer Cakes lets you pull out real cash from your cakes—the perfect ang bao for the birthday boys and girls. These cakes are entirely customisable, from the designs up to the flavours, which include Madagascar Vanilla Mango and Valrhona Rich Dark Chocolate.
Address: 11 Cavan Road, #01-03, Singapore 209848
Opening hours: Daily 10am to 6pm
Tel: 9855 4223
Website
---
12. Cake Spade
---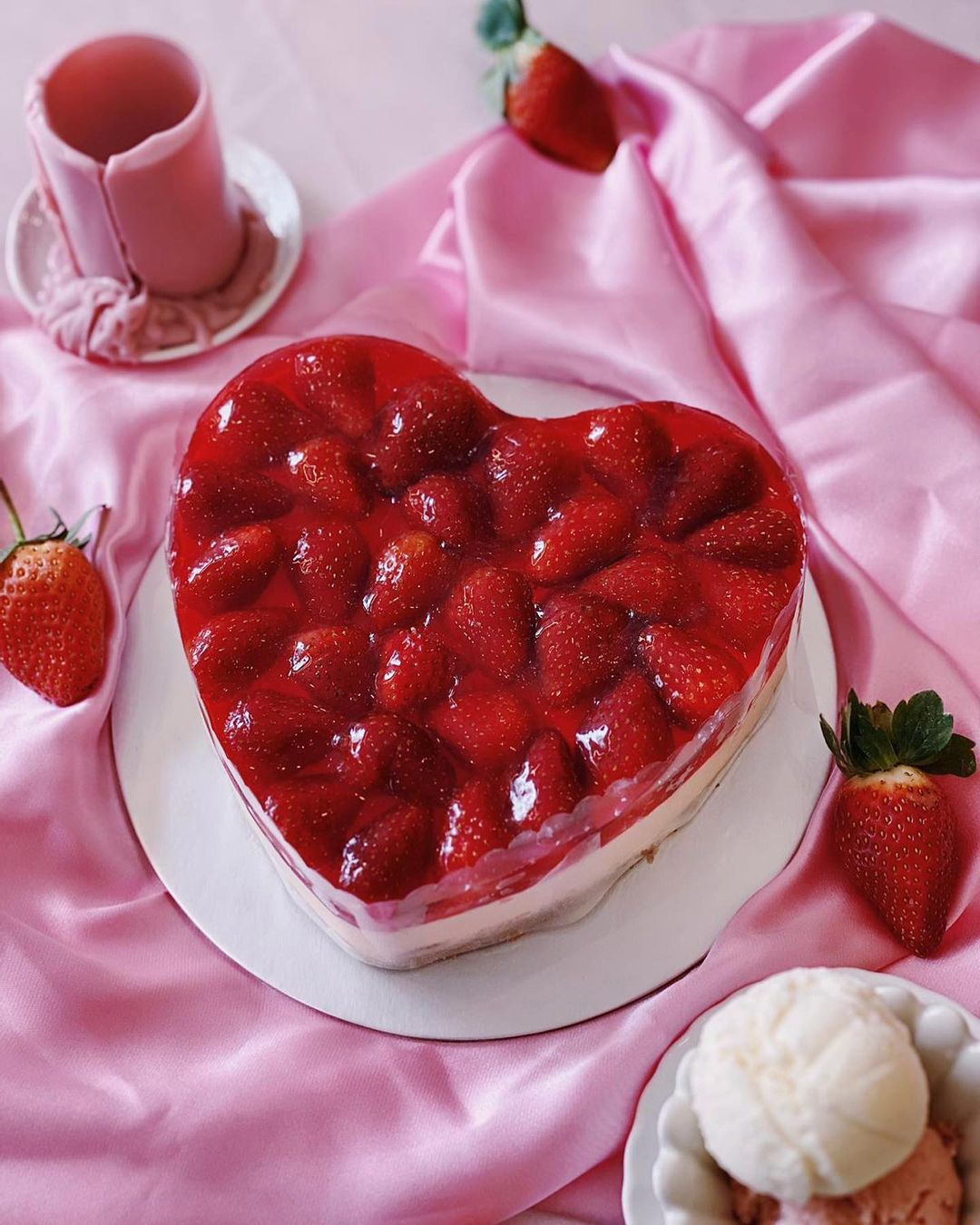 Image credit: @cakespadesg
A popular cafe for birthday cakes in Singapore is Cake Spade, which offers sliced and whole cakes, as well as customised ones. Their Strawberry Tofu Cheesecake (from $59) comes highly recommended, topped with wobbly strawberry jelly. If you prefer the conventional fresh cream cake, but with a fruity twist, consider the Lychee Rose Cake (from $60), layered with vanilla sponge, lychee, and rosewater cream.
Address: 283 South Bridge Roadd, Singapore 058832
Opening hours: Mon-Thurs 11am to 10pm, Fri-Sat 11am to 10:30pm
Tel: 6444 3868
Website
---
13. The Frosted Chick
---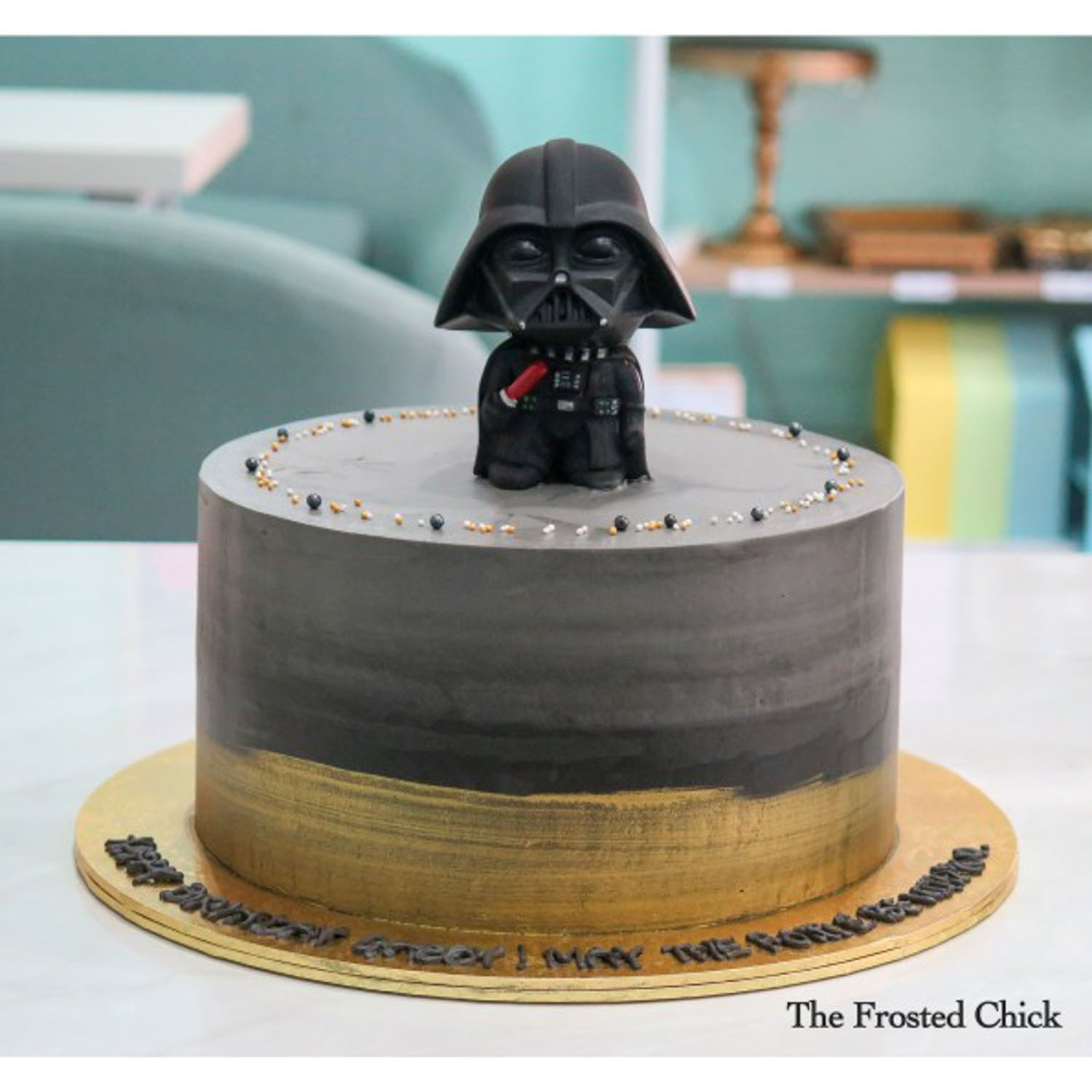 Image credit: The Frosted Chick
The Frosted Chick specialises in customised cakes, that are perfect for celebrations to be spent with family at home. From a minimalistic Mahjong Cake (from $105) that's decorated with mahjong tiles to a luxe gold-brushed Darth Vader Cake (from $85), you're sure to find something that you fancy. 
Address: 194 Kim Keat Avenue, #01-414, Singapore 310194
Opening hours: Tue-Sun 10am to 6:30pm
Tel: 6250 3613
Website
---
14. Flor Patisserie
---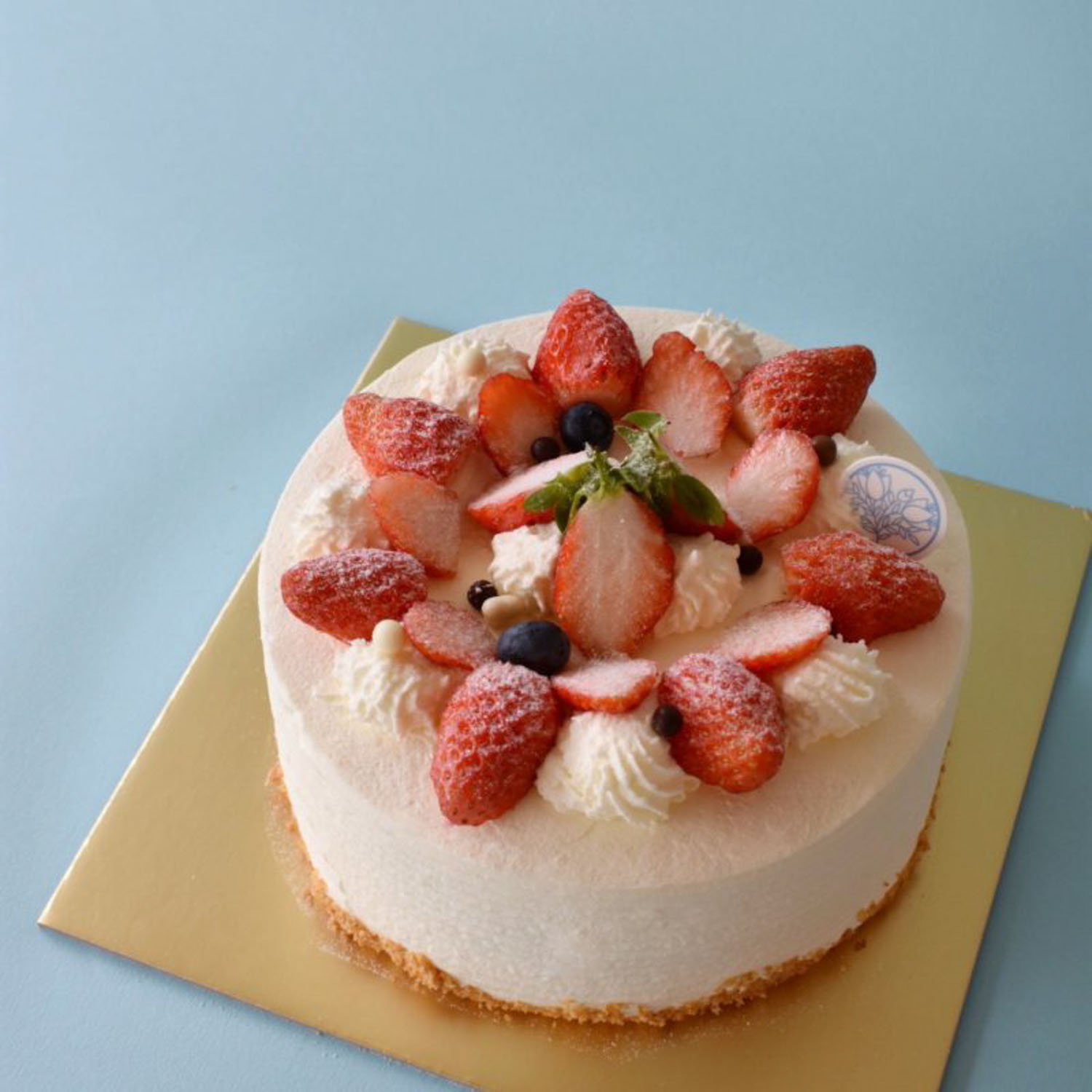 Image credit: Flor Patisserie
Best known for their strawberry shortcake, Flor Patisserie serves up Japanese-inspired French pastries. Their confections focus heavily on the use of fresh fruit, such as the Fruitier (from $34.24), which features a medley of tropical fruit including kiwi, mango, dragonfruit, and more. There's also the Sakura Crepe Shortcake ($56.71), layered with shortcake, sakura cream, fresh strawberries, then draped with a delicate sakura crepe.
Apart from the Siglap store, they also have branches in Tanjong Pagar and City Hall for takeaway, if these locations are more convenient for you. Otherwise, you can always opt for delivery!
---
15. LÉLE Bakery
---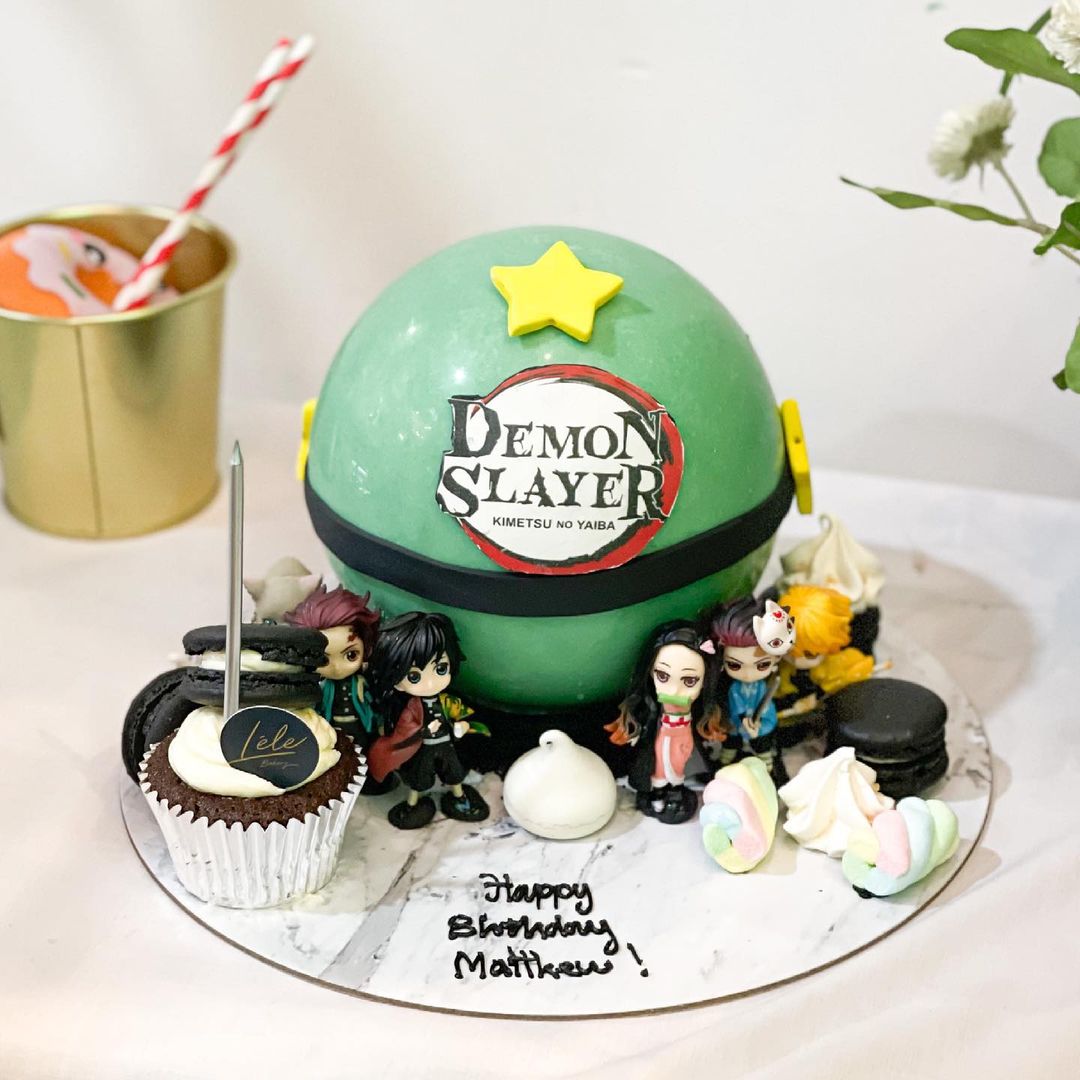 Image credit: @lelebakerysg
LÉLE Bakery specialises in customised buttercream cakes with a wide variety of flavours. Chocolate Banana is a classic combination, while Ondeh Ondeh makes for a localised treat. Go all out with the customisations, whether you're looking for an anime-themed birthday cake, or a Korean minimalist cake, which is all the rage now. Prices range from around $100 to $200.
To order a cake, you can either WhatsApp them, or make an order through their online store. 
Address: 110 Yishun Ring Road, #01-383, Singapore 760110
Opening hours: Daily 10am to 6pm
Tel: 8776 1510
Website
---
16. The Fabulous Baker Boy
---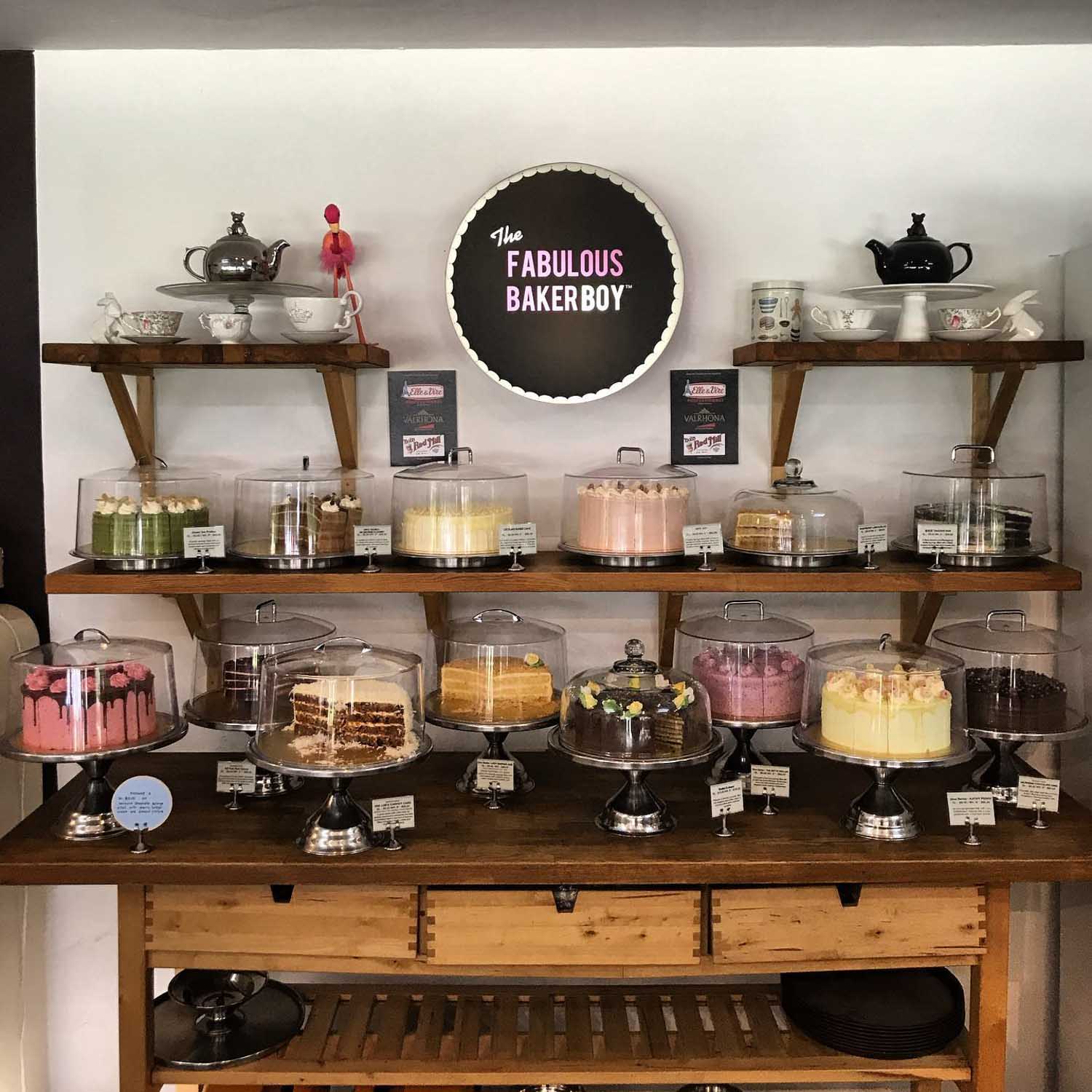 Image credit: The Fabulous Baker Boy
The Fabulous Baker Boy has relocated to their new location at Aliwal Street, with a slew of whole cakes available for purchase. This cafe is helmed by head chef and owner Juwanda Hassim, whose cake flavours are inspired by his travels.
Popular picks include the AB FAB Red Velvet Cake (from $55), dressed in chocolate ganache, and the Big Lub's Carrot Cake (from $55), a carrot cake that's pimped up with the addition of coconut and cranberries. What's more, they're currently offering free delivery for all their cakes, a deal not to be missed out on!
Address: 28 Aliwal Street, #01-01, Singapore 199918
Opening hours: Tue-Fri 11am to 9:30pm, Sat 9:30am to 9:30pm, Sun 9:30am to 6:30pm
Tel: 8951 7716
Website
---
17. Edith Patisserie
---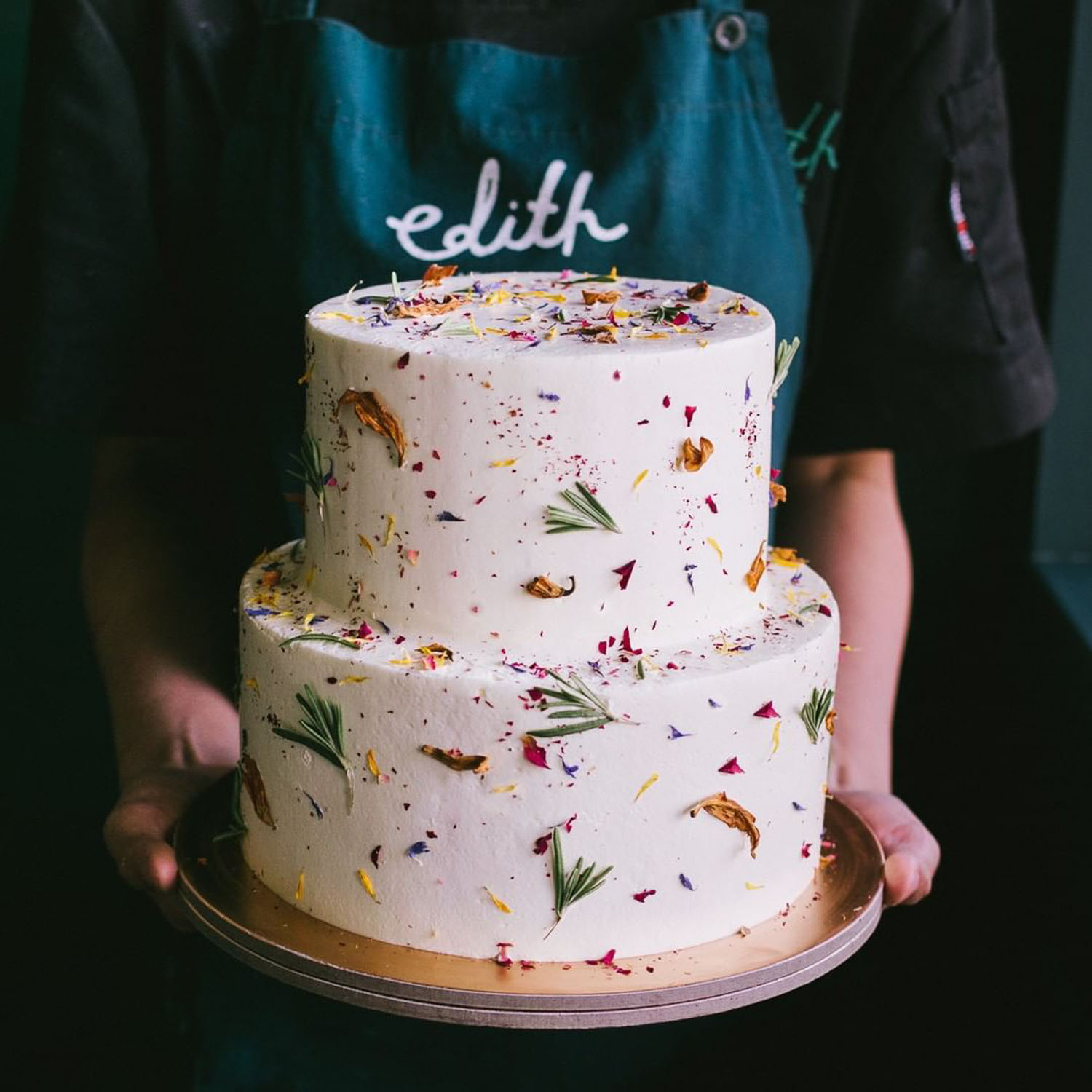 Image credit: @edithpatisserie
Edith Patisserie's cakes are dreamy and whimsical, with unique flavour pairings to boot. Think Gin & Tonic Cake (from $53.50), Cookie Dough Speculoos Chocolate Cake (from $53.50), and Yuzu Matcha Cake (from $58.90). They also offer customised cakes, for fancier birthday celebrations, with selections ranging from a cutesy Bear Cake (from $85.60) to a botanical Cactus Cake (from $80.30).
---
18. The Ugly Cake Shop
---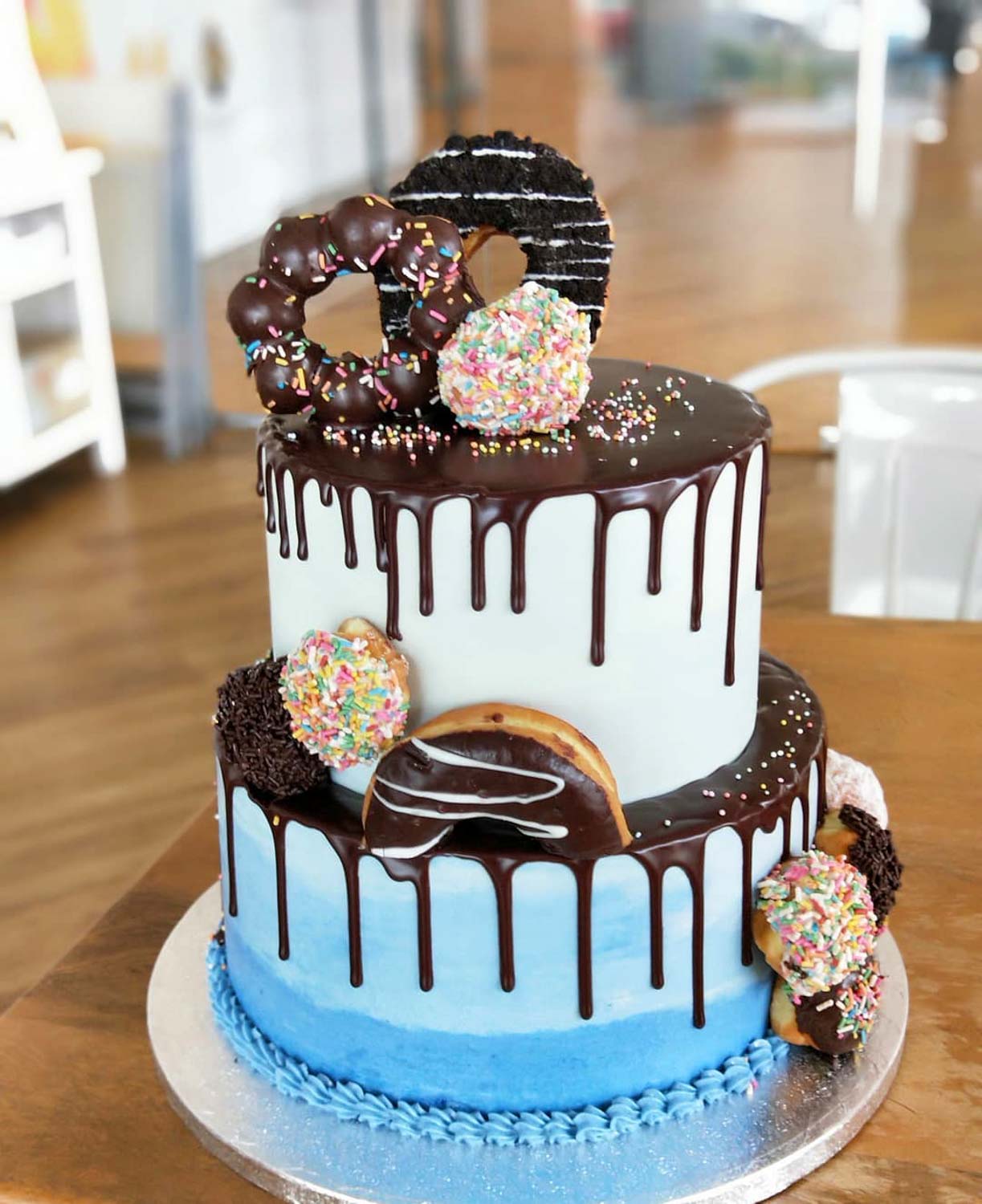 Image credit: @uglycakeshop
The folks behind The Ugly Cake Shop named themselves as such because their cakes do not contain artificial colouring, fondant, or marzipan—ingredients that are usually used to beautify cakes. Here, you can expect unique birthday cakes such as the Vicki Cake ($70), a butter cake that's layered with house-made salted egg yolk custard. There's also the Milo Dinosaur Cake (from $30), made with Milo buttercream and nuggets. 
Address: 535 Kallang Bahru, #01-06, GB Point, Singapore 339351
Opening hours: Mon, Wed-Sat 10am to 6pm
Tel: 8228 8300
Website
---
19. Bloomsbury Bakers
---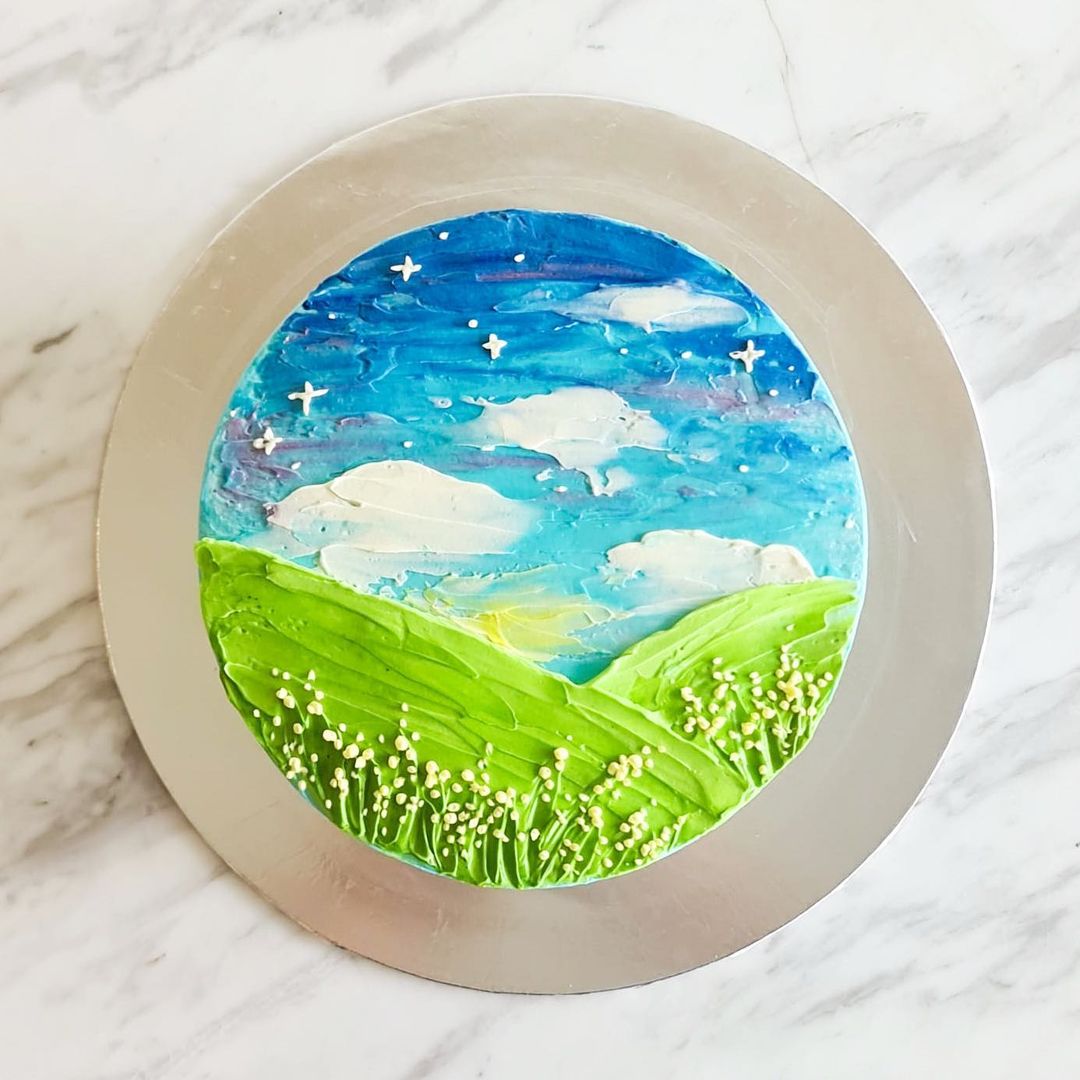 Image credit: @bloomsburybakers
Located near Boon Keng MRT Station is Bloomsbury Bakers, where every confection is baked in small batches to ensure their quality. They offer an assortment of beautiful whole cakes, including a Pulut Hitam Cake ($53), made with pulut hitam cream and coconut nougatine, as well as a Speculoos Cookie Butter Cake ($45), dressed in cookie butter buttercream drizzles.
Bloomsbury Bakers also has a Landscape Series—a selection of small customised cakes which feature landscape designs, such as a green-and-blue Meadow ($110) and pastel pink Marshmellow Skies ($110).
Address: 30 Bendemeer Road, #01-889, Singapore 330030
Opening hours: Tue-Fri 11am to 6:30pm, Sat-Sun 11am to 6pm
Tel: 6299 3450
Website
---
20. Whiskit Bakery & Cafe
---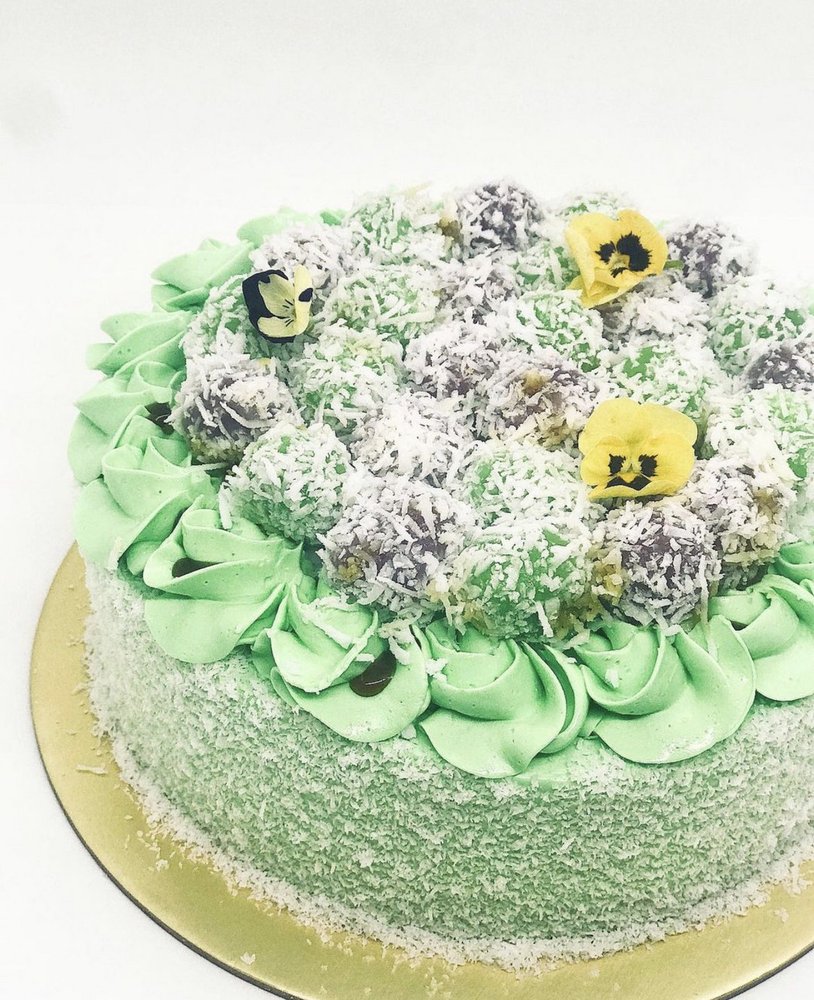 Image credit: Whiskit Bakery
If you're a fan of localised flavours, check out Whiskit Bakery & Cafe, with the likes of an Ondeh Ondeh Cake (from $50), made with grated coconut, gula melaka bits, and shredded coconut, so you know it's as good as the real deal. You can even take it up a notch with the MSW Durian Ondeh Cake (from $70), layered with actual MSW durian puree. 
If you're looking to take away or pick up your order, do note that the opening date for their new location in Biopolis is not yet confirmed. However, fret not, as delivery options are still available!
Address: 11 Biopolis Way, #01-08 Helios, Singapore 138667
Opening hours: Mon-Fri 8:30am to 5pm, Sat 11am to 5pm
Tel: 9366 6136
Website
---
21. Creme Maison Bakery
---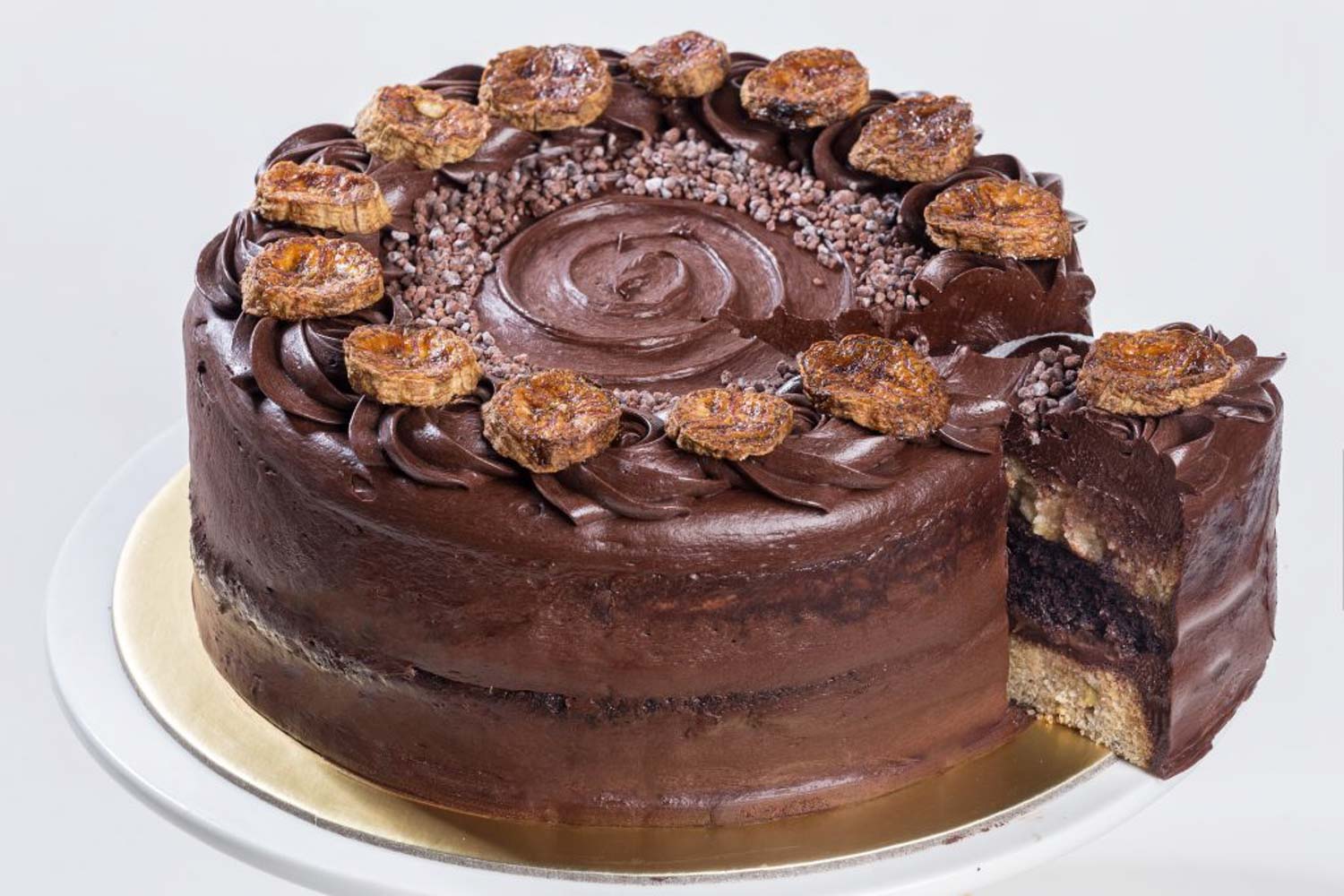 Image credit: Creme Maison 
Another place to order birthday cakes in Singapore is Creme Maison Bakery, where you can find unique flavours such as Hojicha Chrysanthemum Mochi (from $58) and Smoked Belgian Cacao Durian (from $78). Meanwhile, as Korean minimalistic cakes are all the trend now, consider their K-Styled selection, which comes dressed in beautiful pastel colours and make for IG-worthy material.
Address: 30 Tai Seng Street, #08-03C, BreadTalk IHQ, Singapore 534013
Opening hours: Mon, Wed-Fri 9am to 6pm, Tue 9am to 11am, Sat 8:30am to 5:30pm, Sun 9am to 1pm
Tel: 8181 3689
Website
---
22. Sooperlicious Cakes
---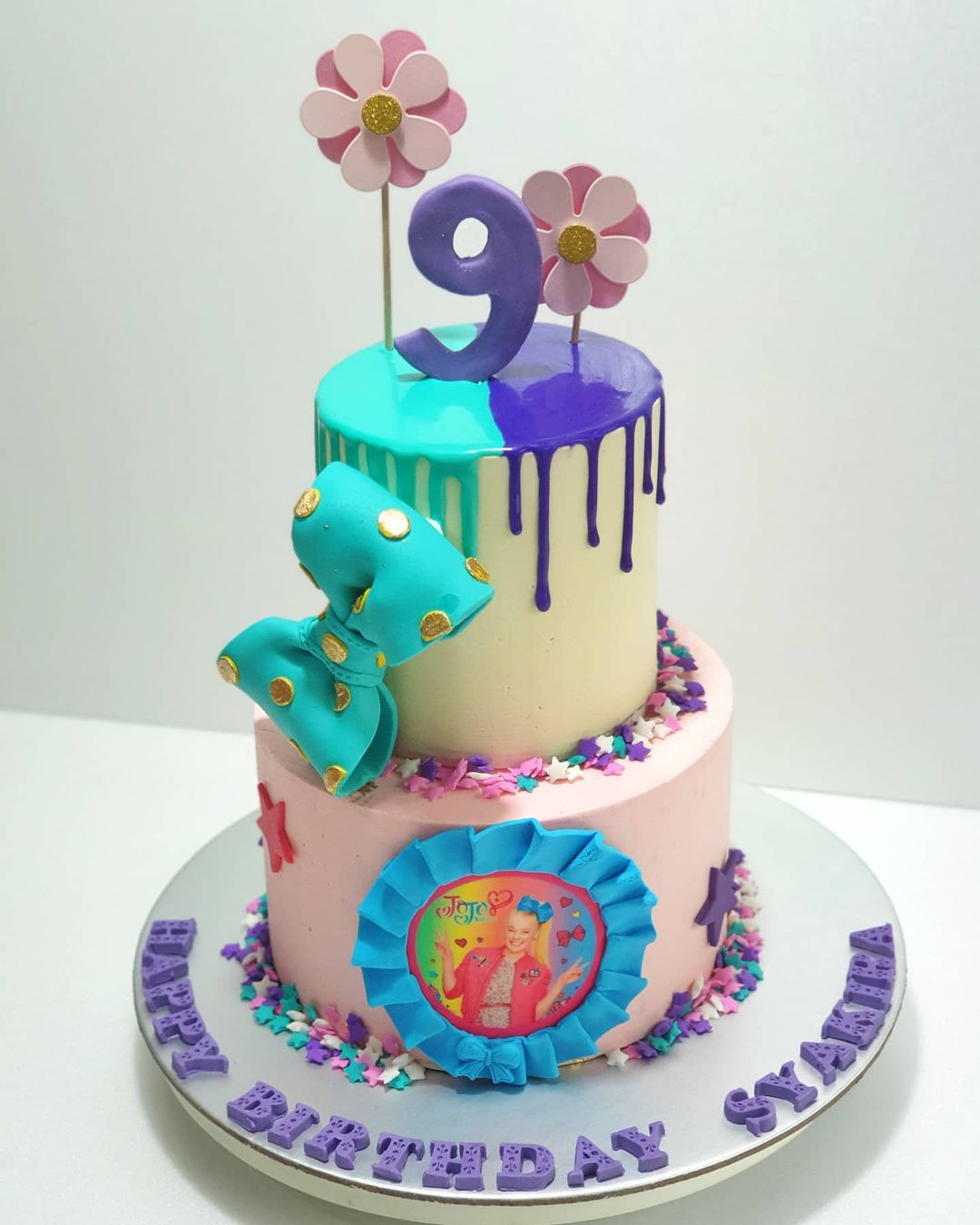 Image credit: @sooperlicious
If you are looking for halal birthday cakes in Singapore, consider Sooperlicious Cakes, which specialises in elaborately designed, customised fondant cakes. These include 3D noodle bowl cakes, and kid-friendly cakes shaped after popular cartoons such as Thomas The Train. Otherwise, they have mainstay selections to choose from, such as a decadent Belgian Chocolate Cake (from $65) and a floral Earl Grey Lavender Cake (from $65). 
Address: 183 Jalan Pelikat, B1-44, The Promenade @ Pelikat, Singapore 537643
Opening hours: Daily 9am to 7pm
Tel: 9101 5856
Website
---
23. Lynn's Cakes
---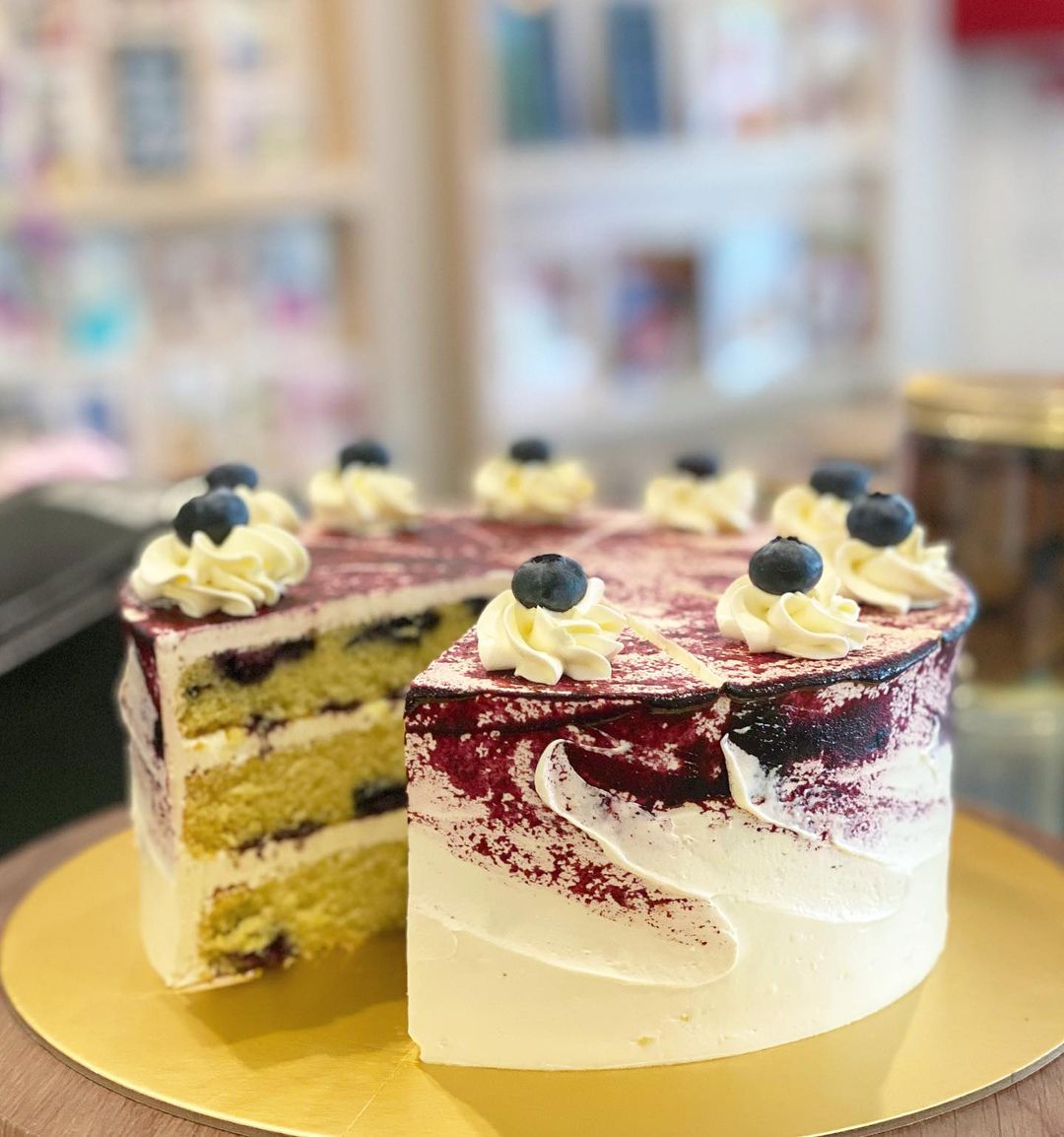 Image credit: @lynnscakessg
Another place for halal birthday cakes in Singapore is Lynn's Cakes, tucked away in Eng Kong Terrace. Here, there's a cake for everyone, whether you prefer something fruity as the Blueberry Lemon ($82), or a cake that's more decadent, such as the Peanut Butter Cake Cheesecake ($92). The latter is pure indulgence, layered with both cheesecake and chocolate sponge, then drizzled with peanut butter.
Address: 11 Eng Kong Terrace, Singapore 598983
Opening hours: Tue-Sun 11am to 6pm
Tel: 6314 2886
Website
---
24. The Cake Shop
---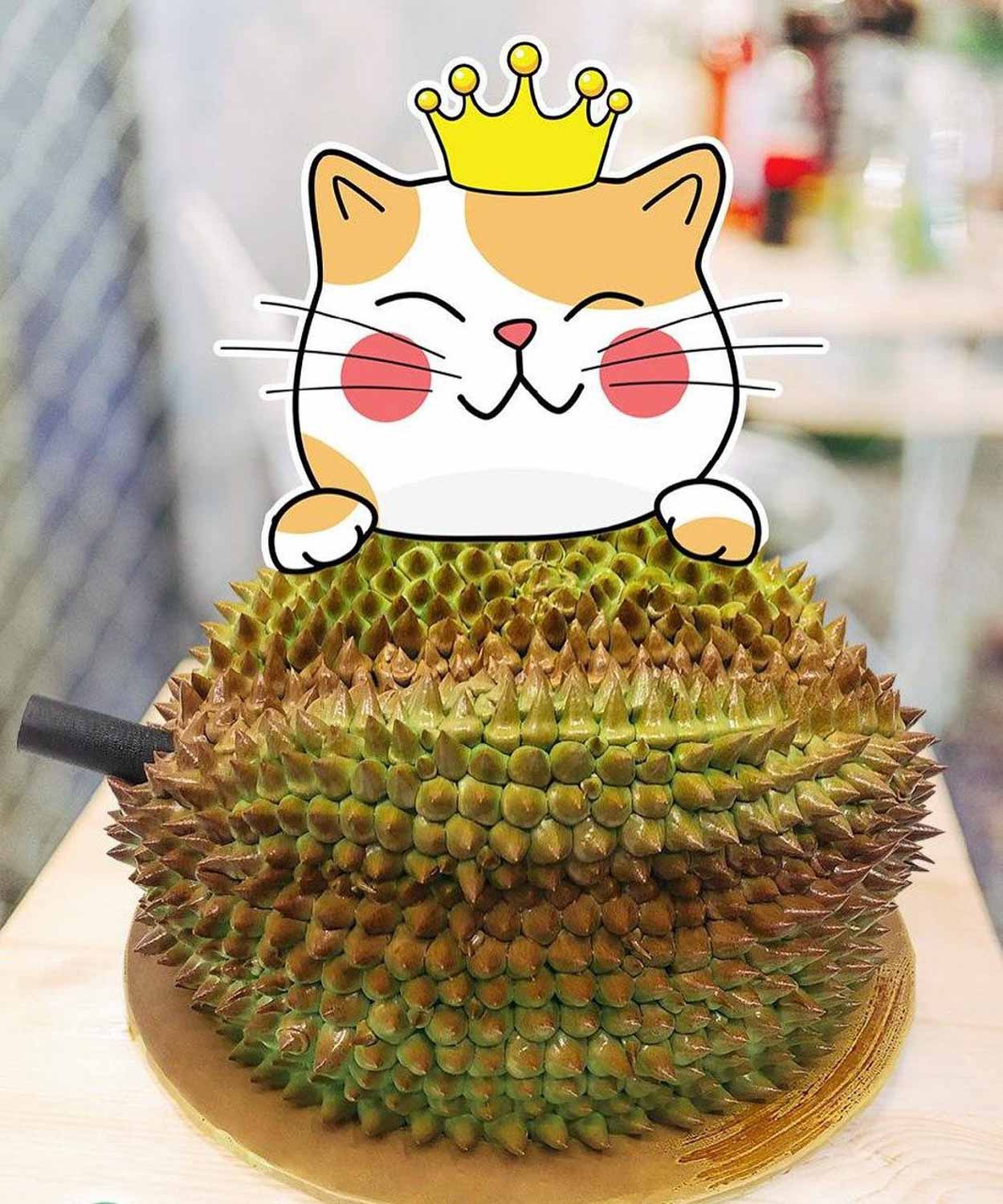 Image credit: @thecakeshopsg
Not only does The Cake Shop take in cake requests for regular customers, but they're also a dessert distributor and wholesaler for well-known restaurants, hotels, and bakeries—proof that they're really good at what they do.
They have money-pulling cakes, 3D fresh cream and fondant cakes, drip cakes, and even a Handcrafted 3D MSW Durian Cake (from $118.80) that's made with MSW durian and cream. To make things sweeter, there's free delivery for orders above $150.
Address: 2 Jurong East Central 1, #B1-07, JCube, Singapore 609731
Opening hours: Mon-Thur 10am to 9pm, Fri-Sat 10am to 10pm
Tel: 3157 0303
Website
---
25. Cake Avenue
---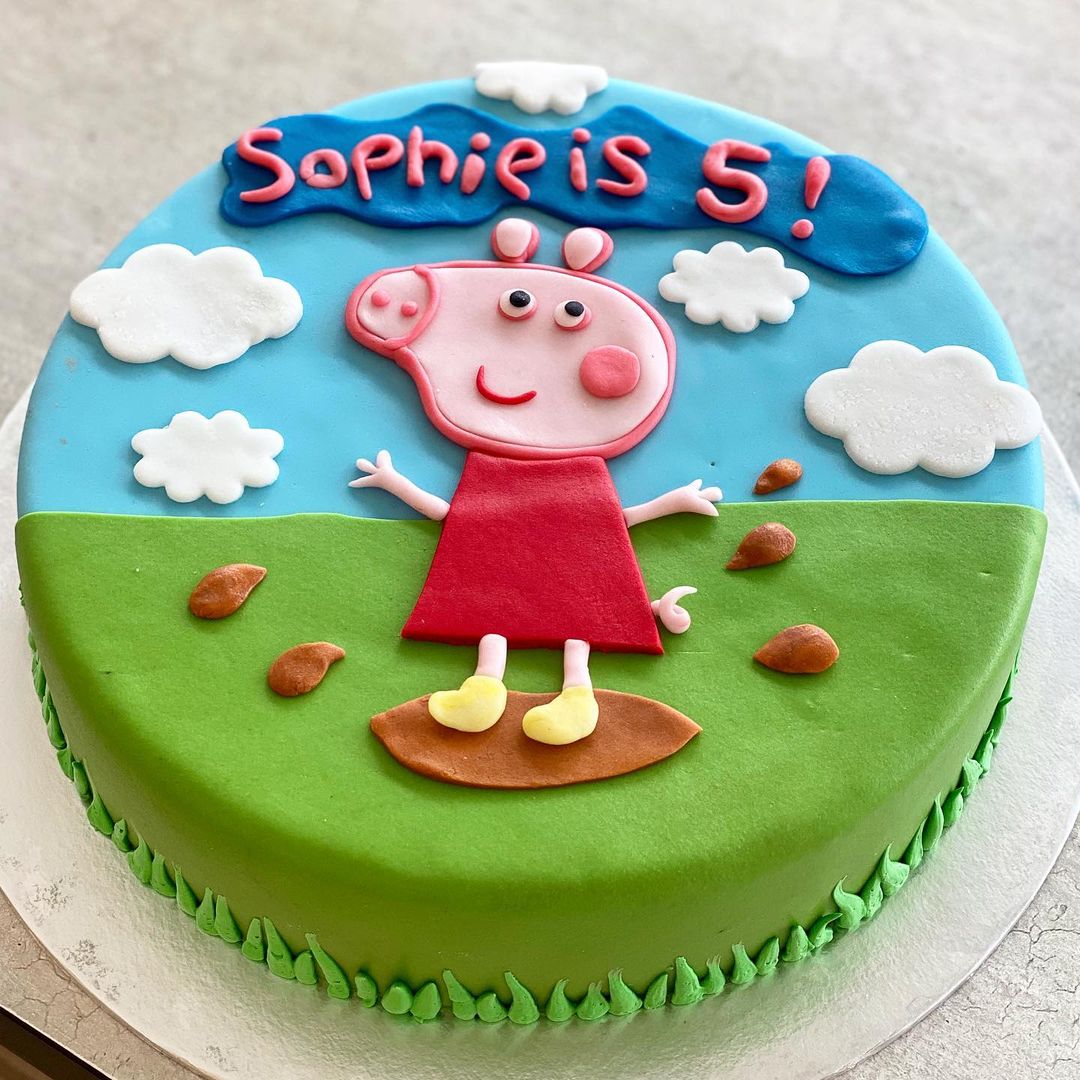 Image credit: @kopikosonggirl
A halal-certified establishment, Cake Avenue has a wide selection of birthday cakes, including customised ones. Simply send them a picture of your design of choice, and they'll respond with the quote as well as the ordering process. They also offer same-day delivery with a minimum ordering period of four hours, for those looking to order birthday cakes at the last minute.
Popular designs include their Unicorn series, priced from $112.50. These come with beautiful piped rosettes, and a golden horn in the middle. Otherwise, get creative with the customisations, such as the Peppa Pig one seen above.
Address: 33 Lorong Kilat, #01-01, Kilat Centre, Singapore 598132
Opening hours: Tue-Sun 10am to 7pm
Tel: 6877 9008
Website
---
26. Fluff Bakery
---

Image credit: @fluffbakery
Fluff Bakery is a halal bakery best known for their signature cupcakes. These aside, the bakery also whips up a diverse range of bakes such as the Ferrero Rocher Cake (from $48), a combination of chocolate cake, hazelnut feuilletine, and a Nutella drizzle cream frosting.
There's also the Honey Almond Cake (from $65), topped with generous amounts of almond nuts, then finished with a honey drizzle. Do note that whole cakes are only available for purchase from Wednesdays to Saturdays.
Address: 795 North Bridge Road, Singapore 198763
Opening hours: Mon-Sat 11:30am to 7pm, Sun 11am to 5pm
Tel: 9144 7729
Website
Fluff Bakery Review: IG-Famous Halal Bakery With Horlicks Cupcake, Maple Cinnamon Doughnut And More
---
27. Chef Yamashita
---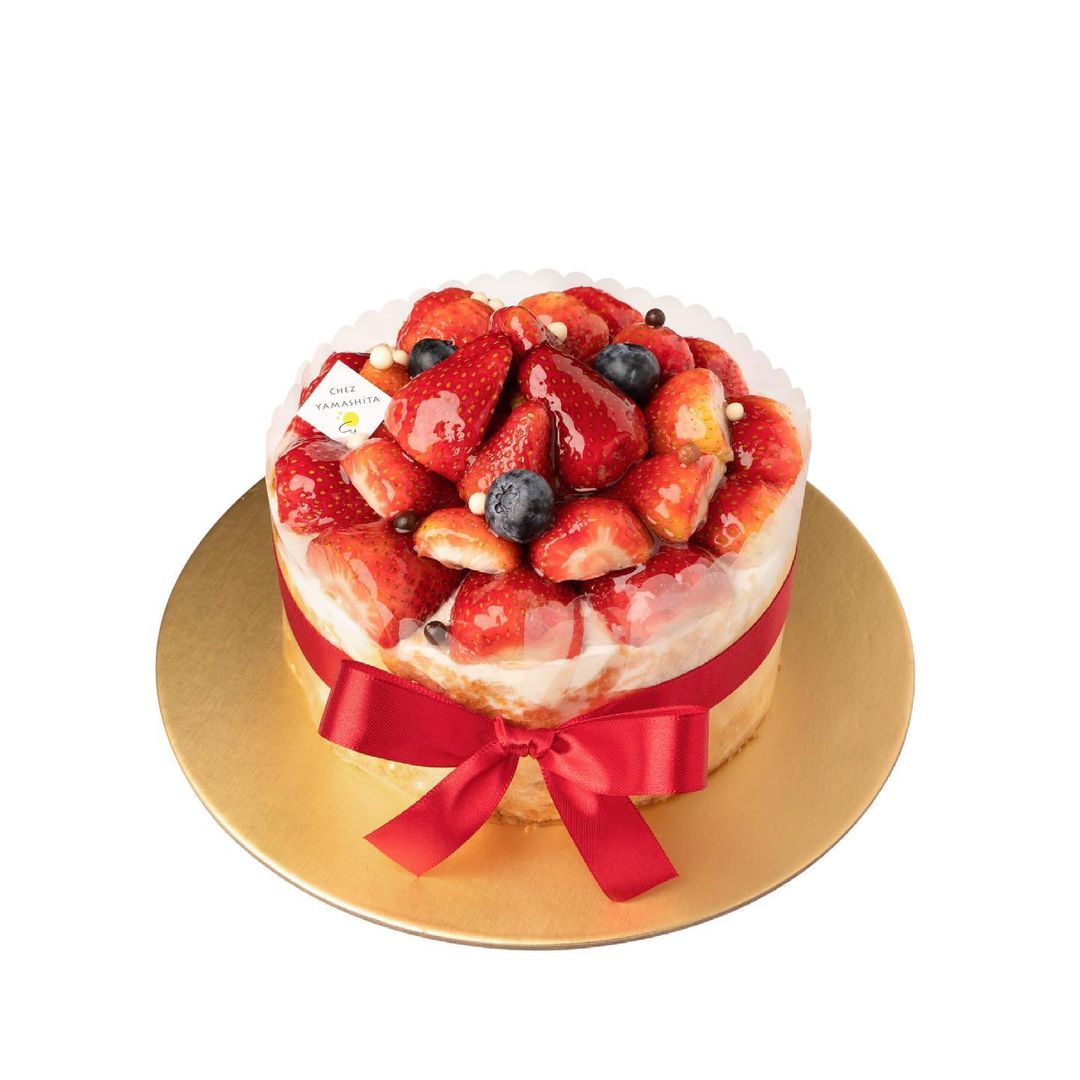 Image credit: @chezyamashitasg
Chef Yamashita has his origins in Japan, where he trained in a well-known culinary institute at Osaka. He later moved to Singapore, with experience in famous patisseries such as Glace and Flor.  
One of his popular creations is the Ichigo Deco (from $32), a Japanese-style strawberry shortcake layered with fresh cream and strawberries. For matcha-loving birthday boys and girls, there's the Uji (from $40), made with powdered green tea cream.
Address: Tanjong Pagar Blk 1, #02-44, Tanjong Pagar Plaza, Singapore 082001
Opening hours: Tue, Thurs-Sat 11am to 5pm, Sun 11am to 4pm
Tel: 6604 9709
Website
---
28. Pulse Patisserie
---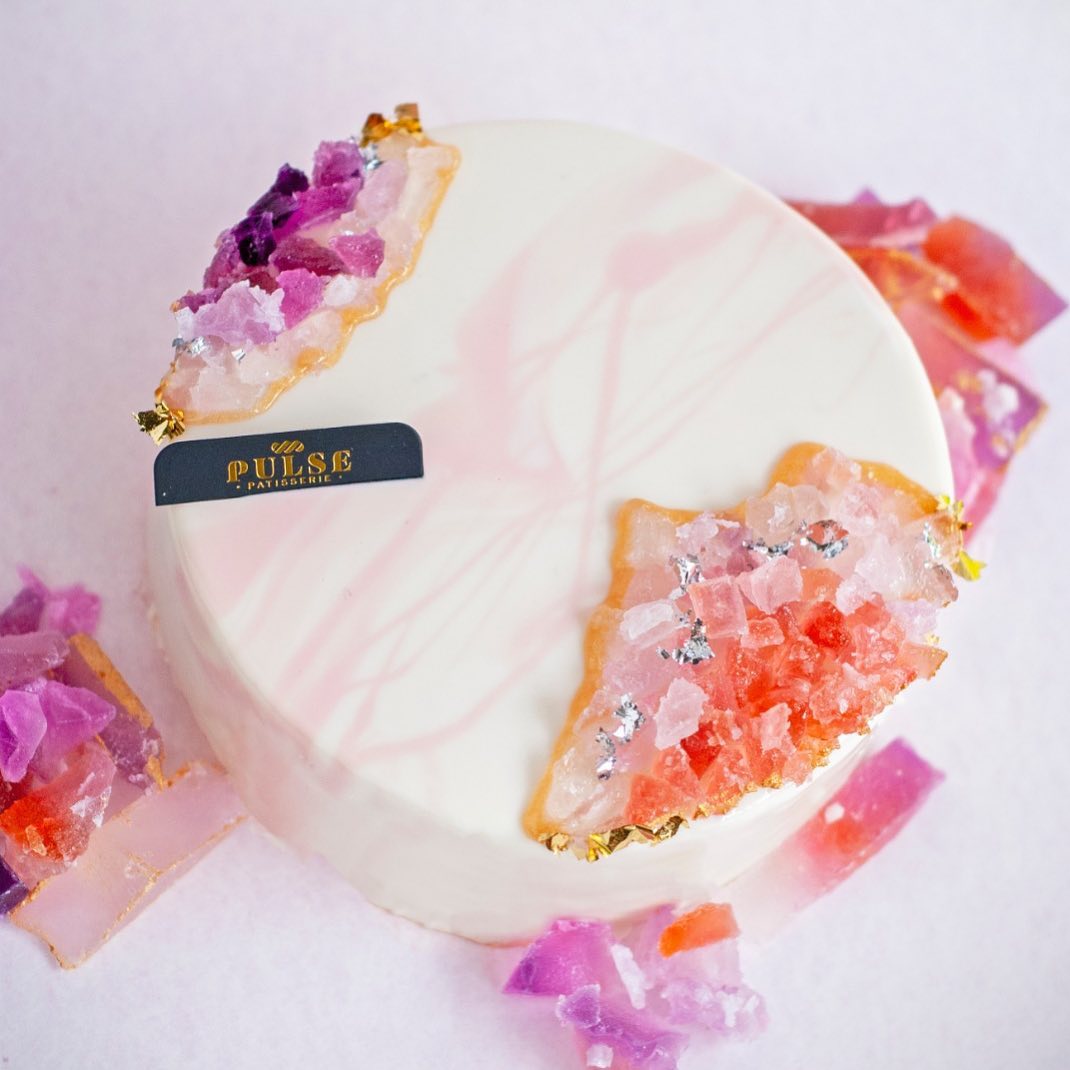 Image credit: @pulsepatisserie
If there's an iconic woman in your life that you'd like to dedicate a birthday cake to, consider Pulse Patisserie, with its Women Of Pulse whole cake selection. The cakes here are named and crafted after various woman personas.
There's the Simone ($54), a combination of white peach, vanilla, and almond, that comes embellished with gems. For something on the other end of the colour spectrum, there's the L.Grey ($48), an earl grey lavender cake dressed in monochromatic hues. 
Address: 42 North Canal Road, Singapore 059298
Opening hours: Mon, Wed-Fri 11am to 7pm, Sat 10am to 7pm, Sun 10am to 5pm
Tel: 8839 4648
Website
---
29. Plain Vanilla
---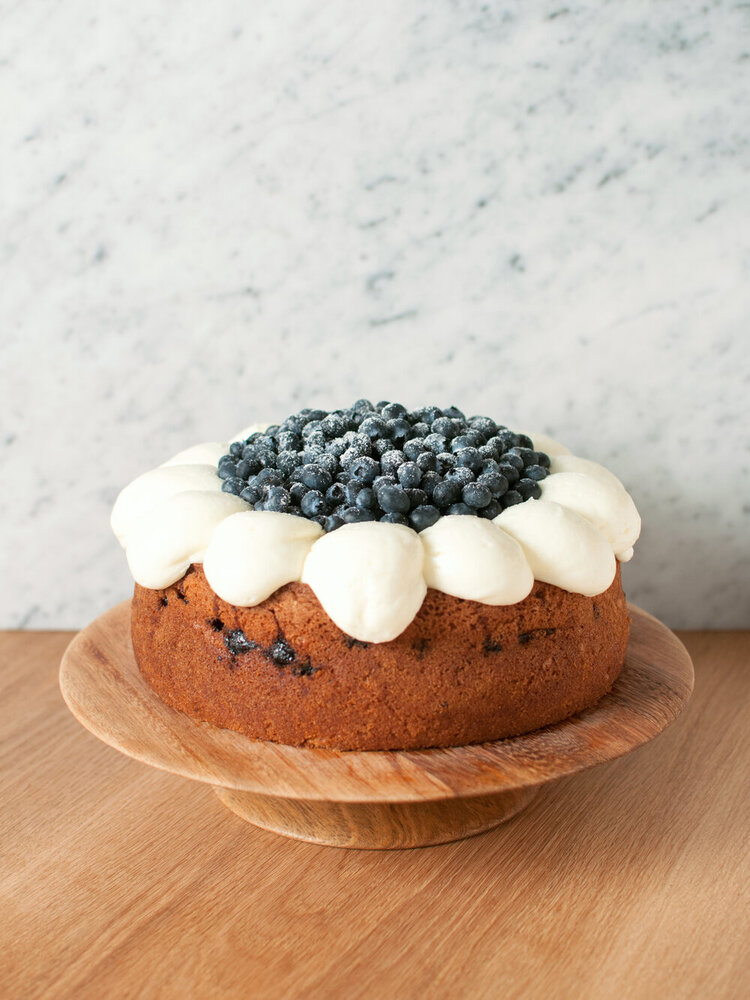 Image credit: Plain Vanilla Singapore
Plain Vanilla may be known for its cupcakes, but they also offer a selection of whole cakes that make for great birthday celebration material.
Their Blueberry Tea Cake (from $65) is light on the palate, made with generous amounts of fresh blueberries, then finished with cream cheese frosting. For something more decadent, there's the Peanut Butter Banana Layer Cake (from $65), which sees a banana chocolate chip cake, dressed with dark chocolate fudge, peanut butter cream cheese frosting, banana chips, and milk chocolate peanut butter cookies.
Full list of outlets | Opening hours
Website
---
30. Charlotte Grace Cakeshop
---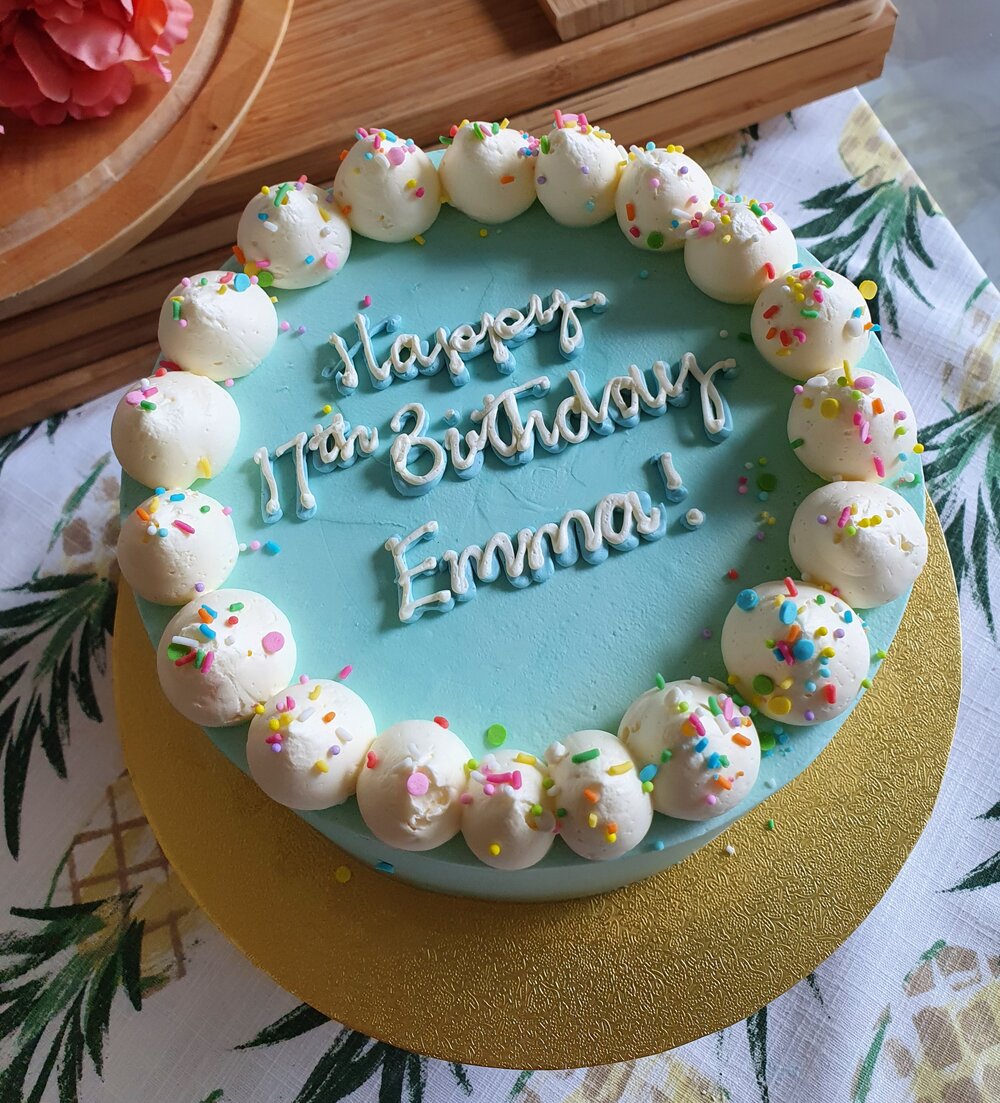 Image credit: Charlotte Grace Cakeshop Singapore
Tucked away in Everton Park is Charlotte Grace Cakeshop, with a comprehensive array of cakes to choose from. Their regular cake series includes a Classic Lychee (from $20), made with lychee cream and lychee bits, as well as a Classic Chocolate Cake (from $20), which features a chocolate ganache filling.
Otherwise, they have pretty Korean lettering cakes, such as the baby blue Happy Confetti (from $85) and ombre Painted Pink (from $85). If you'd like a customised cake, you can contact them via Whatsapp or email, at least two weeks in advance.
Address: Blk 5 Everton Park, #01-24, Singapore 080005
Opening hours: Tue-Sat 10am to 5pm, Sun 10am to 2pm
Tel: 9768 9827
Website
---
31. Butter Studio
---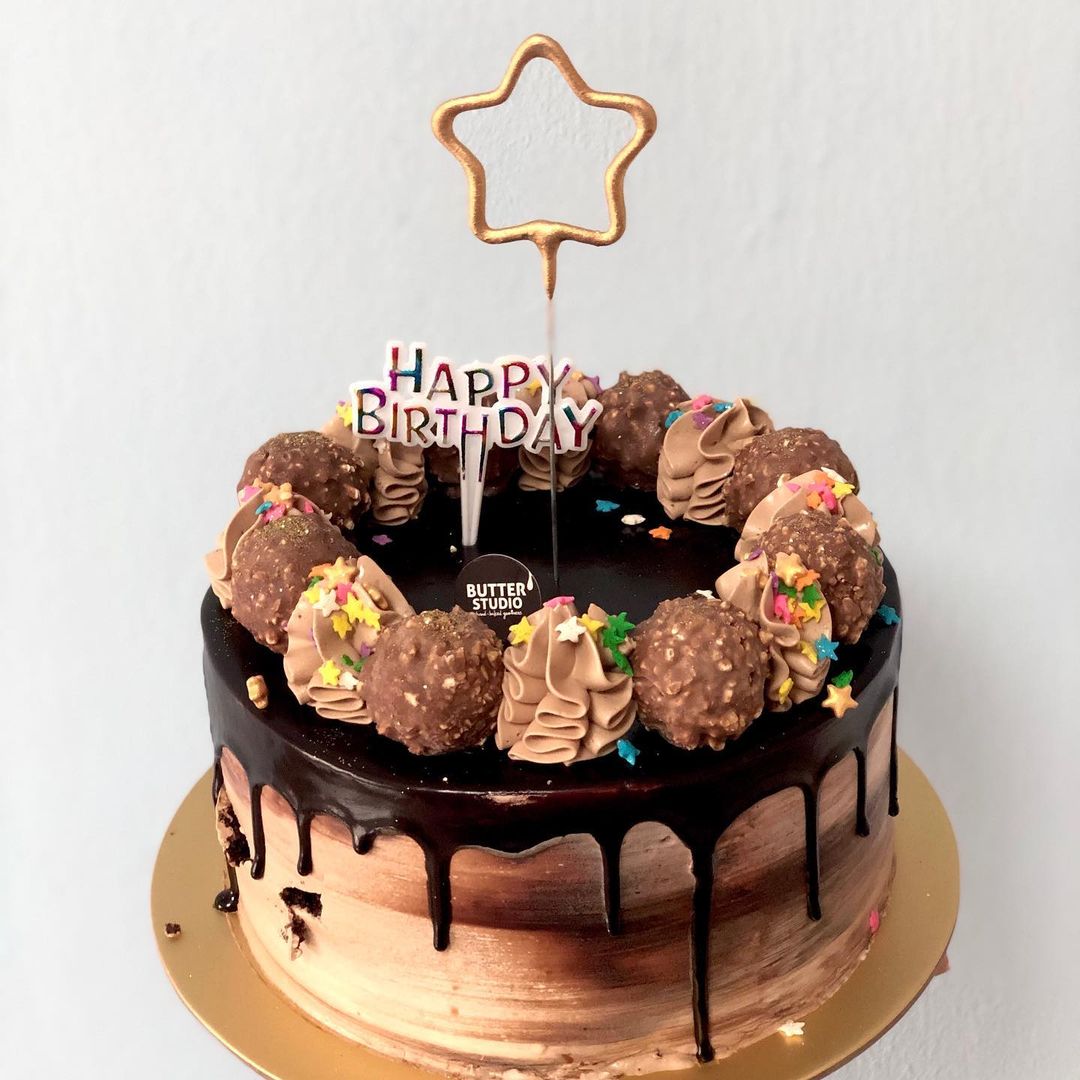 Image credit: @thefoodspirations
Butter Studio has made a name for itself as one of the best places to get birthday cakes in Singapore. Their celebration cakes are elaborately decorated, and require a minimum of three days in advance to order.
Interesting creations include the Lady Ispahan (from $48), a three-way marriage of rose, lychee, and raspberry. There's also the Salted Caramel Overload (from $68) which sees their signature red velvet cake coated with salted caramel sauce, then topped with wafer cones and caramel popcorn.
---
32. LANA CAKES
---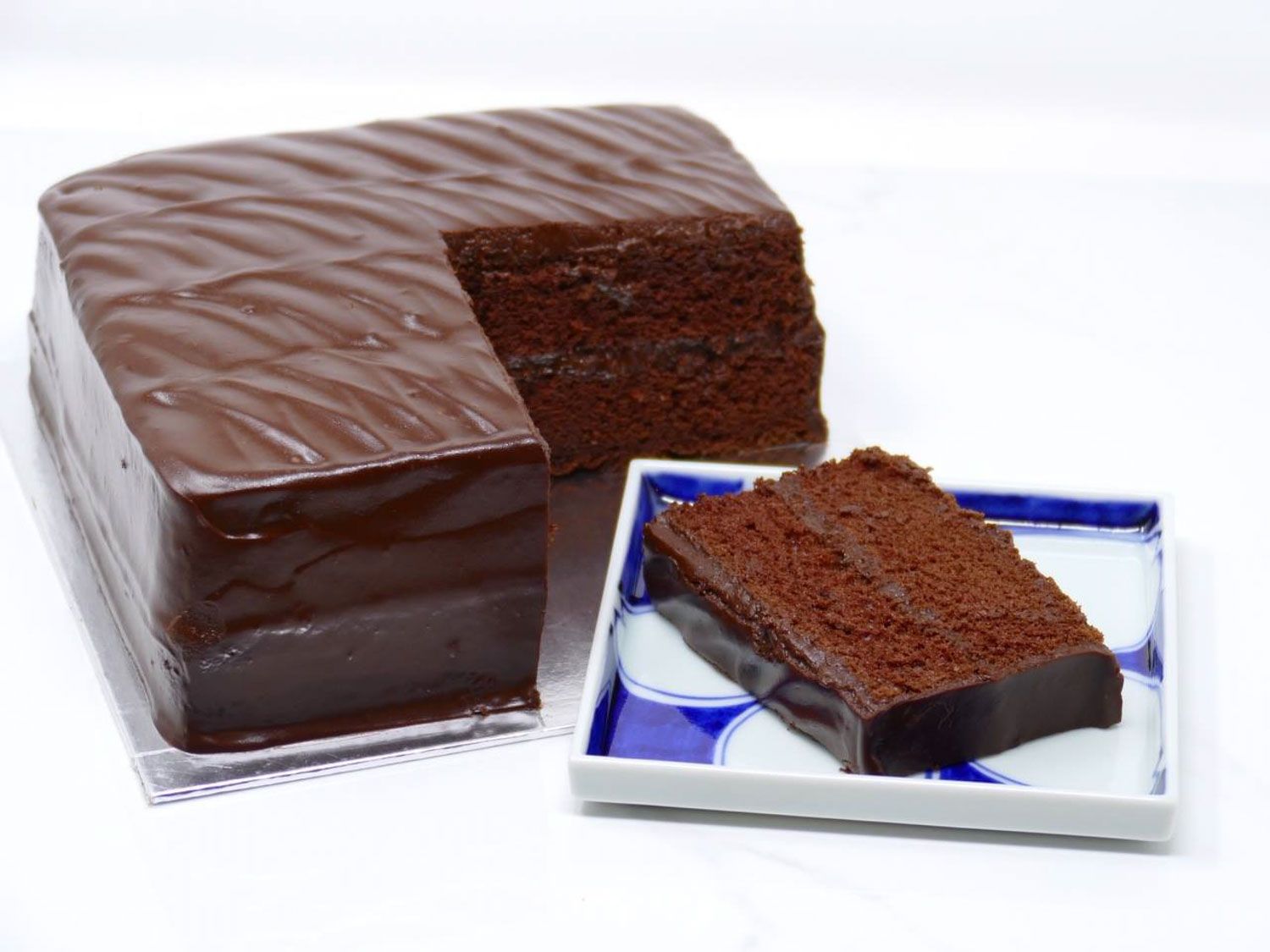 Image credit: LANA CAKES
One of Singapore's oldest brands is LANA CAKES, which has been around since 1964, and is best known for their signature chocolate cake. This Chocolate Fudge Cake (from $55) sees a light chiffon base, dressed in decadent fudge. They also have other varieties of old-school decorated cakes such as the Blueberry Cake (from $72) and Mocha Cream Cake (from $68).
Address: 36 Greenwood Avenue, Singapore 289239
Opening hours: Tue-Fri 10am to 6pm, Sat 10am to 5pm
Tel: 6466 5315
Website
---
33. LUNA
---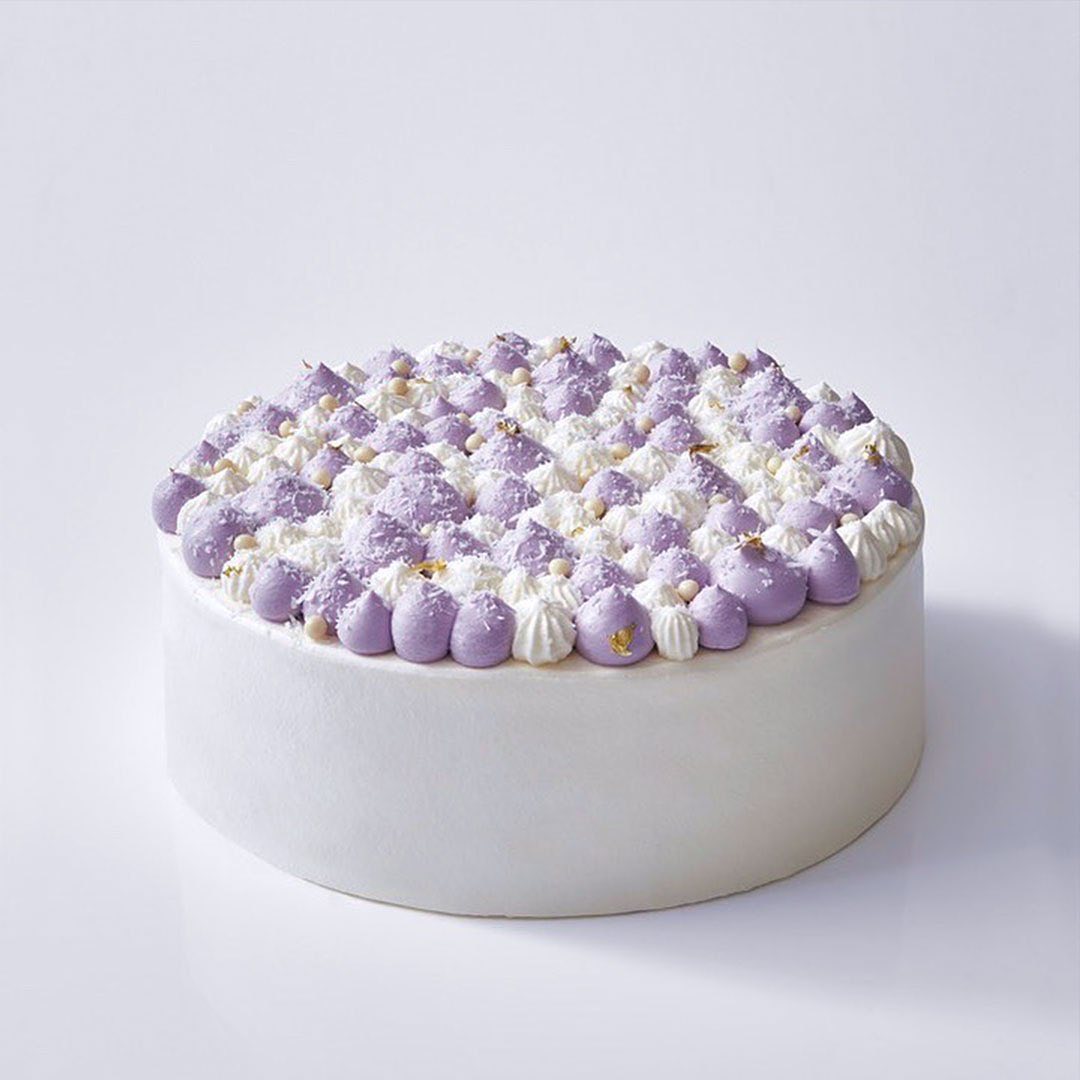 Image credit: @luna.singapore
One cake I'd like to have on my birthday is the Orh Nee Cake ($80) from LUNA, a clever adaptation of the Teochew dessert, layered with vanilla sponge and yam paste. Other notable creations include the decadent LUNA 2.0 ($90), made with 70% dark chocolate mousse, hazelnut sponge, salted caramel, and a crunchy hazelnut core. There's also the Gula Melakaya ($80), a combination of gula melaka sponge, pandan kaya, and coconut mousse.
Read our LUNA review!
Address: 53 Amoy Street, Singapore 069879
Opening hours: Sun-Thurs 12pm to 6:30pm, Fri-Sat 12pm to 9pm
Website
LUNA Review: New Cafe At Amoy Street Selling Orh Nee And Dark Chocolate Cakes Under $10
---
34. Cat & The Fiddle
---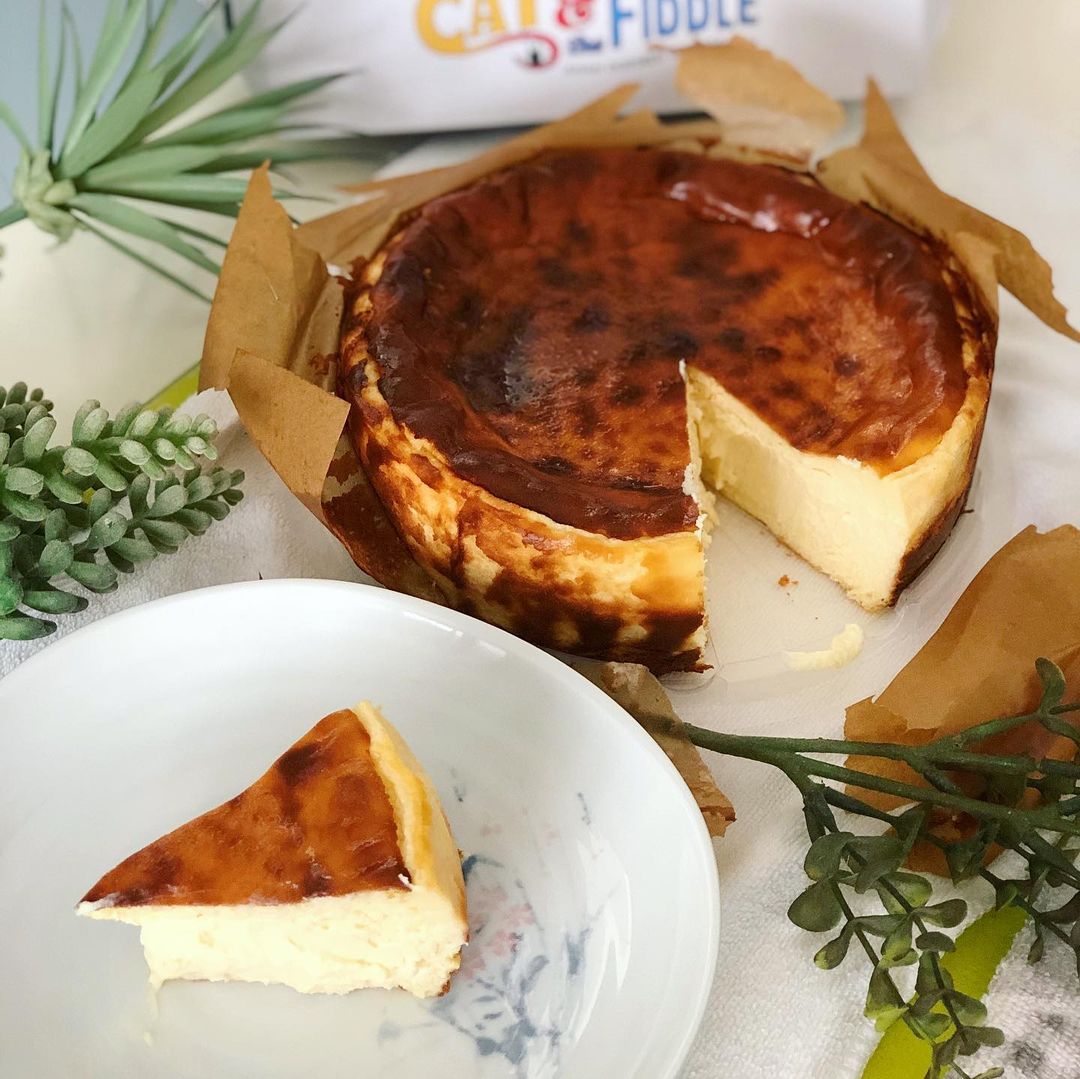 Image credit: @bread.eats
Cat & The Fiddle is best known for their cheesecake selection, crafted by award-winning pastry chef, Daniel Tay. A classic cake to go for would be the Charred Eclipse ($52.90), their version of basque burnt cheesecake, which sees a marriage of cream and martabak cheeses. If you're feeling adventurous, Cat & The Fiddle has plenty of flavoured cheesecakes to choose from, including a localised Milo Dinosaur ($45.90) and the King Cat Of The Mountain ($55.90), made with MSW durian.
---
Get these birthday cakes in Singapore
---
We have curated a list of birthday cakes in Singapore which offer takeaway and delivery options, with last-minute delivery services just in case you need an emergency cake! We've also got a list of chocolate cakes in Singapore; otherwise, jump on the burnt cheesecake train with these spots for Basque burnt cheesecake!

17 Best Chocolate Cakes In Singapore That Are Fudgy And Dense, Including Customisable Ones
This article was co-written by Averlynn Tan and Michelle Yeo.
This article was brought to you by Whyzee, Zee & Elle, Dig In Cakes, Honeypeachsg Bakery, Bob The Baker Boy, FNP, Rainbowly, and CAKEBAR.
Features image adapted from @rainbowlysg, Zee & Elle, and Honeypeachsg Bakery
This article was originally written on 10 January 2020.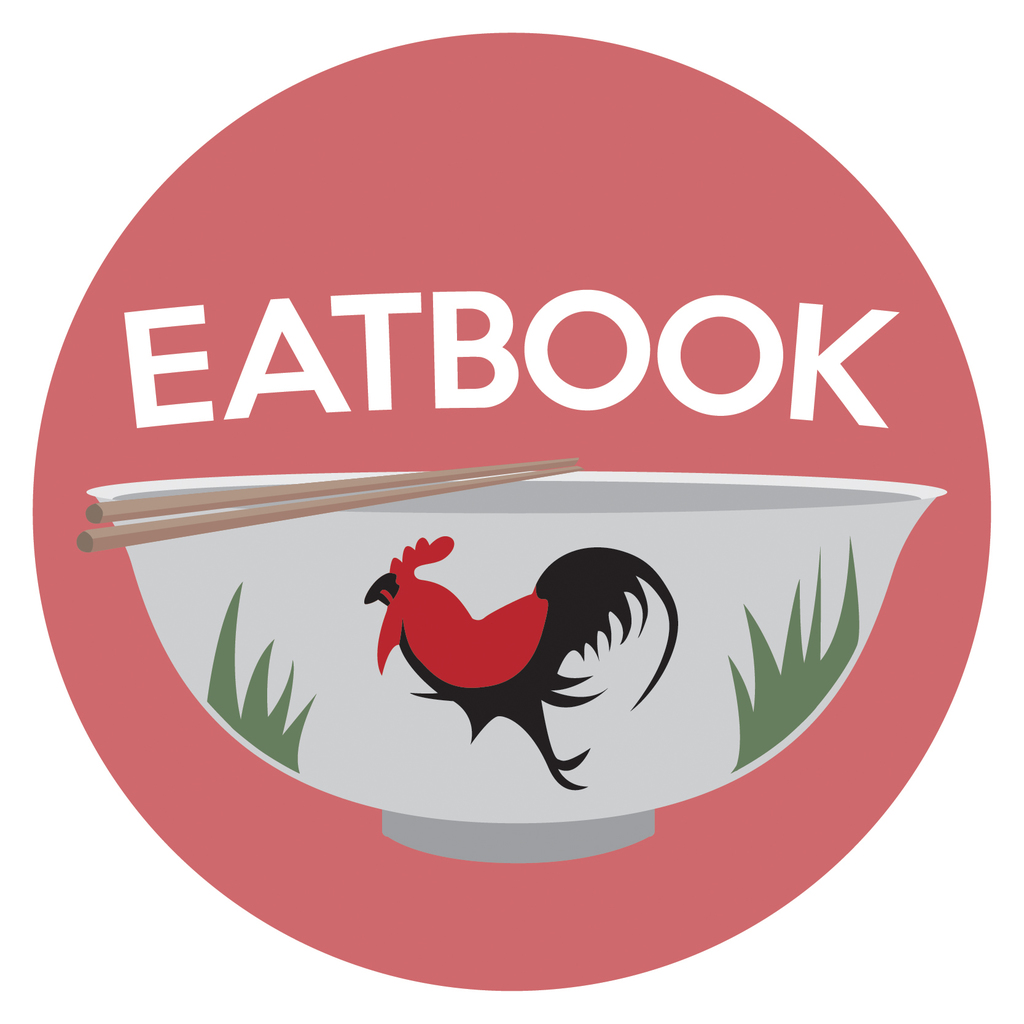 Drop us your email so you won't miss the latest news.