---
Birthday cakes in Singapore
---
Celebrating birthdays with cakes has been a tradition since the early ages. With the large variety of bakeries in Singapore, including plenty of Instagram bakers, there is a wide selection of birthday cakes to choose from—be it eggless vegan options or multi-tiered ones. No matter who you're planning a birthday party for, this list of 20 birthday cakes got you covered. If you want something more simple, check out these chocolate cakes in Singapore!
---
1. Lana Cakes
---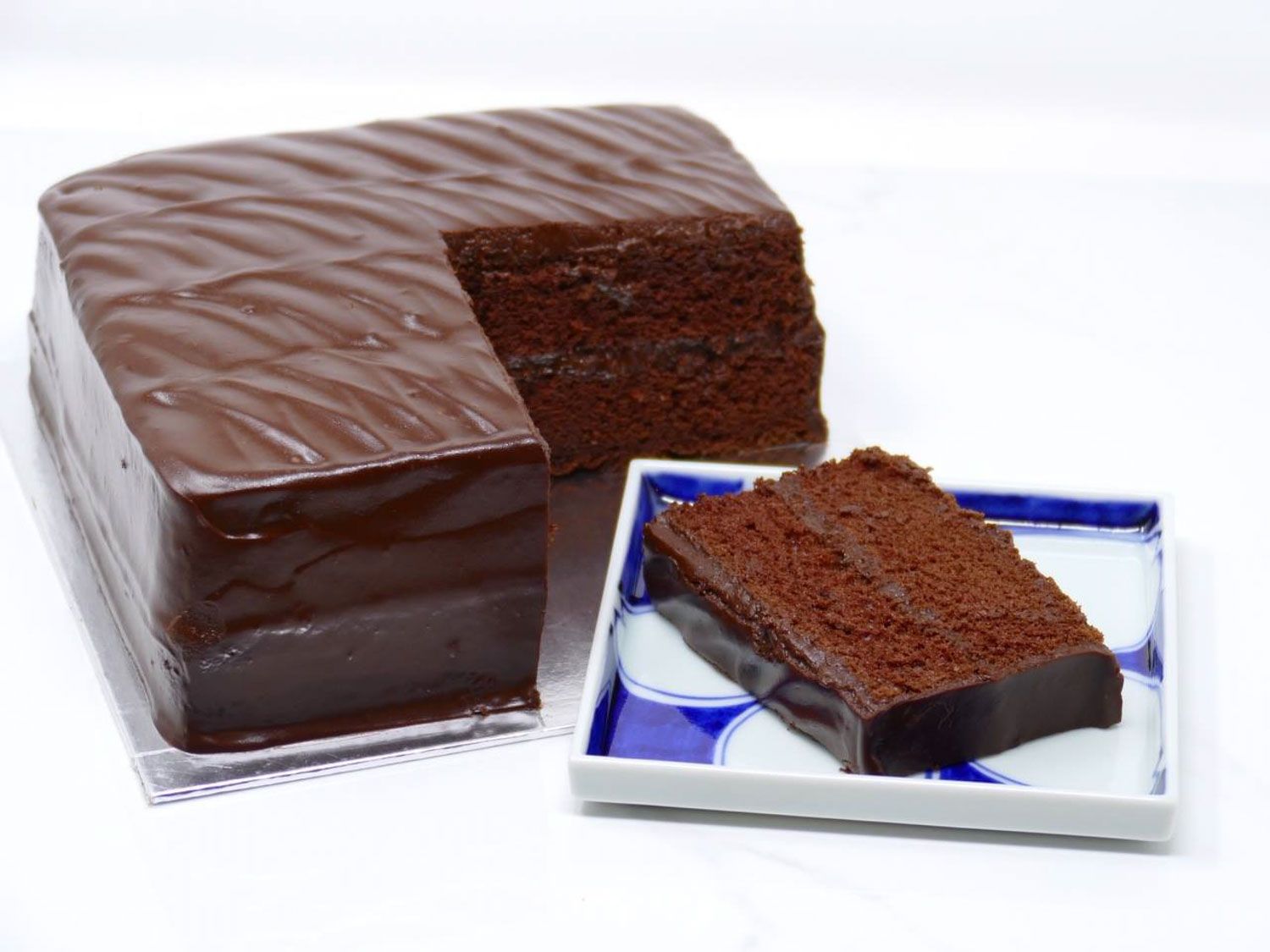 Image credit: Lana Cakes
One of Singapore's oldest brands, Lana Cakes has been around since 1964, baking up their signature chocolate cakes which have graced many occasions over the decades. The chocolate cakes (from $48) are fudgy and decadent, yet light at the same time. These chocolate sponge cakes are sandwiched and frosted with chocolate fudge frosting. 
Besides chocolate cakes, they have other varieties of old-school decorated cakes such as the Blueberry Cake (from $62) and Mocha Cream Cake (from $60).
Address: 36 Greenwood Avenue, Singapore 289239
Opening hours: Tue-Fri 10am to 6pm, Sat 10am to 5pm
Tel: 6466 5315
Website
---
2. Farah Affandi Cakes
---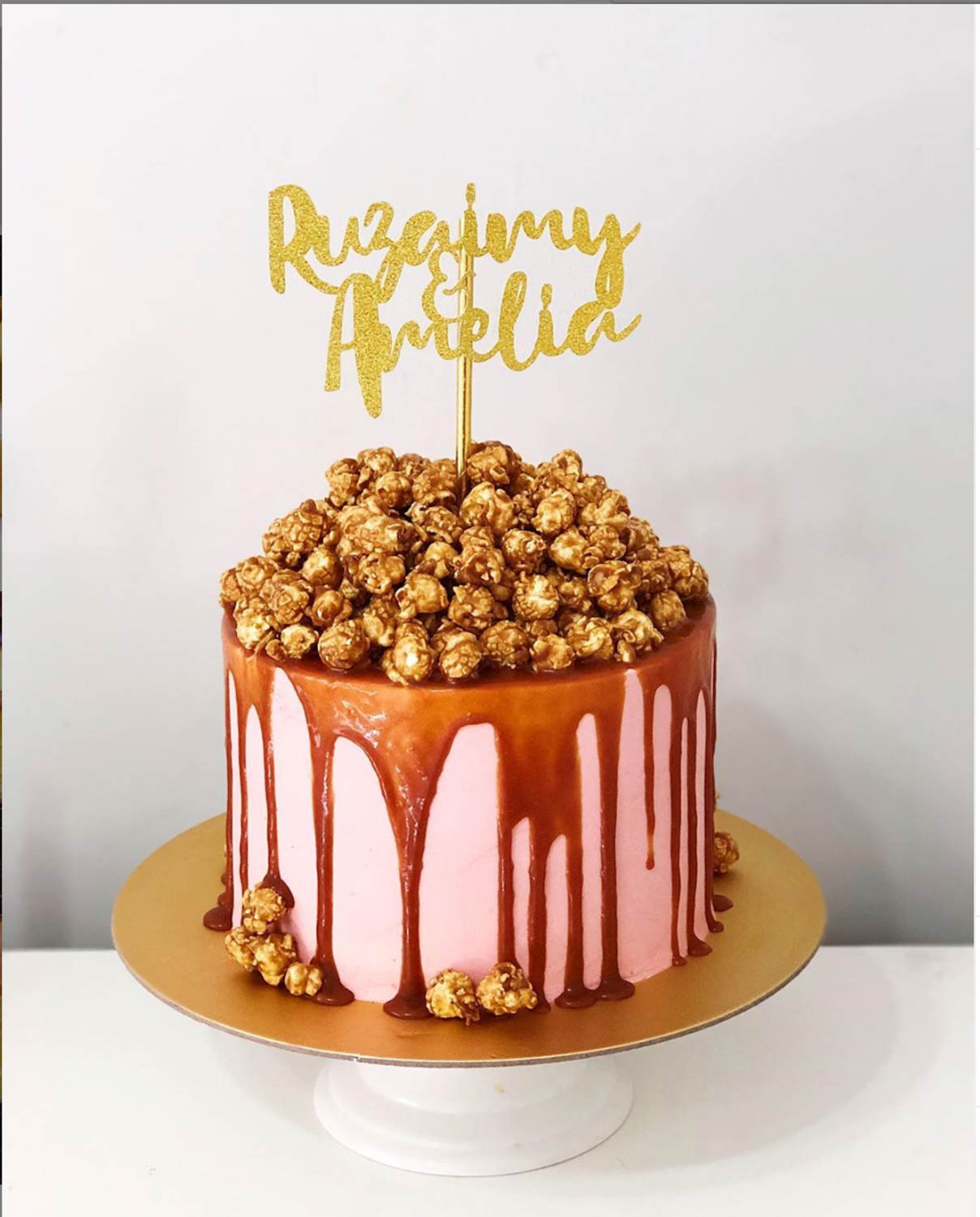 Image credit: @farahhaffandi
Operating from her Instagram shop, 26-year-old self-taught home baker, Farah Affandi, whips up gorgeous, jaw-dropping treats—from elegant, marbled buttercream tiered cakes to humbler treats such as Lapis Surabaya. You can browse through her feed for inspiration before dropping her a DM for more information on getting your very own customised cake! Plus, those who are looking for Muslim-friendly treats will be glad to know that all the ingredients she uses are halal.
---
3. Cutbutter
---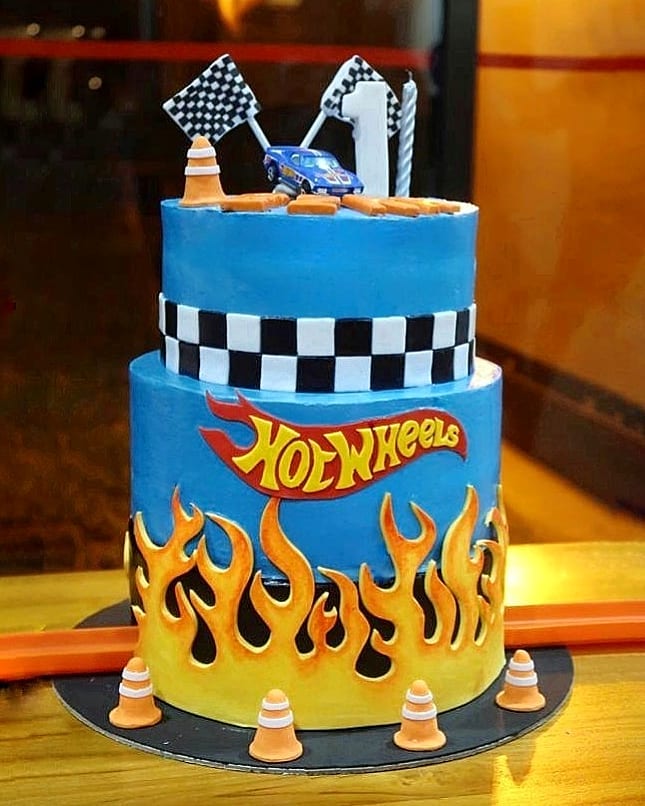 Image credit: @cutbutter
The Instagram baker behind Cutbutter cut her teeth on baking at Raffles Hotel, so you can expect cake designs that literally take the cake.  Think Hot Wheels-themed design with tracks running through the cake  or a God of Fortune cake for the older folks to huat. For enquiries and orders, they are contactable via Instagram or phone.
Tel: 96165267
Website
---
4. Corine & Cake
---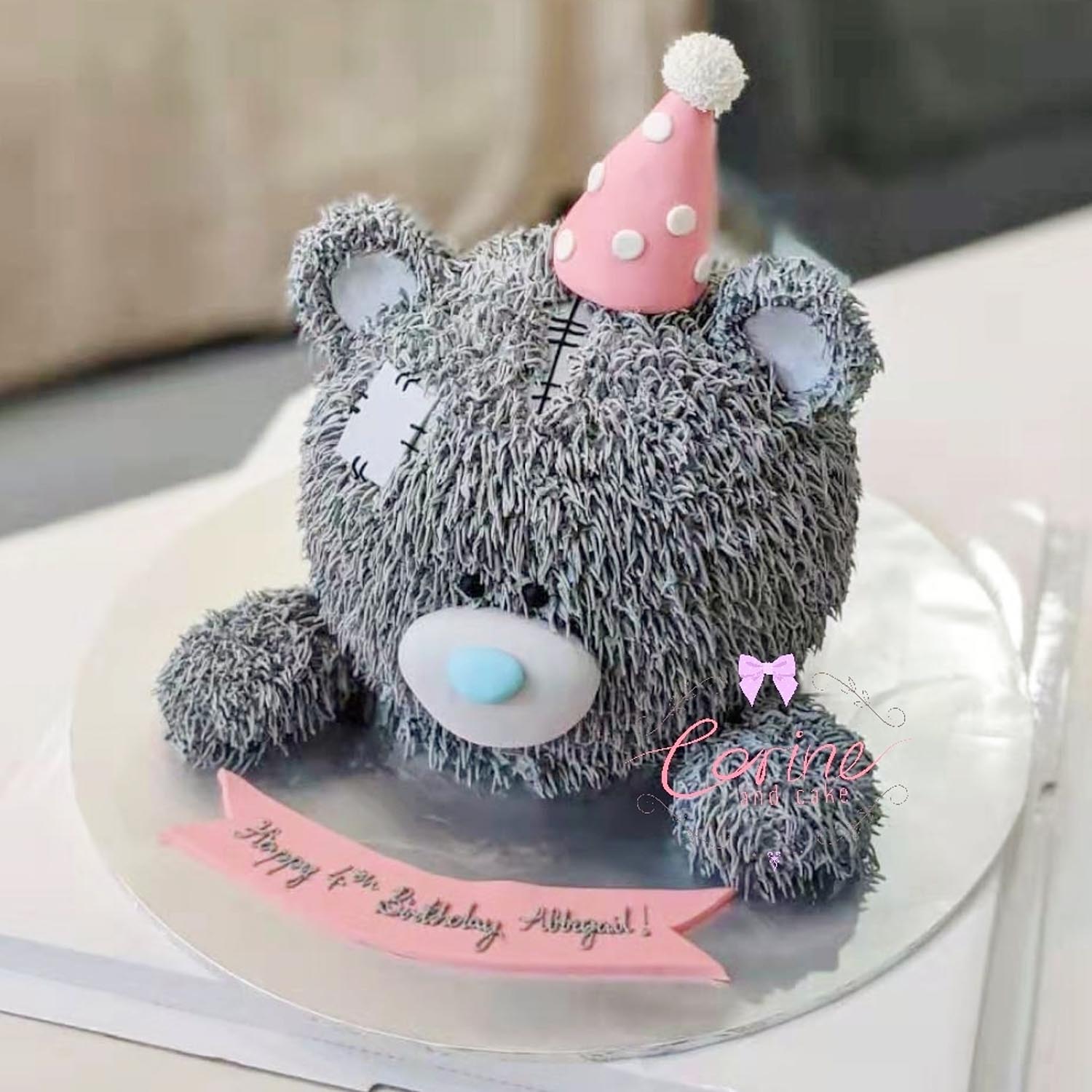 Image credit: @corineandcake
Corine and Cake's cakes are made from scratch by a team of six bakers at their Upper Paya Lebar bakery, using fresh ingredients and natural dairy products which are healthier with less additives. 
For a nice surprise for the younger ones, there are adorable animal designer cakes with frosting piped so realistically to resemble fur. If you're looking for a grand cake for your 21st birthday, chose from the gourmet cakes (from $68) which include flavours such as ondeh-ondeh, chocolate sea salt caramel and more.
---
5. Le Petit Empire Designer Cakes
---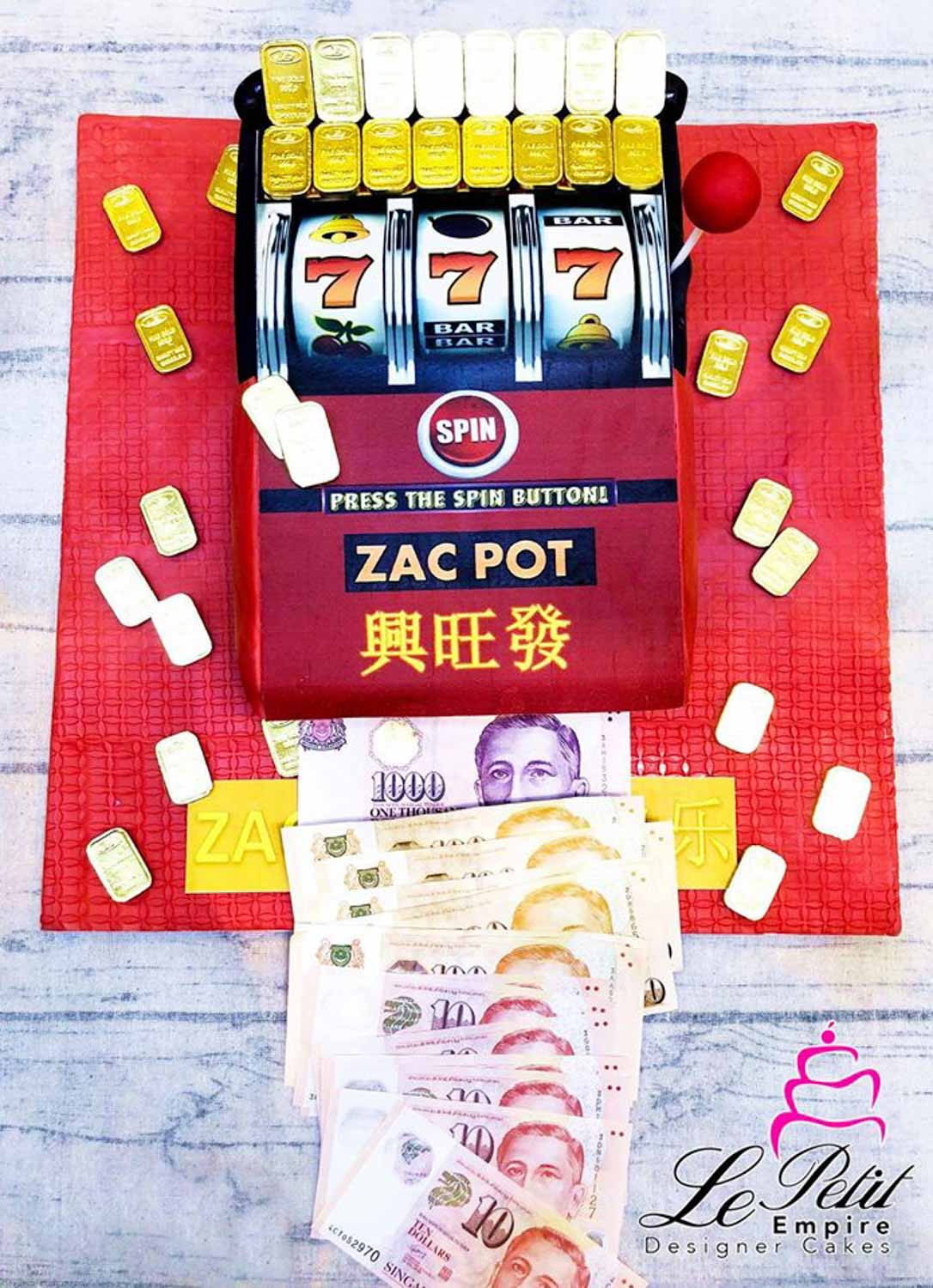 Image credit: @designercakes.sg
The Money Pulling Cake Collection (from $128) by Le Petit Empire Designer Cakes lets you pull out real cash from your cakes—the perfect ang bao for the birthday boys and girls. Besides the above cake design, they also have other types of money pulling cakes, which you can further customise from the cake type to size and flavour. Unique flavours include the sweet Madagascar Vanilla Mango and bitter Valrhona Rich Dark Chocolate.
Address: 11 Cavan Road, #01-03, Singapore 209848
Opening hours: Tue-Sun 10am to 6pm
Tel: 9855 4223
Website
---
6. Cake Spade
---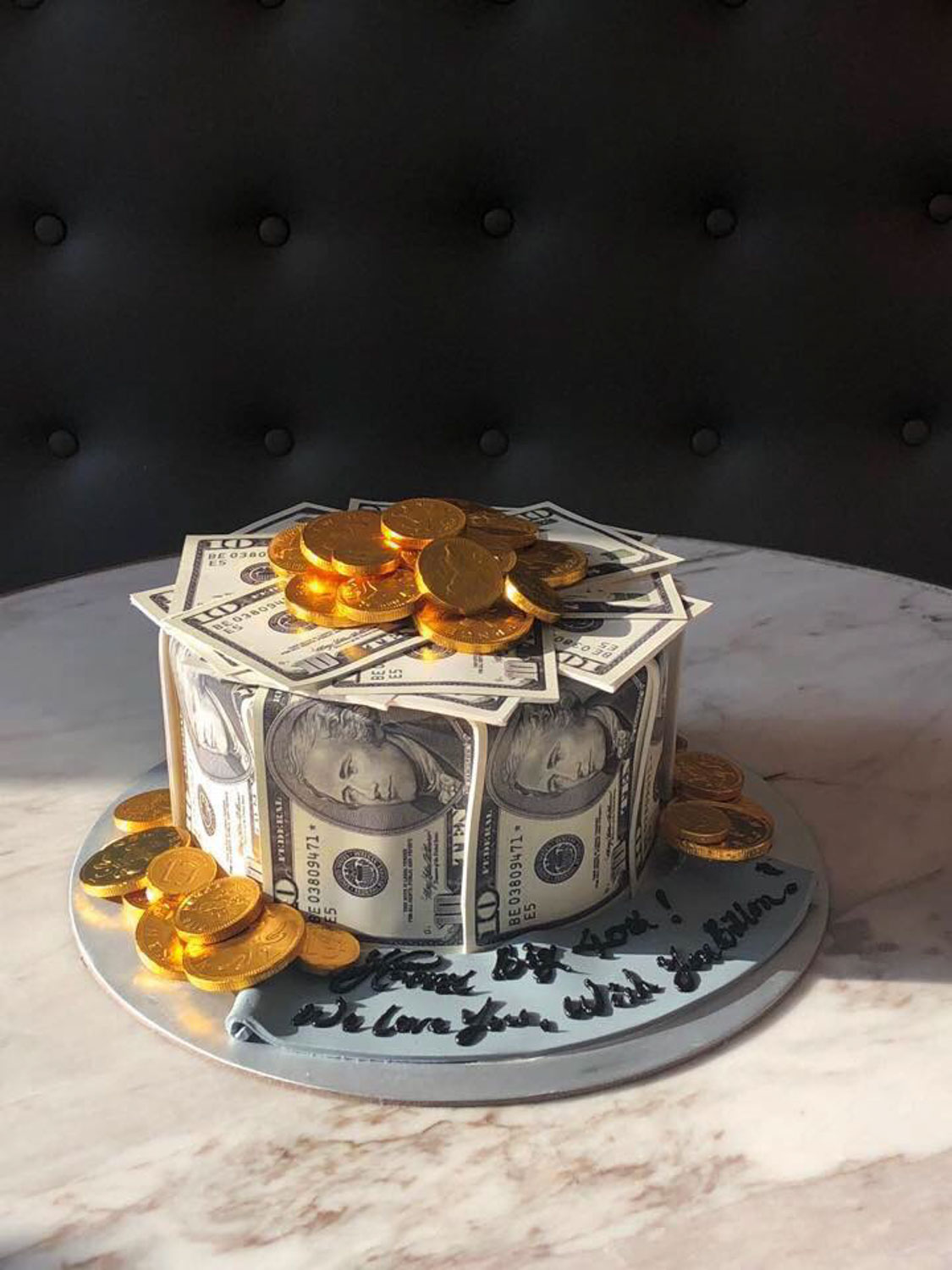 Image credit: @cakespadesg
Housed in a bright pink shophouse amidst the throngs of Korean eateries along Tanjong Pagar, Cake Spade is a cafe selling both sliced and whole cakes, along with creative customised cakes. One of the raved items on the menu is the Strawberry Tofu Cheesecake, which is offered by the slice at their cosy cafe, or whole (from $55). Those who have trouble choosing can opt for the Assorted Cake Platter ($65) which comprises 10 slices of their staple flavours such as spiced carrot and brownie bottom. 
Address: 83 Tanjong Pagar Road, Singapore 088504
Tel: 6444 3868
Website
---
7. The Frosted Chick
---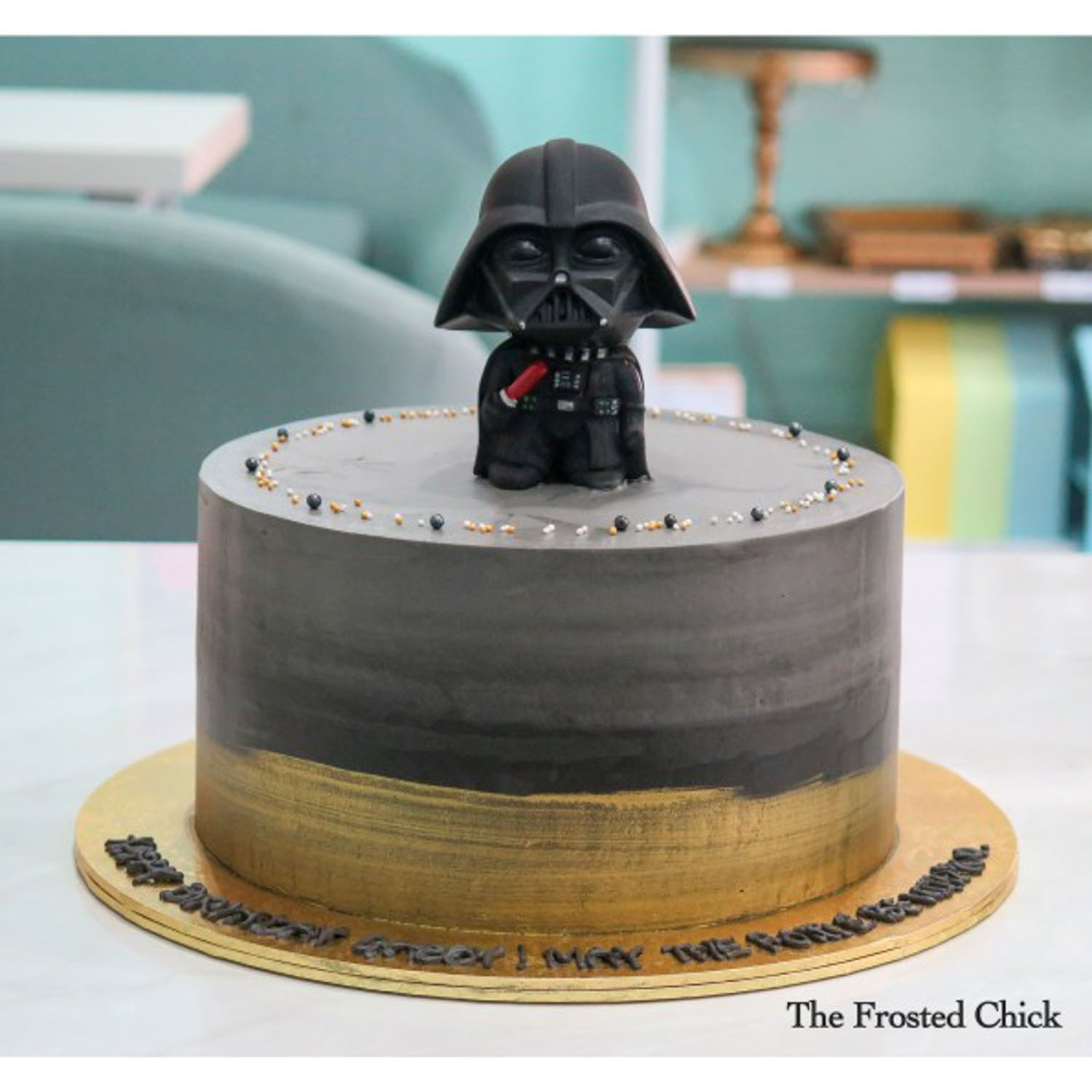 Image credit: The Frosted Chick
The Frosted Chick specialises in customised cakes, dessert tables, macarons and more for all sorts of events including gender reveal parties and birthday parties. From a minimalistic Mahjong Cake (from $100) with mahjong tiles sitting all over the cake to a luxe gold-brushed Darth Vader Cake (from $80), you're sure to find something you fancy. 
Address: 194 Kim Keat Avenue, #01-414, Singapore 310194
Opening hours: Tue-Sun 11:30am to 7:30pm
Tel: 6250 3613
Website
---
8. Flor Patisserie
---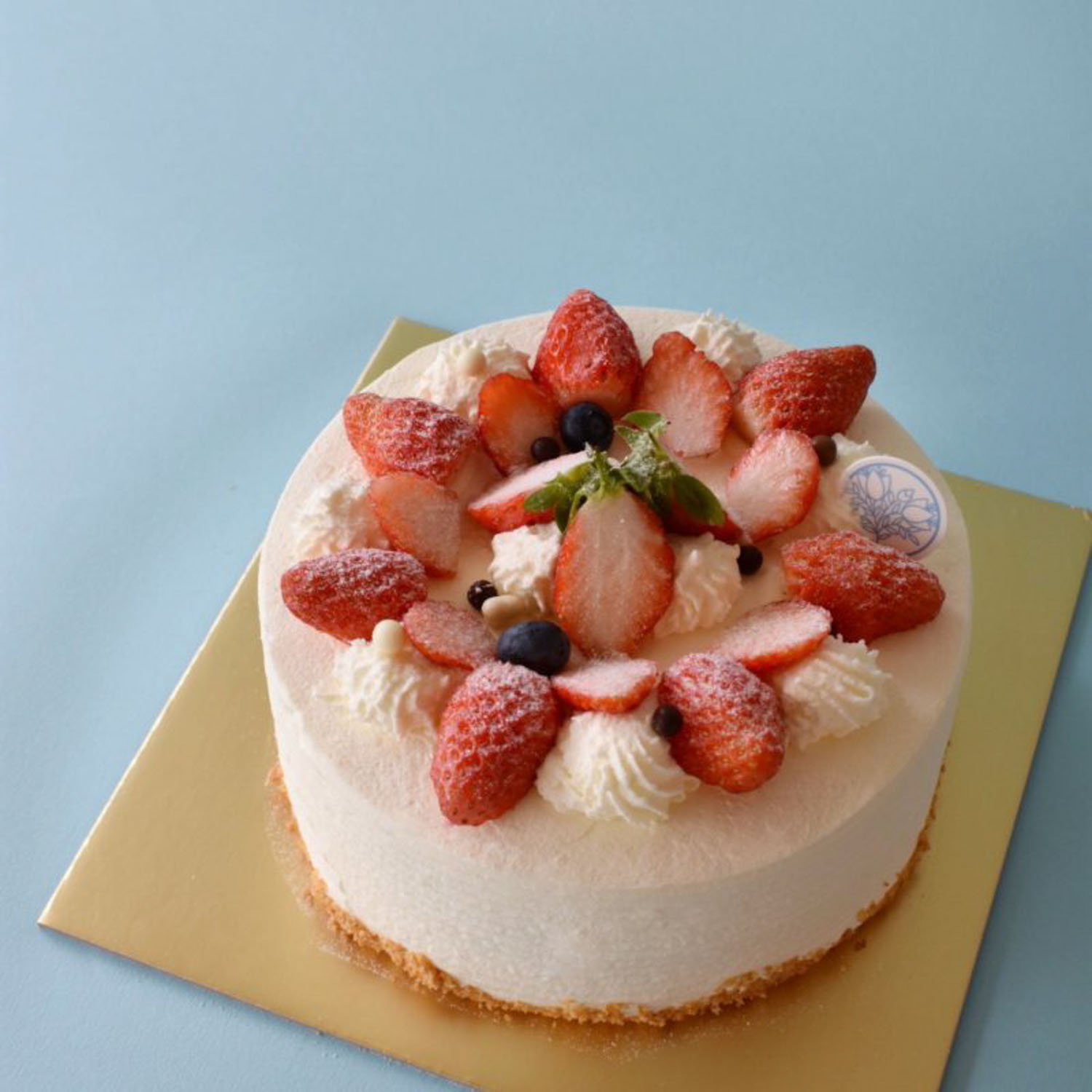 Image credit: Flor Patisserie
Known for their Japanese-inspired strawberry shortcake, Flor Patisserie is a patisserie serving up Japanese-inspired French pastries. Their confections focus heavily on the use of fresh fruits, such as the Berry Berries Strawberry Shortcake (from $53.50) featuring fresh, sweet strawberries atop a three-layered sponge cake that's further layered with more Japanese Chitose strawberries. 
If the birthday girl or boy enjoys black sesame, the Emerald Black (from $64.20) with black sesame cream, matcha dacquoise, and sponge cake will check all the right boxes. 
Address: 42 Siglap Drive, Singapore 456167
Opening hours: Daily 10am to 7:30pm
Tel: 6223 8628/6243 0813
Website
---
9. LÉLE Bakery
---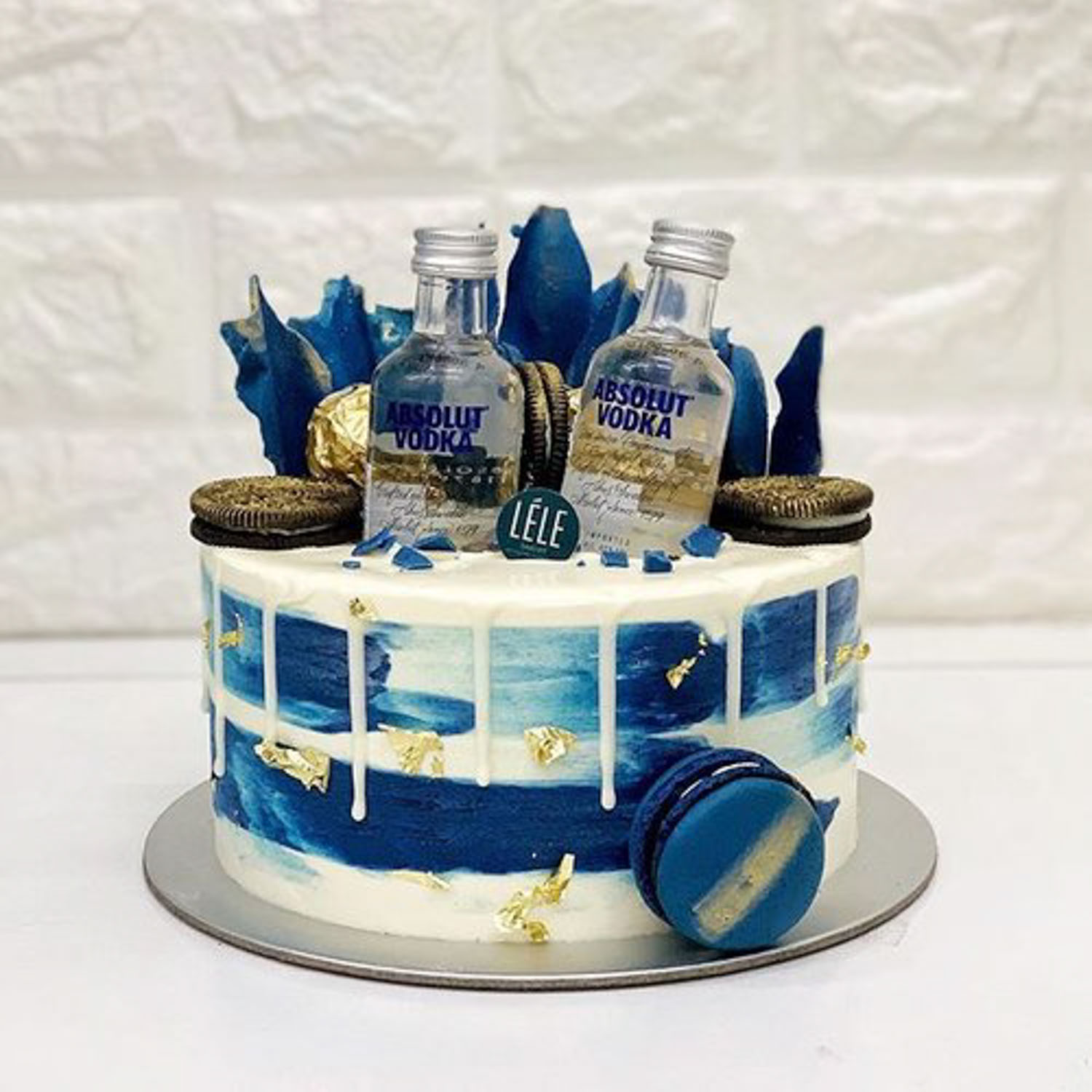 Image credit: Lele Bakery
Currently run by pastry chef Ean Cheong, LÉLE Bakery specialises in customised buttercream cakes with a wide variety of flavours. Choices include well-loved flavours such as the Lavender Earl Grey (from $50) and Chocolate Ganache (from $50).  Their customised cakes are also pretty wacky, such as the one above that's topped with miniature vodka bottles for your alcoholic friend. To order a cake, you can either Whatsapp them, or make an order through their online store. 
Address: 183 Jalan Pelikat, #B1-28, Singapore 537643
Opening hours: Tue-Fri 10am to 8pm, Sun 10am to 5pm
Tel: 8776 1510
Website
---
10. The Fabulous Baker Boy
---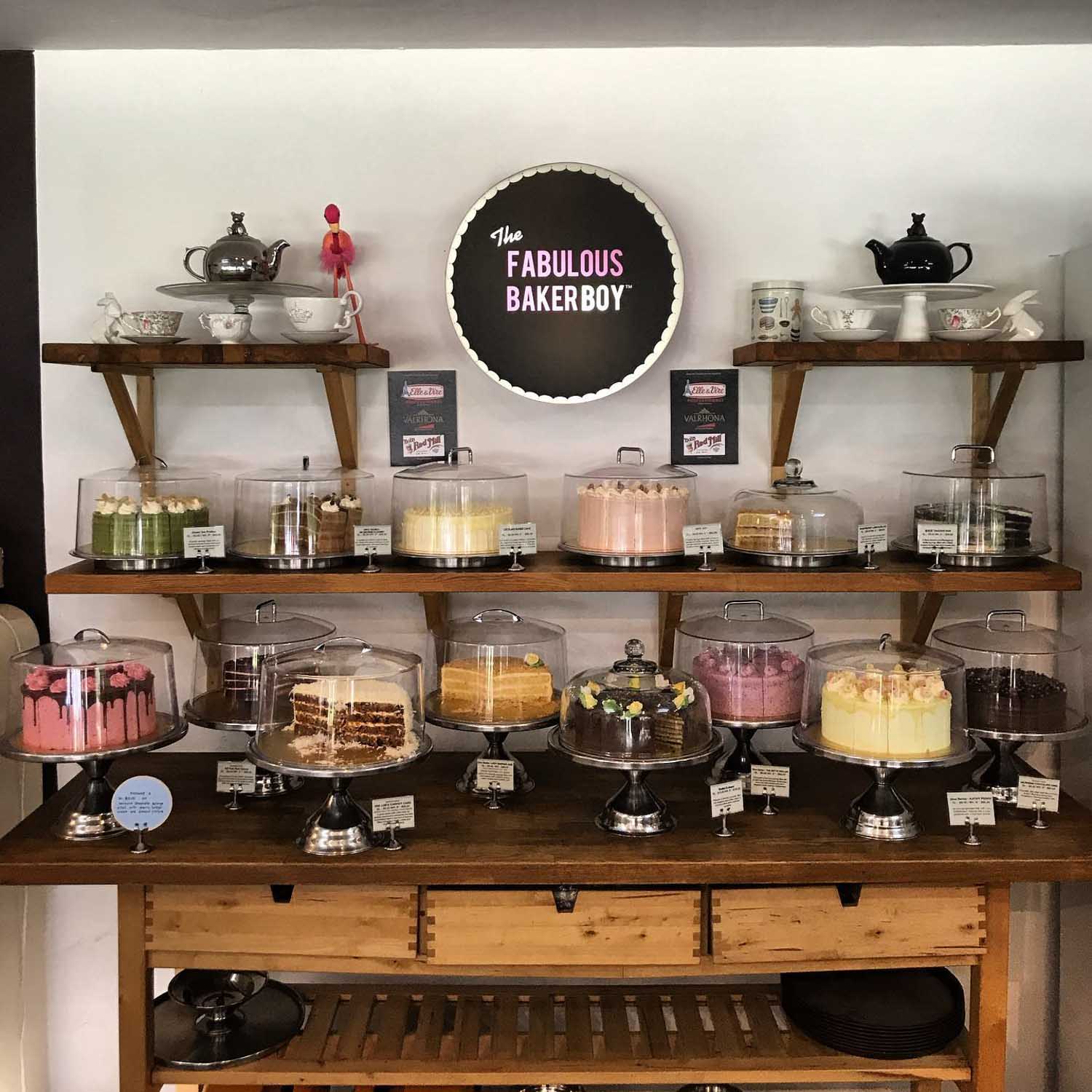 Image credit: The Fabulous Baker Boy
Regular cafe-goers might have heard of The Fabulous Baker Boy which is not only known for their cafe grub, but their cakes too. The cafe is helmed by head chef and owner Juwanda Hassim, whose cake flavours are inspired by his travels. Popular picks include the AB FAB Red Velvet Cake (from $65), a red velvet cake with chocolate ganache, and the Big Lub's Carrot Cake (from $60), a carrot cake that's pimped up with the addition of coconut and cranberries. 
Address: 70 River Valley Road, #01-15, The Foothills, Singapore 179037
Opening hours: Tue-Thurs 8:30am to 6pm, Fri-Sat 8:30am to 10pm, Sun 8:30am to 5pm
Tel: 6694 8336
Website
---
11. Edith Patisserie
---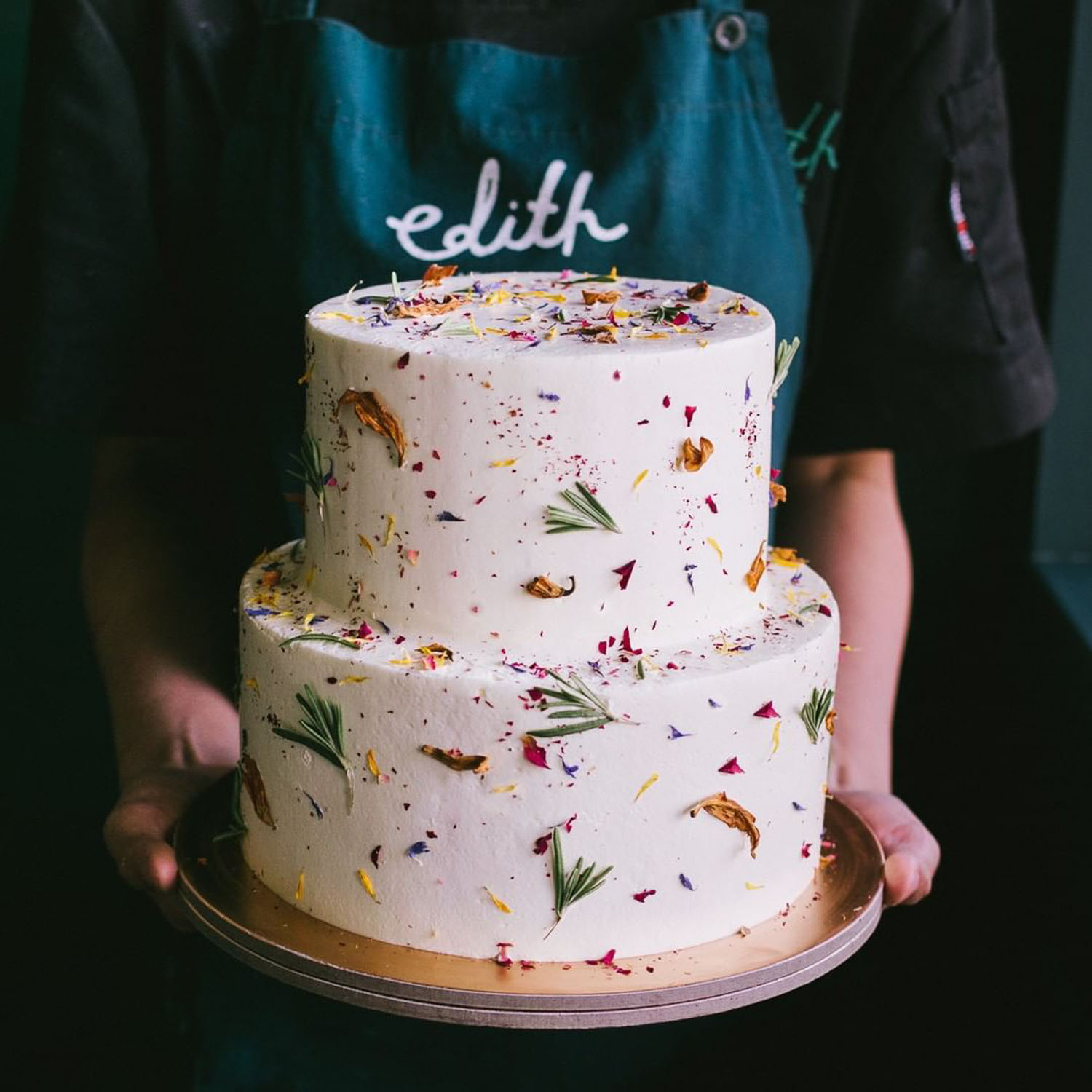 Image credit: @edithpatisserie
Edith Patisserie's cakes are angelic, whimsical, and dreamy. Unique flavour pairings are their selling point. Think Gin & Tonic Cake (from $50), Cookie Dough Speculoos Chocolate Cake (from $50), and Yuzu Matcha Cake (from $55). The cakes are baked in small batches and tailored for local palettes. Plus, they're lower in sugar, moist, and tender. Those who love all things cutesy will appreciate their animal cakes (from $80) which are shaped like bears, foxes and more!
Address: 772 North Bridge Road, Singapore 198740
Opening hours: Tue-Sat 10am to 5pm, Sun 10am to 2pm
Tel: 6443 7150
Website
---
12. The Ugly Cake Shop
---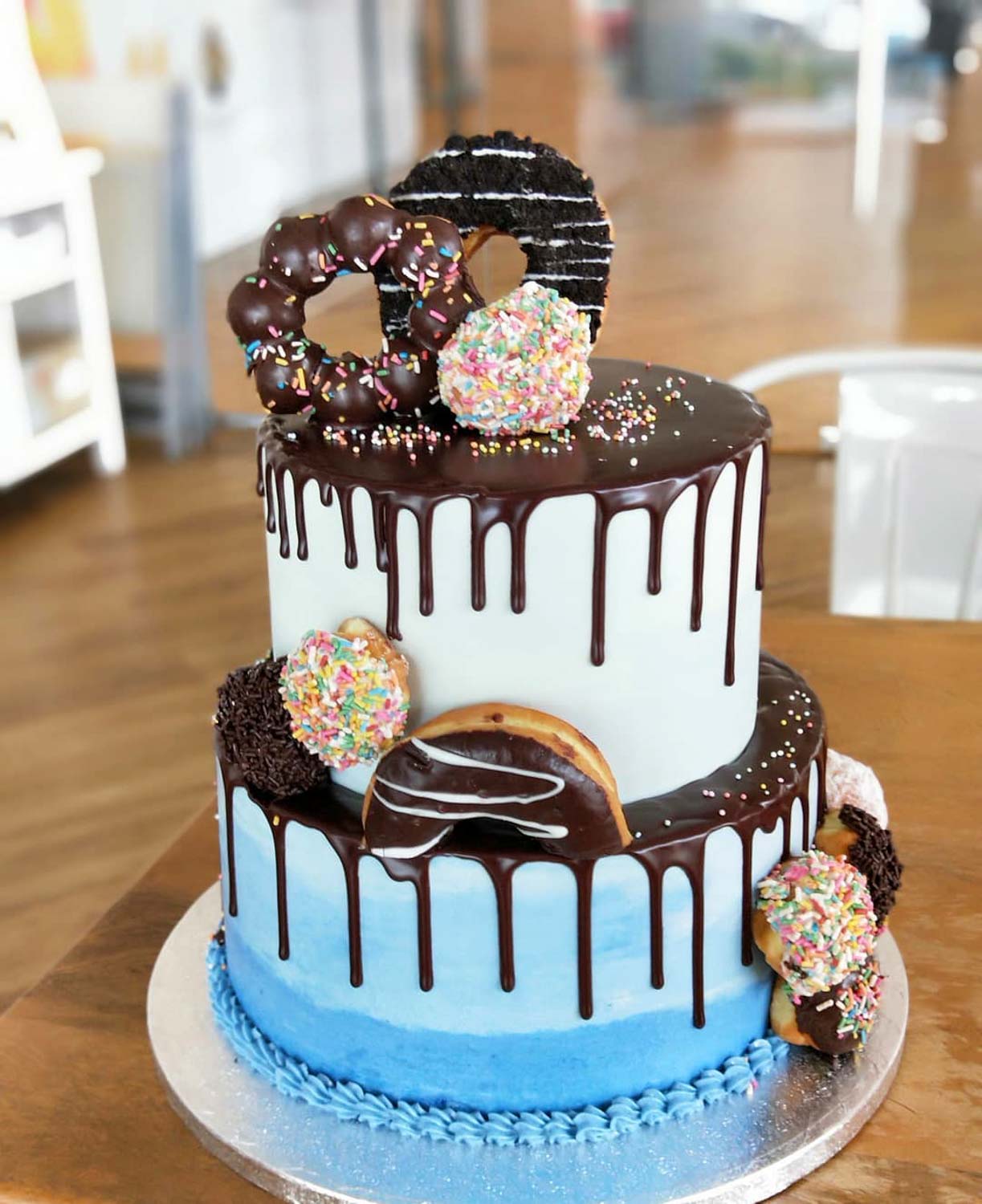 Image credit: @uglycakeshop
Most people would think that "ugly" is the last thing a cake shop would name themselves. Well, The Ugly Cake Shop gave themselves this name because all their cakes do not contain artificial colouring, fondant, or marzipan—ingredients that are usually used to beautify cakes. Pick from unique flavours such as the Salted Egg Yolk Cake (from $70) that is sweet with a touch of savoury; the locally inspired Milo Dinosaur Cake (from $55); and the perennial favourite, Super Chocolatey Cake with Nutella and Valrhona (from $55). 
Address: 535 Kallang Bahru, #01-06, GB Point, Singapore 339351
Opening hours: Mon-Sat 10am to 7pm
Tel: 8228 8300
Website
---
13. Naughty Cakes
---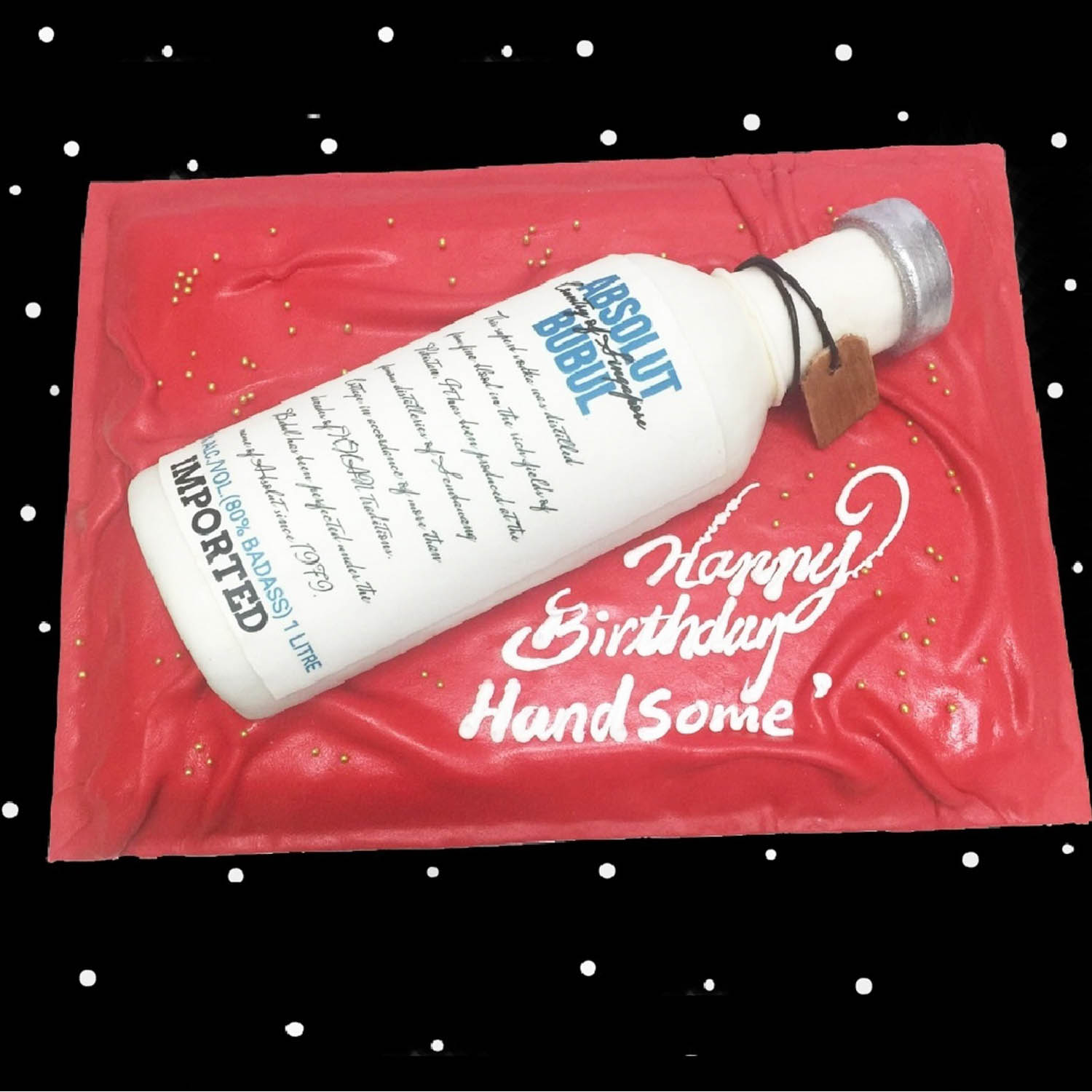 Image credit: Naughty Cakes
Husband-and-wife duo—Michelle and Jeffrey Tan—decided to add a bit of cheekiness to their cakes and set up Naughty Cakes. Here, you can find all sorts of cakes crafted in R21 designs—great for bachelorette parties.
You can customise each design with your choice of sponge cake and filling. They have naughty cakes for both genders, from busty babes in revealing lingerie to ones designed after explicit body parts.
Address: 44 Bendemeer Road, #01-1448, Singapore 330044
Opening hours: Daily 8am to 8pm
Tel: 97411351
Website
---
14. Whiskit Bakery & Cafe
---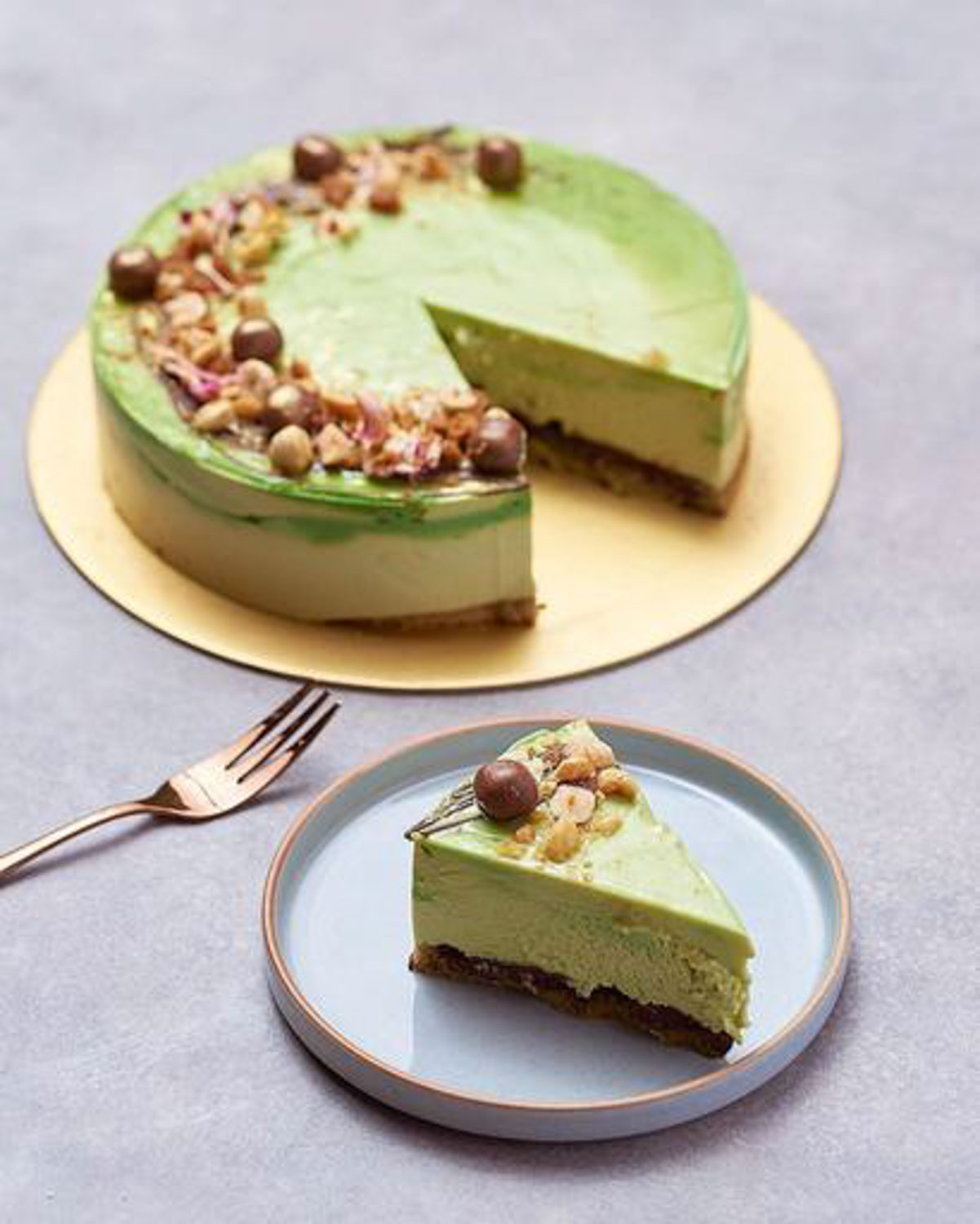 Image credit: Whiskit Bakery
Whiskit serves both hot food and sweet treats, with a focus on locally inspired tarts and cakes. Some interesting selections include the Avocado Mousse Cake (from $50) that's decked with matcha chiffon sponge, roasted hazelnuts, and avocado mousse. Be sure to also try the Ondeh Ondeh Cake (from $50) that's topped with ondeh-ondeh balls for a burst of rich flavour. Self-collection and delivery options are available, with free delivery provided for orders above $150.
Address: 533 Upper Cross Street, #01-33, Singapore 048421
Opening hours: Mon-Sat 11am to 8pm
Tel: 8380 7302
Website
---
15. Creme Maison Bakery
---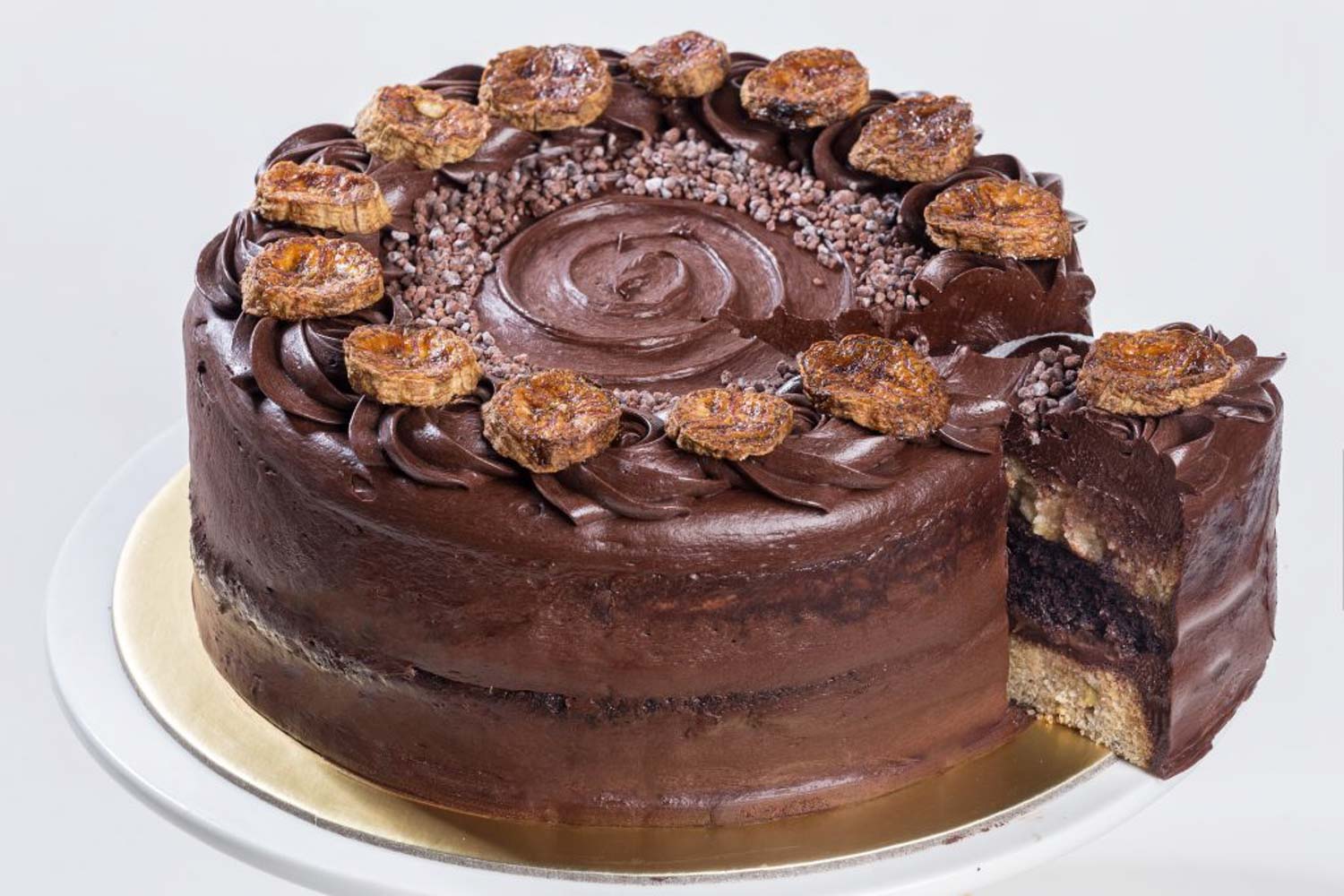 Image credit: Creme Maison 
At Creme Maison Bakery, you will find pristine cakes with unique flavours such as the Sea Salt Gula Heritage Ondeh (from $45) and Caffe Kaya Toast (from $45). Other drool-inducing flavours include Belgium Chocolate S'mores (from $45) and Raspberry Lemonade (from $45). Our favourite is the Roasted Chocolate Banana (from $45) that has moist, roasted banana and dark chocolate sponge layered with fresh banana slices and Belgium chocolate cream cheese. It is then topped with dehydrated banana slices and Valrhona Cocoa nibs. If you're looking for customised cakes, you can view their range of designs on their Instagram page. 
Address: 30 Tai Seng Street, #08-03C, Singapore 534013
Opening hours: Mon, Wed-Sat 9am to 5pm, Sun 10am to 1pm
Tel: 8181 3689
Website
---
16. Sooperlicious Cakes
---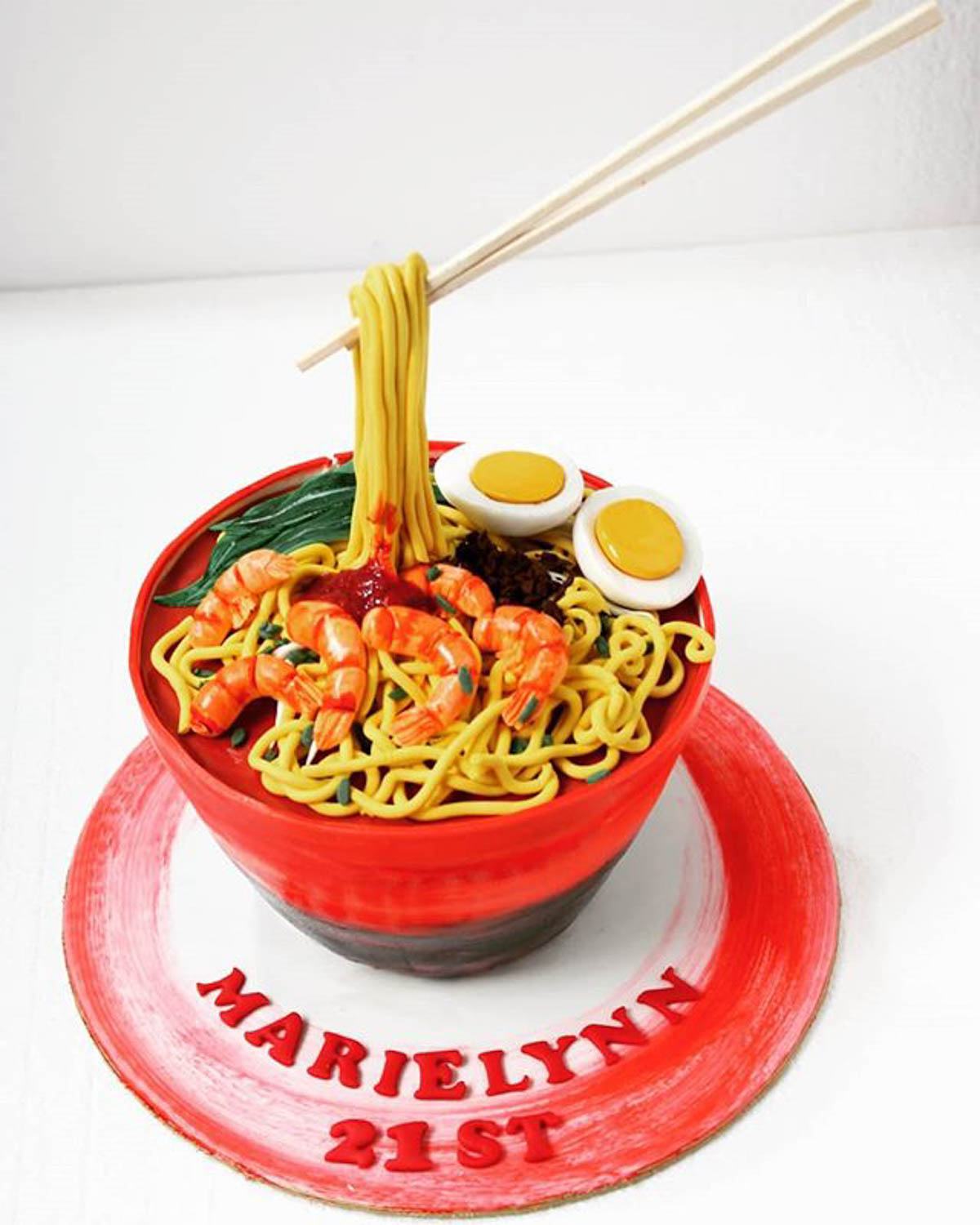 Image credit: @sooperlicious
Founded 10 years ago, Sooperlicious Cakes offers halal cakes, with their speciality being fondant cakes created in elaborate designs. Some of the designs they have come up with include a 3D Tingkat Cake with intricate floral designs, and even a 3D Prawn Noodle cake that was created for a customer's 21st birthday. Do note that they operate on a by-appointment-only basis, so drop them a message or email before heading down! 
Address: 183 Jalan Pelikat, B1-92, Singapore 537643
Tel: 9101 5856
Website
---
17. Lynn's Cake & Coffee
---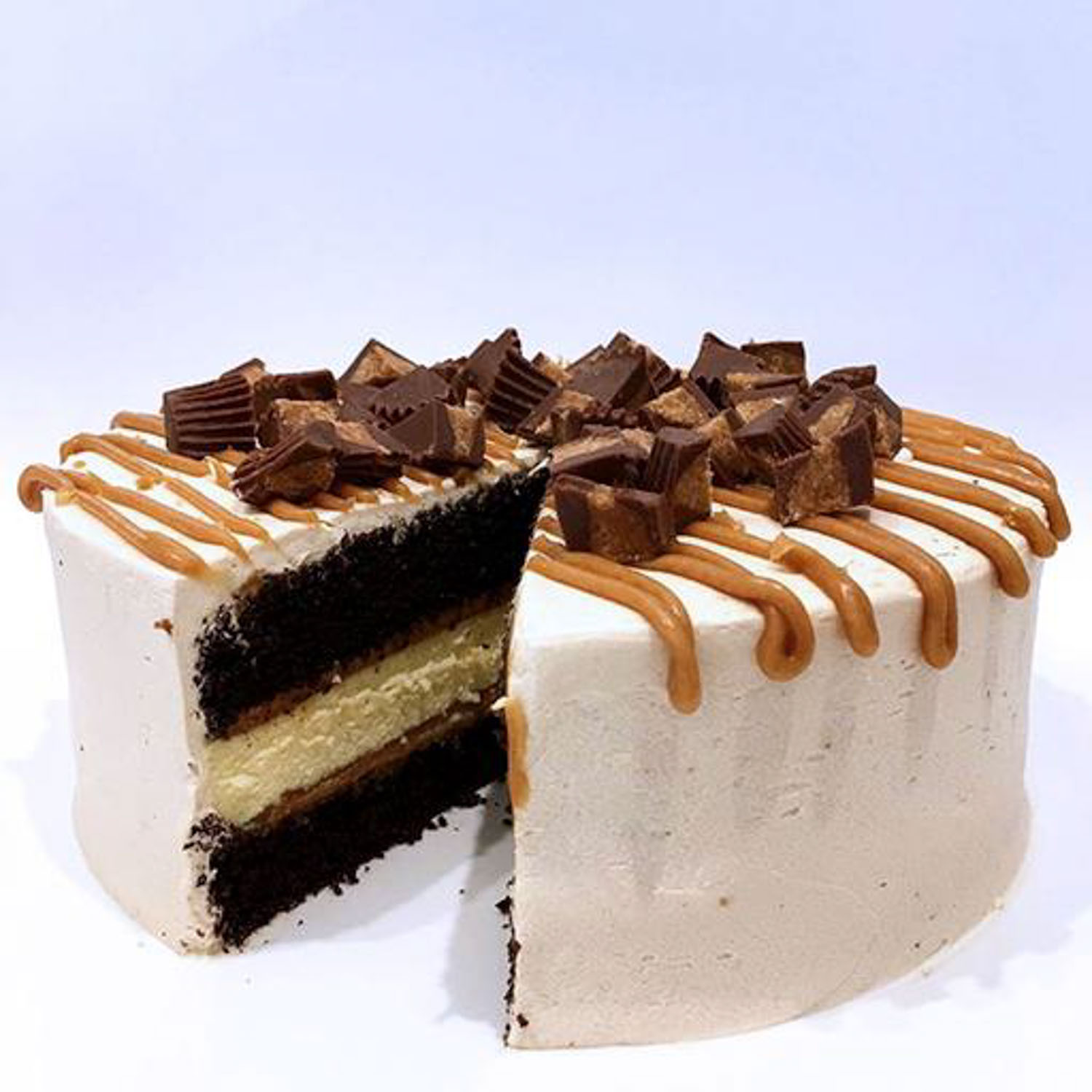 Image credit: @lynnscakessg
Founded in 2013, Lynn's Cakes & Coffee serves up both savoury food and freshly baked sliced cakes, which you can also order as a whole cake. Classic cakes you can order online include the Peanut Butter Cheesecake ($92) that has a cheesecake layer sandwiched between layers of chocolate sponge, finished with a creamy peanut butter drizzle. Other flavours include the uber decadent Mocha Caramel ($82) that's loaded with espresso and chocolate, and the Chocolate Orange ($82), which comprises orange sponge frosted with Belgian dark chocolate buttercream. 
Address: 11 Eng Kong Terrace, Singapore 598983
Opening hours: Tue-Sun 11am to 7pm
Tel: 6314 2886
Website
---
18. The Cake Shop
---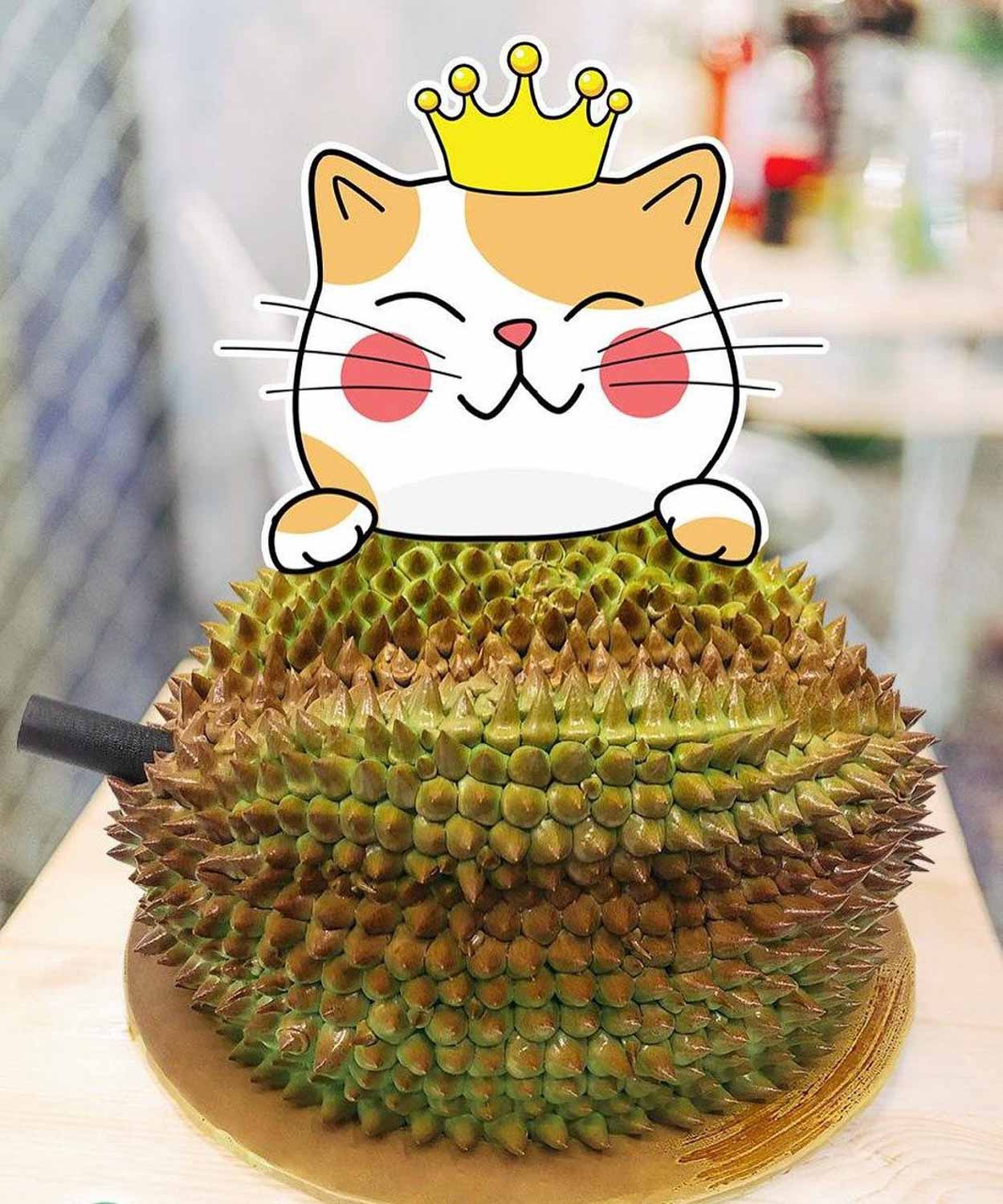 Image credit: @thecakeshopsg
Not only does The Cake Shop take in cake requests for regular customers, but they're also a dessert distributor and wholesaler for well-known restaurants, hotels, and bakeries—proof that they're really good at what they do.
They have money-pulling cakes, 3D fresh cream and fondant cakes, drip cakes, and even a 3D Durian Cake (from $95.80) that's made with D24 durians and cream. They also offer a same-day delivery service, which will be extra useful if you need a cake urgently. 
Address: 2 Jurong East Central 1, #B1-07, JCube, Singapore 609731
Opening hours: Daily 10am to 9pm
Tel: 6570 0303
Website | Full list of outlets
---
19. Cake Avenue
---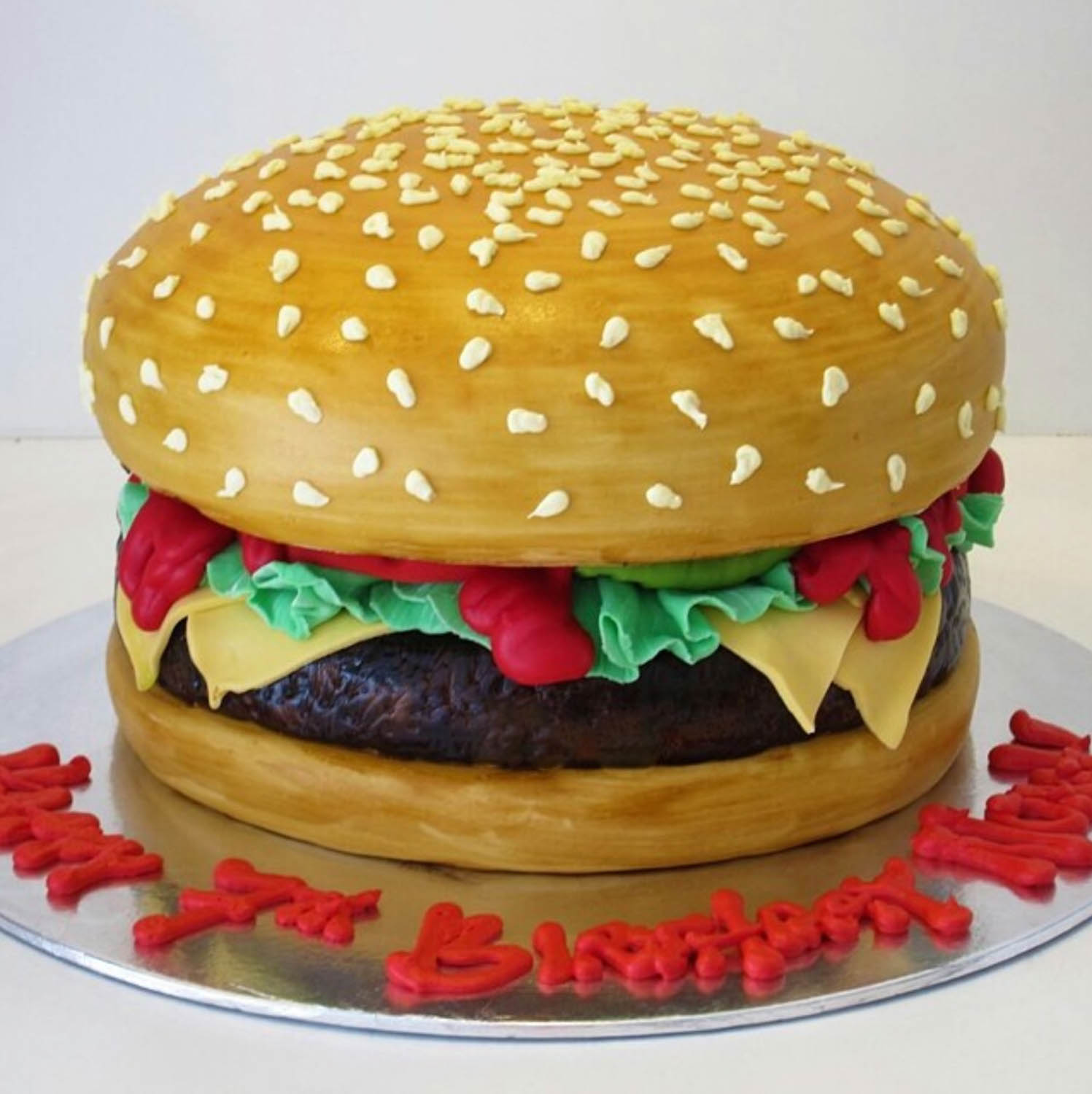 Image credit: @cakeavenuesg
A halal-certified establishment, Cake Avenue offers cakes from $28, including custom ones. Simply send them a picture of the design and they will drop you a reply with the quote and ordering process. Plus, if you need a cake at the last minute, they also offer same-day delivery with a minimum ordering period of four hours.
Address: 33 Lorong Kilat, #01-01, Kilat Centre, Singapore 598132
Opening hours: Tue-Sun 10am to 7pm
Tel: 6877 9008
Website
---
20. Fluff Bakery
---

Image credit: @fluffbakery
A Muslim-owned bakery, Fluff Bakery has been making waves in the bakery scene ever since its inception. Besides their famous cupcakes, they also whip up a diverse range of bakes such as the Ferrero Rocher Cake (from $55), which is a combination of chocolate cake, hazelnut feuilletine, and a Nutella drizzle cream frosting that's finished with a milk chocolate dripping. Every week, they will release a collection of new flavours, so do check out their Instagram page regularly! 
Address: 4 Jalan Pisang, Singapore 199071
Opening hours: Tue-Sat 12pm to 7:30pm
Website 
---
Get these birthday cakes in Singapore
---
Besides birthday cakes, these bakeries and cake shops also offer cakes for other occasions, so even if you don't have a birthday coming up, you now know where to look at should you need one for a wedding, party, or an event!
If you're a hardcore dessert lover who loves sweet treats beyond cakes, check out our list of best desserts in Singapore for Earl Grey tarts, Godiva cheesecake and more.
10 Best Desserts In Singapore For Ice-Cream, Brûlée French Toast, And Beautiful Eclairs – Eatbook Top 50 Awards 2019
Featured image adapted from @edithpatisserie and @sooperlicious.