Fluff Bakery at North Bridge Road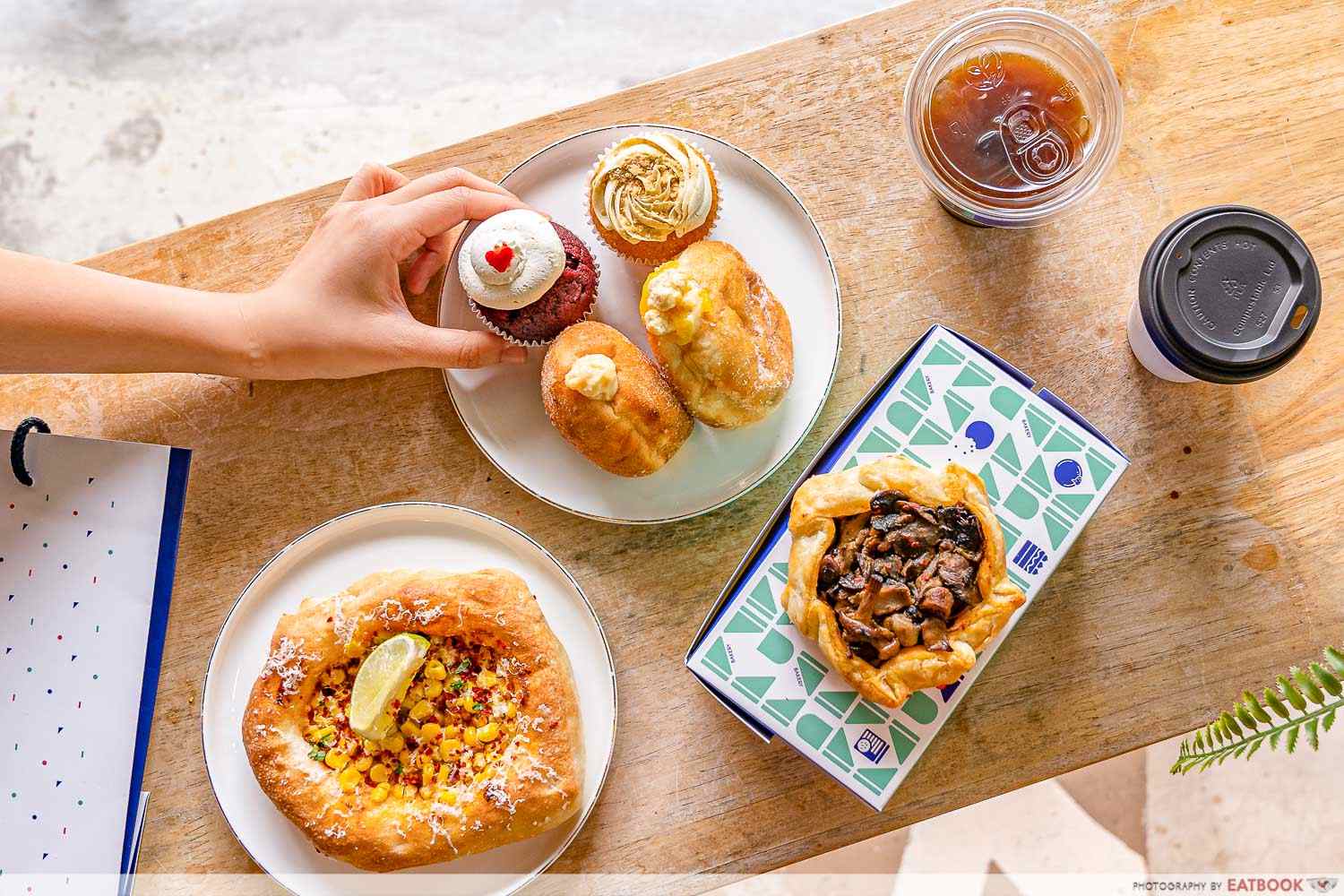 I remember hearing about Fluff Bakery when the cupcake craze was at its peak many years ago. The halal-certified bakery saw snaking queues back then, when they first opened their humble bakery in 2013—almost 10 years ago! Today, they've upgraded to a much larger space with a fully-fledged kitchen and baking area, alongside a plethora of bakes that extend beyond cupcakes.  
Food at Fluff Bakery
Fluff Bakery shot to fame for their halal-friendly cupcakes, but now the team has pivoted to offer a whole slew of freshly baked goodies, both sweet and savoury.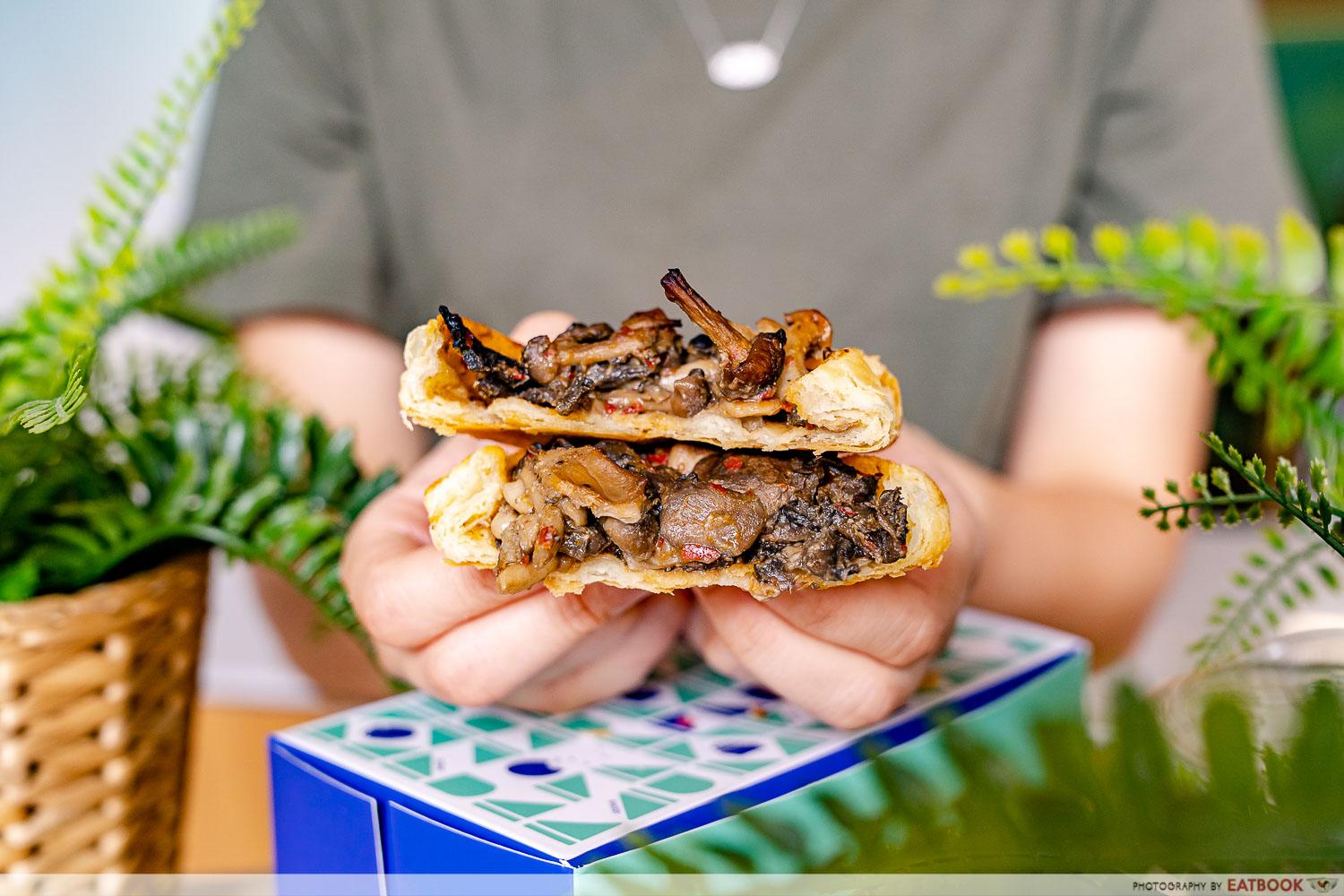 The Miso Butter Mushroom Galette ($5.50) made an excellent start to our experience with its delightfully buttery pastry and umami-laden filling. I wasn't expecting much as its appearance looked rather bland, so I was pleasantly surprised by how moreish it turned out to be.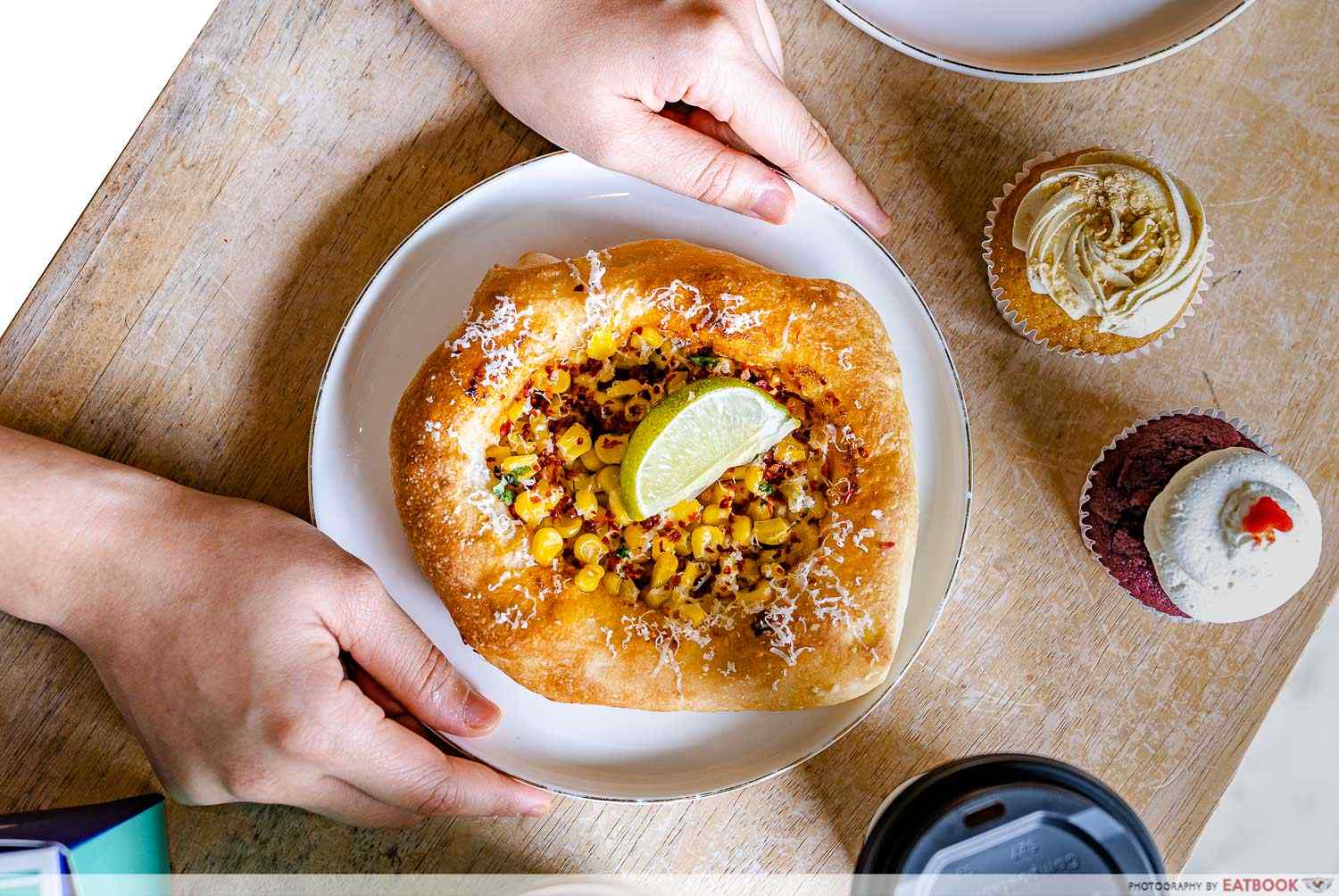 Another savoury number we tried was the Mexican Sweetcorn Flatbread ($4.50), which came with a thin wedge of lime on top. While I enjoyed the slight kick of spice in the seasoning, I felt that the dough was too plain for my liking. The sweet corn, which was messy to eat, wasn't that spectacular either.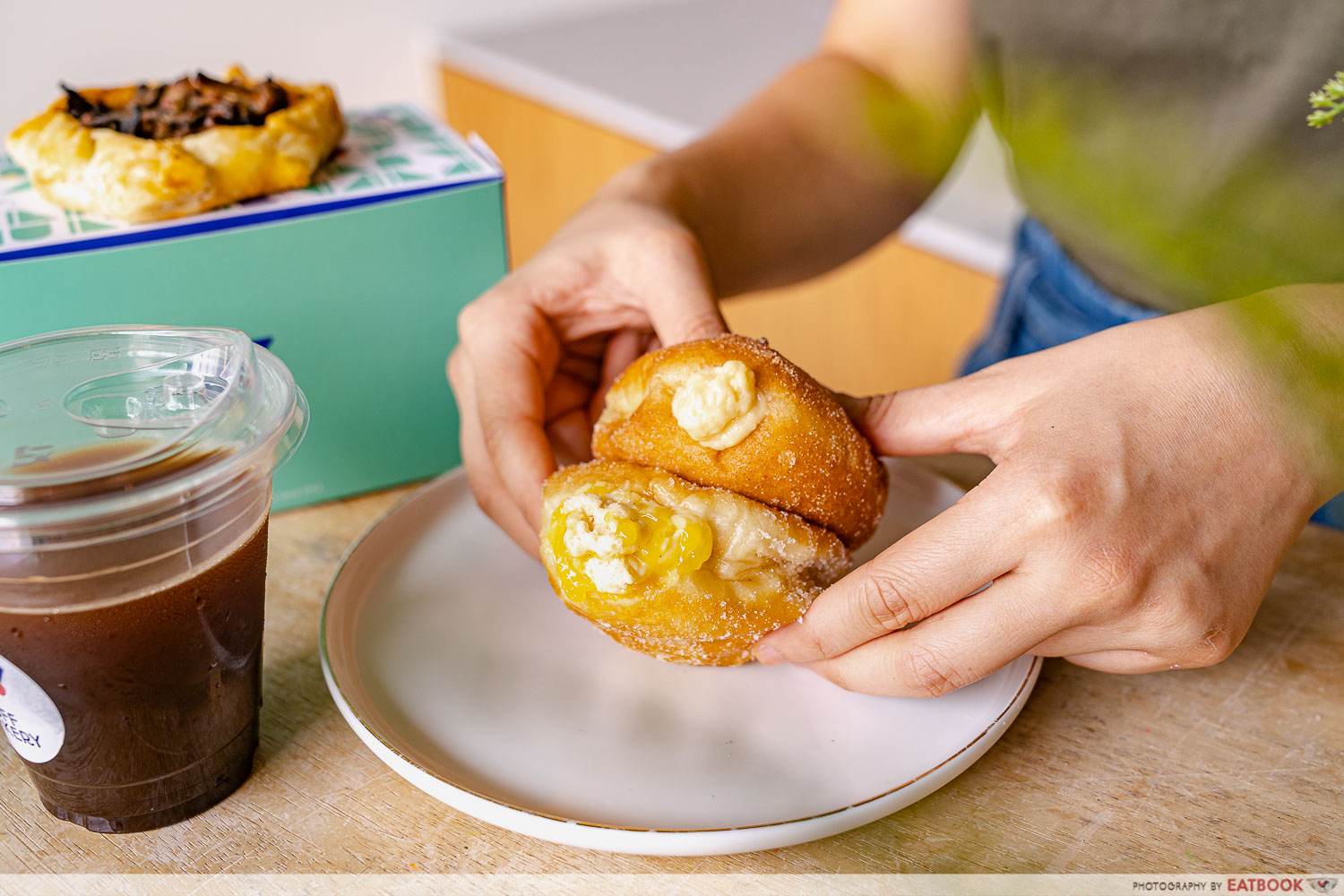 Nonetheless, I was impressed with the two doughnuts ($4) we tried: Maple Cinnamon Toast and Mandarin Orange Cream. The former features a cinnamon-dusted doughnut piped with a lightly sweetened, maple-spiked custard, while the latter is a seasonal special with a zesty centre.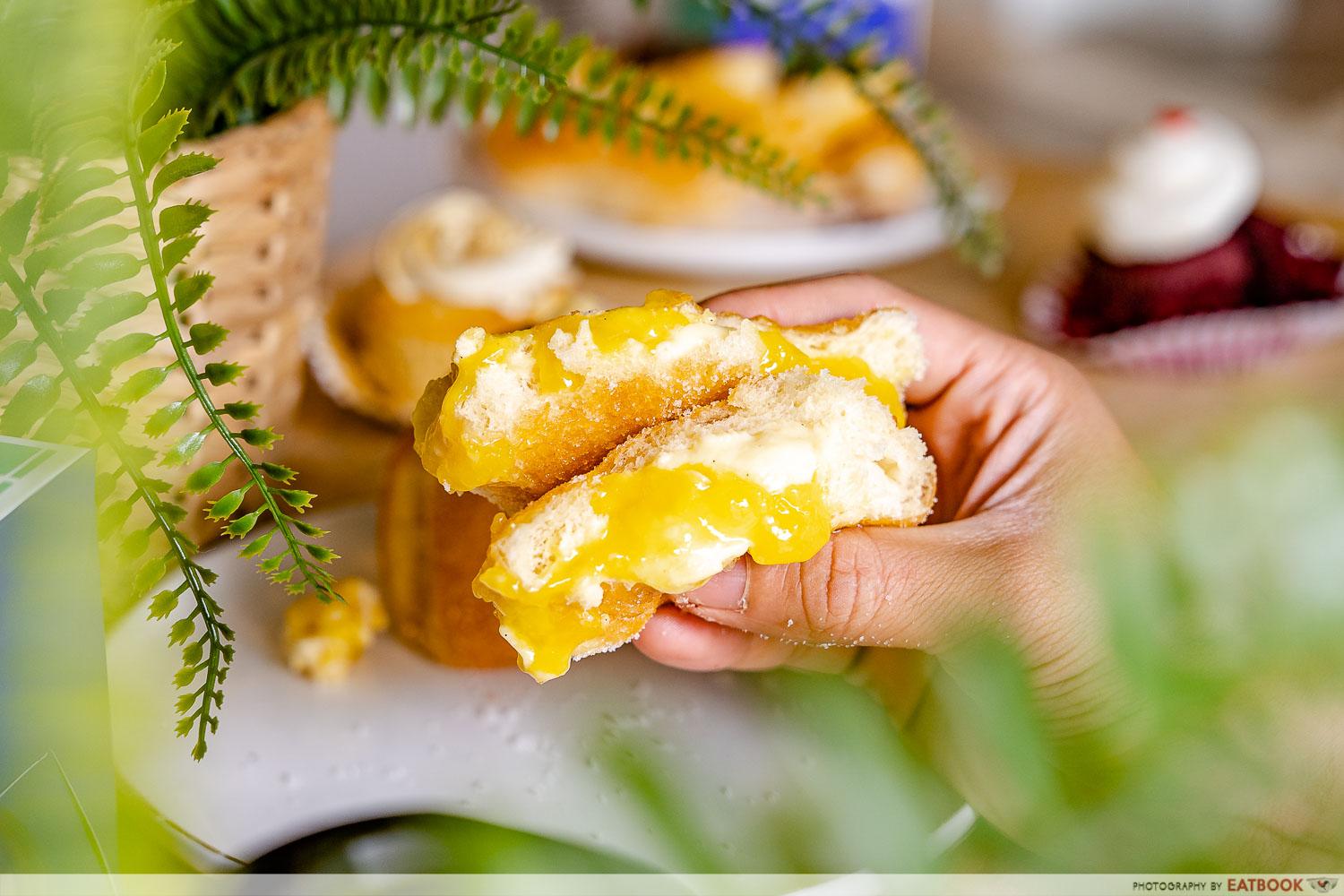 The Mandarin Orange Cream doughnut was a unanimous favourite out of everything we tried. The luscious, citrusy filling went well with the freshly fried doughnut, which was surprisingly light without any greasy aftertaste.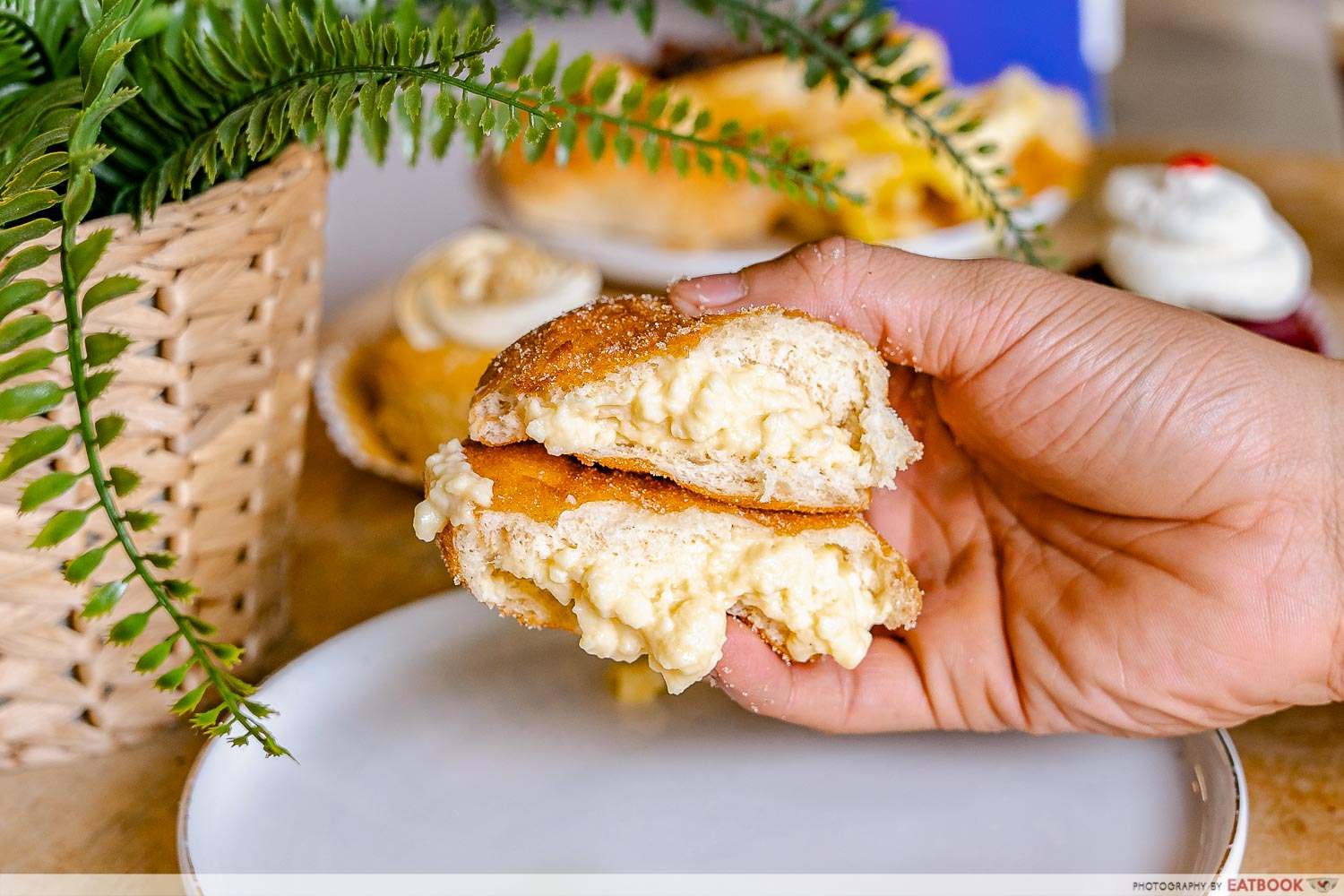 On the other hand, while the Maple Cinnamon Toast boasted great flavours, it fell short with its custard filling that was slightly lumpy. Thankfully, this was salvaged by the doughnut itself, which had an old-school flavour and texture I really liked.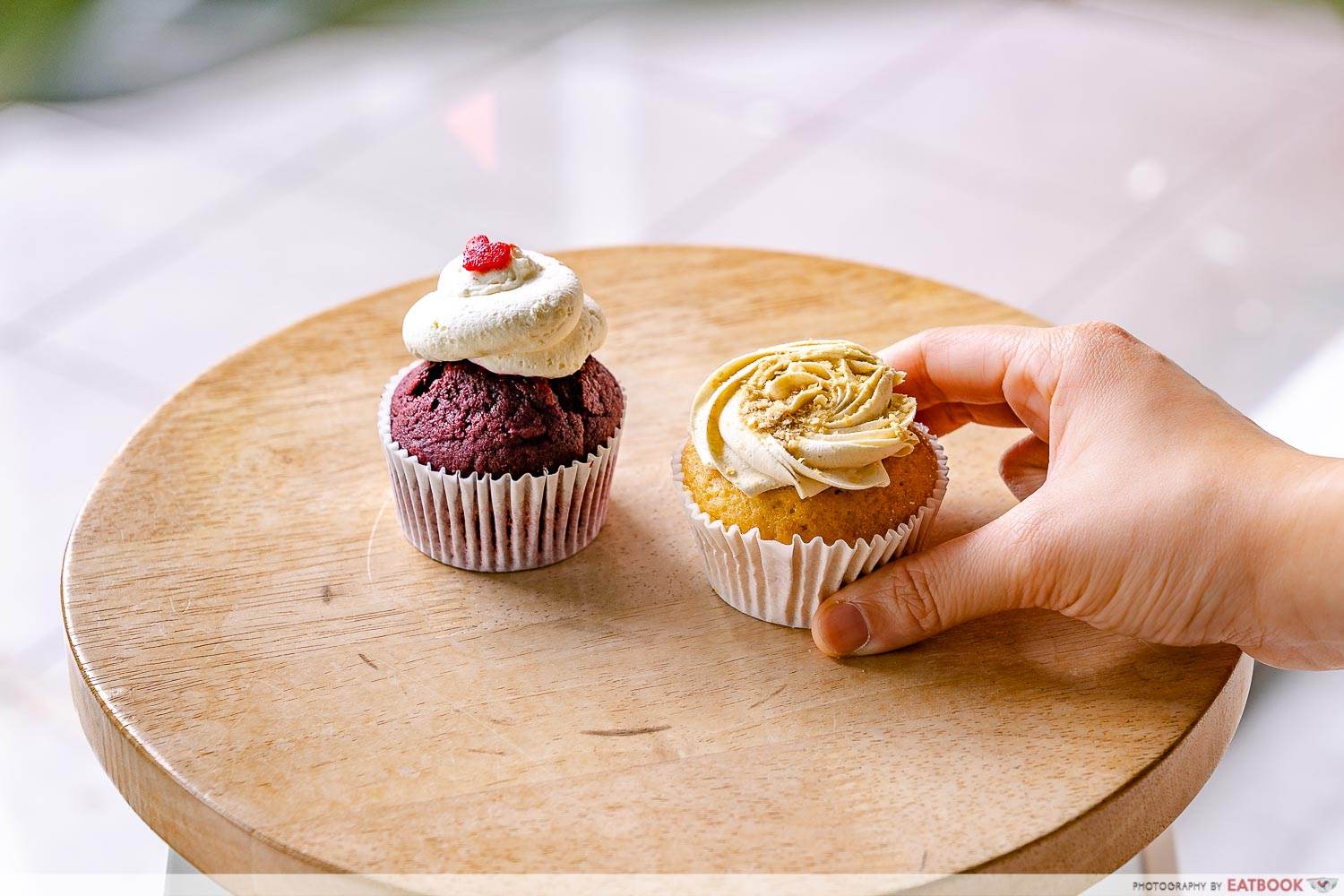 When Fluff Bakery first started out, they drew lines for their IG-worthy cupcakes that came with molten fillings. One of their bestsellers is the Red Velvet Cupcake ($4), which sees a hidden Nutella surprise that oozes out once you bite into the cocoa and vanilla sponge.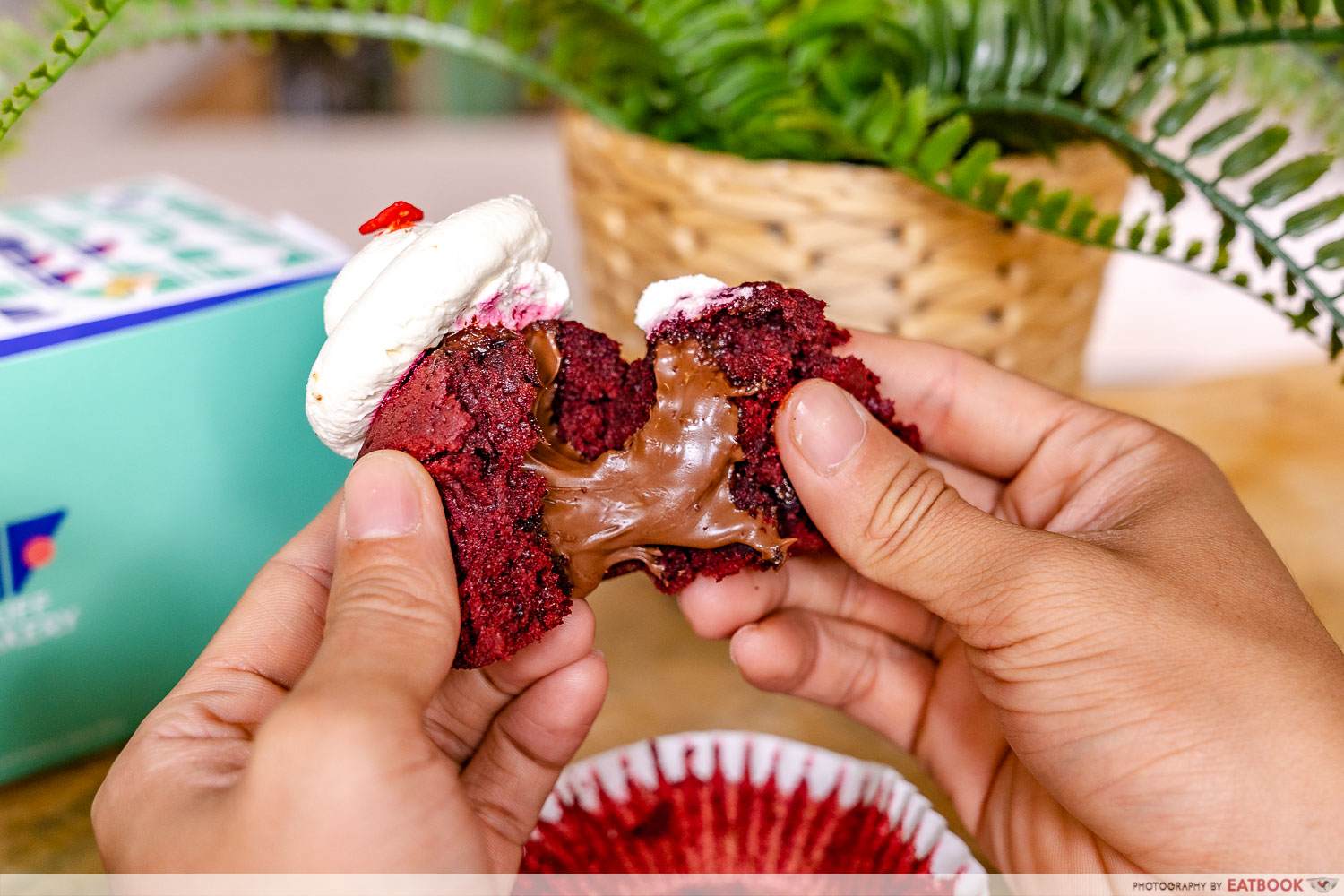 I enjoyed the light and fluffy cream cheese frosting on this one, but found the cake base almost too soft and tender. The Nutella added a sinful sweetness to this cupcake, but the batter was, very strangely, a tad too moist for my liking. 
It was the same case for the Horlicks Cupcake ($4), as I found myself wishing for a drier crumb to pair with the deliciously malty frosting. But upon online perusal, I found out that Fluff Bakery has a strong fanbase for their extremely tender cupcakes, so I guess it really depends on whatever floats your boat.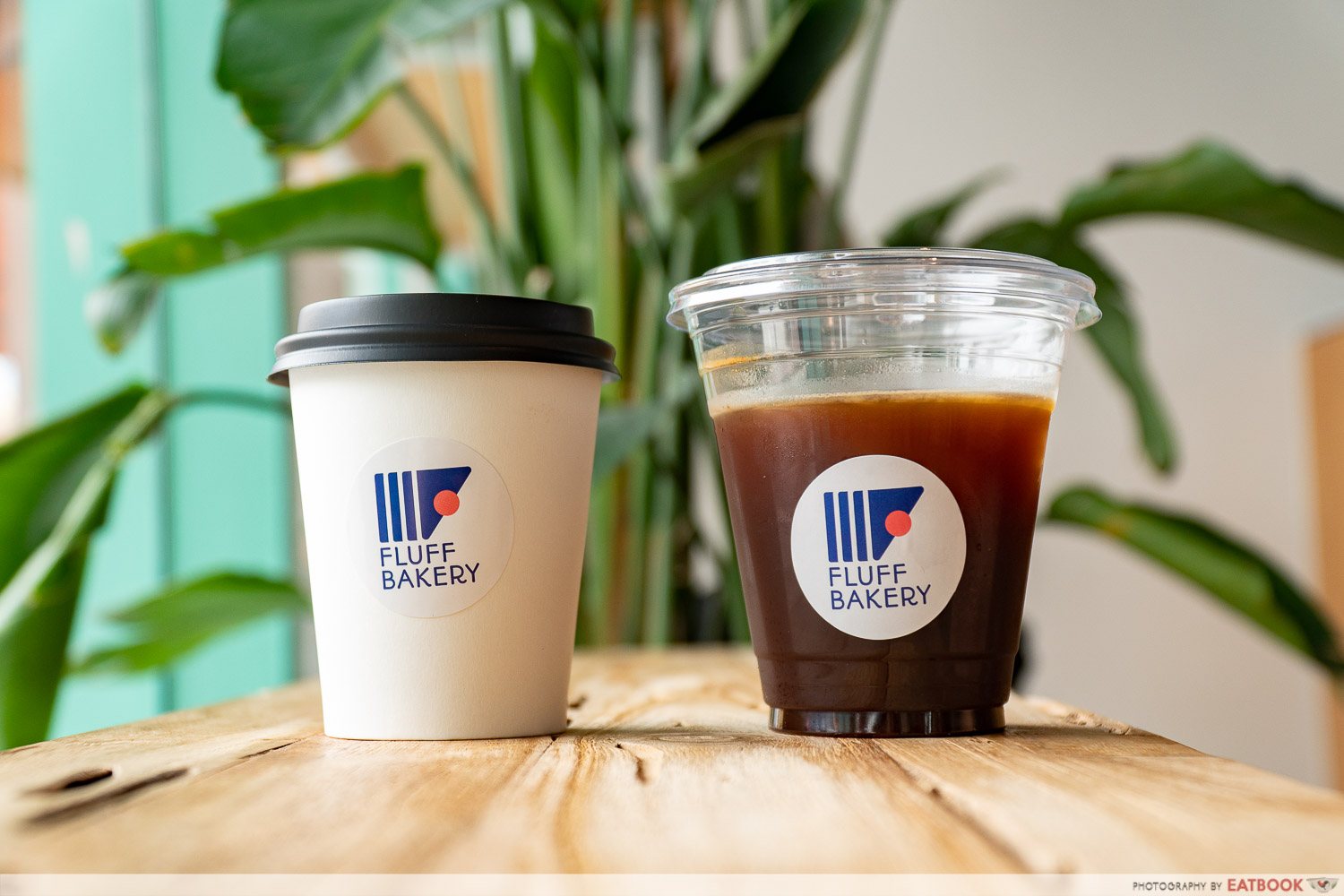 Besides bakes, you can also get your caffeine fix to-go. The Iced Long Black ($4.50) was a refreshing respite from the heat, while the Flat White ($4.50) made a great pairing for the sweet treats. 
Ambience at Fluff Bakery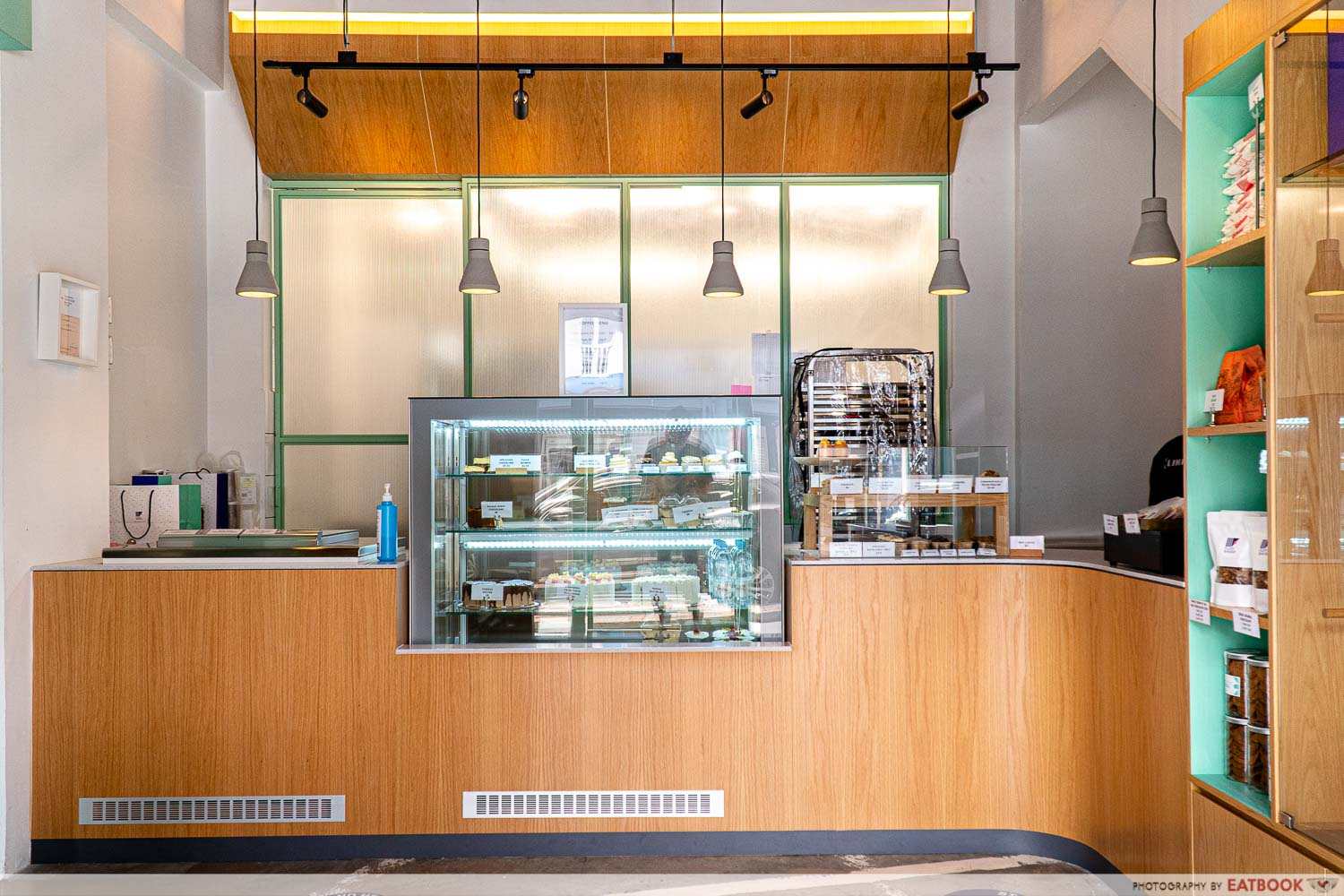 Fluff Bakery sits in a stretch of shophouses along the bustling North Bridge Road, spanning two spacious units. Their new space, while bigger and brighter, only allows for takeaways at the moment.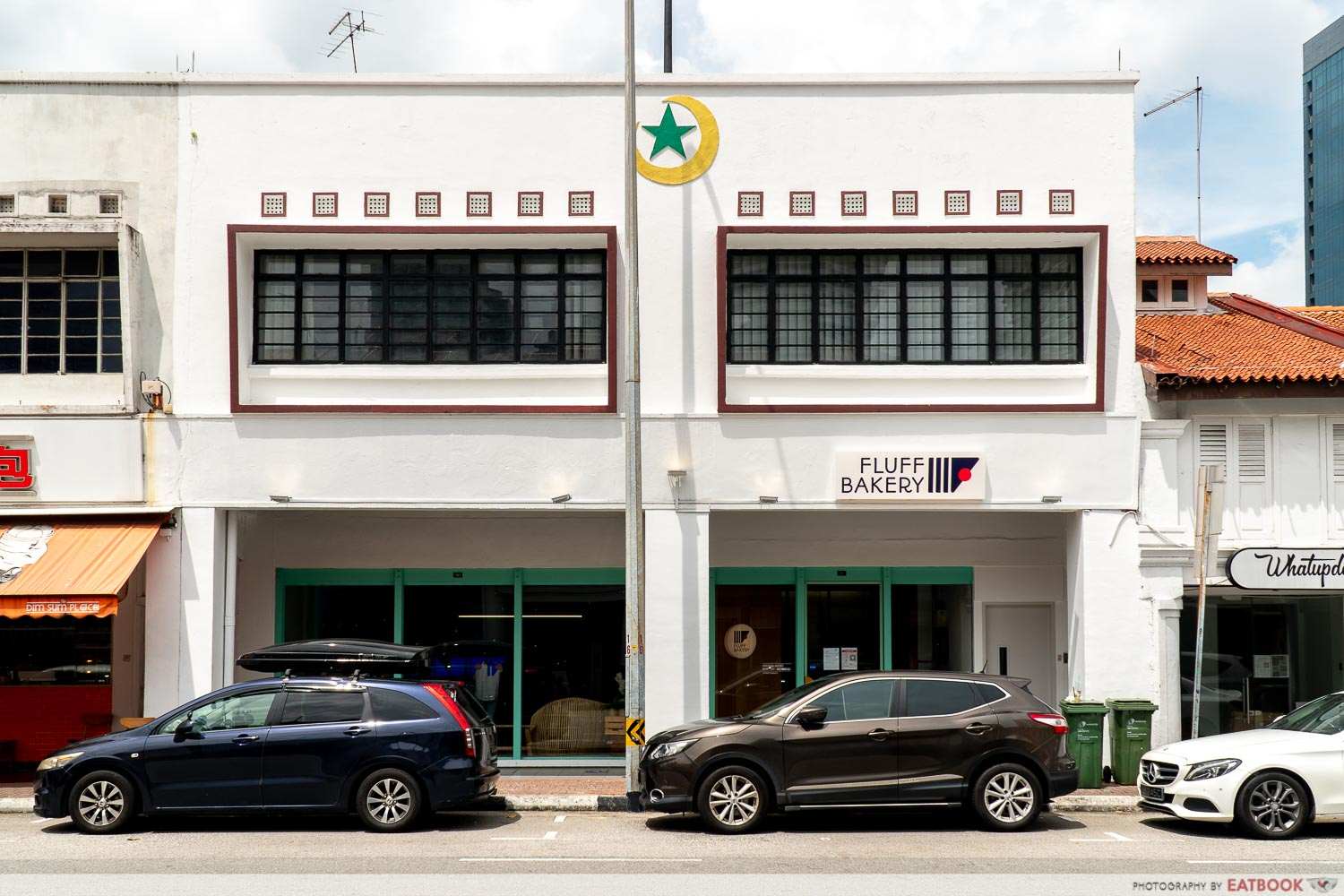 The nearest train station is Lavender MRT Station, which is a seven-minute walk away. Alternatively, it's a nine-minute walk from Bugis MRT Station.
The verdict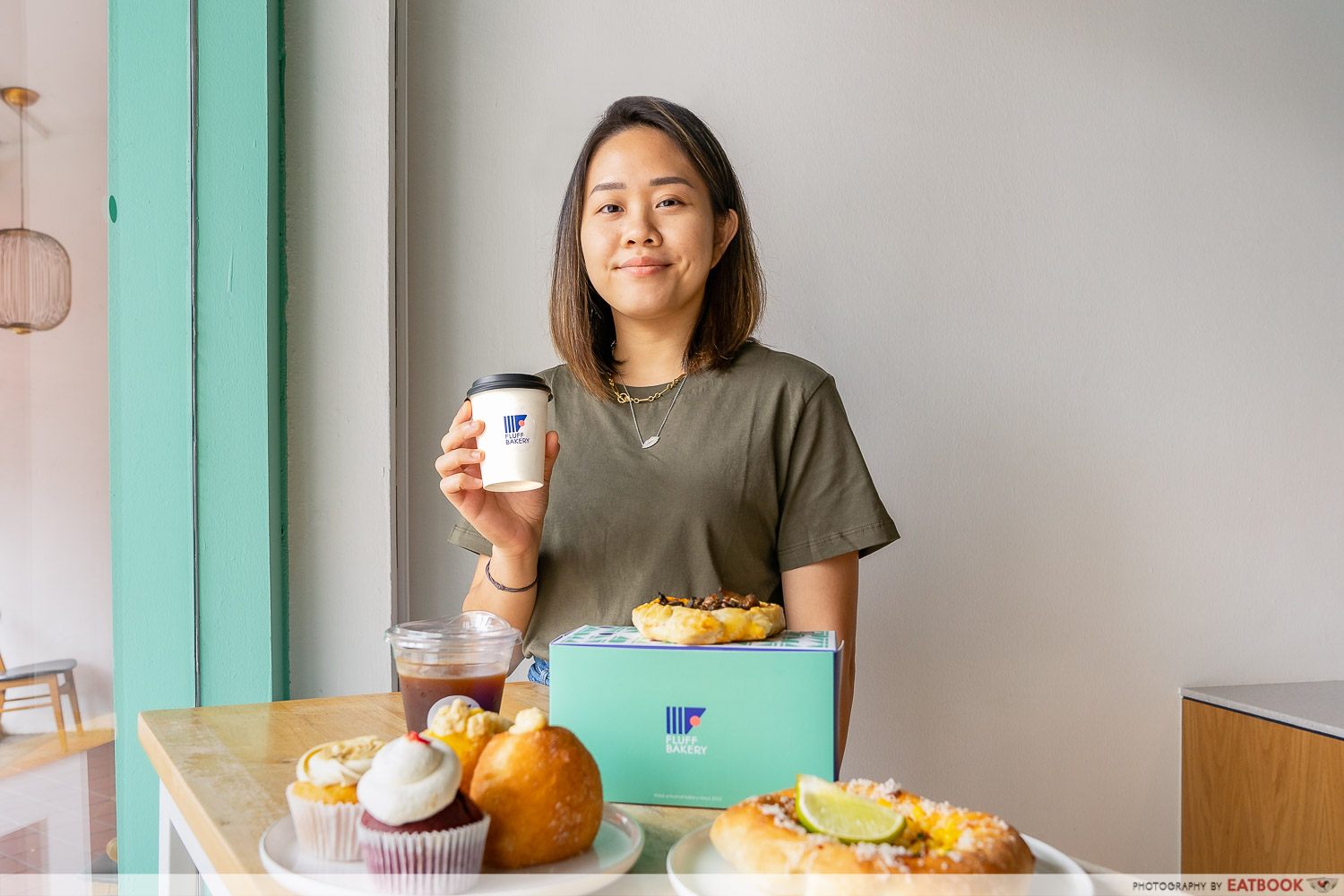 While there were a few hits and misses from our experience, we barely scraped the surface with Fluff Bakery's offerings, considering the plethora of fresh bakes available here. The next time I return, I'll definitely give their cupcakes a second try. Also, don't leave without a taste of their underrated doughnuts, or explore their range of savoury pastries for something different!
For more bakes in the area, check out Uncle Lee Confectionery along Jalan Pisang for butter cookies, peanut cake and more. There's also Wanpo Tea Shop in Bugis if you're craving bubble tea!
Address: 795 North Bridge Road, Singapore 198763
Opening hours: Mon-Sat 12pm to 7:30pm
Tel: 9144 7729
Website
Fluff Bakery is halal-certified.
Wanpo Tea Shop: Famous Taiwanese Bubble Tea Store Opens In Bugis With Mango Pomelo Sago, Taro Milk And More
Photos taken by Brad Lee.
This is an independent review by Eatbook.sg.
Fluff Bakery Review: IG-Famous Halal Bakery With Horlicks Cupcake, Maple Cinnamon Doughnut And More
Fluff Bakery Review: IG-Famous Halal Bakery With Horlicks Cupcake, Maple Cinnamon Doughnut And More -

7/10
Summary
Pros
– Fairly central location
– Decent prices
– Mandarin Orange Cream Donut was delicious
Cons
– Bakes were a hit or miss
– No dine-in seats
Recommended dishes: Mandarin Orange Cream Donut ($4), Miso Butter Mushroom Galette ($5.50)
Opening hours: Mon-Sat 12pm to 7:30pm
Address: 795 North Bridge Road, Singapore 198763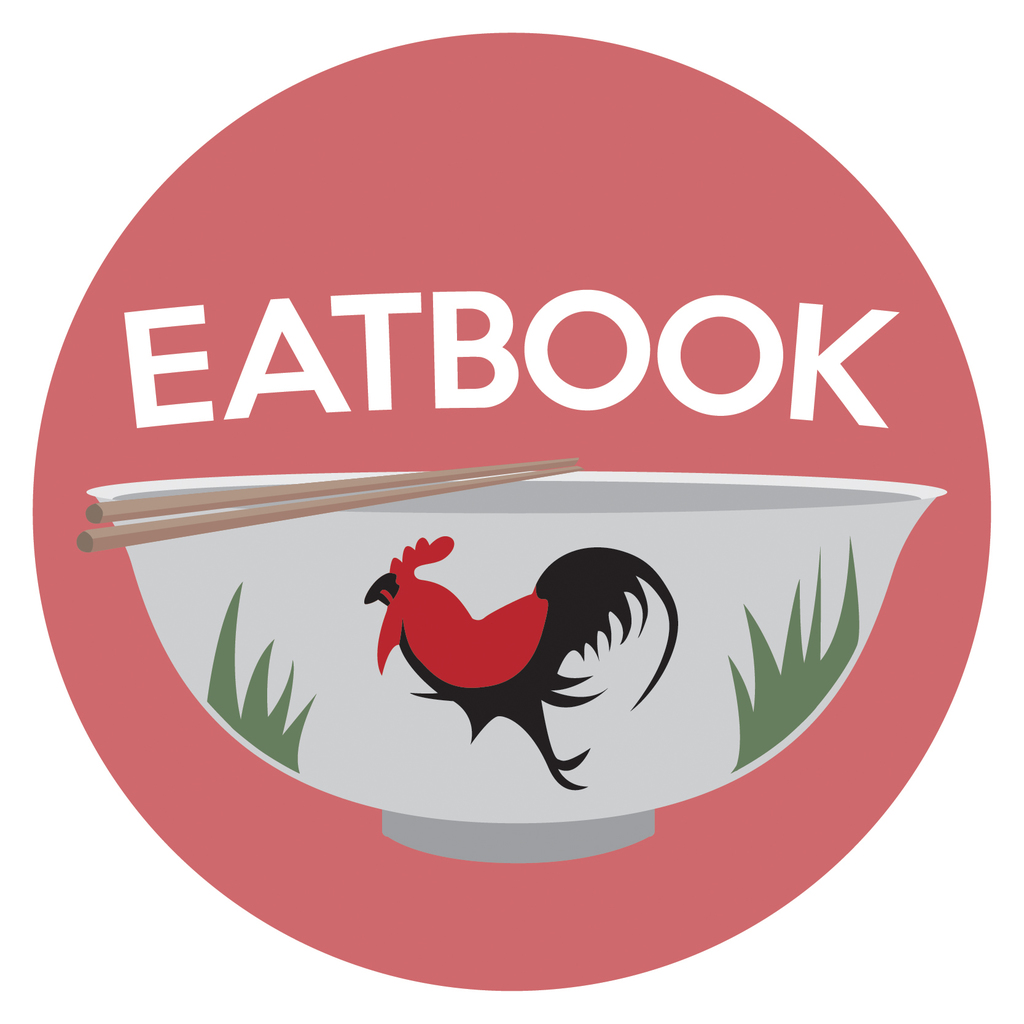 Drop us your email so you won't miss the latest news.