FATCAT Ice Cream Bar in Bedok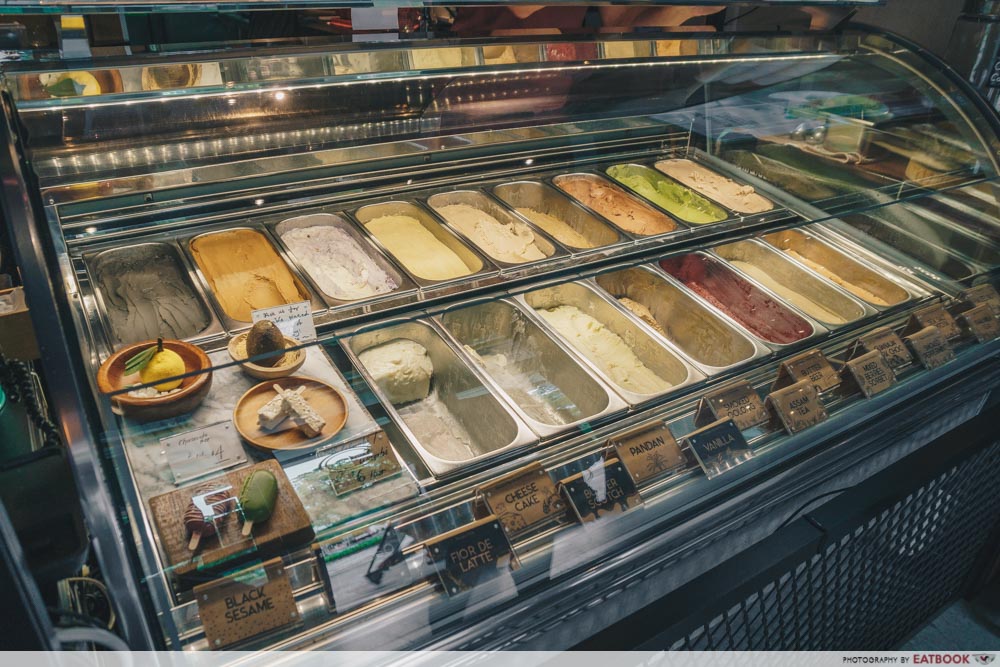 FATCAT Ice Cream Bar has always been at the forefront of exciting new creations. Some may remember their famous charcoal waffles and salted egg yolk custard sauce, which dominated the dessert scene back in 2015. The store has come a long way since, introducing plenty of new desserts.
Opened by Charles Tan, an alumnus of Temasek Polytechnic's Culinary & Catering Management programme, and his sister, Ying Qi, the dessert cafe has since expanded to open a full-service restaurant in STRAY by FATCAT and private catering arm.
But just how much has this ice-cream bar in the quaint neighbourhood of Bedok changed? Here's our take of the new dishes at this popular dessert parlour.
Food at FATCAT Ice Cream Bar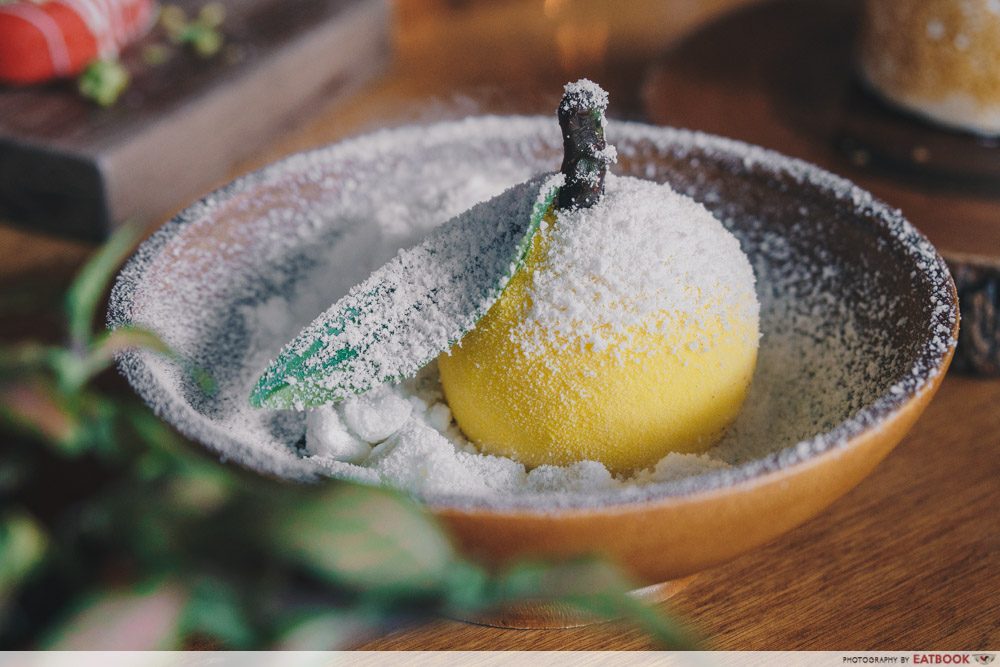 Besides a wide array of ice-cream flavours, plated desserts have always been something special at FATCAT. Recounting how he wants his desserts to make people happy, the concoctions are inspired by Charles' experiences, which include his childhood and travels.
Looking like a piece of yuzu covered in snow, the Yuzu ($12) is a dessert made with Yuzu from Kochi prefecture, an area renowned for the quality fruit. The juice is mixed with freeze-dried passionfruit and dusted with what seems like "snow", but is actually a sourish calpis-flavoured powder.
The dish was refreshing, with the right amount of sourness. I also liked how fresh the yuzu tasted, with a light tartness that went well with the passionfruit.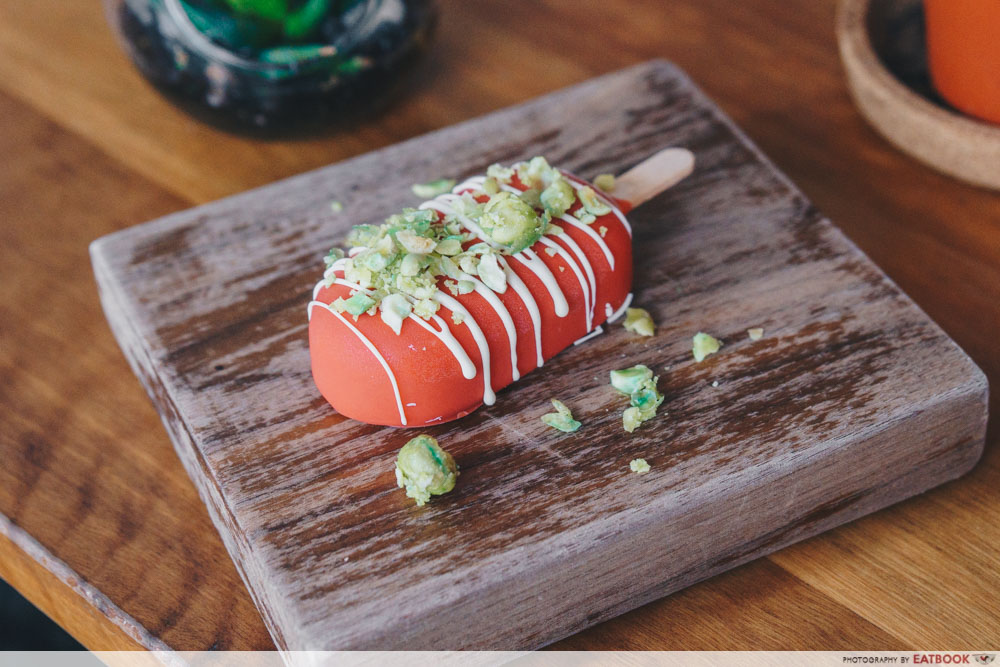 The dessert bar also offers plenty of seasonal items. Wasabi from Shizuoka Prefecture was in season and we had the chance to try the Wasabi Ice Cream Bar ($6). Fresh wasabi is mixed with premium Valrhona chocolate for an interesting combination of sweet and spicy.
The spiciness of the wasabi was not overbearing. But had just the right amount of heat that went well with the luscious chocolate. You might want to snap a picture of this beautiful creation fast. The ice-cream melts quickly, resulting in a sodden mess if you take too long.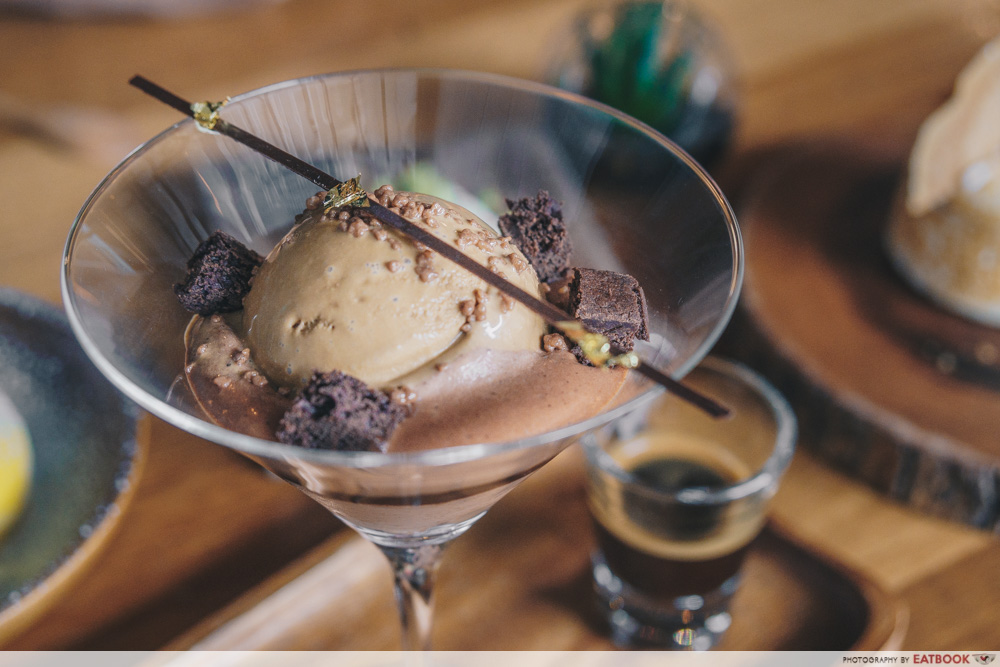 If you're a coffee lover, get ready for a treat with the Affogato ($12). While this traditional Italian dessert usually combines vanilla ice-cream and espresso, FATCAT's version takes things up a notch.
Here, a scoop of espresso ice-cream is placed on a 70% Valrhona Guanaja chocolate mousse. Cubes of house-made brownies are also thrown in for an extra mix of texture. A shot of freshly-pulled espresso shot is then served on the side, so that you can mix it all up for a rich and decadent treat.
I liked how well the chocolate and coffee mixed together, with neither overpowering the other. Another thing I liked was how the coffee came separately, so that you can control how much espresso you want to add to the ice-cream. I'd recommend pouring half of it, then follow up with the rest once you're halfway through, to prevent the dessert from getting too soggy.
A homage to roasting marshmallows by the campfire, Reverse S'mores ($10) recreates that experience with a lightly torched marshmallow that is filled with banana caramel sorbet. The plating is theatrical, with smoky fumes released right on your table, taking you back to the campfire days.
While I found the presentation to be a little excessive, the gooey marshmallow actually retained the smokiness, giving a nice roasted taste to it. The banana caramel sorbet also had ripe bold flavours of banana, matching well with the toasty marshmallow.  
Ambience at FATCAT Ice Cream Bar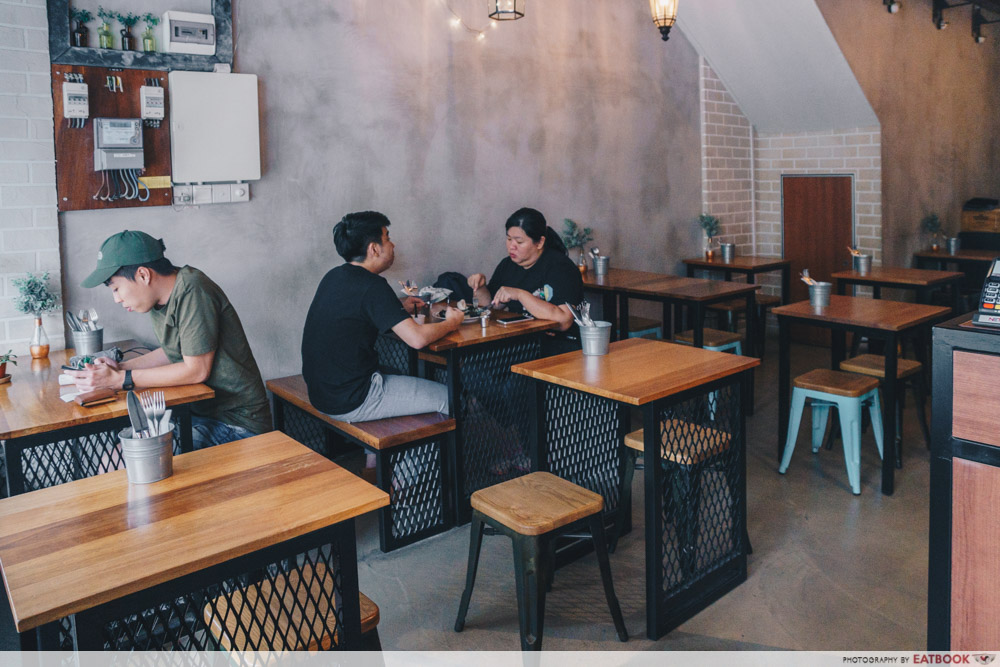 A five to 10-minute walk from Bedok MRT, this cafe hardly looks out of place in the neighbourhood, with its homely vibes and natural lighting.
The cafe is small, so expect to wait during peak periods. We went during a weekday afternoon and there were plenty of seats available. The staff on duty were also friendly and quick to carefully explain what goes inside the intricate desserts.
The verdict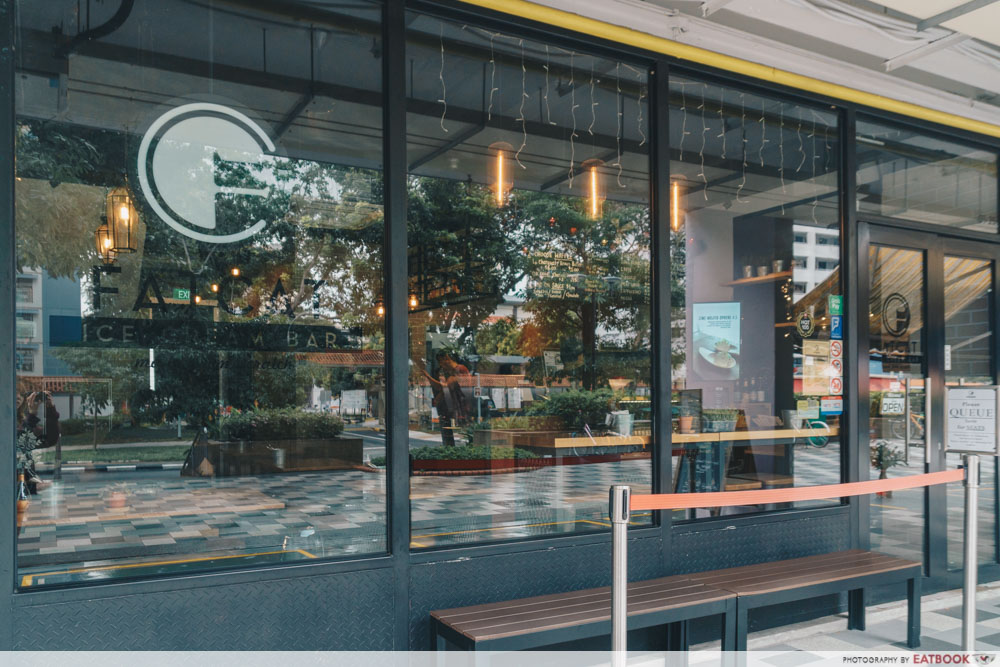 With 40% of restaurants failing before five years of operation, it's important to pick flavours that consumers resonate with.
Over the last three years, FATCAT Ice Cream Bar has done this brilliantly by gaining a firm understanding of the palate of its consumers. Combining familiar ingredients with unique presentations, this humble cafe in the bottom of a HDB block is here to stay.
Address: Block 416 Bedok North Avenue 2, #01-25, Singapore 460416
Opening Hours: Mon 1pm to 10pm, Wed-Thur 1pm to 10pm, Fri 1pm to 11pm, Sat 12pm to 11pm, Sun 12pm to 10pm
Website | Menu
Fat Bird Review: Ma la Xiang Guo And Chicken Stew Hot Pot Buffet At $15.90++ At Bedok
Photos taken by Ho Jing Yi.
This is an independent review by Eatbook.
Summary
Pros
– Innovative flavours
– Great tasting desserts
Cons
– Inconvenient location
– Desserts on rotational basis

Recommended dishes: Affogato ($12), Yuzu ($12)
Opening hours: Mon 1pm to 10pm, Wed-Thur 1pm to 10pm, Fri 1pm to 11pm, Sat 12pm to 11pm, Sun 12pm to 10pm

Address:  Block 416 Bedok North Avenue 2, #01-25, Singapore 460416