C Plus at Rangoon Road
[
Update:
C Plus is now permanently closed
]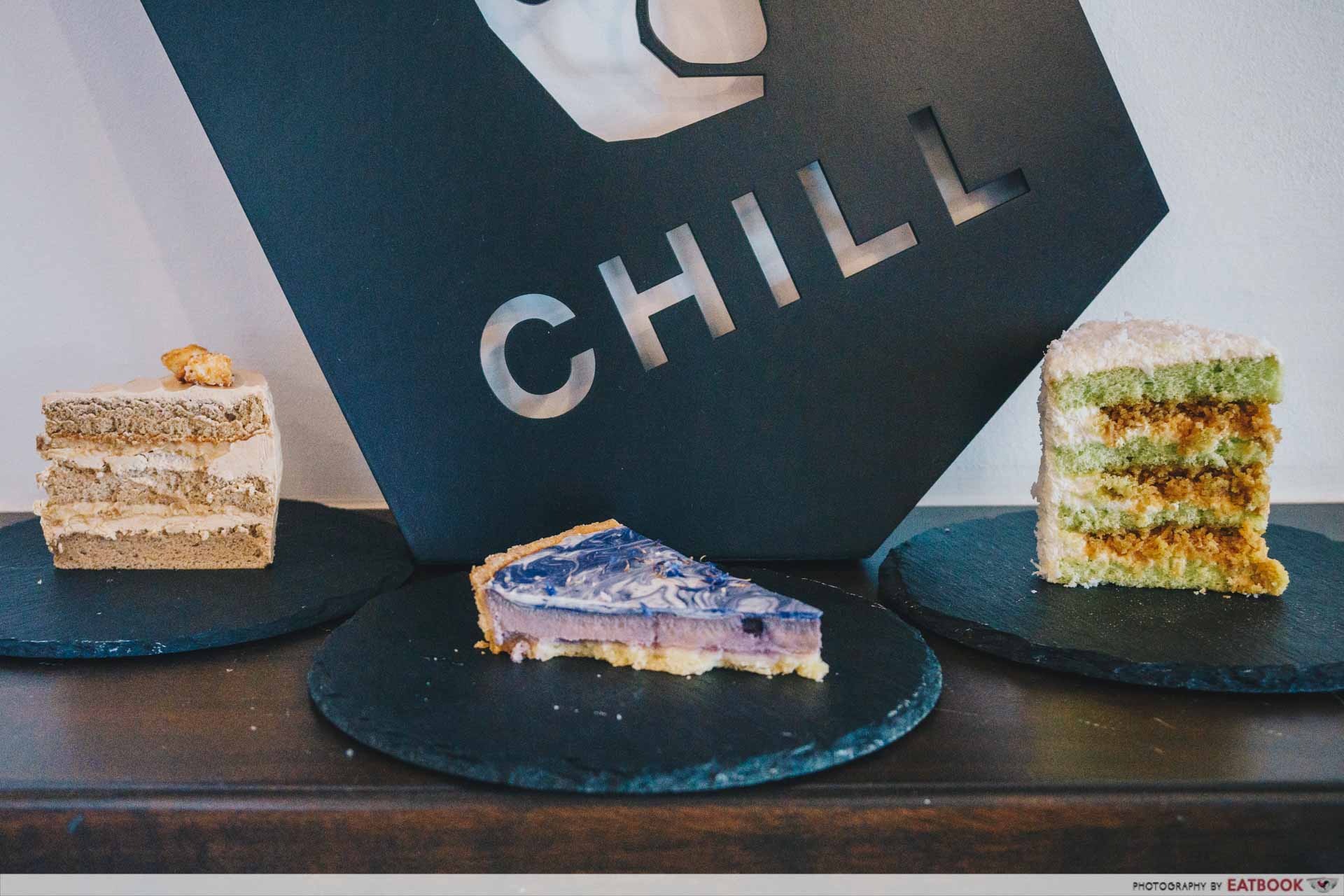 As someone who frequents Instagram for desserts, I know first-hand that the site is teeming with talented home-bakers who can whip up a mean slice of cake. That's why my eyes – and tummy – were drawn to C Plus.
This brand-new cafe at Rangoon Road sells a medley of desserts made by popz home-bakers who bake their goods on-site. This means you can savour a wide variety of tasty treats from the likes of Beeli Bakes, ELIJAH Pies and Our First Bake.
Food at C Plus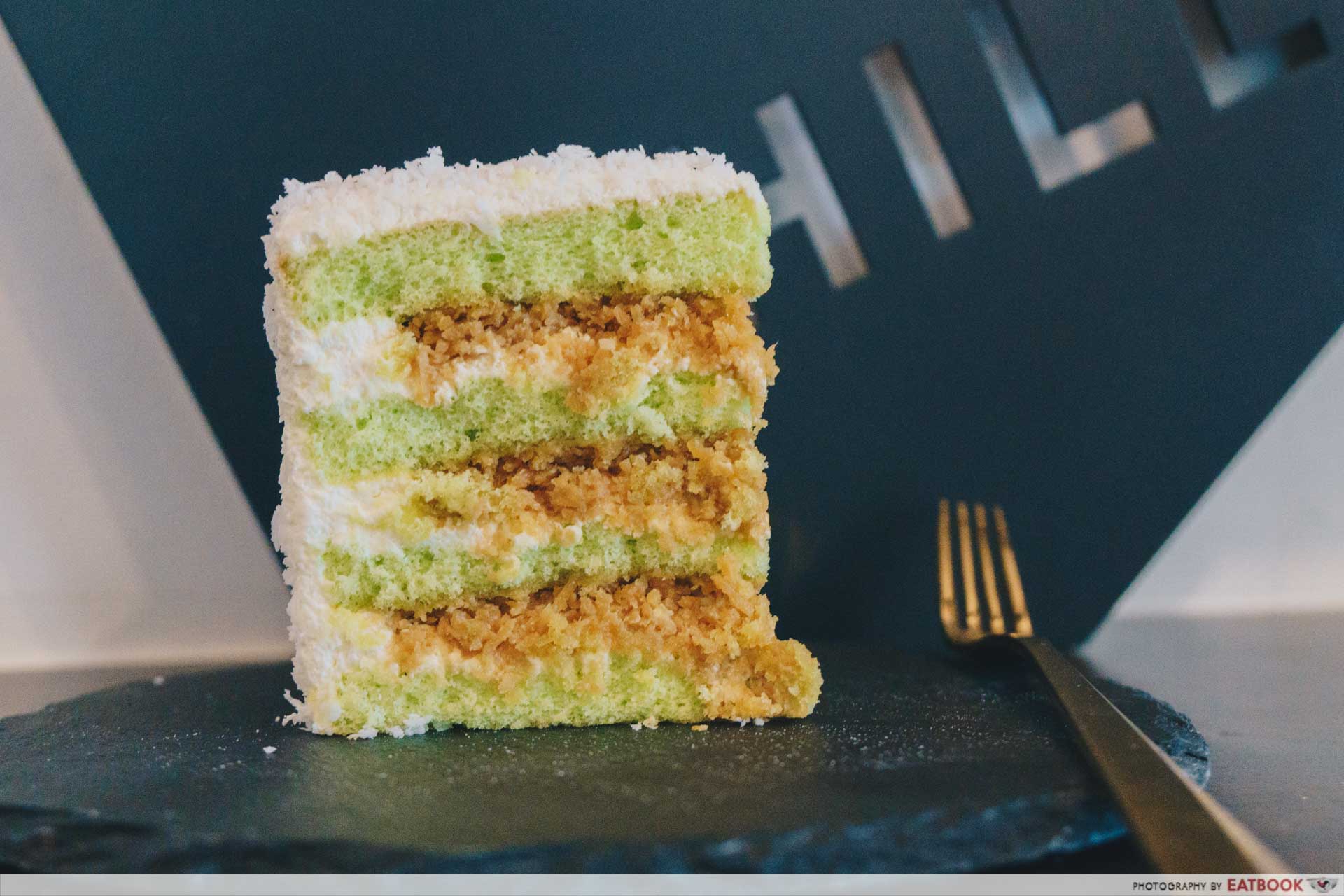 Let's just start with what I thought was the clear winner that day: the Ondeh Ondeh Cake ($7.50+) by Beeli Bakes. This towering slice of pandan sponge cake is layered with rich gula melaka and topped with a liberal canopy of freshly grated coconut.
The cake had just the right amount of consistency; delicate enough to surrender to my fork but firm enough to retain its integrity. The sweetness of the gula melaka was strong without being cloying. And the literal icing on the cake – the coconut shavings – were a beacon of freshness, given how soft and moist they were.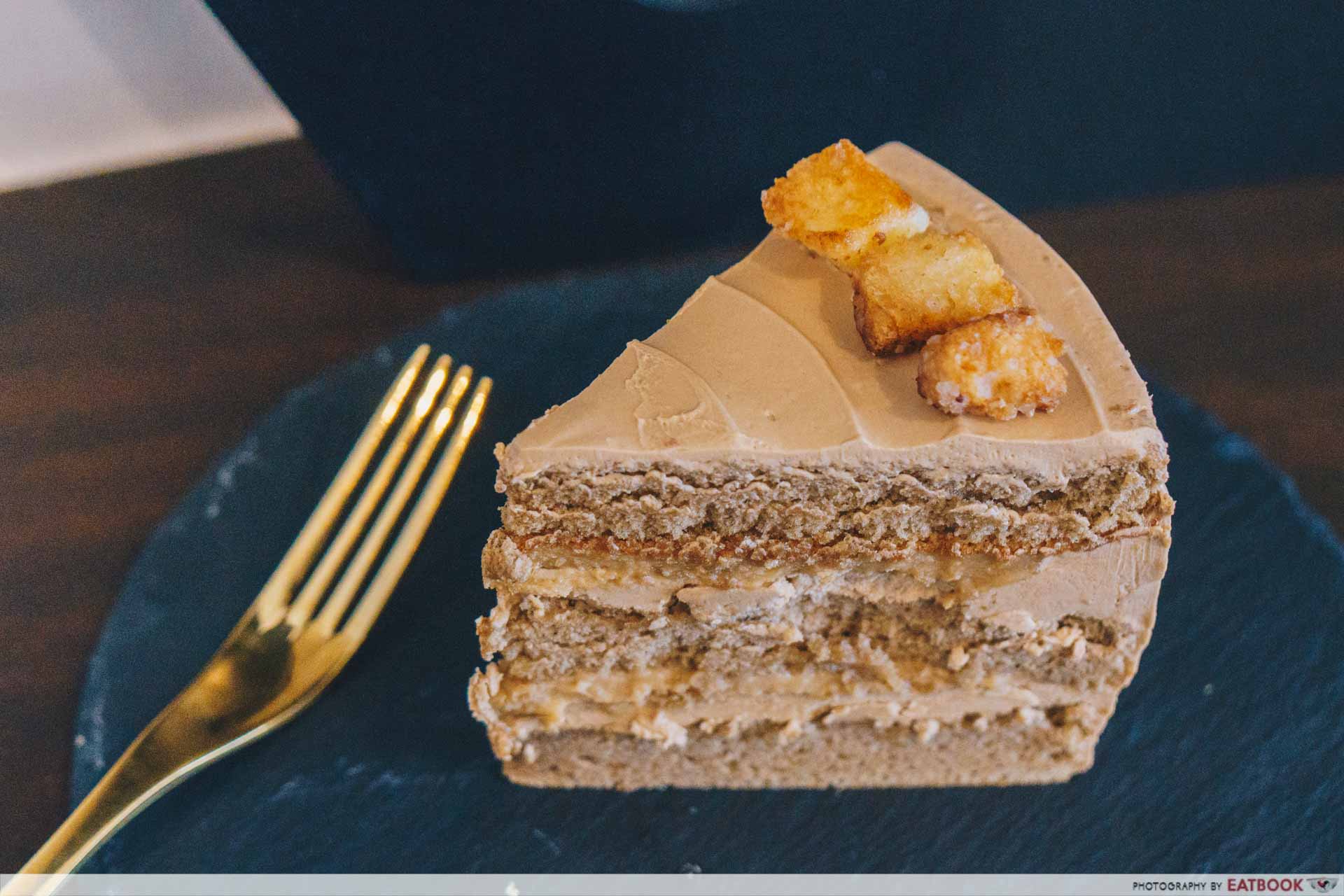 Apparently, their Kopi & Kaya Toast Cake ($7.50+) from Our First Bake is one of the more popular items here and it's easy to see why. The coffee buttercream meshed beautifully with the homemade kaya custard, giving the cake a rich creaminess. Eating it with the sugared toast bits adds a welcome change in texture, though be warned, the combination borders on saccharine.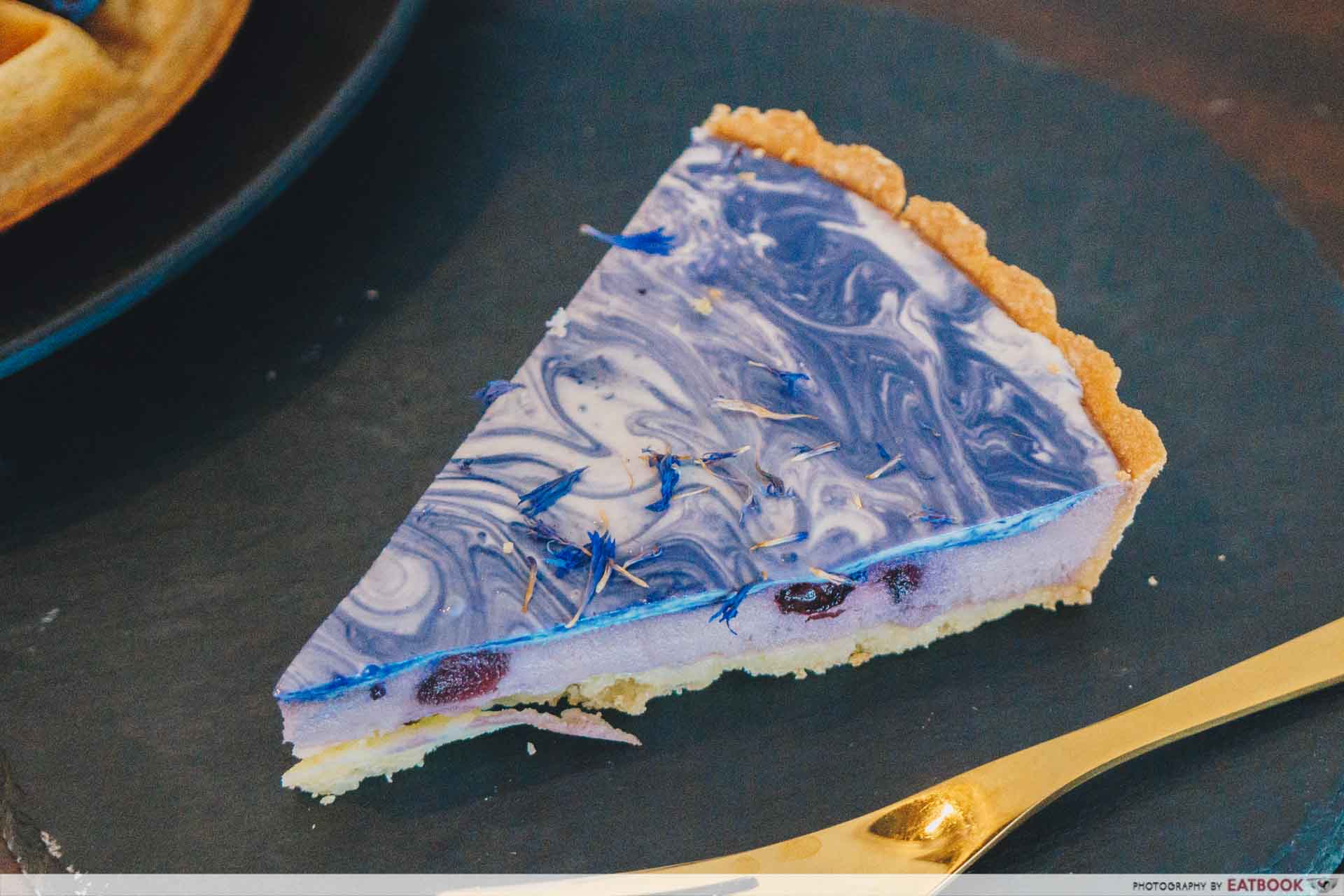 ELIJAH Pies' Wild Berry Lavender Pie ($7+) caught our eye with its marbled azure facade. Upon trying it, we could taste the unmistakable blueberry slices that were evenly spread out. Thanks to the yoghurt used, the pie was light and we could finish it with ease.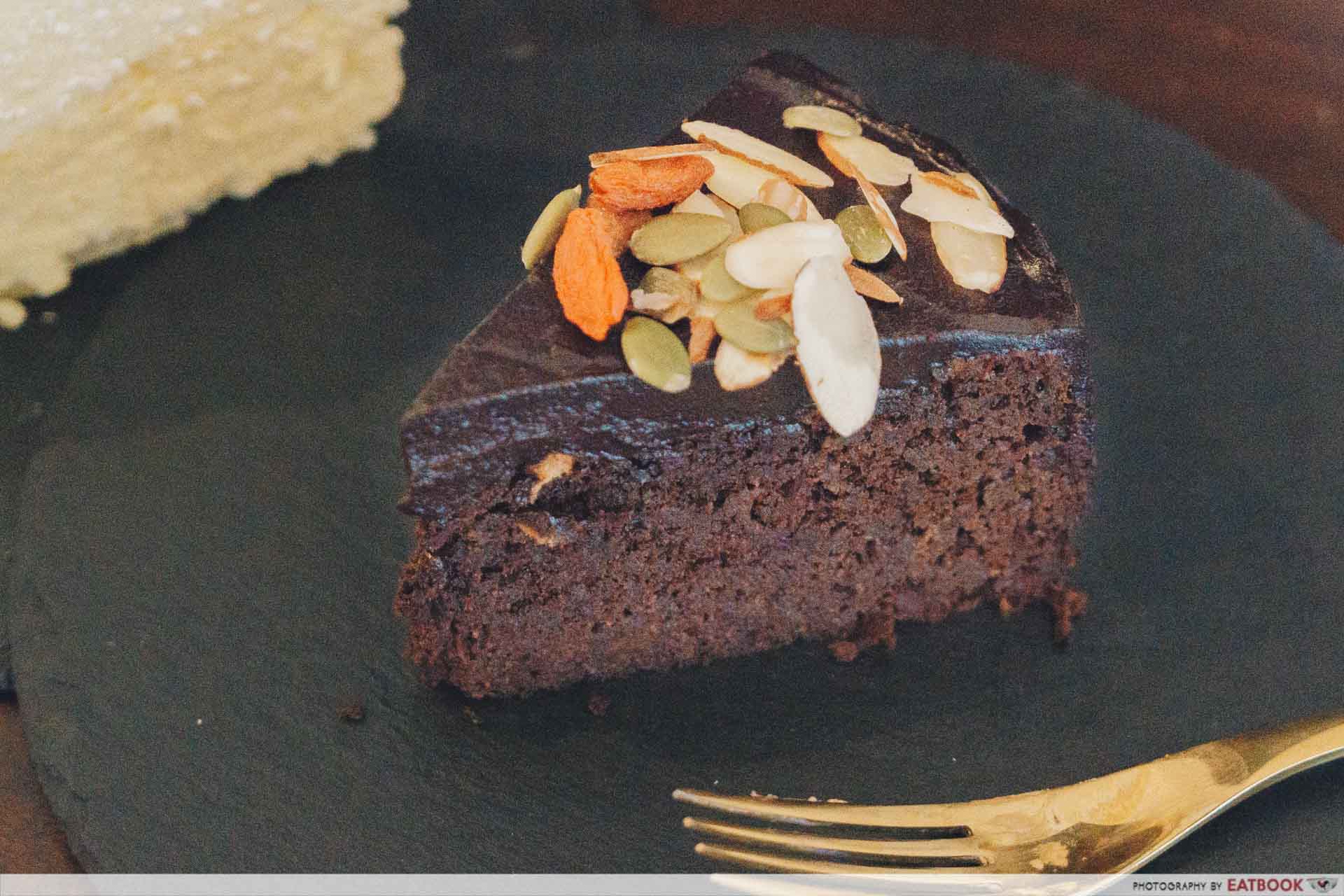 Now, the cake we have all been waiting for: The Heartbeet Cake ($7.80) whipped up by Masterchef Finalist, Gen. Unfortunately, this was the only cake that didn't set our hearts aflutter. Sure, her Fish and Chips may have won Marco Pierre White's praise but this cake definitely needs some tweaking.
The flourless cake was way too dense and oily. Even the taste of the chocolate avocado frosting didn't register on our senses. Perhaps it is because it's gluten-free, but I'd definitely skip this the next time I'm here.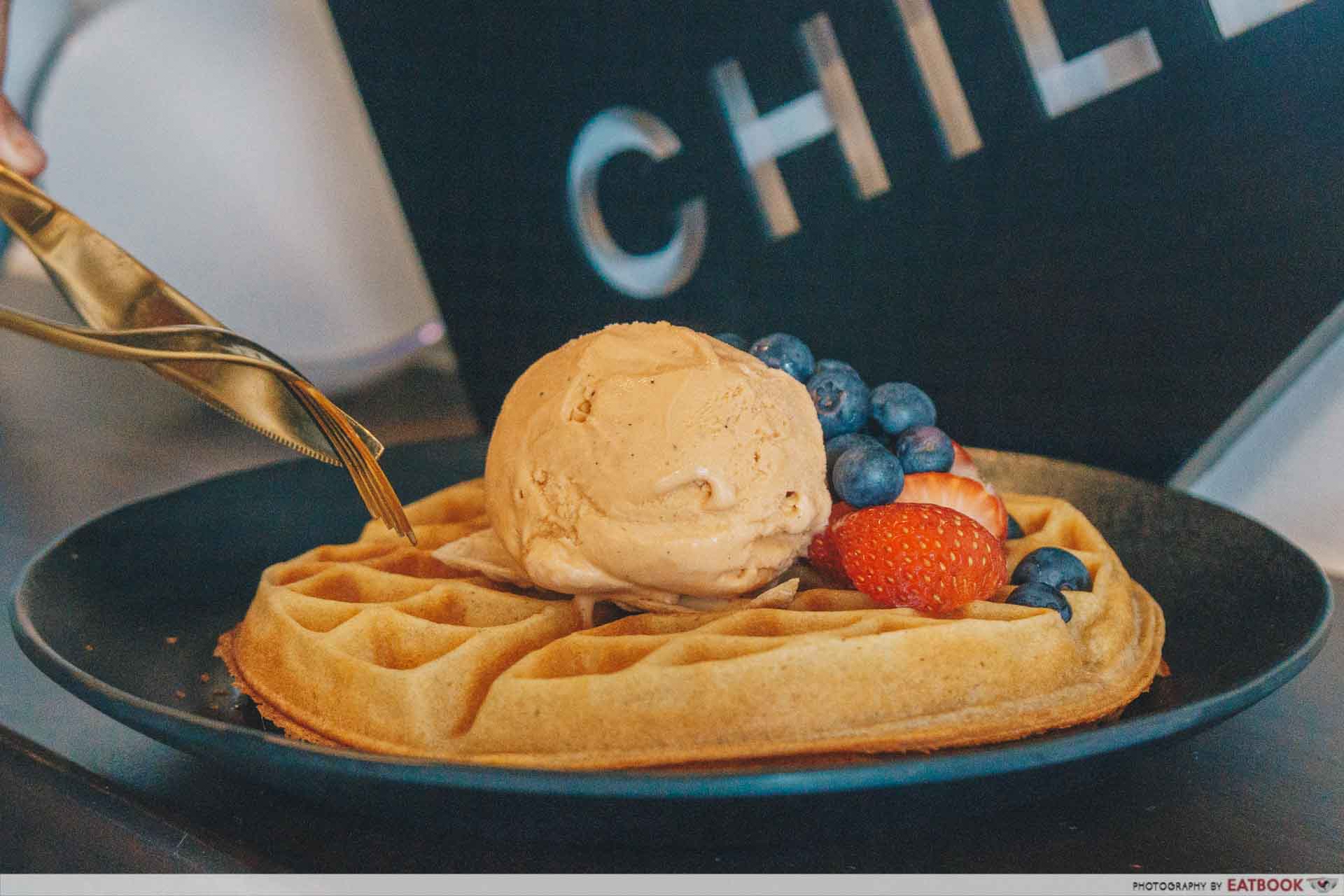 Admittedly we only bought the Waffle with Ice Cream ($10+) to give some variety to our flatlay, but damn, this dish impressed us. The waffles were crispy on the outside while fluffy on the inside – the perfect match.
You'll also get to choose the ice-cream flavour to top your plate. We went with Thai Milk Tea and loved how smooth and decadent it was. The milky aftertaste was also a huge plus.
Ambience at C Plus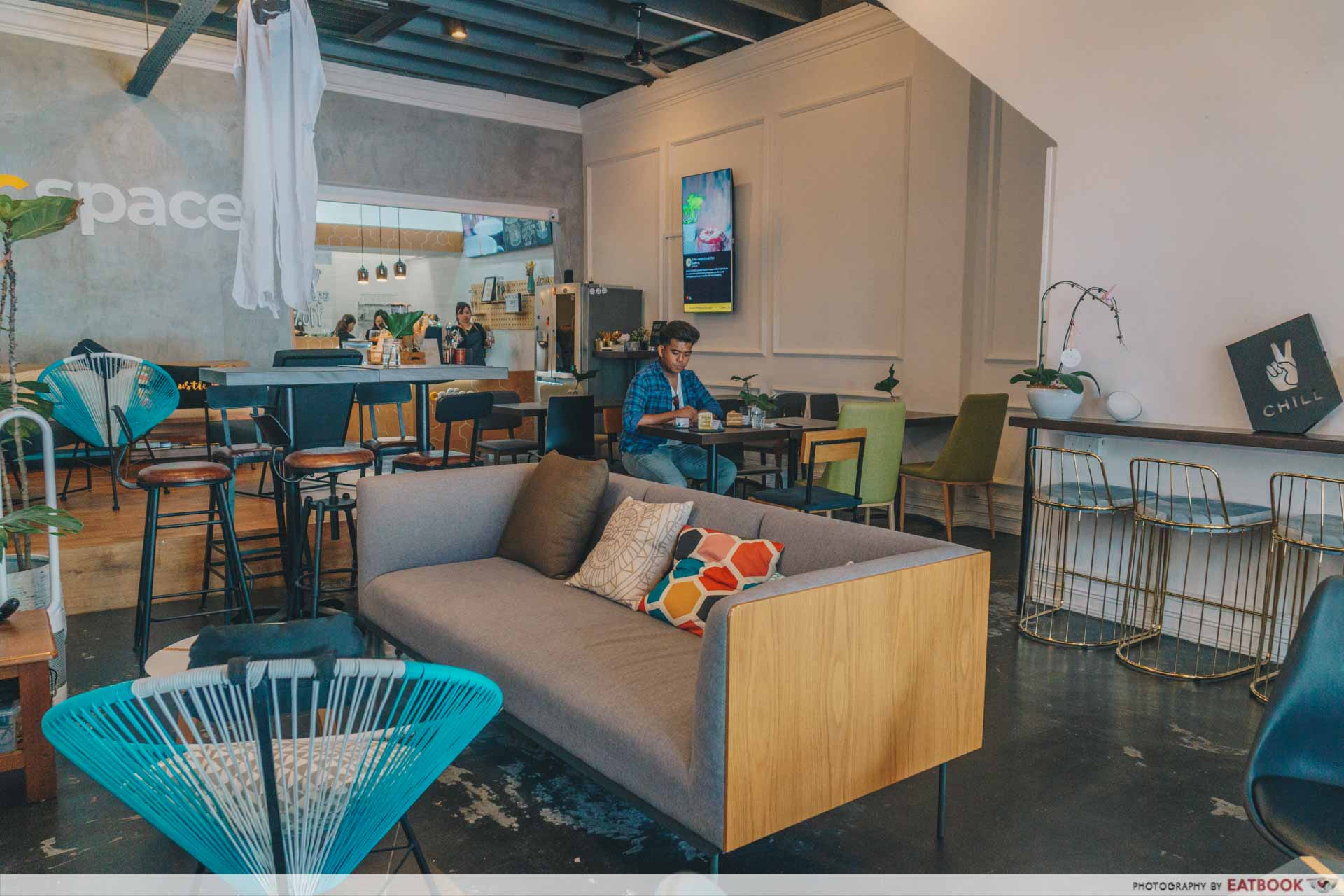 If you're someone who needs some space, C Plus has 'em in spades – in more ways than one. The cafe is really spacious and has a myriad of seating options from classy high chairs to comfy sofas.
Since the cafe is pretty new, footfall is relatively low as we were the only customers there on a Friday afternoon – adding to its cosy vibe.
The verdict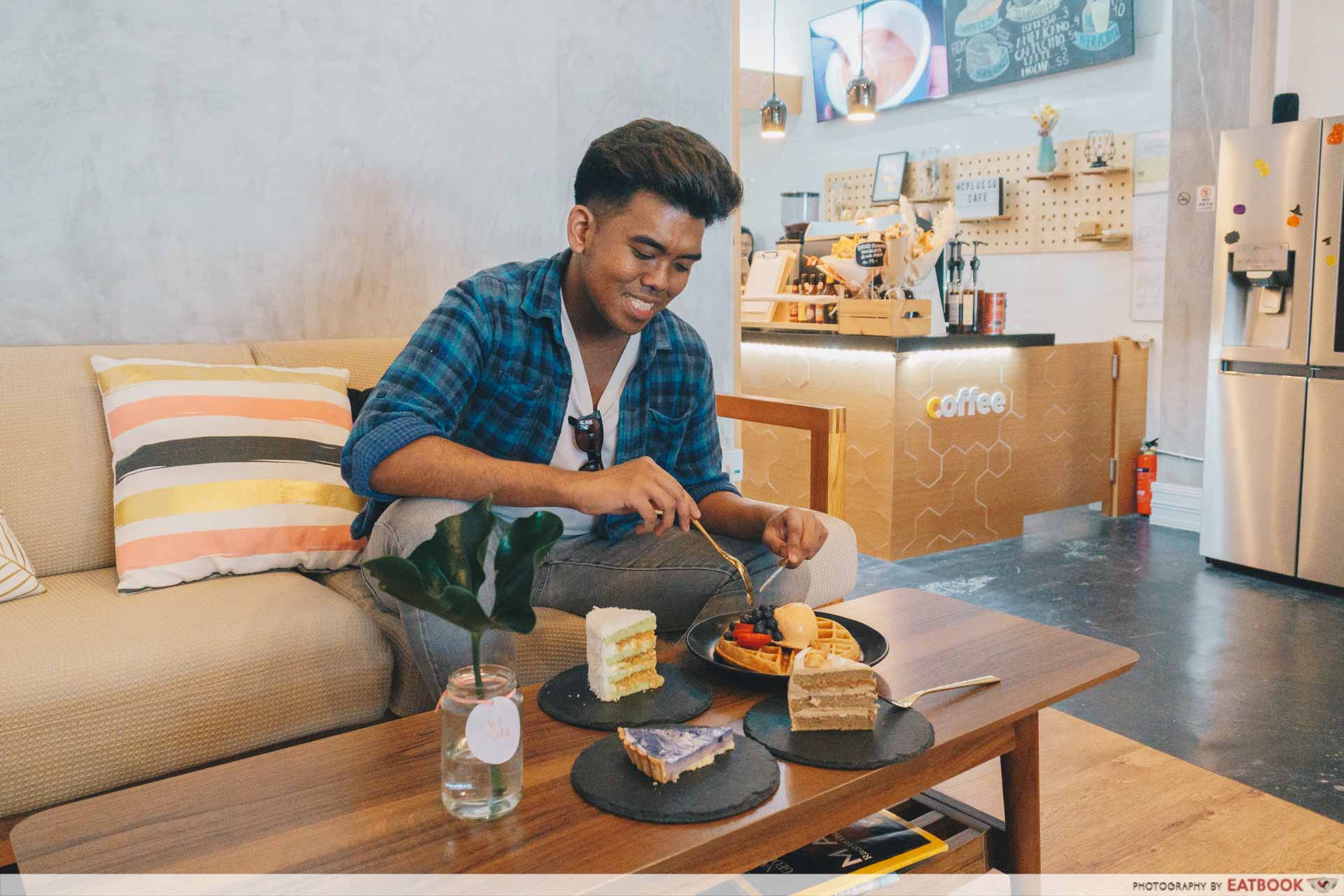 With mounds of delicious cakes and a calming ambience that appeals to my introversion, C Plus checks off all the boxes for a great cafe. Though some cakes missed their mark, the ones that didn't more than made up for them – paving the way for a highly anticipated second visit.
Address: 217 Rangoon Road, Singapore 218457
Opening hours: Wed – Sun 10am to 10pm
Website
Photos taken by Jingyi Ho
This is an independent review by Eatbook.
Summary
Pros
– Reasonably priced cakes which are extremely delicious
– Spacious
– Calming ambience

Cons
– Inconvenient location
Recommended dishes: Ondeh Ondeh Cake ($7.50+), Kopi & Kaya Toast Cake ($7.50+), Waffle with Ice Cream ($10+)
Opening hours: Wed – Sun 10am to 10pm
Address: 217 Rangoon Road, Singapore 218457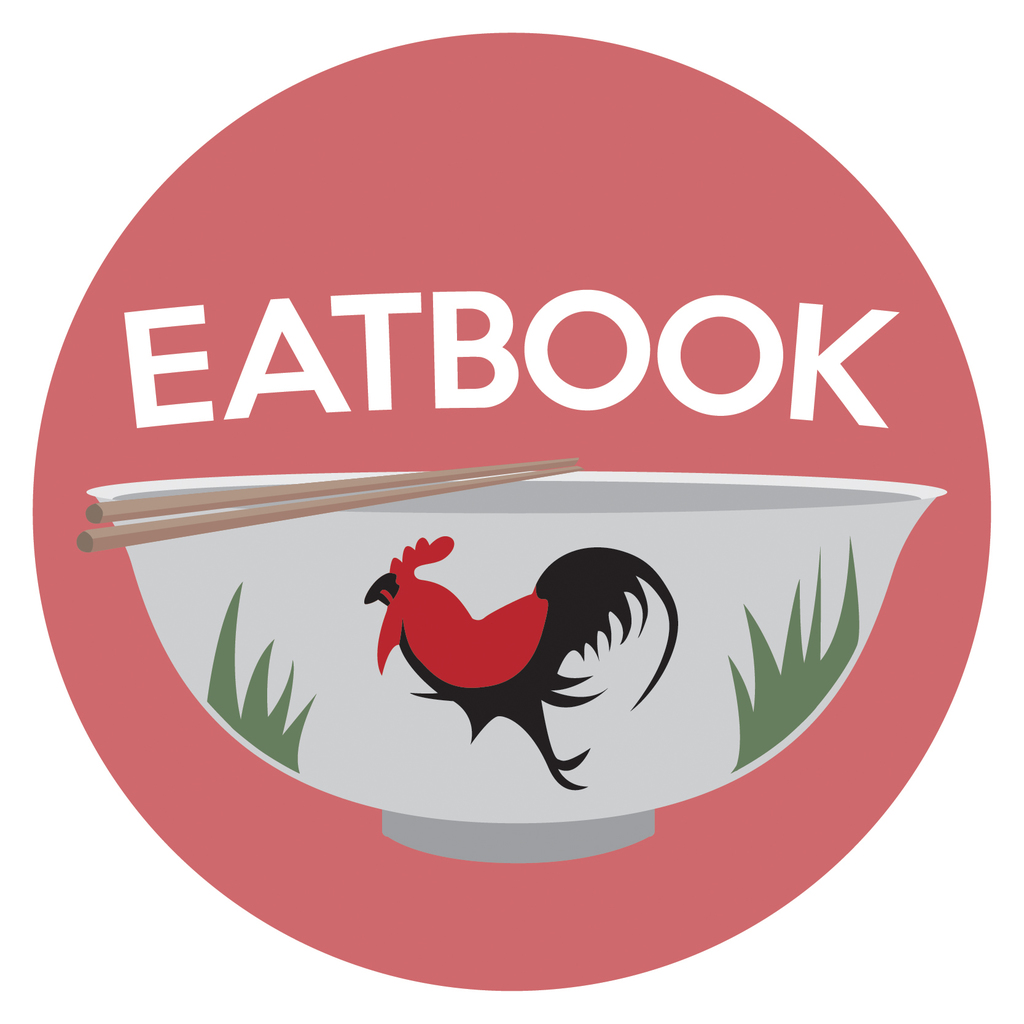 Drop us your email so you won't miss the latest news.