Make a date at Caffe Fernet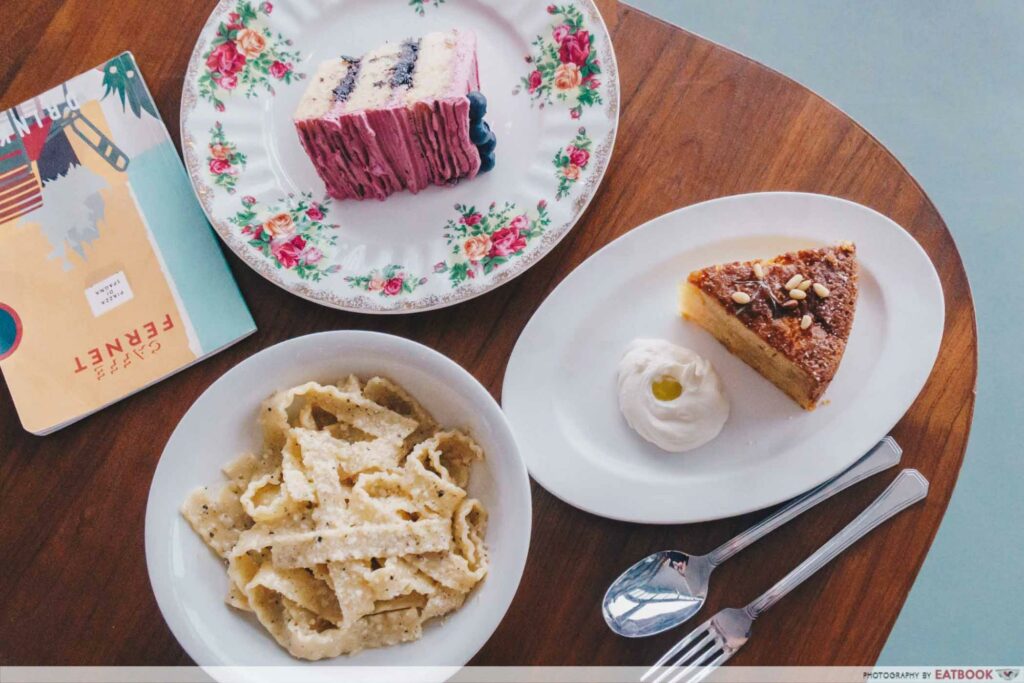 It seems that nearly everything that Indra and Guo Yi – the power duo behind Jigger & Pony group – touch turns to success. After all, two of their cocktail bars, Gibson and Jigger & Pony, are listed on Asia Best Bars in 2018. So when news broke out that they were opening their first restaurant, Caffe Fernet, it was only natural for us to be excited. And thankfully, our expectations were met.
Food at Caffe Fernet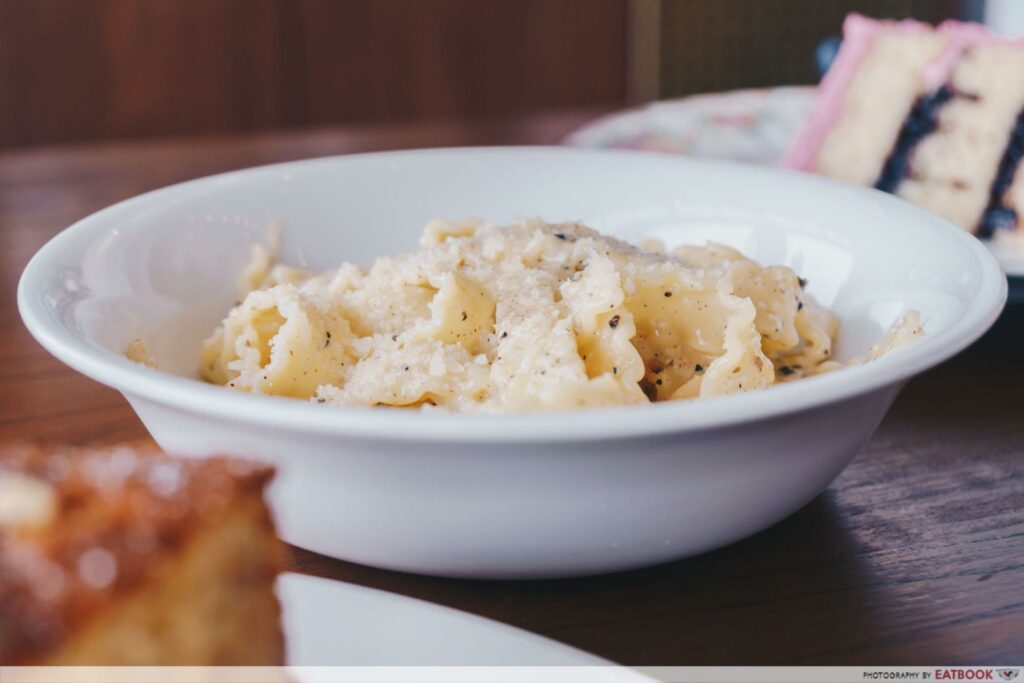 If there was a dish that represented Caffe Fernet, it would be their Mafaldine Cacio e Pepe ($25++). Highly raved about by many, this pasta dish was simple, yet extremely scrumptious. Here, thick, ribbon-shaped pasta is tossed in pecorino cheese and four types of peppercorns. The pasta was cooked to perfection, and offered a slight chewiness.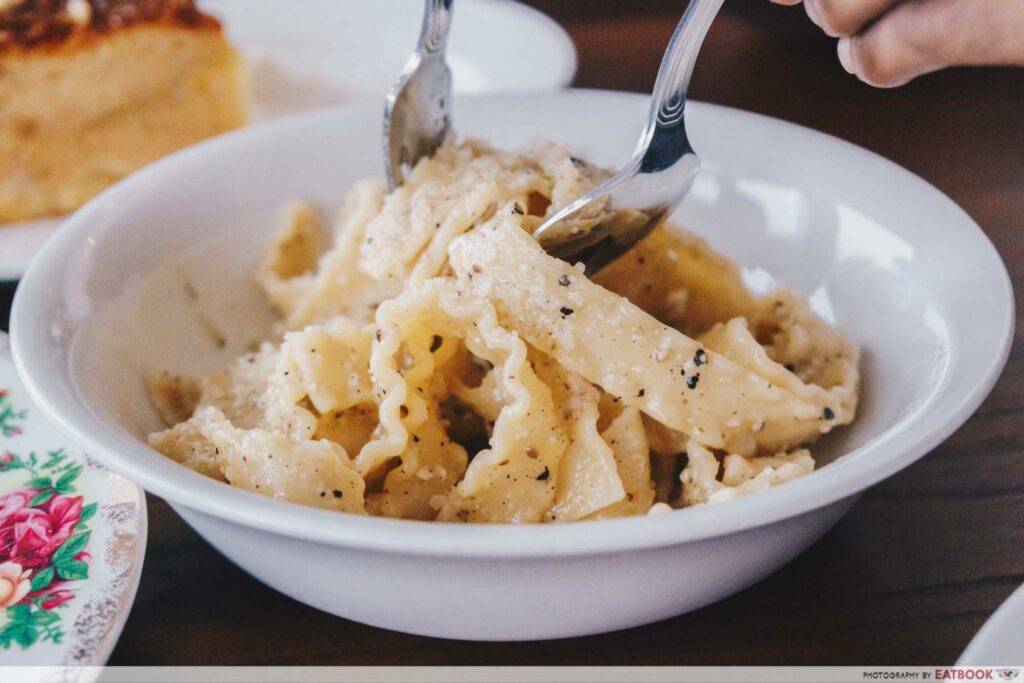 I came here with a slight flu on my first visit. But despite my weaken taste buds, the flavours and heat from the peppers were able to shine through. If I was rolling in cash, this would be my idea of comfort food.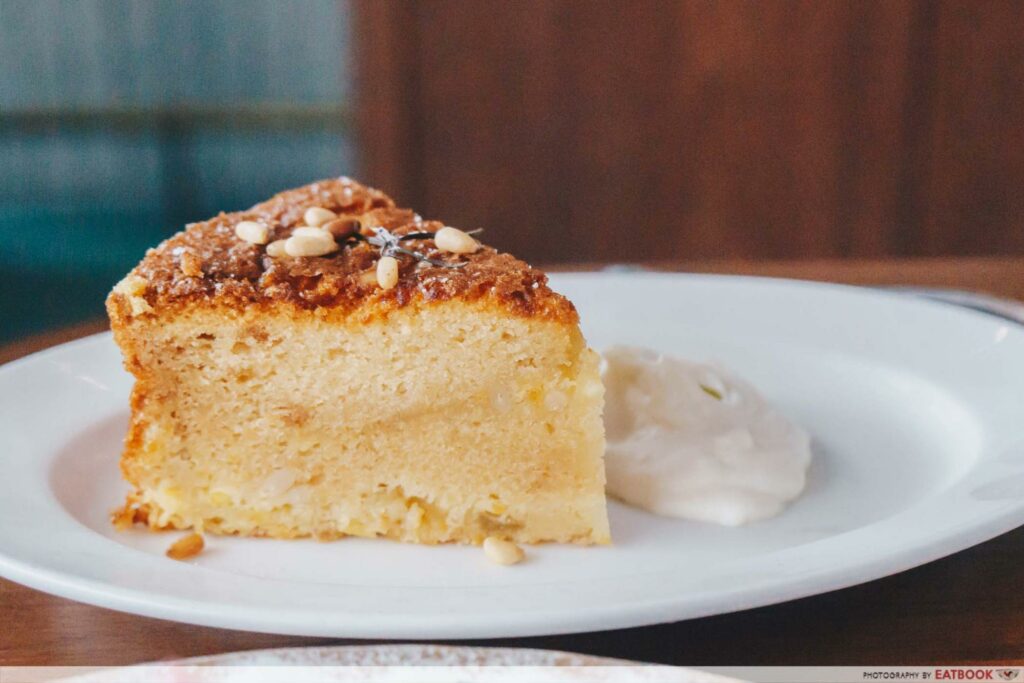 The real MVP of Caffe Fernet has to be the Olive Oil Cake ($14++). Dense, moist and big on flavour, the rustic cake came with pine nuts and citrus peel. The zest from the latter helped enlivened the floral notes from the olive oil. This interesting cake would be great for tea time or a light after-meal treat.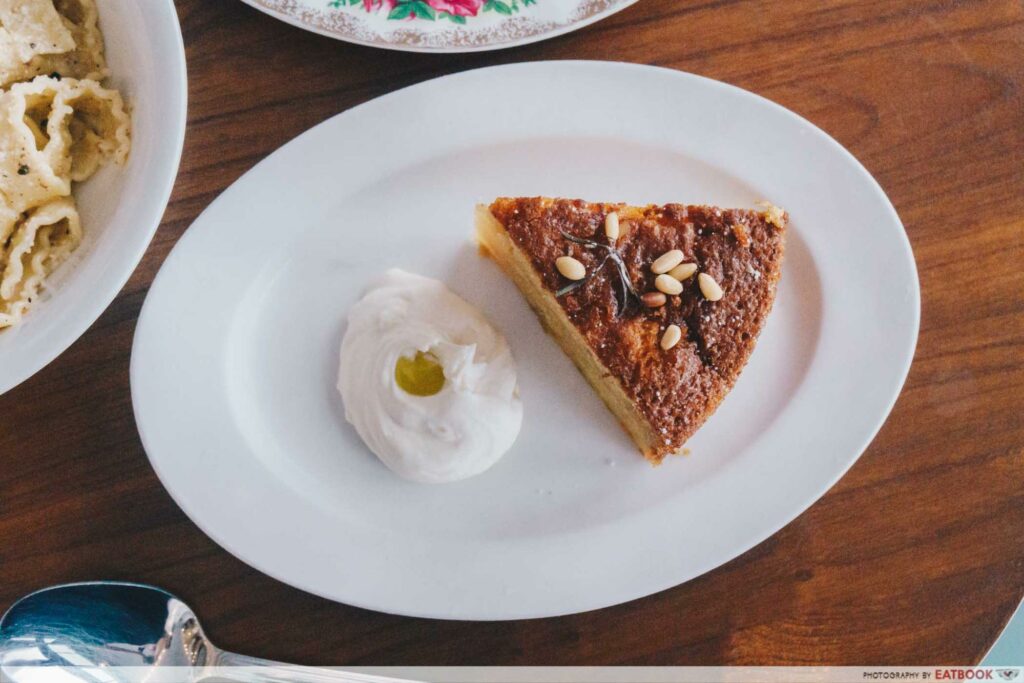 Sitting next to it was a generous scoop of mascarpone with extra virgin olive oil in the middle.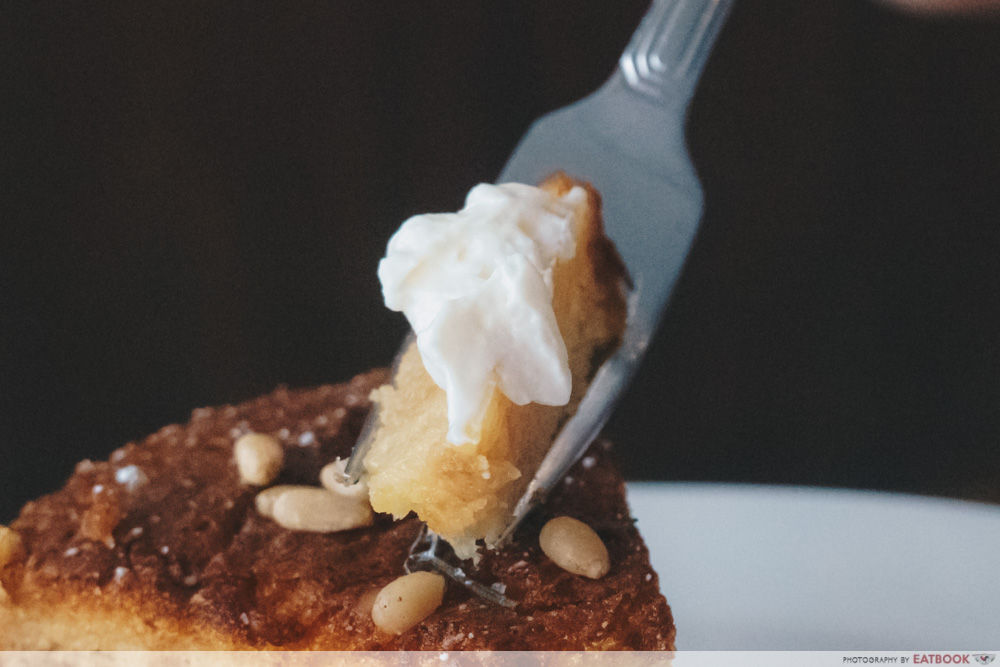 It is essential to have both the cake and buttery cream together for a world of flavours. The subtle sweetness from the cream and intense fruity bitterness from the EVOO were definitely the icing on the cake, to put it quite literally .
I'm told that this cake gets sold out pretty quick, so be sure to call ahead and reserve a slice.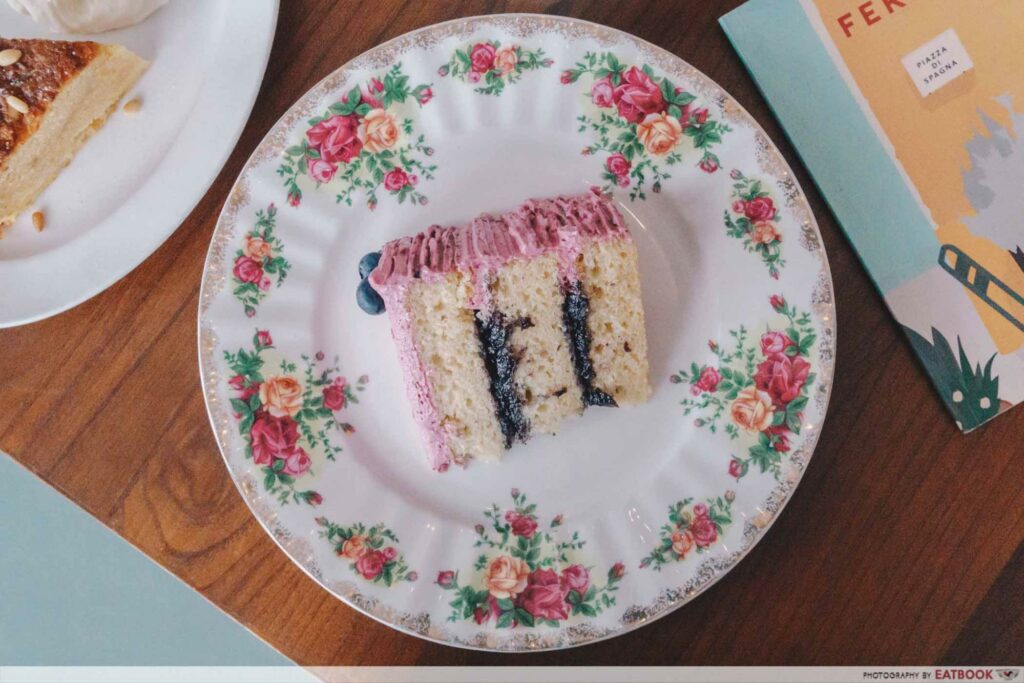 A new addition to Caffe Fernet's sweet line up is their Cakes Of The Day. On the Friday we went, we chanced upon this vanilla chiffon cake with layers of blueberry and a delicate buttercream frosting studded with blueberries.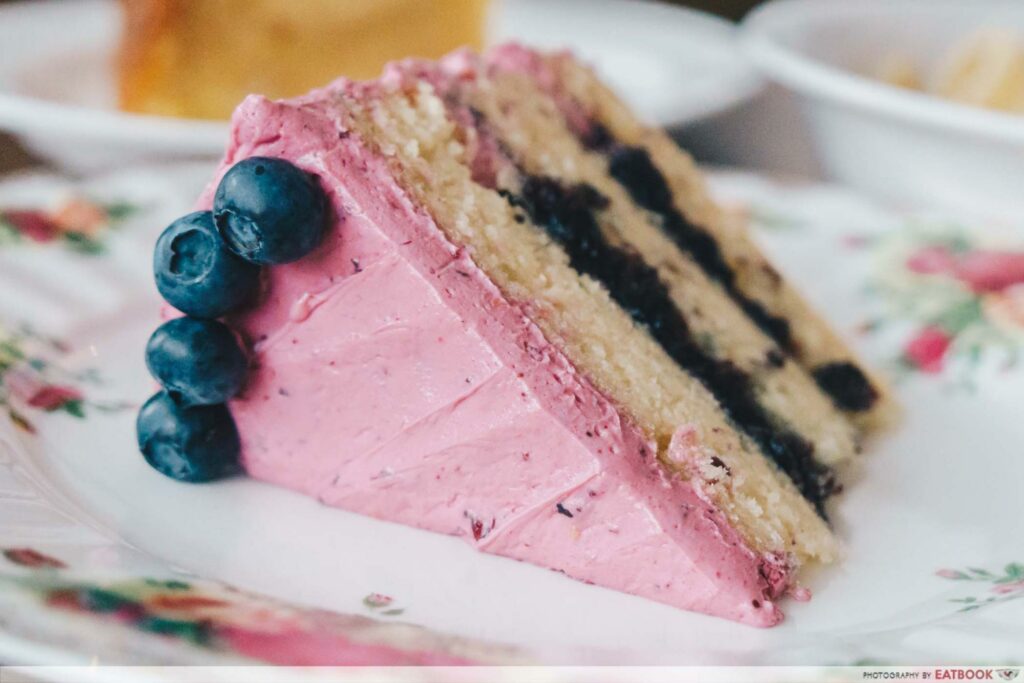 I'm not a fan of frostings. But I liked how the frosting here was not greasy; it did not leave an oily film coating my tongue. The cake was pillowy soft, with a slight sweetness that complemented the tart blueberry jam. I really like this cake a lot, except for its $14++ price tag.
Ambience at Caffe Fernet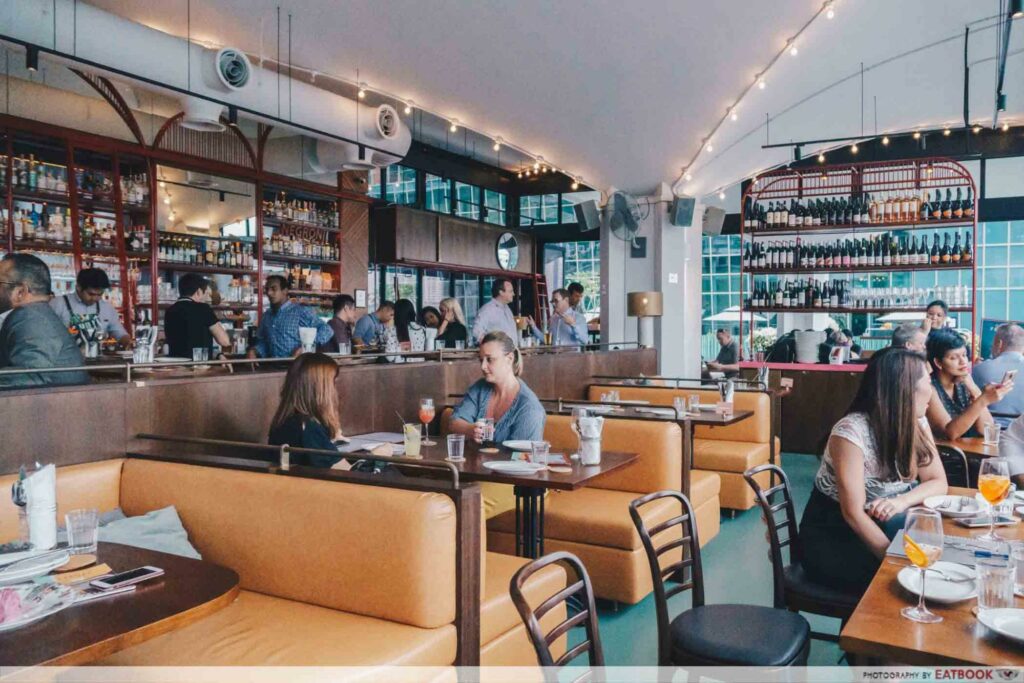 Facing the Marina Bay Waterfront, Caffe Fernet takes up a prime spot at Custom House. But more than its view, the space itself is extremely gorgeous, with its burnt caramel booths and dark wooden fixtures. There's also a lively bar at the back, serving up negroni and other toothsome cocktails. It does get pack fast after work though, and reservations are highly recommended.
The verdict
4pm cake time is legit a thing at Eatbook. And if there's one cake I would have over and over again during this special period, it would be Caffe Fernet's Olive Oil cake. It's simplicity yet bold flavours make this cake spectacular, and I'm surprised not many Italian restaurants in Singapore are serving up this golden slice. Sure, it's rather pricey, but nothing I can't afford on pay day.
Address: 70 Collyer Quay, #01-05, Customs House, Singapore 049323
Opening hours: Mon-Thur 12pm to 12am, Fri-Sat 12pm to 2am, Sun 11am to 5pm
Tel: 9178 1105
Website
Photos taken by Katie Boon.
This is an independent review by Eatbook.
Summary
Pros
– Lovely ambience
– Quality food
Cons
– Expensive
Opening hours: Mon-Thur 12pm to 12am, Fri-Sat 12pm to 2am, Sun 11am to 5pm

Address: 70 Collyer Quay, #01-05, Customs House, Singapore 049323