Good Food Coffee And Bakery has real good chimney cakes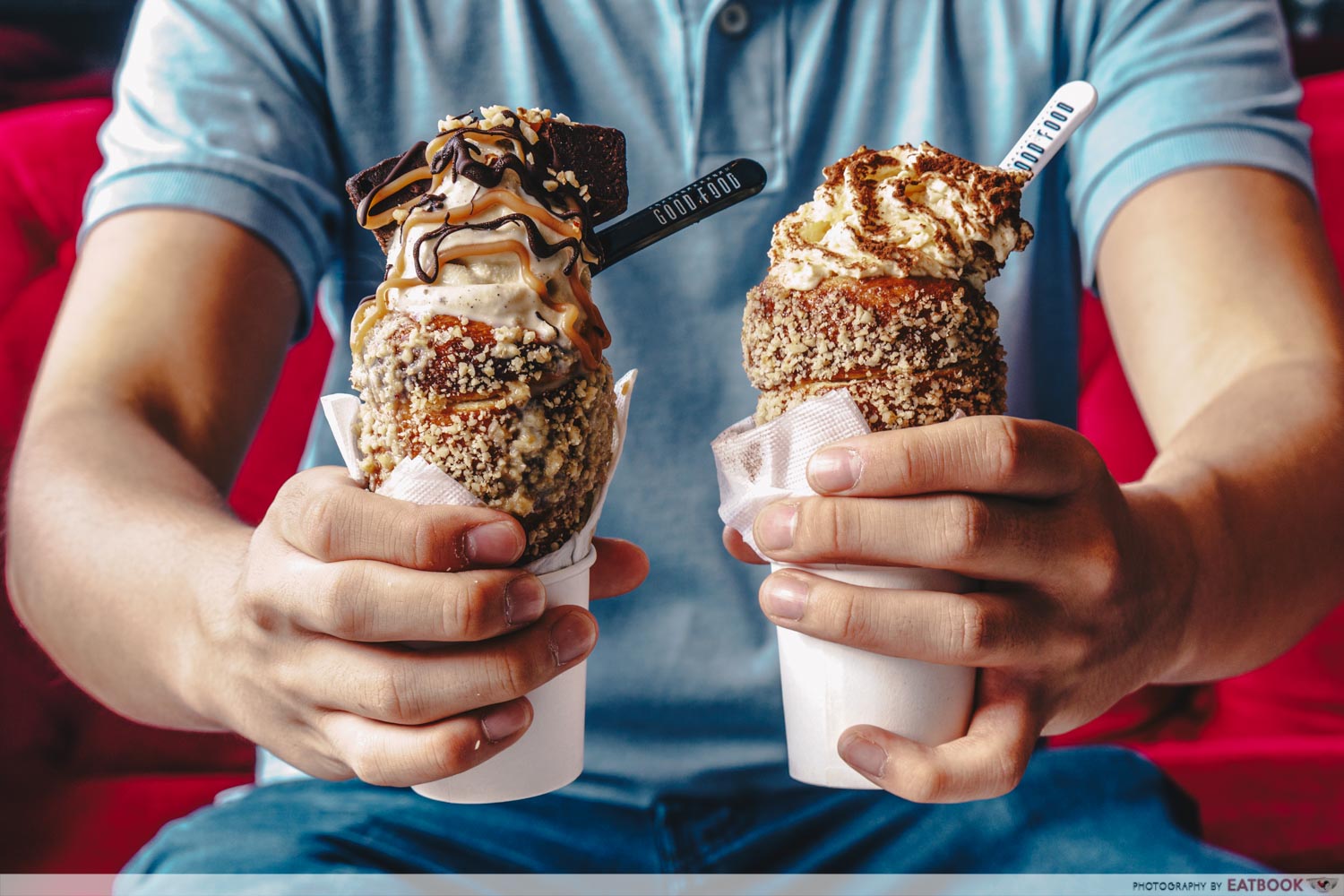 Fluffy, sugary donuts and silky soft serve sound like a match made in sugar heaven. Now, the grand dame of chimney cakes has arrived in Singapore: Good Food Coffee And Bakery.
These sweet cones hail from Hungary, but really exploded in popularity in Prague, where long queues materialise every day at the original Good Food outlet. Despite going through cross-continental migration, this famous bakery doesn't fall victim to any drop in quality. Ingredients are shipped in from everywhere from Prague to South Africa, while every component of each cone is prepared fresh, in-house, every day.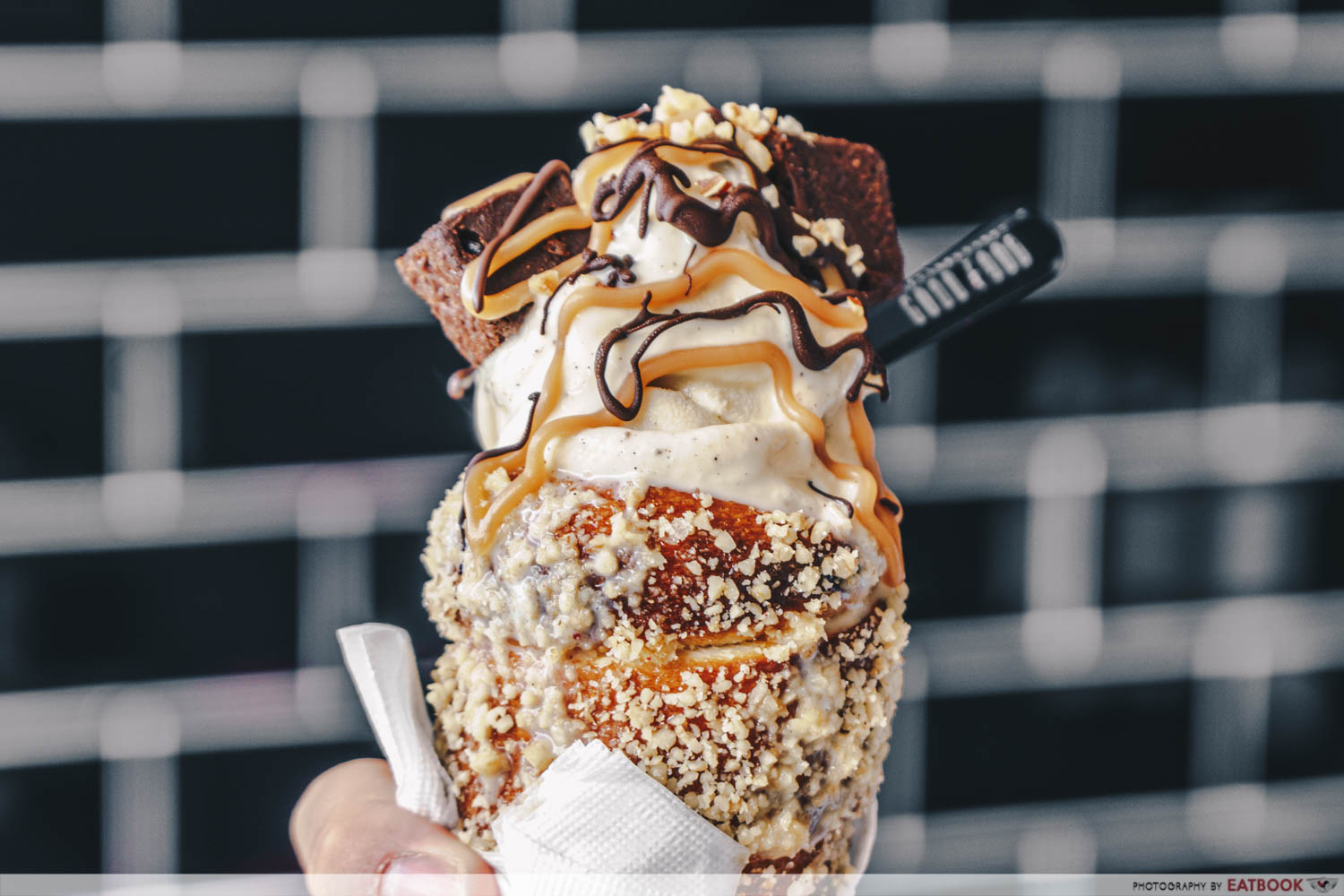 That's not to say they haven't adjusted to the local market. Their soft serves are exceptionally creamy, but somehow use up to 50% less sugar and fat than in Czech Republic. And while the menu follows its European patriarch faithfully, alcoholic renditions don't make an appearance as they plan to attain halal certification.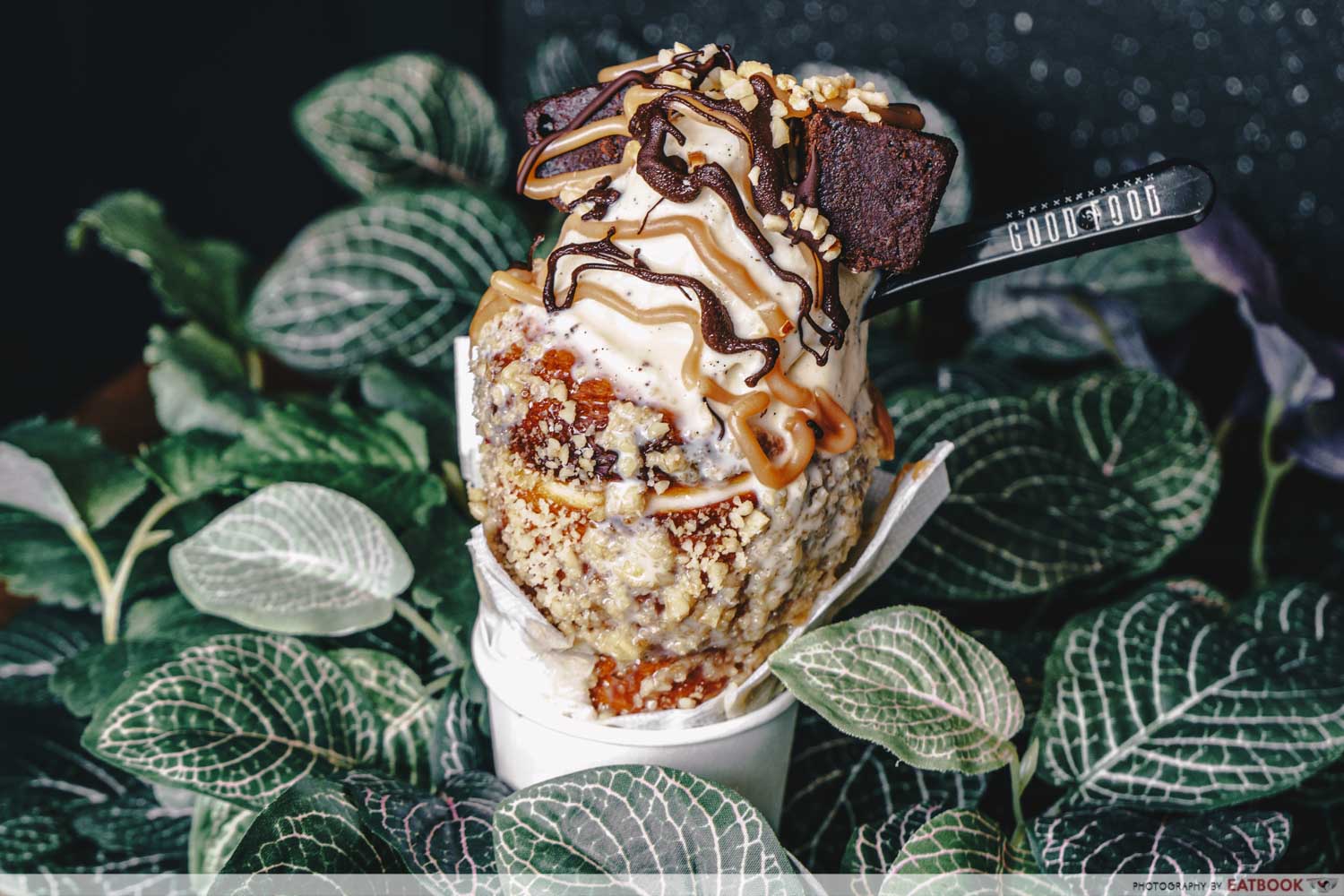 A whole suite of sweet and savoury cones are available, but you can't go wrong with their signature Chimney King ($7.50). Rich, fudgy brownies, salted caramel, chocolate sauce and nuts crown a swirl of vanilla soft serve, with everything supported by their classic walnut cone.
This host of toppings spruces up the cone with a variety of textures and flavours, but the spotlight never wavers from the cone and soft serve. The OG walnut was the best cone we tried, as the candied bits provided sugary crunch and subtle toastiness to the fluffy, croissant-esque chimney cake. Meanwhile, specks of vanilla bean give authentic vanilla flavour to the creamy soft serve without causing an overpowering sense of sweetness.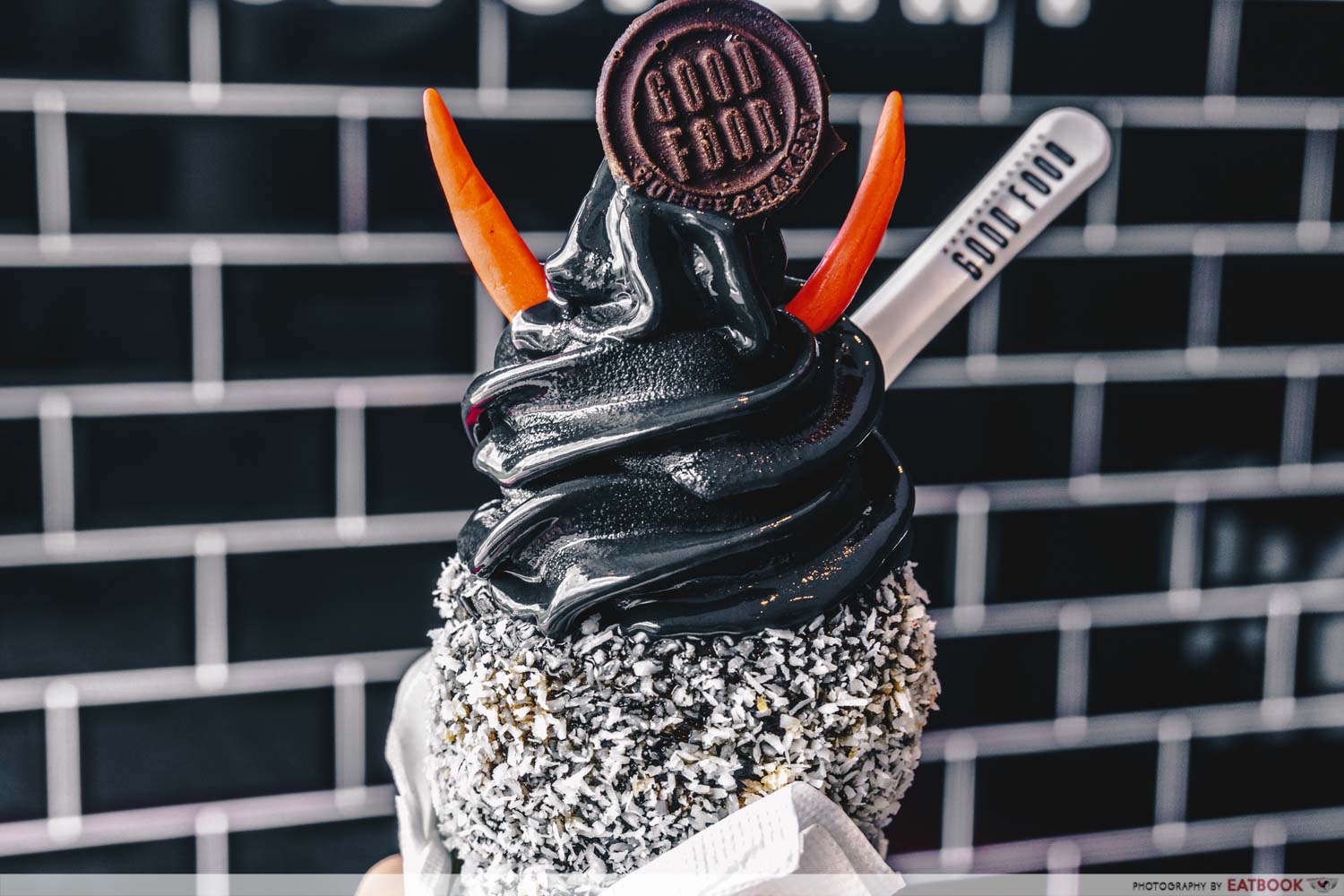 If your IG feed is in need of a new pic, turn to the wickedly pretty Chimney Devil ($7.50). Armed with red marzipan horns, this jet-black creation is currently the only frozen yogurt option on the menu. The Czech activated charcoal used here isn't just for looks. It grants the froyo a richer texture than you'd expect, nicely complemented by the chew of coconut flakes that shower this cone.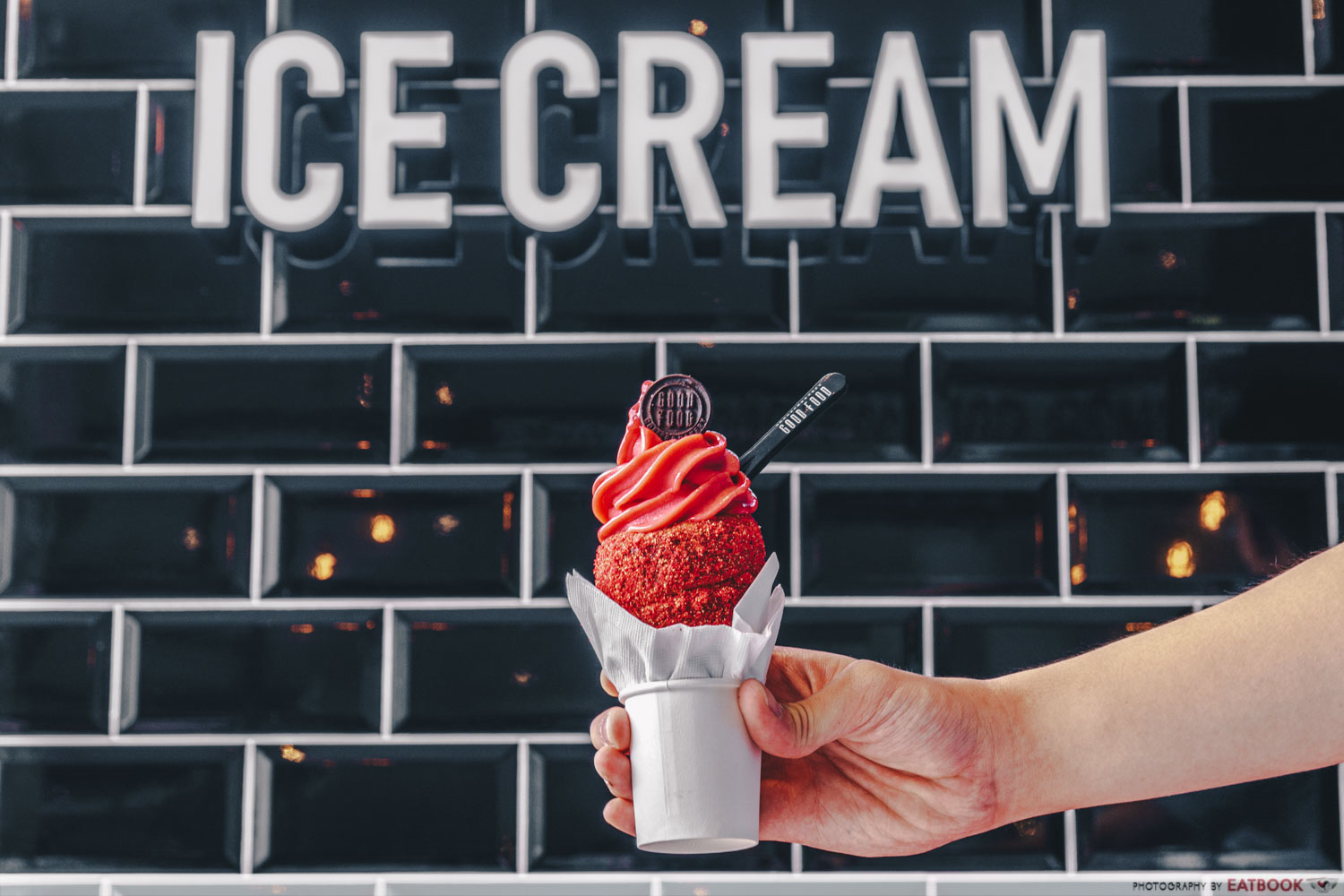 The crimson Chimney Raspberry Kiss ($7.50) provides refreshing respite from the blazing heat, boasting a double dose of fruity flavour from raspberry-flavoured soft serve and a raspberry powder-coated chimney cone. This tangy treat won't be a menu mainstay though. Fresh raspberries are used in the ice-cream, so matcha or mango-inspired cones may swap in when it isn't berry season.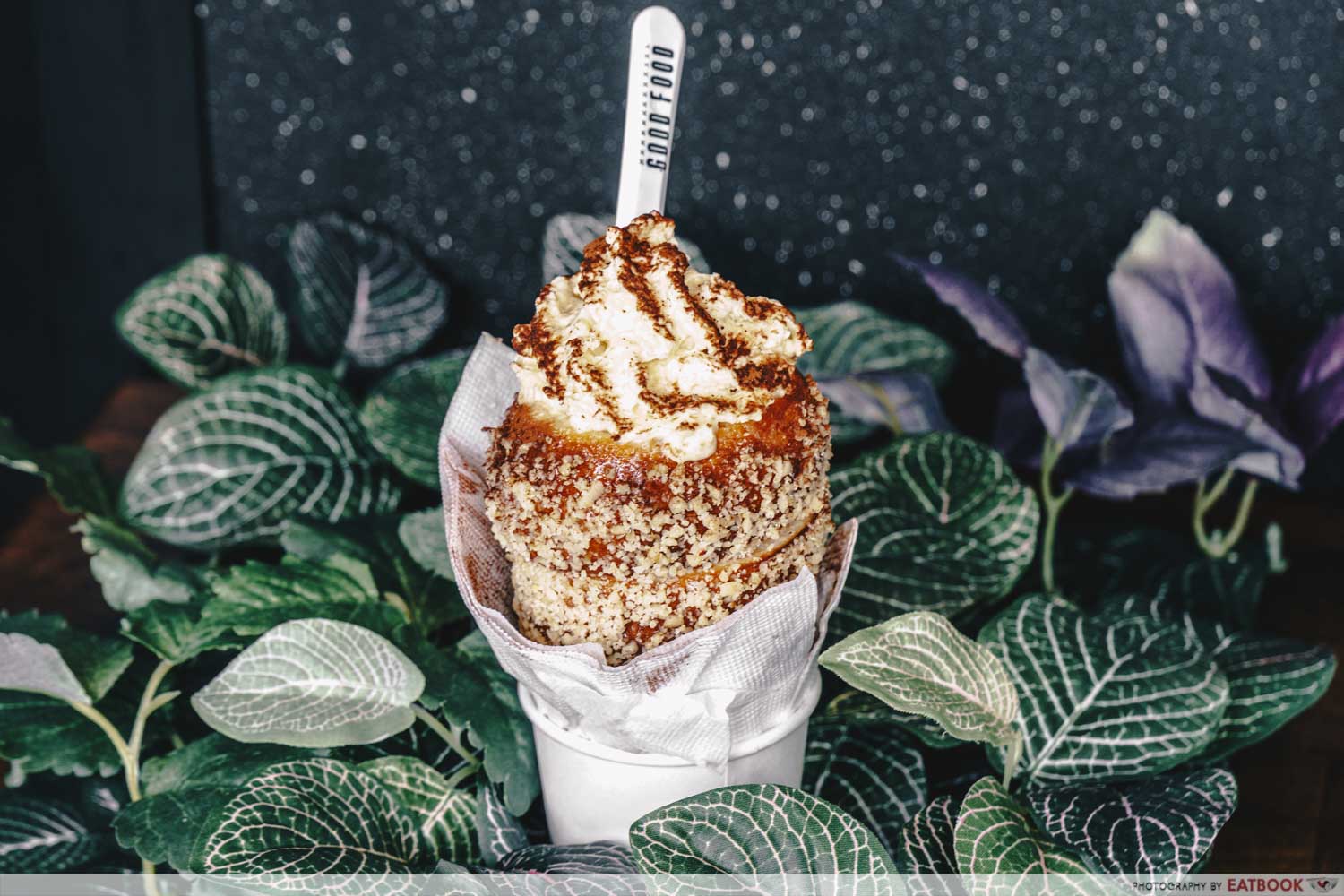 Soft serve aside, there's a range of whipped cream-topped cones too. Our taste buds took the Chimney Tiramisu ($7.50) for a spin. It's layered in a similar fashion to the traditional Italian dessert, as a whiff of coffee dust rests on tiramisu whip. Beneath that lies a cluster of coffee-soaked ladyfingers, while a pool of chocolate sauce lies right at the cone's base—evoking memories of McDonald's Hot Fudge Sundae. Apart from alcohol, this cone-based rendition hits all the same flavour notes as its Italian grandfather.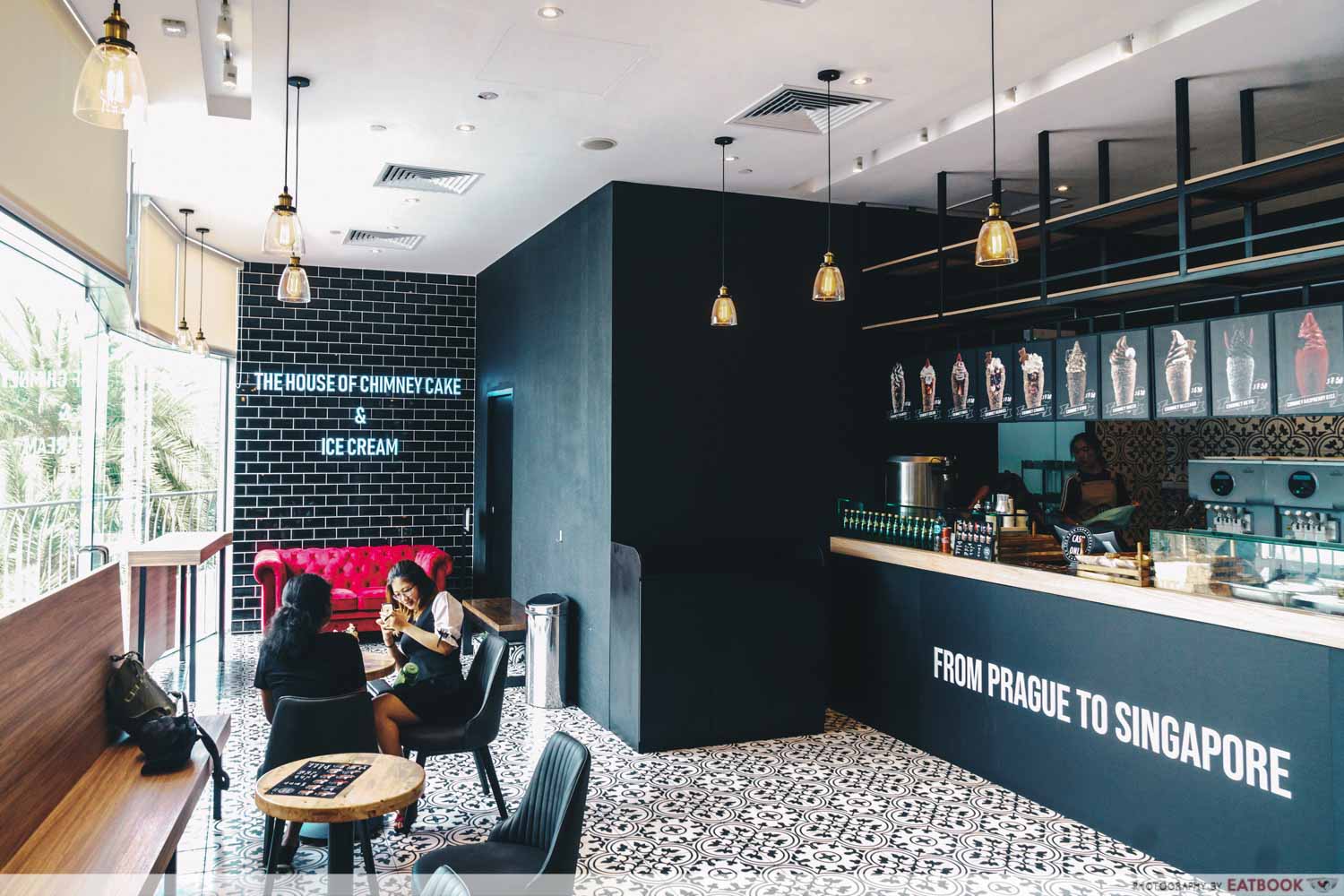 The confectionery is still in their soft launch phase, with plans to introduce more savoury options in the pipeline. They also plan to sell their soft serve sans chimney cone soon—welcome news for those who want a sugar rush, without the extra carbs.
We had a taste of their soft serve—which is crafted with Japanese milk—in isolation and were blown away by the chocolate, which was exceptionally dark and velvety. It wouldn't have been out of place in a specialist ice-cream parlour.
If your sweet tooth is still craving more, our reviews of KURA and Lee's Confectionery might do the trick.
KURA Review: Affordable And Pretty Pastries By Ex-Tiong Bahru Bakery And Hotel Chefs
Address: 1 Harbourfront Walk, #02-135/136, VivoCity, Singapore 098585
Opening hours: Daily 11am to 10pm
Website
Good Food Coffee And Bakery is in the process of obtaining halal certification.
Photos taken by Crystal Tan.
This was a media tasting at Good Food Coffee And Bakery.