Chocolate bliss at OCD Cafe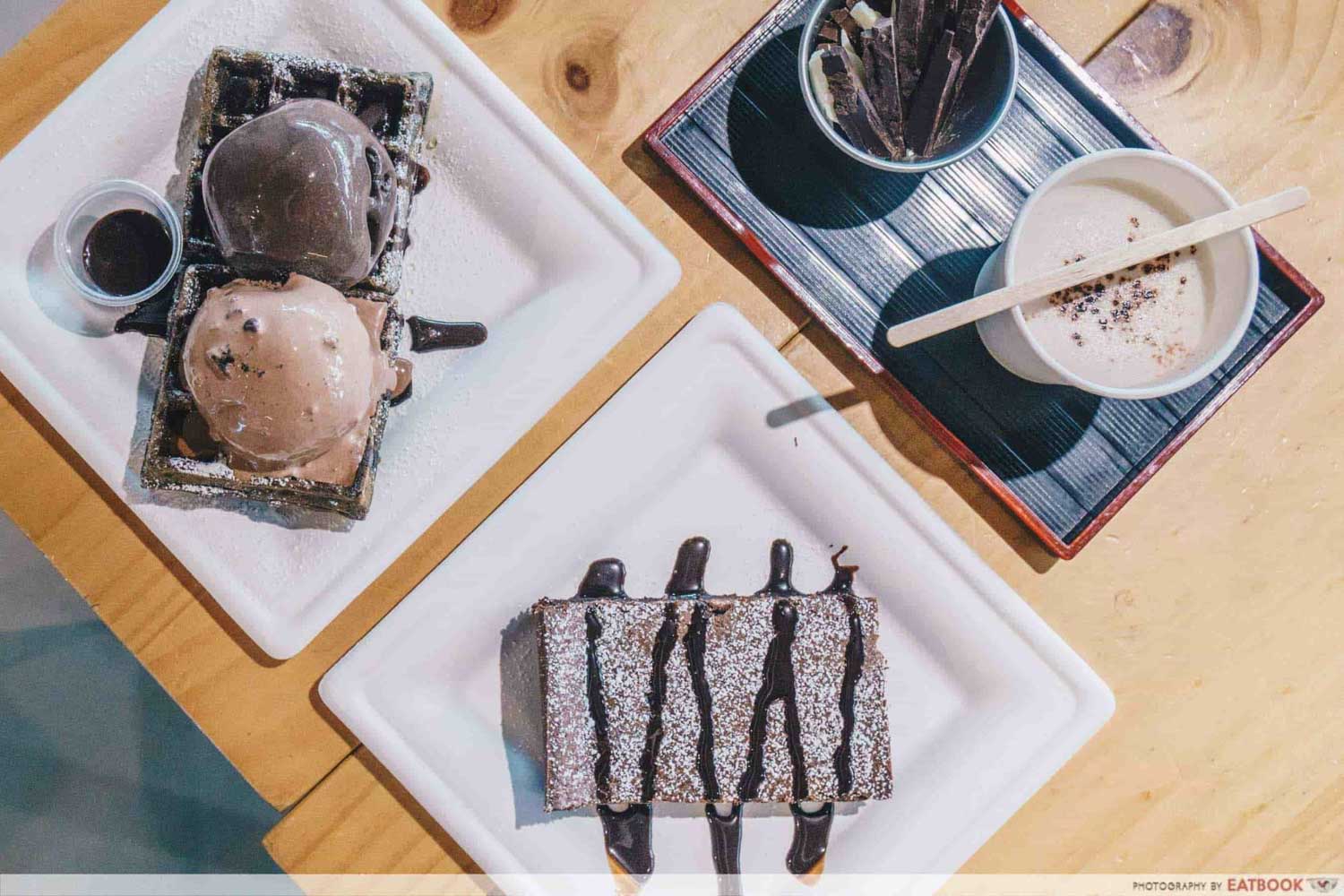 "Strength is the capacity to break a Hershey bar into four pieces with your bare hands – and then eat just one of the pieces." – Judith Vorst.
It's been more than 15 years since I first fell in love with dark chocolate, and I still can't get enough of it. For me, chocolate is a treat fitting for any occasion, whether it's a light snack between meals or the bittersweet end of a lavish buffet.
And if you're a chocoholic like me, Obsessive Chocolat Desire Cafe is a must-visit for you. Otherwise known as OCD Cafe, this chic eatery brings you to cacao heaven with its unique chocolate ice-cream.
Food at OCD Cafe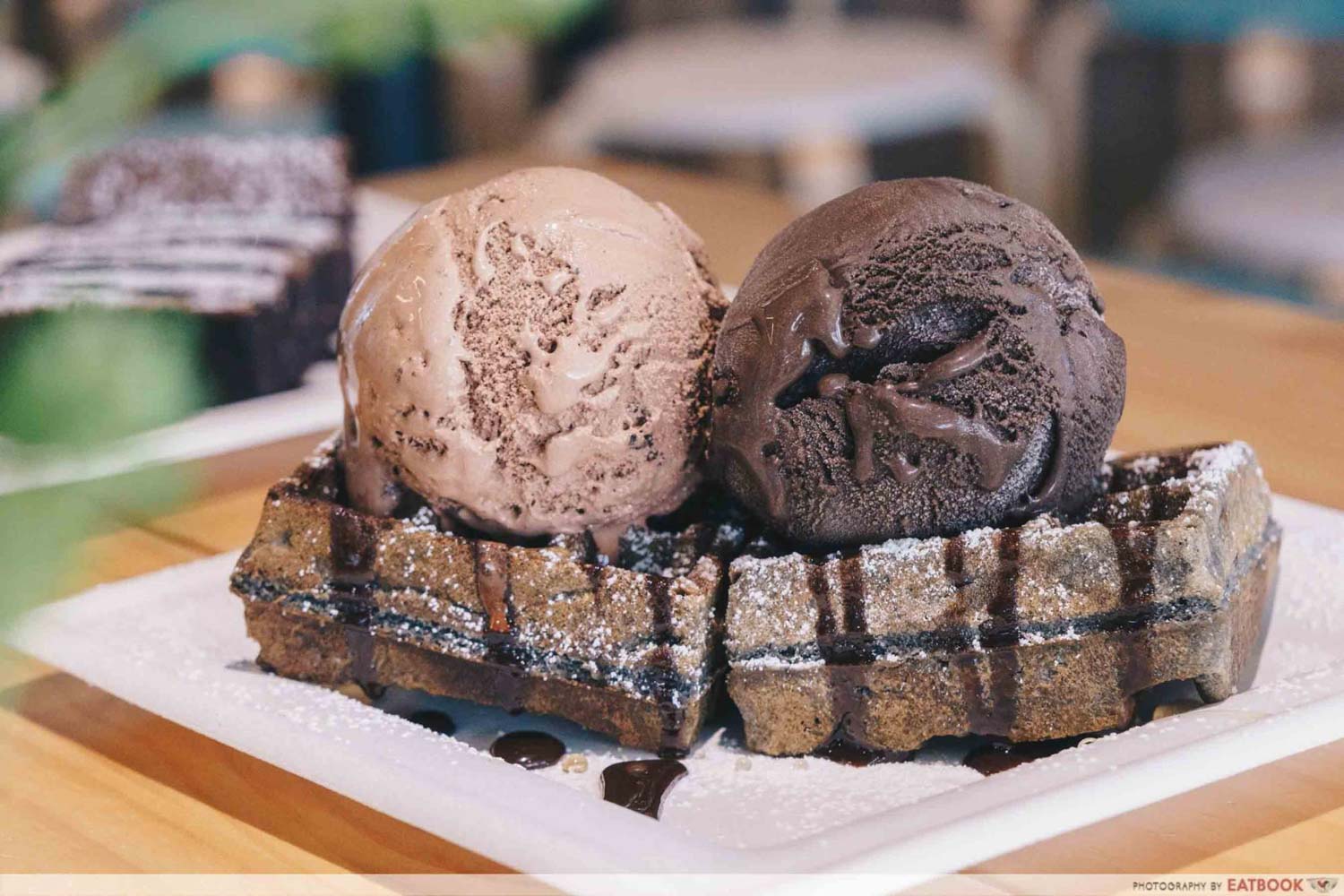 OCD Cafe awakens your latent cravings for chocolate. Push past its glass doors and the rich aroma of freshly baked gâteau au chocolat hits you in the nose. As you soak up this intoxicating fragrance, baristas brush past you with cups of hot chocolate.
But what truly sends you to chocolate heaven is the array of house-made chocolate ice-cream. There are five signature flavours, all priced at $3.60: Africa 85% Dark, Brazil 72% Dark, Belgium 60% Dark, Ecuador 40% Milk, and Madagascar 30% Milk.
Sample any of their ice-cream and you'll be struck with mixed emotions. Besides the excitement ice-cream brings, there's also a sense of intrigue from the fusion of familiar and unfamiliar flavours.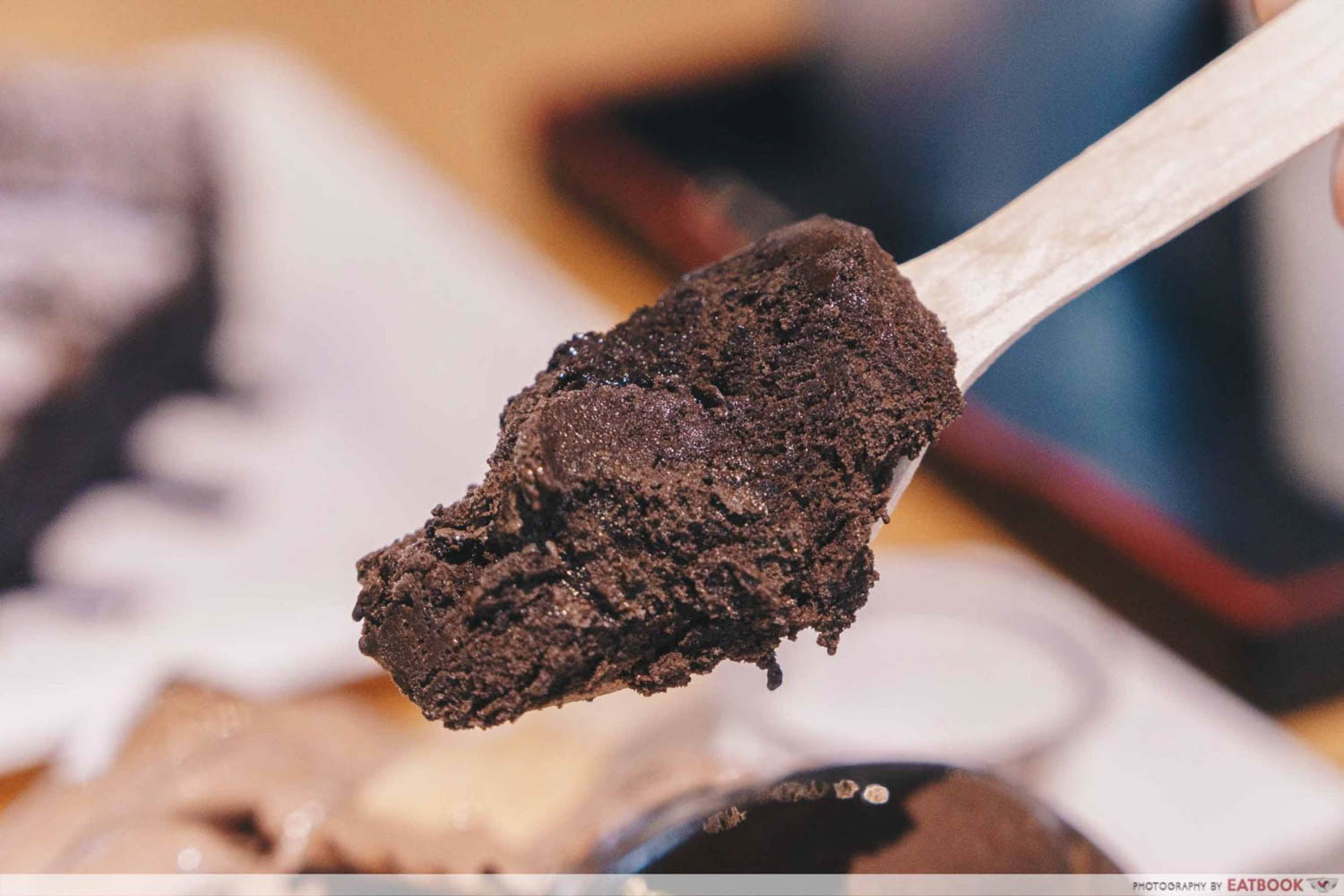 The Africa 85% Dark washed over my taste buds in a cascade of cocoa richness. Yet, as these bold flavours receded, fruity notes lingered on my palate. Following on its heels were creamy accents that lightened the bitter aftertaste of the chocolate.
It was a cohesive and palatable combination – a far cry from the intense bitterness I was expecting.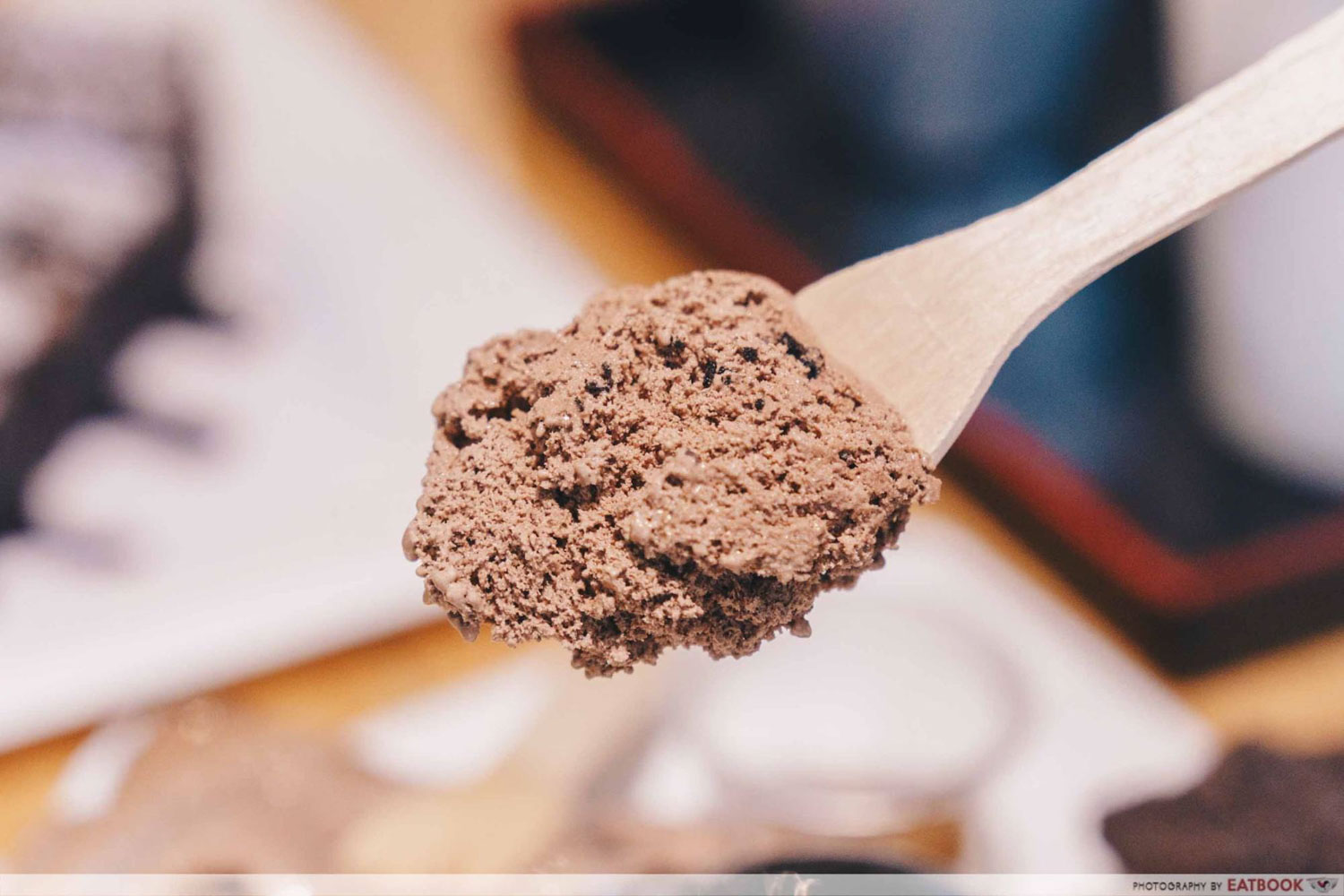 Those who prefer a sweeter chocolate ice-cream, the Madagascar 30% Milk offered an equally fascinating taste. Honey and floral undertones formed the backdrop of its chocolatey taste. Interestingly, I also detected a hint of banana in this concert of elements. Chunks of chocolate were also stashed within the ice-cream, lending a crunchy and grainy texture to it.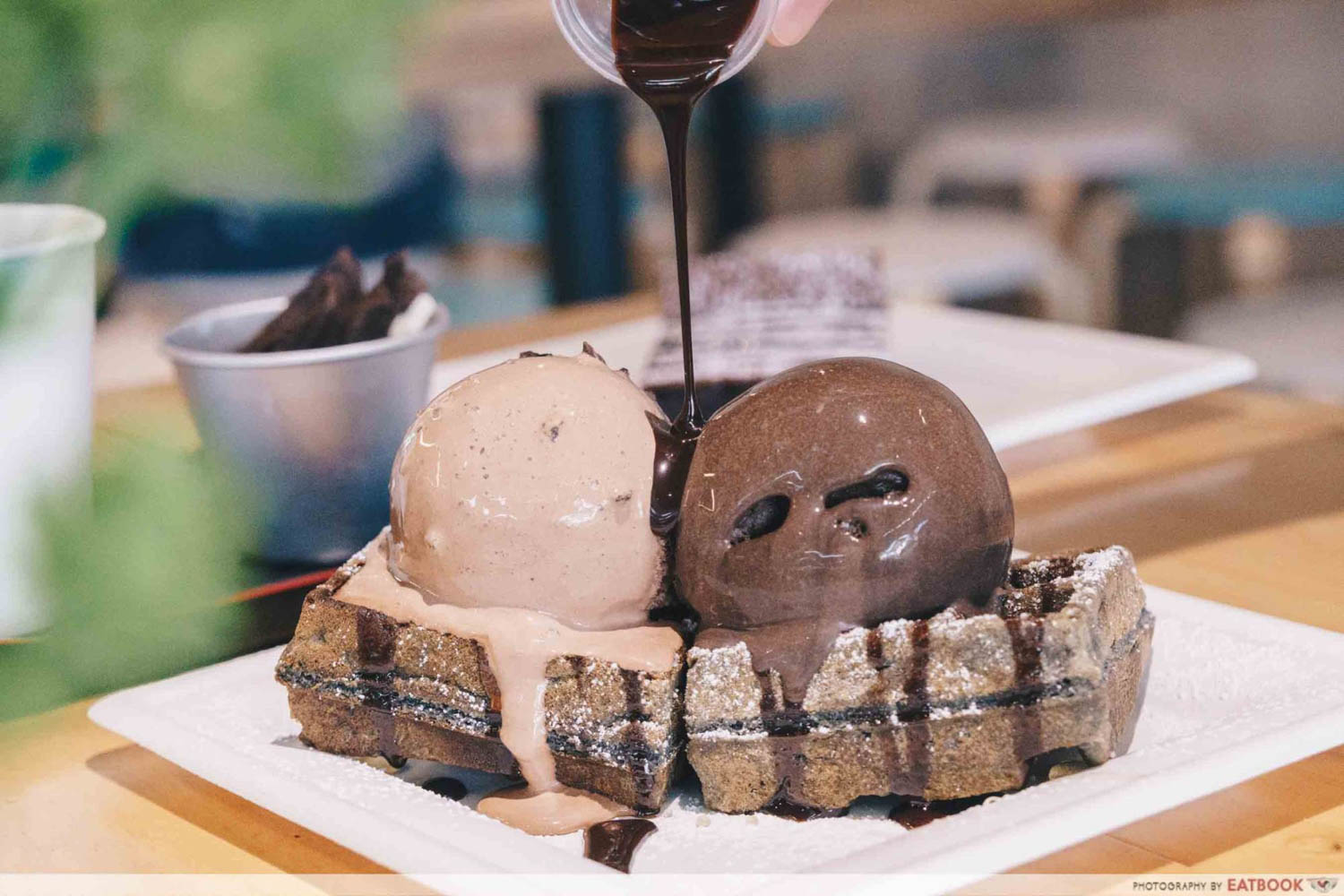 Waffles and ice-cream are a proven pairing, so top off your ice-cream with their Sesame Waffles ($4)! Infused with a toasted nuttiness, these waffles added a savoury touch to the ice-cream. The coup de grace is the 65% dark chocolate sauce, which empowered the waffles with its rich tang.
As someone who prefers softer waffles, my only dissatisfaction was with the lack of fluffiness in their overly baked waffles.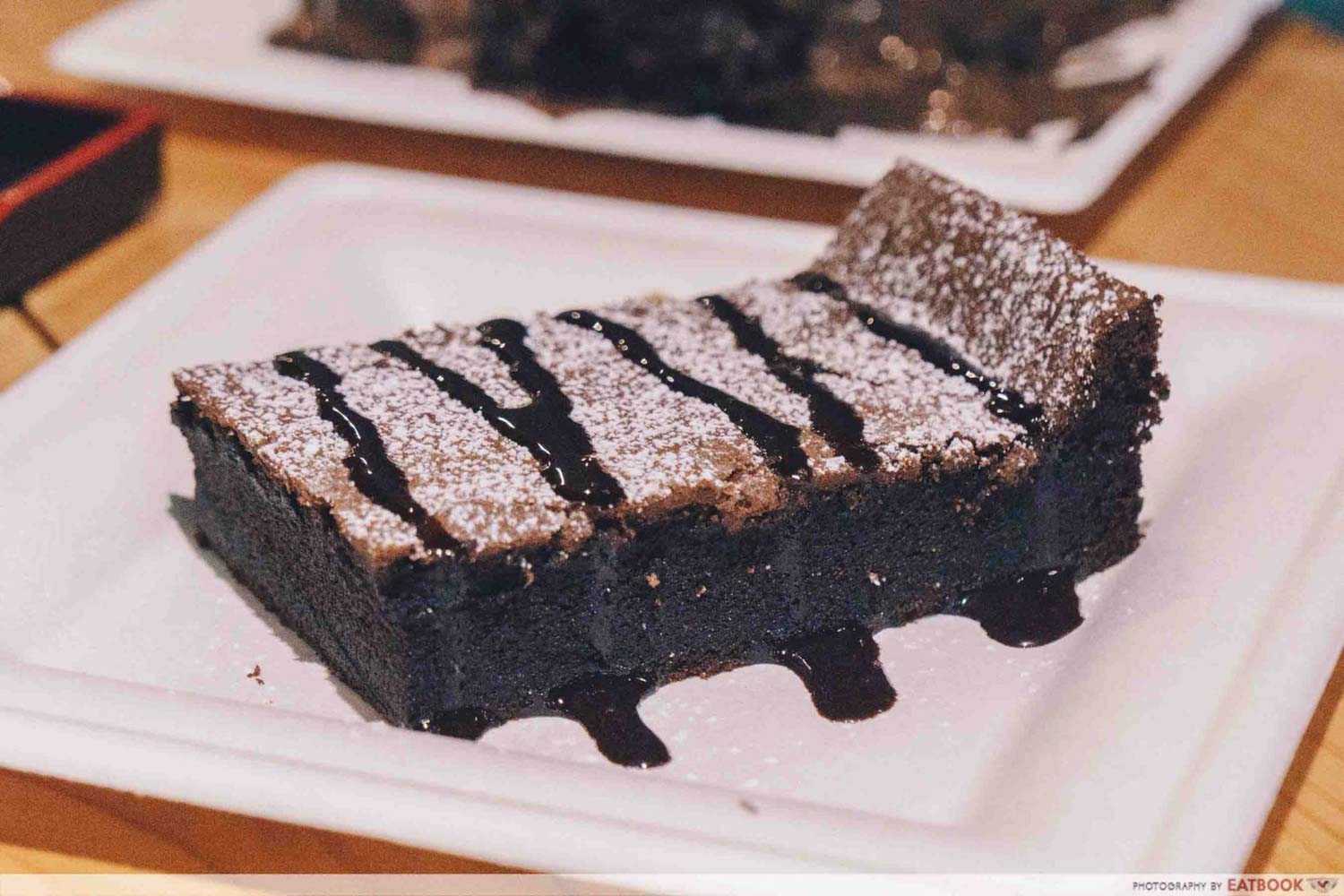 Another signature of OCD Cafe is their freshly baked Gateau Au Chocolat ($5/$12). Glazed with chocolate sauce and showered with icing sugar, this French-style chocolate cake literally screamed decadence.
Ken's Cafe Tokyo Famous Chocolate Cake Is Coming To Singapore And Queues Are Expected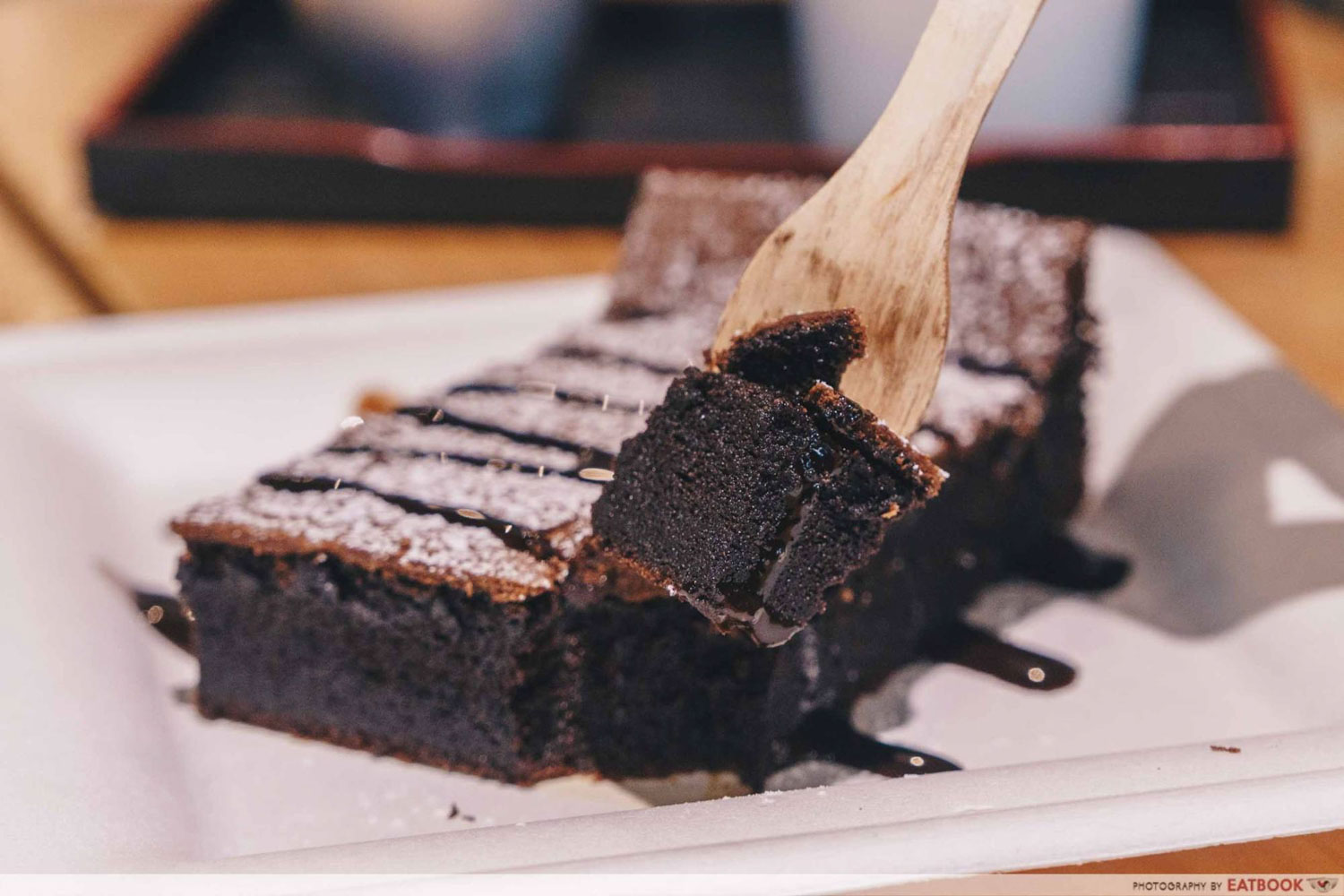 Sink your teeth past the brittle crust of the cake and its fluffy centre crumbles into a pool of creamy sweetness.
That being said, the dense and gooey consistency of the cake, coupled with its rich taste, left me feeling jelak after several bites. Sharing is definitely recommended for this sinful treat.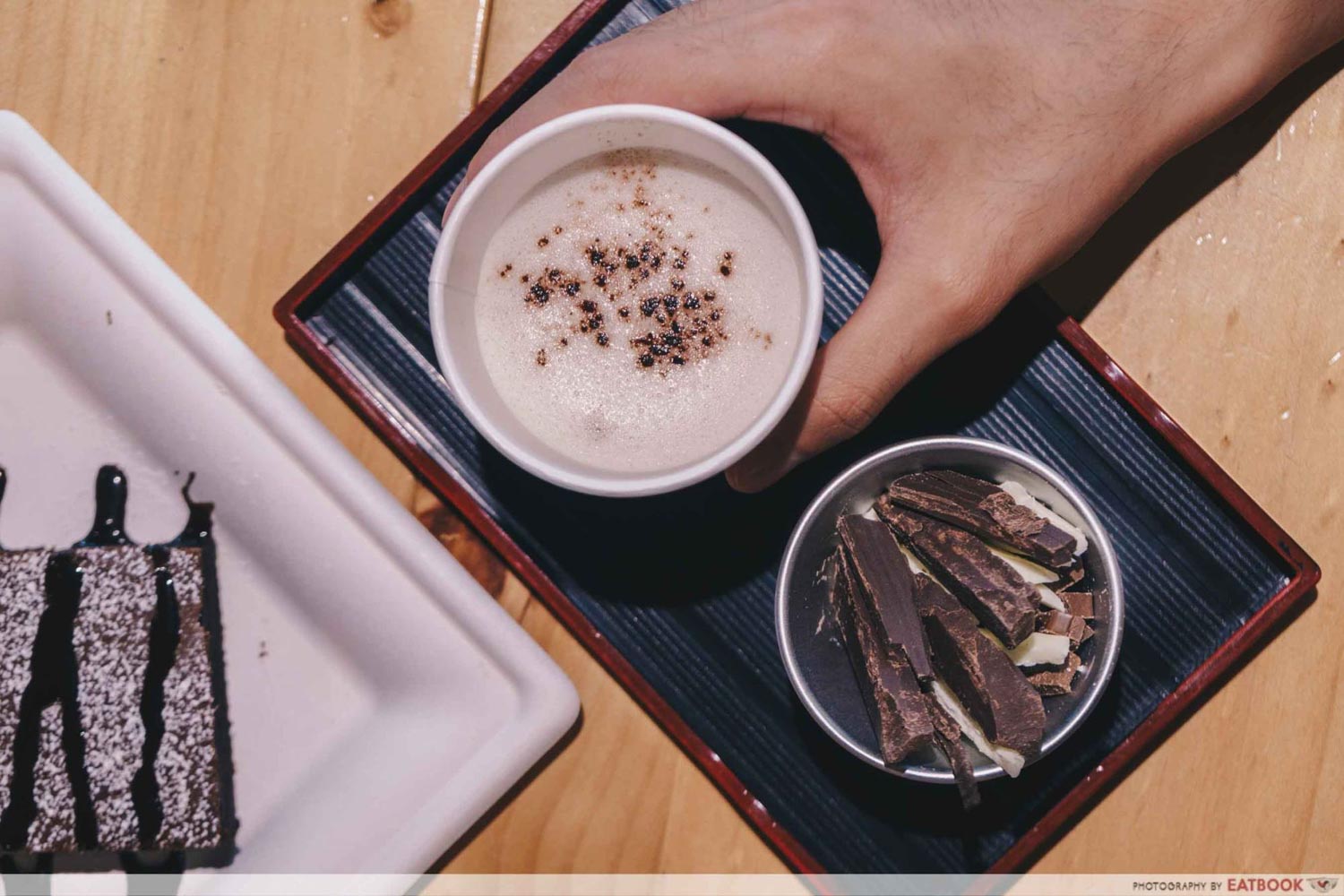 Complete your chocolate fiesta with their Triple Hot Chocolat ($6). In preparing this brew, Belgian chocolate is added to warm milk and slowly melted. With its 20% cacao content, the chocolate is lighter and smoother on the palate.
However, the concoction was a tad too sweet for my liking. Perhaps they could have been less heavy-handed with the cocoa powder.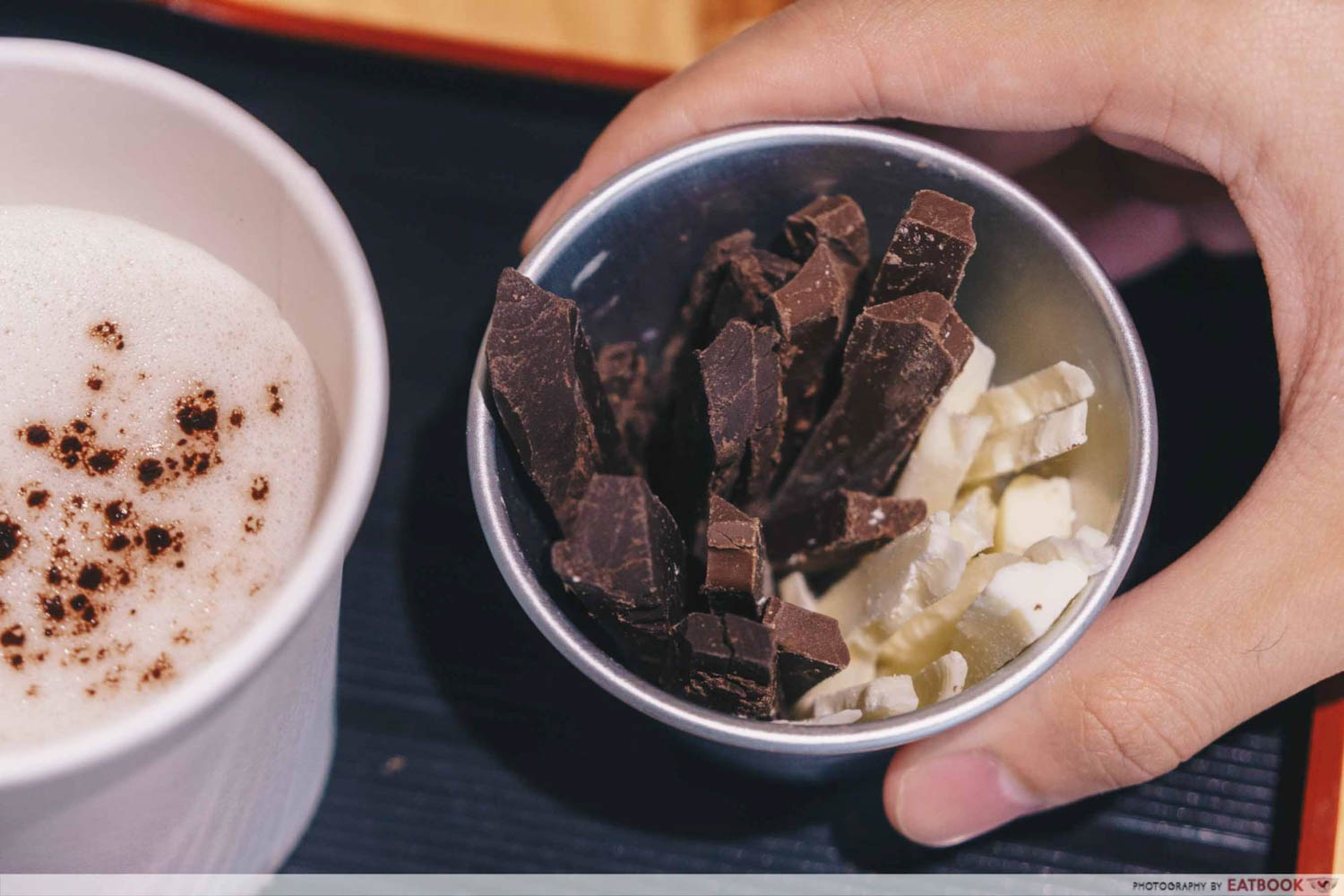 An extra cup filled with slabs of dark and white chocolate are served on the side as well.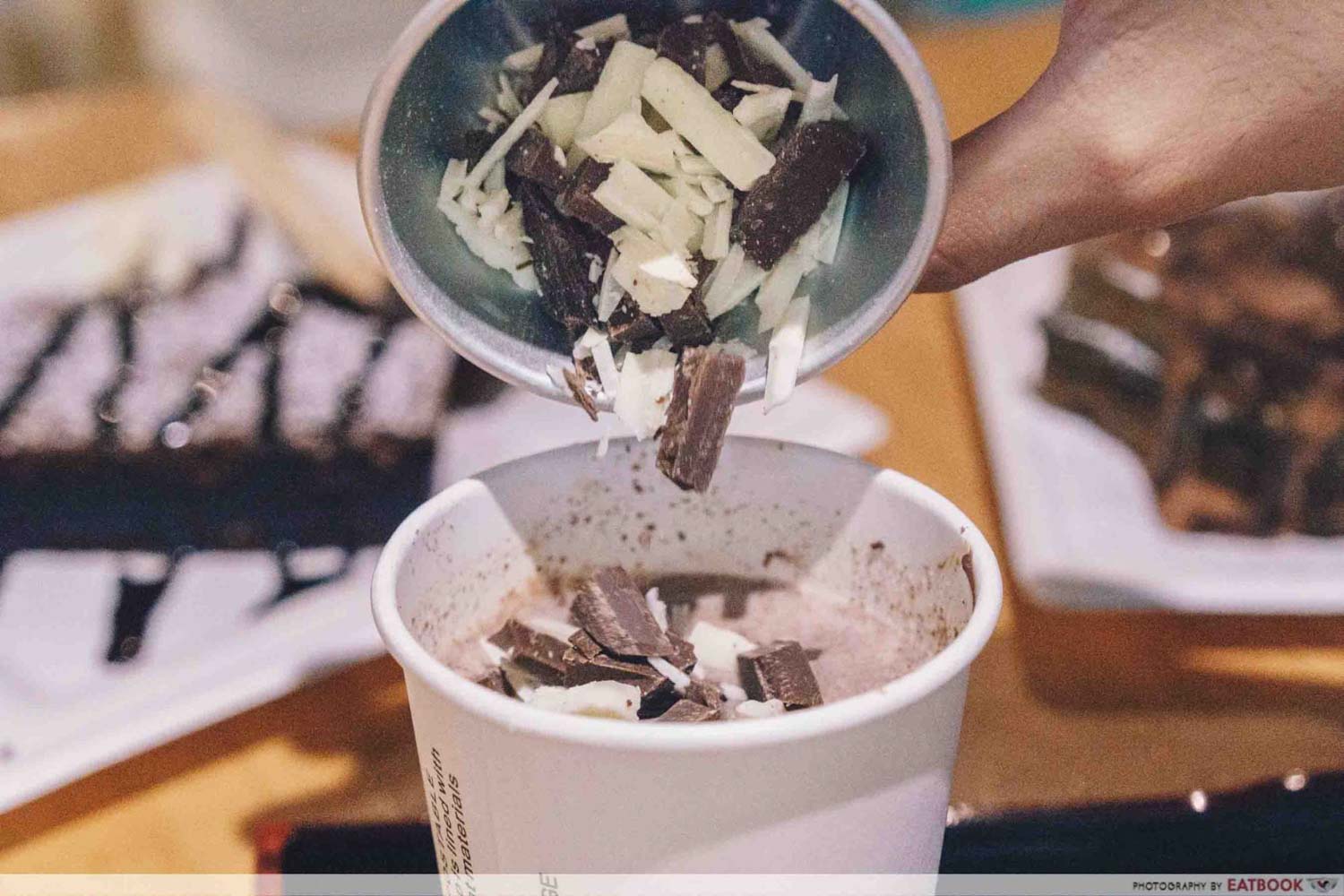 Here's a pro-tip: break the chocolate into smaller chunks before dunking them into your drink. This facilitates a quicker melting of the toppings!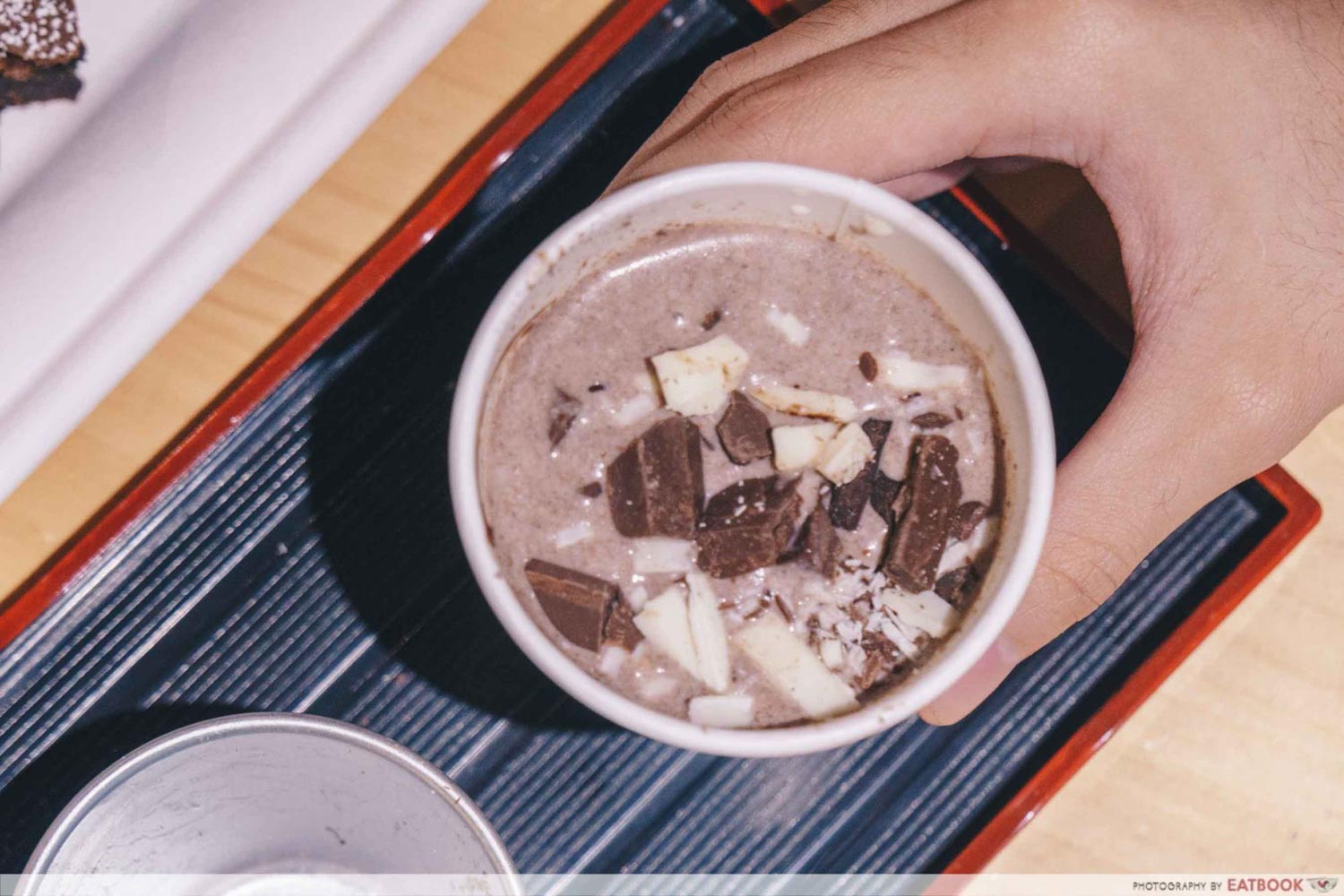 What I liked most about their Triple Hot Chocolat is the versatility it offers. For a more intense injection of cocoa, add a higher ratio of dark chocolate. On the other hand, if you have a sweet tooth, you can pepper your drink with more white chocolate.
Ambience at OCD Cafe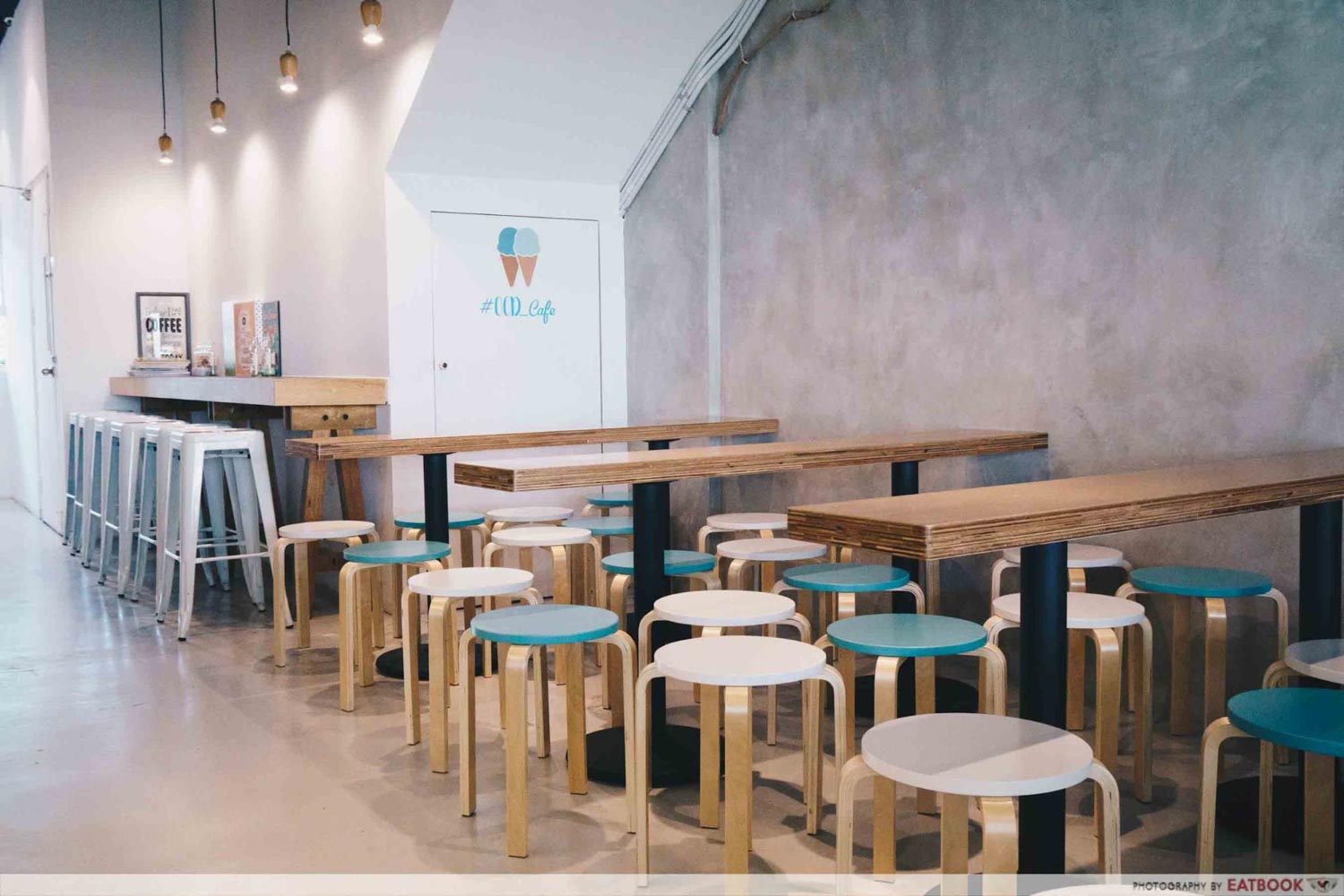 With its minimalist interior, OCD Cafe offers a quiet space for you to enjoy good ice-cream and escape into your own space.
However, don't expect to find #aesthetic platings here, as their desserts are served on plain styrofoam plates.
Furthermore, it's best not to plan your study marathons or large gatherings at OCD Cafe. Not only is their seating cramped, but their tables are pretty narrow as well.
While you're in the neighbourhood, be sure to visit Galettes as well. Recently opened in 2018, this elegant cafe wows you with eye-grabbing flambéb desserts and fluffy mille-crepe cakes.
Galettes Review: Flambé Desserts And Mille Crepe Cakes At This HDB Cafe In Ang Mo Kio
The verdict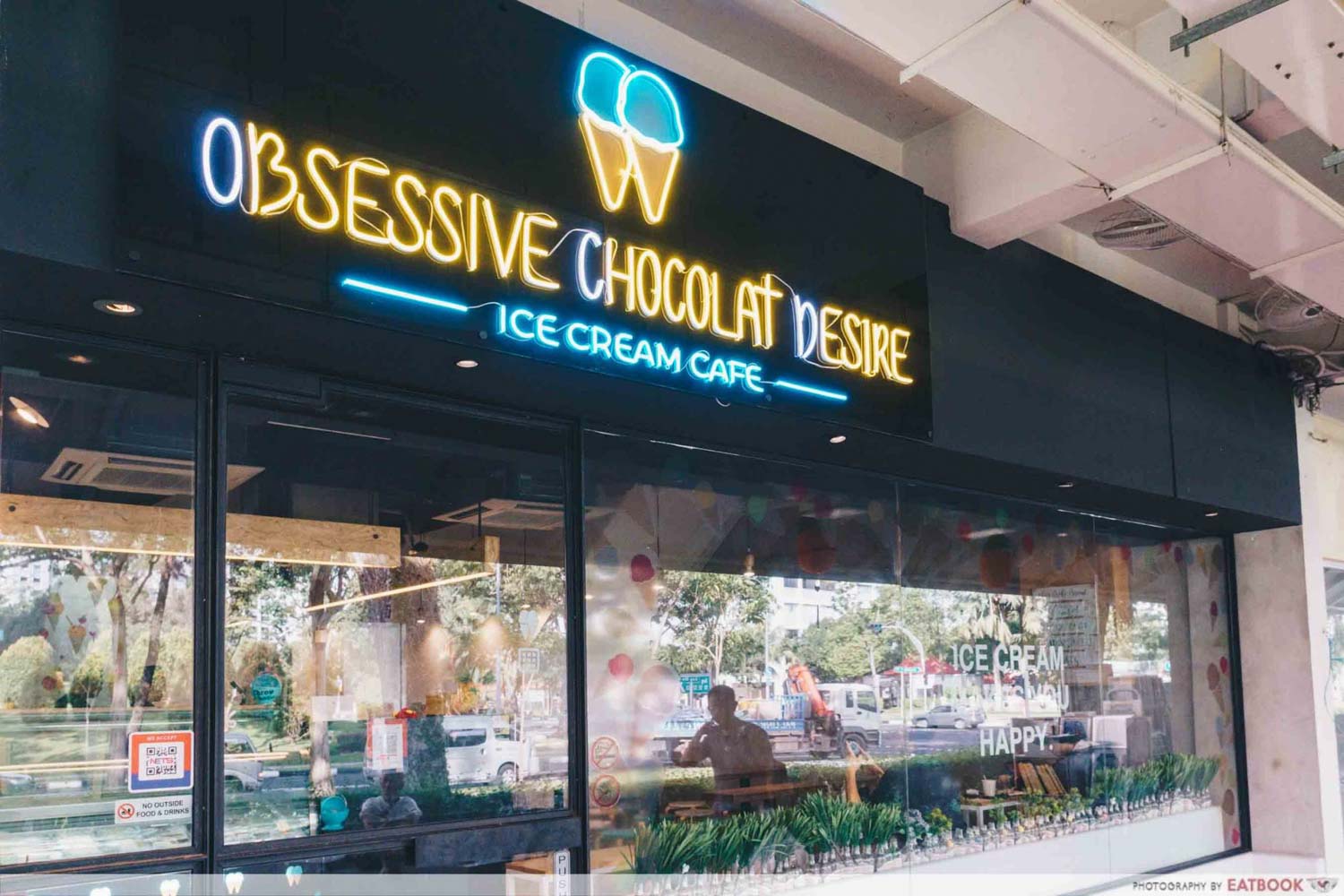 OCD Cafe is a celebration of all things chocolate. Not only does it showcase the gamut of flavours packed in a cacao bean, but it also provides a glimpse of the sheer diversity of chocolate. While it's rather inaccessible, it's still worth a visit.
Address: 114 Jalan Besar, Singapore 208834
Opening hours: Daily 11am to 11pm
Website
OCD Cafe is not a halal-certified eatery.
Photos taken by Rae Fung.
This is an independent review by Eatbook.sg.
Obsessive Chocolat Desire Cafe: New Chocolate Cafe That Opens Until 1am At Ang Mo Kio
Summary
Pros
– Fresh, house-made ice-cream
– Intense chocolate flavours
– Premium ingredients used
Cons
– Cramped setting
– Inaccessible location
Recommended Dishes: Gateau Au Chocolat ($5/$12), Africa 85% Dark ($3.60), Madagascar 30% Milk ($3.60)
Opening hours: Mon-Thur 12pm to 10pm, Fri-Sat 12pm to 1am, Sun 2pm to 10pm
Address: 529 Ang Mo Kio Avenue 10, #01-2353, Singapore 560529