---
Gimmicky food that taste as good as they look
---
We all know how gimmicky some viral food trends can be. For instance, does a burger really need to come with rainbow buns? While some of you might be skeptical about how such dishes taste, given that more effort seems to have been put into presentation than taste, we tried a whole lotta such gimmicky items and came up with this list of those that are actually delicious.
---
1. Rainbow burger
---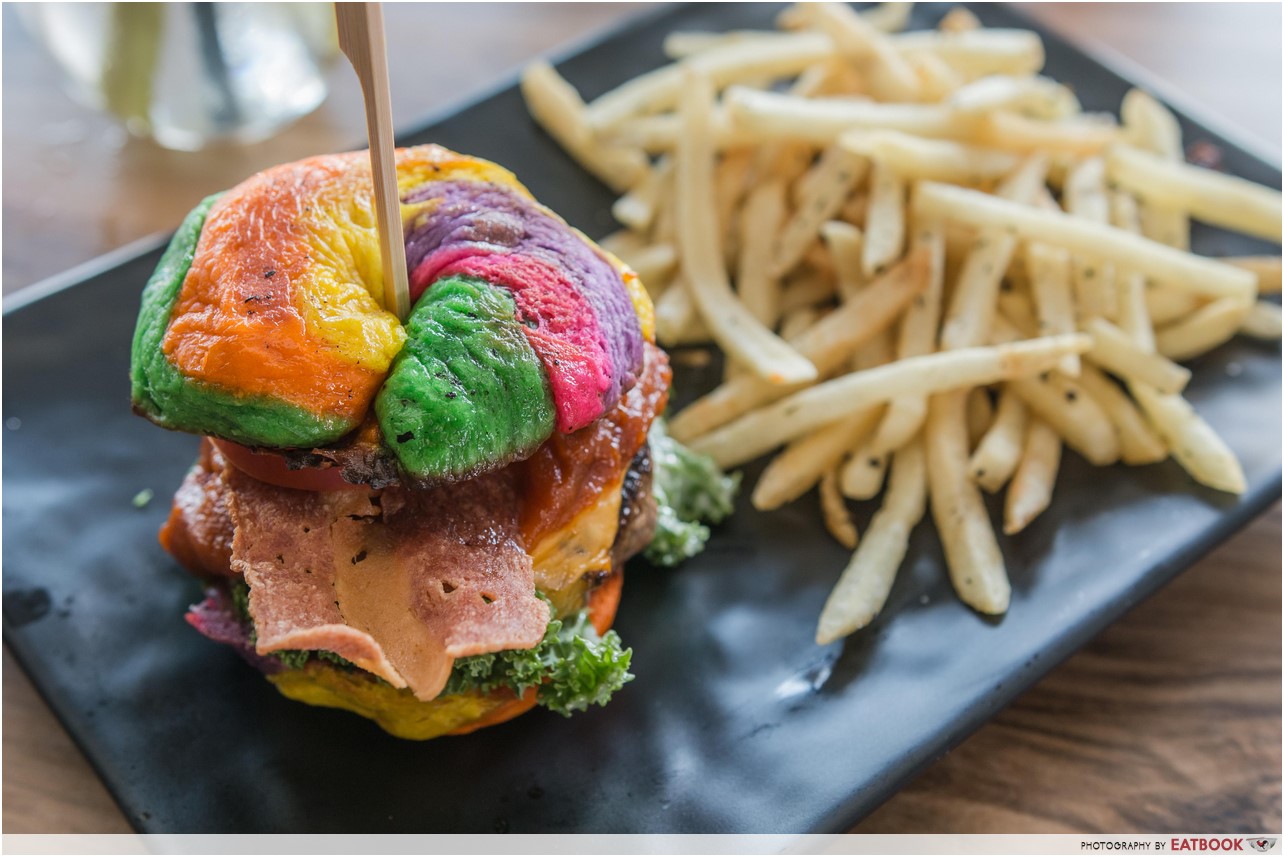 Aesthetically pleasing and surprisingly delicious, Rainbow Burger ($20+) from Word Bistro is one of a kind. The colourful rainbow buns look and taste like a combination of a bagel and croissant. The beef patty sandwiched between them is thick and juicy, making it a great complement to the buns. Served with a side of fries, this pretty burger makes a really solid meal!
Address: 906 Upper Thomson Road, Singapore 787110
Opening hours: Tue-Thur 12pm to 10pm, Fri-Sat 12pm to 10:30pm, Sun 12pm to 10pm
Tel: 9742 9224
Read our full review here.
---
2. Durian cake in a plastic bag
---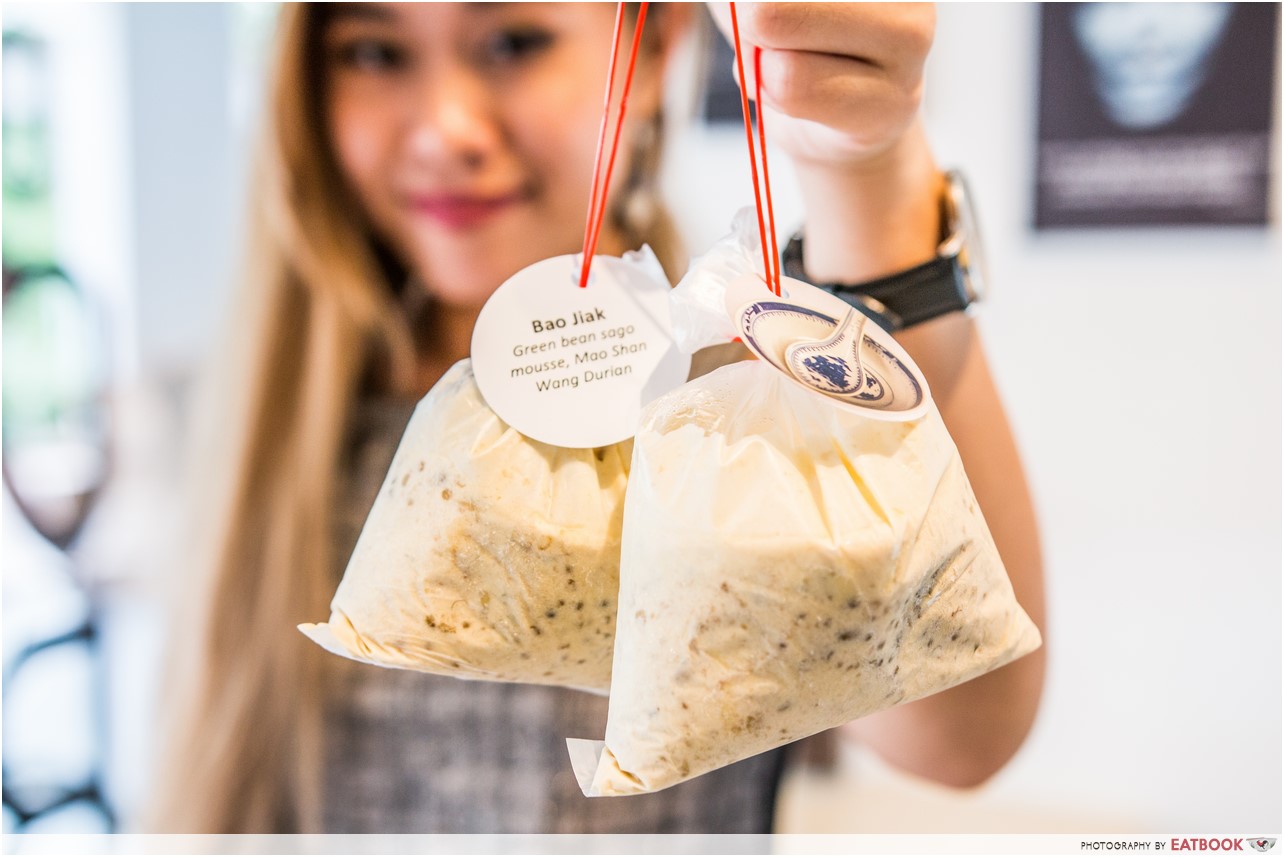 Inspired by kopitiam desserts, Out of The Cake Box offers cakes with flavours like bo bo cha cha and chendol. Bao Jiak ($6.50) may look like something you get from a teh peng (iced tea) stall, but it's actually a tasty durian dessert made of Mao Shan Wang puree, plain sponge and green bean sago mousse. The friendly staff will serve this on a plate if you dine in, so remember to Instagram and Snapchat everything before you ask them to do so!
Address: Blk 45 Telok Blangah Drive, #01-173, Singapore 100045
Opening hours: Tue-Fri 12pm to 8:30pm, Sat 12pm to 9pm, Sun 10am to 5pm
Tel: 6271 1975
Menu
Read our full review here.
---
3. Flying ramen
---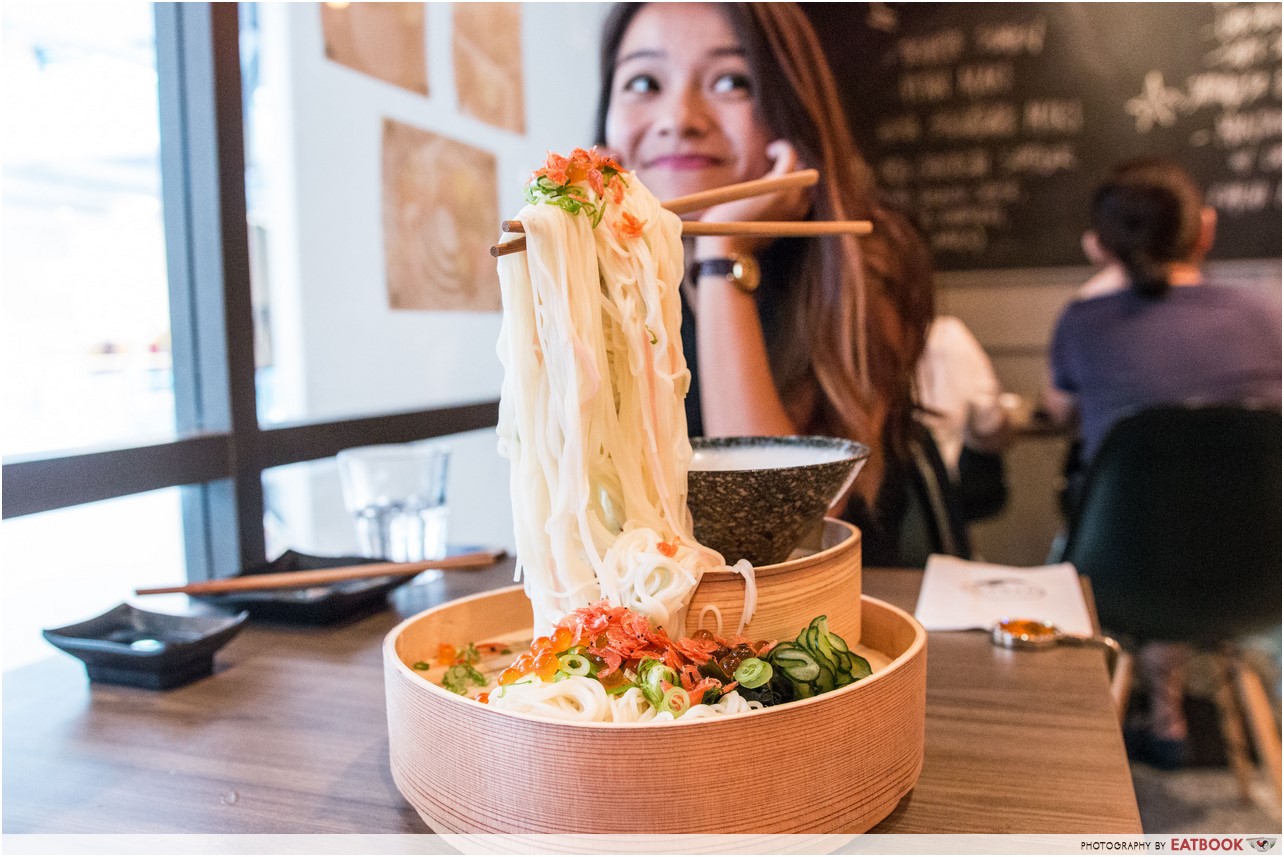 Unless you live without a smartphone, flying ramen from Hana is something you'd probably have seen a thousand times on Instagram. Flying Truffle Somen ($20++) is not only ups in presentation, but in taste as well. Served with ikura and a truffle-infused dipping sauce, this basket of cold noodles bursts in flavour with every bite. PSA to salted egg yolk fans, they've got Flying Salted Egg Udon ($18++) as well.
Address: 583 Orchard Road, #01-17, Forum The Shopping Mall, Singapore 238884
Opening hours: Daily 12pm to 2:30pm, 6pm to 9:30pm
Tel: 6737 5525
Read our full review here.
---
4. Galaxy donuts
---
Galaxy donuts ($4 for big, $3 for mini) from Sinseh : The Grocery are gorgeous, period. Even though they are decorated with icing sugar, edible glitter, golden sugar crystals and sprinkles, these donuts are not overwhelmingly sweet. Tip: the big donut has a glossier finish while the mini ones look matte, so pick your donuts wisely if you're looking to spruce up your Instagram feed. Pre-order your donuts through WhatsApp an hour in advance or try your luck by heading straight down to the cafe and enjoy them with a cuppa.
Address: 9 Jalan Pisang, #01-01, Singapore 199076
Opening hours: Daily 12pm to 9:30pm
Tel: 6291 5743 / 9875 7232 (WhatsApp pre-order)
---
5. Bak chor mee dessert

---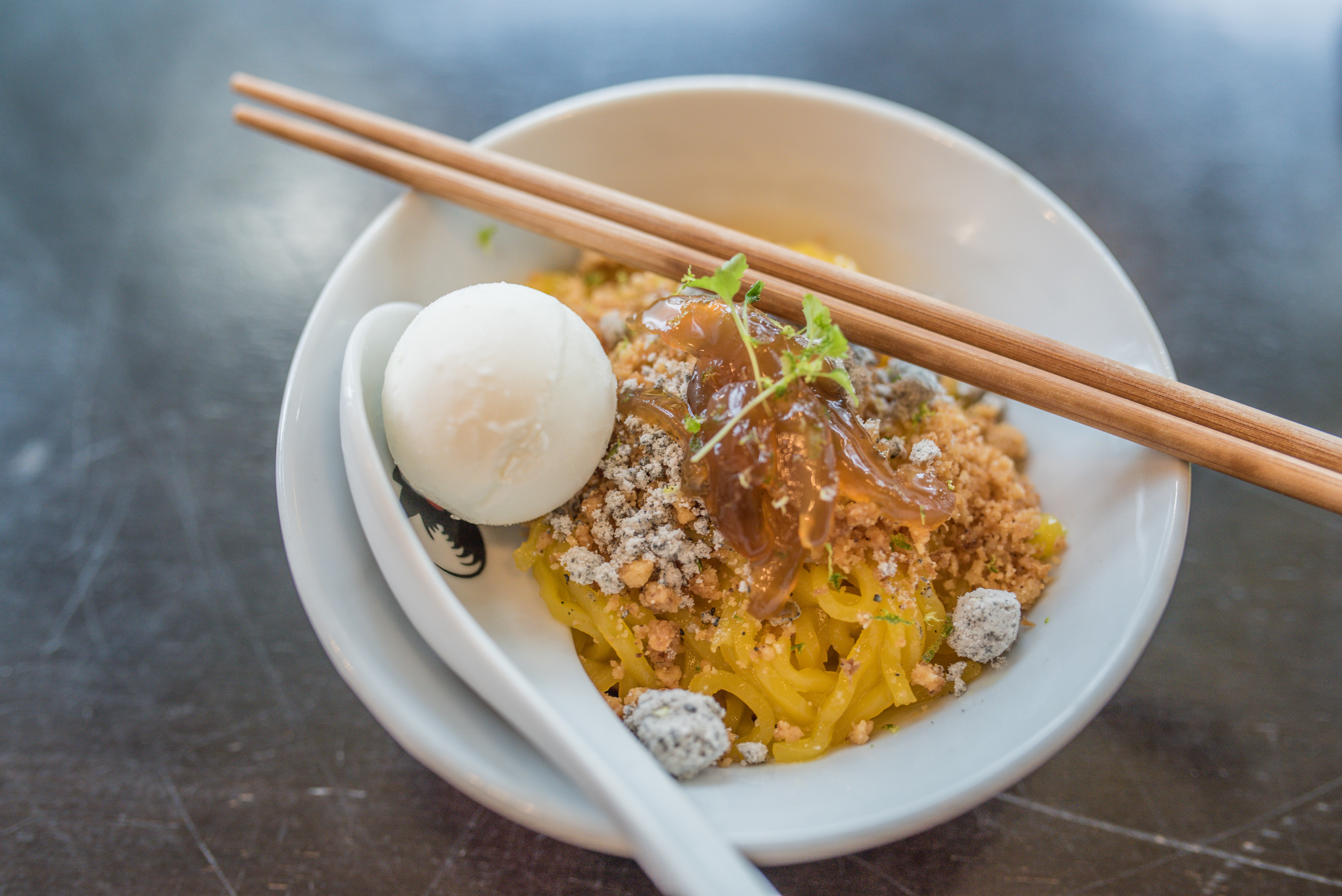 Non Entree Desserts is no stranger to the dessert scene in Singapore with fascinating creations that taste completely different from what you might expect. Bak Chor Mee ($14.90+) looks like a typical bowl of minced meat noodles, but you will be mind blown after tasting its mango "noodles", raspberry reduction "chilli", sesame snow "minced meat" and coconut lime parfait "fishball". Have a spoonful and wish your mind good luck as it registers the visual-taste mismatch.
Address: 204 Rangoon Road, Hong Building, Singapore 218451
Opening hours: Tue-Fri 2pm to 11pm, Sat 12pm to 11pm, Sun 12pm to 10pm
Tel: 9878 6543
Read our full review here.
---
6. Cheese fondue steamboat
---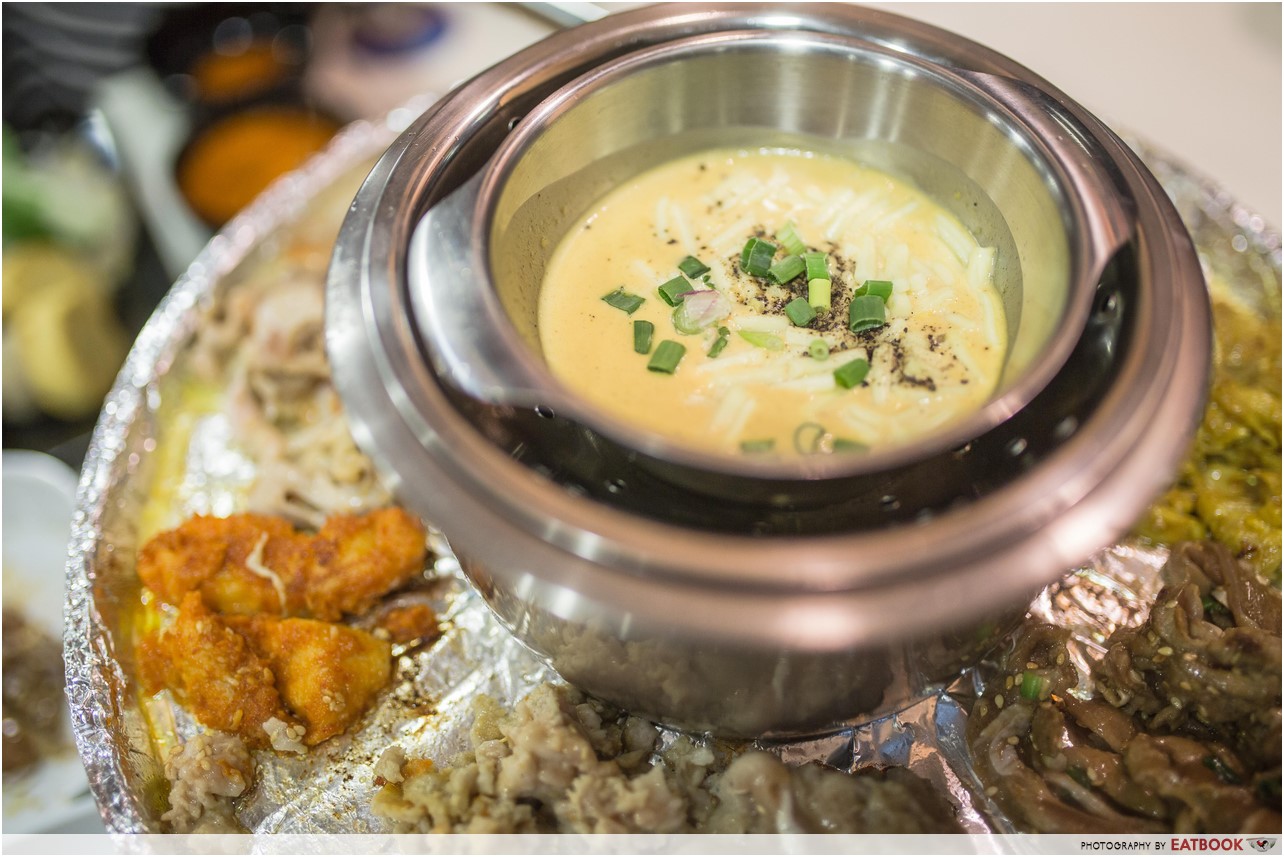 Hook on Steamboat at Kembangan has a range of mookata and steamboat options, but we were most attracted by Cheesy Nacho BBQ Hotplate. Essentially a cheese fondue steamboat, it includes a bowl of cheese sauce heated over a stove. Choose between Deluxe ($22.90+) and Premium ($26.70+) menus and cook your meats on a hotplate that surrounds the cheese sauce. Made from a blend of Cheddar-Jack and mozzarella, this cheese fondue is the perfect dipping sauce for your barbequed items.
Address: 389 Changi Road, Singapore 419838
Opening hours: Tue-Sun 5pm to 12am
Tel: 6844 0389
Read our full review here.
---
7. Chimney cake

---
Hungarian pastry cones might be a novel concept in Singapore, but the ones from Chimney taste as good as they look. Served piping hot, this crispy cinnamon bread-like roll is topped with soft serve ice cream to form a Chimney Cake ($4.50). The soft serve comes in three flavours, vanilla, chocolate or mixed, and its iciness gives it a slightly different texture from usual smooth soft serves. The pastry is dense and has a chewy texture with bits of cinnamon sugar that gives it a nice crunch.
Address: 2 Orchard Link, #02-02, Scape*, Singapore 237978
Opening hours: Mon-Fri 12pm to 9pm, Sat-Sun 12pm to 10pm
Tel:  9710 6810
---
8. Raindrop cake

---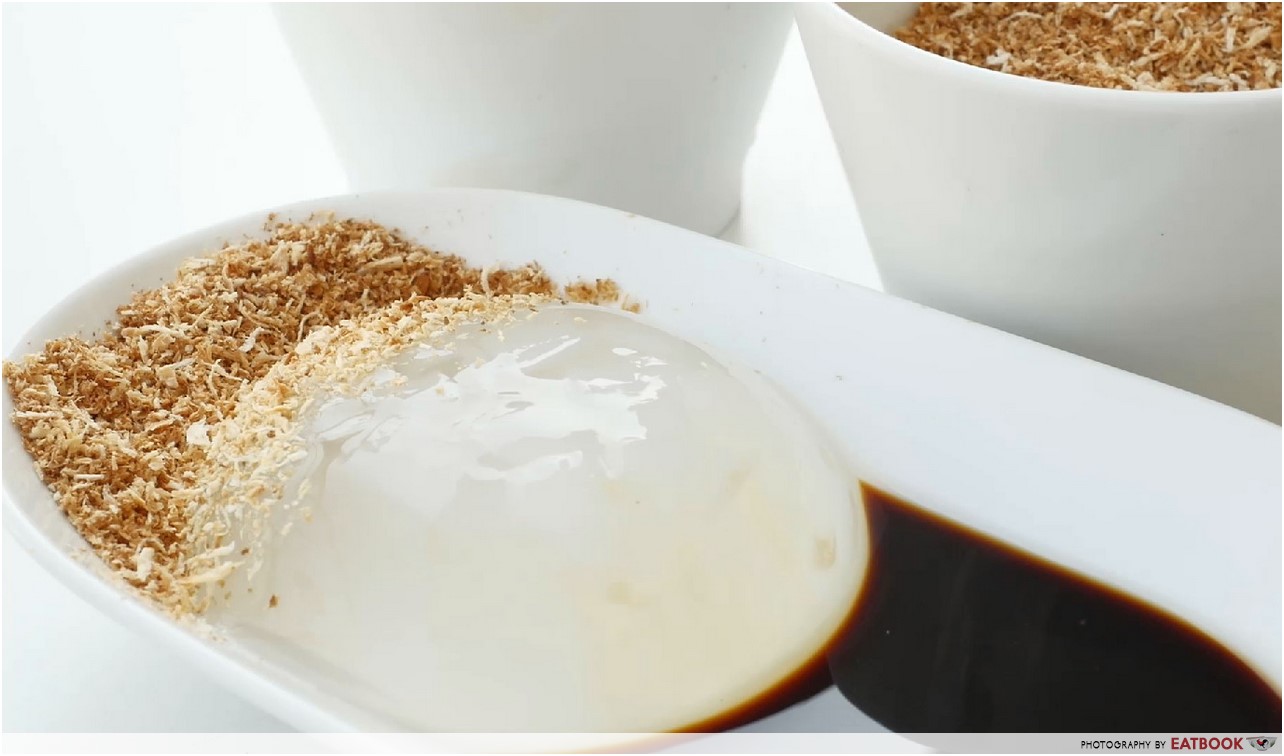 Raindrop cakes may look deceivingly simple, but there's a reason why it's so popular. One bite and you can literally feel it melting in your mouth with a subtle sweetness that makes this a  delightful treat. Make it yourself or get one from Soobingbing for $4. Each raindrop cake here is served alongside roasted soybean powder and black sugar syrup. Matcha lovers can also get one that comes with matcha syrup for an additional $0.80. Even though their Westgate outlet is closed, you can follow their Facebook page to find out where their next pop-up stall will be at.
Tel: 9838 2973
Find out how to make your own raindrop cake here.
---
9. FreakShakes
---
Even though these crazy milkshakes can ignite your fear of diabetes thanks to mountains of chocolate sauce and whipped cream, the ones from Patissez's Singapore outlet have been adjusted to suit Singaporeans' palate. Instead of regular milk, these FreakShakes ($14++ each) are made with frozen milk to reduce the need for large amounts of ice-cream. That being said, it's still wise to share this as a dessert with a few friends instead of downing all that sugar into your system.
Address: 118 Holland Avenue, #01-06, Singapore 278997
Opening hours: Mon-Fri 10am to 10pm, Sat-Sun 9am to 10pm
Tel: 6262 3616
---
10. Rainbow grilled cheese
---
You might be surprised to find out the colours from Rainbow Grilled Cheese Toast ($9++) at Epicurious are made with minimal artificial ingredients. For instance, the pink hue is derived from beetroot, green from spinach and orange from carrots. The cheese itself contains a blend of mozzarella and parmesan with hints of truffle, making this sandwich slightly more atas than what you can get at regular cafes.
Address: 81 Clemenceau Avenue, #01-03, UE Square Shopping Mall, Singapore 239917
Opening hours: Mon 8:30am to 5pm, Wed-Sun 8:30am to 5pm
Tel: 6734 7720
---
Gimmicky doesn't mean not nice
---
While a grimace might be your first reaction to gimmicky dishes, it's only fair to give them a chance. After all, just because they look out of this world doesn't mean they taste mediocre. Let us know in the comments if we missed out any other gimmicky dishes that taste awesome!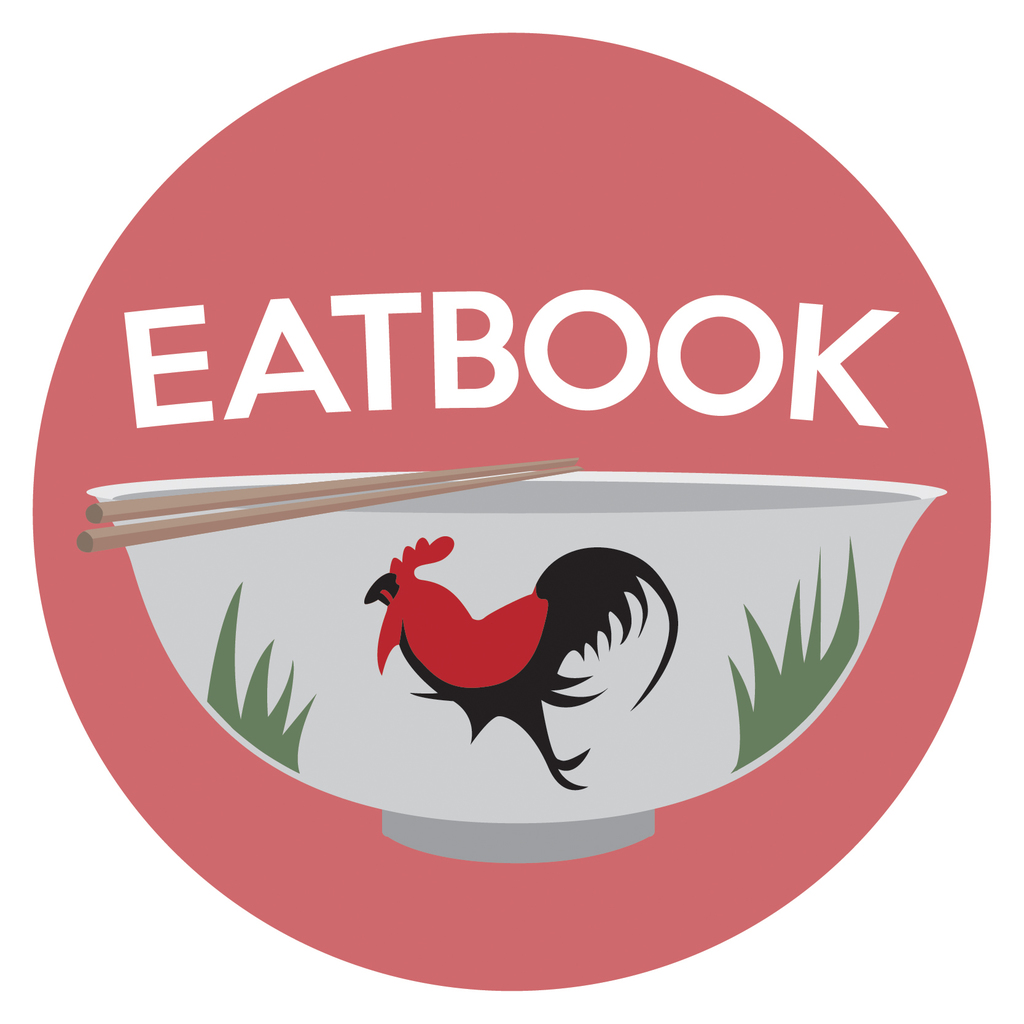 Drop us your email so you won't miss the latest news.