---
Time to eat 'em all
---
With the creation of every new food fad, the world is left queuing for hours – or even weeks – on end. Believe me, I've been there and would gladly order my Dominique Ansel cronuts 6 weeks in advance again if only collection wasn't 9,521 miles away.
While you may yearn to set off on a global food journey to eat 'em all, I'm here to say, "Don't book your flights yet!", because some of them are A LOT closer to you than you might think. Here are 10 international viral food trends found right here in sunny Singapore.
---
1. Galaxy donut
---
Let's start with something from outer space. Yes, I'm talking galaxy donuts. Nobody really knows who started it, but these otherworldly treats have soon inspired tonnes of recipes on the Internet. But ain't nobody got time to bake a batch of these every time the cravings come, so we're glad Sinseh: The Grocery has beamed these starry bites into Singapore at $4 each, or $3 for a mini. P.S. You can even pre-order them via WhatsApp at 9875 7232!
Get galaxy donuts at:
Sinseh: The Grocery
Address: 1 Jalan Pisang, #01-01, Singapore 199069
Opening hours: Mon–Sun 12pm to 9:30pm
Tel:  6291 5743 / 9875 7232 (WhatsApp pre-order)
---
2. Cheese wheel
---
For those with crazy cheese cravings, there's nothing like the sound of pasta being stirred hot in a massive cheese wheel to get you running through the door. This Italian tradition finally debuts at District 10 Bar & Restaurant with pastas like Linguine in Saffron Sauce and Rosemary Chicken ($26++) and Tagliatelle with Alba Black Hair Truffle ($36++) tossed in a huge Grana Padano wheel right in front of your eyes. I'm not a fortune teller, but I can tell you this is definitely here to stick around.
Get your cheese wheel fix at:
District 10 Bar & Restaurant
Address: 81 Clemenceau Avenue, #01-15/16/17 , UE Square Shopping Mall, Singapore 239917
Opening hours: Mon-Thur 11:30am to 12am, Fri 11:30am to 1am, Sat 9am to 12am, Sun 9am to 11pm
Tel: 6738 4788
---
3. Donut cone
---
First introduced in Prague at Good Food Coffee & Bakery as "Chimney Blizzard", these conical donut cones topped with ice-cream took the Internet by storm. But not many know these cones were actually inspired by a traditional Prague pastry called trdelník, which is rolled dough that's grilled around a stick and topped with sugar. In Singapore, you can find a same same but different version at Churn Creamery. Called puff cones ($1.50), these deep-fried cinnamon cones oozing with liquid chocolate are topped with equally wacky gelato flavours, like Baileys Milo and Blue Pea Sea Salt!
Get puff cones at:
Churn Creamery
Address: 124 Tanjong Pagar Road Singapore 088533
Opening hours: Mon, Wed-Fri 12pm to 11pm, Sat 2pm to 11pm, Sun 2pm to 10pm
Tel: 6221 3987
---
4. Strawberry watermelon cake
---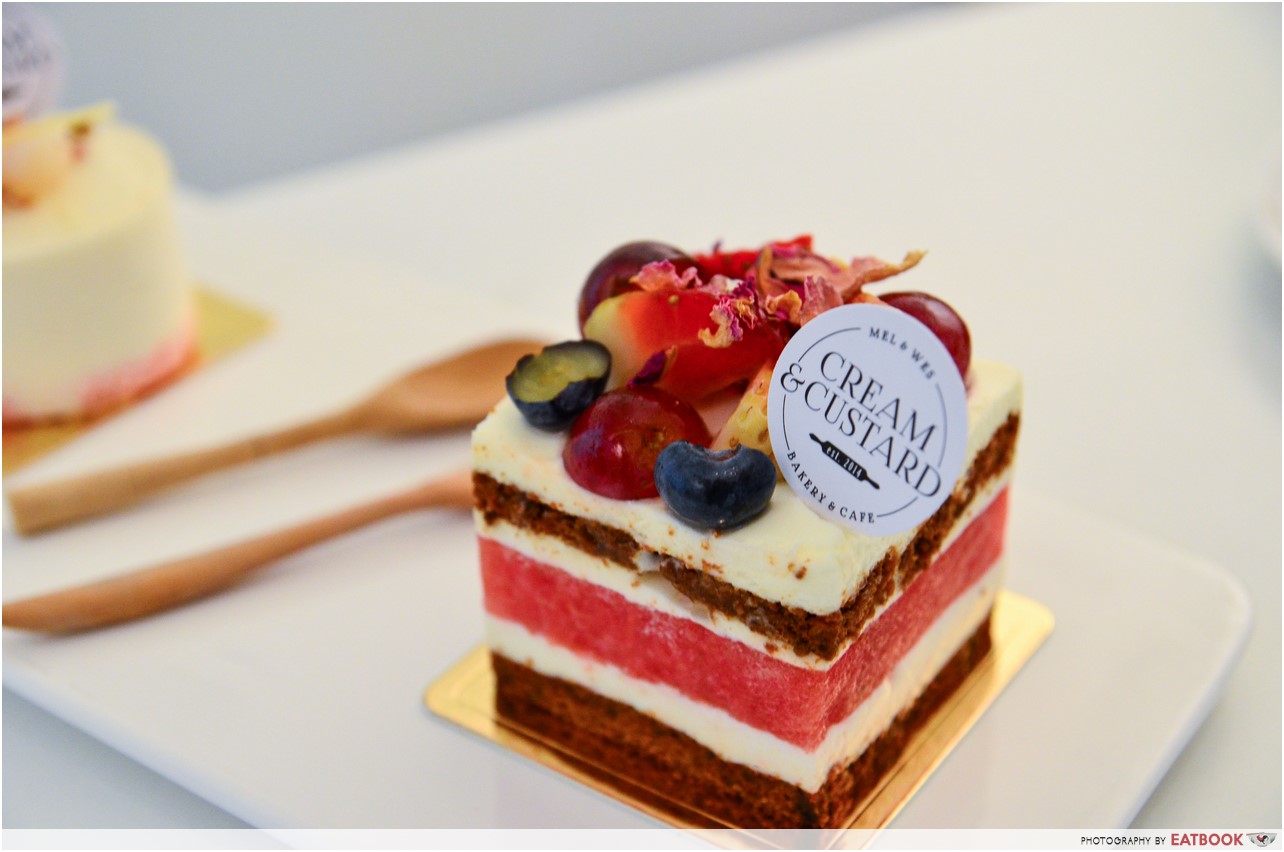 Sydney's Black Star Pastry became world-famous because of one thing – Strawberry Watermelon Cake. Arguably the most Instagrammed cake in the world, this layered cake features almond dacquoise, rose-scented cream and, of course, fresh watermelon. Pop by Cream & Custard to get a taste of their own Strawberry Watermelon Cake ($7.80), and remember to order a melting Black Ball ($9.80) while you're there!
Get strawberry watermelon cakes at: 
Cream & Custard
Address: 46 Jalan Bukit Ho Swee, #01-894, Singapore 160046
Opening hours: Mon-Sat 11am to 7pm
Tel: 9111 8696
Read our full review here.
---
5. Gudetama molten bun
---
In the past, you'd have to visit Dim Sum Icon in Hong Kong just to take a bite of these too-cute-to-eat buns. Now, Peony Jade has introduced Steamed Molten Choc-on-bao ($7.50++ for 3 pieces) that looks equally cute and comes with a flowing salted Varlhona chocolate filling. And since you're there, you might as well up your cute dimsum game with the green Steamed Matcha Salted Egg Yolk Molten Bao ($9++ for 3 pieces) that has little googly eyes on top.
Get Gudetama-inspired buns at:
Peony Jade
Address: 10 Bukit Chermin Road, Keppel Club, Singapore 109918
Opening hours: Mon-Fri 11am to 2:30pm, 6pm to 10:30pm, Sat-Sun 10:30am to 2:30pm, 6pm to 11pm
Tel: 6276 9138
Find out where else to get cute dimsum at here.
---
6. Crazy milkshake
---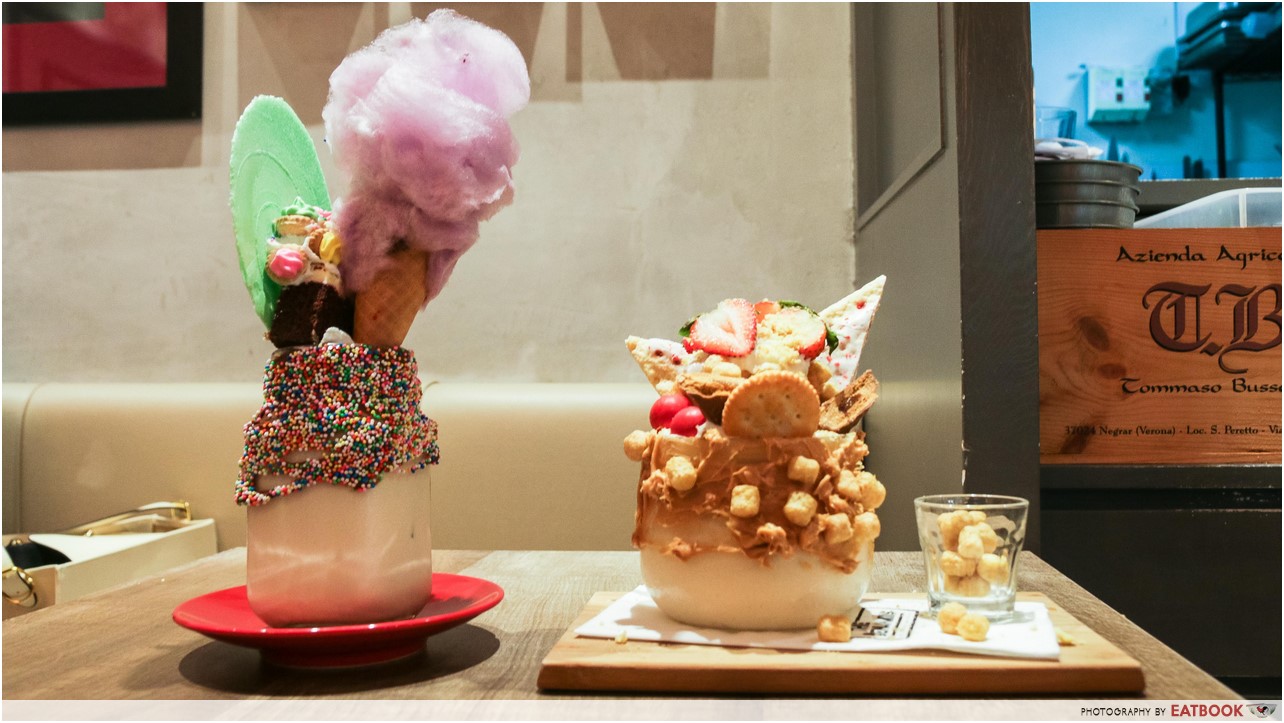 "I'd like a milkshake, but can I have some vanilla mousse, chocolate ganache, torched marshmallow and a chunk of fudge brownie with that?" No, this is not a quote from Adventure Time, but a description of the Muddy Pat Freakshake ($12 for small, $16 for regular) at Pâtissez. The Canberra bistro recently opened their first Singapore outlet at Holland Village, and their freakshakes are definitely taking centre stage. If you're a big breakfast cereal fan, go to The Benjamins at Orchard for their Cerealsly Crunchy Shakes ($16++) that come in 6 breakfast cereal flavours!
Get crazy milkshakes at:
Pâtissez
Address: 118 Holland Avenue, #01-06, Raffles @ Holland V, Singapore 278997
Opening hours: Mon-Sun 10am to 10pm
Tel: 6262 3616
Menu
The Benjamins
Address: 583 Orchard Road, #01-20/21, Forum The Shopping Mall, Singapore 238884
Opening hours: Sun-Thur 10:30am to 9pm, Fri-Sat 10:30am to 9:30pm
Tel: 6887 4117
Read our full review here.
---
7. Ramen burger
---
One day, Japanese-American chef Keizo Shimamoto decided to combine two of his favourite foods into one ramen burger and the world went crazy. No kidding, I visited both his then Ramen Co. stores in NYC and queued for hours in the cold at Smorgasburg, just to have a taste of two springy ramen buns hugging a juicy patty, slathered with that sweet shoyu glaze. It. Was. Worth. It. You, on the other hand, are saved the time and torture because Little Hiro and The Travelling C.O.W have got various versions of ramen burgers on their menu so you won't have to freeze for hours just for them.
Get ramen burgers at: 
Little Hiro
Address: 559 Bukit Timah Road, Singapore 269695
Opening hours: Sun-Thur 11:30am to 9:30pm, Fri-Sat 11:30am to 10pm
Tel: 6466 3477
Menu
The Travelling C.O.W
Address: 2 Kallang Avenue, #02-16, CT Hub 1, Singapore 339407
Opening hours: Tue-Sun 11:30am to 9pm
Tel: 9299 1478
---
8. Frozen s'mores
---
Dominique Ansel is more than just the cronut guy; he's also the inventor behind Frozen S'mores – torched marshmallow wrapped around vanilla ice-cream and chocolate wafer crisps. Similarly, Scoop Therapy serves their S'mores ($6.50) with dark chocolate ice-cream and cracker crumbs hidden in a torched marshmallow. With such a decadent treat so close to home, you'll be begging for s'more!
Get frozen s'mores at:
Scoop Therapy
Address: 11 East Coast Road, The Odeon Katong, Singapore 428722
Opening hours: Sun, Tue-Thur 2pm to 10pm, Fri-Sat 12pm to 12am
Tel: 6247 9335
---
9. Rainbow bagel
---
Raise your hand if you were in the queue for a rainbow bagel at the Ramadan Bazaar this year. Now that the bazaar is over, you can still get your Rainbow Bagel ($15+) fix at WORD., which offers fillings like mango or strawberry cream cheese, toasted marshmallows, cookie crumbles and maple syrup. For those who need their meat, there's even a Rainbow Burger ($20+) with juicy meat patty, homemade spicy peanut butter sauce and a side of fries!
Get rainbow bagels at:
WORD.
Address: 906 Upper Thomson Road, Singapore 787110
Opening hours: Sun, Tue-Thur 12pm to 10pm, Fri-Sat 12pm to 10:30pm
Tel: 9742 9224

---
10. Raindrop cake
---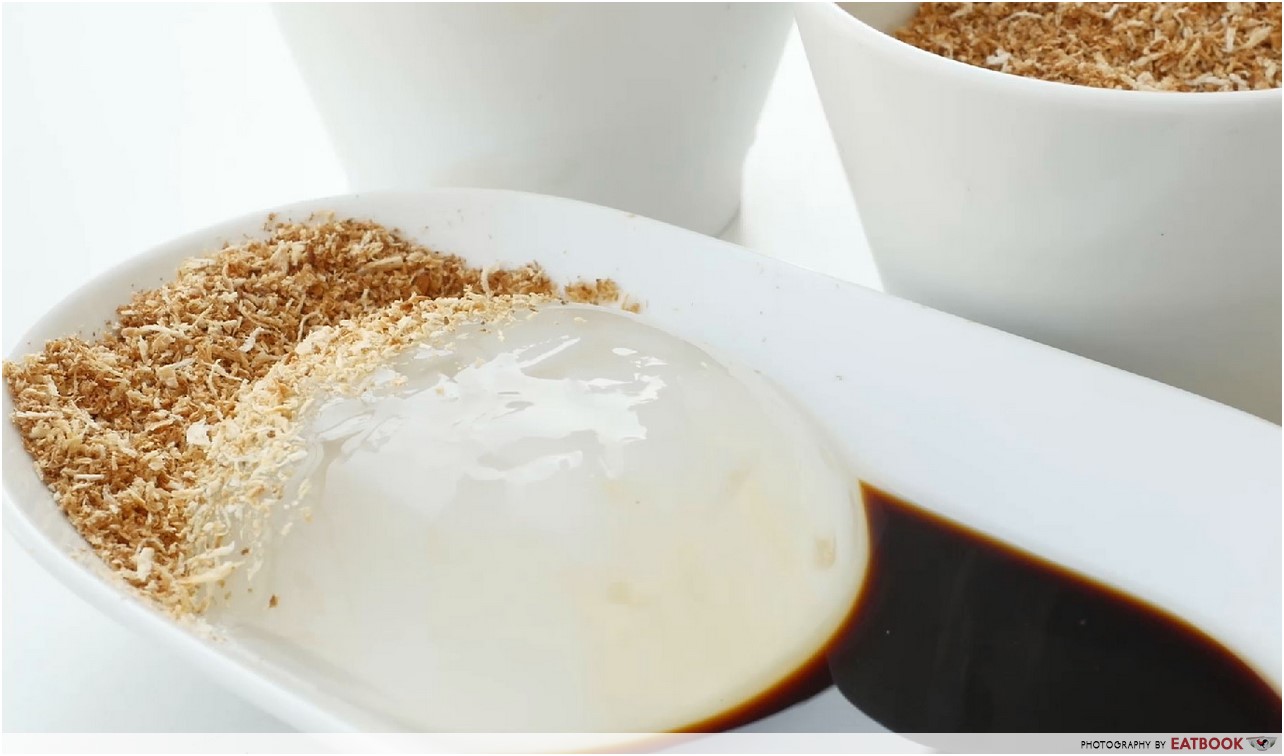 Originally from Japan, Mizu Shingen Mochi or raindrop cake, has created quite a stir in the food scene this year. Westies will be be glad to hear that Soobingbing is offering three types: Original ($4), Matcha ($4.90) and DIY ($6) with three toppings of your choice. However, don't spend too long ogling and make sure you consume it in 30 minutes or it might just disappear! For those who wanna try making this, here's an easy recipe to follow: 
Get raindrop cakes at: 
Soobingbing
Address: 3 Gateway Drive, #03-01/01A, Westgate Mall, Singapore 608532
Opening hours: Sun-Thur 11am to 11pm, Fri-Sat 11am to 12am
Tel: 6369 9913
---
The wait is over
---
Scrolling through social media always has me going gaga over the Internet's latest food fads, only to come close to tears when Google tells me it's unavailable in my country. Like the endless anticipation between every season of Sherlock Holmes, you know it'll come eventually; and when it does, everybody you know will definitely be hearing about it.
So spread the word, because the end is near and the trend is here! Here's to feeding our digital obsessions with every bite of these internationally star-studded dishes.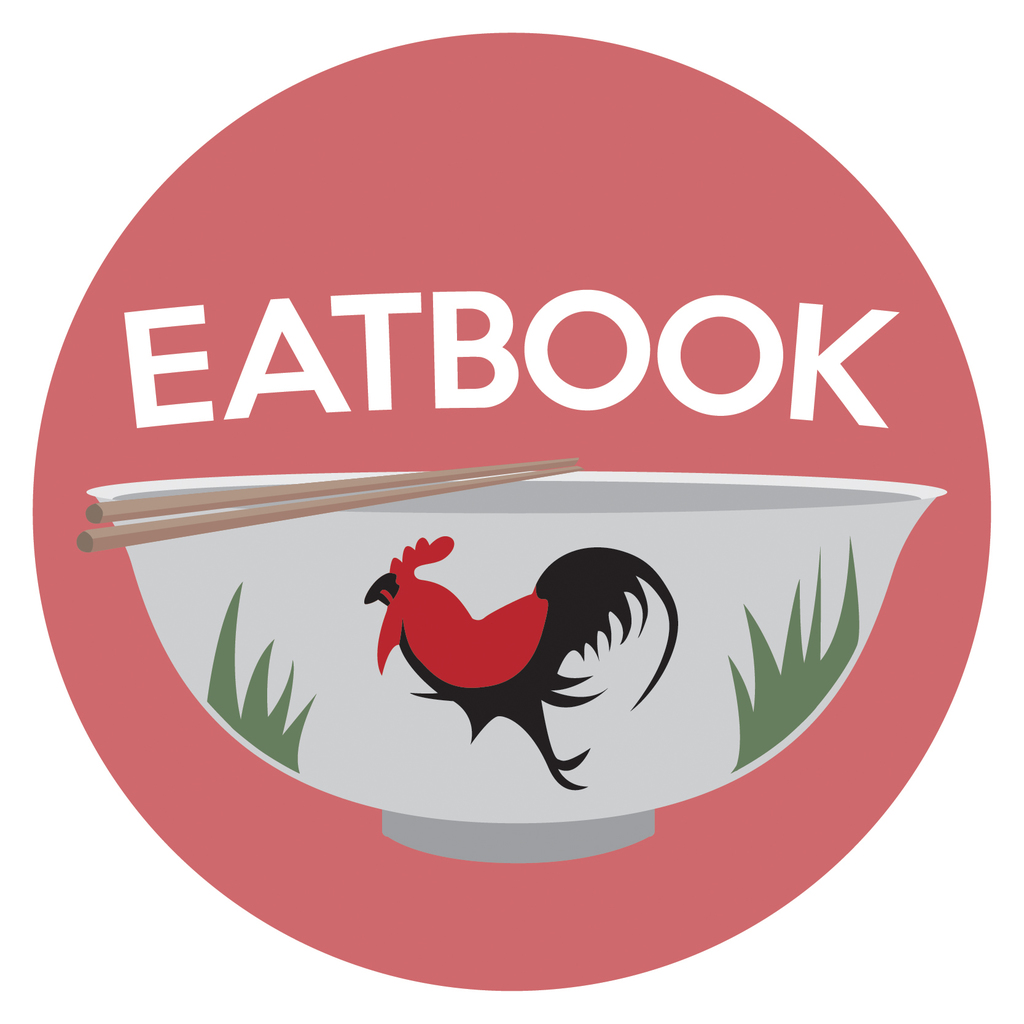 Drop us your email so you won't miss the latest news.