Milkshakes that'll bring all the boys AND the girls to the yard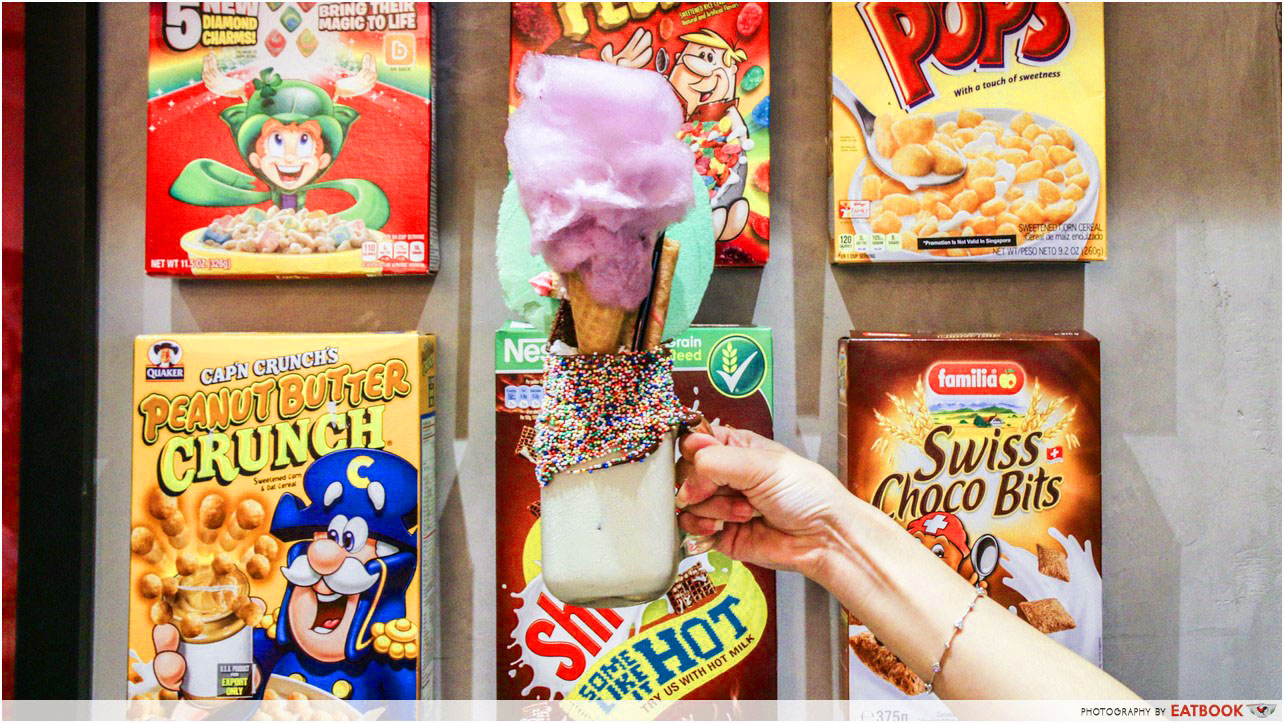 The world we live in today is head over heels for crazy calorie-worthy concoctions like cronuts, churros, and now FREAKSHAKES. These are milkshakes piled high with a party of candies, cookies, chocolate or even slices of cakes.
On top of their already famous O.T.T. (Over The Top) Shakes, The Benjamins has released their latest menu with 6 Cerealsly Crunchy Shakes featuring cereals like Swiss Choco Bits, Lucky Charms, Corn Pops, Fruity Pebbles, Cookie Crisp and Cap'n Crunch's Peanut Butter Crunch.
Milkshakes at The Benjamins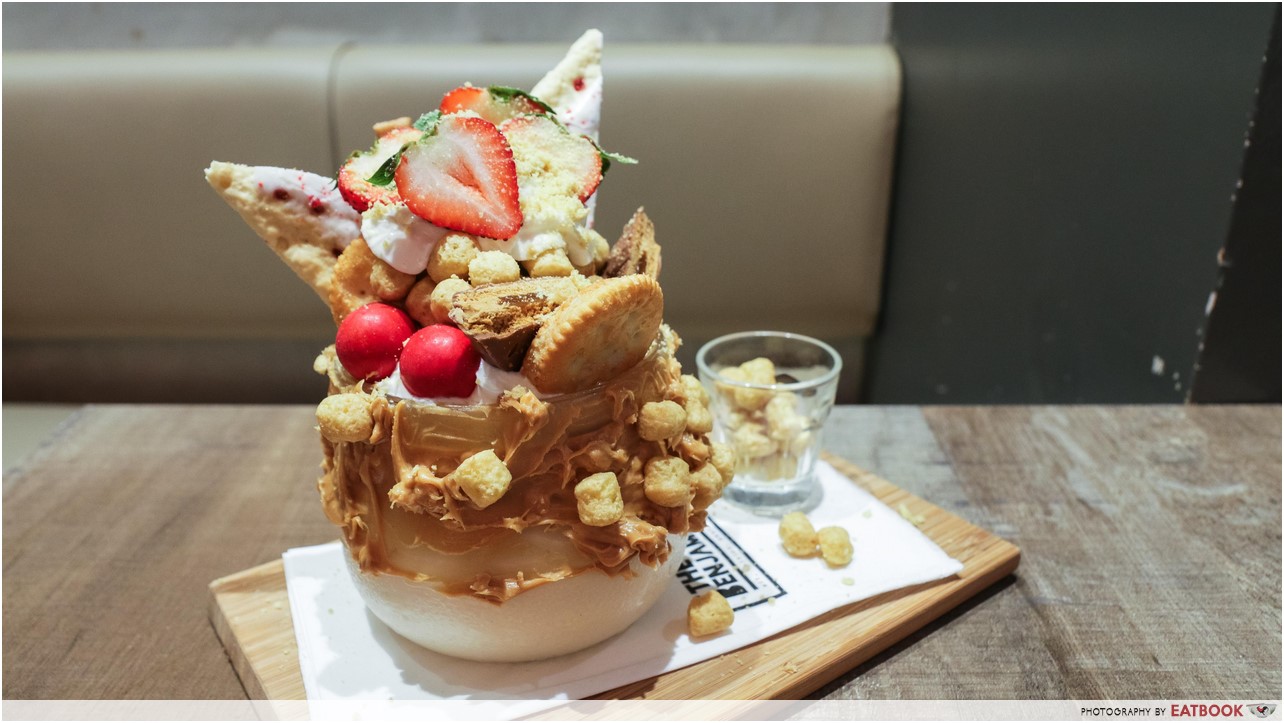 As peanut butter fans, we immediately picked Captain Nutty ($16++) from the list of 6. This peanut butter milkshake is topped with chunks of salted caramel Tim Tams, Cap'n Crunch Peanut Butter Crunch cereal, peanut butter crackers, a frosted strawberry Pop-Tart, strawberry wafer sticks, red chocolate balls and fresh strawberries. And as if those weren't enough, it also came with an extra serving of cereal to pour into your milkshake as you slurp it up.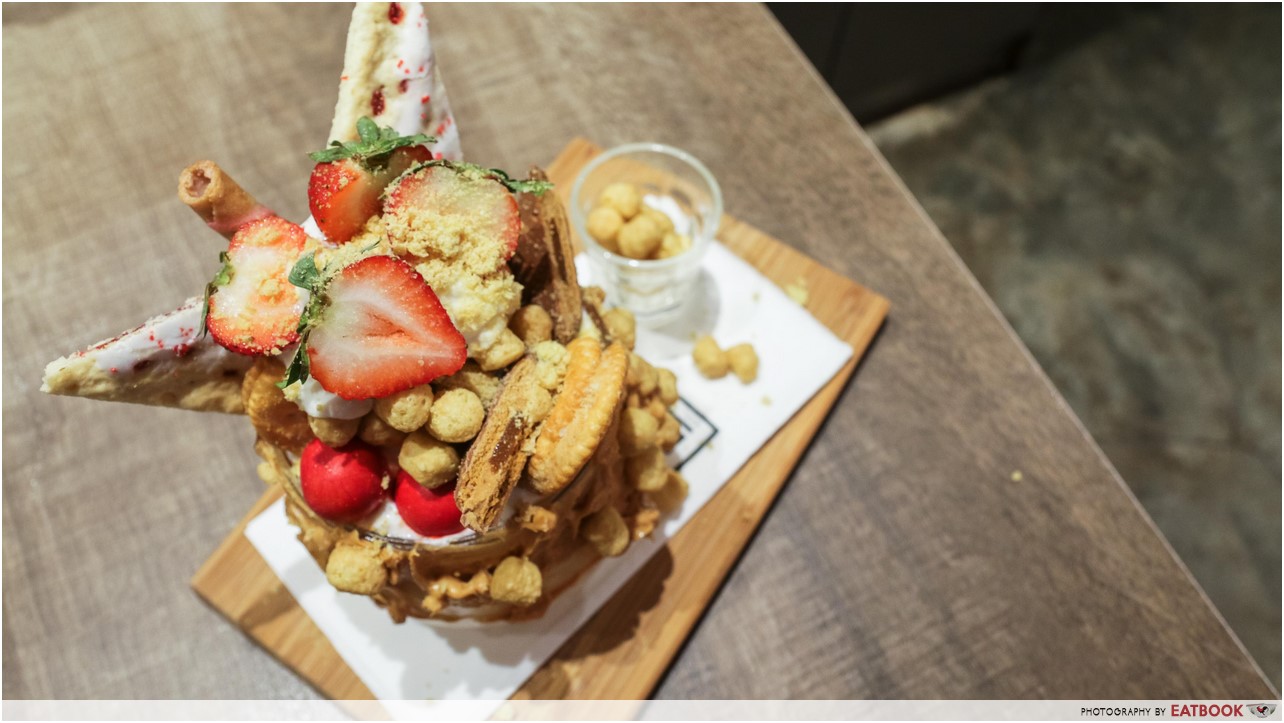 The milkshake itself was smooth and rich, with a distinct taste of peanut butter coming through. The extra Cap'n Crunch cereal really made a difference as the milkshake got a little plain after we chowed down the toppings. My favourite toppings were the Tim Tams and peanut butter crackers, which provided a balance between the creaminess and crunchiness of the shake.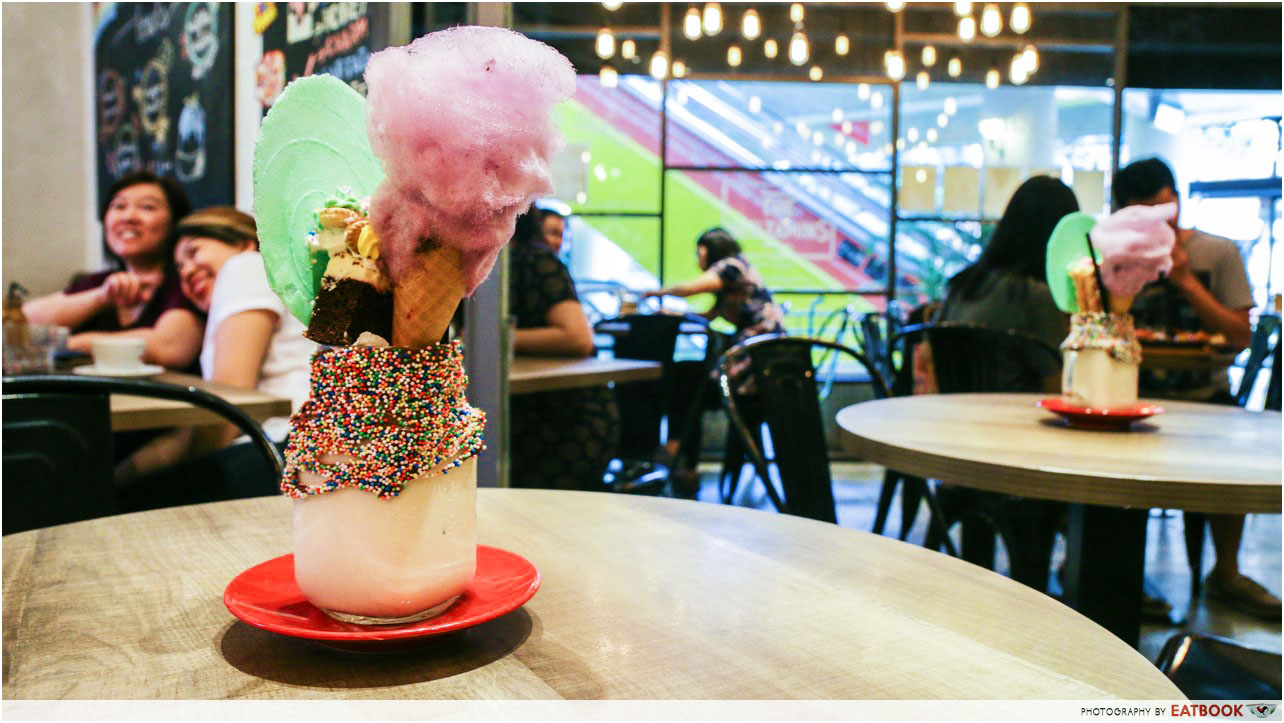 Old School OTT Shake ($16++) is every '90s kid's mama shop fantasy come true. This creamy vanilla milkshake wears a crown of gem biscuits, durian-flavoured piring wafer, chocolate cake, strawberry wafer sticks and fluffy purple cotton candy in an ice-cream cone. You'll be slurping and crunching away on memory lane before you know it.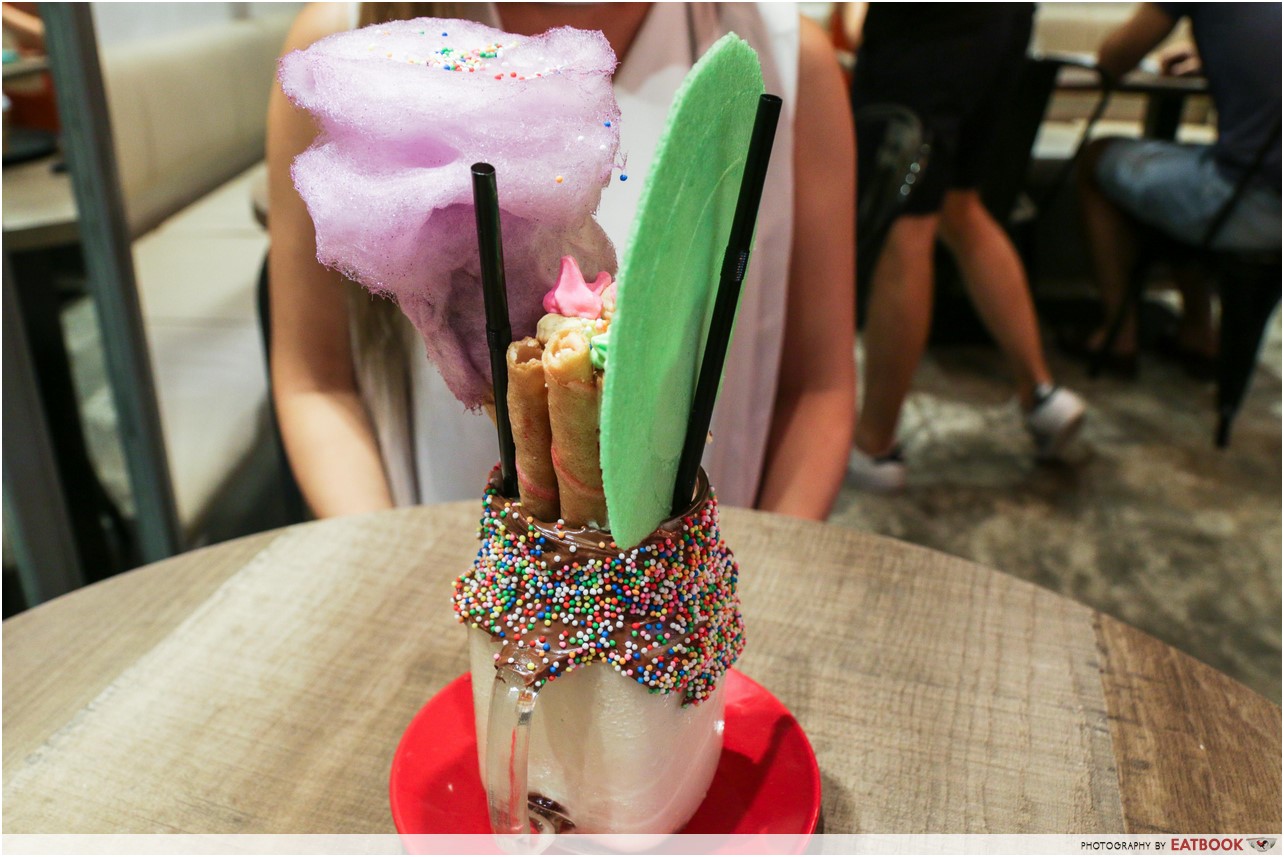 Thick, sweet and rich, the base of this tasted like a typical vanilla milkshake. The piring wafer definitely stood out with its durian flavour, and the gem biscuits and wafer sticks gave it personality. One to try if you are craving a little old-school treat.
Ambience at The Benjamins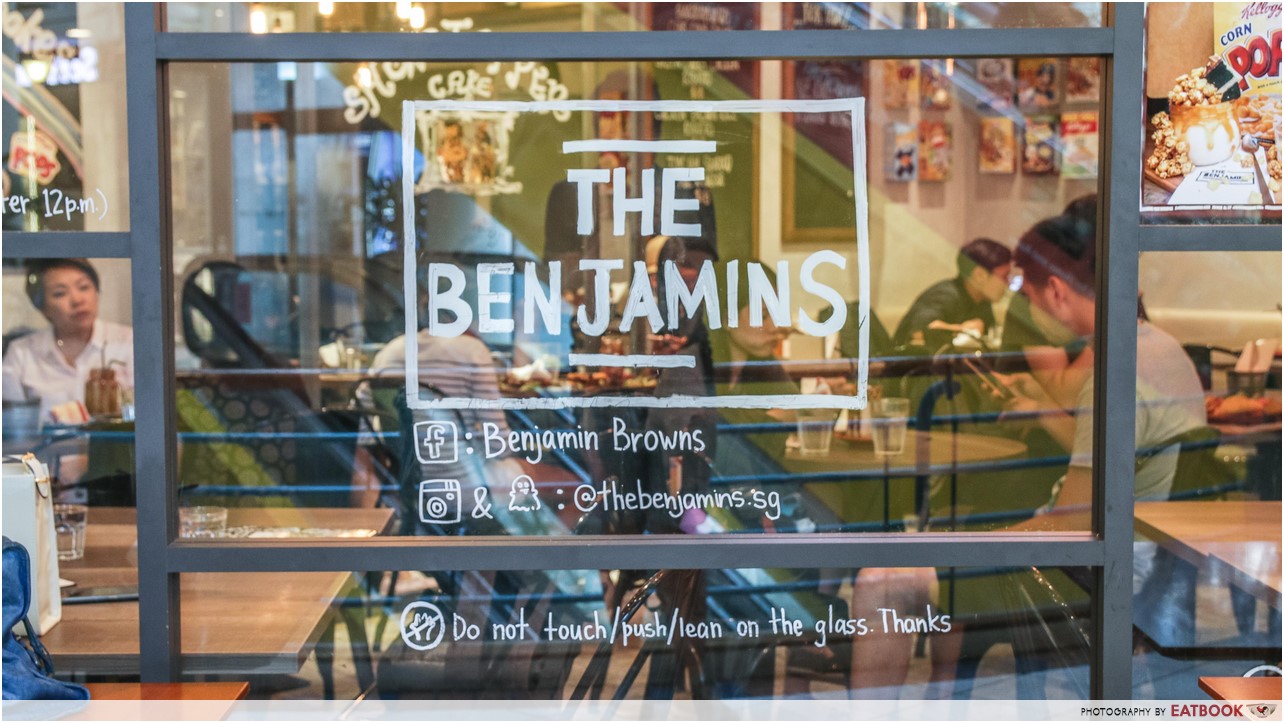 Located in Forum The Shopping Mall, this cafe is quiet enough to avoid the Orchard crowd. In addition to their famous desserts, they also serve savoury dishes from Breakfast Burritos ($16++) to Sizzling Beef Chunks ($25++) and Benjamin's Ocean Plate weekly specials like Lobster with Uni Pasta ($25++).
With light bulbs hanging down the ceiling and chalkboards on the walls, this cosy cafe is where friends can catch up over a casual meal or share an ravenous dessert experience digging into freakshakes.
The Verdict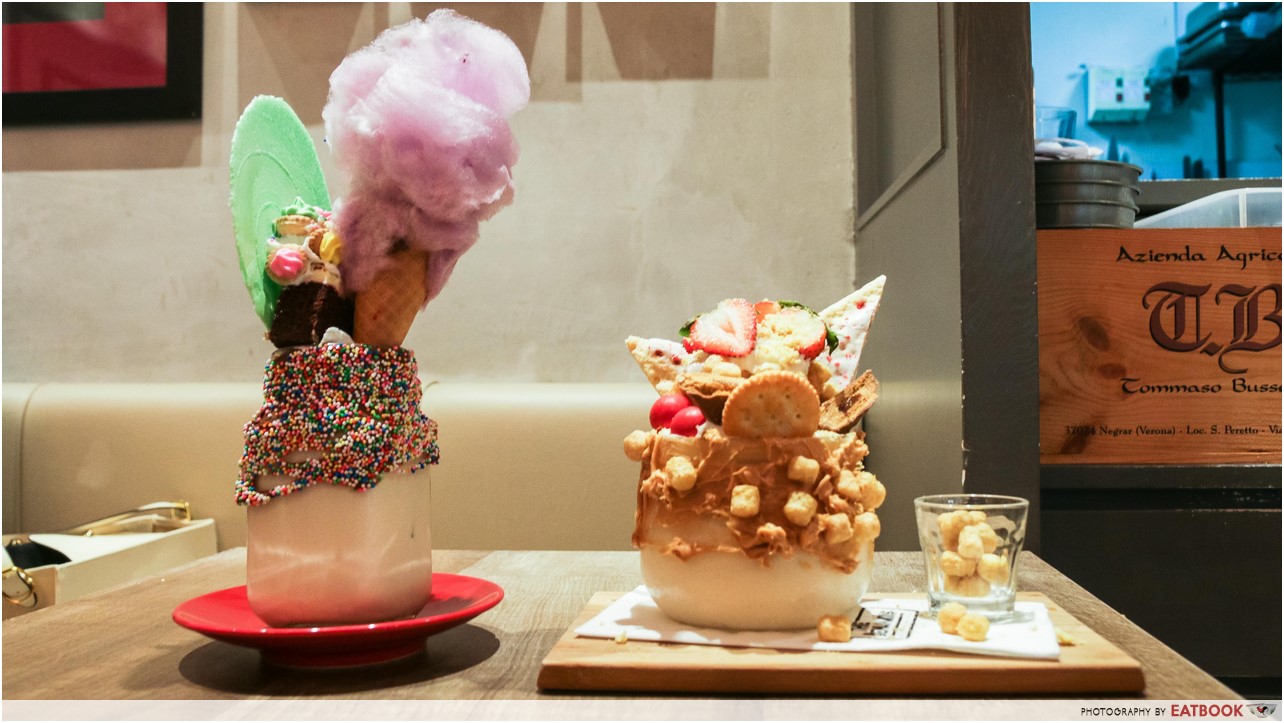 If you have a nagging sweet tooth to indulge, The Benjamins is a good choice. A table of three next to us wiped out two freakshakes so happily that we offered them our half-eaten ones, which they gladly accepted. If you decide to pop by, bear in mind you'll be consuming enough sugar to last for quite a while and make sure your partner(s)-in-crime come mentally prepared as well.
This is an independent review with all expenses borne by Eatbook.sg.
Summary
Pros
– Unique desserts
– Good for groups and couples
Cons
– Expensive
Recommended Dishes: Captain Nutty ($16++)
Operating Hours:
Sunday – Thursday 10:30am to 9pm
Friday – Saturday 10:30am to 9:30pm
Shakes available from 12pm onward daily
Address: 583 Orchard Road, #01-20/21, Forum The Shopping Mall, Singapore 238884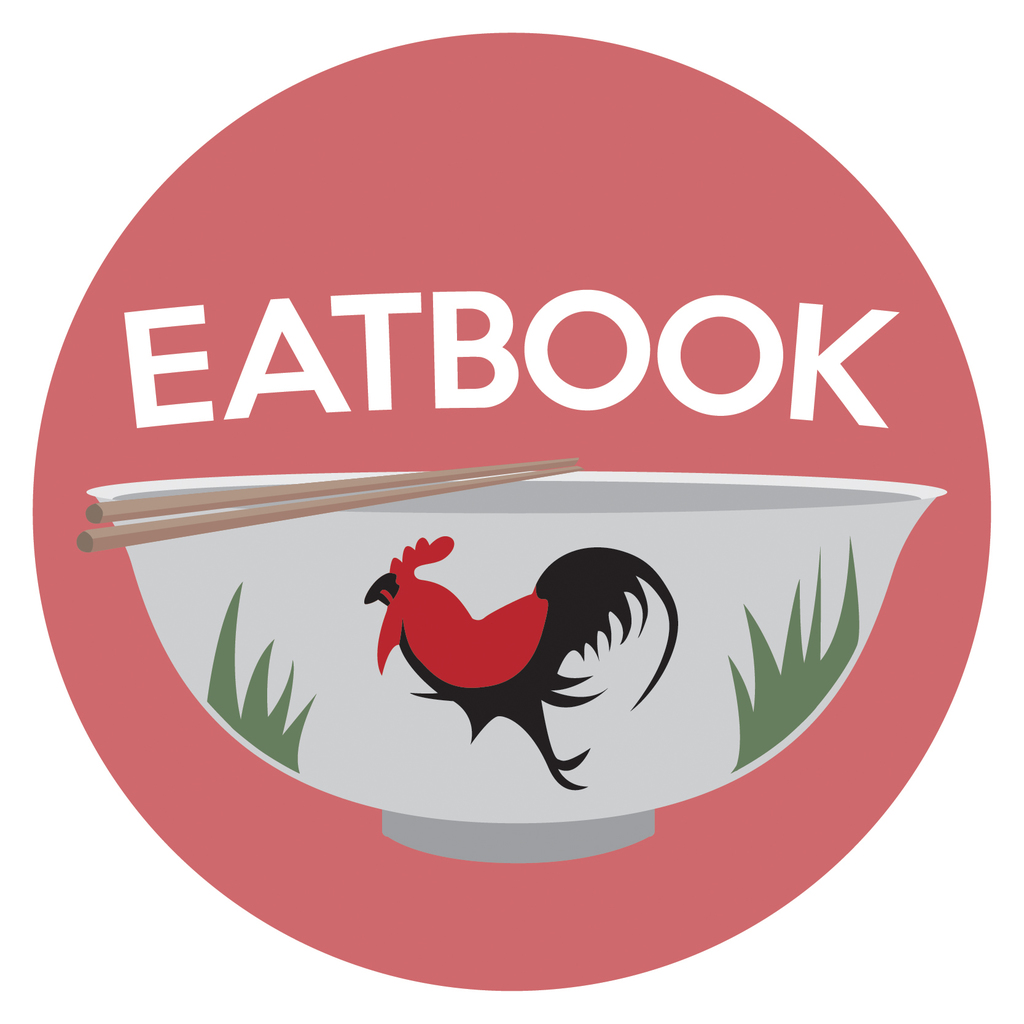 Drop us your email so you won't miss the latest news.