Spread the Word
Update (5 April 2019): Word Bistro has permanently closed.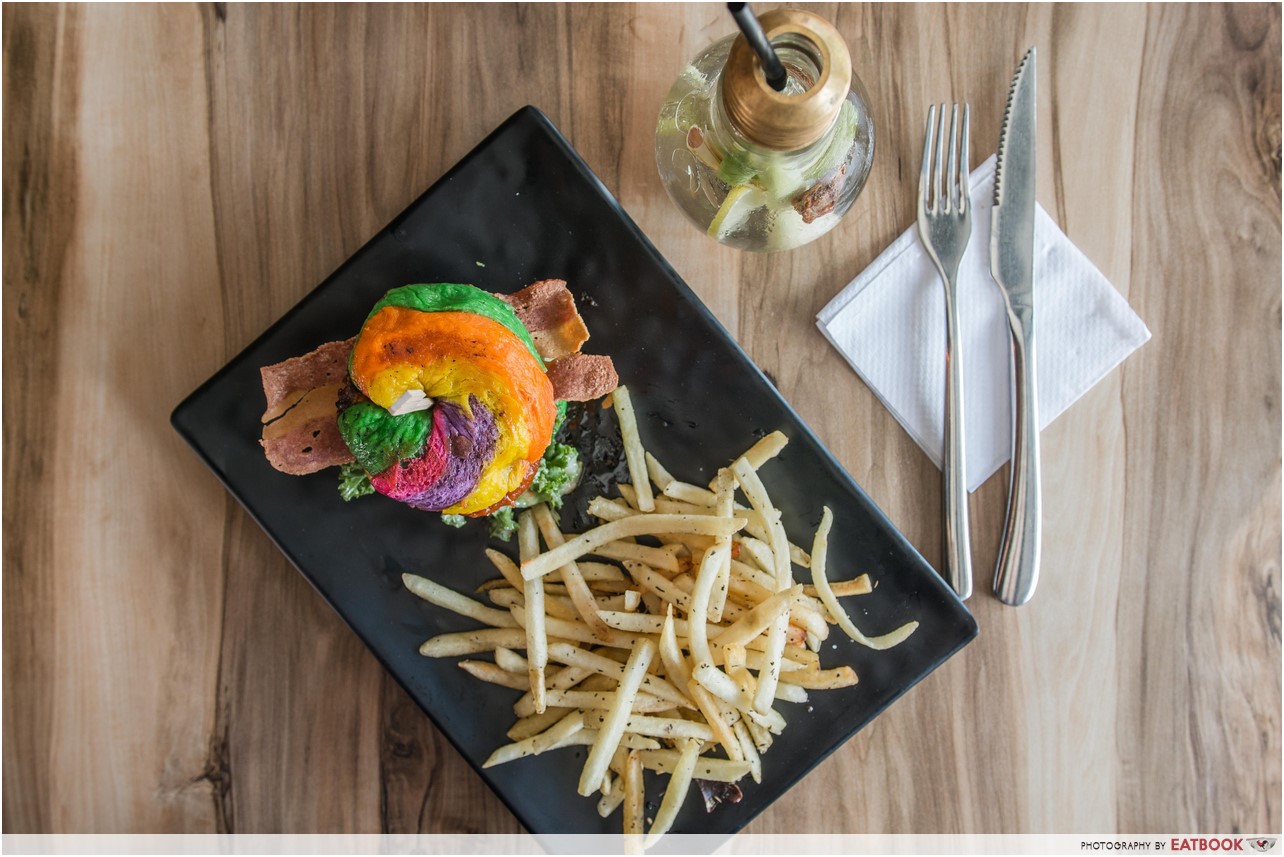 We all have that friend or two with an unlimited bank of puns just waiting to pour out. And if you were to pull those puns from the air and paste into a menu, it'd probably turn out a lot like the one at Word Bistro.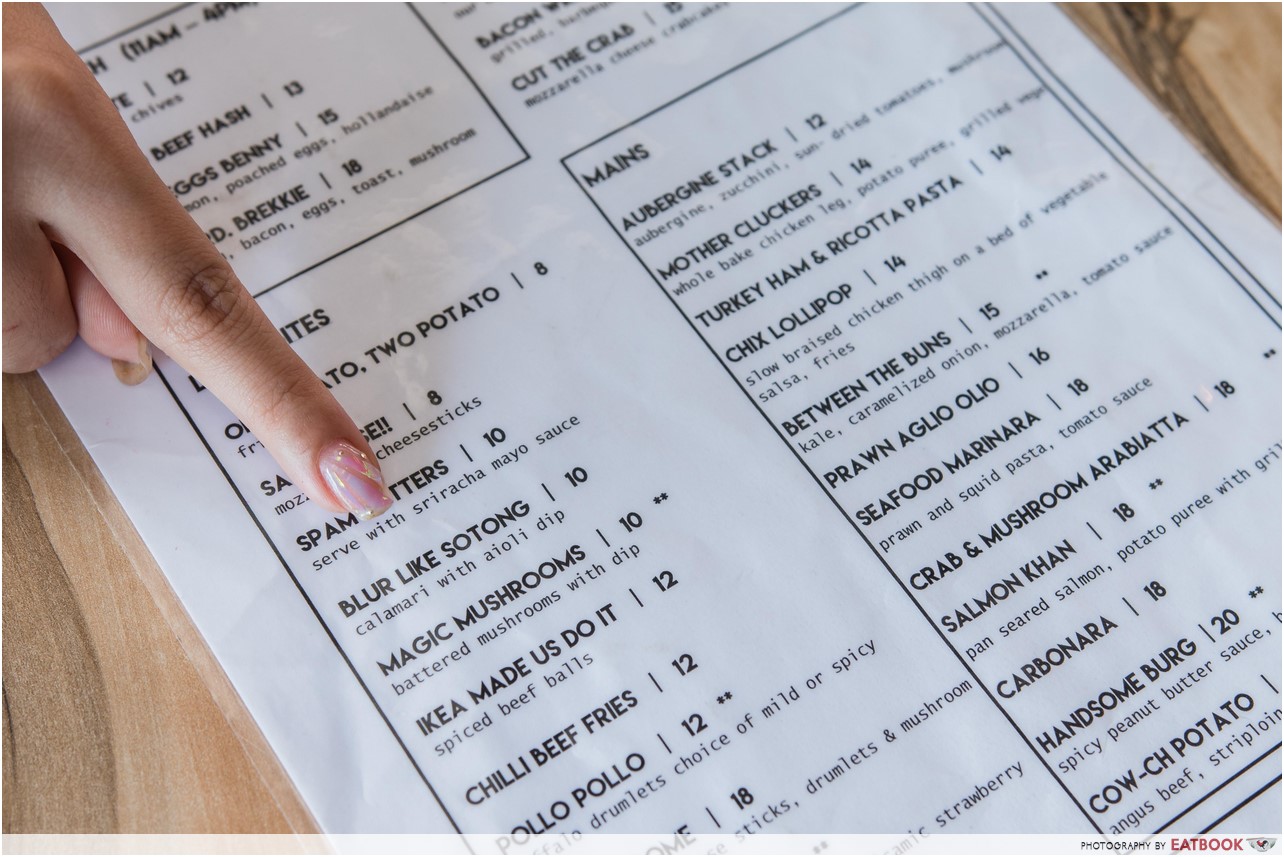 With dish names such as Blur Like Sotong ($10+) for calamari and Cow-ch Potato ($24+) for steak and mash, we're guessing Word's excessive play on words is how they got their name. Even if puns are not your thing, you can still enjoy their combinations of interesting flavours, including Spam Fritters served with sriracha mayo sauce.
Food at Word Bistro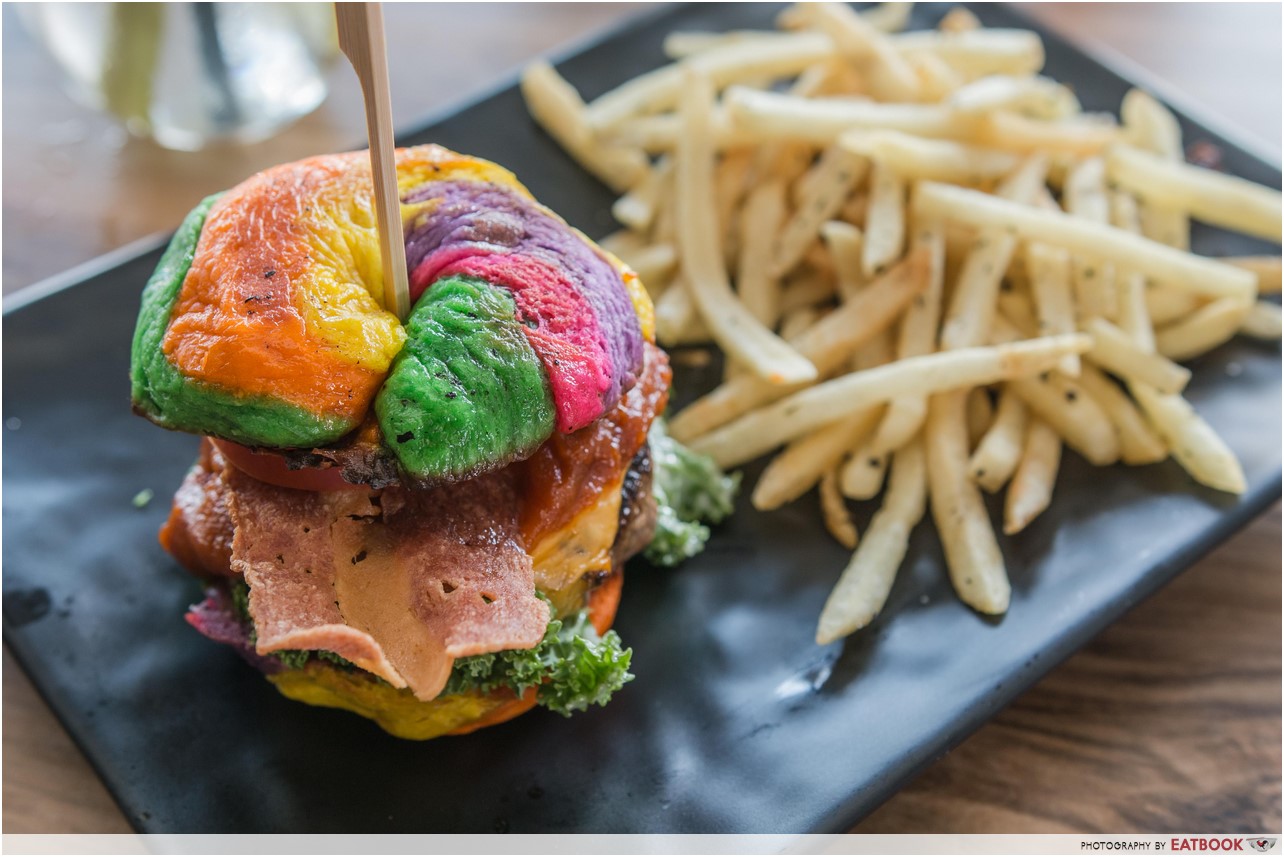 Although rainbow bagels have been Insta-famous for a while now, this was the first time I've heard of a Rainbow Burger ($20+).  Served with fries on the side, I was over the moon when this arrived.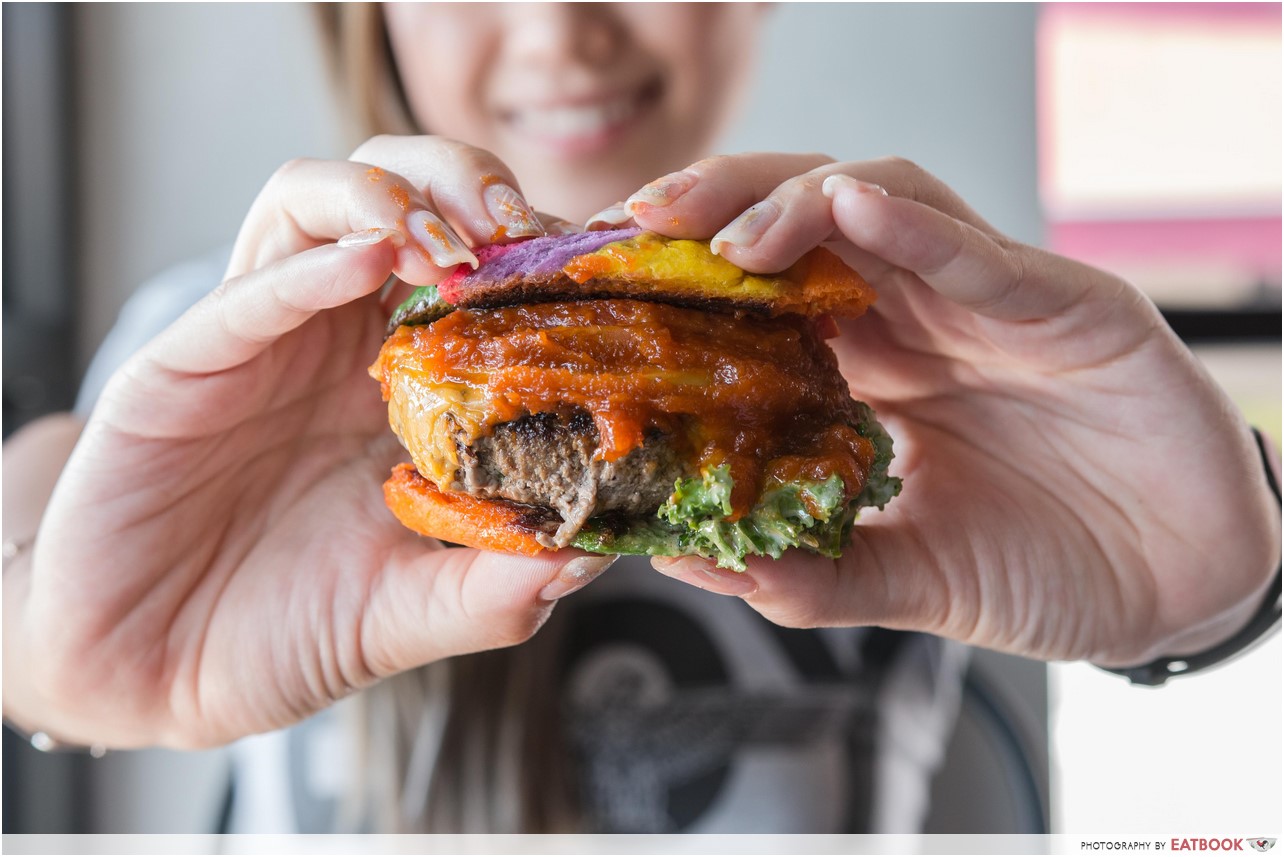 Gimmicks aside, the burger was a pretty solid and filling one. Between two rainbow bagel halves lies a thick meat patty, crispy turkey bacon, kale, tomato, cheese and a huge dollop of spicy peanut butter that was oozing out. The spicy peanut butter sauce tasted like sweet sambal mixed with crunchy peanut butter. It pulled no punches and was strong in both flavours, making it the pot of gold at the end of the rainbow.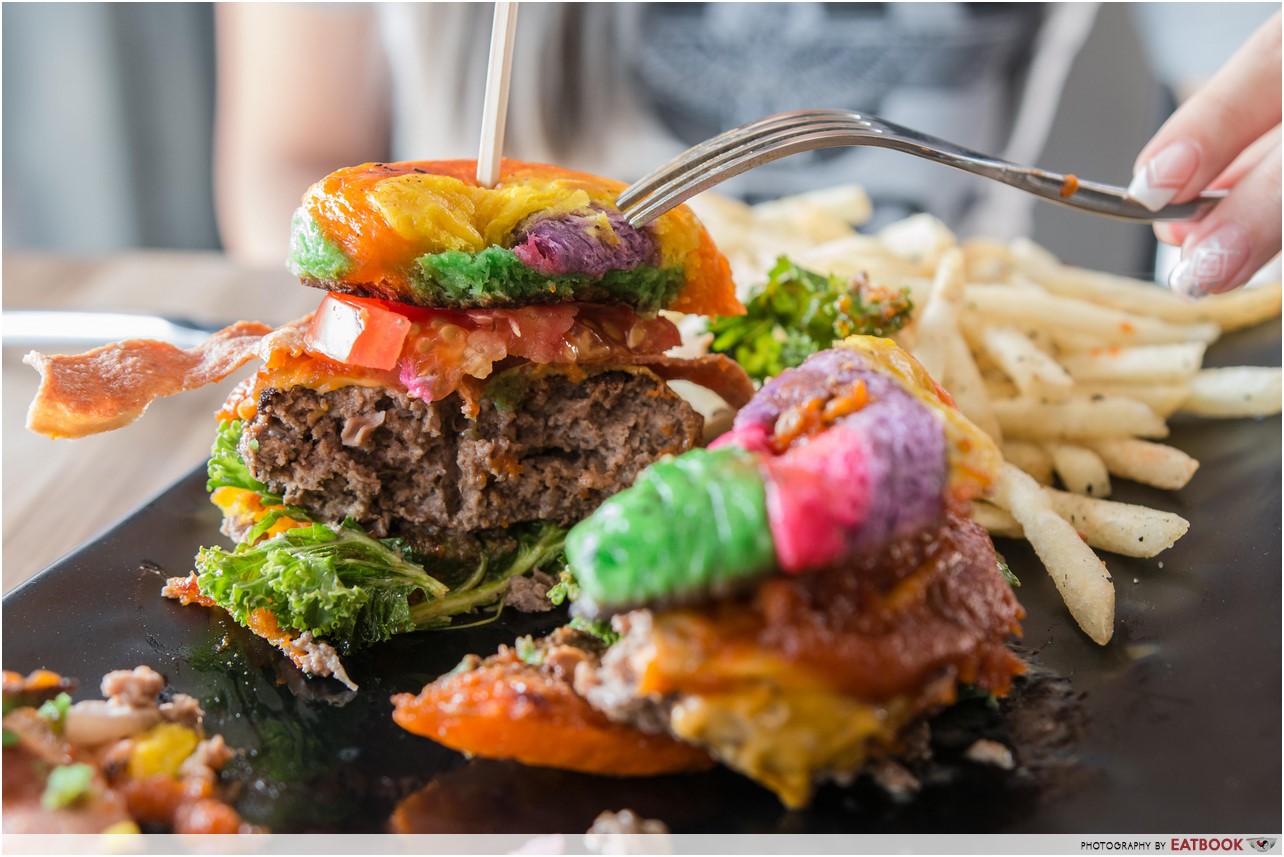 Unlike typically dense bagels, theirs were surprisingly buttery and pillowy-soft, making it the perfect vehicle to soak up all the juices from the beef patty. I loved how they made the patty generously thick and well mixed with the sweetness of minced onion and herbs, making this one of the juiciest patties I've had in Singapore to date.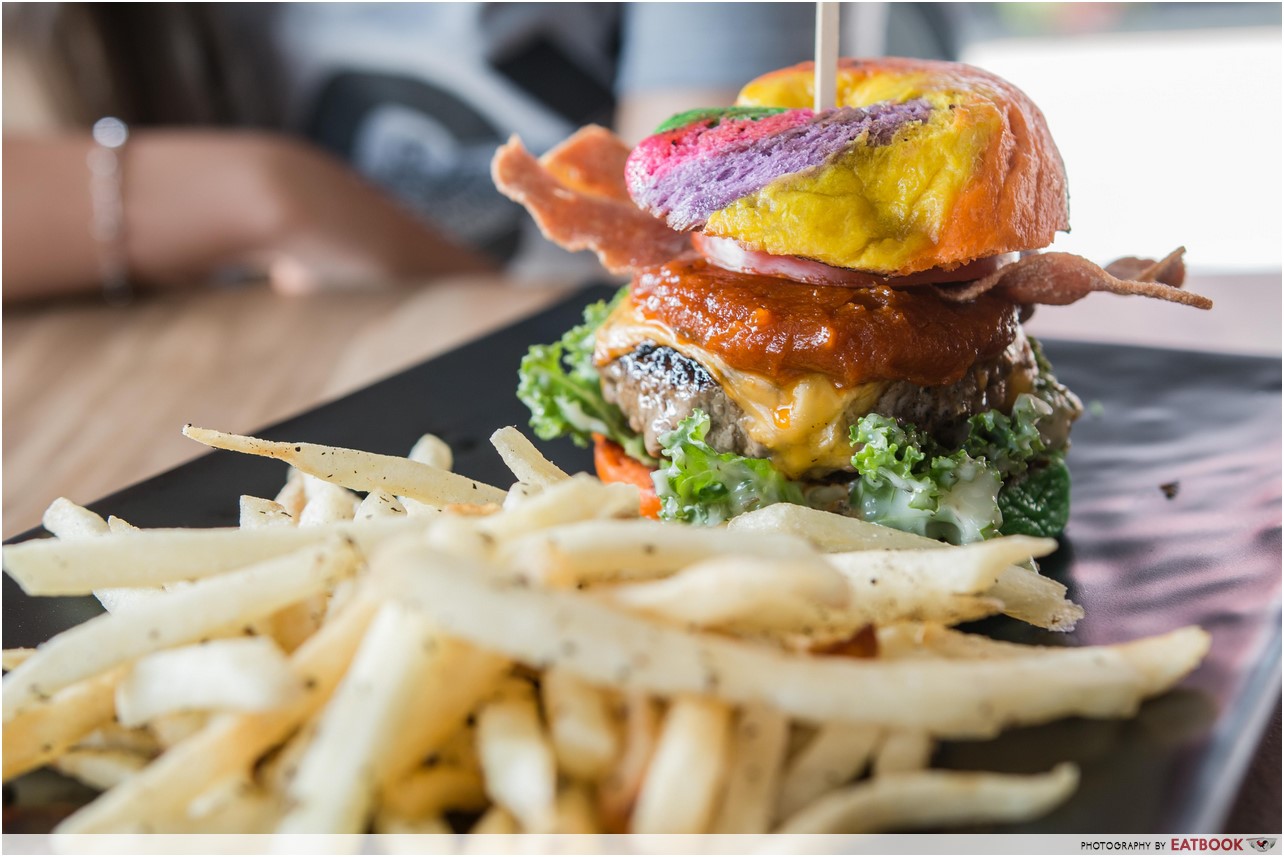 In contrast, the extra-crispy strip of turkey bacon caught me off-guard when I nearly mistook it as a soy crisp because of its rough texture! It was balanced with the fresh crunch of vegetables and surprisingly, didn't turn soggy throughout the time it sat on my plate – a winning streak for sure.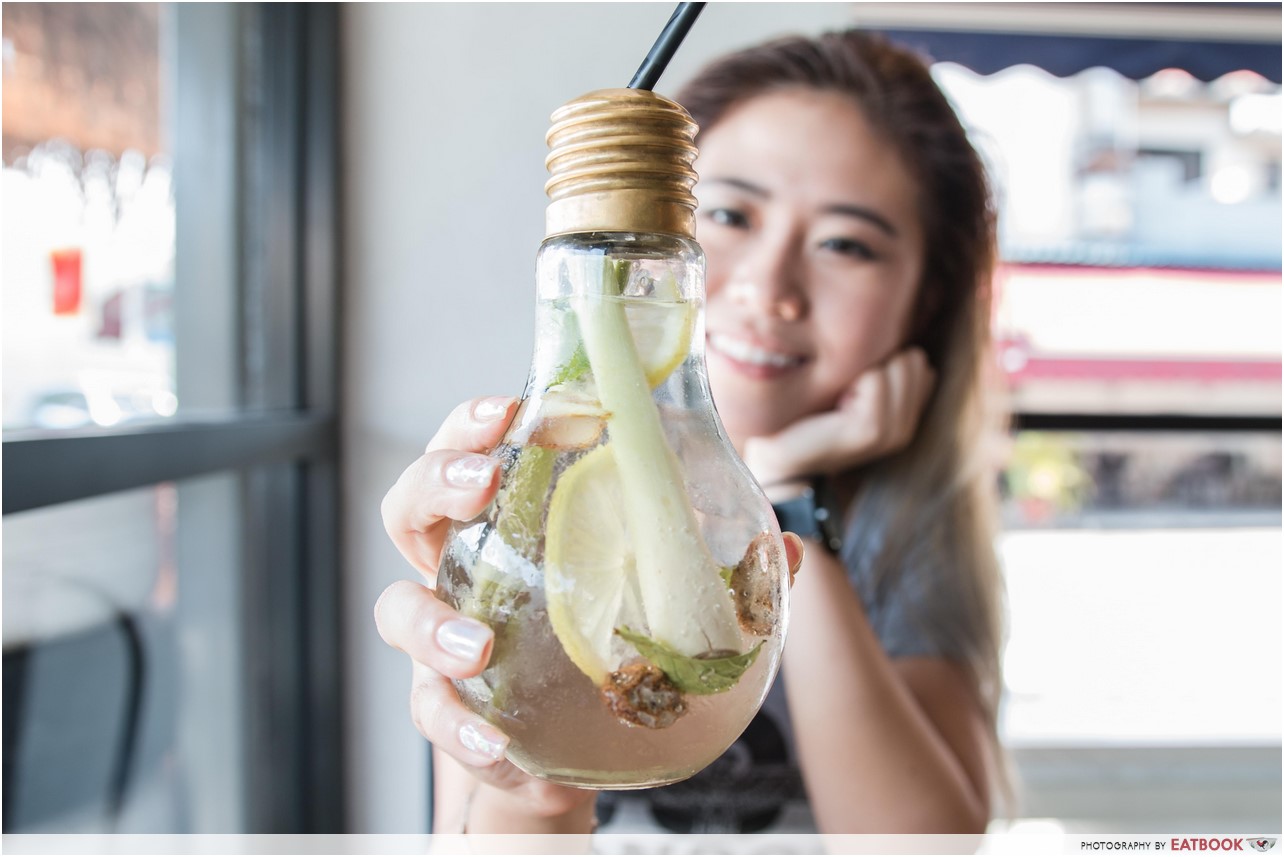 Word Concoction ($7+) looked pretty simple in its light bulb cup, but upon closer inspection, I was de-lighted to find that it's actually a combination of ice-cream soda, lemongrass, sour plum, lemon and mint. This unique combination of ice-cream soda and sour plum was ingenious. It's as if someone turned on the light bulb on the flavour-making machine for a sweet and sour drink with sharp hints of mint and zest.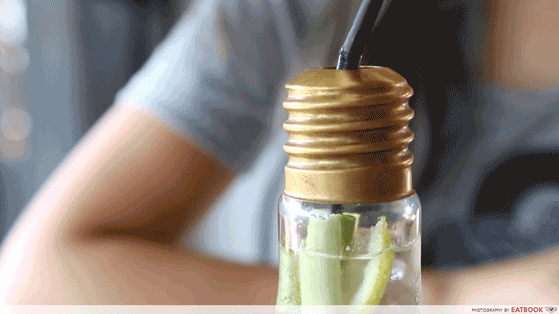 Altogether it was an enlightening experience, similar to the first time I tasted sugarcane juice with sour plum – I couldn't believe I wasn't introduced to this mix sooner! This is a pick-me-up drink that'll spoil your taste buds, 'cause once you've tried it, you'll never see ice-cream soda in the same light again.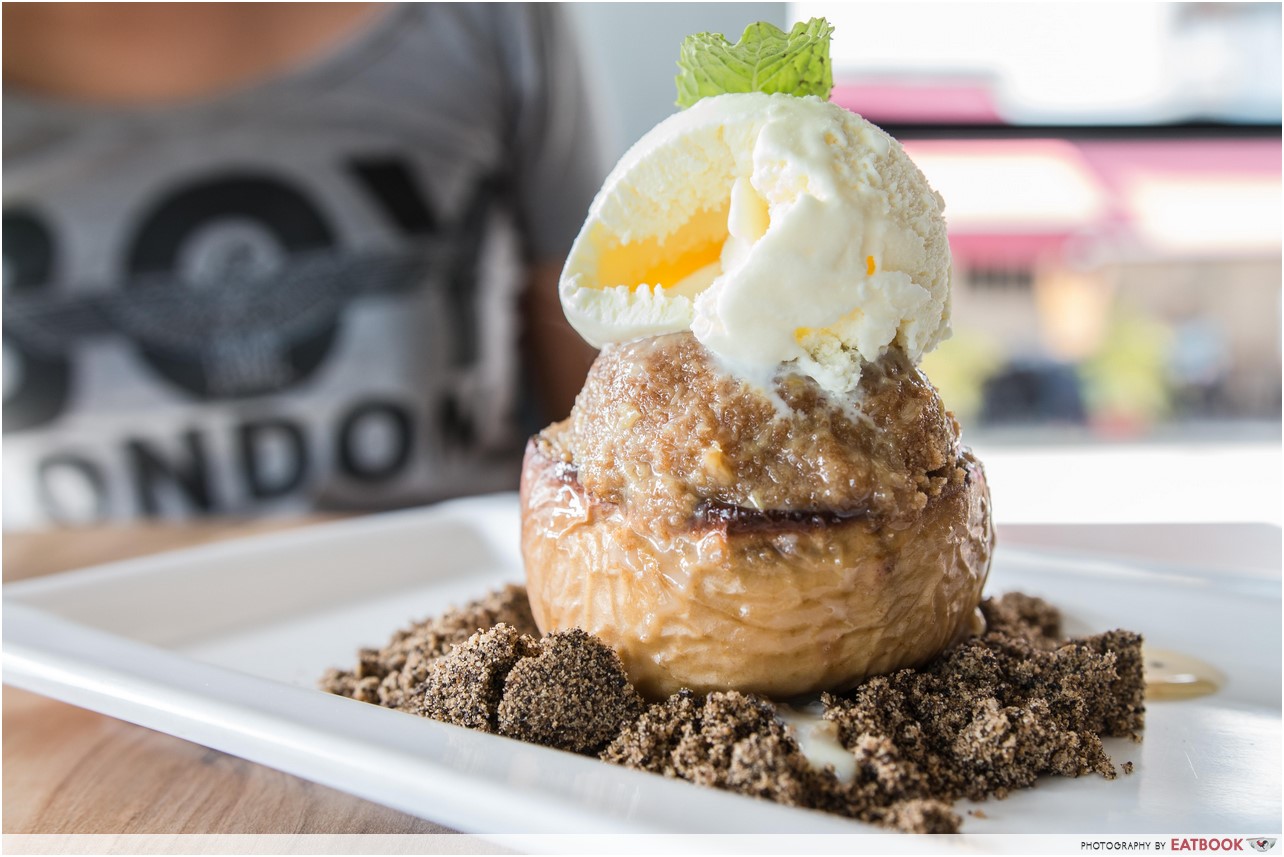 We ended our meal with Original Sin ($12+), and I was definitely not remorseful at all when cutting into the warm stewed apple topped with vanilla ice-cream and Oreo crumble.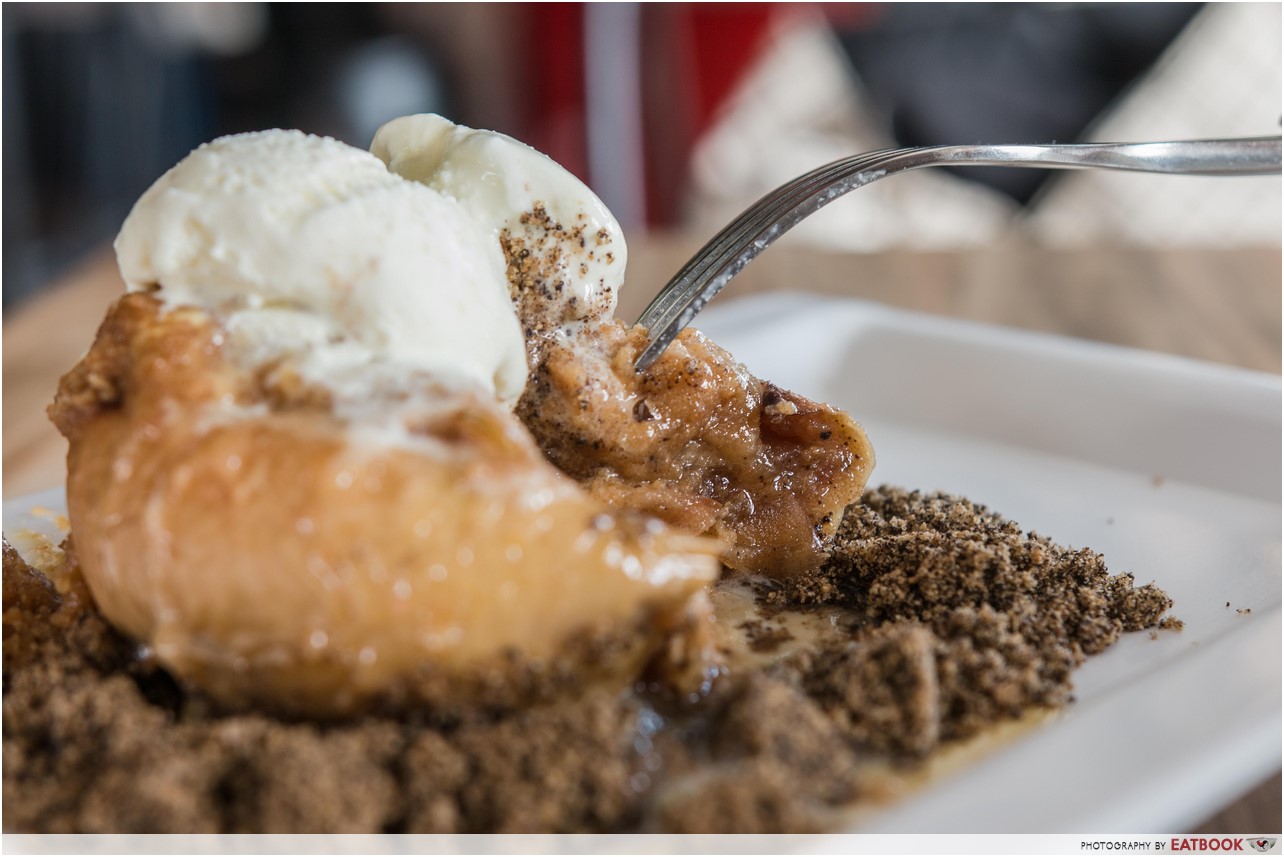 I was glad the stewed apple flesh was not overly mushy beneath the skin and it held on to the right amount of crunch. On top, the thick apple puree seasoned with cinnamon reminded me of McDonald's apple pie. The coarse crumble around the apple is made of caramelised brown sugar rolled with butter – like a biscuit base but amped up with crushed Oreos.
Along with the creamy vanilla ice-cream that melts over it, you can see why this is a gorgeously sinful dish all around. Word of advice, share this dish with a friend or you might start feeling the consequence of having consumed more sugar than you can handle.
Ambience at Word Bistro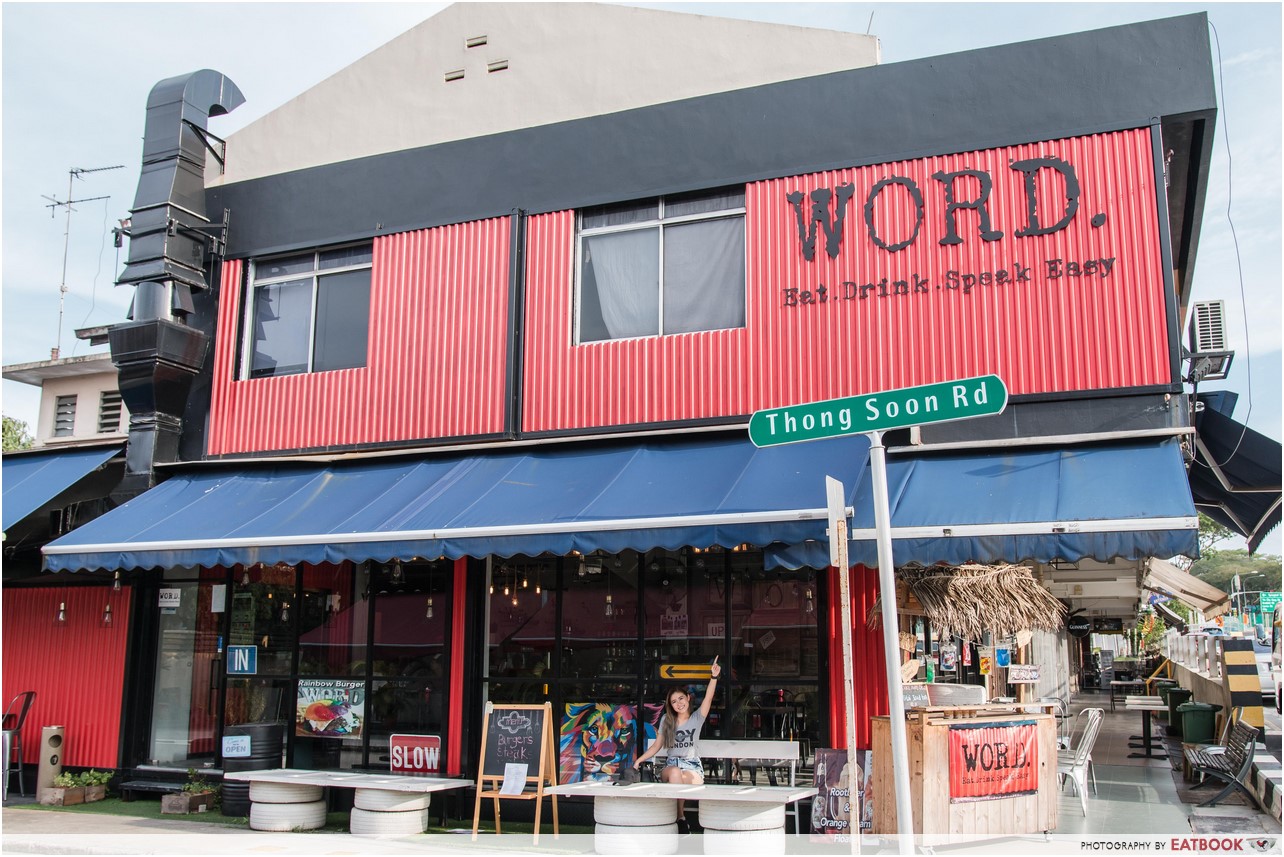 When I first saw a photo of this red container-like bistro, I almost thought it was one of the terrace cafes in Paddington, Australia. Unabashedly set apart from a row of dusty shophouses along Upper Thomson Road, Word is fitted with whitewashed tyres and doors repurposed as outdoor tables.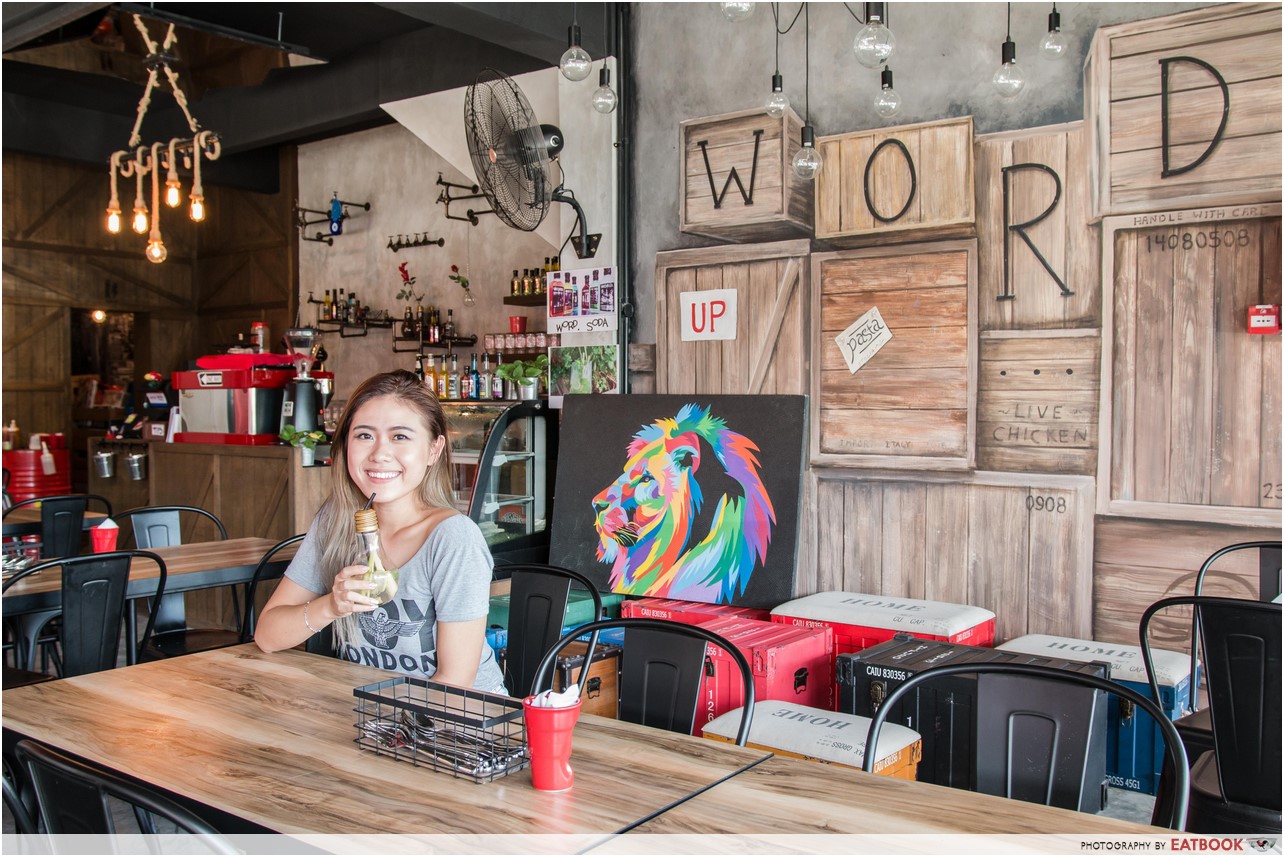 Its interior channels a classic industrial vibe through hanging light bulbs and murals of wooden boxes, as if it was a modern-day barn. The only other customers having a weekday lunch were a group of 12 army boys, with a few more passing by due to it being located near an army camp. It gave off a casual vibe despite being a corner store next to a construction site, with pop tunes playing in the background interjected with occasional bursts of laughter. Overall, I felt well at home and appreciated that the servers were attentive without being overbearing, making this an enjoyable meal to have in big groups or small.
The verdict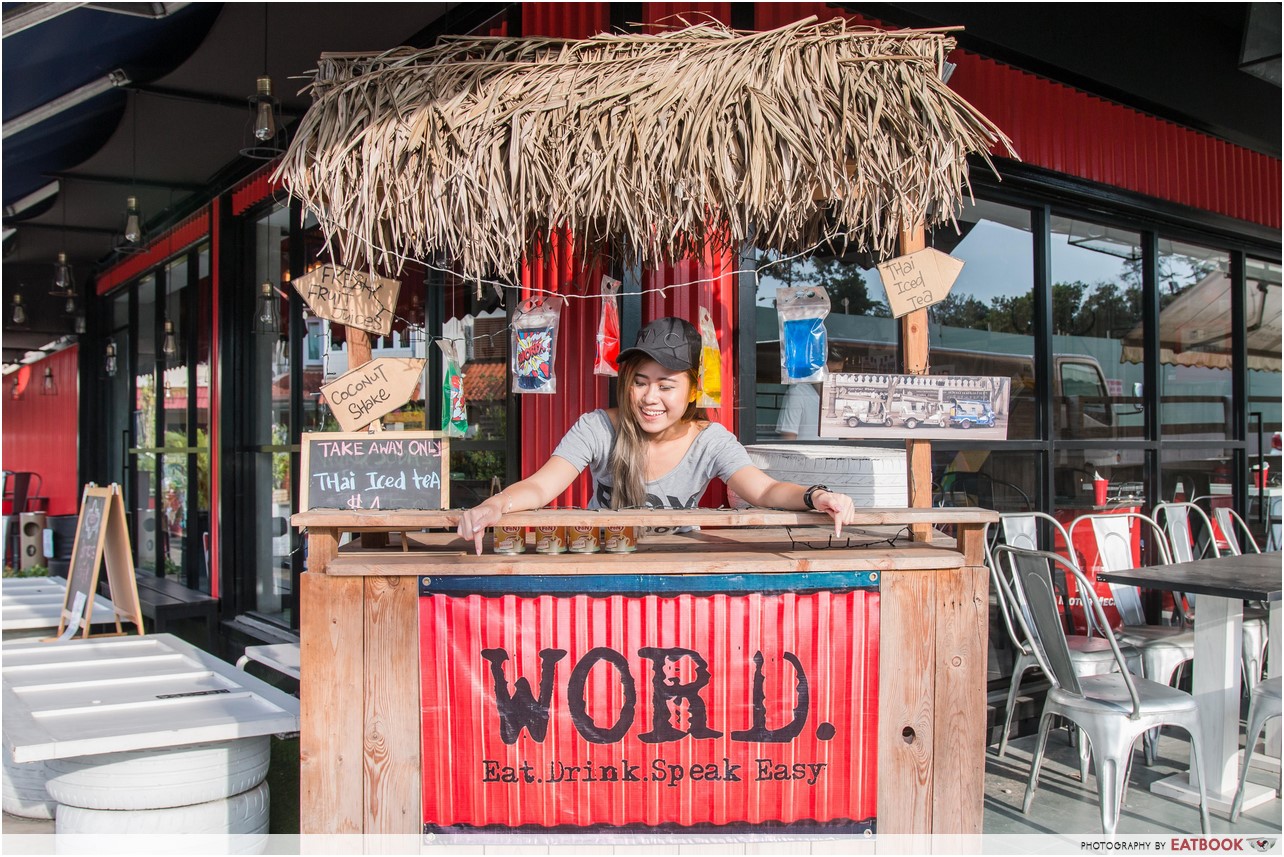 Initially, my expectations were low for yet another hipster cafe, but Word surprised me with quality food. Not only are they innovative in their interior decoration and titles, they have obviously placed a lot of effort in thinking about how different flavour profiles work together as well. Although it might put a stretch on your wallet with a bill that can easily add up to $60 between two, don't get too turned off because the food you get is definitely well worth its price.
This is an independent review by Eatbook.sg.
Summary
Pros
– Halal
– Unique dishes
– No GST
– Good for groups
Cons
– Expensive
– Inconvenient location
Recommended Dishes: Rainbow Bagel ($20+), Word Concoction ($7+), Original Sin ($12+)
Operating Hours:
Tuesday to Thursday, Sunday 12pm to 10pm
Friday to Saturday 12pm to 10:30pm
Address: 906 Upper Thomson Road, Singapore 787110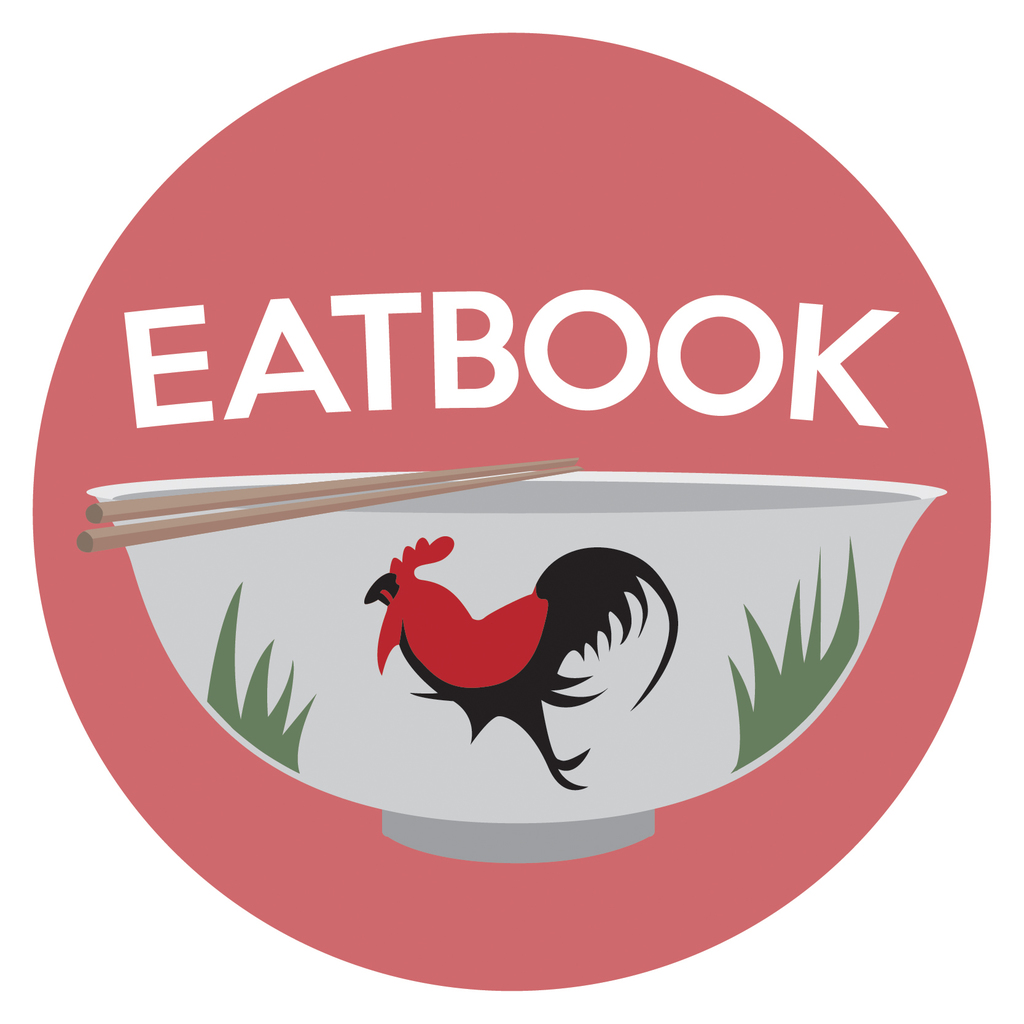 Drop us your email so you won't miss the latest news.