"One durian cake, dabao!"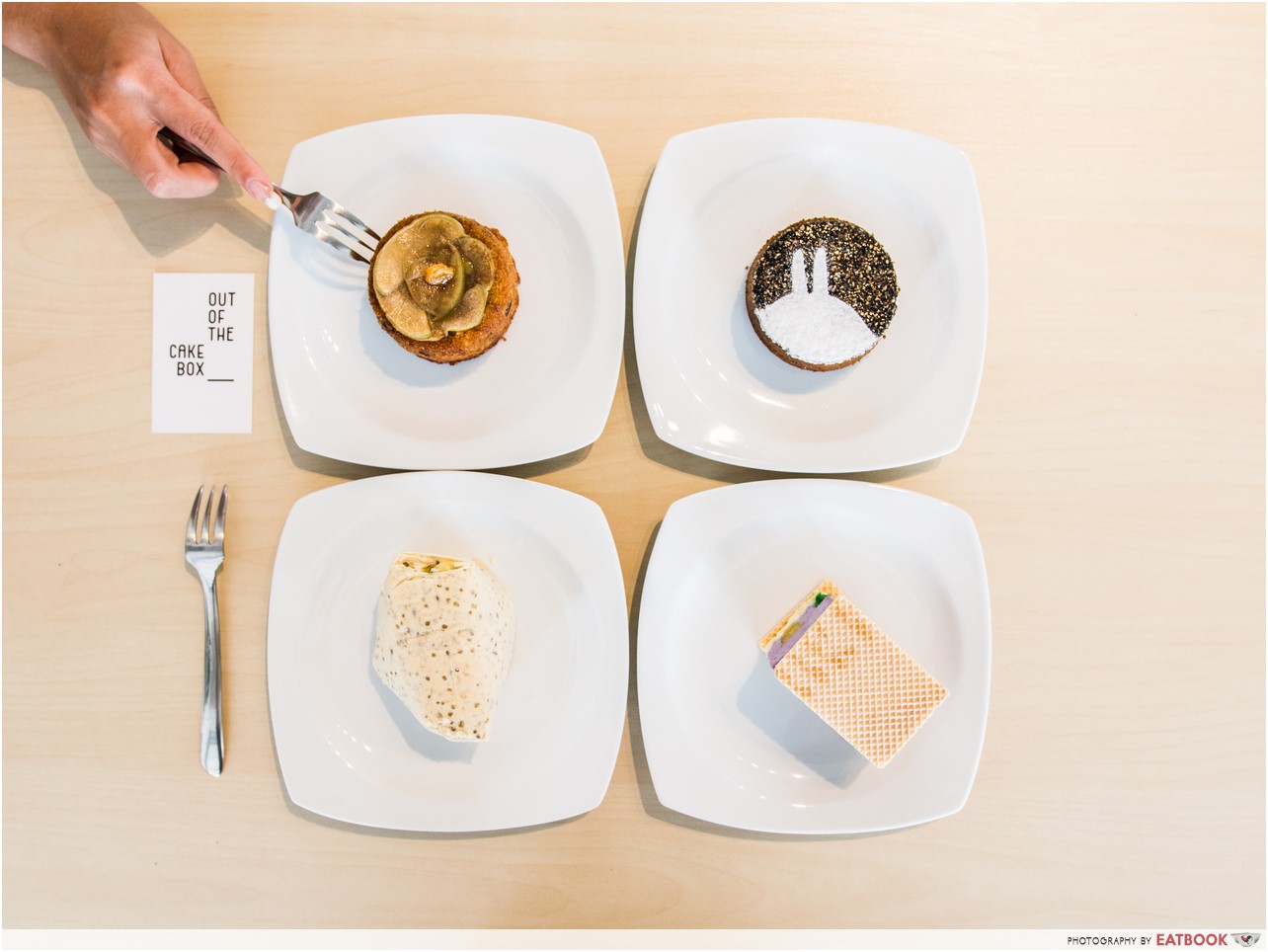 "Pat-a-cake, pat-a-cake, baker's man. Bake me a cake as fast as you can." I've long stopped singing this rhyme, but my love for cakes will always be in my heart, mind and belly.
Tucked under a Telok Blangah HDB, Out Of The Cake Box is a tiny 10-seater shop with quality bakes inspired by local desserts. Their unique cake collection boasts of flavours such as Chendol Fudge ($5.50) and Mango Sticky Rice ($6), and they've also got tarts and cookies.
Cold desserts at Out Of The Cake Box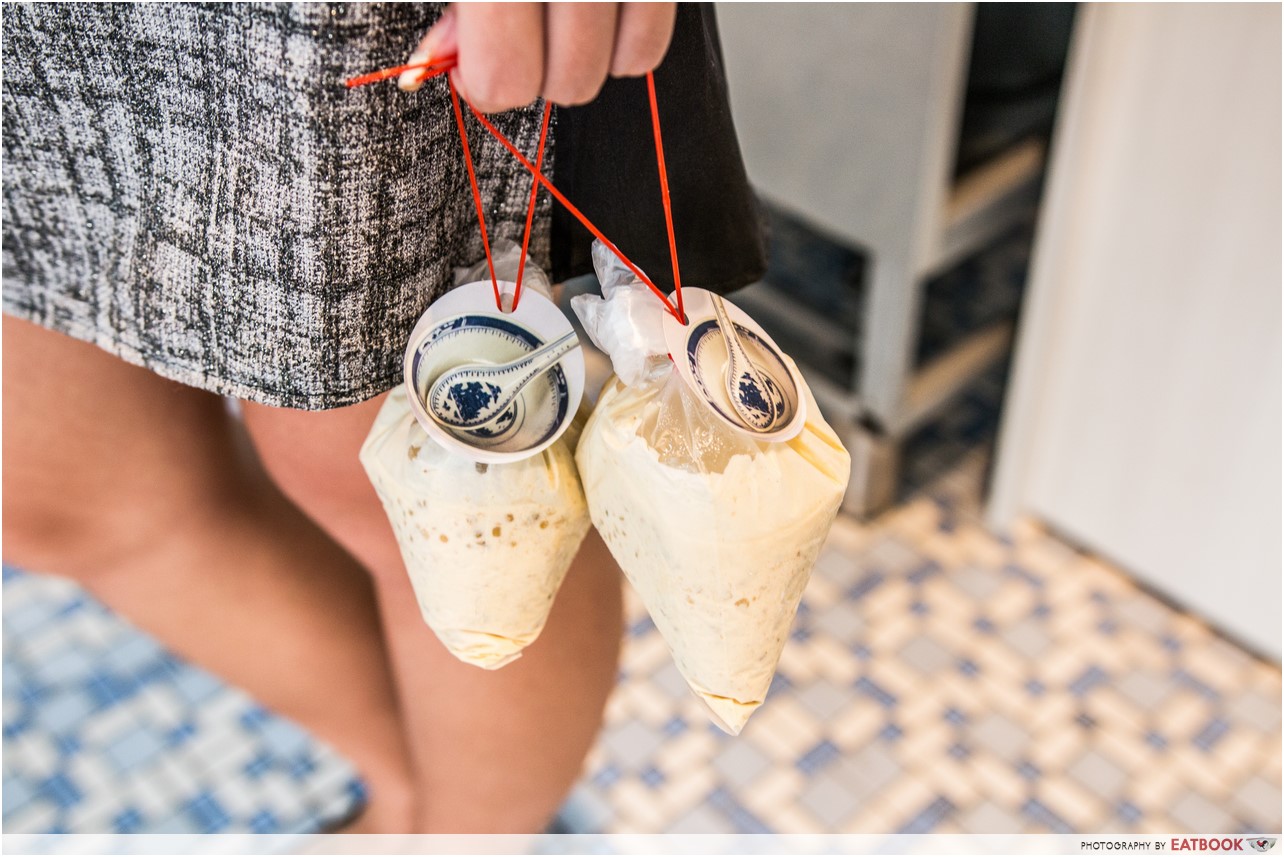 Even though OOTCB is mainly a takeaway cake shop selling local-desserts-turned-cake, I never thought I'd dabao cake in a plastic bag! Bao Jiak ($6.50) is a clear case of not judging a book by its cover as noted in its cheeky description,"You ask why the packaging is so cui (lousy)? Because durian is also ugly what."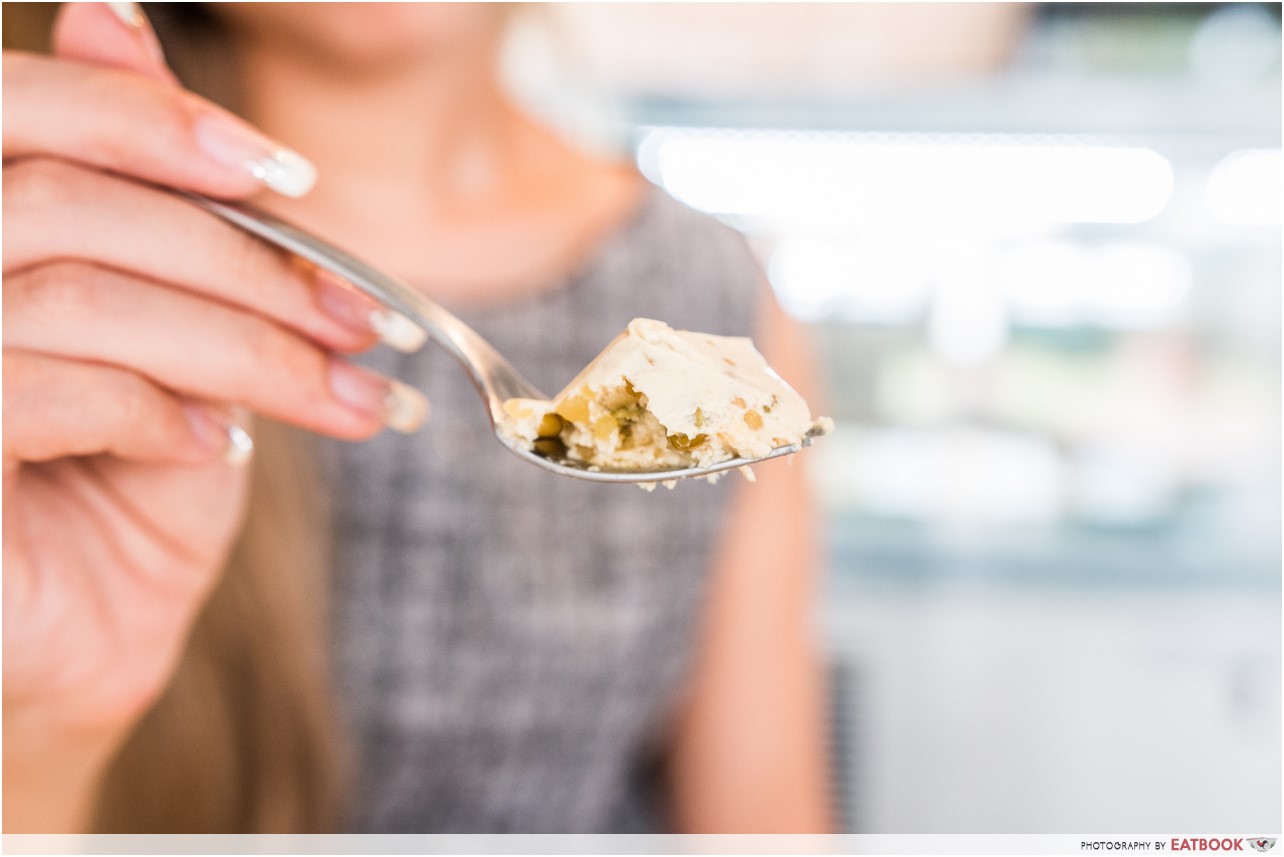 Just by holding the bag up, I can already pick up a strong durian scent and it's not hard to see why. This small bag contains a generous amount of pure Mao Shan Wang puree kiap-ed between plain sponge and green bean sago mousse. The mousse is delightfully creamy with chewy bits of sago, and it's got a strong coconut base that reminds me of chendol. I also like how the sponge has a fluffy texture that breaks up the creaminess of both the paste and mousse, making the entire cake all too easy to polish off.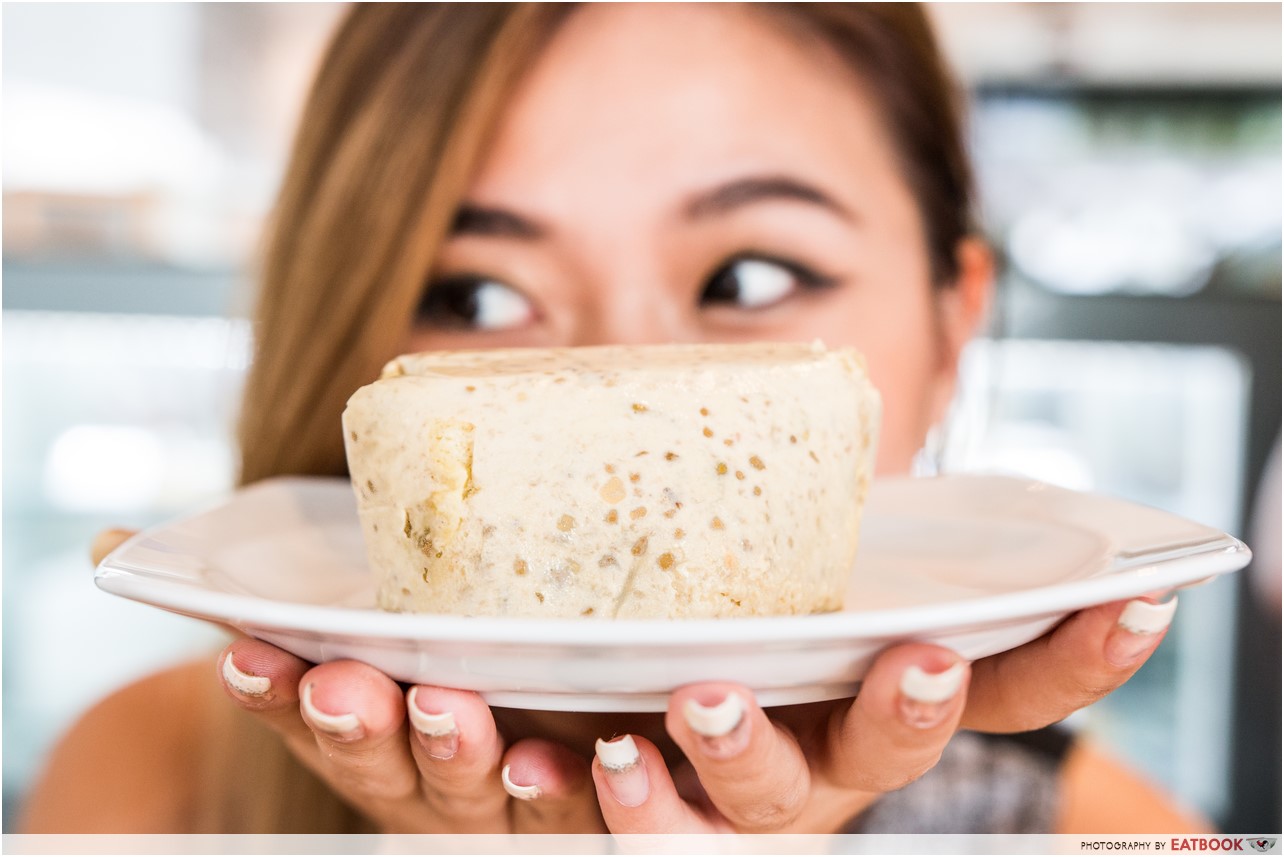 If you opt to dine in, the friendly counter staff will place it on a plate for you. But be warned, it looks like a blob when it's out of the bag, so take all your Insta shots before that.
Bo Bo Cha Cha meets your favourite $1 street-side ice-cream in B.B.C.C. ($5.50) . This cake looks like a little jewellery box with bits of yam, sweet potato and colourful jellies wrapped in purple sweet potato mousse that's resting on a light sponge, and served between a pair of wafer biscuits.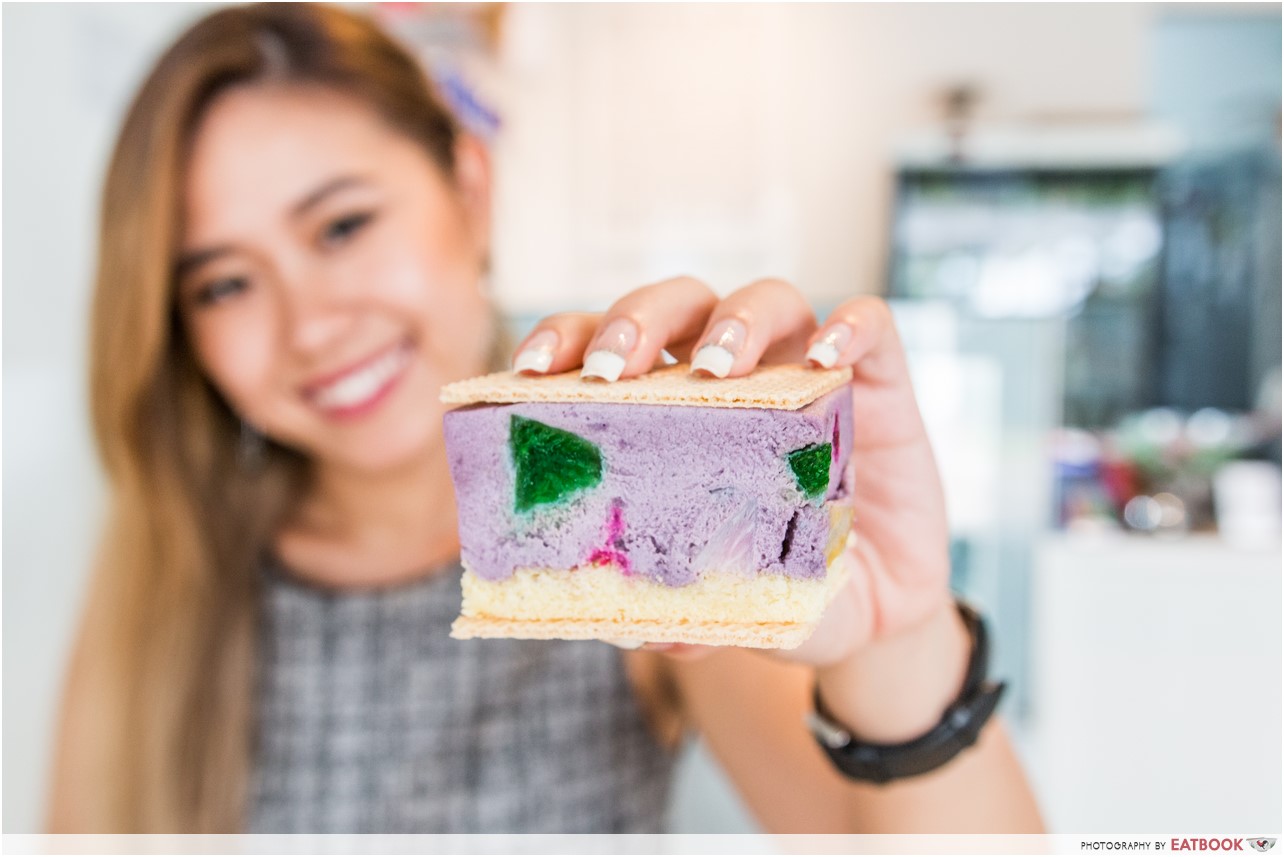 Despite being the most eye-catching cake, I was disappointed when the purple sweet potato mousse barely had any flavour except for a little sweetness from coconut milk, and was quite dry when eaten with the wafer. Surprisingly, the plain sponge was slightly sweeter than the mousse, so we found ourselves digging through the mousse instead of biting it whole. This is a dessert much suited to those who prefer their cakes less sweet.
Lava cakes at Out Of The Cake Box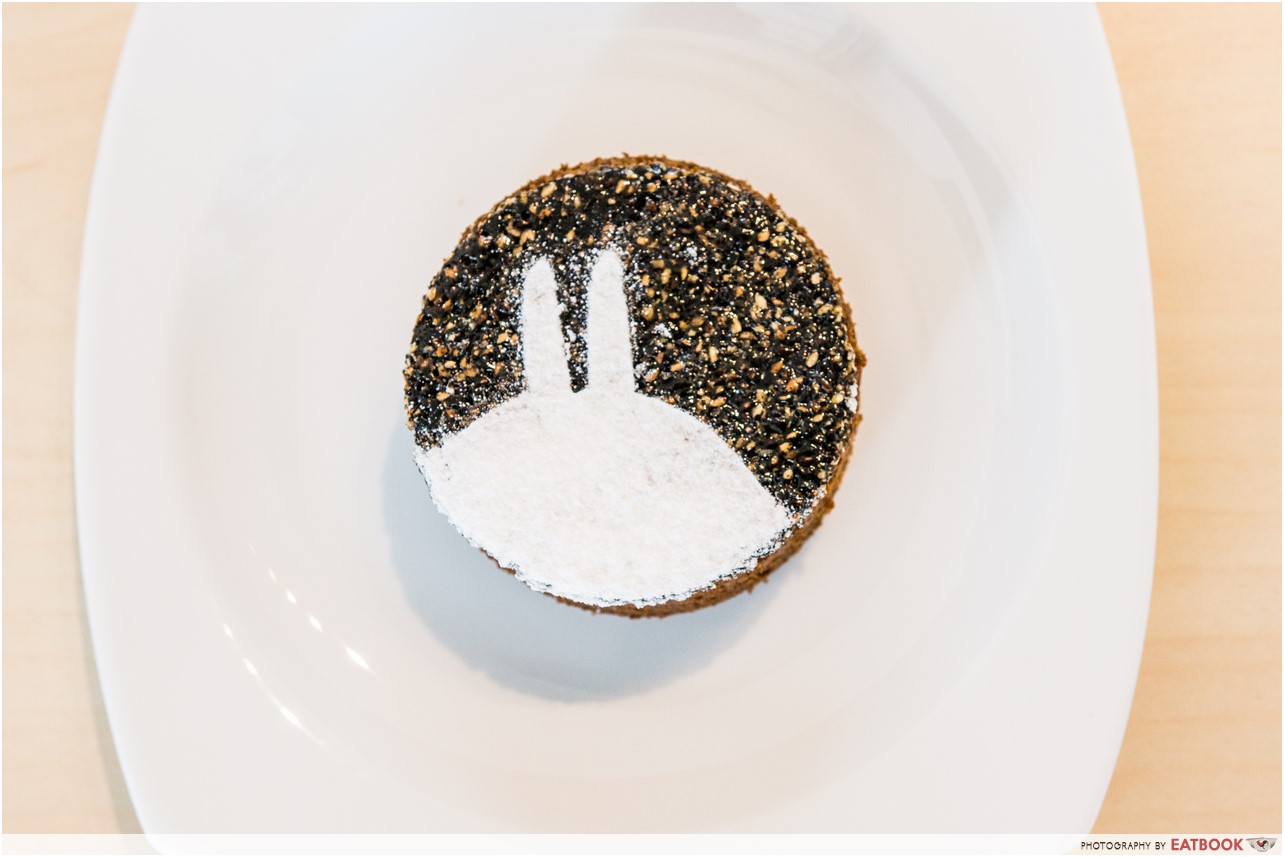 White Rabbit is a candy I grew up with, but have never heard of in a cake before. Following Alice's footsteps, I jumped into the rabbit hole and order a White Rabbit ($6.50) cake out of curiosity.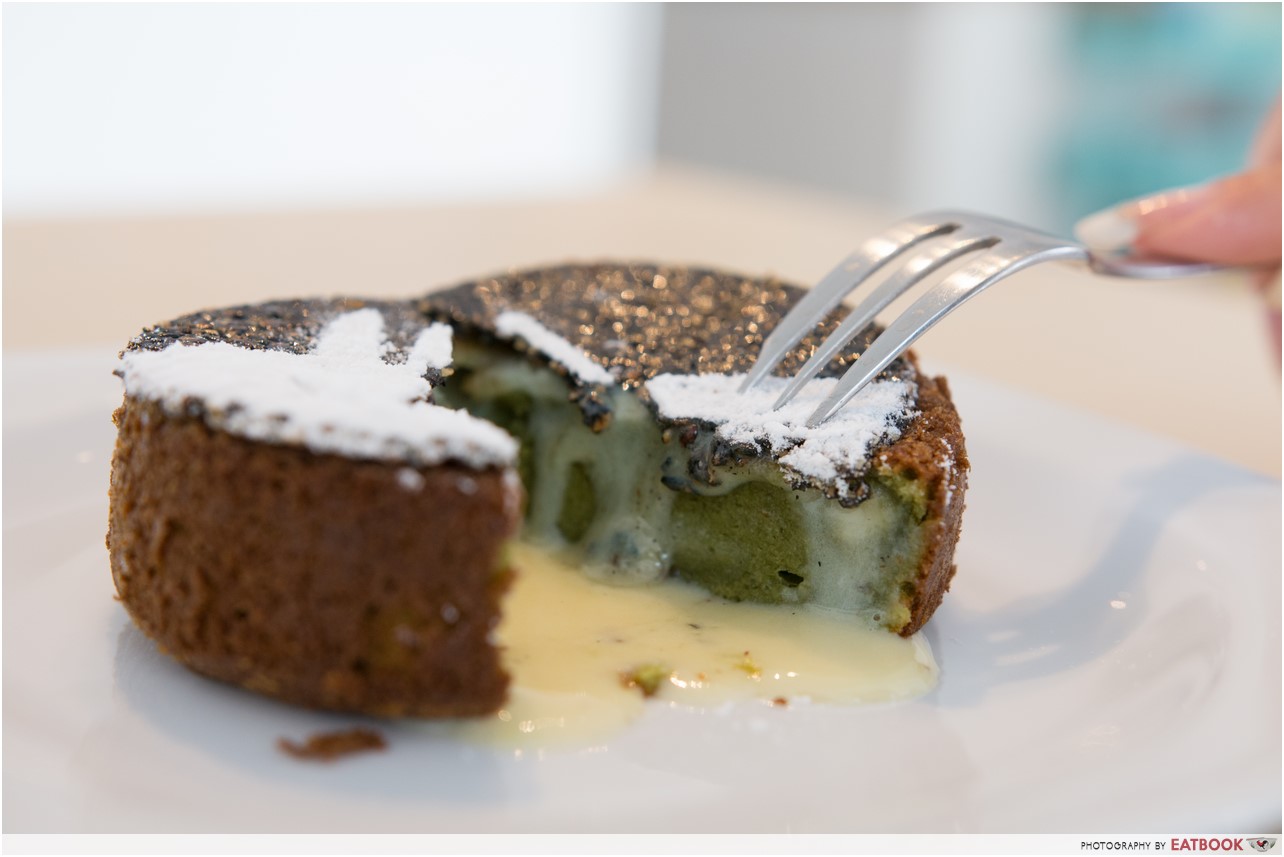 Turns out, it's a matcha lava cake dripping with creamy White Rabbit Candy sauce, which tasted suspiciously similar to condensed milk.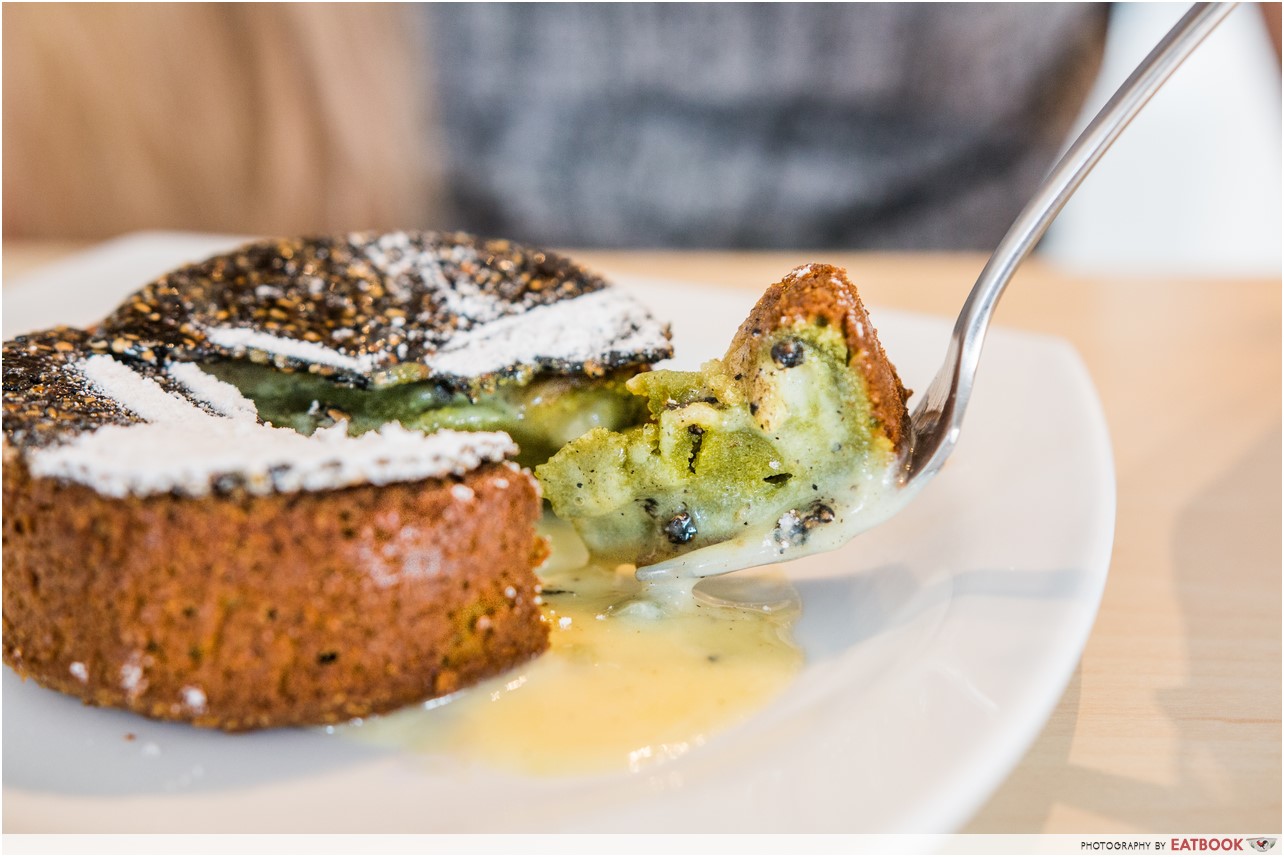 The cake itself is strong in matcha flavour without being overwhelmingly bitter, and had a soft, spongy texture that contrasted well with its crust.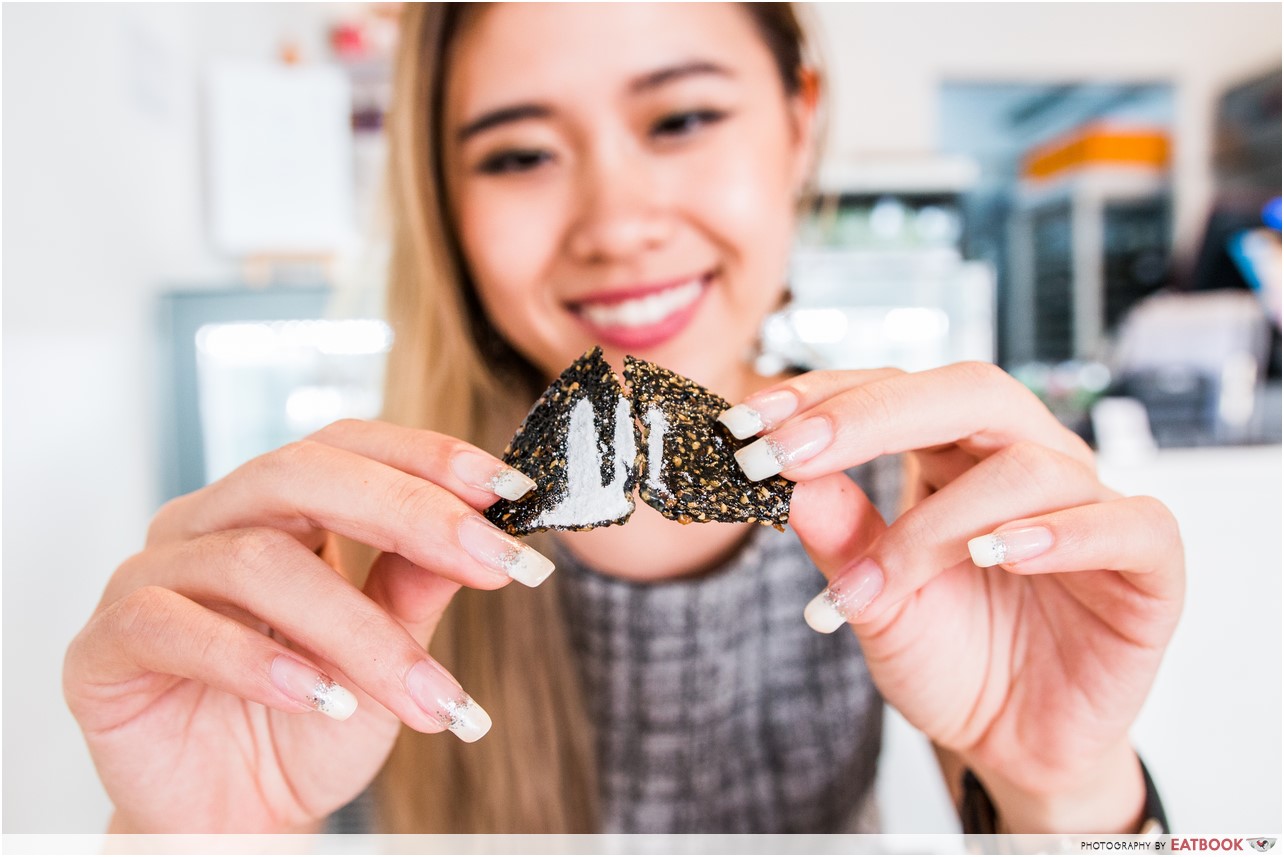 On top, a thin layer of homemade black sesame gong tng (peanut brittle) was crispy with a strong black sesame flavour. Overall, this cake is denser than the rest with a chance of getting jelak. However, if you're a matcha-lover like me, I'm sure you'll be the first to wipe the plate clean – lava and all.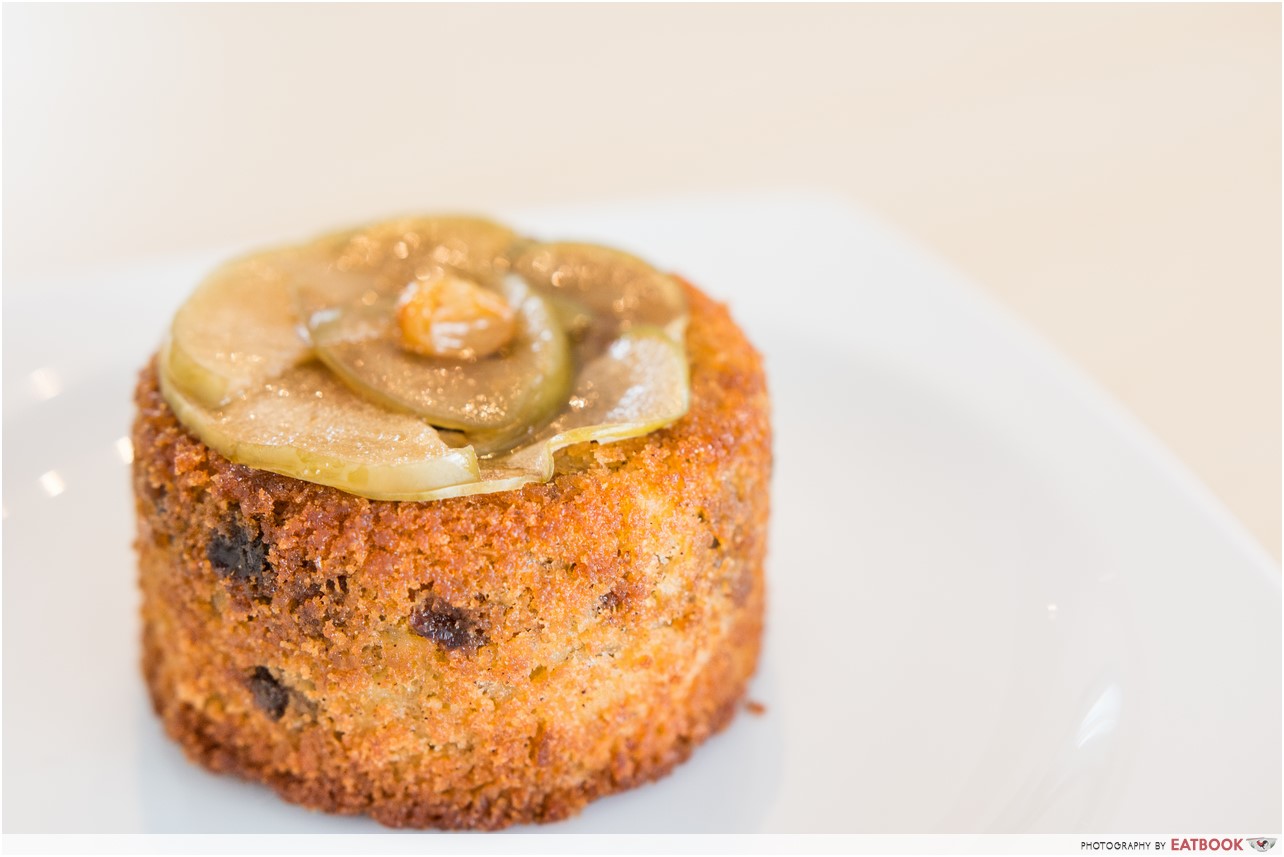 As a chocolate lover, I was really looking forward to Chai Jivara ($6.80), which has Valrhona milk chocolate lava hidden in a lightly-spiced apple cake, elegantly finished with a chai tea poached apple rose on top.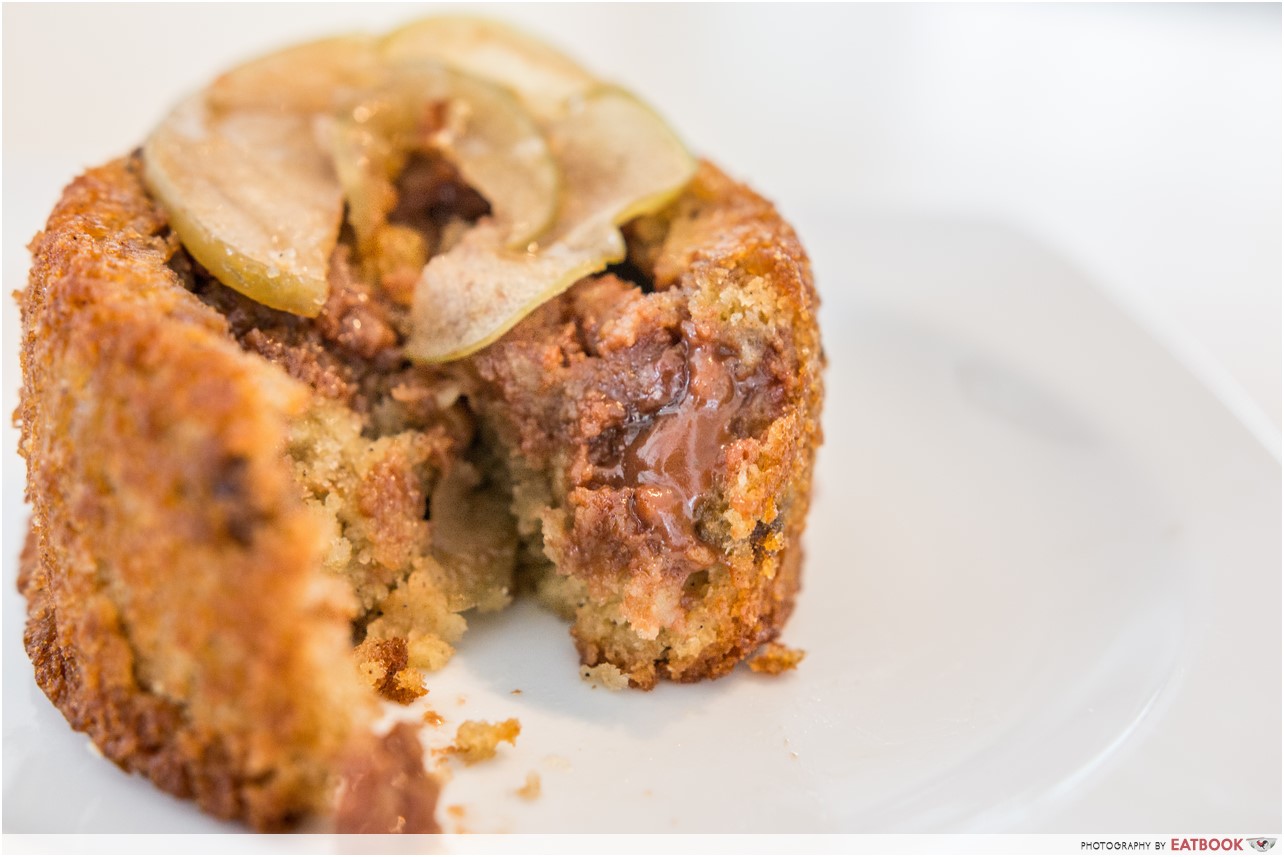 Despite these descriptions, I was caught off-guard when the first thing I tasted was raisins. Even though we had it heated up, my heart sank when we missed the money shot of the chocolate lava oozing out, as it was already absorbed into the sponge.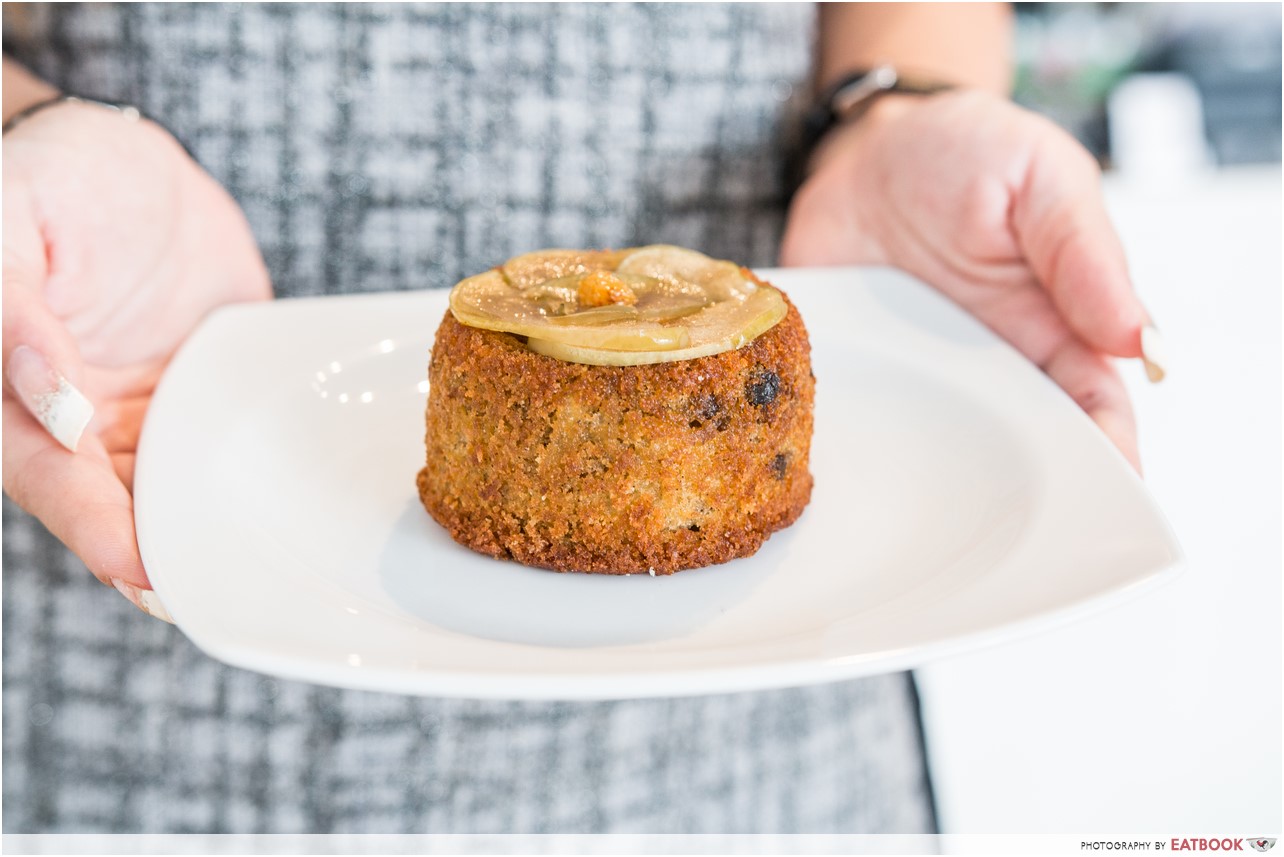 Nevertheless, it was enjoyable as a spiced raisin cake. The sponge was firm, yet moist with a slightly crumbly texture, as with banana cakes. Although there were specks of cinnamon, it was pleasantly not over-spiced, with restrained hints of chai tea. I can imagine myself having this as a mid-morning snack with a cup of tea on the side, perhaps with a scoop of vanilla ice-cream that'll melt into the warm crevasses of the sponge as well.
The verdict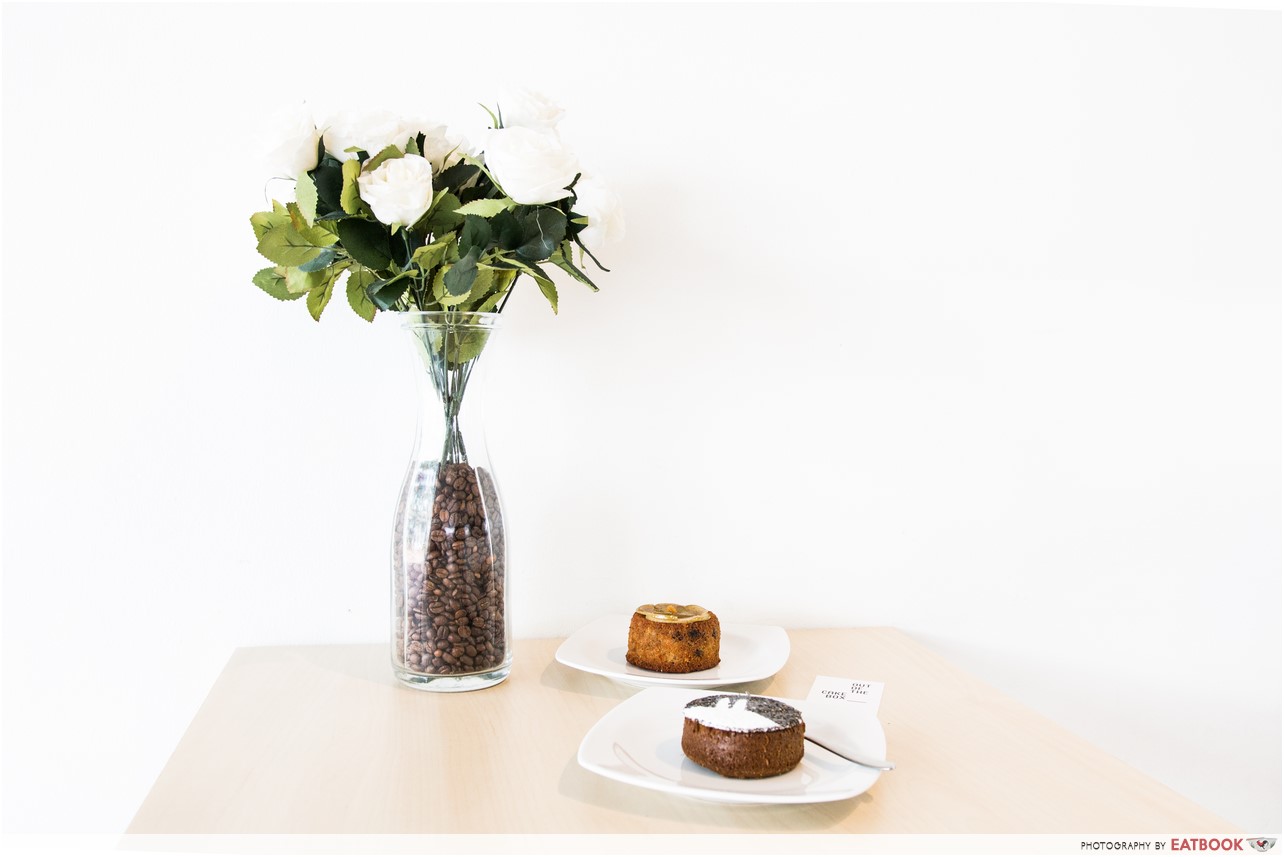 I love bakeries and cafes that think outside of the norm and have the skills to pull new ideas off. For me, a good bakery is one that never stops innovating and I can't wait for new flavours to pop up. Out Of The Cake Box also holds baking classes where you can learn how to make pastries like salted egg lava tarts and Tsum Tsum macarons.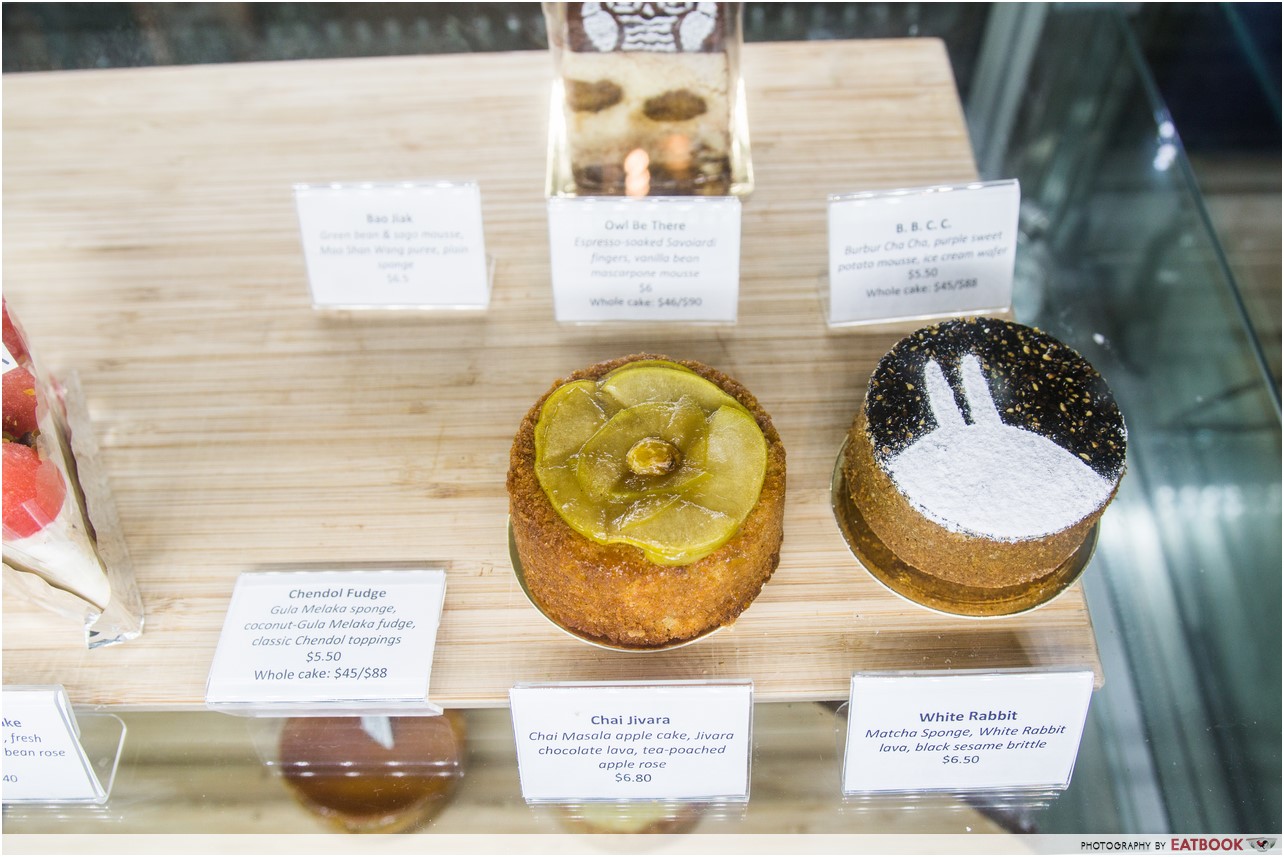 A strong word of advice: pre-order what you want by checking out their website or you might face disappointment as quite a few cakes are always sold out!
I only got to taste 4 cakes out of their collection of 15 but not to worry, I'll definitely be back with a group of friends and be like: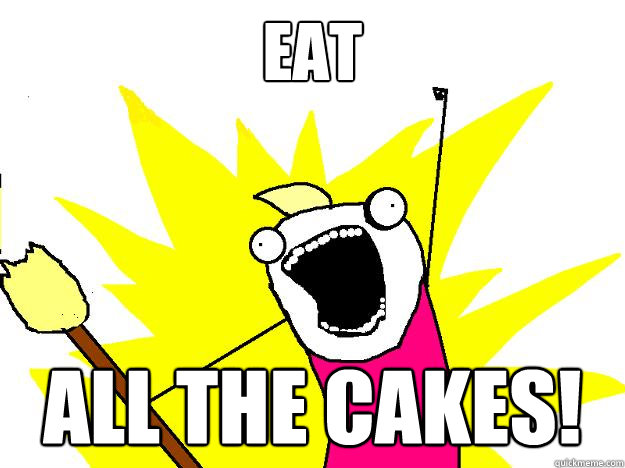 \
Source
This is an independent review with all expenses borne by Eatbook.sg.
Summary
Pros
– Unique cakes
– A short walk from Telok Blangah MRT Station
– No service charge or GST
Cons
– Limited seats
– Limited items on display (pre-ordering is highly recommended)
– Slightly expensive for its portion
Recommended Dish: White Rabbit ($6.50), Bao Jiak ($6.50), Chai Jivara ($6.80)
Operating Hours:
Tuesday – Friday 12pm to 8:30pm
Saturday 12pm to 9pm
Sundays & PH 10am to 5pm
Address: 45 Telok Blangah Drive, #01-173, Singapore 100045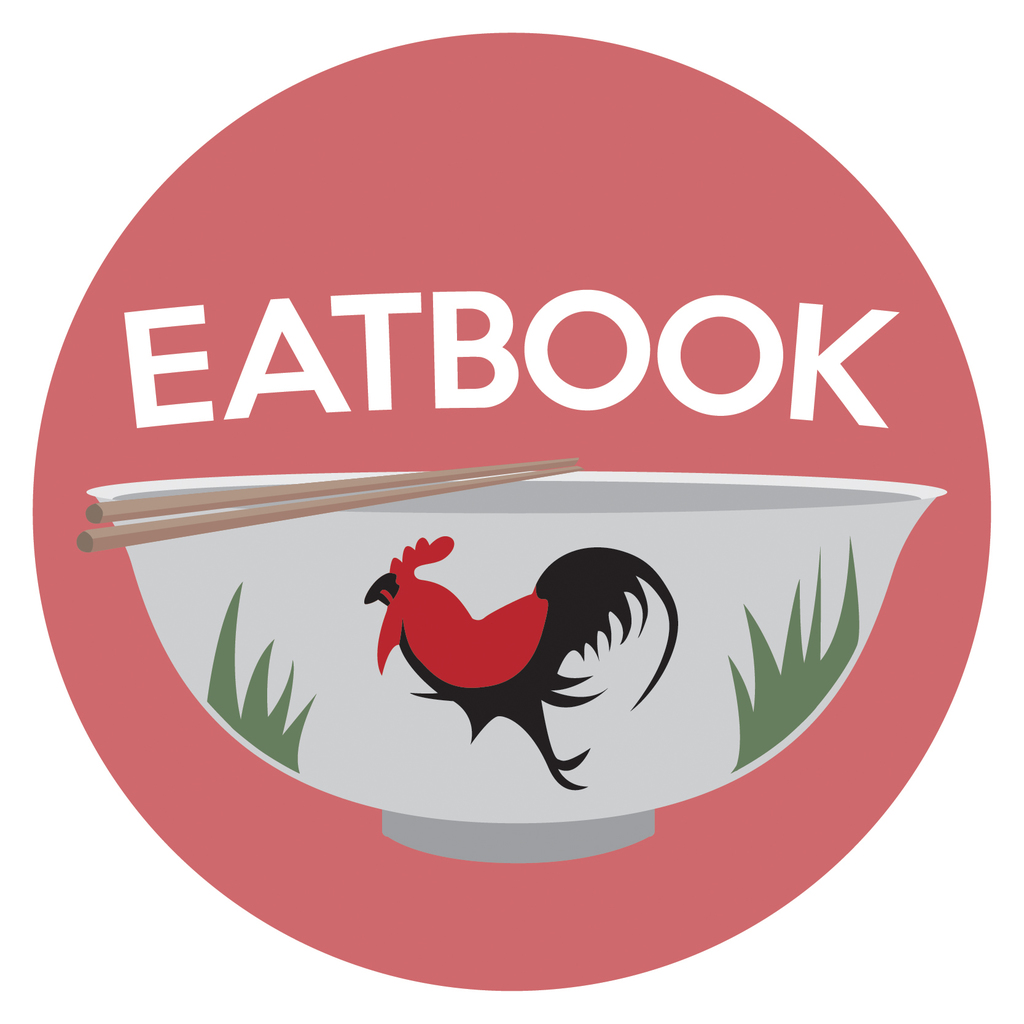 Drop us your email so you won't miss the latest news.