Perfect your Insta game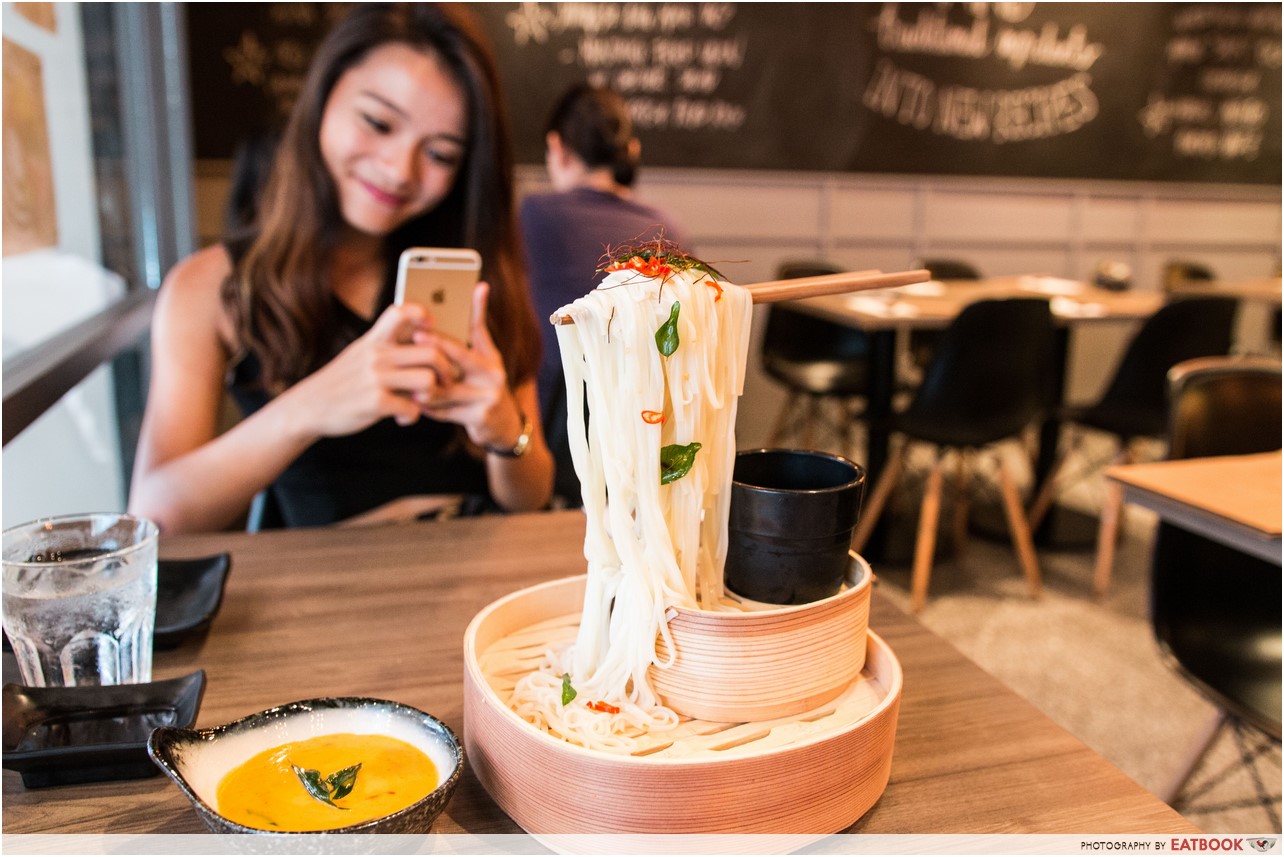 When I first came across this flying noodles on social media, I was like, "Sure bo?" But skepticism aside, I knew this was something I had to check out for myself. I have always been a victim of gimmicks in the food scene, but I have no complaints if I wind up having an unforgettable meal. And needless to say, I was ready to succumb to yet another ruse. Determined to unravel the mystery behind the flying noodles, I headed over to Hana Japanese Restaurant at Forum in Orchard.
Food at Hana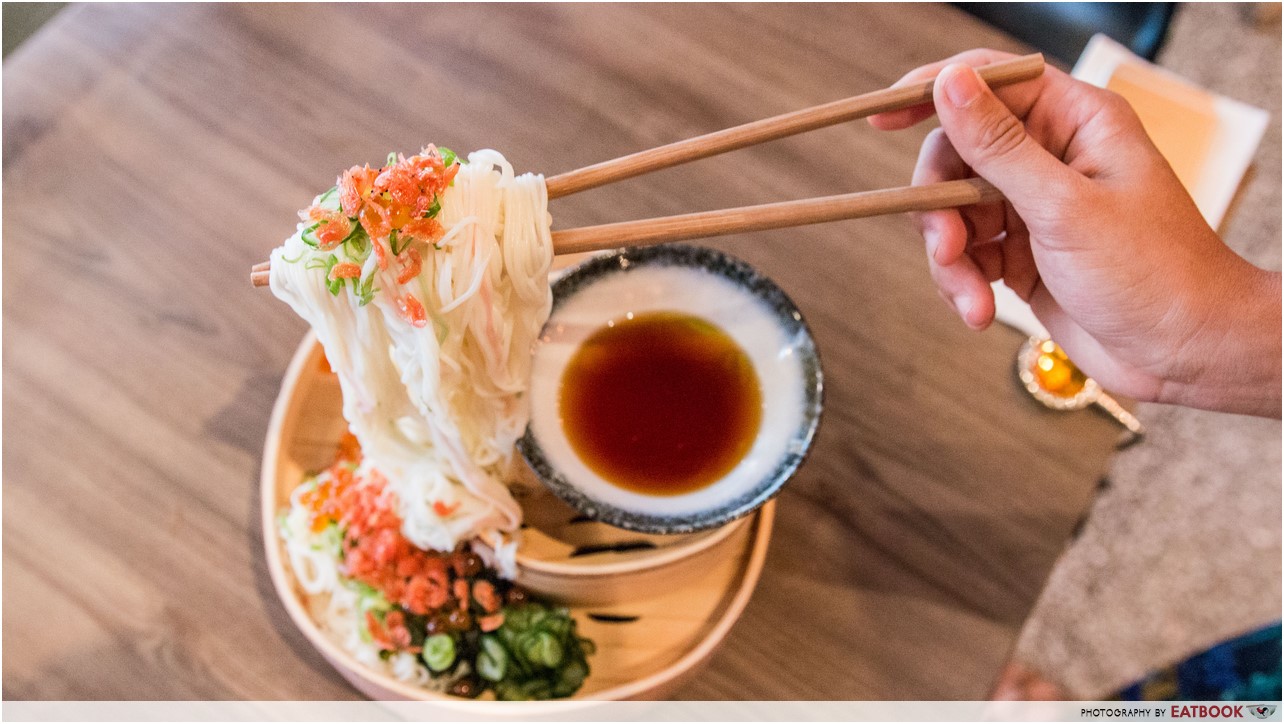 As a newbie on the menu, Flying Truffle Somen ($20++) is out to impress. Served in a double-decker dimsum basket with a bowl of truffle-infused dipping sauce, the generous portion of springy cold somen paired with a riot of fresh cucumbers, dried shrimps, seaweed, scallions and fish roe was pretty heavy to hold up with chopsticks.
So…hands off and let 'em flying noodles carry itself!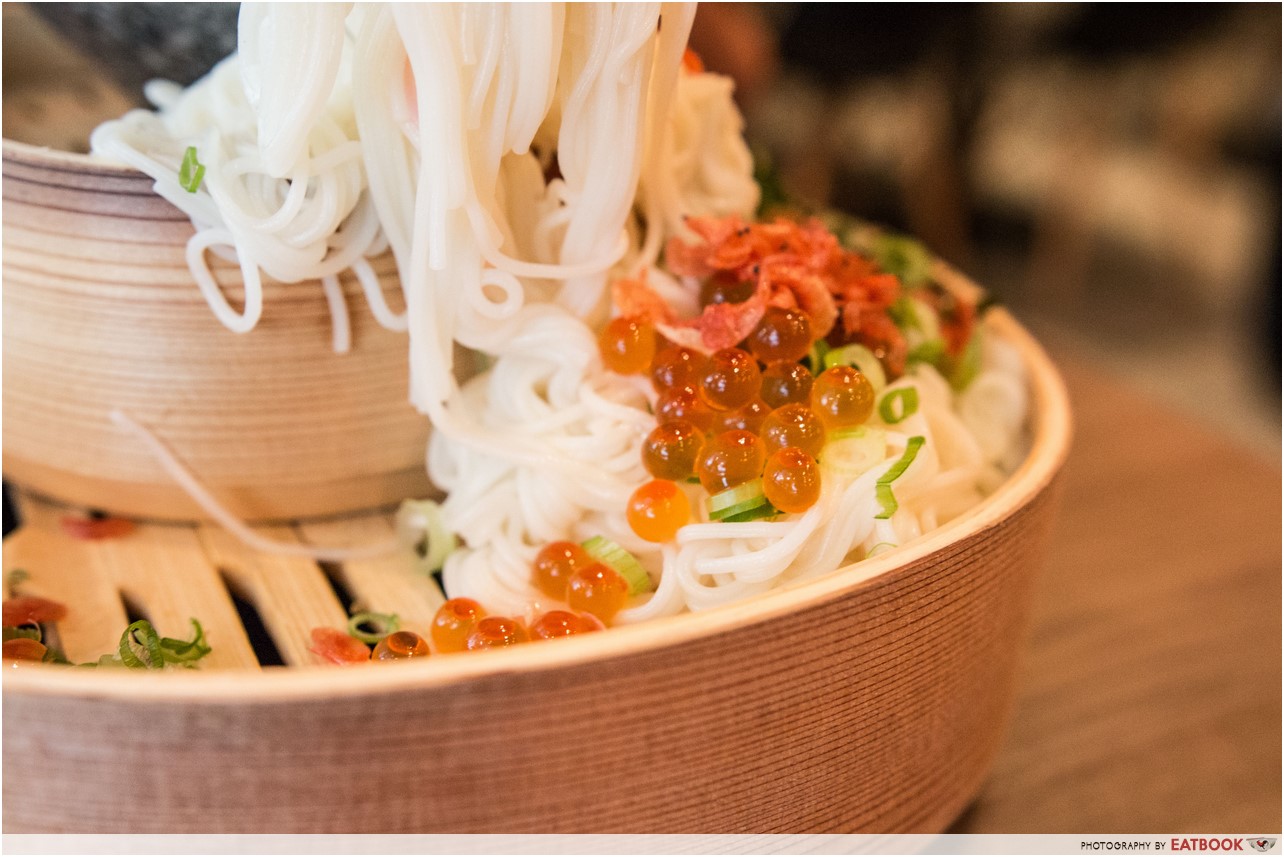 Gimmicks aside, this somen was pretty decent. We couldn't stop dunking the noodles in the truffle sauce 'cause it was so satisfying. The sauce tasted like typical soba sauce, but with an oomph thanks to the truffle. The fish roe was literally bursting with flavour and seasoning the somen right in my mouth.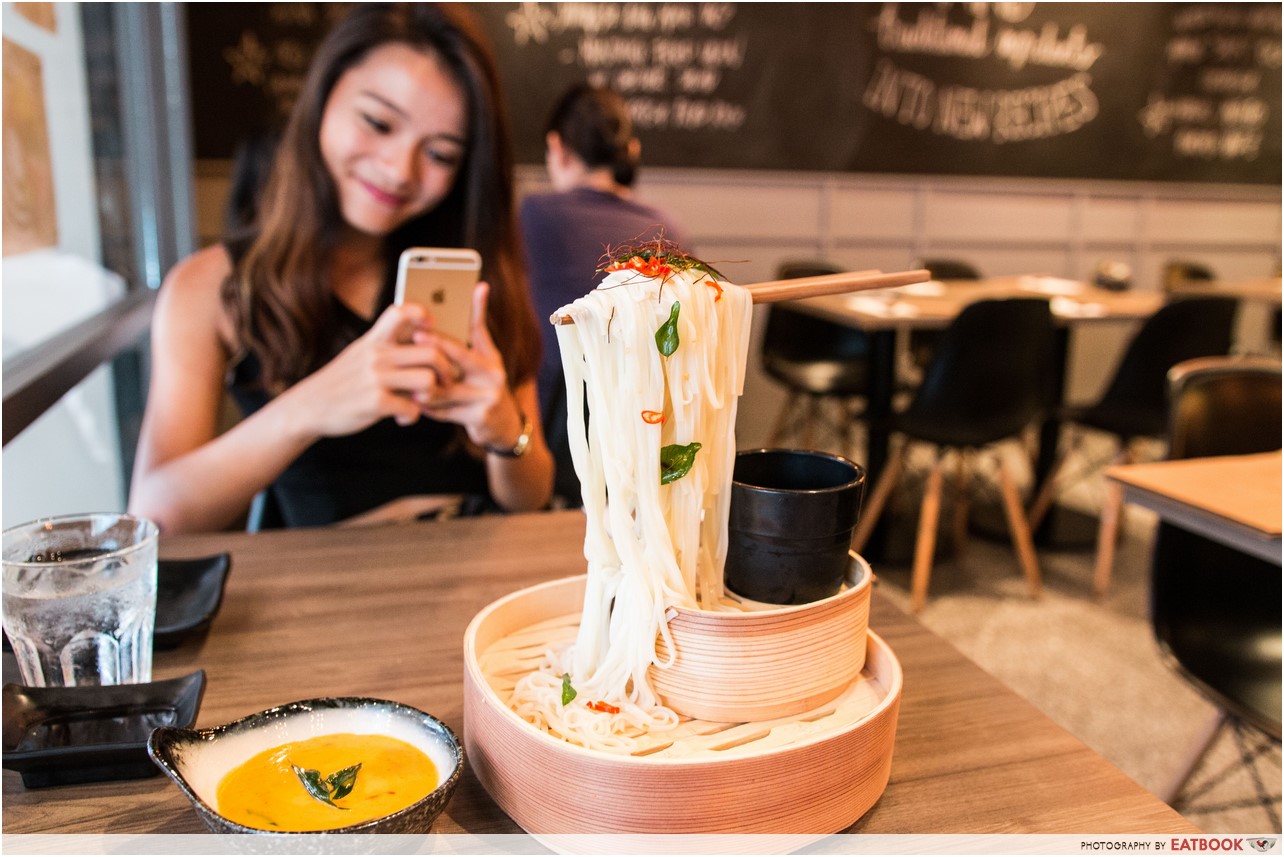 Truffle is great, but udon know how much your girl here LOVES salted egg yolk. I was being all jumpy in my seat waiting for Flying Salted Egg Udon ($18++). It arrived chilled with a luxurious salted egg sauce and a soy dipping sauce on the side. You can choose to dip your noodles into either sauces or pour it over the floating noodles.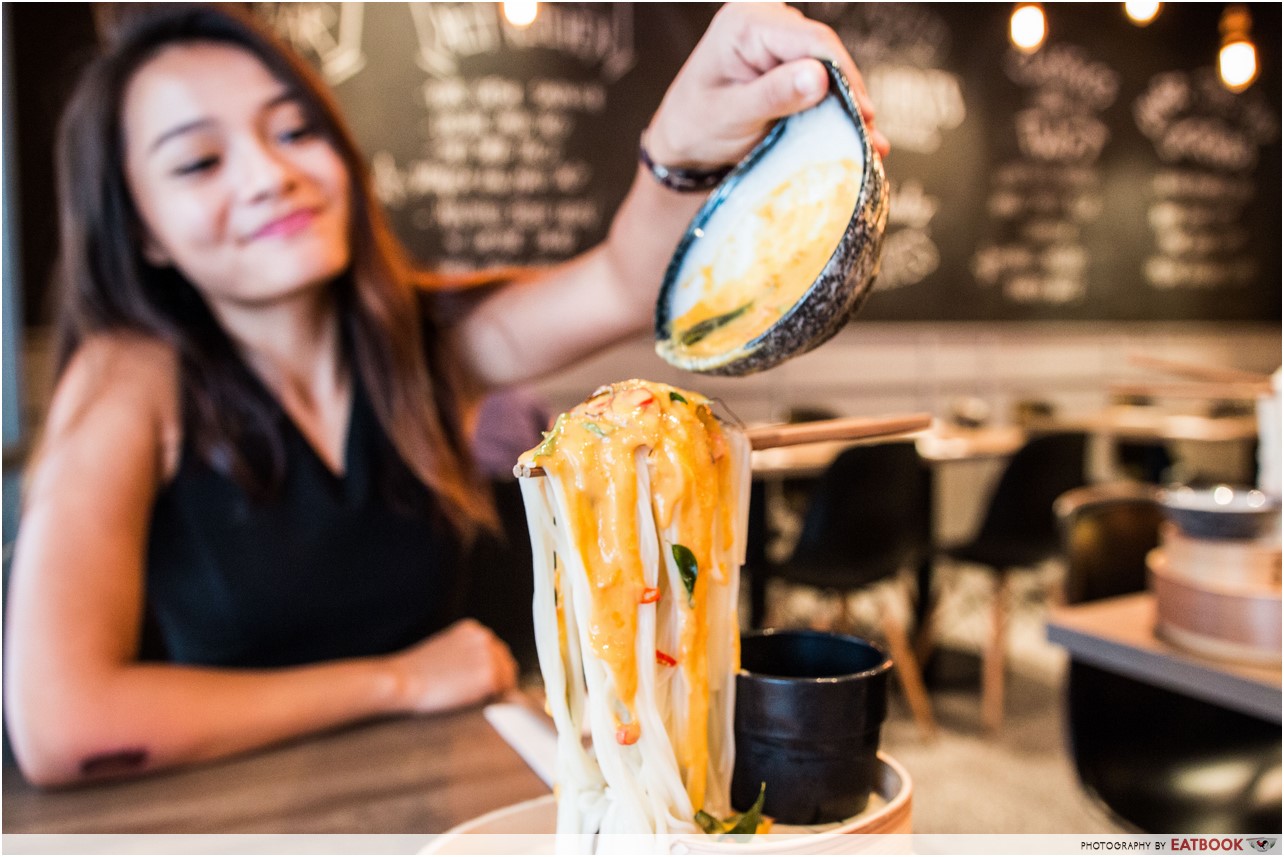 I decided to pour it over simply because of one thing called Instagram – don't judge.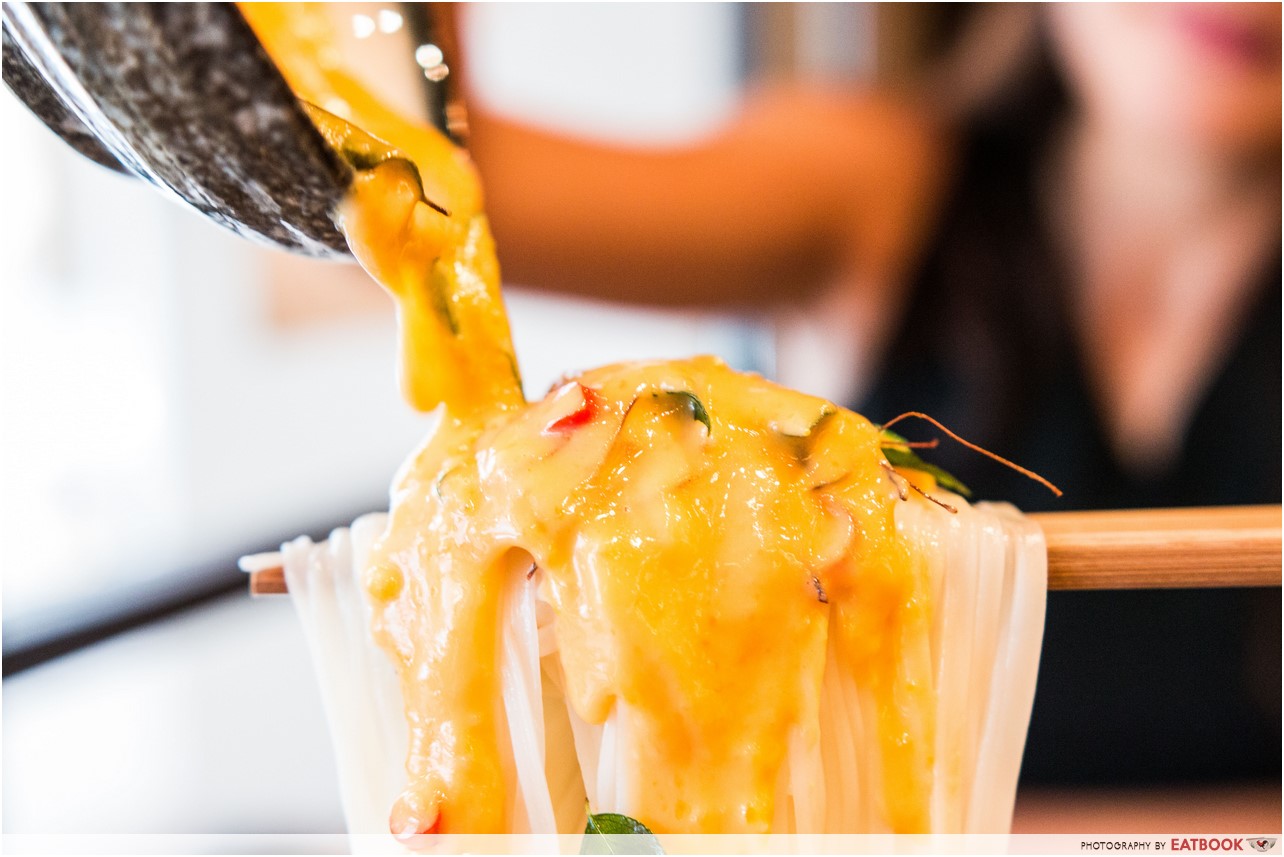 Though it was a little messy to eat, I really enjoyed the udon as it had a springier and bouncier texture as compared to the somen. While the sauce was rich and creamy, I have to say the noodles and salted egg sauce didn't really complement each other. But the soy dipping sauce made a great save! I was alternating between the two sauces to keep things less jelak as well.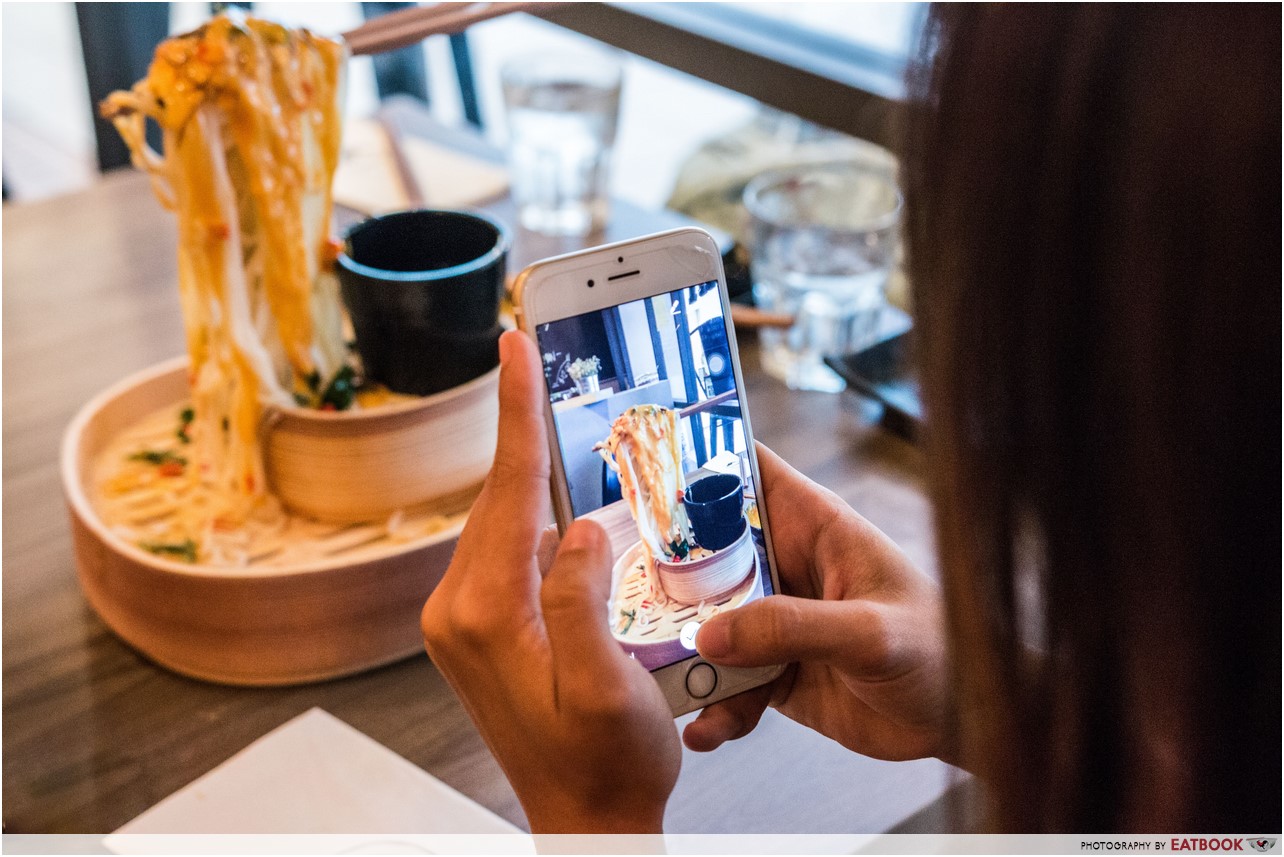 I never thought I'd say this, but this is the one time I'm thankful for food served cold 'cause I was spending so much time taking photos, Snapchatting and Boomerang-ing of this piece of art. This is by far the best definition of Insta-worthy food.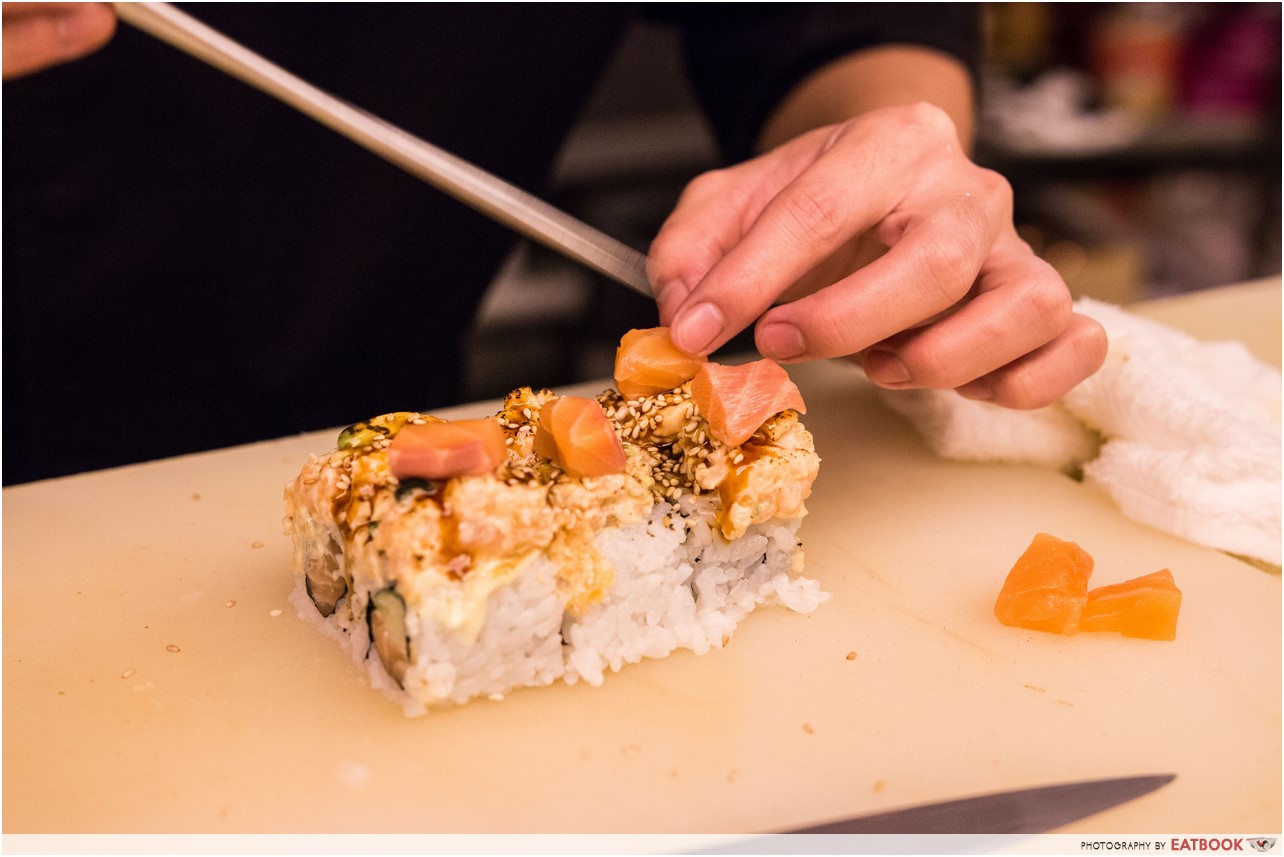 Another thing you have to try here would be Hana Signature Maki ($20++). I have always loved watching my food being prepared right before me, so I chose to sit by the sushi bar. Even though nothing was flying, I was in awe witnessing the chef preparing the sushi so meticulously. I guess that in itself is a form of art in the Japanese culture.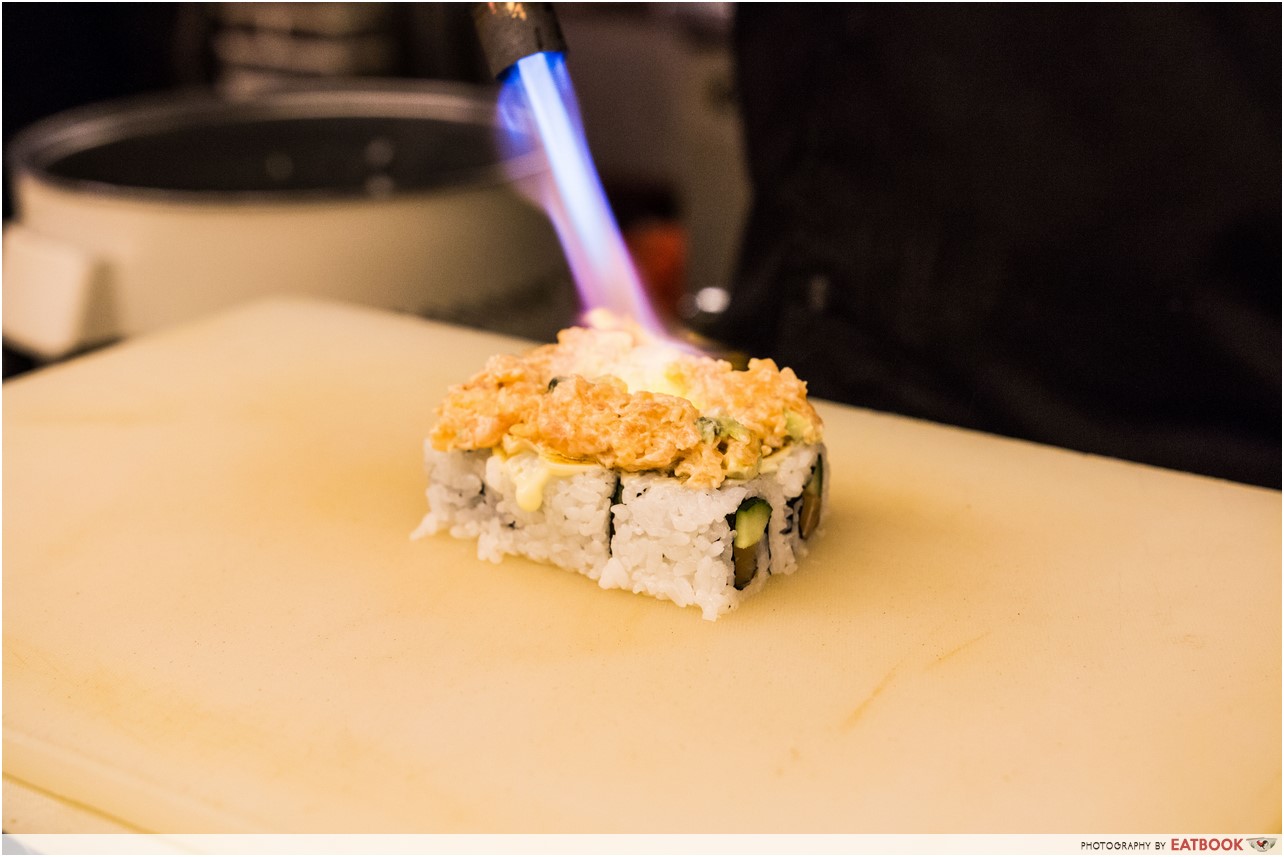 With 3 layers of fresh salmon chunks in each maki, the idea of "giam siap" is definitely not in Hana's dictionary. This inside-out sushi is rolled with fresh salmon and cucumber, smeared with Hana's signature sauce and topped with a dollop of creamy salmon tartare blowtorched to perfection. Just when I thought the chef was done with the dish, he added another plump chunk of salmon right on top and finished it with a sprinkle of ebiko.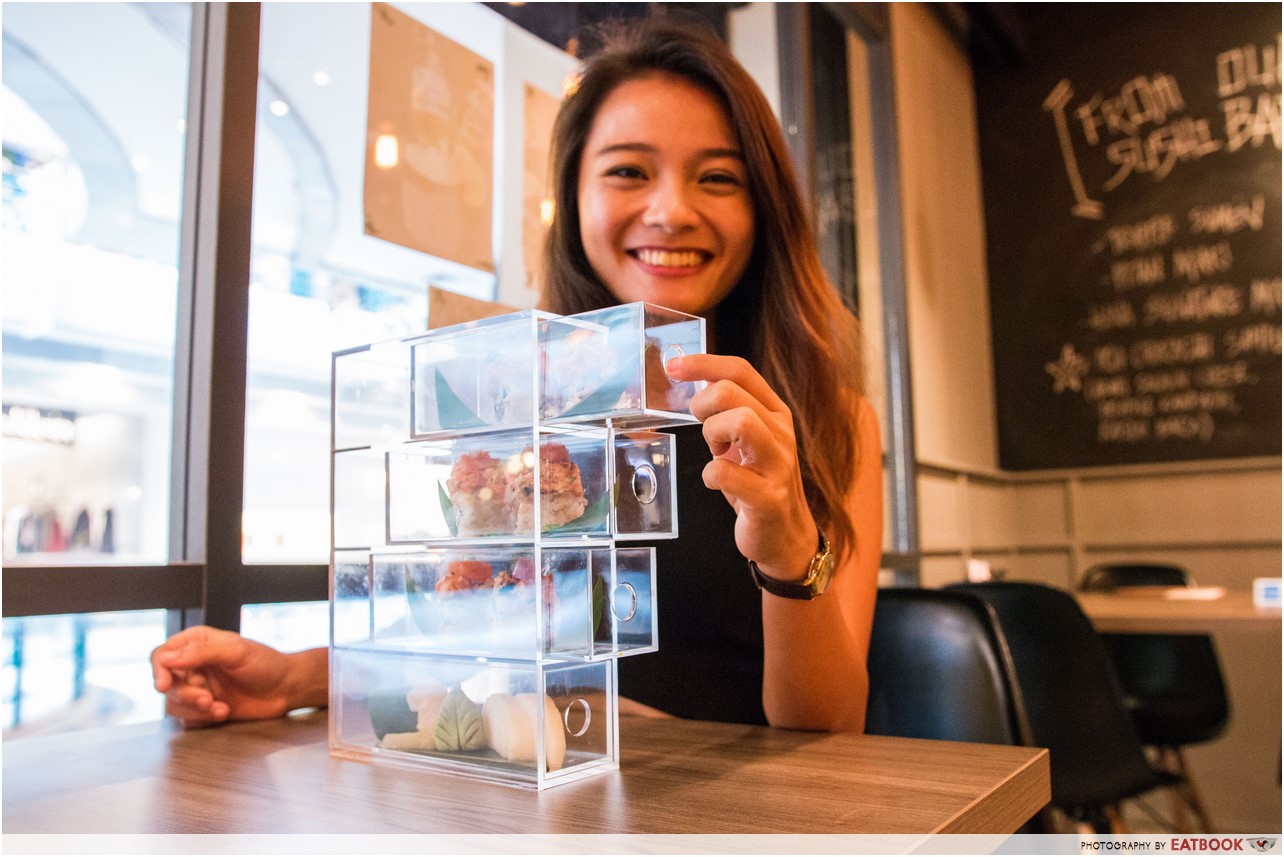 Of course, just like the flying noodles, this was also served in a way I've never seen before – drawers!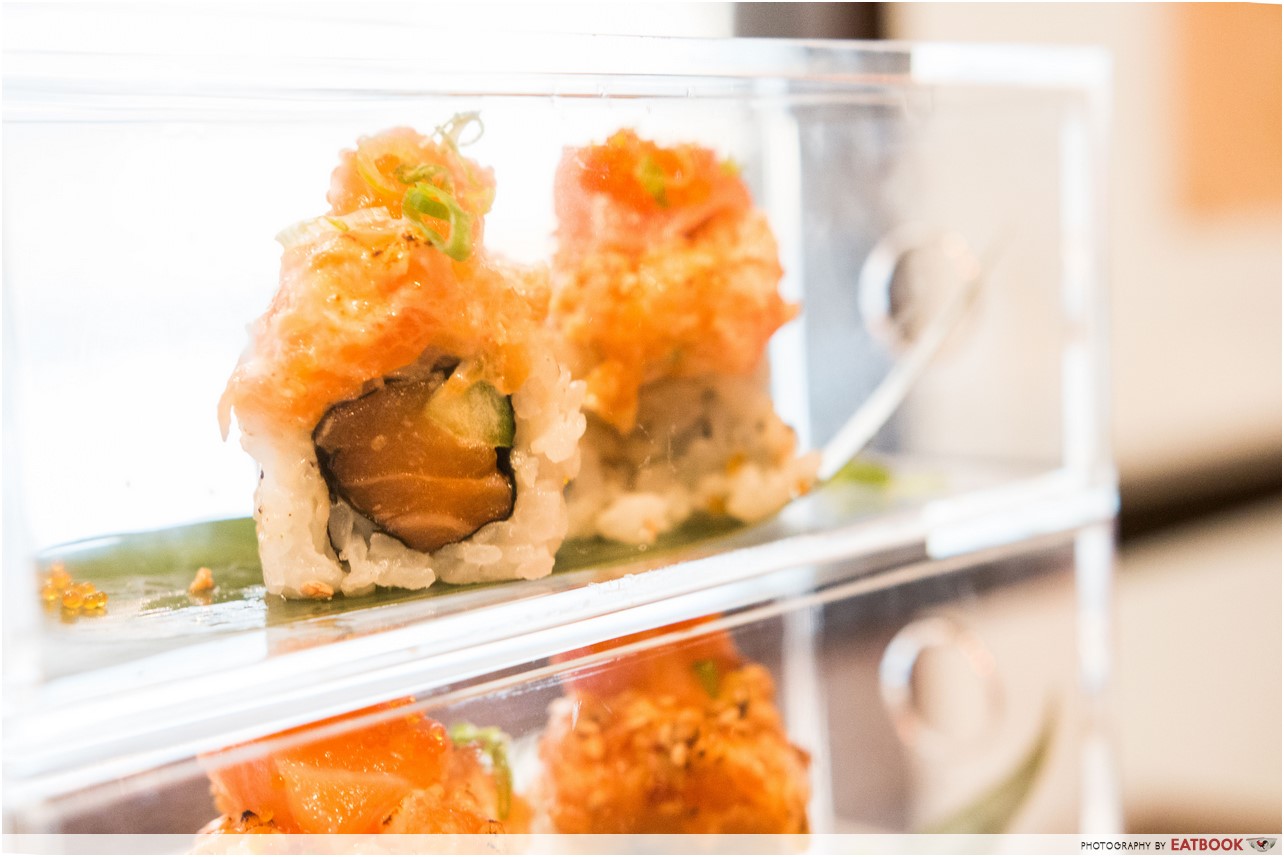 Tastewise, this was so flavourful I didn't even need to dip it into soy sauce. The Hana signature sauce was creamy and delectable, and stood out without overpowering the taste of fresh salmon.  
Ambience at Hana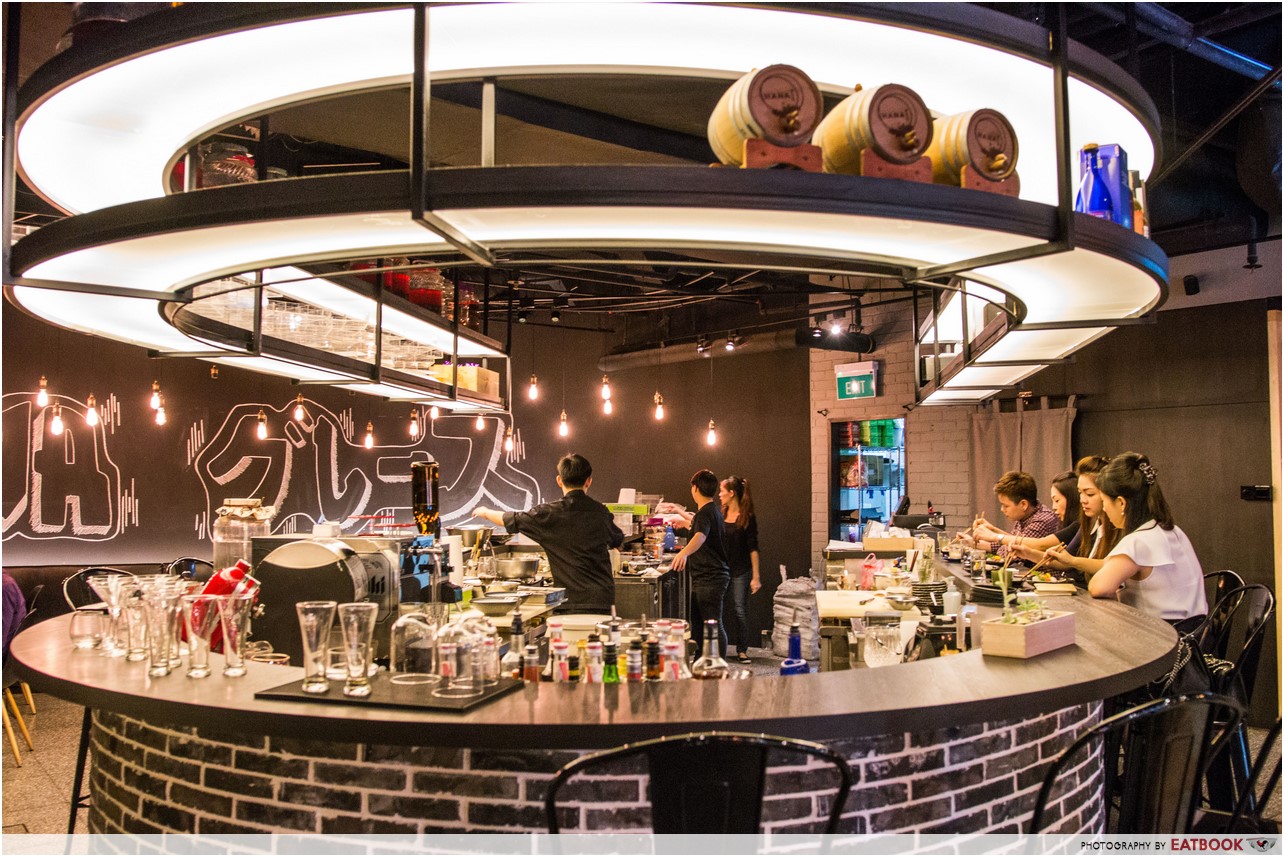 Owned by the people behind The Benjamins, Hana carries a similar vibe to its sister cafe that's right beside it. It has got none of that typical Japanese bamboo theme going on. Instead, Hana's interior is chic and modern, complete with a sushi and drinks bar in the middle. If I didn't know any better, I might have thought this was a western restaurant serving pastas and such.
The Verdict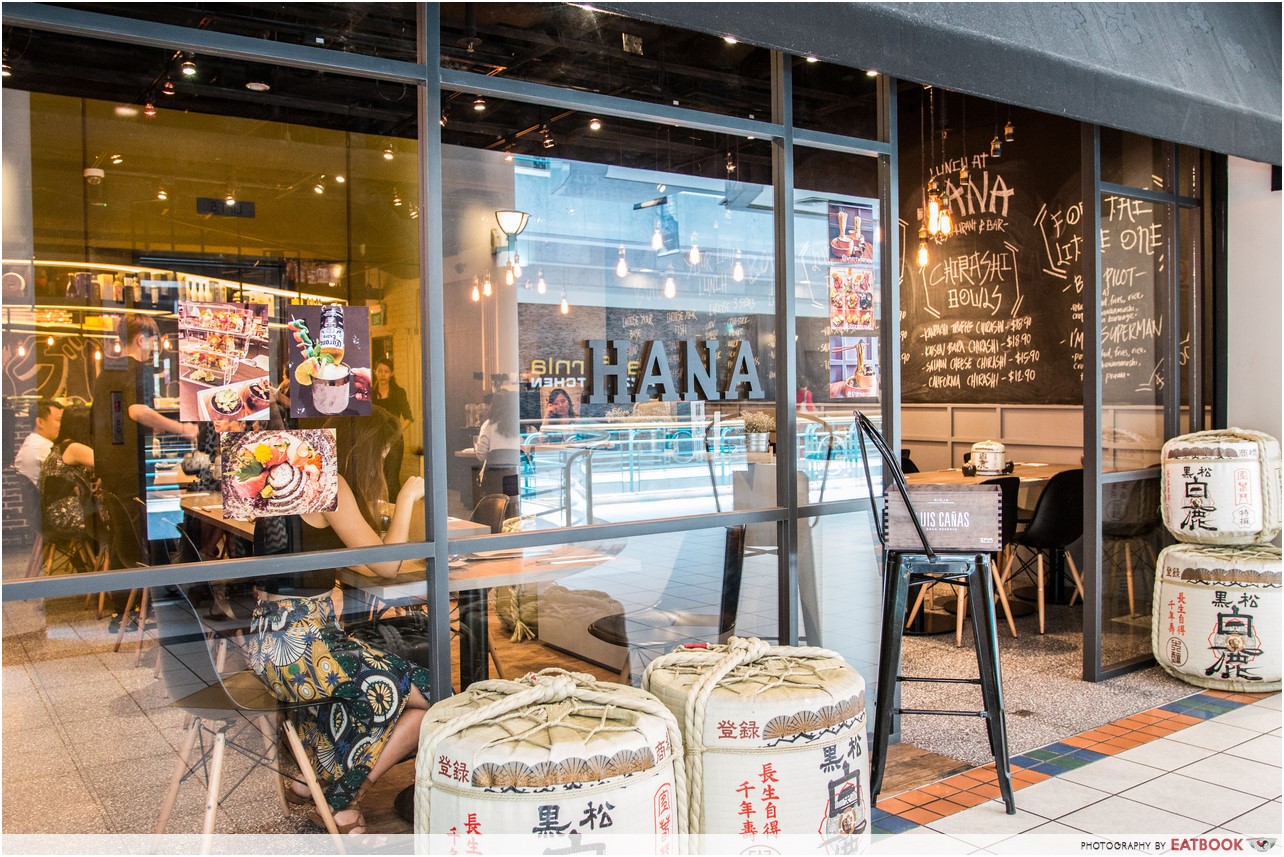 SPOILER ALERT: Skip this paragraph if you want to find out for yourself why the noodles fly. When I first heard of the flying noodles, I was super intrigued. What crazy anti-gravity food technology could it be? But alas, wingardium leviosa doesn't exist in our world – yet. It turns out the chopsticks floated because there was a hidden pair of chopsticks attached perpendicular to the floating chopsticks, making it look as if it's flying. A pile of noodles was draped over whole thing to complete the illusion.
While no fancy magic is going on here. the food and ambience at Hana were still pretty on point. Our final bill was a tad expensive, but I wouldn't mind coming back for makis and other cool dishes like sushi tacos on special occasions.
This is an independent review with all expenses borne by Eatbook.sg.
Hana Japanese Restaurant Review: Flying Noodles You Can Actually Eat
Summary
Pros
– Insta-worthy dishes
– Comfortable ambience
– Unique modern Japanese dishes
Cons
– Expensive
Recommended Dishes: Hana Signature Maki ($20++), Flying Truffle Somen ($20++)
Operating Hours:
Monday – Sunday 11:30am to 10pm
Address: 583 Orchard Road, #01-17, Forum The Shopping Mall, Singapore 238884