Not your typical bak chor mee
Update: Non Entrée Desserts is now permanently closed.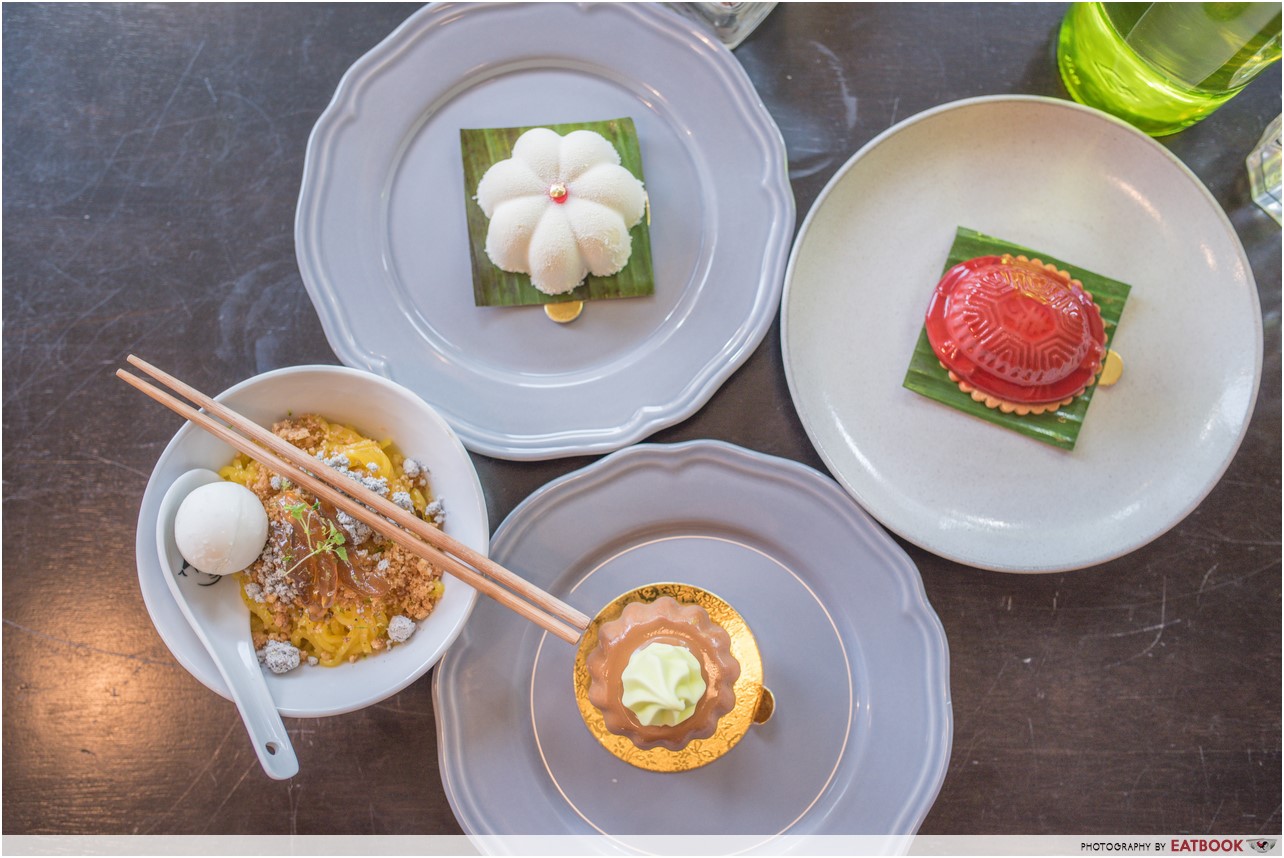 Non Entrée Desserts has created quite a stir with stunning desserts like the crazy Chocolate Avalanche and quirky Rubber Ducky. There's no place quite like this small cafe on Rangoon Road, which churns out all sorts of unimaginable desserts for the inquisitive foodie.
Now, in addition to their regular lineup, Non Entrée Desserts launched a new theme menu, titled "Back To The Future: 那些年我们吃过的回忆 (The Memories We Ate In The Past)". This original menu of new-age desserts was inspired by nostalgic Singaporean classics and draws on familiar flavours from our childhood days.  The cafe takes our fondest memories of chowing down on local comfort food such as kueh and bak chor mee, distilled their essence and re-invented them completely.
Plated desserts at Non Entrée Desserts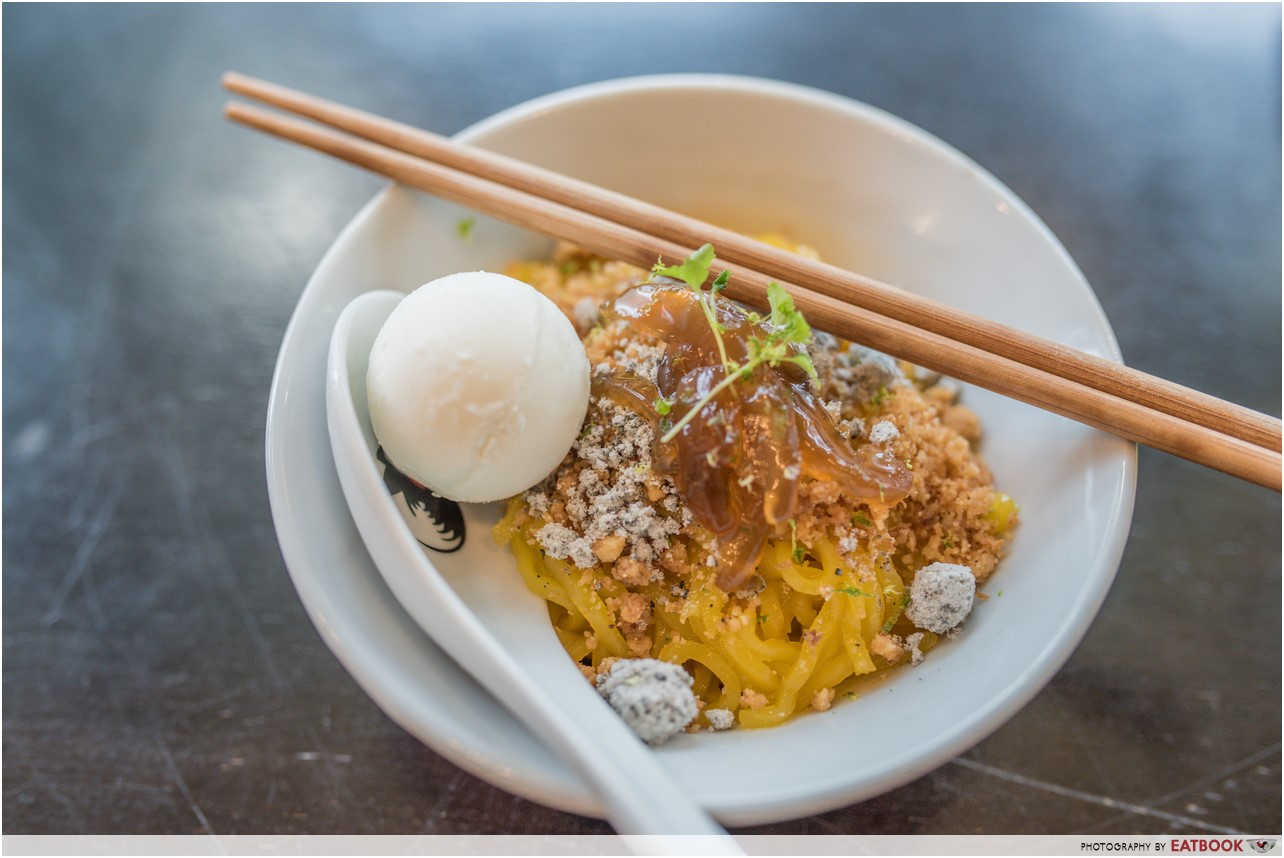 At first glance, Bak Chor Mee ($14.90++) looks nothing like a dessert at all. It looked so much like an actual bowl of bak chor mee, I could hardly believe my eyes when it was served. 
The unbelievable-looking dessert takes all the elements of a traditional bak chor mee and transforms them entirely. It comprises of mango vermicelli "noodles", raspberry reduction "chilli sauce", balsamic "vinegar", sesame snow "minced meat", peanut "lard", sea coconut "mushrooms" and a coconut parfait "fishball". These sit atop a base of wobbly mango pudding, with bright cubes of fresh mango underneath.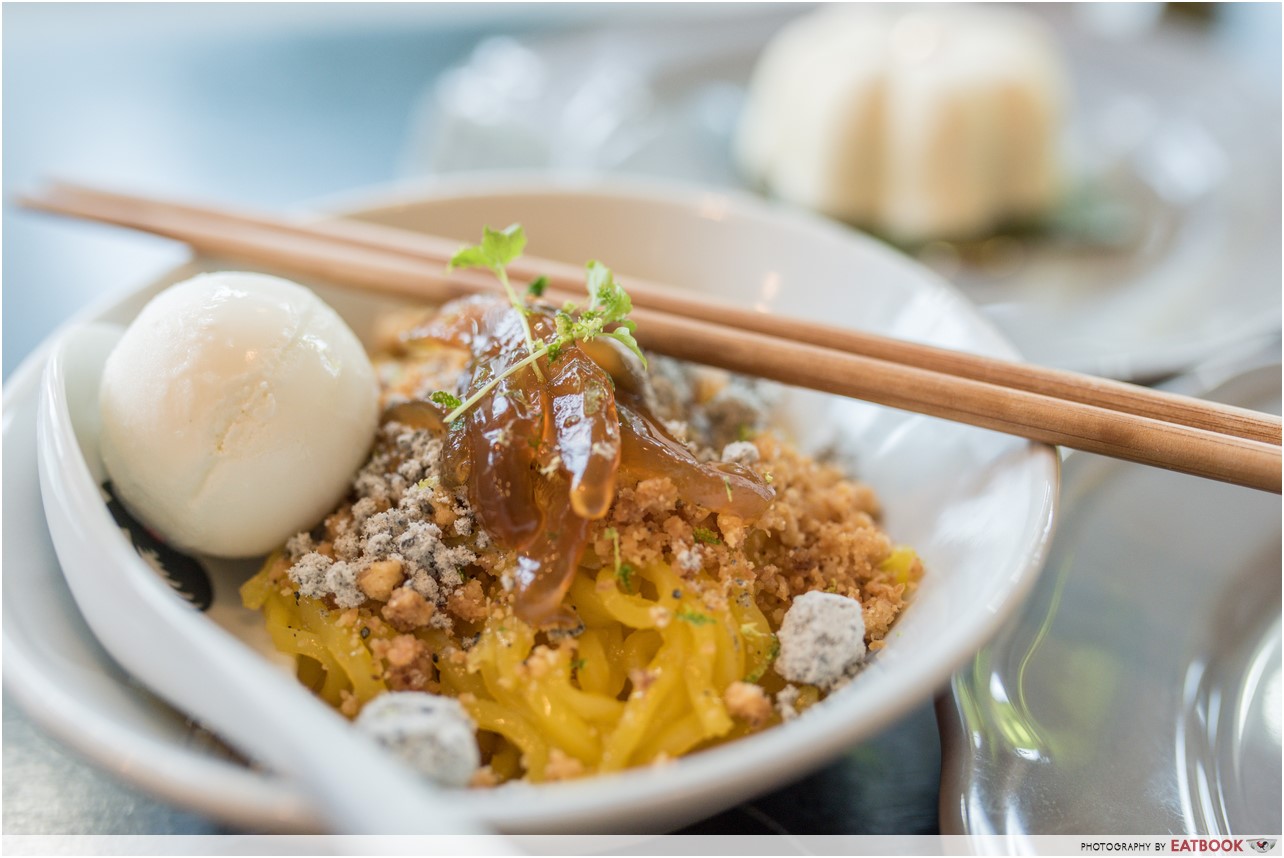 The first bite that hit my palate was decidedly disconcerting. Even though I knew this was a sweet treat masquerading as our beloved BCM, my brain was still anticipating the savoury, springy quality of the popular noodle dish.
However, after I got past the initial shock to my tastebuds, the "bak chor mee" started to really grow on me. Each spoonful delivers a party of different textures: crunchy sea coconut, smooth mango pudding, sandy peanut-sesame crumble, and so on. The mango vermicelli is particularly interesting. It starts off with a slightly firm texture, before disintegrating on the tip of your tongue.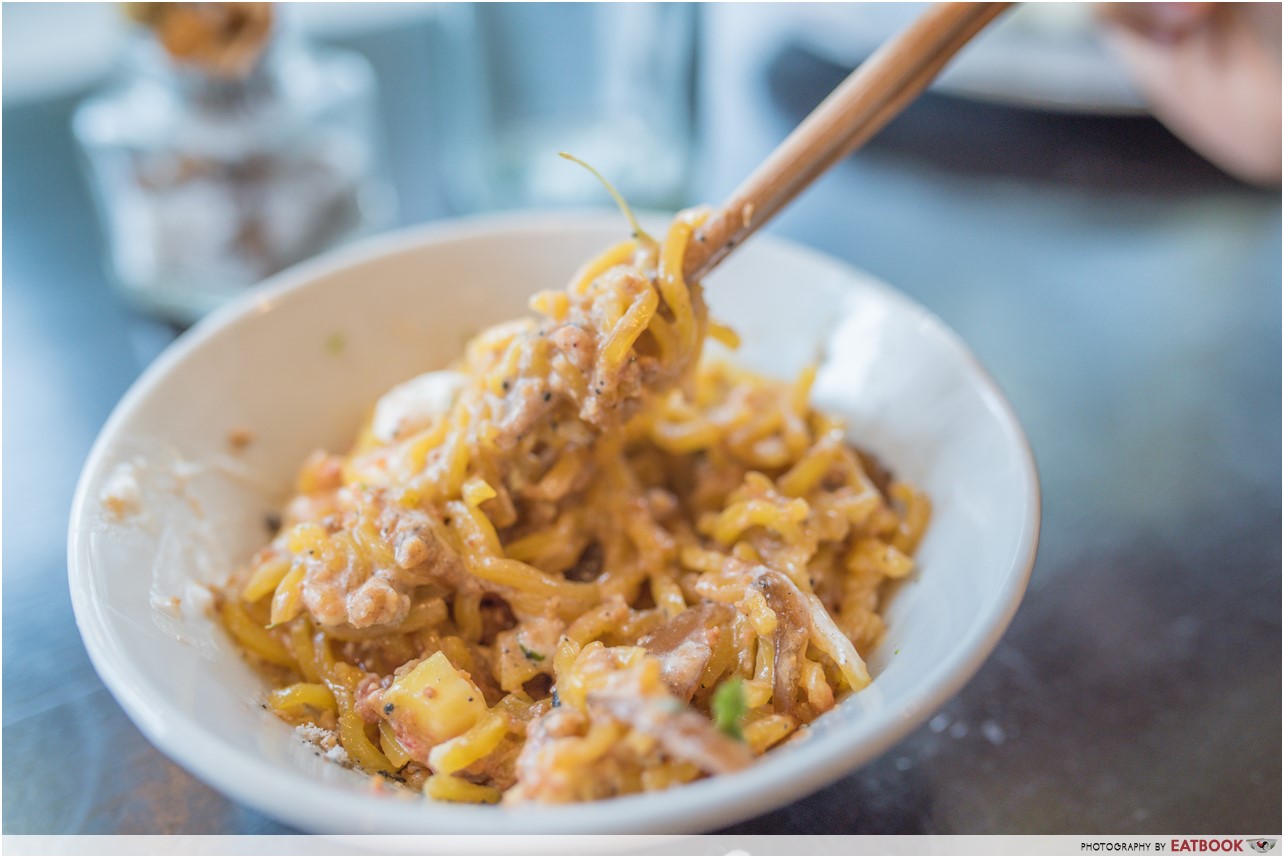 There was an excellent balance between the tart mango cubes and sweet mango pudding, with an additional layer of brightness from the raspberry reduction. I loved the added crunch from the delicious sesame snow and crushed peanuts, as well as the smooth, rich infusion of coconut from the parfait "fishball". The only component I couldn't appreciate was the sea coconut, as I'm not a fan of the fruit.
Overall, this is a very refreshing dessert. It's polarizing – not everyone might be able to get past its bizarre appearance in order to appreciate the taste. But keep your mind open and if you are a fan of mango desserts, you'll soon fall in love with it.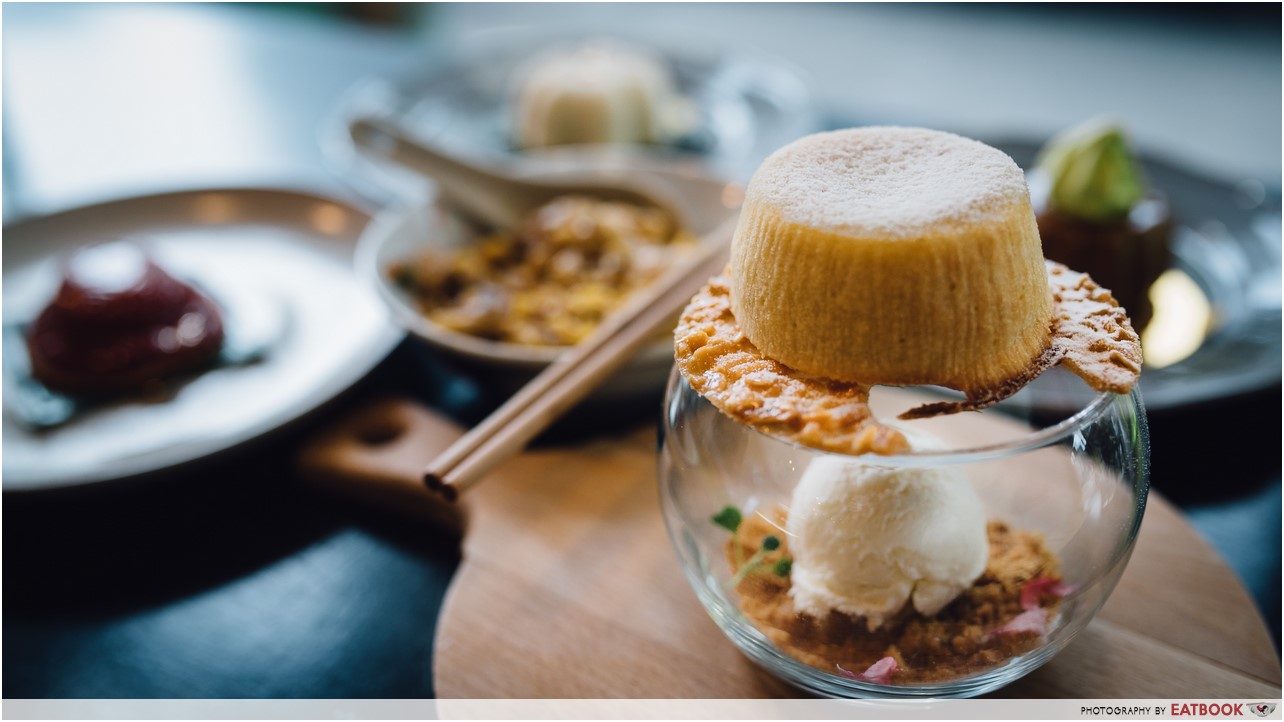 The latest addition to Non Entrée's Avalanche series takes on a classic Singaporean flavour. Presenting the Horlicks Avalanche ($13.90++): a cream-coloured dome of white chocolate Horlicks lava cake resting atop a thin disc of almond nougatine, suspended over a glass bowl containing peanut butter crumble and a scoop of milk gelato.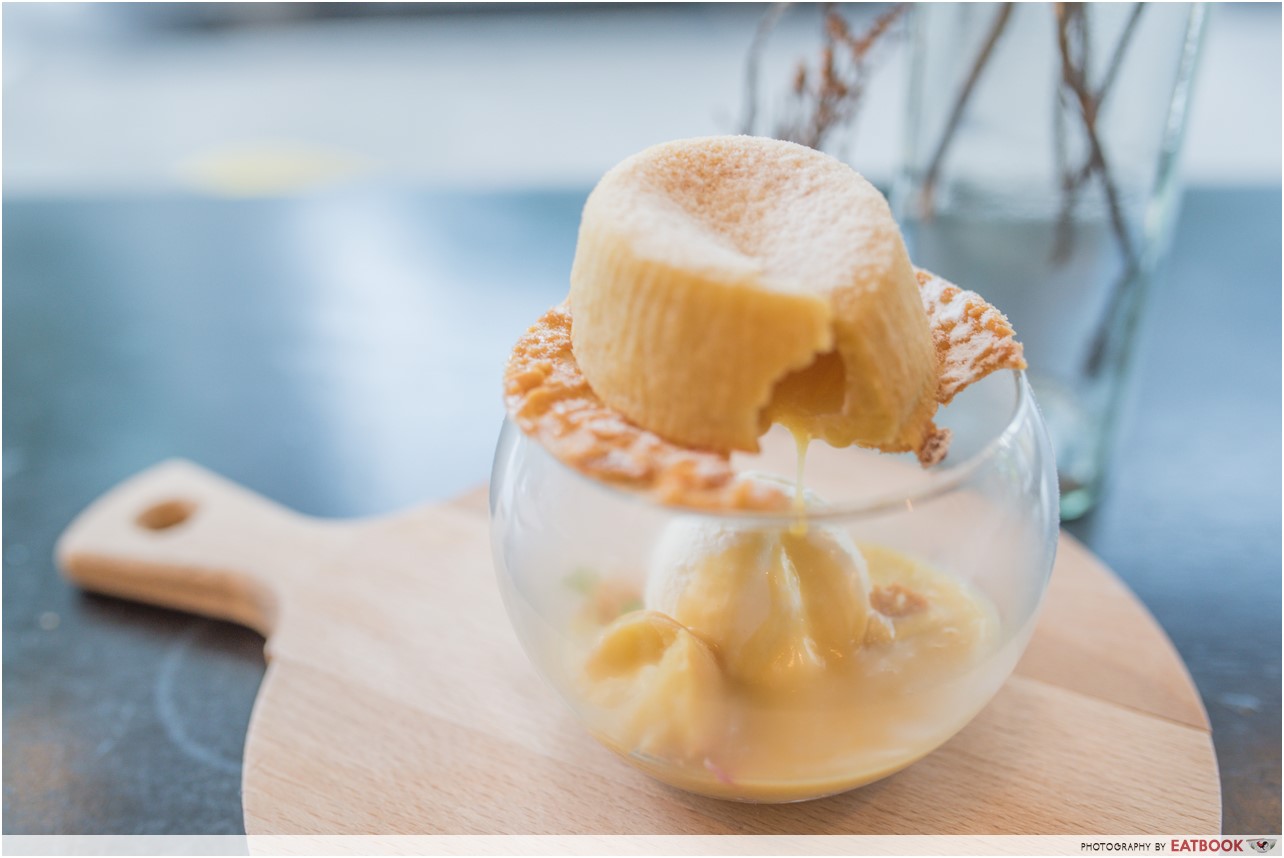 In order to get the full experience out of this towering beauty, cut a wedge out of the lava cake and let the molten core cascade over the ice-cream. After that, use a knife to stab down into the almond nougatine.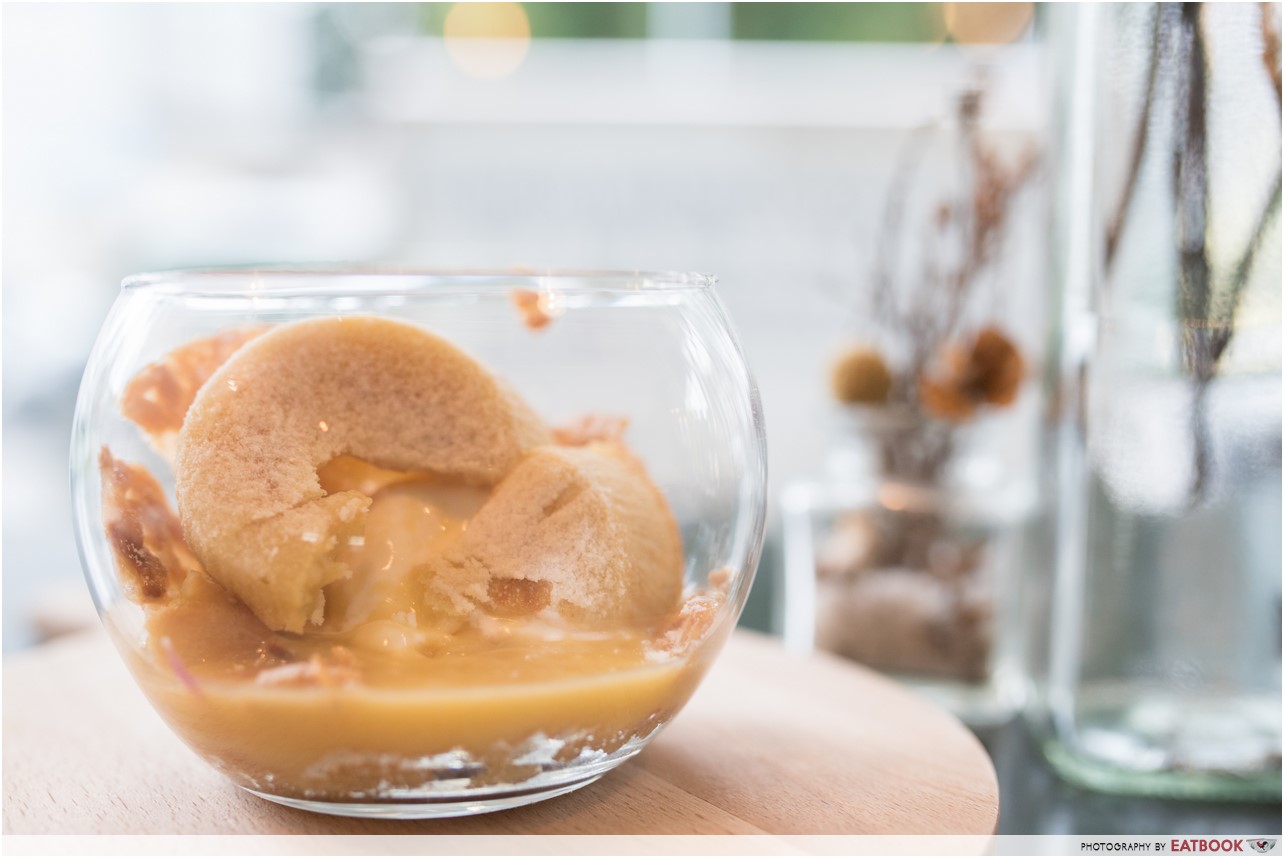 The collision of contrasting temperatures and textures is unreal – a galactic mess of hot creamy lava, cold melting milk gelato, warm melt-in-your-mouth cake and sandy, slightly salty crumble. I particularly enjoyed the rich, buttery nougatine and the almost custard-like texture of the lightly sweet cake. This is lava cake on an epic scale.
However, I could barely taste any Horlicks flavour. On its own terms, this was a very delicious dessert, but as a "Horlicks Lava Cake", the Horlicks element could definitely have been more prominent.
That still didn't stop us from polishing off the whole thing.
Cakes at Non Entrée Desserts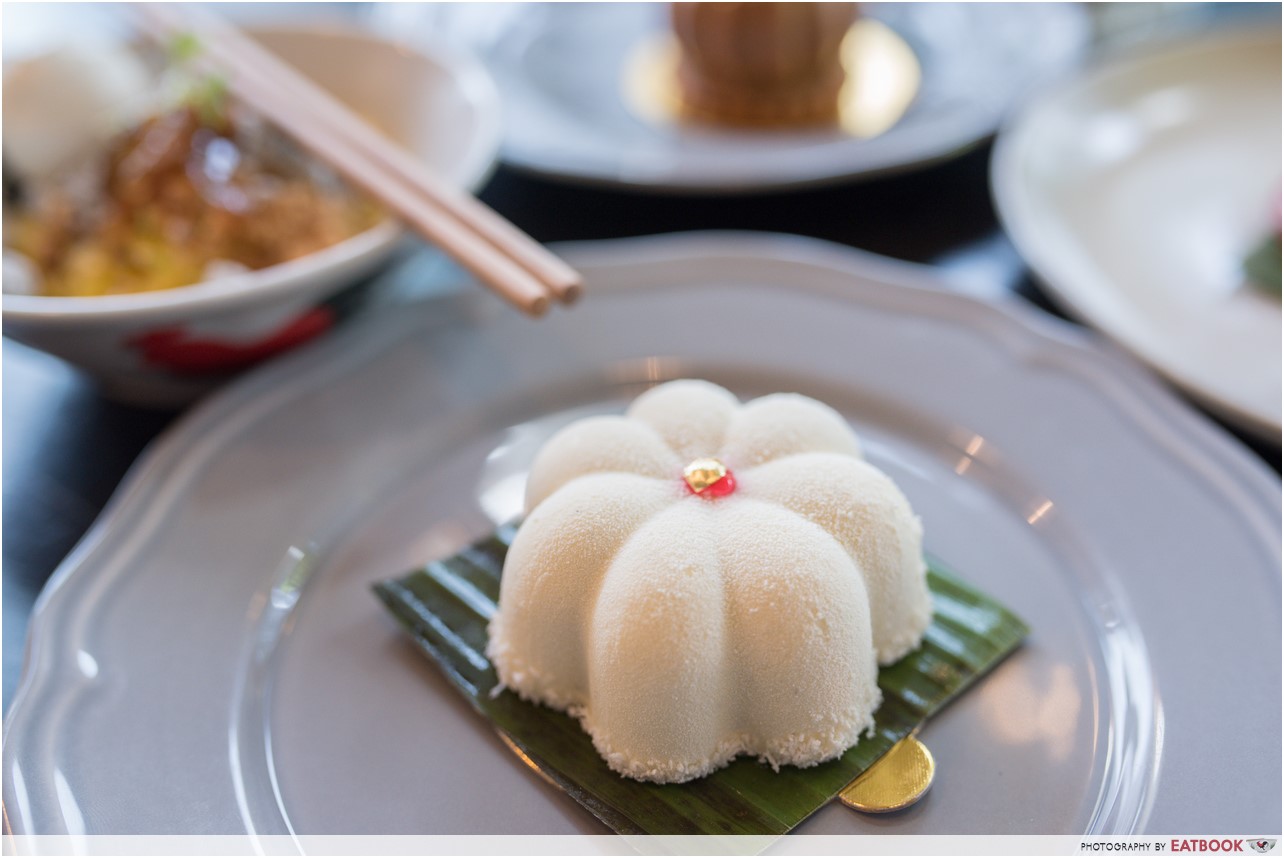 Can I just say: The cakes here are ADORABLE. Non Entrée's rendition of Tutu Kueh ($8.90++) has an exterior of white coconut vanilla mousse, with an interior of coconut almond sponge cake and light brown gula melaka cream.
Each forkful was supremely light and airy-smooth, melting like clouds in my mouth almost instantaneously. The standout flavours of gula melaka and coconut were perfectly intertwined – I could taste the exquisite sweetness in the coconut mousse, just before the intensity of the salty gula melaka-infused core kicked in. The addition of dessicated coconut into the cake's base layer provided a touch of texture, and served to intensify the tropical coconut element in the dessert.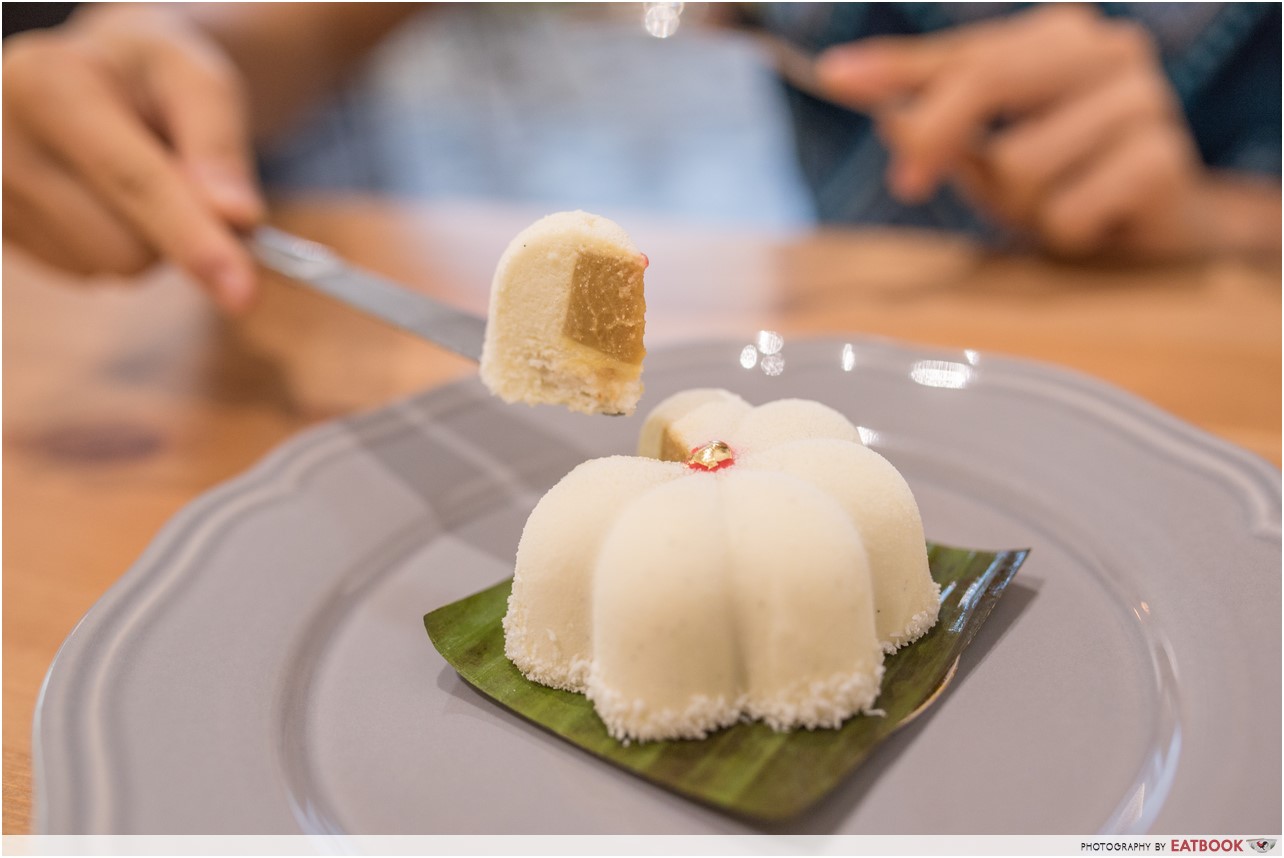 Out of all the cakes we tried, this was my personal favorite. I loved how this dessert captured the basic elements of tutu kueh, elevating it from a simple snack into a fancy, ethereal mousse cake. Talk about tribute in its finest form.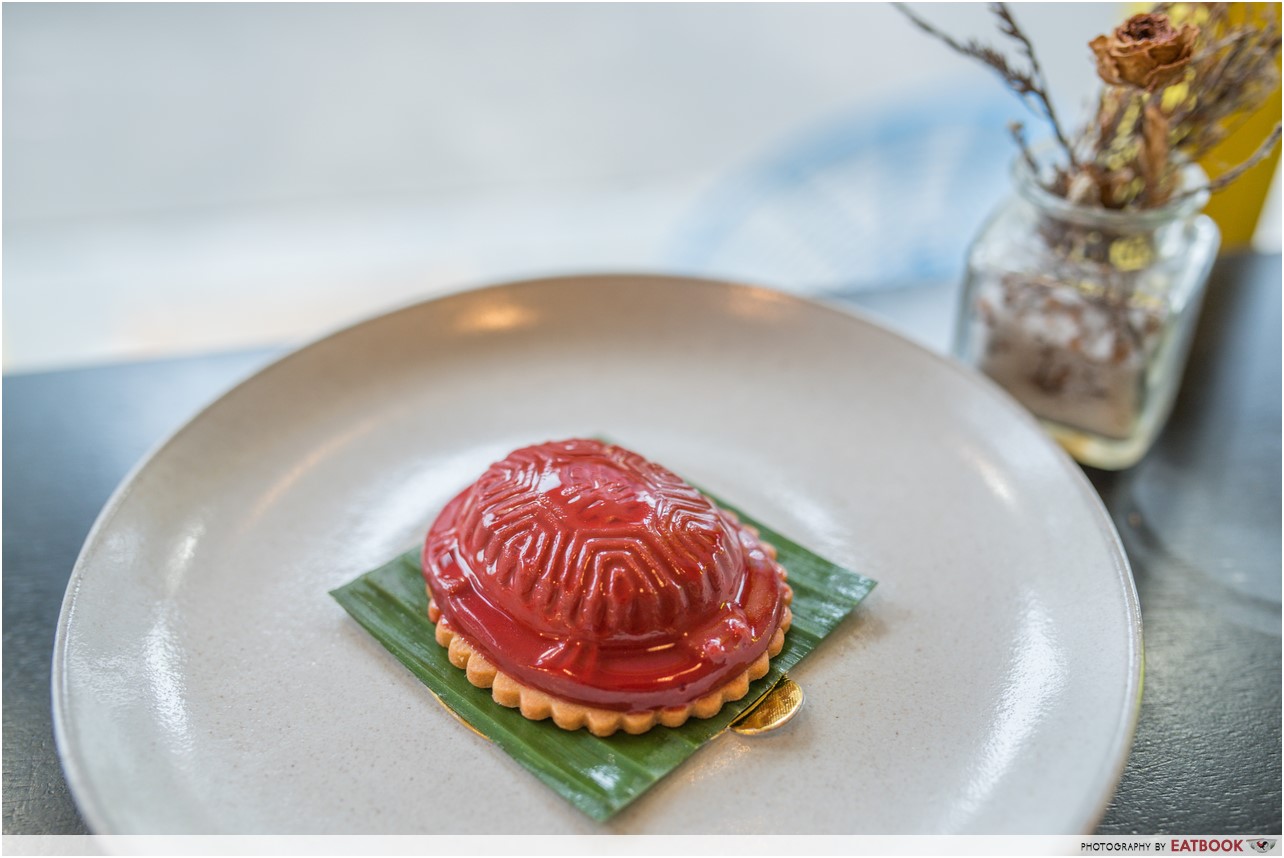 The Ang Ku Kueh ($9.90++) cake looked impossibly like the real deal, complete with the traditional kueh's archetypal glazed appearance, and a square of pandan leaf. This had an outer layer of dark pink strawberry curd surrounding a core of red strawberry jelly, atop a crisp shortbread base.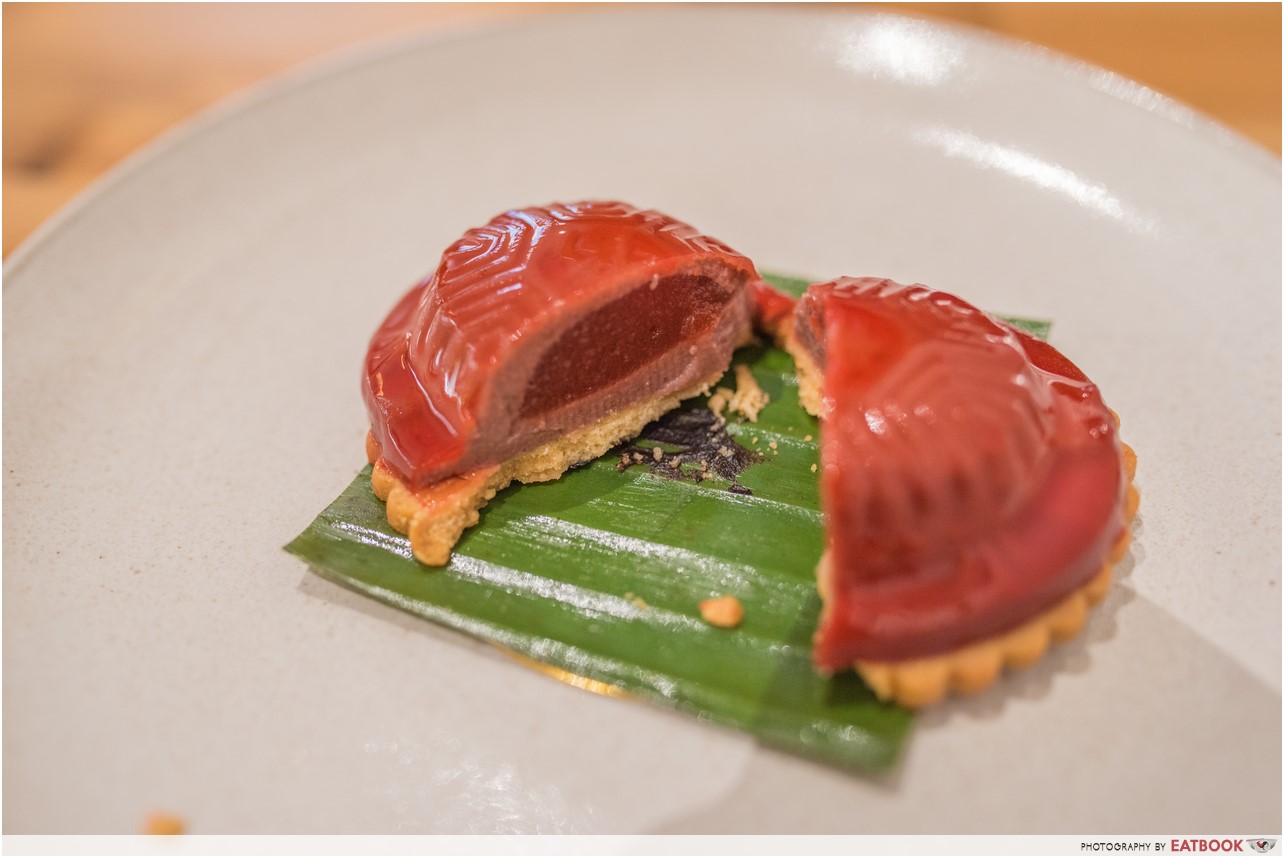 Out of all the desserts ordered, this was the lightest, most refreshing one. It's more of a jelly rather than a cake. This was distinctly more tart than sweet, with a smooth silky texture that delivered a power-packed punch of strawberry. The buttery shortbread base added some snap to round off the bright-tasting dessert.
This actually reminded me of the popular redcurrant puffs sold at Marks & Spencer, except way more atas, and in the form of a high-quality cake.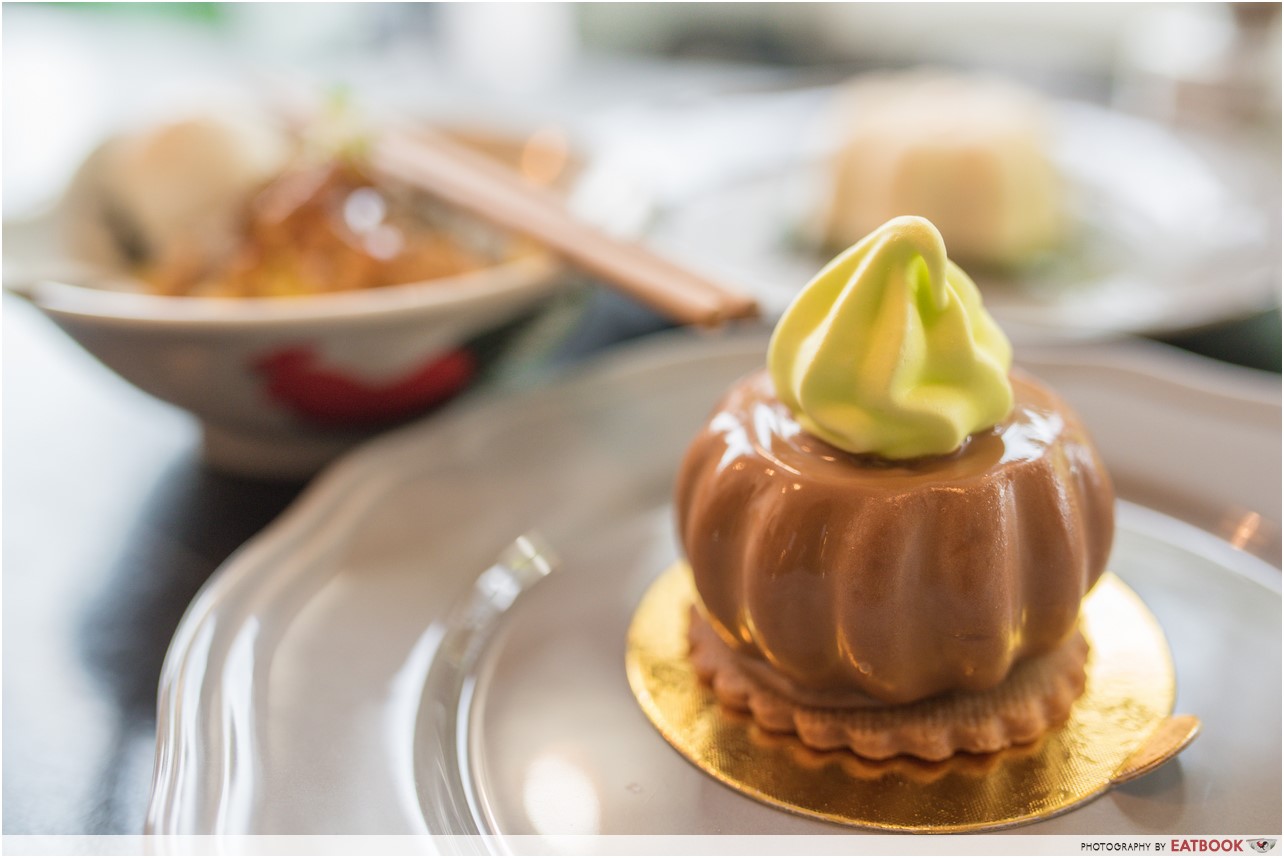 This dessert was life changing. I'm generally not a fan of the individual components in the cake, so you could imagine my surprise when this ended up being one of my favorites from Non Entrée. I've always shunned milk chocolate in favour of its dark counterpart – probably due to many poor experiences with subpar, inferior milk chocolate.
The Gem Biscuit cake is a whole different story.
I took my first bite not expecting much, and was blown away by the sheer quality of the milk chocolate in the mousse. It had an incredible velvety creaminess, underscored by a very subtle edge of bitter cocoa. Combined with the pleasantly sharp apricot centre and salty butteriness of the almond base, this is one luxurious, well-constructed cake to be reckoned with.
The Verdict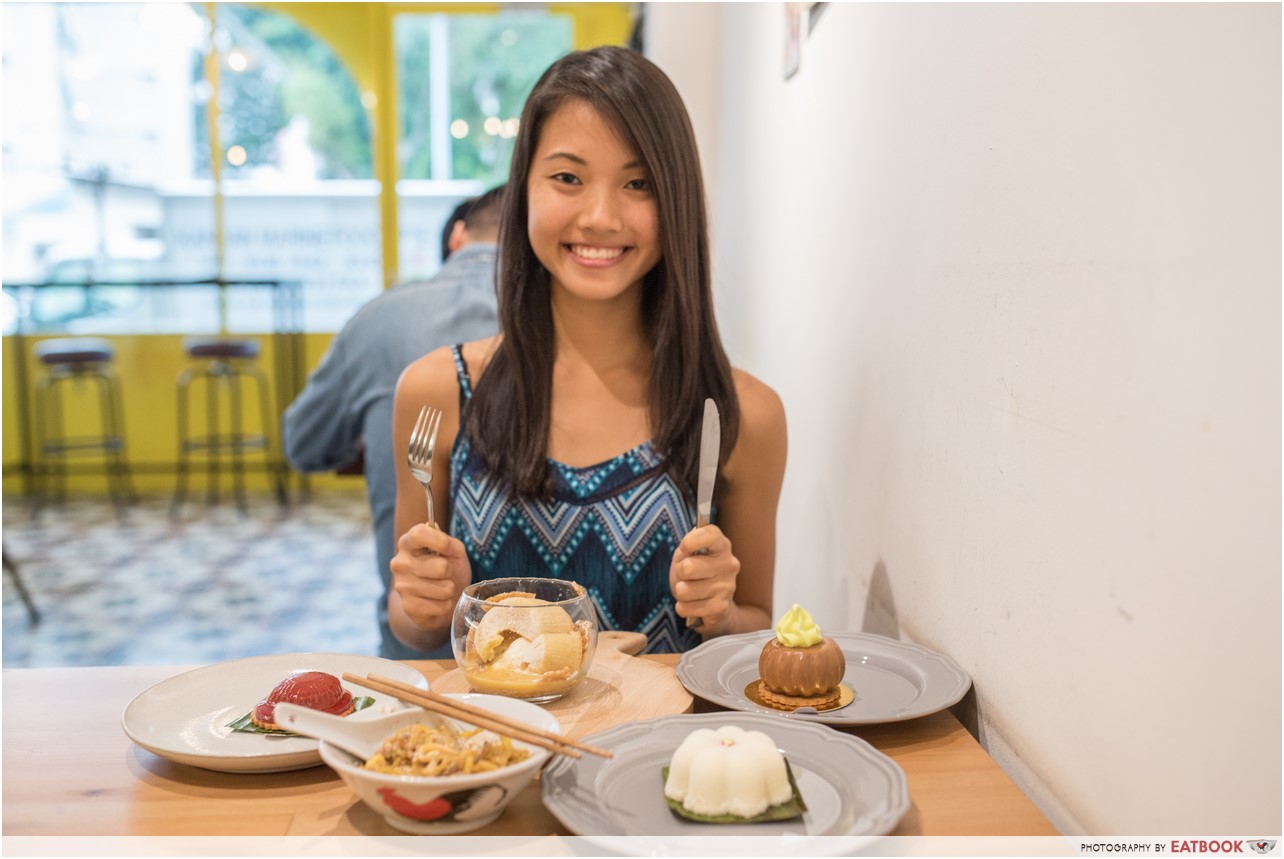 The desserts in Non Entrée's "Back To The Future" theme menu were thoroughly impressive, not just in terms of presentation, but also in their quality and execution. All the contrasting textures and flavours were exceedingly well-balanced, resulting in some incredibly complex yet harmonious dessert combinations. Major props to Non-Entrée for their dedication to detail.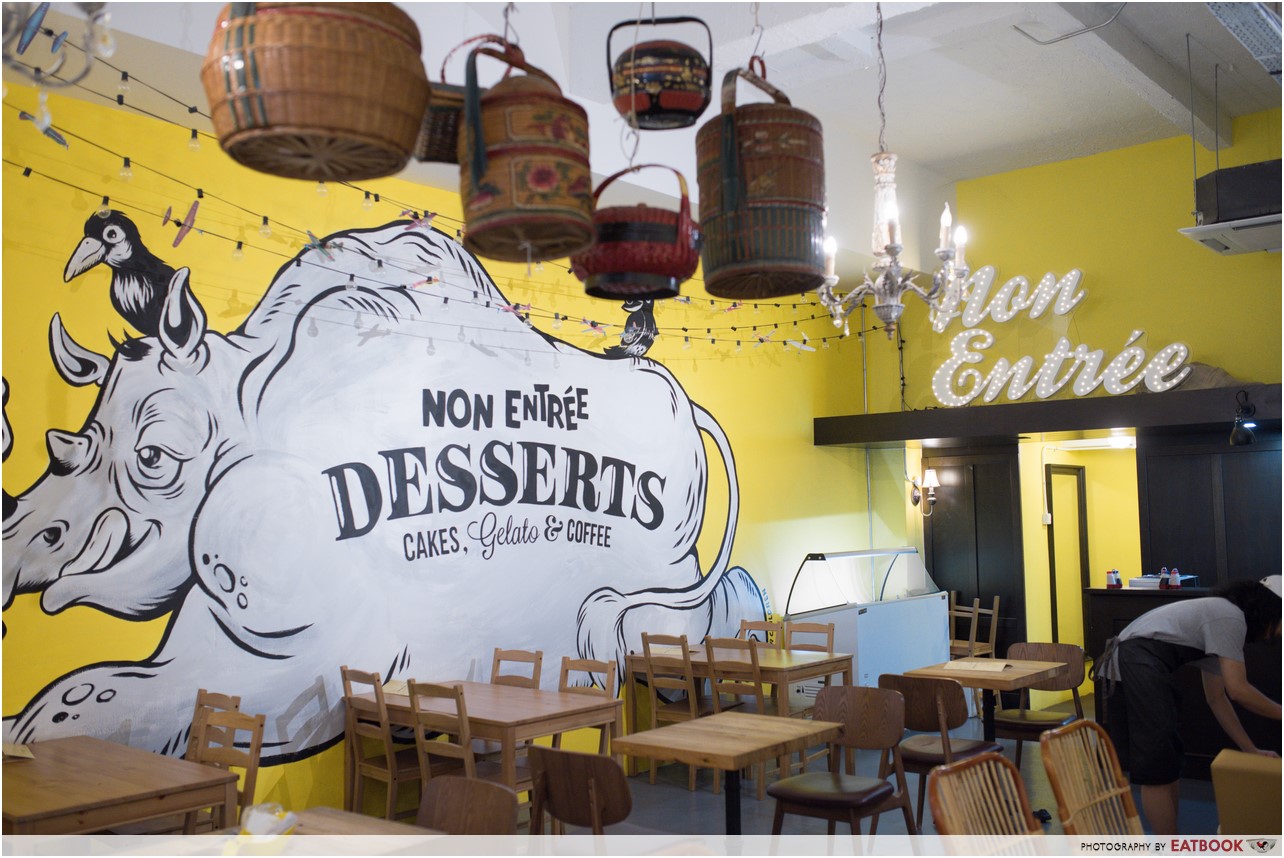 Prices are on the steep side, but honestly, the money shelled out for the full experience won't go to waste. Non Entrée checks all the boxes in terms of a fantastic dining experience: visual aesthetic, creativity, quality, execution and taste.
Plus, there's that extra wow factor. Each dessert managed to stay true to the essence of its inspiration, while at the same time retaining a tangible streak of originality that left a deep impression on me. It might be hard to believe, but these nostalgic desserts taste even better than they look.
This is an independent review with all expenses borne by Eatbook.sg.
Summary
Pros
– Unique desserts
– Convenient location
Cons
– Expensive
Recommended Dishes: Bak Chor Mee ($14.90+), Tutu Kueh ($8.90+), Gem Biscuit ($10.90+)
Operating Hours:
Tuesday – Thursday 2pm to 10pm
Friday – Saturday 2pm to 11pm
Sunday 2pm to 10pm
Address: 204 Rangoon Road, Singapore 218451