Clan Cafe at Outram Park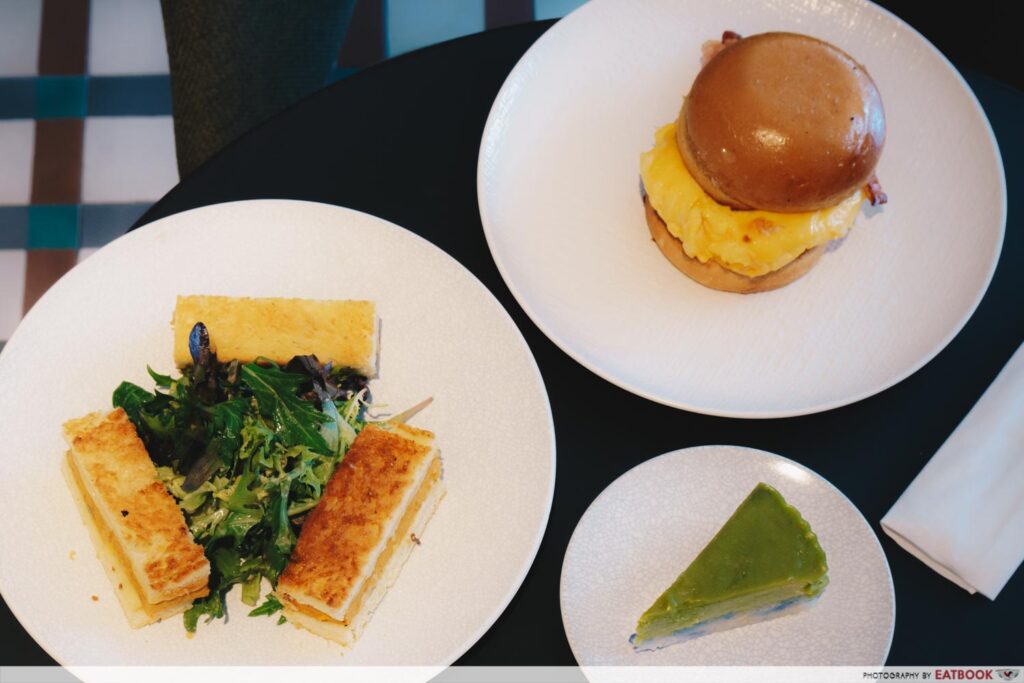 My dream is to be a tai tai, so I love dining at places that exude class.
Cue: Clan Cafe.
Housed in members-only Straits Clan, this swanky all-day dining venue is a remarkable sight to behold. Stepping in immediately transports you to a more luxurious time – a vibe I'm a sucker for. And the food? Well, they are what I would have every day if my dream came true.
Food at Clan Cafe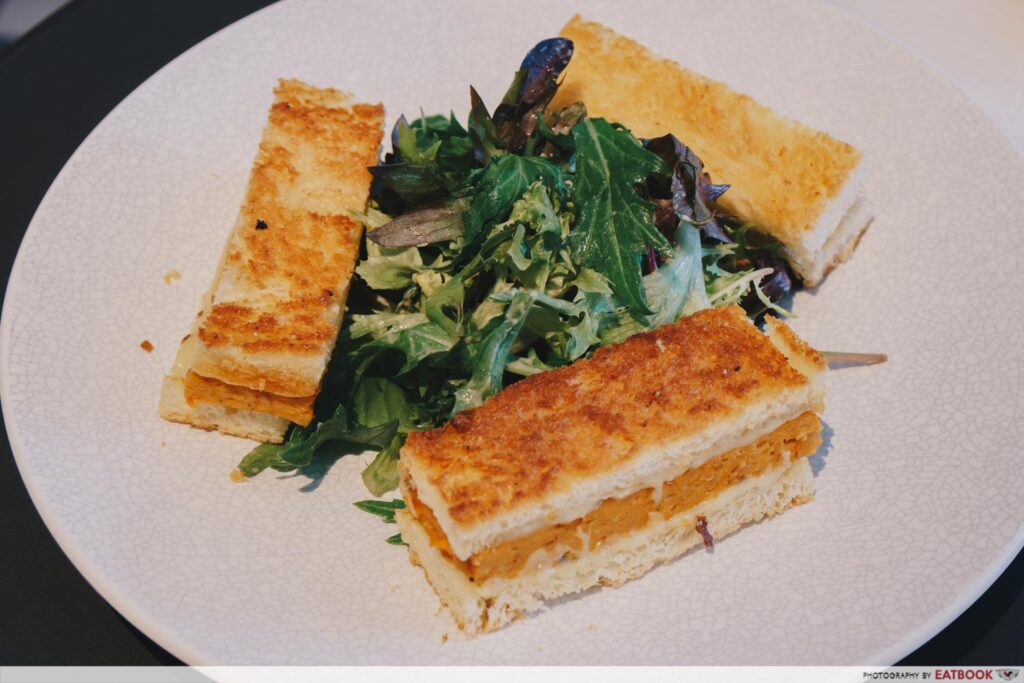 The Otah Sandwich ($16++) is like an initiation rite for those dining at Clan Cafe. Everyone has had it at least once, and it's easy to see why everyone raves about it.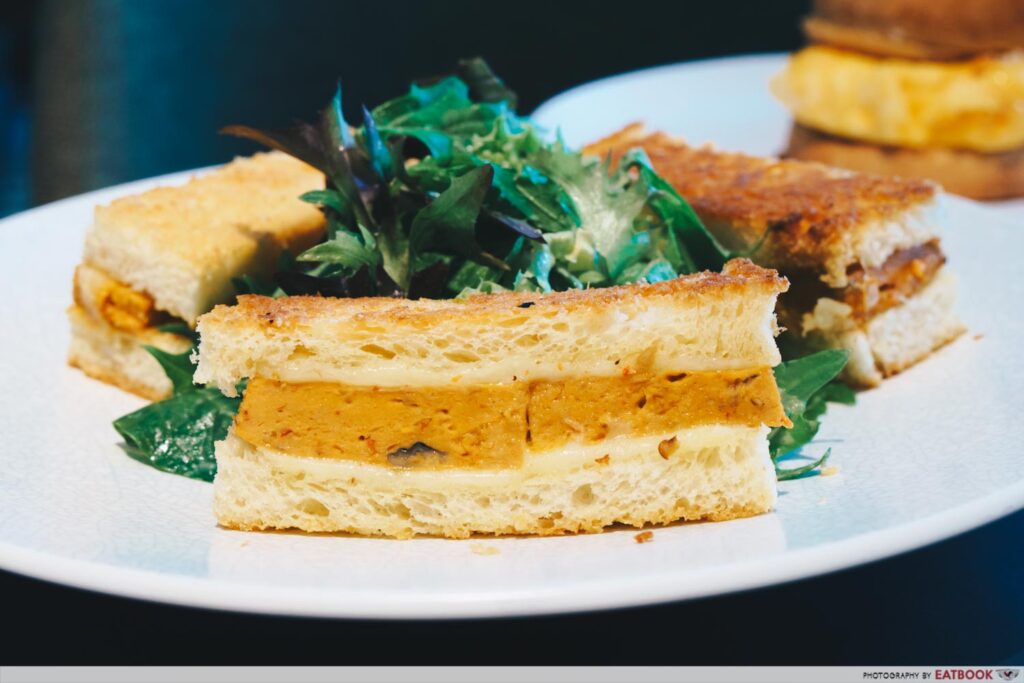 Here, buttered brioche sandwiches a chunky slab of otah and comté – a type of unpasteurised French cheese. The soft grilled fish cake is made with mackerel and prawns, and against the toasted bread delivered a world of textures. This made our meal even more appetising.
It is clear much R&D went into making this dish, as their choice of cheese and otah was a match made in heaven. The nutty tang from the cheese lent a touch of decadence and perfectly elevated this simple sandwich to the next level.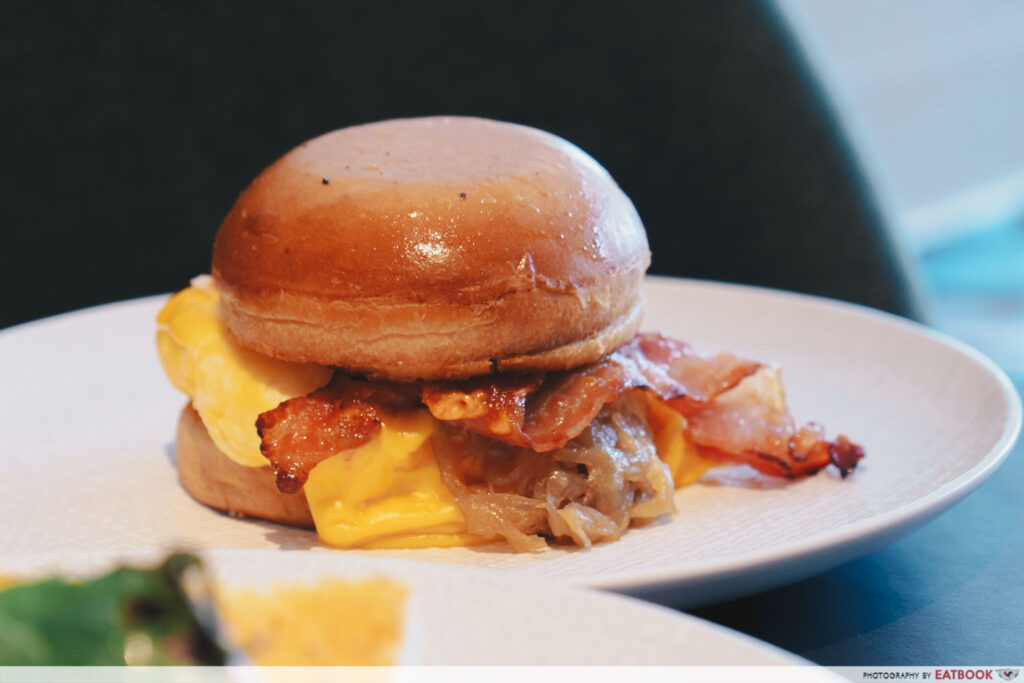 We decided to skip their selection of Mixed Grain Bowls and focused on their brunch dishes instead. As such, we took a leap of faith and ordered the Scrambled Egg Brioche ($15++).
The brioche buns sported a tantalising golden glaze and was warm when it arrived to the table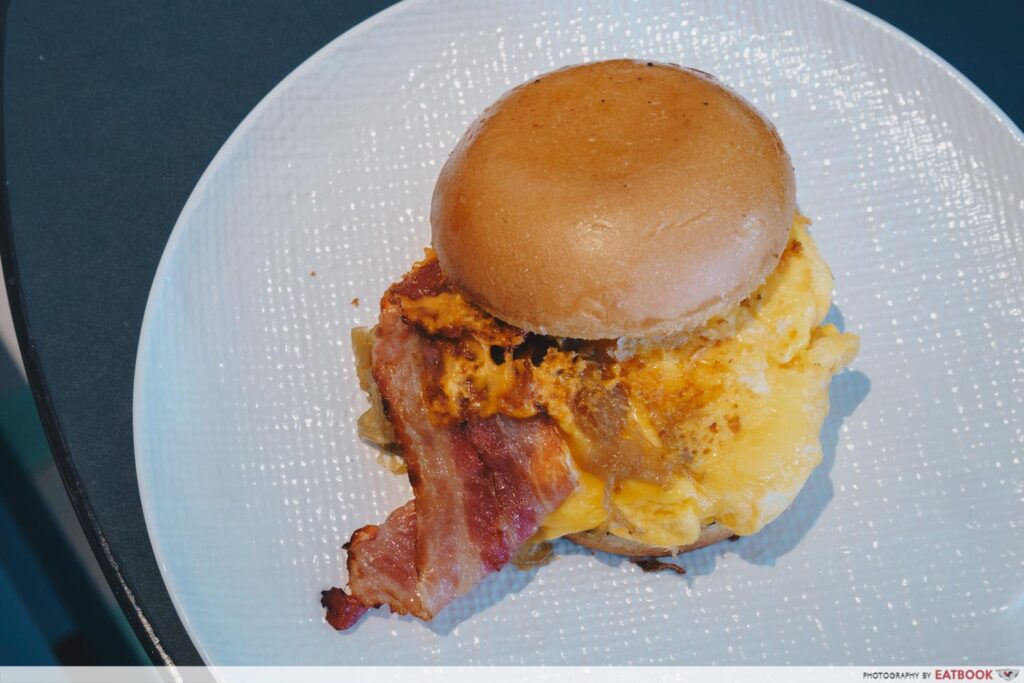 Spilling out of them buns were fluffy scrambled eggs, bacon, and caramelised onions.
We were greeted with a mouthful of heartwarming flavours as we sunk our teeth in. The onions had a deep sweetness, which mellowed out the salty bacon but uplifted the creamy egg. There was a hint of Sriracha mayo too, delivering a slight punch.
This dish was the epitome of simplicity done well. Sure, each ingredient can easily be found in our homes, but Clan Cafe managed to execute this dish to become memorable brunch fare. It left me feeling well satisfied.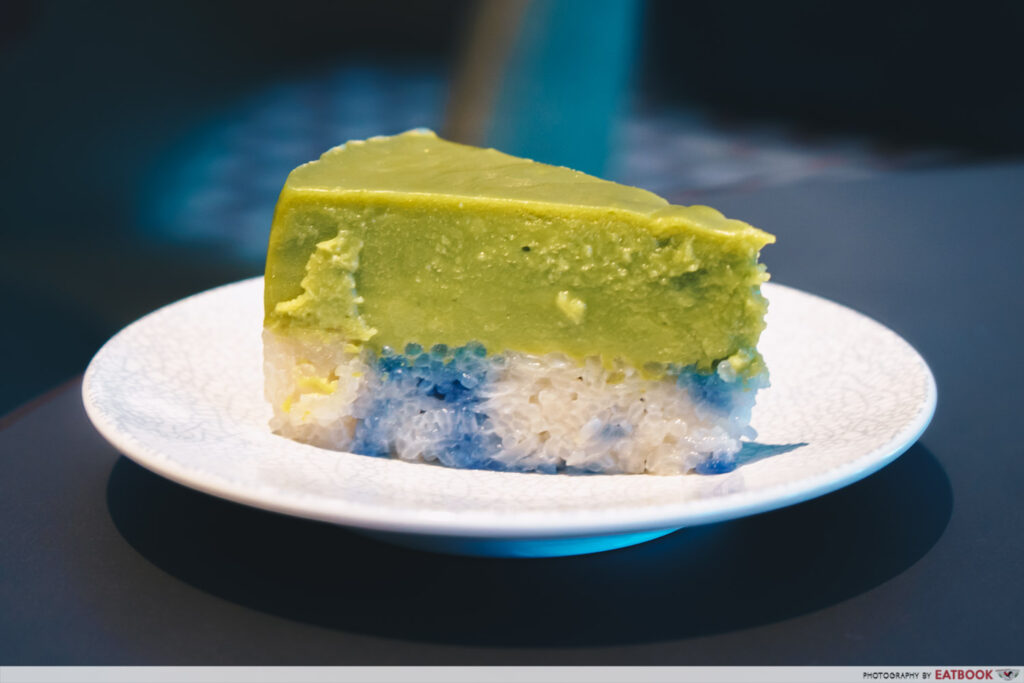 Having tried over 20 kueh salat in Singapore, you can trust me when I say that the Kueh Salat ($6.90++) from Clan Cafe is one of the best in town.  While it may look identical to Chalk Farm's rendition, this kueh salat recipe is not the same.
The pale green indicates pandan leaves were used to colour the coconutty custard, and you can taste the subtle floral notes in this creamy layer.
Tinted with blue pea, the glutinous rice has a nice sticky consistency that was neither hard nor chewy. Each bite offers mellow sweetness, making it a light treat to cap off your hearty meal.
Ambience at Clan Cafe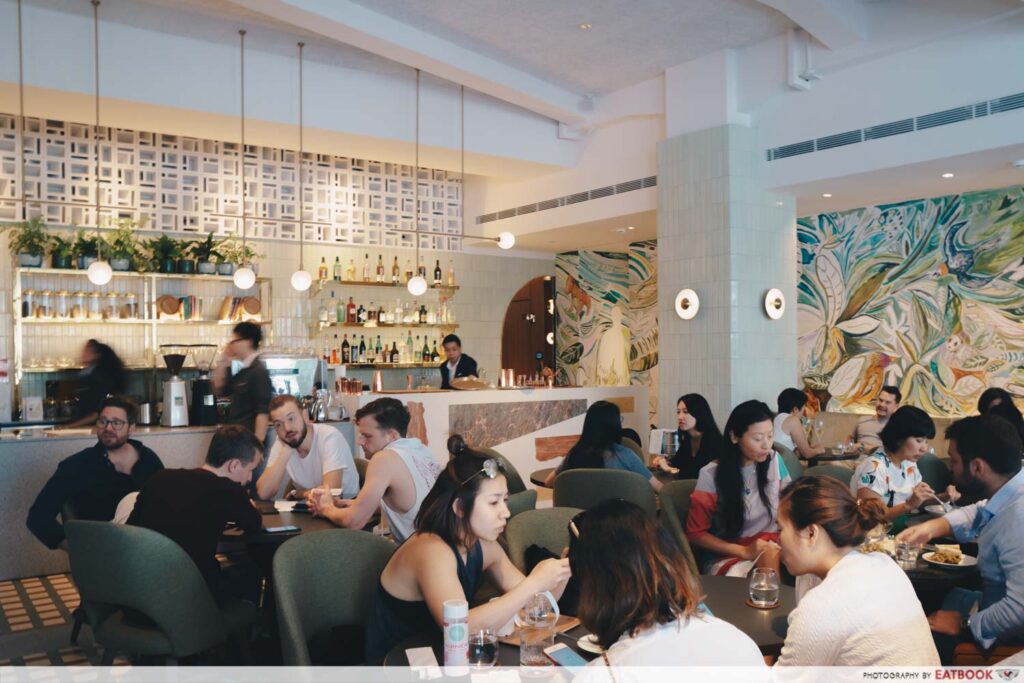 Clan Cafe is decorated with sophistication in mind. The space is divided by a towering bookshelf housing trinkets and there are ample seats for big groups. It has a very British colonial vibe, and the waitstaff are all dressed smartly in green uniforms.
A huge plus about this cafe is the service. Everyone there attends to you with a gentle smile and will engage in small talk if you're open to it. I went there with my one-year-old son on one occasion, and the staff gave two complimentary plates of bite-sized sourdough bread to keep him occupied, while we waited for our food to arrive.
The verdict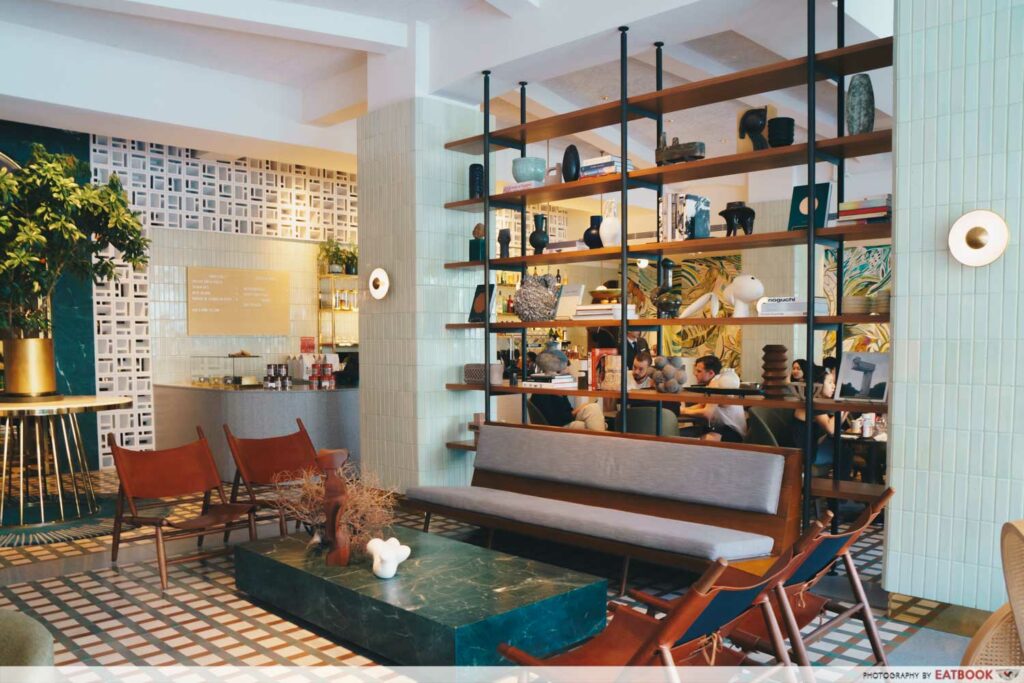 The fact that Clan Cafe was full house on a Wednesday afternoon speaks volume about their food and service. All the dishes we tried boasted refined flavours, leaving us walking out the door feeling contented.
Address: 31 Bukit Pasoh Road, Singapore 089845
Opening hours: Mon-Sat 10am to 10pm
Tel: 6320 9180
Website
Photos taken by Katie Boon.
This is an independent review by Eatbook.
Bearded Bella Review: Beautiful Cafe Serving Melbourne-Inspired Food At Tanjong Pagar
Summary
Pros
– Great service
– Relaxing ambience
– Tasty food
Cons
– Small servings

Recommendation Dishes: Otah Sandwich ($16++), Kueh Salat ($6.90++)
Opening hours: Mon-Sat 10am to 10pm

Address: 31 Bukit Pasoh Road, Singapore 089845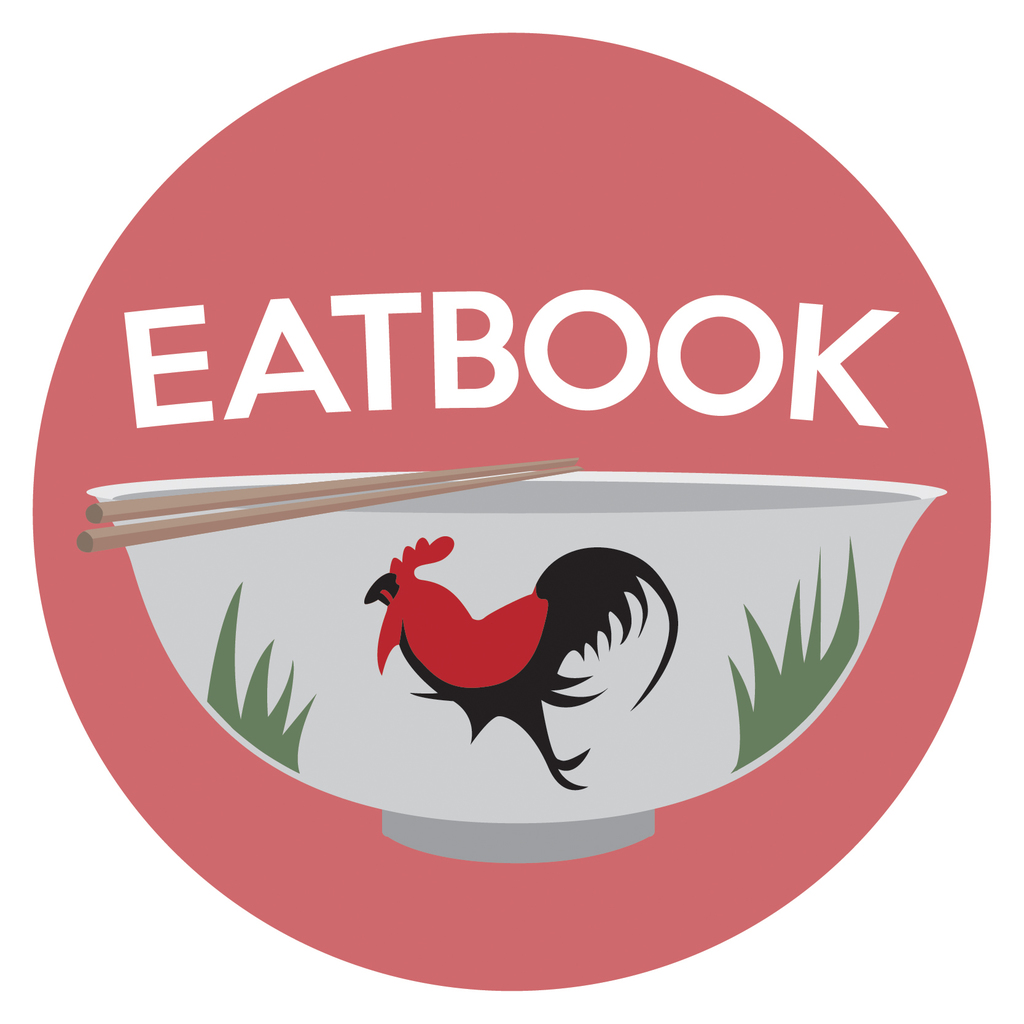 Drop us your email so you won't miss the latest news.