Good food at The Guild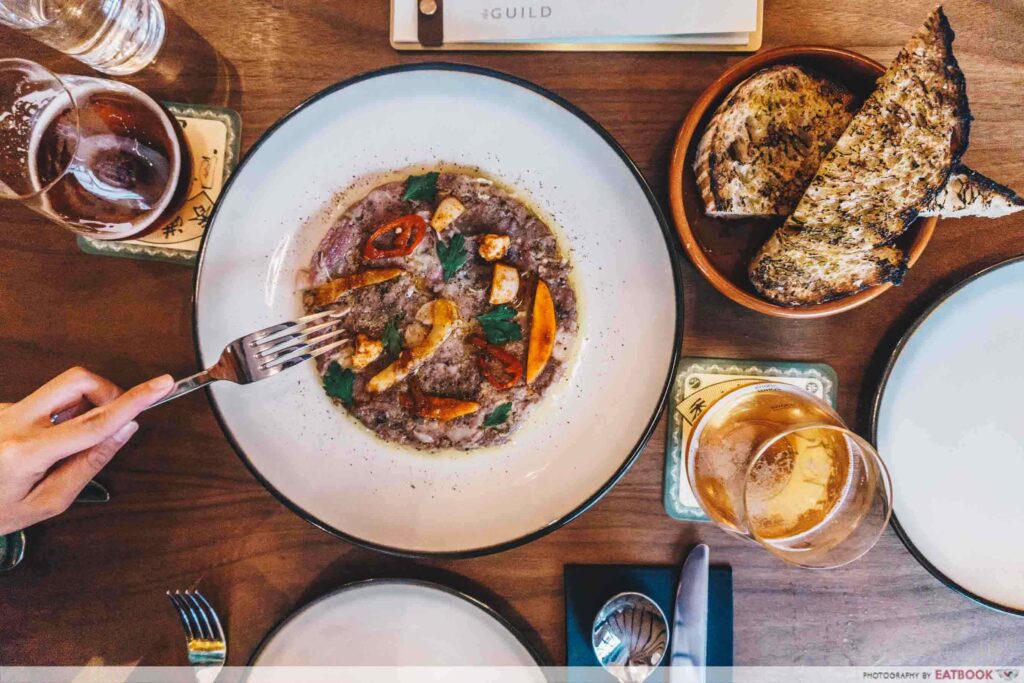 There are many factors that make a restaurant great, and the chef leading the kitchen is one of them. At The Guild, Italian-American chef Vinny Lauria from Hong Kong is the magic maker behind this buzzing Keong Saik Road gastrobar. His dedication to local farming and the nose-to-tail dining movement is clear in his creations, and you can expect to find items such as pig brain and bone marrow on the menu.
Now, as Singapore is but a little red dot, he doesn't constrain himself by only using ingredients harvested here. Instead, he believes any item that can reach his doorstep within 24 hours is good by him. And you can definitely tell the freshness of the produce he brings in through his food.
Food at The Guild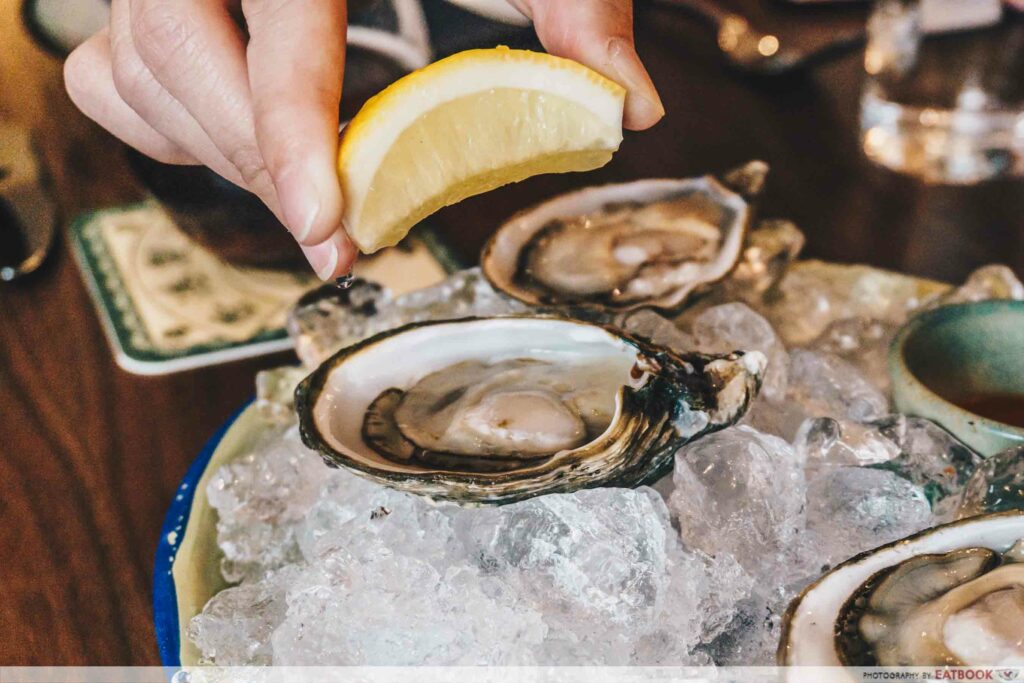 Call me a skeptic, but I never believed in the whole farm-to-table movement in Singapore. After all, how can oysters from the murky waters of Pulau Ubin taste nicer than French oysters cultivated close to the Mediterranean sea?
But as I slurped down the Raw Sea Farmer Fresh Oysters ($6++ a piece) from Pulau Ubin, my apprehension was put to rest. Served cold with a dash of lemon and their house-made hot sauce, the plump oysters were sweet and boasted a clean finish. There were none of those nasty sediments I often find in oysters at buffets. I also liked how it was not as heavily briny as its European counterparts.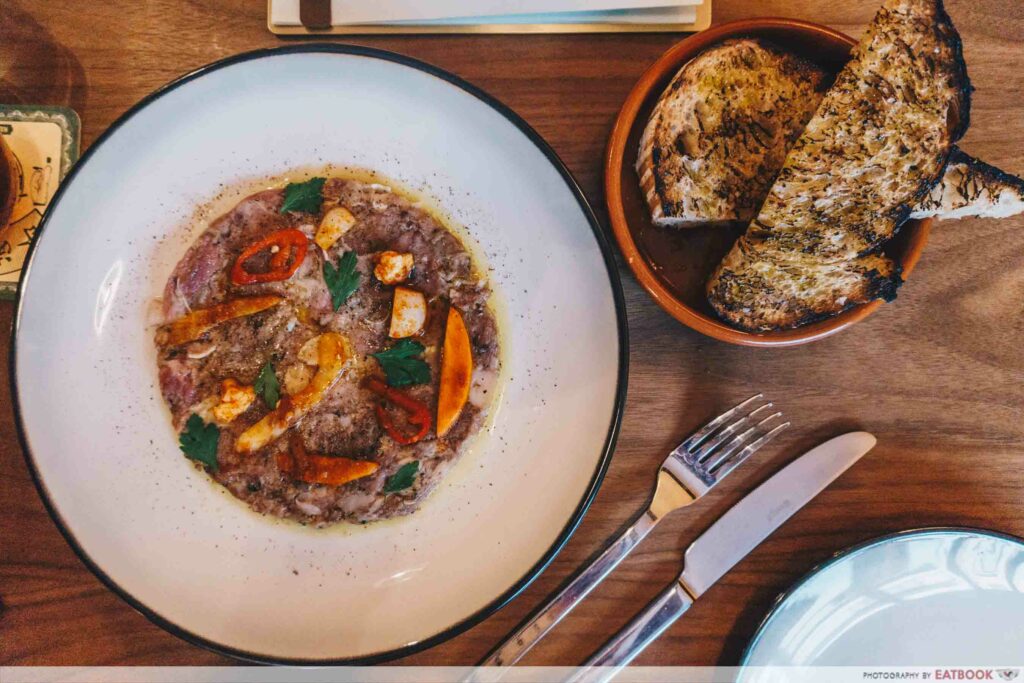 Not the best looking dish, but the Brawn Terrine ($12++) made for a good dish to share over a pint of frothy beer. Served with charred bread from their neighbour, Bread & Hearth, the toppings of spicy pickled vegetables and parsley helped cut through the rich porcine taste of the pâté.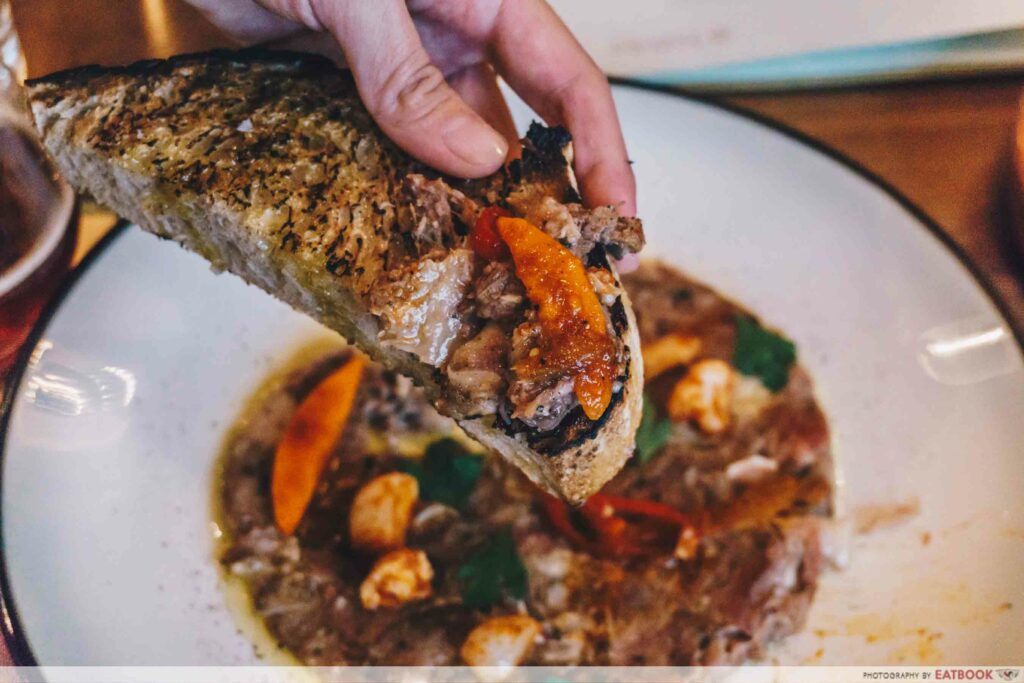 It can get slightly salty if you're not pairing this with beer, so those shying away from alcohol might want to give this a miss.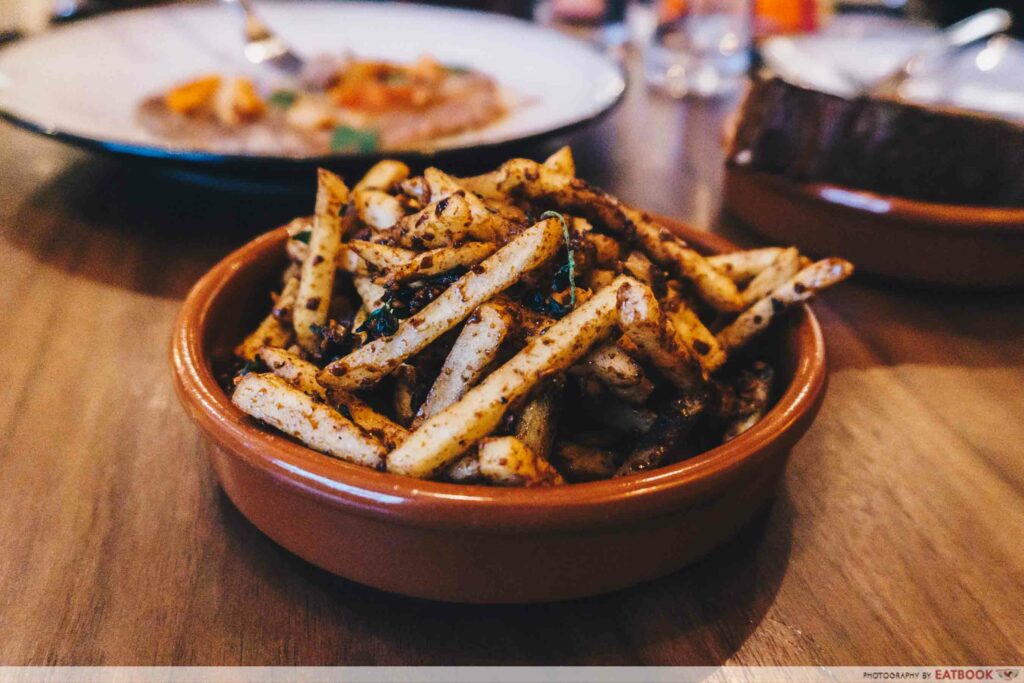 For those with a non-adventurous palate, the Salt & Vinegar Fries ($8++) might suit you better. Seasoned with black vinegar, garlic and thyme, the sticky coating gave the salty shoestring fries a nice sourish sweetness, making it crazily addictive.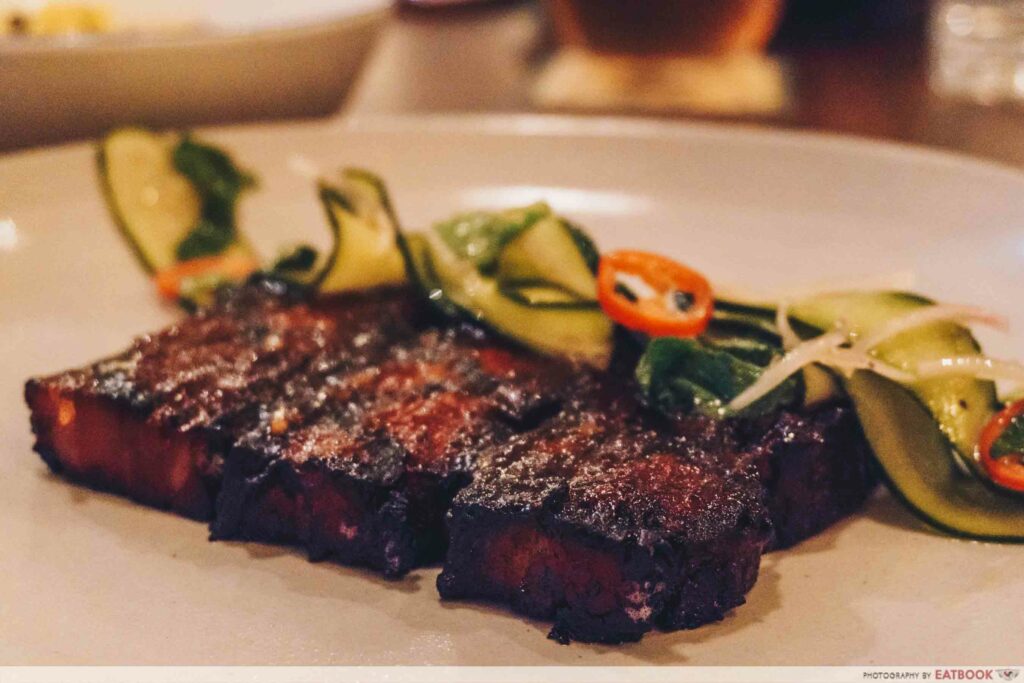 A main worth ordering is the Grilled Sweet & Spicy Bacon ($28++). Cured for two weeks with salt, pepper, and maple syrup, before being smoked in-house for six hours with lychee wood, the unctuous slab of bacon had a good ratio of fat to tender meat. The house-made barbecue sauce balanced out the robust smokiness, while the thin strips of pickled cucumbers and mint gave the dish a refreshing zest.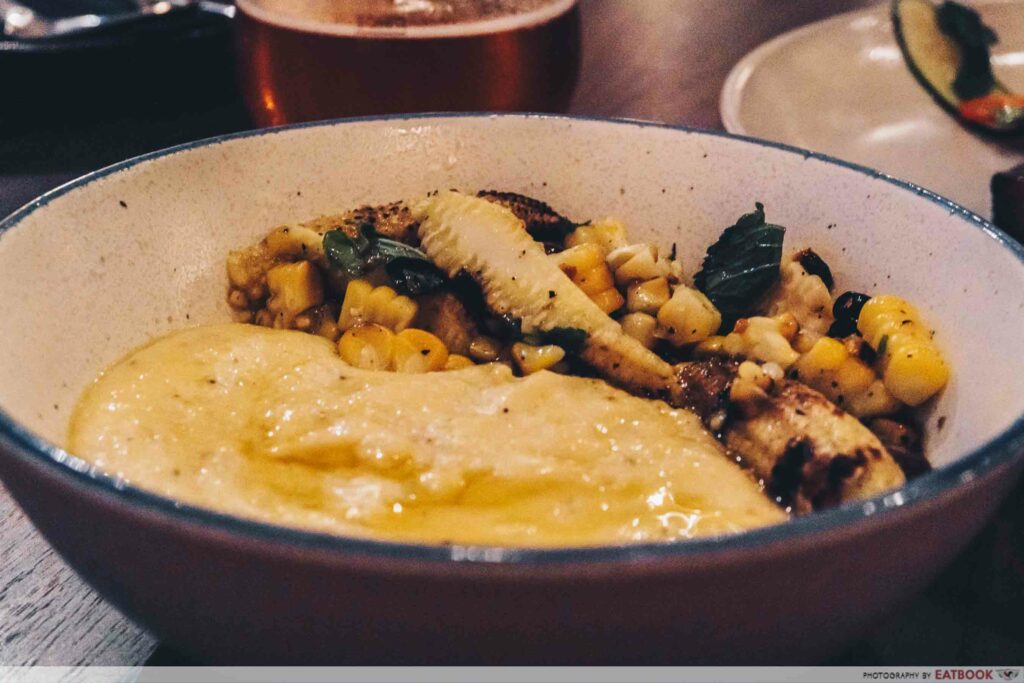 Get a side of vegetables – you won't be disappointed. The Charred Sweet Corn ($12++) was a bowl of buttery goodness that was enlivened by a hint of spice from the accompanying chilli oil.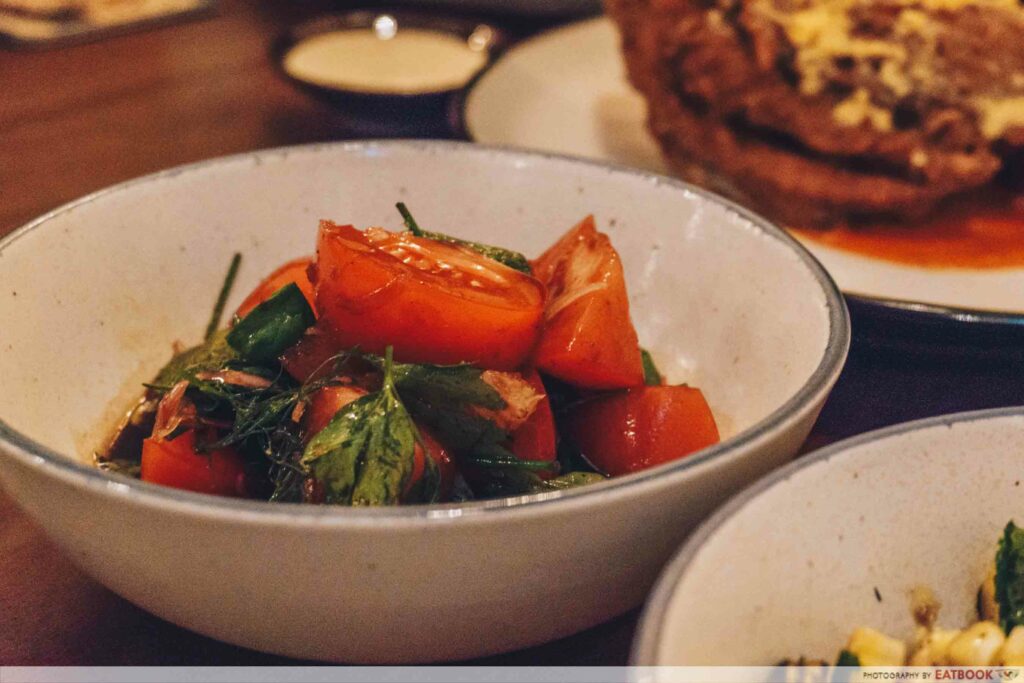 As mentioned, chef Vinny takes pride in the ingredients he uses. He explained to me that heirloom tomatoes from the Netherlands, which are said to be the best of the best, lose their quality when they are shipped to Singapore. This is because they are plucked green in order to reach our shores red and ripened. As such, the Momotaro Tomatoes ($13++) feature tomatoes harvested from Genting instead. The tomatoes were plump and extremely juicy. They came doused in a black vinaigrette concoction that had the essence of chicken rice sauce, but I would have totes had it plain if I could.
We ended our meal with a scoop of Buah Keluak Ice Cream ($7++). The ice-cream had an intense earthiness, with a subtle sweetness. I'm not a fan of ice-cream, but I would definitely bring tubs of this home if I could.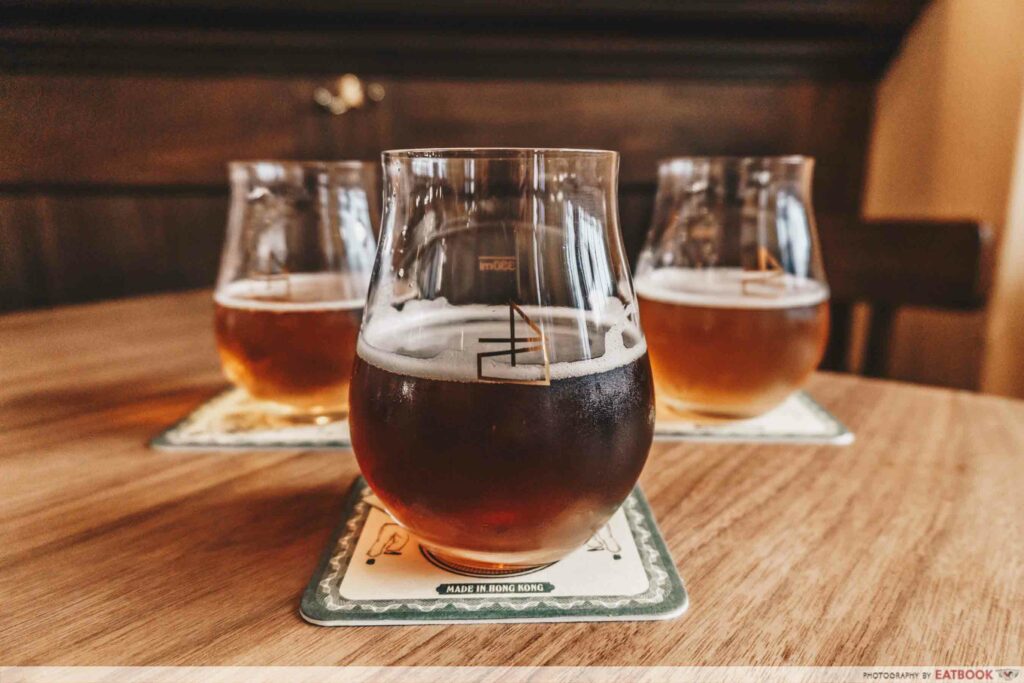 Most of the food here are prepared with the intention for beer pairing, so do try out one of their 19 rotating beers on tap, most of which are by Young Masters Brewery – Hong Kong's leading craft beer brewer. A 200ml tasting portion starts at $8++, while a 450ml glass will set you back $16++. Alternatively, come by during happy hour between 5pm and 7pm, and get it at $10++ instead.
Ambience at The Guild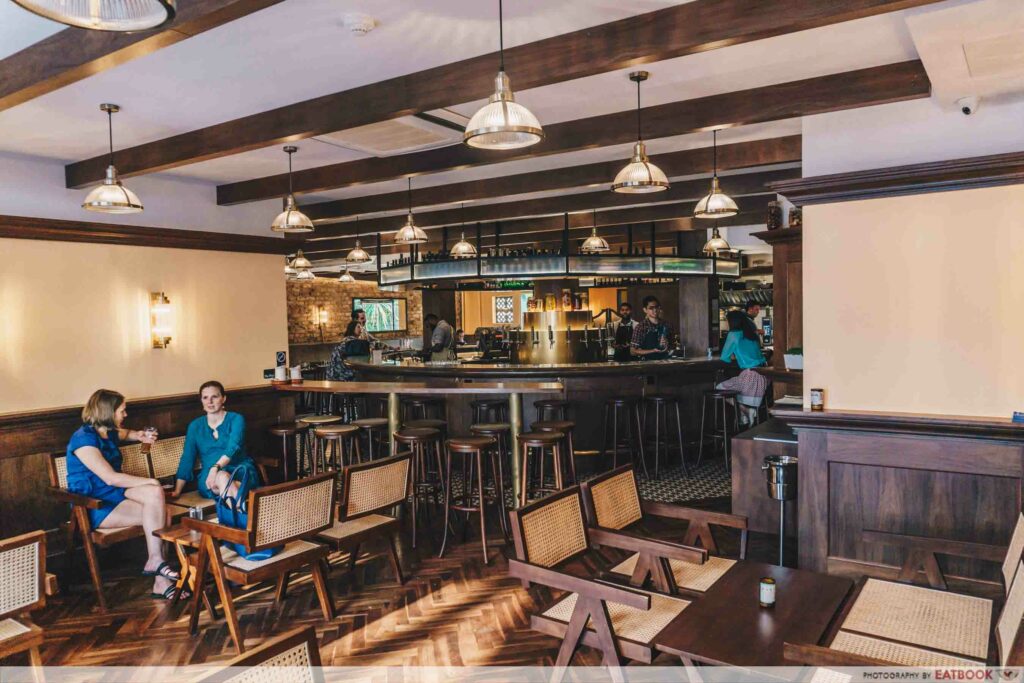 The centrepiece of The Guild is this massive circular bar counter. The space very much resembles a pub in the Victorian era, with dark wood fittings and bar stools – very Peaky Blinders-ish. Like the food served, there are touches of Asian elements, such as Peranakan motifs marking the handles of beer taps.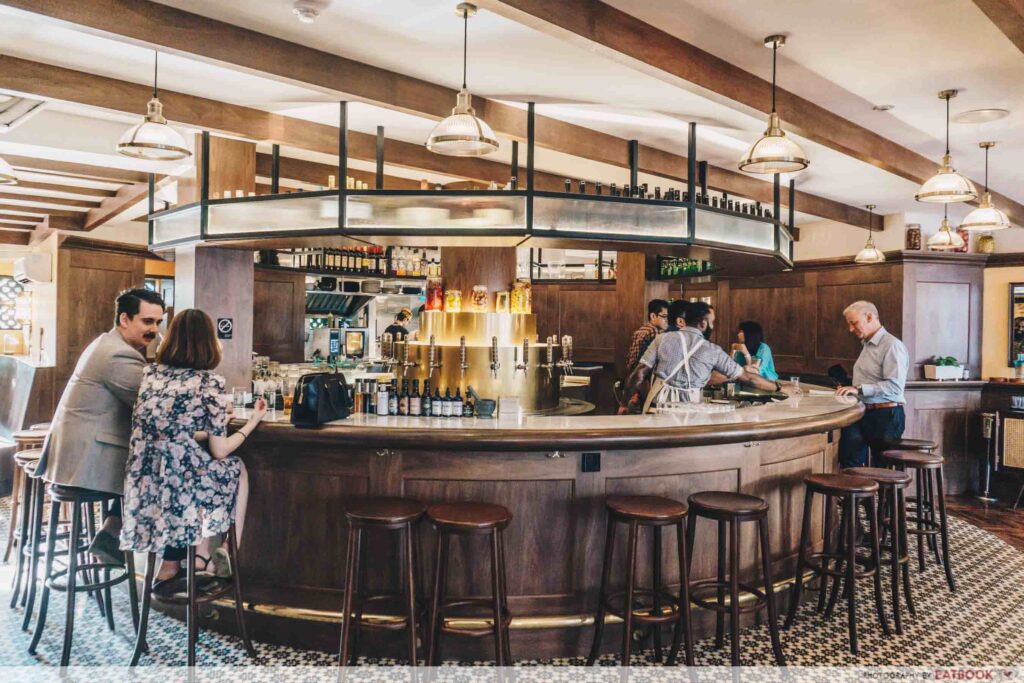 The place gets quite lively past 7pm, and I would recommend coming here with friends more than a date.
The verdict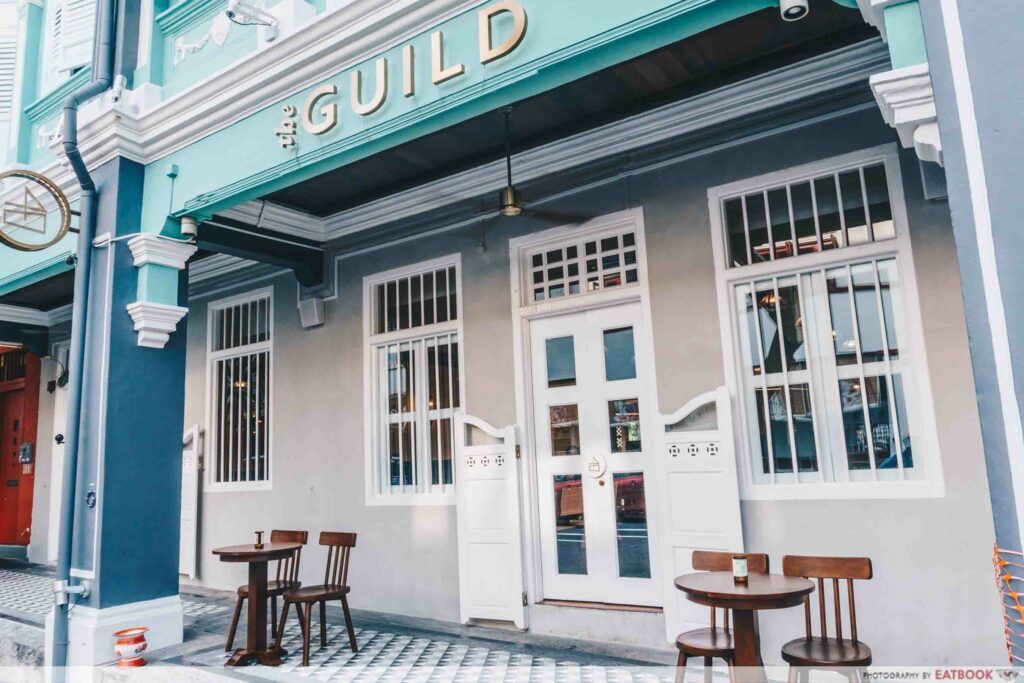 As someone who likes to drink as much as I like to eat, I'm so glad that we have passed the days when bar food only meant fried wings and chips. At The Guild, food is as important as the beers they push out, and you can expect to leave here fully satisfied, even if you're not a drinker.
Address: 55 Keong Saik Road, Singapore 089158
Opening hours: Wed-Fri 5pm to 12am, Sat-Sun 12pm to 12am
Tel: 9042 3900
Website
Menu
Photos taken by Lim An.
This was a media tasting at The Guild.
10 Outram Park Food Places For Bib Gourmand Fish Soup And Steamboat That Opens Till 4am
Summary
Pros
– Fresh produce
– Interesting dishes
Cons
– Some dishes are meant to be paired with beer and can be a little salty
Recommended dishes: Grilled Sweet & Spicy Bacon ($28++), Raw Sea Farmer Fresh Oysters ($6++ a piece), and Charred Sweet Corn ($12++)
Opening hours: Wed-Fri 5pm to 12am, Sat-Sun 12pm to 12am
Address: 55 Keong Saik Road, Singapore 089158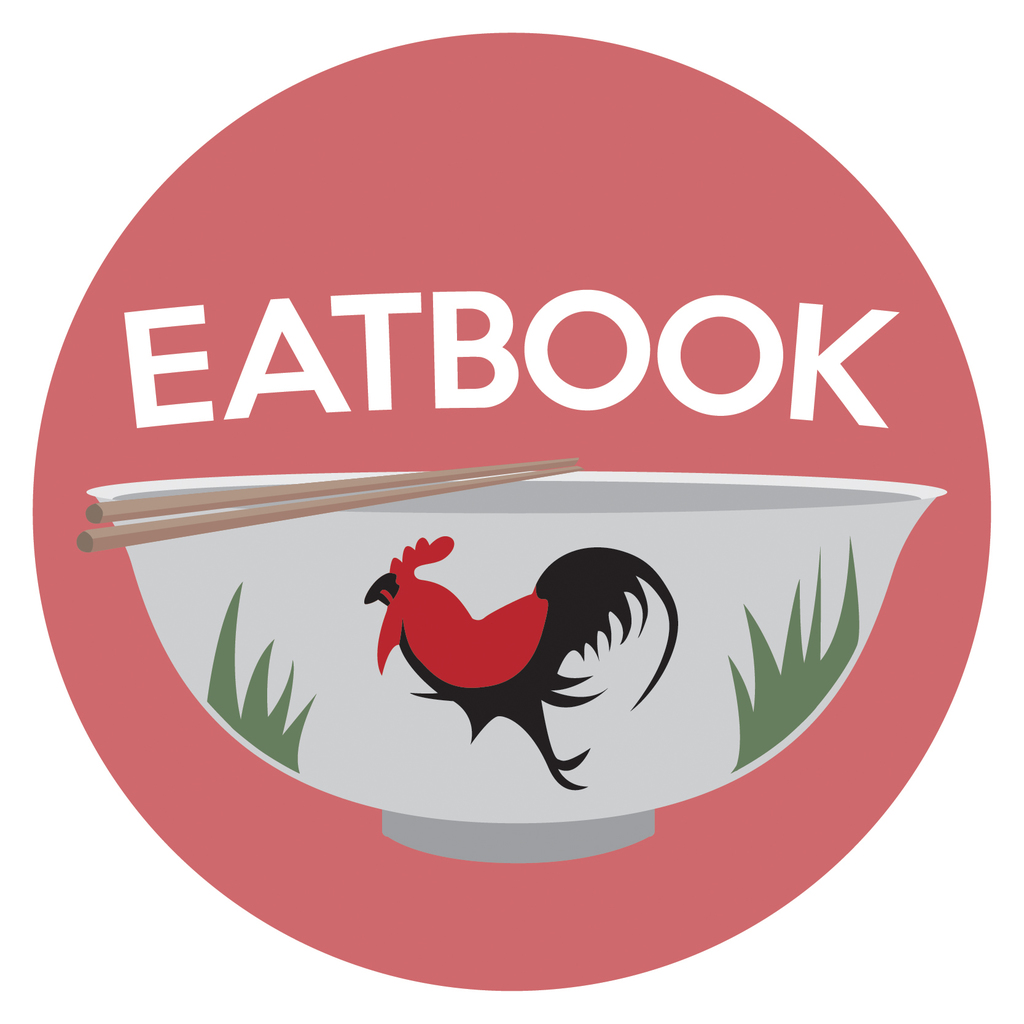 Drop us your email so you won't miss the latest news.