Ramen Keisuke Niku King has upgraded tonkotsu ramen
Ramen Keisuke Niku King was made for meat-lovers. As the Ramen Keisuke group's 12th ramen outlet in Singapore, Niku King takes over the space that was previously Shiokoji Tonkatsu Keisuke in Payar Lebar Square.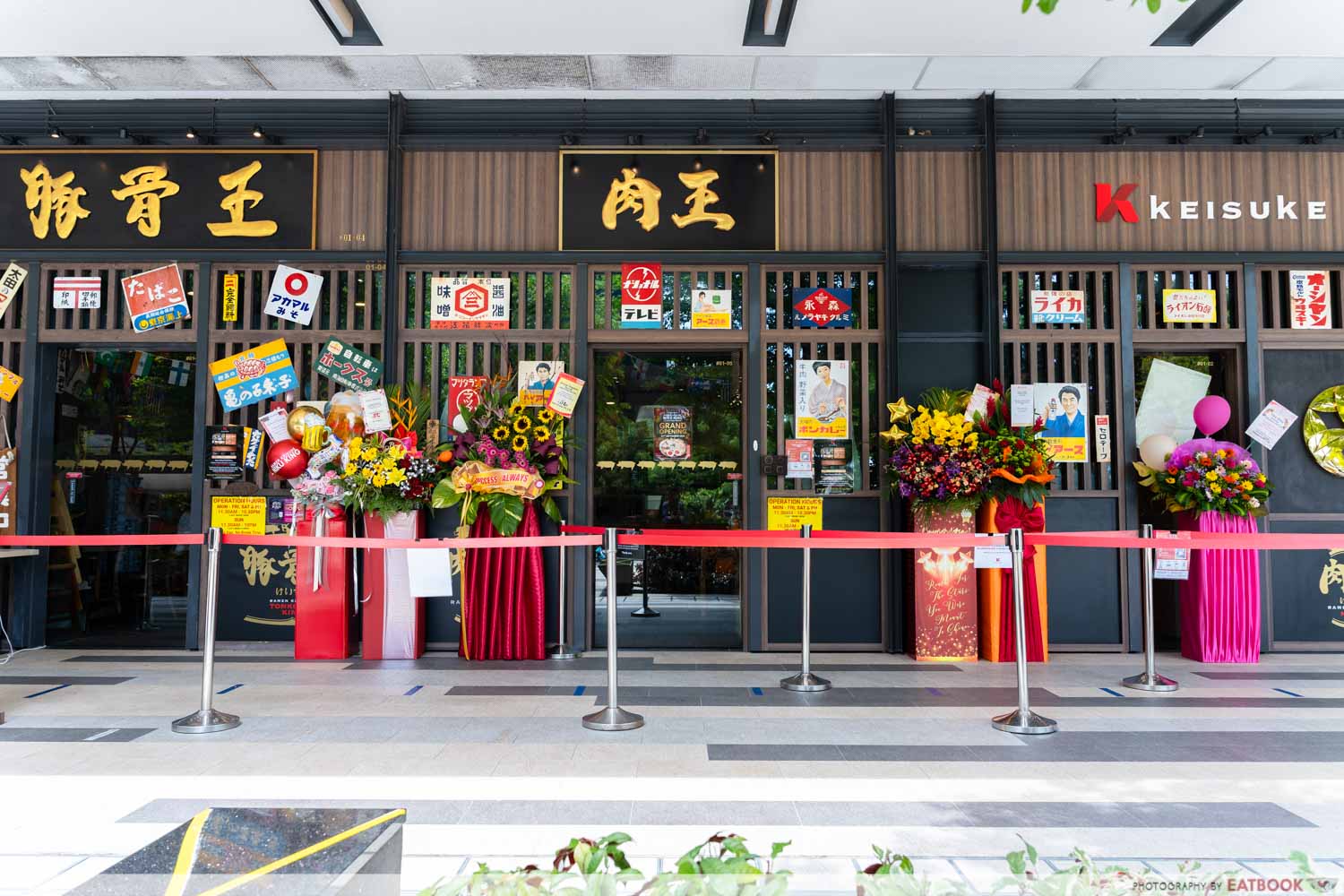 It is a joint ramen concept with Tonkotsu King, with a more extensive, combined menu across the two restaurants.
Food at Niku King
Niku is Japanese for meat, and Niku King certainly lives up to its name. Chashu here covers the entire bowl of ramen ─ you won't be needing to ration your slices of pork.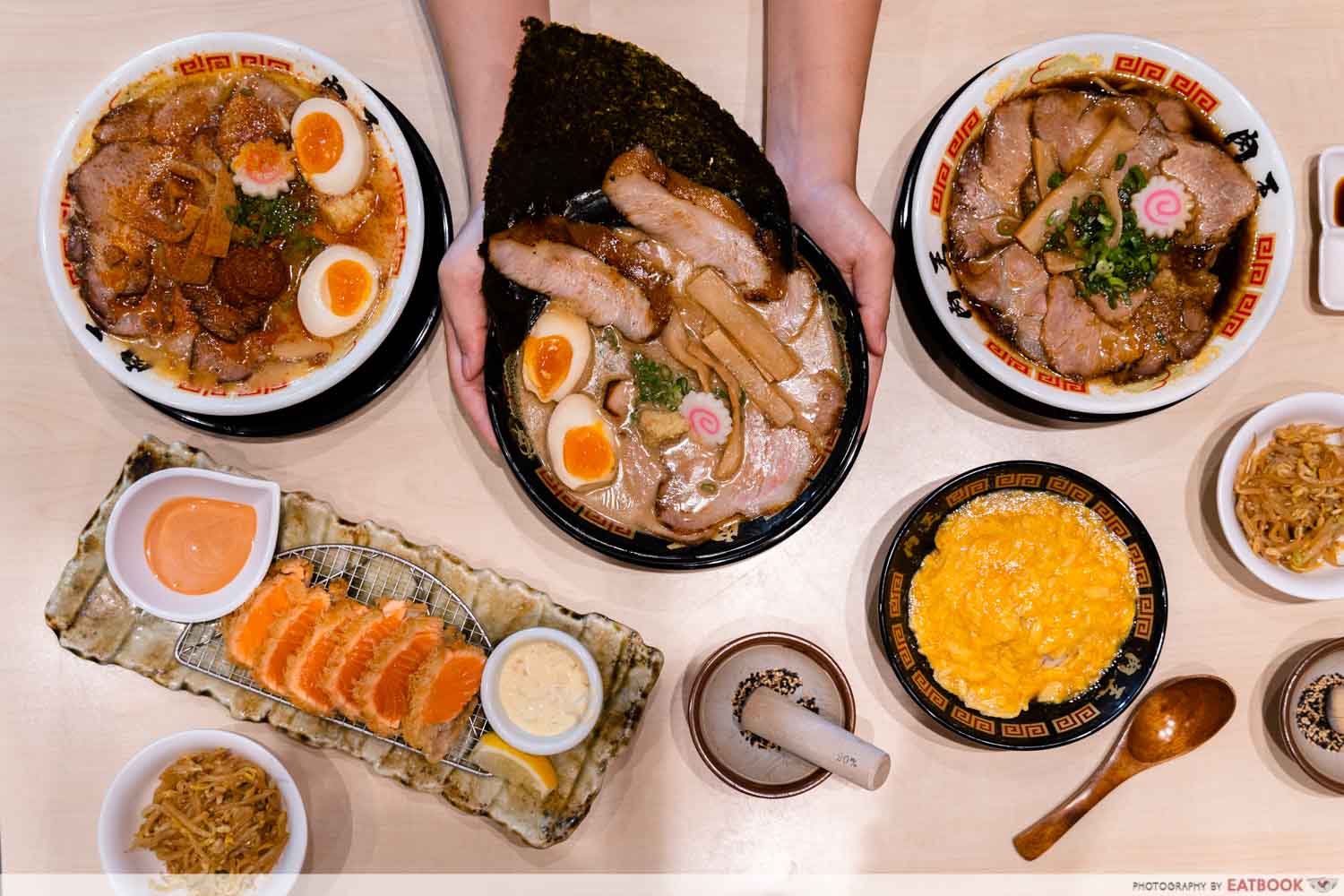 The stock at Niku King is boiled with fatty tontoro (pork neck) chashu, rather than the classic chashu of pork loin that appears in Tonkotsu King's broth. Fats equals flavour, and the Niku King Tonkotsu Special ($19.90++) was indeed very flavourful.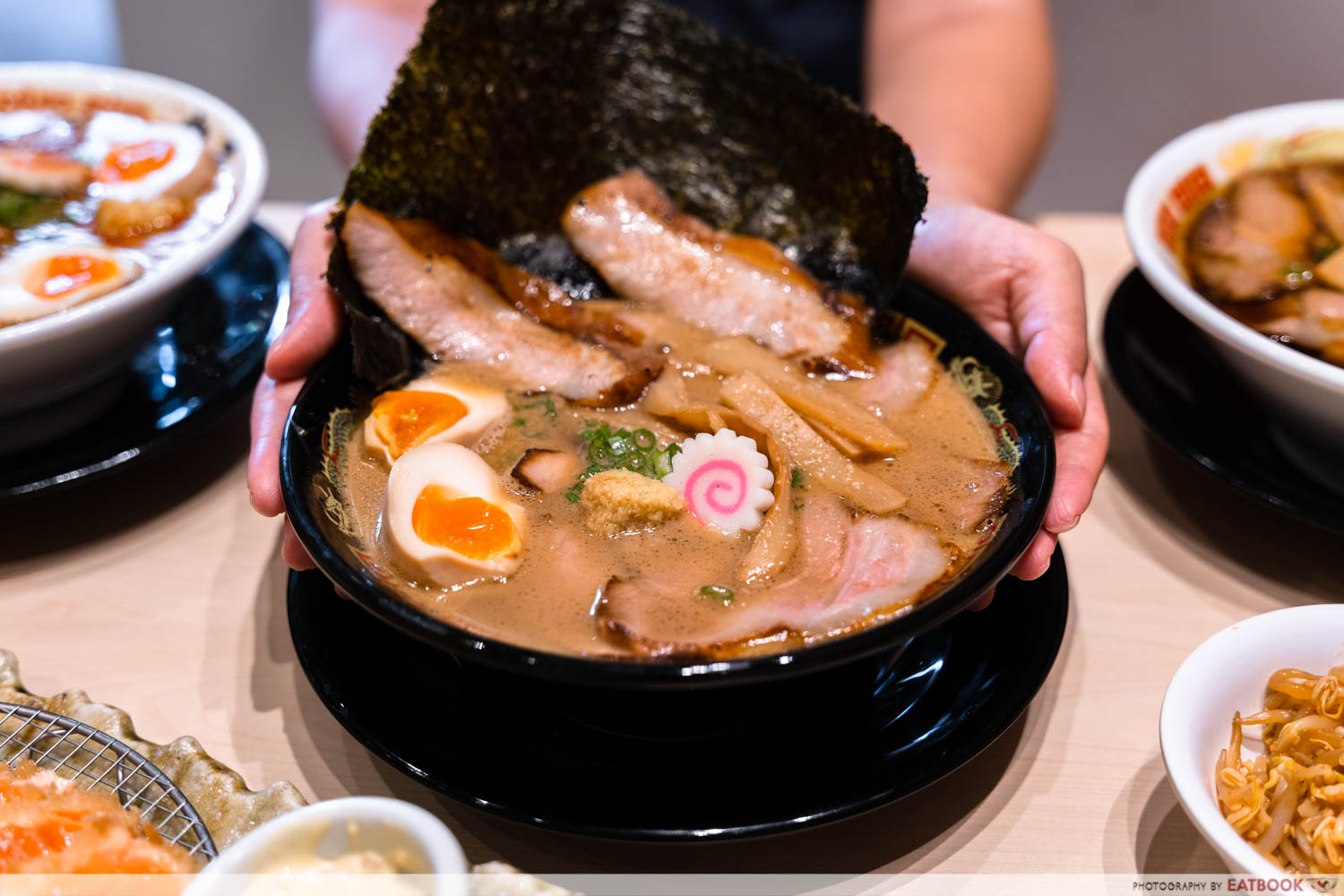 The tonkotsu broth was rich and creamy, with a slightly sticky mouthfeel thanks to the fatty collagen.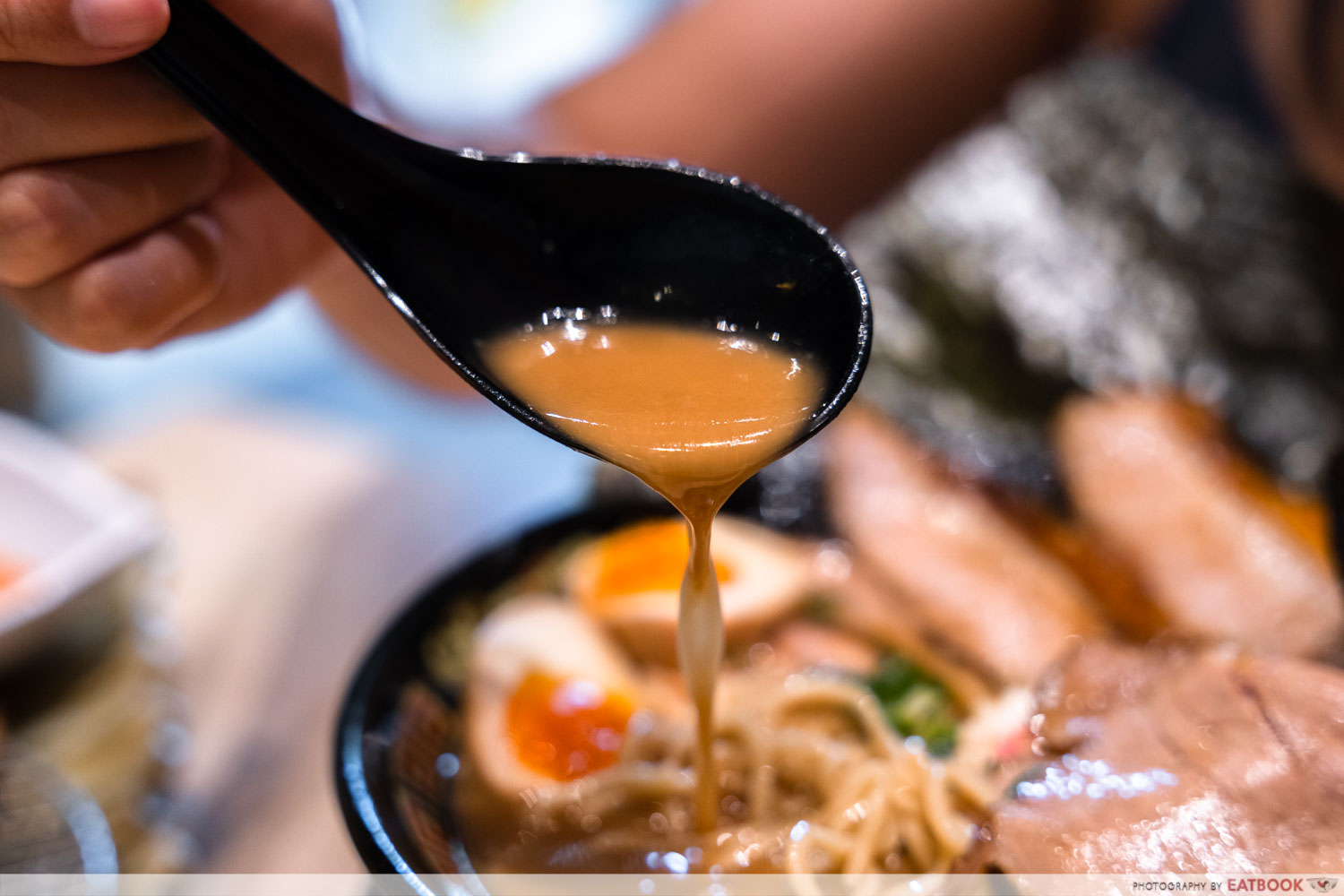 I found the taste of pork slightly too pungent for my liking, preferring the Niku King Miso Ramen with Flavoured Egg ($14.90++), which we had with Spicy Paste ($1 top-up).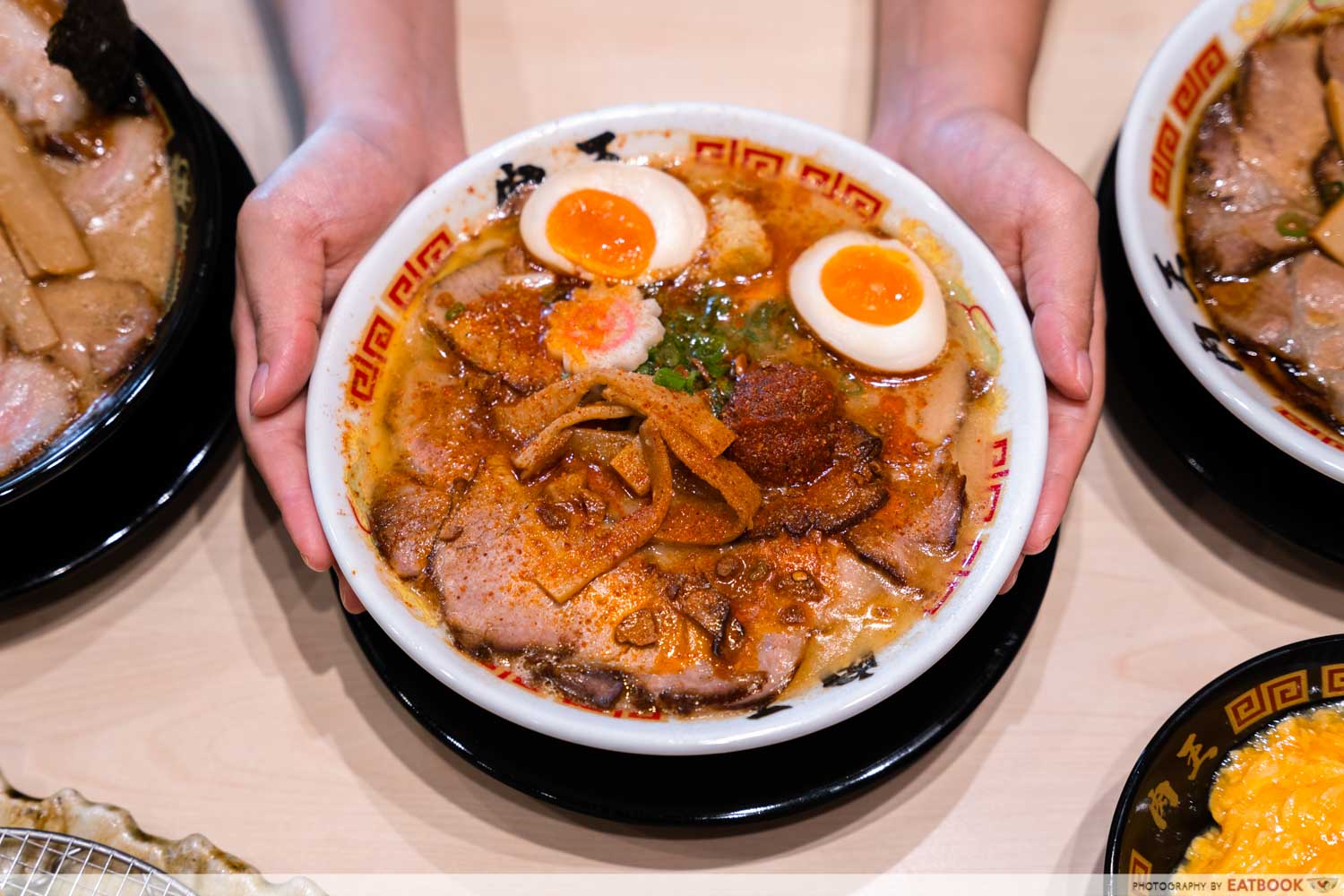 My dining companion and I found the Hokkaido white miso broth added depth to the bowl of ramen. The Spicy Paste, specially made for chilli-crazy Singaporeans, gave the miso soup a delightful boost. The fragrance of this reminded me of doubanjiang (fermented chilli bean paste).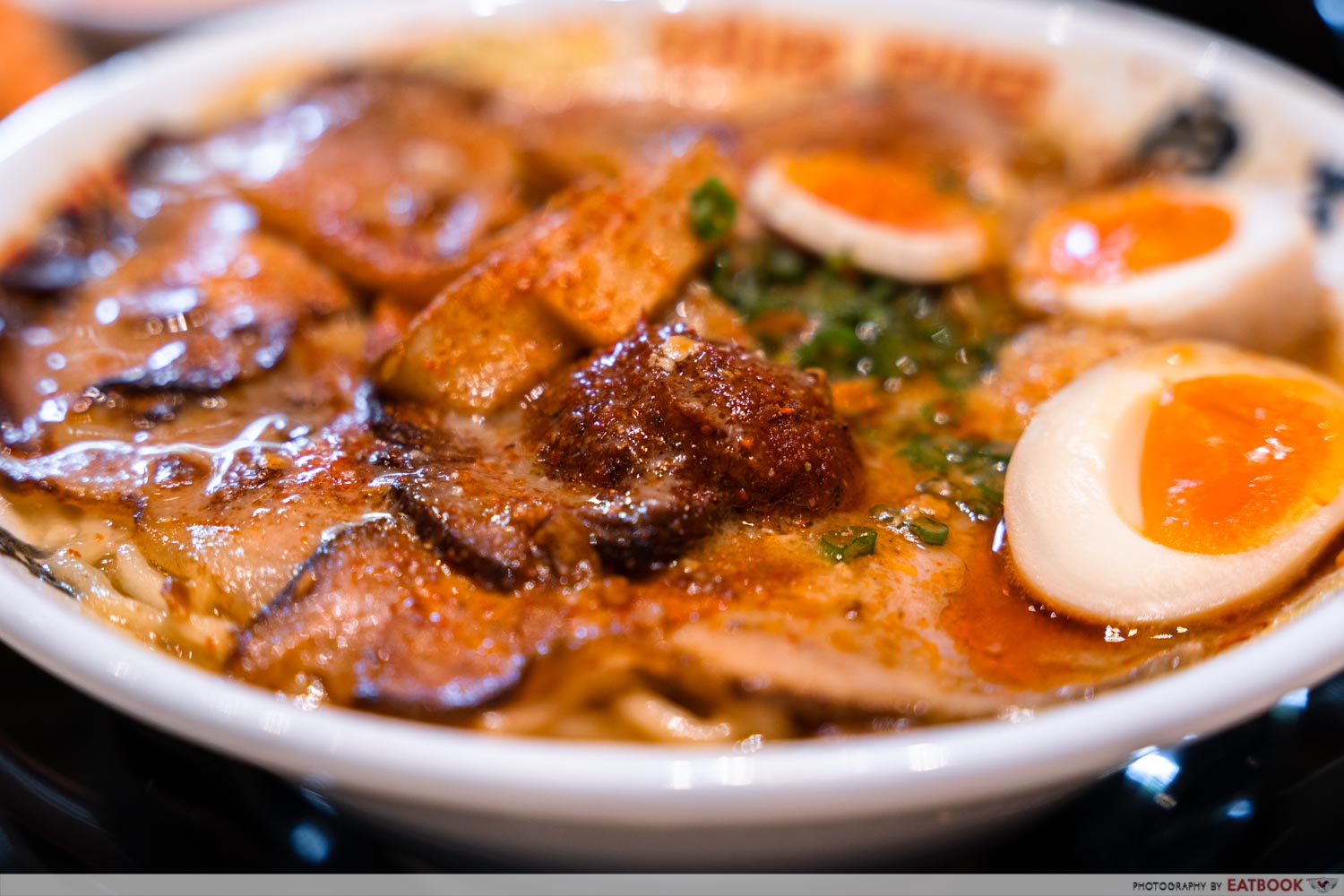 There are so many slices of chashu, it's a pleasurable challenge getting to the ramen beneath. Unlike your regular ramen, this bowl of soup is paired with broader noodles that are a perfect vehicle for the stock. We ordered it in standard doneness, and even after snapping photos, the ramen held its al dente texture well. There was also the slightest alkaline smell, but I only detected this in the specific bowl of tonkotsu ramen.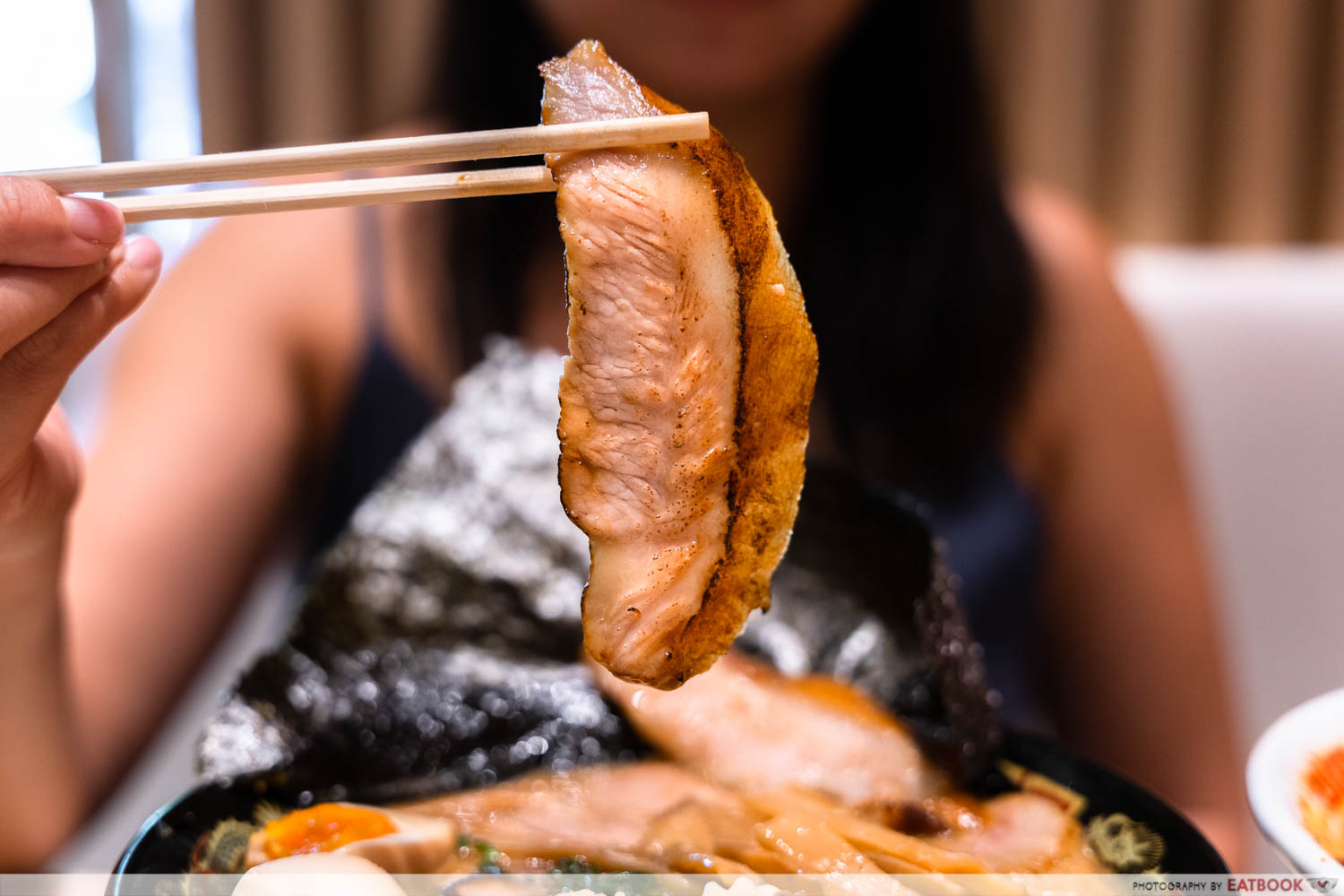 My meat-loving colleague and I loved the Tontoro Chashu, layered with fat that melted in our mouths. Two slices of these chashu come with any Niku King Special ramen, together with a flavoured, soft-centre egg and regular chashu. However, you do have the option to purchase the Tontoro Chashu as an add-on ($3 for 2 slices).
The drizzle of ginger oil and grated ginger that is the finishing touch to the bowl was a much-appreciated zing that cut through the jelakness of the tonkotsu and miso broths.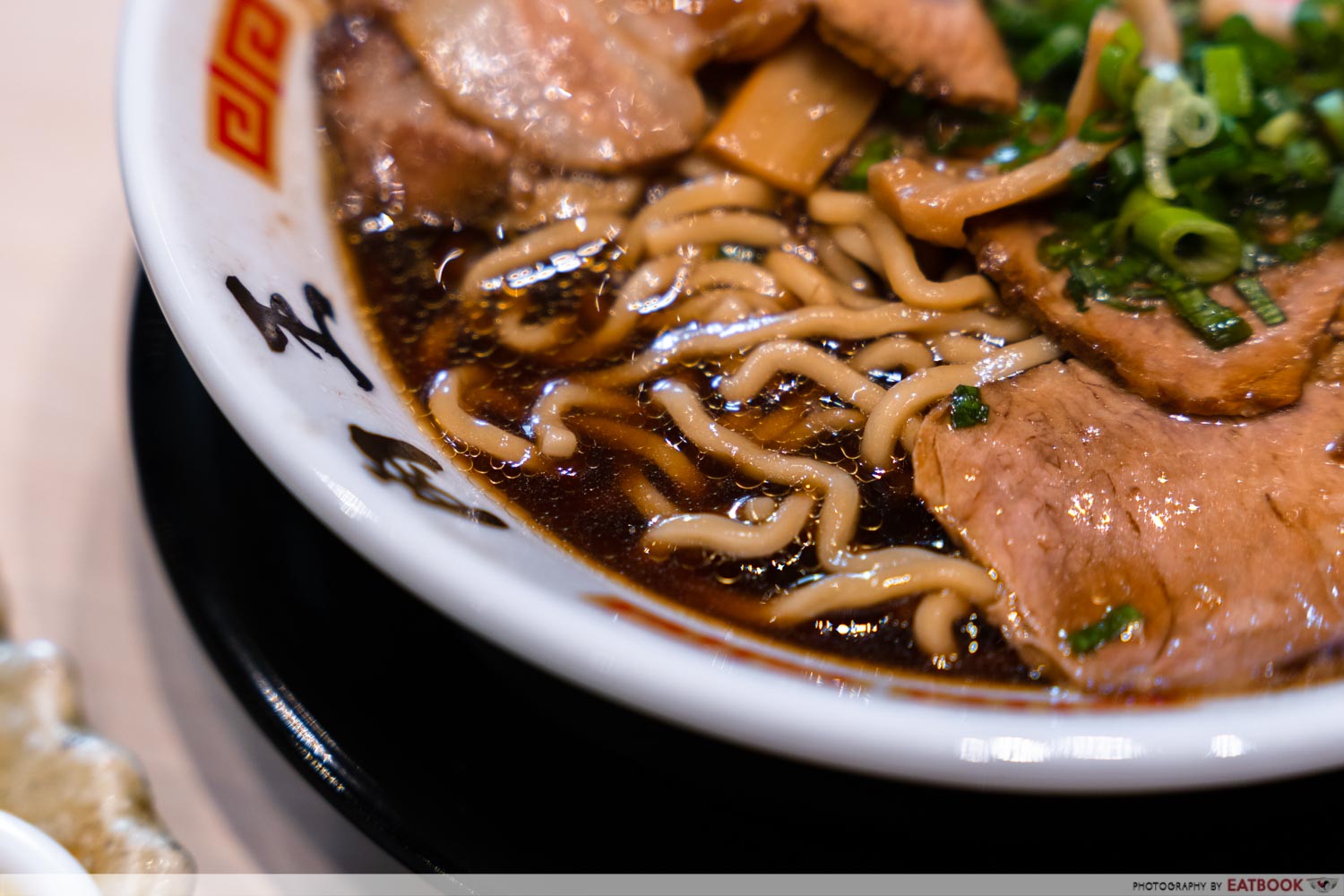 If these heavy soups are not your thing, the mild-flavoured Shoyu Ramen ($11.90++) is the favourite amongst the Japanese at the Niku Soba outlet in Japan.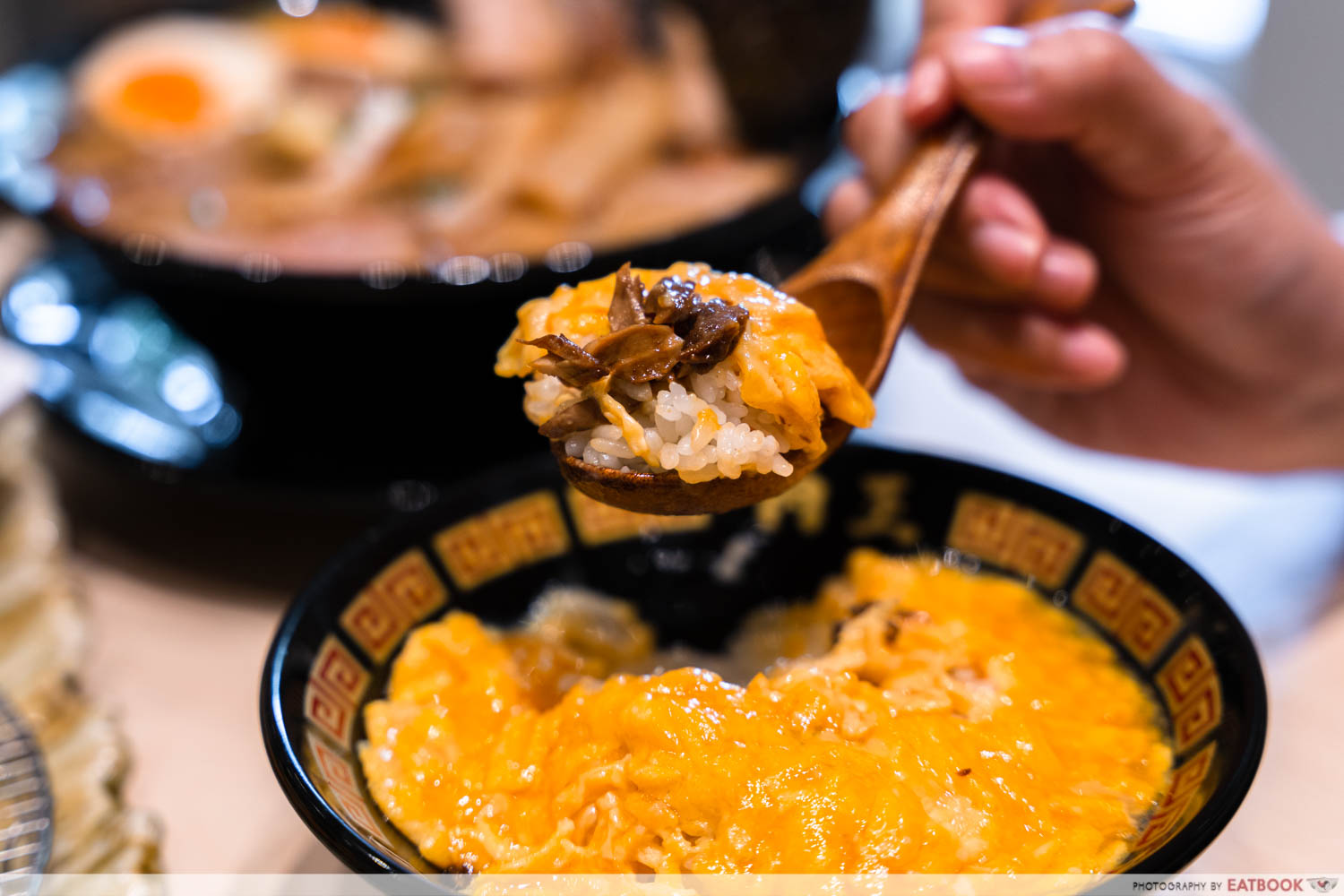 Go all out and order the Keisuke Egg on Rice ($3.90++). This is indulgent comfort food ─ Japanese rice is topped with pork bits and a splash of chashu sauce, before it's blanketed with scrambled eggs that were savoury with what tastes like dashi. Though I was very full, I wiped this out. While Niku King is generous with meat in their ramen bowls, this did not extend to this rice bowl.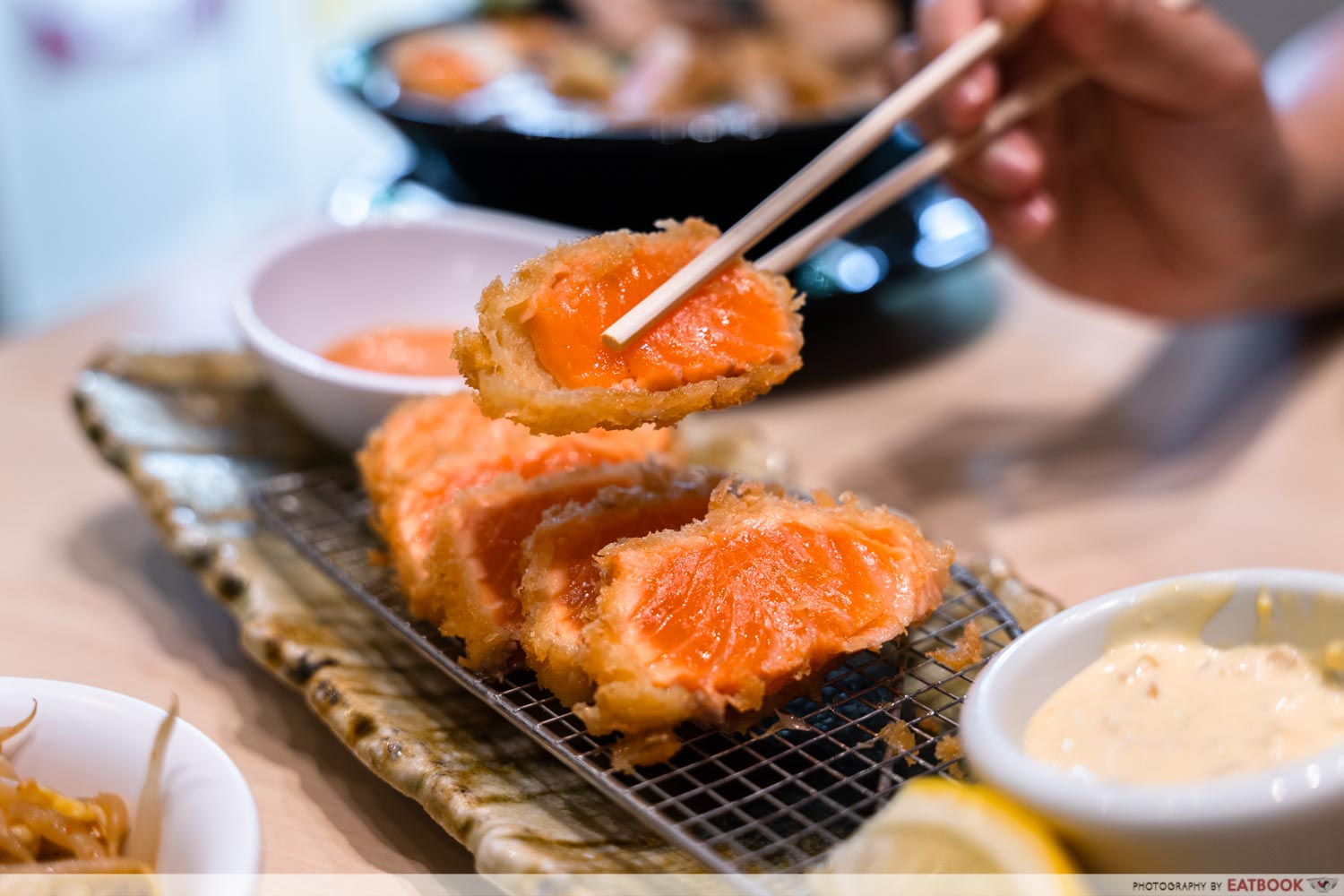 If you're often torn between your love for sashimi and tonkatsu, the Salmon Rare Katsu ($8.90++) has got you sorted. Sashimi-grade salmon is breaded and deep-fried to a crisp finish, with a rare centre. Exclusive to Niku King, this dish was slightly confused in my opinion, although the crumb is pretty decent.
20 Prawn Mee And Seafood Soup Stalls In Singapore For XXL Hae Mee, Lobster Noodles And More
Ambience at Niku King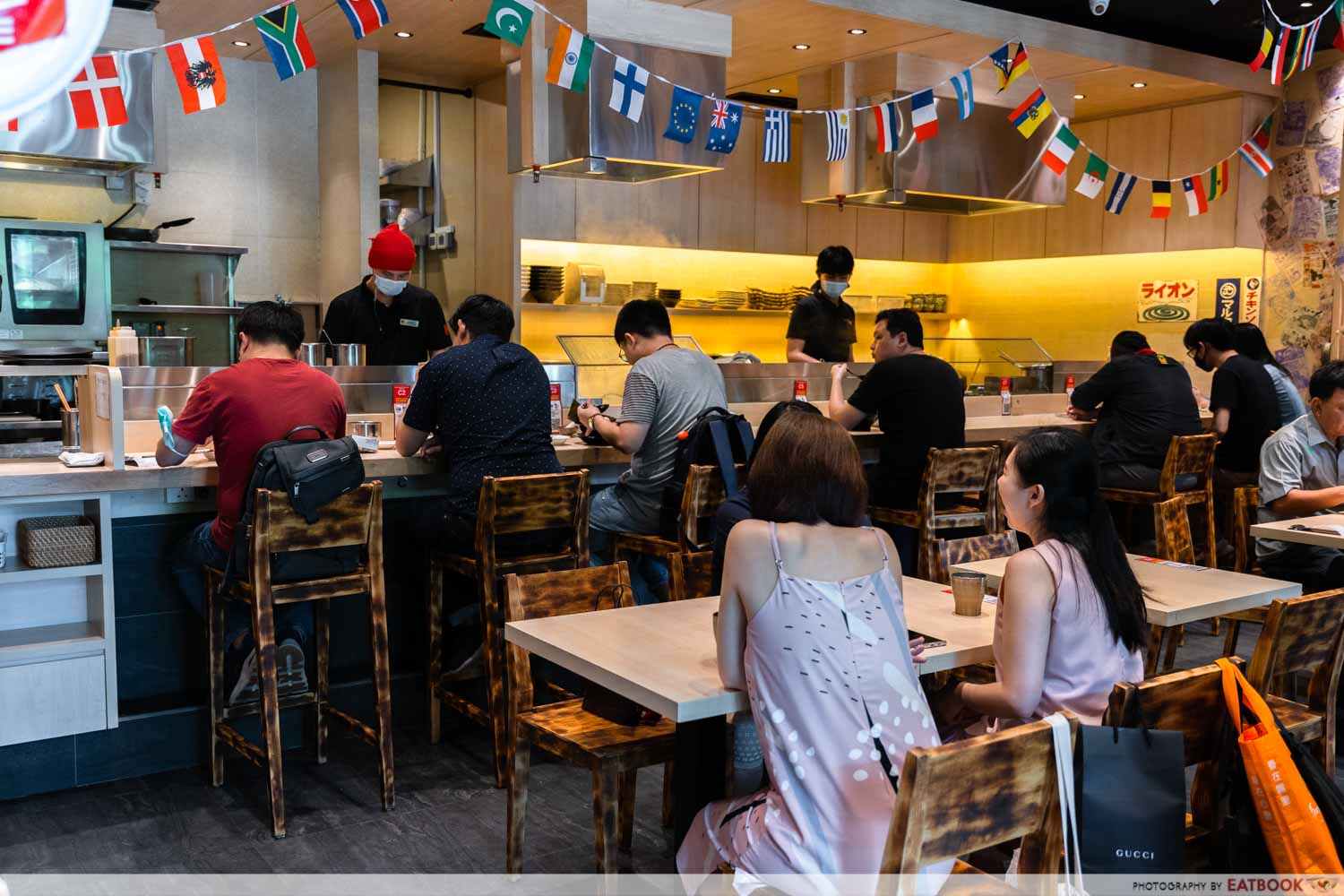 Despite having combined two shop spaces into a single 49-seater restaurant, Niku King is still the typical squeezy Japanese eatery as seen in Midnight Diner, with a mix of socially distant counter seats and tables. Sheets of Japanese comics are plastered all over the walls, and together with the Japanese music, you do feel like you've been picked up and transported to the Land of the Rising Sun.
The verdict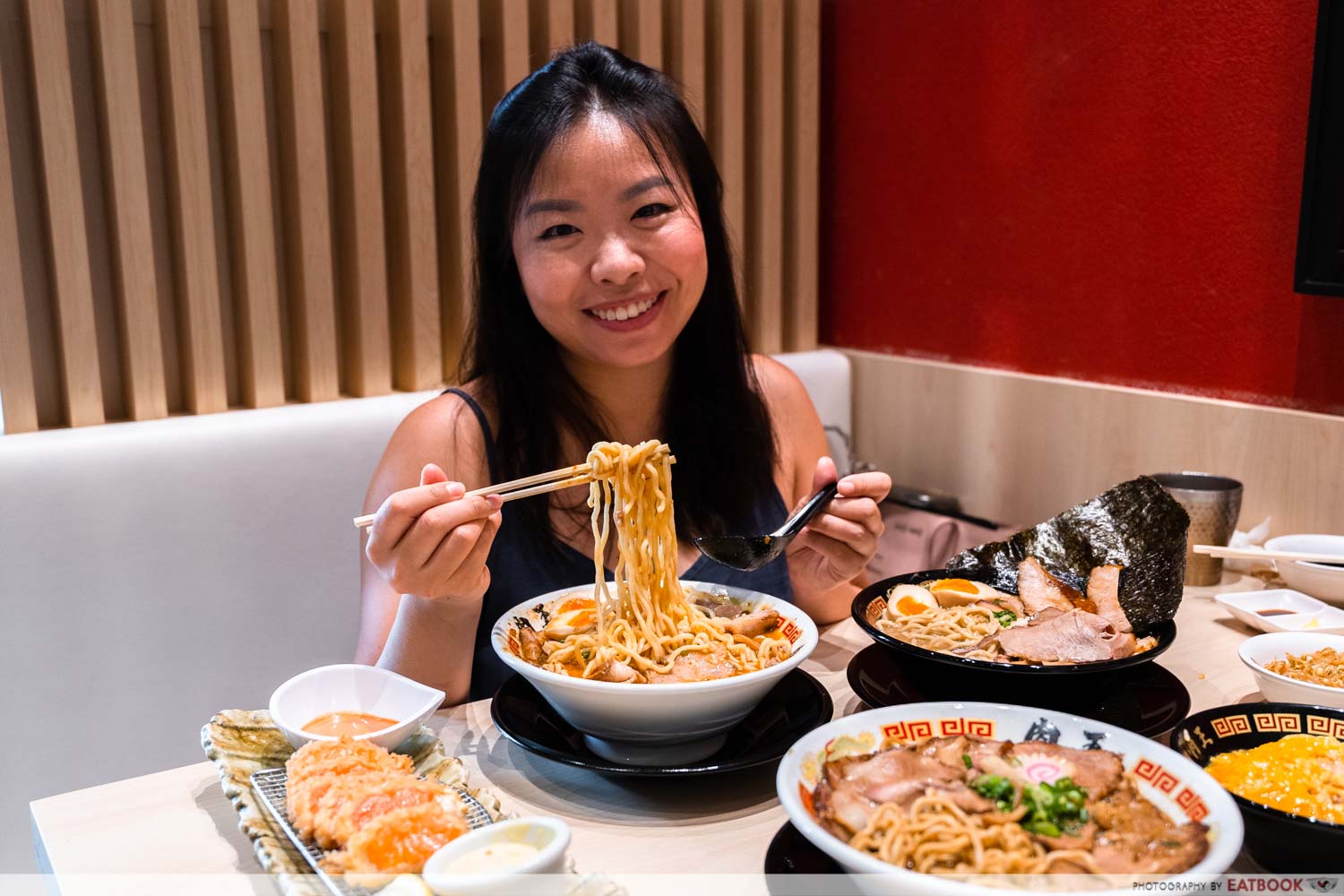 Located on the first floor of Paya Lebar Square, with Paya Lebar MRT station at its doorstep, the eatery is super accessible. Prices are not extravagant, and you do get more than a fair amount of decent food. If you always find the paltry slices of chashu in your ramen insufficient, have a very hearty appetite and prefer a strongly porky broth, Niku King is just what you need.
Check out our guide to dining at Paya Lebar Square and PLQ. ChaTraMue, famed for their Thai milk tea, also recently opened their flagship outlet at PLQ. 
Address: 60 Paya Lebar Road, #01-02, Paya Lebar Square, Singapore 409051
Opening hours: Mon-Sat 11:30am to 10:30pm, Sun 11:30am to 10pm
Tel: 6214 3345
Website
Ramen Keisuke Niku King is not a halal-certified eatery.
Photos taken by Lim An.
This was a media tasting at Ramen Keisuke Niku King.
Summary
Pros
– Very accessible location
– Generous portions
– Plenty of seats
Cons
– Soup gets jelak
– Keisuke Egg on Rice has very little chashu
Recommended dishes: Niku King Miso Special with Spicy Paste ($15.90++), Keisuke Egg on Rice ($3.90++)
Opening hours: Mon-Sat 11:30am to 10:30pm, Sun 11:30am to 10pm
Address: 60 Paya Lebar Road, #01-02, Paya Lebar Square, Singapore 409051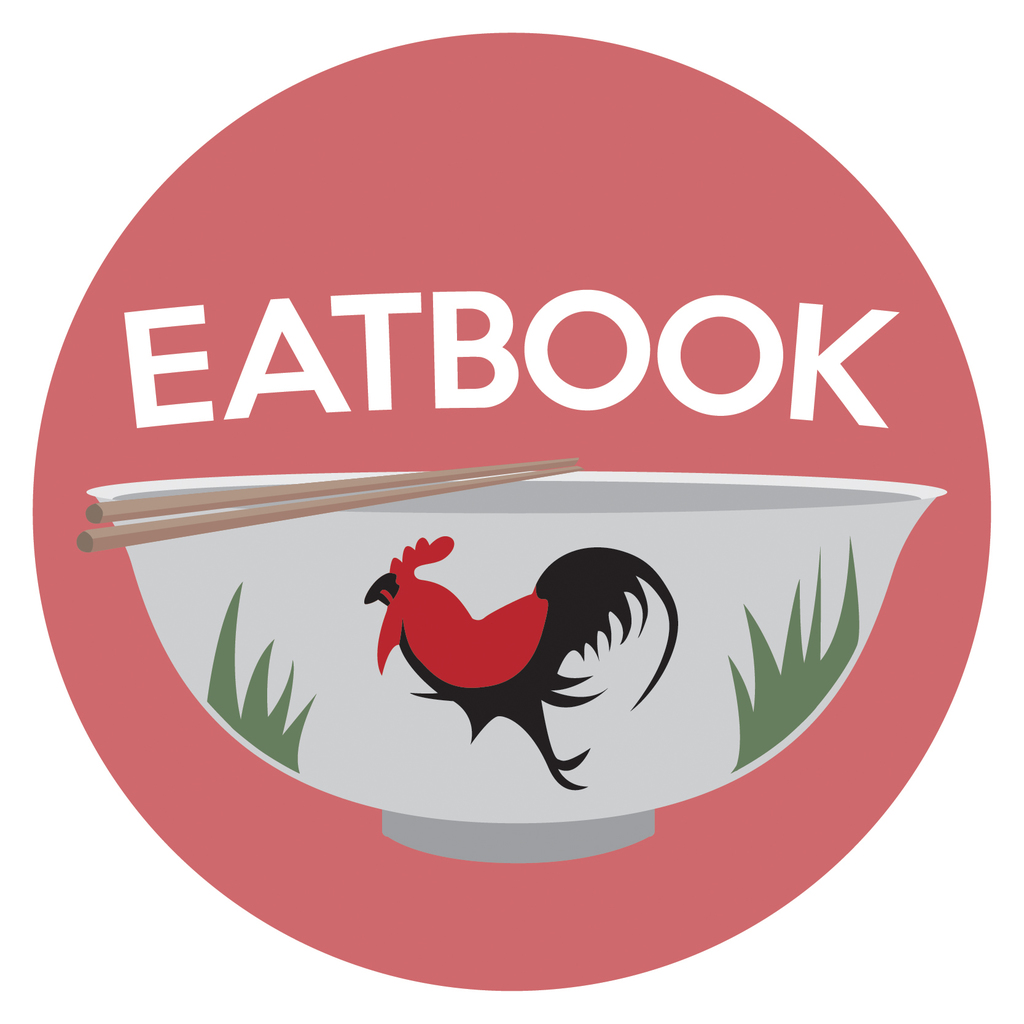 Drop us your email so you won't miss the latest news.