Shiokoji Tonkatsu Keisuke at Paya Lebar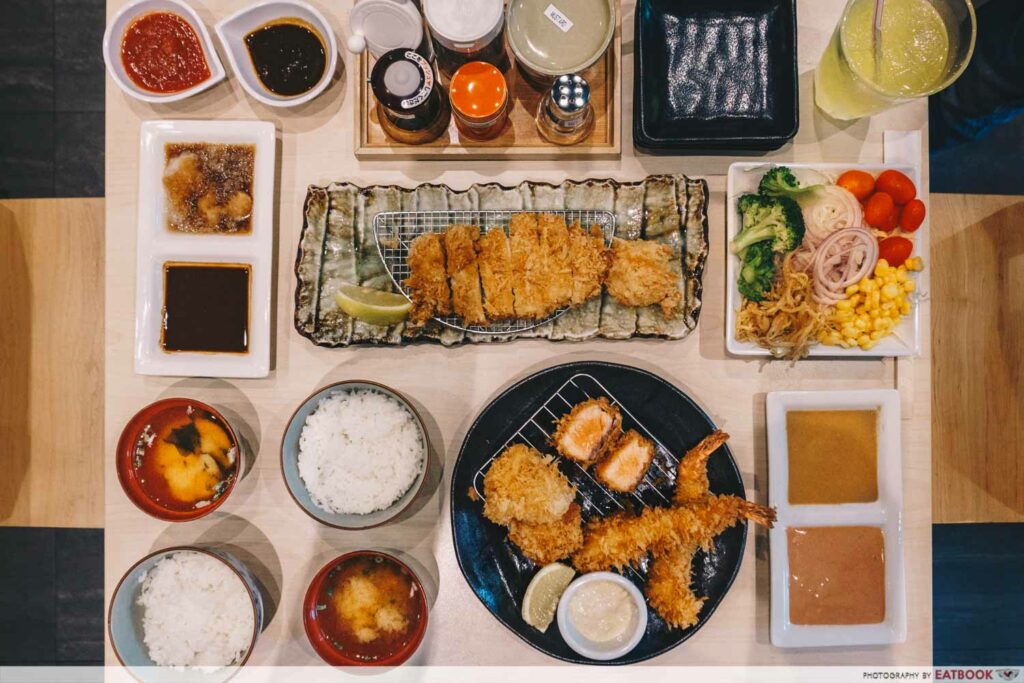 When it comes to Japanese fare, one name that constantly delivers novel dining concepts is undoubtedly Keisuke Takeda. Besides the impressive Charcoal-grill & Salad Bar Keisuke that opened earlier this year, there are 13 different unique concepts that make up the rest of his Japanese food empire in Singapore. Adding on to this list is Shiokoji Tonkatsu Keisuke, a new tonkatsu joint in Paya Lebar that offers a slight twist on the well-loved Japanese breaded pork cutlets.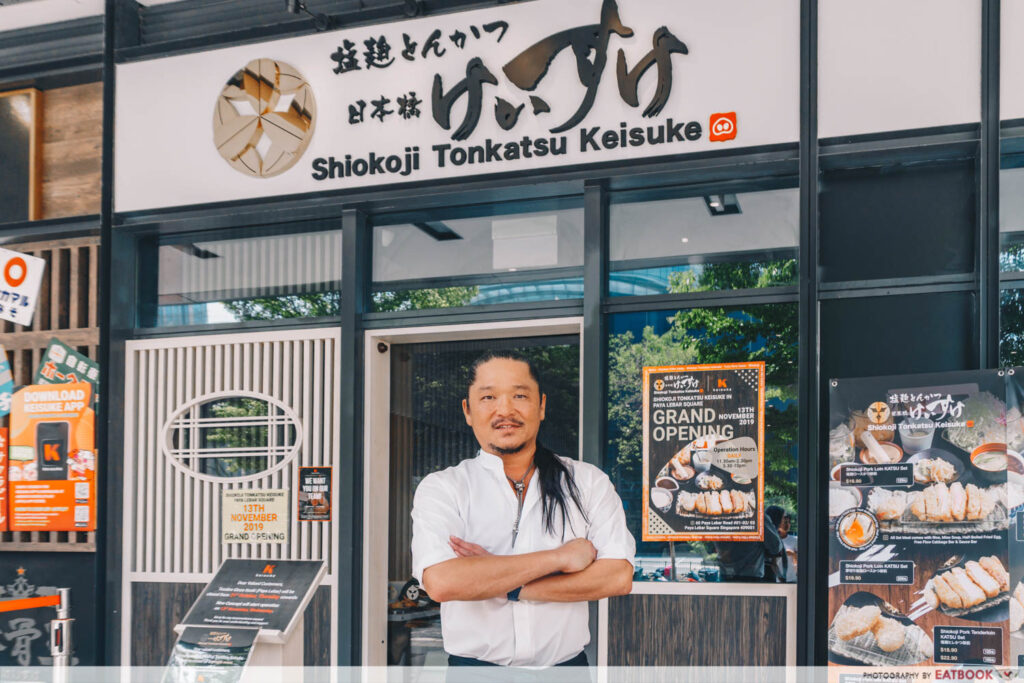 Those who are familiar with Keisuke concepts will know that the Hiroshima native tends to add a little creative spin to Japanese classics. This concept does just that, serving up classic tonkatsu that are marinated with shio koji.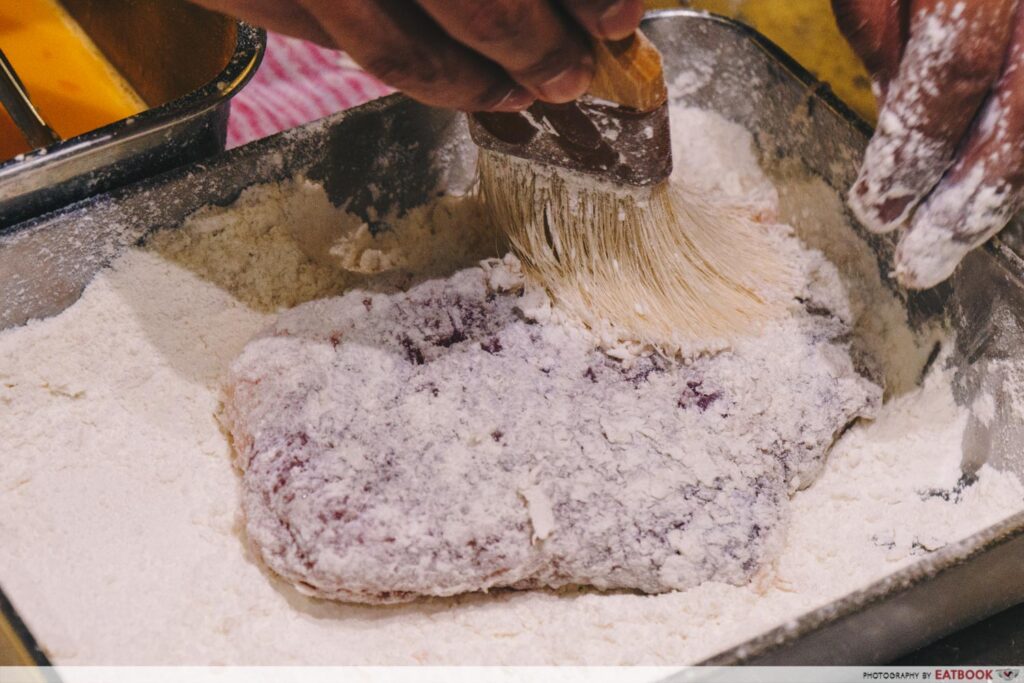 Comprising mainly of rice koji, a strain of rice mould rich in enzymes, this natural seasoning is commonly used in Japanese cooking to tenderise and enhance the umami flavours of food. It's said to pack in natural probiotics that help in digestion and boost anti-ageing and skin clearing properties.
The restaurant opens on 13 November 2019, but we managed to get a first-hand preview of what this exciting hole-in-the-wall eatery has to offer.
Food at Shiokoji Tonkatsu Keisuke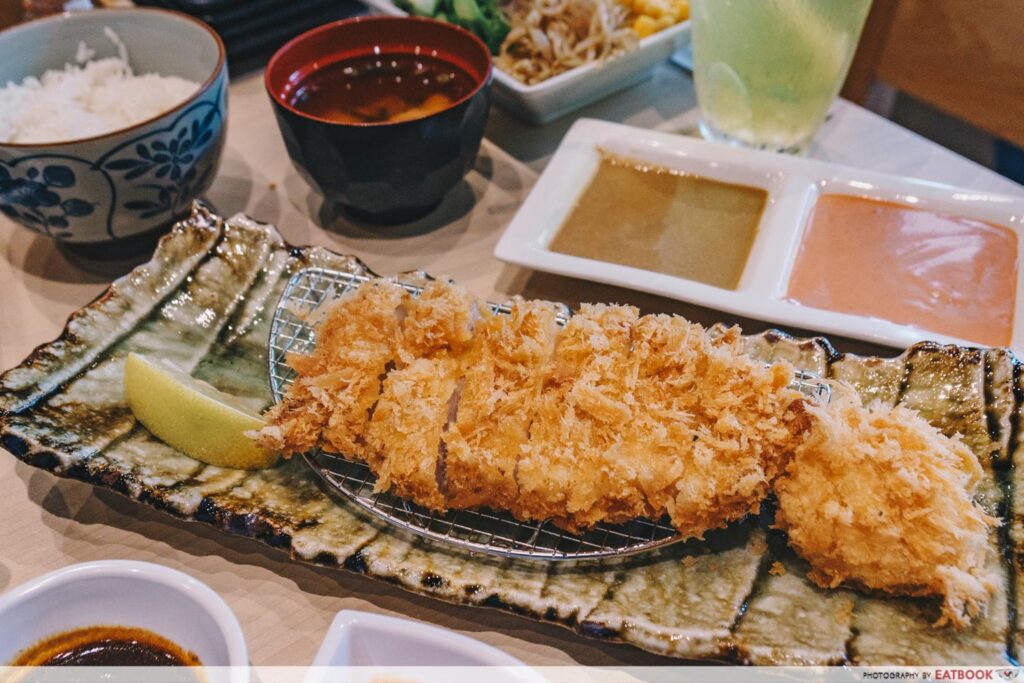 Similar to other Keisuke restaurants, the menu here is kept relatively lean with a total of nine items to choose form. Besides the classic pork dishes, there are also seafood and chicken options. Each order also comes with a bowl of steamed rice, whole fried egg, miso soup, and access to the restaurant's all-you-can-eat salad bar. 
We started off with the signature Shiokoji Pork Loin Katsu Set 200g ($19.90++), which comes in both 120g and 200g portions. While it might look like any other run-of-the-mill tonkatsu, its taste was somewhat different.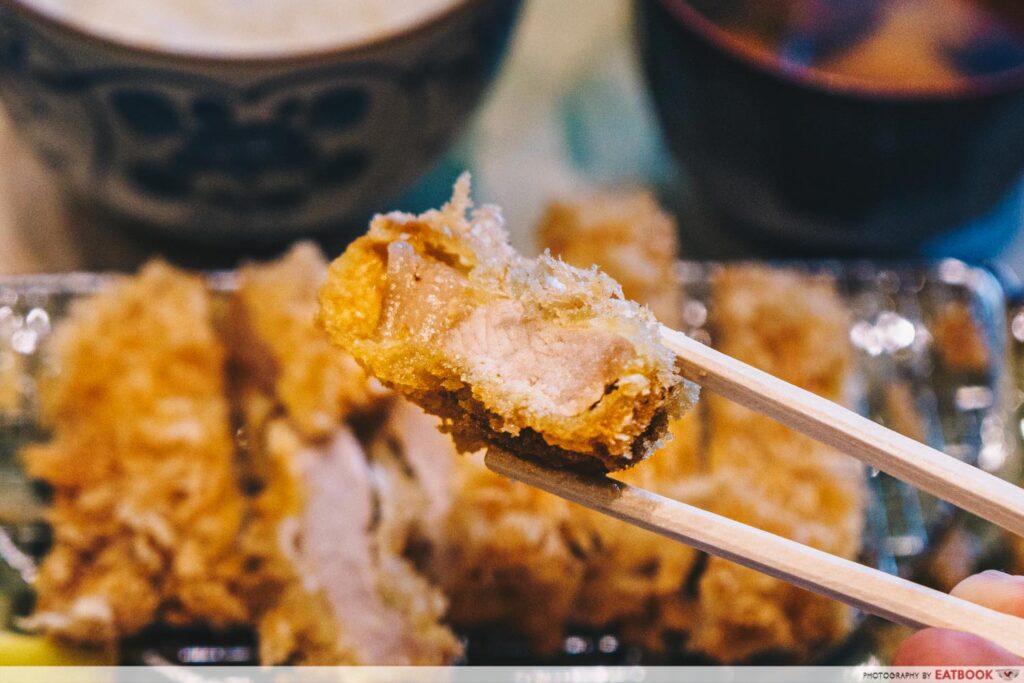 Biting into the pork cutlet, I felt that its batter tasted lighter and crispier than regular tonkatsu. It somehow gave the impression that it went through an air fryer instead of being deep-fried.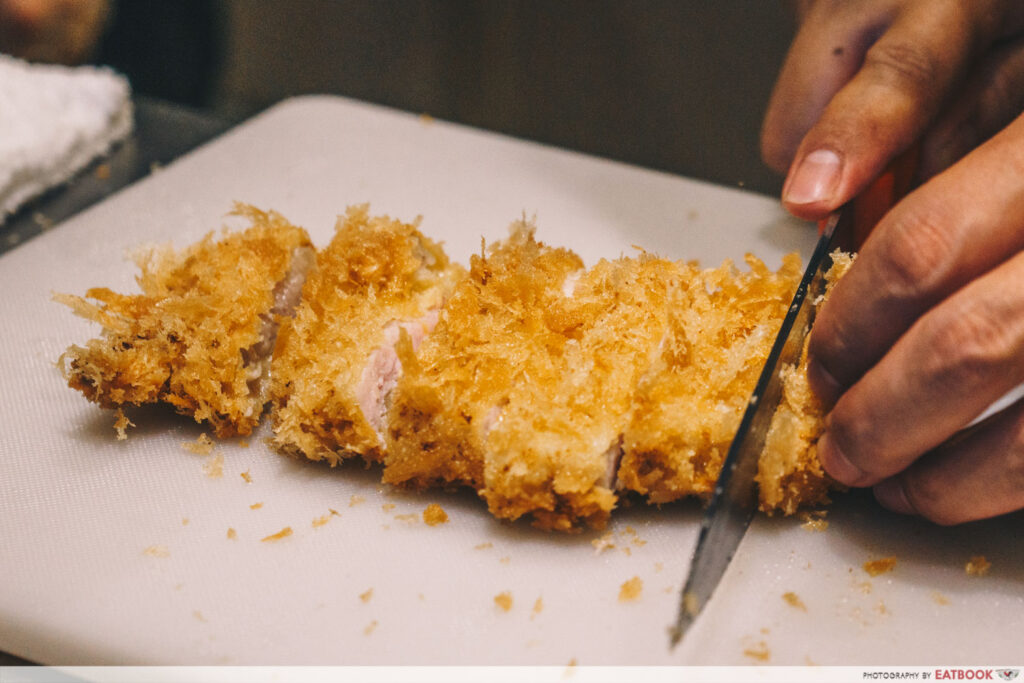 Understandably, this could be attributed to its cooking process. The restaurant's deep fryer uses a special water molecule control technology that results in 50% less oil being absorbed into the meat. While a healthier alternative is a nice touch, this dish was somehow missing the much-coveted juiciness and slight punch of greasiness that make tonkatsu so sinfully addictive. 
The meat came with a slight tinge of fermented funkiness. The flavour wasn't too disruptive, but appeared more like a steady bass player in boosting the pork's rich and fatty flavours.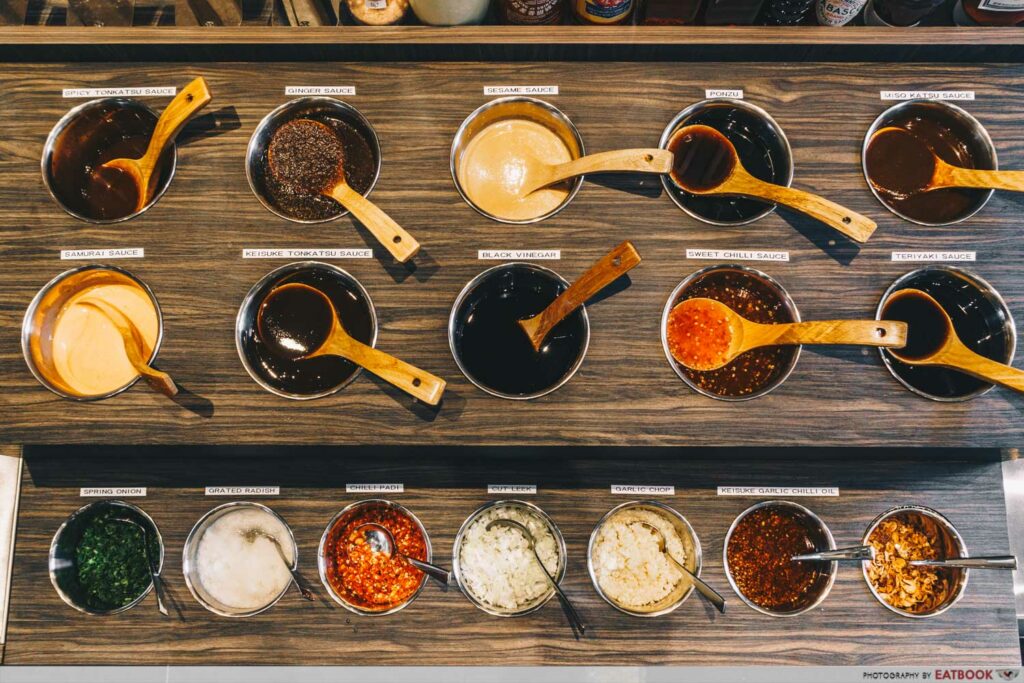 Sauces play a huge part in tonkatsu and a classic example is how Nagoya-style miso katsu is drenched in a copious amount of umami-rich miso sauce. There are a total of 12 sauces to choose from and you'll get popular favourites such as curry and ponzu, alongside interesting variants like samurai and ginger.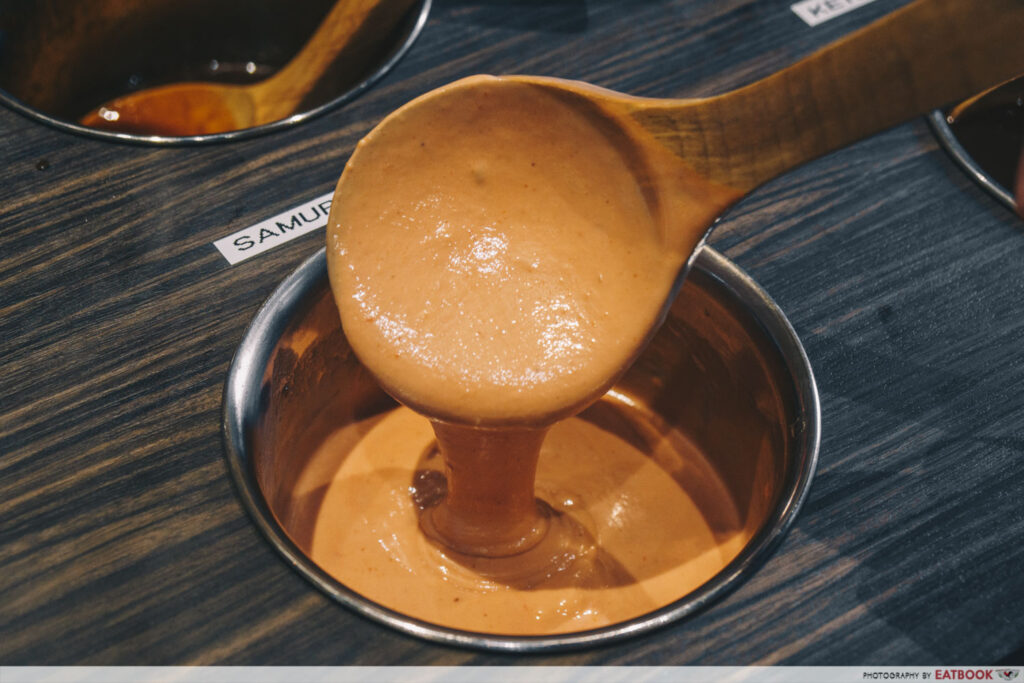 The Samurai sauce features a blend of mayonnaise, chilli sauce, and ketchup. It's sort of like a Thousand Island dressing, except that it comes with a mild punch of heat. I appreciated how it gave a slight creaminess and acidity to the fried items.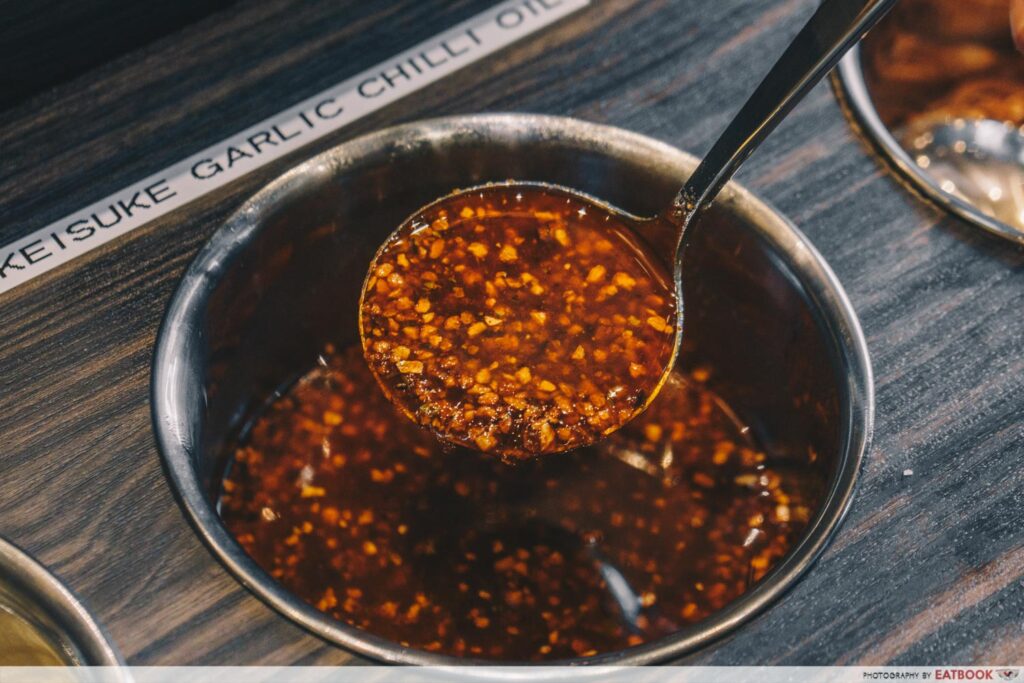 Just like your favourite hotpot restaurants, there are condiments that you can use to mix and match with the sauces. This includes grated radish, chilli padi, and a special house-made garlic chilli oil.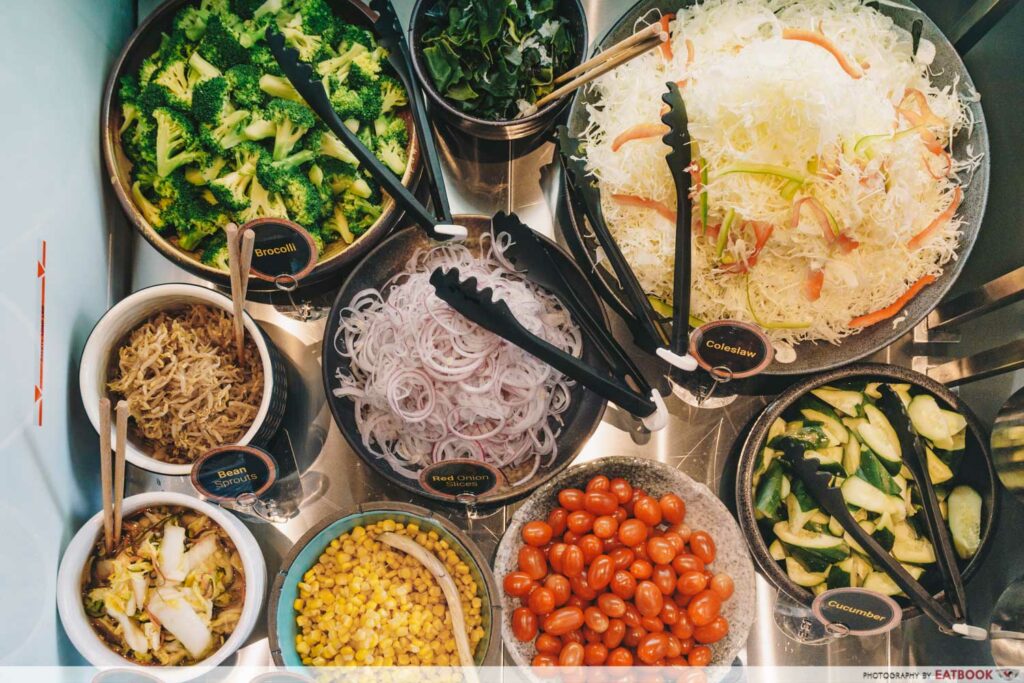 A modest selection of vegetables is also available at the salad bar. These include shredded cabbage, broccoli, red onion slices and Keisuke's signature bean sprouts which can be found at all of his stores.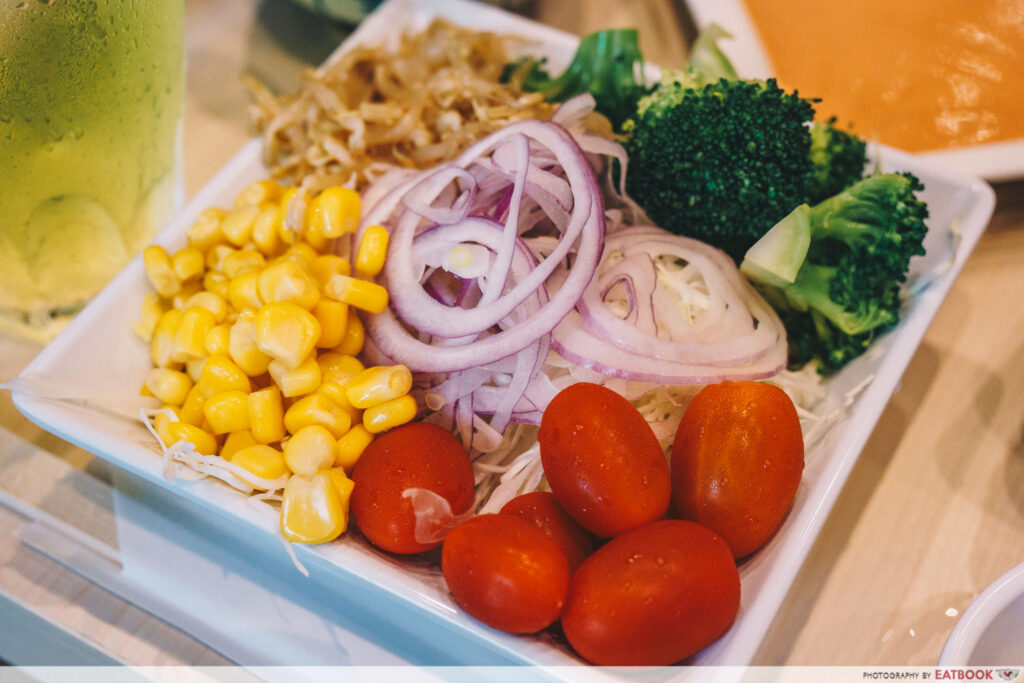 A wide range of salad dressings can also be found, and there ought to be enough for you to come up with multiple creative combinations.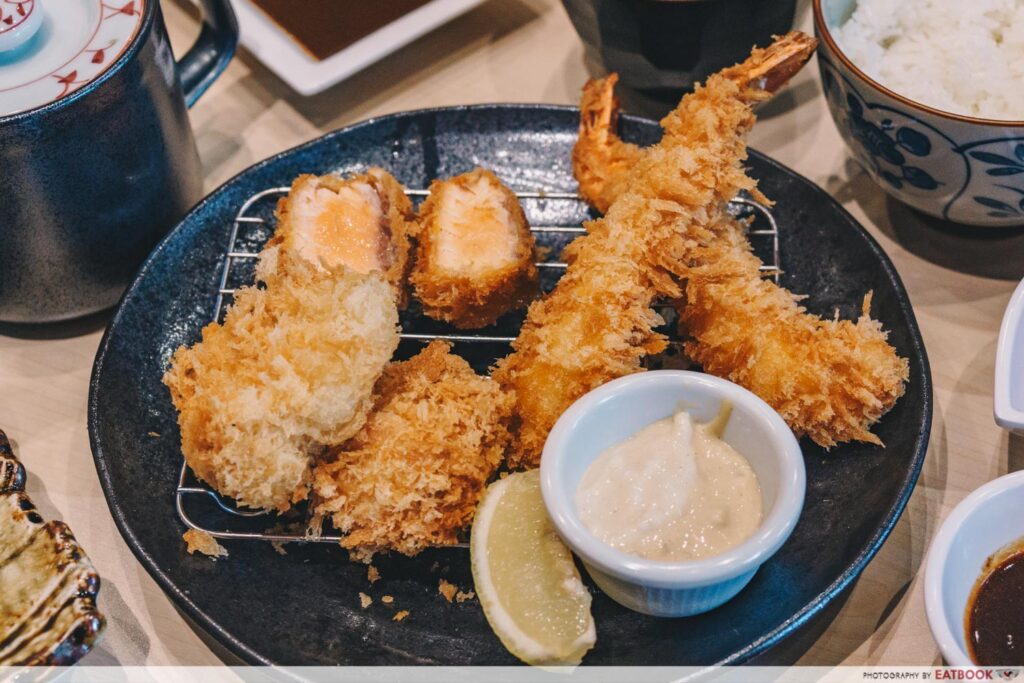 The restaurant also dishes up seafood that are coated in panko and deep-fried using the same process as its pork counterpart. The Assorted Seafood Katsu Set ($20.90++) features two large pieces of prawn, two thick chunks of salmon, and a piece of scallop. Do note that the seafood items do not receive the shio koji treatment due to their delicate nature.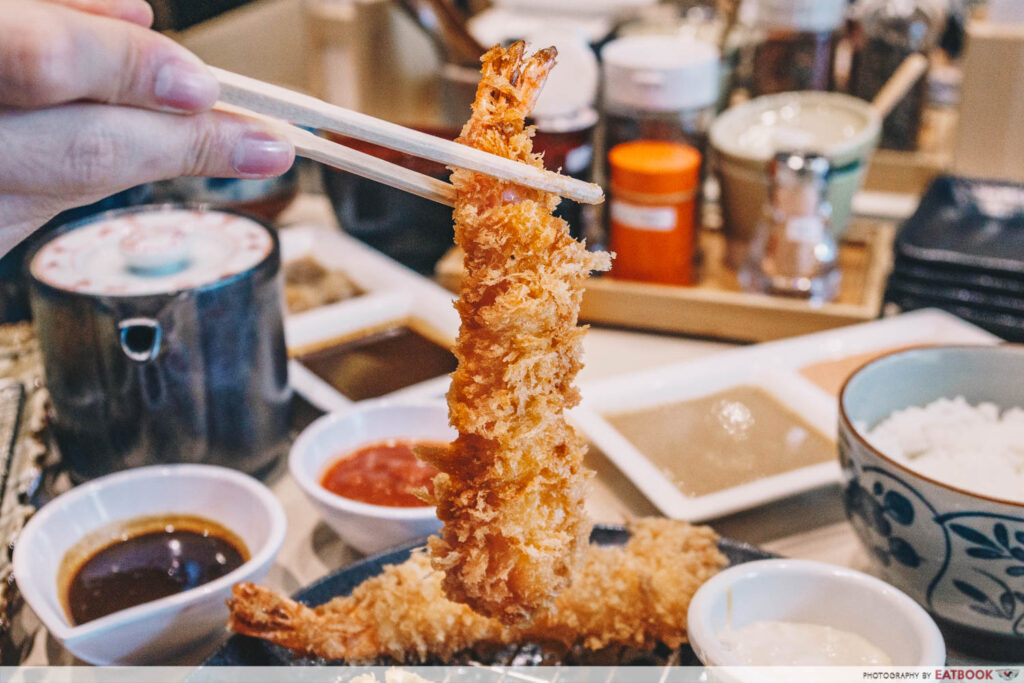 The prawns' size were impressive and they tasted fresh. They had a nice springy texture that went nicely with the crispy light batter. However, I found them to be slightly lacking in flavour. This can be easily solved with the wide assortment of sauces available here.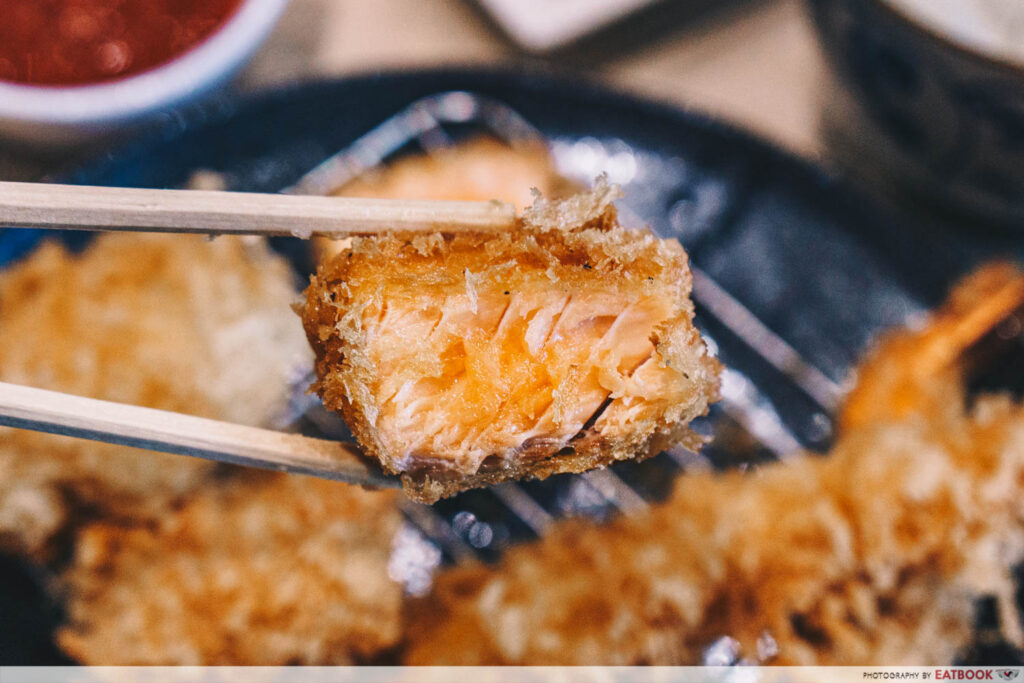 The salmon came with a nice pink centre, and I liked how its rich and fatty flavours went well with the crispy batter. My only gripe about this beautifully cooked fish is that there should have been an additional slice. Two slices are a little paltry for my liking.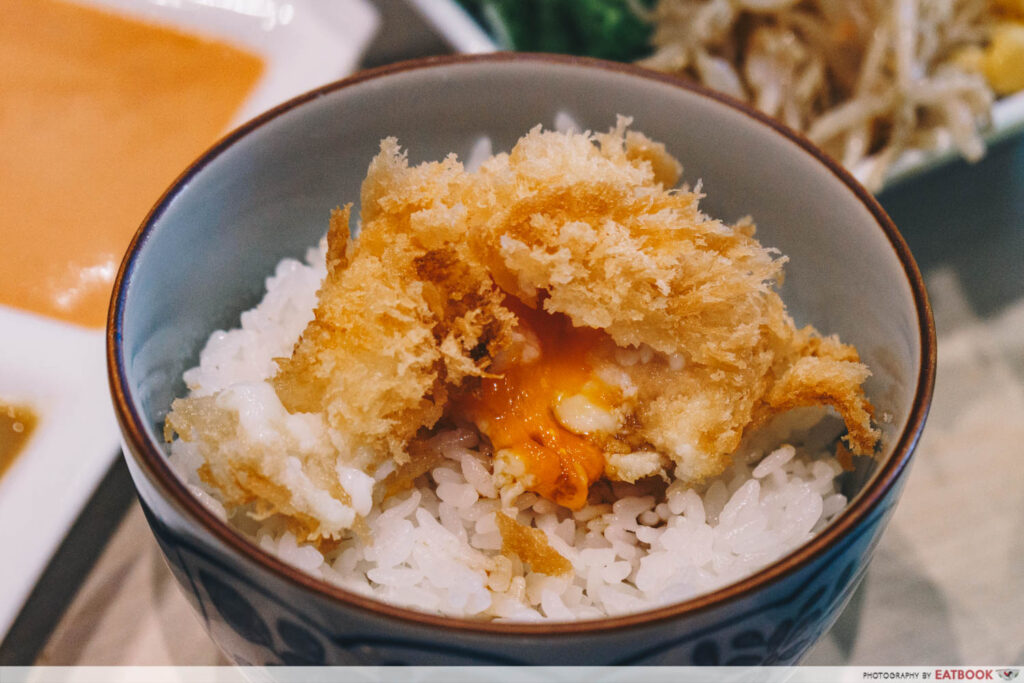 Each order comes with a whole piece of whole egg that's deep-fried until crispy. I was told by the restaurant's representative that they're best enjoyed by mixing them directly into the rice and adding a dash of soy sauce. This simple combination of egg, rice, and soy sauce is a nostalgic treat—reminding me closely of a familiar childhood favourite dish that comprises fried eggs over rice with a dash of soy sauce. 
Ambience at Shiokoji Tonkatsu Keisuke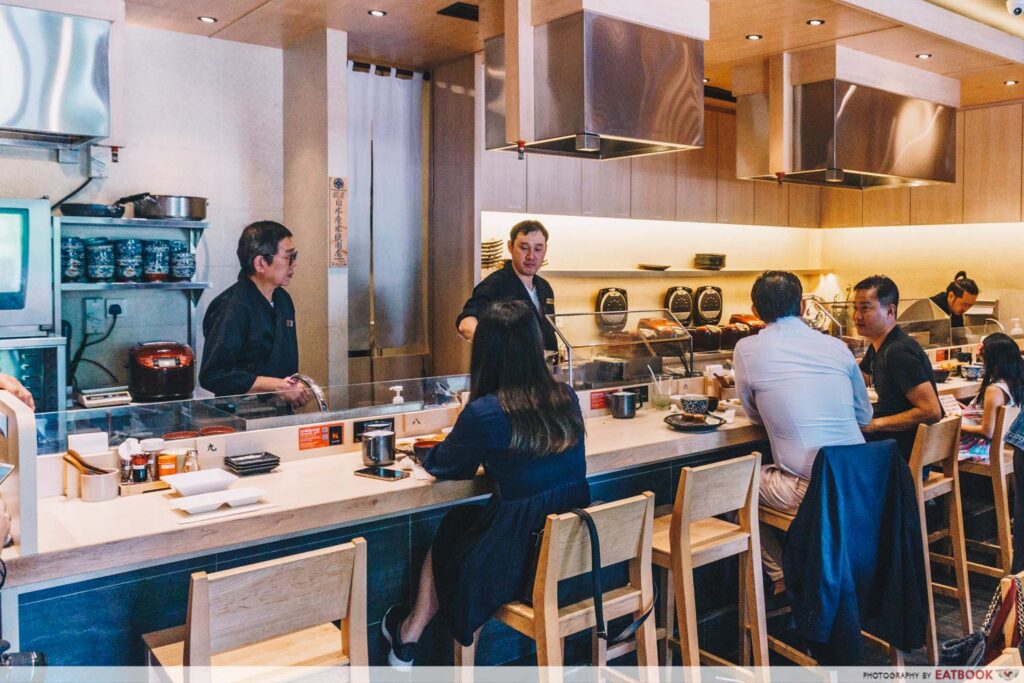 All of Keisuke's restaurants seem to follow the same template of offering a small but cosy setting, and Shiokoji Tonkatsu Keisuke is no different. There are a total of 23 seats here, with both bar and table seats to choose from. As always, prepare to wait in line during peak periods to get a table.

Just like in Keisuke's Tendon Ginza Itsuki, the smell of oil tends to waft throughout the restaurant and imprint its odour on our clothes. Those who visit during lunchtime might want to bring a change of clothes if they're heading to a fancy date later in the evening.
The verdict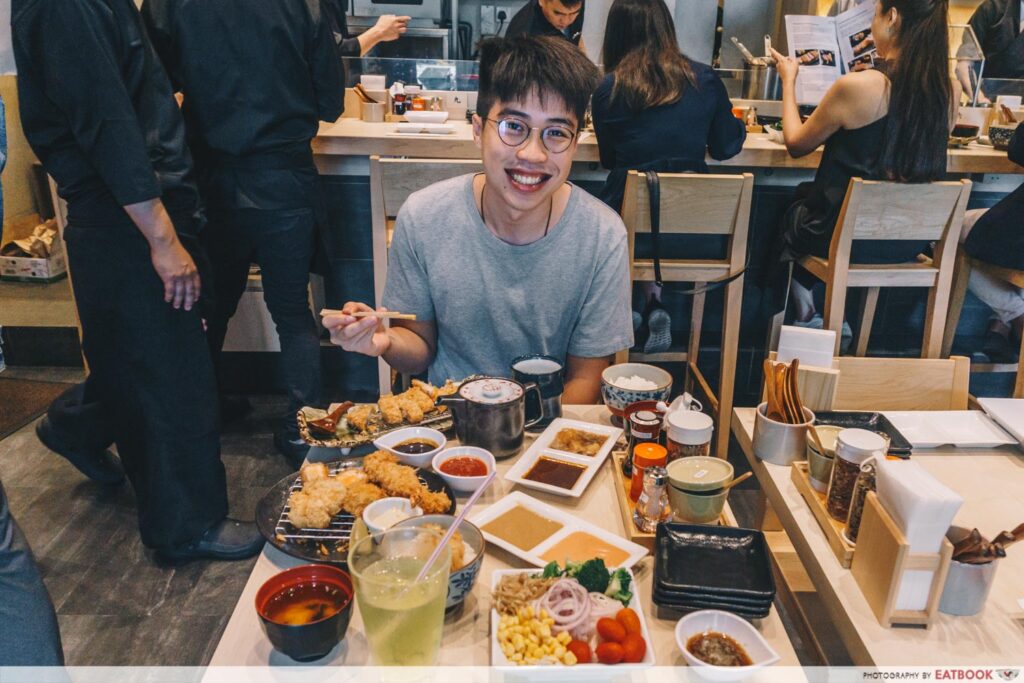 While Shiokoji Tonkatsu Keisuke offers a refreshing alternative to the relatively quiet tonkatsu scene in Singapore, I found difficulty picking it over reigning favourites, such as Ma Maison Tonkatsu and Imakatsu, that prepare tonkatsu the classic way. 
While its salad bar and generous range of sauces provide great variety, it barely misses the mark on offering a hearty tonkatsu experience. There are still a couple more days before the restaurant officially opens, and I have absolute faith that the quality of its food will improve.  
To see what we have to say of the other restaurants opened by Keisuke, be sure to check out creamy omurice at Omurice Keisuke and tasty beef bowls at Beef Sukiyaki Don Keisuke. 
Address: 60 Paya Lebar Road, #01-02/03, Paya Lebar Square, Singapore 409051
Opening hours: Daily 11:30am to 2:30pm, 5:30pm to 10pm
Tel: 6214 3345
Website
Shiokoji Tonkatsu Keisuke is not a halal-certified eatery
Photos taken by John Lery Villanueva
This was a media tasting at Shiokoji Tonkatsu Keisuke
Summary
Pros
– Free-flow salad bar and condiments
– Light and crispy batter
Cons
– Limited number of seats
– Mains could have larger portion size
– Clothes smell of oil after eating here
Recommended dishes: Shiokoji Pork Loin Katsu Set 200g ($19.90++)
Opening hours: Daily 11:30am to 2:30pm, 5:30pm to 10pm
Address: 60 Paya Lebar Road, #01-02/03, Paya Lebar Square, Singapore 409051