Omurice Keisuke at Bugis+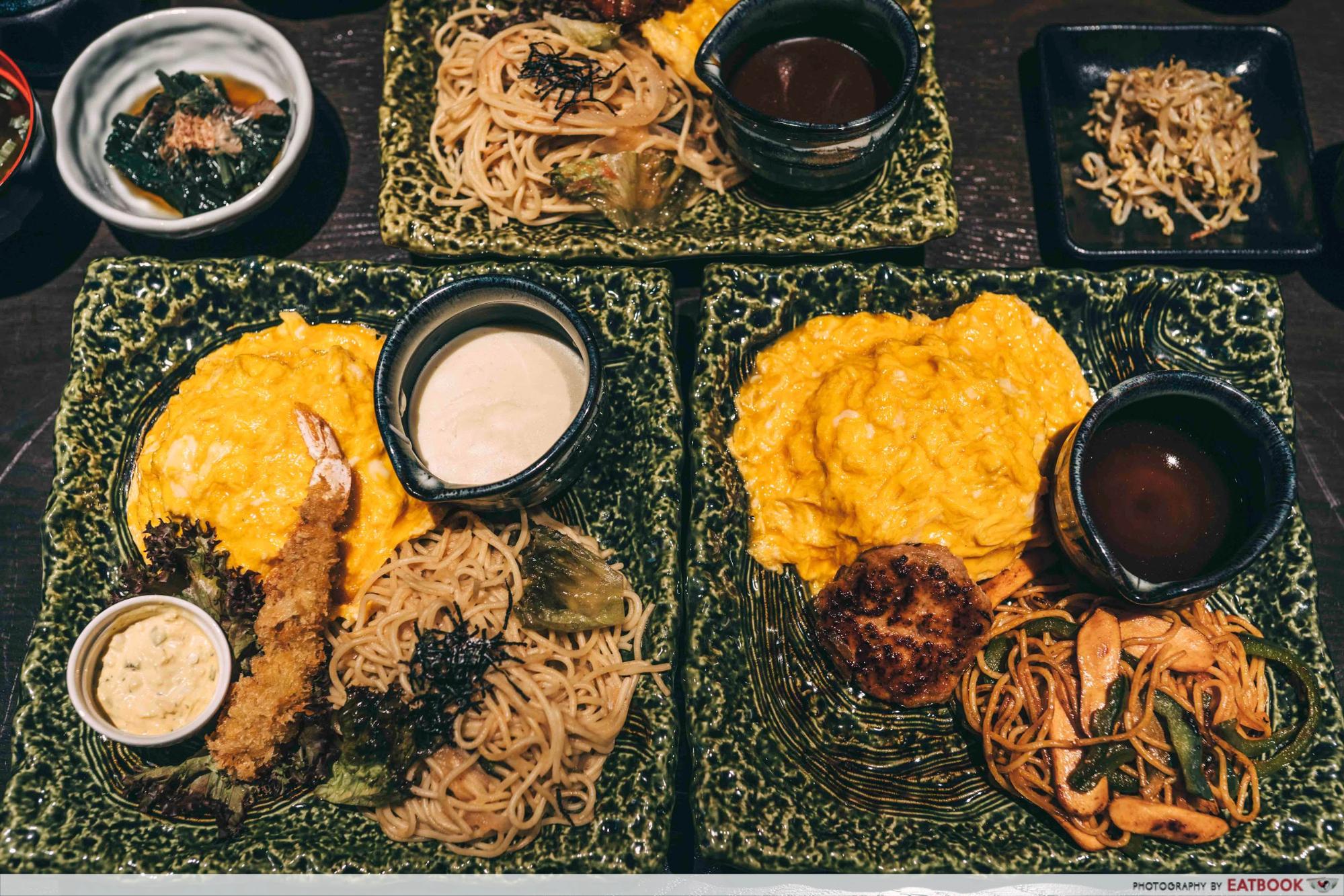 It seems like there's no rest for Keisuke Takeda and the ever-expanding Keisuke group, with a new concept opening up every six months.
Fresh from his exploits with Beef Sukiyaki Don Keisuke, which opened last September, the popular restaurant group gives its diners an eggy surprise with Omurice Keisuke.
The newly opened restaurant is an ode to his childhood, with omurice commonly enjoyed by himself and many Japanese as a comfort food.
Although it's opening on 14 January 2019, we managed to get first dibs of the food at a media preview. Here's what we thought about the Keisuke Group's 17th outlet in Singapore.
Food at Omurice Keisuke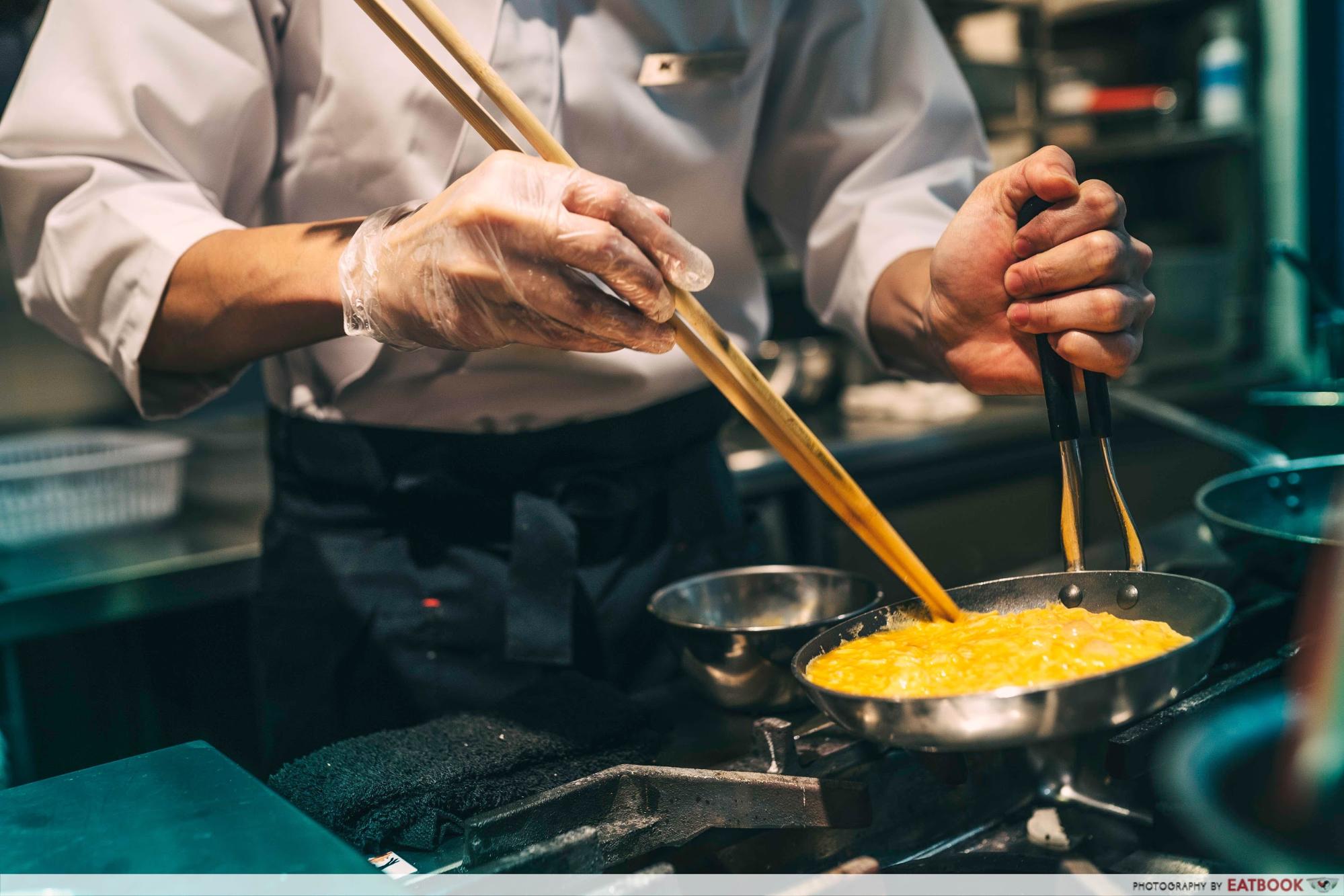 Just like all of Keisuke's restaurants, expect to find a limited menu here. This allows the restaurant to specialise in a specific dish.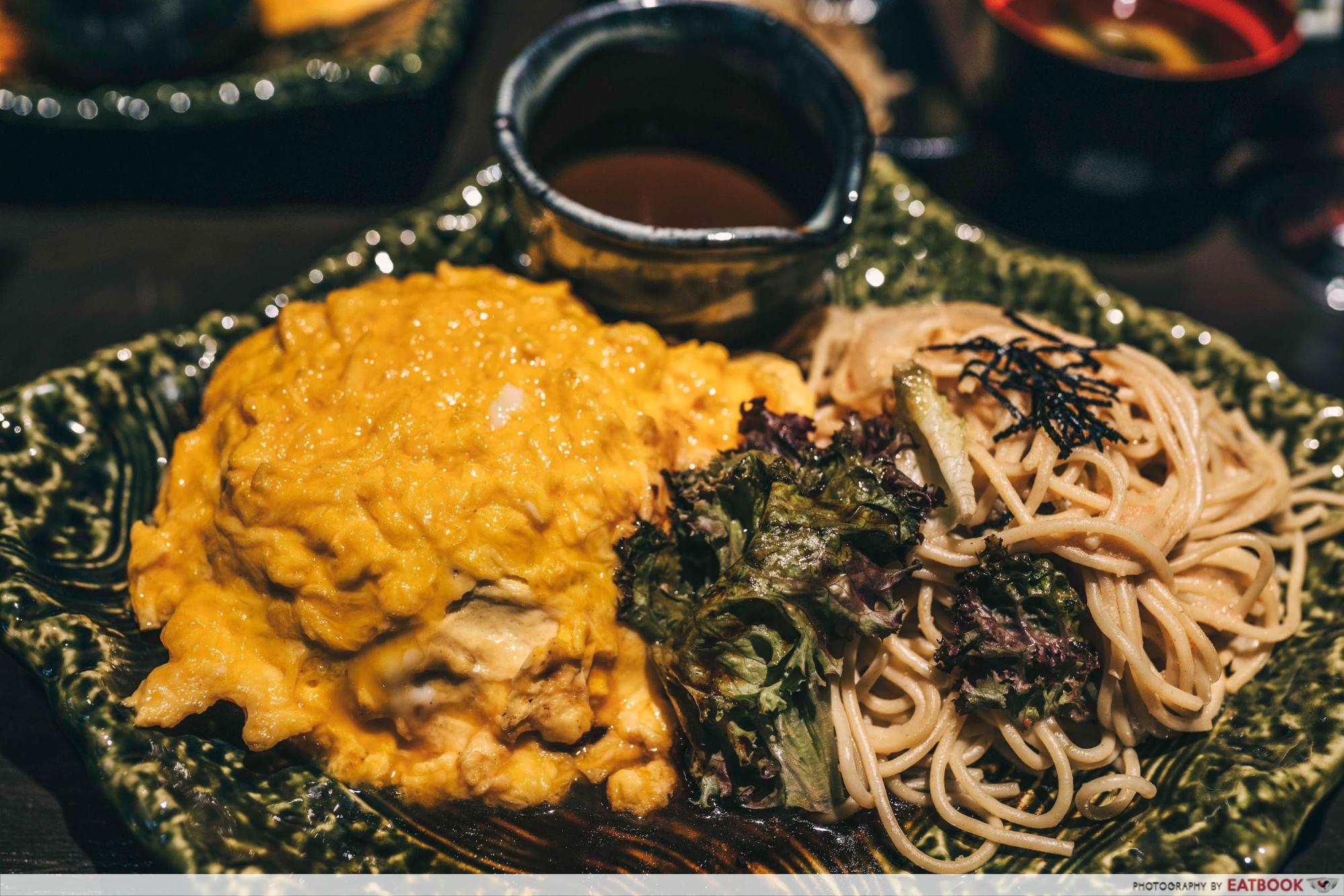 We went for the recommended Omurice Combo ($12.90++), which came with creamy scrambled eggs that were laid on a bed of ketchup fried rice. The combo also gives a choice of Neopolitan and Mentaiko Spaghetti, and four salads to choose from.
The combination of spaghetti and omurice is a carb lover's dream, with generous servings of rice and pasta. At this price, it's difficult to find a Japanese restaurant that offers such great value.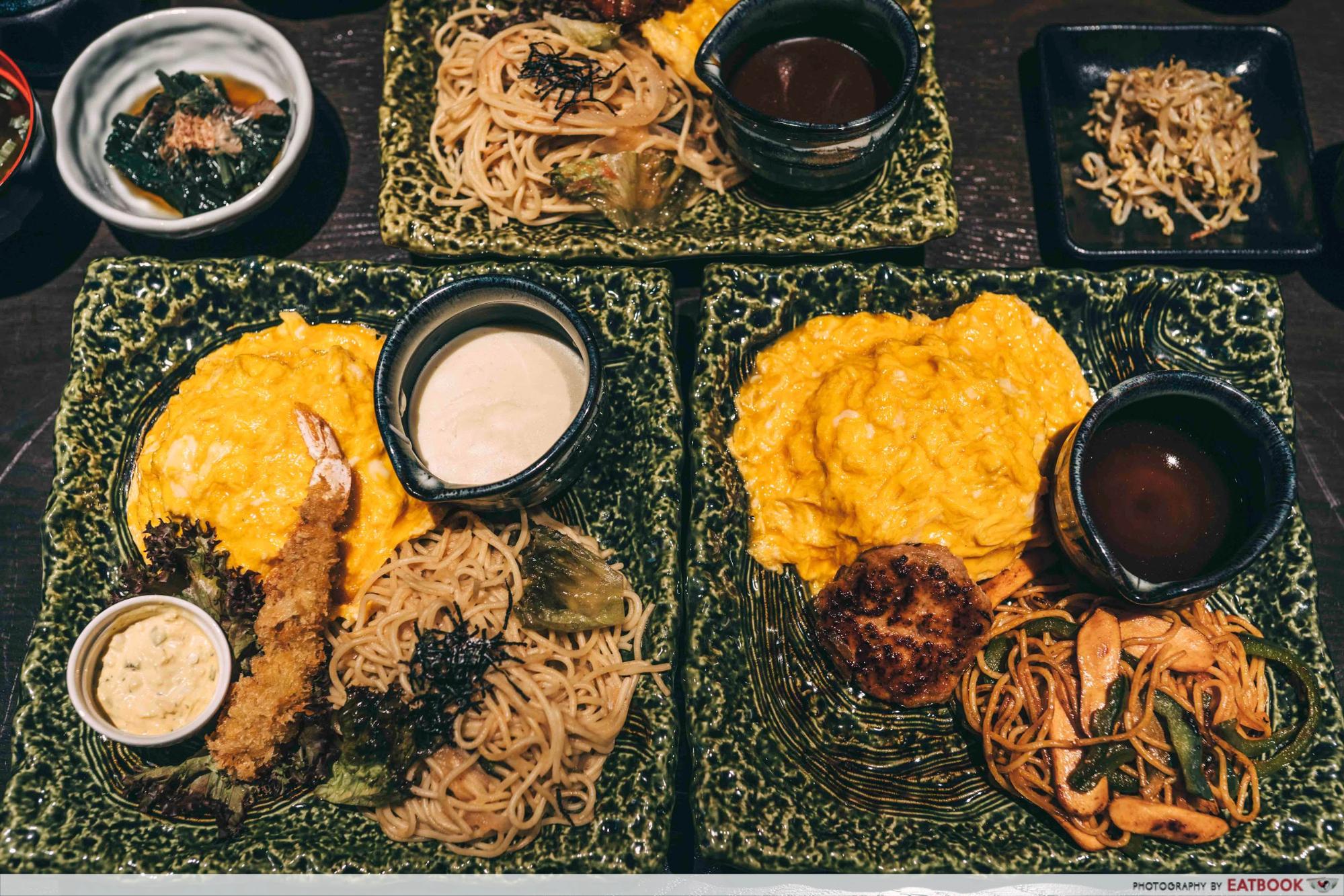 For those who always like to jia fan, there's also a free upsize from regular to large. The upsized portions, pictured on the left, comes with extra noodles and rice. If you and your friend are not heavy eaters, the large option would be enough for two.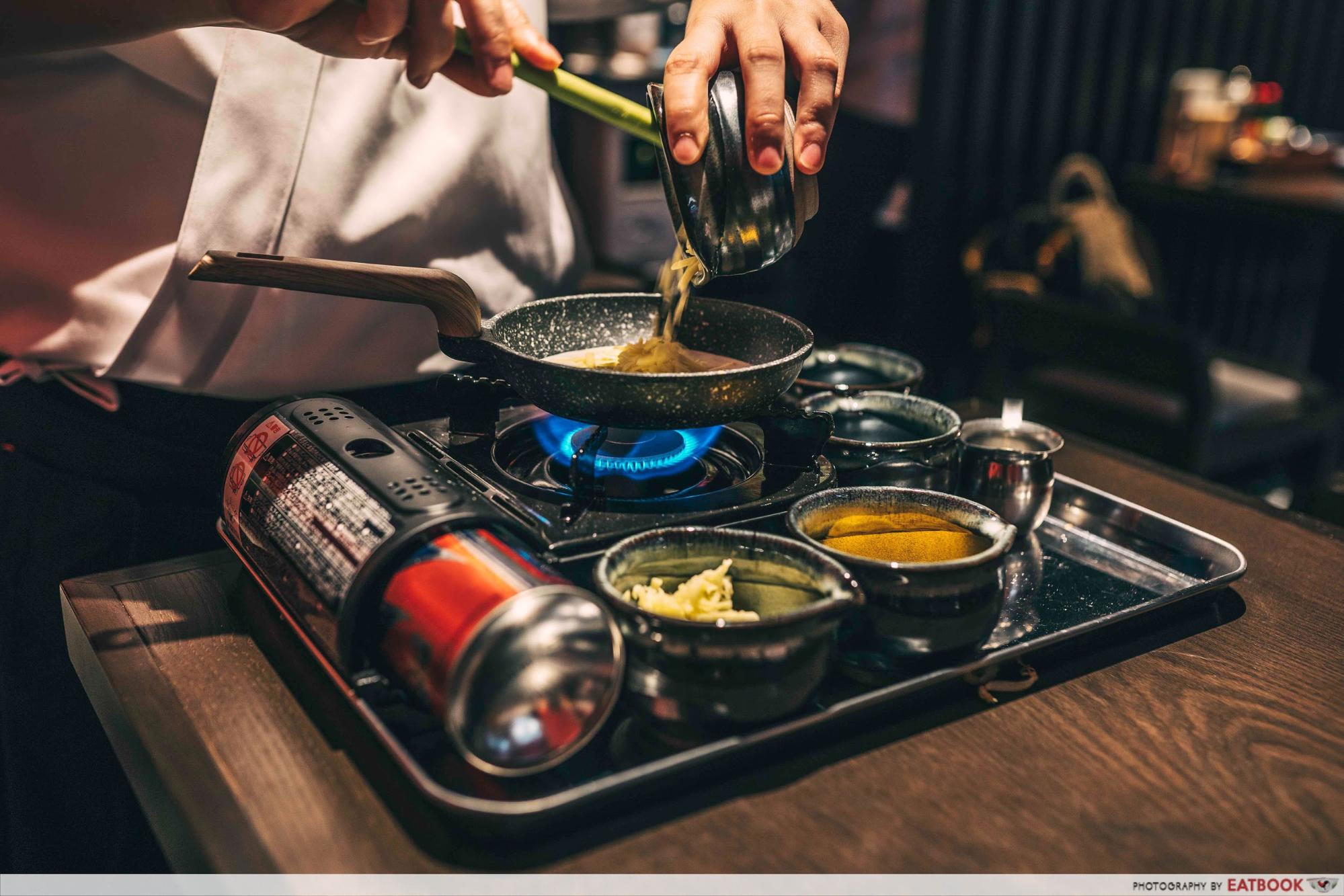 The omurice also comes with a choice of four different types of sauces and even a Cheese sauce ($2++) which is prepared right in front of you. The cheese is a combination of mozzarella and cheddar, giving an extra cheesy tang to everything.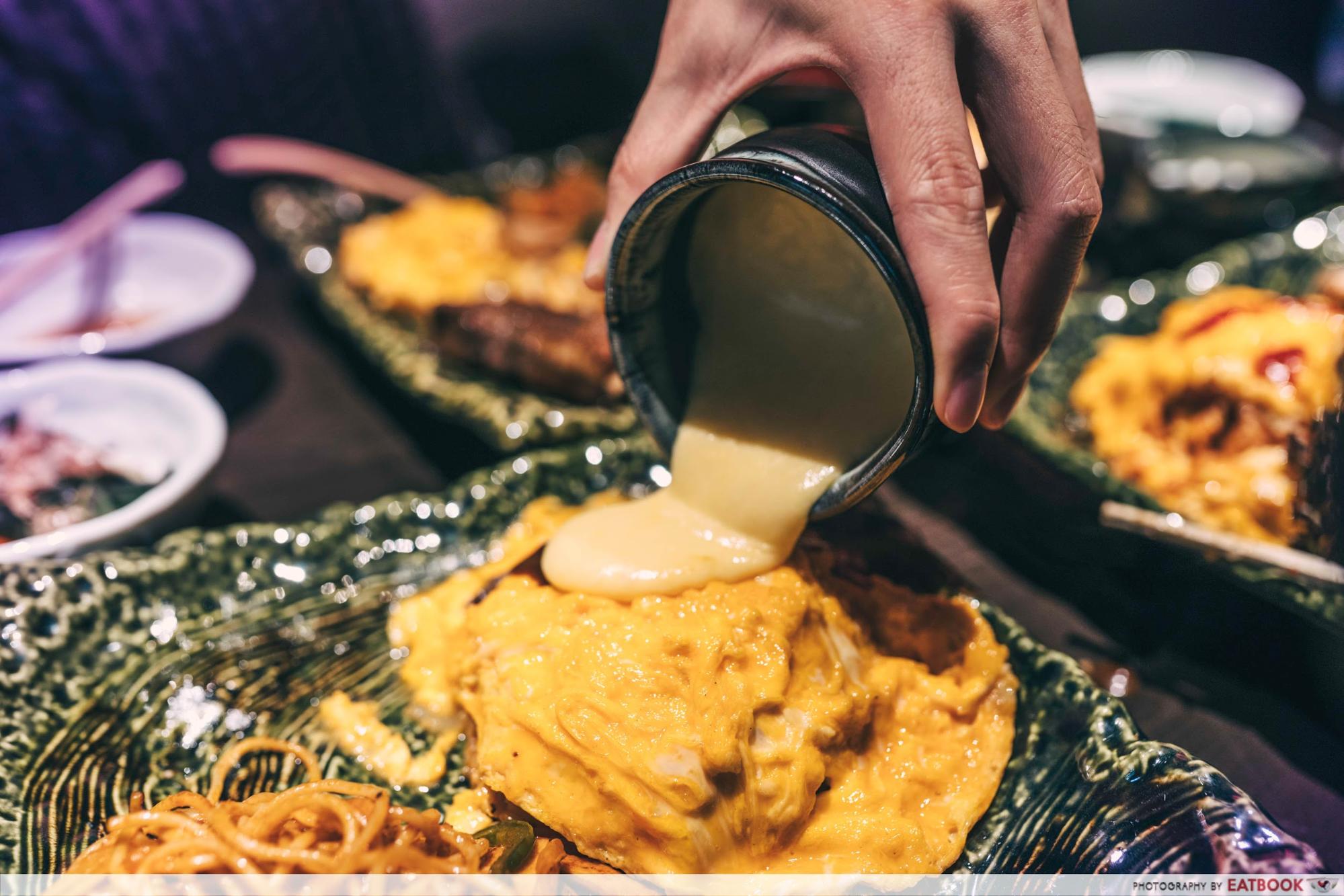 I felt that the ratio of cheddar to mozzarella could have been better, with a certain sharpness lacking from it.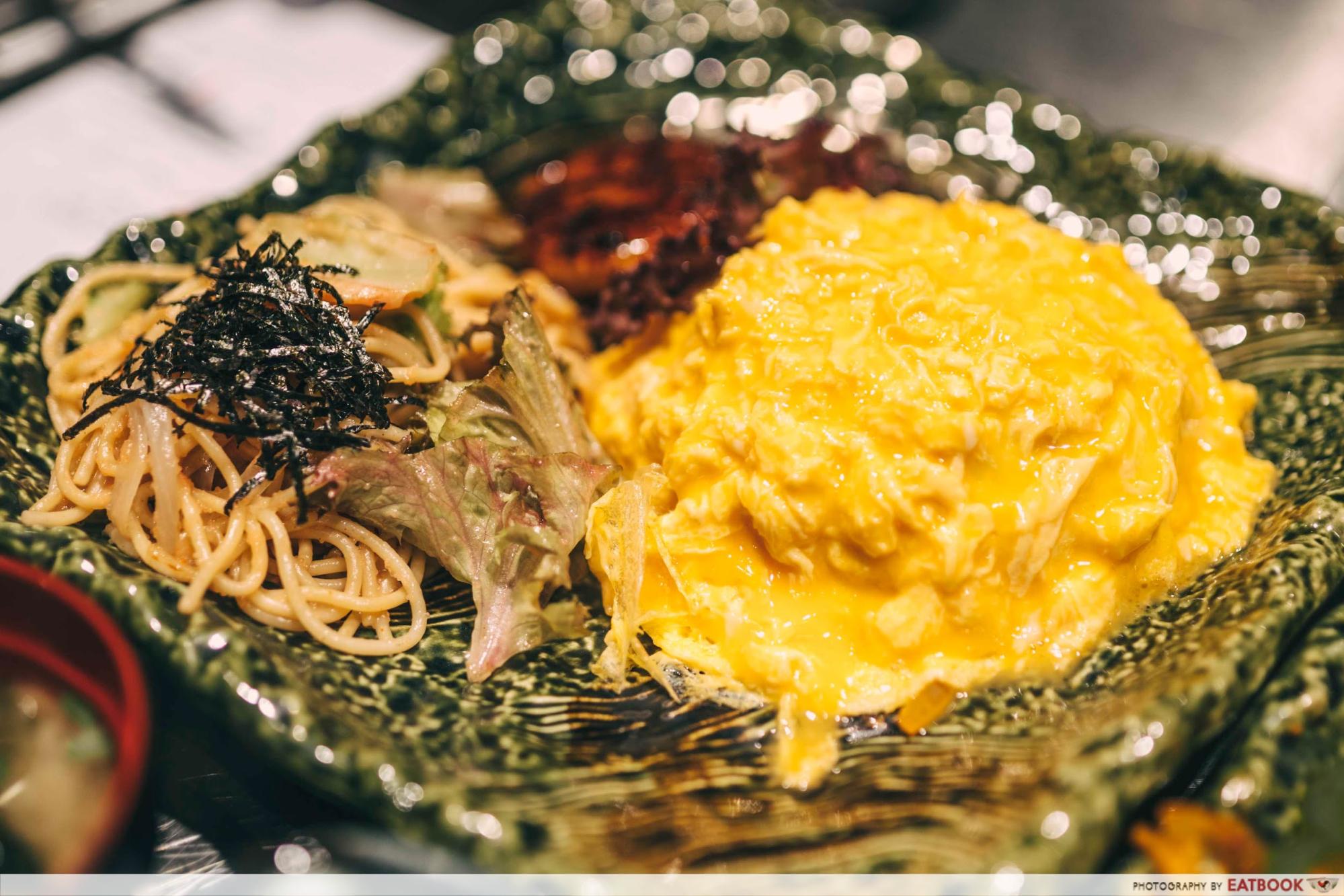 The eggs used in the Omurice ($9.90++) came from hens fed with omega-rich grains, giving a richer and creamier omelette. Looking at it for the first time, the eggs resemble a thick yellow blanket that covers the mountain of rice completely.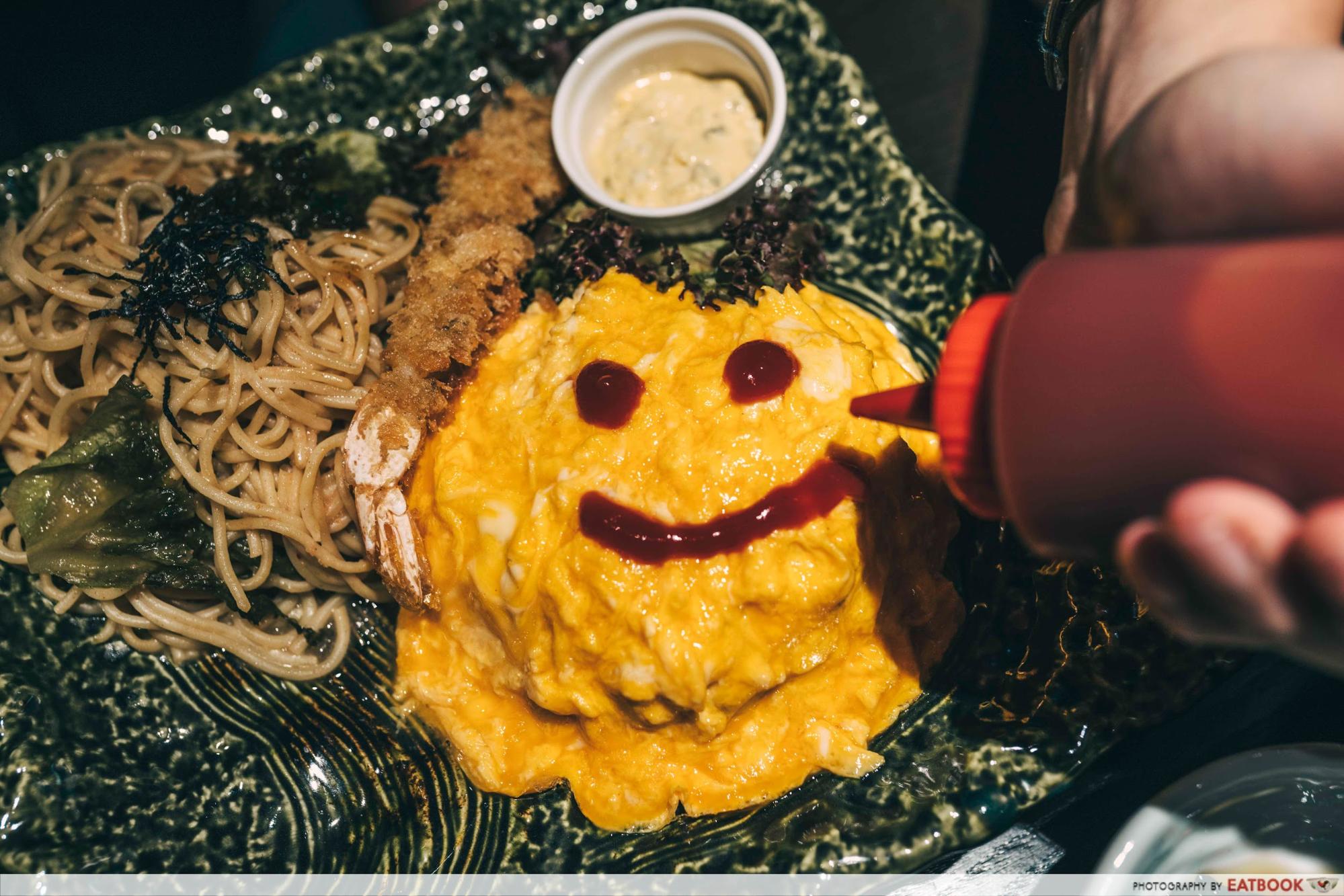 In true omurice tradition, you can also dress up your omurice with ketchup or mayonnaise. I went for the classic smiley face but was not too happy with my masterpiece. I will need more practice.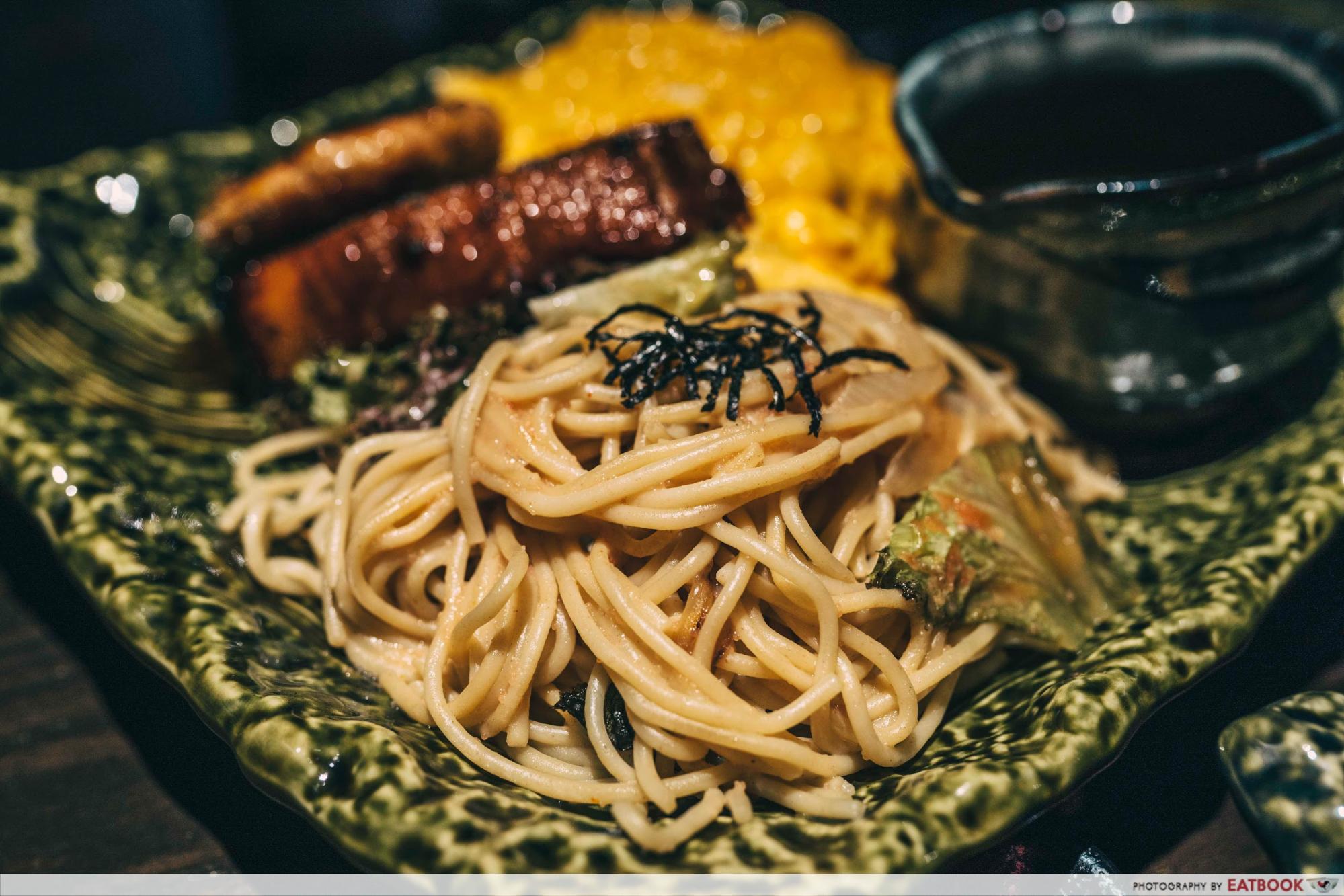 Mentaiko Spaghetti ($9.90++) seems to be the most popular choice of spaghetti here, but the roe's taste was a little lacking as well. There was a subtle briny mentaiko flavour, but it starts to get lost once the sauces from the omurice are mixed over.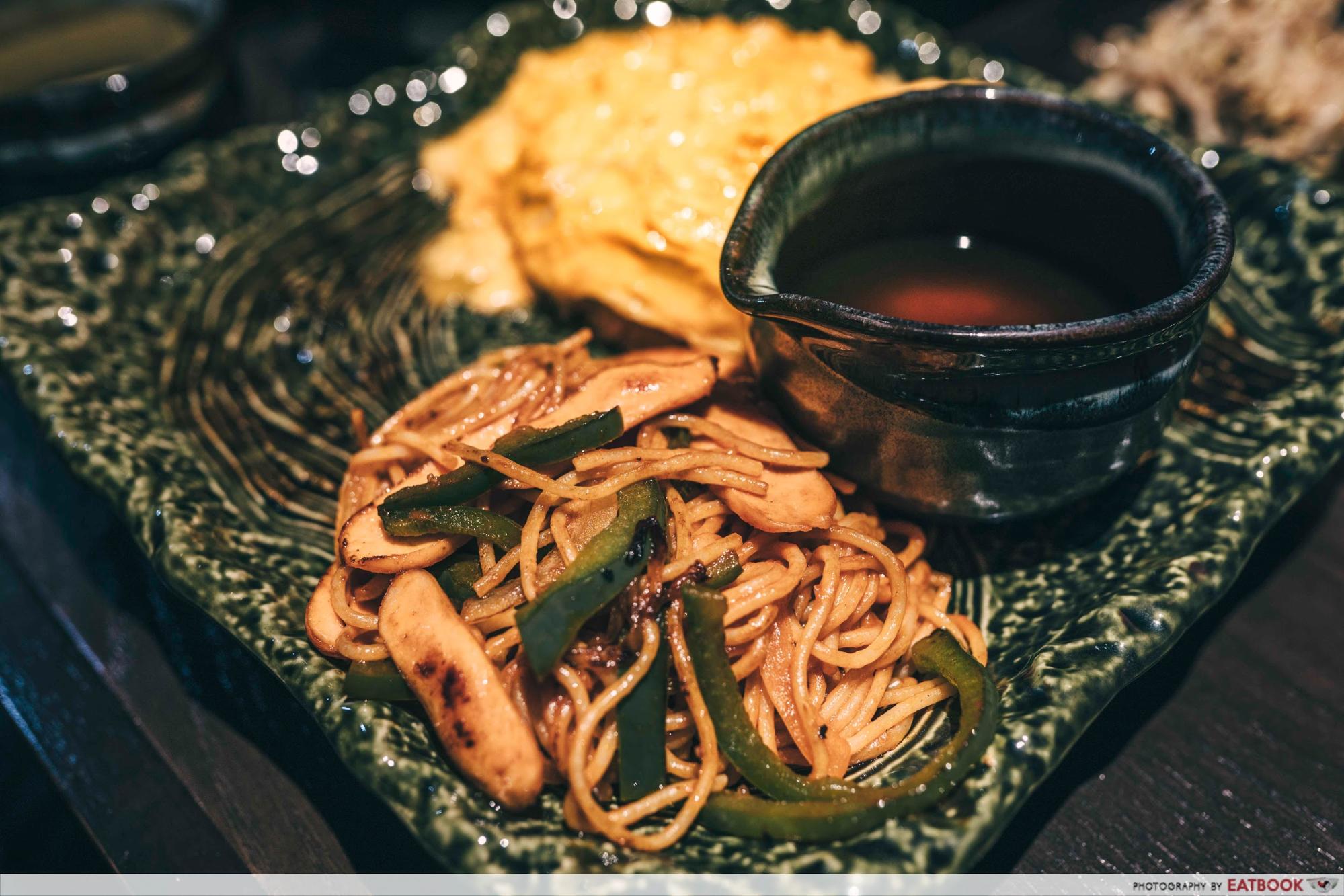 Neapolitan Spaghetti ($9.90++) was a little disappointing as well, with the ketchup-laced noodles tasting very similar to the omurice. However, both of the spaghetti dishes were cooked just right and had a good bite.
Meat lovers might be disappointed here, with only a few chicken chunks tossed in the rice and noodles.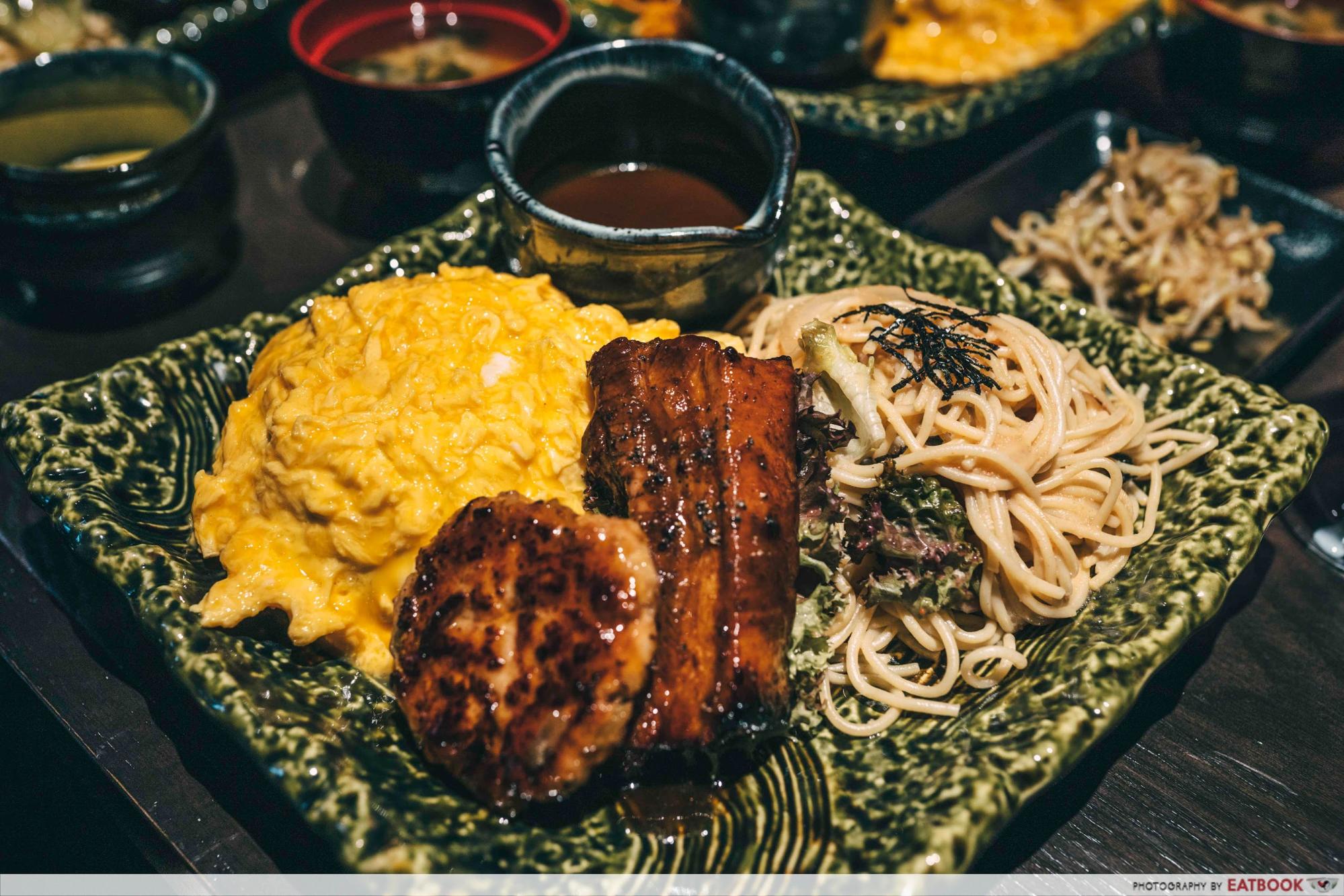 There are various add-ons available though, with the Pork Spareribs ($3++) proving to be the best out of the lot. Coming with a thick chunk of fat, it gave a nice meaty addition to an otherwise meat-light meal.
There's also the Teriyaki Chicken Hamburg ($3++), which had a sweet meaty glaze, and Deep-fried Ebi ($3++) which tastes very similar to the ones found at Hamburg Keisuke. I felt that both add-ons were a little lacklustre, with the money better spent on something else.
Ambience at Omurice Keisuke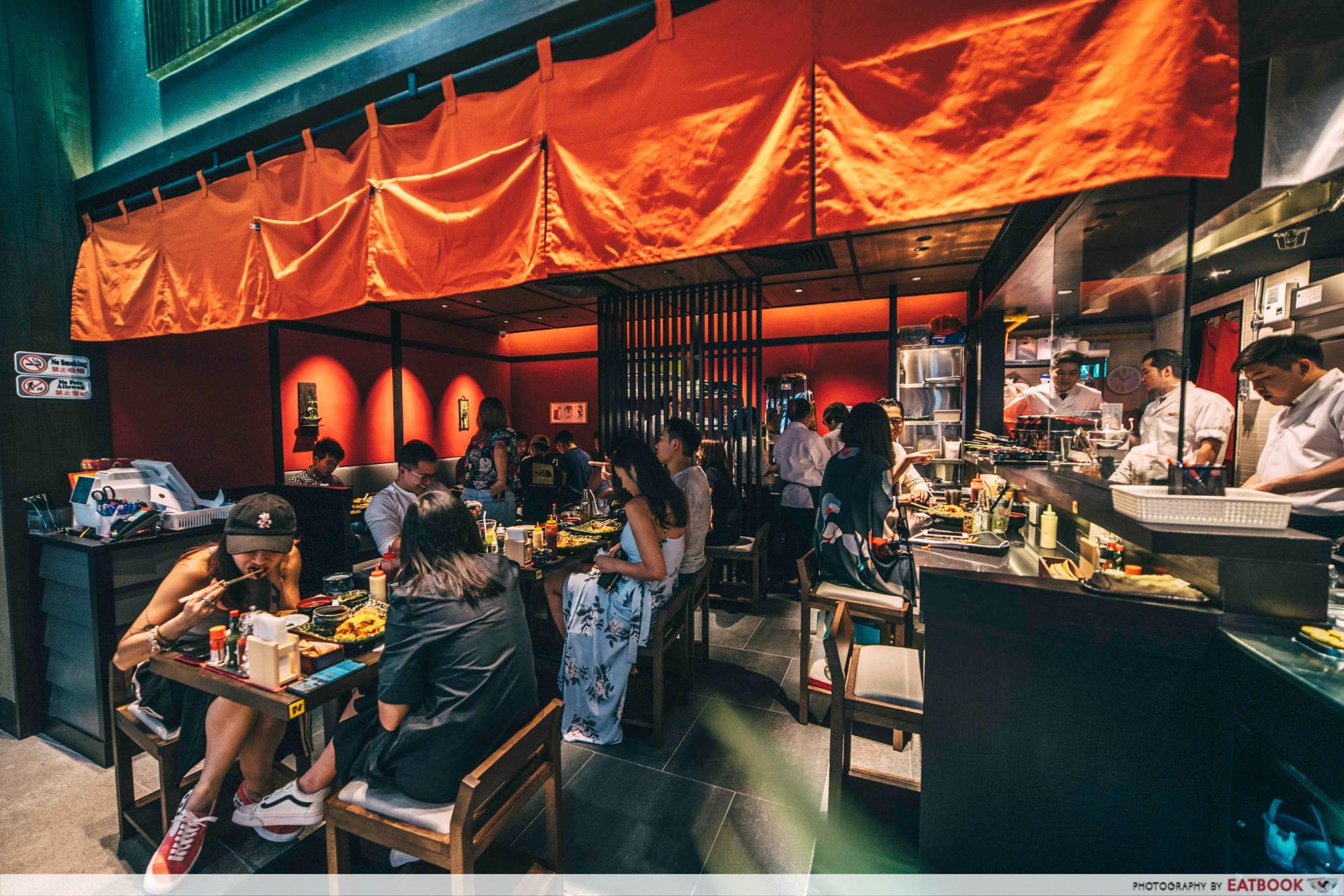 The seats at this 22-seater restaurant can be quite cramped, with little room to manoeuvre. The service was efficient and we expect diners to come and go quickly. But with just about seven dining tables, expect to wait during peak periods.
The verdict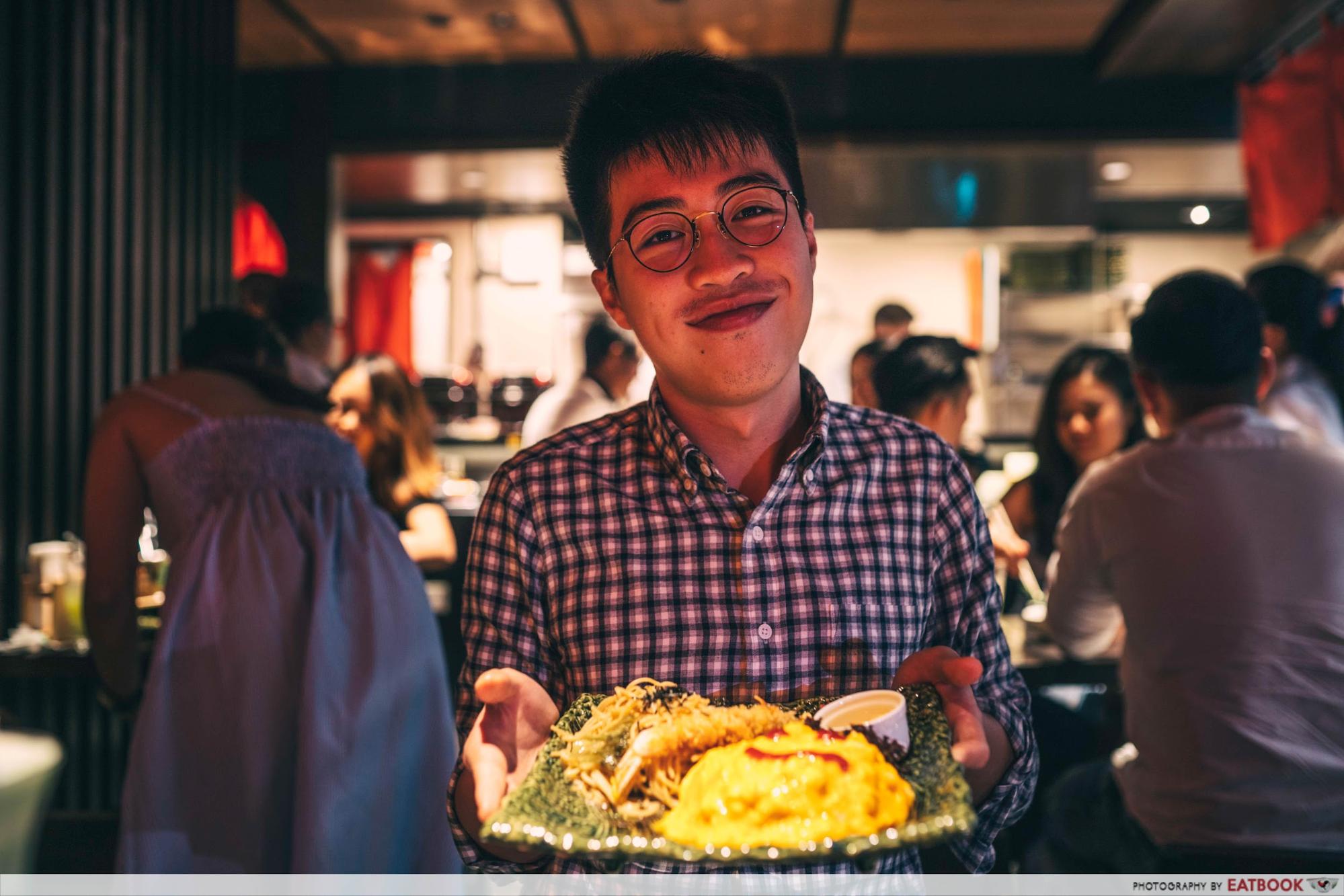 Delivering unique Japanese dining concepts, the Keisuke group has consistently dished out delicious Japanese fare at affordable prices. While there were a few hits and misses, the name has always remained a popular place for Japanese food.
The recipes at this restaurant need some tweaking, but given the prospect of great value-for-money meals, it's worth the visit if you're craving a plate of creamy omelette fried rice.
If you've yet to do so, be sure to also check out Hamburg Steak Keisuke which received a 9/10 rating from us!
Hamburg Steak Keisuke Review: Japanese-style Beef Hamburg Steak With Hidden Cheese Lava
Address: 200 Victoria Street, #04-01, Bugis+, Singapore 188067
Opening hours: Daily 11:30am to 9:30pm
Tel: 6634 4558
Website
Photos taken by Geron Sum.
This was a media tasting at Omurice Keisuke.
Summary
Pros
– Value-for-money omurice with free upsize
Cons
– Add-ons were a little underwhelming
– Limited seats, expect to wait 
Recommended Dishes: Omurice Combo ($12.90++)
Opening hours:  Mon-Sun 11:30am to 2:30pm, 5pm to 10pm
Address: 200 Victoria Street, #04-01, Bugis+, Singapore 188067