---
Affordable
hotpot buffets with ChopeDeals
---
Out of all the different types of buffets in Singapore, hotpot buffets are the ones where you'll have the most fun with in a group. Everyone's helping to fill up the soup bases with all sorts of meat and veggies, laughing as you experiment with unique combos towards the end.
That being said, this communal experience can bring a hefty price tag—not exactly the best note to end on. Thankfully, ChopeDeals is saving our bank accounts with 1-for-1 deals and up to 55% off at over 70 buffet restaurants. Here are some of the hotpot buffets you can snag these promos at.
---
1. Thai Tanic Hotpot
---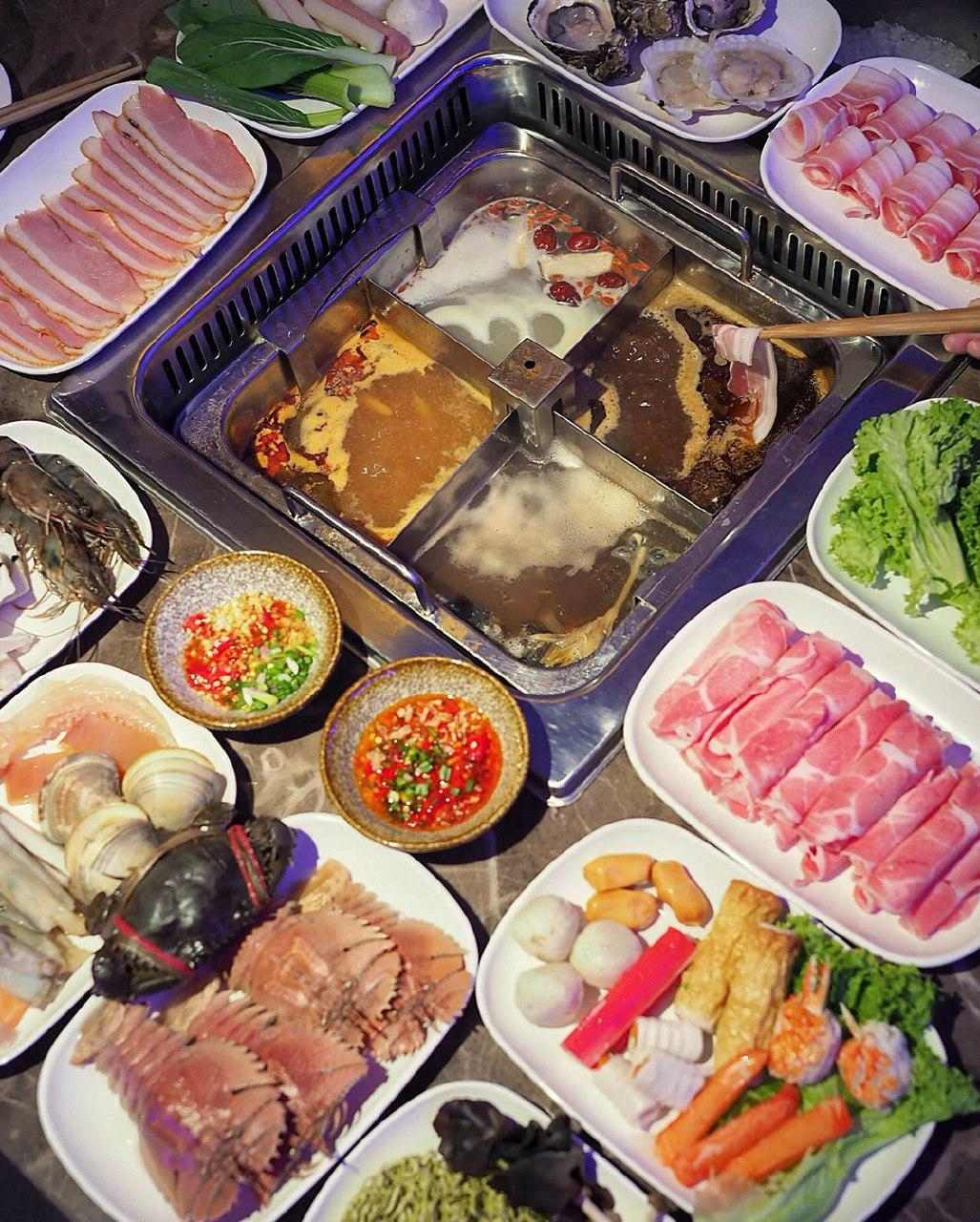 Image credit: @shootandspoon
There's something for everyone at Thai Tanic Hotpot's 3 in 1 Buffet. This exciting buffet features an all-you-can-eat feast of hotpot, BBQ, and zi char dishes, and it also includes 25 types of seasonal seafood. Some of their best-selling dishes are Stir-Fried Crab With Curry and the zesty Thai Steam Fish in Lemon.
Here's the kicker: you can save up to 50% off and score this buffet from just $29.36 nett on ChopeDeals!
Address: 44A Bukit Pasoh Road, Singapore 089857
Opening hours: Daily 11:30am to 2:30pm, 5pm to 11:30pm
---
2. Jiu Gong Ge Hot Pot
---

Image credit: @jesslynlai26
Despite being famous for their humongous seafood platter, Jiu Gong Ge Hot Pot still has a rocking lunch buffet with free-flow seafood, shabu shabu, and grilled meat. They even have a griddle for creating your own egg rolls and filling 'em up with clams and bacon. Score 10% off their lunch buffets when you dine here with ChopeDeals, and indulge in the spread at just $28.50 nett!
Address: 470 North Bridge Road, #01-02, Bugis Cube, Singapore 188735
Opening hours: Daily 11:30am to 2am
---
3. Isteamboat Chinese Restaurant
---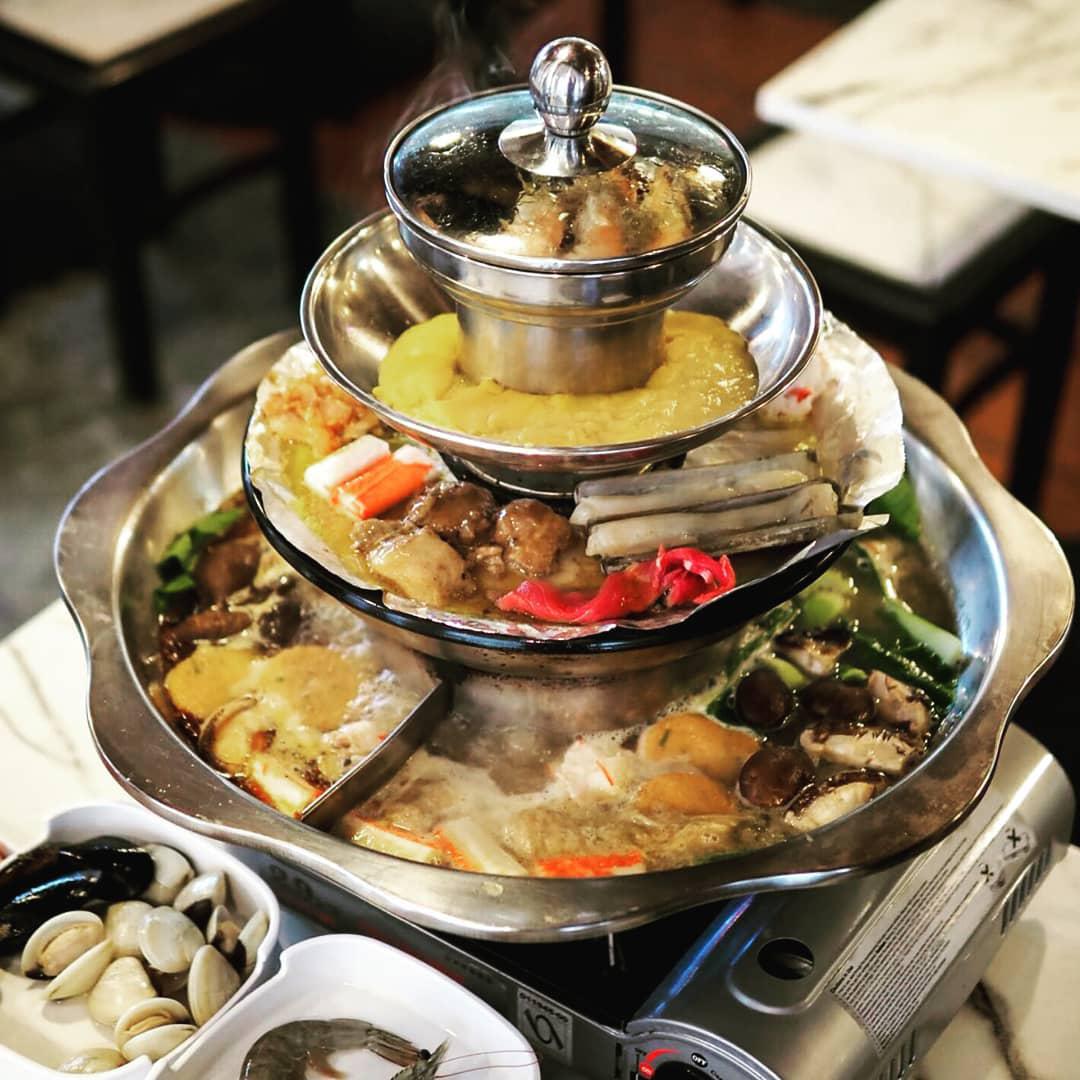 Image credit: @isteamboatmarina
Unlike the other steamboat buffets on this list, Isteamboat Chinese Restaurant has deals on two types of buffets—four-tier pagoda and mookata—so you'll have more reasons to keep coming! The former has tiers of soup, marinated meat, cheese, and bao stacked atop each other, while the latter fills you up with the likes of tom yum beef and free-flow ice-cream! Score up to 37% off the buffets with ChopeDeals, where you'll end up paying as little as $17 nett for the buffet.
Address: 6 Raffles Boulevard, #04-102A, Marina Square Shopping Mall, Singapore 039594
Opening hours: Daily 11:45am to 10pm
---
4. Chong Qing Grilled Fish
---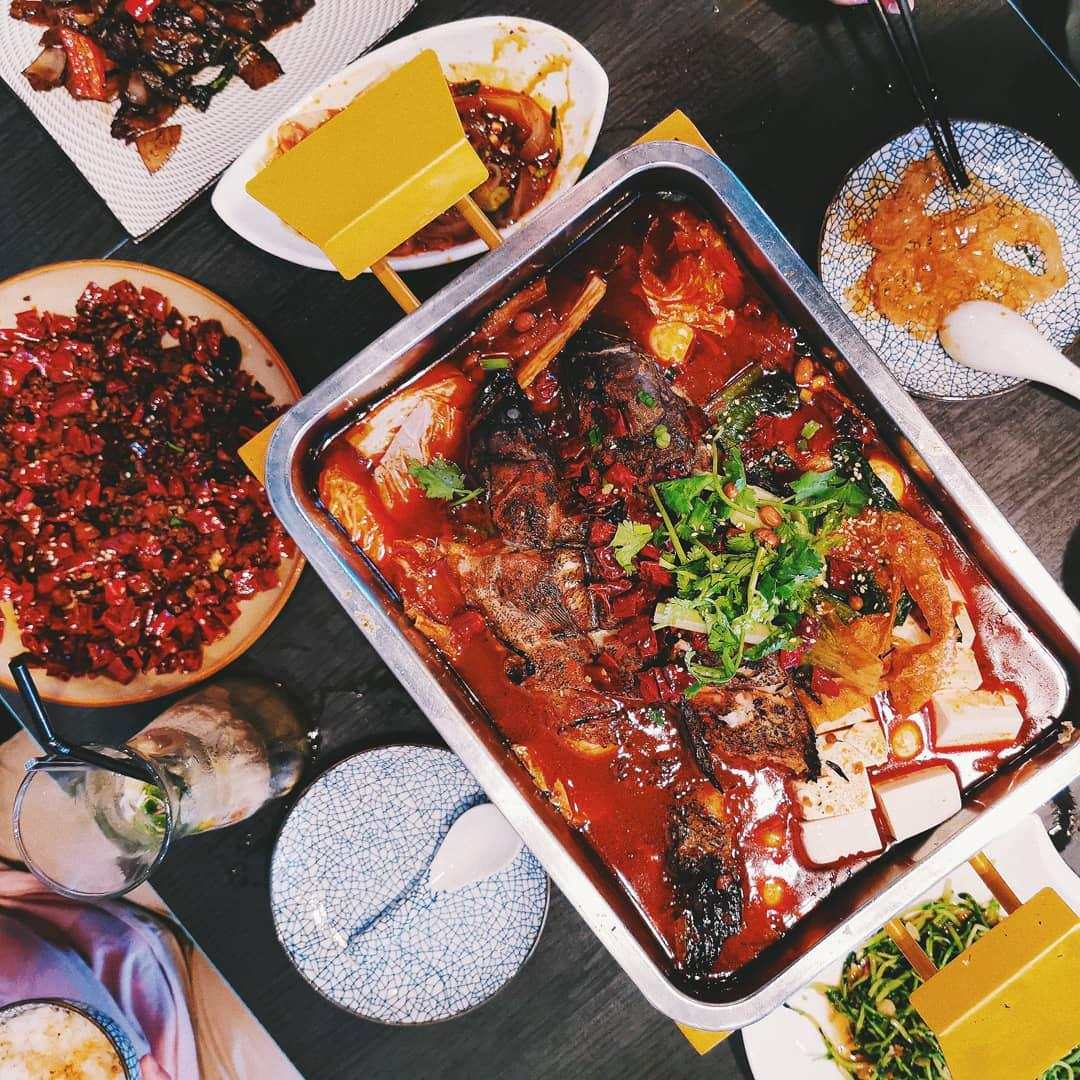 Image credit: @joseph_picture
Thanks to ChopeDeals, you can tuck into free-flow charcoal-grilled fish as late as 12am at Chong Qing Grilled Fish! You get to pick from five types of fish and seven sauces, including Fermented Black Bean and Hot & Sour. Don't worry about not getting a carbo or veggie fix as the buffet comes with tasty sides including potato slices and king oyster mushrooms. With ChopeDeals, you can get up to 50% off the spread and pay just $31.66 nett for two diners.
Address: 1 Liang Seah Street, #01-05/06, Singapore 189022
Opening hours: Daily 12pm to 1:30am
---
5. Jin Men Da Yuan Hot Pot
---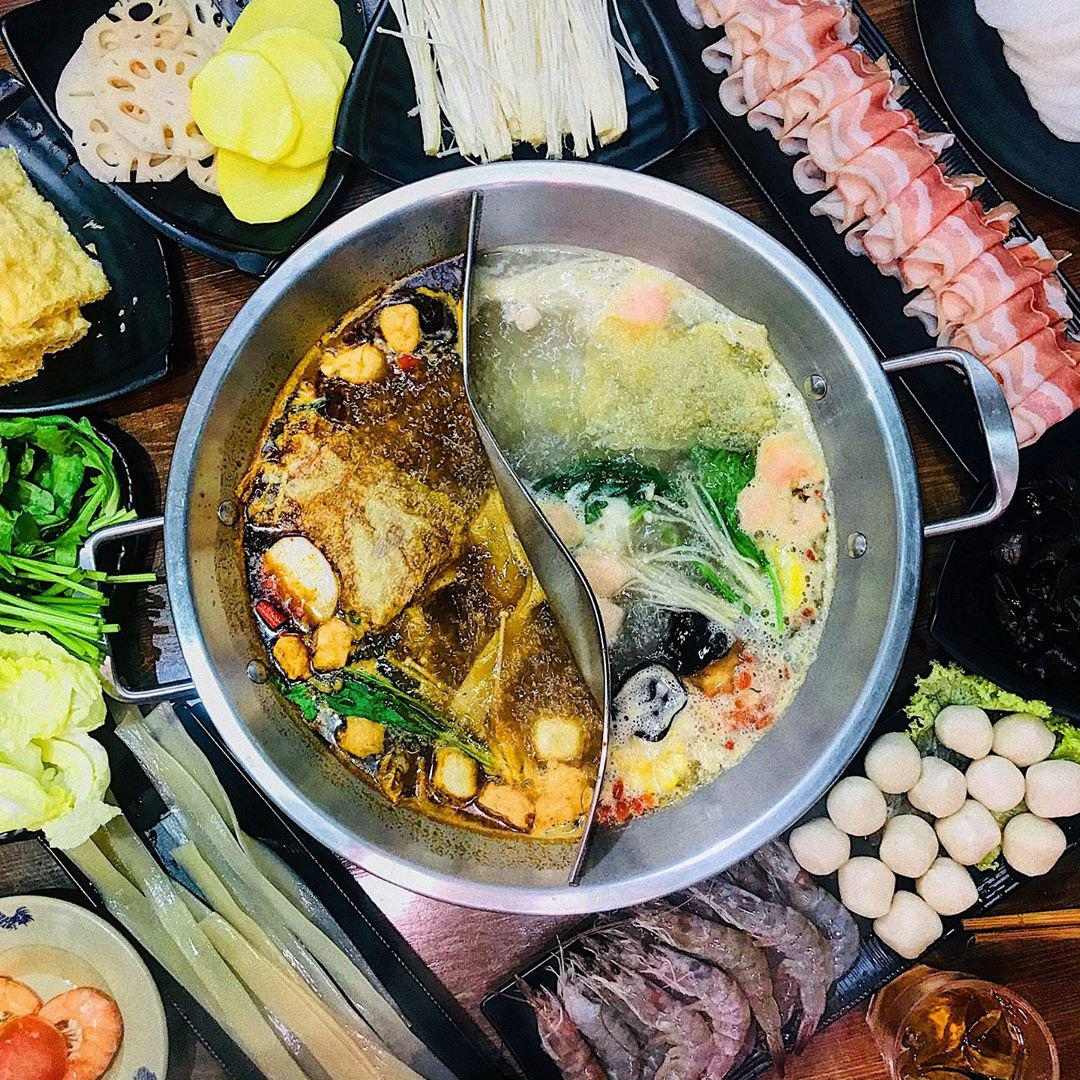 Image credit: @janet_lifegram
Jin Men Da Yuan Hot Pot stands out from their steamboat counterparts with rarely seen ingredients such as duck tongue and pork kidney. Don't knock it till you've tried it though, as these peculiar parts have received rave reviews for their savouriness and gelatinous texture. You can get all these and more at 10% off with ChopeDeals, which means you'll end up paying as low as $21.42 nett for the buffet!
Address: 22 Mosque Street, Singapore 059502
Opening hours: Daily 11am to 3pm, 5pm to 10pm
---
6. Jianghu Hotpot
---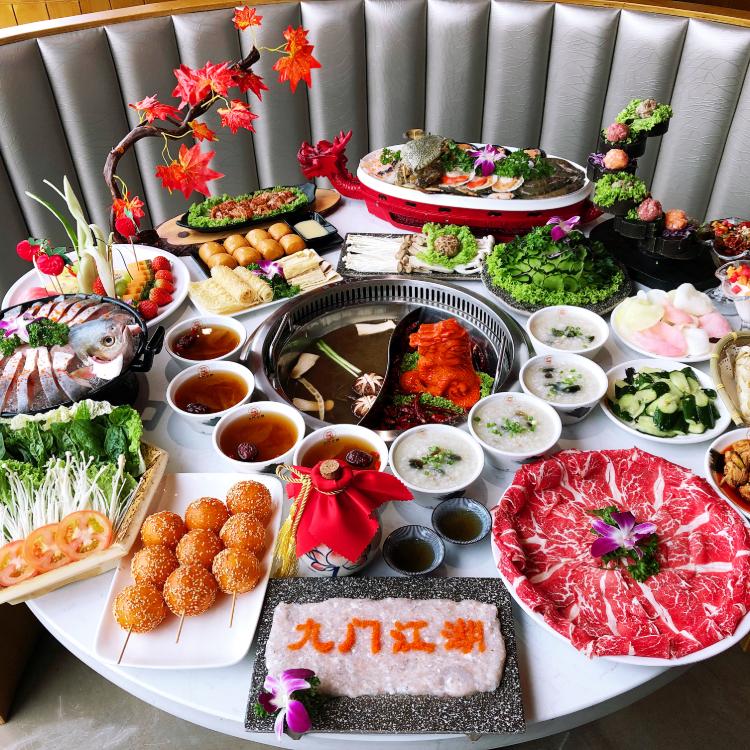 Image credit: Chope
Step into Jianghu Hotpot and you'll feel like you're in Sichuan itself, with red autumn leaves hanging from the ceiling. The impressive interior is matched by beautifully plated food such as crabs, beef slices, and fish resting on dragon boats. The mala base here is also prepared before your eyes, and even includes a dragon-shaped mala butter that melts as hot soup is poured over it. With ChopeDeals, you'll get 27% off their all-day buffet and pay only $37.80 nett.
Address: 799 New Upper Changi Road, #03-01, Bedok Point, Singapore 467351
Opening hours: Daily 11am to 11pm
---
7. Xiangcao Hotpot
---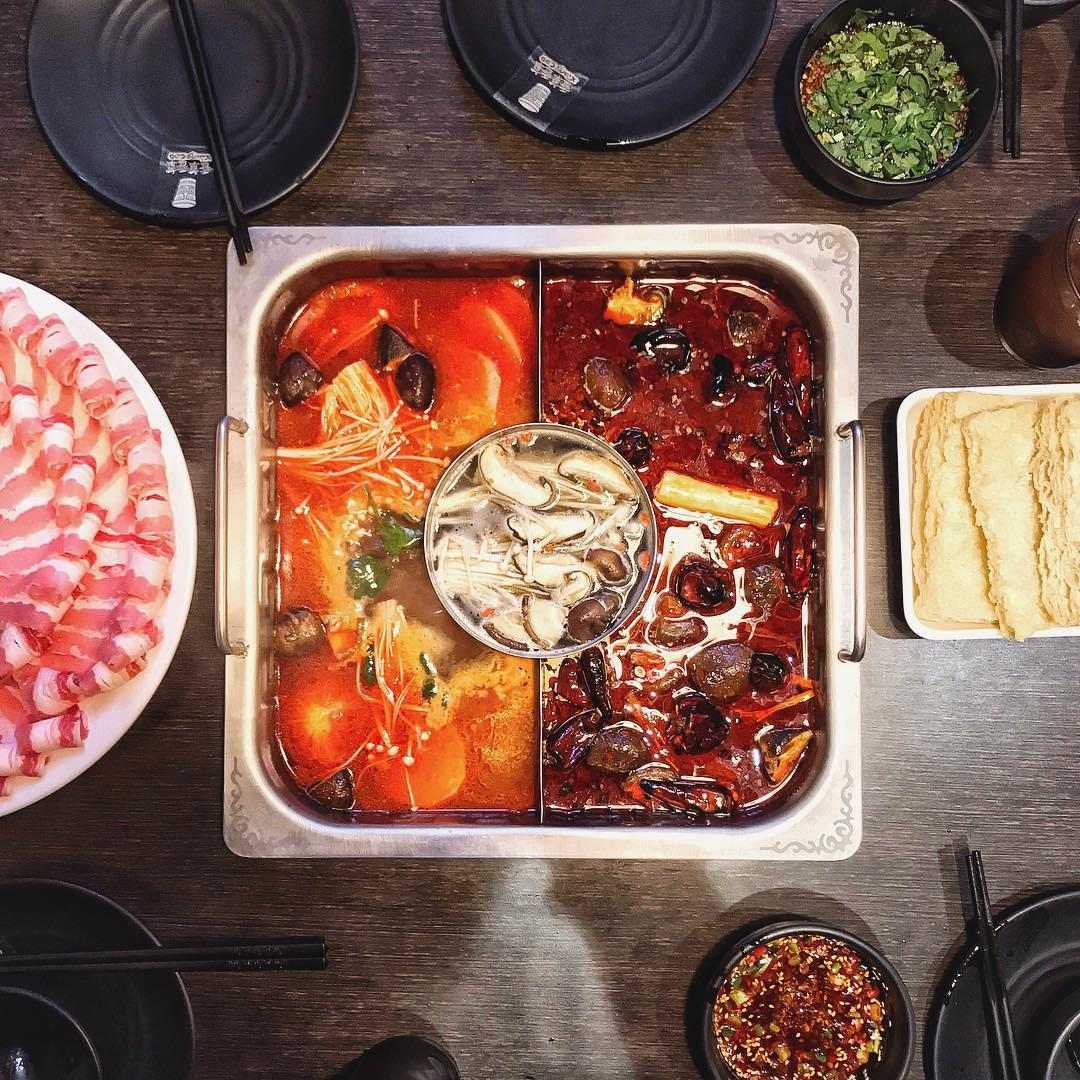 Image credit: @iii.kopi.xvii
For those who already have hotpot kakis on standby, Xiangcao Hotpot will strike your fancy with their deal for four diners. Unlike other places that have a stronger emphasis on Sichuan cuisine, this joint serves Yunnan nosh. This can be seen through mushroom dishes such as the mushroom broth that's light yet filling. Get 23% off your buffet on ChopeDeals and you'll only have to pay $100.20 nett for a party of four; that's $25.05 per person!
Address: 26 Liang Seah Street, Singapore 189047
Opening hours: Daily 11:30am to 2am
---
8. Shi Jian Hot Pot 
---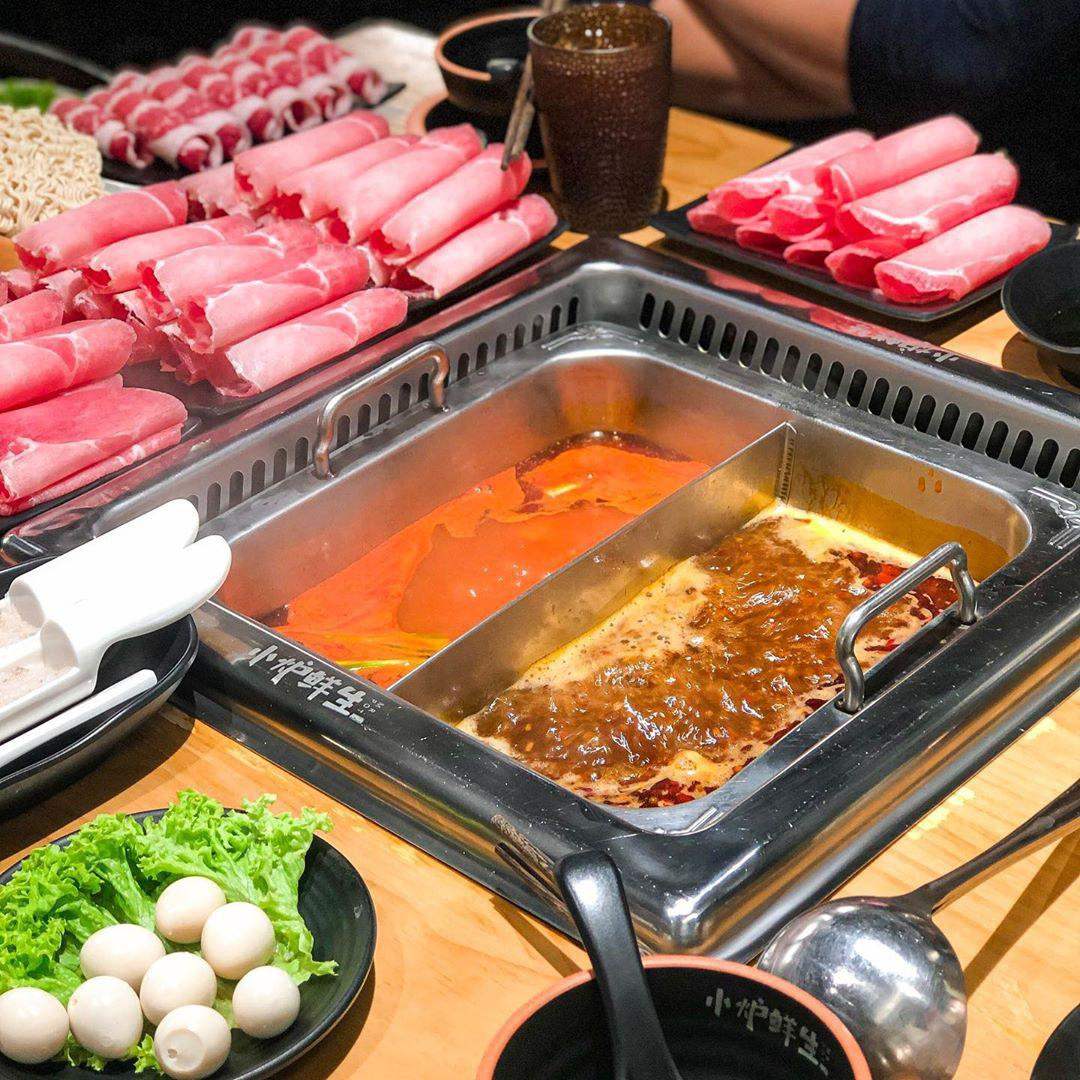 Image credit: @itshoardstuff
Even though they're already regarded as one of the most affordable hotpot places around, Shi Jian Hot Pot is set to provide even more value with their 35% off lunch buffet deal on ChopeDeals. Spice lovers will love their Red Oil Spicy broth that's loaded with peppercorn. If you're a fan of savoury flavours, the Pig Bone Soup will do the trick with its intense taste that's a result of bone marrow stewing in the broth. With ChopeDeals, you'll only need to pay $19.90 nett for their daily lunch buffet!
Address: 3 Temasek Boulevard, #B1-146, Suntec City Mall, Singapore 038983
Opening hours: Daily 11am to 10:30pm
---
9. Suki-Ya
---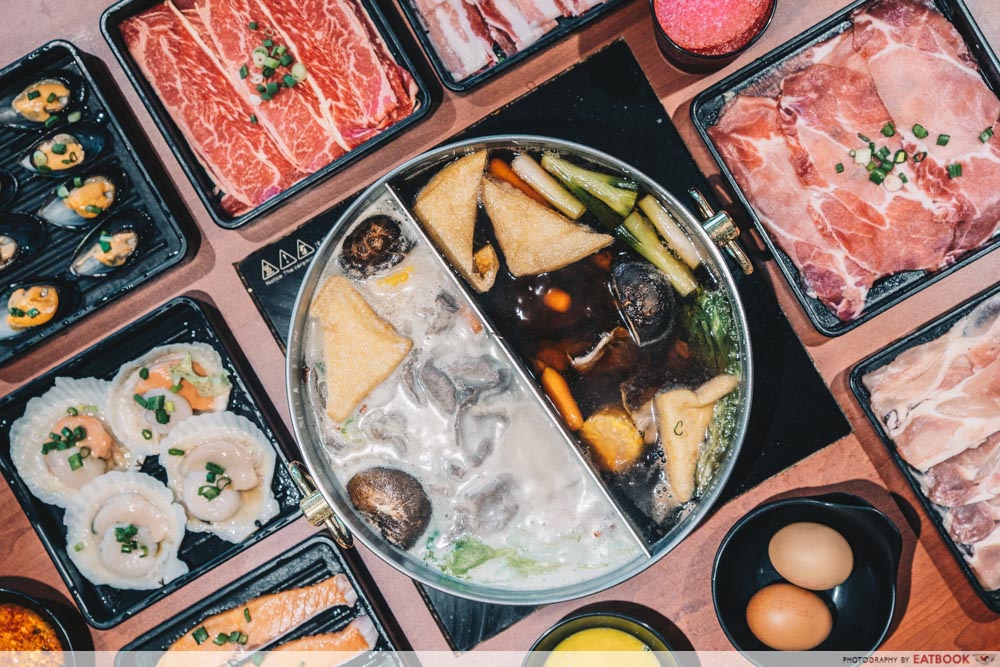 No list of affordable hotpot places is complete without Suki-Ya, given its luxurious spread under $30. Swish swish your fish in a selection of tantalising soup bases including the hearty Butaniku and mellow Tonyu Miso that's rich in soybeans. A ChopeDeals voucher will net you 25% off daily dinner buffets at all outlets, meaning each makan sesh will only cost $21.98 nett.
Address: 201 Victoria Street, #04-14/15, Bugis+, Singapore 188067
Opening hours: Sun-Thur 11:30am to 10pm, Fri-Sat 11:30am to 10pm
---
10. Xian De Lai
---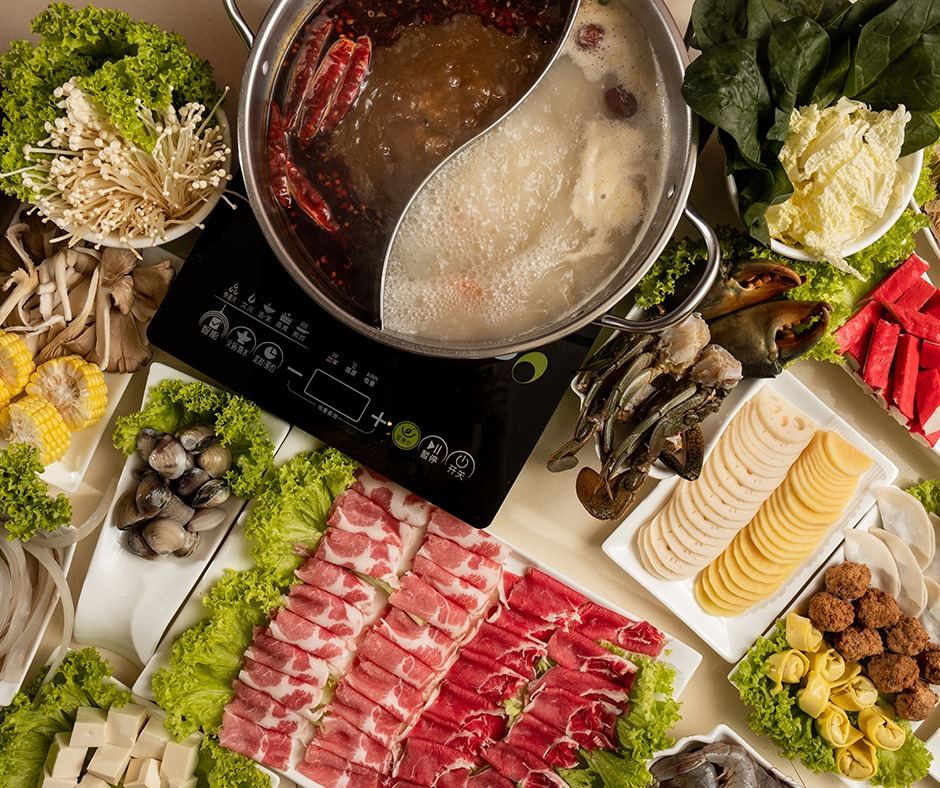 Image credit: Xian De Lai
When late-night cravings hit, Xian De Lai is the place to eat at. Open till 4am, the restaurant has an all-you-can-eat hotpot buffet which lets you load your plate with various cuts of meat and live crabs. They even have free-flowing dim sum at the buffet! The best part is that the price you pay will be the same at $21.40 nett, no matter what time you visit, thanks to ChopeDeals' 30% off voucher.
Address: 18 Liang Seah Street, Singapore 189039
Opening hours: Daily 10:30am to 4am
---
Enjoy
top
buffet deals in town with ChopeDeals
---
Together with bubble tea, hotpot buffets rank high on the list of top Singaporean indulgences. With ChopeDeals, you no longer have pesky high prices getting in the way of you and all that scrumptious food. Redeeming the vouchers is a simple affair as all you gotta do is to purchase them via the Chope mobile app or ChopeDeals' website, and present them once you're at the restaurant prior to ordering.
If you've somehow never purchased from ChopeDeals, you're in luck! New users get to enjoy an extra $5 off* with a minimum spend of $30, using the code <NEWBUFFET5>.
To test your luck even further, keep a lookout for our Instagram post on 30 October 2019 in which you can stand a chance to win any 1-for-1 buffet deal of your choice!
*Discount code is applicable for the first 300 redemptions only. 
This post is brought to you by Chope.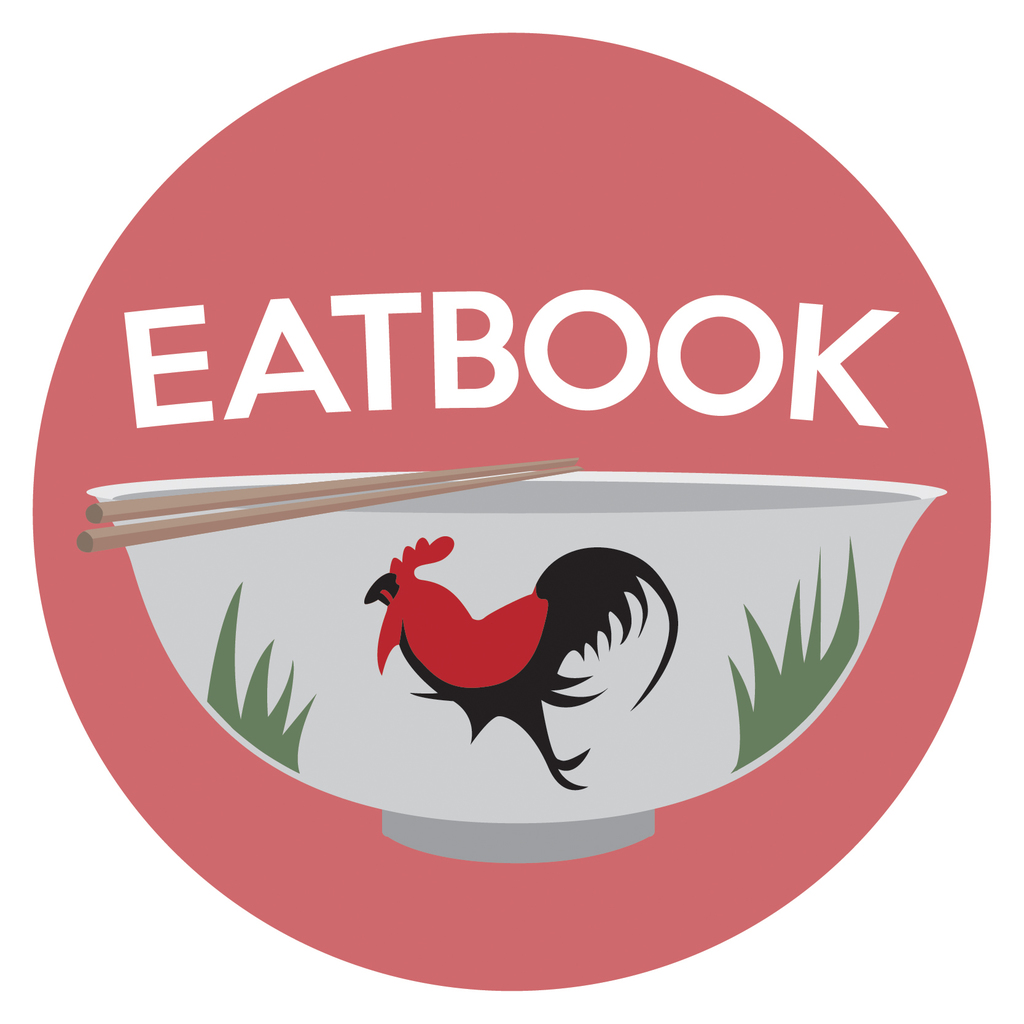 Drop us your email so you won't miss the latest news.