---
Food at Paya Lebar Square and PLQ
---
With malls popping up one after another at Paya Lebar, you don't even have to leave the comfort of aircon to access some good food. As the newest and largest mall in the area, Paya Lebar Quarter has a whopping 160 F&B stores. Together, the Paya Lebar Square and PLQ food spots add up to a long, intimidating list.
If you suffer from serious indecision when it comes to food, this list of must-try grub in these malls will point you in the right direction. 
---
What to eat at PLQ
---
1. Kanada-Ya
---

With outlets around the world in Japan, Hong Kong, and even Barcelona, Kanada-ya has finally opened its first outlet in Singapore. A must-order is their Kotteri Tonkotsu Ramen Special. Priced at $18.90++, the bowl comprises a generous portion of belly chashu, a wealth of toppings such as nori, wood ear fungus, spring onions, and a taste of their rich 18-hour pork bone broth. 
The ramen joint has also brought over their wildly popular Truffle Ramen Special ($26.90++) from its flagship outlet in London. The flavours of this noodle dish are so potent that it has been compared to a cream of truffle soup. However, the restaurant only prepares 20 bowls of this truffle ramen in a day, so head down early to avoid disappointment.
Check out our full review of Kanada-Ya here!
Kanada-Ya: Famous Ramen Restaurant From Fukuoka Opens With 100% Cash Rebate From 13 To 15 Dec 2019
Unit number: #03-30
Opening hours: Daily 11am to 10pm
Website
---
2. Yakiniku Like
---

Enjoying Japanese yakiniku doesn't always need to be a group activity or carry a hefty price tag. If you're looking for affordable, quick, and solo dining, Yakiniku Like has got you covered. 
For the budget-conscious, I recommend getting their set meals which start from $8.80. Each meal comes with a protein of your choice, rice, soup, and a salad. While the set menu is value for money, check out their a la carte items for more premium meat options such as the Tontoro 100g ($5.90) pork that is beautifully juicy and melty. If you're a fan of barbecue but dislike the fuss, head here for a speedy yakiniku fix!   
Check out our full review of Yakiniku Like Singapore!
Yakiniku Like Review: Popular Japanese Yakiniku Restaurant For Solo Diners Opens In Singapore
Unit number: #B1-28
Opening hours: Daily 11am to 10pm
Website
---
3. Wursthans Switzerland
---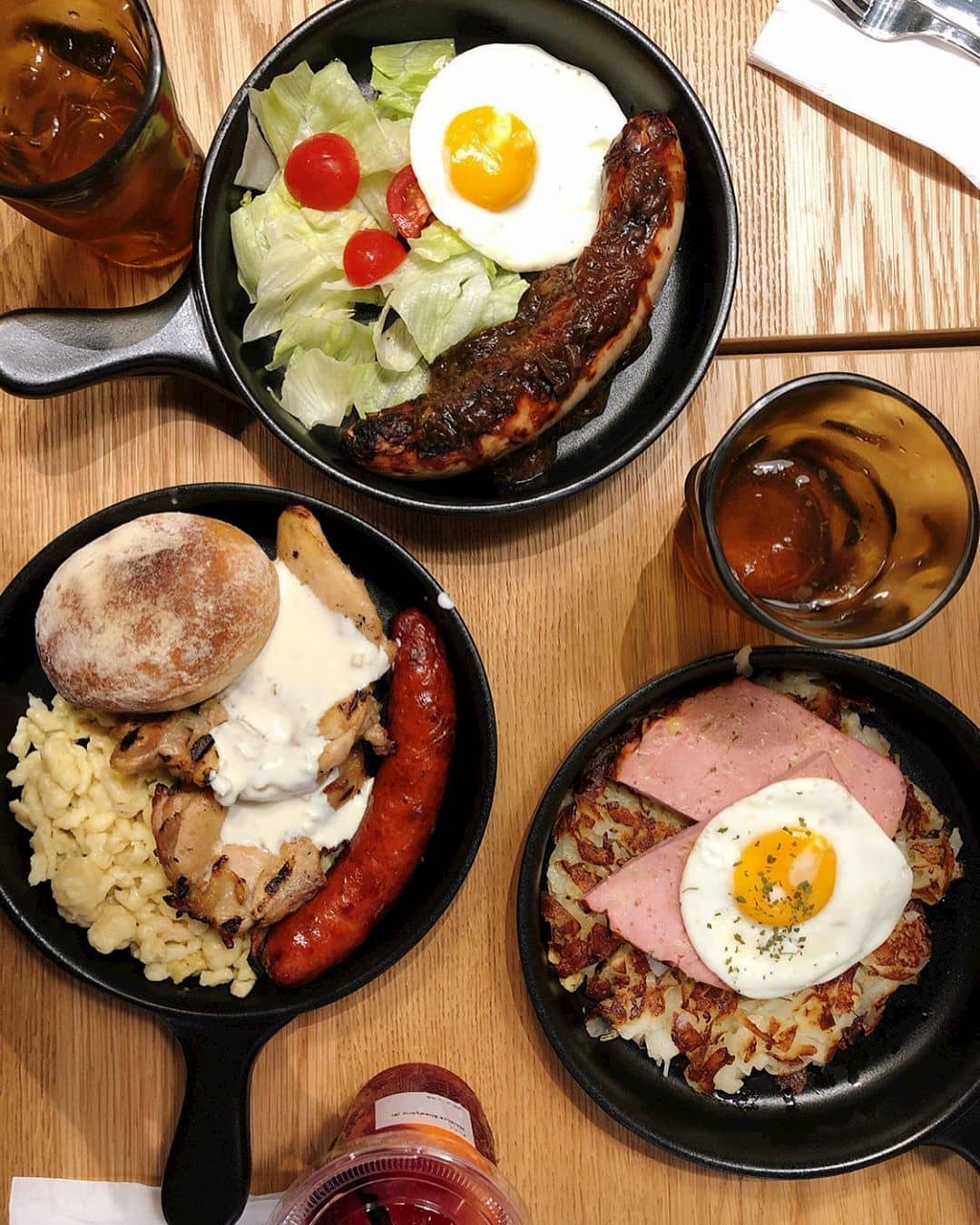 Image credit: @mischievous__hodophile
With its chic, modern interior and wooden accents, Wursthans Switzerland serves up Swiss cuisine in hearty portions. The menu sports a diversity of meats, from rotisserie chicken and grilled wurst to meatloaf. The restaurant prides itself in traditional Swiss favourites such as their signature Plätzli Meal ($15.90) which is a Swiss version of a schnitzel. A piece of meat is pounded and tenderised till thin and then coated in a batter and fried till golden brown and crispy.
Their customer-favourite is their Build Your Own Swiss Meal (from $11.90) where you mix and match your favourite protein, sides, and sauces.
Unit number: #01-39
Opening hours: Daily 11:30am to 9:30pm
Website
---
4. Morphine Coffee
---

Image credit: @themorphinecoffee
Morphine Coffee is a coffee and grilled sandwich stop with an aesthetically pleasing rustic concept. They serve three types of toasts: the classic Grilled Cheese & Ham ($4), Spiced Tuna ($4.60), and the novel-sounding Orange Kaya Butter ($2.60). These, together with a bottle of their aromatic Hojicha Latte ($5.50), are easy to grab-and-go before heading to work.
Their menu also includes comprehensive tasting notes and the background for each of their coffee brews. For instance, their GA-YO ($5.50) cold brew is created from beans from Sumatra and Brazil, and apparently tastes like roasted walnut and sea salt caramel. 
If you're not into artisan coffee, they also sell familiar coffee shop staples such as Coffee O ($1.90) and Coffee C ($2.10) that's elevated with the use of medium roast Uganda Robusta. 
Unit number: #01-K5
Opening hours: Mon-Fri 8:15am to 10pm, Sat 10am to 10:30pm, Sun 10am to 10pm
Website
---
5. Mom's Touch
---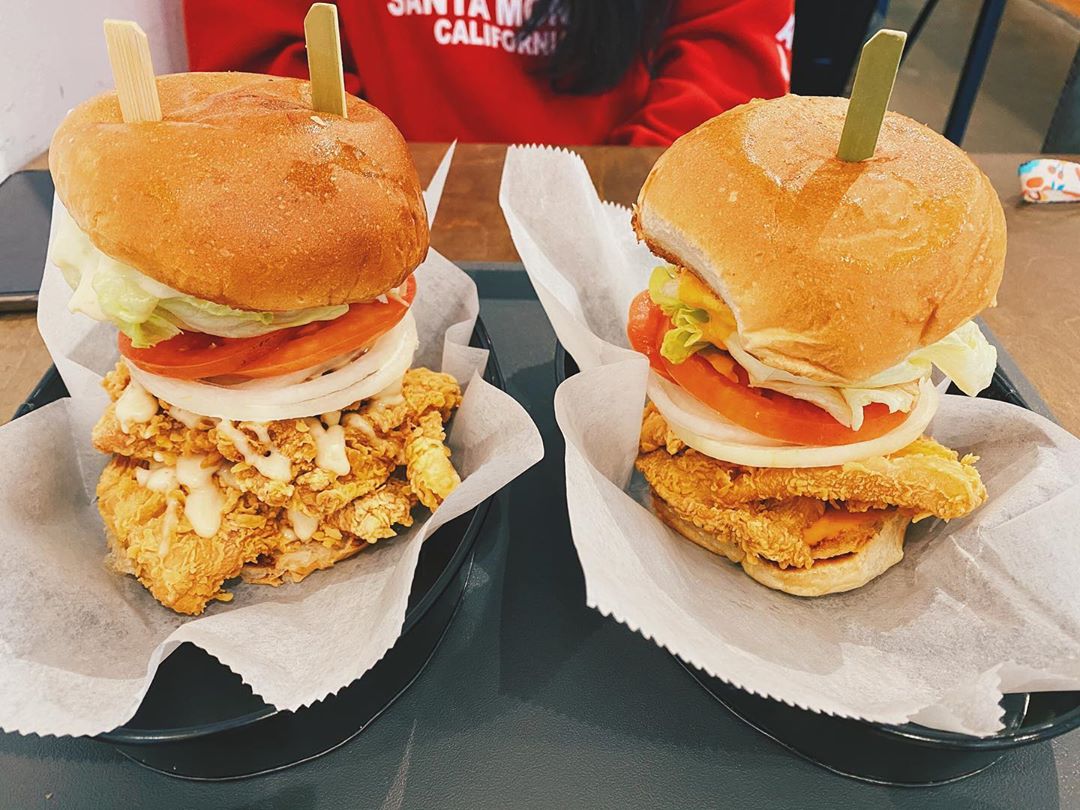 Image credit: @thefoodlee
With stores in California, Taipei, Vietnam, and over one thousand outlets in South Korea alone, Mom's Touch is a Korean fried chicken and burger chain that has finally opened its first outlet in Singapore. They sell affordable hand-battered and breaded fried chicken at $8.70 for a set of two. 
If you're more of a burger kind of person, look out for the Incredible Burger ($9.80 for a set meal) which consists of a generous-sized chicken cutlet with ham, fried egg, and the burger chain's signature special sauce. 
Unit number: #01-37
Opening hours: Daily 10am to 10pm
Website
---
6. Hibiki Sake Bar & Dine
---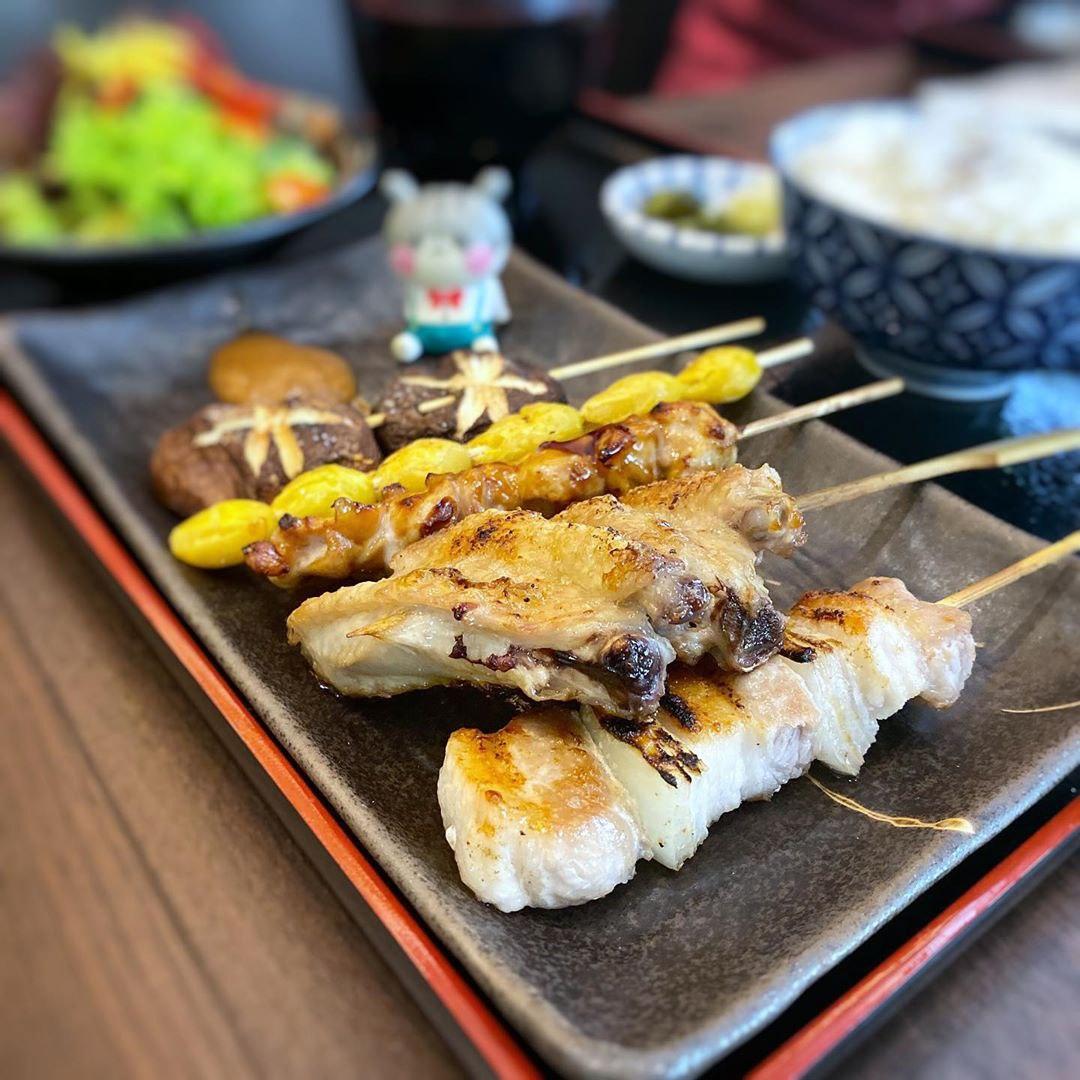 Image credit: @poomsandpoms
With their state-of-the-art alcohol dispensers and their Japanese bar setup complete with a lengthy bar counter, Hibiki Sake Bar & Dine looks like a place made for late-night sake. If you drop by in the afternoon, the restaurant also has set lunch deals to pair with some mid-day drinks. Under their lunch menu, Hibiki features some common Japanese dishes such as a Yakitori Set ($16++) and a Buta Don Set ($18++) which consists of their tender braised pork belly chashu served atop rice. 
For the full Japanese bar experience, take one of the counter seats along the sleek bar. Alternatively, on cooler evenings, enjoy some alfresco dining with their outdoor seats. 
Unit number: #01-07
Opening hours: Daily 12pm to 3pm, 5pm to 11pm
Tel: 6909 9986
Website
---
7. Hokey Poki
---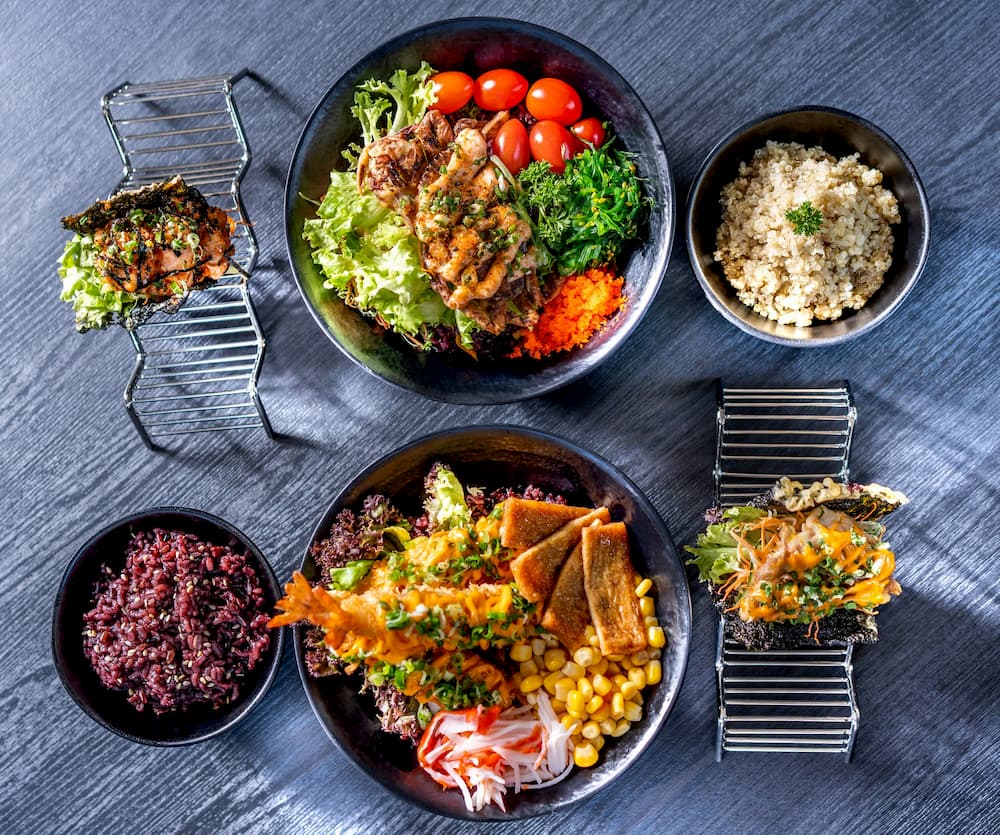 Image credit: Hokey Poki's Facebook page
Poke bowls aren't only for trend lovers or health nuts. At Hokey Poki, the Hawaiian dish is given a Japanese twist, resulting in colourful, quirky dishes like poke soba bowls and sushi tacos. 
One of their most popular items, the Salmon Poke Soba ($14.90), is served with marinated cubed sashimi atop a traditional zaru (bamboo tray). On their new menu, they have more Japanese adaptations of Western dishes. Their Salmon Mentai Burger ($13.90) includes a thick, flaky piece of salmon topped with the rich mentai sauce, encased between rustic-looking charcoal burger buns.  
Unit number:  #B2-26
Opening hours: Daily 11:30am to 9:45pm
Website
---
8. Jimmy Monkey Cafe
---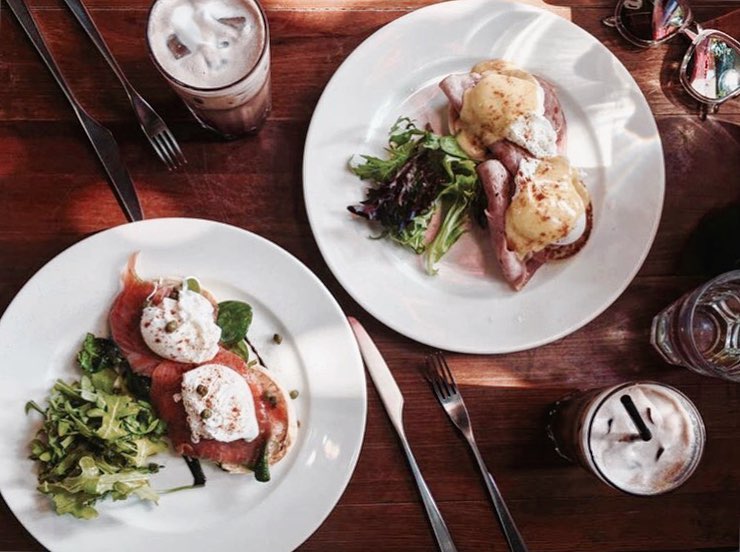 Image credit: @jimmymonkeycafe
People who frequent the West might recognise this cafe tucked away in one-north that's always buzzing with liveliness. Fortunately, Easties will no longer be left out, because the popular Jimmy Monkey Cafe is finally swinging its way over to Paya Lebar. 
The cafe not only has an adorable monkey plushie mascot, but also quirky dish names. Named after the Marvel character, The Hulk ($16++) is a sourdough toast topped with a generous dollop of avocado and creamy feta cheese. The cute Cheesy Vegemite Toast Soldiers ($14++) are toast fingers slathered with Vegemite and cheese, served with soft-boiled eggs for dipping. 
If you drop by their new outlet, don't forget to try their aromatic coffee brews made from their custom-built Slayer coffee machines.
Unit number: #01-10
Opening hours: Mon-Fri 7:30am to 5:30pm
Tel: 6777 8470
Website
---
9. Tipsy Bird Gastrobar
---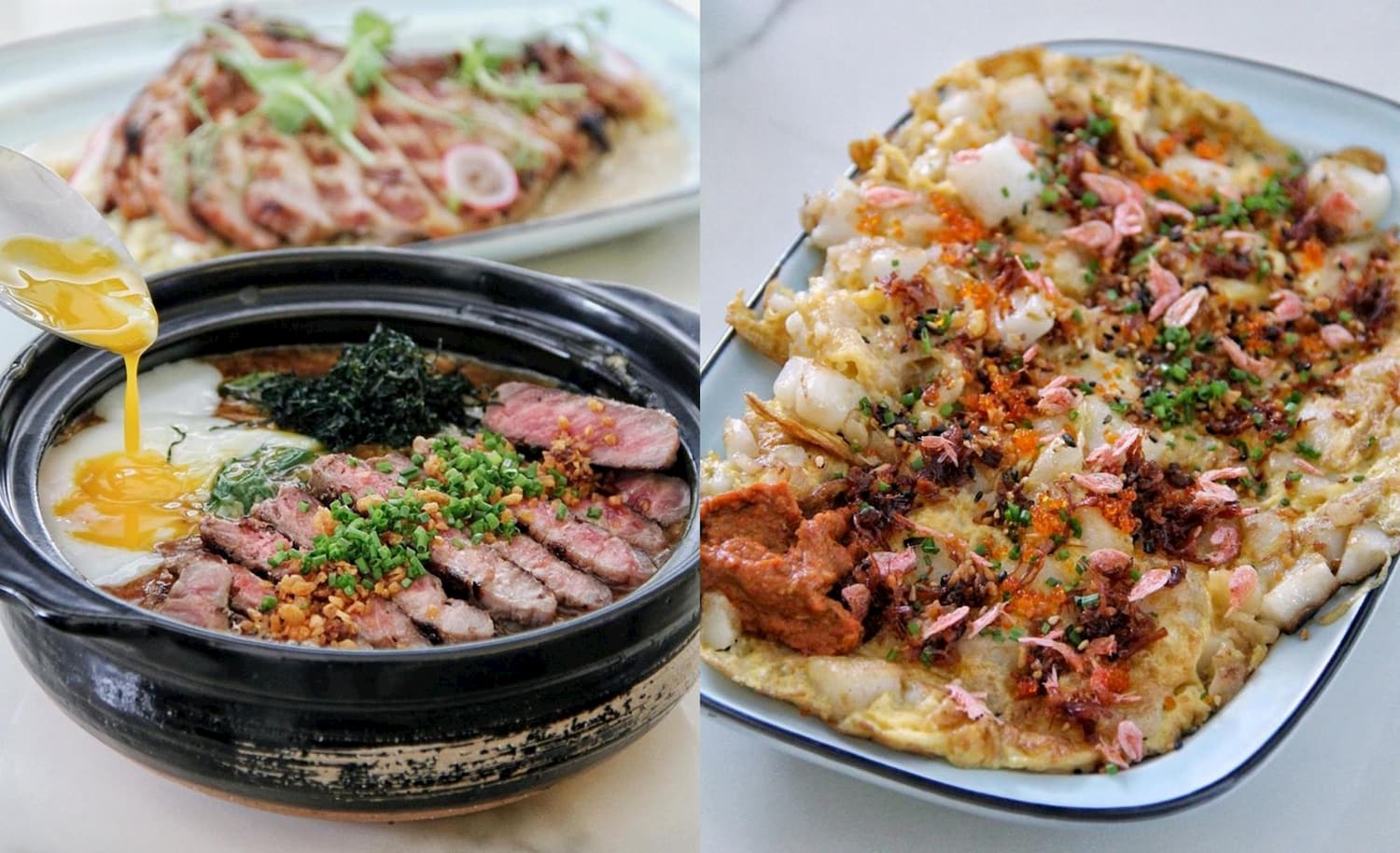 Image credit: Tipsy Bird's Facebook Page
At the Tipsy Bird Gastrobar, expect live music entertainment next to your platter of juicy well-aged steaks or fancy chai tow kway, with cocktails on the side. This newly opened restaurant and bar serves up a selection of high-end Western fare such as their Award Winning T Bone Steak ($68++ for 500g). 
Also on the menu are elevated local favourites such as the Moonlight Truffle Beef Hor Fun ($22++) which is a dish perfumed with the aroma of truffle, and topped with slices of Wagyu striploin beef. 
Unit number: #01-08
Opening hours: Sun-Thurs 12pm to 1am, Fri-Sat 12pm to 2am
Tel: 8879 6057
Website
---
10. Western Mahua Noodles
---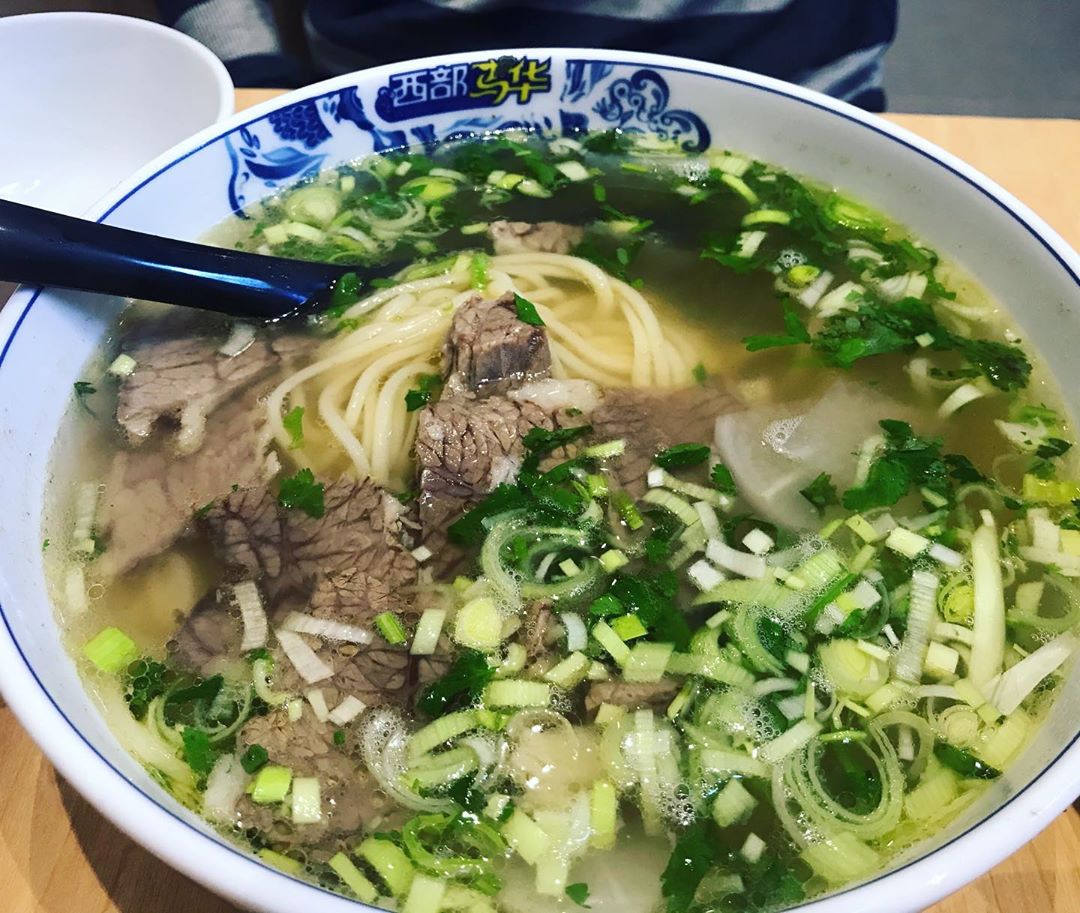 Image credit: @fudexperiments
This famous beef noodle chain from China has over 100 years of history under its belt and specialises in extra thin, hand-pulled noodles. With the opening of its second outlet in Singapore, Western Mahua Noodles is now serving their halal, handmade la mian in the East. 
Their most popular dish by far is the Signature Bone Broth Beef La Mian ($11.80 for large) which also has a spicy version. They use three kilograms of bones to stew one kilo of soup to achieve a deeper body, and the extra-thin noodles aid in soaking up the aromatic broth. If you prefer more flavour infused into your soup, try their Braised Beef La Mian ($15.30) which carries a rich dark soy sauce flavour to complement the fatty pieces of beef. 
Unit number: #B2-28
Opening hours: Daily 11am to 9:30pm
Tel: 6252 6854
Website
---
11. Makino
---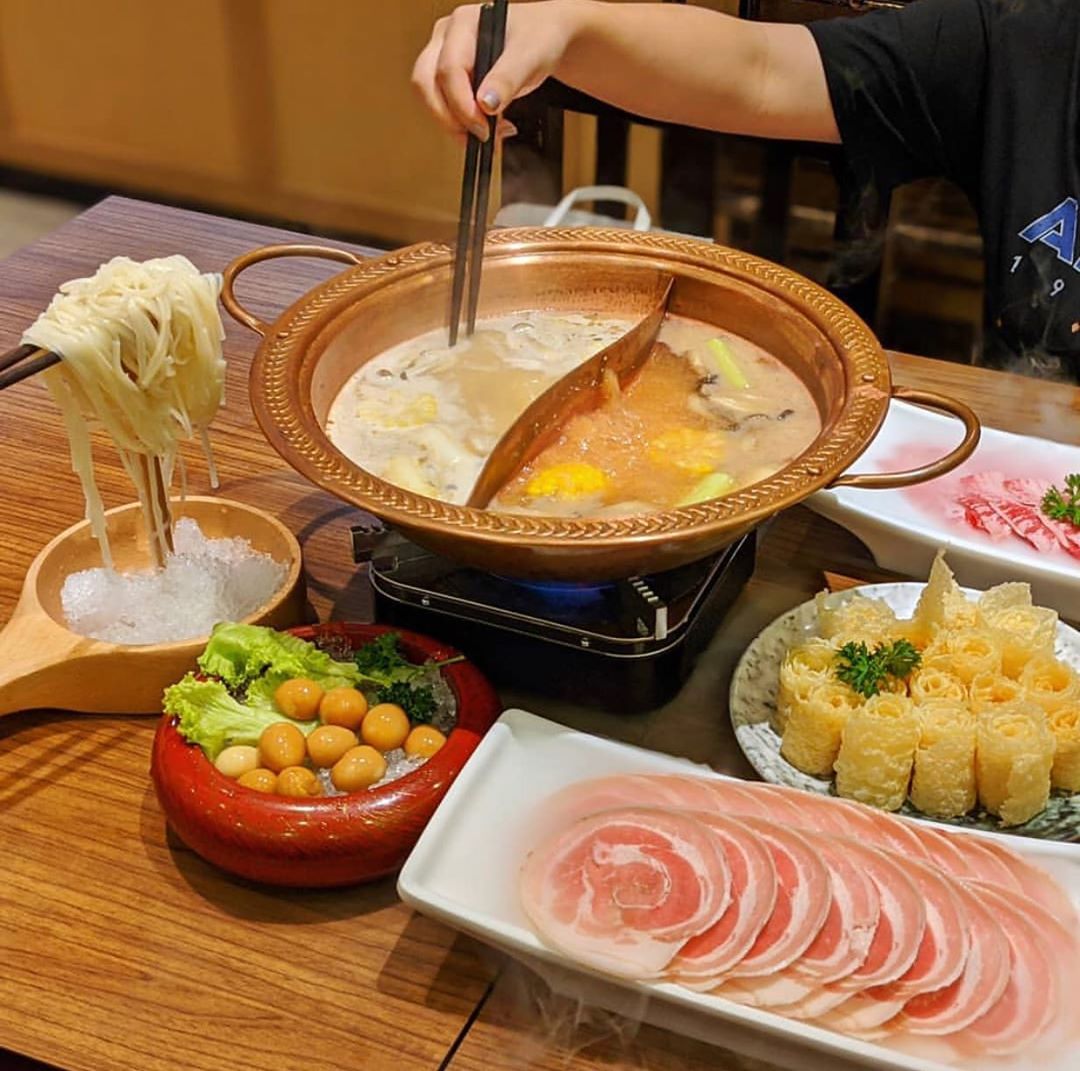 Image credit: @aquiver_singapore
Head to Makino if you're craving some warm hotpot while shopping in PLQ. This Japanese shabu shabu restaurant offers a whole gamut of ingredients, including nine different soup bases for a true DIY hotpot experience. Their Mentaiko Soup ($11.80++) incorporates marinated Alaskan pollock roe into the base to give it a strong savoury flavour with a hint of spiciness. 
For lovers of red meat, we recommend the Karubi US Short Ribs ($16.80++), which are premium beef slices cut so thin that only a few seconds of swishing is needed to cook the tender beef. Finally, wrap up your meal with a serving of Matcha Monaka ($6.20++) which is a Japanese waffle served with earthy green tea ice cream and sweet azuki beans. 
Unit number: #03-28/29
Opening hours: Tues-Sun 11:30am to 10pm, Mon 11:30am to 10pm, 11pm to 12am
Tel: 6972 2770
Website
---
12. East of Eden
---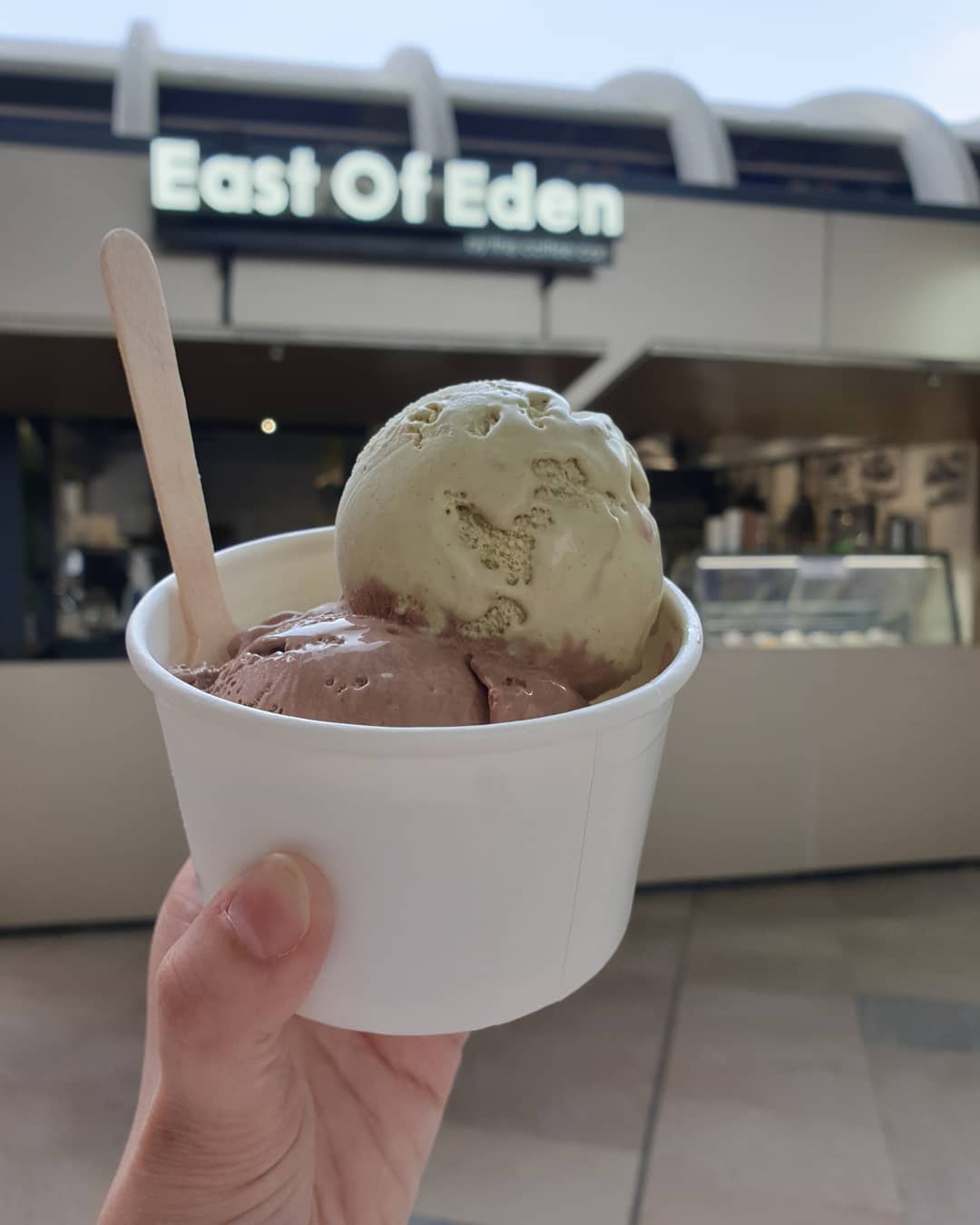 Image credit: @kiat.062
With its open-space alfresco seating area next to a water feature in the PLQ Plaza, East of Eden is just the place to grab a cup of aromatic coffee and some gelato while watching the bustle of shoppers go by. Peer into the dainty kiosk and you'll spot a number of coffee machines in the back, dishing out cups of Cappuccino ($5.50) and Cafe Mocha ($6) with a fragrant hit of espresso. 
If you're not a fan of caffeine, try grabbing some ice cream instead. Their smooth gelato and sorbets are priced at $7 for a double scoop. We recommend adding a dollar for a golden-brown waffle cone to complete the ice cream experience.
Unit number: #01-K2
Opening hours: Mon-Fri 8am to 10pm, Sat-Sun 10am to 10pm
Tel: 9824 3281
Website
---
13. Fong Sheng Hao
---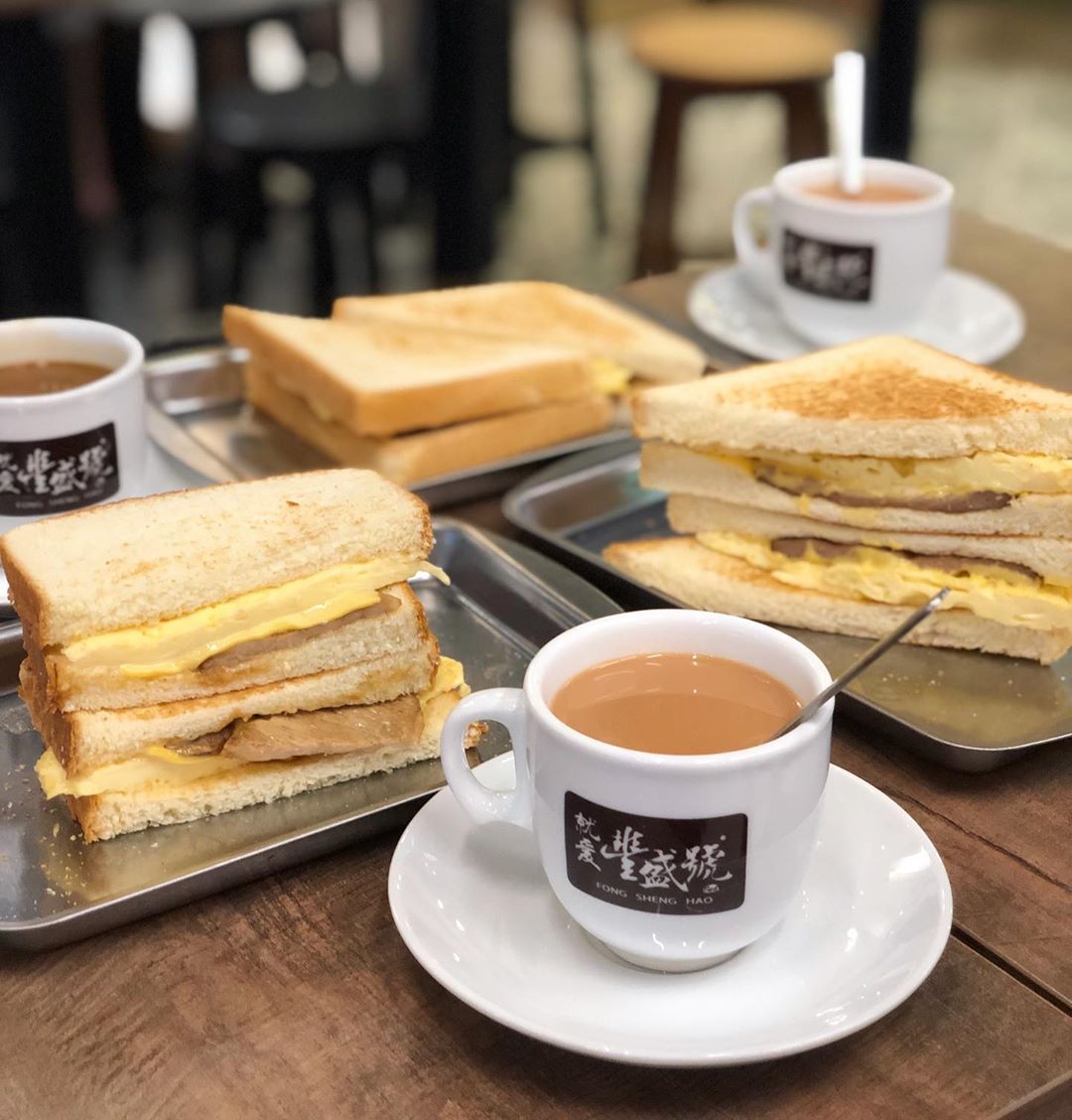 Image credit: @andrea_abl
Hailing from Taipei's Shilin Market, the Taiwanese cafe Fong Sheng Hao has opened its first local outlet in Paya Lebar, bringing traditional charcoal-grilled toast to Singapore. Get a hearty breakfast fix with their toast sets, such as the popular TW Special Pork Patty ($7.30 with Kopi) which features a thick cut of minced pork patty and a generous helping of melty cheese, sandwiched between two pillowy slices of grilled milk toast.
If you're just dropping by for drinks, try their Fong Sheng Signature Milk Tea ($3.90) which has a smooth, roasted black tea flavour and only slightly sweetened to allow the tea aroma to shine through. 
Unit number: #B2-04
Opening hours: Daily 8am to 10pm
Website
---
14. Red Ginger
---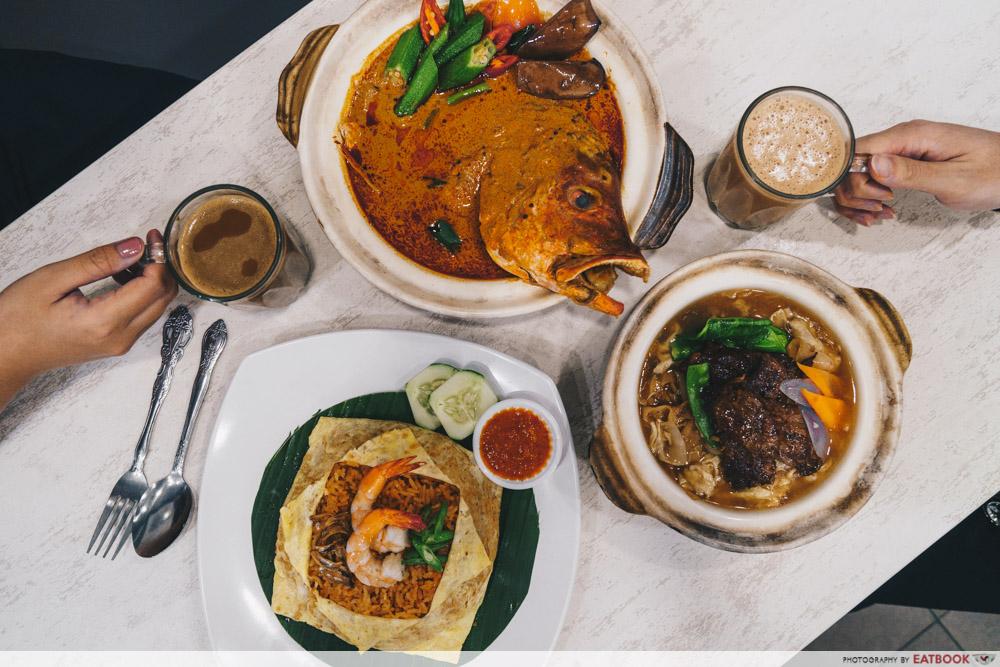 This family-run halal cafe in IMM has finally arrived in the East, bringing all their customer favourites to Paya Lebar. It'll be hard to not over-order here with their large portions of the impressive Curry Fish Head ($19.90) and Claypot Beef Hor Fun ($7.90). Their classic Nasi Pattaya ($7.90) makes for a quick wholesome lunch, coming with fragrant vegetable fried rice topped with large shelled prawns and bouncy omelette.
If you love spice, their sambal belachan is a must-try, to spike your dishes with a strong kick of spice and a bite of tartness.
Unit number: #B2-31
Opening hours: Daily 8am to 10pm
Tel: 6569 5001
Website
---
15. CHICHA San Chen
---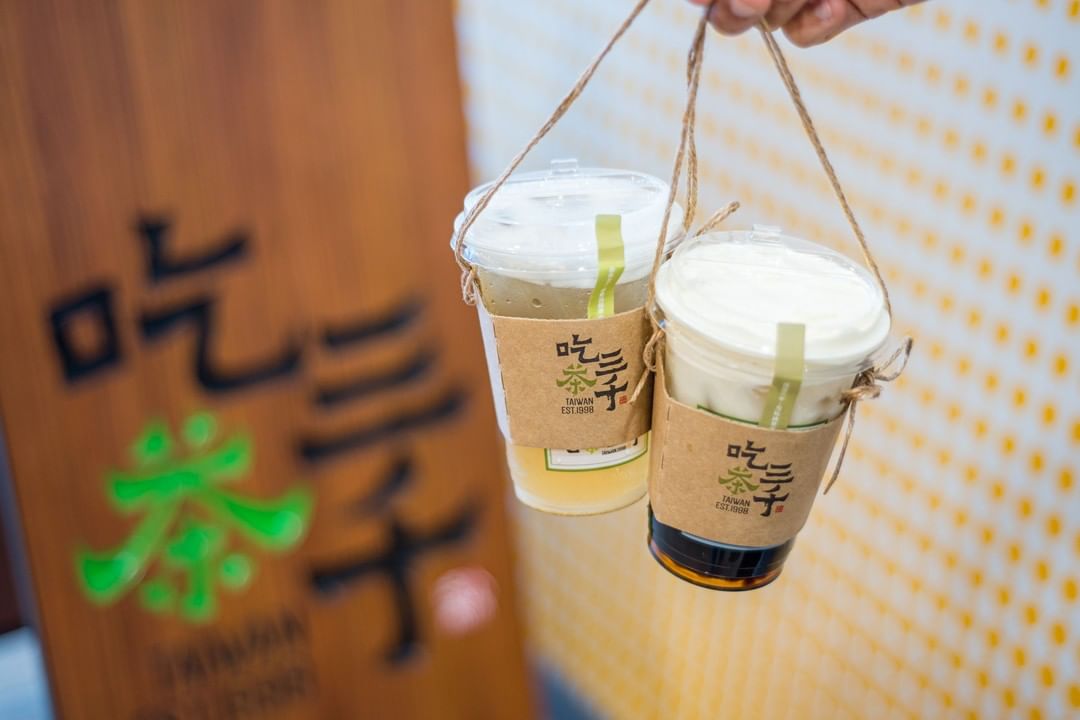 Image credit: @chichasanchen.sg
Amongst all the new bubble tea shops that popped up last year, CHICHA San Chen was definitely the strongest contender in my book. Aesthetic looking cups aside, I was truly won over by their signature Dong Ding Oolong Tea ($3.20) that is made from high quality roasted tea leaves, giving it a deep, slightly bitter tea body and a lingering, sweet oolong aroma. 
I suggest topping this drink with fresh milk ($1.50) to add richness, and of course, some chewy pearls ($0.50) to properly complete the cup of bubble tea.  
Unit number: #02-07
Opening hours: Daily 11am to 10pm
Website
---
What to eat at Paya Lebar Square
---
16. 5 Little Bears
---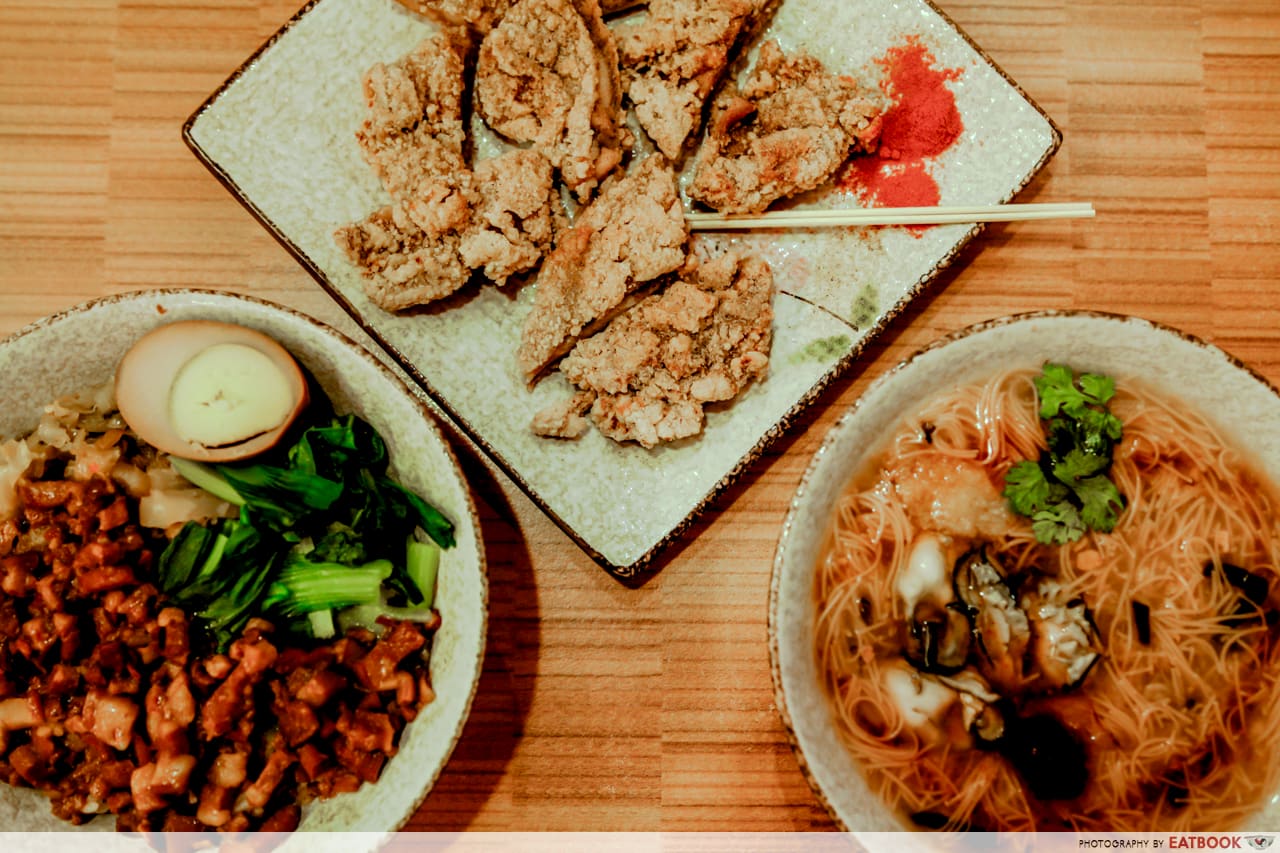 This cosy eatery tucked away in the basement of Paya Lebar Square serves affordable Taiwanese fare including wholesome rice bowls and deep-fried snacks. Their highlight item would definitely be the Taichung Braised Pork Rice that is sold at only $5 nett. The dish is true to its Taichung roots, coming with a generous serving of small, fatty bits of braised pork belly, sour pickled mustard greens, and a marinated hard boil egg.  
For an easy takeaway snack, try their XL Chicken Chop ($4.80) which is double-fried for extra crunch, and then coated with a liberal sprinkling of their addictive seasoning powder. 
Check out our full review of 5 Little Bears!
5 Little Bears Review: Lu Rou Fan And Oyster Mee Sua At $5 Or Less At Paya Lebar
Unit number: #B1-09
Opening hours: Daily 11:30am to 9:30pm
Tel: 6702 1098
Website
---
17. Chicken Run
---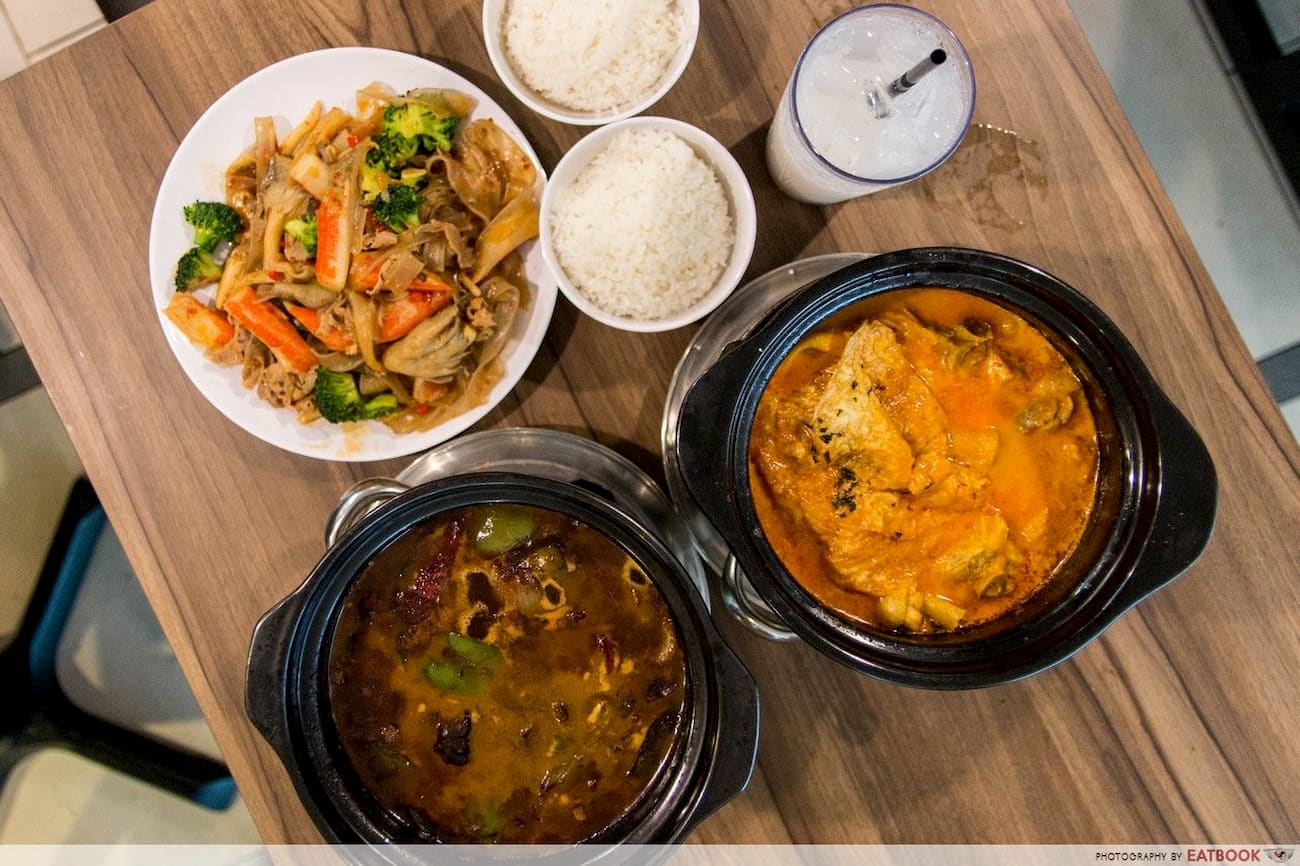 Chicken Run serves up spicy fusion cuisine in claypots, best for the days when you're craving some heat and warm comfort food. This place is great for those who love to customise their meals, as their menu offers an extensive list of add-on items and enough options for you to individualise each claypot. 
Come by during lunch to enjoy their lunch special: Laksa Pot with rice at $10.90+. A word of caution: choose your spiciness level carefully, because this broth brings both intense flavour and numbing heat. 
Check out our full review of Chicken Run!
Unit number: #02-18/19/K4
Opening hours: Daily 11am to 10pm
Tel: 6702 1373
Website
---
18. Kajiken
---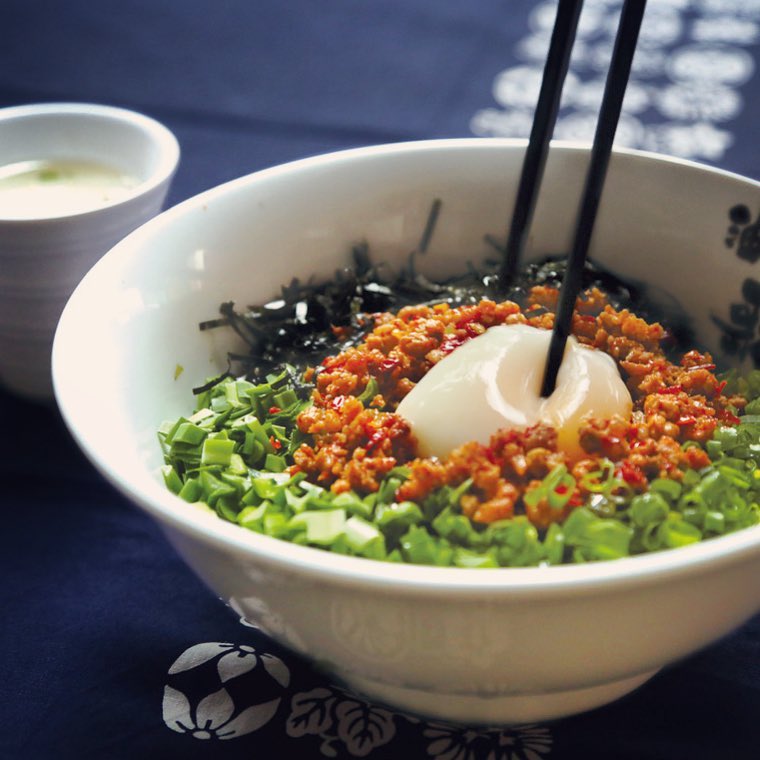 Image credit: @kajiken_singapore
From 'gan mian' and dry ramen to Japanese bak chor mee, Kajiken's maze soba dish has been given many titles by customers over the years. As the pioneering restaurant to bring this unique style of ramen to Singapore, Kajiken is known for its Original Mazesoba Nagoya Style ($12.80) which comes with springy dry noodles, spicy minced pork, and a gooey soft boiled egg nestled in the middle.
Break the oozy yolk before giving the noodles a good, long mix. The rich yolk will combine with the savoury ramen sauce and coat the noodles. Each mouthful delivers a spicy kick from the minced pork, followed by soft noodles, and finished with a fresh crunch from the spring onions. With their free noodle top-ups, this is a definite must-try for noodle fans! 
Unit number: #01-86
Opening hours: Daily 11:30am to 10pm
Tel: 6844 9915
Website
---
19. Shiokoji Tonkatsu Keisuke
---

Chef Keisuke Takeda has certainly carved his name in the Paya Lebar food scene with not one, but three of his restaurants open in the same mall. The first of the trio is Shiokoji Tonkatsu Keisuke, delivering a selection of popular Japanese deep-fried snacks. Keisuke's spin on the classic breaded pork cutlet involves coating the meat in shio koji, a Japanese rice yeast marinade that tenderises the pork and enhances its umami flavours. 
My go-to order would certainly be the Shiokoji Pork Loin Katsu Set 200g ($19.90++). The fried batter has a crispy, tempura-esque lightness and the meat is tinged with a subtle fermented flavour from the shio koji. As a lover of options, I liked how there was a selection of 12 different meat sauces, and a free-flow salad bar.
Check out our full review of Shiokoji Tonkatsu Keisuke!
Shiokoji Tonkatsu Keisuke Review: Tonkatsu Restaurant With Free-Flow Salad Bar & Sauces At Paya Lebar
Unit number: #01-02/03
Opening hours: Mon-Fri 11:30am to 2:30pm, 5:30pm to 10pm, Sat-Sun 11:30am to 10pm
Tel: 6214 3345
Website
---
20. Charcoal-Grill & Salad Bar Keisuke
---

Charcoal-Grill Salad Bar Keisuke is the second of our Keisuke trio, featuring an upgraded version of Shiokoji Tonkatsu Keisuke's salad bar. The all-you-can-eat salad bar in this Keisuke restaurant has over 30 side dishes including both fresh salad ingredients and cooked options. 
As if the salad bar wasn't enough to pick from, the restaurant also specialises in sumiyaki, also known as Japanese charcoal-grill, which offers a selection of 12 different items. To get a true taste of sumiyaki, I recommend the Charcoal Grilled Mackerel Set ($14.90++) which has an ultra crispy skin from grilling, and juicy, flaky flesh. 
Check out our full review of Charcoal-Grill Salad Bar Keisuke!
Charcoal-Grill & Salad Bar Keisuke Review: Grilled Fish And Free Flow Salad At Paya Lebar
Unit number: #B1-16
Opening hours: Mon-Fri 11:30am to 2:30pm, 5:30pm to 10pm, Sat-Sun 11:30am to 10pm
Tel: 6241 8588
Website
---
21. Ramen Keisuke Tonkotsu King
---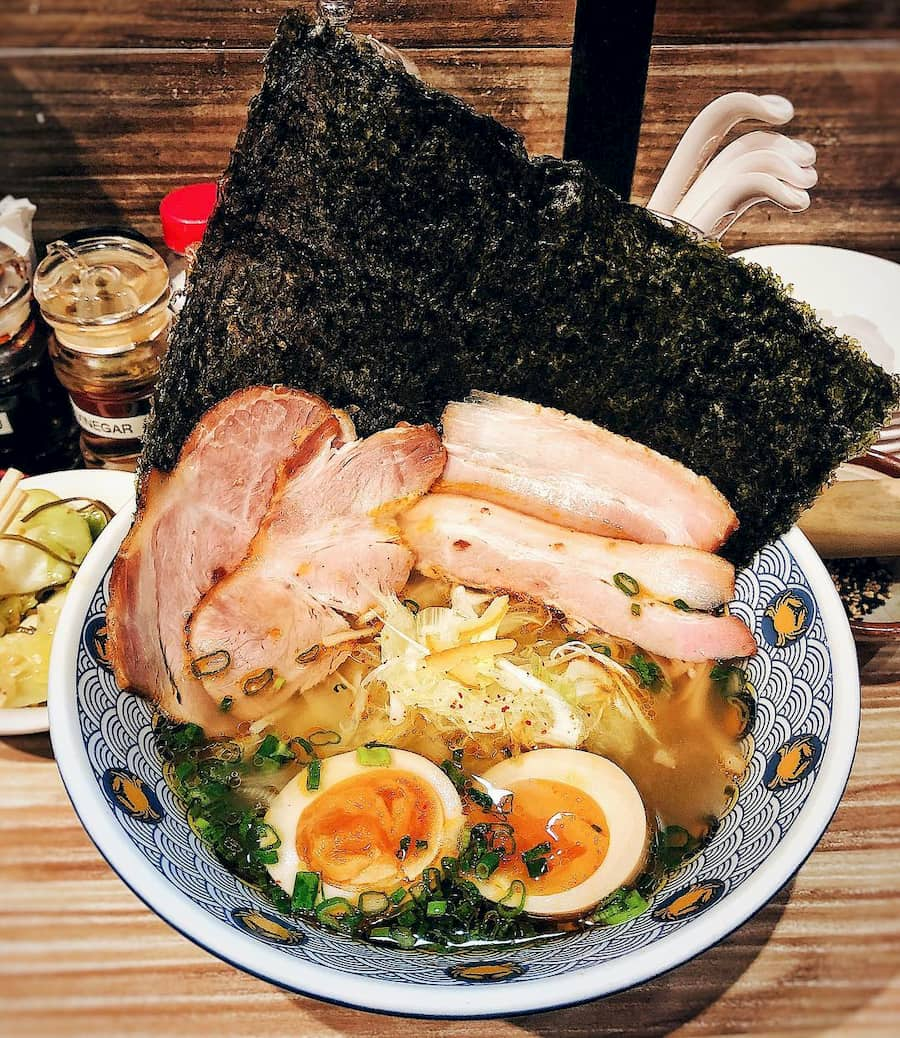 Image credit: @thecheekfleek
The last and most well-known of the Keisuke clan is Ramen Keisuke Tonkotsu King. With seven Ramen Keisuke restaurant variations open around Singapore, this one at Paya Lebar specialises in the classic Tonkotsu Ramen ($10.80++). For a full taste of what the famous ramen chain has to offer, get the Tonkotsu Ramen Special All Toppings ($14.80++) which comes with large slices of chashu, Japanese onsen egg, sprinklings of bonito flakes, and garnished with a giant nori seaweed. 
Unit number: #01-04
Opening hours: Mon-Fri 11:30am to 3pm, 5:30pm to 10pm, Sat-Sun 11:30am to 10pm
Tel: 6341 6123
Website
---
22. Egg Stop
---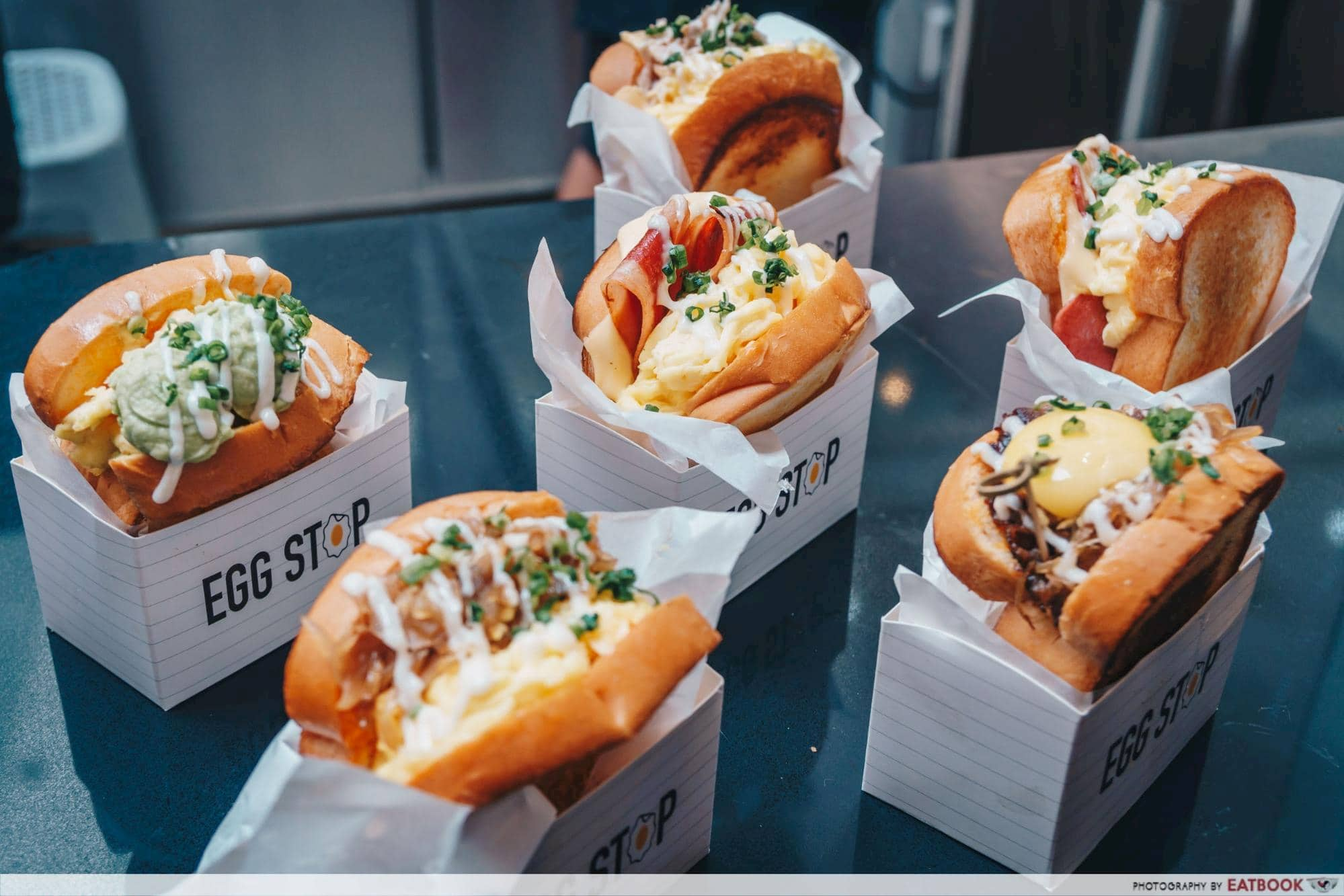 Nestled in cute rectangular sandwich holders are Egg Stop's Gilgeori toasts, better known as Korean street toasts. The most eye-catching of their selection would be the Beef Teriyaki ($7.40) which comes with a whole oozy yolk balanced atop stir-fried marinated beef and fragrant caramelised onions. 
For more classic breakfast flavours, try their Chicken Ham & Cheese ($4.90) that pairs sweet ham with a generous helping of scrambled eggs, all sandwiched between thick, fluffy slices of buttered milk toast.
Check out our full review of Egg Stop!
Egg Stop Review: Korean Street Toast Shop With Scrambled Eggs In Singapore
Unit number: #01-62
Opening hours: Daily 10am to 10pm
Website
---
23. Delibowl
---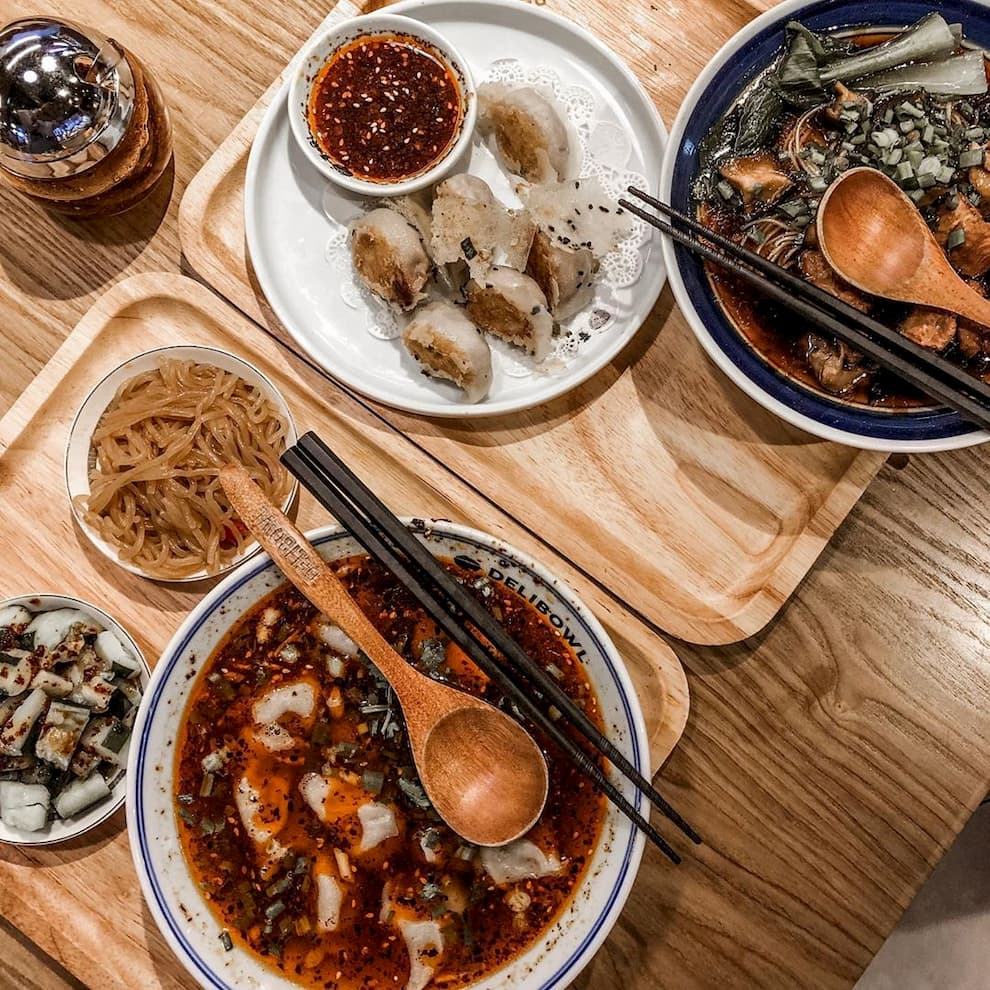 Image credit: @kita.fam
Delibowl is an eatery that has gotten a fair share of buzz for being a halal restaurant selling traditional Sichuan dishes. The crowd-favourite Mushroom Chicken Noodles ($6.90) features al dente hand-pulled noodles steeped in a savoury and light chicken broth. The mushrooms soak up the flavoursome soup to deliver juicy explosions in your mouth. For a hit of spice, try their Sour Soup Dumplings ($8.50) which comes with dumplings wrapped with thin, delicate skin to prevent the dish from being overly jelak.
Unit number:  #01-77/80
Opening hours: Daily 10am to 9:30pm
Tel: 9382 5685
Website
---
24. Tok Tok Indonesian Soup House
---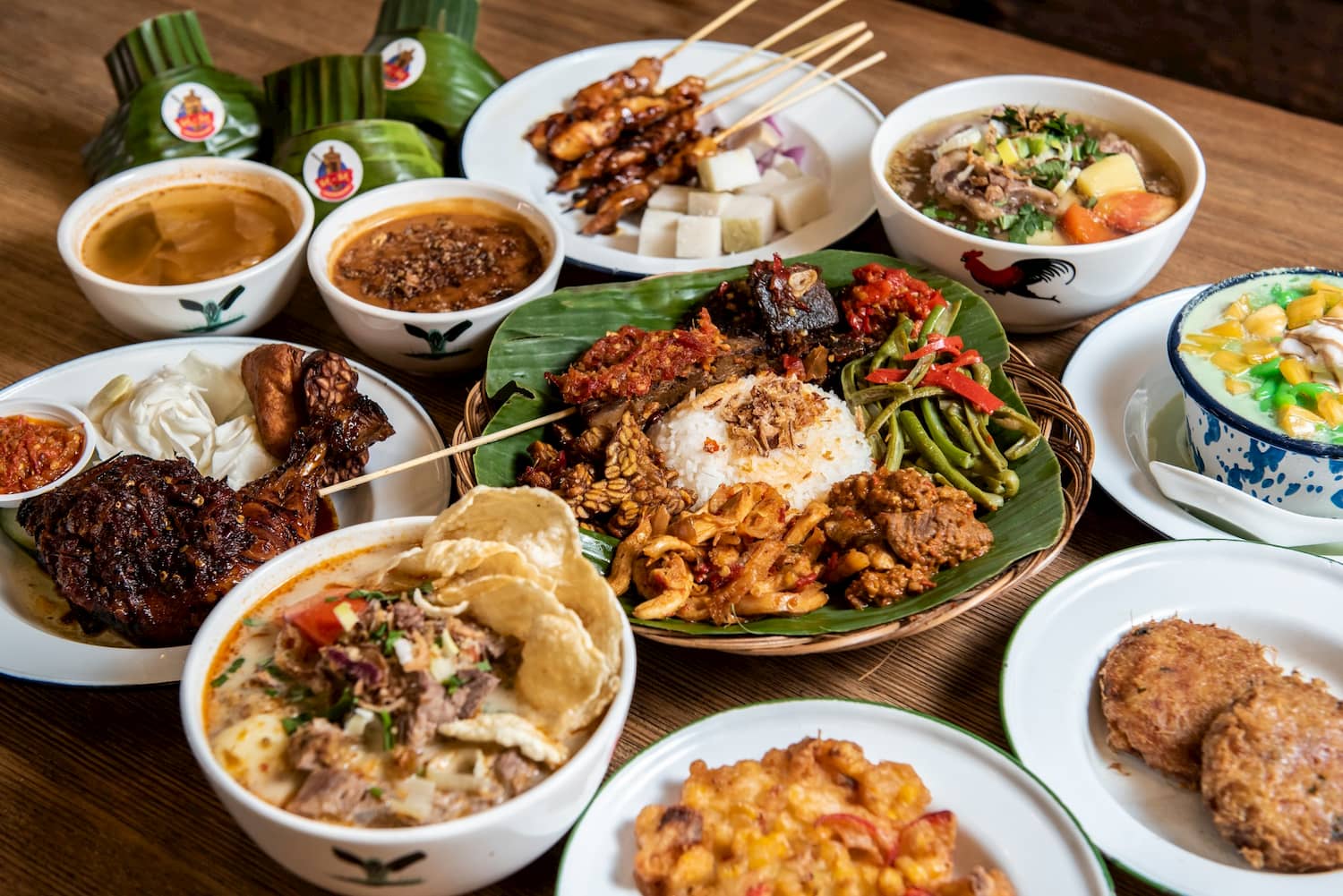 Image credit: Tok Tok Indonesian Soup House Facebook page
Head to Tok Tok Indonesian Soup House for a taste of traditional Balinese spread featuring recognisable Indonesian dishes such as Soto Mie ($7.80++), and Ayam Penyet ($8.80++). A less commonly found Balinese dish is the Nasi Campur Bali ($9.90++) which I would describe as an Indonesian cai peng. The dish is like a mini feast for one, with tender beef rendang, aromatic sambal chicken, spicy fried tempeh, and stir-fried vegetables all on one plate. 
If you want a taste of their full spread, grab a few friends and go for their star dish, the Nasi Tumpeng ($179) which feeds up to 10 people.  
Unit number: #01-71/K6/K7
Opening hours: Daily 11am to 10pm
Tel: 6904 3171
Website
---
25. Lotus Thai Restaurant
---

Image credit: @yvonne_khow93
You can find many places selling Thai food, but at the Lotus Thai Restaurant, they also do it well. The Papaya Salad ($7.80++), a quintessential Thai appetiser, is fragrant and tangy. The thinly julienned papaya slices soak up the sauce, giving off a sour and sweet aroma. This balance of tart and sweet is very characteristic of Thai cuisine, and shows up most evidently in the clear Tom Yum Seafood Soup ($10.80++) which is accompanied by a kick of spice. 
Lotus Thai is the place to head to if you're in the Paya Lebar area and craving some classic Thai flavours.
Unit number: #02-13-14
Opening hours: Daily 10:30am to 10pm
Tel: 6386 7228
Website
---
Food at Paya Lebar Square and PLQ
---
Whether you're here for hours of shopping or just passing through, the assortment of food options within these Paya Lebar malls are more than enough to satisfy everyone's appetites.  For more food gems at another newly opened mall, check out this list of Funan mall food.
21 Funan Mall Food Places To Visit Including Wagyu Steak From $18.90+, Yuzu Ramen And More