Papa Ayam in Northpoint is Singapore's first ayam geprek brand 
I've had my fair share of ayam penyet but not ayam geprek, which is not to be mistaken as the former. While both dishes essentially comprise smashed fried chicken, ayam geprek is said to be made with boneless chicken, with a thicker and crunchier batter coating the meat. The chicken is also crushed and mixed with freshly made sambal instead of having the spicy dip as an accompaniment. If all this sounds enticing to you, then Papa Ayam, Singapore's first ayam geprek brand, is where you can try this dish.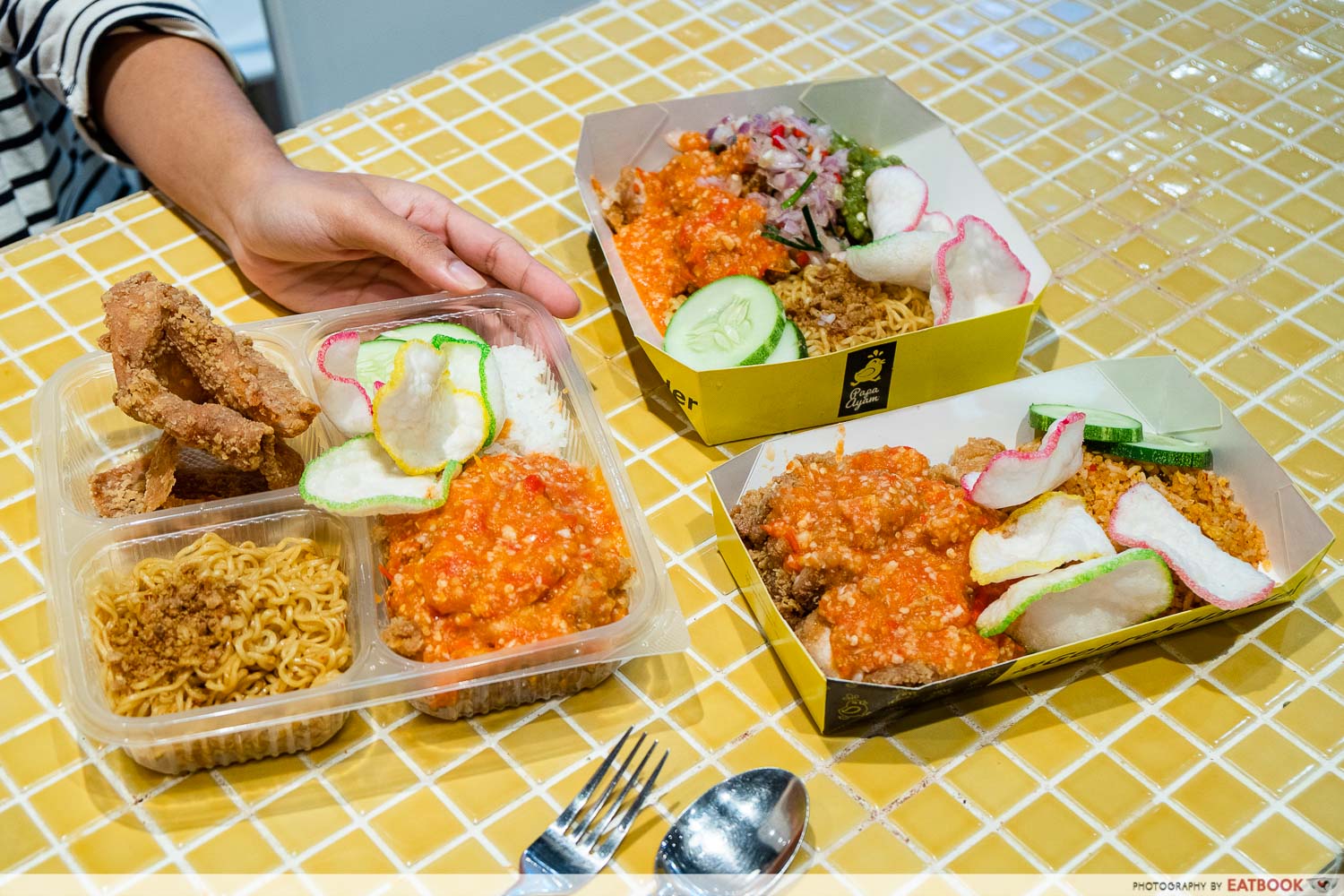 North siders might also want to keep their heads up as Papa Ayam has recently opened their third outlet at Northpoint City!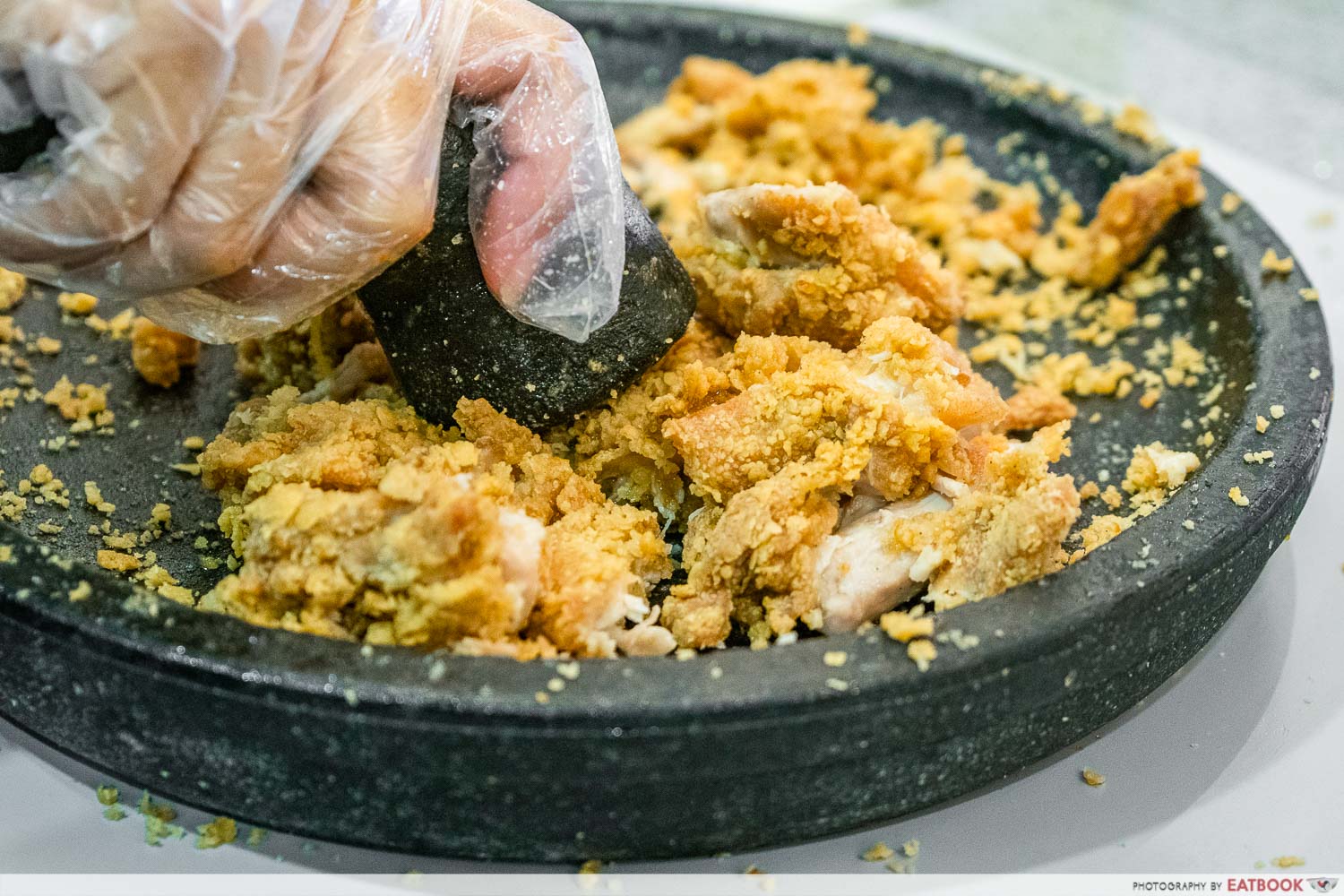 Food at Papa Ayam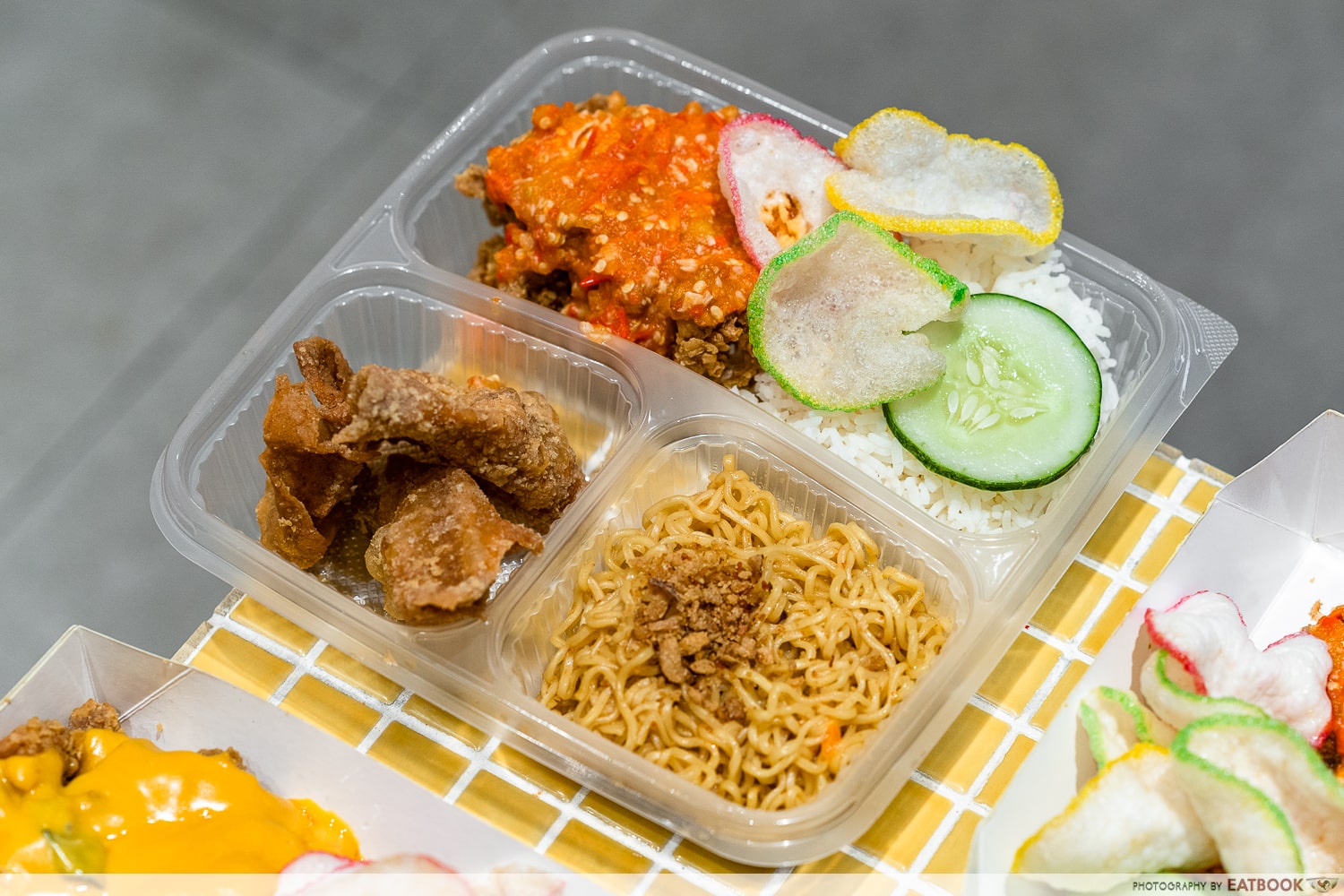 If you're fickle-minded like me, then the Papa Ayam Box ($10.40) is a great option. This all-in-one dish features white rice, Indomie, fried chicken skin, onion crackers, and the star of the show: ayam geprek blanketed in fiery red sambal.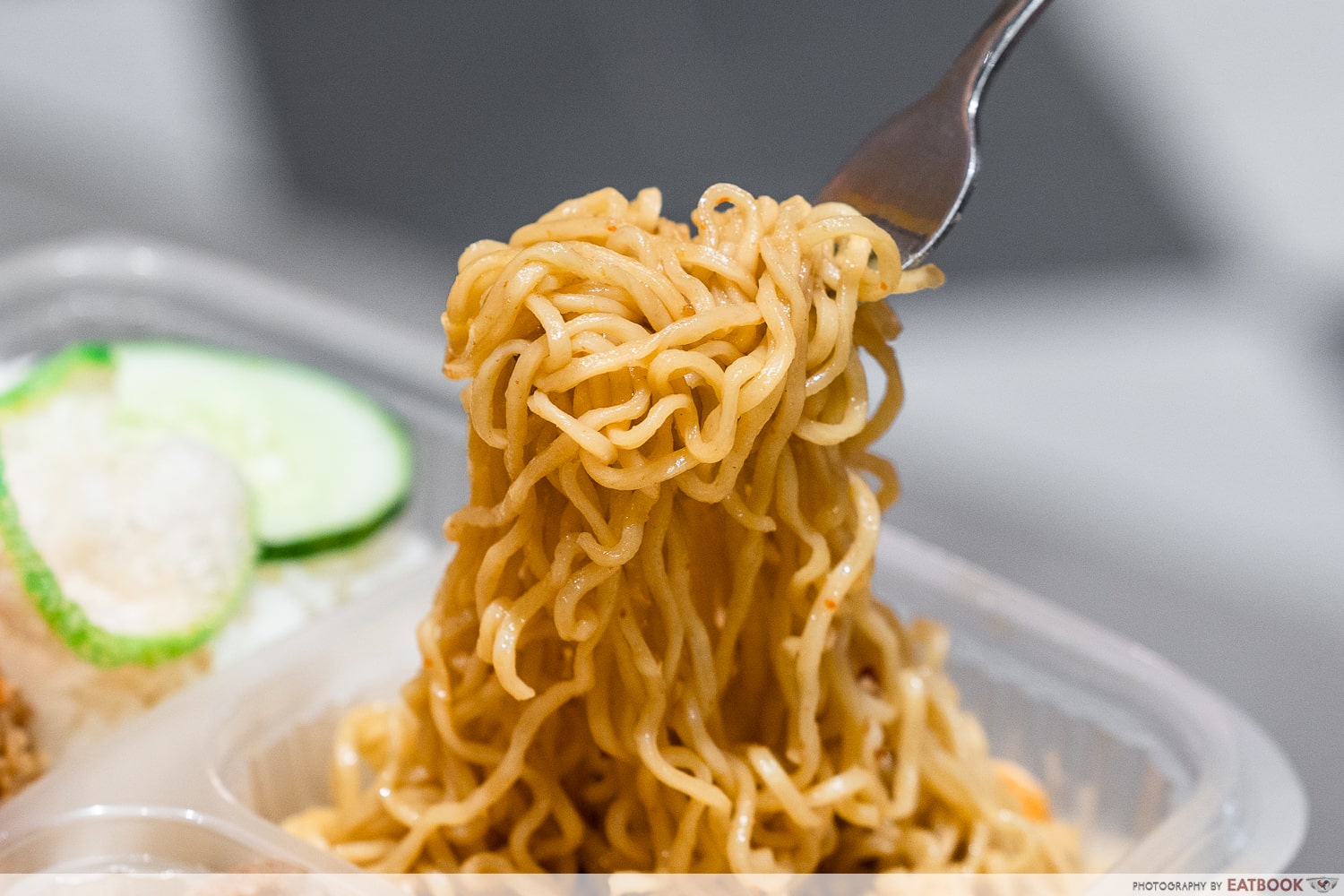 I loved how the dish included both rice and Indomie, so I could enjoy the best of both worlds with the crispy ayam geprek.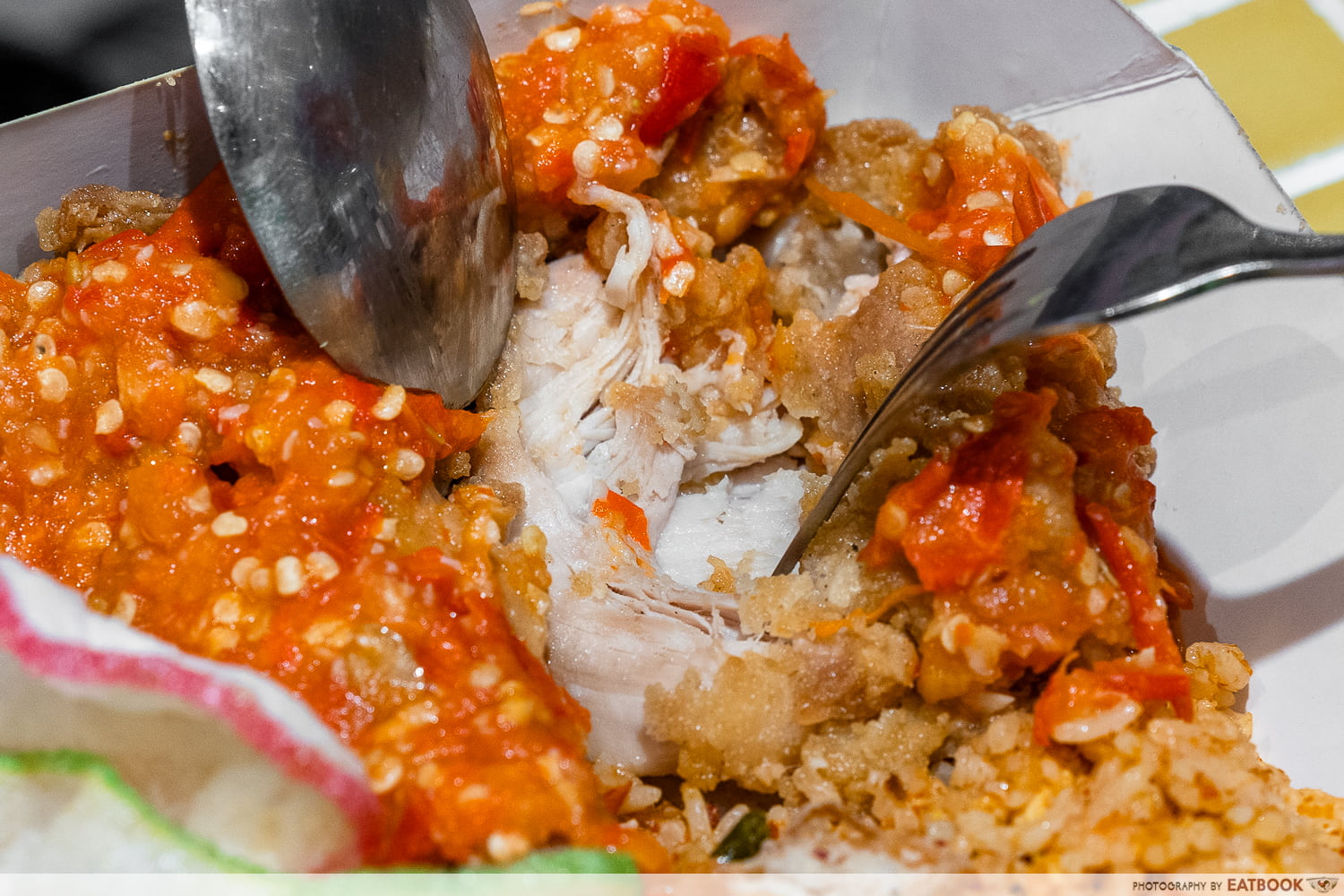 What surprised me the most, though, was the chicken, which was tender and flavourful. As it is served boneless, it was easy to tear apart too. On top of that, it allowed the piquant sambal to seep through the meat, infusing it with its addictive, spicy, and tangy notes.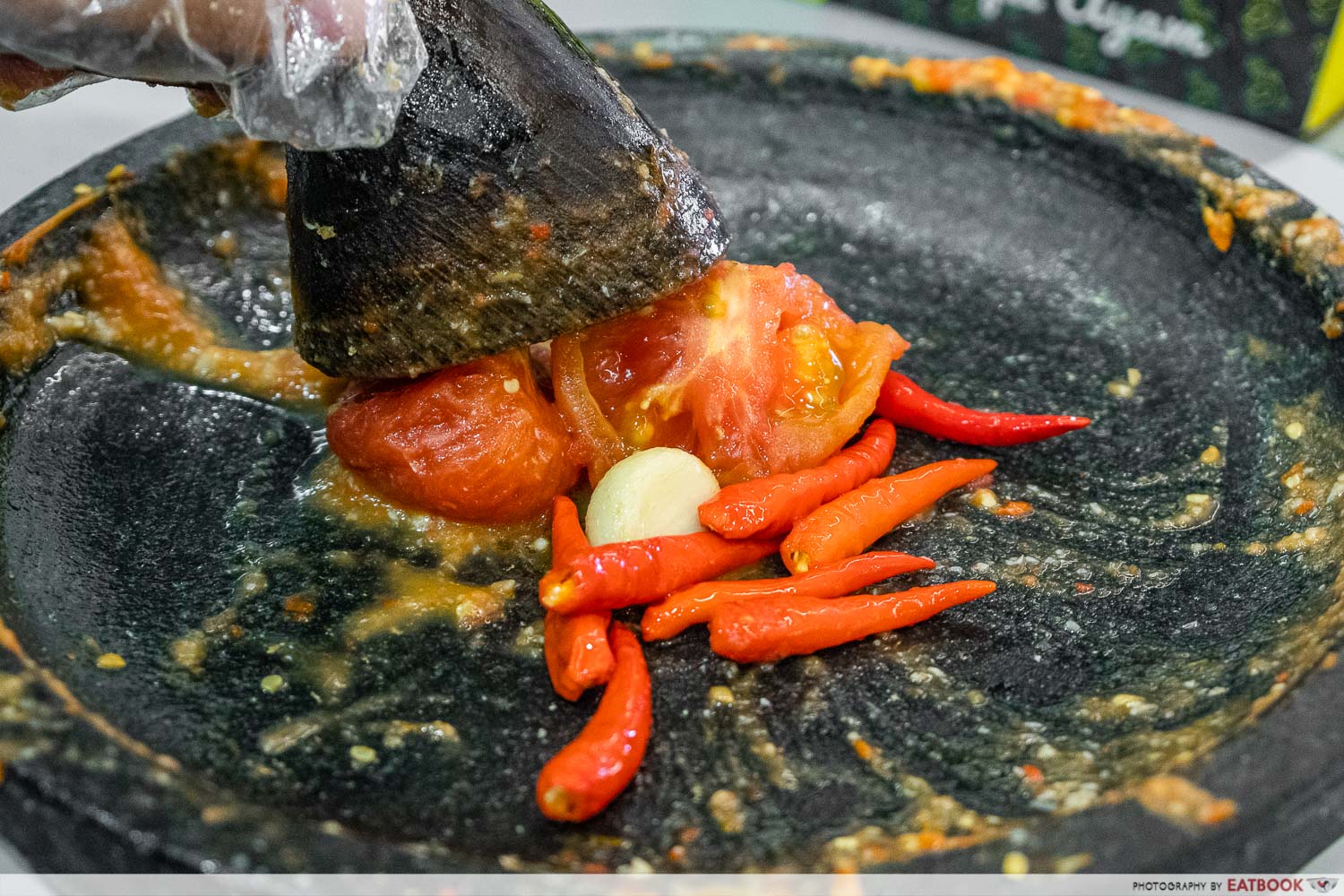 Papa Ayam stays true to its Indonesian roots as their method of making sambal is with a pestle and mortar, which is said to be the most authentic way in Indonesian cooking. Their sambal is made fresh to order, according to the spice level of your choice, too. 
My colleague and I were amazed as we watched the sambal-making process, as it wasn't something that we often see these days.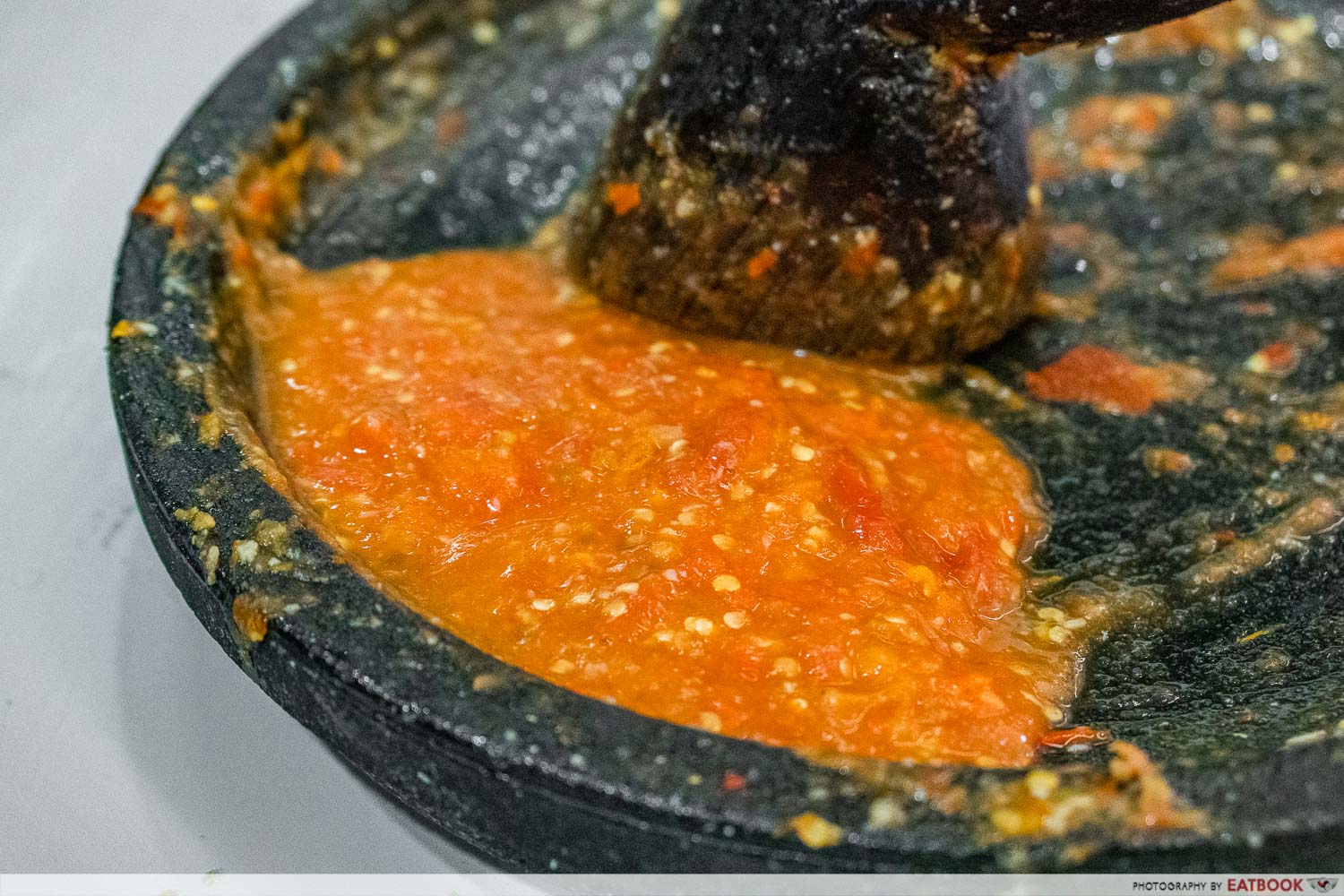 Patrons get to customise the spiciness level of their sambal, ranging from Level 1 to Level 15. To play it safe, we were recommended to go for Level 3, a good starting point for those who can handle the heat but want something that isn't too intense. 
If that's not enough, challenge yourself to Papa Ayam's 'WTF Challenge', whereby you can get a taste of the Ayam Geprek Level 27, an intensely hot and spicy dish. Those who succeed in the challenge will be crowned as champion on Papa Ayam's wall of fame.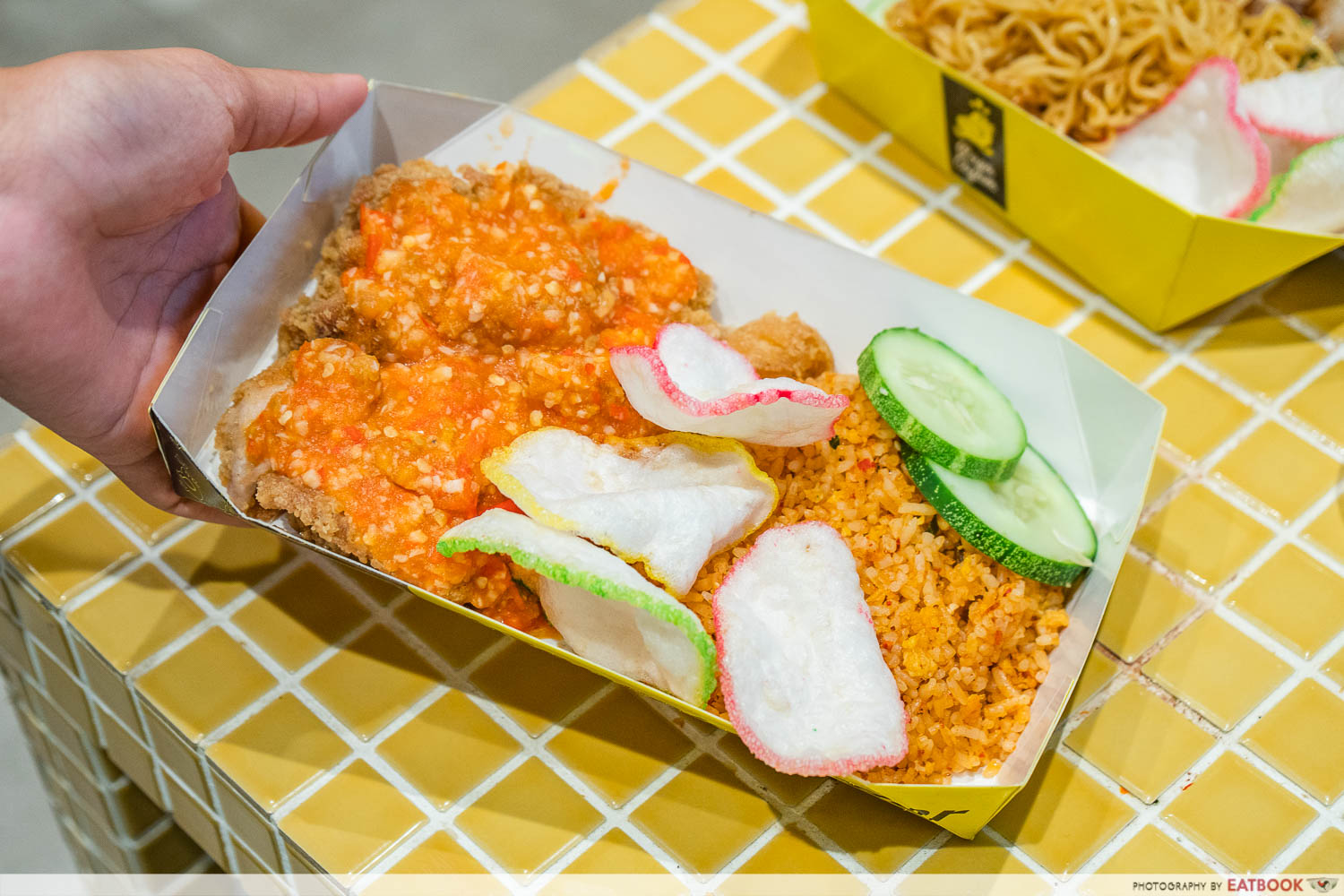 Next, we tried the Ayam Geprek Nasi Goreng ($9.70) which stars kampong-style fried rice and ayam geprek. We opted for the Level 4 sambal for an extra kick this time.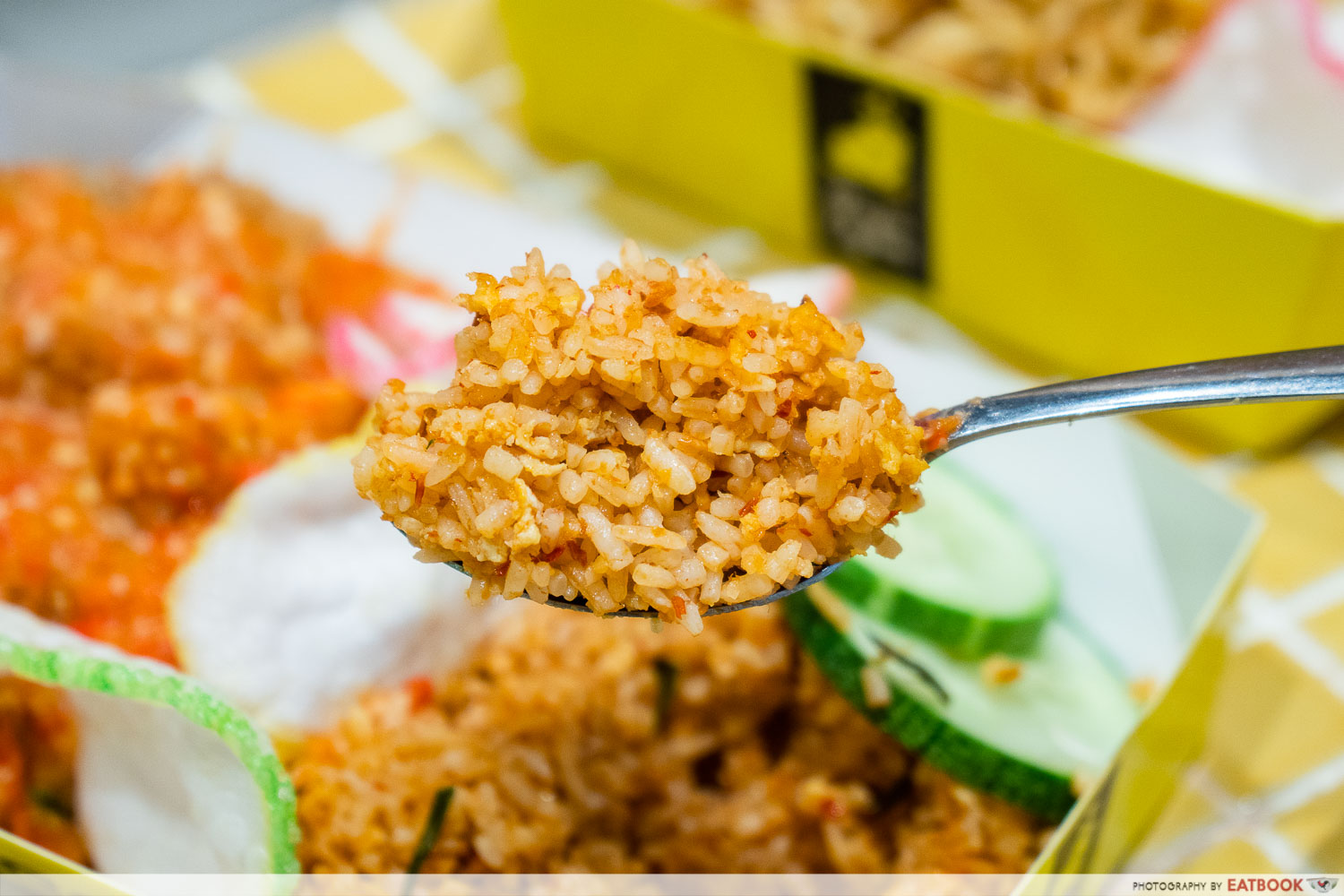 What stood out to me was the nasi goreng, which boasted an addictive, punchy spiciness accompanied by the savouriness and deep umami taste of belacan, AKA dried shrimp paste. 
The rice also had the perfect fluffiness, which complemented the tender and moist ayam geprek with hot sambal. This spicy and hearty dish was really satisfying that we found ourselves going in for seconds. Soon, our plate was wiped clean. For those who love food with bold flavours, this dish is definitely a must-try.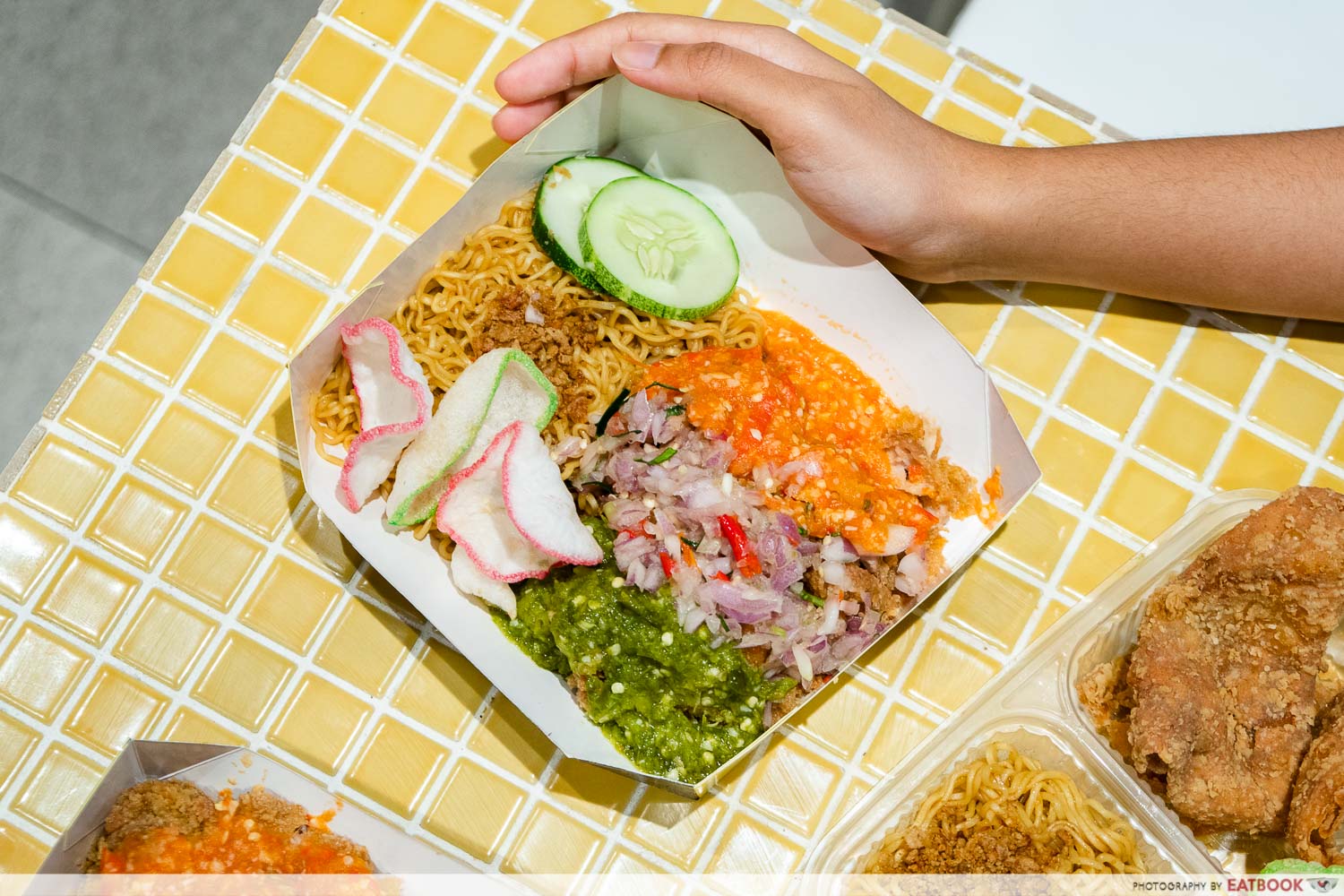 When it comes to sambal, green chilli sambal and sambal matah AKA Balinese raw sambal, are some of my top picks because of their mellower spice profile. Unsurprisingly, the Ayam Geprek Trio Sambal ($8.20) was my favourite out of the bunch, as it featured three types of sambal in one dish. We chose to have it with Indomie at an additional $0.80 instead of plain rice, too.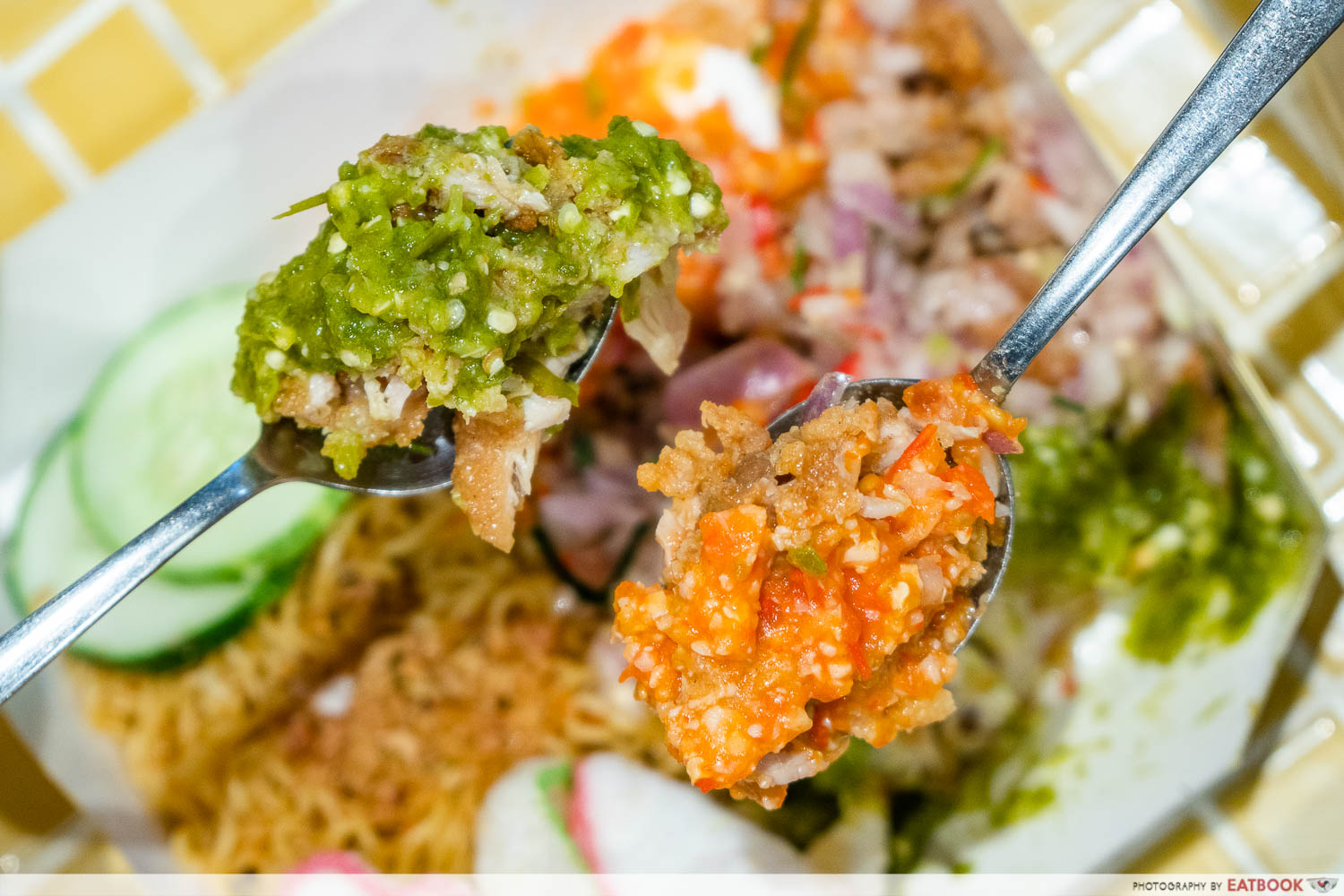 Much less spicy than the red sambal, the green chilli sambal had a slight bitterness and sweetness to it too, which made it very pleasant and easy on the palate.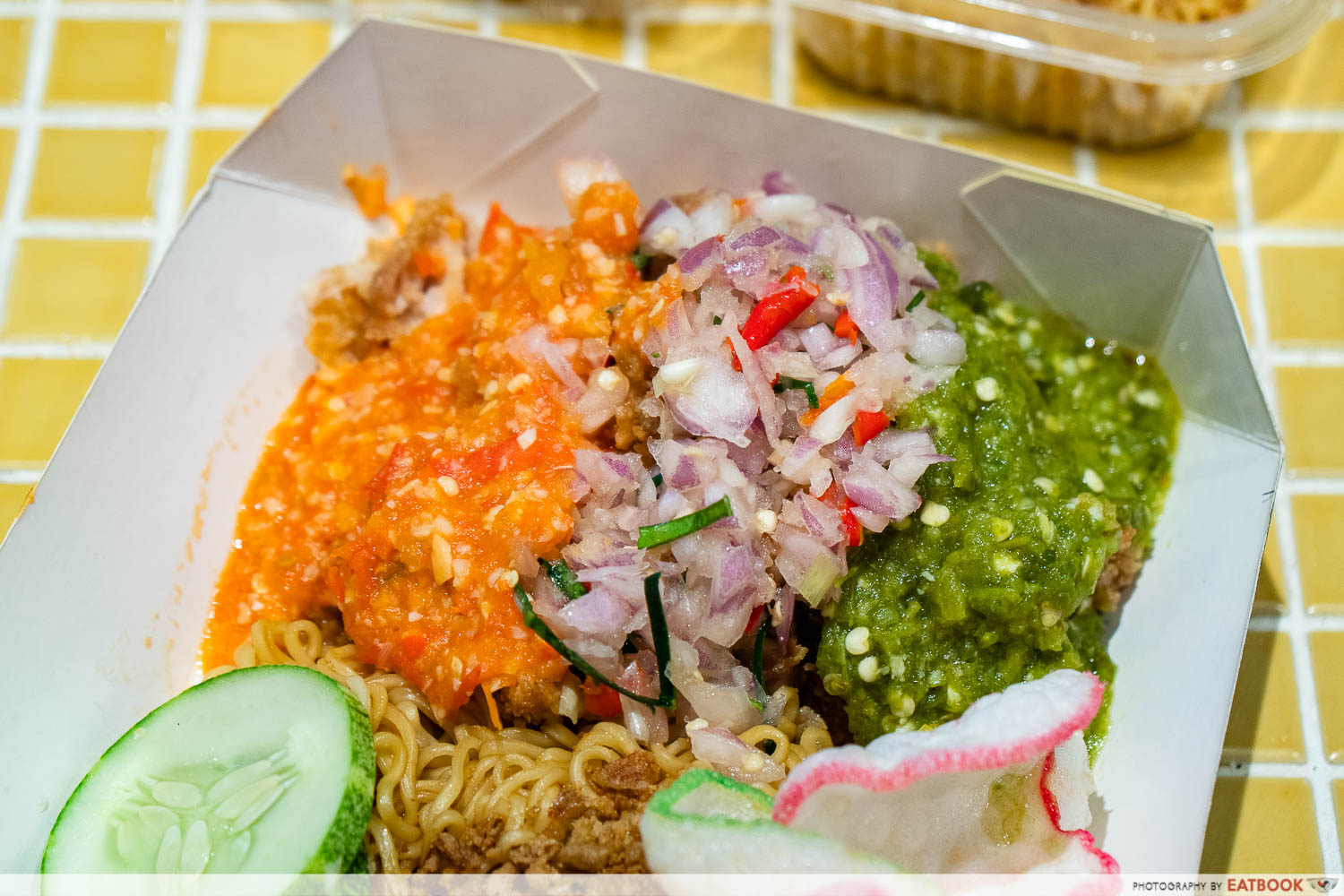 The sambal matah, on the other hand, consisted mainly of raw shallots, chilli padi, and zesty bursts of lime, which filled each bite with a medley of vibrant flavours. We highly recommend going for this dish if you'd like something refreshing and unique!
Ambience at Papa Ayam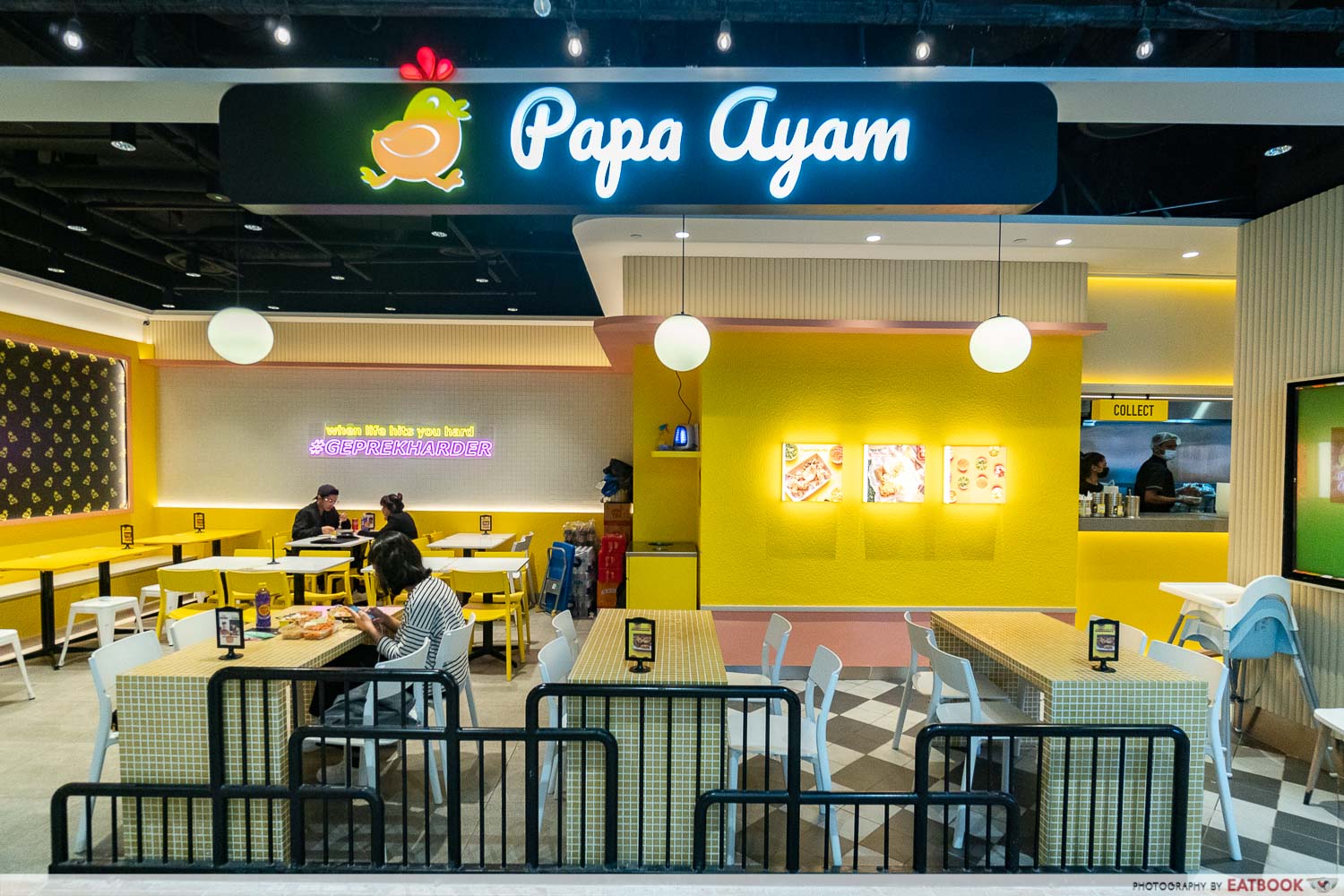 Despite being tucked away along an aisle of restaurants, it's hard to miss Papa Ayam's newest outlet at Northpoint City as it sports an eye-catching yellow interior coupled with mosaic-tiled tables, warm lighting, and a neon pink sign decor. 
Papa Ayam is located in the South Wing of Northpoint City, and is a convenient five-minute walk from Yishun MRT Station. 
The verdict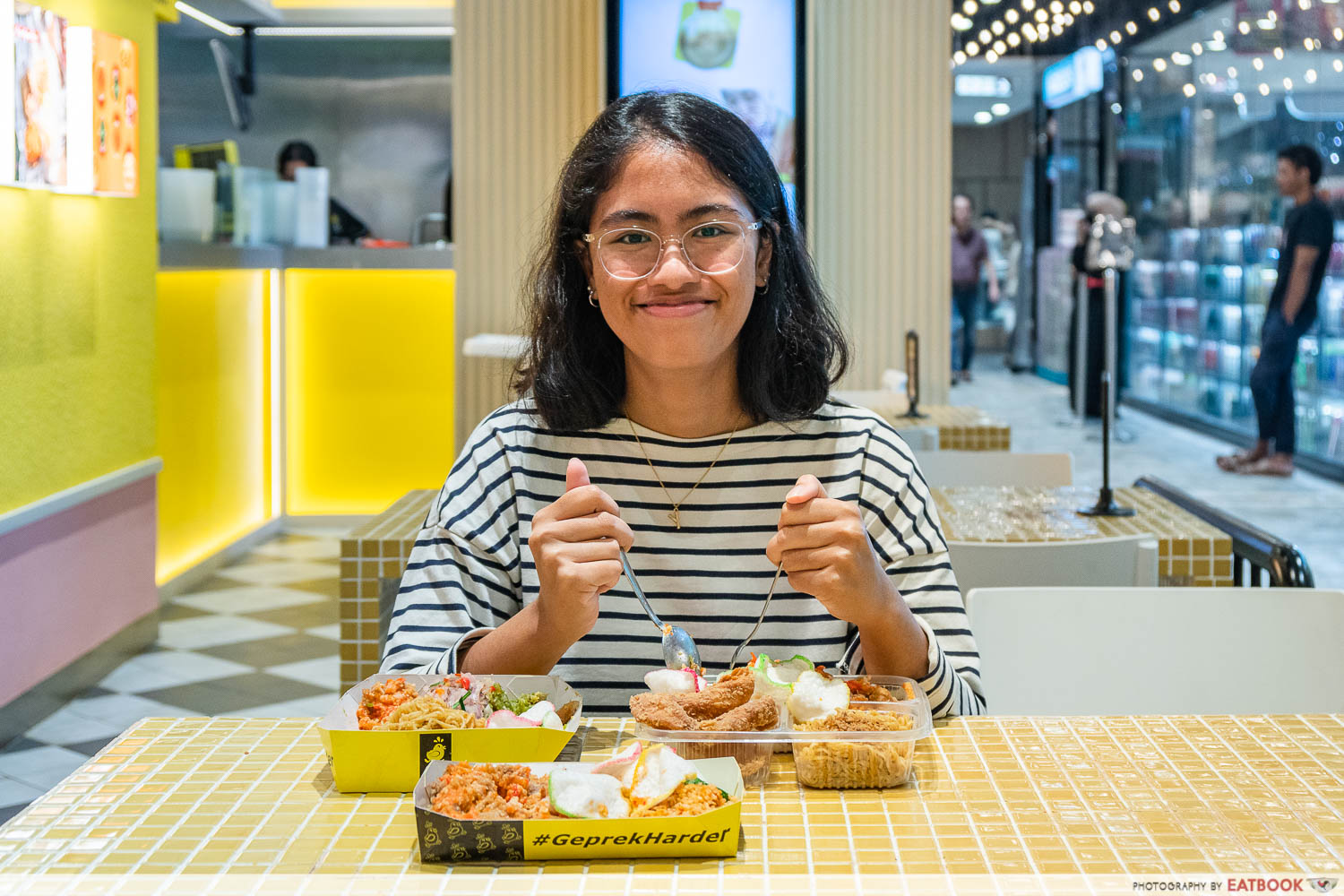 It's safe to say that Papa Ayam is now on my list of restaurants to recommend to family and friends. Aside from impressing me with their delectable range of ayam geprek and Instagrammable interior, I thoroughly enjoyed my dining experience there too as the staff were friendly, warm, and inviting. If you love Indonesian food and would like to try something different, you now know where's the next place to be!
Address: 1 Northpoint Drive, #B1-155, Northpoint City, Singapore 768019
Opening hours: Daily 10am to 9:30pm
Website | Full list of outlets
Papa Ayam is a Muslim-owned eatery.
Photos taken by John Lery Villanueva and Tan Zi Hui.
This post is brought to you by Papa Ayam.
Papa Ayam Review: Singapore's First Ayam Geprek Brand With 15 Levels Of Sambal In Yishun
Papa Ayam Review: Singapore's First Ayam Geprek Brand With 15 Levels Of Sambal In Yishun -

7.5/10
Summary
Pros:
– Ayam Geprek Trio Sambal was flavourful
– Mains came in generous portions
– Convenient location
– Comfortable dining experience
Cons:
– Red sambal might be too spicy for some
Recommended dishes: Ayam Geprek Trio Sambal ($8.20), Papa Ayam Box ($10.40)
Opening hours: Daily 10am to 9:30pm
Address: 1 Northpoint Drive, #B1-155, Northpoint City, Singapore 768019