5 Little Bears offers Taiwanese meals and snacks under $10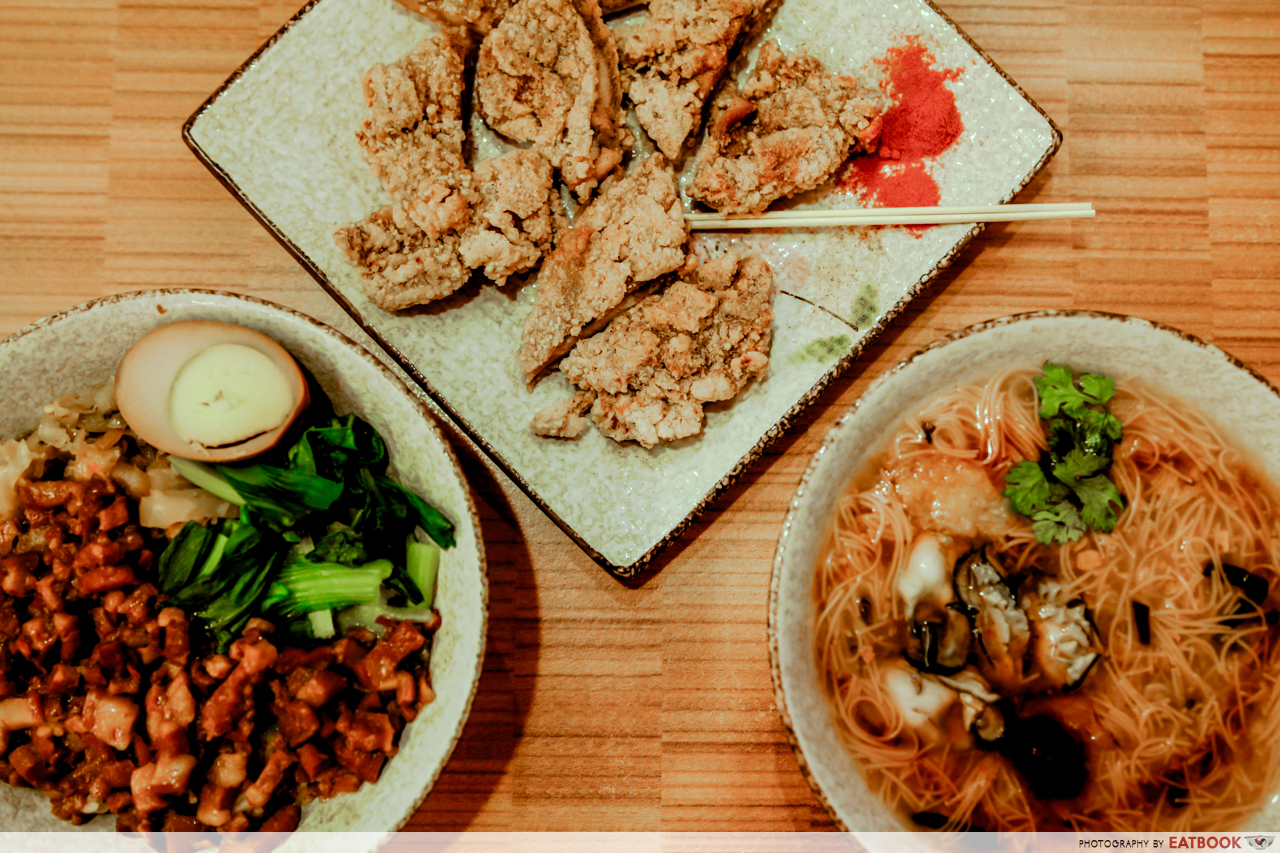 Taiwan deserves a seat in the fried chicken hall of fame for their giant cutlets that are deliciously crunchy, salty, and spicy. I'm equally a fan of their deep-fried sweet potato sticks which I enjoy with extra suan mei fen (sour plum powder). Warm Taiwanese meals have strong, homely flavours that can be hard to resist. They feel very down-to-earth, sometimes giving me a comforting break from the demands of our fast pace of life.
5 Little Bears is a Taiwanese eatery, and its cute name came from its Taiwanese owner who has five children. The shop sells a variety of affordable Taiwanese food, from small meals to bentos and deep-fried snacks, for dining in or takeaway.
Food at 5 Little Bears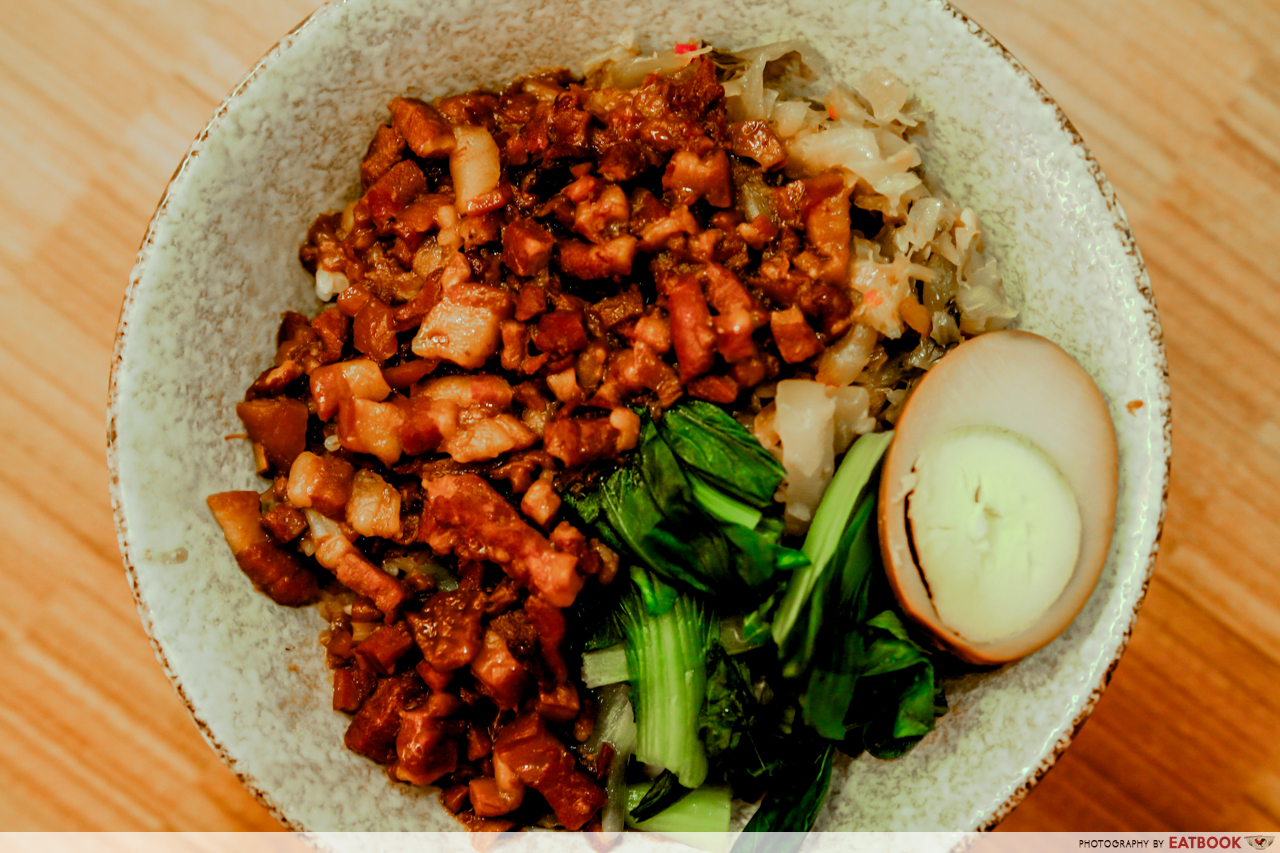 Lu rou fan (braised pork rice) is a classic Taiwanese comfort dish, so we had to give their Taichung Braised Pork Rice ($5) a go. It arrived warm in a porcelain bowl, with braised pork belly, pickled mustard greens, half a braised egg and boiled bok choy that buried all the white rice underneath.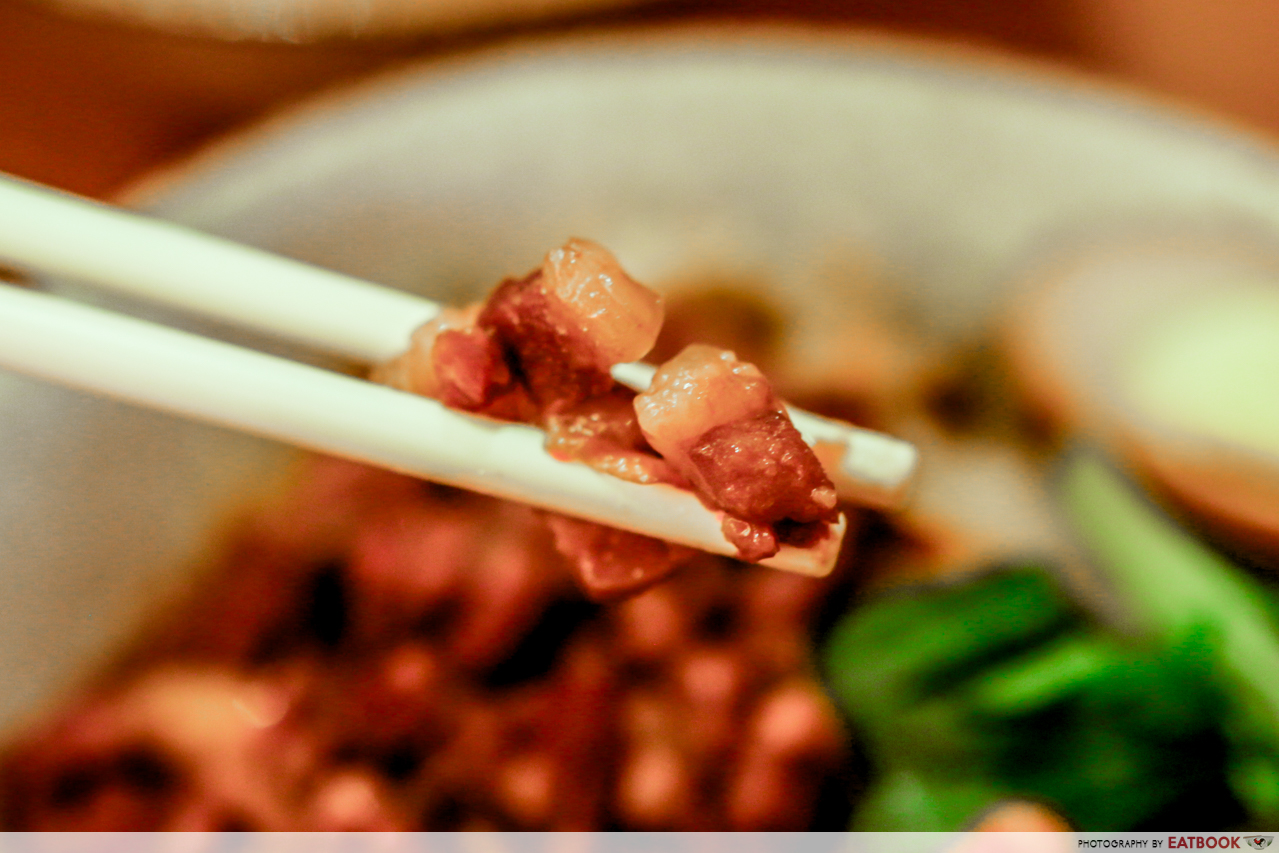 With half the bowl covered in thin slices of moist lu rou (braised meat), this looked like an appetising meal. The pork belly had an ample amount of fattiness and came with soft meat, making it savoury, and slightly greasy. I paired most of my mouthfuls with the crunchy pickled mustard greens to deepen the flavour. There were a few bits of chopped chilli in it, but they scarcely added any heat.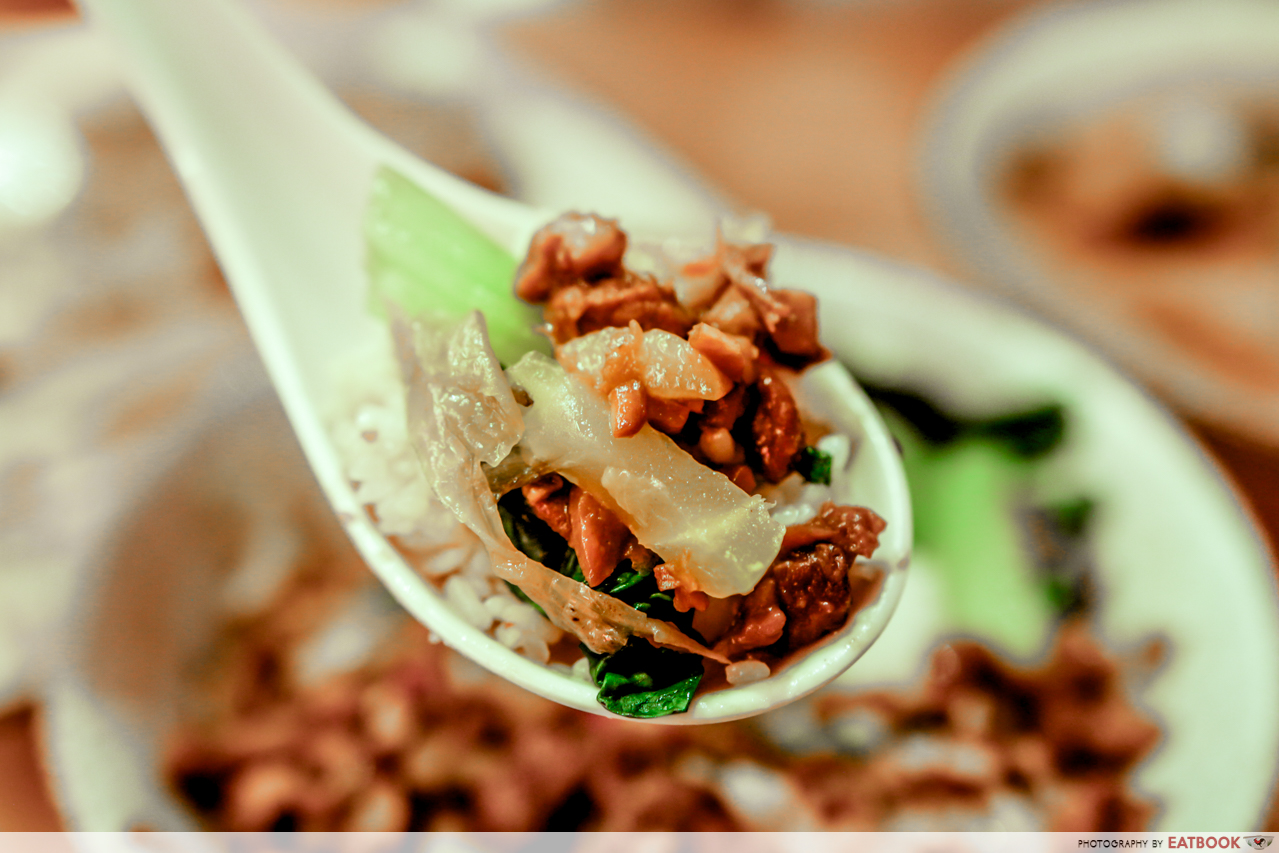 The bok choy was fresh and crunchy, and the white of the egg was thoroughly marinated with braising sauce. I enjoyed the texture of the short-grain rice which was pearly, and soft without being mushy. Although the rice wasn't drenched in gravy, the ingredients were tasty and sufficient to flavour them.
For both their rice and noodle meals, adding on $1 gets you their Seaweed Egg Soup. You can also choose Wintermelon Tea, Jasmine Green Tea, or Taiwan Black Tea instead, which would otherwise cost $2.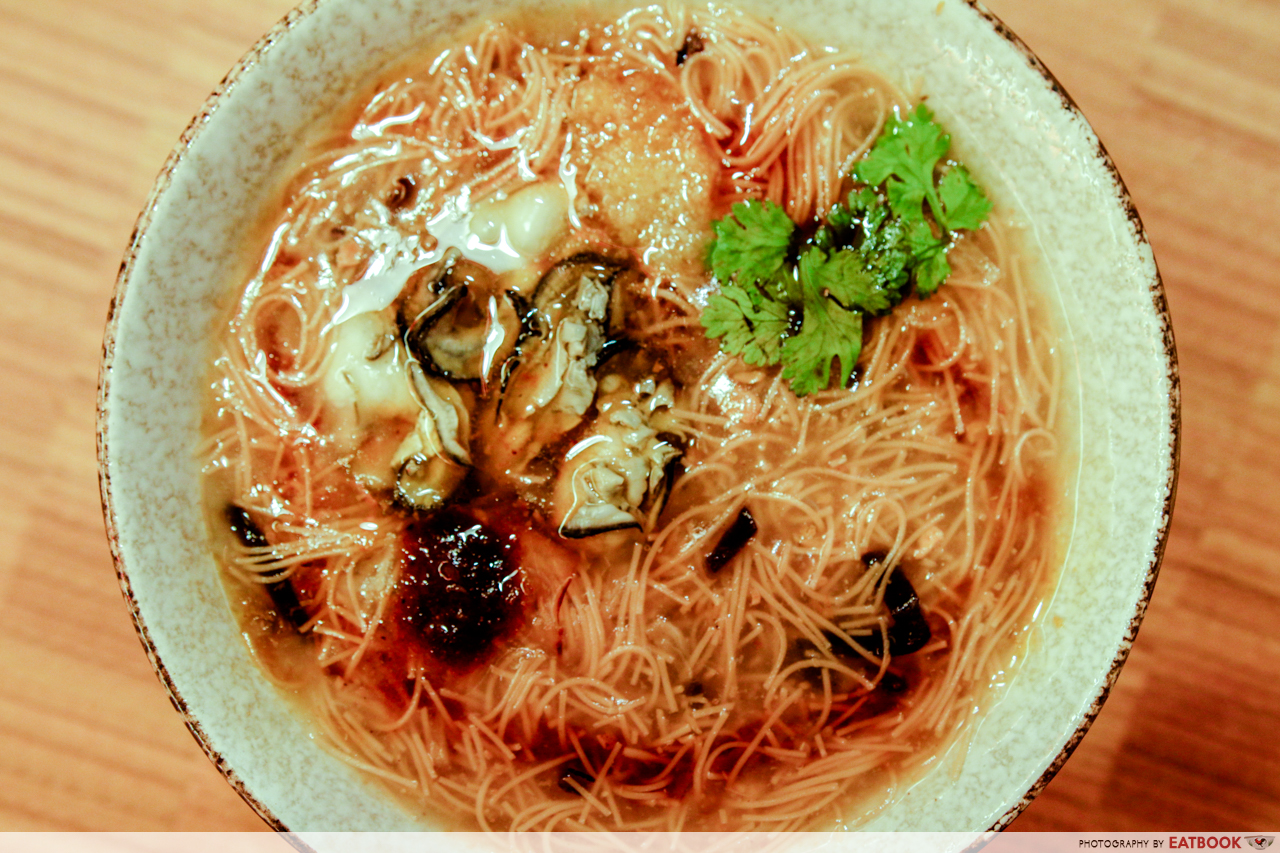 Their Taipei Oyster Mee Sua ($4.50) came with four oysters, shreds of black fungus, a dollop of minced garlic, a drizzle of black vinegar, and parsley for garnishing.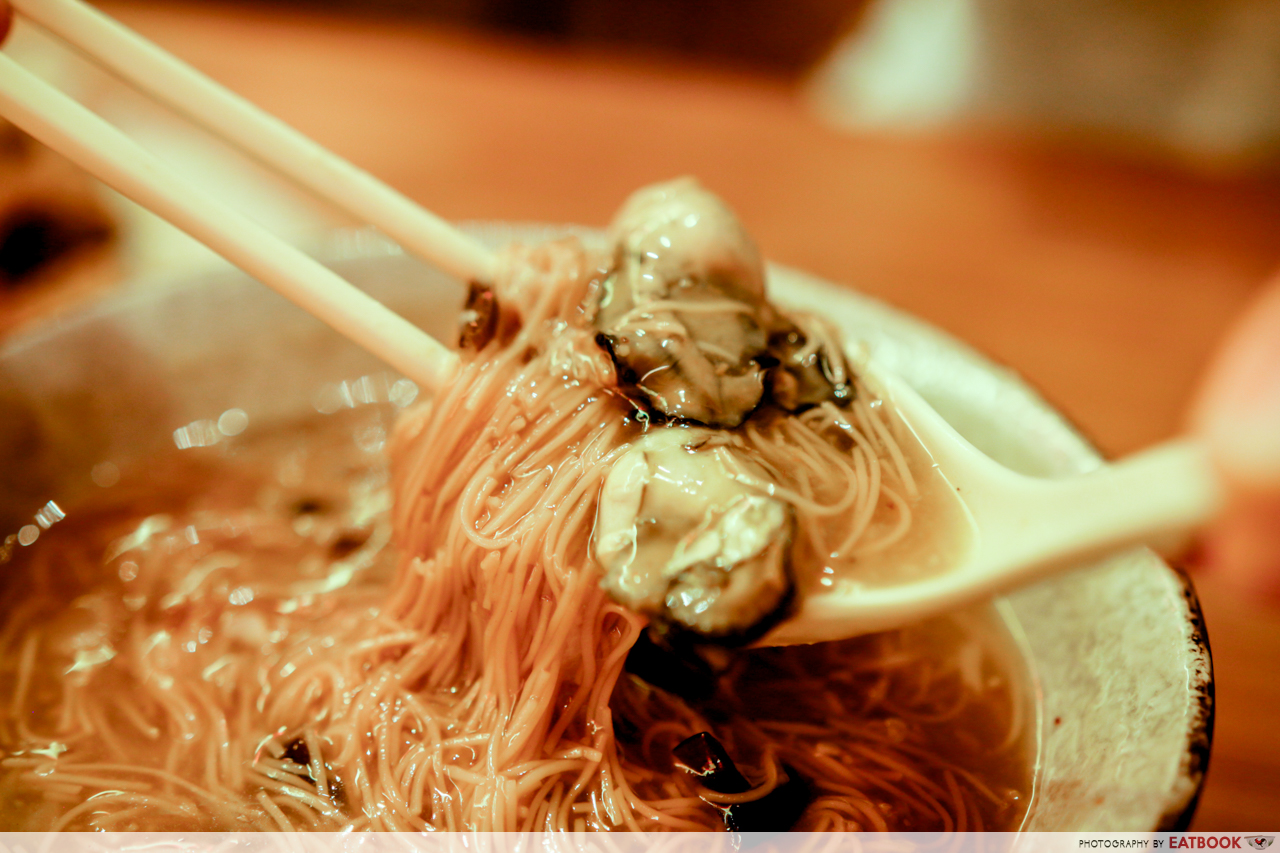 I gave the bowl a mix and slurped up the thin strands of mee sua with its slightly starchy broth. The noodles were not too soft, and each spoonful tasted of a hint of garlic and black vinegar. However, I wished the soup base was more flavourful. The oysters were plump and retained their distinct texture, but the fungus was soft, and I would've preferred them crunchier.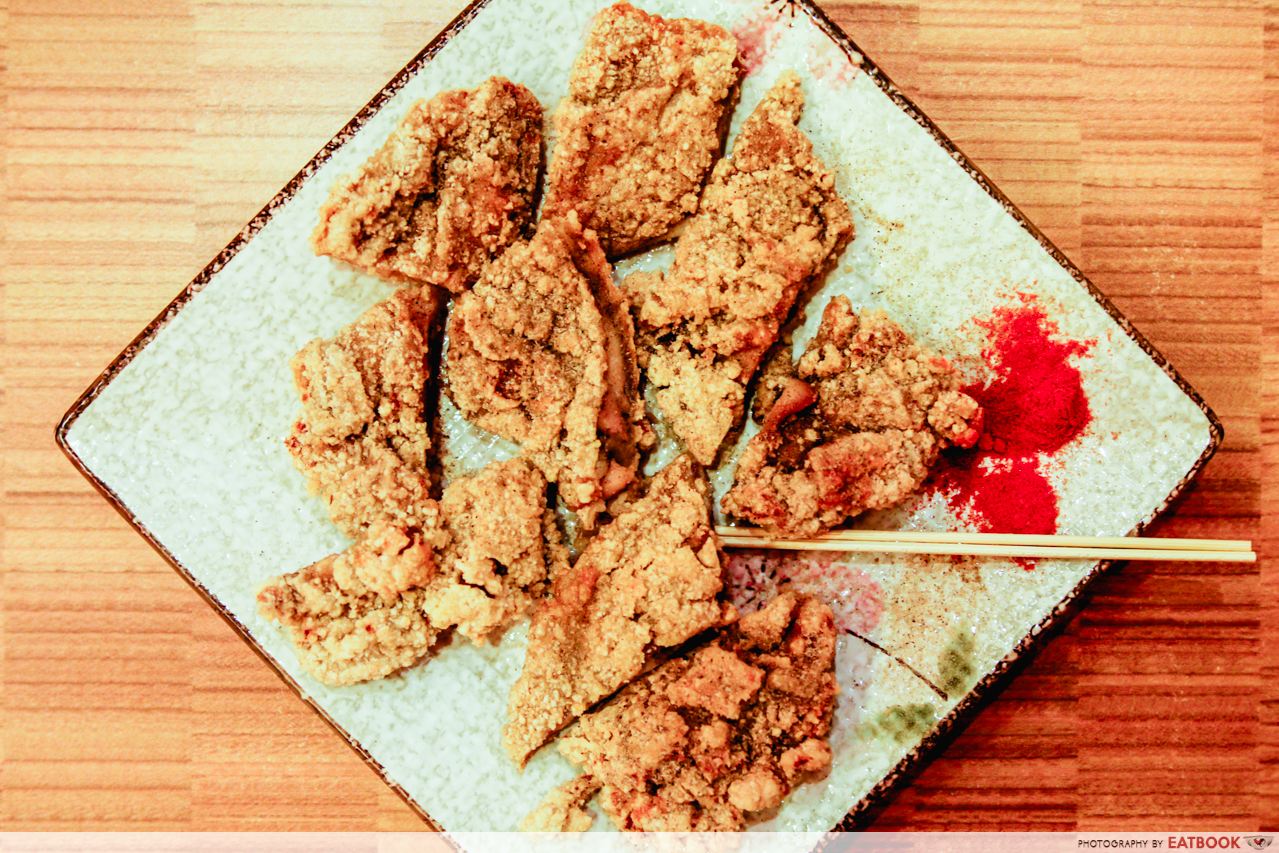 5 Little Bears displays their deep-fried snacks behind a glass window at their shop front, so they can be easily ordered for takeaway. When you order their snacks, they weigh a portion before re-frying. We couldn't leave without trying their version of the popular Taiwanese snack, so we ordered their XL Chicken Chop ($4.80).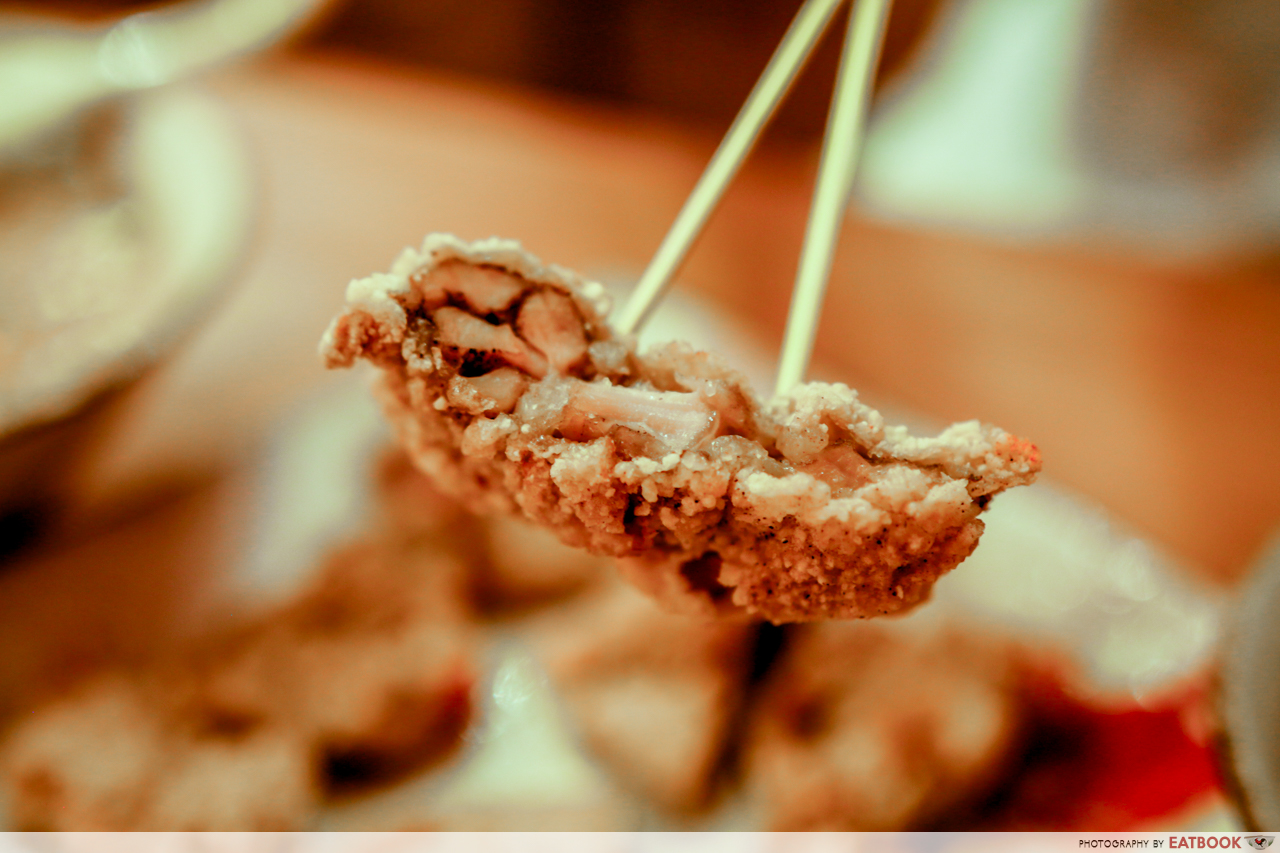 The cutlet was refried, cut into chunks, and sprinkled with seasoning powder, before being served with chilli powder on the side. The chicken was coated in crunchy batter that didn't feel too thick, and each piece had a nice amount of fats which made it juicy.
Although I initially felt that the chilli given looked too little, it was enough because of its biting spiciness, and kept the chicken from feeling jelak.
Ambience at 5 Little Bears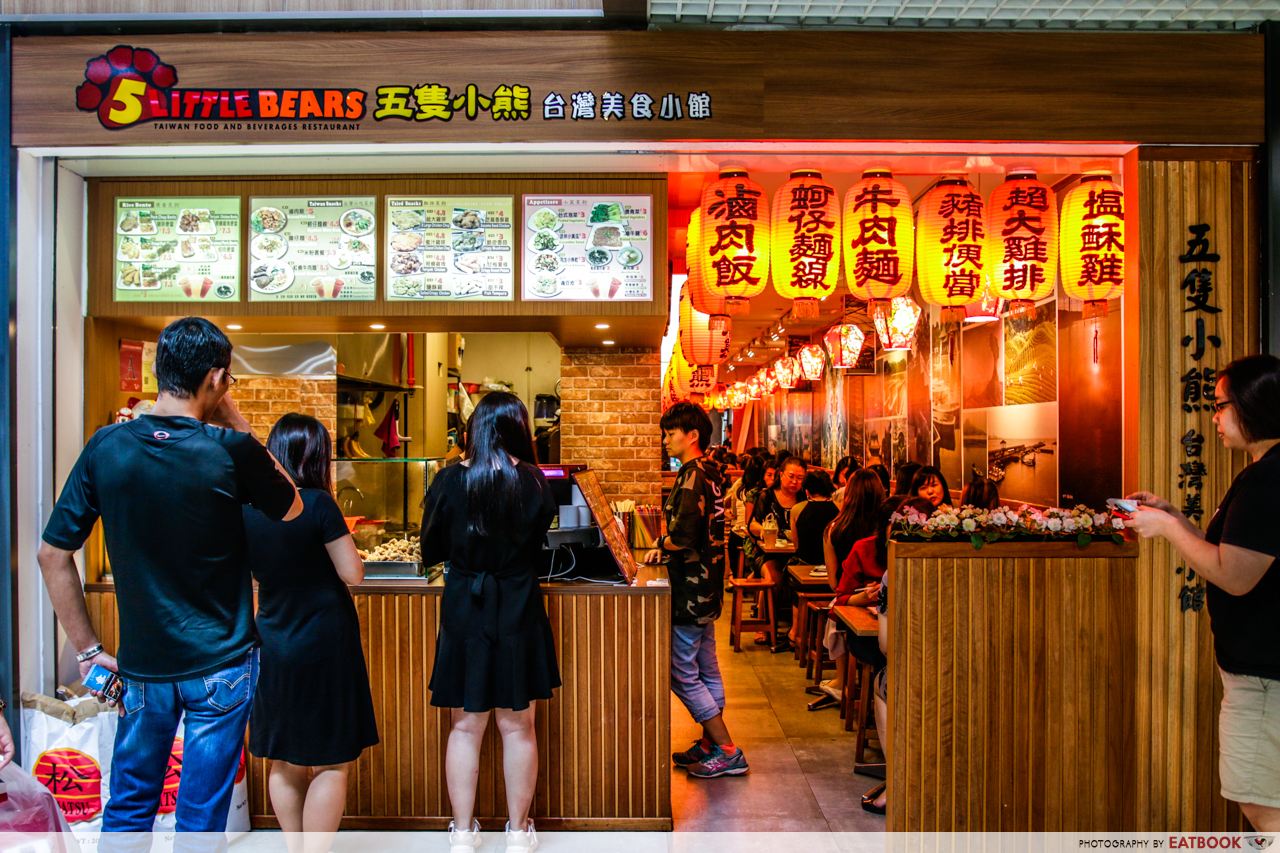 5 Little Bears is conveniently located at the basement of Paya Lebar Square, opposite Cantine. If you're dining in, make your order and pay at the counter, then collect a buzzer before going back to your seat. It's an efficient system as customers don't have to wait long for their meals.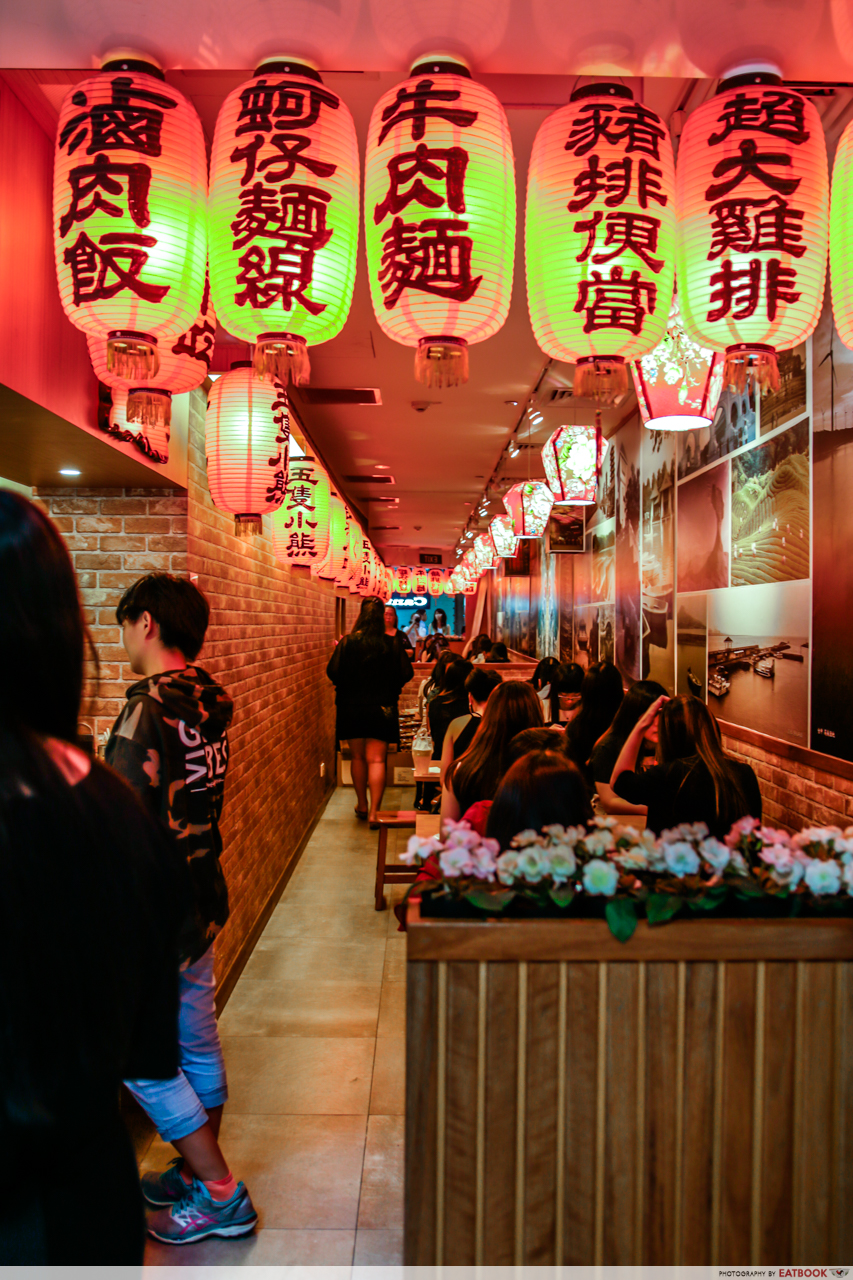 The small shop has five tables with four stools each, and quickly filled up with office workers soon after they opened during the weekday lunch hour. It's decorated with Chinese lanterns and bathed in a red glow that feels cosy without being too dim. The walls are decorated with brick patterns and landscapes of Taiwan.
They also have an outlet in Clementi Mall, but it's only available for takeaway and doesn't include their Beef Noodles ($8.50).
The verdict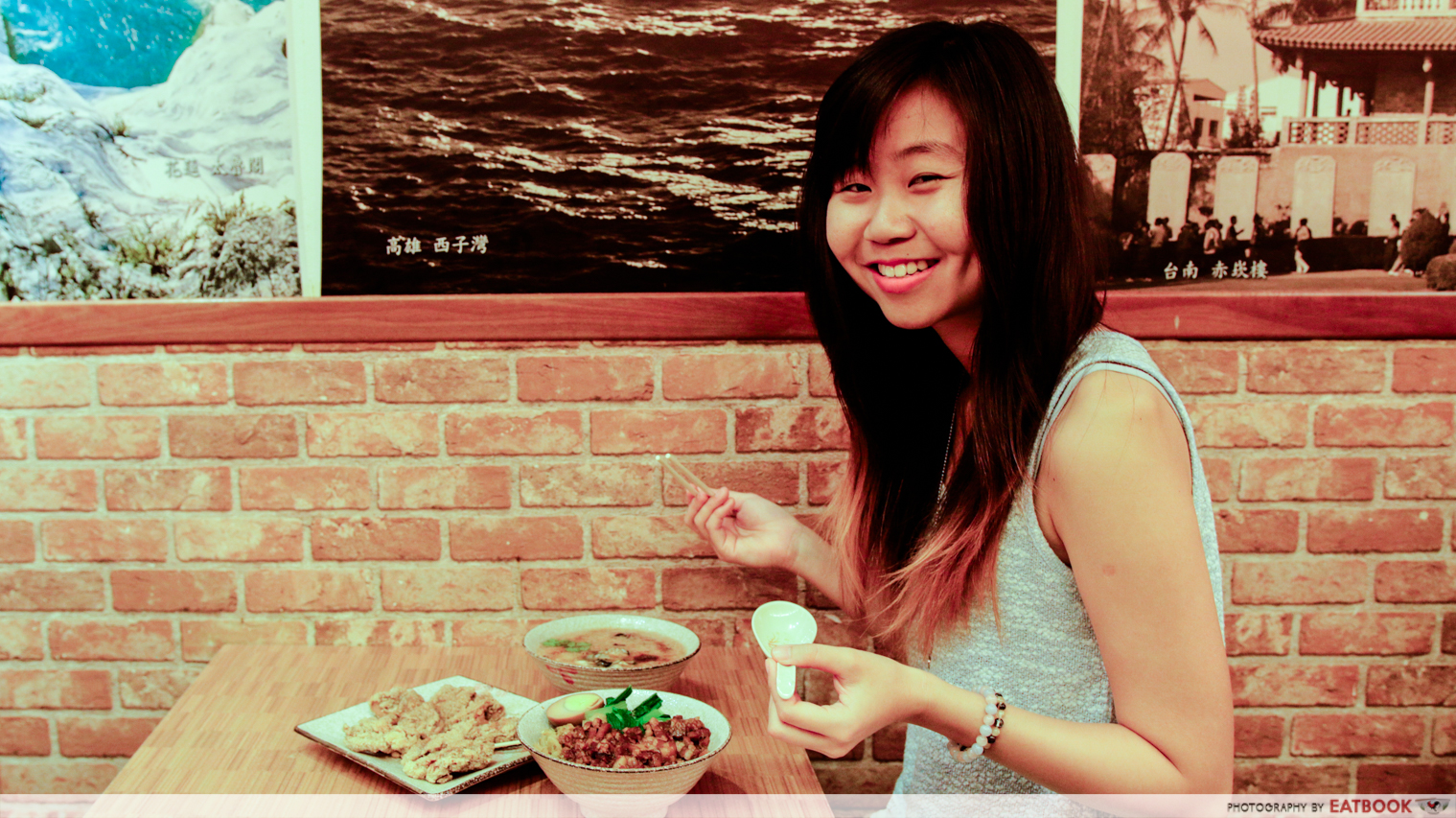 Stepping back into the mall was when I realised I was unconsciously taken away from the glare of the brightly lit city. The food didn't blow me away but it was more or less satisfying, and its price is similar to a food court, making it an affordable casual lunch. I can see myself returning for a quick meal if I'm working in the area, for a breather from the hustle and bustle. For more cheap and good lu rou fan, check out Mr Lorbak at Ubi or Eat 3 Bowls at Harbourfront!

Address: 60 Paya Lebar Road, #B1-09, Paya Lebar Square, Singapore 409051
Opening hours: Daily 11:30am to 9:30pm
Tel: 6702 1098
5 Little Bears is not a halal eatery.
This is an independent review by Eatbook.sg.
Summary
Pros
– Efficient order-and-collection system
– Affordable meals with drinks
– Convenient air-conditioned location
Cons
– Snack portions feel small for its price
– Narrow shop space
Recommended Dishes: Taichung Braised Pork Rice ($5), XL Chicken Chop ($4.80)
Operating Hours:
Daily 11:30am to 9:30pm
Tel:
6702 1098
Address: 60 Paya Lebar Road, #B1-09, Paya Lebar Square, Singapore 409051