---
Check out these Taiwanese food places
---
I've never been to Taiwan and I long to trawl through their night markets for local delights like mee sua and beef cubes. It doesn't help to have friends who are constantly raving about their trips to Taiwan and all the local street food they stuffed themselves with. If you are in the same boat as me or wish to reminisce about your past travels, check out this curated list of Taiwanese food in Singapore!
---
1. Eat3Bowl
---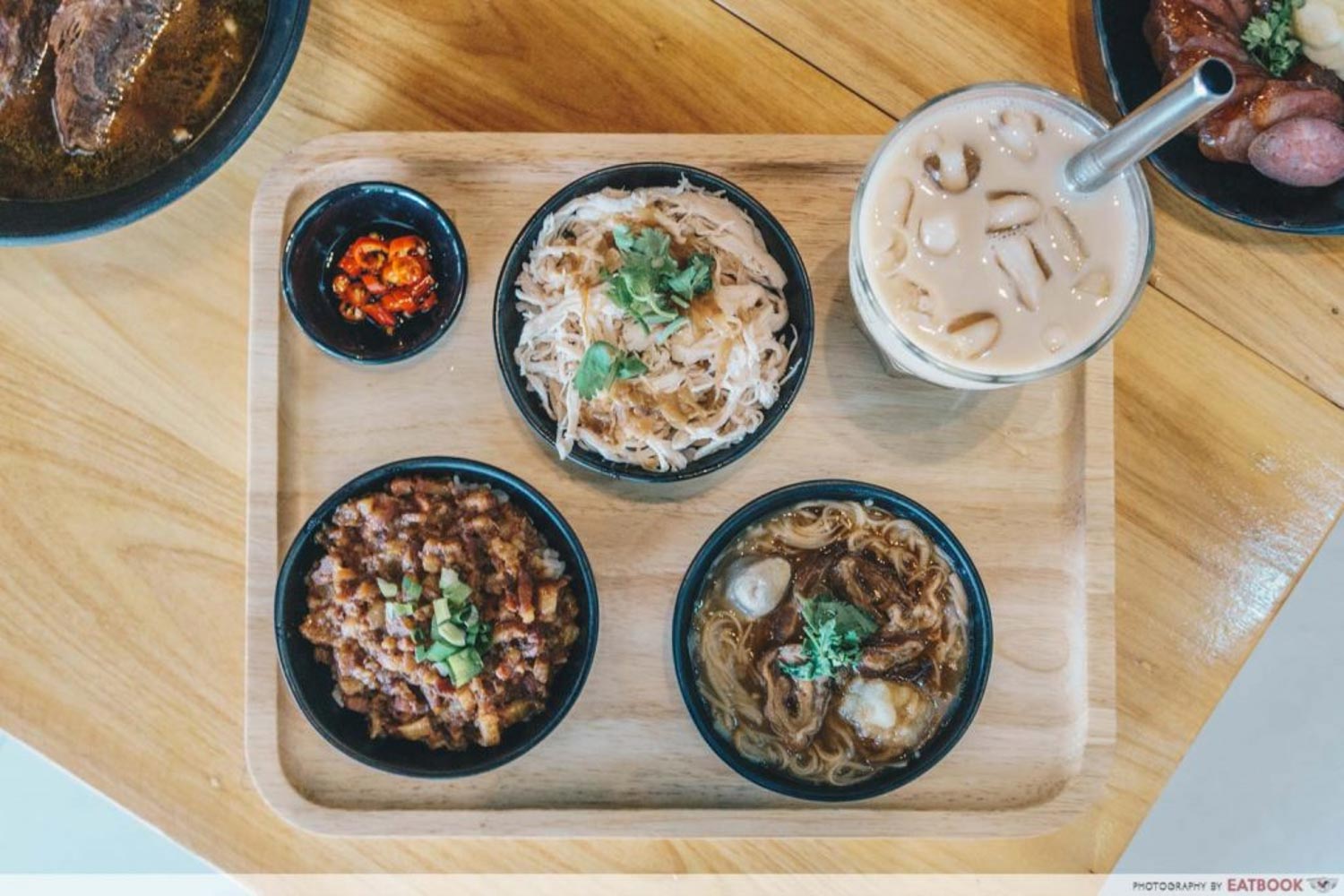 From Jay Chou songs playing in the background to their classroom-themed setting, Eat3Bowl ambience will make you feel like you're a Taiwanese student. Look at their textbook menu, and you can find typical dishes such as Oyster Intestine Mee Sua ($6.50) and Braised Pork Rice ($4.50). If you want a bite of everything, opt for their Signature 3 Bowls with Drink ($15) set which includes the mee sua, lu rou fan, and chicken rice.
Check out our full review of Eat3Bowl!
Address: 462 Crawford Lane, #01-61, Singapore 190462
Opening hours: Tue-Sun 10am to 9pm
Tel: 9022 7469
Website 
---
2. Feng Food
---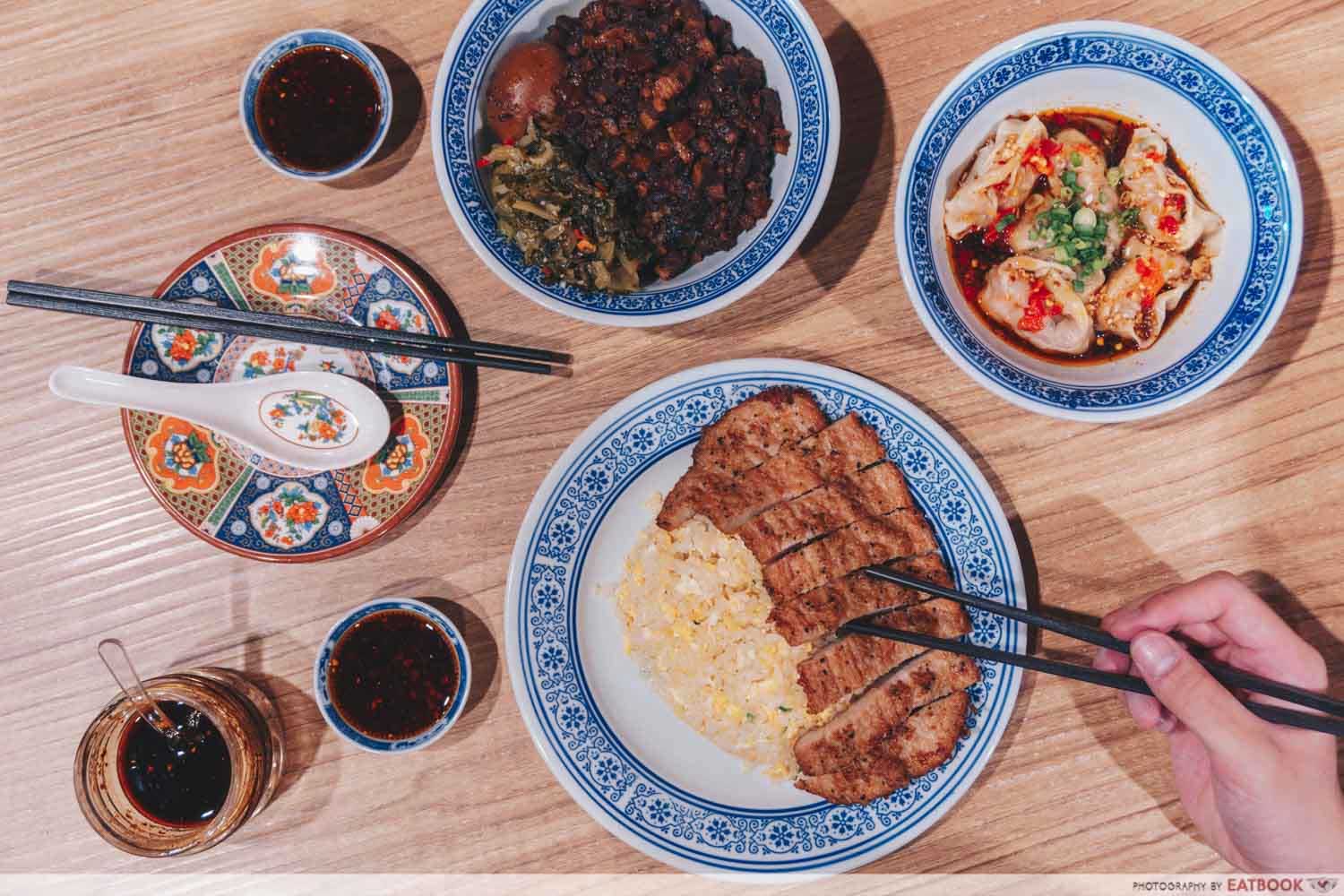 You might question your loyalty to Din Tai Fung after a visit to Feng Food at Yishun. Their Fried Rice with Specialty Marinated Pork Chop ($11.80+) looks and tastes similar to the one served at Din Tai Fung, though with a lack of wok hei. Try their Shrimp & Pork Wontons with Hot & Spicy Sauce ($6.80+). Each wonton is packed with shrimp and minced meat, providing a savoury balance to the spicy and tangy sauce.
Check out our full review of Feng Food! 
Address: 930 Yishun Avenue 2, #B1-156, Northpoint City, Singapore 769098
Opening hours: Mon-Fri 11:30am to 9:15pm, Sat-Sun 11am to 9:30pm
Tel: 6481 8556
Website 
---
3. YEAH Taiwanese
---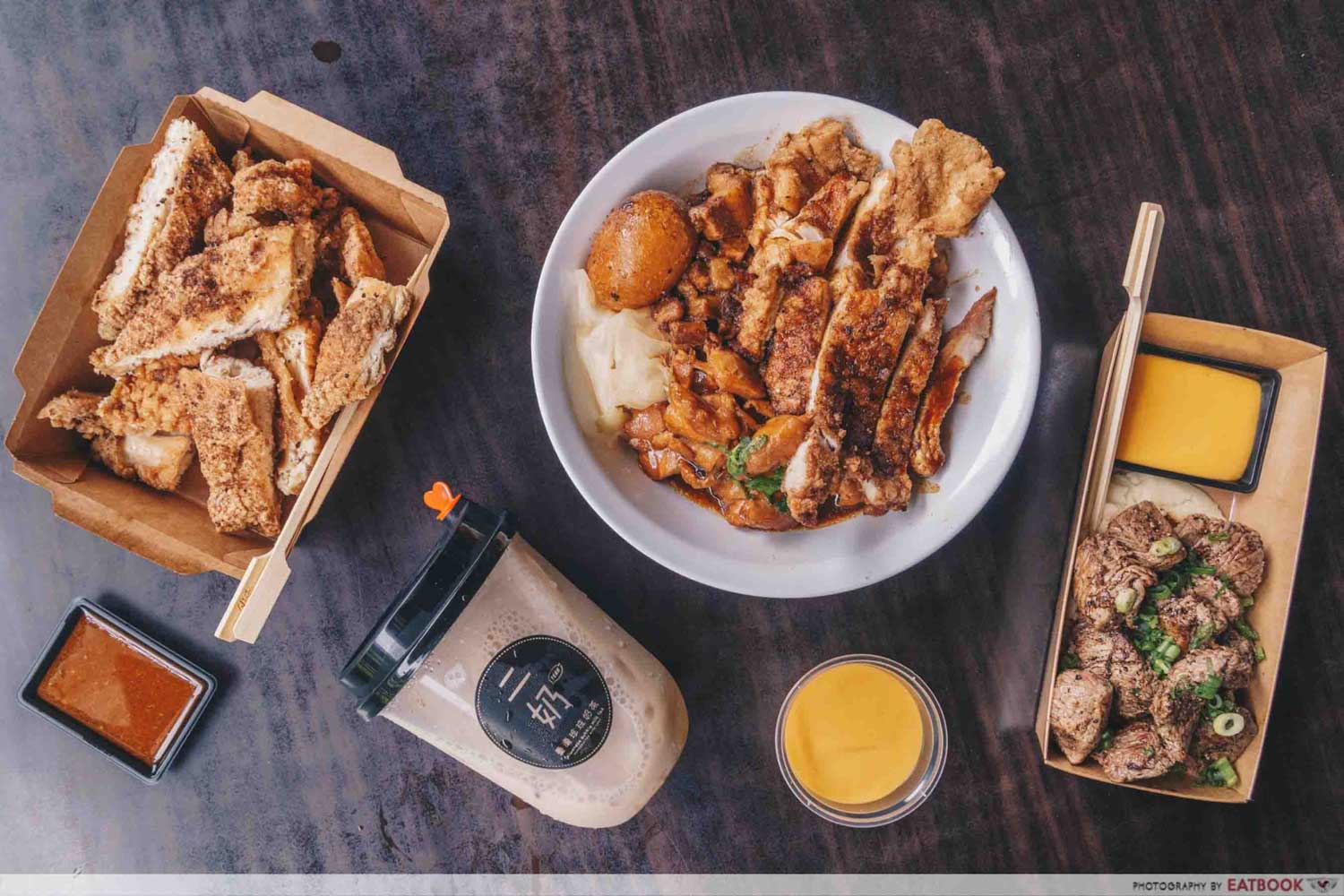 Located in hipster hawker Timbre+, YEAH Taiwanese serves popular Taiwanese street food straight from a food truck. Stretch your stomach's capacity with their No Mercy ($10.80), a massive plate of four types of meat. These include lu rou, san bei ji, fried pork chop, and ji pa. BBT lovers can also get their boba fix with the Okinawa Brown Sugar Milk ($4.90). 
Check out our full review of YEAH Taiwanese!
Address: 73A Ayer Rajah Crescent, #01-04/05, Timbre+, Singapore 139957
Opening hours: Mon-Sat 11am to 9:30pm
Tel: 9151 8804
Website 
---
4. Paradise Gastronomy
---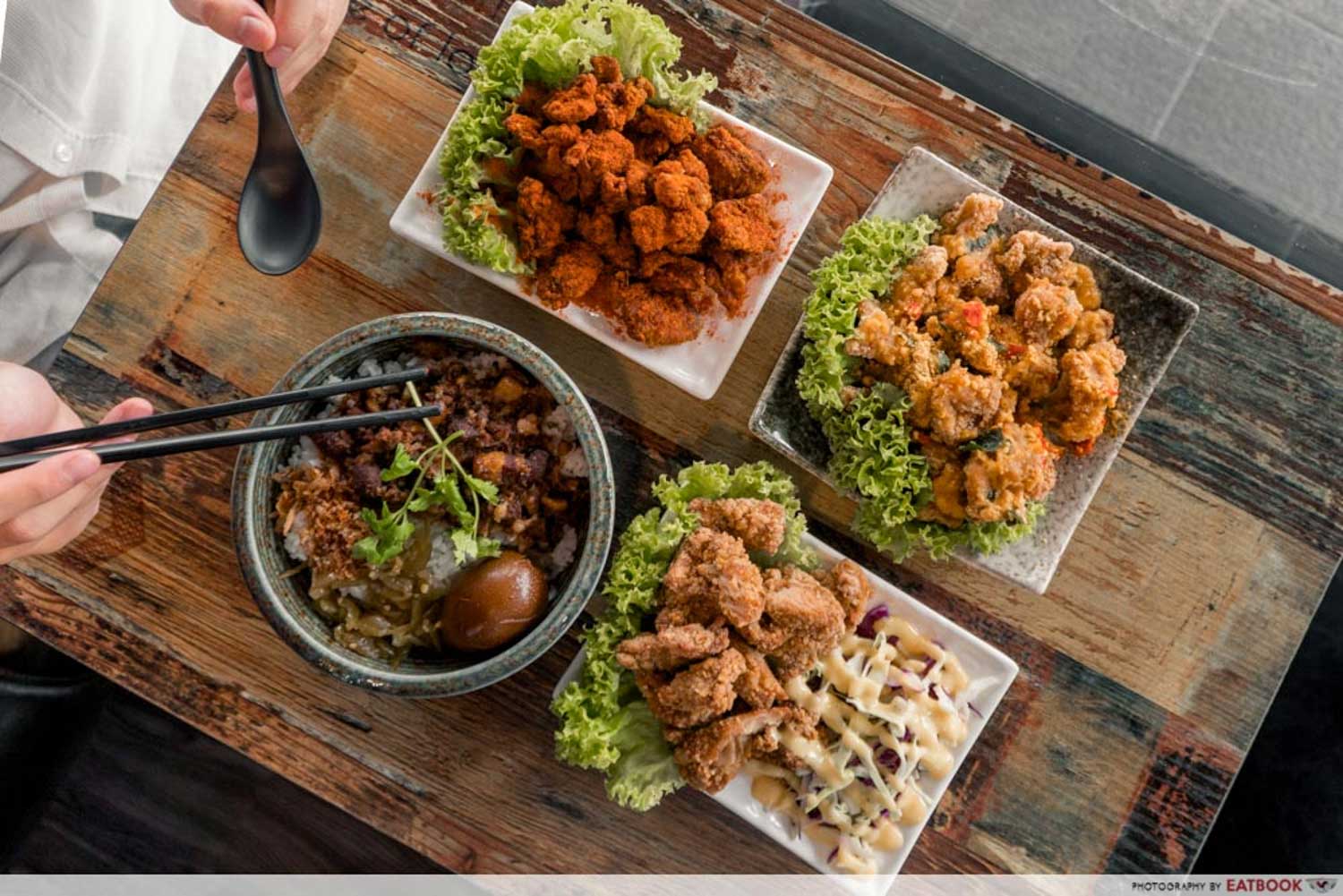 Just a short walk from Yishun MRT Station is Paradise Gastronomy which serves popular a delicious bowl of Braised Pork Rice ($3.50/$5.50/$7.90). Here, the dish is generously topped with fatty chunks pork with a side of braised egg and pickled vegetables. To stand out from the other Taiwanese food places in town, they zhng up their dishes with on-trend flavours. Sink your teeth in their Salted Egg Chicken ($4.50) and Ma La Chicken ($4.50)!
Check out our full review of Paradise Gastronomy.
Address: 51 Yishun Central 1, #01-01, Singapore 768794
Opening hours: Mon-Thu 12pm to 9:30pm, Fri-Sun 12pm to 10pm
Tel: 6252 5122
Website 
---
5. Beef Up
---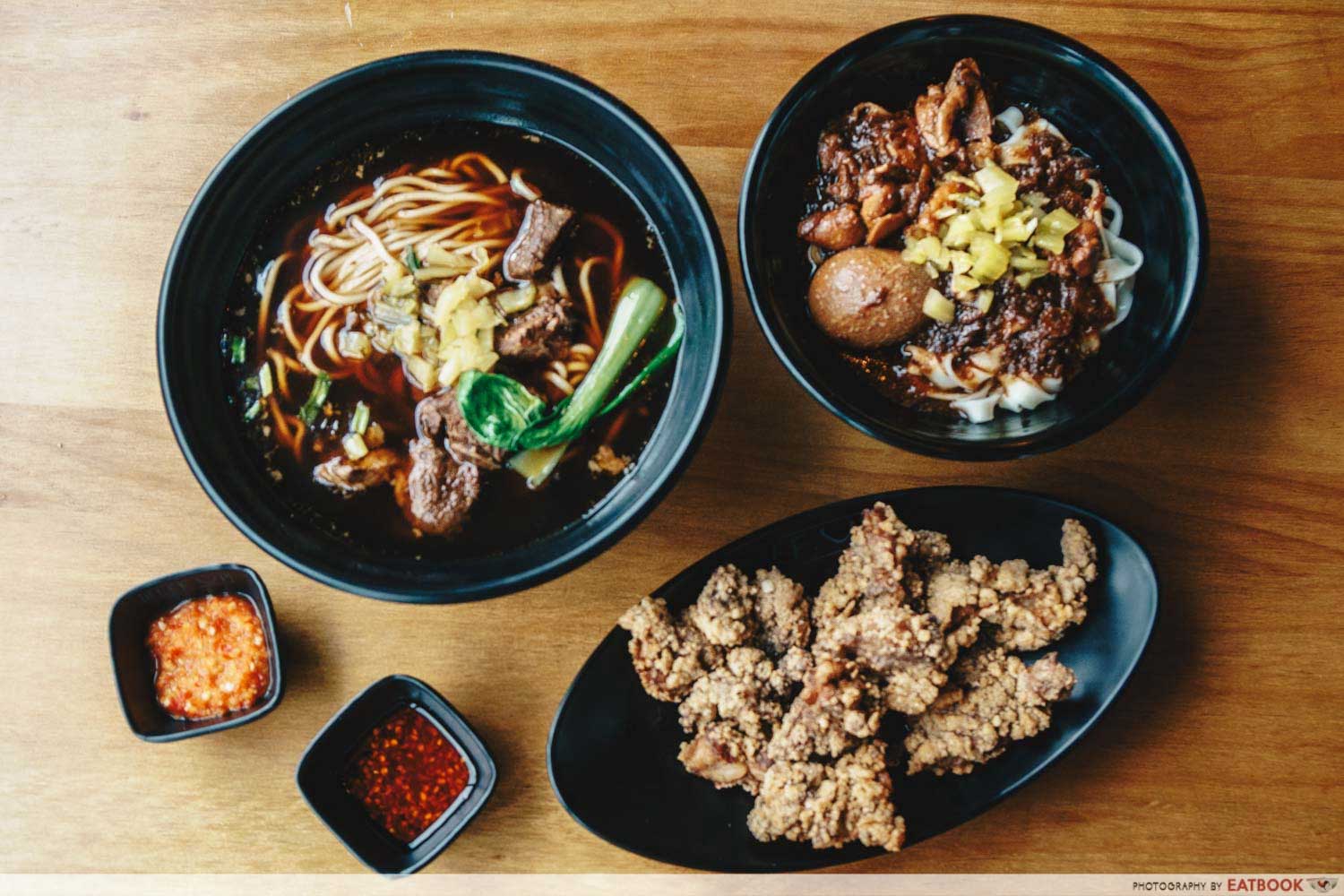 It's not easy to find a halal Taiwanese food joint, but Beef Up makes this possible with their Muslim-friendly menu. This Toa Payoh stall offers legit Taiwan food by using recipes from a native Taiwanese. What makes this better is their big portions in dishes such as Beef Noodle (from $6.50) and Chicken Cutlet ($4.50). The former features a rich and savoury broth, along with a generous topping of tender beef brisket chunks that melt in your mouth.
Check out our full review of Beef Up!
Address: 978 Toa Payoh North, #02-01, Grains & Hops Food Court Bistro, Singapore 319001
Opening hours: Mon-Fri 11:30am to  9pm, Sat 12pm to 9pm, Sun 12pm to 8pm
Tel: 9839 1172
Website
---
6. 5 Little Bears
---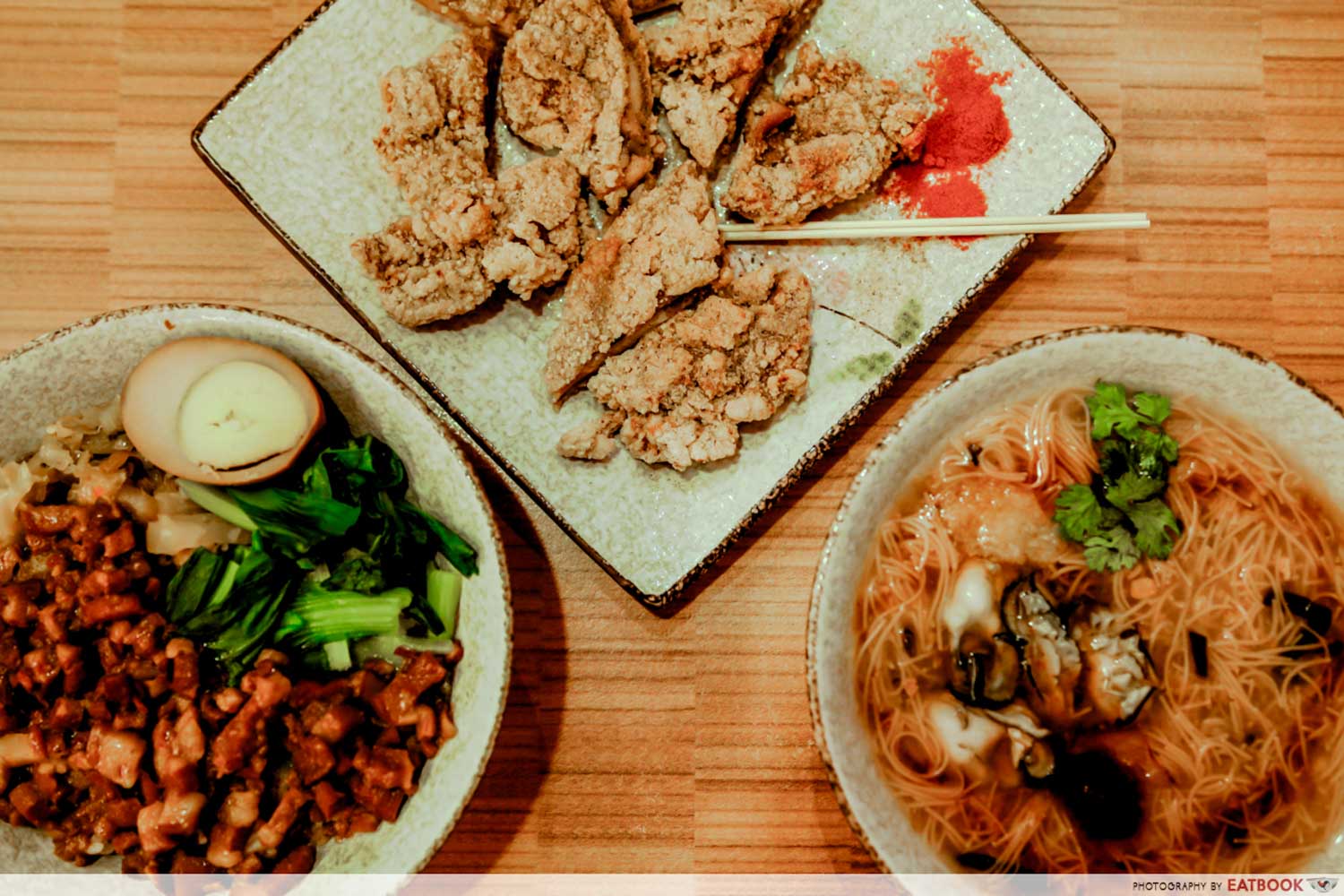 Those on a budget would be happy to know that 5 Little Bears offers dishes below $10! At $4.80, you can get their XL Chicken Chop which is seasoned well and served with a side of chilli powder. The chicken cutlet is also refried upon order, so you can expect a resounding crunch. Try out other popular dishes such as Taiwanese Oyster Mee Sua ($4.50), and wash it down with Taiwan Black Tea.
Check out our full review of 5 Little Bears!
Address: 60 Paya Lebar Road, #B1-09, Paya Lebar Square, Singapore 409051
Opening hours: Daily 11:30am to 9:30pm
Tel: 6702 1098
---
7. Monki Cafe
---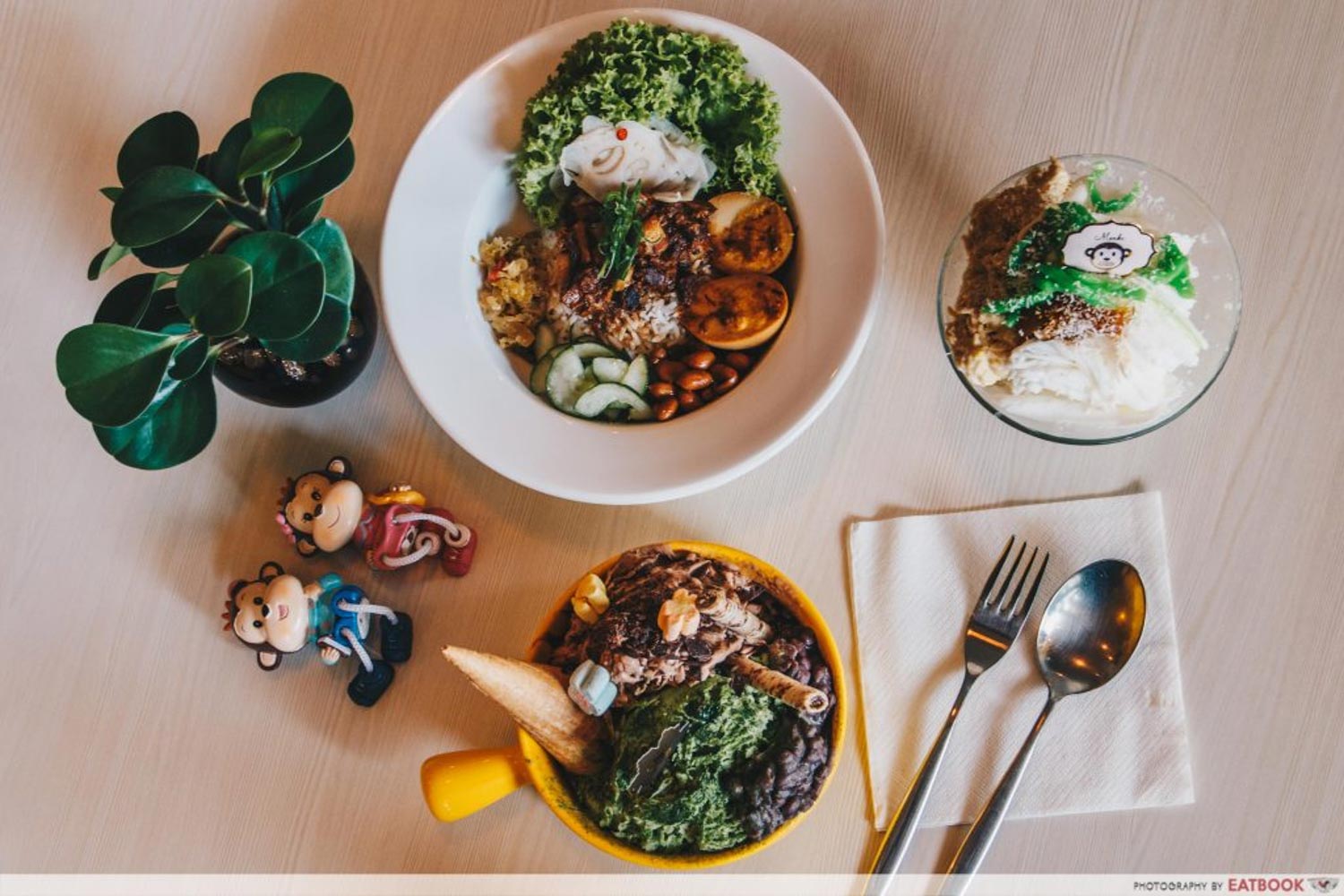 Monki Cafe at Holland Drive is an Instagrammable cafe, with its cheery yellow seats and walls. While they do serve your standard Taiwanese grub, they also have a wide range of desserts. You're spoilt for choice as their snowflake dessert comes in more than six flavours, such as matcha azuki and chocolate banana. If you can't settle on just one flavour, their Double Flavour Snowflake Dessert ($10.80) has you covered by packing in two flavours. If you're a durian fan, head straight for their Durian Coconut Snowflake Dessert ($7.80).
Check out our full review of Monki Cafe!
Address: 43 Holland Drive, #01-41, Singapore 270043
Opening hours: Tue-Sun 10am to 10pm
Tel: 6258 8112
Website
---
8. 8 Degrees Taiwanese Bistro
---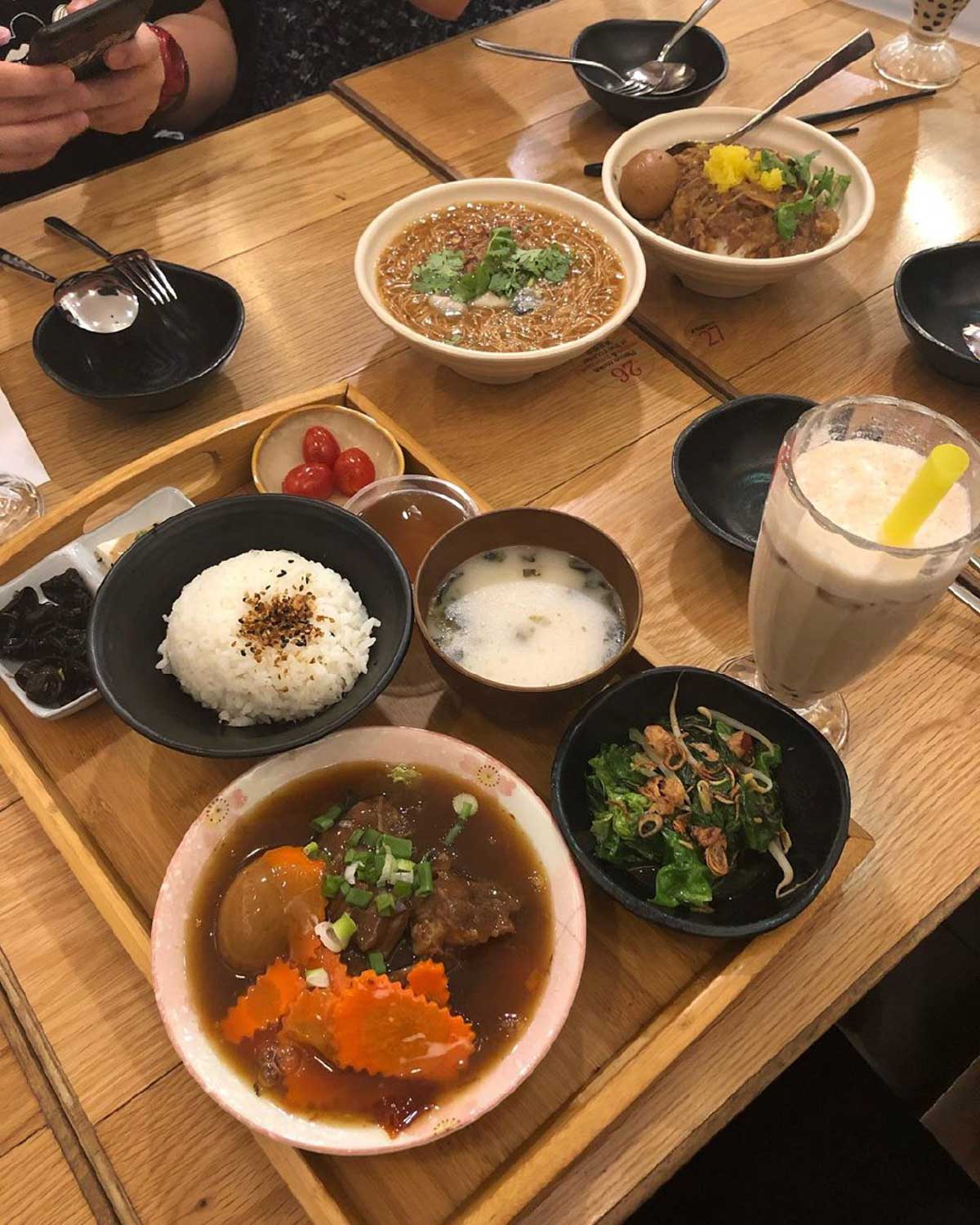 Image credit: @samht
You can expect a mix of traditional and modern dishes at 8 Degrees Taiwanese Bistro. Their comprehensive menu includes Stewed Pork Belly Rice ($3.80), which features tender and fatty pork chunks. While the fluffy Fried Oyster Omelette ($7.80) is akin to our local version, which is packed with juicy oysters. Besides Taiwanese fare, they also offer fusion dishes such as Sakura Shrimp Fried Rice with Pork Floss ($11.80). The use of these aromatic shrimps elevates the savoury flavour profile of this dish.
Address: 37 Teck Chye Terrace, Singapore 545734
Opening hours: Mon-Fri 12pm to 2:30pm, 5pm to 9:30pm, Sat 12pm to 10:30pm, Sun 12pm to 9:30pm
Tel: 6284 8226
Website
---
9. Typhoon Cafe
---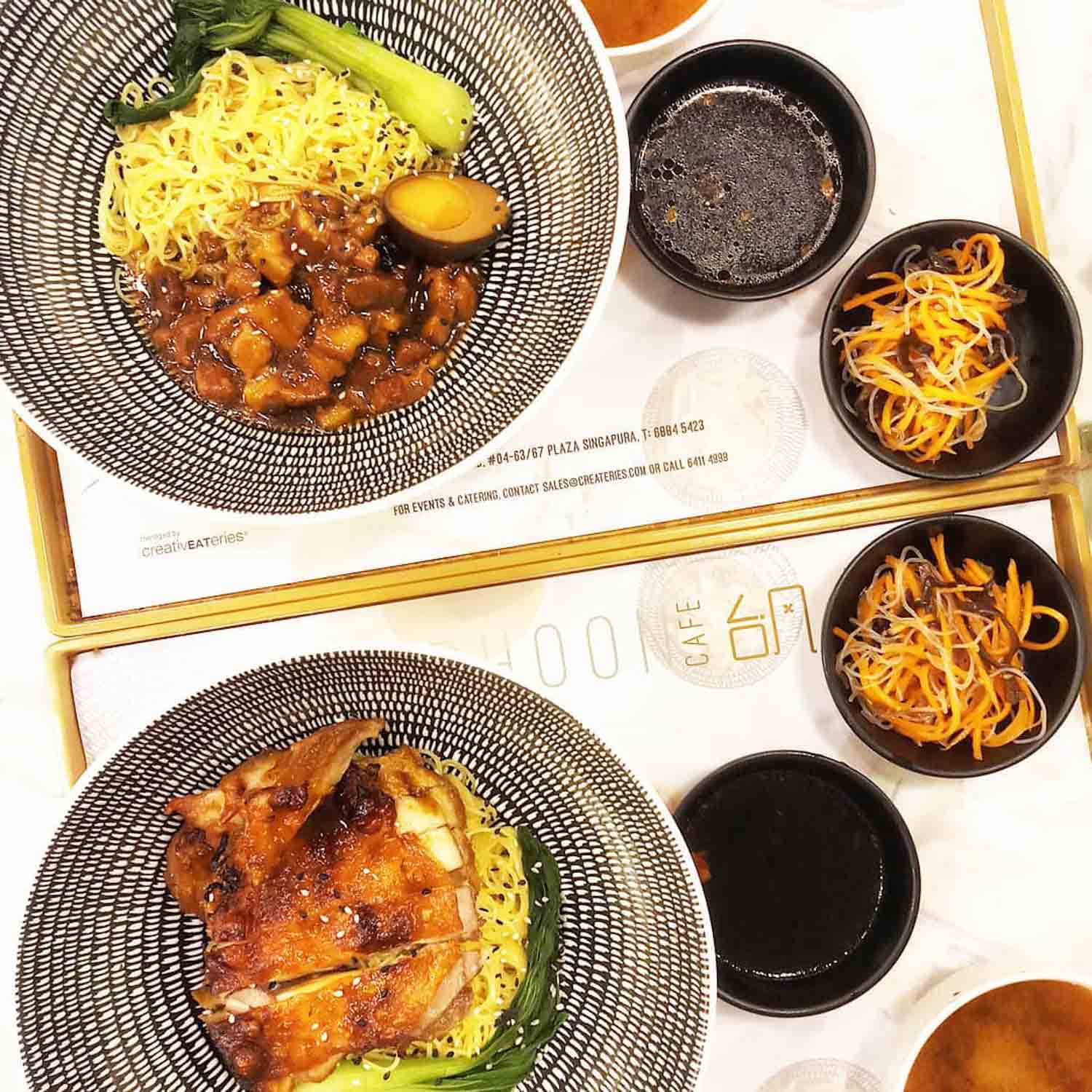 Image credit: @wanderbel
Typhoon Cafe at Plaza Singapura serves up a storm with dishes such as Taiwan Lu Rou Noodles ($14.90+). Their use of noodles offers a different mouthfeel as the springy noodles contrast with the tender pork chunks. Try their Egg Fried Rice with Panko Canadian Pork Chop with Tonkatsu Sauce ($19.90+) for a zhnged up version of the classic Taiwanese fried rice. Each juicy bite of this crunchy, battered pork is packed with flavour. Whip out your phone for their Instagrammable desserts including Hell Valley Chocolate Volcano ($16.90+) featuring warm chocolate lava.
Address: 68 Orchard Road, #04-63/67, Plaza Singapura, Singapore 238839
Opening hours: Daily 10am to 10pm
Tel: 6884 5423
Website 
---
10. Shin Yeh Restaurant
---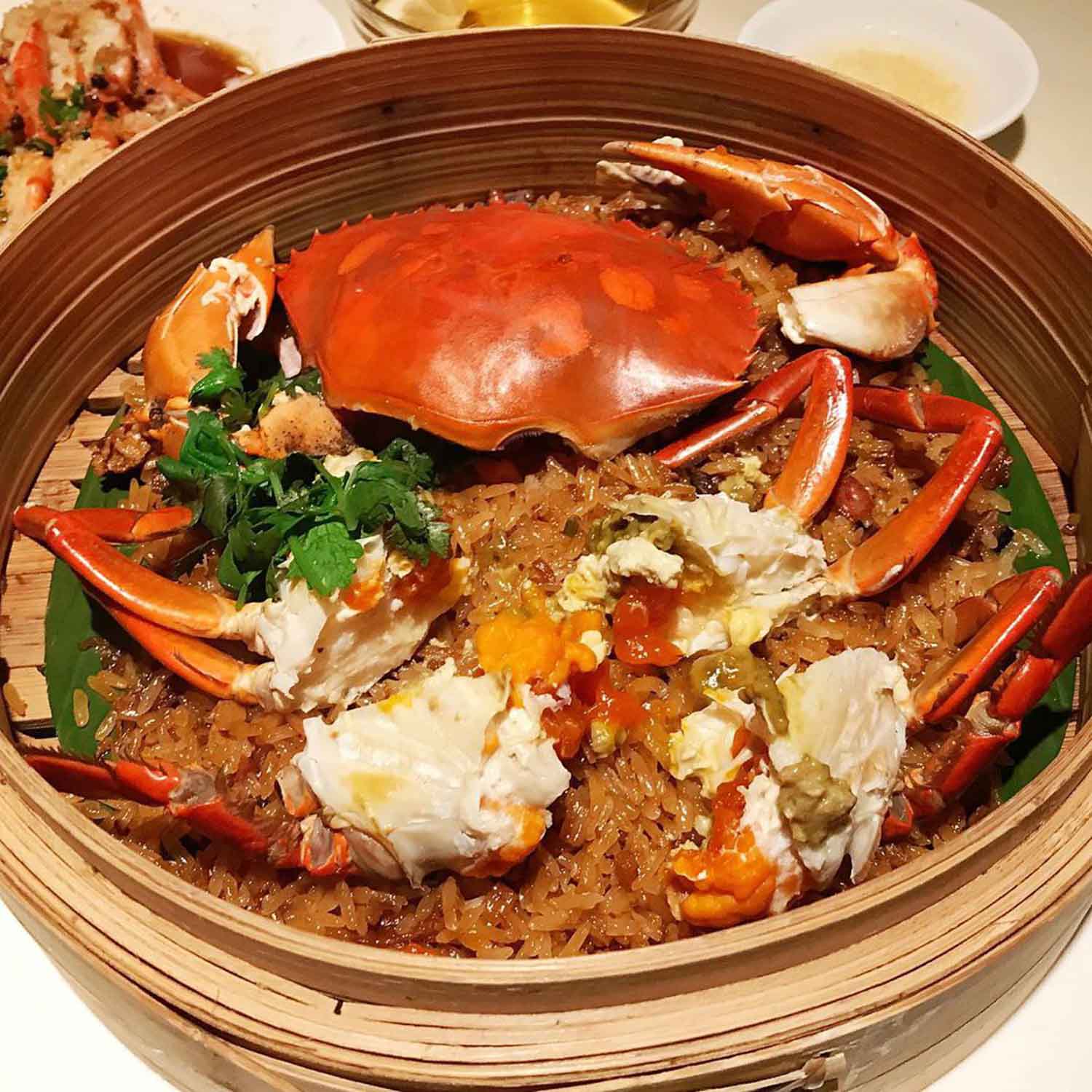 Image credit: @jiaxing_ren
The fanciest place on our list goes to Shin Yeh Restaurant with their Steamed Crab with Glutinous Rice ($35++). Not only do you get fresh tasting crab meat, but also sweet roe. For those who want a bite of everything, try out their A La Carte Buffet, with lunch prices at $28.80++ and dinner prices at $32.80++.
Address: 177 River Valley Road, #02-19, Liang Court Shopping Centre, Singapore 179030
Opening hours: Mon-Sat 11:30am to 3pm, 6pm to 10:30pm, Sun 11am to 3pm, 6pm to 10:30pm
Tel: 6338 7337
Website
---
A taste of Taiwan in Singapore
---
Since I won't be heading to Taiwan anytime soon, I shall explore the places in this list to have a taste of what Taiwan has to offer.
If you're looking for more, check out our list of Taiwanese street food!