Downstairs Cafe near Promenade MRT Station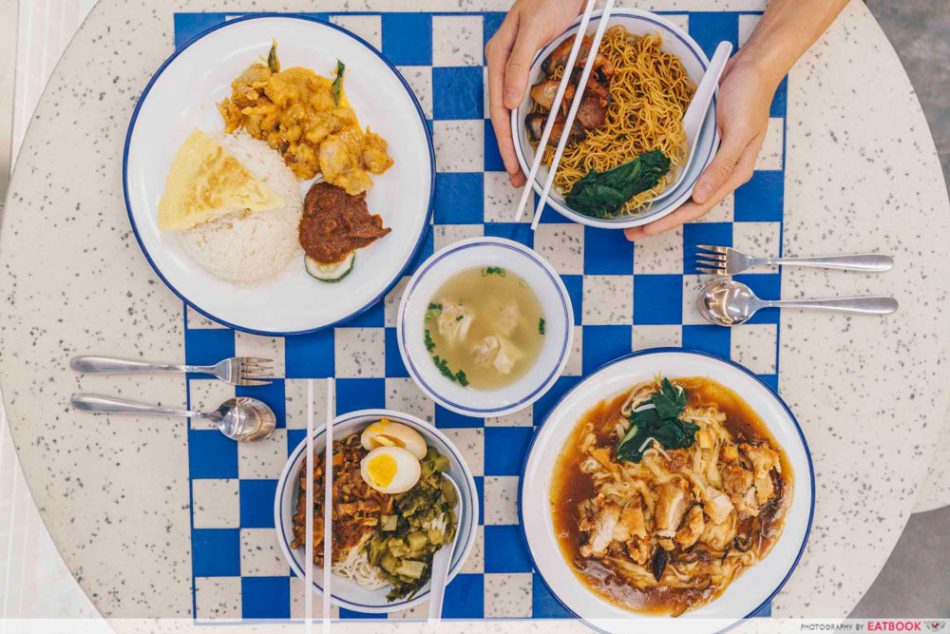 Modern-day cafe-hoppers obsess over spots with aesthetically pleasing decor for their IG feeds. Fortunately for them, Suntec City has something unique to offer—an old-school void deck-style eatery known as Downstairs. 
Invoking nostalgia for the heartlanders especially, Downstairs brings us back to a time where void deck football was a hobby. I, together with a few companions, decided to visit this eatery, owned by the Song Fa Bak Kut Teh brand, to taste their take on Taiwanese and local fusion foods.
Food at Downstairs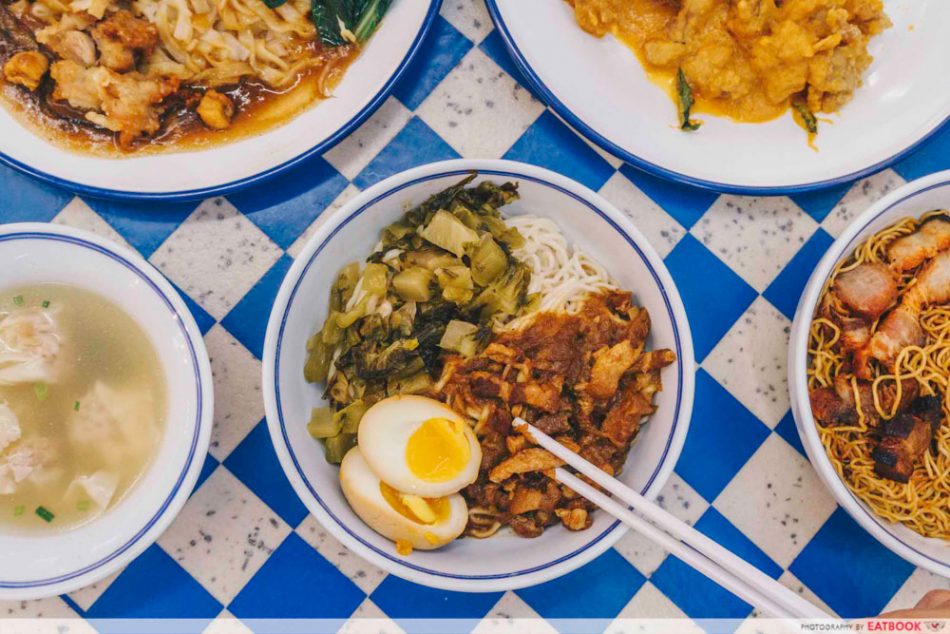 Seeing the influx of Taiwanese lu rou fan places recently, Downstairs offers a refreshing alternative in the form of their Lu Rou Mian ($6). The noodles they use have a very similar texture to handmade you mian, very thin and springy. They also come with a huge serving of salted vegetables, adding sourness and a slight crunch to the dish.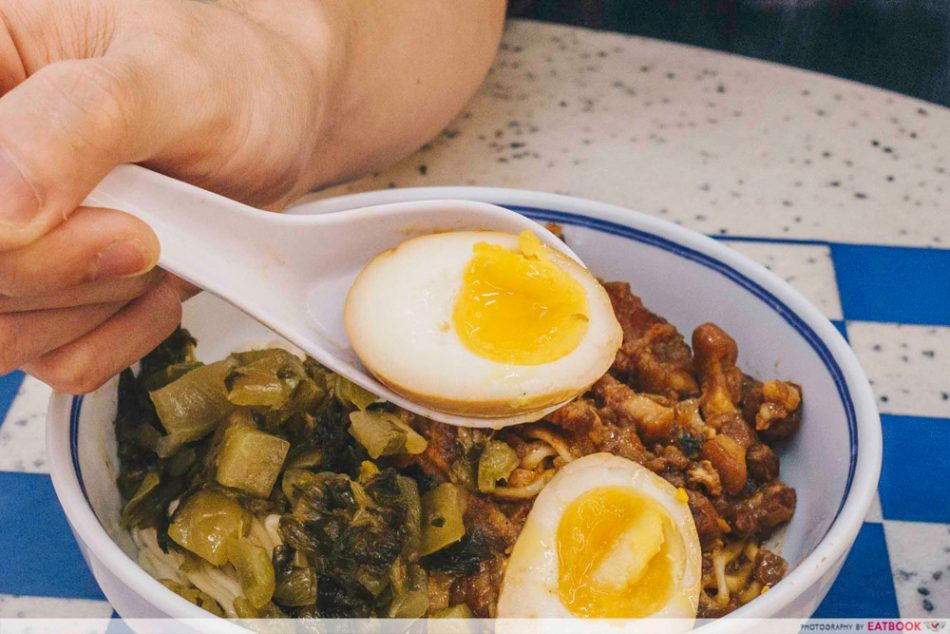 Taste-wise, it really reminds me a lot of Japanese mazesoba, with a local twist. Their lu rou is super soft, with the right fat-to-meat ratio. I feel that they can afford to be more generous with the pork belly though, as I expected at least half the bowl to be filled with meat from what they advertised, but got less.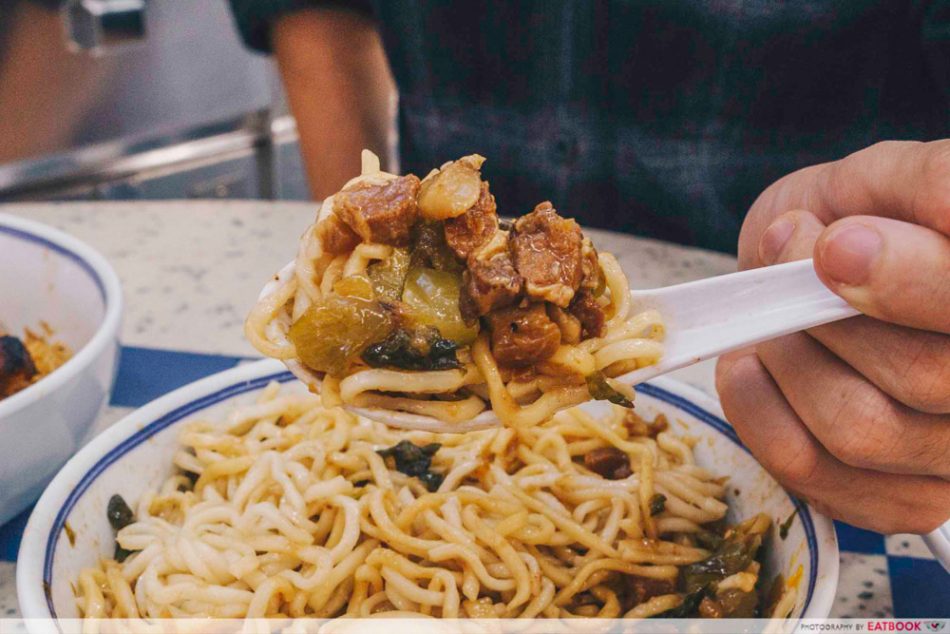 Still, the lu rou hit the right notes in terms of taste, mixing nicely with the sauce and noodles for a savoury combination I wouldn't mind returning for.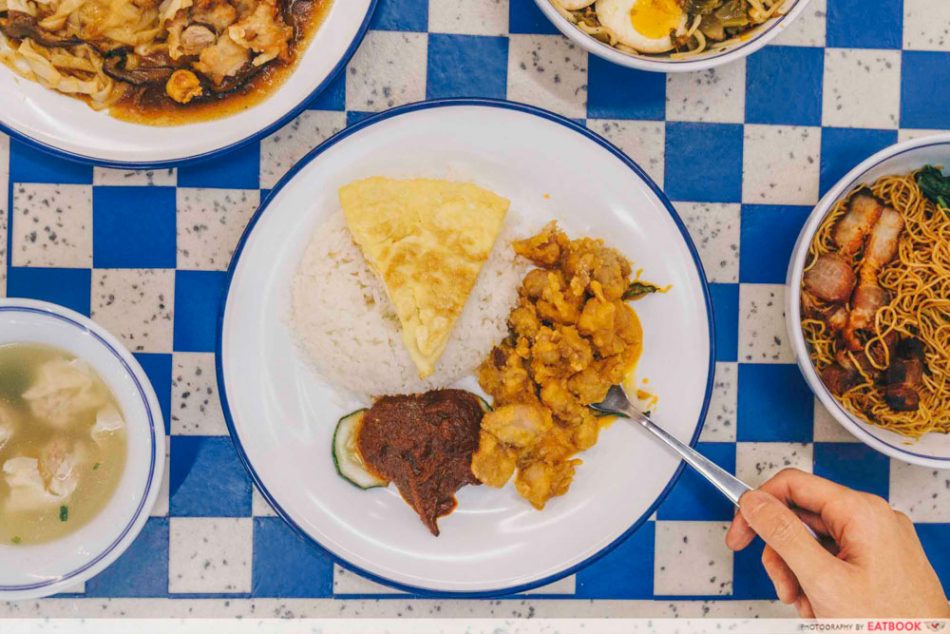 Their Salted Egg Chicken Nasi Lemak ($8.90) was the most expensive among the four dishes we ordered, but it's also a huge crowd favourite. The fried chicken cutlet drenched in creamy salted egg sauce was succulent yet crispy on the outside, accompanied by an egg omelette, white rice, and sweet nasi lemak sambal.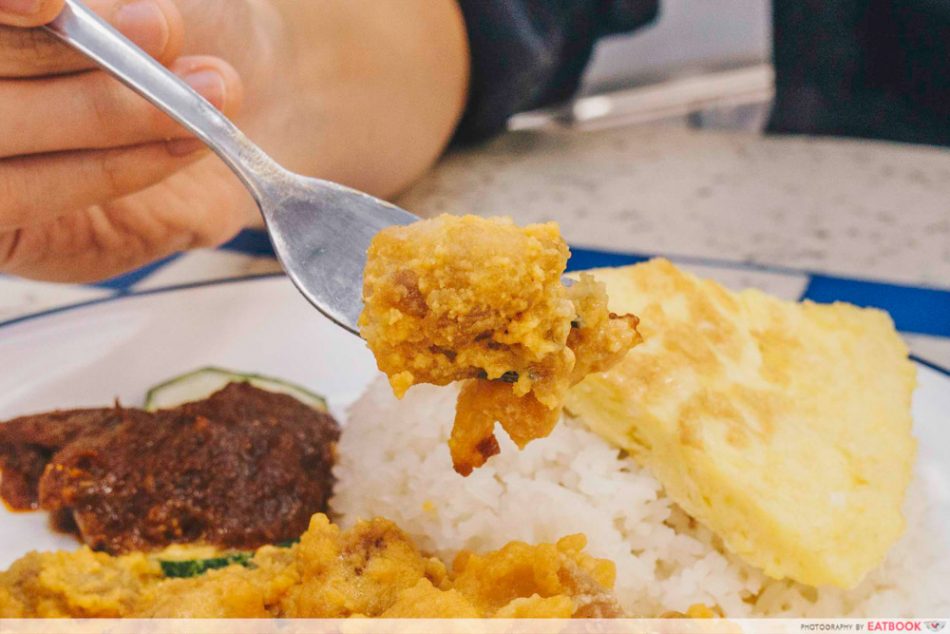 The salted egg sauce isn't too overpowering in terms of flavour, with its sweetness complementing the saltiness of the fried chicken well. Although the sauce can get cloying after a while, the fragrance of the nasi lemak rice takes away some of its jelakness. The sambal chilli lacks the spicy kick that some might crave though.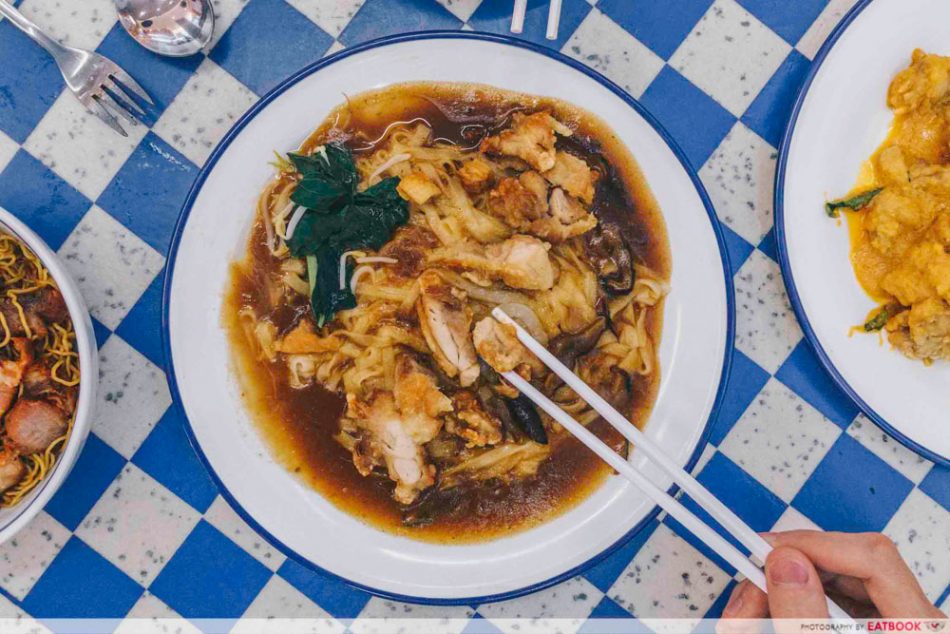 For a warm, comforting option, go for their Chicken Chop Hor Fun ($6.80), decked with chunky pieces of chicken chop, beansprouts, and mushrooms in a savoury dark sauce. Similar to the Ipoh-style hor fun we so love, their gravy is thick and flavourful, with the silky hor fun strands making each mouthful very shiok.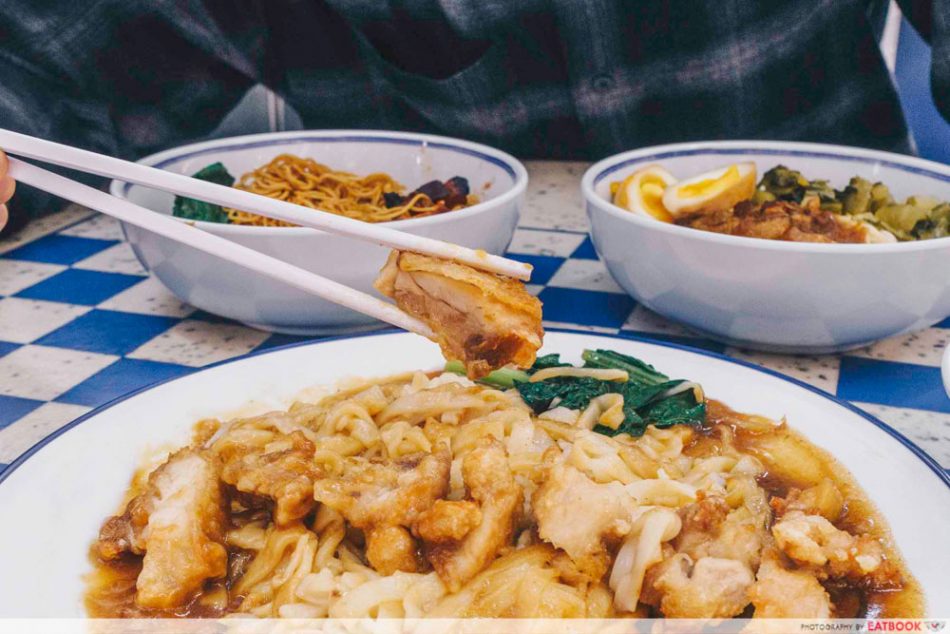 I really enjoyed the fried chicken chop, which remained crunchy even after a while of us snapping photos. The soft, tender meat made me want more. My only gripe with the hor fun would be how the sauce can dry up pretty quickly, making the hor fun quite clumpy. Yet, the dish overall makes for a delectable choice, with the addition of fried pork lard giving it an extra lift.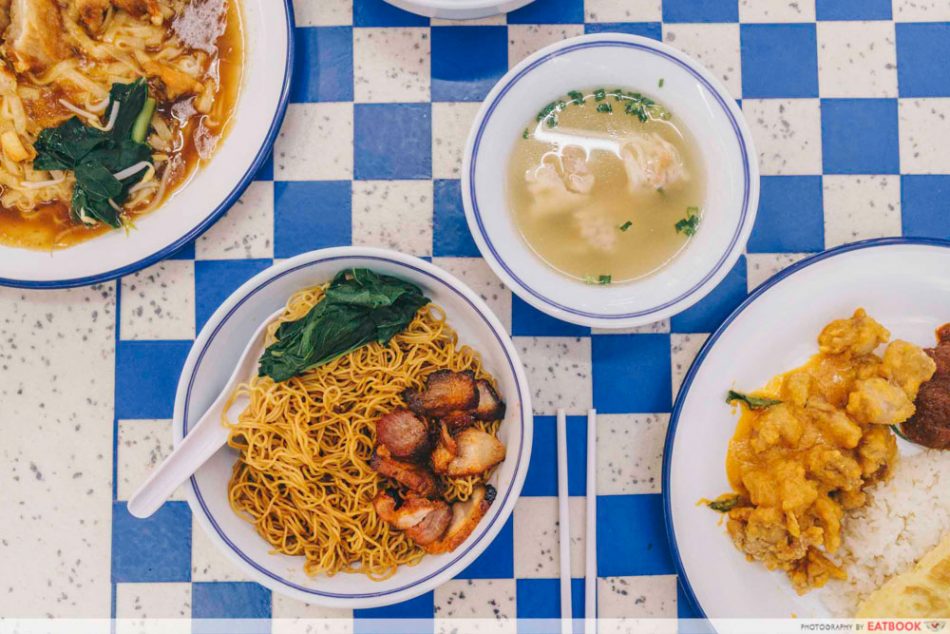 The Downstairs Wanton Mee ($6.50) is surprisingly not bad, considering how most of us probably wouldn't specifically come to a shopping mall for good wanton mee. At first glance, it looks like your regular Hong Kong-style yellow egg noodles topped with char siew and a bowl of dumpling soup to go along.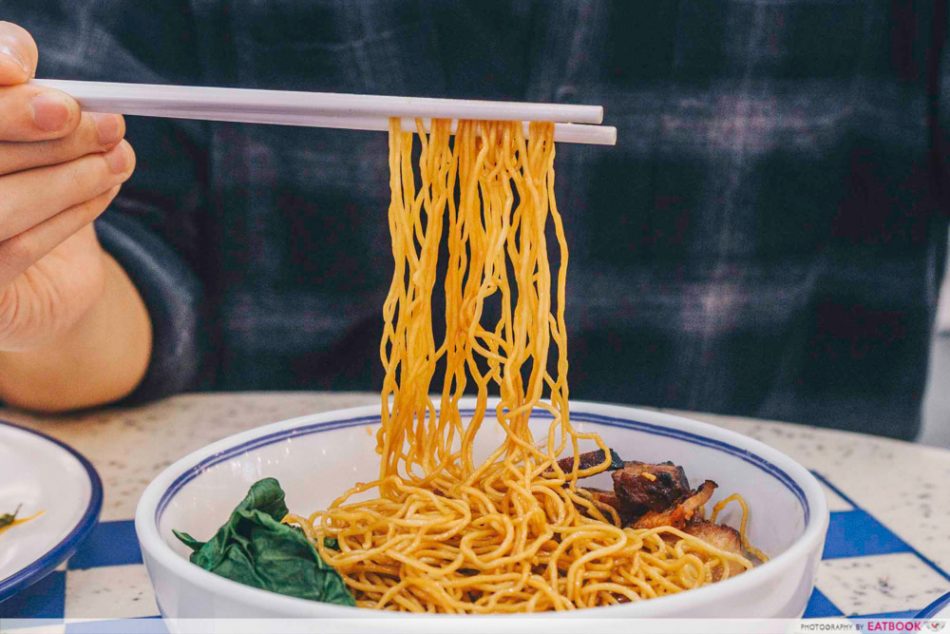 But, their noodles are tossed in a slightly sweeter dark sauce, reminiscent of Pontian's version. Their char siew tastes very much like the Hong Kong-style ones, tender with a nice caramelised outer, although they can afford to be a bit more generous with the serving.
Ambience at Downstairs Cafe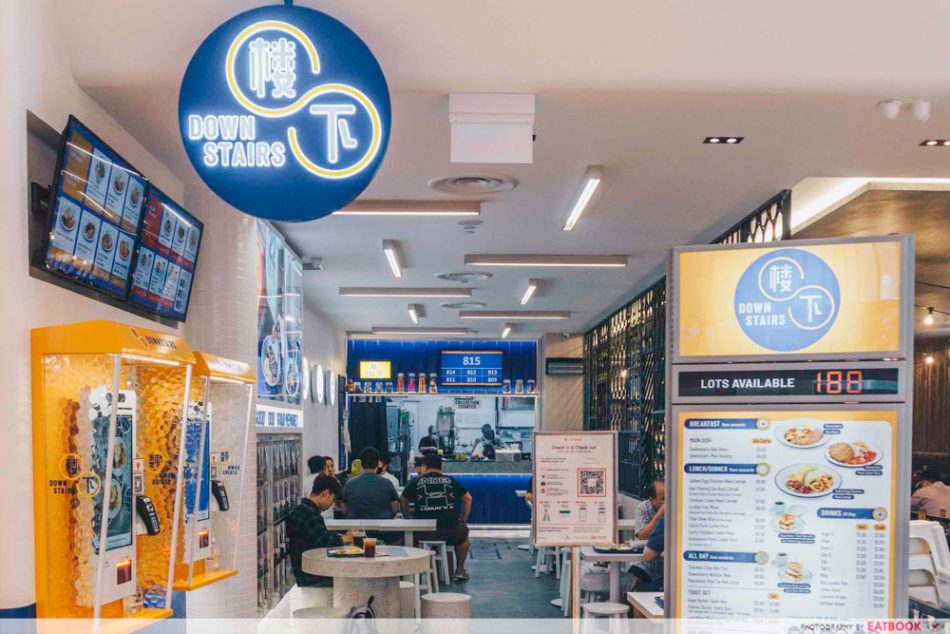 The entire concept of Downstairs is the idea of communal dining in a local void-deck setting, which many of us have a personal affinity with. Their order kiosks welcome customers with retro phone booth designs, while their menu board resembles a HDB carpark entrance sign.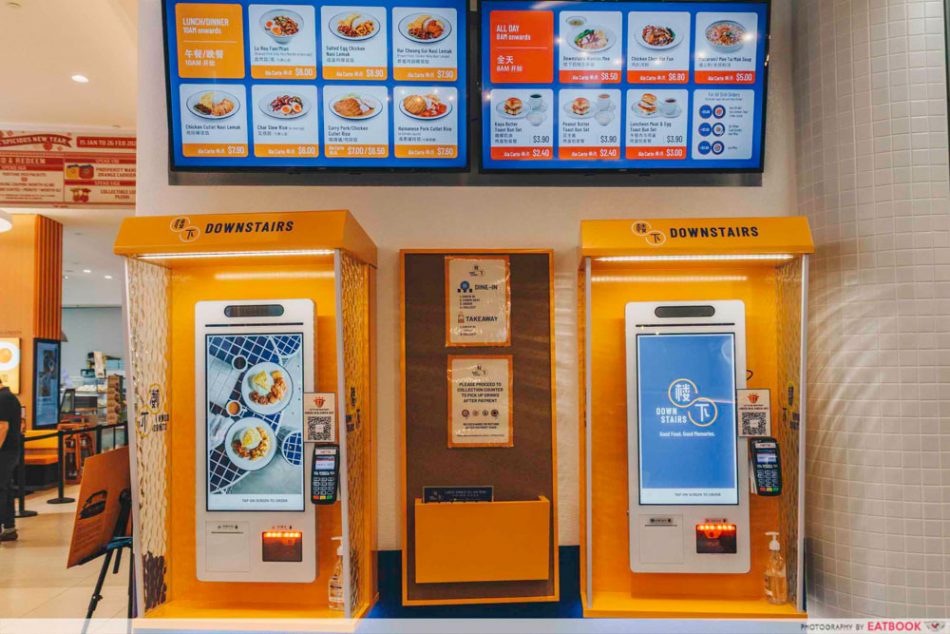 We sat at a round table with a void deck chess-inspired design, against the backdrop of old-school metal letterboxes.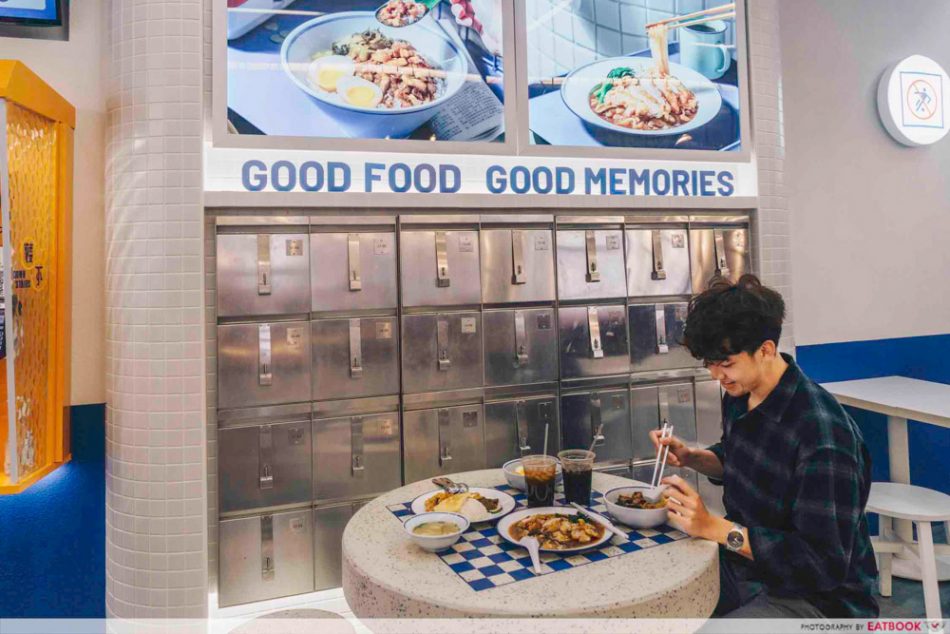 Other familiar sightings include their hopscotch mosaic usually found at HDB playgrounds, and a personal favourite: the "No Football" sign that I constantly failed to obey in my younger days.
The verdict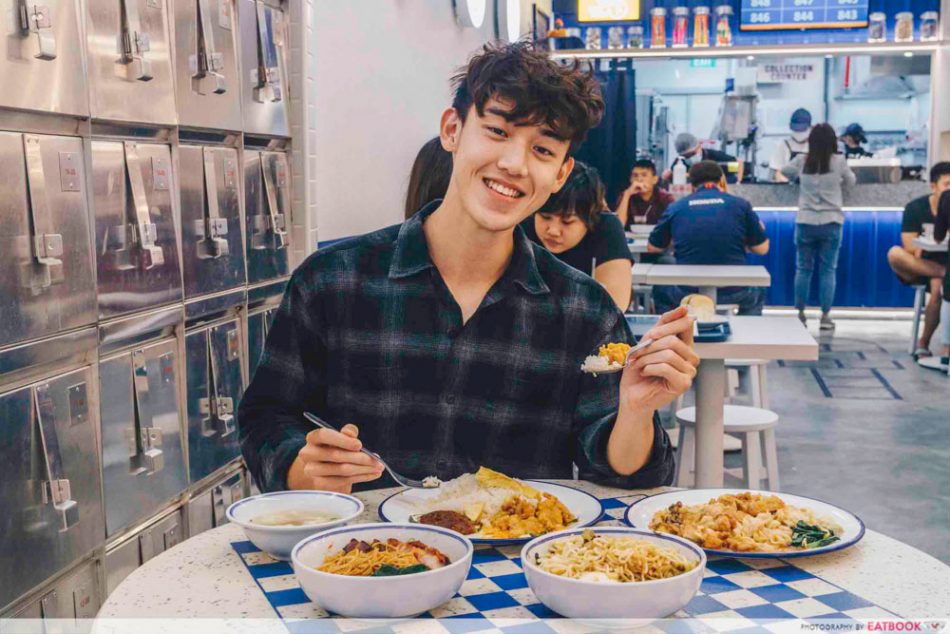 I was pleasantly surprised by Downstairs Cafe, and it's not only because the ambience there invokes sentimentality for me. Their mix of fusion dishes turned out better and more appetising than I expected and I would genuinely return a second time. 
Among the four dishes we had, we enjoyed the lu rou mian and chicken chop hor fun most, and think they have potential to be crowd-pleasers. Dining in a void deck might not be as common nowadays, but this cafe can certainly transport us back in time with its beautifully-designed decor and atmosphere.
For other cafes with great ambience, check out our La Pasteleria review for Neapolitan burnt cheesecake in a San Sebastian bar setting, or our For The People review for churro waffles in a spacious and laid-back space.
Address: 3 Temasek Boulevard, #B1-132, Suntec City, Singapore 038983
Opening hours: Mon-Fri 8.30am to 9pm, Sat-Sun 9am to 9pm
Website
Downstairs Cafe is not a halal-certified eatery.
For The People Review: Gorgeous Cafe With Churro Waffles And Cinnamon Croissants In Bendemeer
Photos taken by Chew Yi En.
This is an independent review by Eatbook.sg.
Downstairs Review: Retro Void Deck Cafe With Lu Rou Mian And Salted Egg Chicken Nasi Lemak In Suntec City
Summary
Pros
– Nostalgic ambience with old-school decor
– Lu rou mian is refreshing and tasty
Cons
– Salted egg chicken nasi lemak can get jelak after a while
– Little char siew in the wanton mee
Recommended dishes: Lu Rou Mian ($6), Chicken Chop Hor Fun ($6.80)
Opening hours: Mon-Fri 8.30am to 9pm, Sat-Sun 9am to 9pm
Address: 3 Temasek Boulevard, #B1-132, Suntec City, Singapore 038983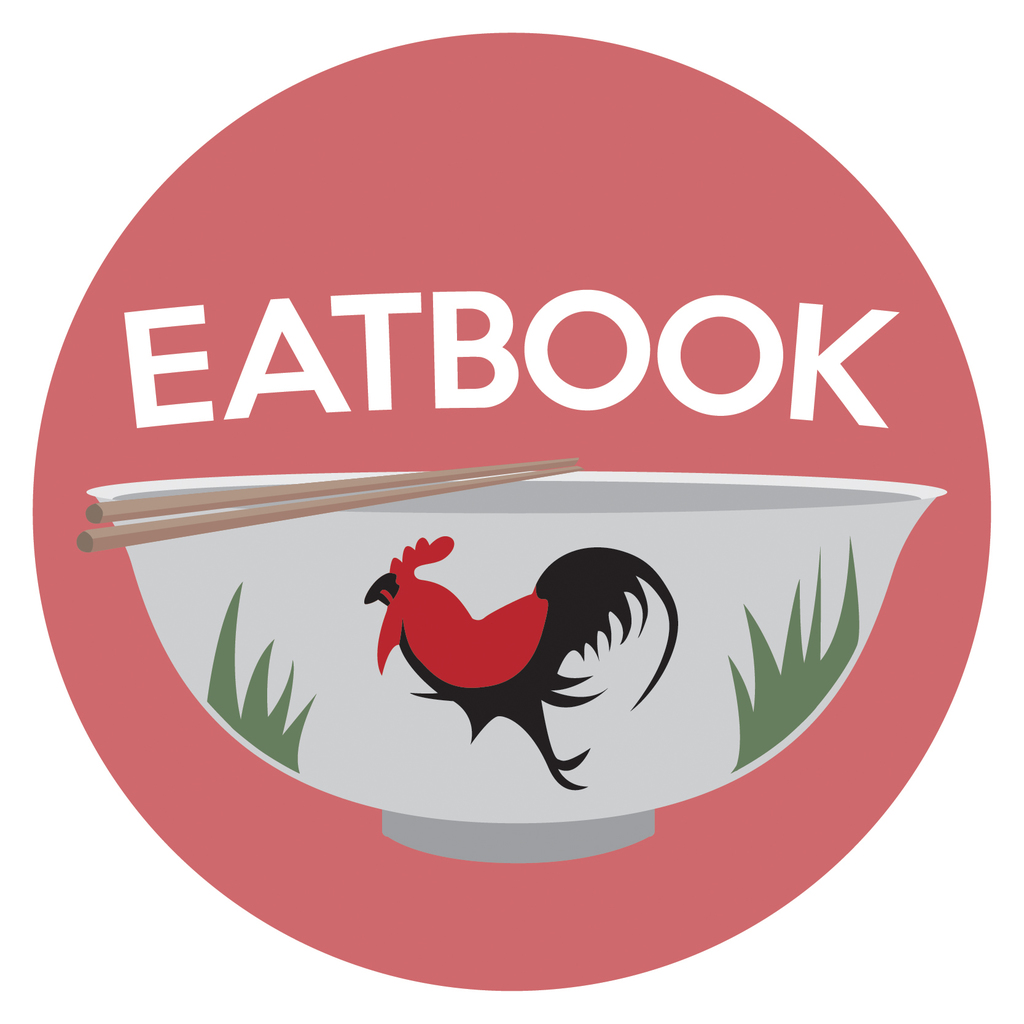 Drop us your email so you won't miss the latest news.