La Pasteleria cafe at UE Square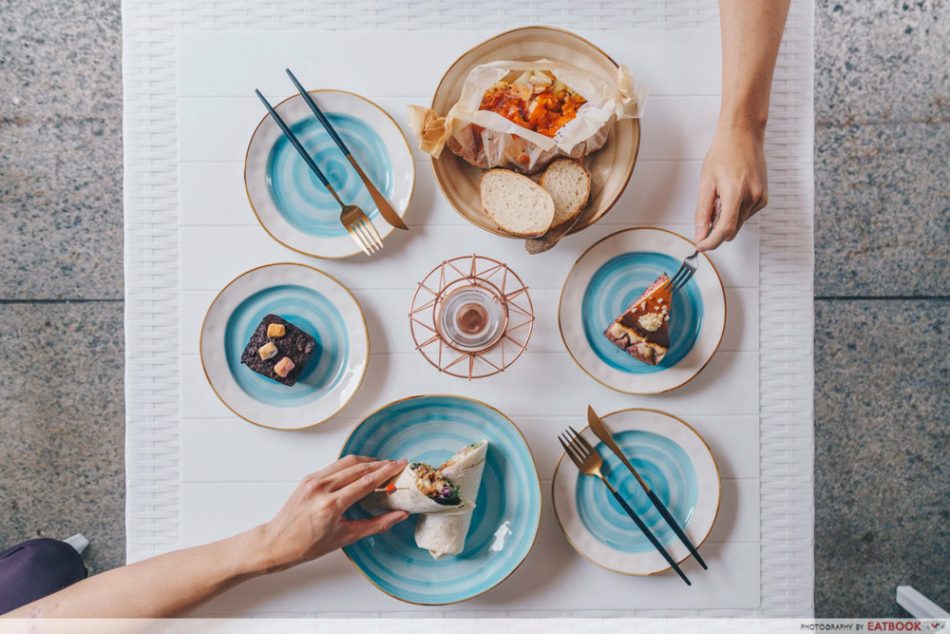 I'm pretty sure we all know of home-bakers-turned-entrepreneurs that gained success over the Circuit Breaker. Some even generated such high demand, they had no choice but to open physical stores. La Pasteleria happens to be one of these success stories. Priding themselves as an "artisanal patisserie", the cafe started out with quality Basque burnt cheesecakes and other desserts.
Though they already have a Novena flagship, I visited their new branch at UE Square in Robertson Quay, with a few other dining companions. It offers a larger variety of Spanish tapas and savouries to pair with their signature bakes and sweets.
Food at La Pasteleria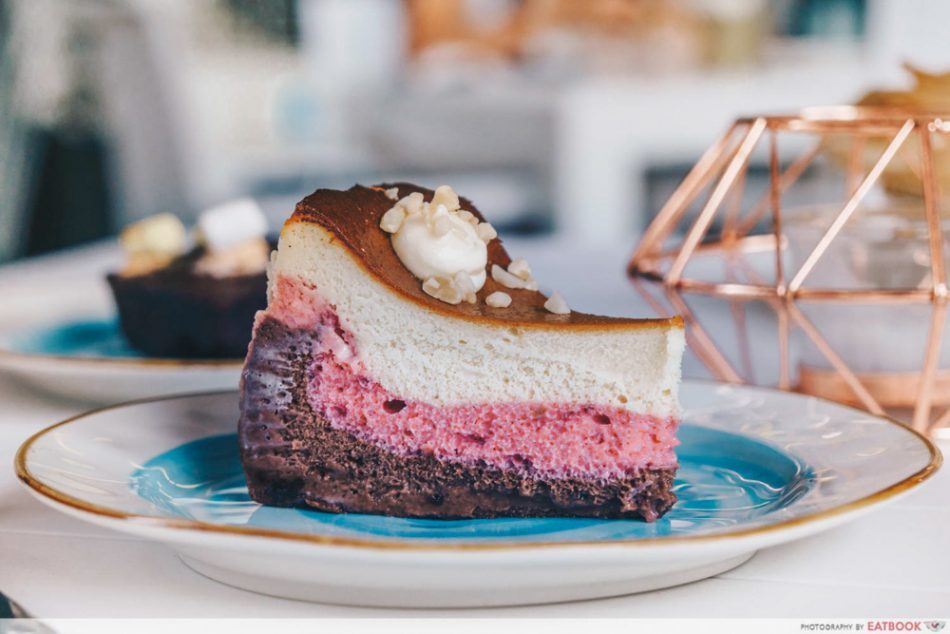 The colourful Neapolitan Basque Burnt Cheesecake ($9++) caught my eye as soon as I walked in. A local twist on their signature cheesecake, it combines the flavours of vanilla, real strawberries, and chocolate, sitting atop an Oreo base. 
The cheesecake filling was creamy and not overly sweet, with a soft texture reminding me more of light and fluffy Japanese souffle cheesecakes. But, I felt the cake had a dominant strawberry taste, which overpowered the natural flavours of the cheese. The caramelised burnt exterior we expect from such a cheesecake was also overshadowed by the tartness of the strawberries, although some might find the berries refreshing.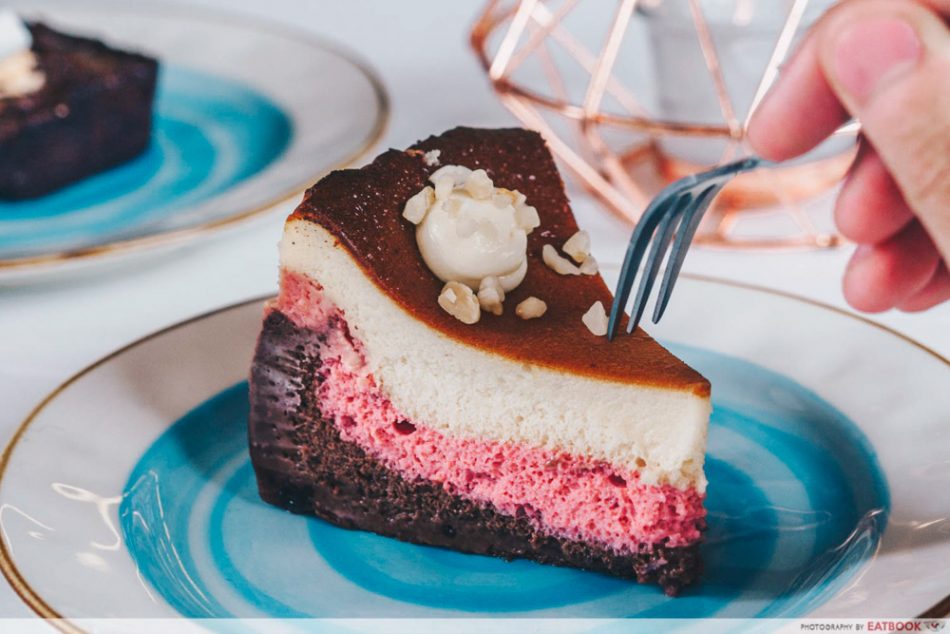 Their Just S'mores Brownie ($5.50++) was chewier than usual, with a thicker interior filled with mostly walnuts. It had a pronounced dark chocolate taste, with a slight bitterness.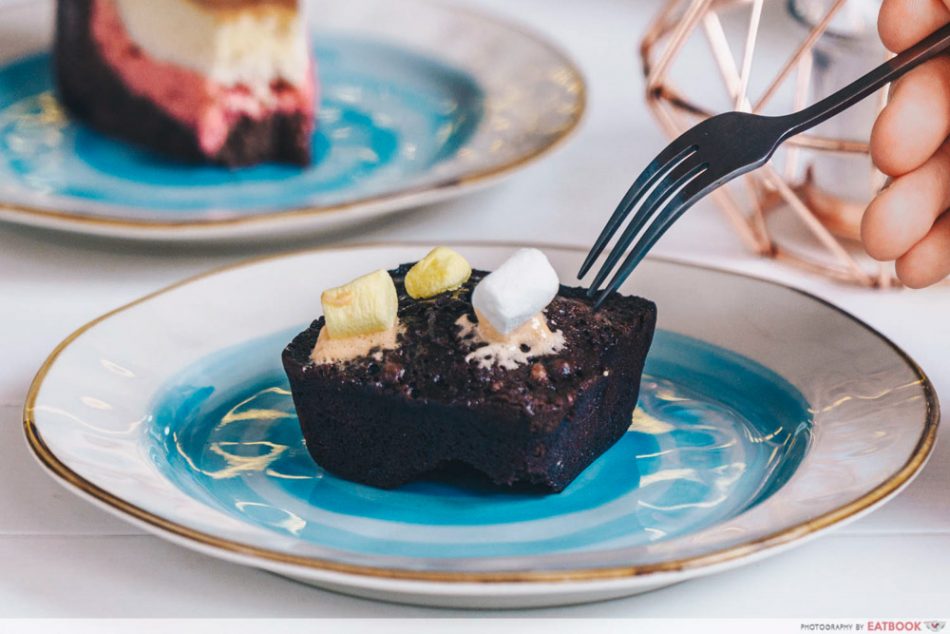 To my disappointment, the small marshmallows didn't appear toasted or gooey, showing the absence of the s'mores element. S'mores are actually a contraction for the word "somemore" but I definitely got less than what I ordered for.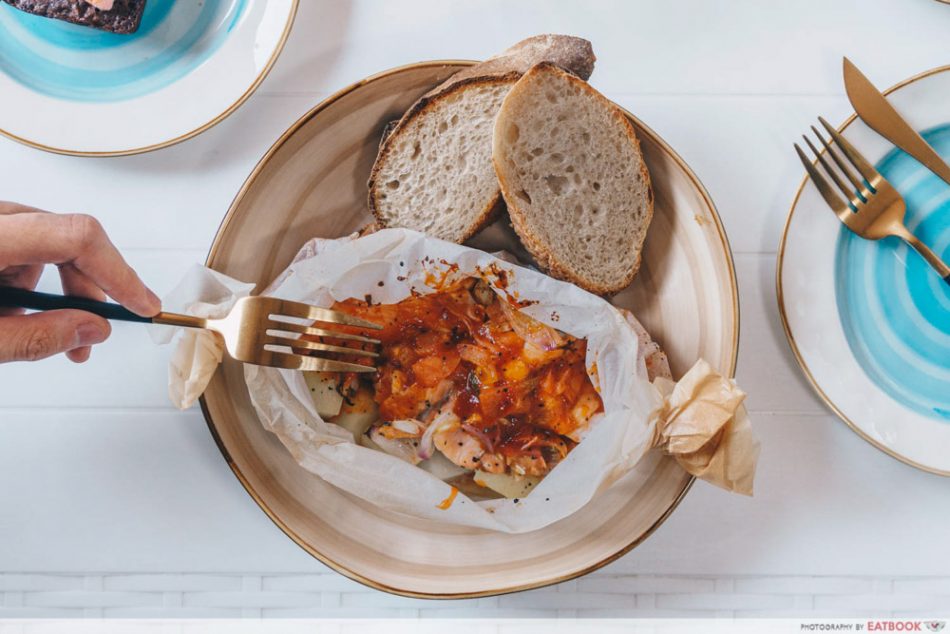 Now that I'd tasted the sweets, it was time to move on to their savouries. I ordered their Baked Seafood with Olives and Tomato Sauce ($16++) and their Mala Pork Belly Wrap ($8.50++). The baked seafood got my attention because of its strong aroma. Decked with fresh seafood like prawns, octopus, clams, and generous pieces of salmon, the dish was served with two small sourdough slices for dipping too.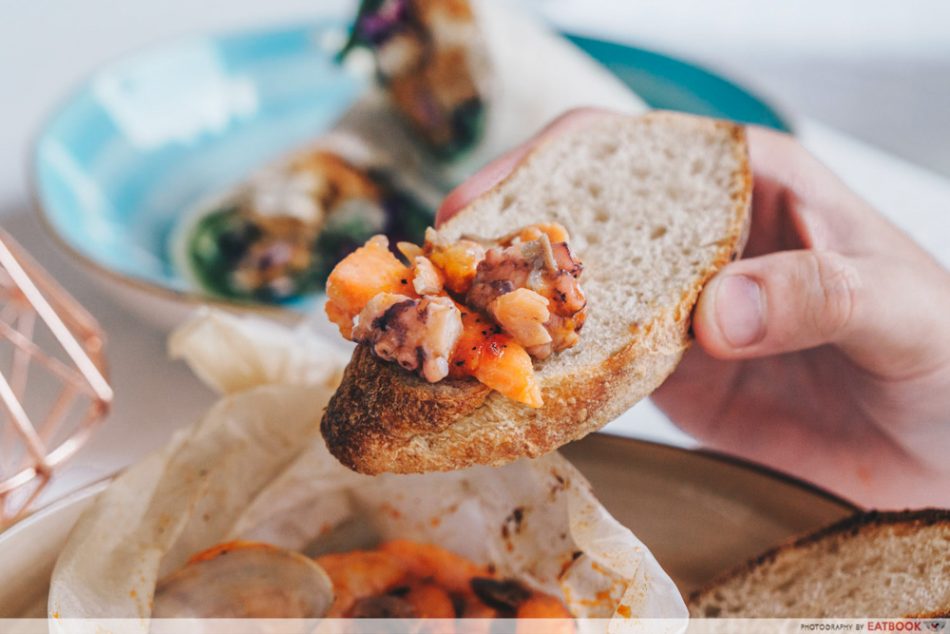 The tomato sauce was on the sweeter side, reminiscent of marinara sauce. The addition of small olives, onions, and chunks of boiled potatoes provided balance to the dish. The sourdough bread soaked up the flavours of the tomato sauce well, making for a great carb option to go along with the seafood dish.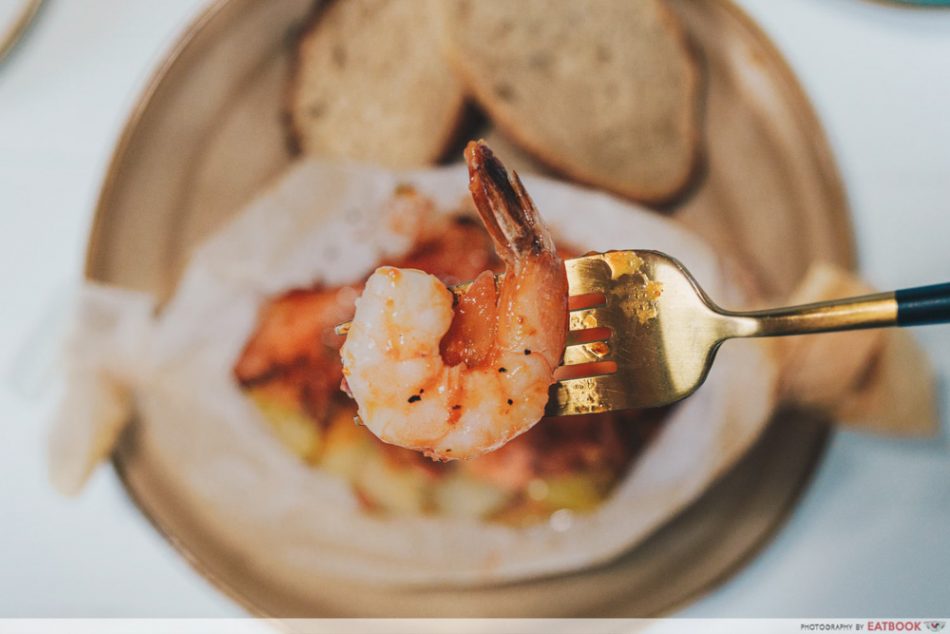 I was also impressed by how well-prepared their seafood was. It didn't have an overwhelming fishy taste, which brought out the freshness and natural sweetness of the seafood.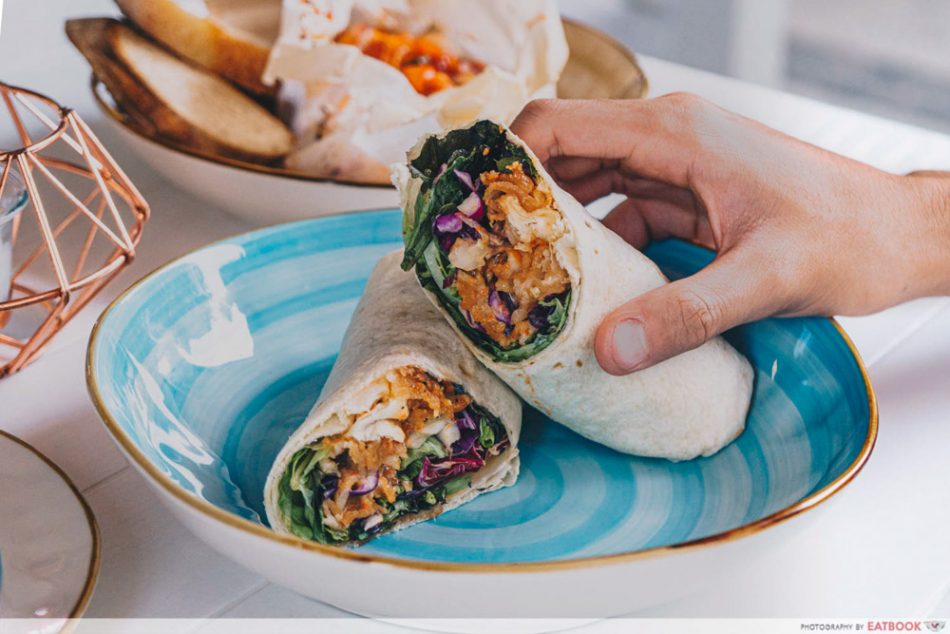 With mala being one of Singapore's greatest obsessions lately, their mala pork belly wrap should be a crowd favourite. If you aren't already tired of mala food trends, check out their healthy take on the dish.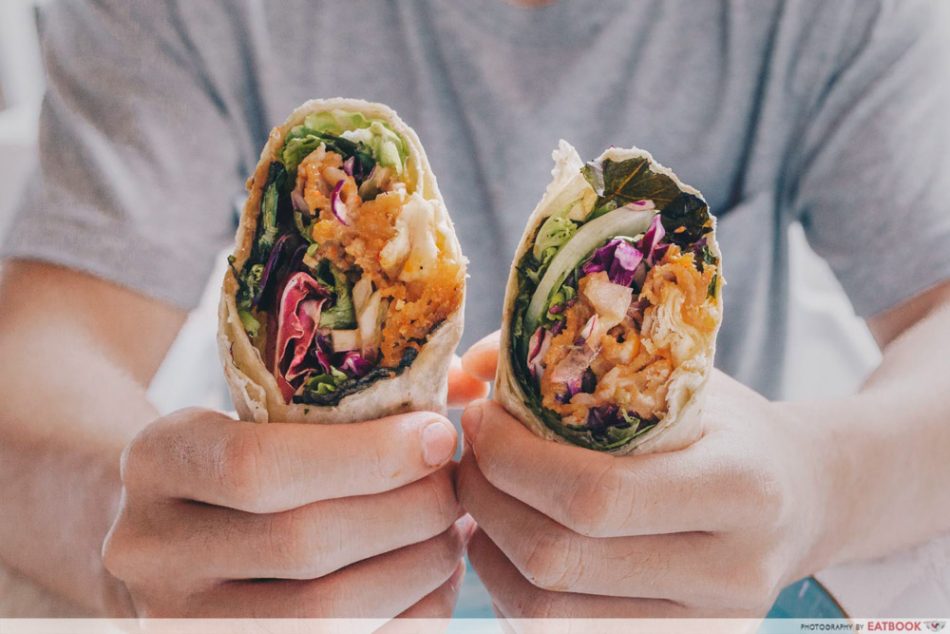 Packed with greens like mesclun salad and onions, the wrap is completed with thinly sliced pork belly, seasoned with a spicy mala sauce that packs a punch.  The pork belly slices were tender and well-seasoned, adding much-needed flavour to the wrap.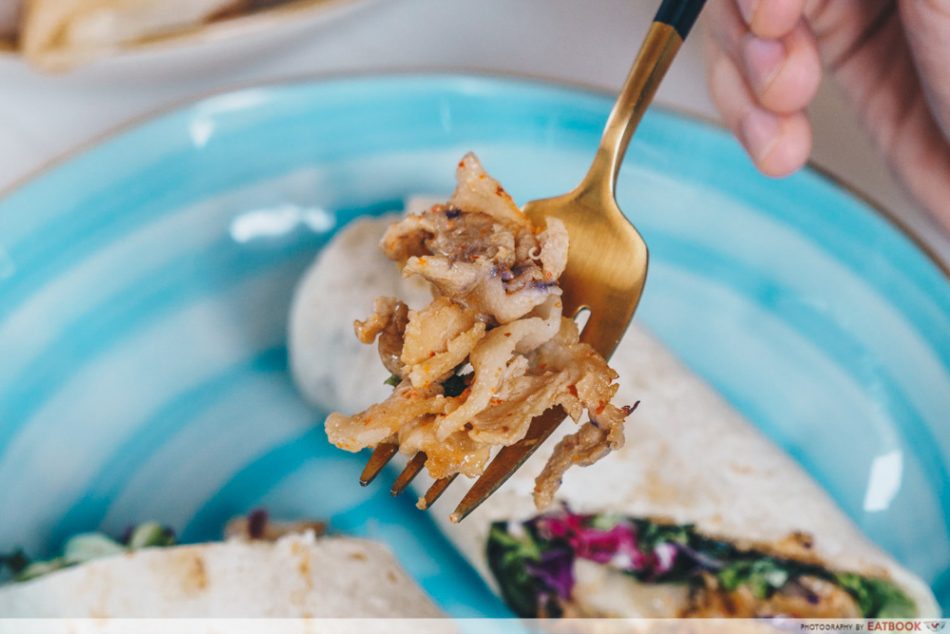 Ambience at La Pasteleria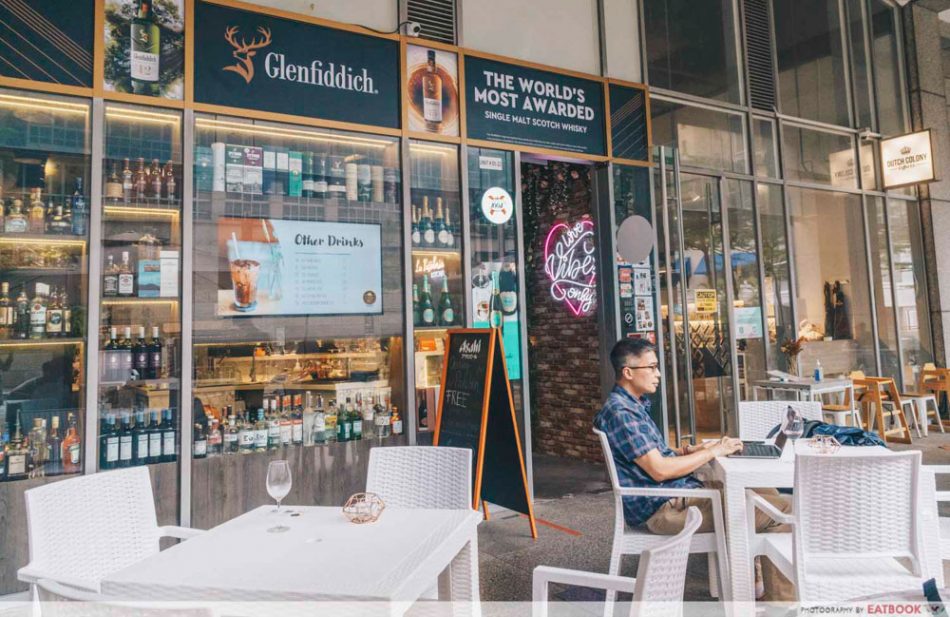 The bar is a supposed five-minute walk from Fort Canning MRT Station, though it took us a while of walking around to find it as it was hidden around UE Square. But, once we did, we were greeted by an impressive display of wine and spirits, together with IG-worthy neon signs welcoming us in.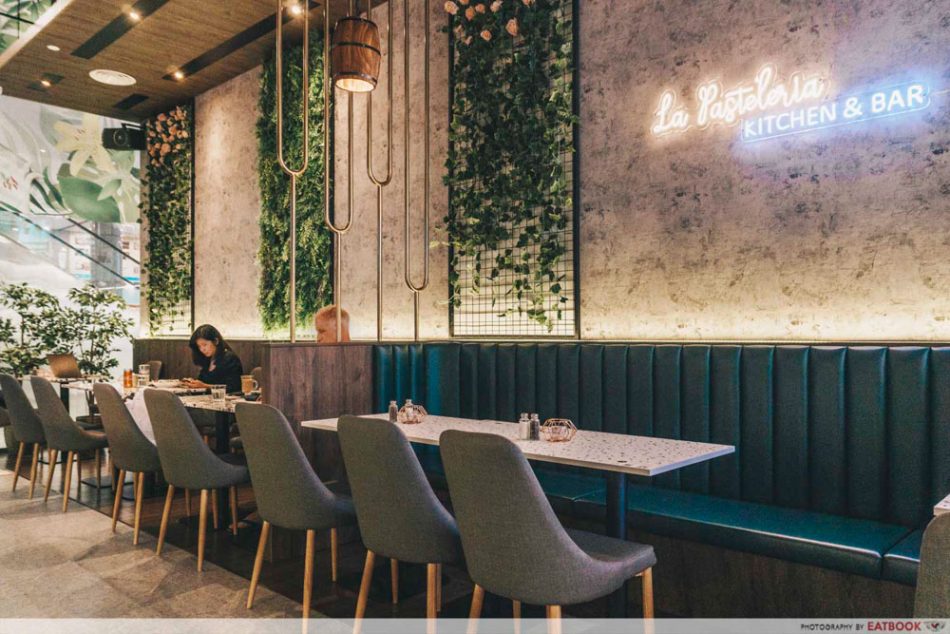 This eatery was inspired by the bars along San Sebastian, with classy floral decor and terrazzo table tops giving it a laid-back vibe. With a seating capacity for about 30 to 40 people, the bar has both al fresco and indoor dining options.
The verdict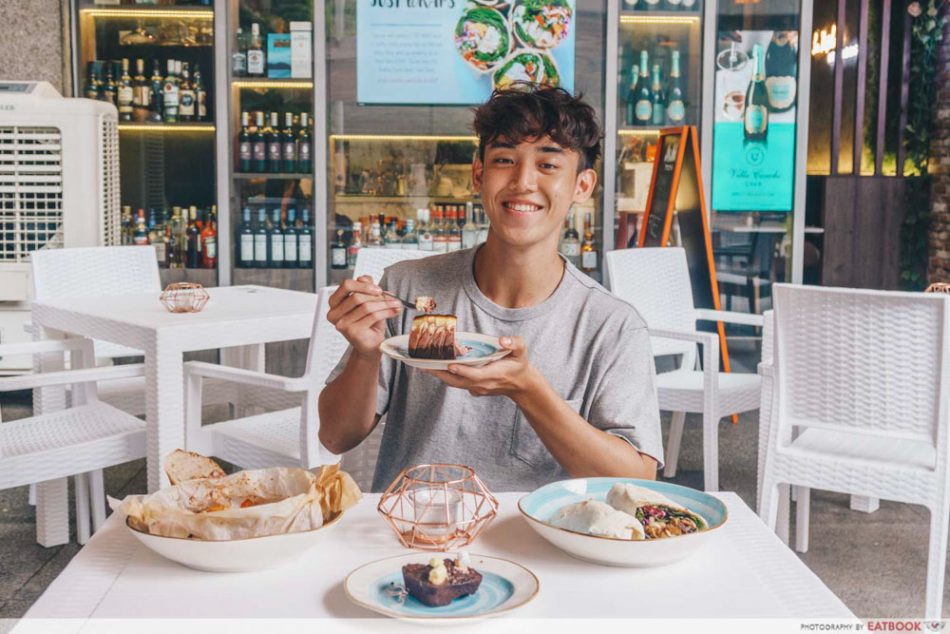 Honestly, we were more impressed by La Pasteleria's ambience rather than their food. Maybe it was our high expectations beforehand knowing they were successful home bakers. Instead, we found their specialty desserts underwhelming. But, their cosy and welcoming vibe made the place ideal for you to relax, or even take your #OOTD in.
I do think their savoury dishes were worth coming back for, as I did enjoy their Baked Seafood with Tomato and Olives in particular. After hearing about their extensive dinner selection, that includes Spanish pintxos, tapas and other mains, I'm more inclined to give them another shot, this time after work hours. 
If you're a fan of Basque burnt cheesecake and other desserts, read our Keong Saik Bakery review on their signature burnt cheesecake creations like their Burnt Cheese Cruffins. Alternatively, our Durian Lab Cafe review on Mao Shan Wang burnt cheesecakes and shortcakes is worth reading too!
For other dining options around Robertson Quay, check out Amazing Hokkaido's $12++ Uni and Negitoro Sushi Dogs or our Tang Lung Restaurant review for a dim sum buffet with over 30 different menu items.
Address: 81 Clemenceau Ave, #01-22, UE Square, Singapore 239917
Opening hours: Daily 8am to 11pm
Tel: 6369 2688
Website
Amazing Hokkaido Has $12 Uni And Negitoro Sushi Dogs In Robertson Quay
Photos taken by Chew Yi En.
This is an independent review by Eatbook.sg.
La Pasteleria Review: Neapolitan Burnt Cheesecake, Mala Pork Belly Wrap And More In Robertson Quay
Summary
Pros
– Baked Seafood with Tomato and Olives is unique and tasty.
– Ambience is aesthetically pleasing and the atmosphere is cosy.
Cons
– Just S'mores Brownie was disappointing, lacked the s'mores element.
– Desserts were a bit pricey and did not stand out in terms of taste.
Recommended dishes: Baked Seafood with Olives and Tomato Sauce($16++)
Opening hours: Daily 8am to 11pm
Address: 81 Clemenceau Ave, #01-22, UE Square, Singapore 239917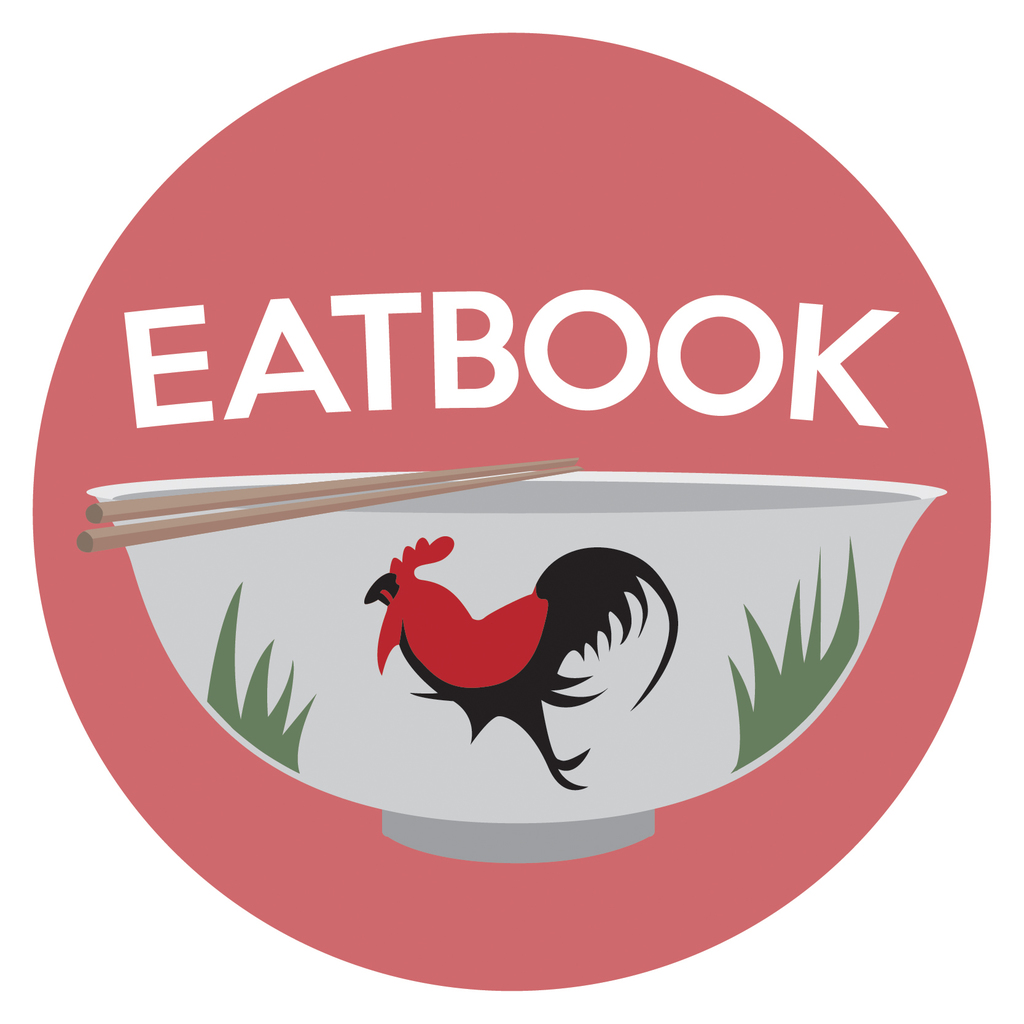 Drop us your email so you won't miss the latest news.