Tang Lung Restaurant dim sum buffet
I've spent a lot of time eating my way through dim sum buffets on a budget, so anytime a fresh one enters my radar, I have to head down to see how it stacks up. The newly-opened Robertson Quay eatery, Tang Lung Restaurant, has a dim sum lunch buffet that seemed very enticing on paper thanks to their $23.80+ price tag on weekdays from 12pm to 3pm, and over 30 menu items.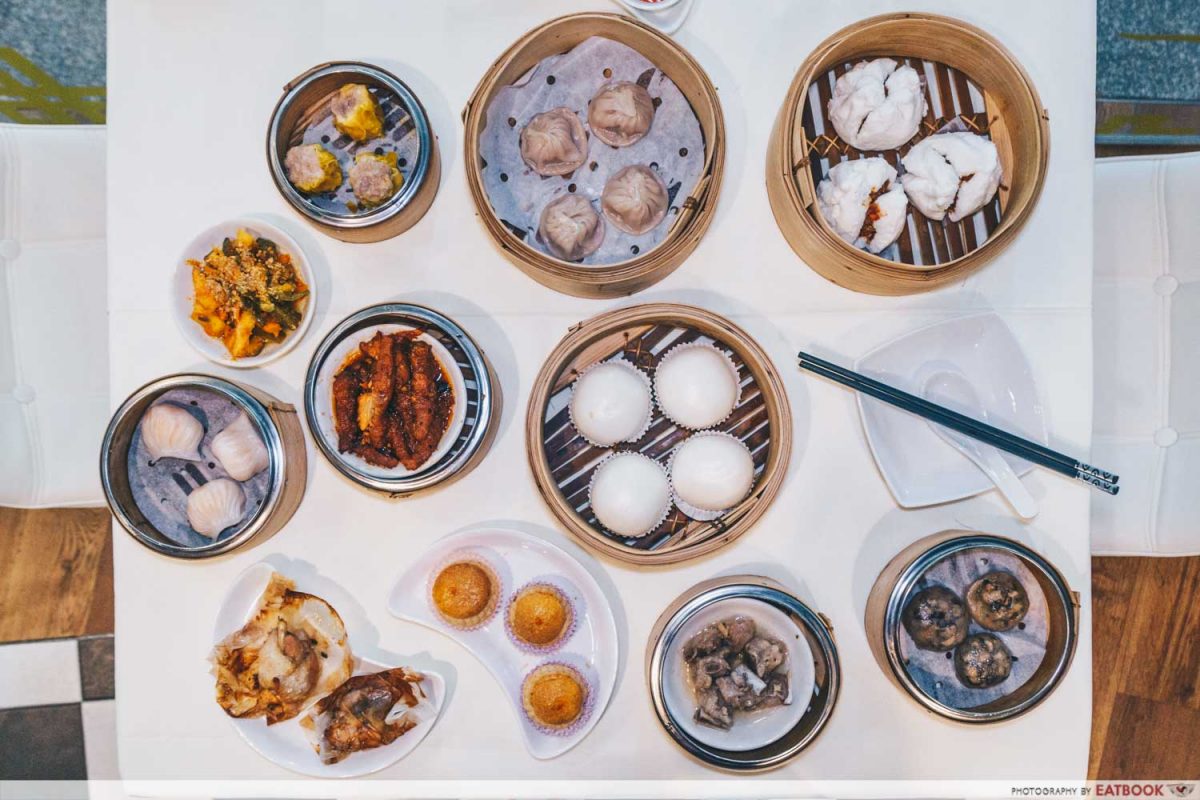 Though this seems relatively standard, a quick cross-check shows that Tang Lung Restaurant also has one of the cheapest dim sum buffets of its in Singapore too, as prices typically hover above $25+. 
Food at Tang Lung Restaurant
Most of the 30-odd dishes are free-flow. These span 22 dim sum bites, handmade dumplings, and la mian, though the latter is limited to one order per buffet diner.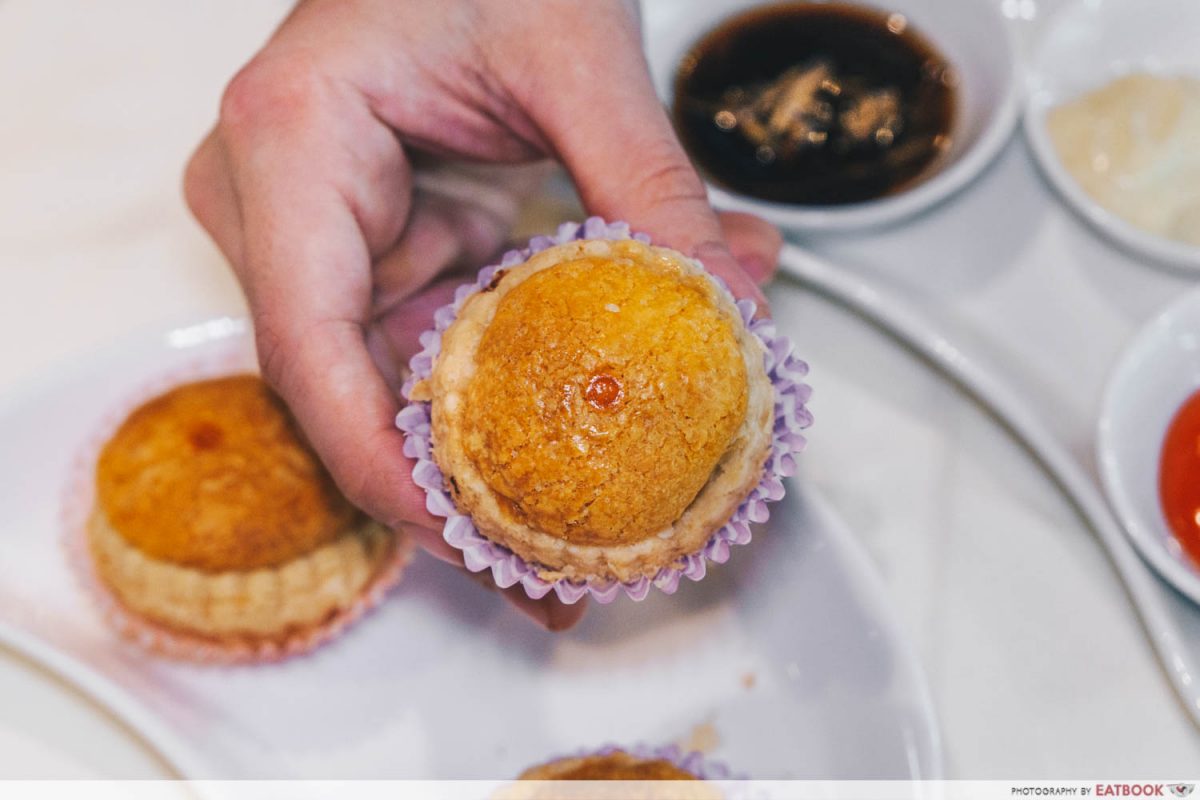 My dining companion and I began with some signatures: the Pineapple Char Siew Tarts and Pork Siew Mai With Salted Egg Yolk.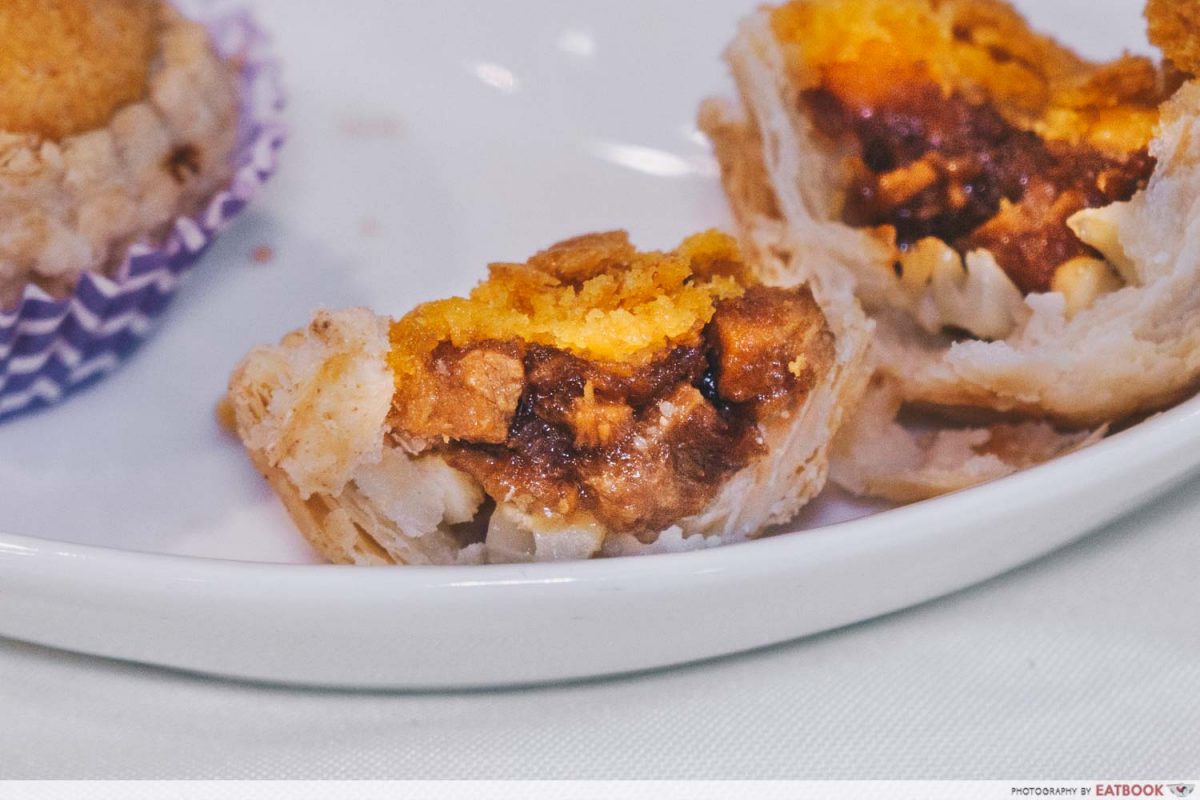 The mini tarts were a hit, reminiscent of polo bao, with a cookie crust topping small bites of honeyed char siew bits. Finished with flaky pastry, I was tempted to keep popping these sweet and buttery tarts, but more food awaited.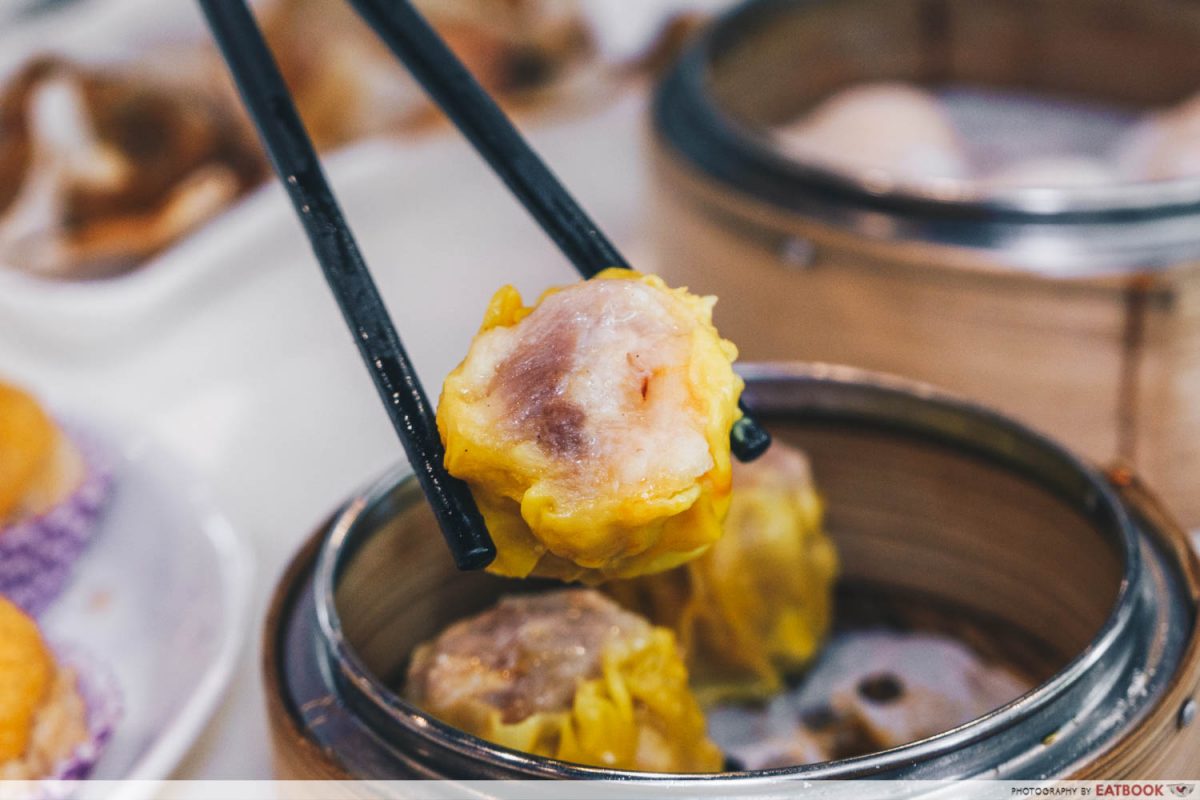 The Pork Siew Mai With Salted Egg Yolk, on the other hand, was average. I could see that fresh shrimp was used to make the filling, along with minced pork, but the gummy salted egg yolk did little to elevate the flavour beyond the siew mai we were used to.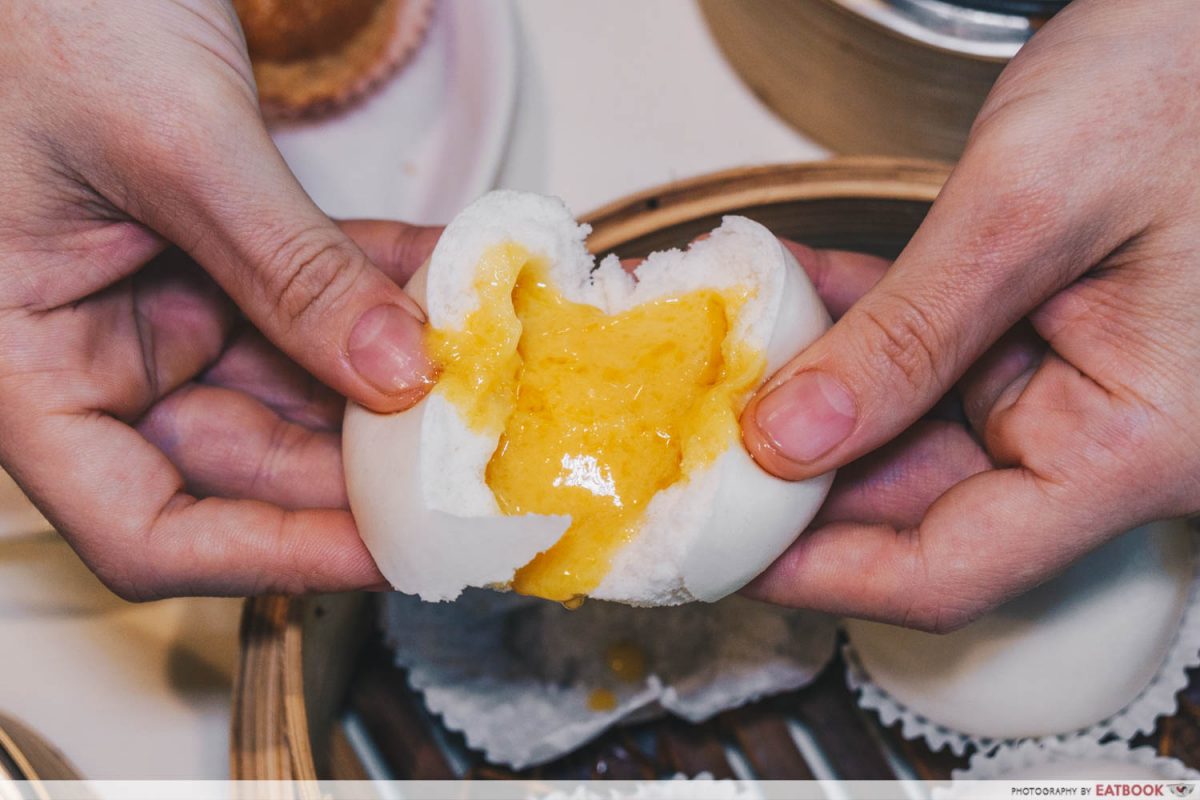 On the subject of salted egg yolk, every dim sum meal must include Liu Sha Bao. Sadly, Tang Lung's version came in a bao that was a tad too thick—instead of a fluffy bun giving way to glorious sweet-and-salty egg yolk custard, all I got was too much time spent chewing.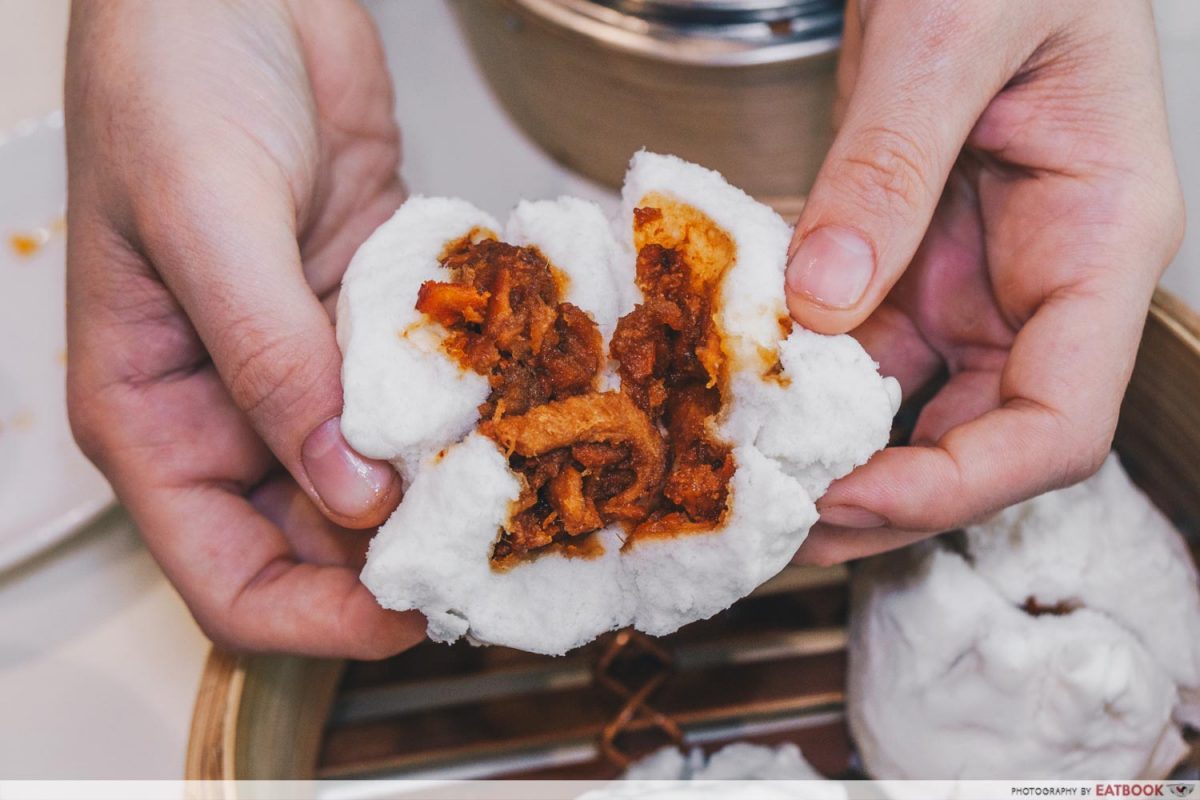 The Char Siew Bao saved the day, though, as it had a proper filling-to-bao ratio, featuring a fluffy, airy bun, and the delicious char siew also found in the mini tarts.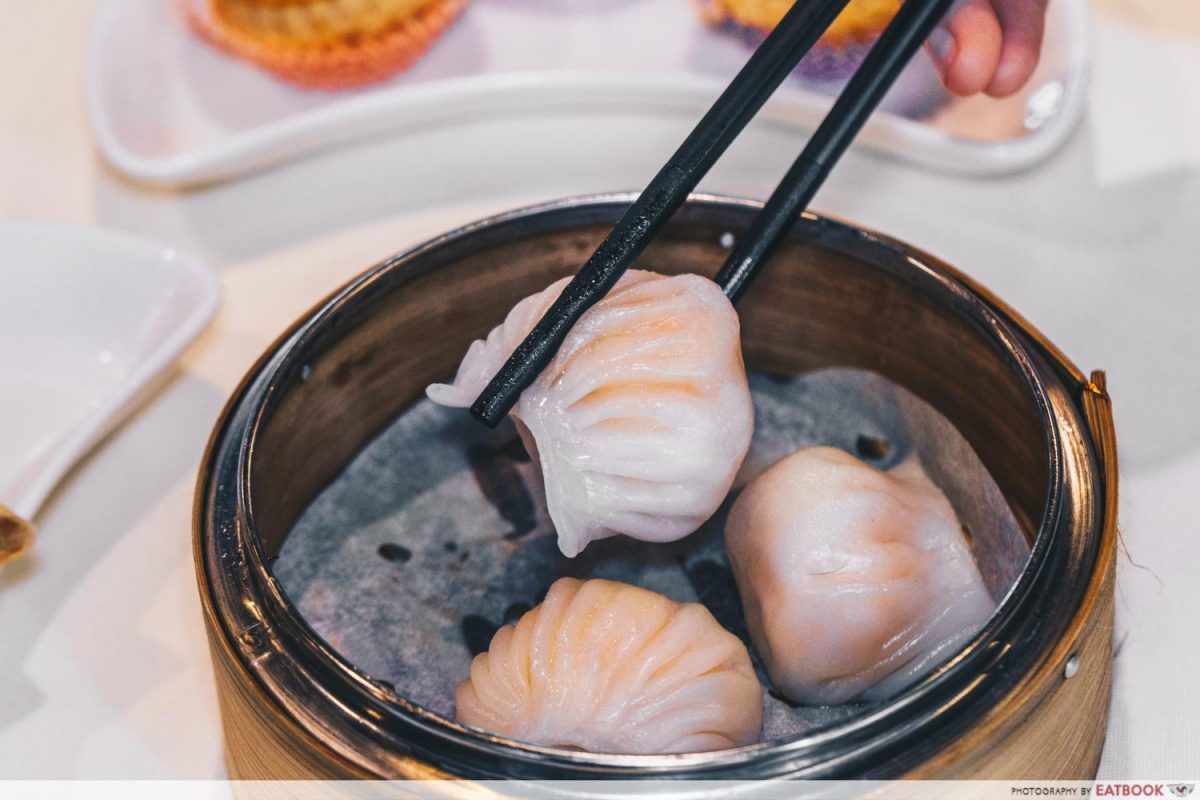 There are plenty more classic dim sum items to stuff yourself silly with, and most of these are failsafe choices. These include plump Har Gao, well-cooked Steamed Chicken Feet With XO Sauce, tender Steamed Pork Ribs With Black Bean Sauce, or fragrant Chicken Wrapped In Paper.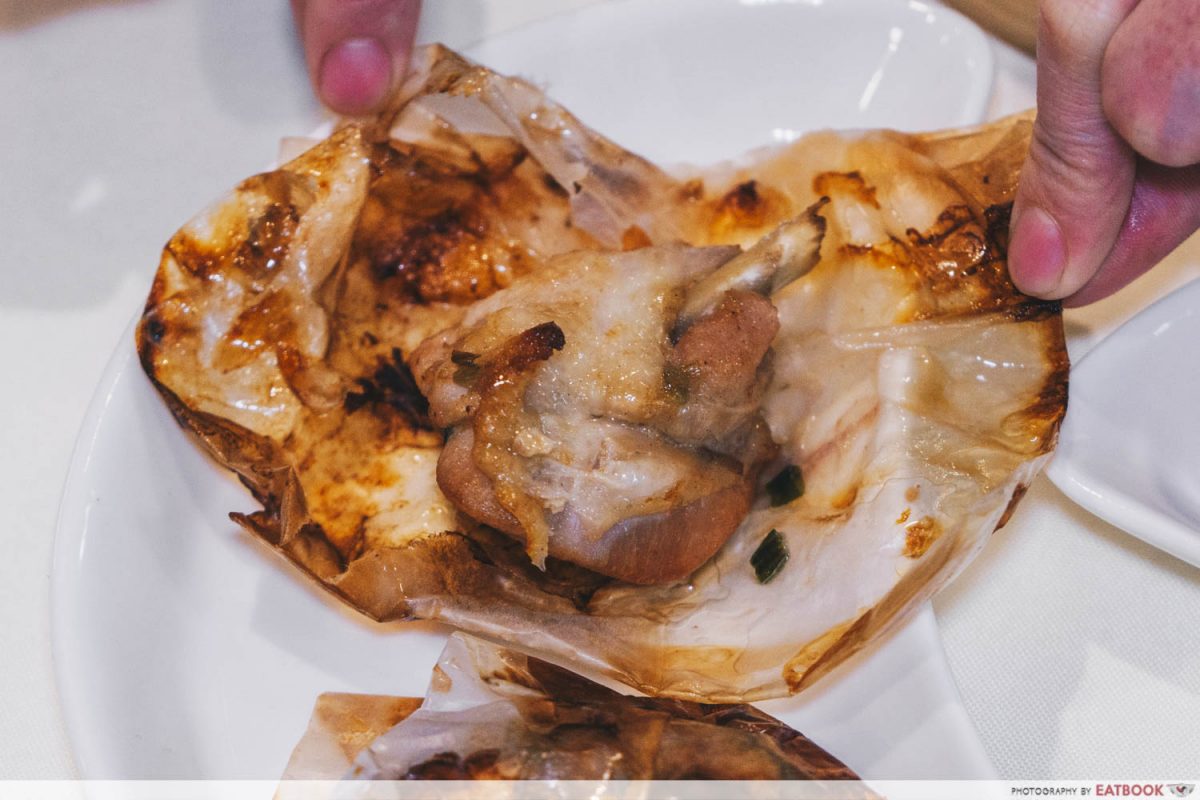 What gives Tang Lung Restaurant's dim sum buffet an added edge is their menu of Chinese handmade dumplings and la mian. Save space for these, especially their Xiao Long Bao and Meat Dumpling In Chilli Oil.
The former easily rivals Din Tai Fung's, with thin skin, moreish pork mince and fat-laced broth. The latter was even more generous with the meat filling, served tossed with a suan la chilli oil dressing. We went back for repeat orders of these.
Also welcome is the la mian selection, with handmade noodles in flavours like Dan Dan Noodle and Plain Noodle In Scallion Oil. I found no gripes with the fact that this was limited to one dish per diner, as you definitely want more room for dim sum.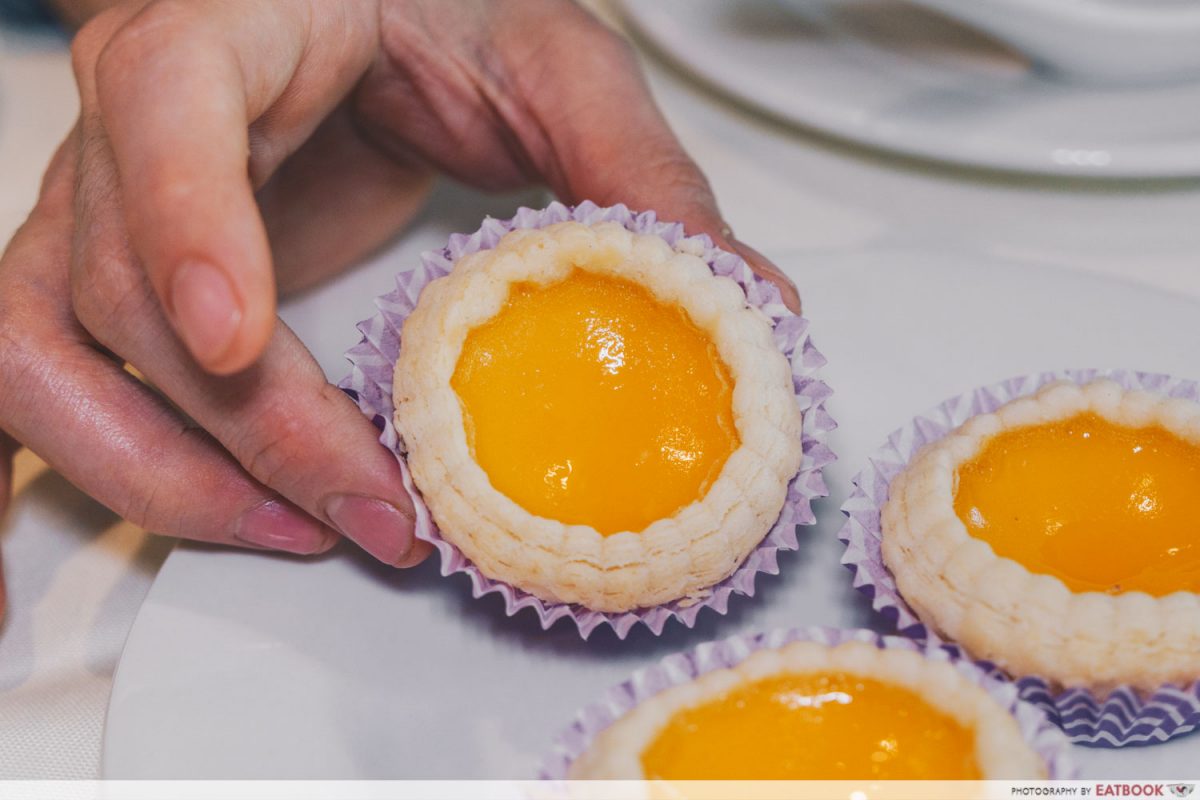 On the dessert front, we opted for Egg Tarts, and found the pale pastry to be lacklustre, in spite of its layers. Definitely double down on ordering the Pineapple Char Siew Tarts instead of these.
Ambience at Tang Lung Restaurant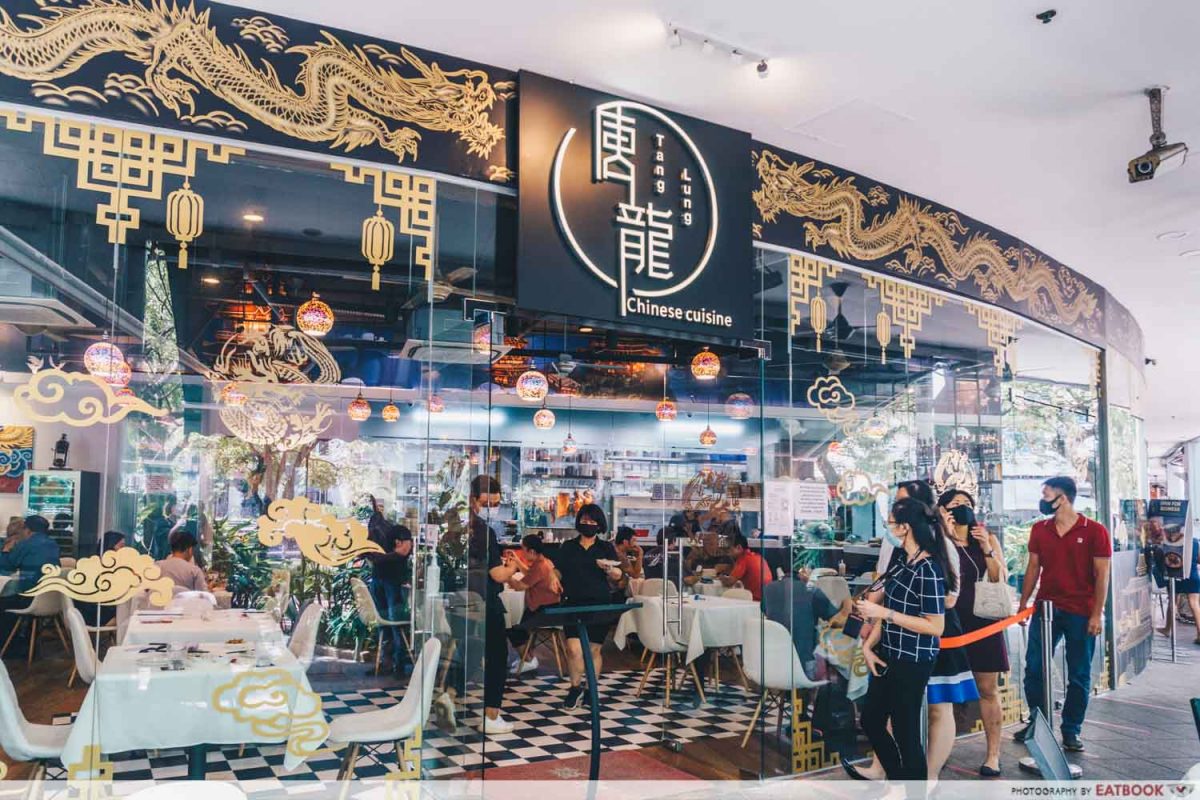 Tang Lung Restaurant is a tad more modern than most Chinese eateries, with open, full-length glass walls in place of dated wallpaper and heavy curtains. Opt to sit indoors or outdoors, both are fit with banquet tables that can seat groups, or smaller tables for two to three diners.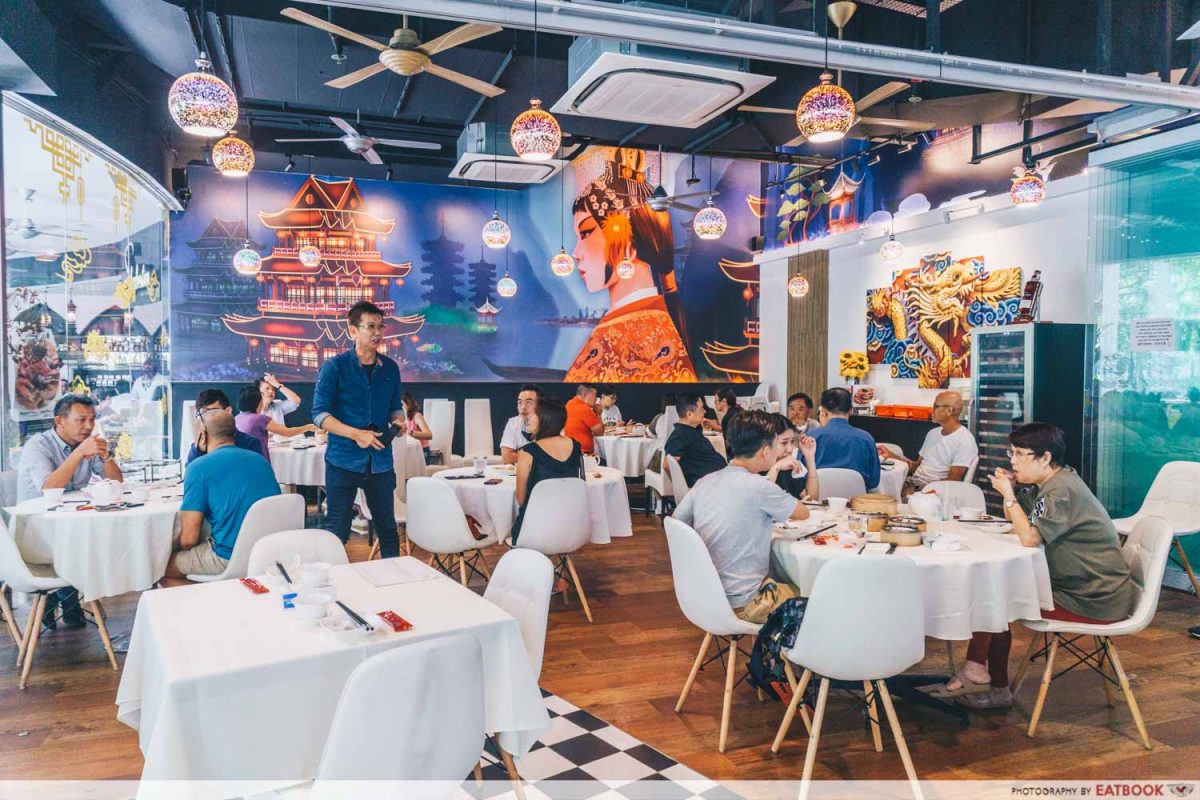 The decor is breezy, but the service can be a touch stifling as the staff we encountered were quite adamant on letting us know that there is a food wastage fee with every additional order we wanted to make. With all due respect for their policies, it got somewhat tiring to be constantly told so, especially early on in a buffet meal, when we were still hungry and ready for a feast. Perhaps the restaurant can consider leaving placards on tables for a visual reminder instead.
Situated along Robertson Walk, Tang Lung is about a 15-minute walk from Clarke Quay MRT Station, making it a touch less convenient to get to, though you can walk from bus stops nearby. 
The verdict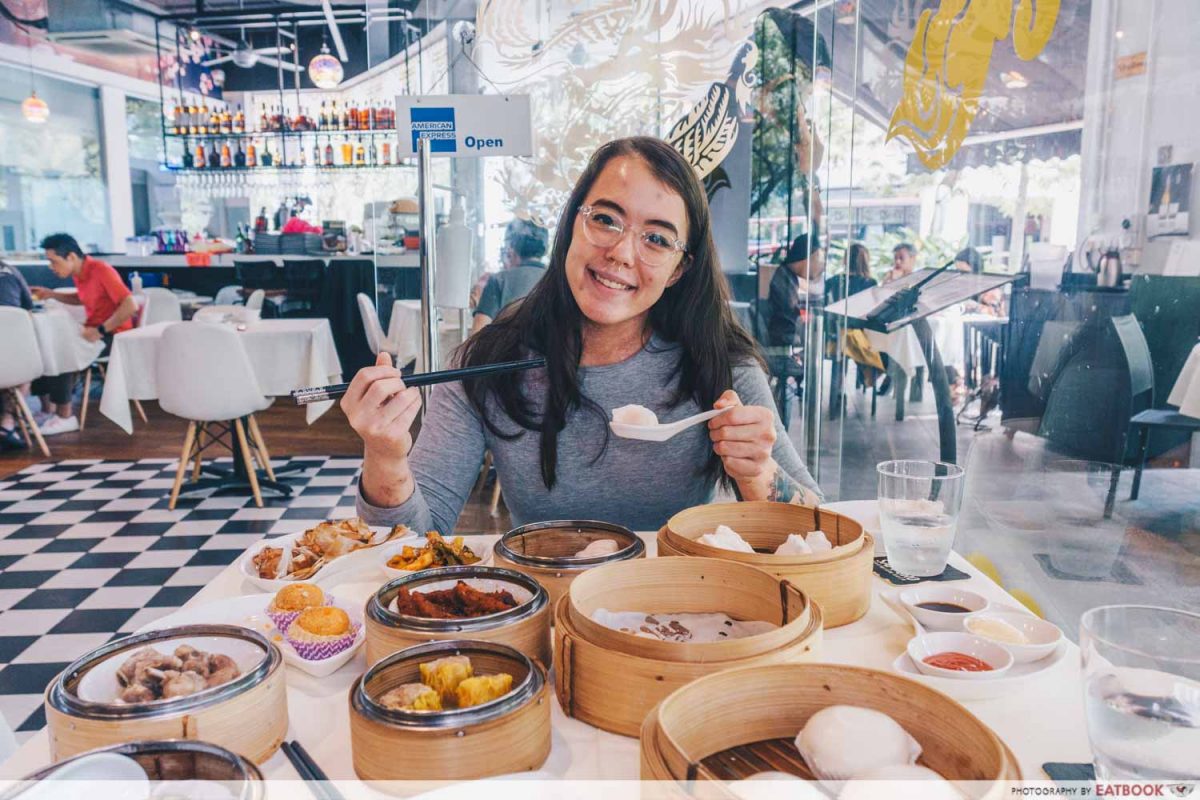 While there were definitely some misses amongst Tang Lung Restaurant's dim sum buffet hits, the affordable price point definitely made me more forgiving. Go for the classics, and definitely the handmade dumplings, but I'd encourage some restraint when getting the siew mai or liu sha bao.
Apart from weekdays, the buffet is also available from 3pm to 5pm on Sundays, albeit at $26.80+. This is still a reasonable price given the market average and the fact that individual baskets here start at $6.90+.
Overall, if you're hankering for dim sum while in the vicinity, or want a buffet option that is value-for-money, Tang Lung Restaurant is a decent bet. Just remember to call in ahead to make a reservation.
For more buffet goodness, check out our list of Japanese buffets with free-flow sashimi and more, or steak buffets with prices starting as low as $30.
18 Japanese Buffets In Singapore From $18.90++ For Unlimited Sashimi And Wagyu
Address: 80 Mohamed Sultan Road, #01-12, The Pier At Robertson, Singapore 239013
Buffet hours: Mon-Fri 12pm to 3pm, Sun 3pm to 5pm
Tel: 6262 9966
Website
Tang Lung Restaurant is not a halal-certified eatery.
Photos taken by Hay Thi.
This is an independent review by Eatbook.sg.
Tang Lung Restaurant Review: $23.80+ Dim Sum Buffet With Over 30 Menu Items In Robertson Quay
Summary
Pros
– Very value-for-money
– Wide variety
– Delicious handmade dumplings
Cons
– Some items not well-executed
– Staff try to dissuade guests from more orders
– Not near an MRT station
Recommended dishes: Pineapple Char Siew Tarts, Xiao Long Bao, Meat Dumpling In Chilli Oil
Buffet hours: Mon-Fri 12pm to 3pm, Sun 3pm to 5pm
Address: 80 Mohamed Sultan Road, #01-12, The Pier At Robertson, Singapore 239013