---
Steak buffets for meat lovers
---
When it comes to steak, it's impossible to not think about the hole in the wallet that comes with each gorgeous piece of meat. Steak buffets though, are a game-changer as you can eat as much as your heart desires and to your money's worth! So calling all steak lovers, here is a list of 10 steak buffets that you can feast at with your fellow carnivorous pals.
---
1. The Armoury Craft Beer Bar
---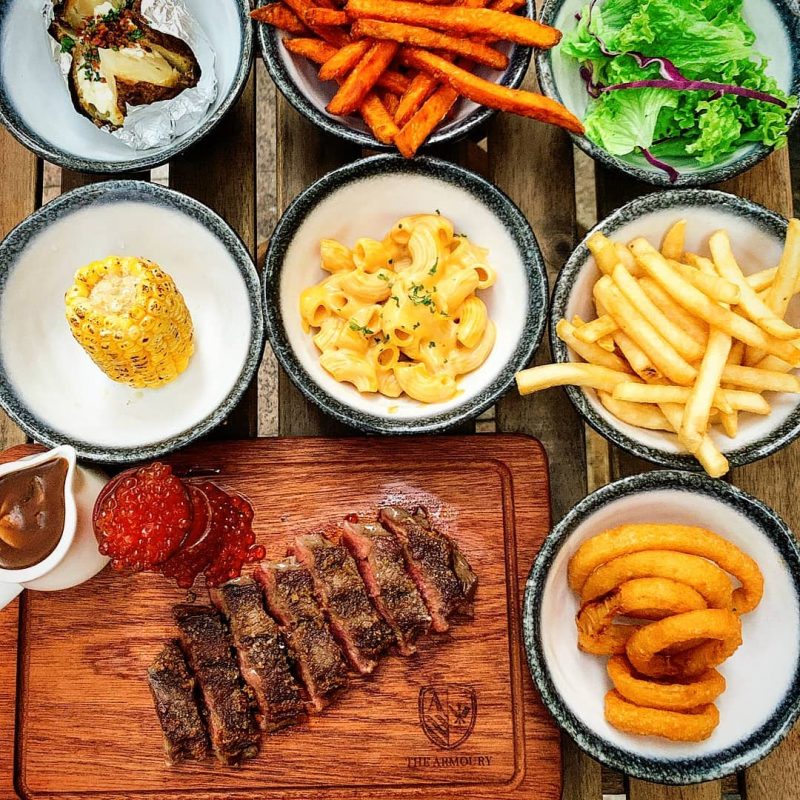 Image credit: The Armoury Craft Beer Bar
Popular for their burgers and craft beers, The Armoury Craft Beer Bar introduced their Charcoal Grill Steak Buffet in 2017 as a temporary promotion. The buffet was, however, so well-received that it was added to the permanent menu. The Armoury Steak Buffet charges adults $30 nett to dig into all manner of meats, from a free-flow of ribeye and striploin, to pork ribs, grilled pork belly, fried chicken thigh and more. Sides are also unlimited, and these include more meat in the form of spam fries, satay, sausages and the like. 
Address: 36 Beach Road, Singapore 189766
Buffet hours: Sat-Sun 12pm to 2:30pm, 5pm to 9:30pm
Buffet price: $30
Website
---
2. Carnivore Brazilian Churrascaria
---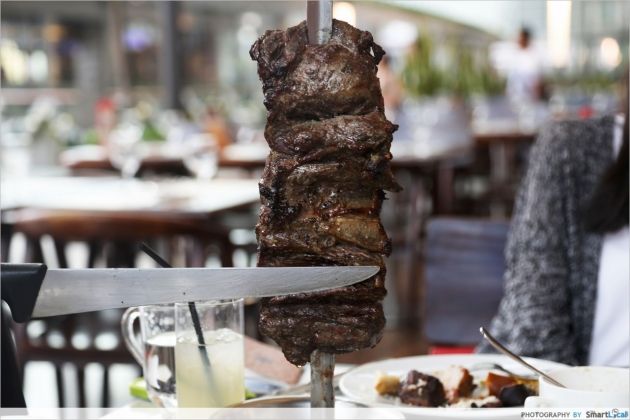 Specialising in Brazilian churrasco, a Spanish and Portuguese term referring to grilled meat, the name Carnivore Brazilian Churrascaria says it all. Serving more than 12 types of meat during dinner, the churrasco menu includes beef rump steak, beef hump, and occasionally, seasonal meats like Moroccan-spiced chicken. For those looking for a twist in your buffet experience, this is not your typical buffet as the meats are served expertly by knife-wielding staff straight onto your plate!
Address: 30 Victoria Street, #01-30, Chjimes, Singapore 197996
Buffet hours: Daily 6pm to 10pm
Tel: 6334 9332
Buffet prices: $52++ for adults
Website | Full list of outlets
---
3. Dallas Restaurant & Bar
---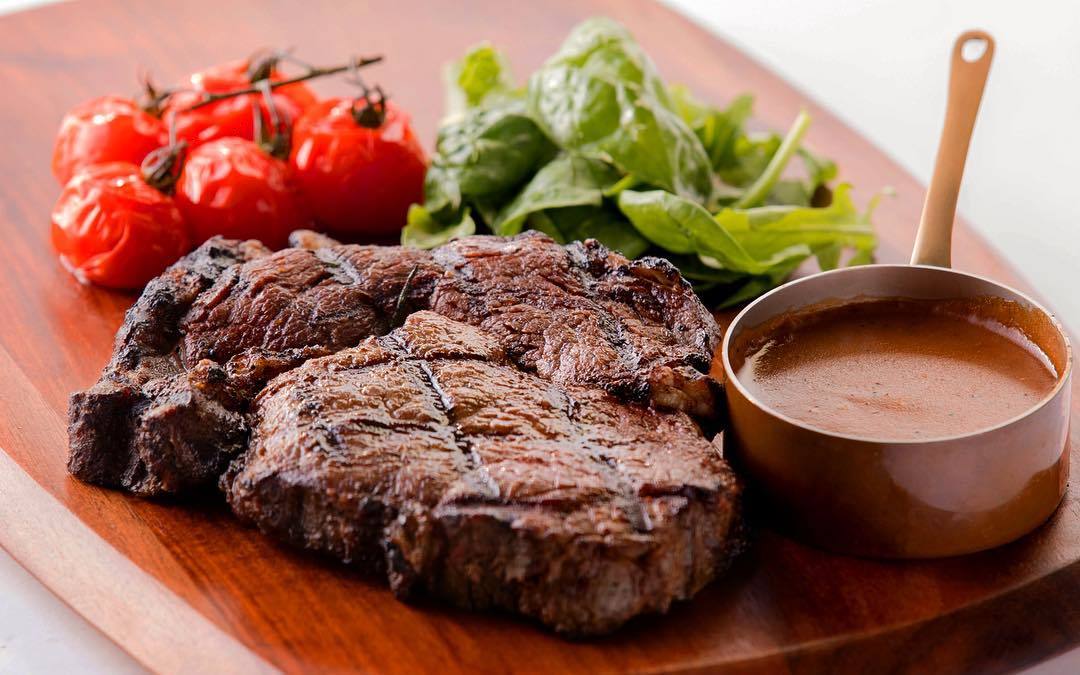 Image credit: @dallassingapore
Available only on weekends and public holidays, Dallas Restaurant & Bar at Boat Quay offers unlimited Prime Rib Steaks for $35++. Each Black Angus prime rib steak is served with Bearnaise sauce, and comes with unlimited fresh salad, as well as truffle fries. This promotion is available for both lunch and dinner.
Address: 31 Boat Quay, Singapore 049820
Buffet hours: Sat-Sun 12pm to 2:30pm, 5pm to 8pm
Tel: 6532 2131
Buffet price: $35++
Website
---
4. Beach Road Kitchen
---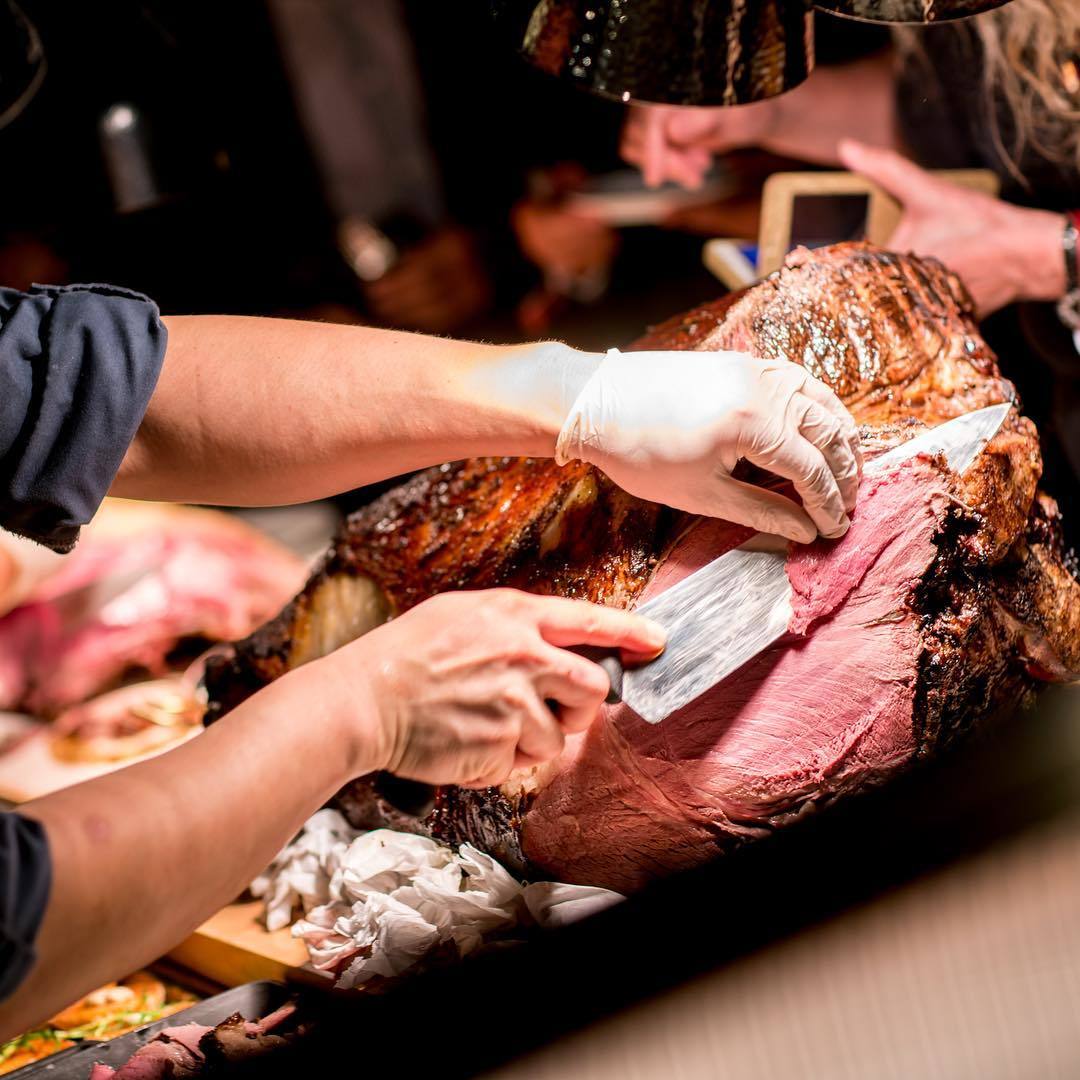 Image credit: @jwmarriottsg
Beach Road Kitchen at JW Marriott Singapore South Beach specialises in serving buffet with various cuisines. During their daily dinner buffet, you can find a gigantic Australian Wagyu Tomahawk Steak sitting on the live grill station for you to eat to your heart's content. The station also offers other grilled meats such as Iberico pork and pork belly. You can get your money's worth by going for their seafood, pizza, and desserts as well!
Address: 30 Beach Road, JW Marriott Singapore South Beach, Singapore 189763
Buffet hours: Daily 6pm to 9pm
Tel: 6818 1913
Buffet price: $88++
Website
10 Boat Quay Restaurants And Bars For CBD Workers To Celebrate TGIF
---
5. Stirling Steaks
---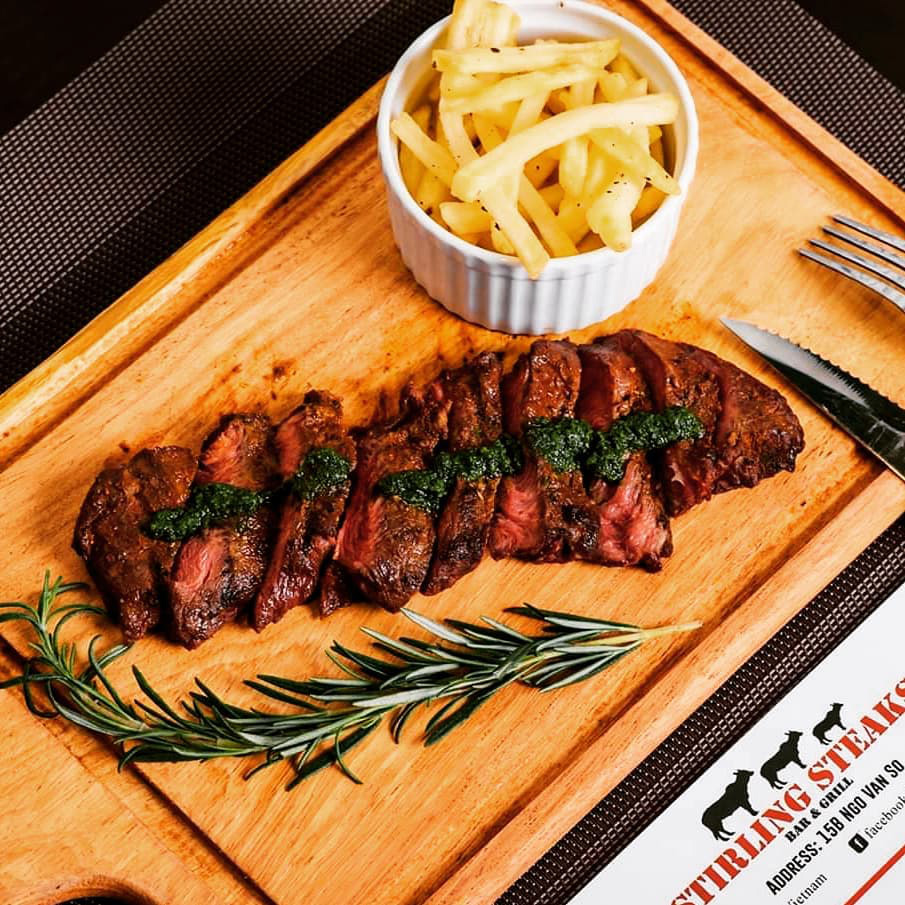 Image credit: Stirling Steaks
Katong-based Stirling Steaks recently launched a lunchtime buffet promotion that got so popular, they had to cease taking reservations. Walk-ins, however, are still permitted, if you want to try your luck. Get unlimited steak, pork belly, fish and more at just $32++ a person, available during lunchtime. This promotion is while stocks last.
For more information, check out our announcement of the Stirling Steaks Buffet.
Address: 115 East Coast Road, Singapore 428804
Buffet hours: Daily 12pm to 1:30pm, 1:30pm to 3pm
Tel: 9788 2583
Buffet price: $32++
Website
---
6. Brazil Churrasco
---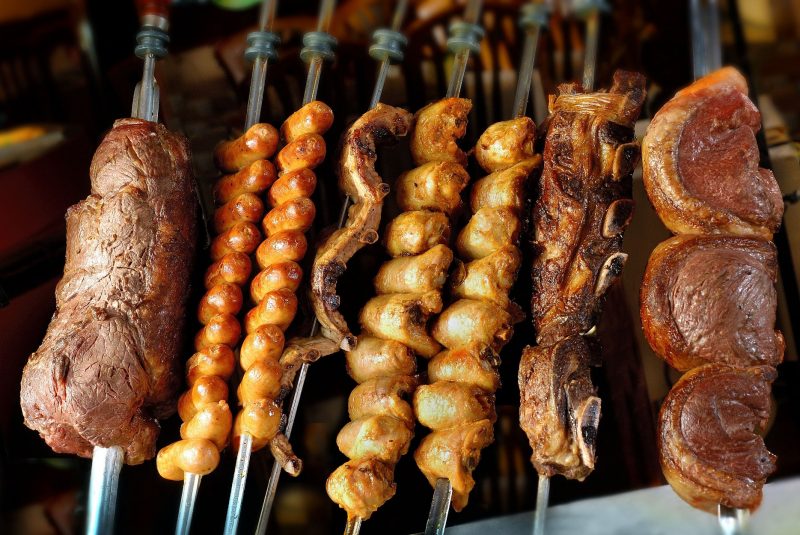 Image credit: Brazil Churrasco
Having been around since 1994, Brazil Churrasco pioneered the churrascaria-style of dining in Singapore. Till today, you can get an unlimited portion of meat served to your table, be it skewers or steaks known as cupim, made of beef hump. Sides are free-flow too, and span unique native Brazillian dishes like feijoada (a black bean and meat stew), heart of palm, and chicken hearts.
Address: 14/16 Sixth Avenue. Singapore 276476
Buffet hours: Daily 6pm to 10pm
Tel: 6463 1923
Buffet price: $55++
Website
---
7. Yakiniku Ohji
---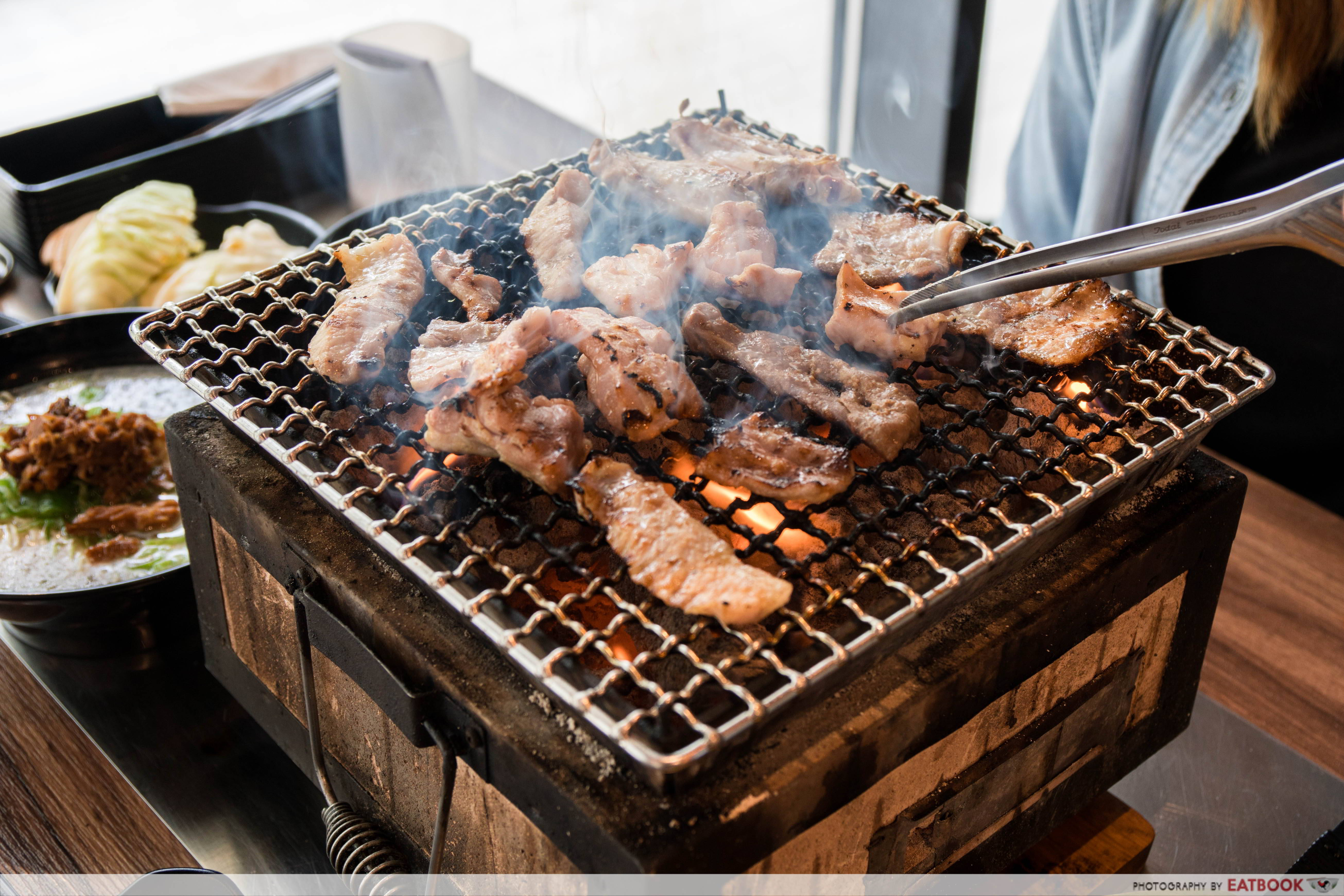 Though a Japanese yakiniku doesn't typically come to mind when you think of steak, Yakiniku Ohji serves some of the most affordable barbecue steak buffets around. You have to do the cooking yourself via a live charcoal grill on the table, but it is worth it when you suss out the beef options available. Three buffet tiers are available: $19.80++, $29.80++ and $42.80++. Go for the second or third tier if it is beef you're after, as you can find the likes of US tenderloin, Harami skirt steak, and sirloin on the menu, alongside other grilled meats and free-flow sides.
Check out our full review of Yakiniku Ohji.
Address:  321 Clementi Ave 3, #01-01, Singapore 129905
Buffet hours: Daily 12pm to 11pm
Tel: 6258 2849
Buffet price: from $19.80++
Website
---
8. Tajimaya Yakiniku
---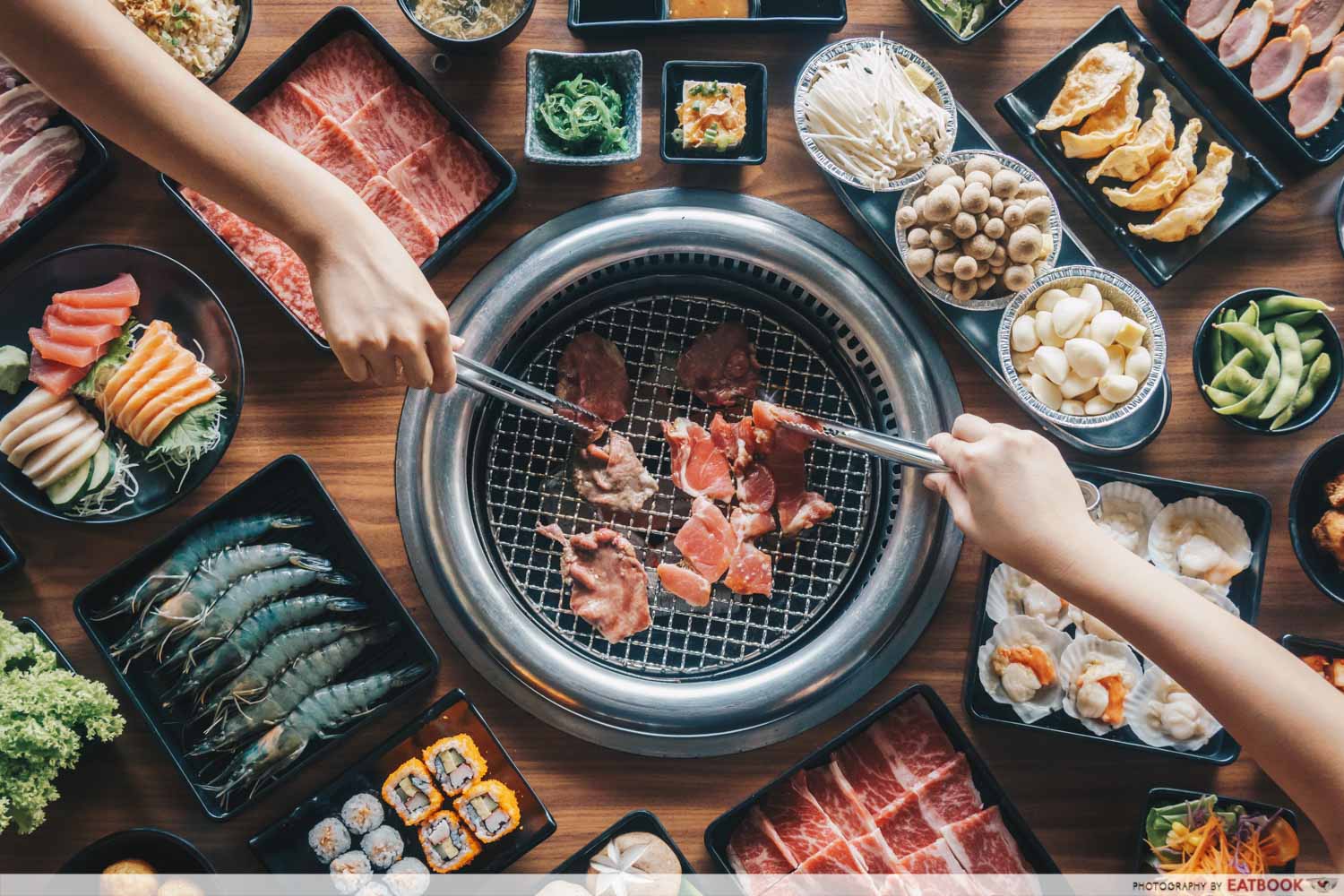 Another yakiniku joint known for their steaks is Tajimaya Yakiniku. The wagyu is especially prized and value-for-money here, and is served to your table sliced, ready to be grilled. Get free-flow Australian wagyu tri-tip portions, amongst many other grilled meats, appetisers, sashimi, seafood and sides, all from $49.90++ for lunch, and $59.90++ for dinner. Buffets last 100 minutes per session. There will be an extra charge of $3++ on Fridays, weekends and eve of public holidays.
Address: 1 HarbourFront Walk, #01-102/103, VivoCity, Singapore 098585
Buffet hours: Mon- Thurs 12pm to 3pm, 6pm to 10pm, Fri 12pm to 3pm, 6pm to 10:30pm, Sat 11:30am to 3pm, 6pm to 10:30pm, Sun 11:30am to 3pm, 6pm to 10pm
Tel: 6377 0070
Buffet price: $49.90++ for lunch, $59.90++ for dinner
Website
---
9. Gyu-Kaku
---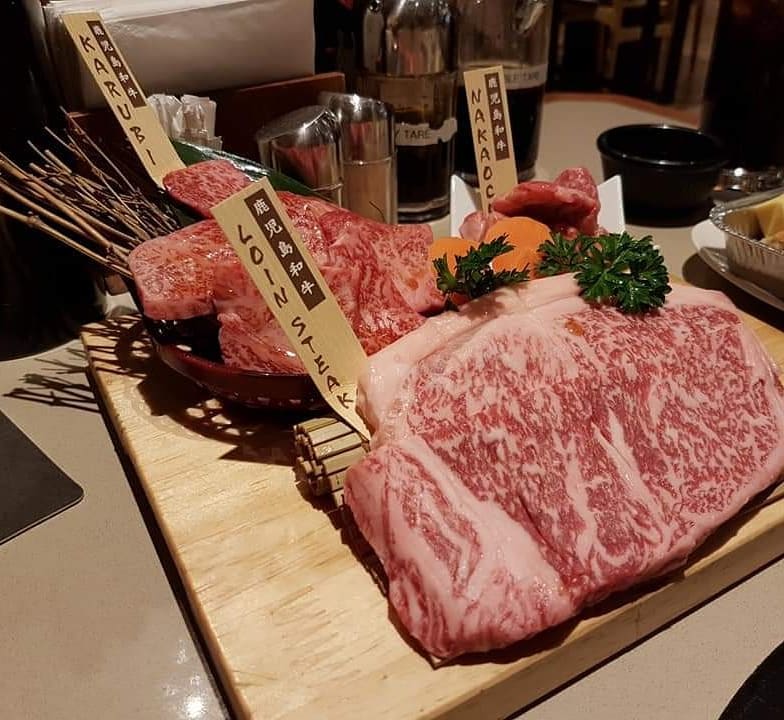 Image credit: @eat_work_fun
One of Singapore's best-known yakinikus, Gyu-Kaku, has a Wagyu Beef Buffet that entitles you to your pick of either all-you-can-eat Japanese or Australian wagyu beef across its outlets in Singapore. For 90-minutes, enjoy an unlimited selection of cuts that include Australian Wagyu Karubi Steak, Japanese Wagyu Steak and Japanese Wagyu Cross Steak to cook over your table's grill. Also included in the buffet are over 70 side dishes to accompany your feast. Prices start at $64.90++ for Australian wagyu only, or $84.90++ for both Australian and Japanese wagyu beef.
Buffet hours: Subject to outlet
Buffet price: $64.90++ for Australian wagyu only, $84.90++ for Japanese and Australian wagyu
Website
Full list of locations
---
10. Yakiniku Heijoen
---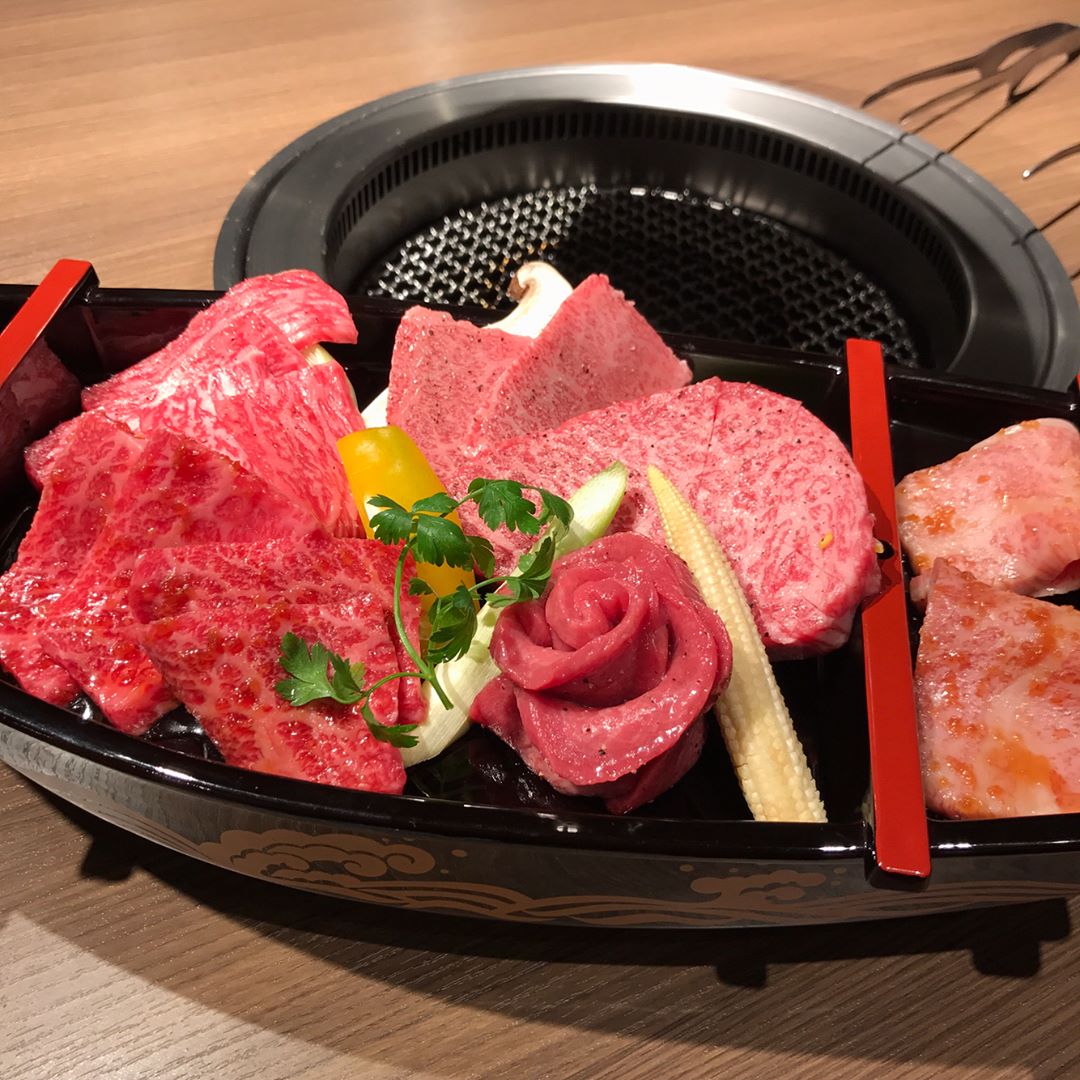 Image credit: @shane.liuw
Yakiniku Heijoen in Tanjong Pagar has an all-you-can-eat Premium Wagyu Buffet for $70++ per person. Choose from a lengthy list of premium beef cuts such as wagyu skirt steak with this bundle, in addition to their regular beef, seafood and sides menu. For a cheaper option, skip the wagyu and pay $55++per person, which still entitles you to unlimited beef steak cuts. Buffets run for 90-minutes, so you have plenty of time to chow down on grilled beef to your heart's content.
Address: 100 Tras Street, #03-11, 100AM, Singapore 079027
Buffet hours: Mon-Fri 6pm to 10pm, Sat-Sun 5:30pm to 10pm
Tel: 6538 2981
Buffet price: from $55++
Website
10 Lobster Rolls In Singapore From $16 Nett For The Ultimate Seafood Sandwich
---
Beef up your food game
---
Whether you're looking for an affordable place to bring your squad to or somewhere more atas for a date, these places will not disappoint when the craving for steak strikes. If you are a meat lover but not feeling quite up for a buffet, we also have a list of giant meat platters for you to check out! 
This article was originally written on 5 September 2017.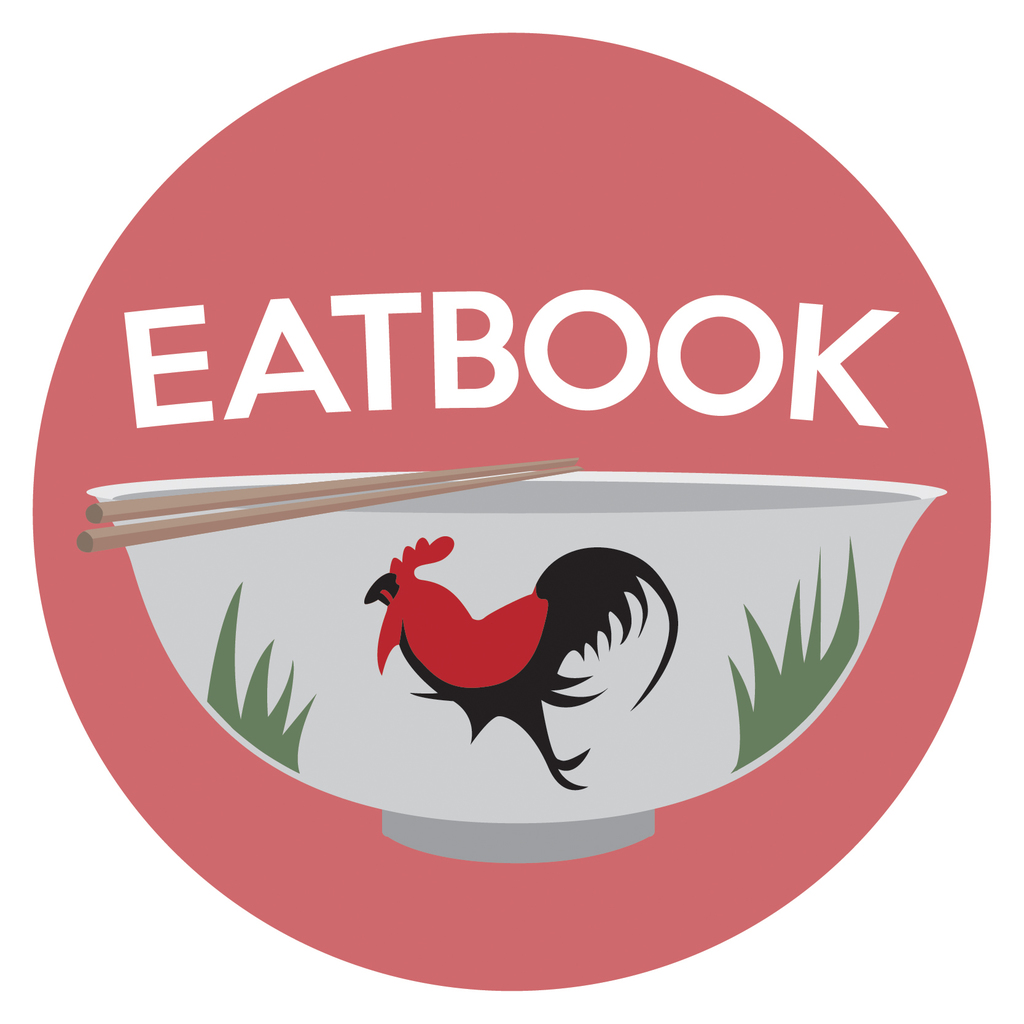 Drop us your email so you won't miss the latest news.