Stirling Steaks' free-flow m
eat and fish buffet for October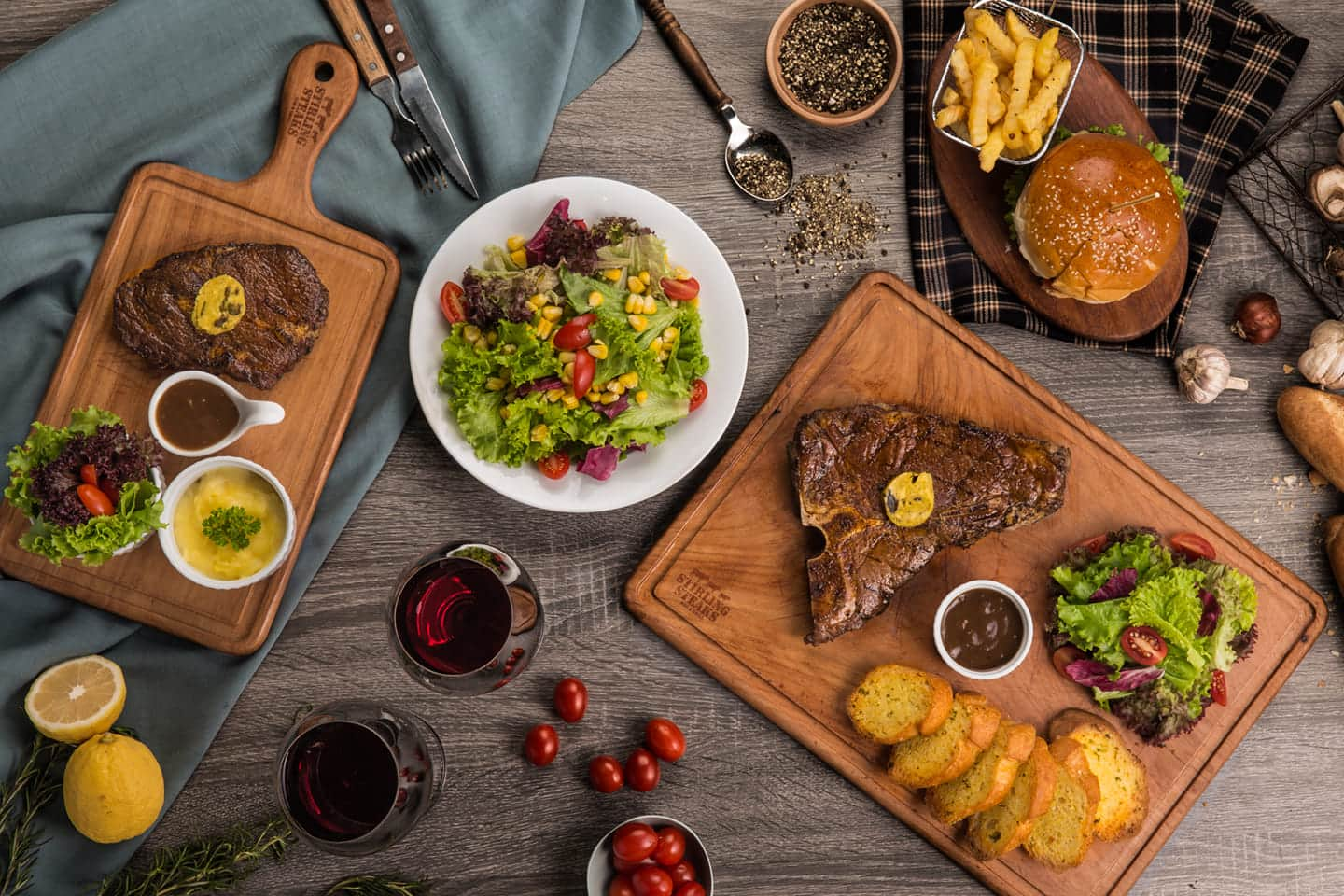 Image credit: Stirling Steaks
Update: Due to overwhelming response, Stirling Steaks will not be accepting reservations for their lunchtime buffet, instead, it will be availble for walk-ins only. They have changed their buffet hours to 12pm to 1:30pm, and 1:30pm to 3pm to cope with the demand. The lunchtime buffet will also be extended till November and it will be priced at $32++ to defray the higher beef costs.
Previously featured as one of the most affordable places for flat iron steaks, Stirling Steaks in Katong is now offering a bargain buffet in the month of October. For just $32++, enjoy unlimited steak, grilled meat and fish as well as free-flow garden salad and fries for lunch.
7 Places For Flat Iron Steaks In Singapore Under $30 For A Cheap Yet Filling Meal

Image credit: Stirling Steaks
The free-flow cuts include a great variety of beef, such as ribeye, striploin, rump and grilled beef shabu. Expect these charcoal-grilled steaks, cooked till medium rare, to have a delicious char. Besides their beef cuts, Stirling Steakhouse will also be serving unlimited grilled pork belly, chicken thigh, and dory fillets as part of the buffet spread, perfect for carnivores around.
Furthermore, complete this meat fest with your choice of beverage. Choose between a mug of beer ($3.90++), soft drinks ($2.90++) or lime juice ($3.50++).

Image credit: Stirling Steaks
This lunchtime buffet is only available from 12pm to 2:30pm daily. Do note that the dining time is limited to 1.5 hours, with a 10- to 15-minute cooking time for every order you make. They also provide a complimentary serving of their rich Stirling sauce to complement the grilled meat, and subsequent servings will cost $0.50. There is also a food wastage charge at $5 per 200g.   
Be sure to grab your meat-loving friends to feast at Stirling Steakhouse before the end of October.
Jack's Place Has $12 Ribeye Steak, Meat Platters, And More New Dining Deals
For more exciting deals this month, check out the $12 ribeye steaks at Jack's Place, as well as the 1-for-1 promotions at One Raffles Place. Alternatively, browse through our list of places serving underrated steak cuts. 
If you happen to be in the East, we also have a foodie guide to 20 places in Katong and Joo Chiat to dine at.
10 Underrated Steak Cuts Such As Flat Iron Steak & Pope's Eye And Where To Get Them
Address: 115 East Coast Road, Singapore 428804
Opening hours: Mon-Fri 12pm to 2:30pm, 6pm to 10pm, Sat and Sun 12pm to 10pm
Tel: 9788 2583
Website