About ParaThai
Update (4th April 2019): ParaThai has permanently closed.
---
When I first heard Paradise Group was going to launch their new thai concept, ParaThai, I was incredibly skeptical. Although Paradise Group is known for delivering consistent standards, I  didn't think a Thai restaurant by a Chinese restaurant group would fare very well. Additionally, I've lived in Bangkok for a year which has led to some rather high expectations when it comes to Thai cuisine.
Upon entering ParaThai, I was really surprised by how the restaurant was so tastefully done up. Instead of another run-of-the-mill Thai restaurant with glossy wood finishings, and blue and white china, the space was done up in a modern style inspired by the dynamic arts scene in Bangkok. Likewise, I was astounded by the dynamic and unrestrained flavours of the food. I now have to shamefully eat my words and admit that I was really impressed with my experience at ParaThai.
---
Appetisers
---
Homemade Minced Pork in Rice Noodle Wrap – $6.90
---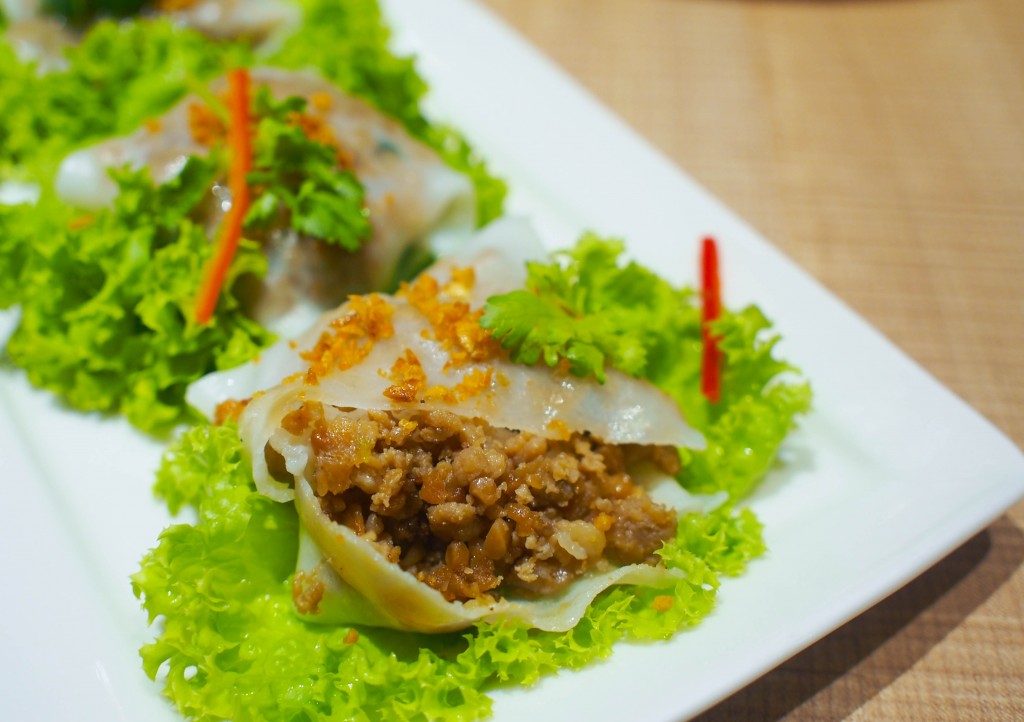 This homemade mince pork in rice noodle wrap is something I've never tried in Thailand. You're supposed to wrap the dumpling with the lettuce and pop the entire thing in your mouth. Biting through the soft, chewy rice noodle layer revealed a juicy pork and sweet preserved radish filling. The fried garlic topping gives an extra crunch.
---
Homemade Pandan Leaf Chicken – $8.90
---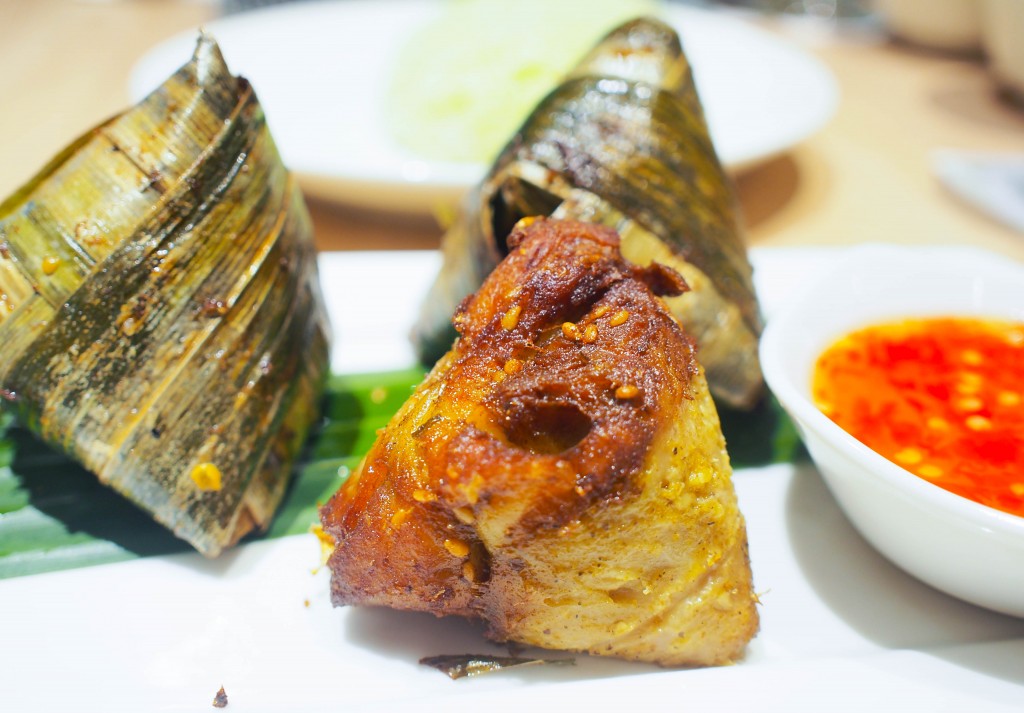 I usually don't understand the hype about pandan chicken. This fatty, oily chicken bound tightly by pandan leaves is such a mess to eat, and not worth the effort at all. But I would gladly taint my fingers for ParaThai's version of this dish. The glistening chicken falls right out of its pandan cocoon, and the meat is moist and well-infused with a medley of Thai spices. It is a complete mystery how the chicken remained so moist despite not being overly fatty. I can only allude it to the expertise of Chef Meaw and his team. The accompanying homemade sweet chili sauce is just the right amount of sweet, spicy, and garlicky, and helps to cut through the richness of the chicken.
---
Mains
---
Tom Yum Soup with Sea Prawns – $19.90
---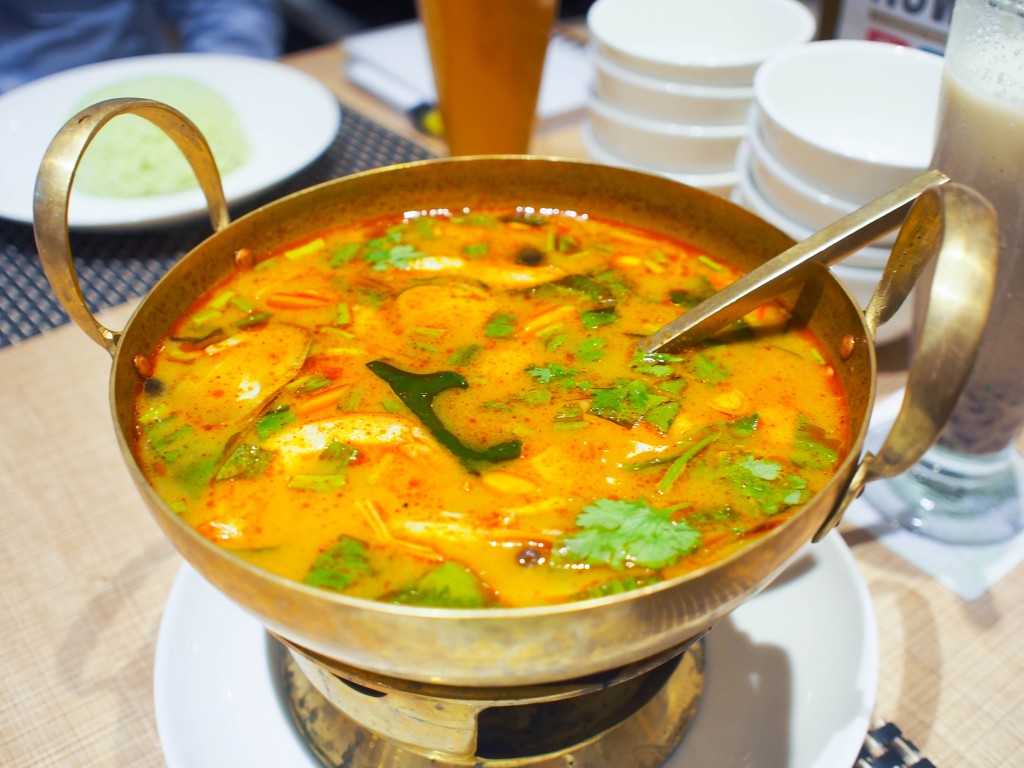 This tangy and spicy classic Thai soup had lots of depth and flavour thanks to Chef Meaw's insistence on using homemade chicken stock instead of plain water as the Thais usually do. I loved the creamy broth but the prawns were way too overcooked for my liking.
---
Traditional Thai Green Curry Chicken – $12.90
---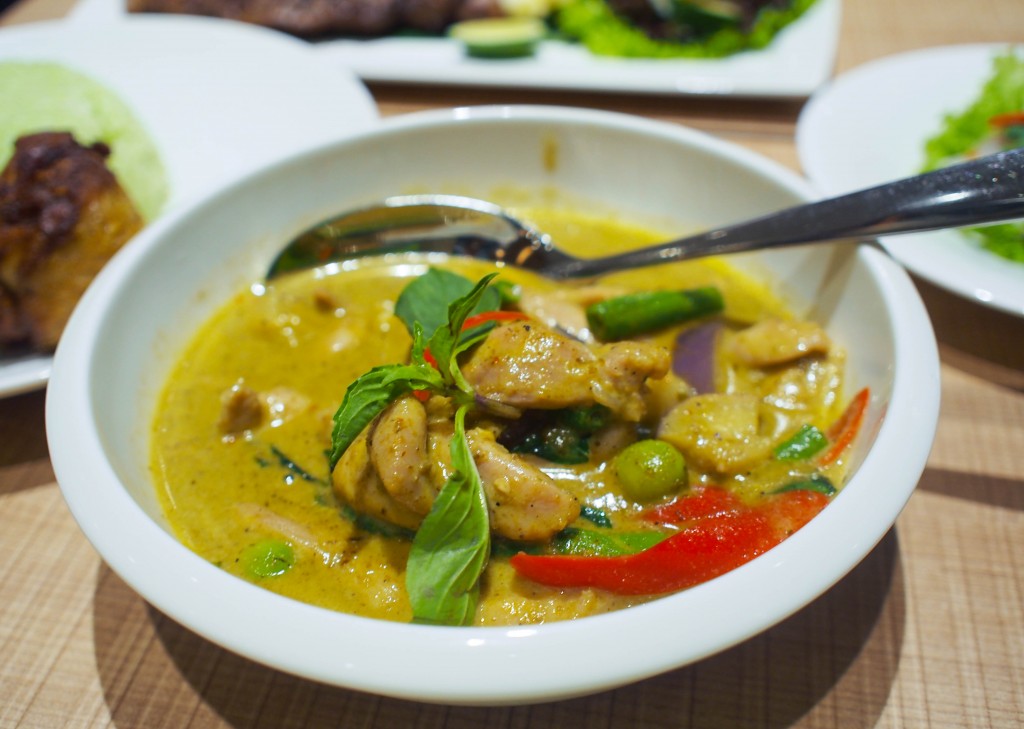 One of the distinguishing factors that sets central Thai cuisine apart from other regions is the heavy use of coconut milk. This is apparent in ParaThai's creamy green curry chicken, where the gravy is much thicker. I like this style much better compared to the more watery versions, as this feels softer and richer on your palate.  The curry paste was also brilliantly done, resulting in a fiery and full-bodied gravy. My only gripe about this dish would be the slightly mushy eggplants.
---
Stir-fried Mini Asparagus with Egg Beancurd and Mushroom – $12.90
---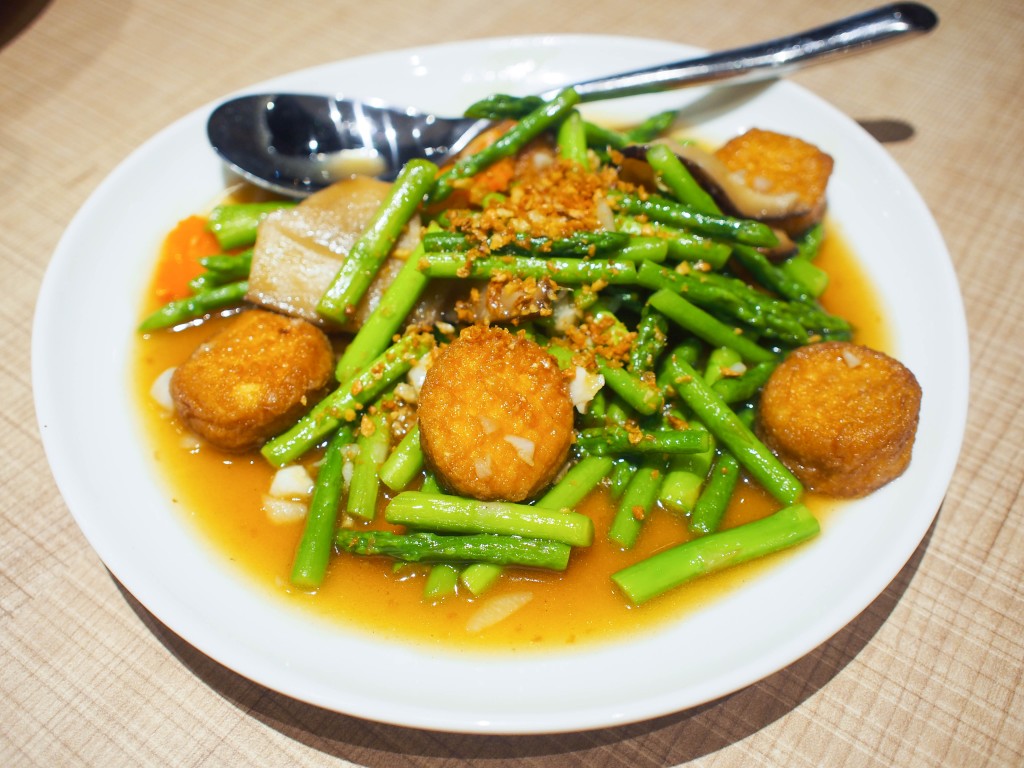 This stir-fry asparagus dish turned out more Chinese than Thai with its garlicky starchy sauce. It'snot something I would order again, solely because I would prefer to get something with a more distinctive Thai flavour.
---
Assorted Vegetable Tempura and Omelette served with Shrimp Paste Sauce – $15.90
---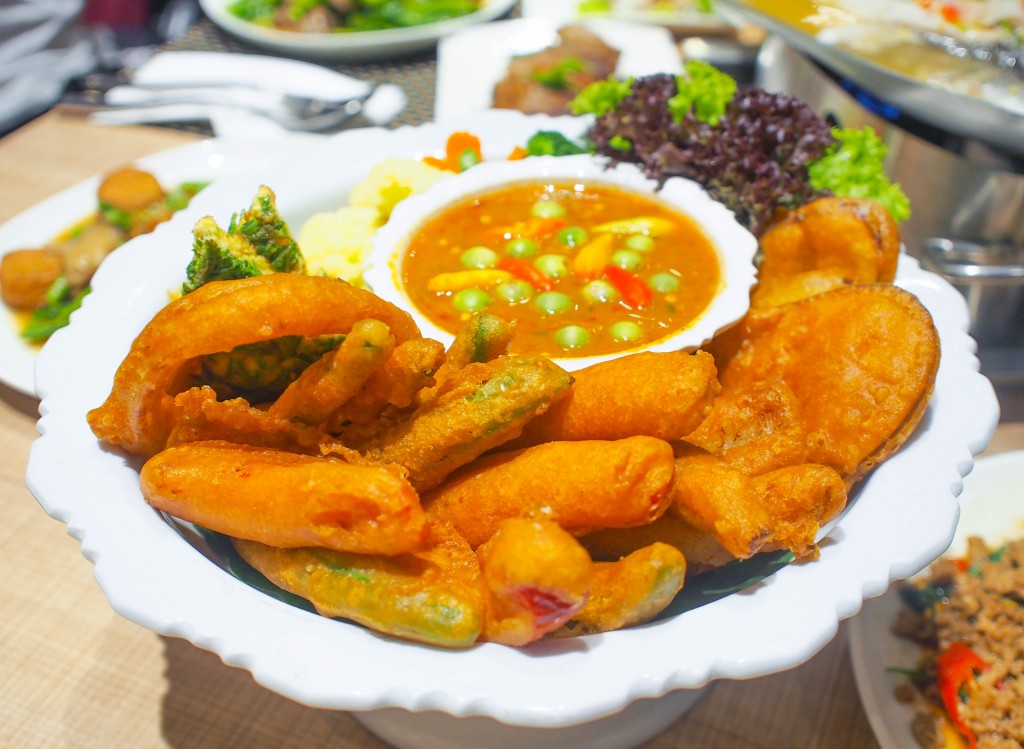 When I saw this Nam Prik dish on the menu, my heart leapt for joy! Nam Prik, which loosely translates to liquid chili, is a dish of raw and boiled vegetables that is served with a side of blazing chili paste. This chili paste has many variations, but most of them contain fermented prawn paste, shallots, and fresh chilis. I never thought I'd be able to eat it in Singapore because it's so unknown here, so I knew I definitely had to try it at ParaThai.
We ordered the tempura vegetable version, which I've never seen in Bangkok, but it proved to be a good decision. The deep fried vegetables were crispy and not in the least bit oily. I particularly enjoyed the eggplant, onion, and vegetable omelette. The Nam Prik itself however, completely stole the show! The fermented shrimp gave the fiery paste an extra boost of umami, and I was rejoicing over how authentic it tasted.
---
Steamed Seabass with Lime and Chilli – $29.90
---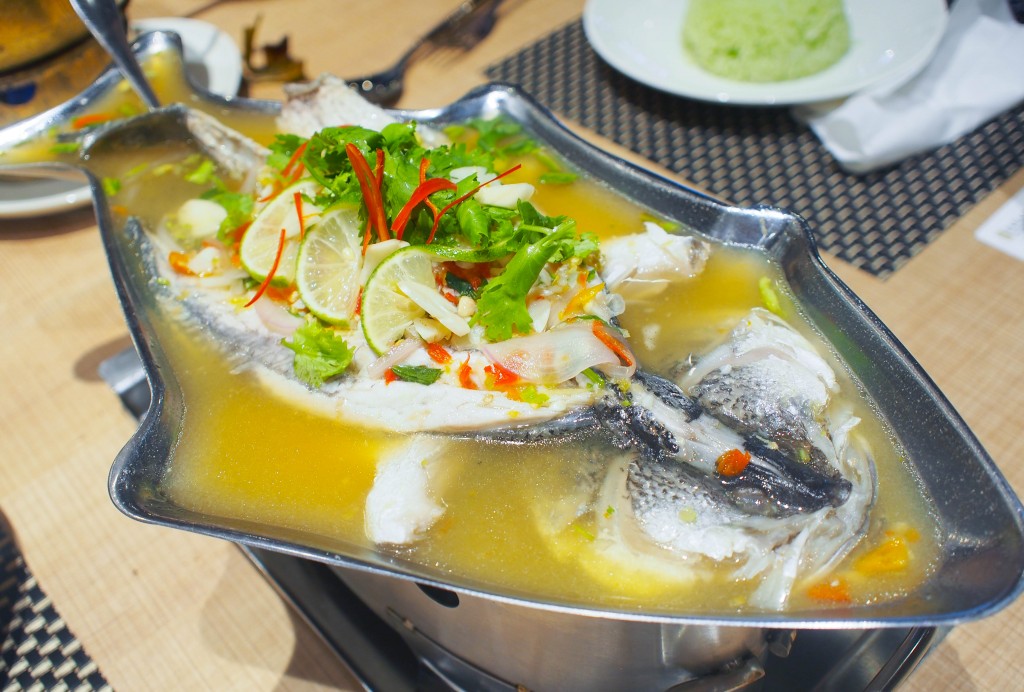 One of the dishes I looked forward to the most was this steamed Seabass in lime and chili, as I always had it in Bangkok. While the fish was perfectly cooked, the sauce could have been more sour and spicy. When I brought this up to the waitress, she said I could request for the sauce to be done in a more authentic Thai style the next time I order this. This dish is currently milder, as most Singaporeans are unable to withstand the intensity of the original version.
---
"Crying Tiger" BBQ Beef Steak served with Homemade Sauce – $16.90
---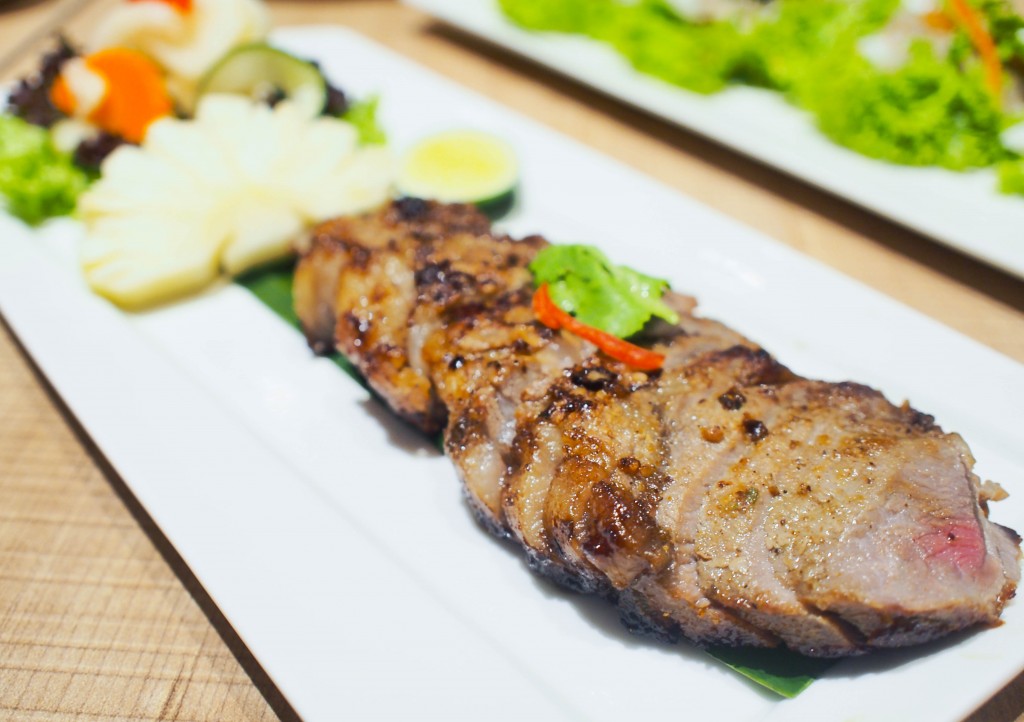 One of ParaThai's signature dishes, this dish features US beef that has been marinated and then grilled over charcoal. The beef comes with a homemade sauce made from 18 different types of spices and ingredients. Sadly, the beef was too tough and dry. Even though this is typical of BBQ beef back in Thailand, I felt that the dish could have been modified to yield a juicier finish for Singaporeans who are more accustomed to tender steaks. Although the sauce sounded impressive, it was too sweet, and didn't really complement the meat.
---
Pandan Rice – $1.50
---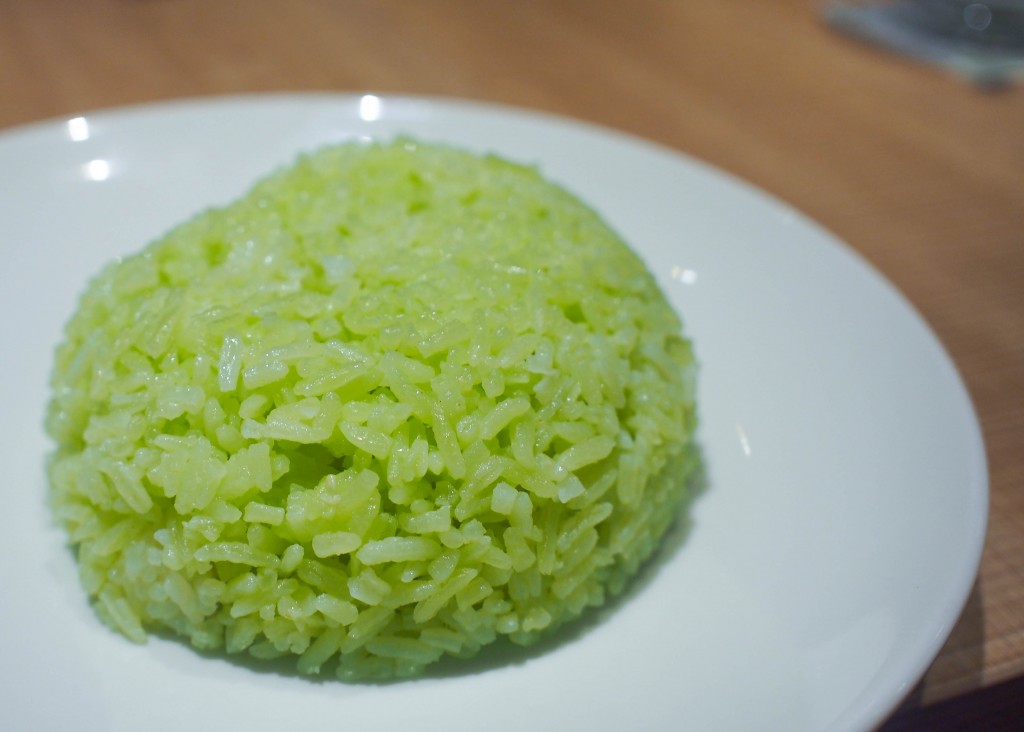 The pandan rice is technically not a dish, but it comes highly recommended by the staff at ParaThai. Raw rice grains are soaked in pure pandan extract overnight to give the rice it's unique colour and flavour before it is cooked. The process yields rice that is soft and slightly chewy, with the soothing aroma of pandan.
---
Drinks and Dessert
---
Thai Chendol – $5.80
---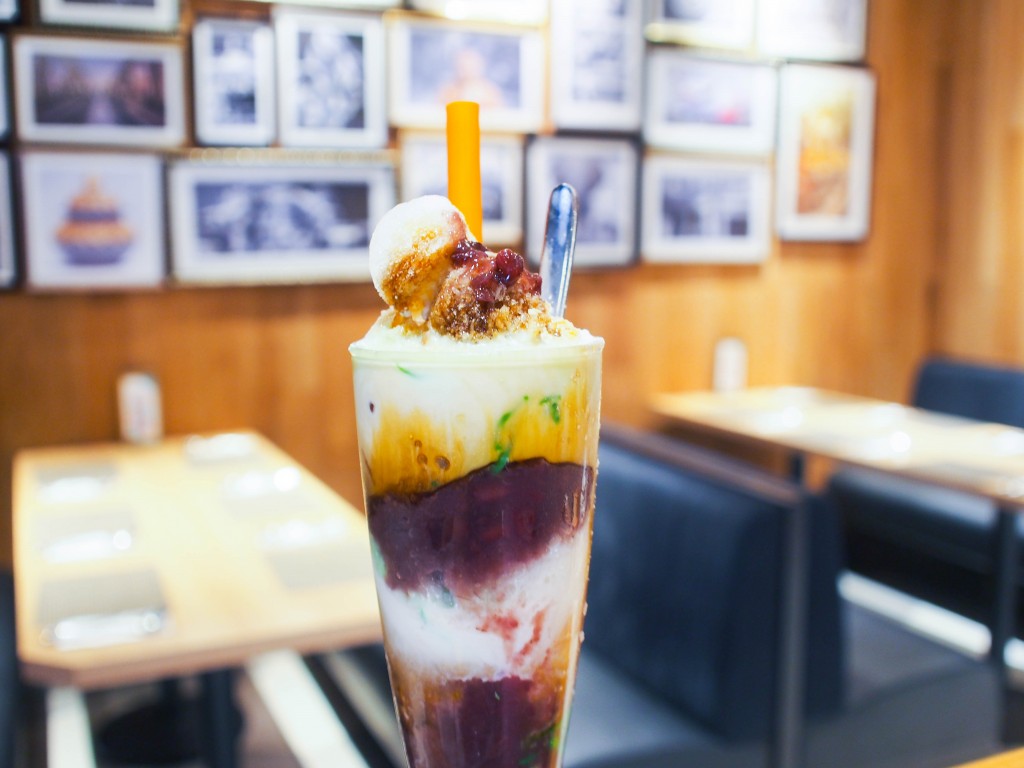 I was really hoping this chendol would bring me back to hot summer days on the streets of Bangkok. But it fell short of my expectations. It tastes nothing like the Thai Chendols I'm used to, as it's lacking the trademark smokey gula melaka flavour. That said, this would make a pretty decent Singaporean-style Chendol with the generous amount of red beans, grated coconut, and pandan jelly noodles.
Go for Parathai's Thai Iced Tea ($4.20) instead. They use gula melaka to sweeten the tea, which creates a whole new dimension to the drink.
---
Sweet Tapioca served with Coconut Milk – $4.90
---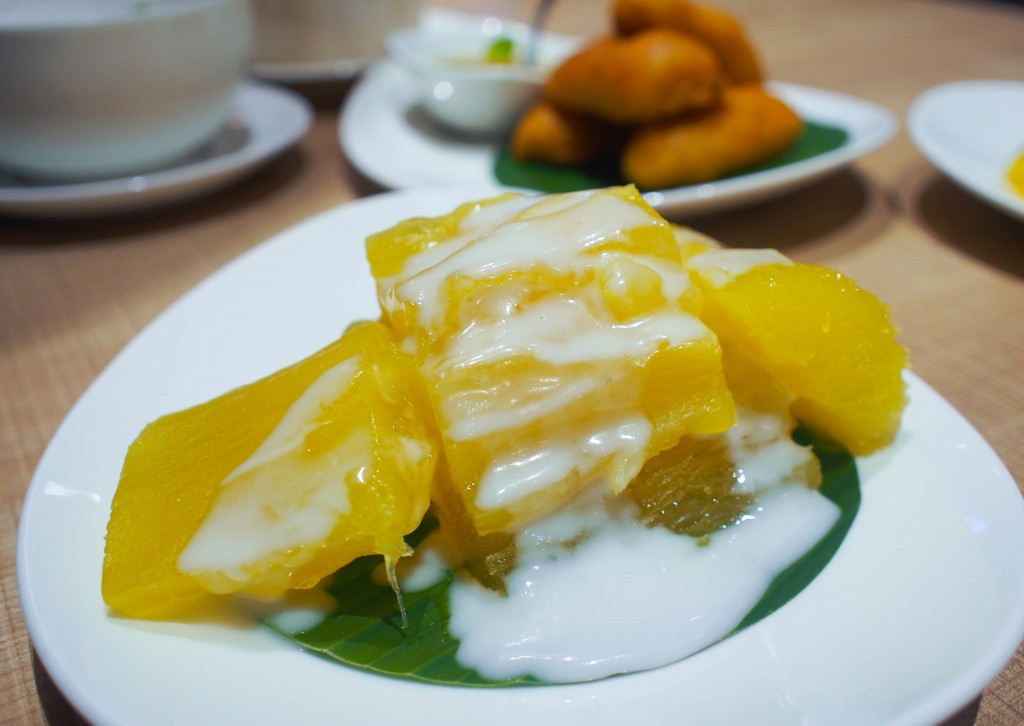 This simple dish of warm, sticky steamed tapioca may seem like a boring choice, but it is highly addictive. It's a nice change from the usual mango sticky rice, and cleanses your palate after a heavy meal.
---
Deep-fried Banana Fritters served with Honey – $5.90
---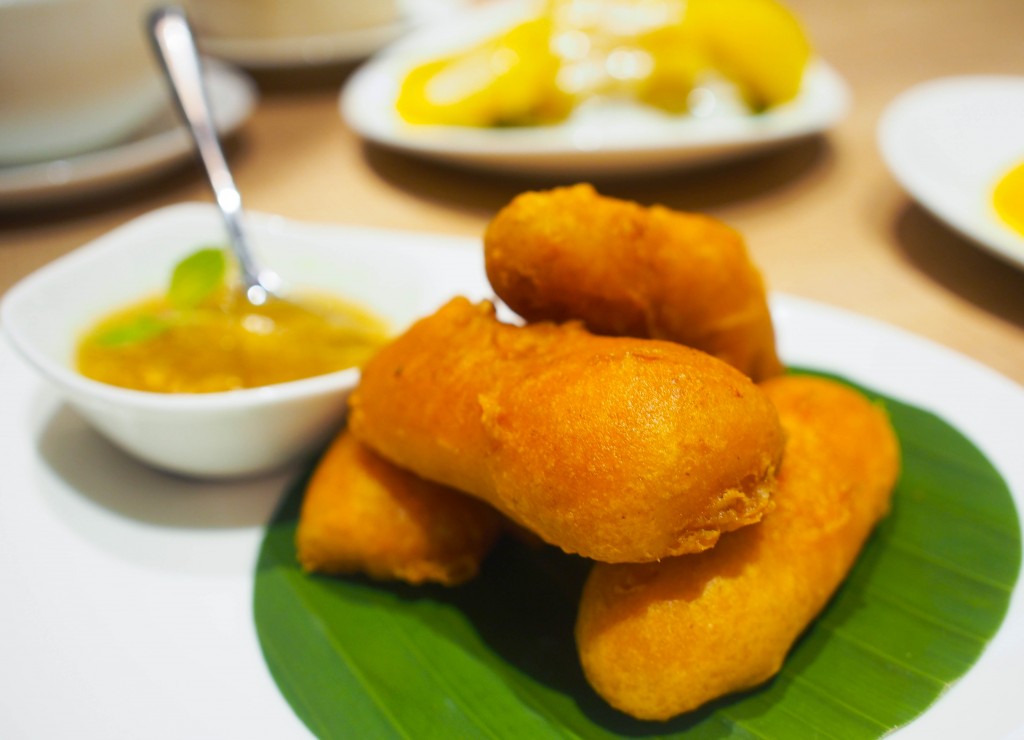 Far from being a Thai goreng pisang, Parathai's banana fritters are more reminiscent of banana tempura. A crispy savoury shell gives way to piping hot, melty bananas. The honey banana sauce is a great addition to this dish as it highlights the fragrance of the bananas without being too cloying.
This article is brought to you by Parathai
Summary
Pros
– Very authentic
– Flavours are bold
– Seasoning is customisable
– Affordable sets
– Good variety
Cons
– Some dishes are more Chinese than Thai
– Beef was too tough
Recommended Dishes
Steamed Seabass with Chili and Lime ($29.90)
Vegetable Tempura with Shrimp Paste Sauce ($15.90)
Green Curry Chicken ($12.90)
Pandan Chicken ($8.90)
Sweet Tapioca with Coconut Milk ($4.90)
Banana Fritters with Honey Sauce ($5.90)
Opening Hours
Mon – Fri: 11am – 10pm
Sat, Sun & PH: 1030am – 10pm
Address
11 Tanjong Katong Road
OneKM #02-23
Singapore 437157