Treat yourself to Colony's lunch buffet
Only two buffets in Singapore have received an almost perfect score from me. The first is Edge's Champagne Brunch at Pan Pacific Hotel – the second is Colony's Lunch Buffet. Having been there twice in the span of one year, I can ascertain that this buffet spread is worth repeated visits, thanks to its variety of dishes and superior quality of food.
Plus, dining here won't burn a hole in your pocket, as it's priced at $58++ on weekdays and $62++ on weekends. That's really affordable for a five-star hotel.
Food at Colony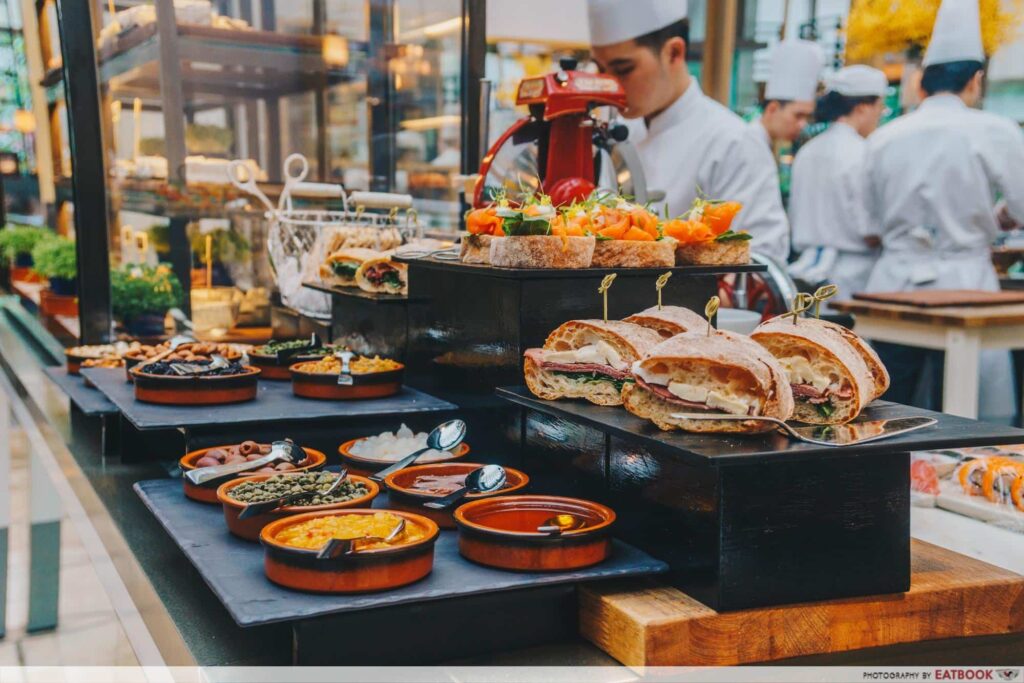 While carbs are generally a no-no for experienced buffet-goers, I had to do a double take when I passed the Sandwich Corner. Marked by rustic ciabatta bread, the rows of gourmet sandwiches called out to me. Worth every calorie was the Iberico Ham Sandwich, with its rich umami flavour and chunks of mellow, creamy burrata.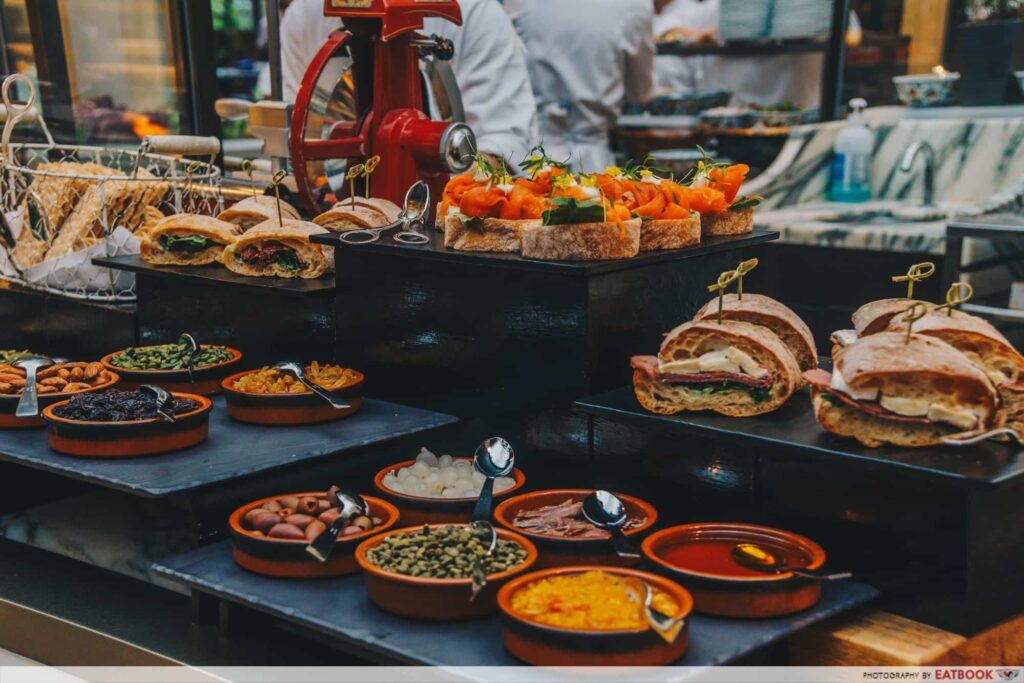 Take your pick of condiments to customise your sandwich with, including pickled olives and anchovies.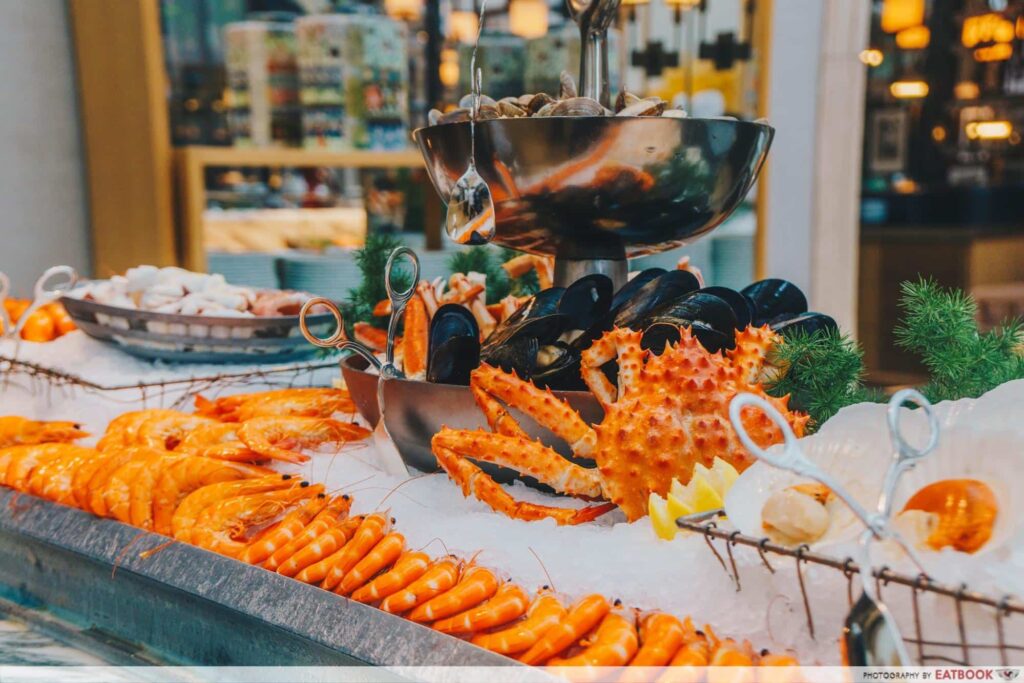 Sharing the same space was the glorious Ice Bar, which came replete with fresh seafood including scallops, white clams, flower clams, marinated sea squid, Australian black mussels, snow crab legs and poached prawns. The prawns were sweet and firm, indicating its freshness, while the snow crab legs were nicely sliced open for your easy picking.
This station was extremely popular and there was always a crowd surrounding it. That being said, the staff members worked fast in replenishing the oceanic goodies, so you never have to exert patience.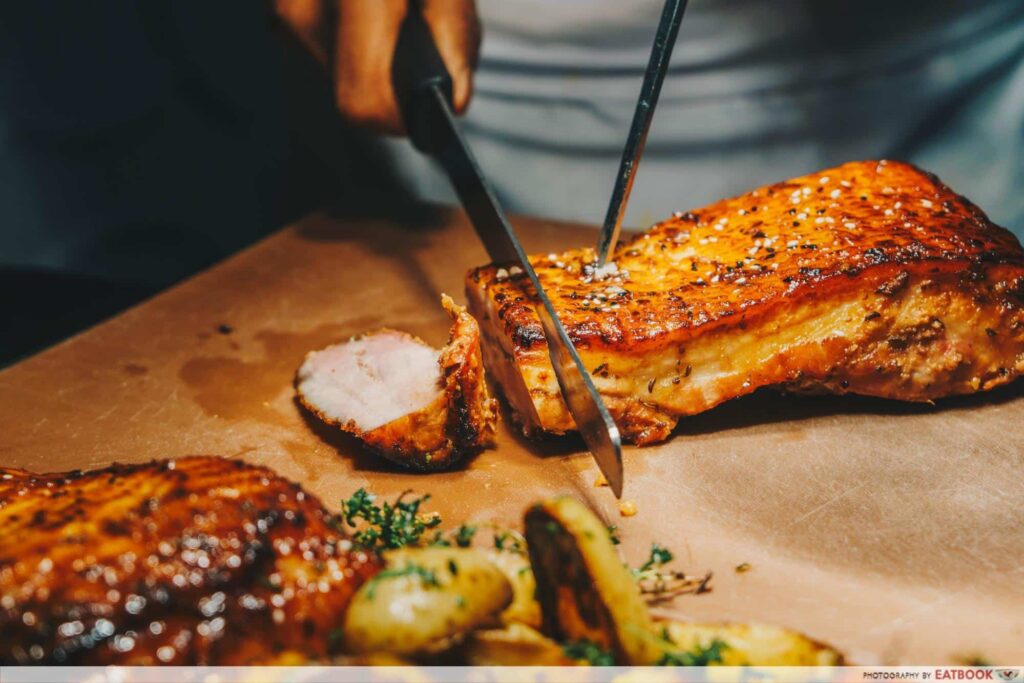 Even if you don't have a carnivorous appetite, you must check out The Grill & Rotisserie station for the crispy pork belly and marinated beef short rib that's stone grilled upon order. The former was succulent with a nice layer of fat beneath the crackling.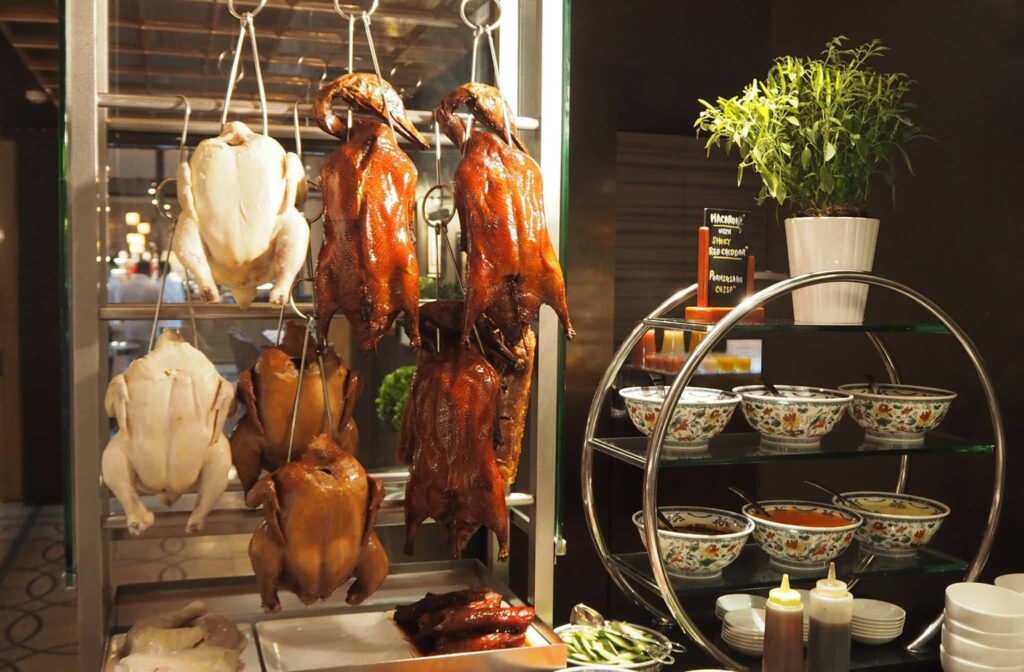 Image credit: Colony's Facebook page
The local roast meats can't compare to stalwart favourites like Wee Nam Kee or Kay Lee, but they can give lesser-known hawkers a run for their money. The fluffy rice was fragrant, with subtle notes of ginger and garlic. It was also slightly oily and did not clump together, pairing well with the moist and supple poached chicken.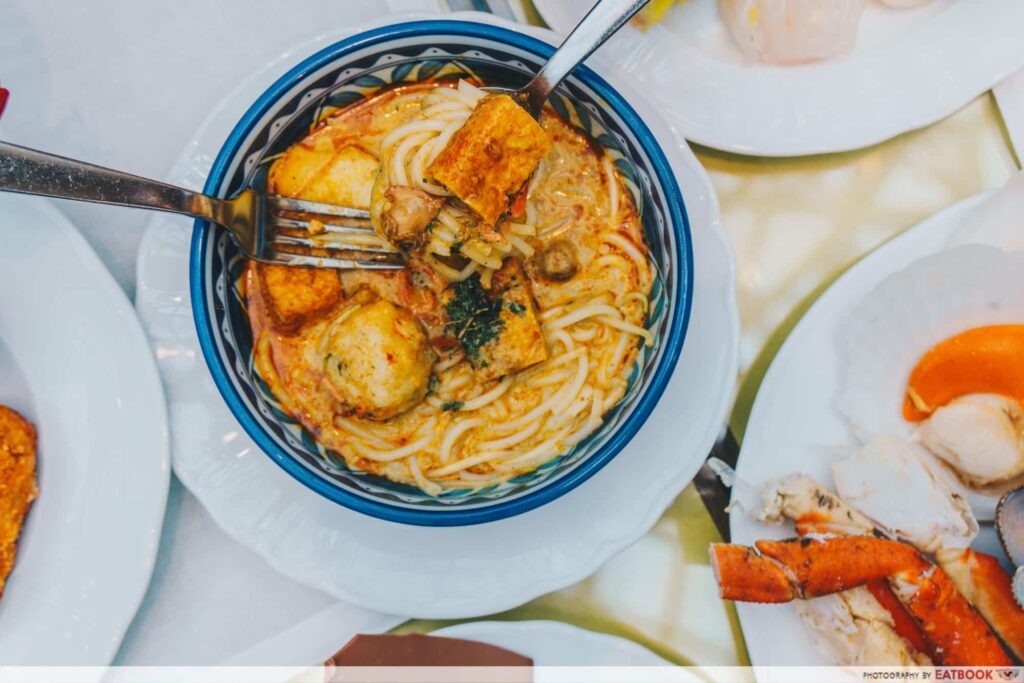 Colony Singapore Laksa hits all the right spots with its lemak, picante broth. The aromatic coconut base was punched up with strong spice notes that tantalised our palates.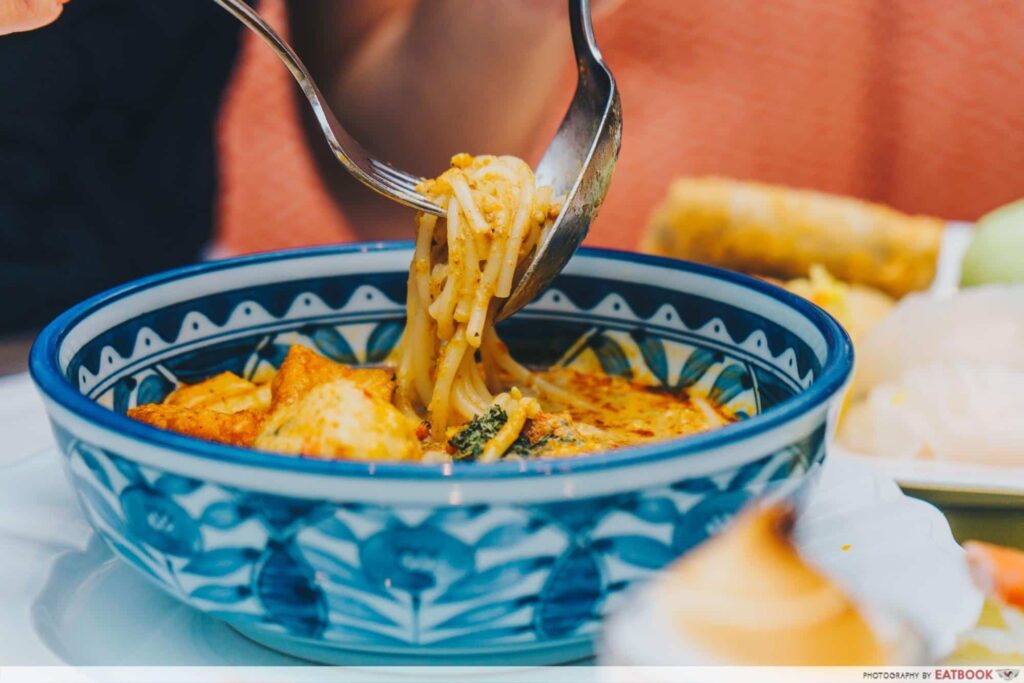 The slippery smooth noodles were accompanied by the usual tau pok, fish cakes and prawns, as well as a handmade lobster ball.
There are a few other stations to look out for serving up Indian cuisine, dim sum, as well as other hearty local creations.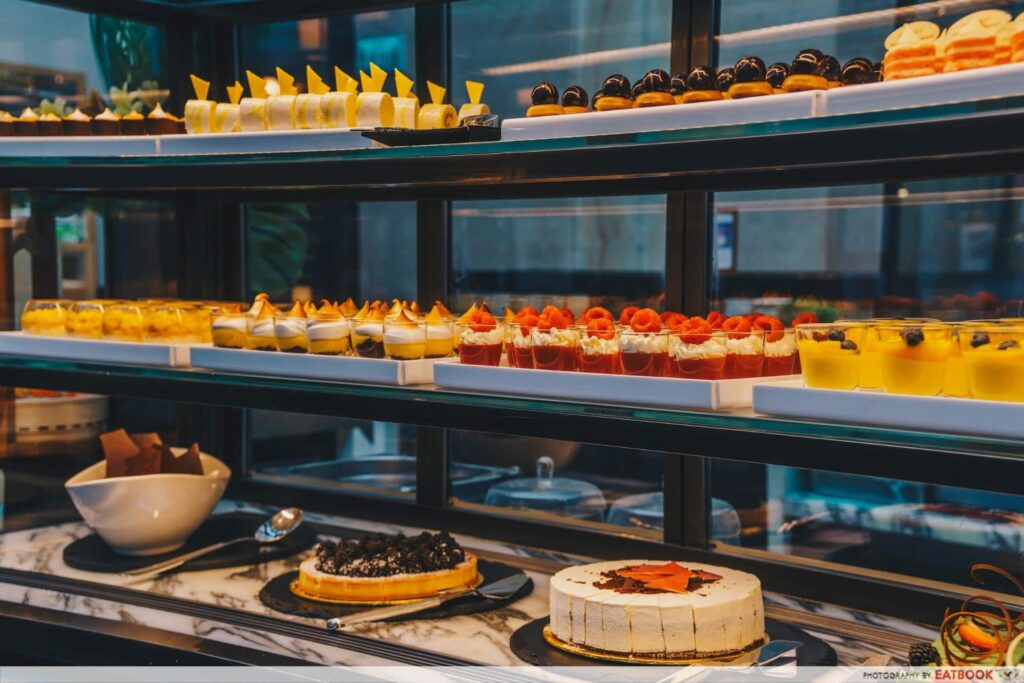 Desserts are not an afterthought at Colony's lunch buffet. In fact, their spread of toothsome treats can very well rival a top cake shop. There you will find whole cakes, handcrafted chocolates, tarts, pastries and sorbet. There are also local desserts too, including ondeh ondeh and nine-layer kueh.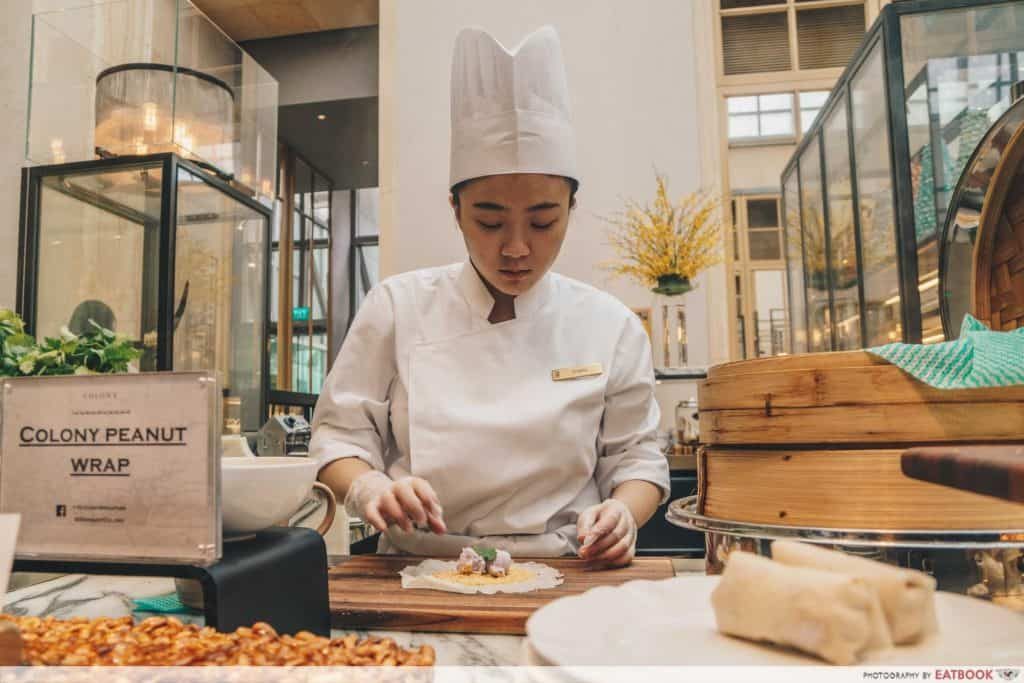 A must-try is the Taiwanese peanut wrap, where peanut brittle and yam ice-cream are rolled together in a thin crepe.
Ambience at Colony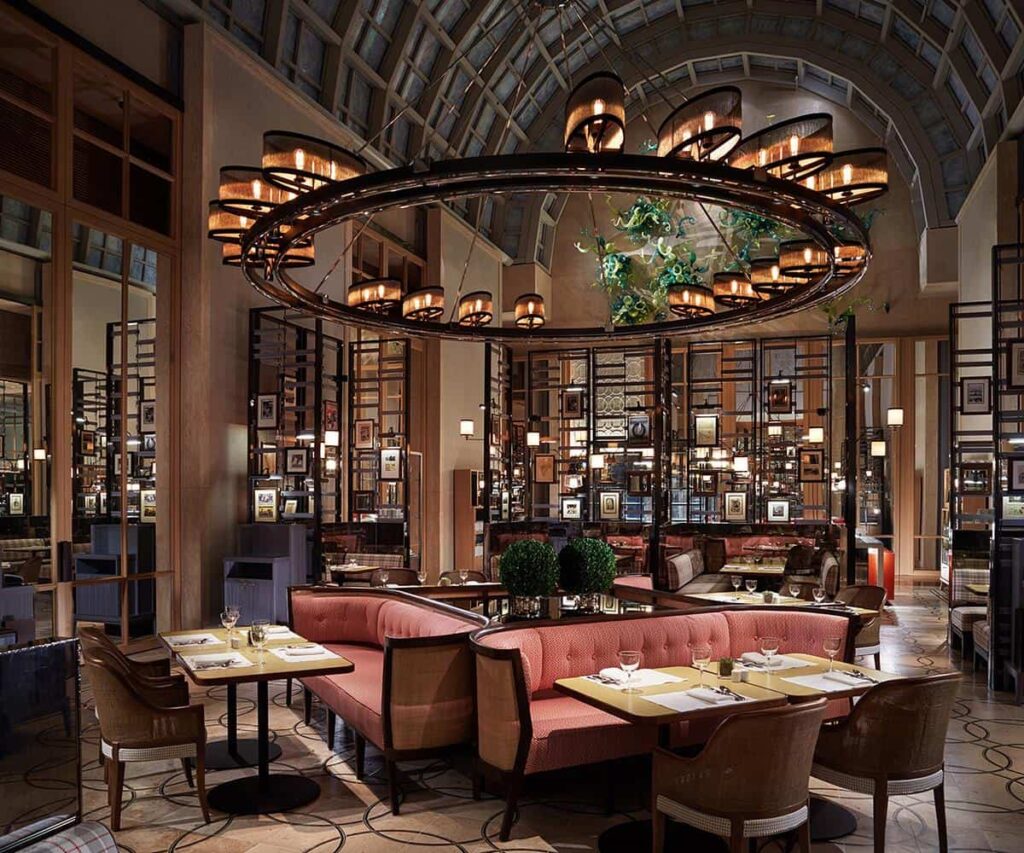 Situated in a corner of The Ritz-Carlton, Colony, as the name suggests, takes on a British colonial design, with modern furniture positioned starkly against vintage prints. All around are frames of old maps, photographs and postcards of the charming yesteryear, which help evoke a sense of nostalgia.
The best thing about Colony is that most of the stations are partitioned away from the dining space. In fact, you have to walk through an inconspicuous sliding door to the conservatory kitchens. This definitely elevates the buffet experience, as you won't have buffet goers standing around you while you dine.
The verdict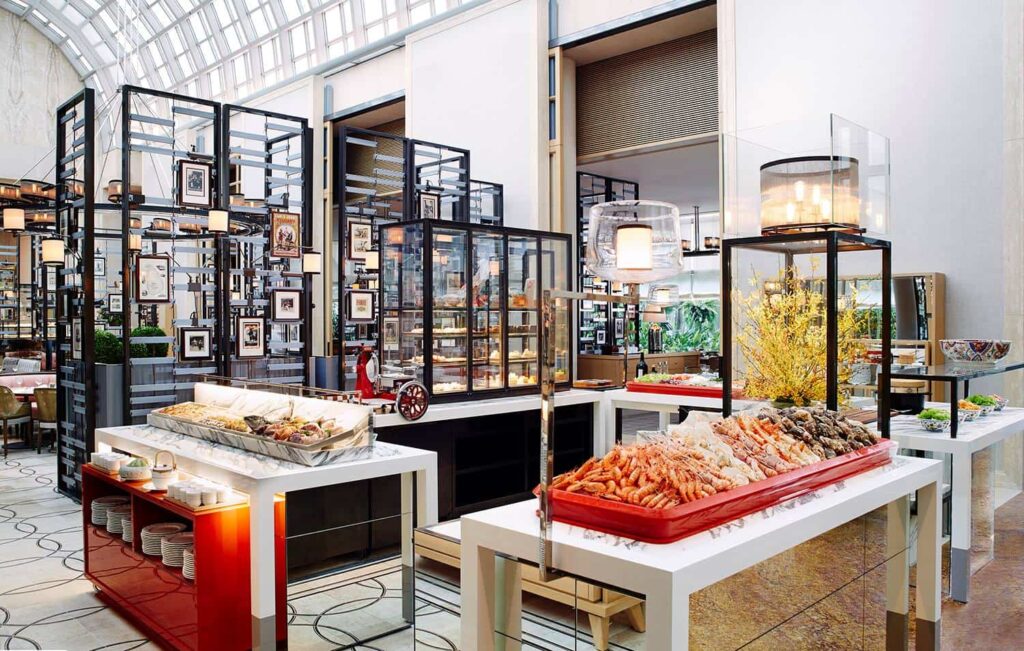 Image credit: Colony's Facebook page
Ambience: ☑️
Good food: ☑️
Many a time, buffets focus on quantity instead of quality. But at Colony, you can expect an epicurean feast, where all the dishes are created to perfection. Together with its swanky ambience, this spot is one I would recommend over and over again to friends. It is certainly the most value-for-money hotel buffet in Singapore.
Address: 7 Raffles Avenue, The Ritz-Carlton, Millenia Singapore, Singapore 039799
Lunch buffet hours: Mon-Sat 12pm to 2:30pm
Tel: 6434 5288
Website
Photos taken by Pepita Hope Wauran.
This is an independent review by Eatbook.
Summary
Pros
– Gourmet spread
– Neat ambience
– Value for money
– No crowd of buffet-goers around you when you dine

Cons
– Advance reservations required, especially during festive period
Recommended dishes: Peanut Wrap, Ice Bar, Colony Singapore Laksa, Iberico ham Sandwich
Lunch buffet hours: Mon-Sat 12pm to 2:30pm
Address: 7 Raffles Avenue, The Ritz-Carlton, Millenia Singapore, Singapore 039799