Uni Gallery at The Plaza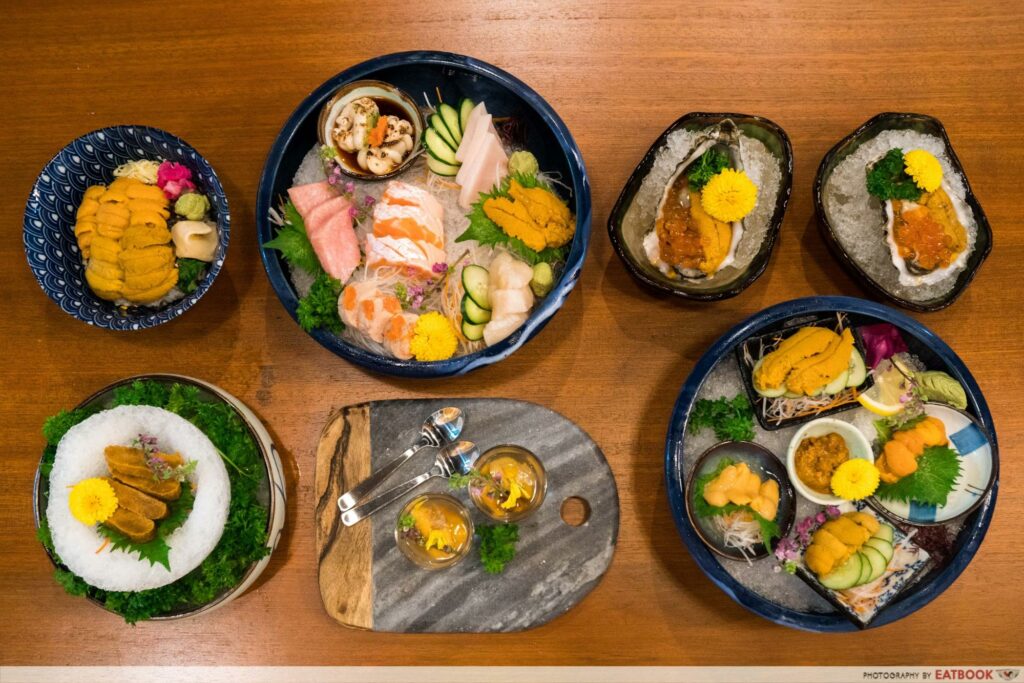 I remember the first time I had uni (sea urchin). It was in an inconspicuous izakaya near Hong Kong Street. Fresh uni crowned a bed of al dente pasta, and it was one of the best Japanese-Italian fusion dish I've ever had the pleasure of trying. Sadly, I seldom order uni at a Japanese restaurant due to its exorbitant price. That is until I came across Uni Gallery, which is located in the basement of The Plaza at Beach Road. While their regular prices are not exactly affordable, they offer a couple of lunch specials at less than $20++.
Food at Uni Gallery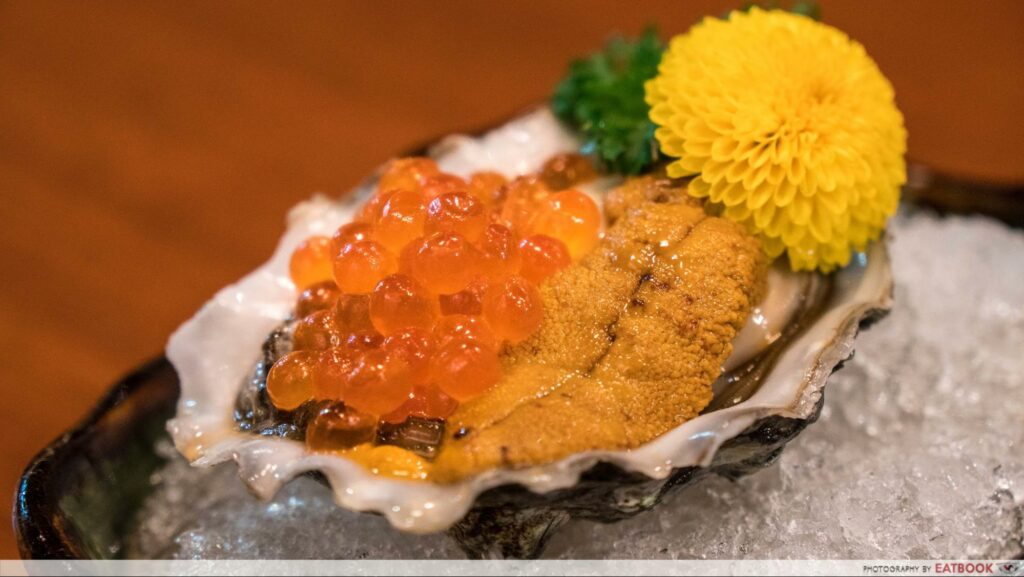 As the name suggests, uni takes centrestage in this cosy Japanese restaurant. The menu is extensive, with pages after pages of uni creations, along with other Japanese delights such as sashimi, unagi, and wagyu.
To start our meal on a right note, we were recommended the Uni Oyster Shot ($25++). The palm-sized oyster was plump and fresh, while the buttery uni and firm ikura that burst in my mouth provided textural contrast. Slurping everything down together felt like a party in my mouth – and I didn't want the music to stop. Sure, the price is pretty over the top for someone with shallow pockets, but if you ever want to experience a foodgasm, this is the dish to have.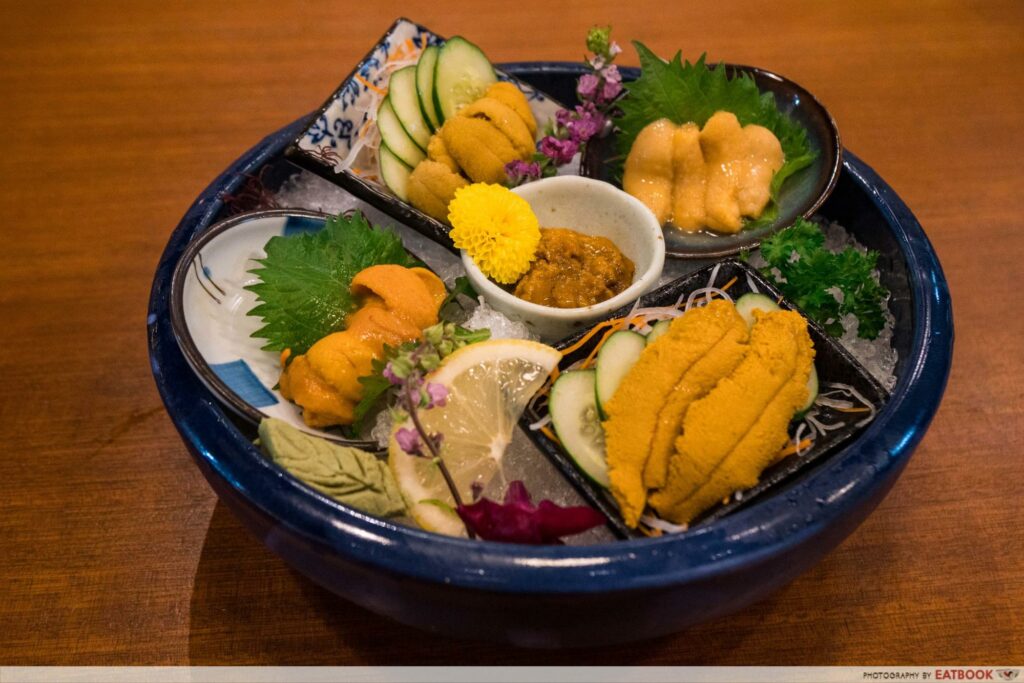 Since we were at an uni specialist, we decided to get their Uni Sampler Set ($74++ for three, $84++ for four, $98++ for five types) to try a range of uni. Our platter came with five types: Bafun, Shiro, Murasaki, Canadian Aka Uni and Santa Barbara Aka Uni. It was interesting to see that each uni had their own distinctive taste. Some were bitter, others robust and salty, and the more premium ones had a sweet, mellow tang.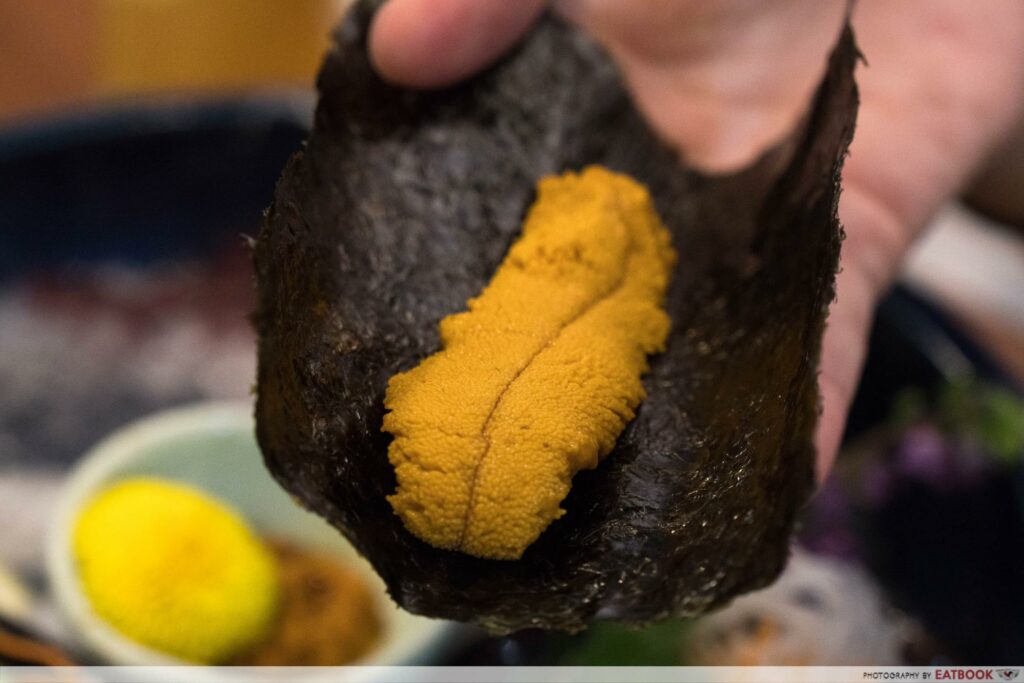 Crisp seaweed sheets were also served on the side for us to wrap our uni with. But we rather enjoy the uni on its own, to better savour the brilliant flavour of the sea urchin.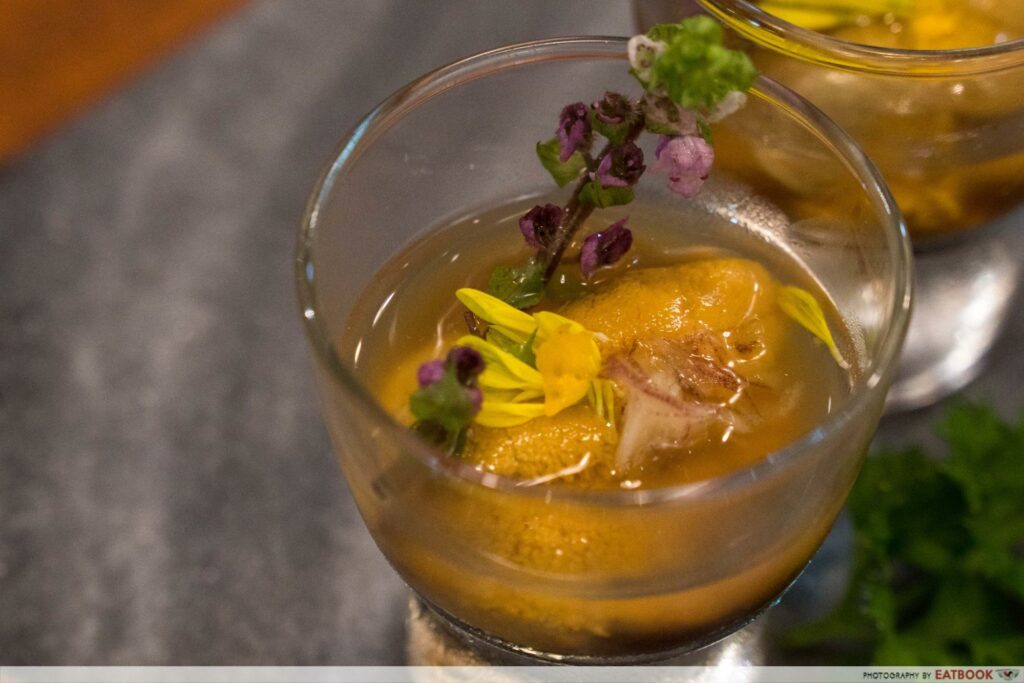 If you're feeling a little sea-sick from all the sea urchin, order the Uni Sake Shot ($19++) to cleanse your palate. The sake used was Imayo Tsukasa Junmai, which was sharp and crisp. A fair warning: if you don't like your drinks served neat, you might find the alcohol a little too strong for your liking.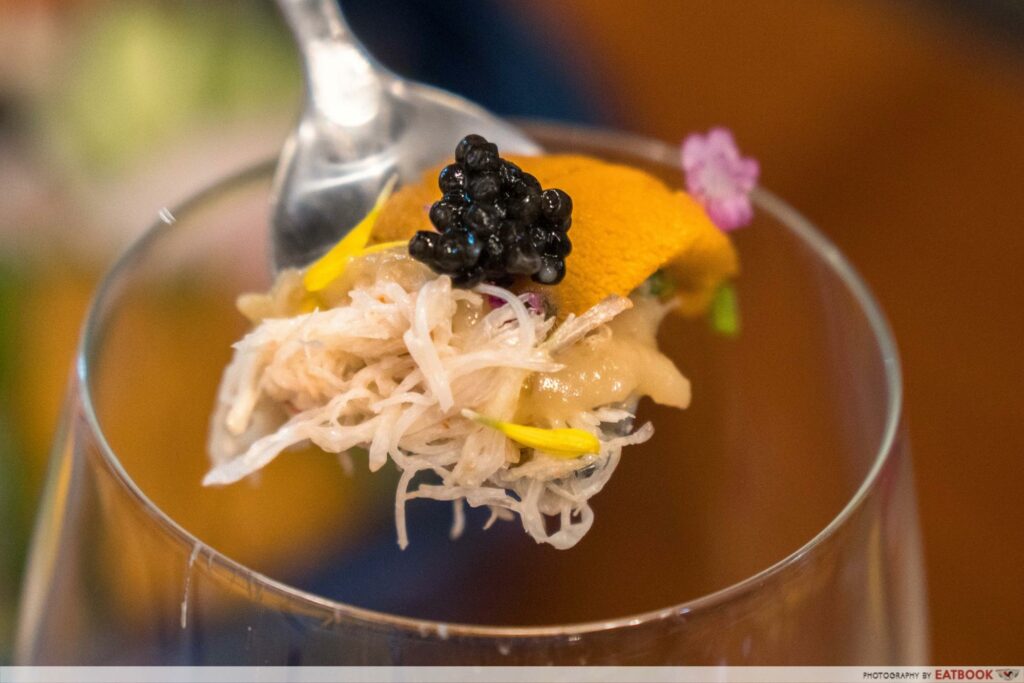 New on the menu is Le Waku Ghin ($55++). Inspired by one-Michelin-starred Waku Ghin's signature uni and caviar dish, the Le Waku Ghin is served in a tall wine glass filled with shredded Hokkaido crab, and crowned with uni and caviar. The dish was more than just a good looker. It was a well-balanced act of all the key taste components, where the sweet flesh of the fresh crab, which was marinated with a house-made yuzu-shiro sauce, brought out the briny, oceanic flavour of the other two ingredients.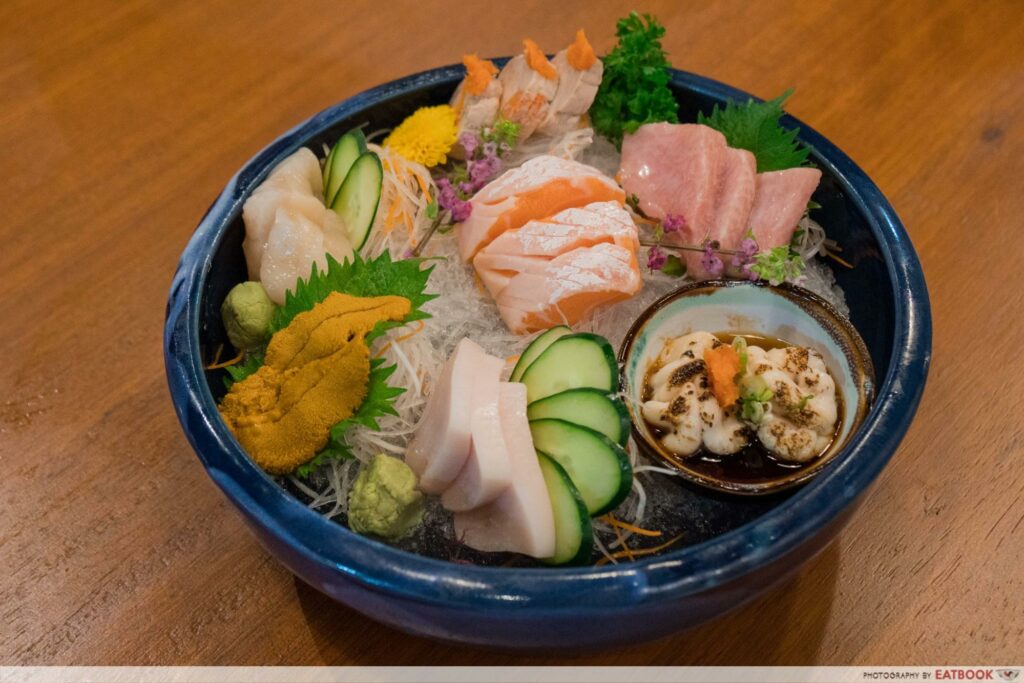 Uni Gallery pushes out stellar sashimi too. In fact, it was one of the freshest sashimi I've ever had in Singapore — and I've been to many good Japanese restaurants. Flown in fresh from Tsukiji market four times a week, our chef's selection Uni Tokusen Sashimi ($74++ for two people) platter featured salmon, tuna belly, Hokkaido scallops, swordfish, monkfish liver, codfish sperm and, of course, uni.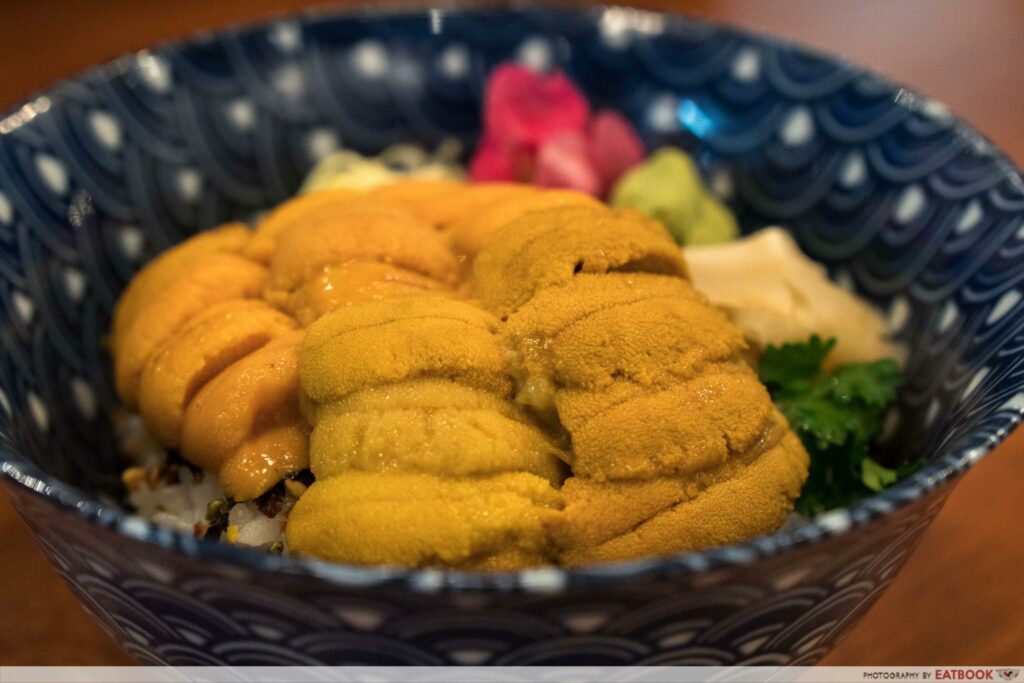 Those looking for a fuss-free uni meal, but would like to sample more than just one type of uni can go for the Two-Types Uni Chirashi Don ($59++). I felt this was one of the better dishes to introduce yourself to the golden, creamy ingredient; the rice gives a good base to help you get acquired to the taste.
Ambience at Uni Gallery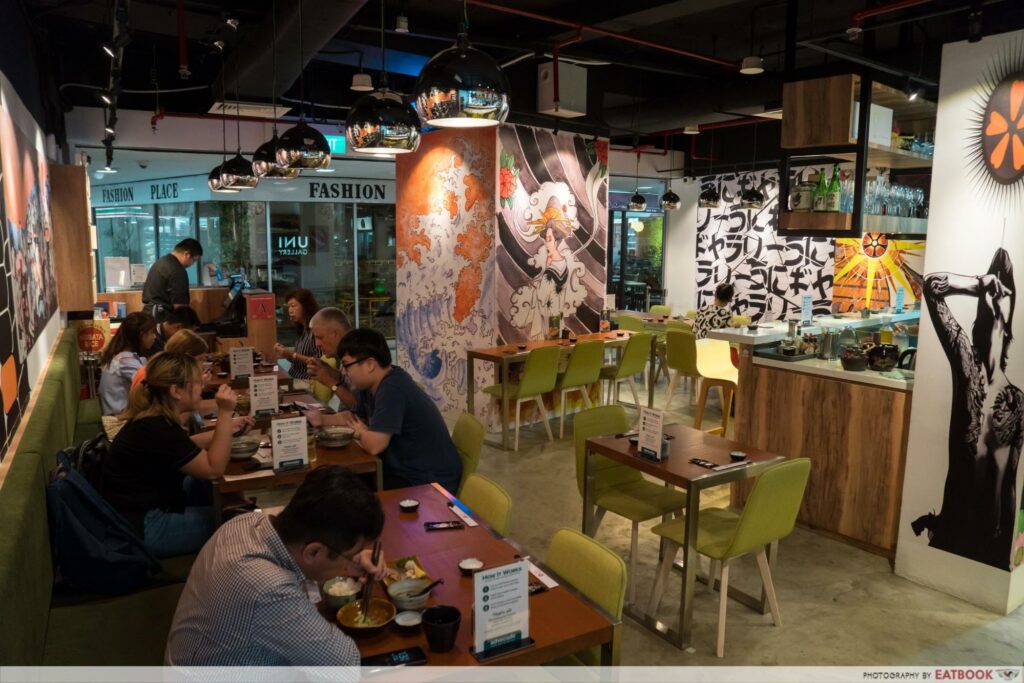 Tucked away in the dingy basement of The Plaza – an office building hidden behind PARKROYAL on Beach Road – you wouldn't expect Uni Gallery to be located where it is. In fact, with its kicky interior highlighted by vibrant Japanese paintings and olive green Eames-inspired chairs, it stands out from its gloomy neighbours. The space is cosy and welcoming, and despite its secret spot, there were still plenty of customers streaming in and out for lunch on a weekday.
The verdict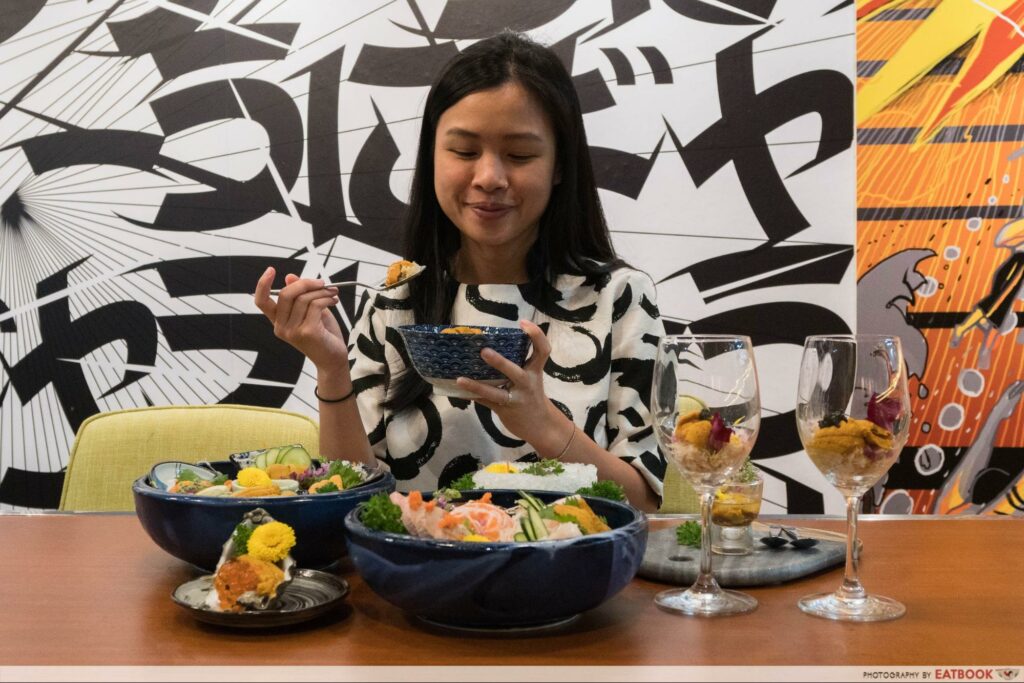 The prices can't compare to bigger chains like Sushi Tei or Itacho, but if you're a diner who appreciates quality ingredients, you will be blown away by the pristine freshness of the seafood offered at Uni Gallery. If you're on a budget, don't order the more luxurious, special items that I had the privilege of trying, and instead order items like their chirashi don that will fill you up. Alternatively, head down for their lunch set menu for items under $20++.
If you're looking for more great eats around Beach Road, check out Noodle Thai Thai Kitchen or Fatty Thai!
Address: 7500A Beach Road,  #B1-310, The Plaza, Singapore 199591
Opening hours: Daily 11:30am to 3pm, 6pm to 10pm
Tel: 9838 8209
Website
 This was a media tasting at Uni Gallery.
Summary
Pros
– Quality ingredients
– Good service
Cons
– Small portions
Recommended dishes: Uni Oyster Shot ($25++), Uni Tokusen Sashimi ($74++ for two people), and Two-Types Uni Chirashi Don ($59++)
Opening hours: Daily 11:30am to 3pm, 6pm to 10pm

Address: 7500A Beach Road, #B1-310, The Plaza, Singapore 199591