Noodle Thai Thai Kitchen at Beach Road
Update: Noodle Thai Thai Kitchen is now permanently closed.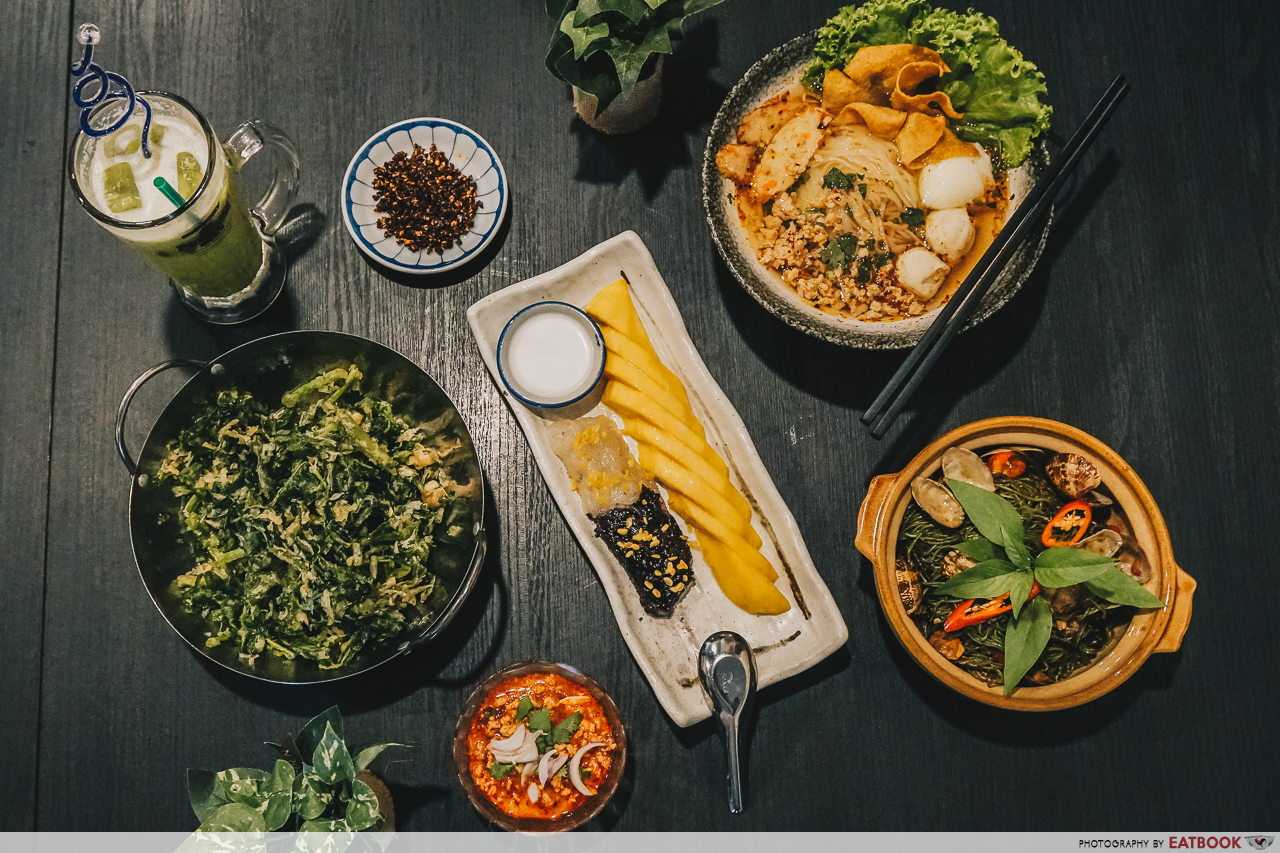 Beach Road is the place to go when you're looking for good Asian food at affordable prices, and Noodle Thai Thai Kitchen is one of the many food joints there. Many mediocre eateries have lined up this stretch, so one must be knowledgeable about the restaurants and cafes located there to know which places are worth feasting at. Noodle Thai Thai Kitchen stood out to us thanks to their interesting and great-tasting dishes, making it a great choice to impress your food kakis with.
Food at Noodle Thai Thai Kitchen
The first dish that came was the Claypot Flower Clam (Lala) Jade Noodle ($12.90). As soon as the clay pot reached the table, we were hit by its aroma. It was a fragrant sign of deliciousness to come.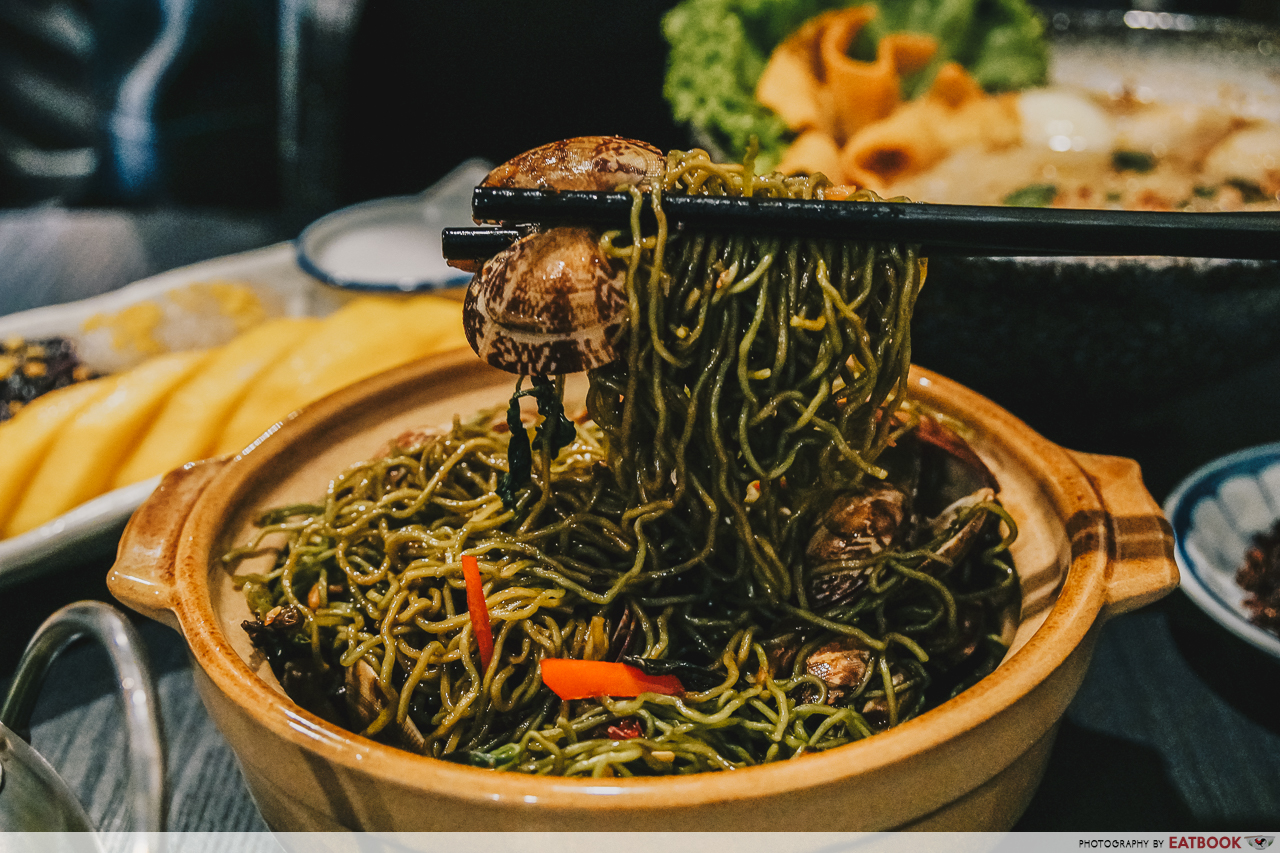 Mixing up the spinach noodles revealed pieces of plump clam meat and a luscious light brown sauce from the bottom of the pot. Slurping the noodles up with high expectations, the dish was indeed as good as it smelled.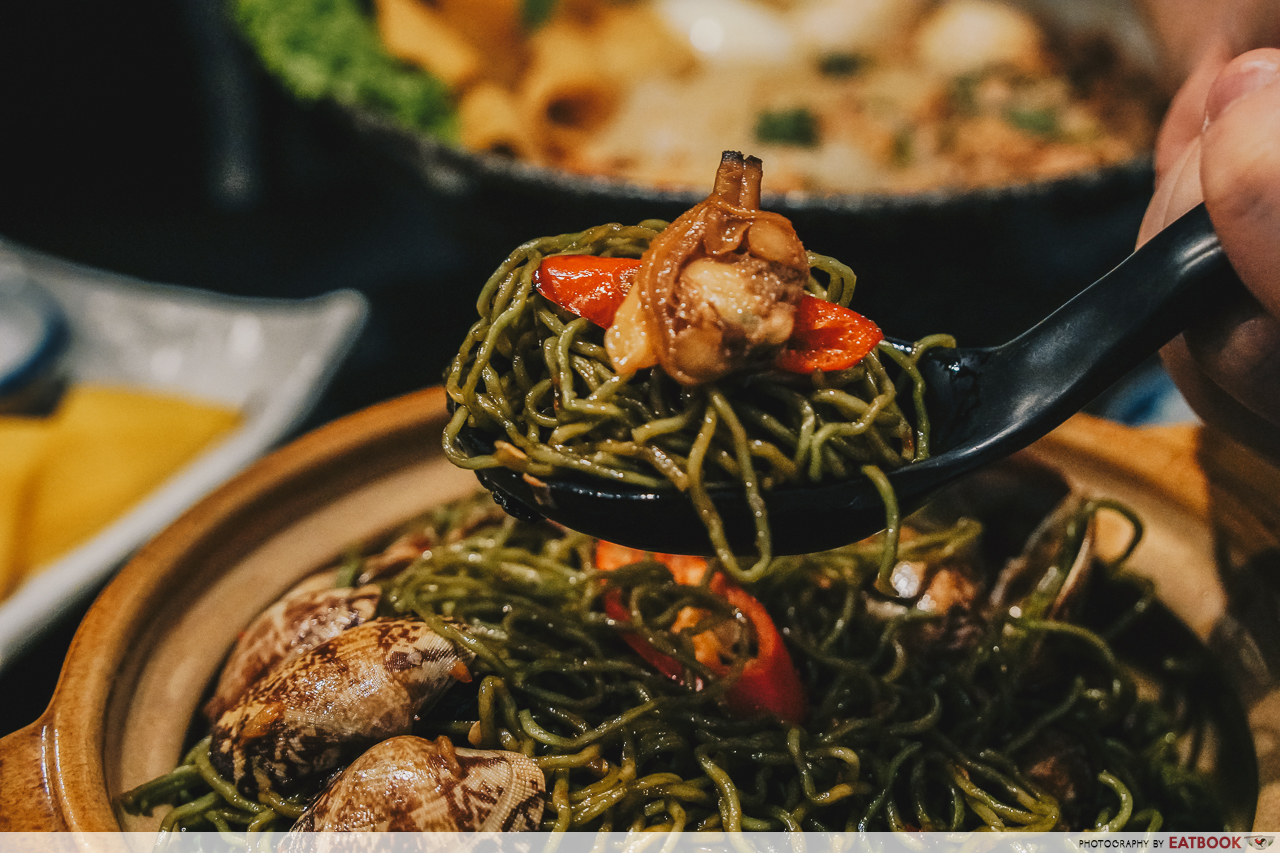 Using popular Thai ingredients such as red chilli and pungent fish sauce yielded deep flavours of spicy and savoury notes, reminding me of fresh and sweet seafood. The thick sauce at the bottom was concentrated, as if a meat broth was left to simmer for a while, before being poured over the jade noodles.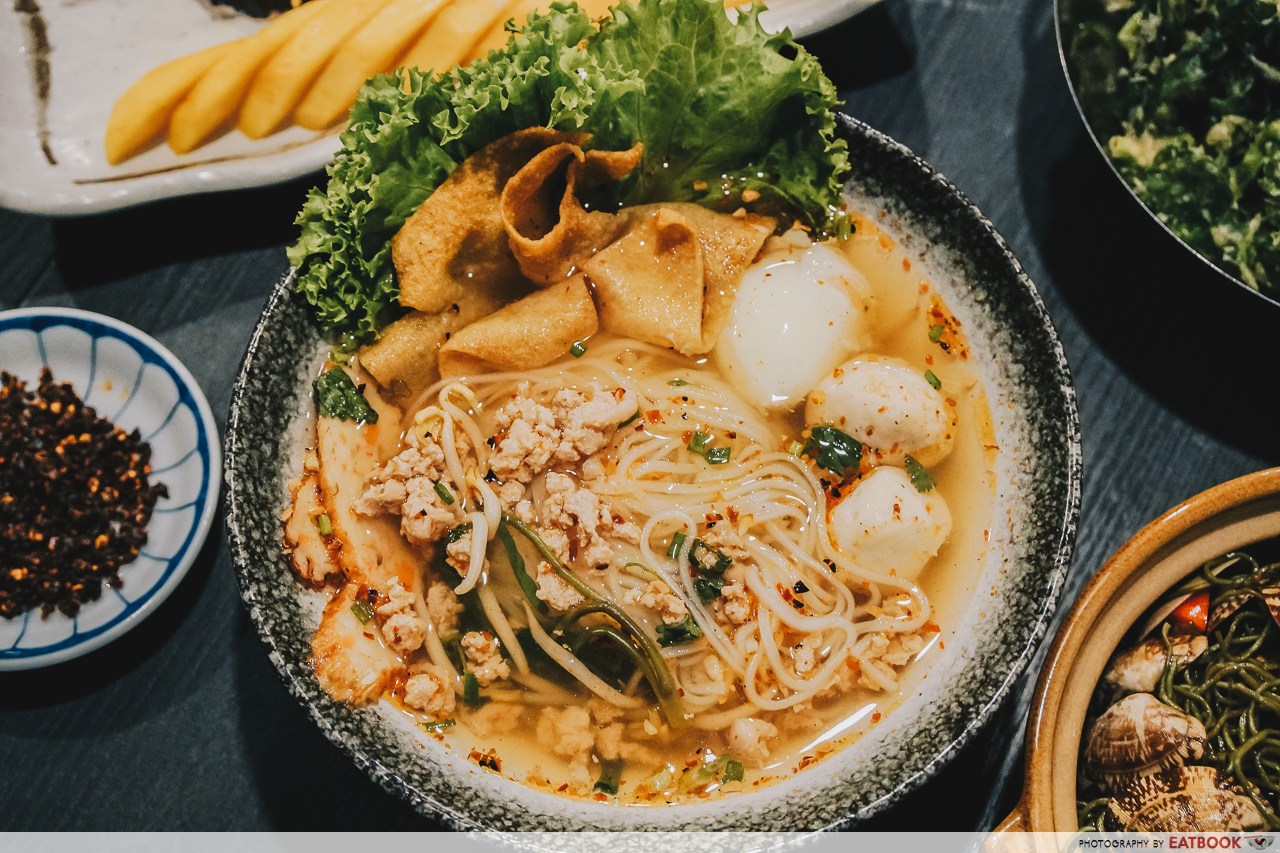 In the Spicy Thai Thai Noodle Soup ($6.90) was a variety of ingredients, namely minced meat, chicken ball, chicken slices, deep-fried wonton skins, fishcake slices, sous vide egg, and vegetables.
The soup looked harmless but at first sip, delivered a fiery punch. The spiciness of the broth was strong, to the point of being overbearing, but the Thai glass noodles helped lift and temper the burn, making me reach back for more.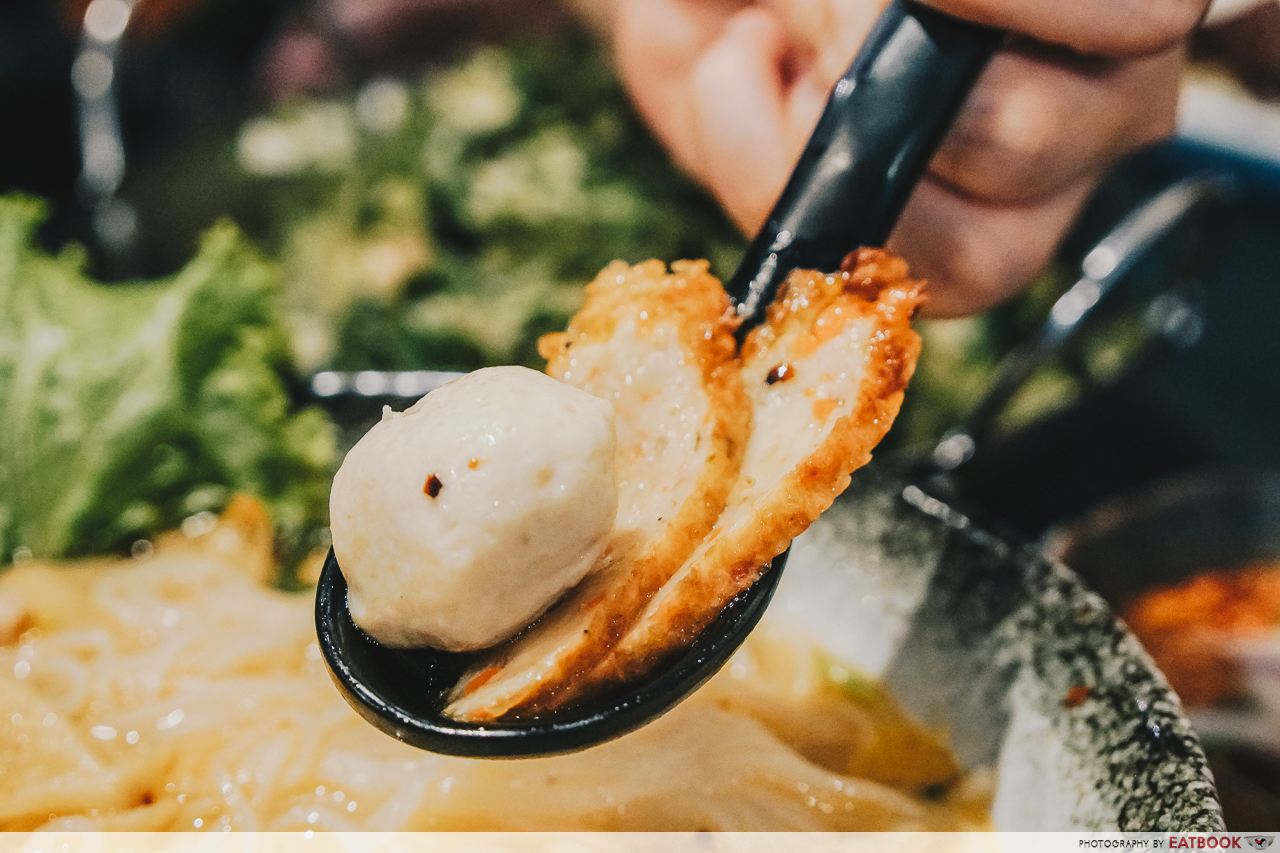 Ingredients such as the wonton skin, fishcake, and chicken balls added a myriad of textures, and this was one bowl I just couldn't get enough of.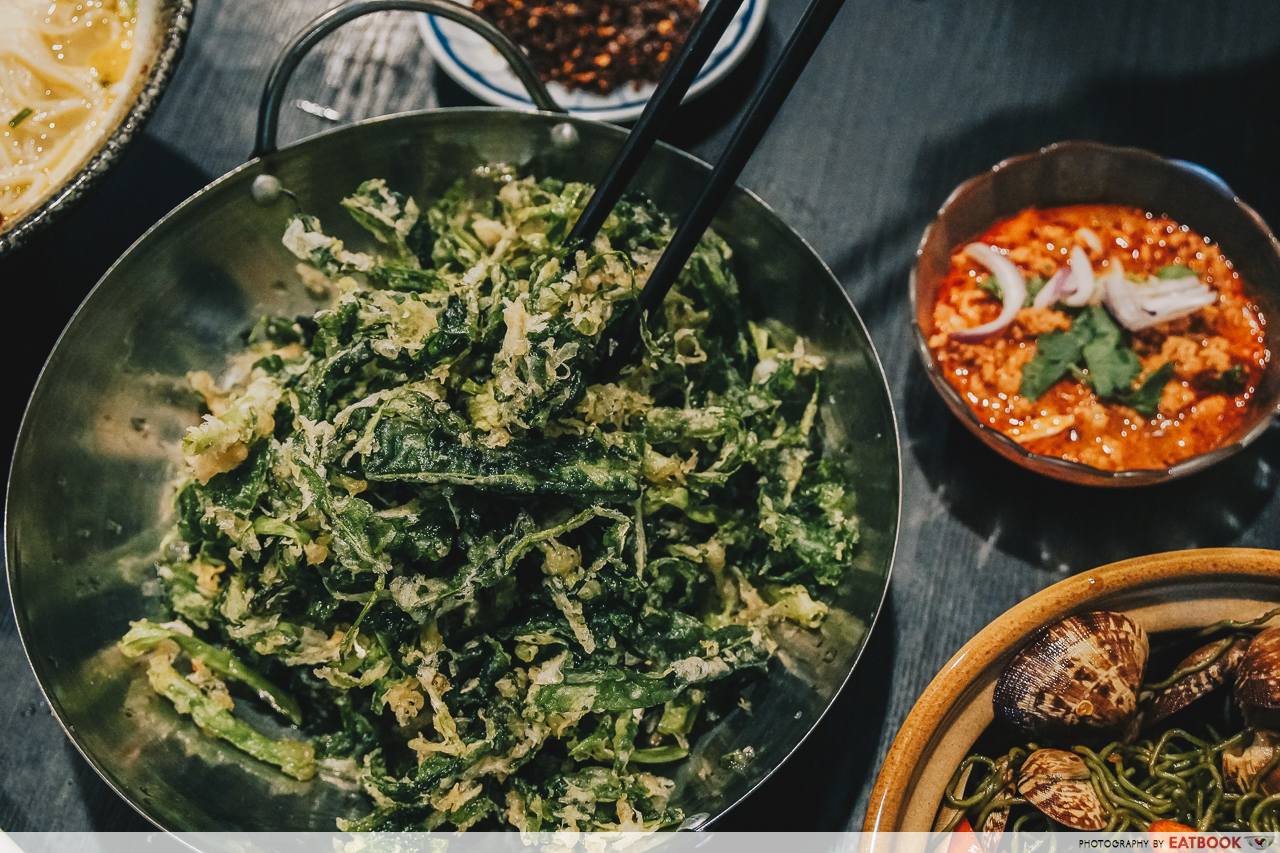 Order the Crispy Kangkong ($10.90) as an appetiser or an item to share. Each kangkong was lightly coated in a batter, and every piece held a good crunch. Some of us found it too oily, but for someone who doesn't like her greens, I felt it made the vegetable moreish.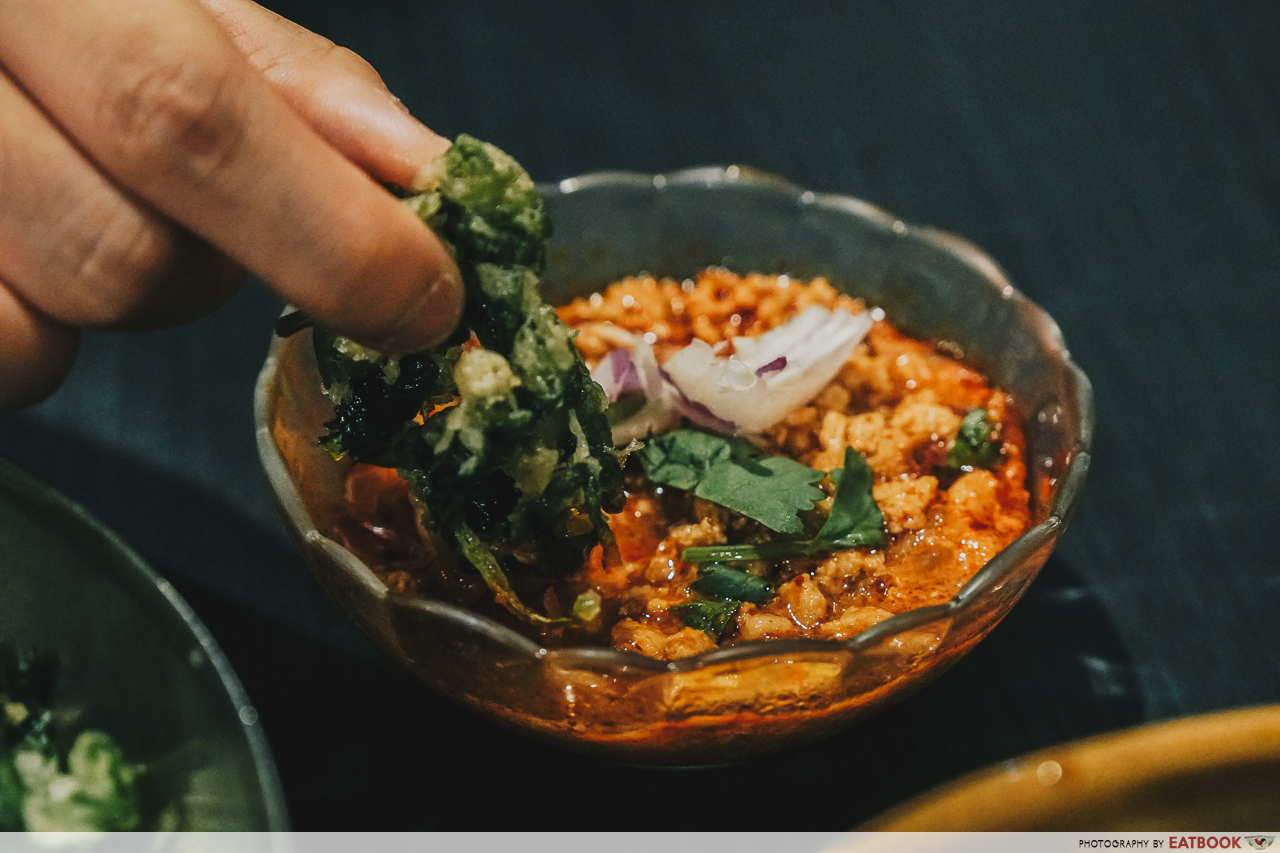 It also comes with a side of dipping sauce that had a delicious combination of sweet, sour, and savoury flavours. The coconut milk found in the sauce also highlighted the natural acidity of the tart tamarind in new ways.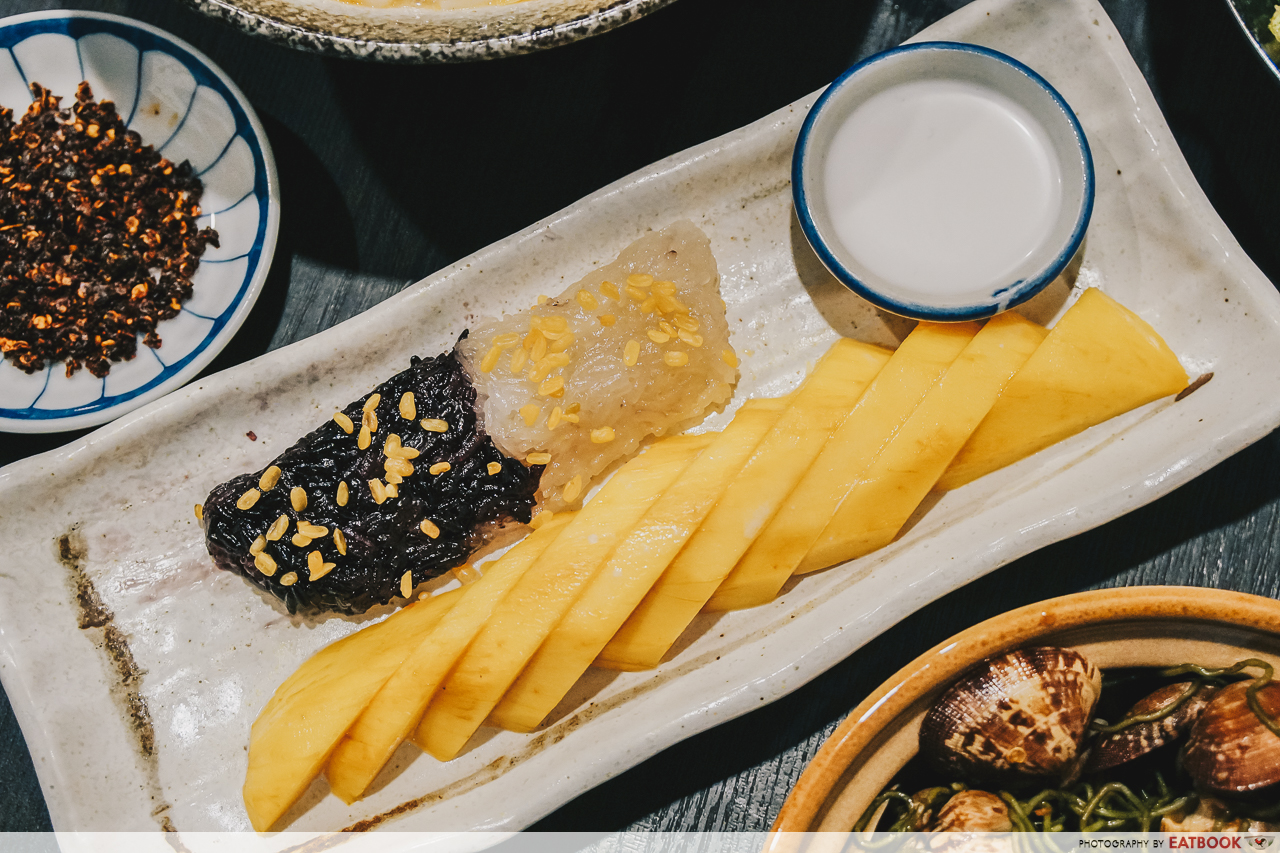 The Mango Sticky Rice ($7.90) was a winner for all of us. It came with both the usual white sticky rice as well as purple sticky rice. Along with the bright yellow mango, it brought upon a feast for the eyes. The coconut sauce was what really set this mango sticky rice apart. It was more salty than sweet, and made the dessert even more pleasant.
Ambience at Noodle Thai Thai Kitchen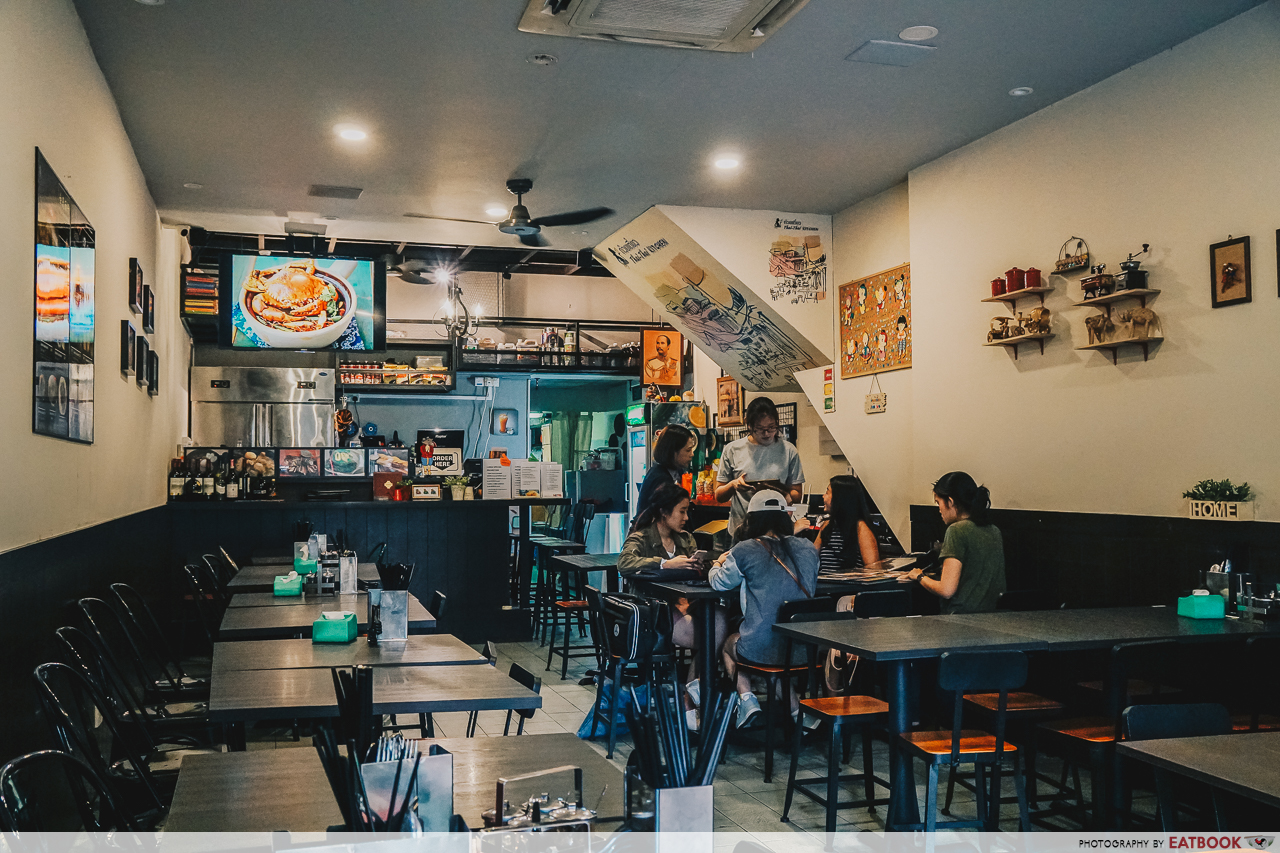 Noodle Thai Thai Kitchen has ample seats and makes for a good place to hold group gatherings. They also have an affordable lunch menu, available on weekdays from 11am to 3pm. You can get their jade noodles or rice dishes such as Green Curry Fried Rice with Double Grill Chicken or Pineapple Fried Rice with Pandan Chicken from $6.90 nett. Coming down for lunch with colleagues would be a good idea.
The verdict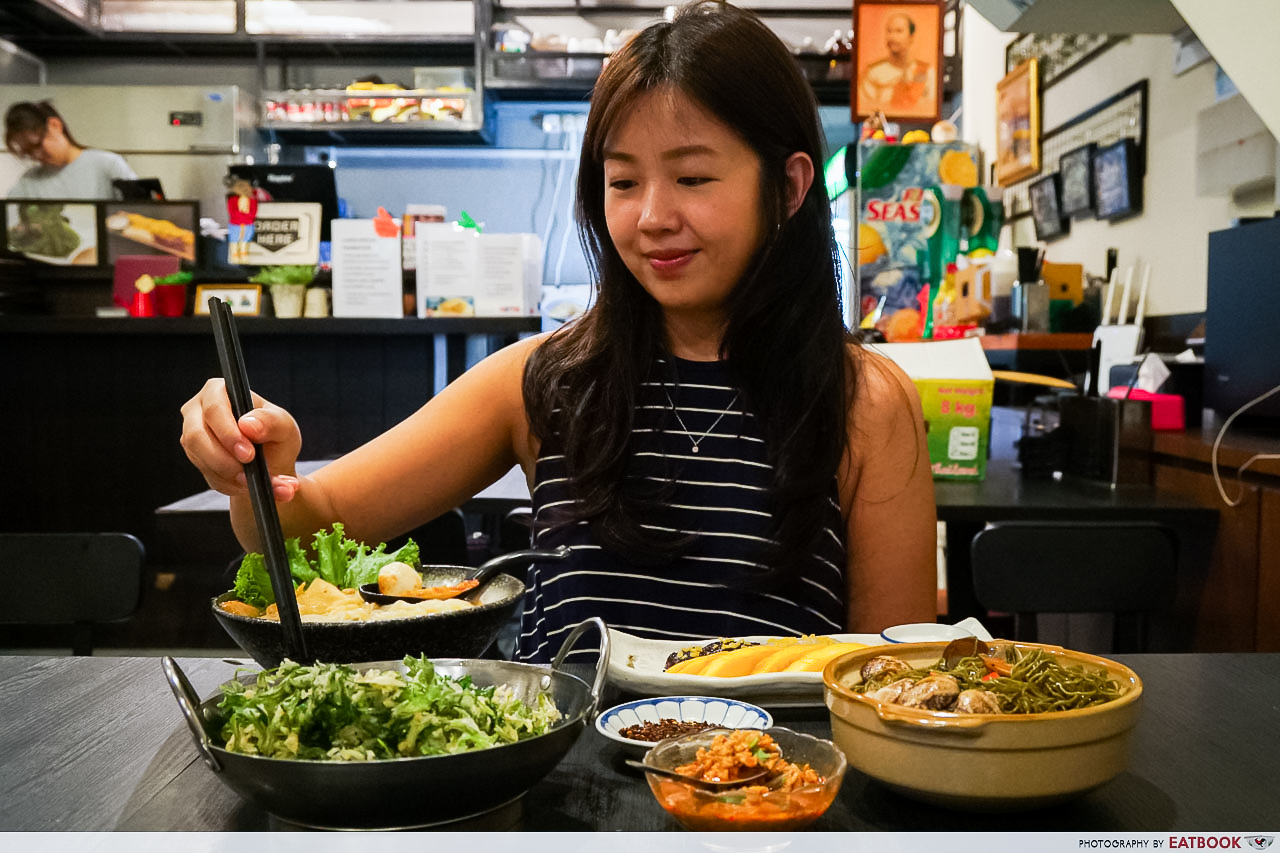 The Thai wonton mee hype got me excited to try jade noodles from Noodle Thai Thai Kitchen and indeed, it didn't disappoint. Everything was delicious, especially the Claypot Flower Clam Jade Noodle; I challenge anyone to take more than 10 minutes to finish it! Thai food is always a good idea, and the dishes here were scrumptious and well-seasoned.
If you're reminiscing the last BKK trip with your squad, here is a list of affordable Thai food to feast on in Singapore. You can also check out our review of Bangkok's famous cheese toasts, Say Chiizu, which has just opened in Singapore.
Address: 327 Beach Road, Singapore 199560
Opening hours: Mon-Fri 11:30am to 3pm, 4:30pm to 10:30pm, Sat 11:30am to 10:30pm
Website
Noodle Thai Thai Kitchen is not a halal eatery.
This is an independent review by Eatbook.sg.
Summary
Pros
– Quality ingredients
– Interesting jade noodles
– Great service
– Nett prices
Cons
– Some items in the menu were unavailable
Recommended Dishes: Claypot Flower Clam (Lala) Jade Noodle ($12.90) and Crispy Kangkong ($10.90)
Opening Hours:
Mon-Fri 11:30am to 3pm, 4:30pm to 10:30pm, Sat 11:30am to 10:30pm
Address: 327 Beach Road, Singapore 199560