Emo Snacks In Geylang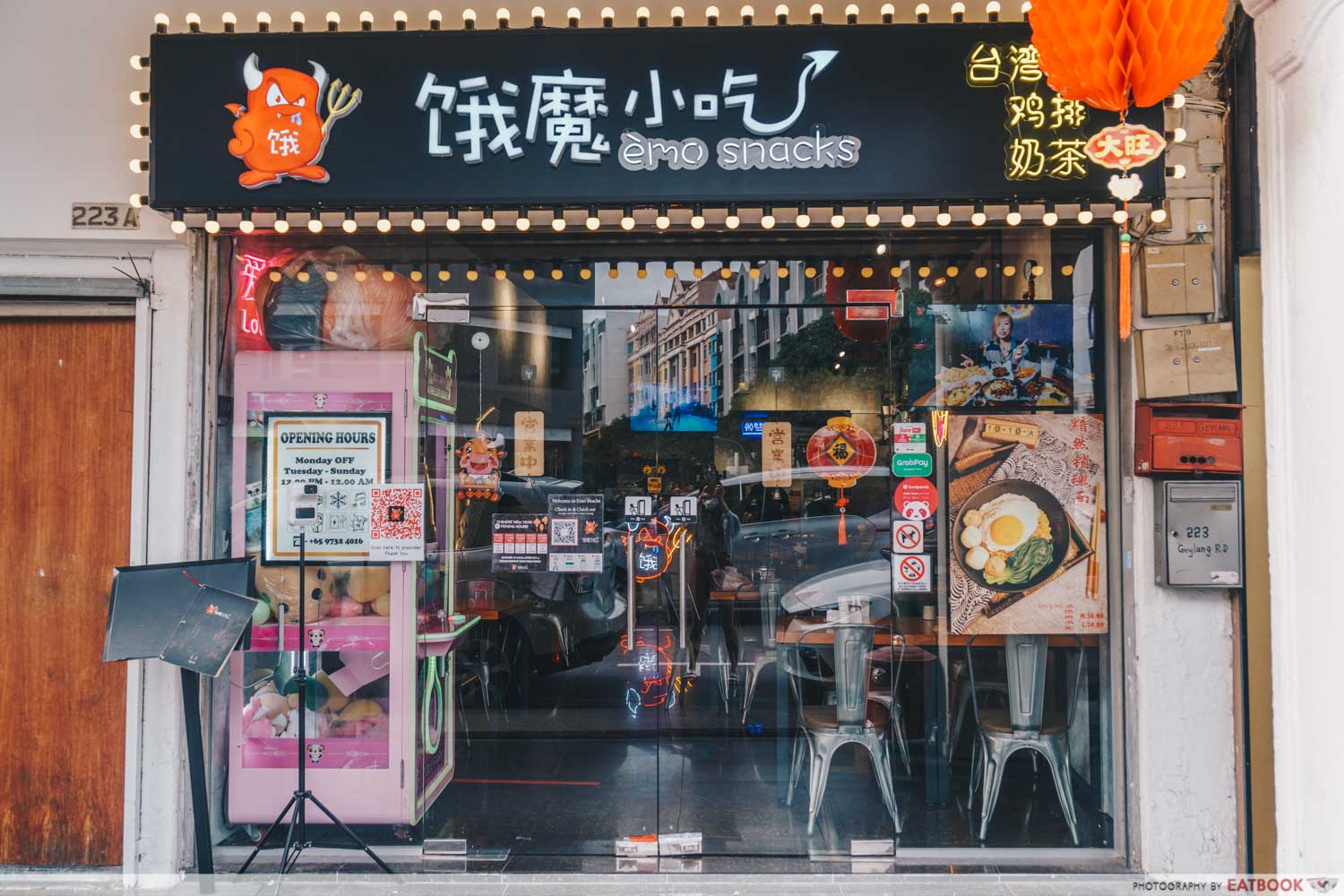 Two Decembers ago, I was ambling through Fengjia Night Market in Taichung, gorging on fried chicken and bubble tea, having the time of my life. While I'm deflated that we can't return to Taiwan anytime soon, the abundance of Taiwanese food stalls in Singapore does help relieve the withdrawals. Joining the list is Emo Snacks in Geylang, with zhnged-up Taiwanese fare.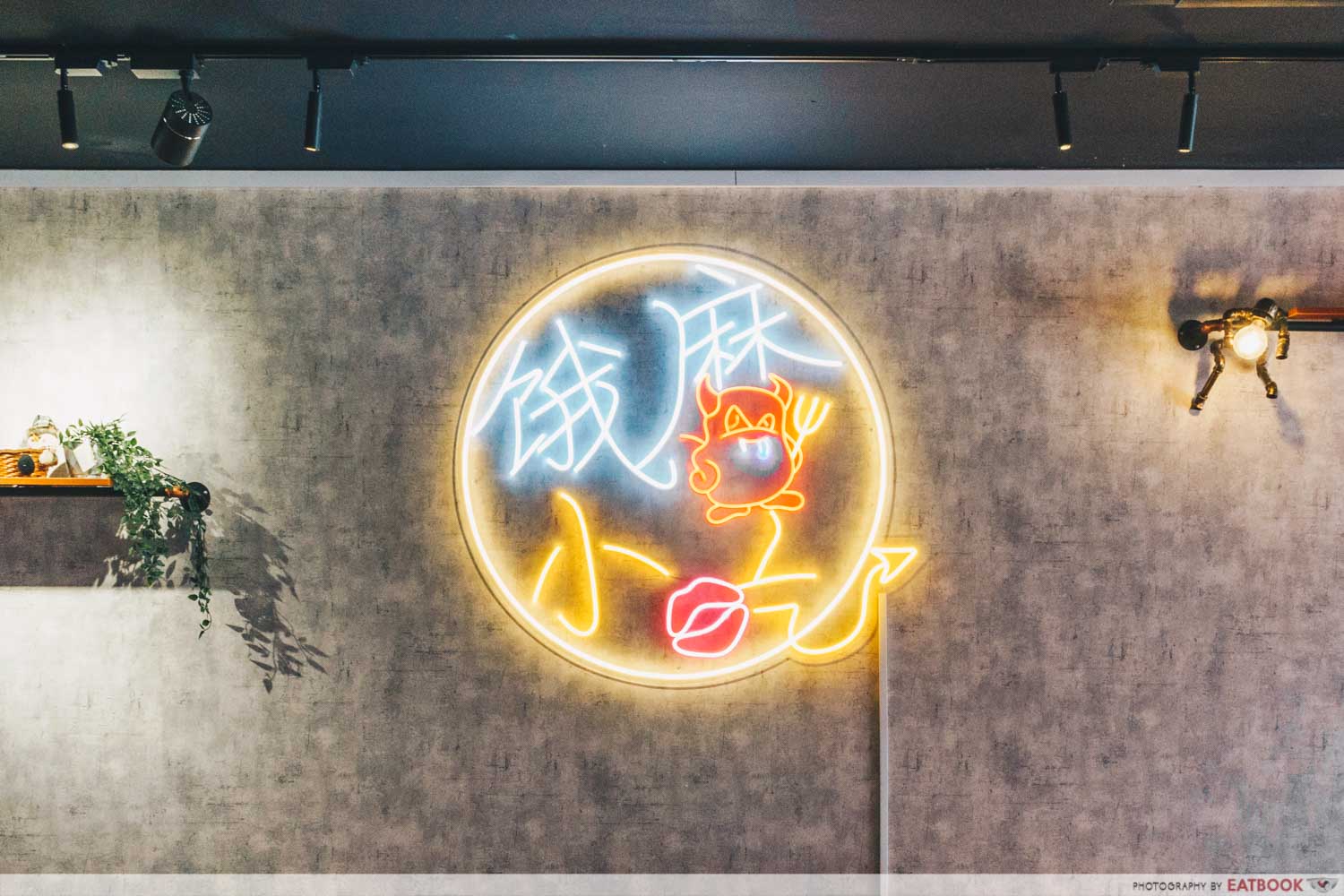 The 'emo' in Emo Snacks is a play on the Chinese words for 'hungry demon'. On an especially hot afternoon, my colleague and I entered the store for some food and respite, like hungry demons ourselves.
Food at Emo Snacks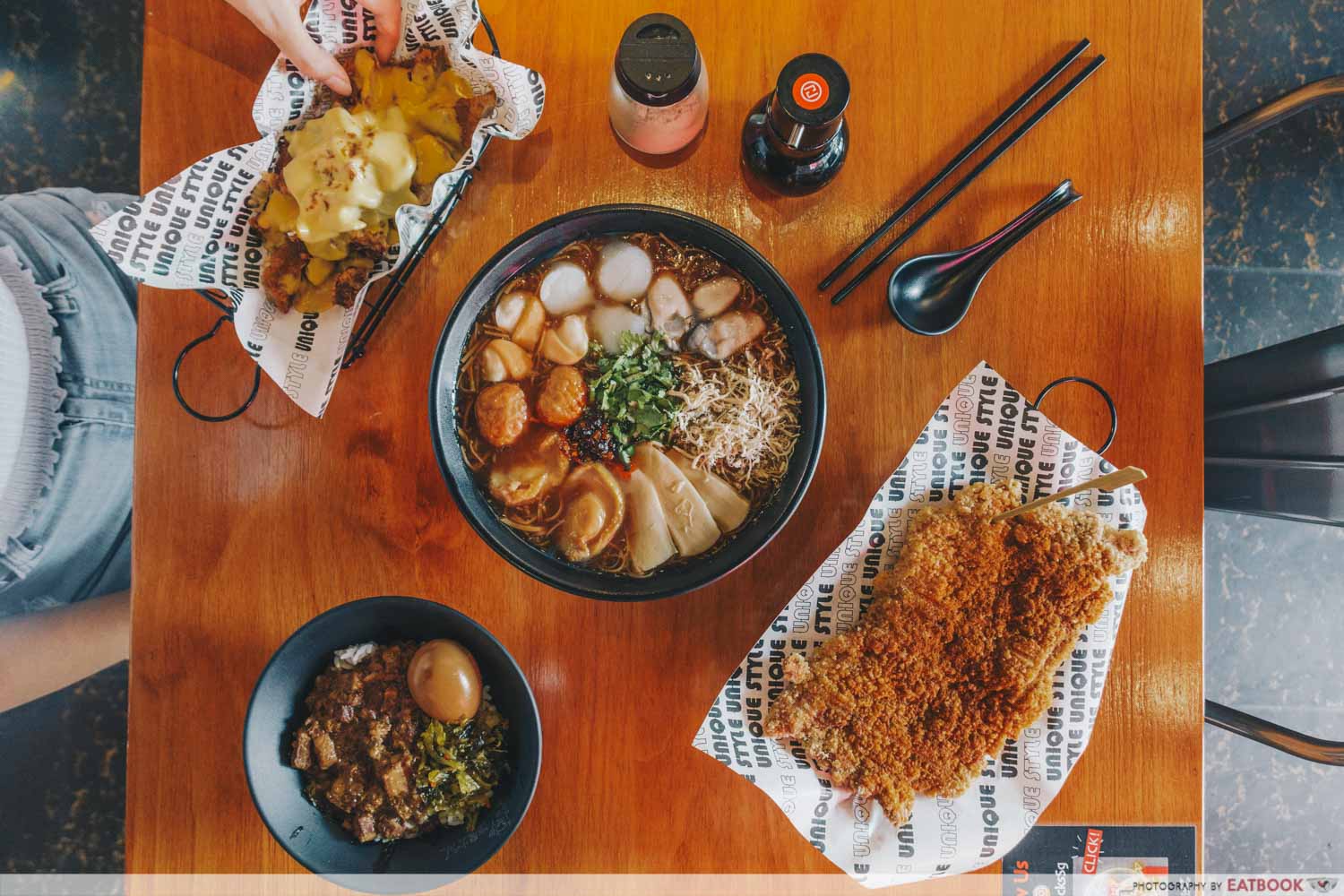 Emo Snacks serves up a wide variety of Taiwanese mains, snacks, and even bubble tea.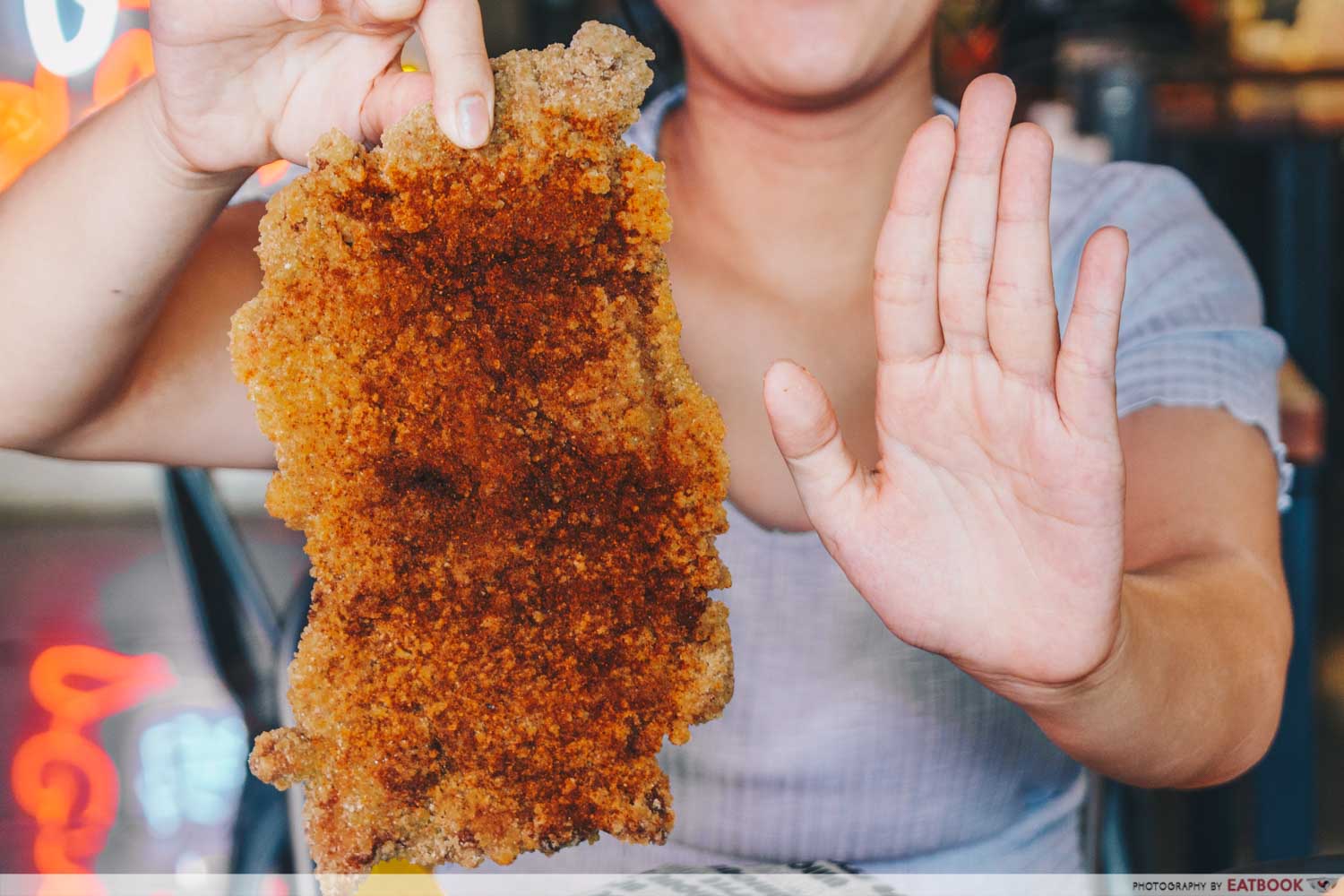 We had to start with the jaw-dropping XXXL Crispy Chicken Chop ($8), a classic Taiwanese street snack. This massive chicken chop was later chopped into small pieces for convenient eating. You can choose a spice level for the dish, and we went with 50%.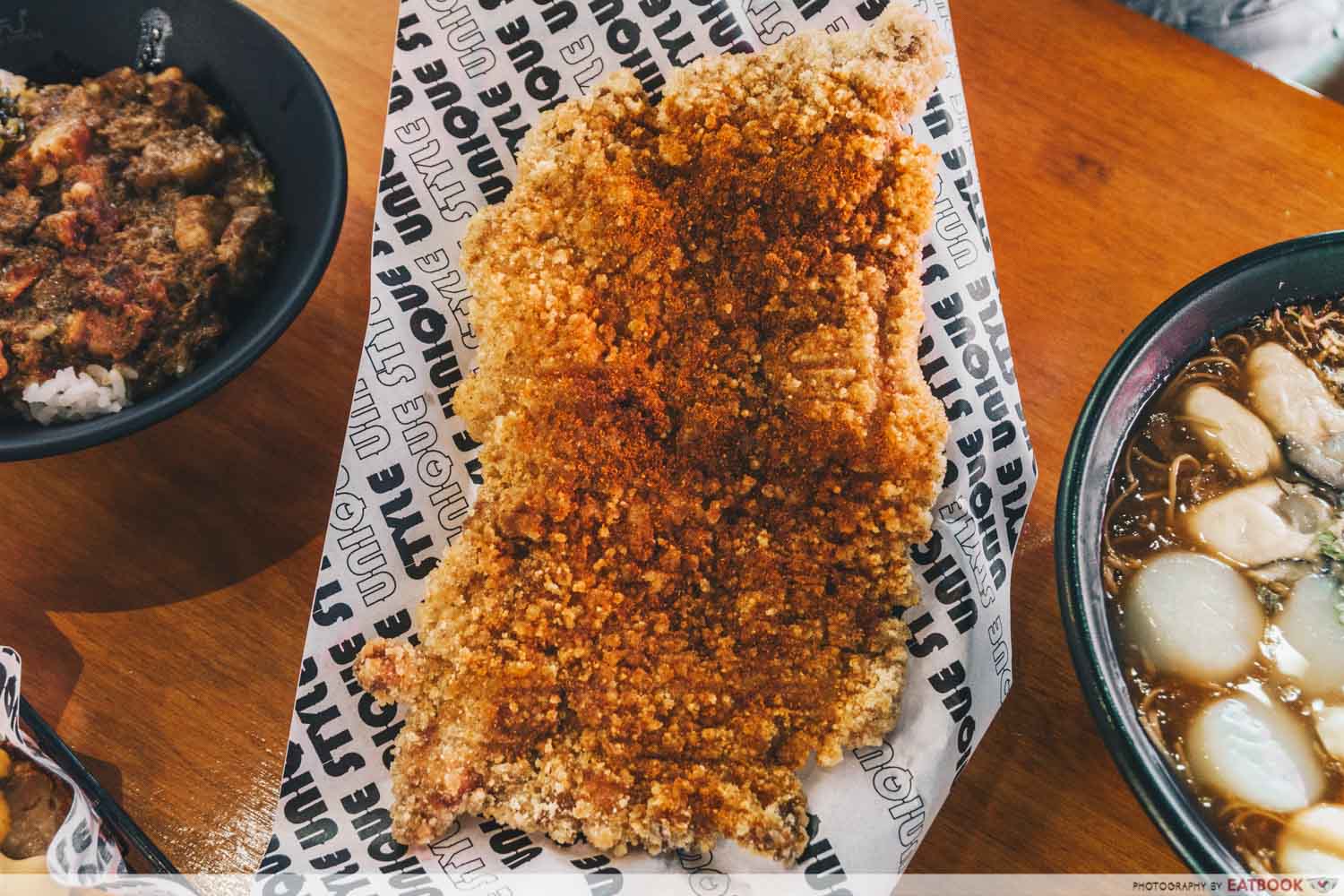 Reminiscent of Korean fried chicken, the batter of the XXXL Crispy Chicken Chop was airy and light, as opposed to the usual panko crumb texture of Taiwanese fried chicken. I suspect this finish was achieved with rice flour, and maybe even double-frying.
The cutlet was coated with a bright red chilli powder. Taking a bite into the chicken chop, you don't taste the spice as much as you feel it—a tingling sensation that lingers on your tongue. At the 50% spiciness level, I found it sufficiently spicy, without distracting too much from the flavour of the chicken.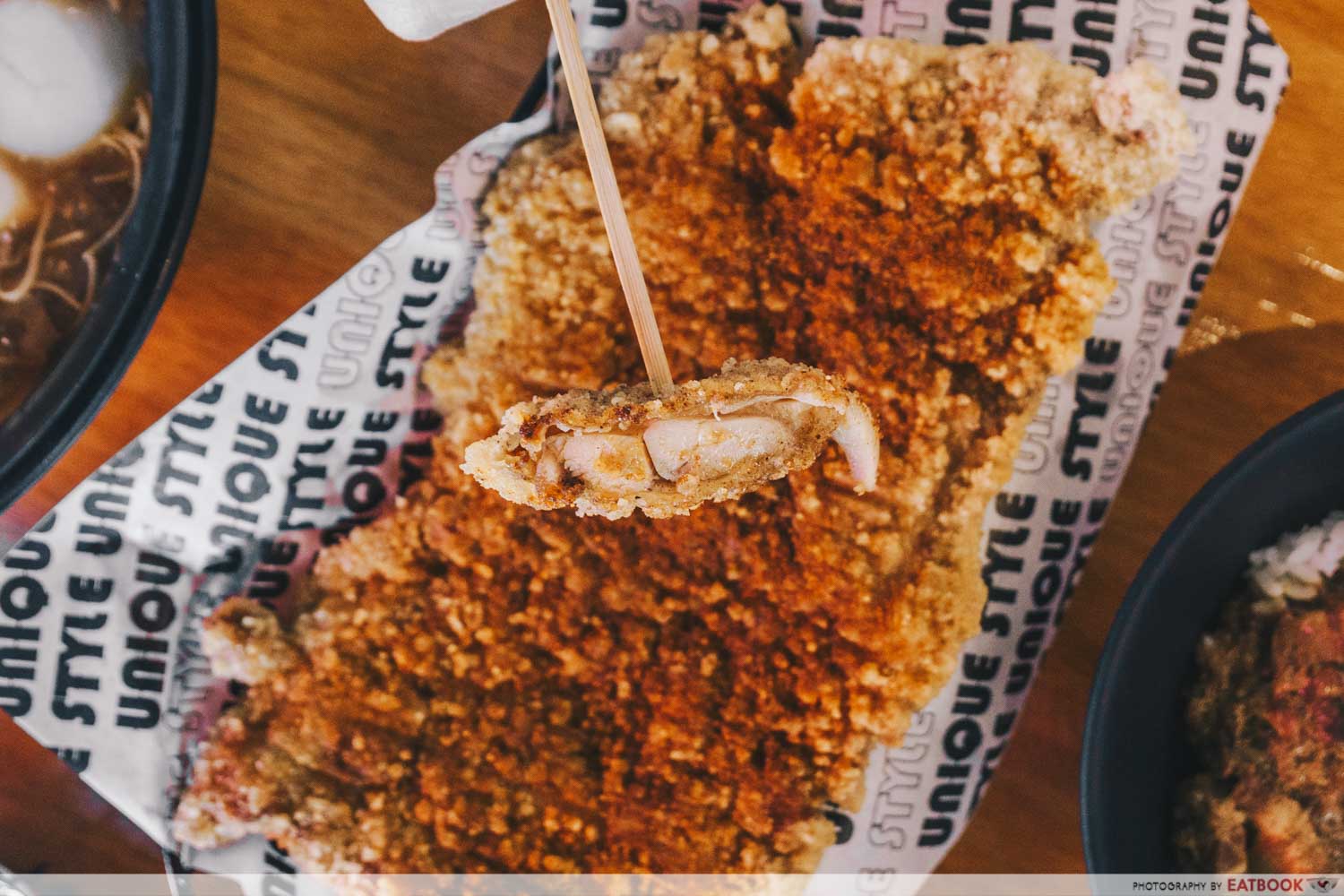 The chicken was tender and juicy, despite the crispy exterior. Though the chicken chop felt greasy after a while, I don't foresee this to be much of a problem if you are dining in a group.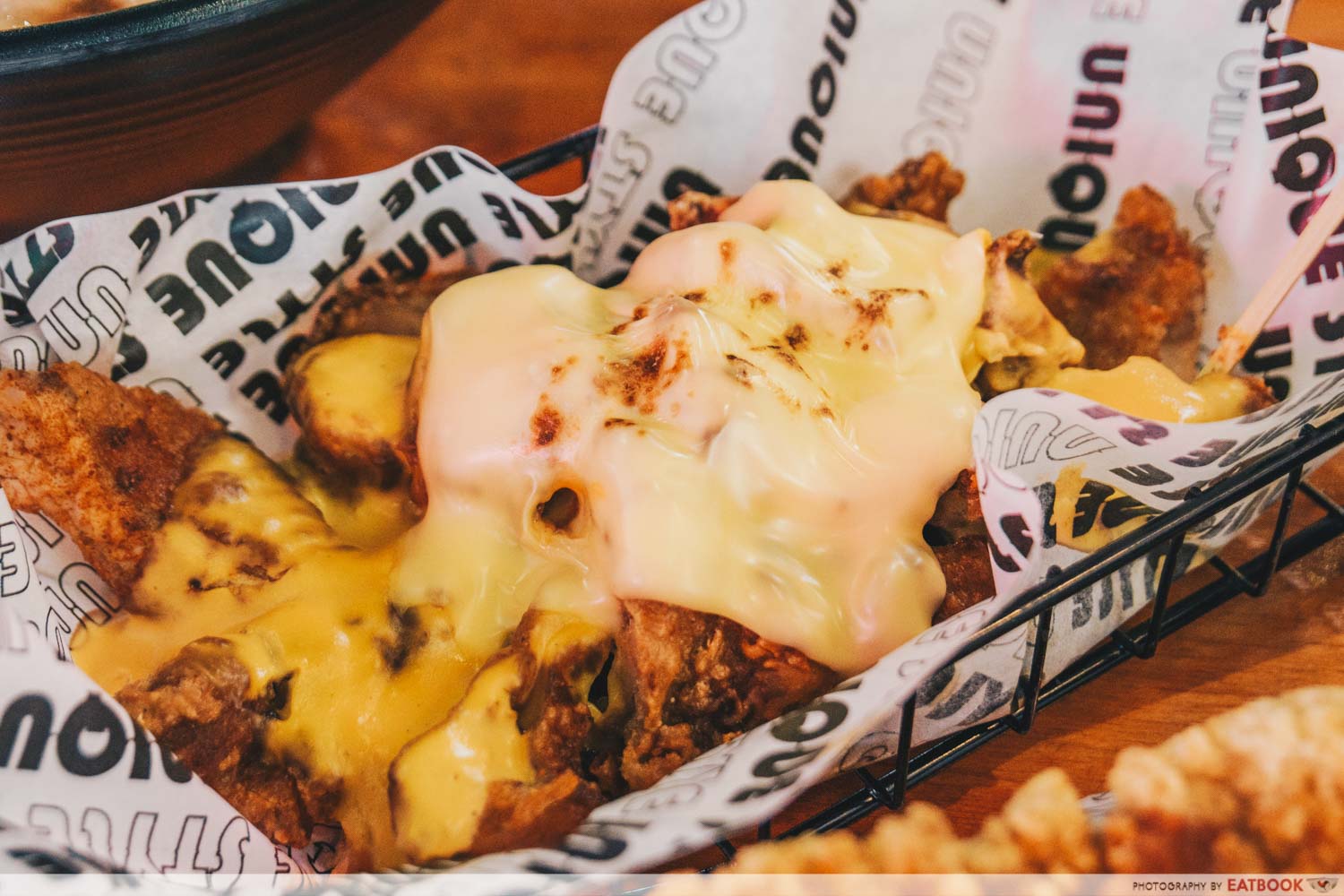 We moved on to the Cheezy Lava Chop ($10), which saw the same crispy chicken dressed in nacho cheese, and topped with a torched cheese slice. For this, we chose the 25% spice level.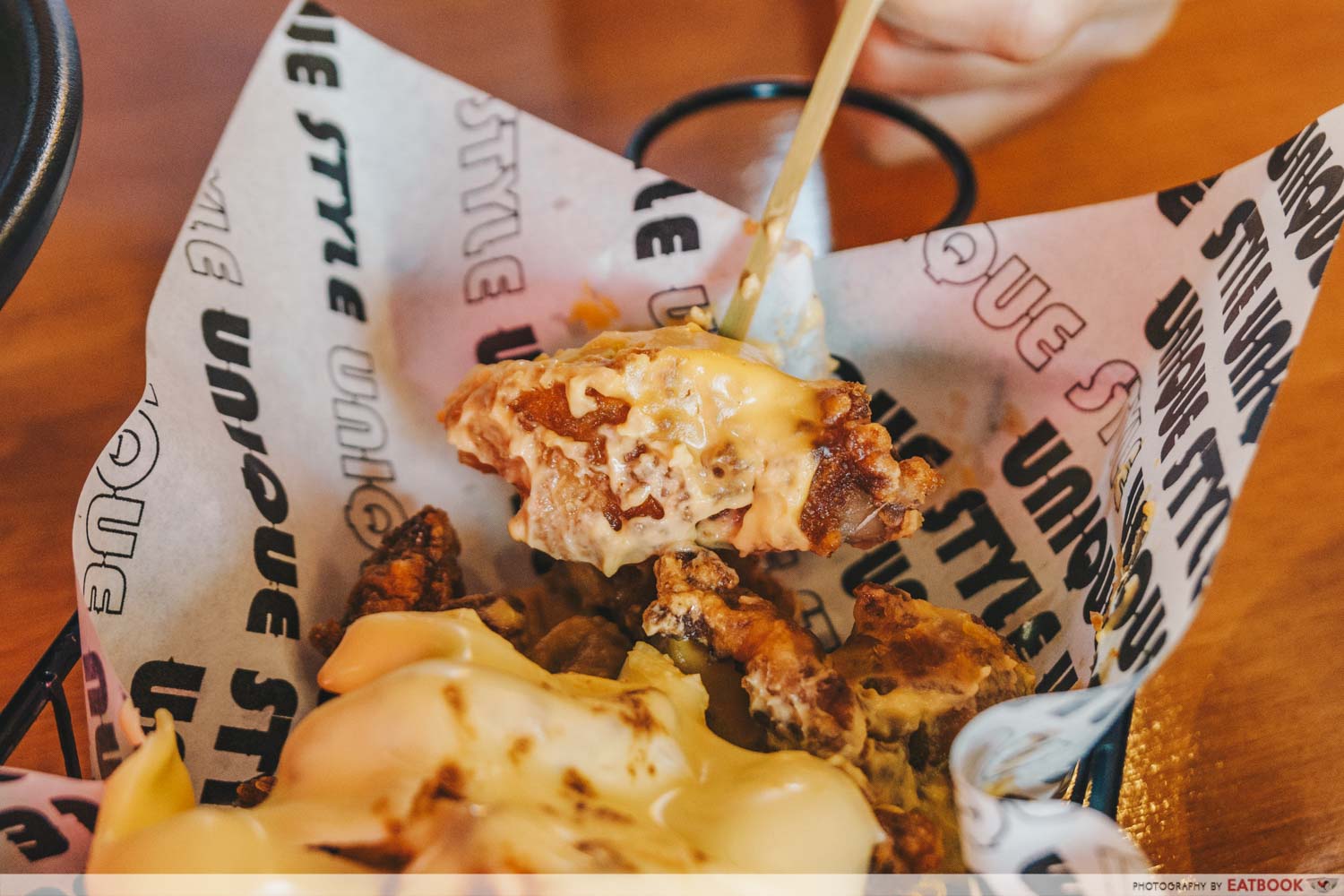 I'm usually averse to store-bought nacho cheese, as it can taste artificial and overly sweet. Here, the cheese sauce wasn't too heavy, tinged with a slight sweetness. Its creaminess complemented the crispy fried chicken. 
I can't say the same about the cheese slice, which tasted out of place. Maybe they could consider switching to mozzarella for a better combination of flavours. Meanwhile, the spice provided a kick that cut through the heaviness of the dish.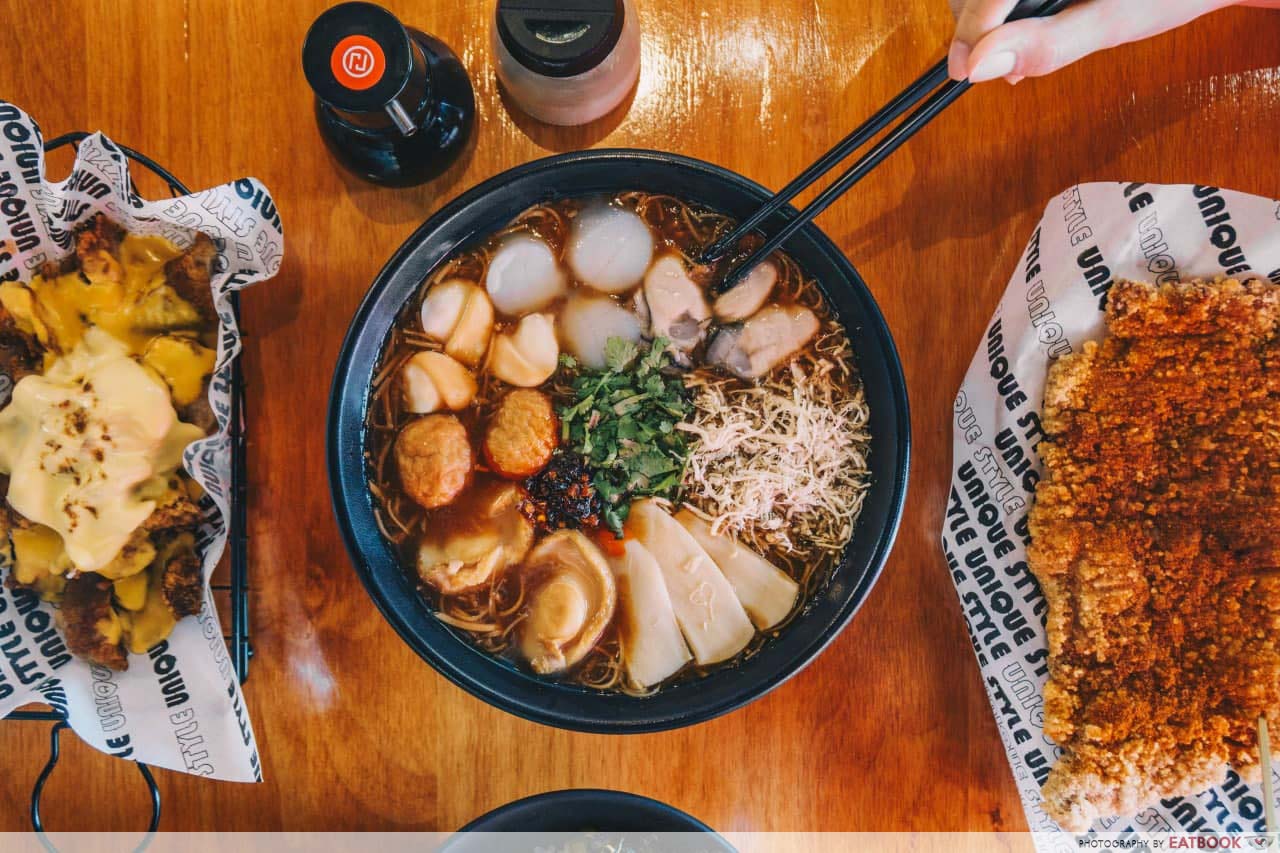 If you're here with a group, get the Happy Family Mee Sua ($25.90), which can be shared among three to four people. This dish came with the usual suspects like shredded chicken and oysters, but also scallops, razor clams, meatballs, sliced abalone, and whole baby abalones.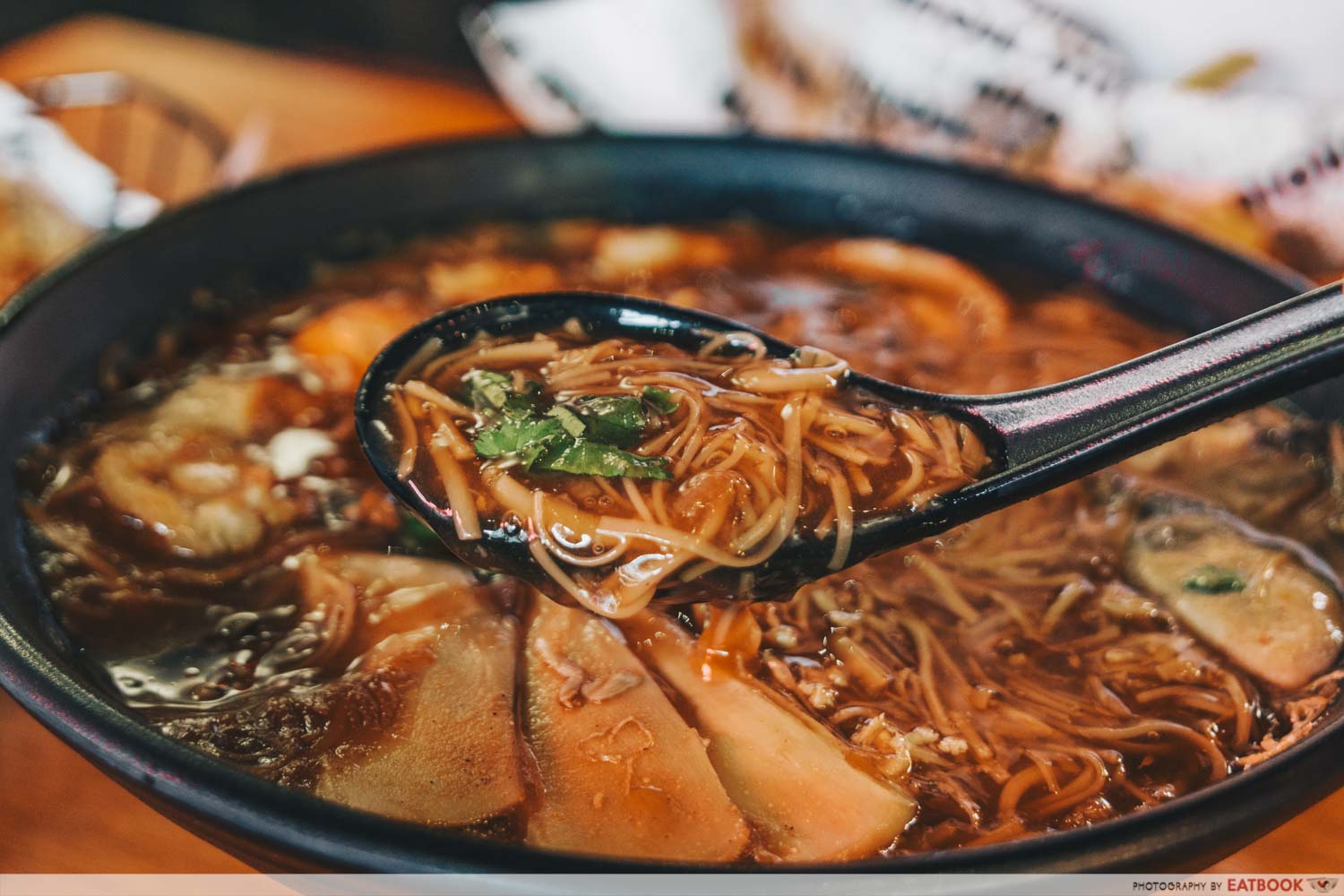 The gravy wasn't starchy like I expected, sporting a more diluted, soup-like consistency instead. It was also rather light, so we recommend splashing some vinegar and pepper on top. Meanwhile, I liked how the mee sua was not overly soggy, and kept their distinct strands.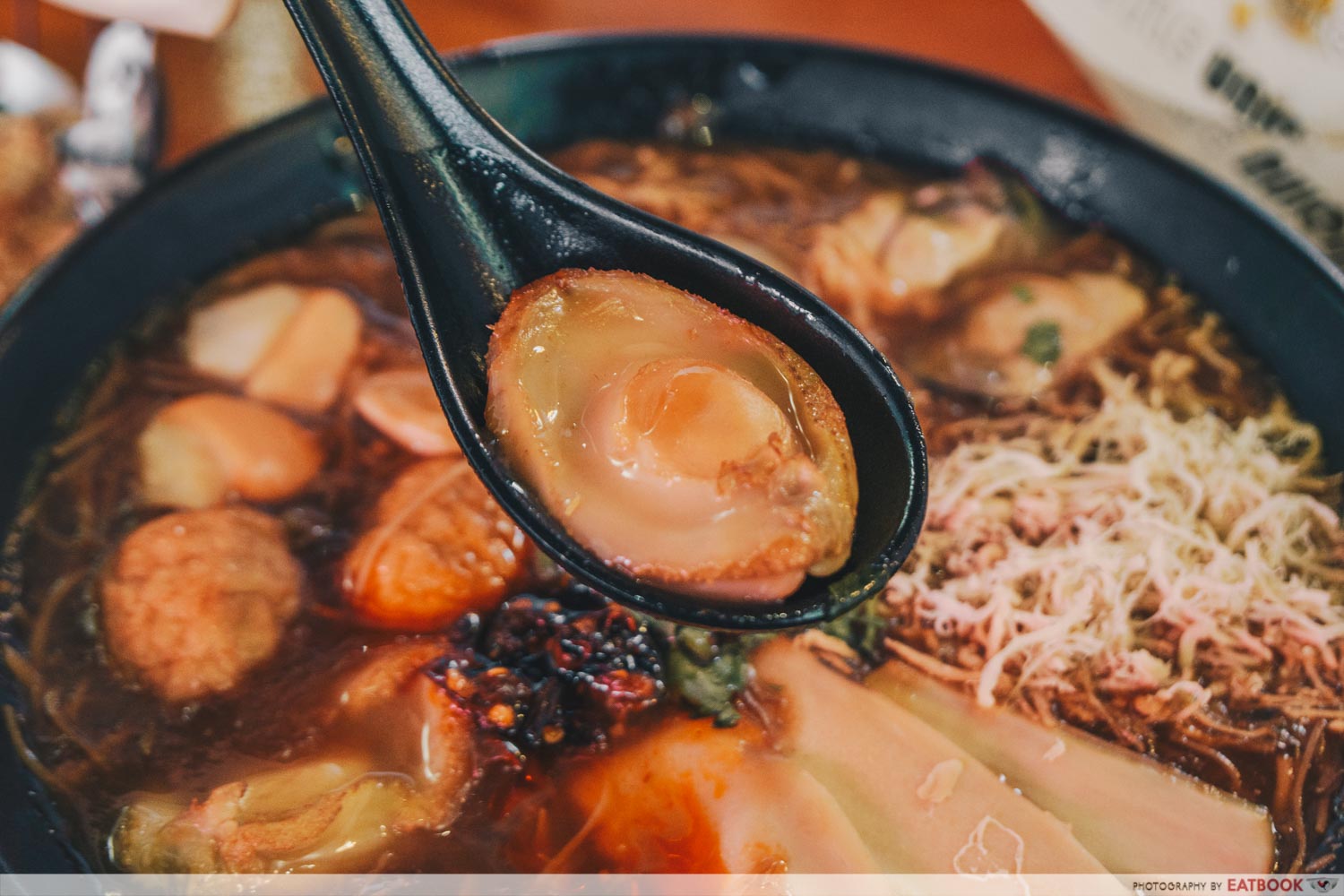 For the price of this dish, I have no complaints about the abalones, which were succulent and a treat to have.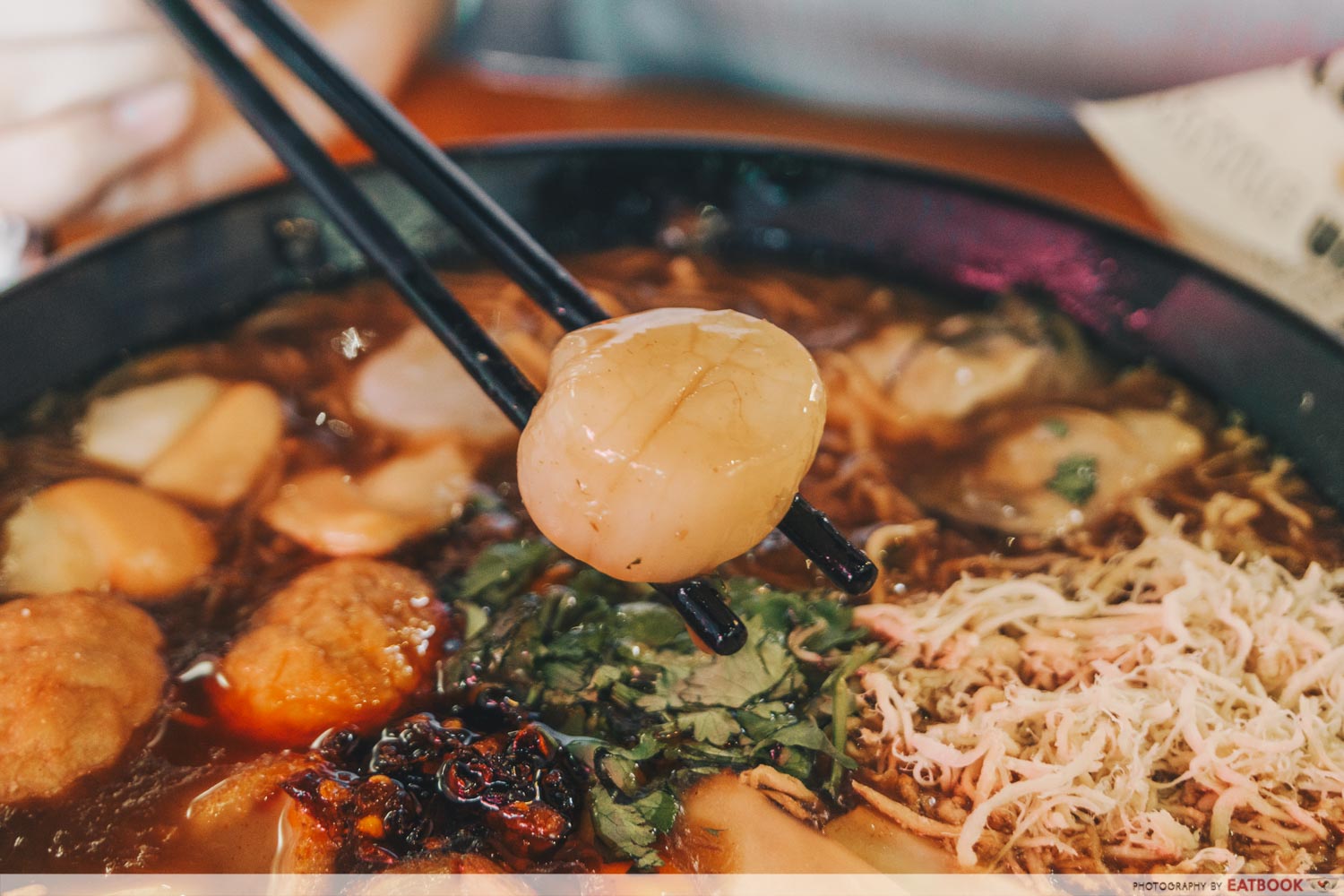 On the other hand, the scallops were slightly overcooked, more flaky than firm.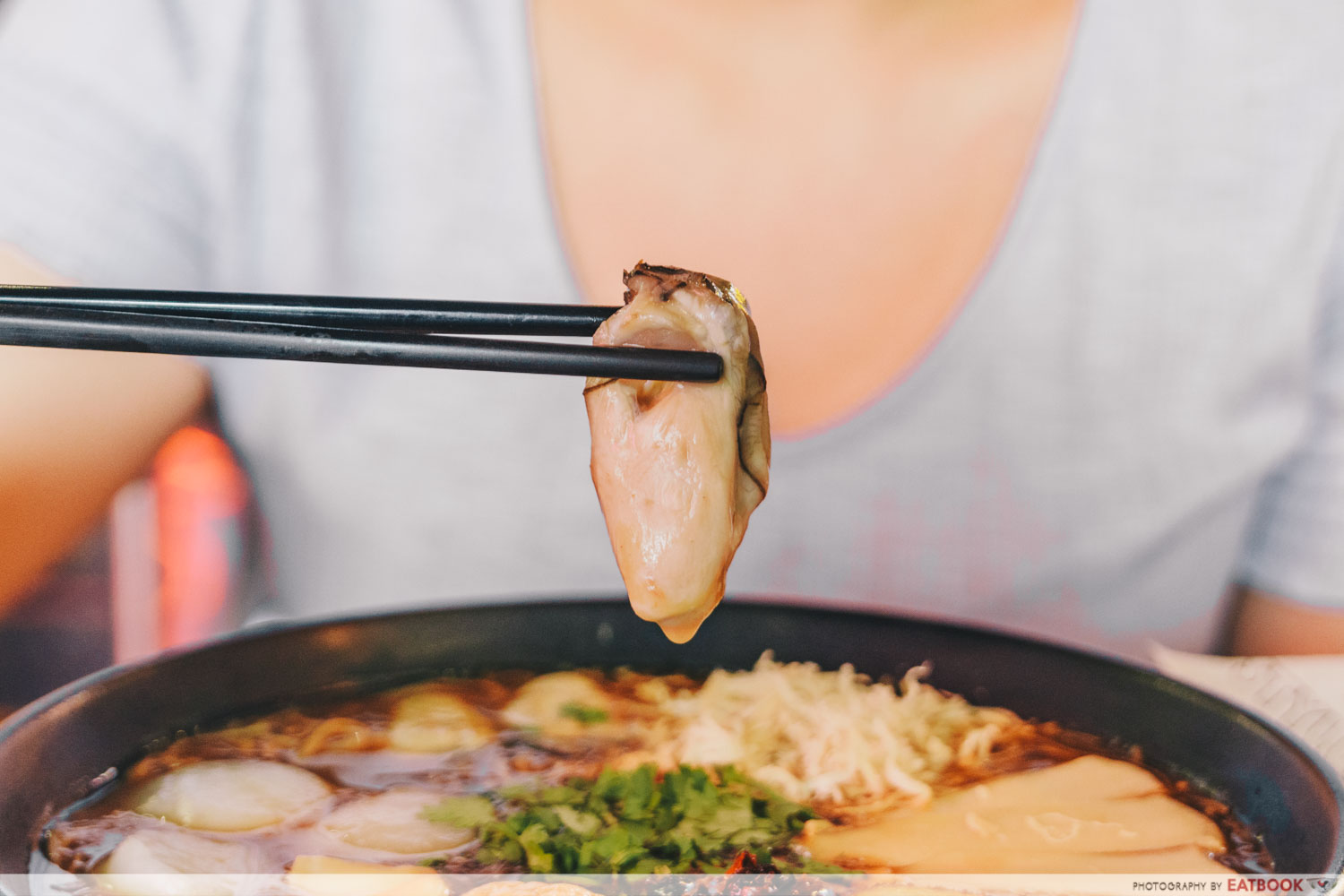 My least favourite was the oysters, which, while plump, disintegrated with a sandy texture in my mouth. Moreover, they tasted fishy. The juices seeped into the surrounding gravy, tainting it with an unpleasant taste. Still, the variety of the other ingredients more than made up for it.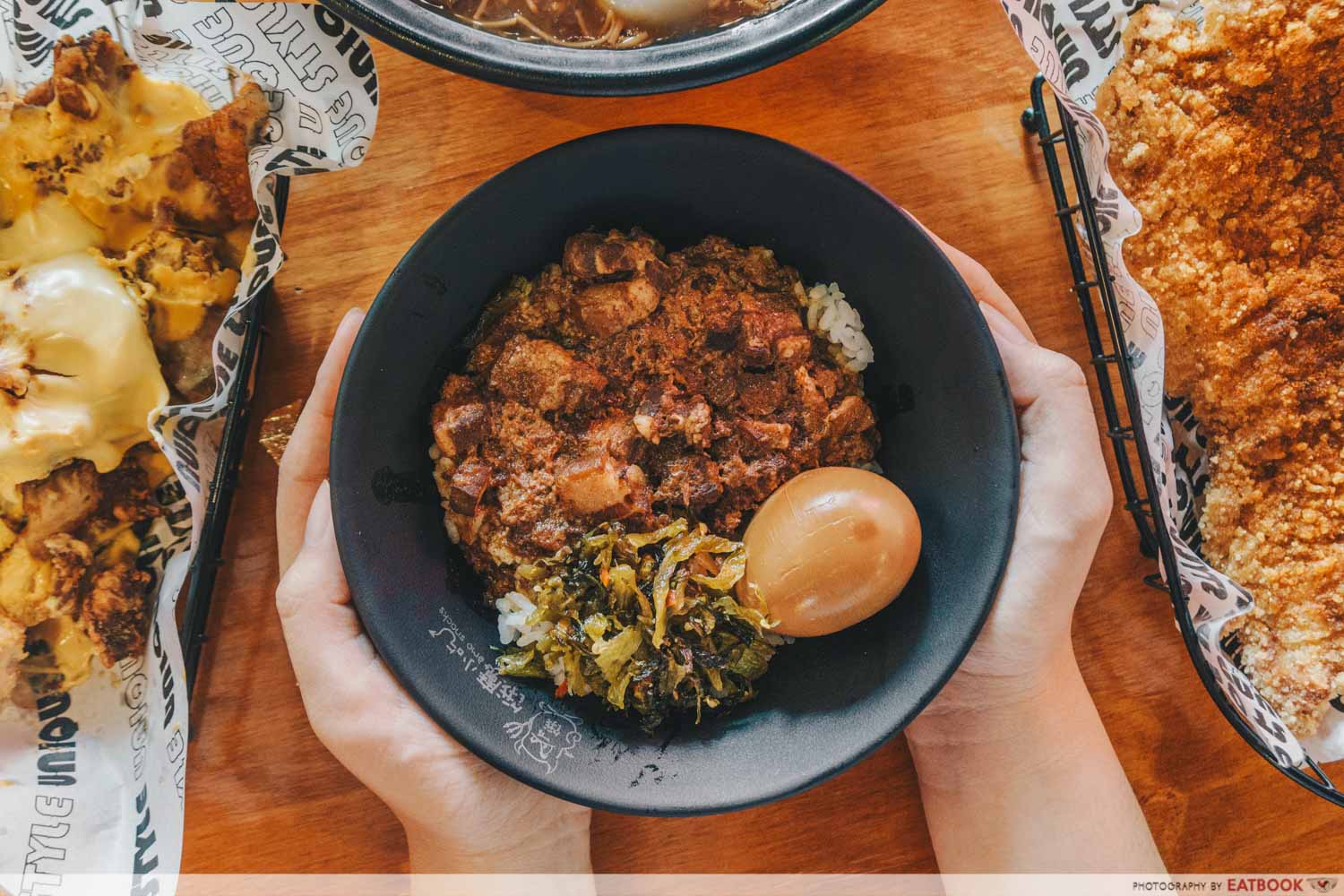 The last dish we tried on our visit was the Braised Pork Rice ($5.50), more commonly known as lu rou fan. It comprised a heap of braised pork belly, salted vegetables, a hard-boiled egg, and rice.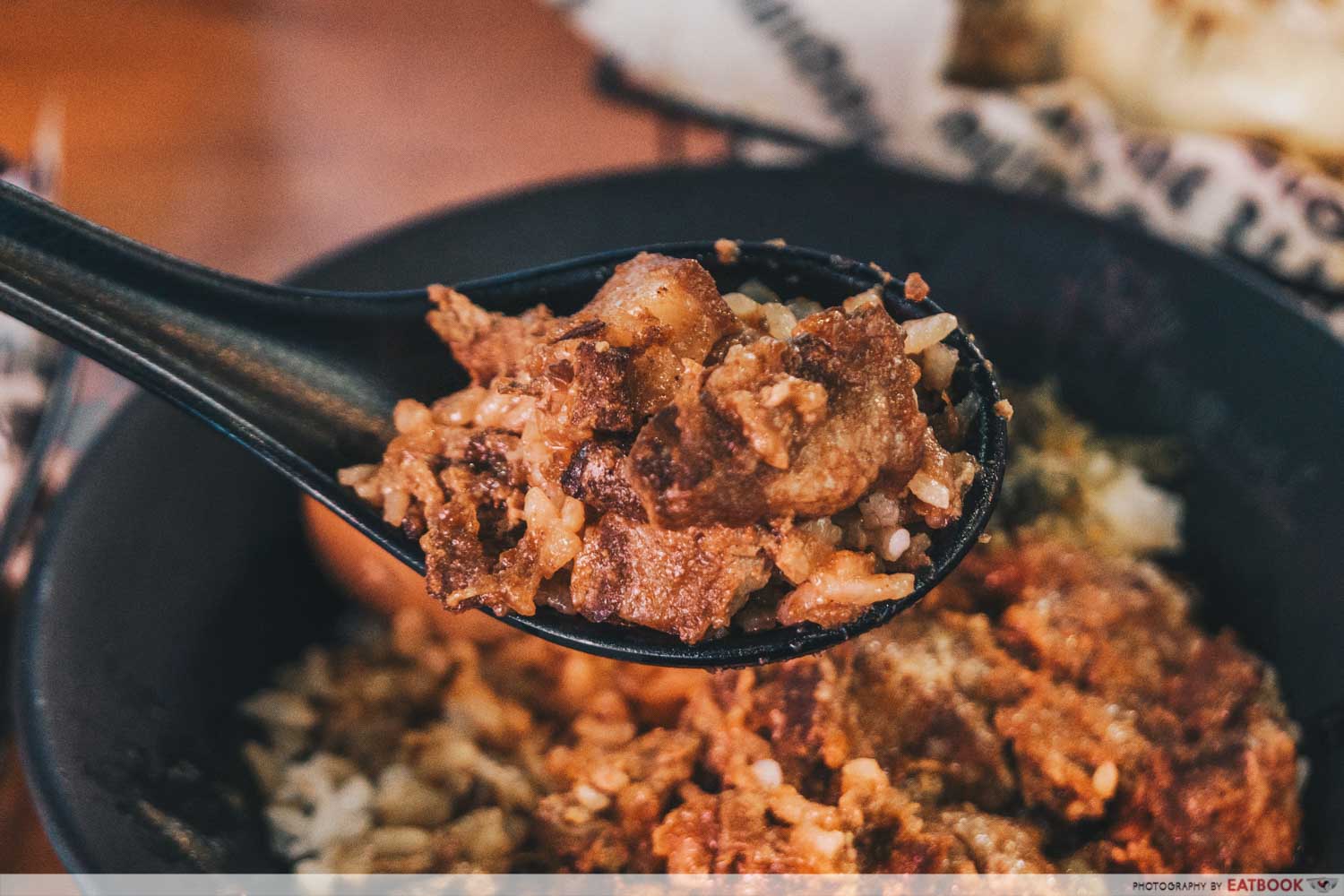 Sadly for me, the lu rou wasn't melt-in-the-mouth, with more lean meat than fat. Taste-wise, it was on the sweeter side, and we felt jelak rather quickly.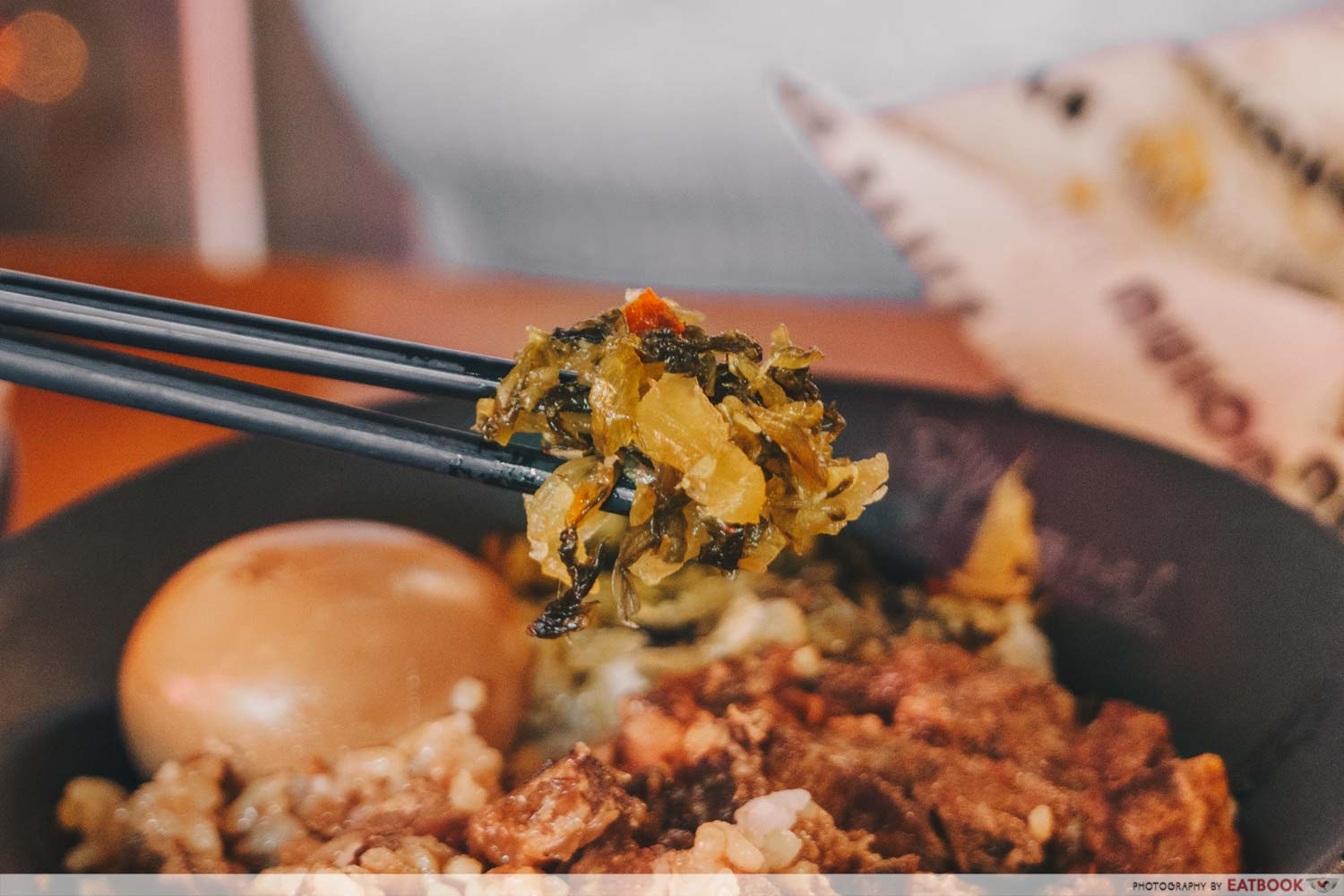 I particularly enjoyed the salted vegetables, which had cut chillies tossed within. Salty, spicy, and sour—I actually found this more flavoursome than the lu rou. It also refreshed my palate between bites of the heavily-flavoured braised pork rice.
Ambience at Emo Snacks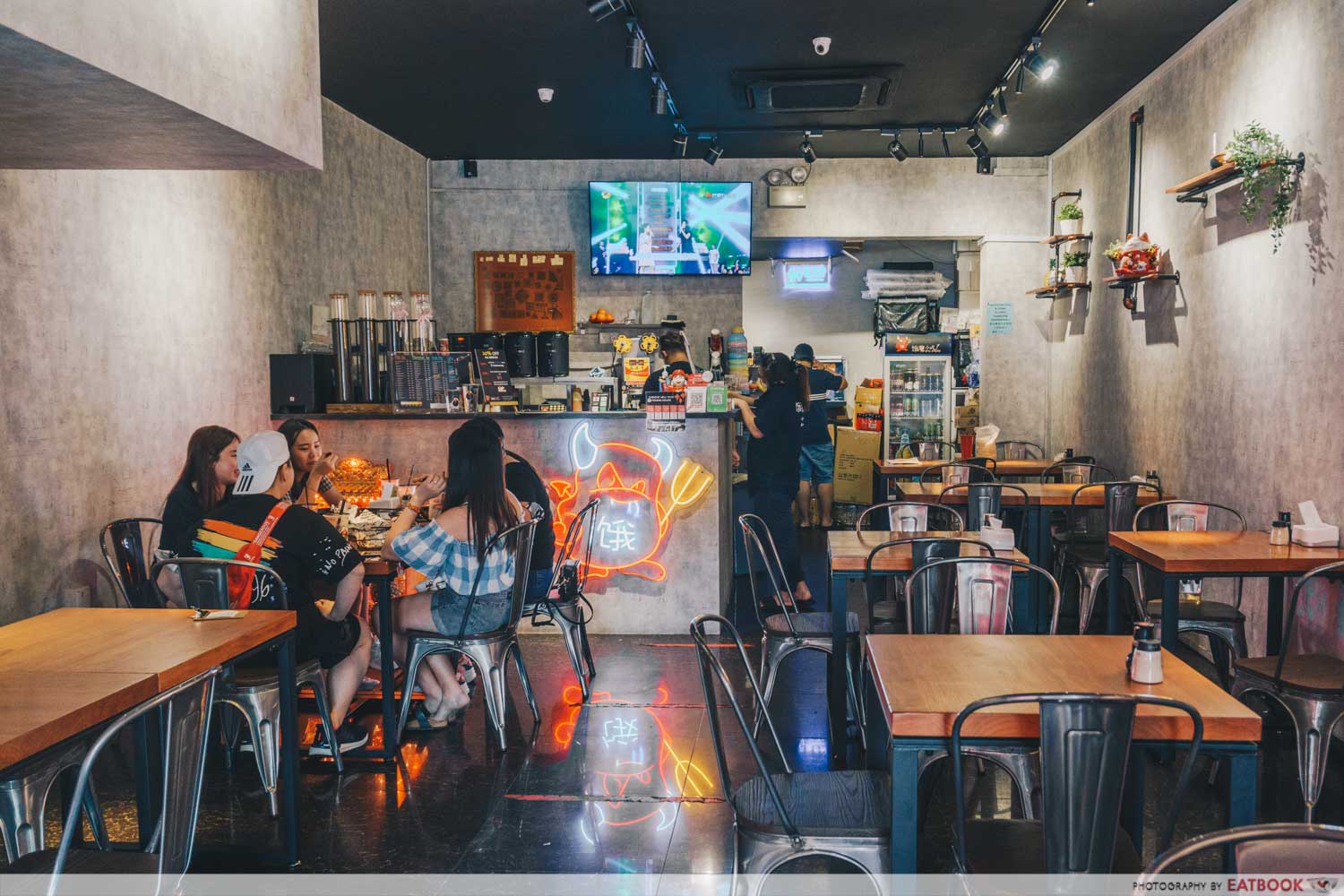 You won't have to worry about the heat at Emo Snacks, as the aircon is turned on to the max. The space is small, but didn't feel claustrophobic, with tables well spaced apart.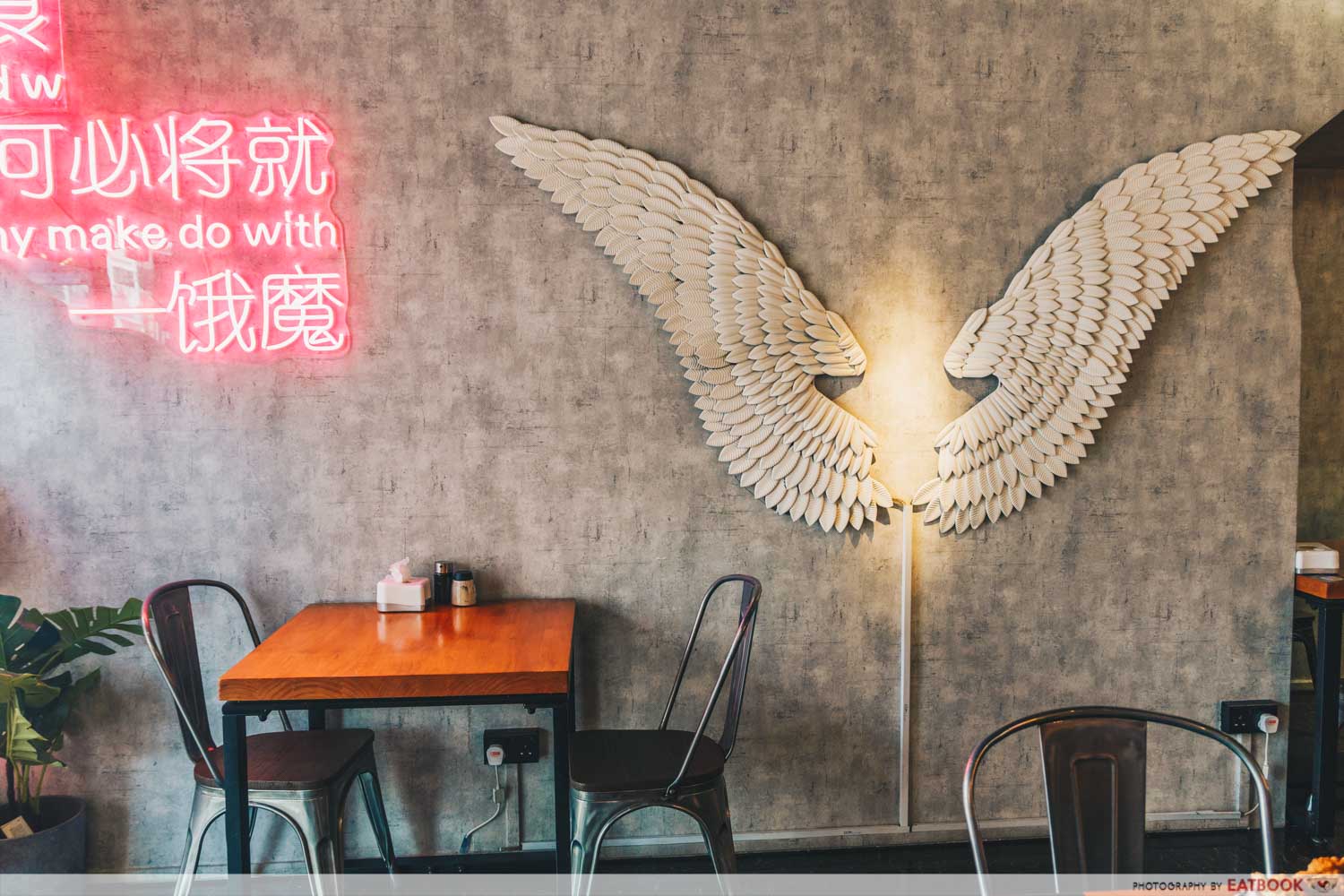 Decor-wise, the eatery is adorned with neon lights and graphics. There's even a claw machine, which you can play once with every $30 spent at the restaurant, giving off real Taiwanese vibes. That being said, its location in Geylang is rather ulu, requiring a ten-minute walk from Kallang MRT Station.
The verdict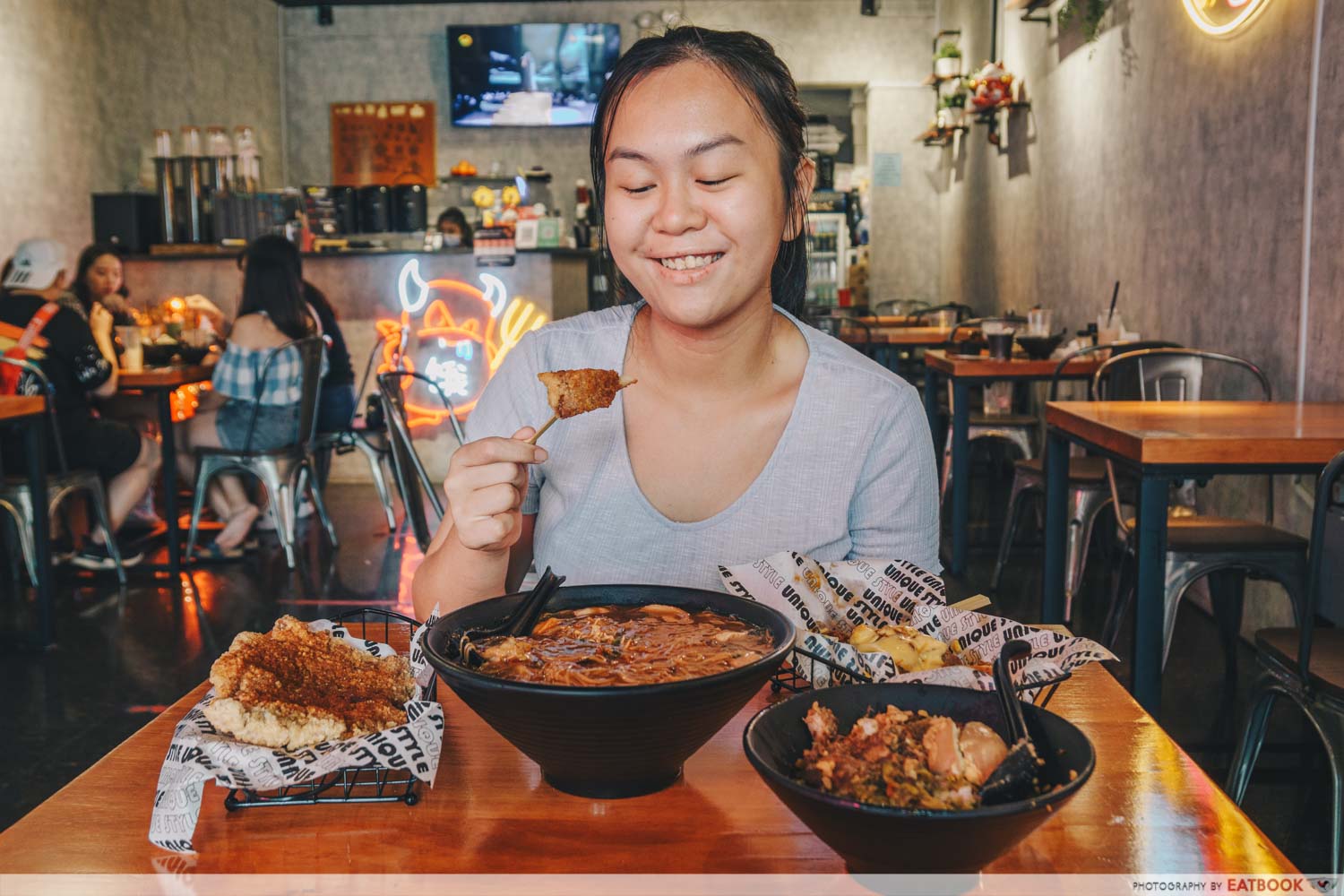 Overall, I truly enjoyed the XXXL fried chicken chop, where quantity didn't compromise quality. However, the other dishes were a little more miss than hit. 
The place still makes for a great spot to hang with friends, especially for supper, since they're open till 12am. Moreover, prices are affordable, with most dishes costing under $10 nett. From single-portion mains to share-worthy bites, Emo Snacks has something for everyone, so do head down if you're in the area.
For more nearby eats, check out our Yakiniku Warrior review, Singapore's first yakiniku in a coffee shop, or our Pratunam Famous Chicken And Pork Leg Rice review for Thai chicken rice and pork skewers.
Address: 223 Geylang Road, Singapore 389283
Opening hours: Tue-Sun 12pm to 12am
Tel: 9732 4016
Website
Emo Snacks is not a halal-certified eatery.
Yakiniku Warrior Review: Singapore's First Yakiniku In A Coffee Shop Has Barbecue Meat Platters From $6
Photos taken by Chew Yi En.
This is an independent review by Eatbook.sg.
Emo Snacks Review: Taiwanese XXXL Chicken Chop And Abalone Mee Sua At Geylang
Summary
Pros
– XXXL chicken chop was crispy and tasty
– Affordably priced
Cons
– Oysters in mee sua were fishy
– Lu rou was too sweet and not melt-in-the-mouth
Recommended dishes: XXXL Crispy Chicken Chop ($8), Cheezy Lava Chop ($10)
Opening hours: Tue-Sun 12pm to 12am
Address: 223 Geylang Road, Singapore 389283