Yakiniku Warrior in Geylang
Walk past Blk 121 at Geylang East Central anytime after 6pm, and you'll see a coffee shop shrouded in a white fog. Don't panic, the haze isn't back; the fog and the smell of barbecued meat emanating from the void deck kopitiam are just telltale signs that the Geylang food scene is now home to Singapore's first yakiniku in a coffee shop, Yakiniku Warrior.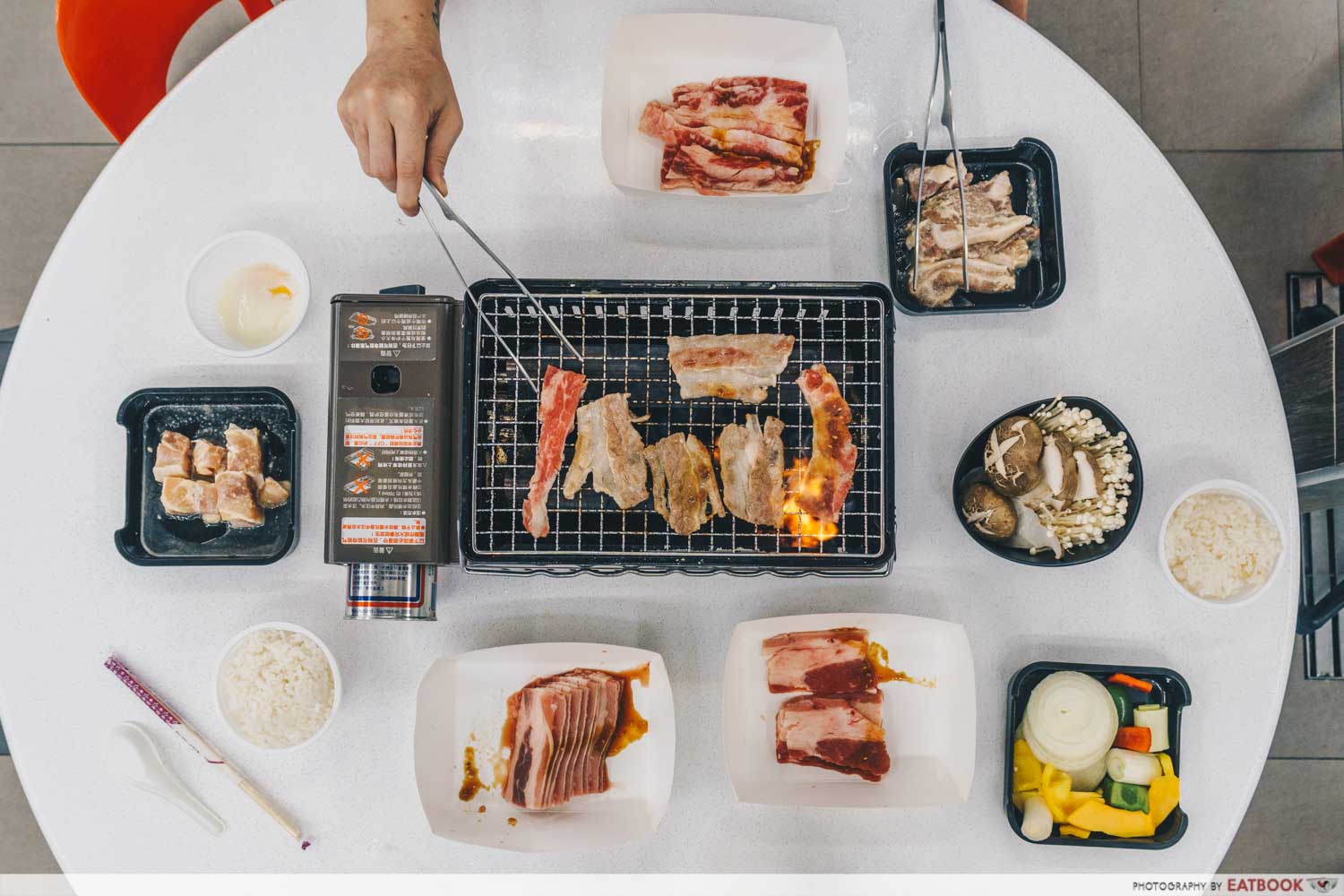 Barely two weeks old, this unique hawker stall is run by Kelvin Tan, 31, a former private banker from Citibank who wanted a fresh start. Citing a coffee shop yakiniku as something "no one has ever done before", Kelvin took the bold leap into the hawker path, accompanied by his wife and a young staff pool.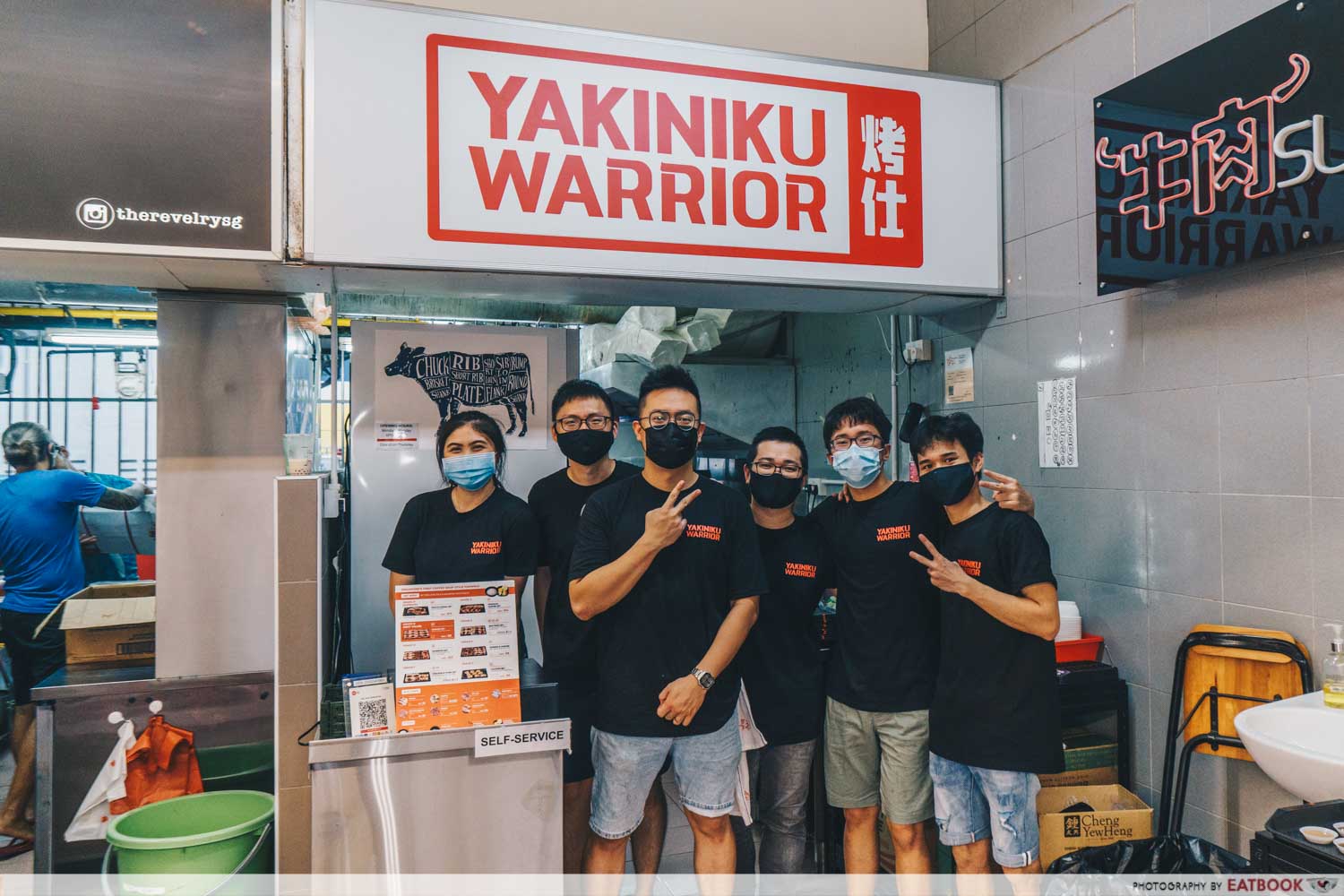 At Yakiniku Warrior, guests join a snaking queue at 6pm sharp to order from a streamlined menu of affordable quality meats, spanning beef, chicken, and pork. You order them raw, with a marinade of your choice, then cook them yourself at your table on a portable grill, which explains the smoky premises.
Eager to explore this novelty, and enticed by meat platters going as low as $6, a friend and I made our way to Geylang one weekday evening.
Food at Yakiniku Warrior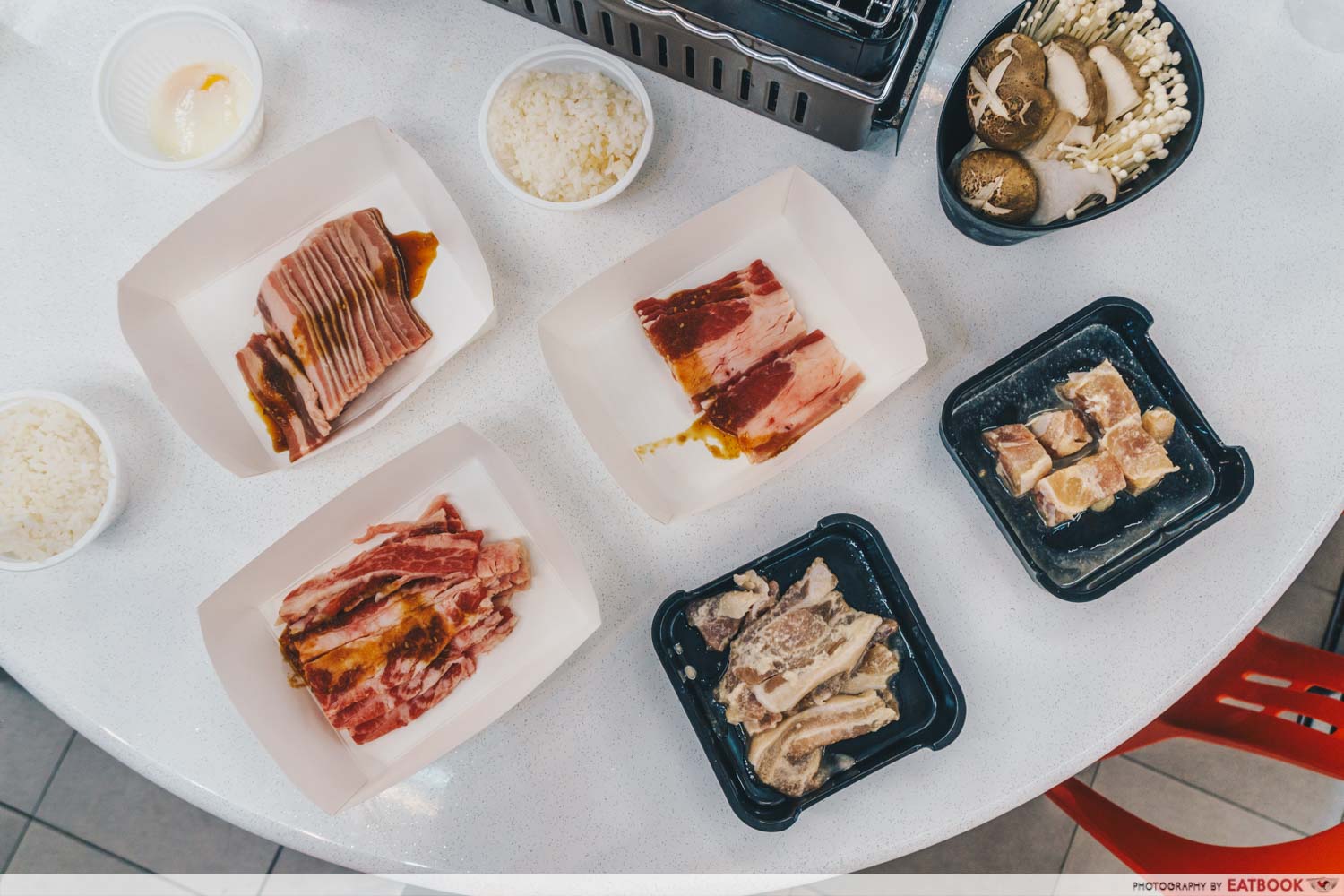 Most locals are familiar with the slew of steak buffets in Singapore, so getting free-flow meat is not hard to come by. However, Yakiniku Warrior's promise of platters starting at $6 for 100g of marinated chicken, and $17 for a 120g Australian wagyu steak, are rare finds.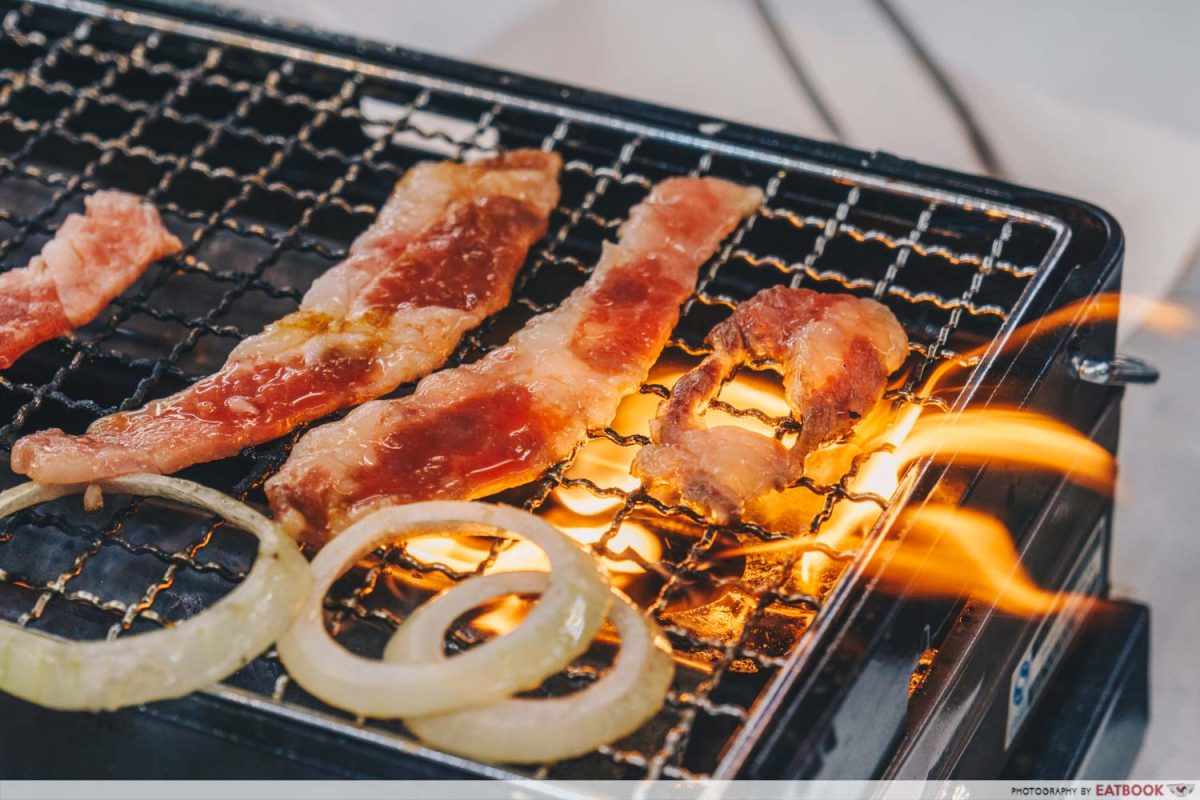 We ordered quite a spread, starting with the highly-recommended Premium Karubi Set ($14), comprising 100g of US beef short ribs, marbled with fat, and topped with a dark soy-based sauce. Melt-in-your-mouth and smoke-kissed once cooked, this is definitely a must-order at Yakiniku Warrior. For those looking to save, consider the Karubi Set ($8), comprising 150g of US beef short plate instead. Though less fatty, these streaky slivers of beef were just as tender when cooked.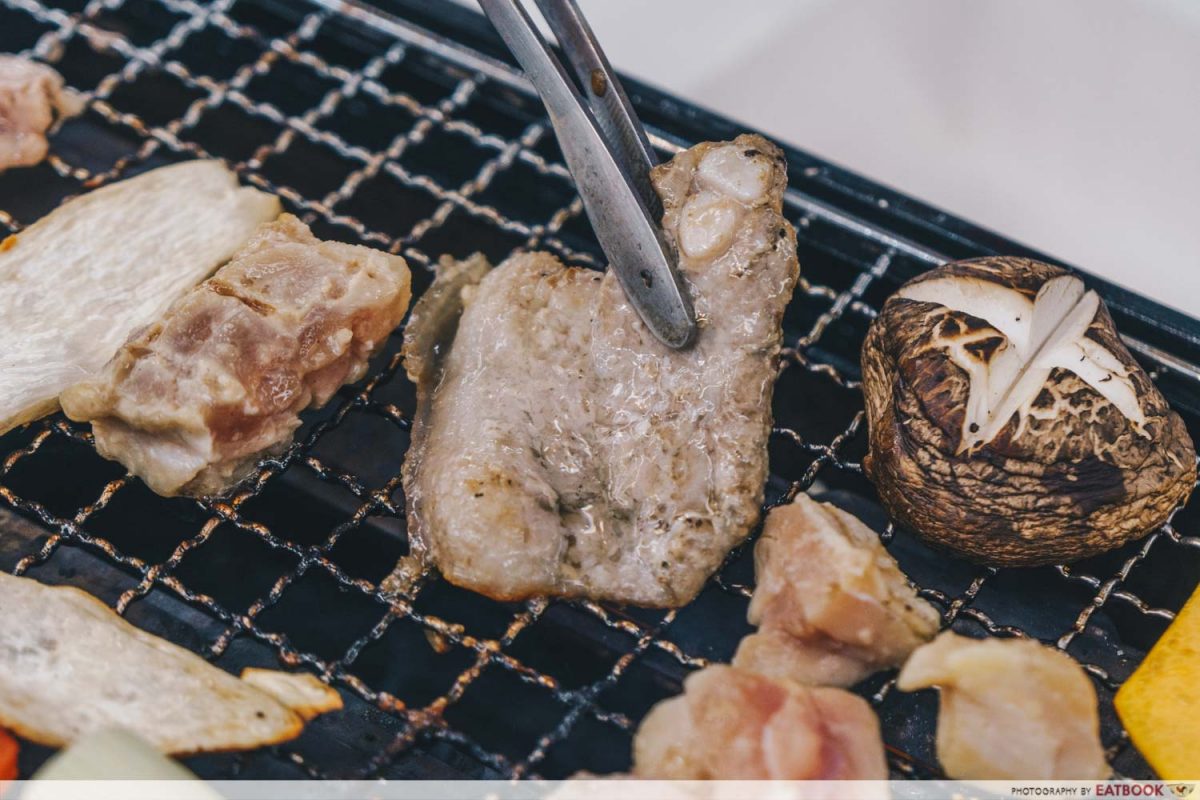 The most value-for-money item goes to the Beatbox Set ($12), a trio of chicken, beef, and pork totalling 250g. I enjoyed the variety, though I do wish the pork and chicken were sliced thinner so they could cook faster. Flavour-wise, though, the marinade was on point. We opted for Garlic Shoyu instead of Citrus Shoyu, and the meats were definitely punchy and full of garlicky goodness.
Yakiniku Warrior is considerate of those who don't eat beef, so a Chicken & Pork Set ($10) is also available, serving 200g of the two meats in all.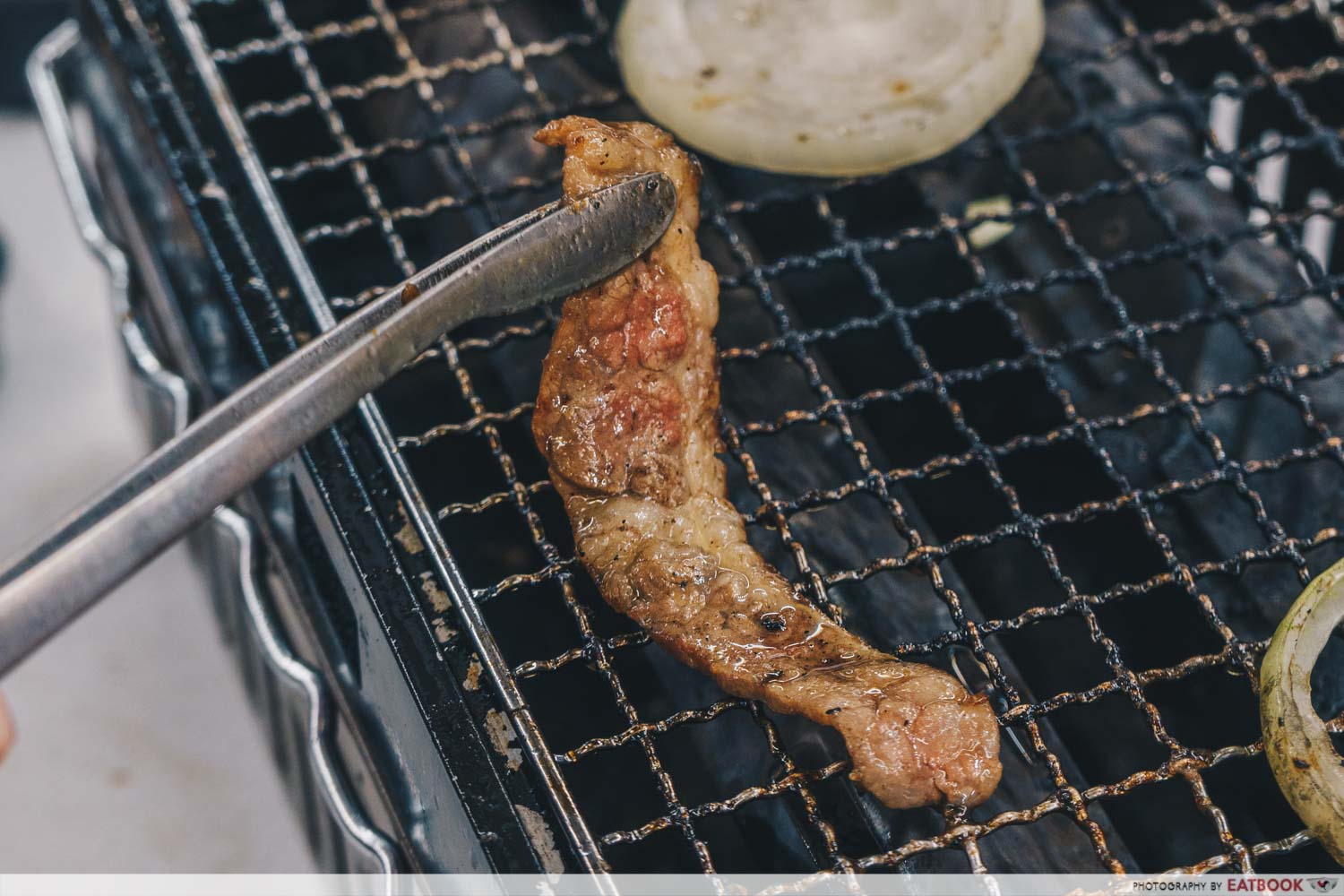 Apart from sets, the stall also has smaller ala carte portions for their proteins, starting at $2 for 50g of beef short plate, and $4 for 100g of pork belly.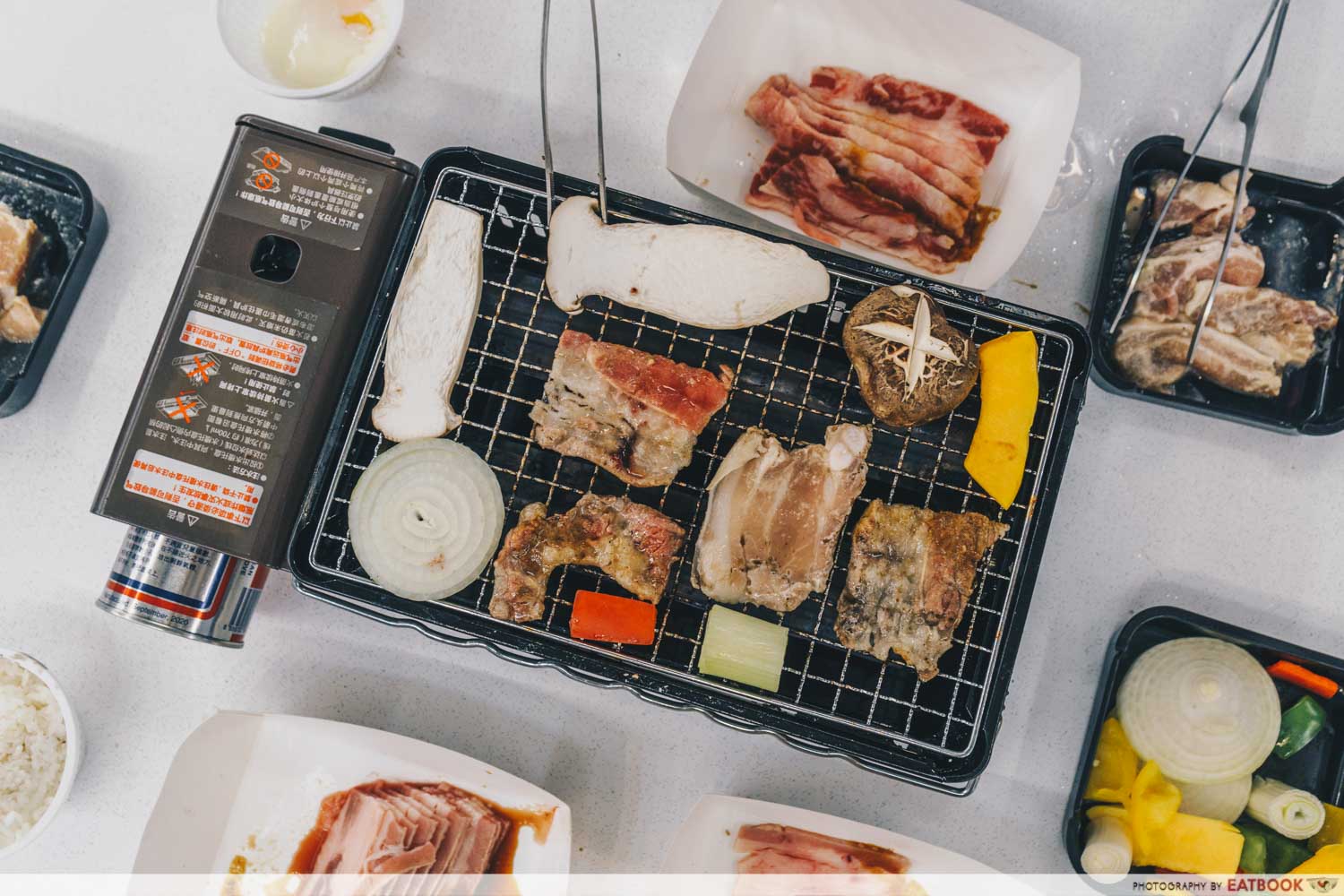 Every order comes with a side of vegetables and a bowl of short-grain Japanese rice, though I heartily encourage you to top up $1 for an Onsen Egg to use as a dipping sauce or dressing for the plain rice. The Assorted Mushrooms ($6) are also good to have, starring a generous bundle of enoki, shiitake, and king oyster mushrooms to grill.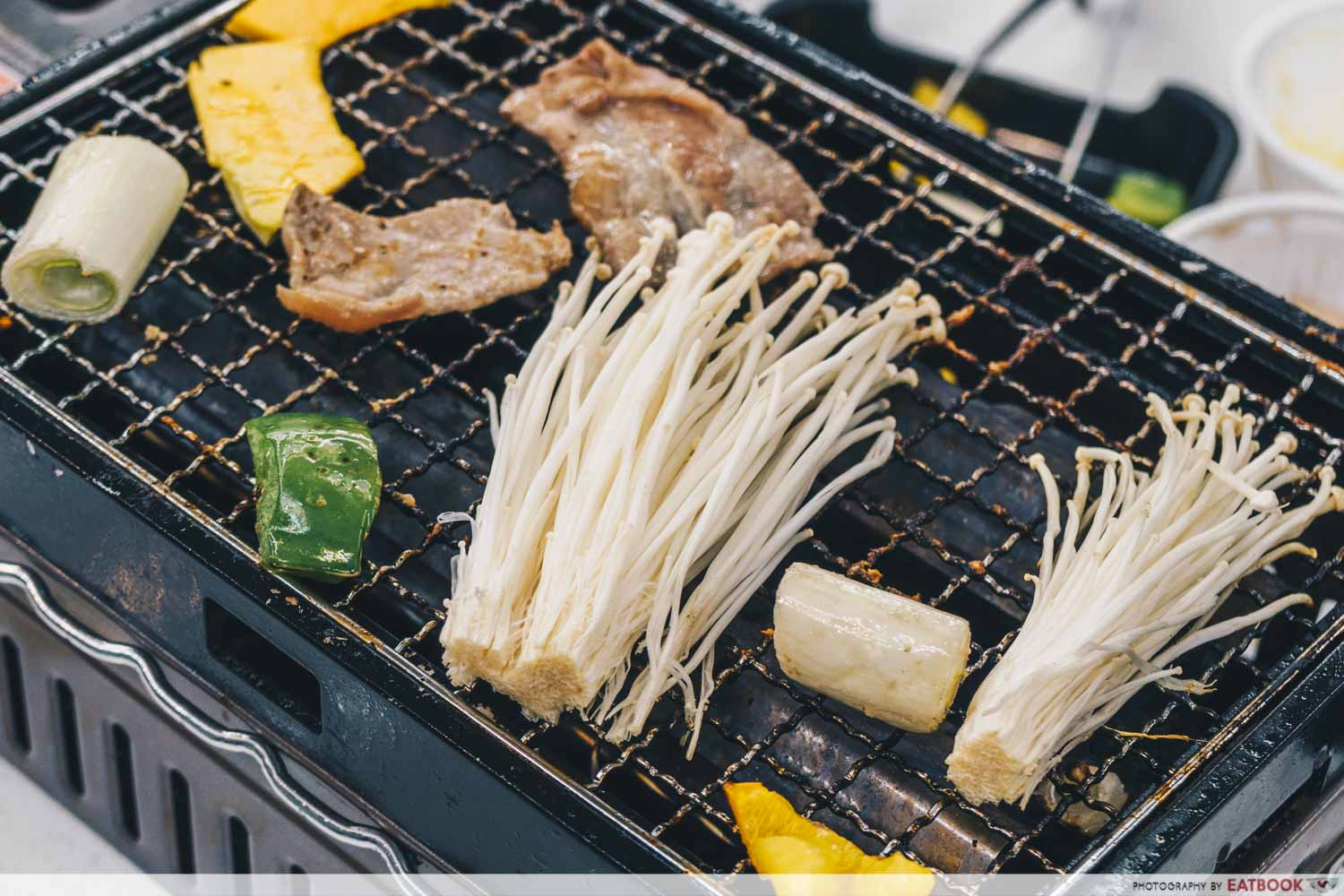 Note that Yakiniku Warrior will release its last stove at 10.30pm during its operating days, but orders cease at 11pm or till sold out.
JUMBO Seafood Afternoon Tea Review: $24++ Per Person With Chilli Crab Bun And Salted Egg Lava Mochi
Ambience at Yakiniku Warrior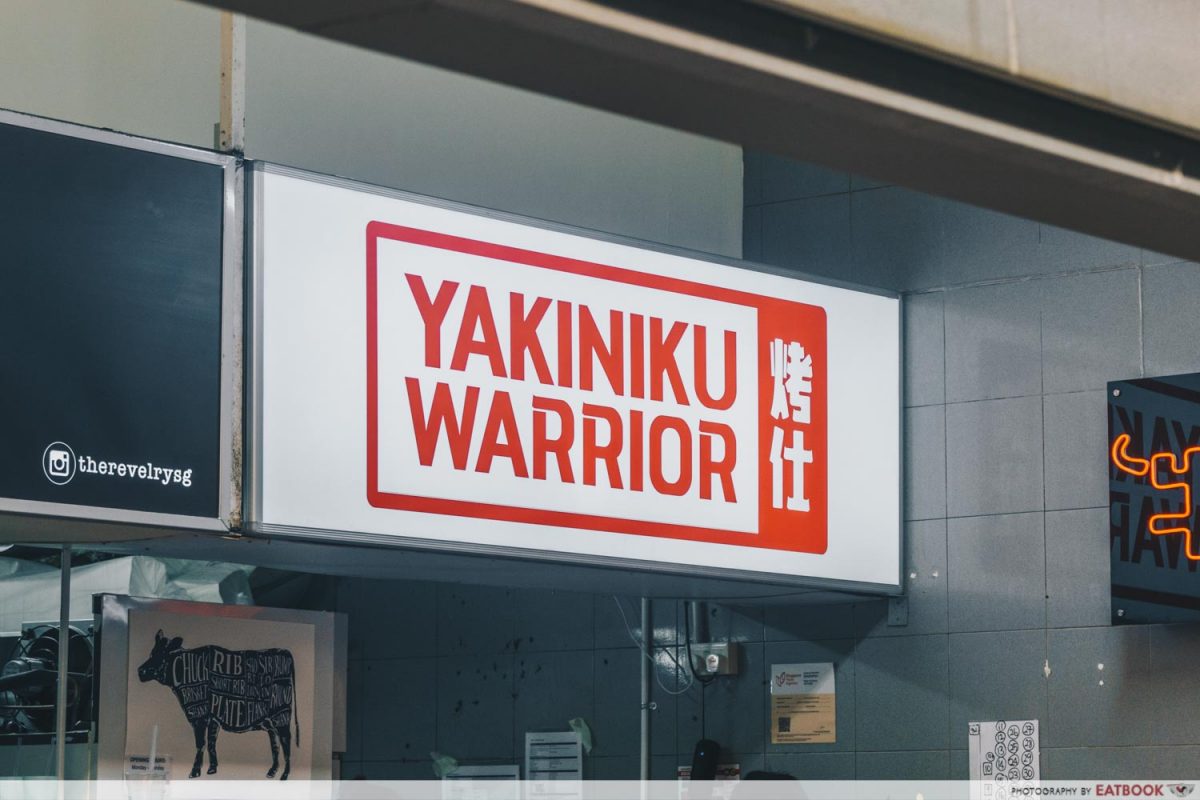 Kelvin deliberately chose to open his stall at this one coffee shop in Geylang to cater to younger diners. A mere five-minute walk from Aljunied MRT Station, you're completely sheltered when coming to Yakiniku Warrior─great for non-drivers.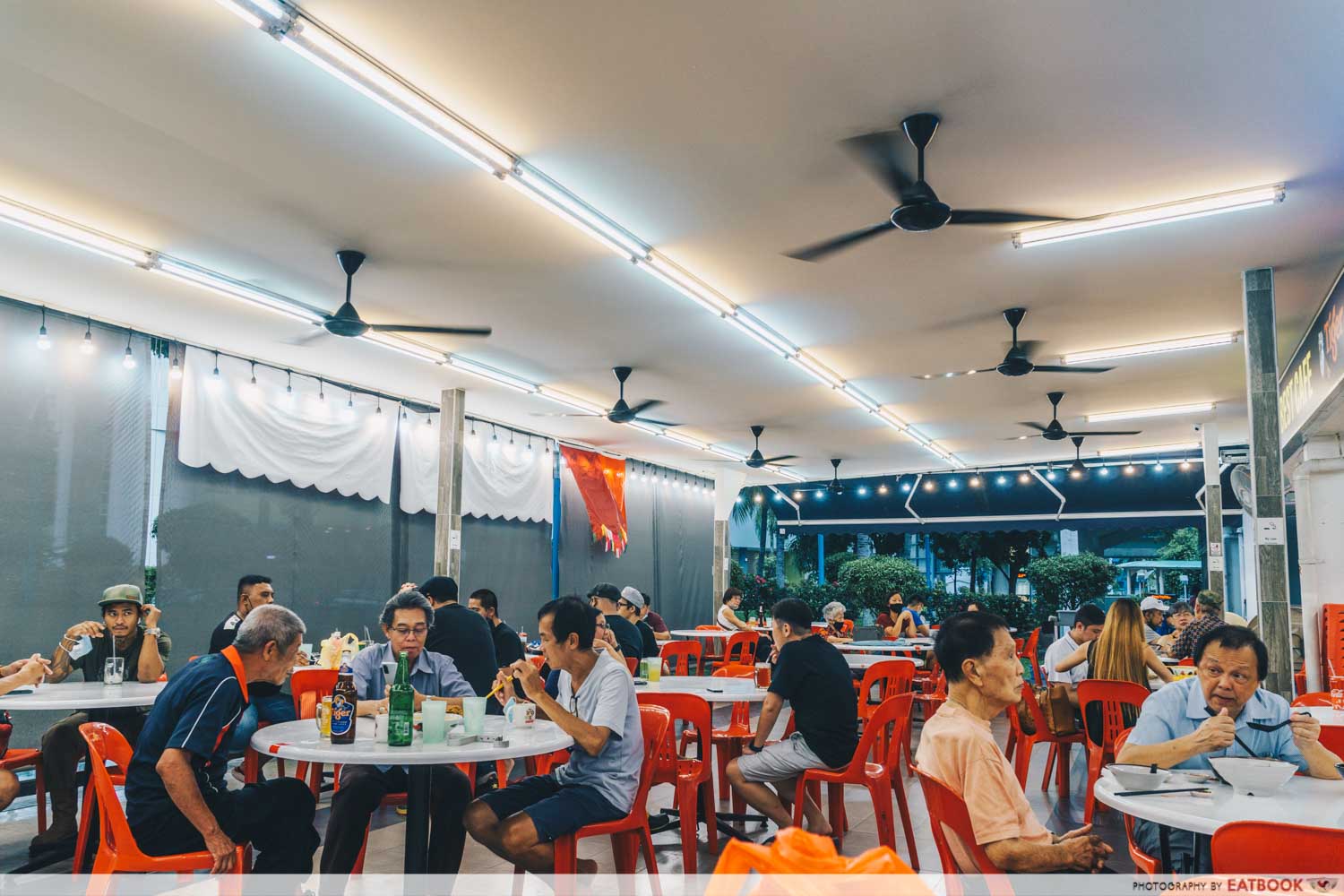 The coffee shop itself is clean and open-air, but it does get eye-wateringly smoky if you choose to dine for more than a couple of hours. We'd recommend sitting closer to the edges of the coffee shop, where you get better ventilation.
While the barbecuing is DIY, the Yakiniku Warrior staff are attentive, coming over to check if you're posing a fire hazard, have too little gas, or to top up water levels in the grill.
The verdict
My friend and I were initially sceptical when we saw that the total price of our order hovered close to $40 for two, as most yakiniku buffets in restaurants tend to hover around the same fare, albeit with service charge and GST. However, when we dug in, the quality of the meat was discernible right off the bat—these aren't your low-grade offcuts, and definitely are of higher quality than what you get at an average Japanese barbecue buffet.
One other gripe we've heard, though, is that portions can be quite small if you're very hungry or have a big appetite.
Still, thanks to the convenient location and the novel experience, Yakiniku Warrior makes for an exciting break away from the hawker fare we're used to.
For more barbecue options, check out our list of restaurants for Korean barbecue in Tanjong Pagar.
18 Korean Restaurants In Tanjong Pagar And The CBD For Korean Barbecue And Army Stew
Address: 121 Geylang East Central, Singapore 380121
Opening hours: Mon-Wed, Fri-Sun 6pm to 11:30pm
Website
Yakiniku Warrior is not a halal-certified eatery.
Photos taken by Hay Thi.
This is an independent review by Eatbook.sg.
Yakiniku Warrior Review: Singapore's First Yakiniku In A Coffee Shop Has Barbecue Meat Platters From $6
Yakiniku Warrior Review: Singapore's First Yakiniku In A Coffee Shop Has Barbecue Meat Platters From $6 -

8/10
Summary
Pros
– Value for quality meats
– Novel concept
– Accessible location
Cons
– Coffee shop can get very smoky
– Portions can be small if you're very hungry
Recommended dishes: Premium Karubi Set ($14), Beatbox Set ($12)
Opening hours: Mon-Wed, Fri-Sun 6pm to 11:30pm
Address: 121 Geylang East Central, Singapore 380121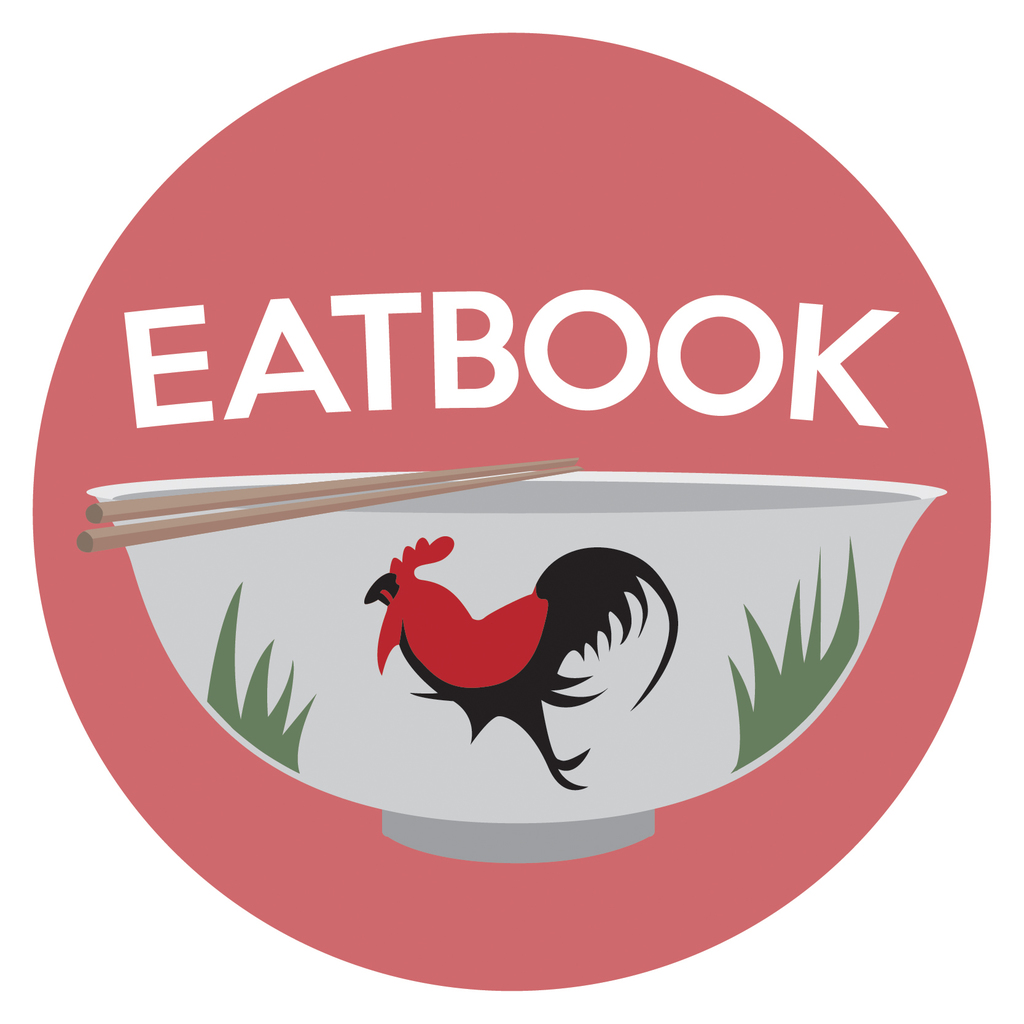 Drop us your email so you won't miss the latest news.