Afternoon tea at JUMBO Seafood in town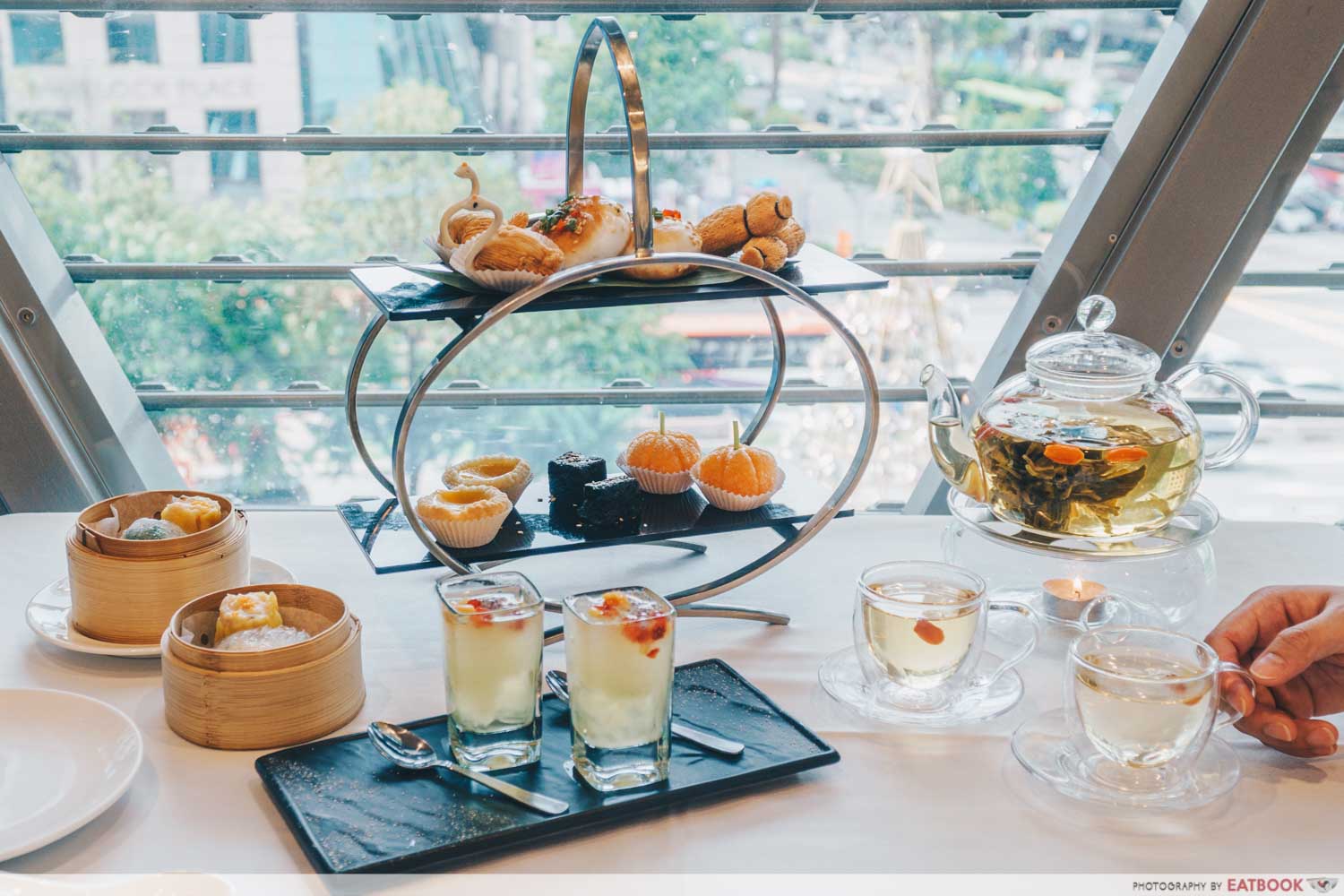 The afternoon tea set at JUMBO Seafood ION Orchard has got to be one of the cheapest in town at $48++ for two, with a good city view to boot. If you're going dutch, it is only $24++ per person for a multi-course afternoon tea experience that is more than just a social affair with friends. The comparatively affordable price can also be a remedy for hunger pangs while shopping in town. 
Food at JUMBO Seafood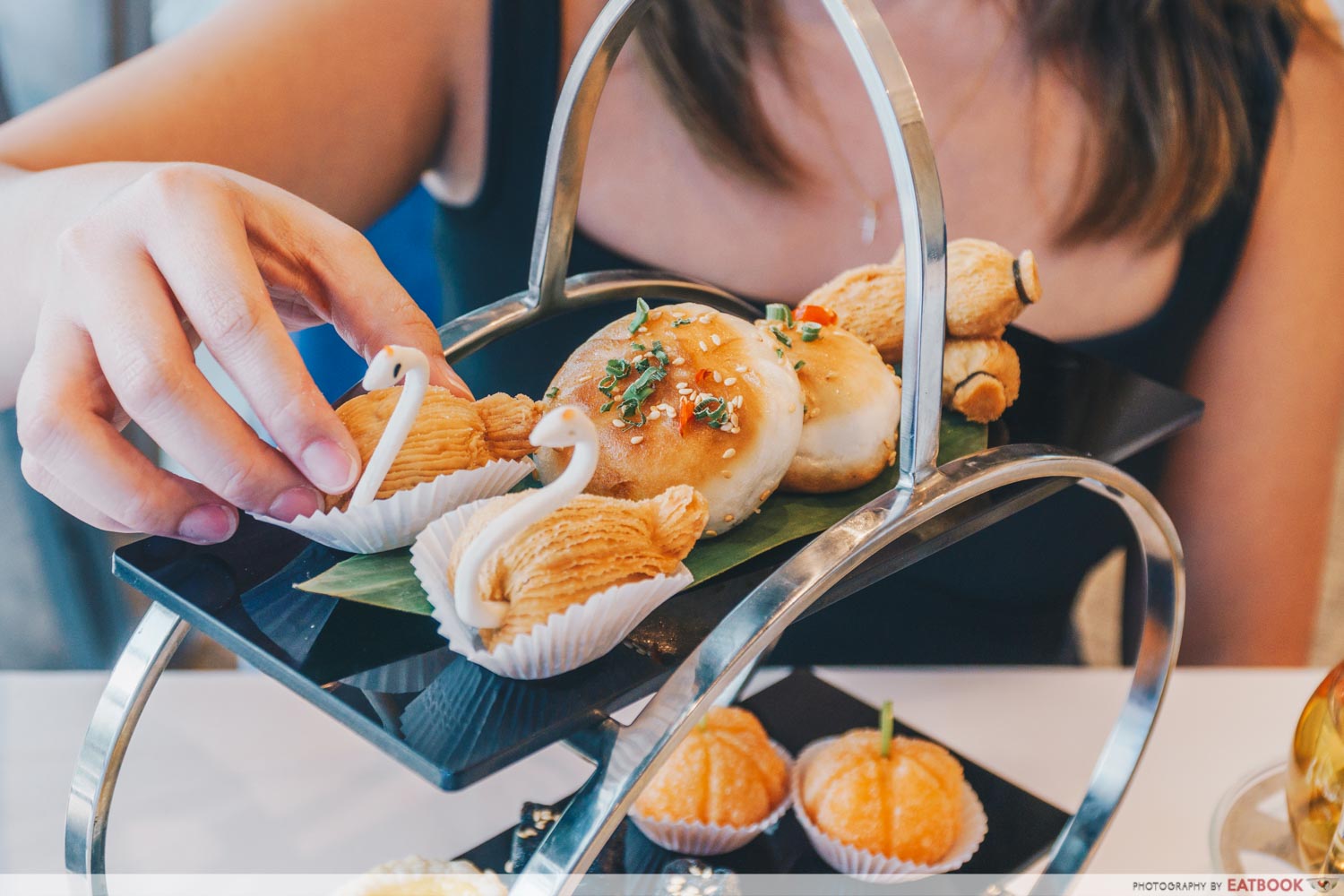 The two-tier affair, involving three savoury and three sweet treats in total, is also served with two baskets of dim sum, a dessert, and a pot of tea.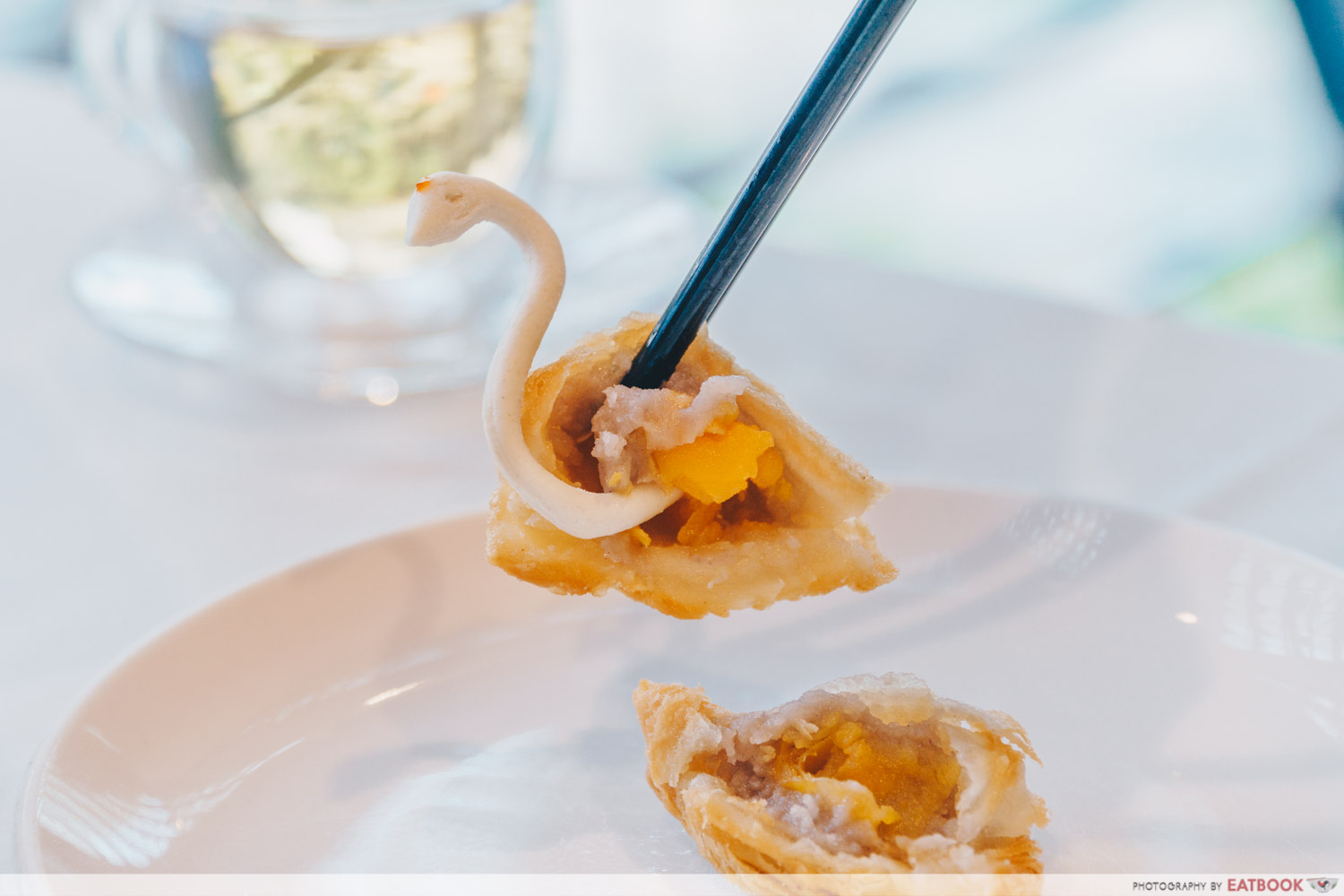 We started with the savoury tier which features Lotus Root Puffs and Sweet Yam Paste with Salted Egg Yolk Puffs in the shape of elegant swans. I was confused as the fried yam puffs tethered more to the sweet side. Sinking in my teeth into the filling, I got hints of saltiness from the egg yolk centre, but they were soon overwhelmed by the toothsome yam paste.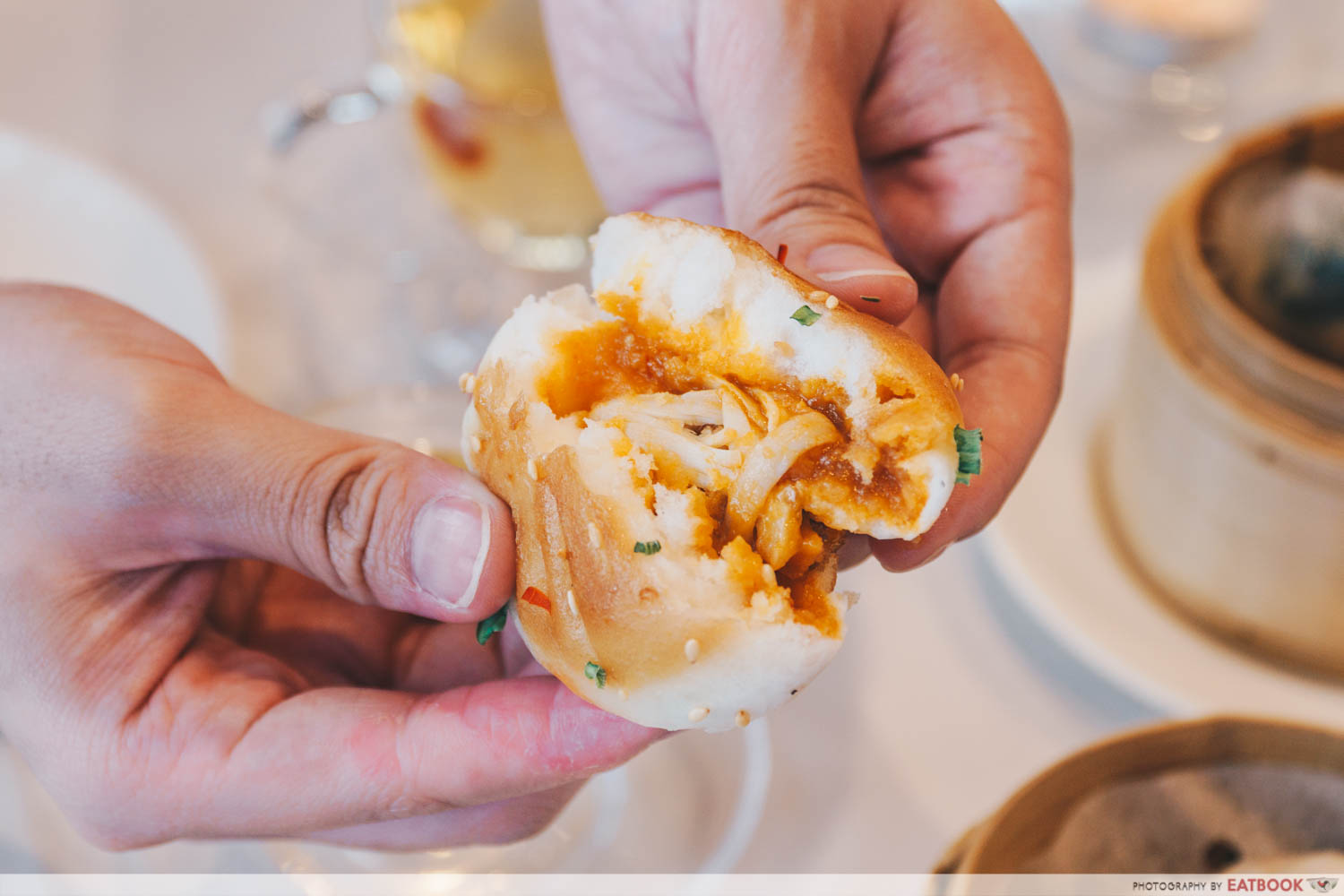 Their Pan-fried JUMBO Chilli Crab Buns, on the other hand, got me wishing I was at a dim sum buffet instead. It was slightly crispy on the outside, and the centre was gooey with JUMBO's emblematic chilli crab sauce with real crab meat in the mix. One was definitely not enough.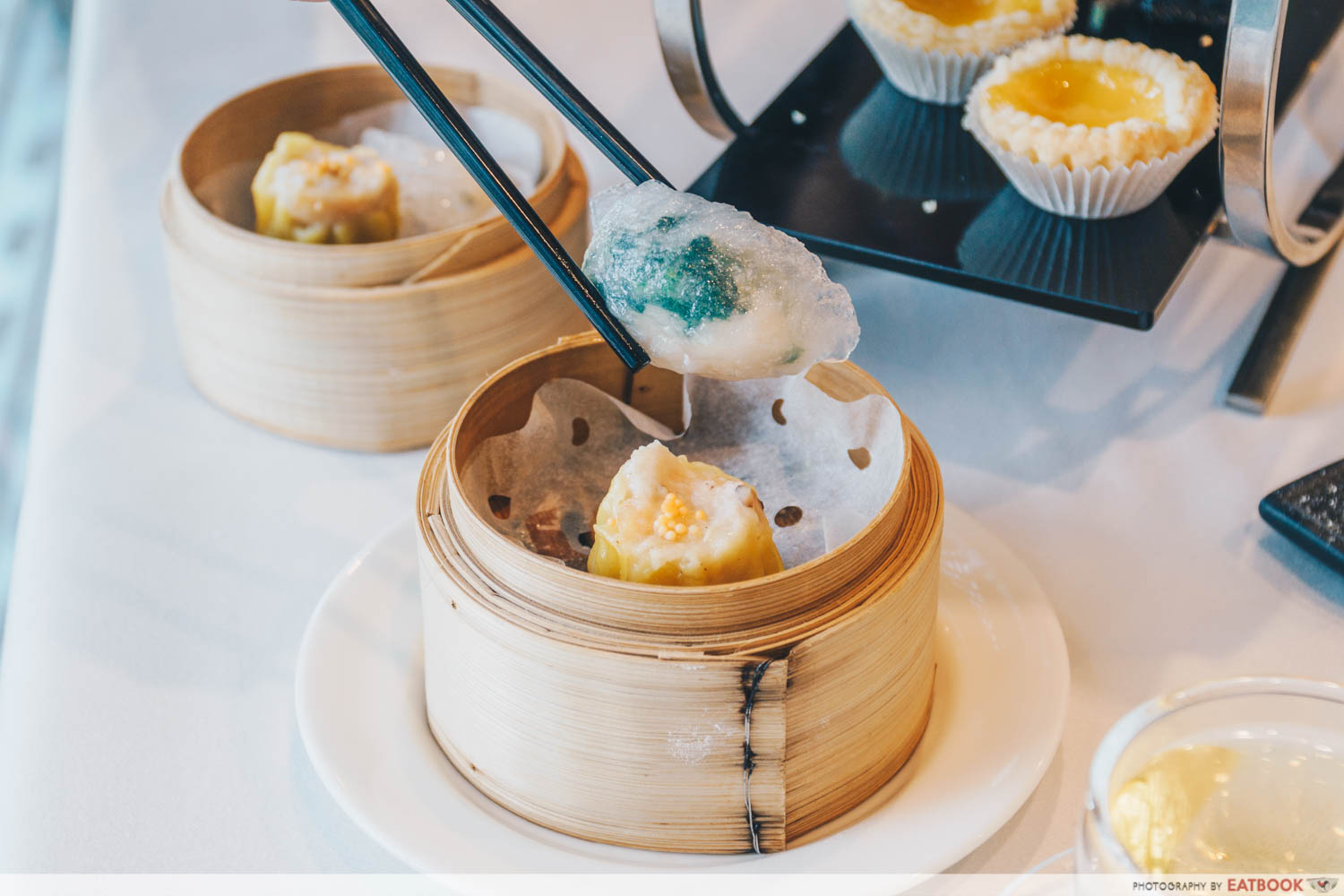 Other savoury items include a pair of dim sum each. You can expect to try their JUMBO 'Siew Mai' and Steamed Prawns and Spinach Dumplings, which was my favourite out of the two thanks to its chewy crystal-skin and crunchy, plump prawn filling.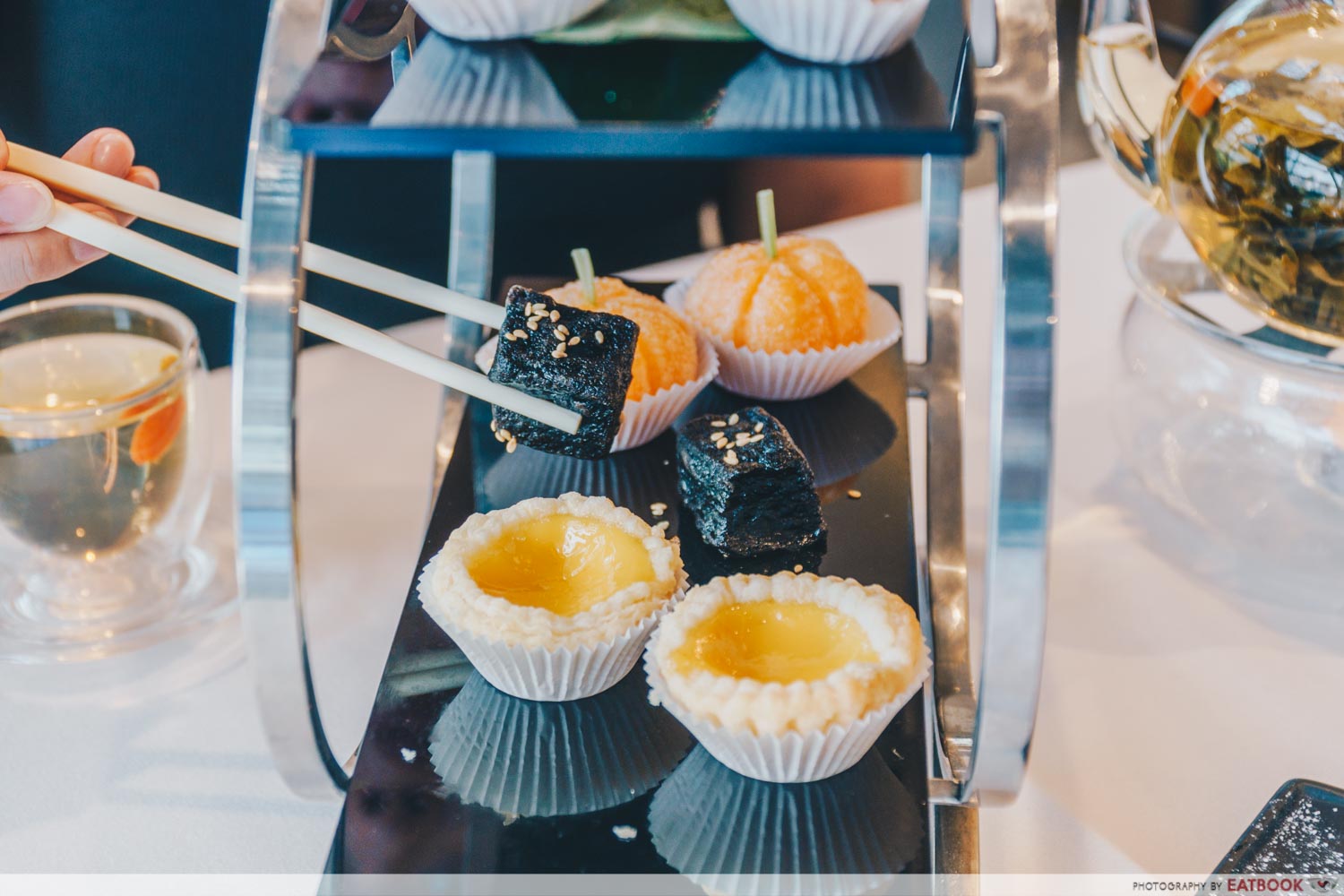 Perched on the bottom tier are also sweet treats starring Black Sesame Cakes, Molten Salted Egg Lava Mochi, and Baked Orange Egg Tarts.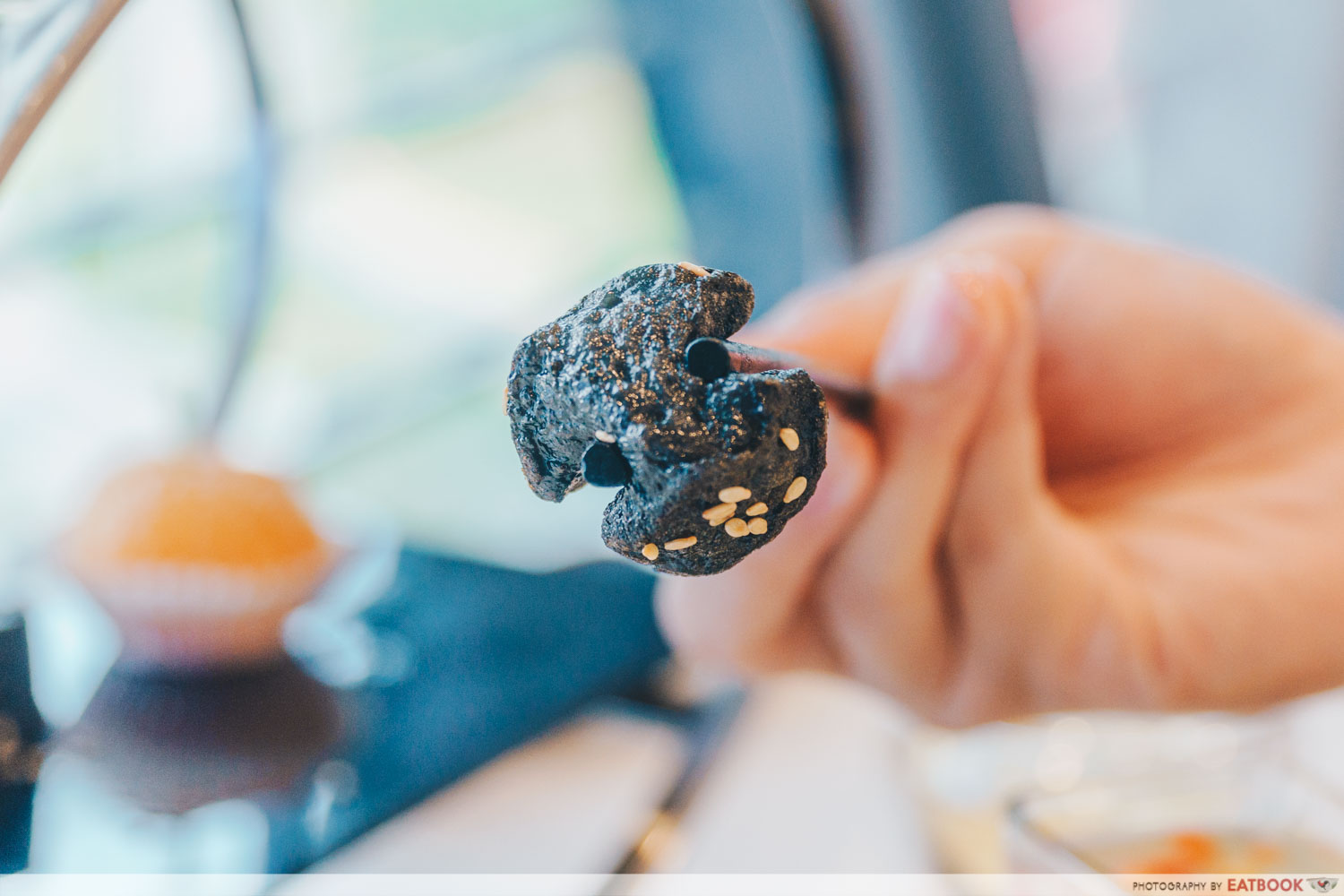 Interestingly, amongst the three, what looked the least enticing actually turned out to be the most delicious. The Black Sesame Cake was like a mochi—dreamingly soft and chewy to bite. Its flavour was also full-on, with every chew perfumed with the aroma of black sesame.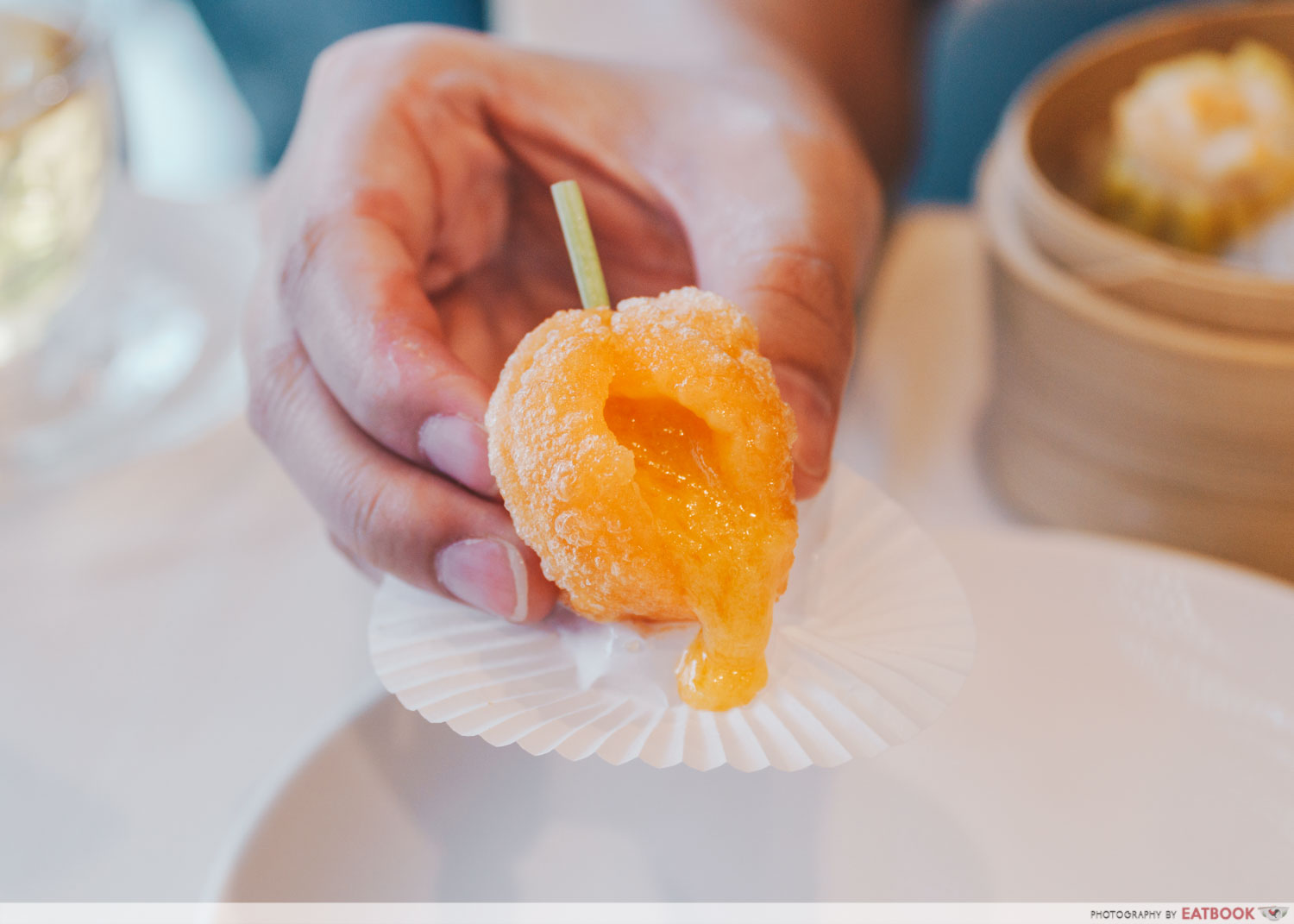 Just like their chilli crab, JUMBO has really seemed to nail their mochi! The soft texture of their Molten Salted Egg Lava Mochi paired well with the sweet-salty filling. Despite us leaving them untouched as we took pictures and enjoyed the savoury items first, the salted egg lava stayed as flowy as liquid gold.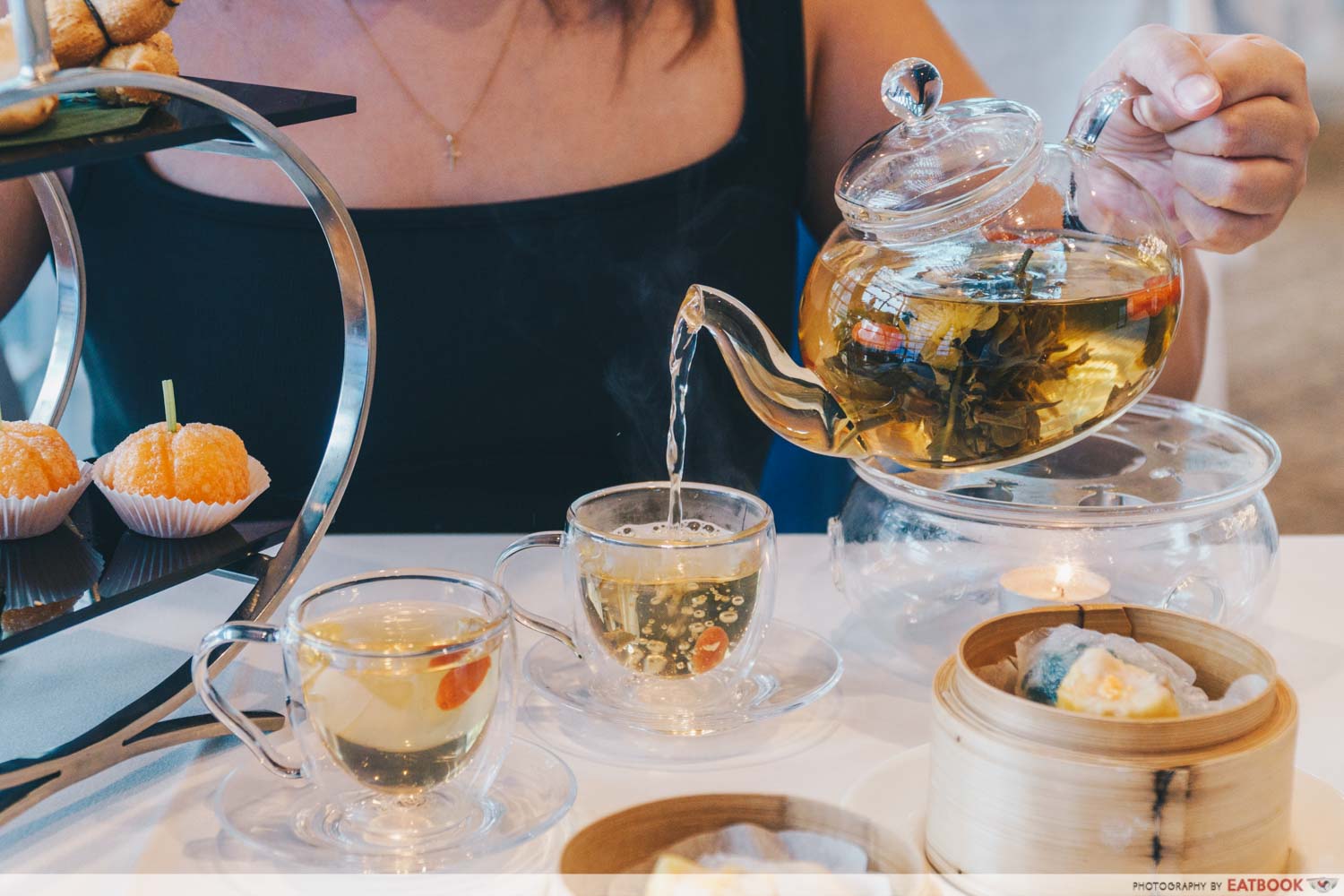 This value-for-money afternoon tea also includes a baseline of blooming flower tea, with a choice of Oriental Beauty with Wolfberries or Springtime Blossoms presented to us as we took our seats. Your beautiful pot of tea will be placed atop a tea candle, keeping it warm throughout the meal.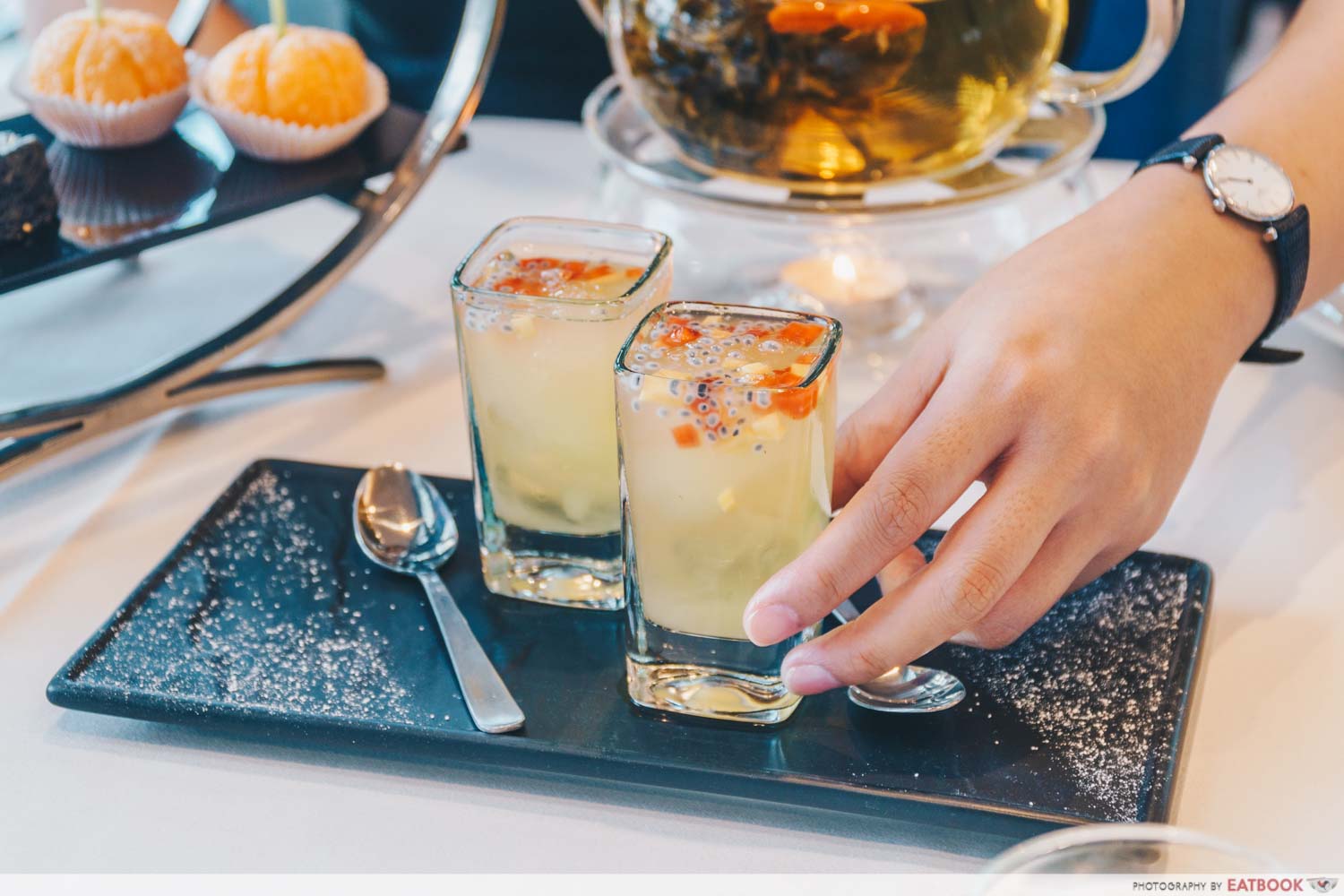 To our surprise, there was also a last course of desserts. Though nothing much to shout about, the Mini Chilled Lime Jelly with Mixed Fruits was like an elevated ai yu jelly dessert, with tart flavours, fresh fruits, and shaved ice to end the afternoon tea on a refreshing note. 
Ambience at JUMBO Seafood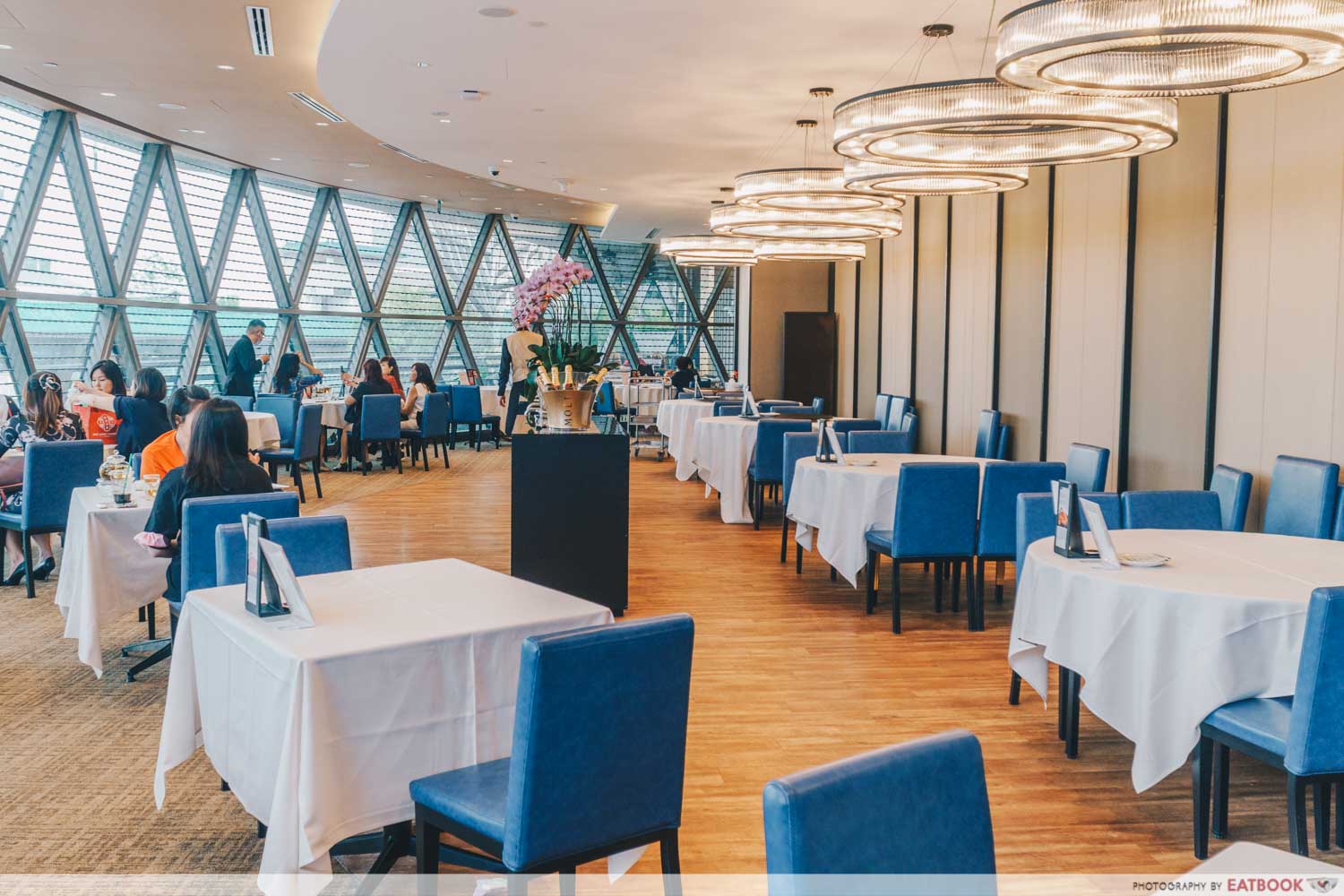 JUMBO Seafood at ION Orchard might not offer the fanciest atmosphere, but their service staff were stellar and quick with our requests. The view of our city's busiest road and bustling shopping district also makes up for the lack of any lavish ambience.
The verdict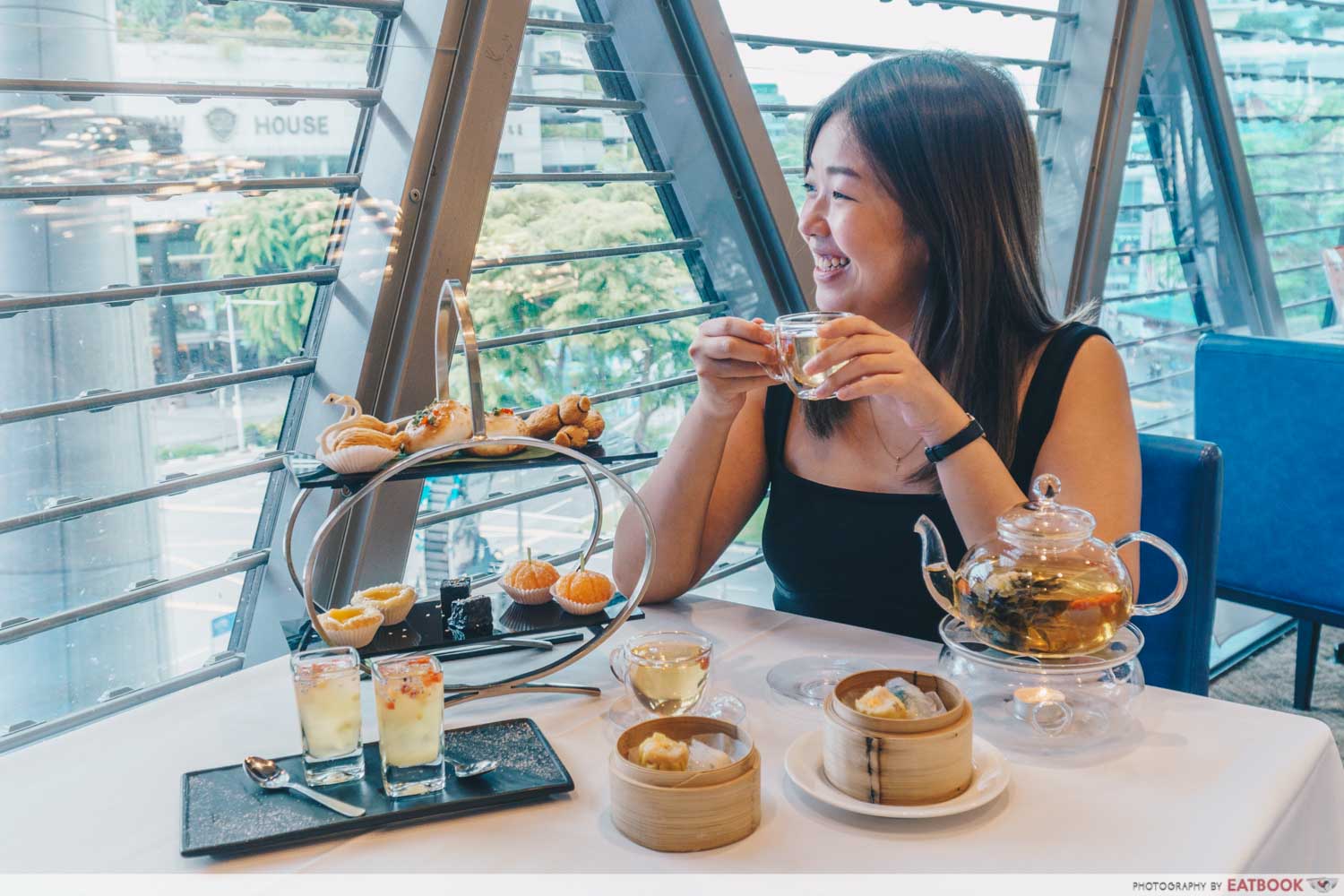 I must say that with a price tag of $48++ for two, JUMBO Seafood's afternoon tea gives you a bang for your buck. The spread here might be more on the sweet side, making it an ideal option for a casual snack-time-cum-catch-up sesh with a friend, or three—since you'd have to come in pairs.
If you're looking for more food spots in Orchard, check out Tempura Tendon Tenya, a newly-opened tendon eatery that is famous in Japan, or Luke's Lobster, the renowned lobster joint which now has a branch at Isetan Scotts.
Address: 2 Orchard Turn, #04-09, ION Orchard, Singapore 238801
Afternoon tea hours: Daily 2pm to 5:30pm
Tel: 6737 3435
Website
JUMBO Seafood is not a halal-certified eatery.
Photos taken by Lim An.
This is an independent review by Eatbook.sg.
JUMBO Seafood Afternoon Tea Review: $24++ Per Person With Chilli Crab Bun And Salted Egg Lava Mochi
Summary
Pros
– Value for money
– Great view and service
Cons
– Needs more savoury items
Recommended dishes: Pan-fried JUMBO Chilli Crab Buns, Black Sesame Cakes, Molten Salted Egg Lava Mochi
Afternoon tea hours: Daily 2pm to 5:30pm
Address: 2 Orchard Turn, #04-09, ION Orchard, Singapore 238801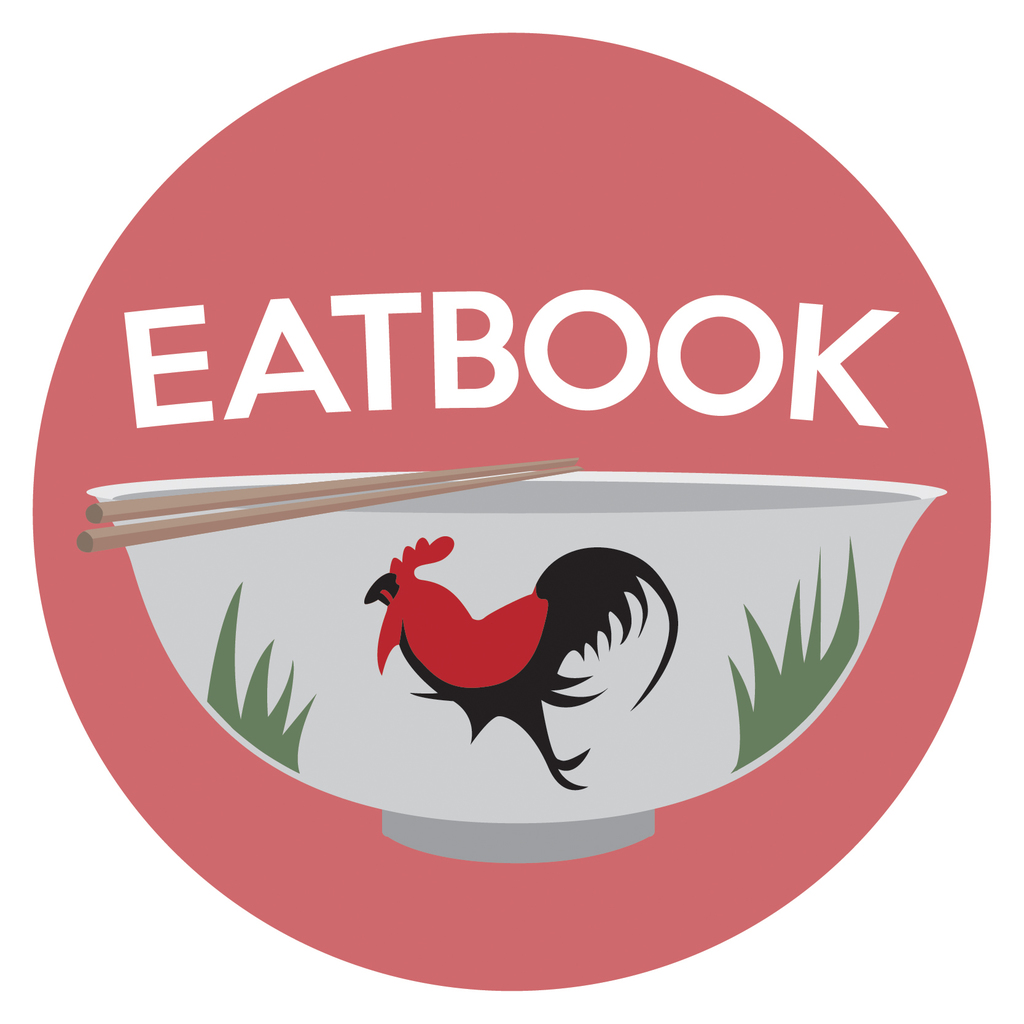 Drop us your email so you won't miss the latest news.